As kids grow, so do their interests, and it's no wonder that sometimes it can feel like there's an overwhelming amount of toys to keep putting away. The good news is you can tidy them up in many different ways.
If you're ready to kickstart the cleaning spree, look at these toy storage ideas to get inspired.
Fewer toys = less mess
To adults, organising toy storage is about keeping the home clean, but you may not know that it's beneficial for kids to be kept away neatly. Research from the University of Toledo, Ohio, shows that kids focus better and feel that they can play more creatively when there are fewer options. This means longer, more focused play time and more me-time for caregivers.
Group similar toys
Grouping similar toys helps keep things organised, making them easy to find and clean up.
Have storage solutions in as many rooms as you can
Even if it's as simple as a basket, having storage in each room ensures there will always be a nearby location where toys can be put away.
Here are some toy storage ideas to inspire how to incorporate this into your home.
1. Animal baskets
Find cute animal-shaped ones for a sweet, playful take on storage baskets. The unique designs are easily identifiable, and having different kinds of animals is a great way to organise. You can assign a specific animal per child, too.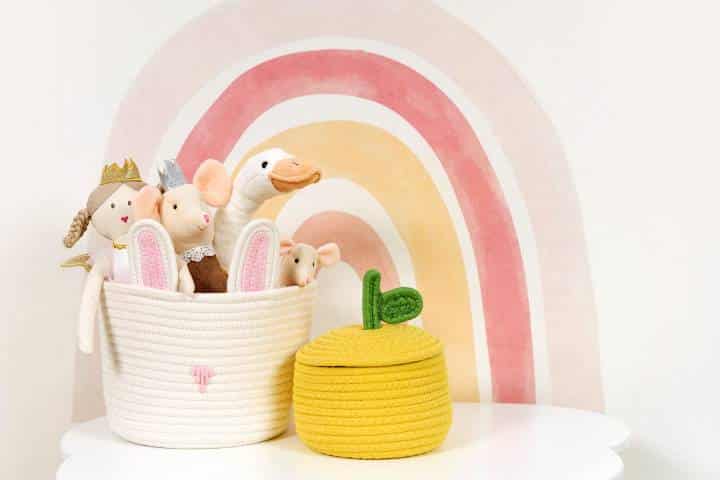 2. Wooden cubby
Wooden furniture makes a space look effortlessly put together. They're also a great material for cubbies as they're durable. You can play around with the colours for each drawer and organise it by toy type or size — there are no limits to how you put everything away.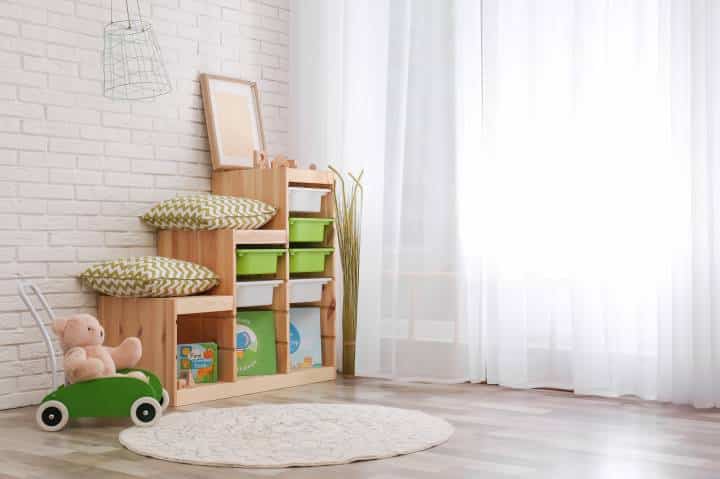 3. Colour coordination 
There's nothing more satisfying than colour coordination. Coloured baskets and acrylic trays filled with just one toy colour make a great sight. It's also a great way to teach kids about the rainbow aside from tidying up.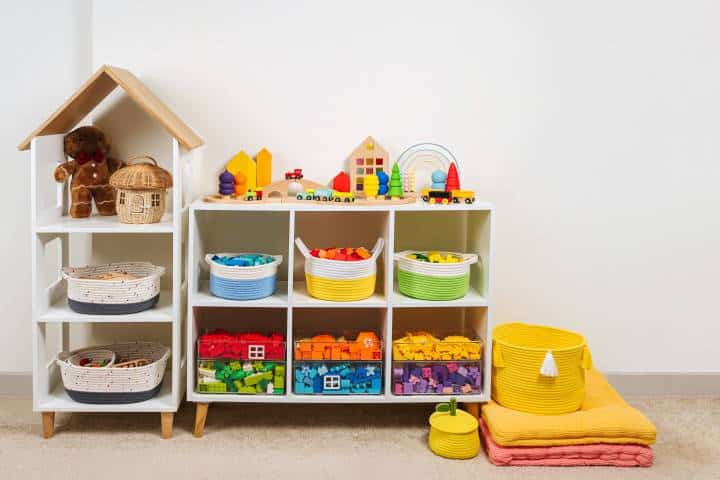 4. Bench seat and bookshelf 
Create a makeshift reading nook with shelving for books that double as seating. Keep one of your child's favourite dolls within reach for a cosy-looking space they can practise their vocabulary.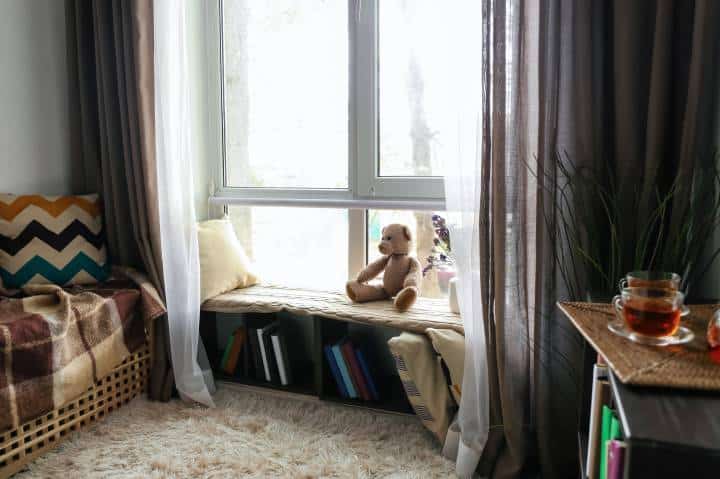 5. Cleverly concealed
Speaking of bench seats, here's another clever idea for tucking the toys away. A regular bench with drawers is a great way to hide small toys.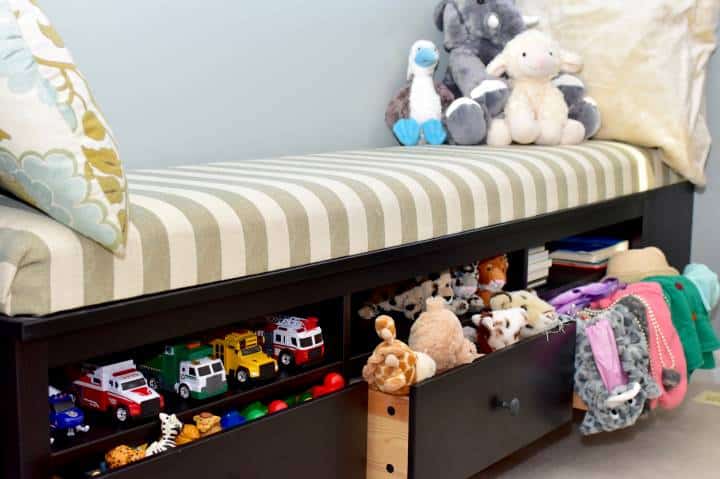 6. Console storage
Keep even your living room or family room clutter-free. Maximise the drawers in your entertainment console. They're an inconspicuous place to hide away your child's favourite action figures and dolls.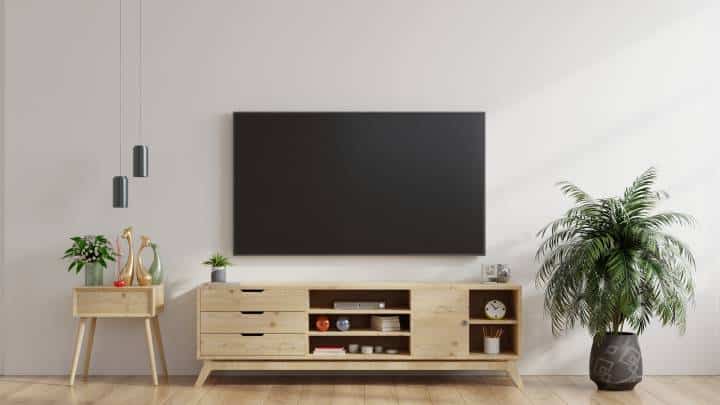 7. Woven baskets
Limited space? Share your shelf space with the kids while keeping it classy. Woven baskets are another great option to hide toys in the living room, the master bedroom, or even your home office.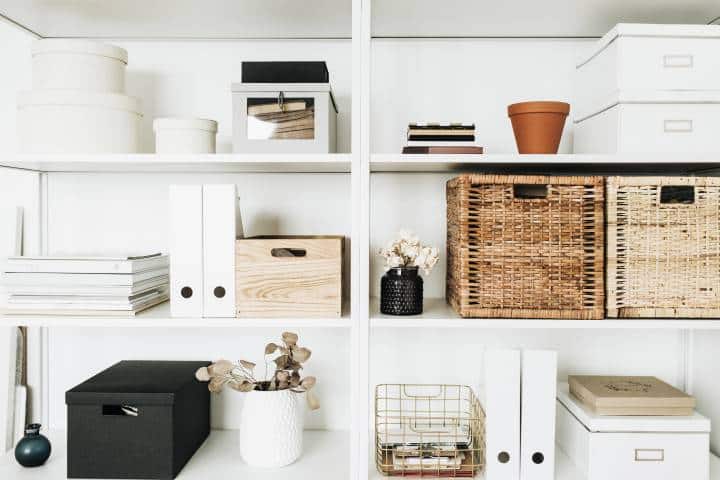 8. Shadow boxes
Shadow boxes are great storage units. They allow you to see everything easily — no drawer pulling or high places to reach to find the contents. This lets your child choose which to display at a time, plus you can add space for books or sports items they use regularly.
9. Bath basket
Bath toys are a great idea as they keep your little ones occupied while they get clean and make bath time more fun. Put together a small bath basket to keep the children's toys and essentials in a corner of the bathroom for quick and easy access.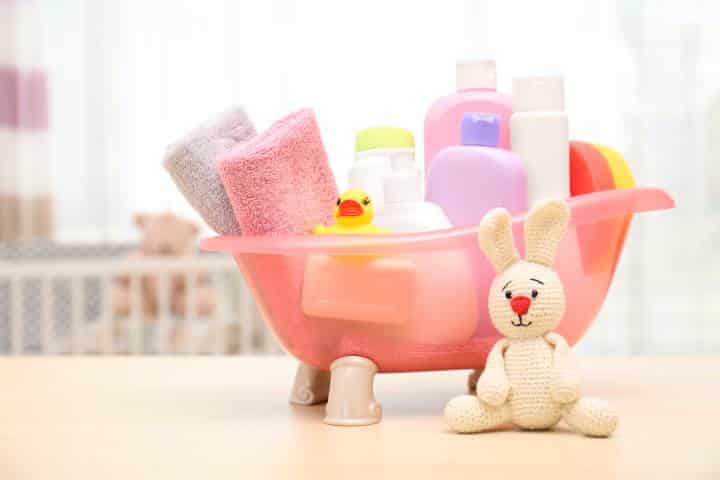 10. Upcycled boxes
If you've got extra crates lying around, don't be afraid to upcycle them after a thorough clean and a fresh repaint. You can use them as display boxes, shelves, or storage baskets.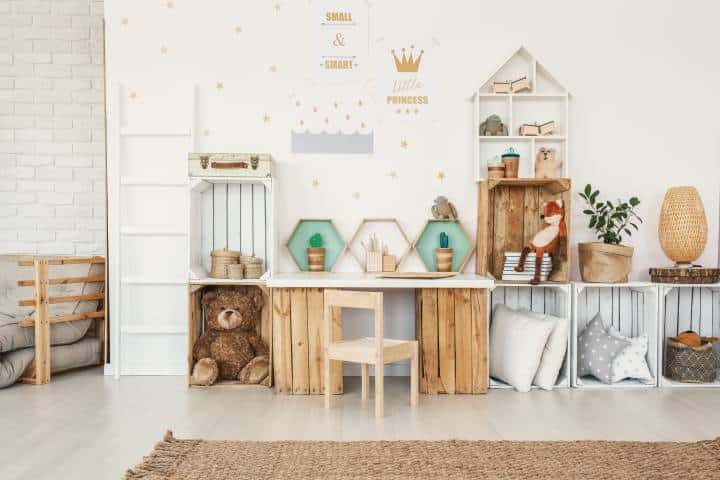 11. Traditional dressers 
Dressers are a long-lasting purchase you can keep around until the kids are older. Just add small compartment baskets into each drawer for easy organising.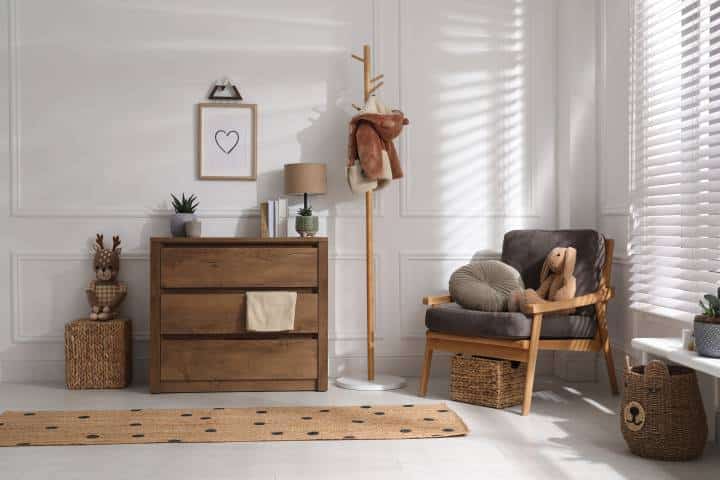 12. Toy storage labels
Go that extra mile with your toy organising by adding labels. This is perfect for opaque boxes or baskets to minimise opening up each drawer when looking for something specific.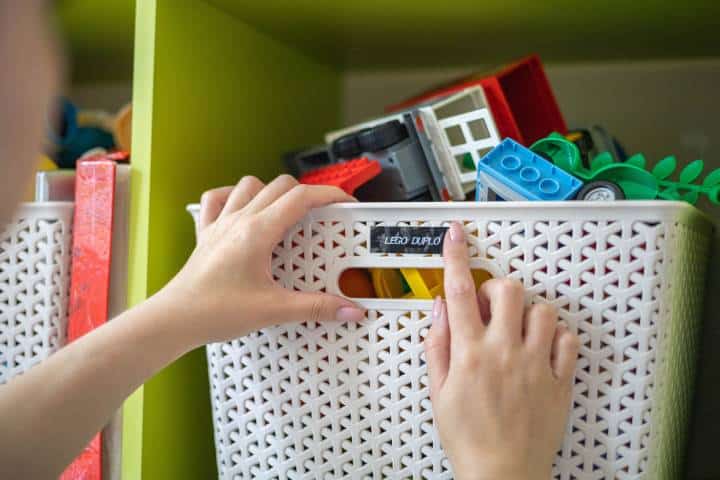 13. Makeshift toolboxes
Toolboxes are a great storage unit, especially for small toys and accessories. The compartments allow for easy organising; it's all up to you and your kids how you'll separate each item.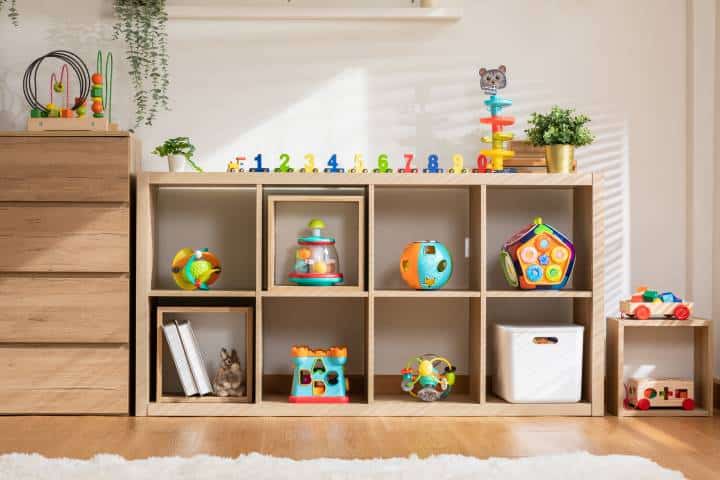 14. Loft bedrooms
As your children grow up, they'll need more space for storage and schoolwork. Make the most out of smaller spaces with loft-style beds that allow you to add more storage space to keep your things away.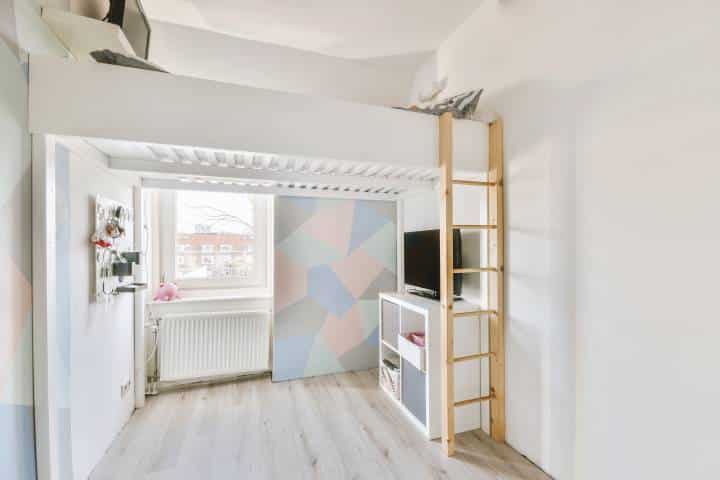 15. Tiny houses
Looking for unique ways to display children's toys? Opt for house-shaped shelves. They're a cute and quirky way to build a nice home for your child's most prized possessions.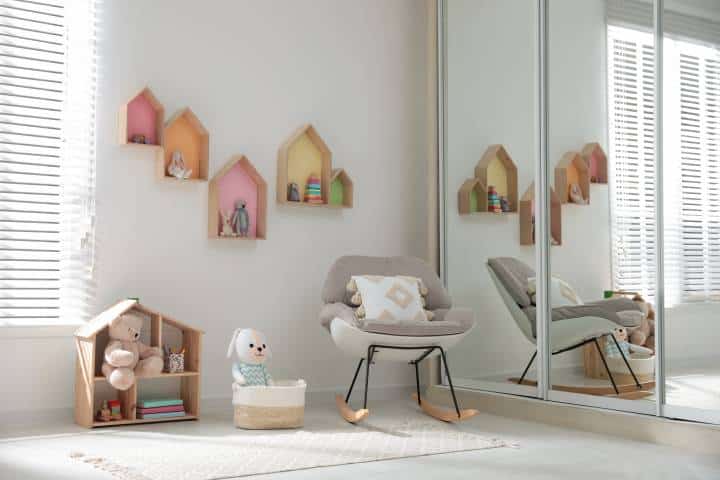 16. Built-in bunk storage
When your kids share a room, built-in bunk drawers are a great way to incorporate more storage without taking up too much space. You can get creative with drawer placements, such as under the bottom mattress and in the steps going up to the top bed.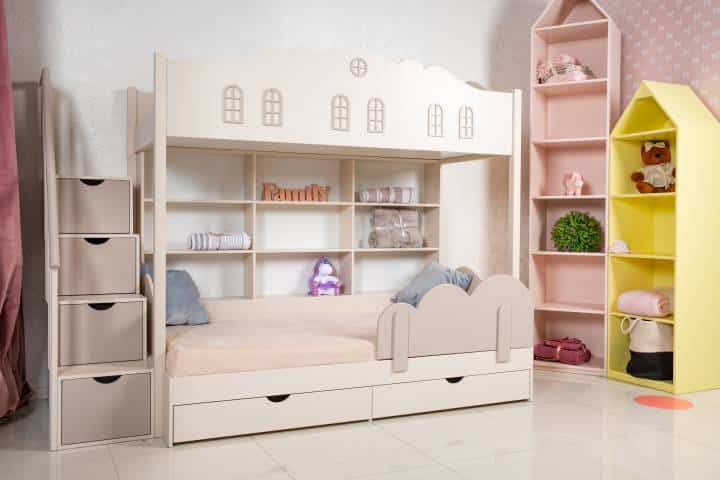 17. Pops of colour
White stacking cubbies in all-white rooms create a calm, seamless look to the space. It's easy to dress up with colourful boxes to keep the toys in.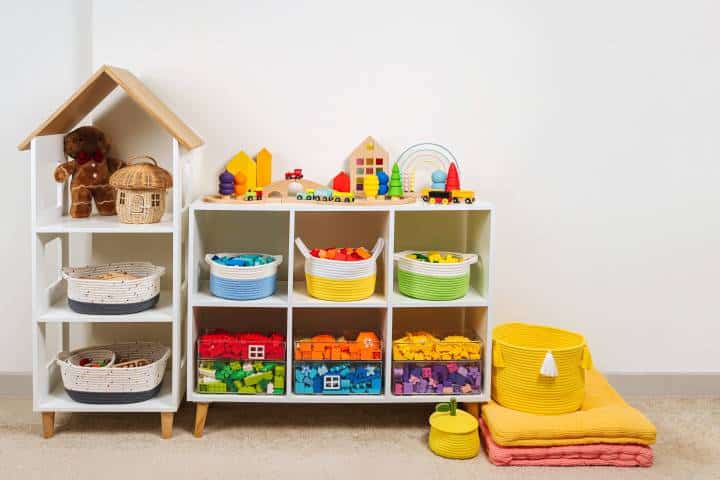 18. Just out of reach 
Higher shelves are great when you've got toddlers still in their terrible twos who like to get their hands on everything. This keeps the more fragile items safer for the big kids to reach.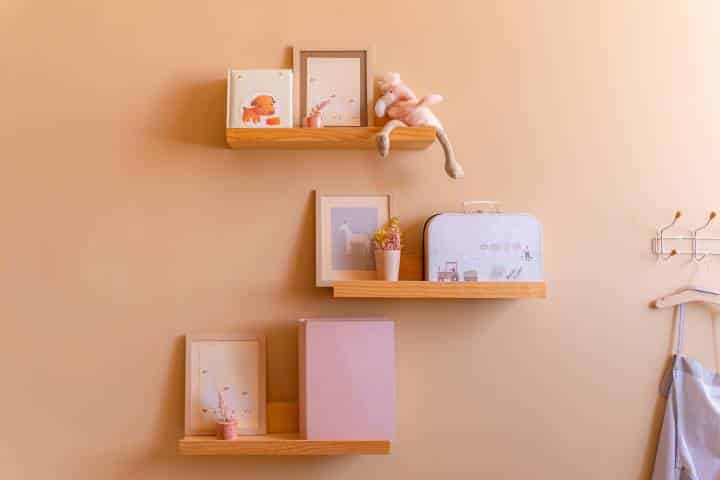 19. Hexagon stacking shelves
Think of building blocks but just for display. Hexagonal stacking shelves are unique and playful for playrooms, bedrooms, or living rooms.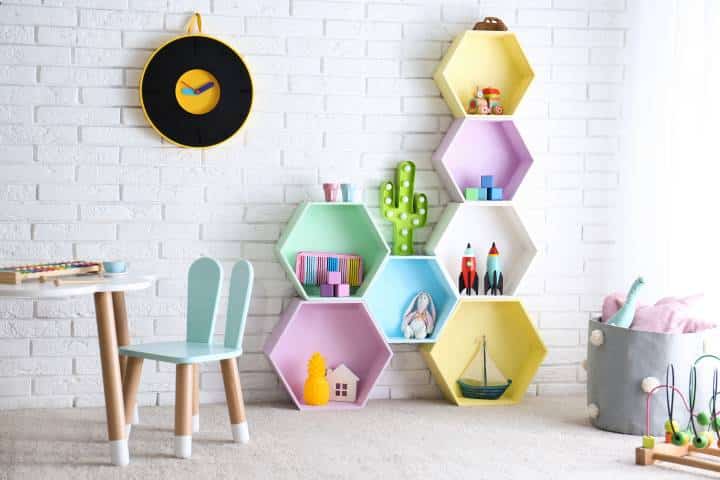 20. Hanging nets
Another great space-saving storage solution is to hang up nets over wall hooks. They're a cute way to store toys currently in rotation, like teddy bears and dolls, if they're things the kids often reach for.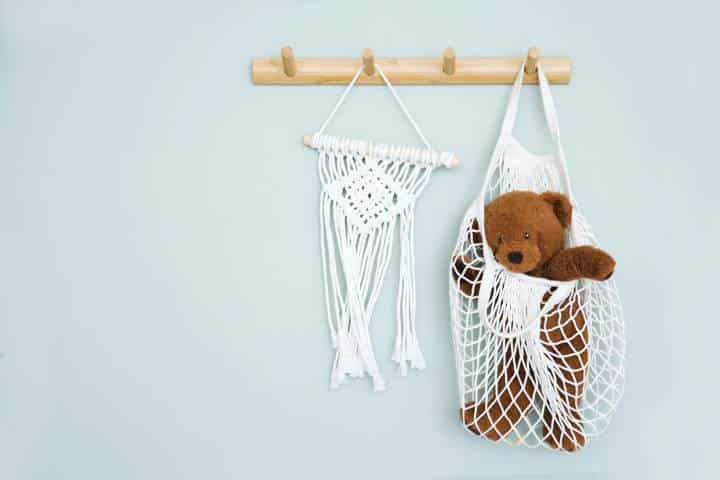 21. Clear boxes
The best thing about clear boxes is that they're straightforward storage solutions you can keep in the kids' line of sight. If they're looking for something specific, they can find it right away. You can sort each box by colour palette or toy type, too.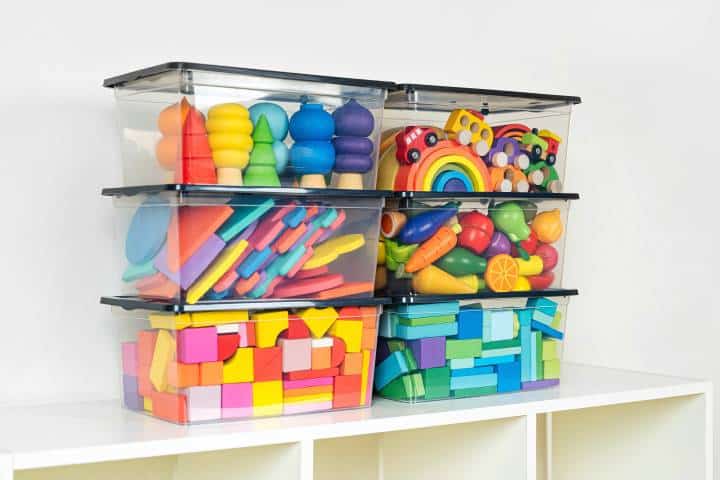 22. Toy house 
Create a big house-shaped shelf to display toys or store small books and video game CDs.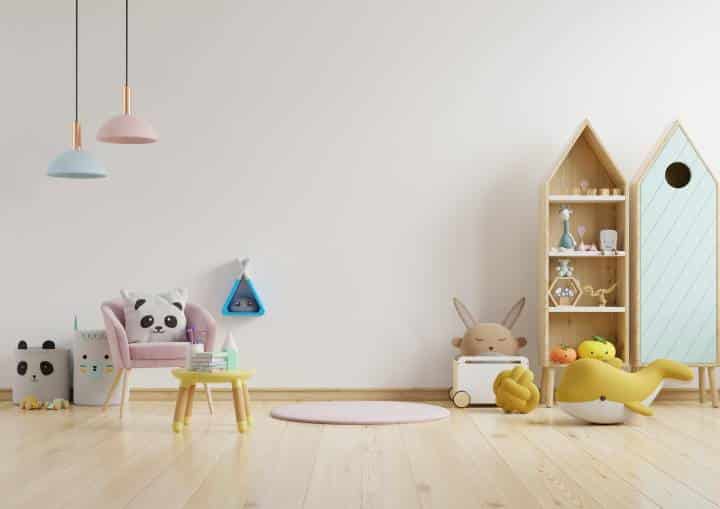 23. Storage seating 
There are tons of multifunctional seating available these days. Storage seating is a great way to tuck away toys neatly.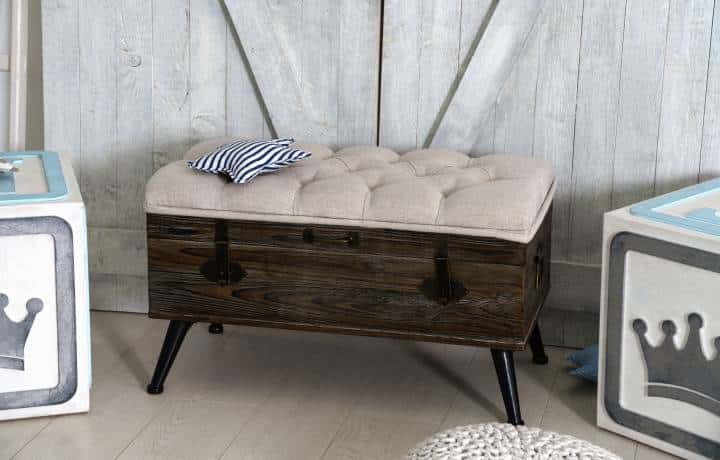 24. Baskets under the bed
Make the most out of every inch of space you have with storage baskets.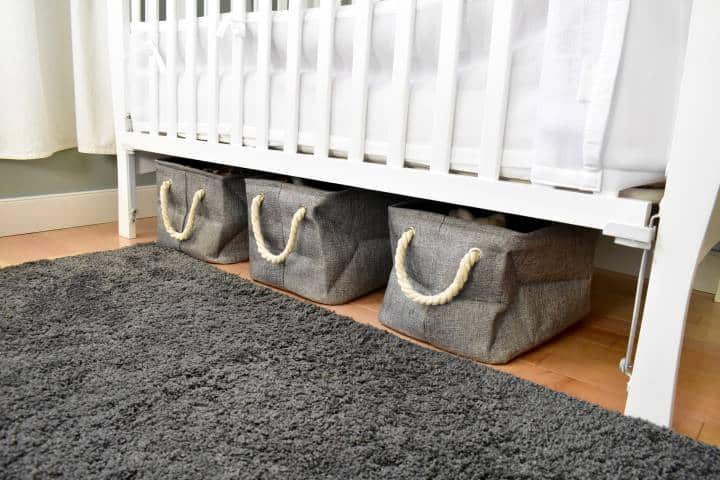 25. Craft station 
Sometimes it can be hard to keep all the children's pens, pencils, and craft items organised, so you need an effective storage solution to keep everything neat. Stack up storage boxes with labels to keep them tidy.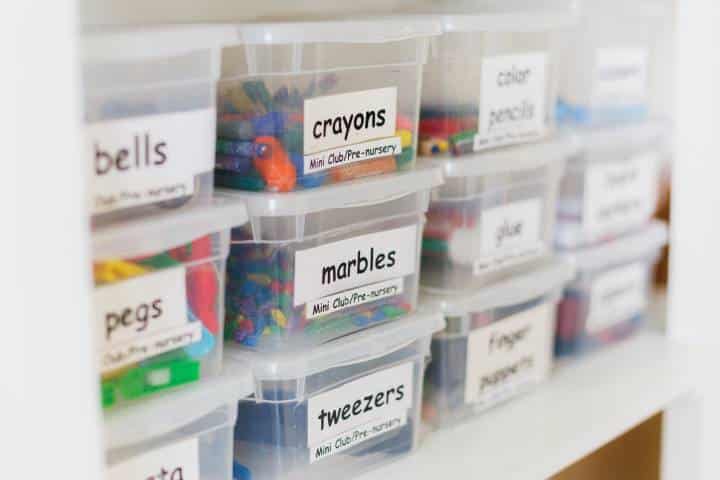 There are many ways to tidy up your children's things. Hopefully, you've discovered how best to tuck away the toys throughout the home with these 25 toy storage ideas!