We all know there's no better way to spend Australia Day than enjoying a cold beer and a snag with your mates while counting down the hits on Triple J's Hottest 100.
At Airtasker, we've come up with a few ways to organise a stress-free Aussie Day BBQ that's cooler than a slab of VBs in an esky.
Here are some ways to organise a stree-free Aussie Day BBQ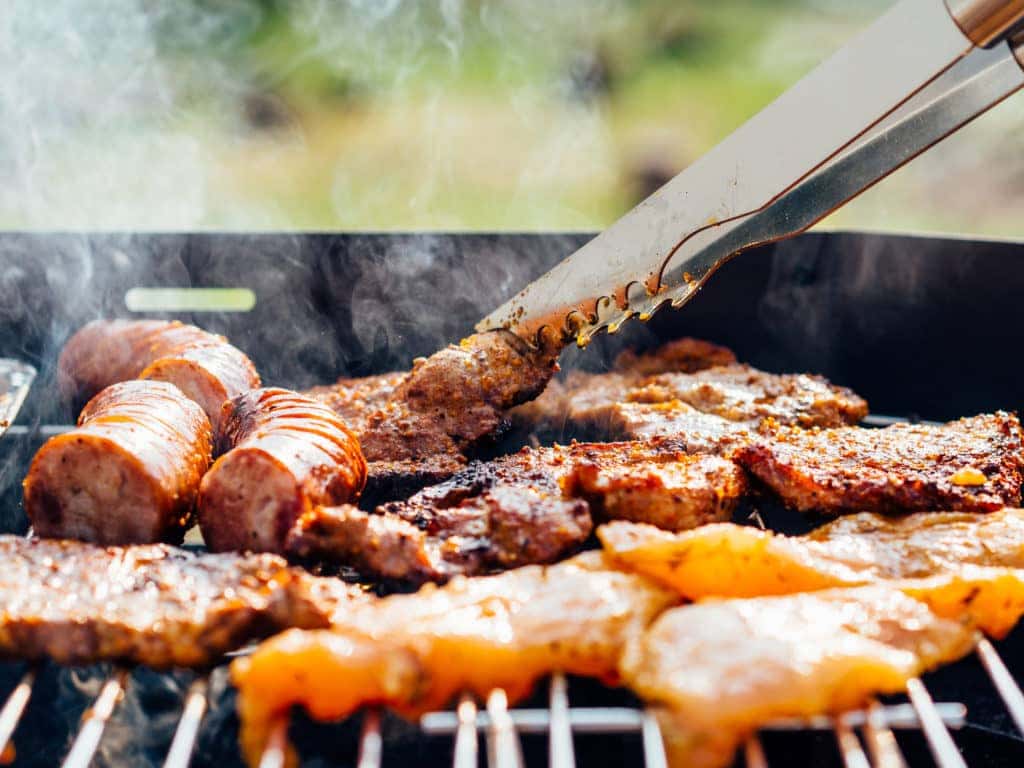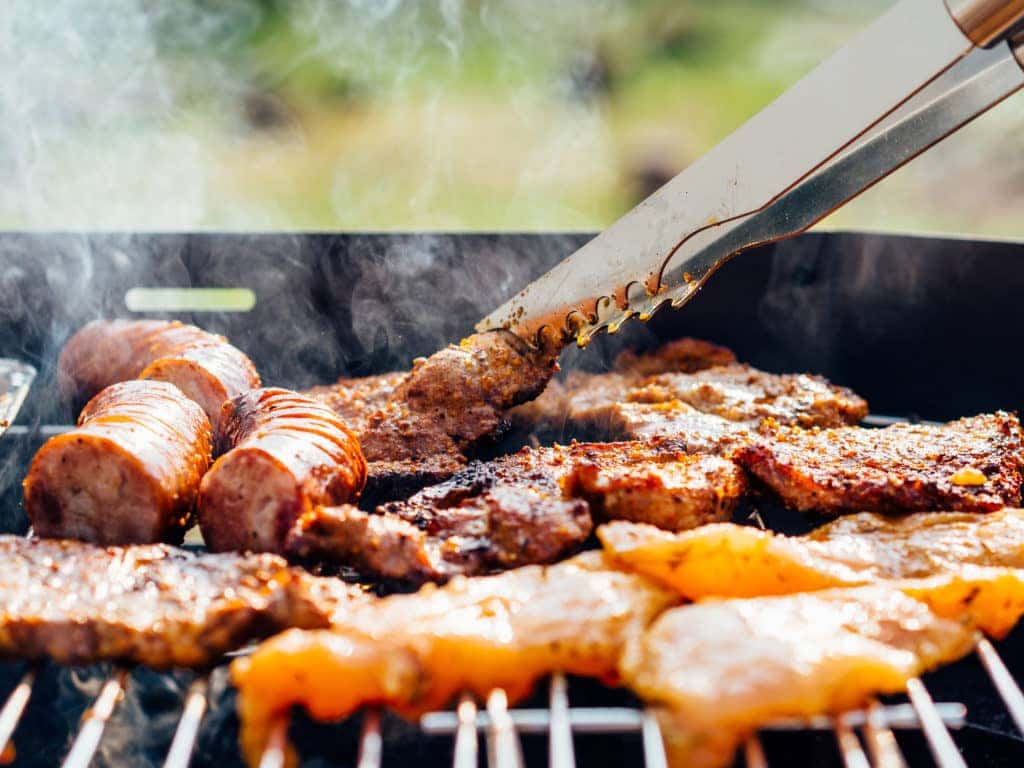 Prep the tools
First up, make sure you have the barbecue essentials set up and ready to go so you can fire up the Webber without any problems. Be sure to clean the barbecue and refill the gas bottle. If cleaning isn't your forte or you have no idea how to connect a gas bottle, hire an Airtasker to take care of the set-up for you.
PRO TIP: Always apply soapy water to the connection point to check for gas leaks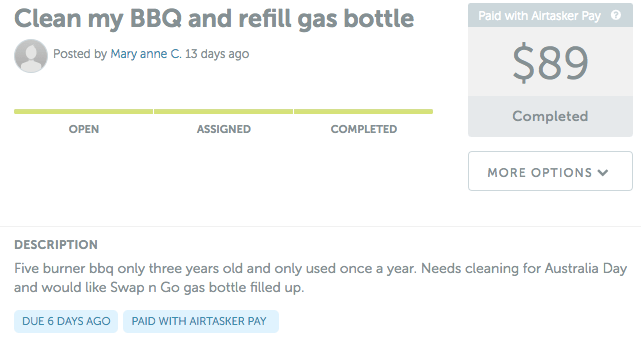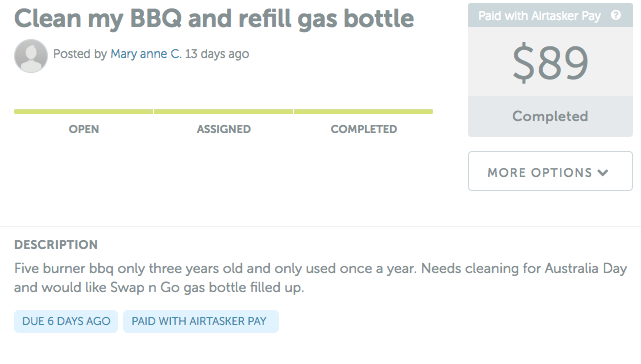 Sizzle the snags
There's nothing worse than a burnt sausage and while tomato sauce might mask a bit of the charcoal, it won't mask the shame of ruining the barbecue and leaving your mates feeling hungry. When it comes to serving the food and drinks, do your guests a favour and hire someone who has manned a BBQ or two in their time and can make a mean potato salad.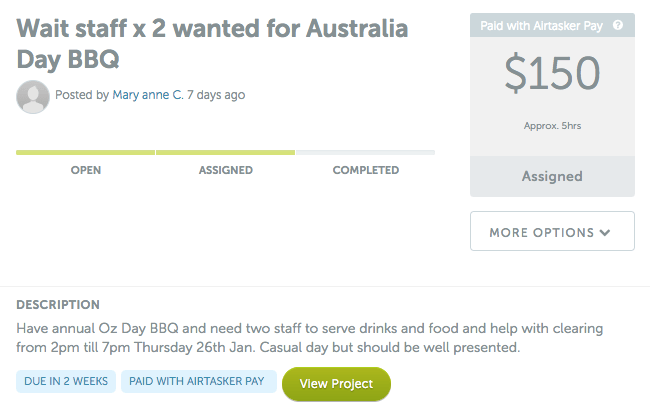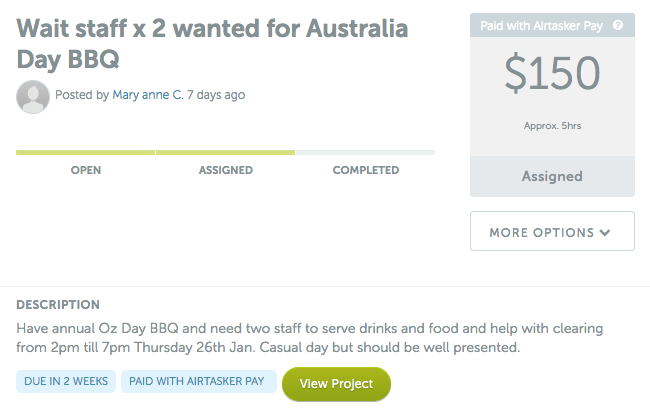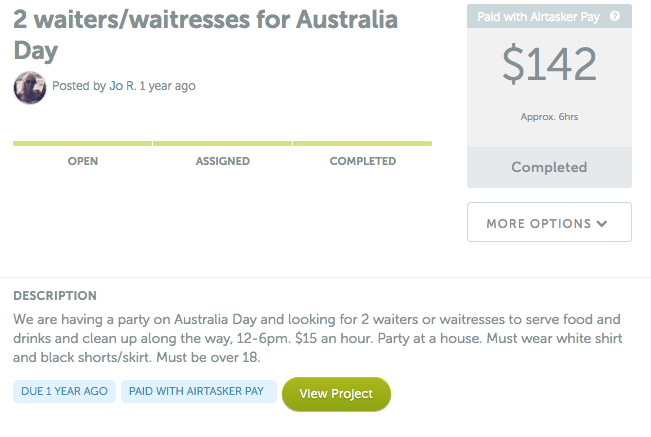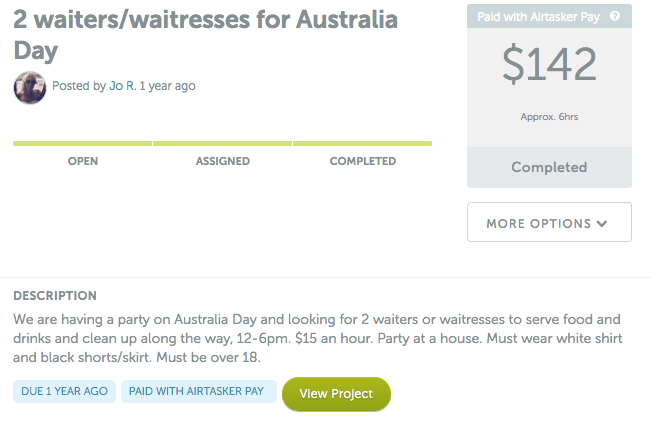 PRO TIP: For an extra set of hands, hiring wait staff on Airtasker can make a world of difference.
Airtasker Zhana Y. from Sydney, had a great experience working at an Australia Day BBQ last year:
Waitressing for Jo and her lovely family was a breeze! Everything was organised and ready for us to go. The guests were lovely, and it was so easy to ask questions. Would be more than happy to work for Jo again! Plus, she has two gorgeous kids.
Ice ice baby
No Australia Day is complete without an esky full of ice and drinks. Hire an Airtasker to take care of the ice and drinks so that you've got more time to spend enjoying the day rather than driving to the servo.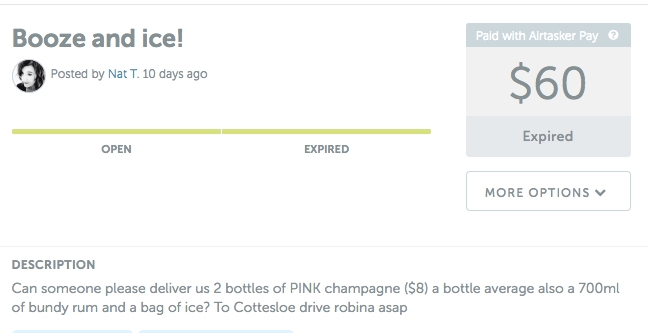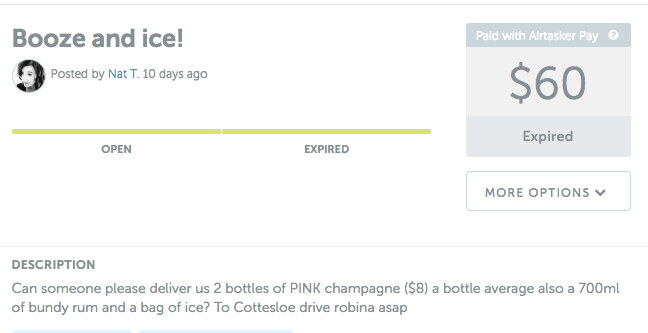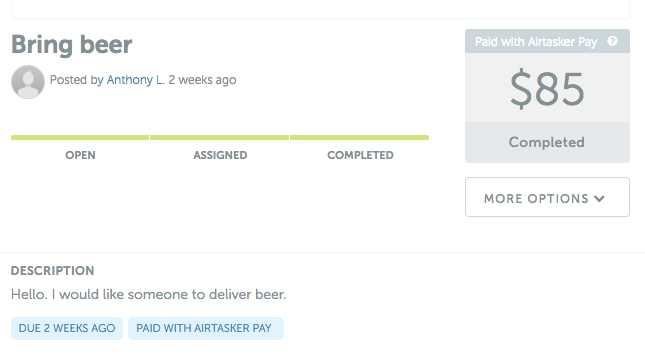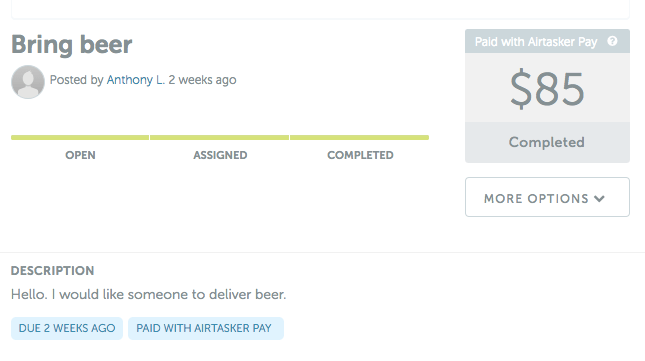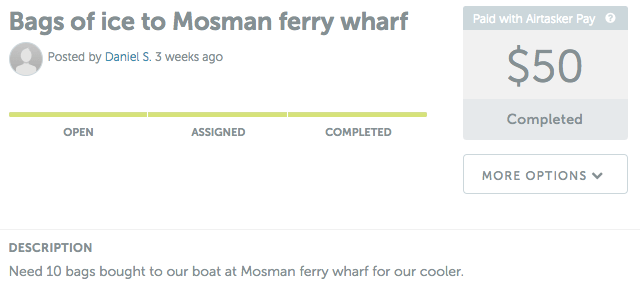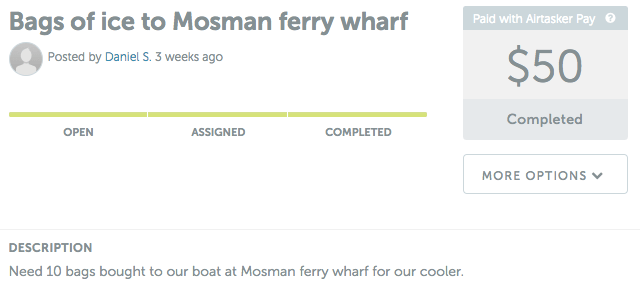 Don't drink and drive
If you're planning on enjoying a few drinks, think smart and organise transport to and from your party for yourself or your guests. A safe Australia Day is a good Australia Day.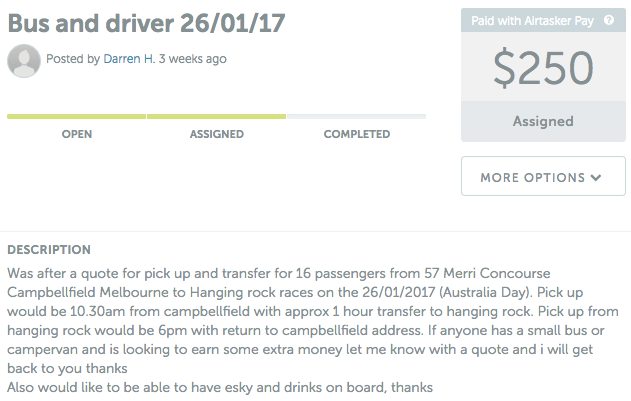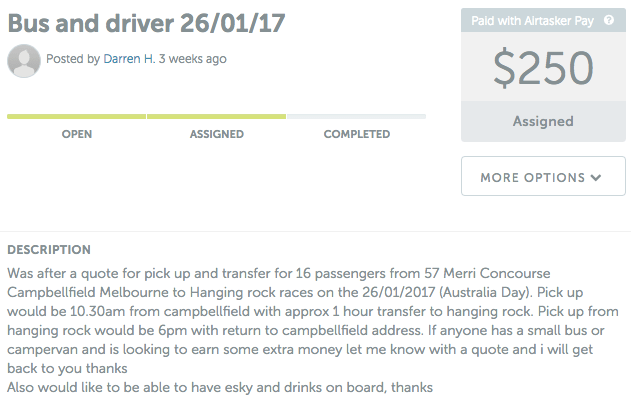 Don't sweat the clean up!
This year, Australia Day falls on a Thursday. For most of us, this means a rough Friday at work and the headache of cleaning up after the fun. Rather than spending the night cleaning or leaving the mess for the weekend, look at hiring a helping hand on Airtasker. By the time you arrive home on Friday evening, your house will be spotless in time for the weekend and you won't have to lift a finger.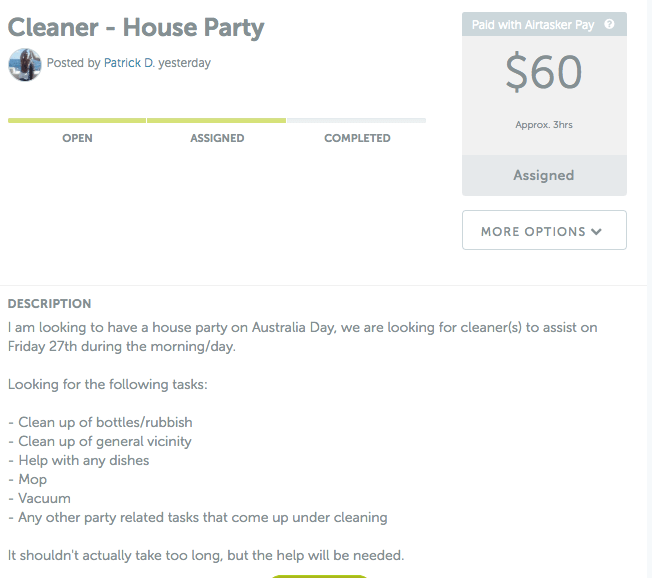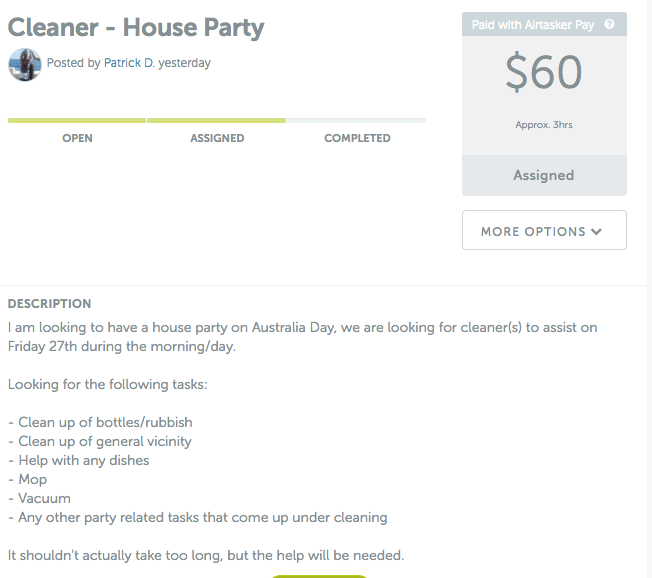 Now that you've gotten everything ready for your big Australia day BBQ, take a look at how to plan the ultimate Australia Day party with Airtasker.