Thanks to smart devices there is an increasing trend of photographers and photo editing enthusiasts sweeping the globe. iPhonography is the name given to this new photography trend hitting the smart device scene.
Photography competitions, like the iPhone Photography Awards, are adding inspiration to this growing trend. Receiving thousands of entries world-wide, the basic requirement for this comp is to submit a photo snapped from an iPhone or Tablet. Competition prizes have included some lucrative goodies including gold bars. Have we got your interest now?
Travel company, Travel and Leisure, also run a photo competition. Their latest grand prize was a travel package worth over $6000.
There are plenty more where these competitions come from!
If you are interested in competing, or simply want to freshen up your personal photography services, just grab your smartphone.
Follow these tips to unleash your photography skills and get you in the running for a tonne of competition goodies.
Know your device for perfect photography
Just like a good first date, get to know your camera. Explore the camera controls in their entirety. Smartphones will generally have a variety of settings which include exposure, white balance, and post-photo processing options. Experiment with these settings to learn how they work magic to enhance your photography.
To power up settings and controls on your smartphone camera take a look at
VSCOCam.
Available for both iOS and Android devices, it has some awesome features.
Go Manual
Learn about your camera's manual settings for further control of your shots.
Exposure
Exposure is the amount of light captured. On a camera you can help to control exposure using shutter speed and aperture settings. Here is how to control these settings on a smart device.
Shutter speed is the period of time your camera's lens stay open to take in light. Once your subject is in frame tap the screen on the area of your focus. Your camera will adjust its settings accordingly based on the light within that area.
Aperture is based on the amount of light and the depth of field, which governs the sharpness between the foreground and background. A low aperture setting will add blur to the background whilst a higher setting will sharpen it up.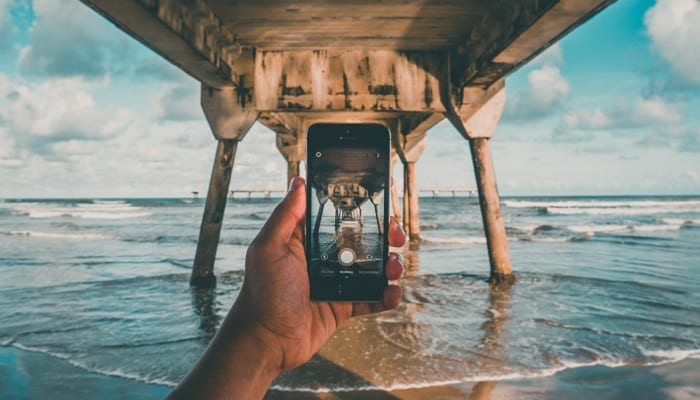 Control depth of field using the camera focus and the distance from the photo subject. Shots further away from the focal point will create a crisper image rather than blurring out the background.
Digital zoom will reduce the photo quality. Move closer or further away from the photo subject for a crisper result.
White balance
White balance rectifies the colour of your objects so they reflect their natural state. Adjust the white balance setting according to where you are shooting. For example, change from daylight to fluorescent light for indoor photos.
Once your photoshoot is over do some photo editing to make your photos really pop. Start with brightness, contrast, white balance and sharpness. The more photo editing you do, the more savvy you will become with it.
Duplicate your original photo before you play around with any editing.
Most smartphones have their own editing tools available. If you want to look like a real professional try the Adobe Photoshop Express app. This tool is designed to edit and enhance your photos. The app is available to download for free at the Apple App store for iOS devices here or on Google Play for Android devices here.
Photography is a talent that takes time to perfect. With a camera at the fingertips of almost everyone, there is no reason you can't give it a cold, hard crack.
Need some photography service help? Hire an Airtasker to show you how it is done.