Who says you can't enjoy a small kitchen? Upgrade your space's overall look, storage, and functionality with a little DIY and these nifty small kitchen design ideas!
Adding a breakfast nook
When you live in a small home, it's unlikely that you have a big dining room or even have one at all.
Placing a cute table and a couple of chairs can be the perfect spot for breakfast and dinner.
You could even keep matching chairs in the bedroom or living room, ready to use whenever you have guests.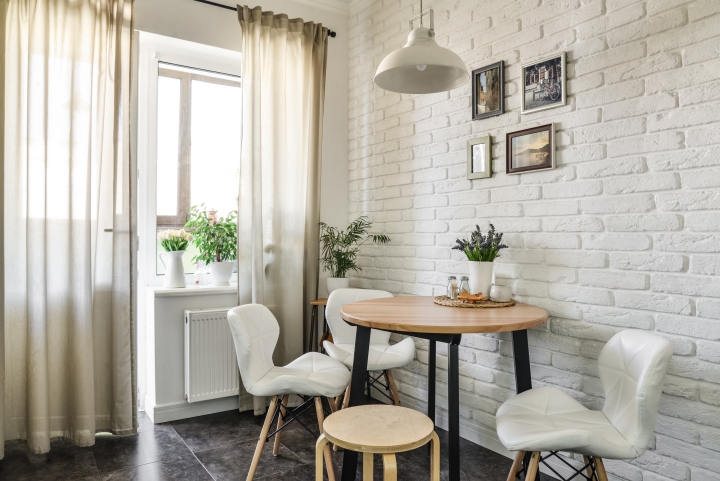 Paint it white
White makes spaces look bigger and cleaner, so it's a no-brainer to remove any dark tiling and splashbacks and give a lick of paint for a refreshing crisp look.
But don't worry, that doesn't mean you can't add a splash of colour with home accessories. If you want to be on trend, use a metallic such as copper, rose gold or gold. Then, use timber to soften the room with chopping boards, seating and shelving.
Need help painting the kitchen? Find local painters near you to get it done quickly.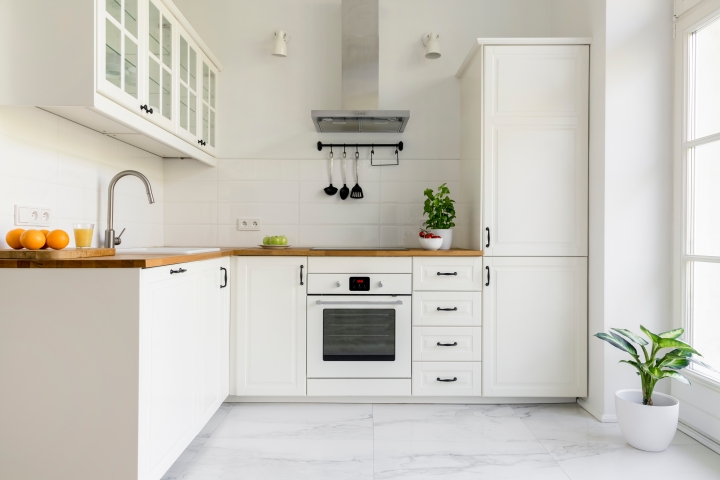 In-built seating
If there's no room for a table and chairs, why not add seating to the kitchen design? Yes, you will be sacrificing precious bench space, but if your apartment or tiny home isn't an entertaining zone, do you really need a delegated area to eat?
It will also be useful for storing pots/pans underneath. When you're not sitting on it, you could use it to rest your heavy shopping or use it as a recipe book holder.
Knock out a wall
Open-planned homes are all the rage these days, so if you have a pokey kitchen, consider knocking down some (or all) of the wall.
Doing so could make room for a desirable island bench, or if it's a structural wall, see if you can knock out part of it to turn it into a breakfast bar.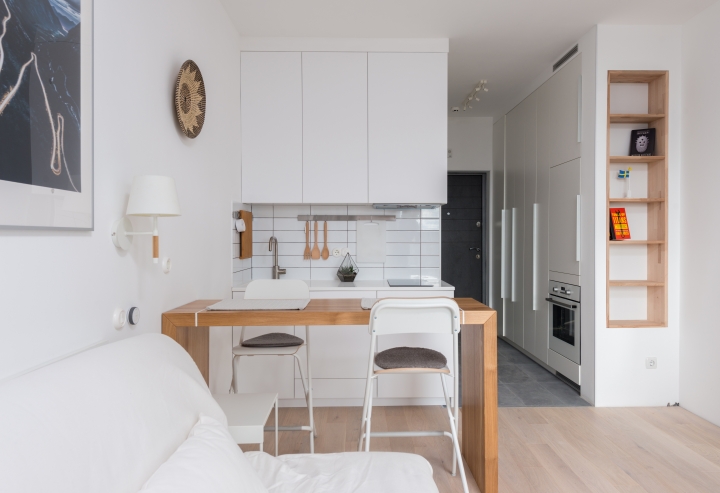 Kitchen tools
If you're a bit of a chef in the kitchen and have more than a couple of utensils and cooking equipment – you'll need space. Instead of storing them in drawers and cabinets, which take up valuable room, take inspiration from the tool shed and use a pegboard.
Hang your kitchen tools, utensils, pots and pans on underutilised wall space, such as behind the door or inside the pantry.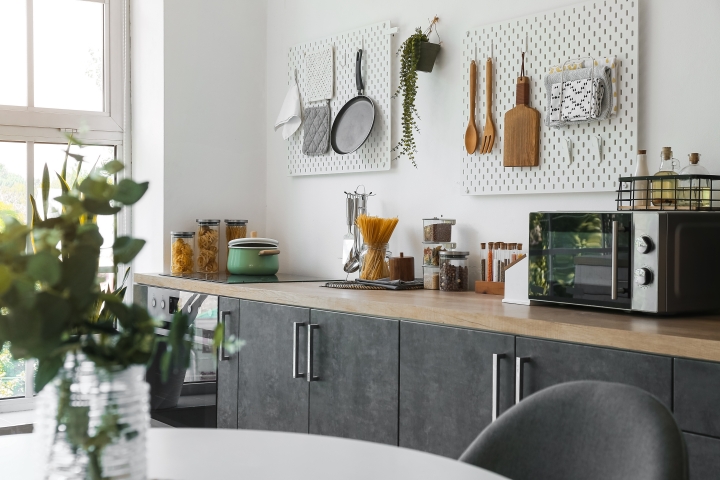 Crockery art
Like pots and pans, your lovely crockery doesn't need to take up space in cupboards. Use the sideboard table in the living room or a bit of extra room in the bookcase to keep them in until you need to use them.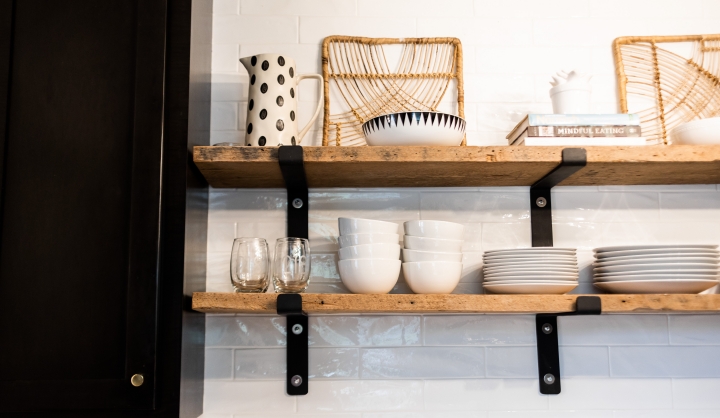 Space saver
There's always a bit of extra space by the fridge and cabinetry, which can be used smartly as additional storage. Even if it's to hold small items such as herbs and chopping boards, every bit of space helps.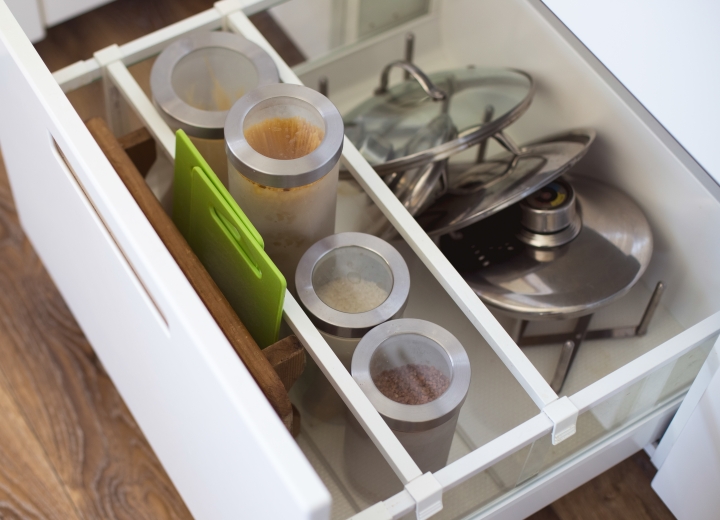 Retractable bench space
When you're at home-viewing opens, bench space in a kitchen is a big non-negotiable for the cooks in the family. It's essential to have adequate room to lay out ingredients, chop food and store microwaves or toasters.
However, just because there isn't enough bench space doesn't mean you can't create some. You can have it built-in to pull out easily whenever you need more space or want a place to sit and eat.
Open shelving
There's another way to store plates, cups, herbs, pots, and just about anything – open shelving. There are many options and styles that you can choose so that it fits within your current design.
When putting up the brackets and shelves, make sure you use a spirit level so that it's straight. If home DIY isn't your strong point, you can hire a handyman to help you get things done!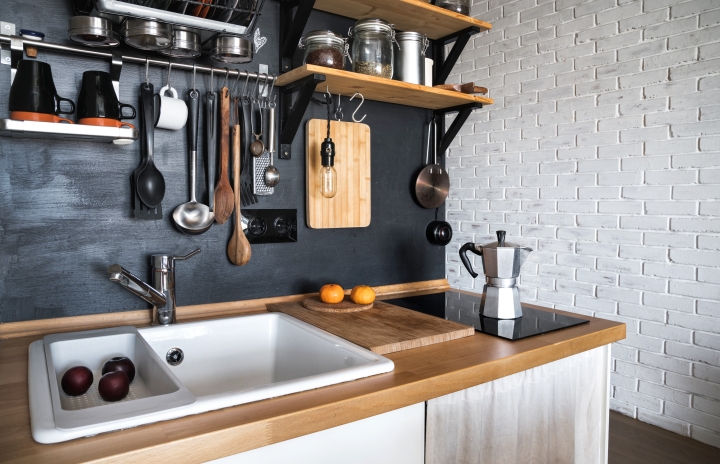 Ready to bring your kitchen ideas to life? Connect with a professional designer to map out your interiors effortlessly. You can even find kitchen contractors near you if you want to do a complete renovation.