If you have a small dining room, I have some good news! You can make a big impact, even with a tiny space!
To help you get started, here are some tips and tricks for making the most of your small dining room.
Make the most of your walls
Utilising your walls means installing storage shelves instead of having too much furniture around the room, making it seem even smaller. Also another way that you can utilise your walls is through putting your furniture up against the wall, which helps to free up even more space.
Bench seating
You can only seat one person per chair when using chairs, but you can seat multiple people when using a bench. Plus, bench seating can easily tuck away when not used.
Use mirrors
Mirrors are a great way of creating the illusion of a larger space. Place a large mirror on your wall, and your room will instantly open up!
Create a focal point
Creating a focal point in your room with a light pendant, vase of flowers, or an artwork will take the onlookers' eyes from focusing on how small the room is to looking at the awesome focal point.
So without further ado, check out these 25+ small dining room ideas to inspire you to make the most of your small space.
1. Barn doors
Adding barn doors is a great way to save space in a smaller area! If you don't want to worry about having regular swinging doors taking up space, then barn doors are the way to go. Barn doors slide and sit flush with your walls, which will work amazingly in a smaller dining room. Plus, they do look gorgeous!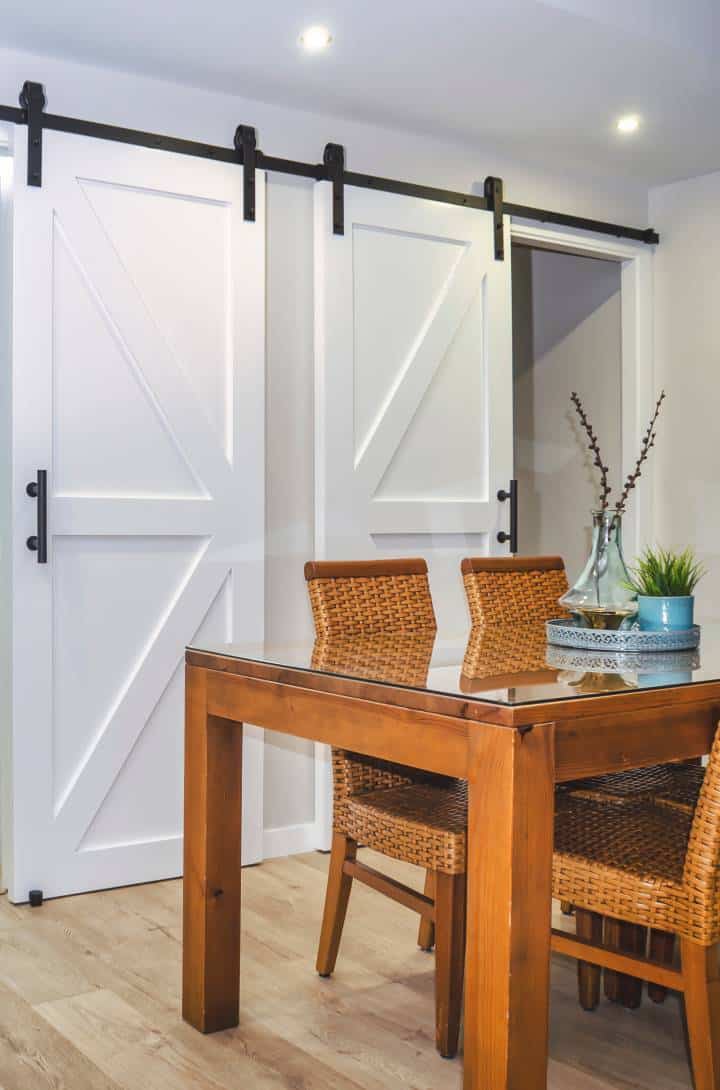 2. Photo wall
This room shows you can still create a personal touch, even in a small space! I love these photos on the wall! The best idea is to select your favourite photos, print them off different sizes and insert them into different frames. You can also print them in black and white, as this will ensure they match each other well and work well with any decor you add to the room.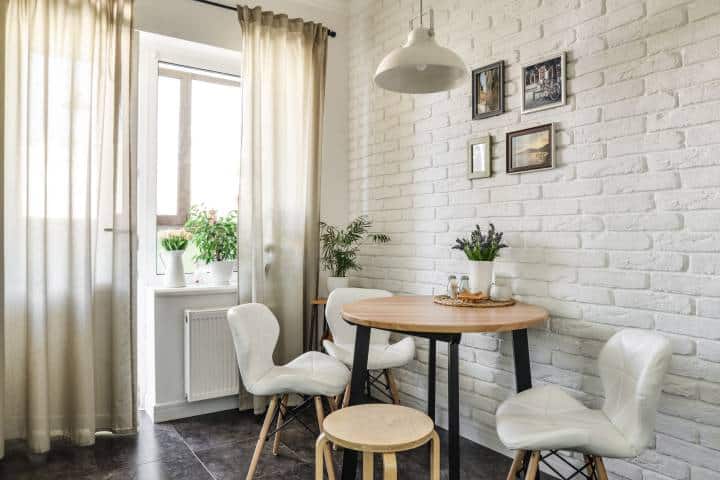 3. Silver and grey
If you have a small space, choosing reflective surfaces is an excellent idea as they reflect so much light around a room, making it appear larger. I love the modern furniture and the minimalist decor choices that help this room feel light and airy.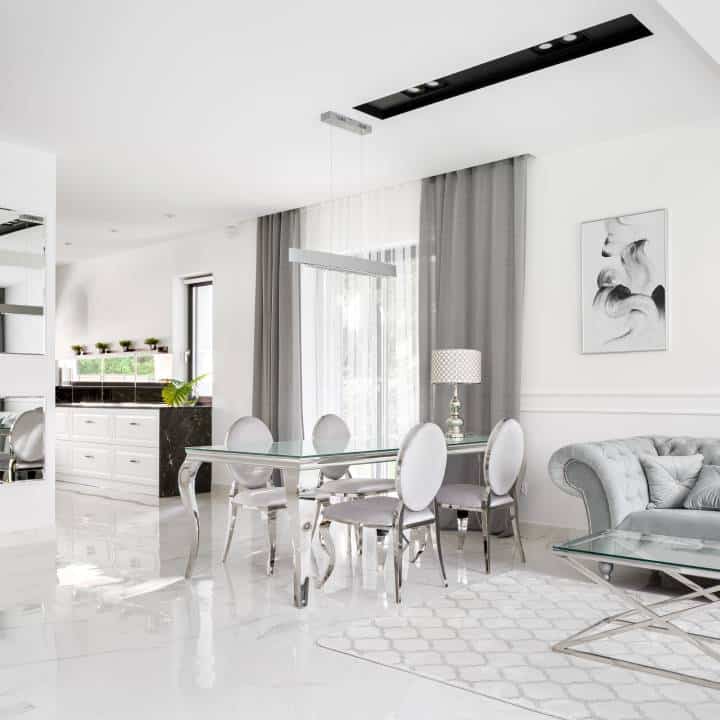 4. Farmhouse dining
How sweet is this farmhouse style dining room! Even though it is small, it still provides a great space to hang out in and share a meal. I love how there is a lounge on one side that would work great as bench seating when you want to fit more people around the table. Plus, I love the table's shabby chic distressed wooden finish that help give quaint farmhouse appeal.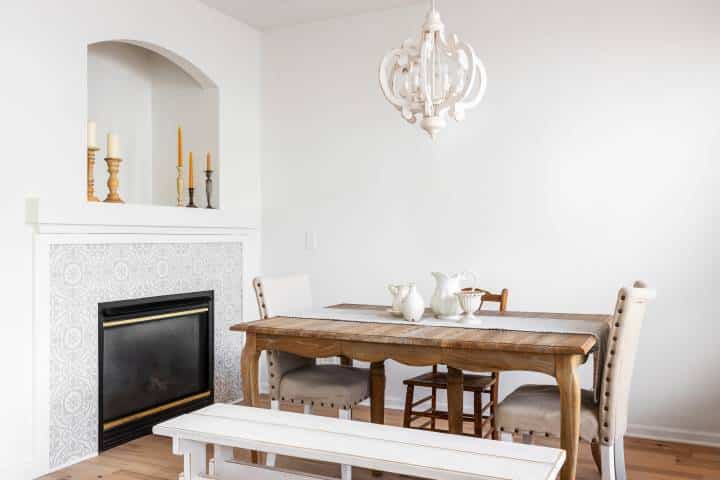 5. Dark wood
If you have a small dining space to work with, it doesn't always have to be white! Don't be afraid to introduce some dark wood furnishings! The styling in this dining room has different thoughtful elements, like the leaves on the vase and a dining area lamp.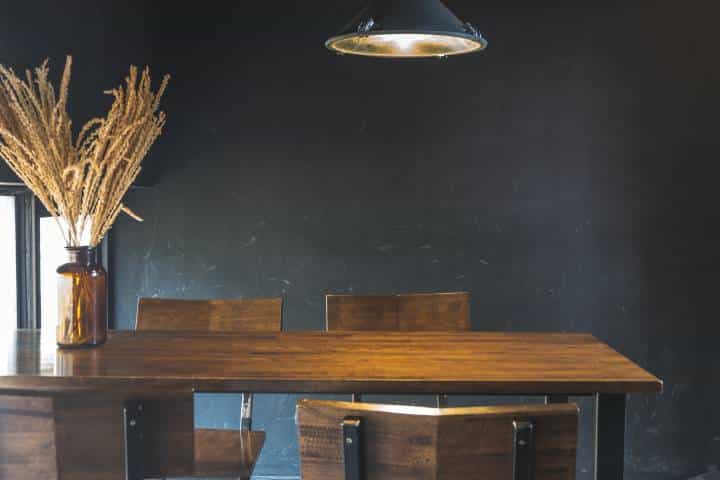 6. Colourful corner
Artworks are a great way of sprucing up even the smallest of spaces. And I love all the bright colours from the artwork on the wall in this dining room that brings so much character to this otherwise neutral space. Add some bright napkins to the table to tie everything together, and voila!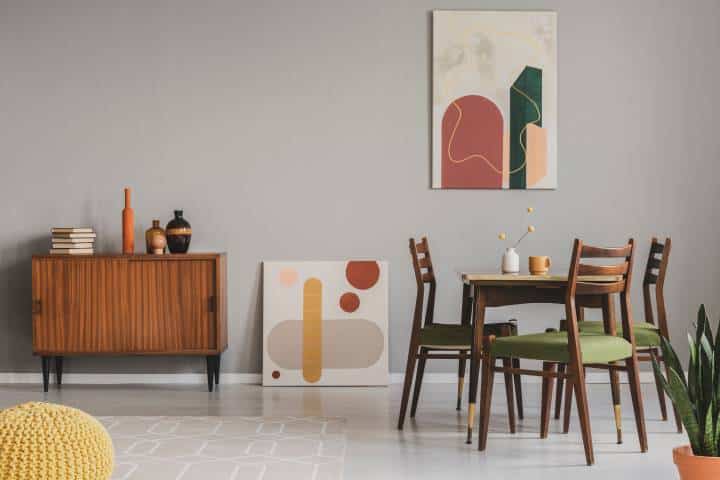 7. Dining and counter
Here's a clever way to have a kitchen counter and a dining set in a tiny space! Get a long narrow table and place it on the center of your kitchen. It can double as your preparation and dining area!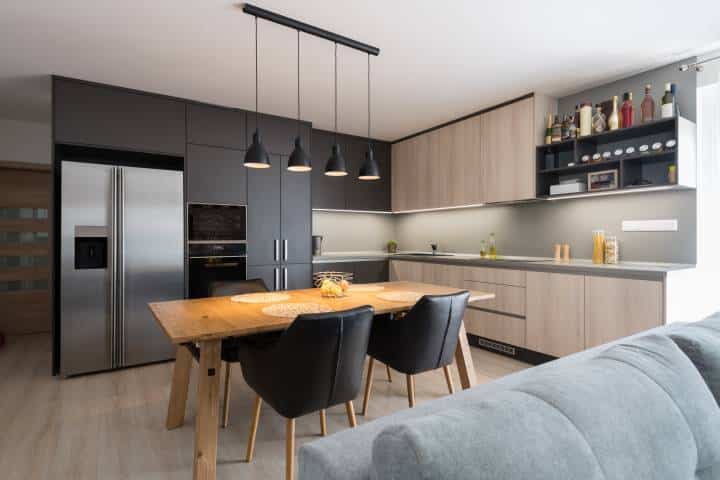 8. Clear dining chairs
This clear dining set! The acrylic chairs work so well paired with an opaque table. Plus, I love that the eye is drawn to the centerpiece on the table rather than being distracted by furniture.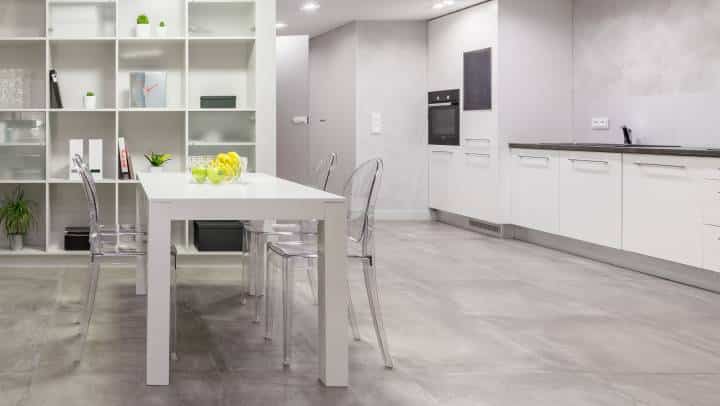 9. Minimalist home
There's nothing worse than clutter. And it's no secret that a small space and clutter do not go together. So adopting a minimalist style in a smaller space is a great way. I love the simplicity of this kitchen dining room, and how relaxing it looks with the sun beaming in and falling on the furnishings.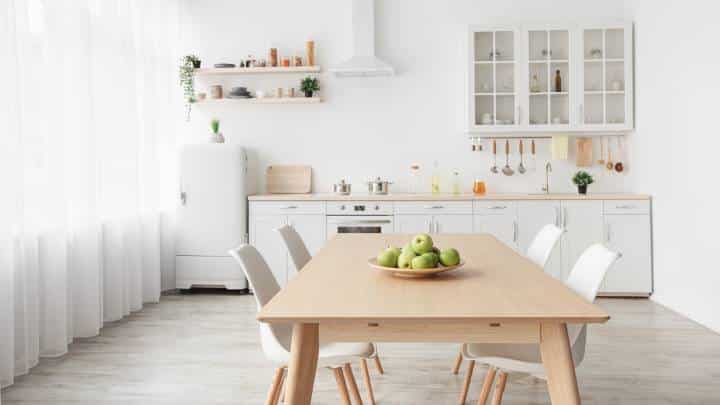 10. Feature pendant
Adding a focal point in a small space means that the onlookers' eyes are automatically fixated on the focal point rather than the size of the room. So installing something like a feature light pendant is a great idea! I love the minimalist design and white color of this big pendant which works so well with the neutral colour scheme of the rest of the room.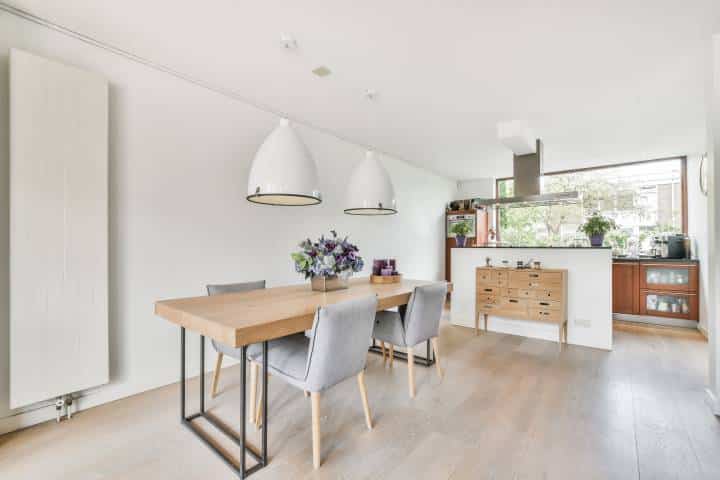 11. Scandi style corner
Scandinavian style is all the rage at the moment. It's modern, minimalist and timeless. And this scandi style corner is the perfect little spot to dine. I love the gallery wall with a mismatched collection of prints and frames that go so well due to the matching colour scheme of light brown, black and white.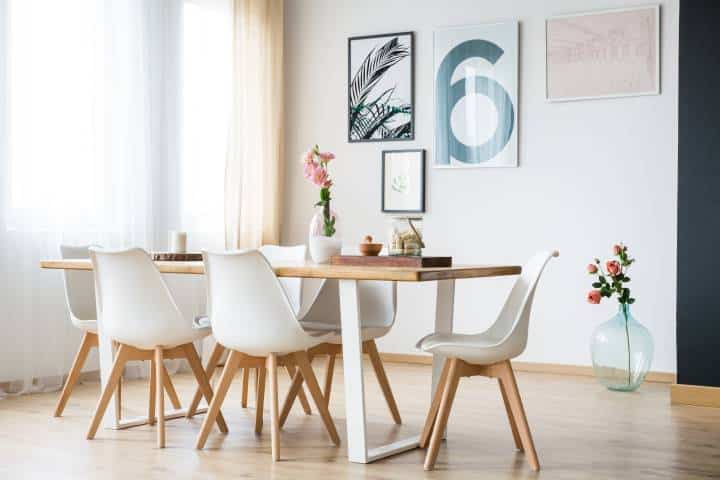 12. Bold black
Using black in any room will create a bold statement and definition, especially in a bright and airy space. I love the dark dining set in the middle of this neutral-walled dining room that is bold and classy. It perfectly complements the pendant light, the framed art, and the decor hung on the wall!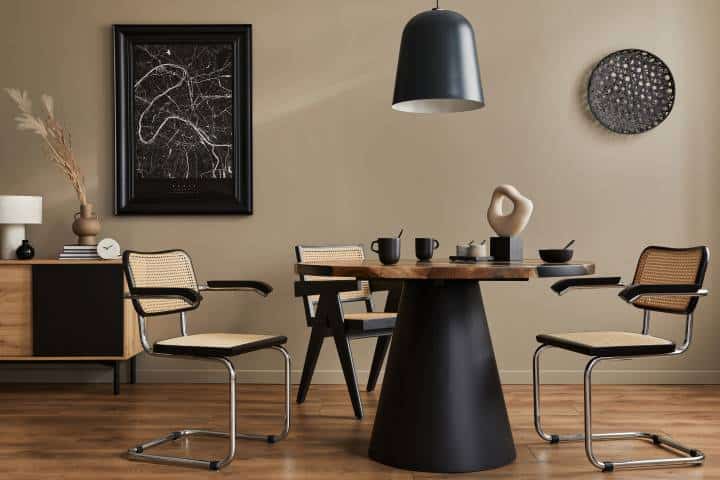 13. By the glass door
Do you have a small room with a glass door overlooking your garden? You can try turning it into a small dining room with different muted tones, like the dining set in this photo. Since natural light from the door makes the room bright and airy, you can add more dark pieces, such as a black shelving as a room divider  and a dark brown wooden table as the centerpiece.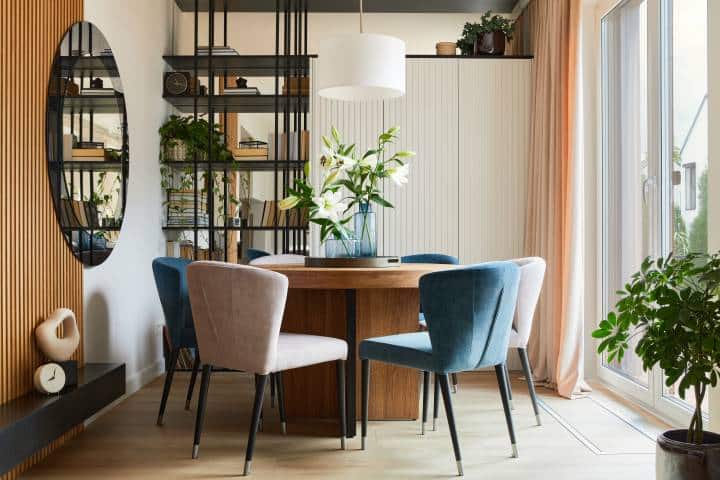 14. Room divider
Speaking of room divider, this one's for you if you live in a place with open plan living but want to define your areas better. And a room divider is a great way to do just that! I love how this divider is small, white and designed so you can still see through it. The 'grills' of the divider it still helps to define where the dining room area is.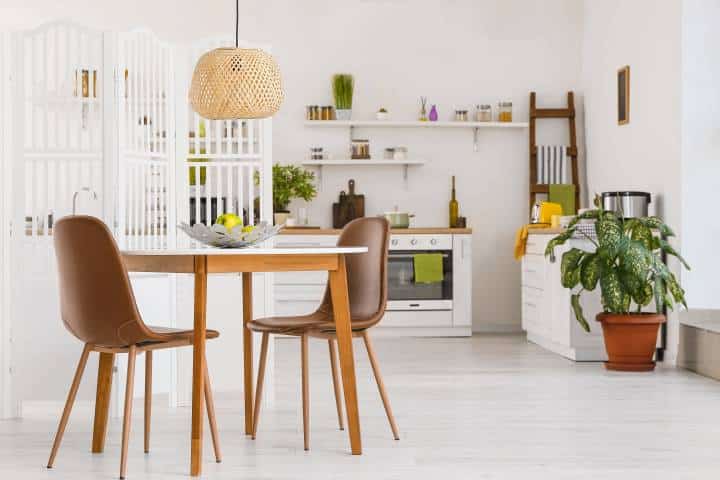 15. Gallery wall
Do you like art? Then decorate your small dining room with your favourite pieces! One of my favourite ways to instantly spruce up a home would be to add a gallery wall! The beauty of a gallery wall is that you can use any frames around the house and print off your prints and quotes! If you don't have anything specific in mind, plenty of stores sell prints already in frames, and then all that's needed on your end is to hang them on your wall!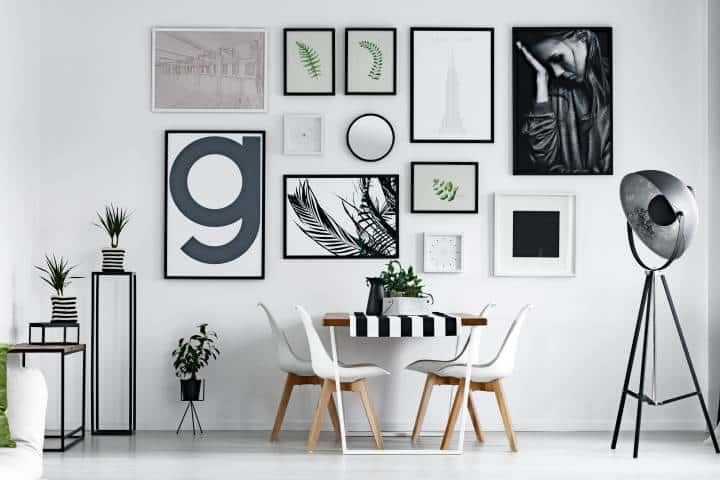 16. Monochrome space
If you're ever wondering what colour scheme to use in your home, then monochrome is always a good choice! It's classic, modern and timeless. It will never go out of fashion. If you want a focal point, pick a furniture with a different color tone, like this little wooden dining table in the middle of a bright white and gray space!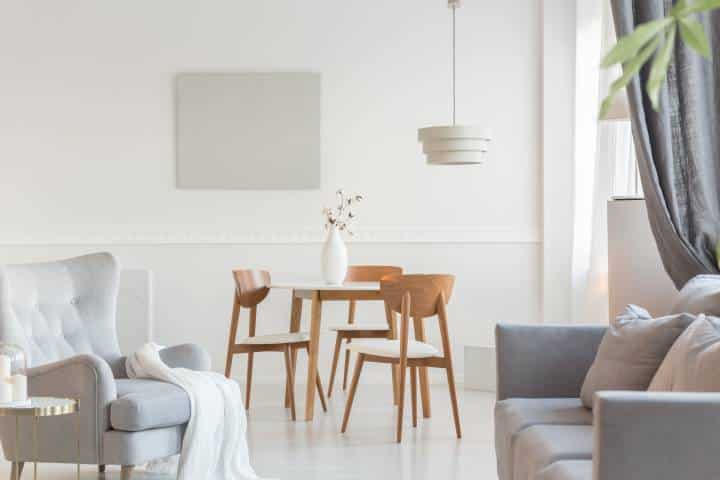 17. Light and airy
Oh I do love a light and airy space! I love all the natural light coming into this dining room and how the light colours in the space are celebrated and brightened up even further with the beautiful glow. Plus, the wooden chairs helps to create definition in this light space which works so well.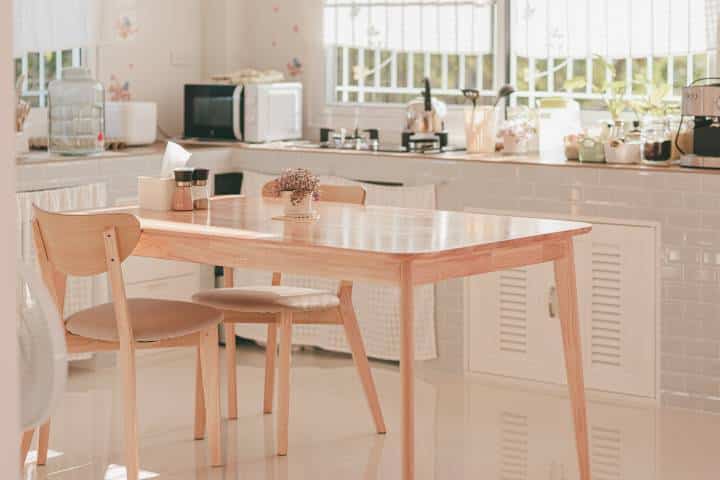 18. Pastel chairs + pastel pendants
Here's another stunning light and airy space that I'm seriously swooning over! I love all the natural light in this space, which helps to make this space feel open and inviting. The light grey walls are lovely and slightly different from regular white walls. And the little pastel chairs and pendant lights add that pop of colour without being 'too much'.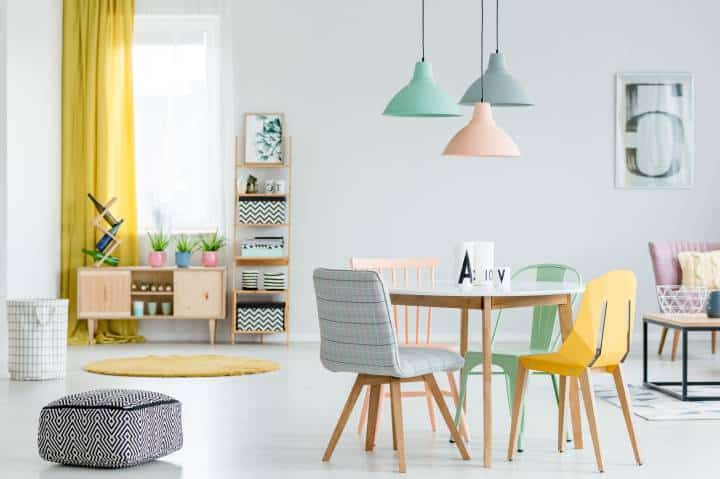 19. Feature wall
Painting a feature wall is an excellent way of creating interest in a room without taking up any space. I love the dark blue colour used on the wall in this dining room, as it gives such a contrasting look!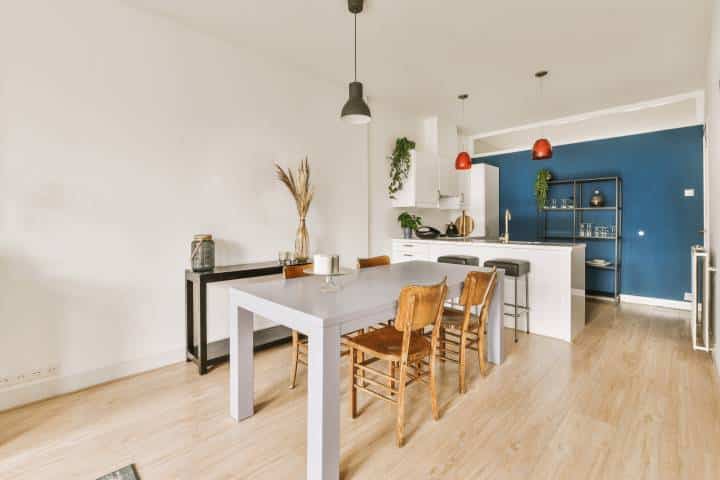 20. Mint and white
Here's another example of how accent colours instantly spruce up a room! I love the single mint coloured chair in this dining room which is complemented nicely by the rest of the white and wooden dining set. Just add some greenery in the corner, and voila!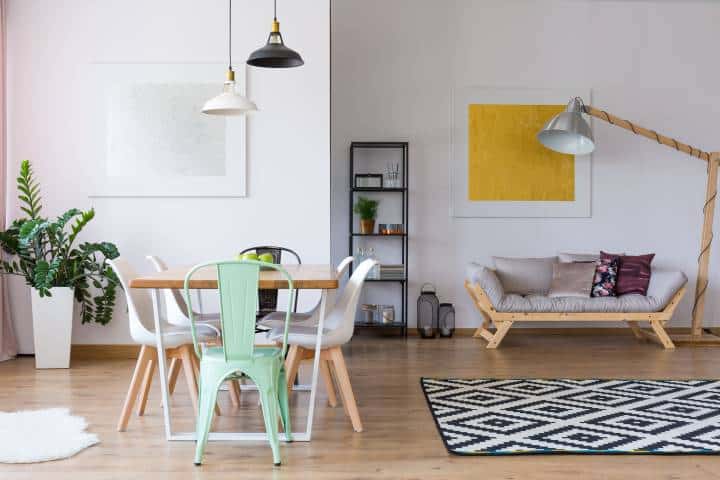 21. Industrial modern
What a work of art! This dining room looks like it has come straight out of a catalogue! I love how the industrial-inspired tile patterns on the wall serves as the backdrop of a simple black and white dining set! Plus, fruit and herb baskets add a little fresh touch too!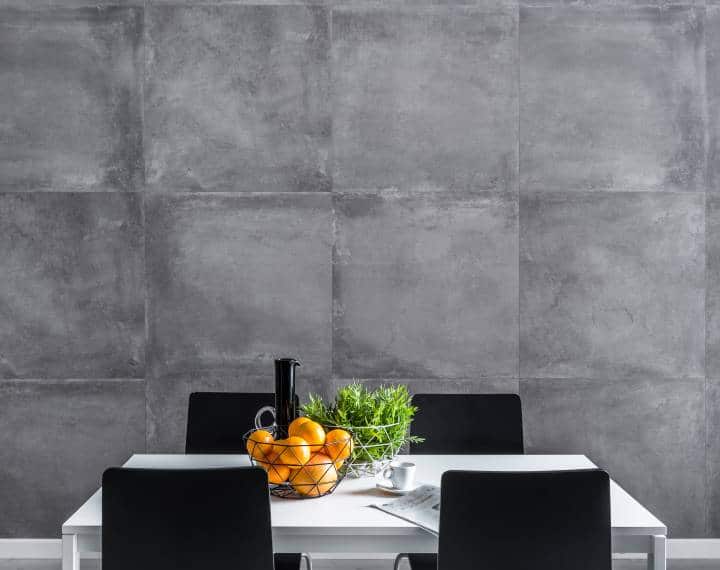 22. Stylishly botanical
How elegant and cosy is this dining room! It's got just enough elegance to look classy with the well made furnishings and lovely decor pieces. The black and white as the primary colours makes it timeless, and the wooden touches make it posh!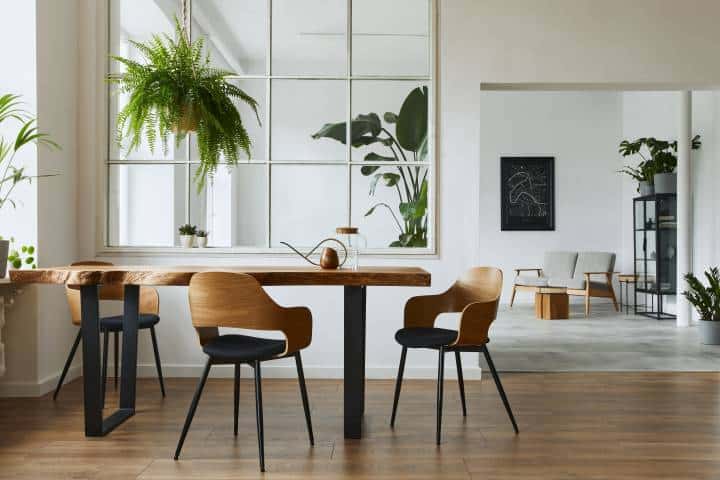 23. DIY dining
Do you like cooking and have favorite recipes you don't want to forget? Or maybe you'd like to display a coffee menu so guests can make their cup using the coffee station? Then you'll love an industrial wall with a chalk wall focal point! I especially love the wooden and black touches on this dining room, plus the abundance of potted herbs! It's like an inspiring environment for the home chef.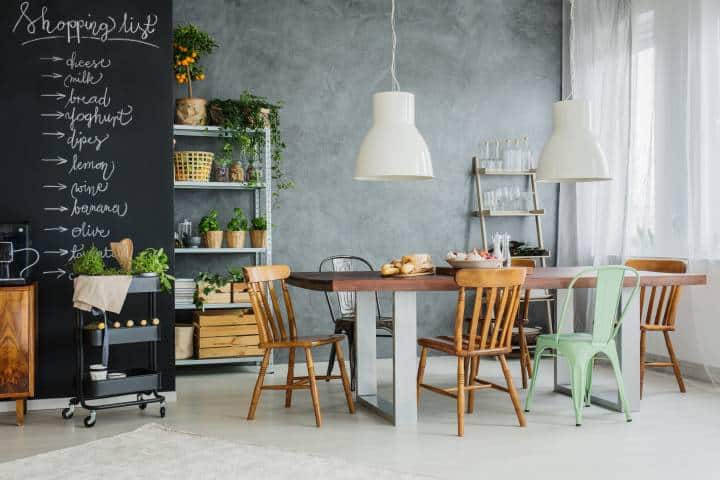 24. Kitchen dining
If you're living in a small place and the kitchen is the only place a dining room will work, do not fret because it can look fabulous! I love the simplicity of the small table in the middle of this room with the simple wood, white, and white chairs. Add a tall indoor plant for a touch of green and a yellow pendant lamp for warmth. Simple, yet effective!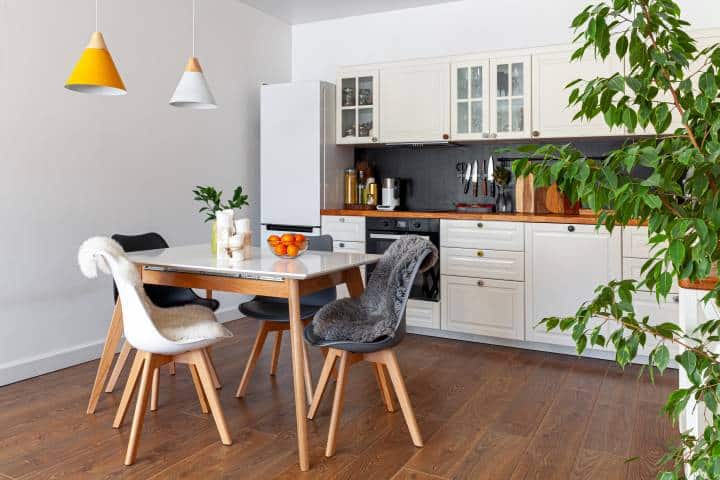 25. Breakfast nook
Check out this sweet little breakfast nook! I'd love my morning coffee and scrambled eggs sitting around this table! You could also opt to have benches for cute throw pillow pieces and a lovely light pendant.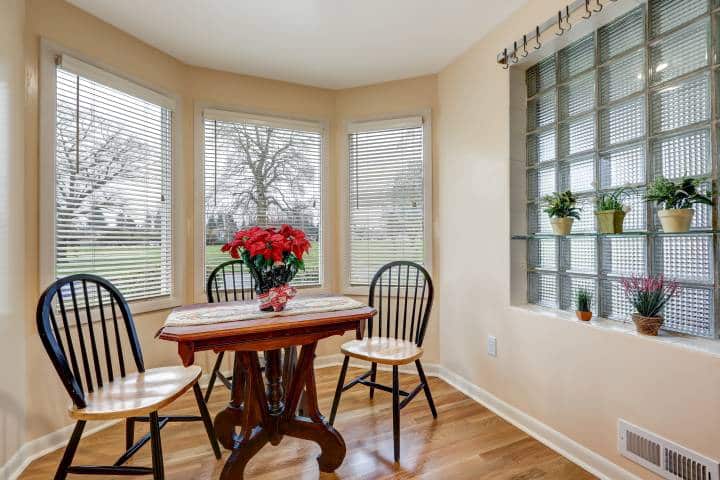 26. Mix and match
One white, airy space with different pieces? Look at this dining room! From the varying colours of the dining chairs up to the couch area's styling and the kitchen cabinets' colour, it's a mix and match haven!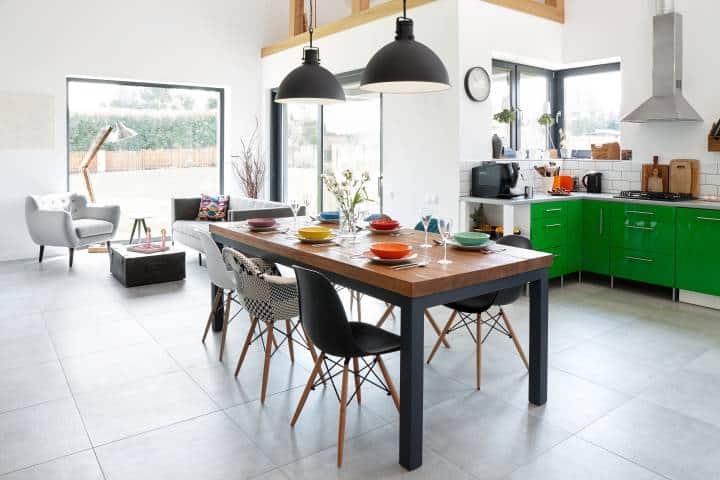 27. By the fireplace
Ah, what a lovely dining room by the fireplace! I can imagine how cosy this spot would be in winter! And the warm tones through the wooden finishes in this room make everything feel warm and welcoming. Plus, how gorgeous and personalized is the shelving on the wall! What a gorgeous feature.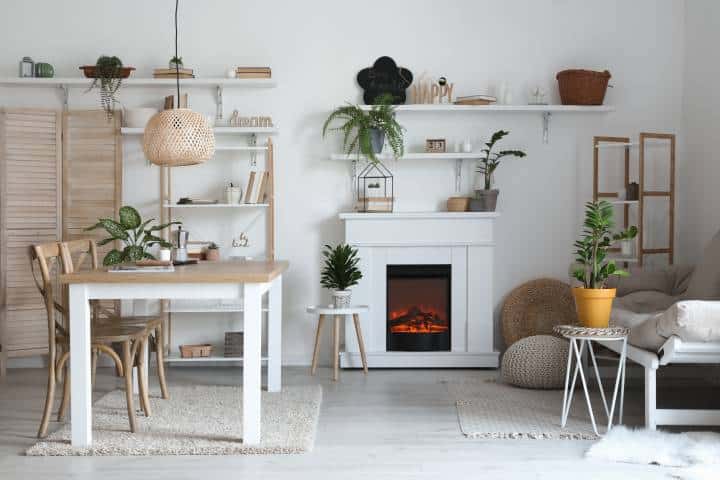 So there we have it! 25+ small dining room ideas to inspire you to make the most of your small spaces and to not be afraid to decorate! I love the spaces with the clear furniture, which helps to make the room feel bigger and the perfectly styled rooms, despite the limited space. What were your favourite small dining room ideas? Let's chat in the comments below!