Modern landscaping emphasises clean lines and uncluttered open spaces. It's the perfect balance of simplicity and elegance that makes it so appealing to the eye.
For a successful modern landscaping design, opt for classic finishings, neutral colour palettes, and well-tended gardens that boast practicality and functionality. Softscaping, for example, is an option that focuses on living elements like plants, flowers, and ground covering. You can also opt for hardscaping with more permanent work, such as walls, decks, and pavers.
Sometimes, starting big home projects like landscaping can be overwhelming when you're unsure what to try out. But we've got you covered with these modern landscaping ideas to inspire you! 
1. Outdoor living space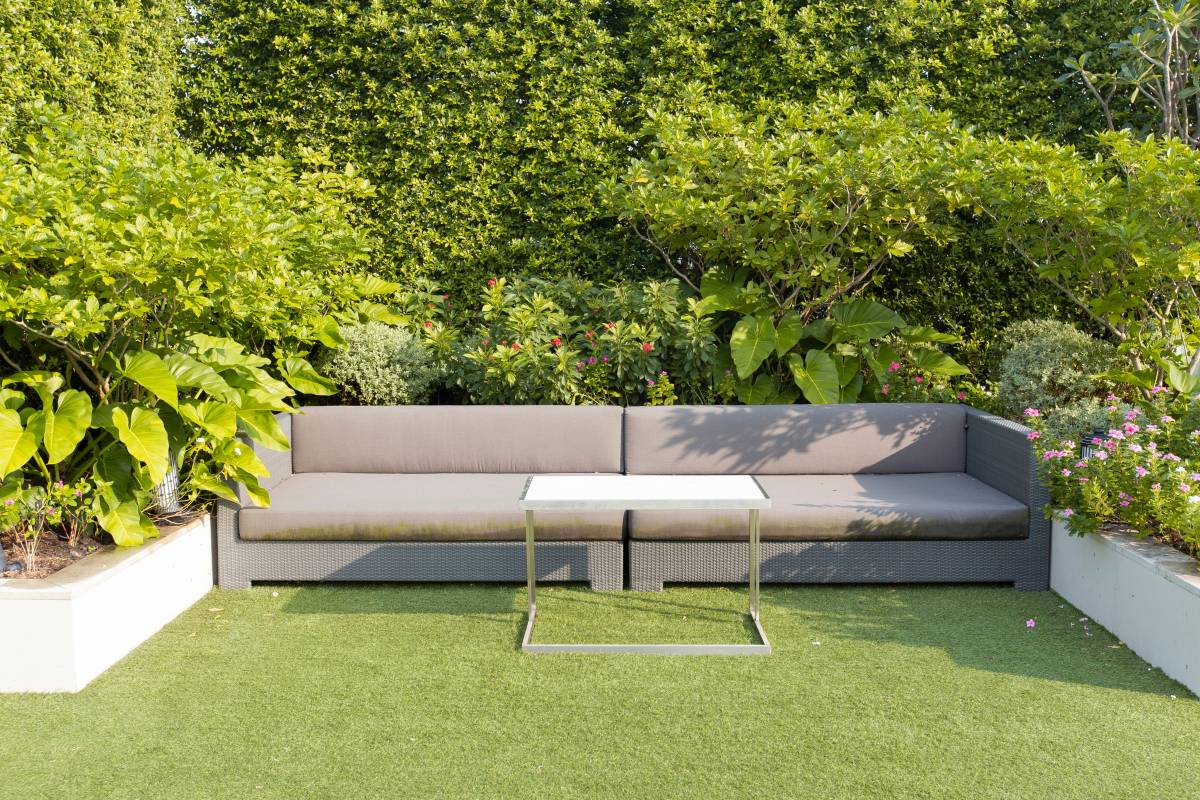 As the idea suggests, you can create a living room right outside for maximum comfort when lounging outdoors. Bring out plush seating with durable material to survive the elements. Nestle it into a cosy corner of your backyard with enough shade from the sun. Likewise, you can also use a well-trimmed hedge as a beautiful privacy wall instead of your standard fences.
2. Streamlined landscaping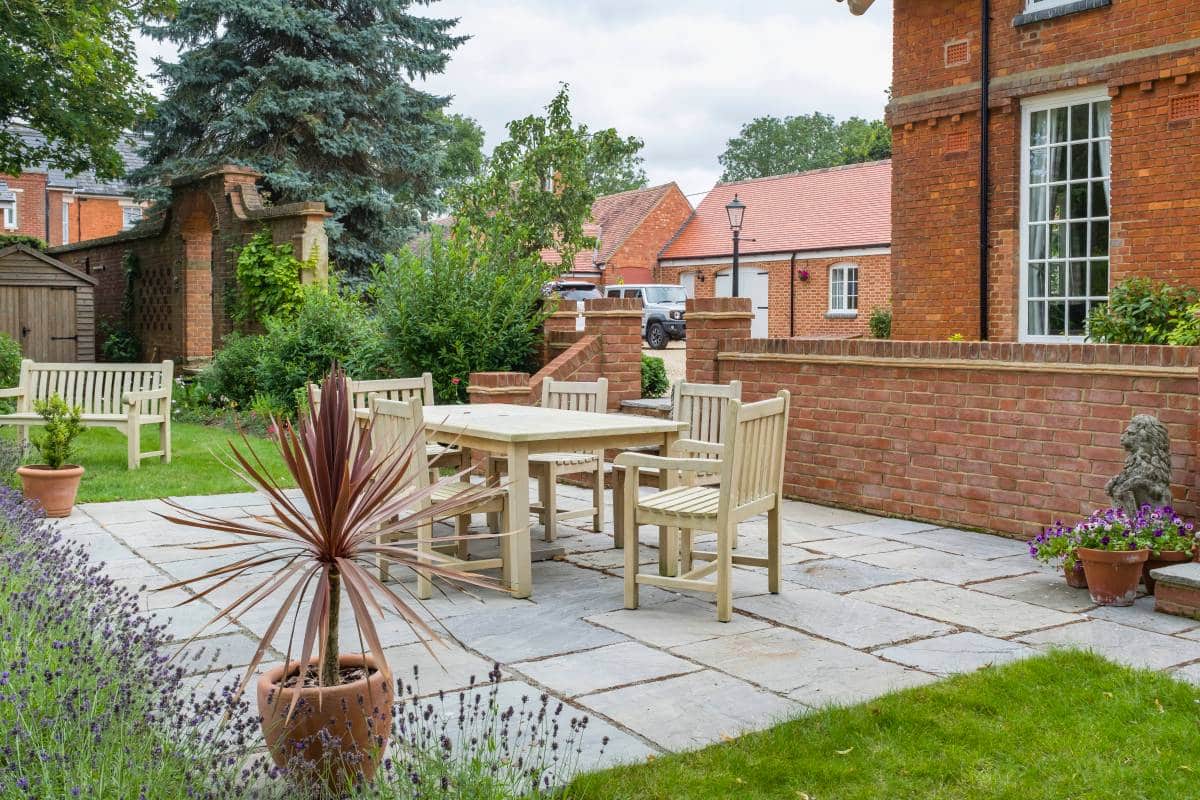 Strategically planned paving is an excellent way to direct guests into the best lounging areas in your backyard. It also provides even footing for outdoor dining areas.
3. Divine decking
Decks are a gorgeous alternative to paving. It lends an almost resort-like feel, especially if you plan to incorporate a dining area or pool in the space.
4. Pool area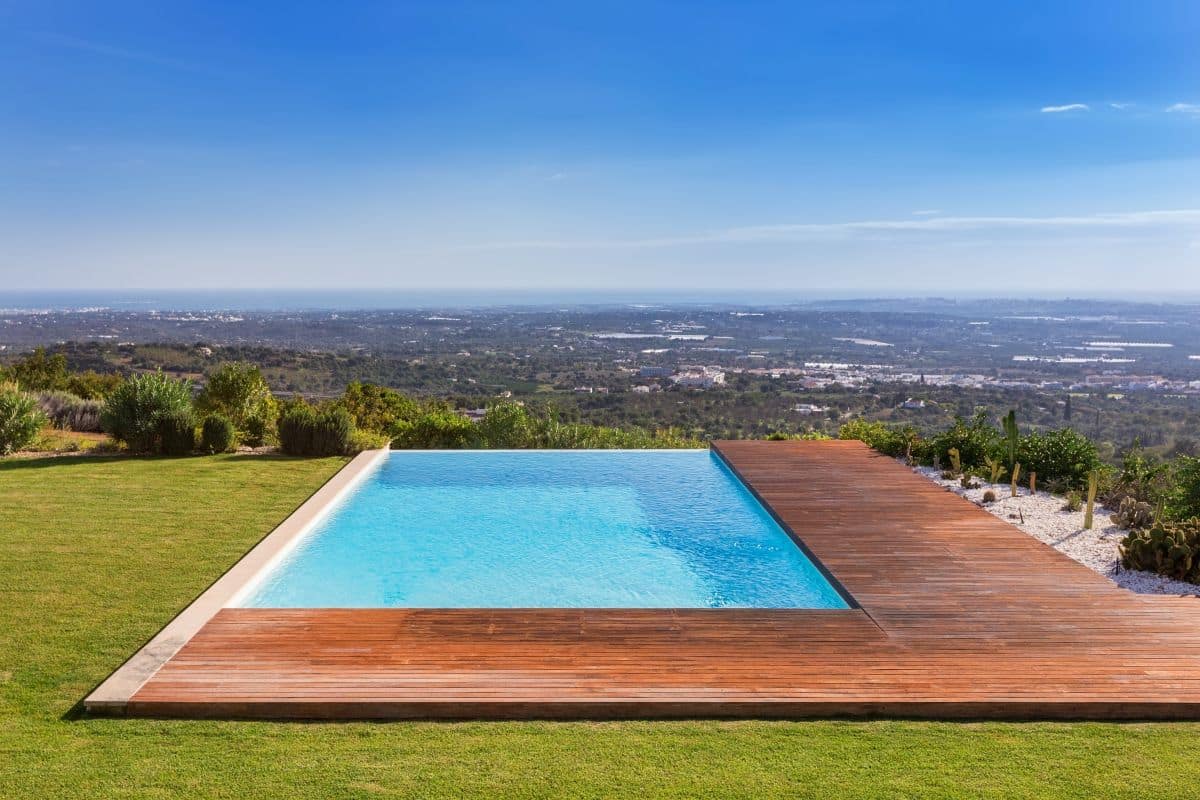 A pool is a symbol of luxury, and designing it to your liking allows for endless possibilities. Take the extra time in designing the pool area however you'd like to use it. Think about whether you'd be more comfortable drying off on grass areas or decks.
5. Outdoor chilling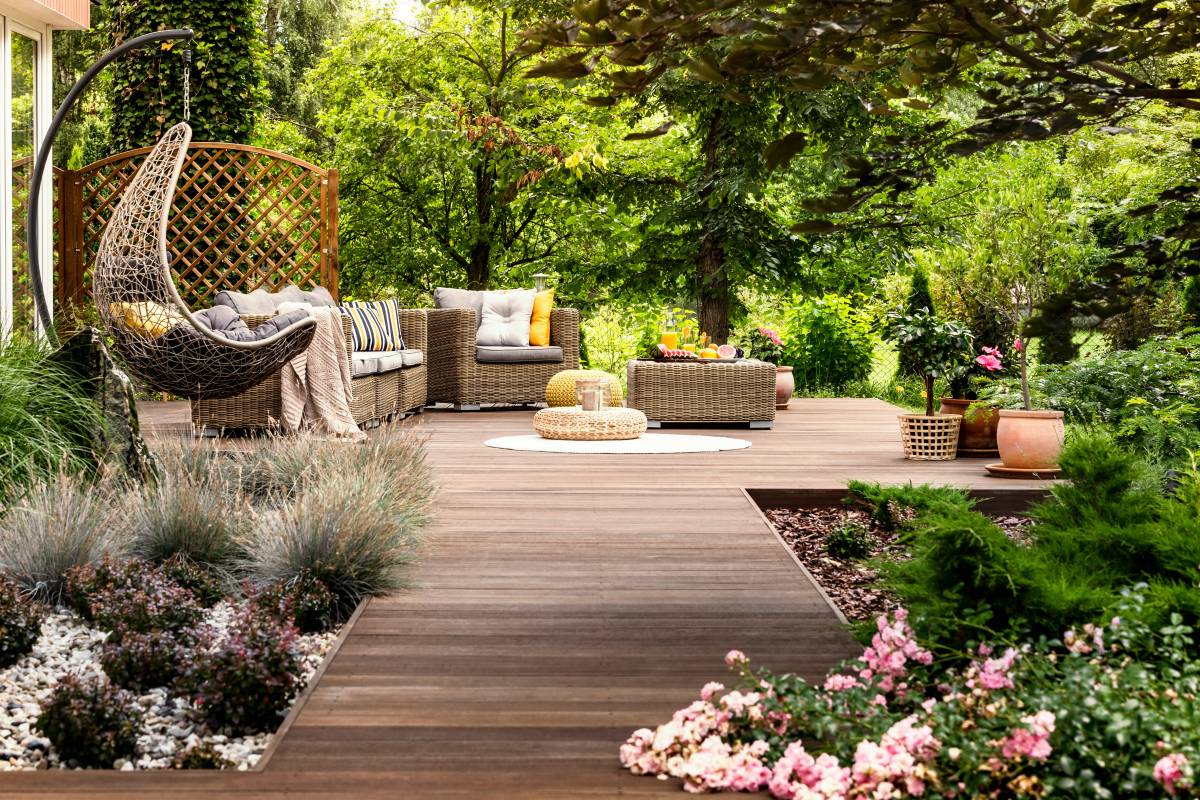 For the ultimate outdoor oasis, paved pathways to areas with an abundance of comfortable seating and soft pillows will do wonders.
6. Hedged entrance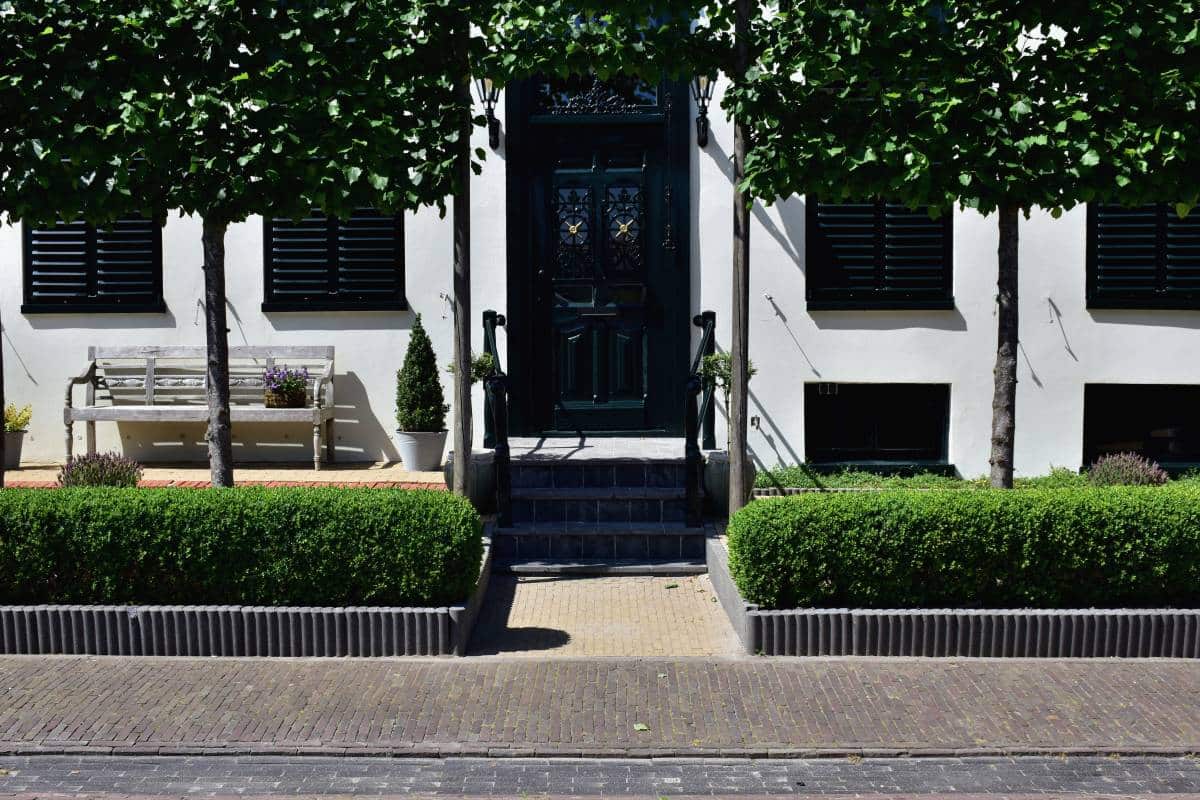 Hedges act as a great privacy wall. They're also a luscious alternative to standard fencing and can absorb wind and other natural elements. You can consult professional hedge planters on the best time to lay your hedge.
7. Built-in seating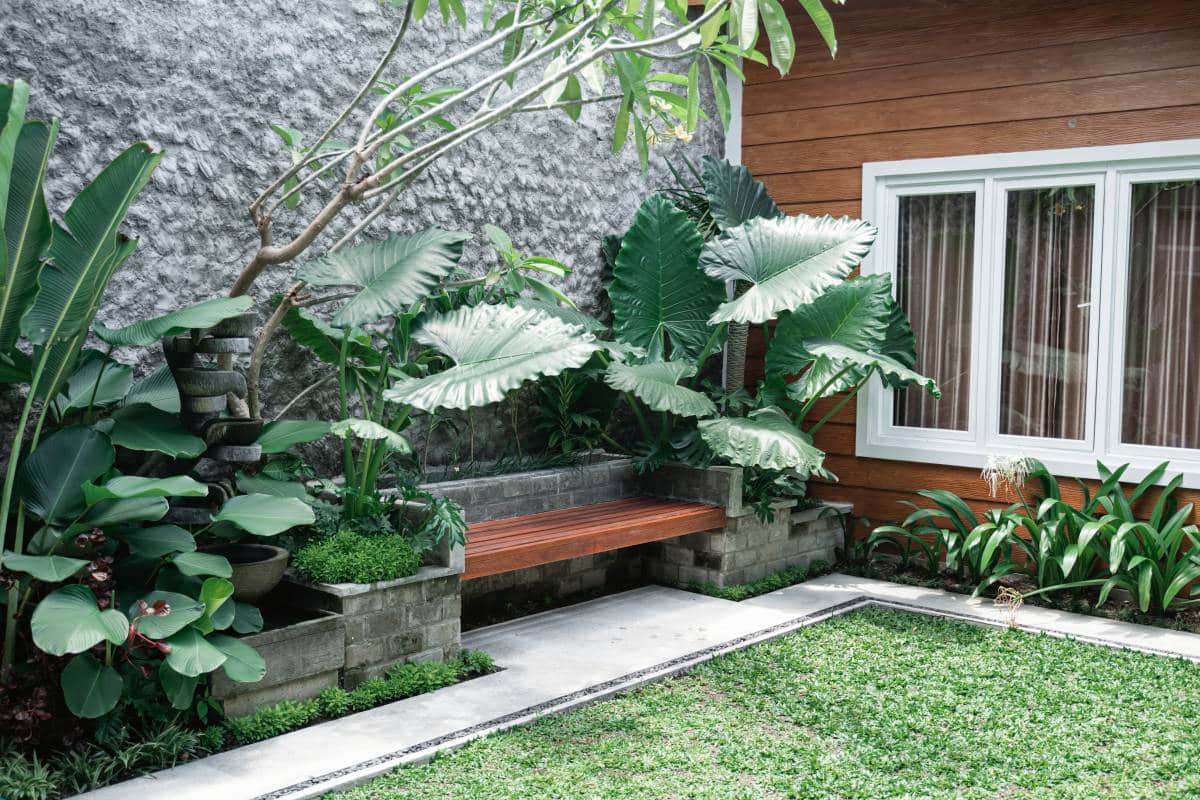 Built-in seating can easily be tucked into a corner of your home where there's enough shade from neighbouring plants so you can lounge at any time of the day. Don't be afraid to explore using different materials for your seating to add visual interest.
8. Garden bed on the patio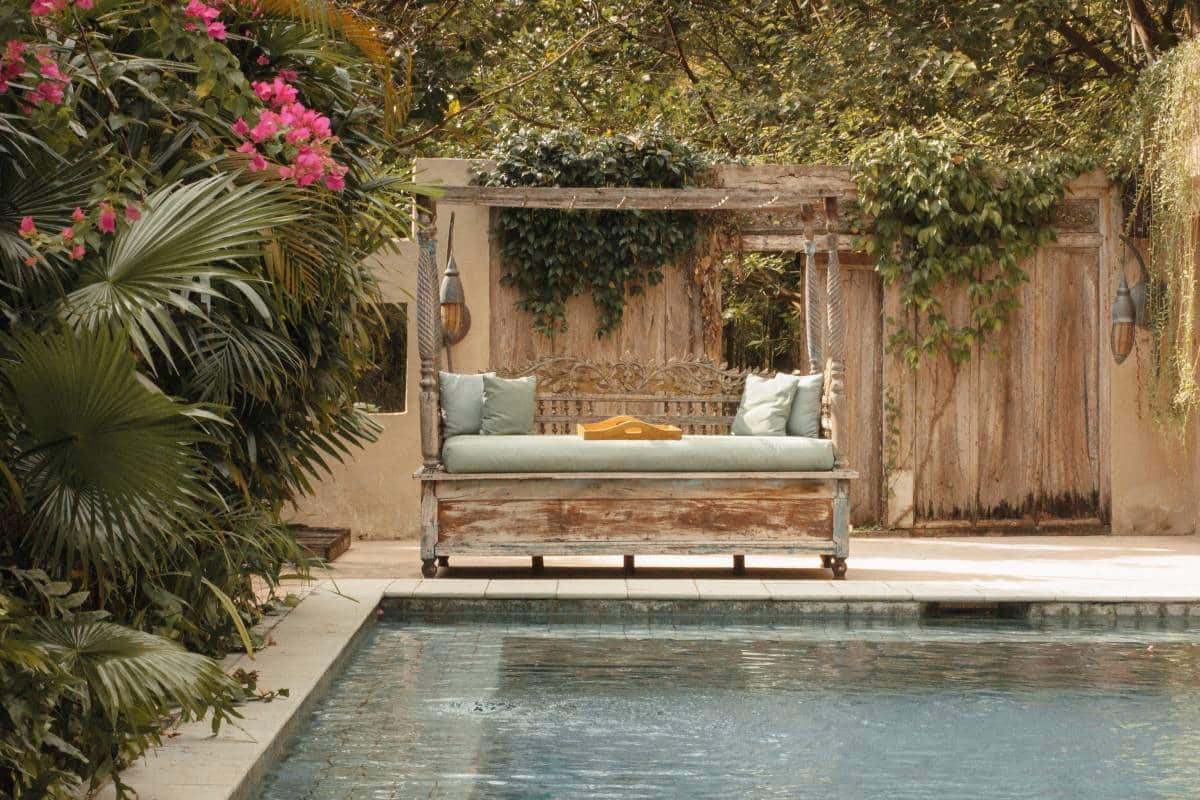 Garden beds are an excellent patio idea. Ideally, they're positioned by greenery for that extra bit of shade during the sunnier parts of the day.
9. Grassy accents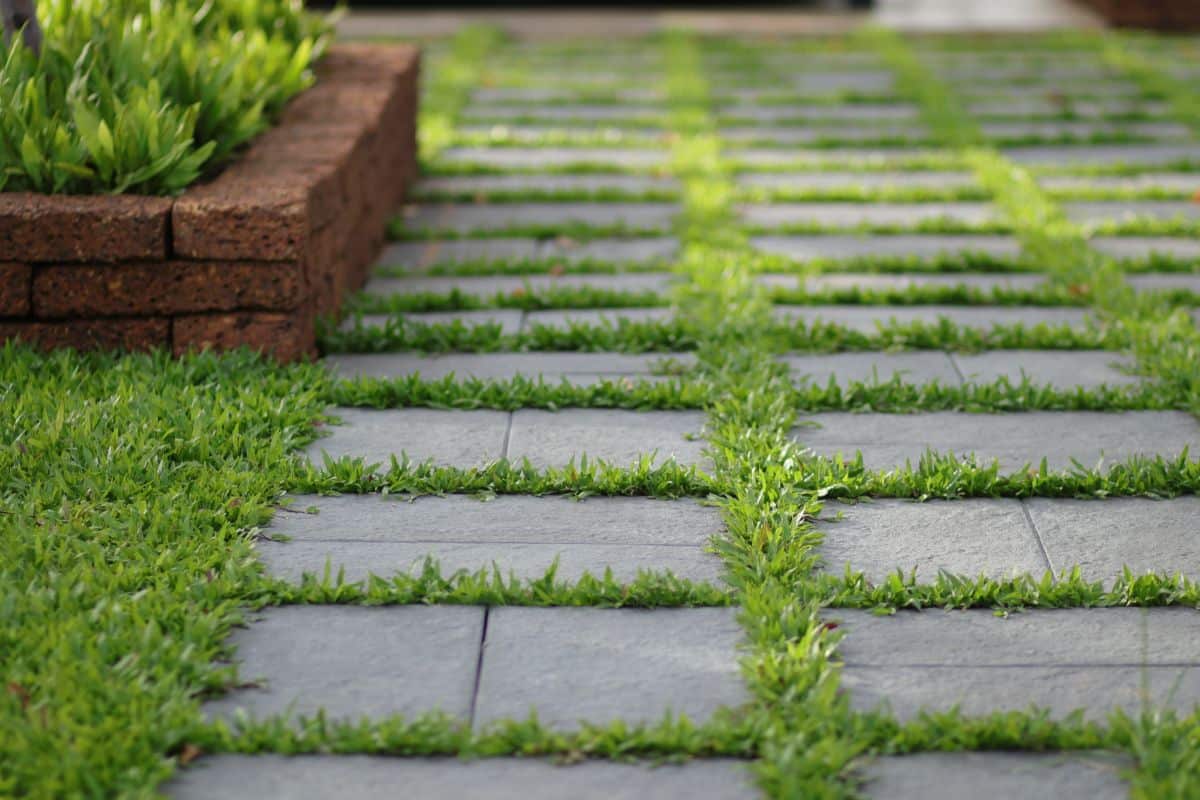 Another great modern landscaping technique to mix soft and hardscaping is to allow grass accents to peek through clean-cut concrete slabs.
10. Cosy courtyard
Create high tree linings to keep your courtyard cosy and enclosed. The added greenery will help regulate a more airy space, perfect for hot afternoons.
11. Rock wall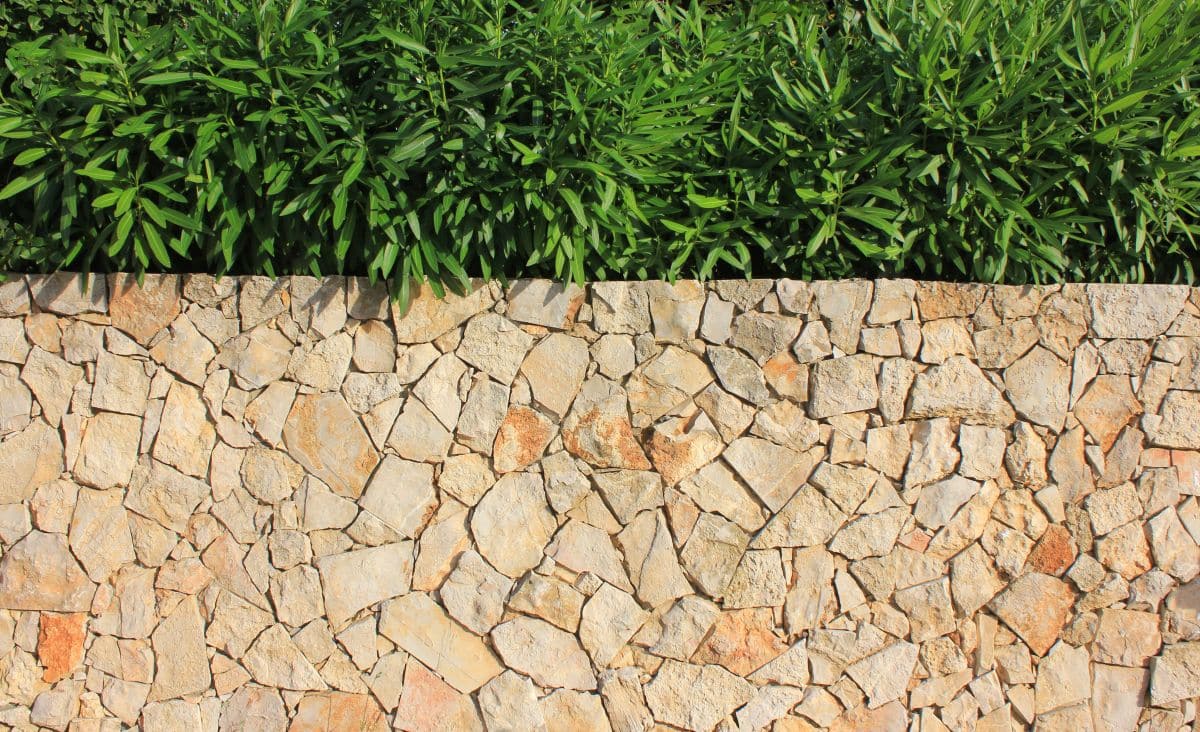 Rock walls are a naturally more durable and low-maintenance approach to building privacy in your space. Because of its rougher appearance, should there be any minor breaking or chipping, it will barely be noticeable.
12. Little saplings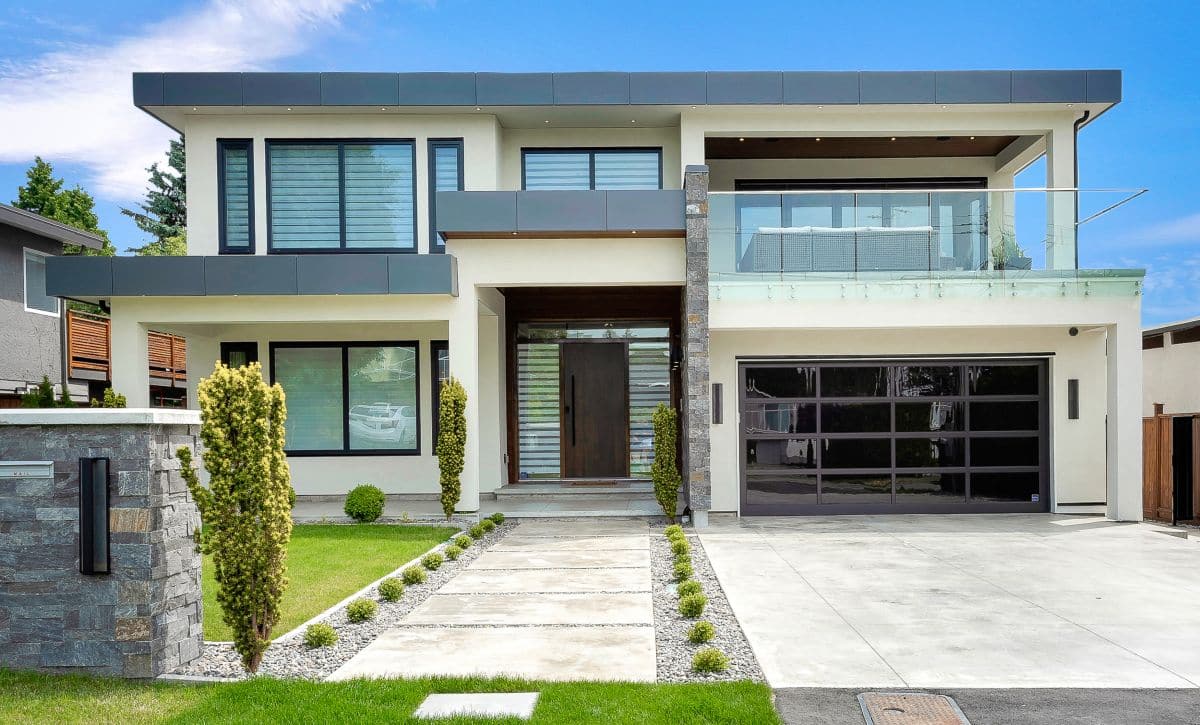 Lining pathways with little saplings in a neat column is another great way to marry softscaping and hardscaping. The tufts of green lend a refreshing pop of colour to the landscape.
13. Concrete stepping stones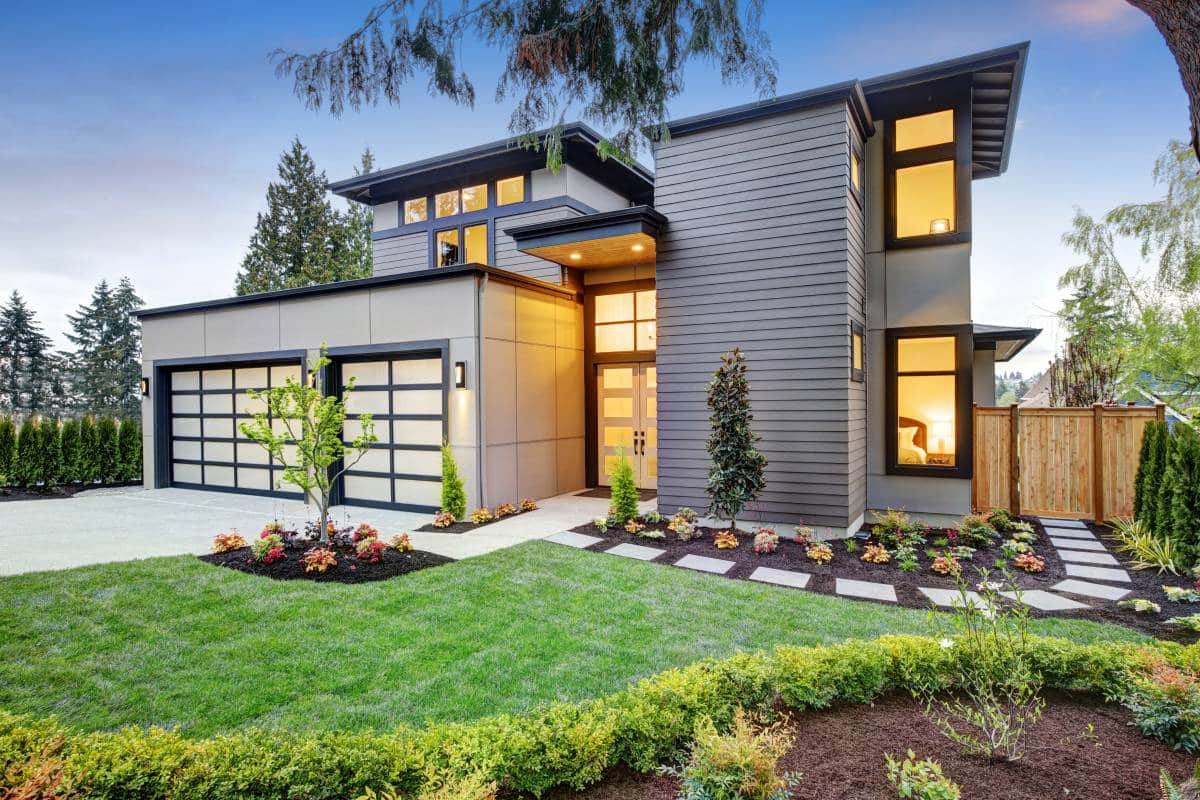 Instead of rocks or grass for pathways leading from the front of your house to the backyard, concrete is a nice stable material for stepping stones. This material ensures less grub gets on footwear, especially if you'll be entering the house soon after.
14. Minimal modern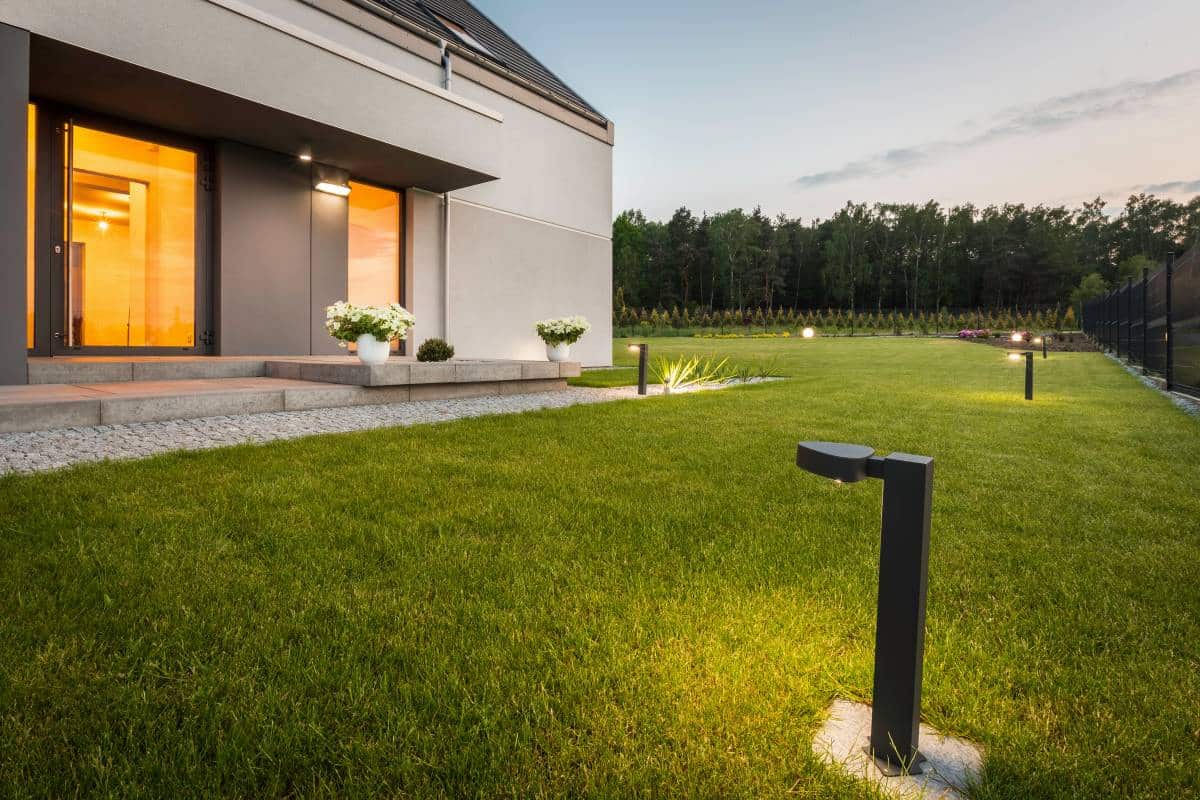 When you're looking for low-maintenance and cost-effective open spaces for your backyard, keeping the hardscaping to just the perimeter of your home saves on the extra labour. A standard lawn will do the trick in keeping the space easy to set up for events or outdoor activities.
15. Hamptons style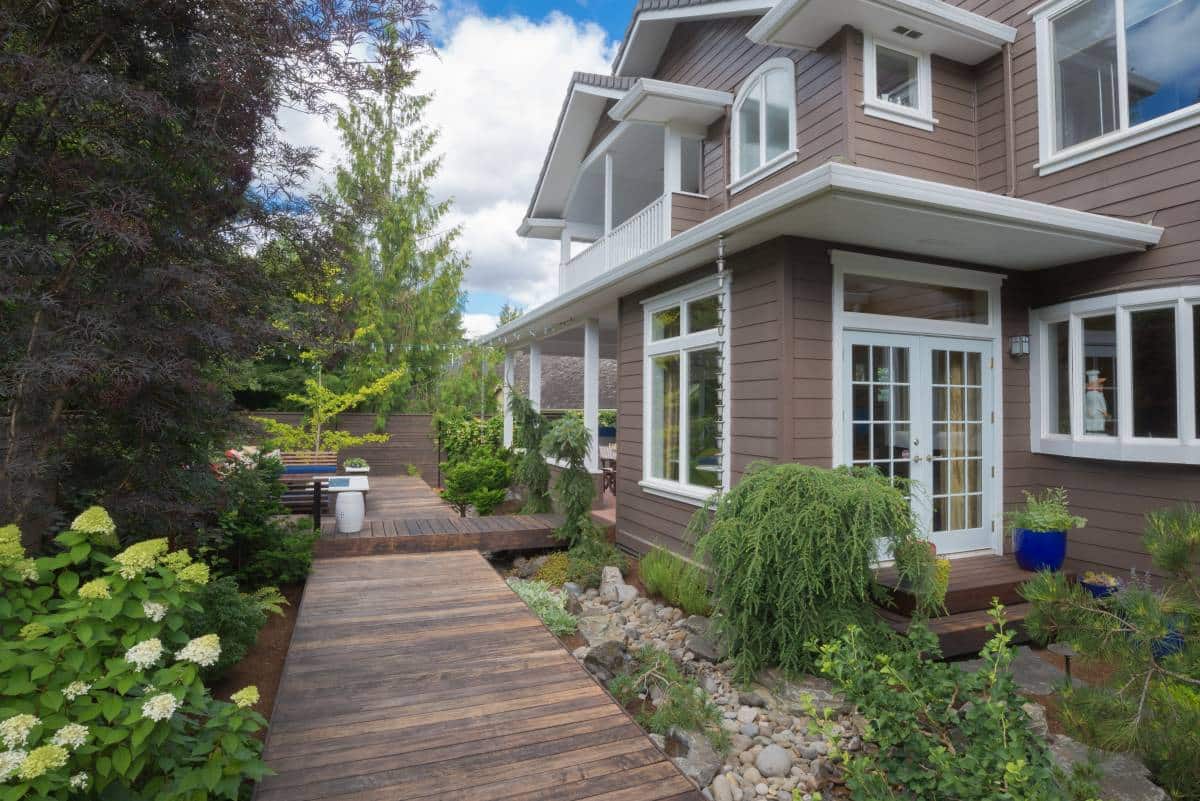 Timeless, airy, and spacious are key elements to a Hamptons-style home. Think of an abundance of plants for air circulation, white-framed windows and doors to let air in.
16. Running water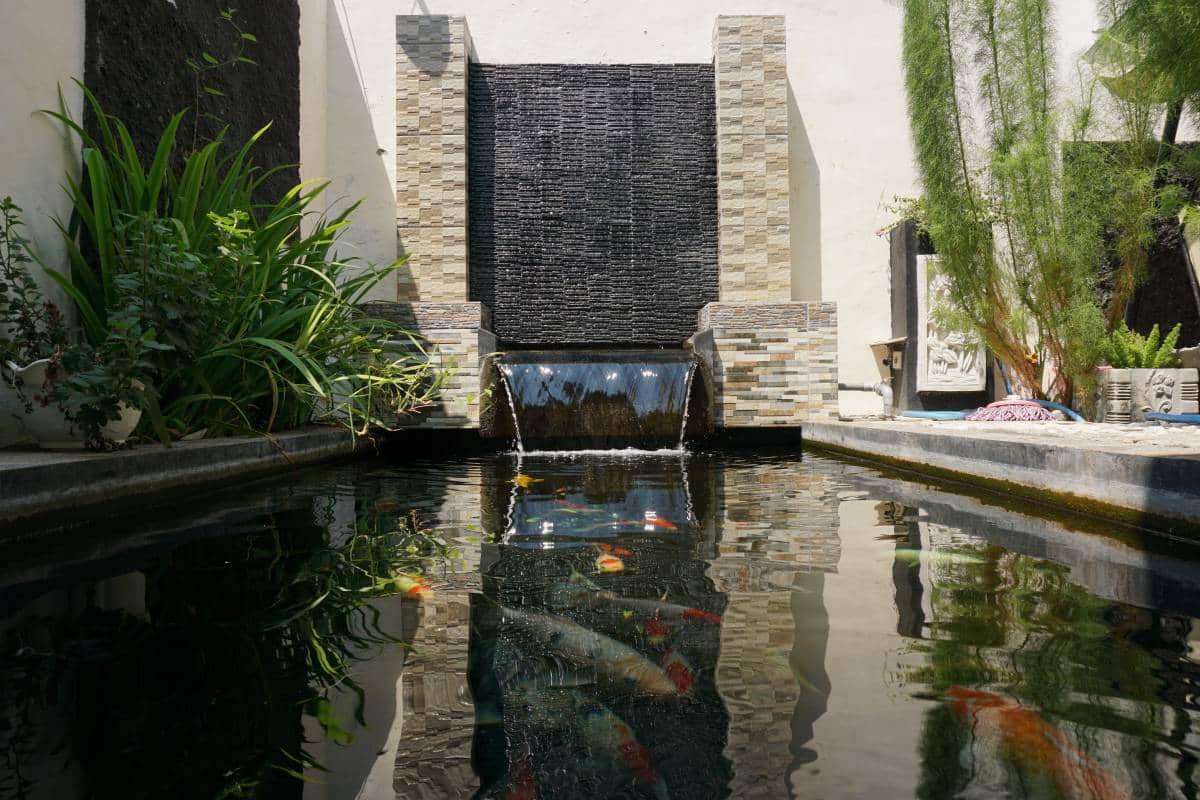 A built-in waterfall is another way to add interest to your space. If you love aquariums, take the opportunity to turn your standard waterfall into a modern fish pond as well. Consult with garden pond experts for the best ways to maintain the area.
17. Curved angles
Usually, in modern landscaping, we see lots of clean, sharp lines, but this design goes to show you can still use curved edges and still have a very modern result. Curved lines can make an area more inviting and blends seamlessly into the foliage.
18. Long and balanced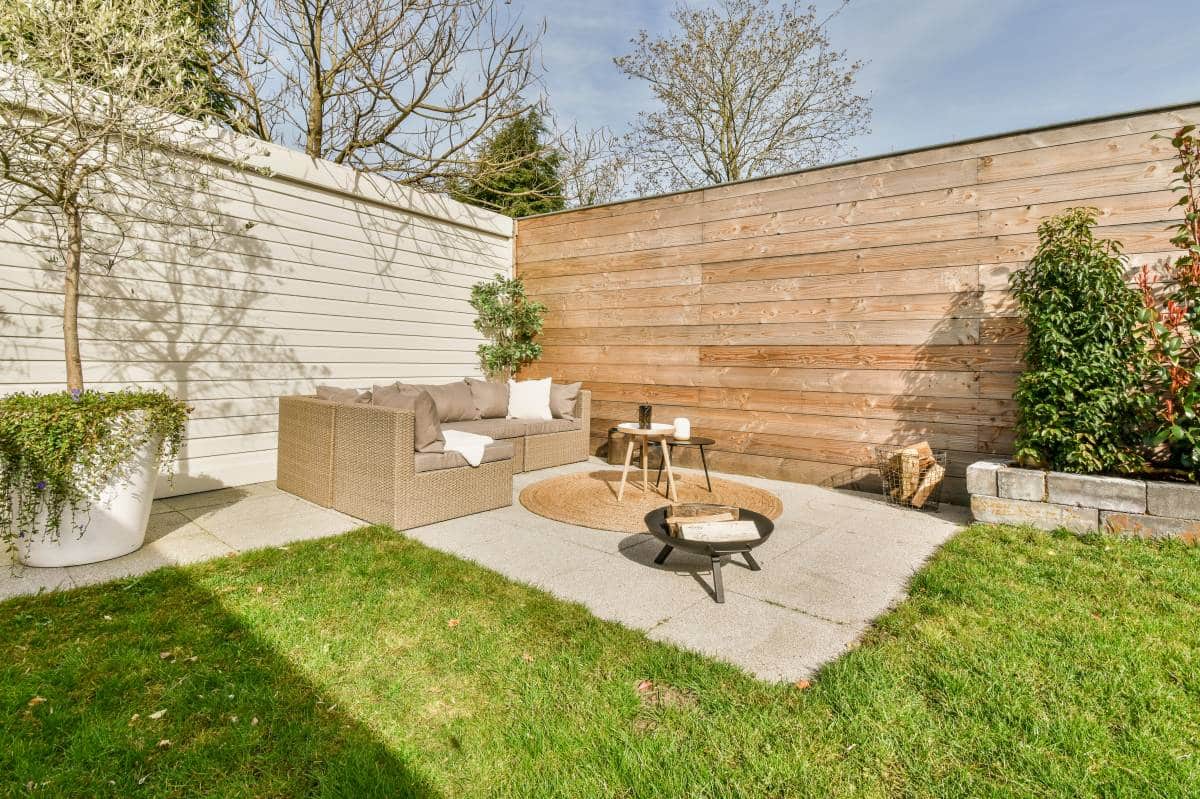 You don't need too much space to get a little bit of everything in your landscaping. Divide the area with adequate paving for al fresco dining and lounging and grass for a softer area to enjoy outdoor activities.
19. Grass steps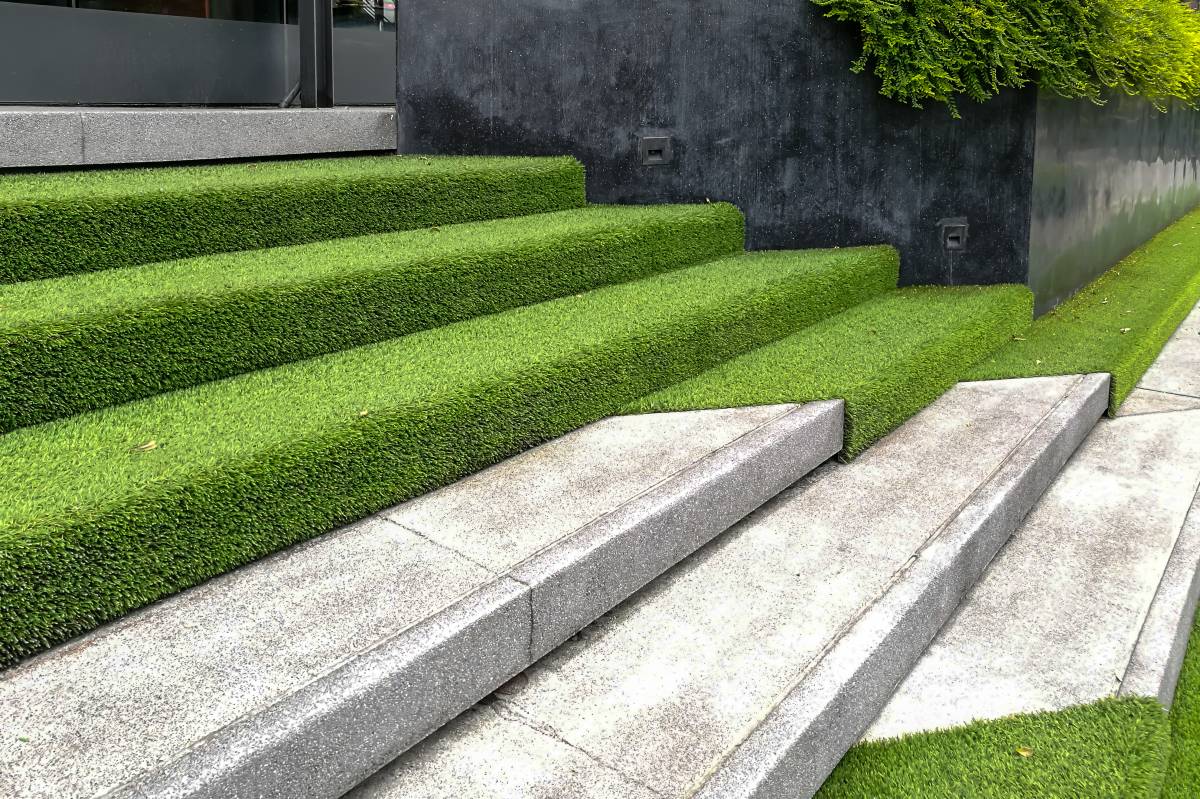 You can cover sections of concrete stairs with grass trimmings for a more unique and artistic approach to merging softscaping and hardscaping.
20. Laid back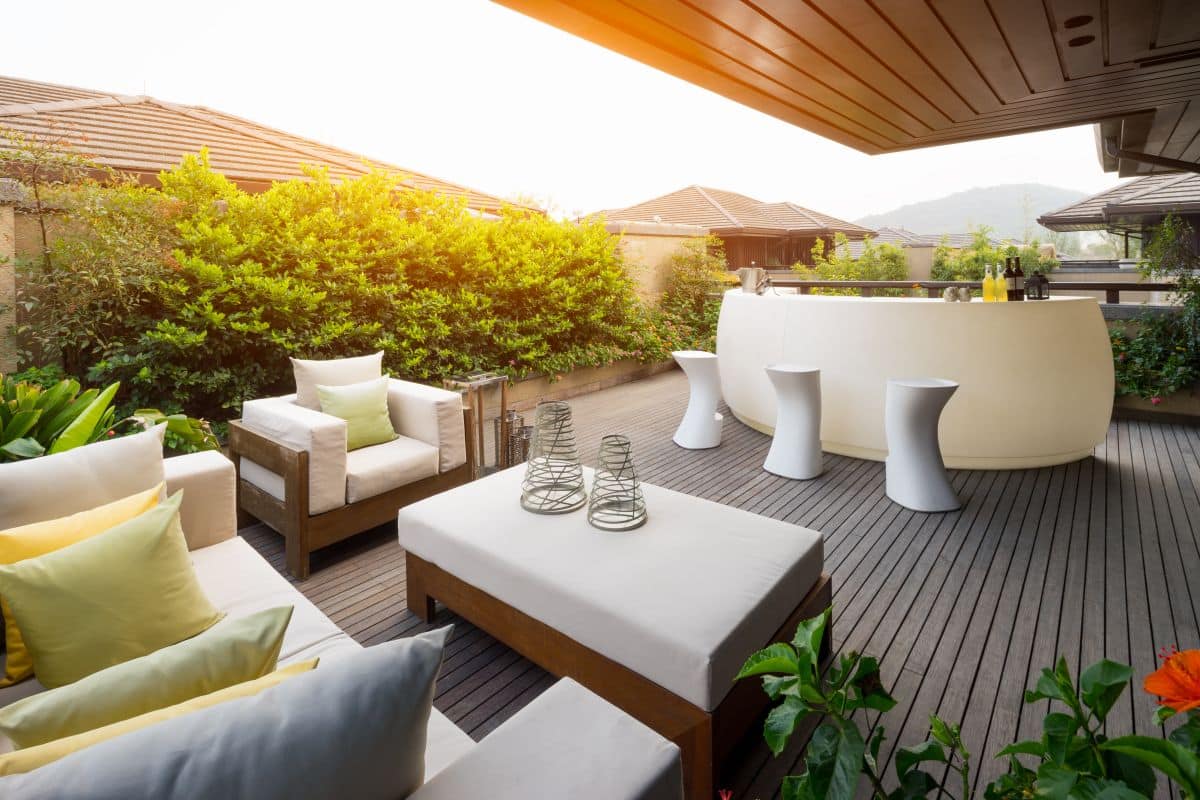 Match your furniture to your deck with comfortable modern wood pieces to create the ultimate laidback space.
21. Gravel garden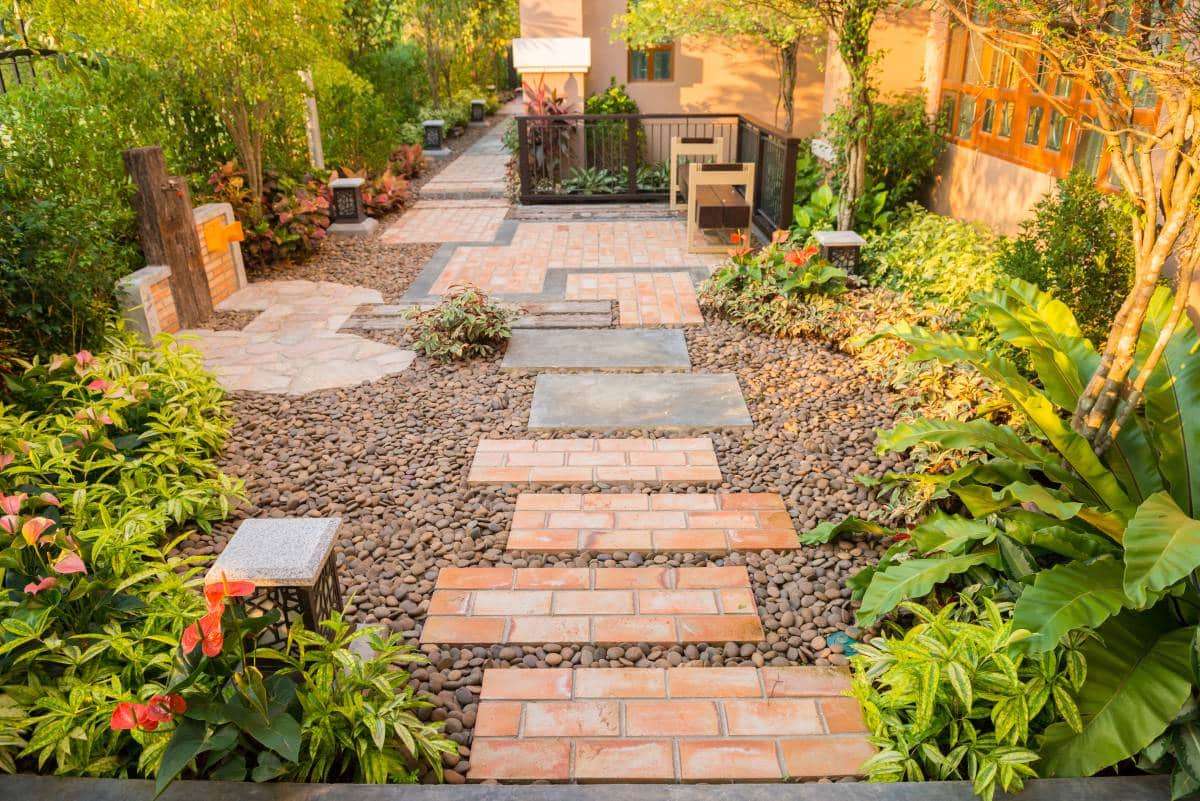 For a more interesting type of hardscape, you can opt for gravel flooring. It's another low-maintenance option that's easy to set up for outdoor activities.
22. Plunge pool decking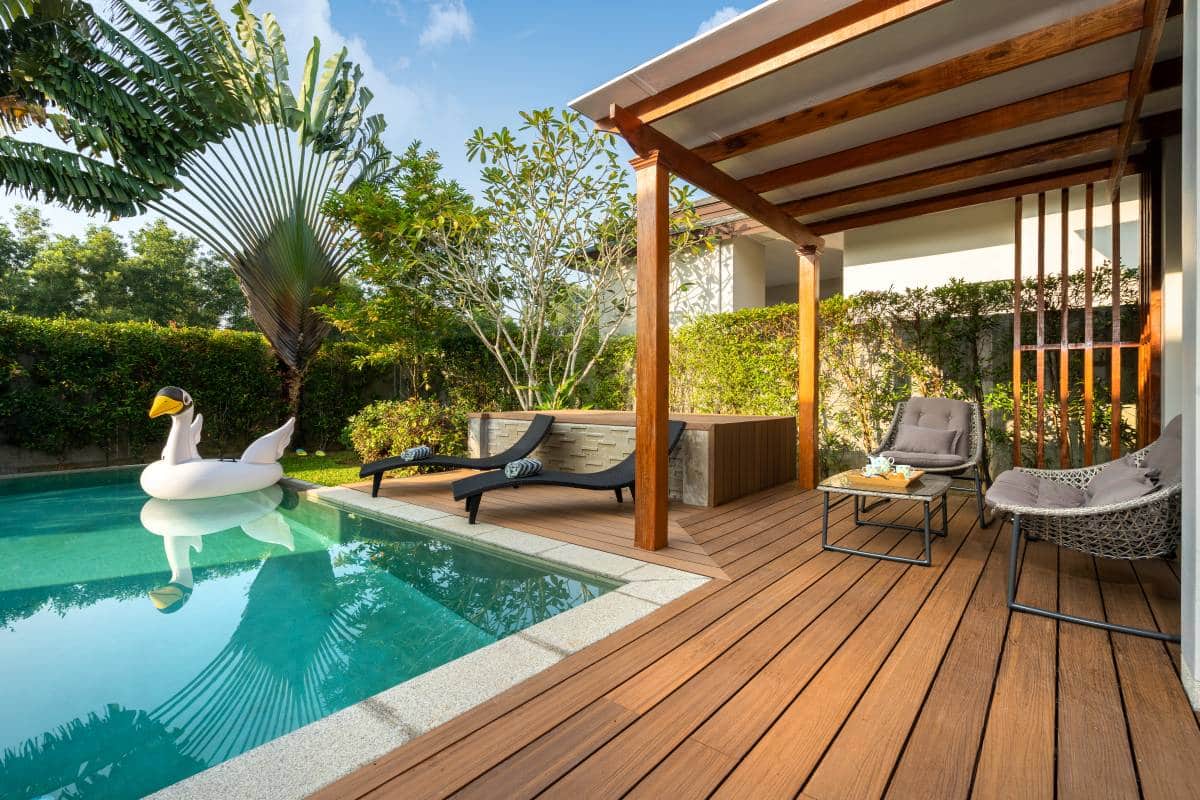 Creating a designated area for a plunge pool can be a great option if you have limited space in your backyard and cannot accommodate a full-sized pool for swimming laps.
If you need more inspiration for your pool landscaping, there are plenty of other great ideas out there to explore.
23. Green walkways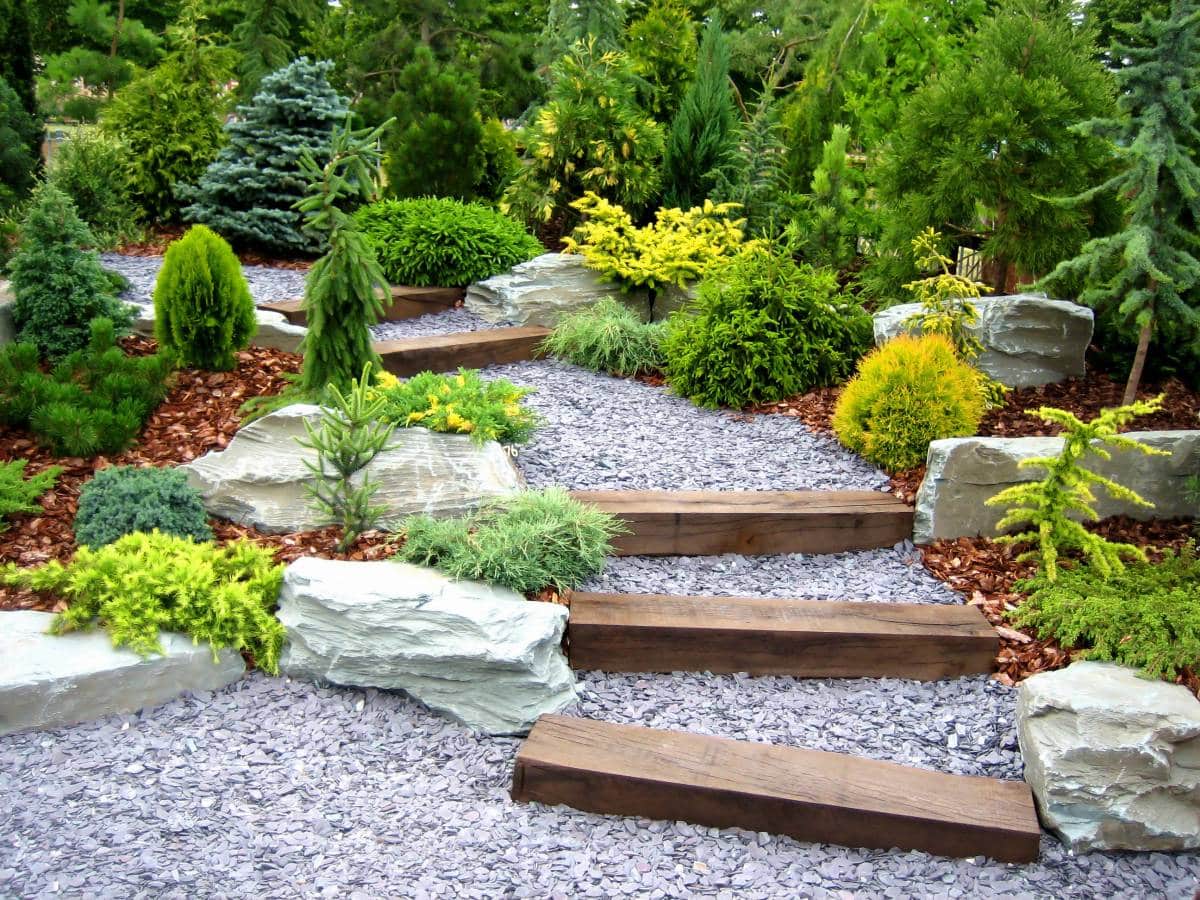 Well-structured walkways lined with greenery make for a calming landscape. Professional landscape designers can help you plan out the best way to incorporate this into your home.
24. Desert garden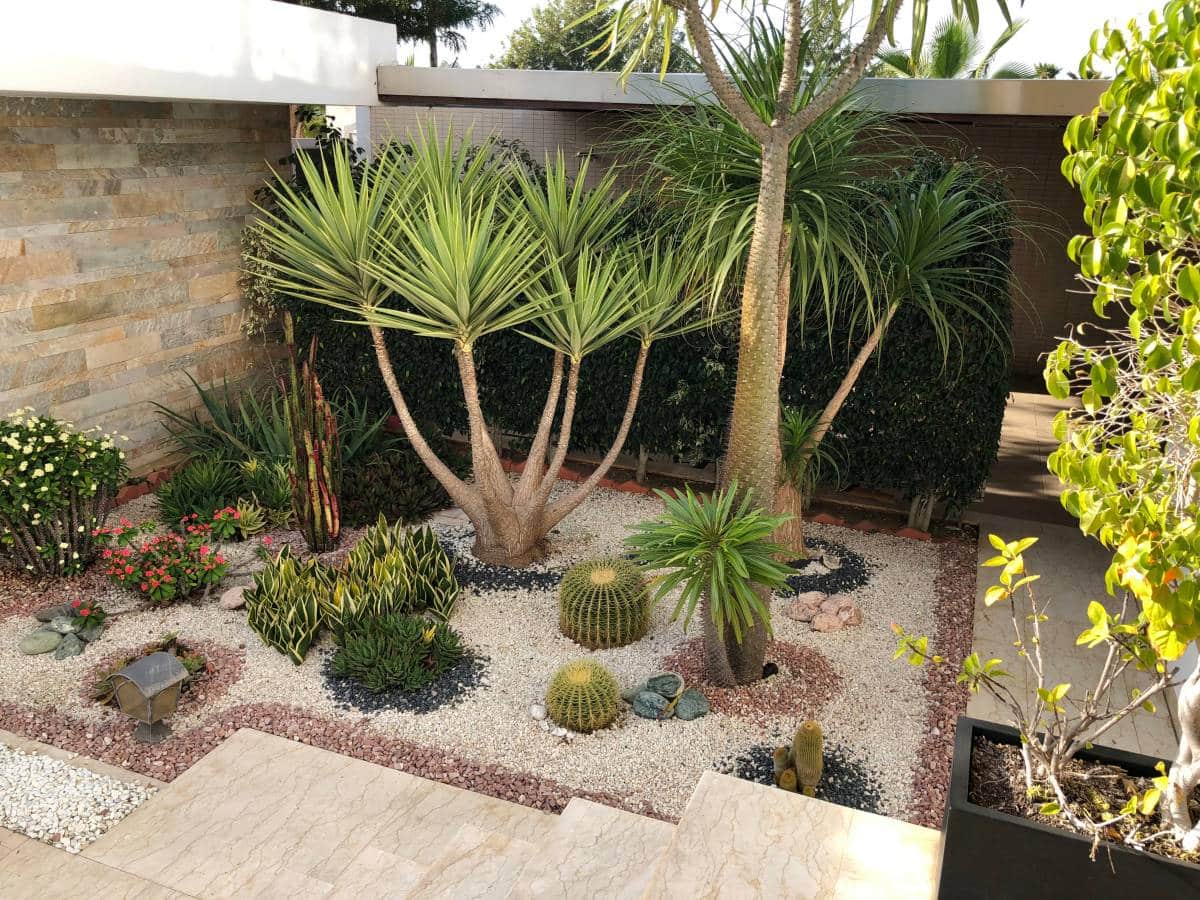 If you love greens but don't have much of a green thumb, consider a desert garden. Fill it with cacti and other low-maintenance plants. Consult with a local landscaper about your best options for desert plants.
25. Sunken seating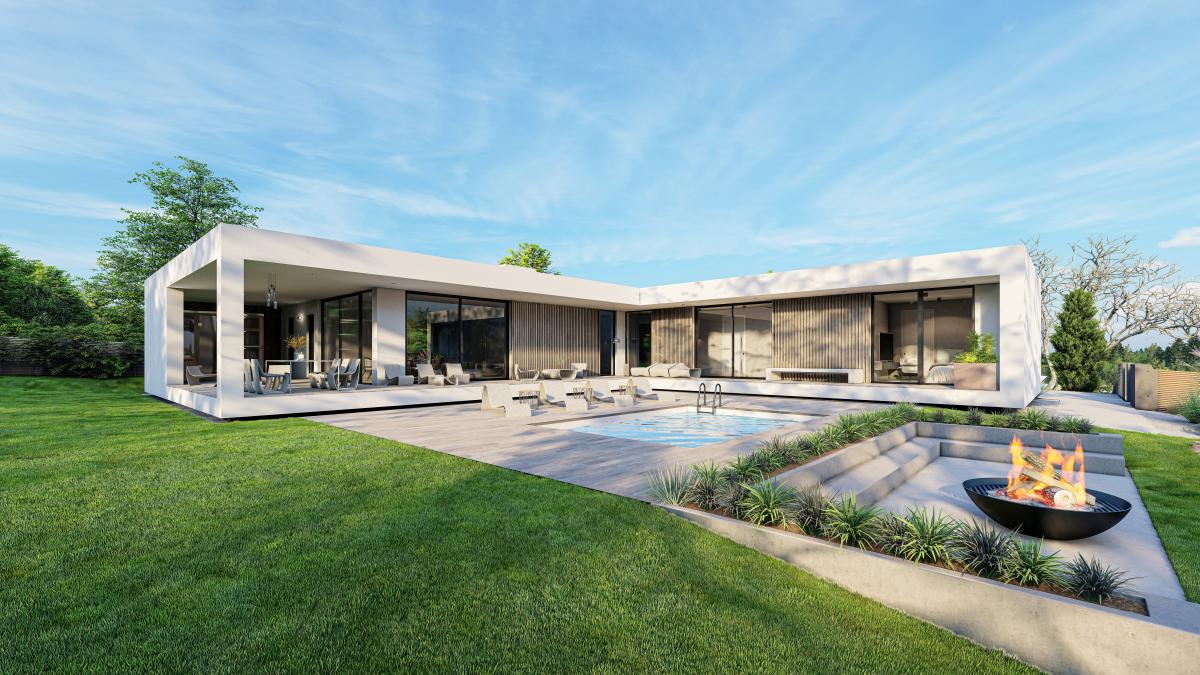 Sunken seating is a great idea, especially if you have plans to install a firepit in your backyard. It's the perfect place to gather 'round with good company on cool nights out.
26. Japanese-inspired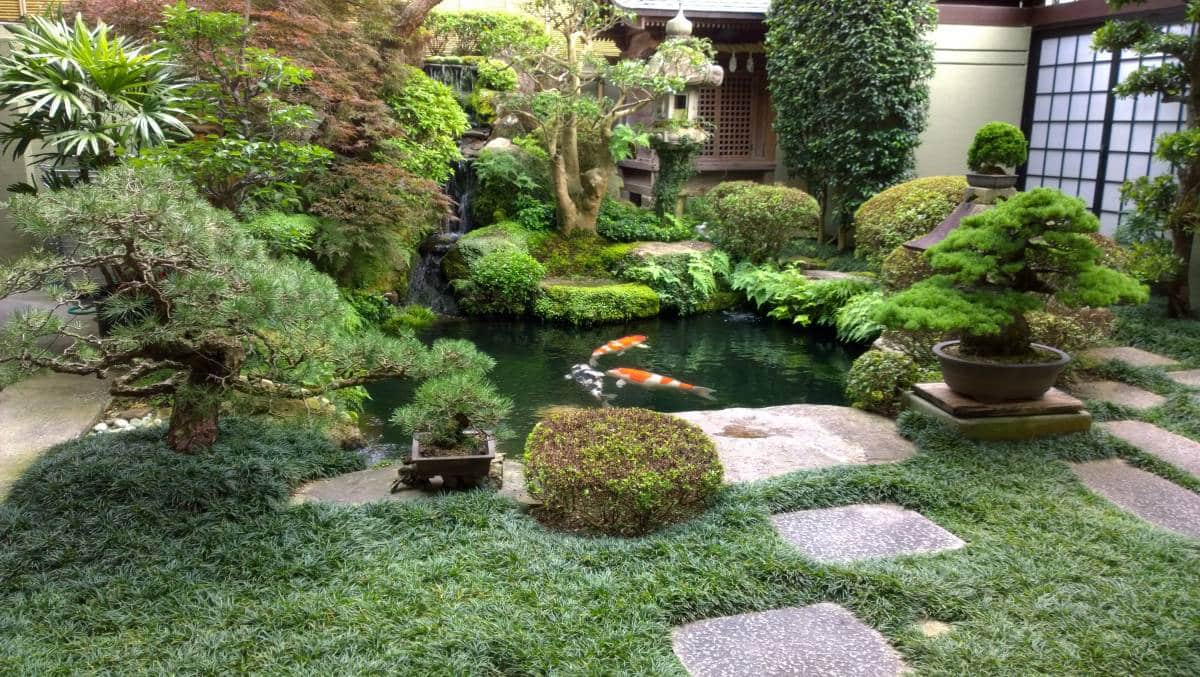 The key to creating Japanese-inspired backyards is to keep the elements of water, plants, and rocks as visible pieces in your space. Consider adding a pond with a small waterfall and some gravel into your garden.
27. Pocket garden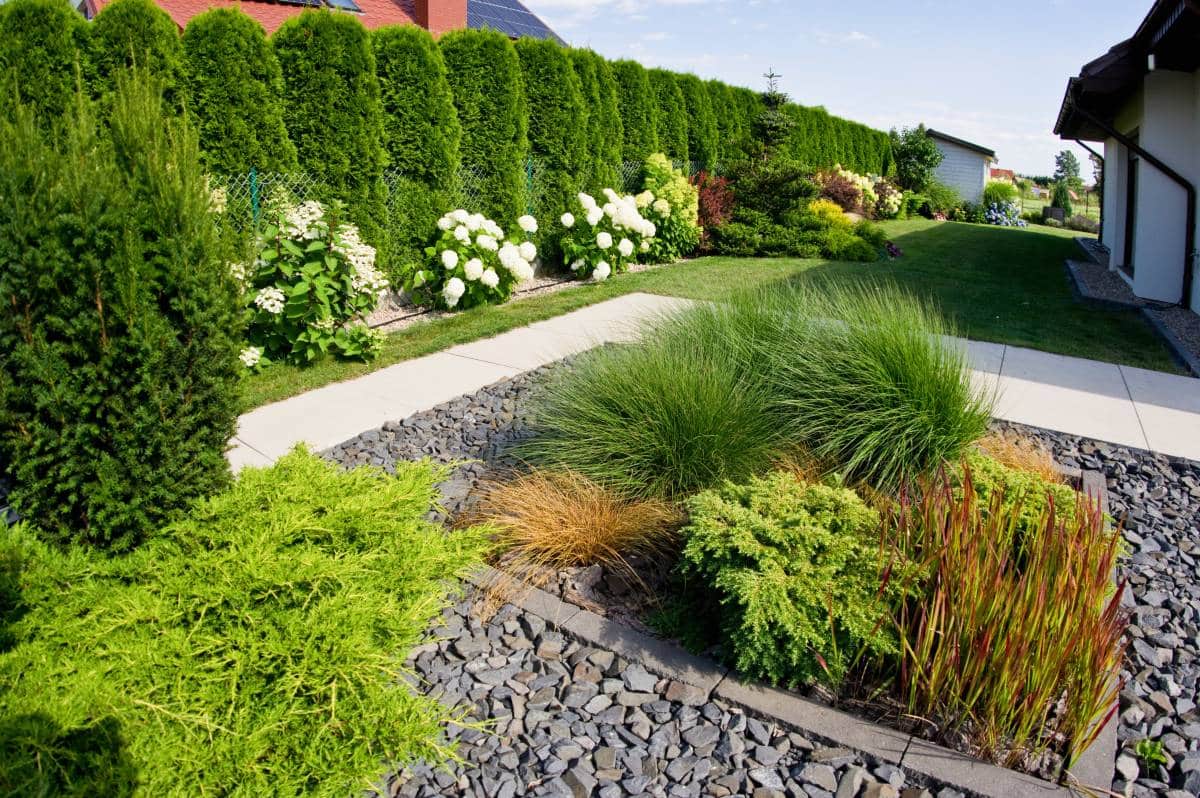 When designing your backyard and considering a sustainable, low-maintenance approach, you can install a pocket garden. Use this portion of land to concentrate beautiful greenery to decorate the area.
28. Entryway shrubbery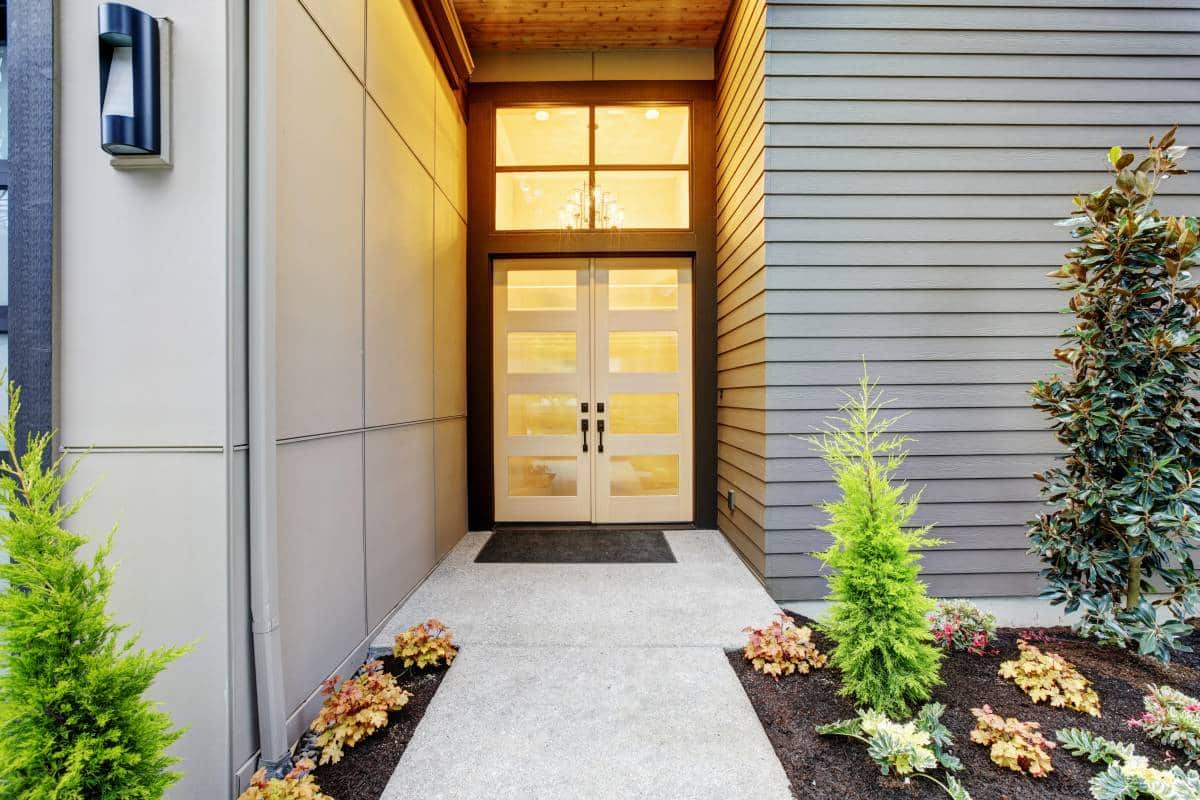 Welcome guests into your home with a speckling of small shrubs. It doesn't have to be an abundance of green, but the pop of colour does make your home's exterior just a touch brighter.
29. Concrete walkway canopy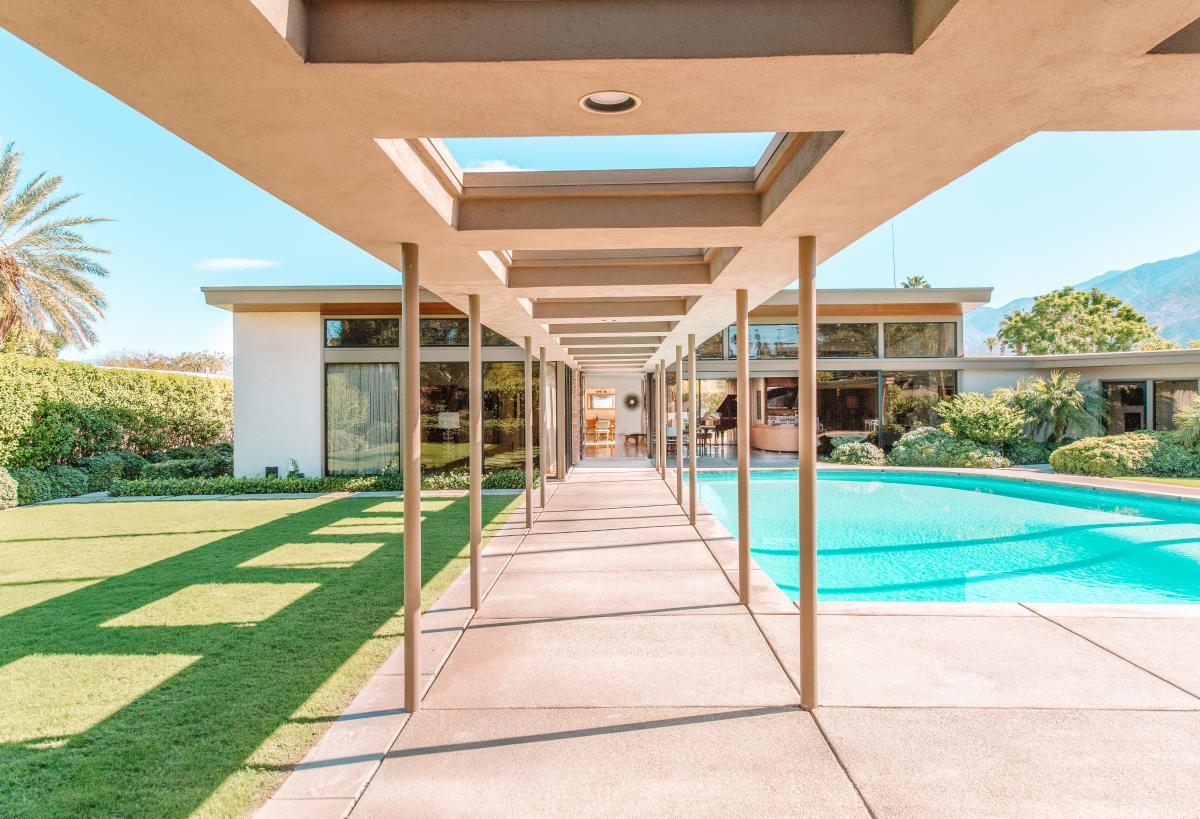 Looking for a unique way to divide the paved section of your backyard from grassy areas? A concrete canopy is a stunning way to provide shelter for a walkway that can double as a division for the areas.
30. Multilevel backyard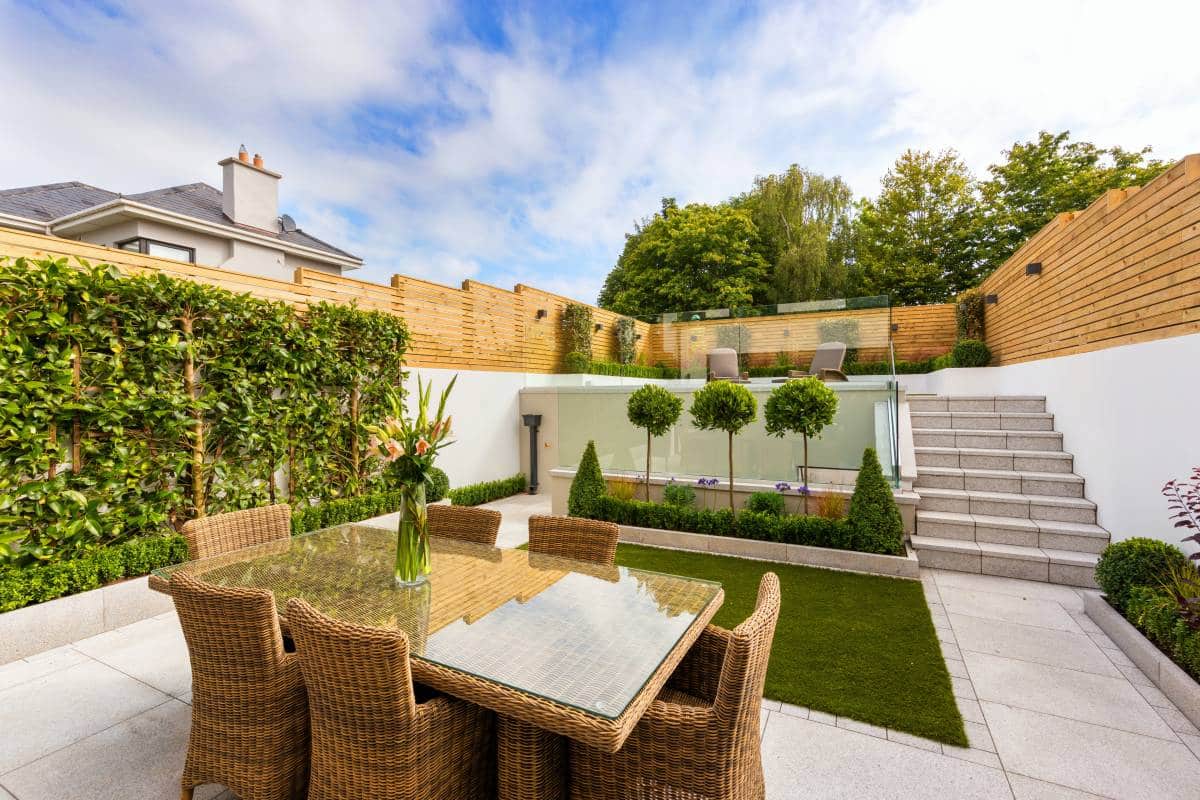 For a more dramatic space outdoors, you can explore creating different levels, separated by decks, stepping stones, and even artificial water streams.
31. Horizontal slat wall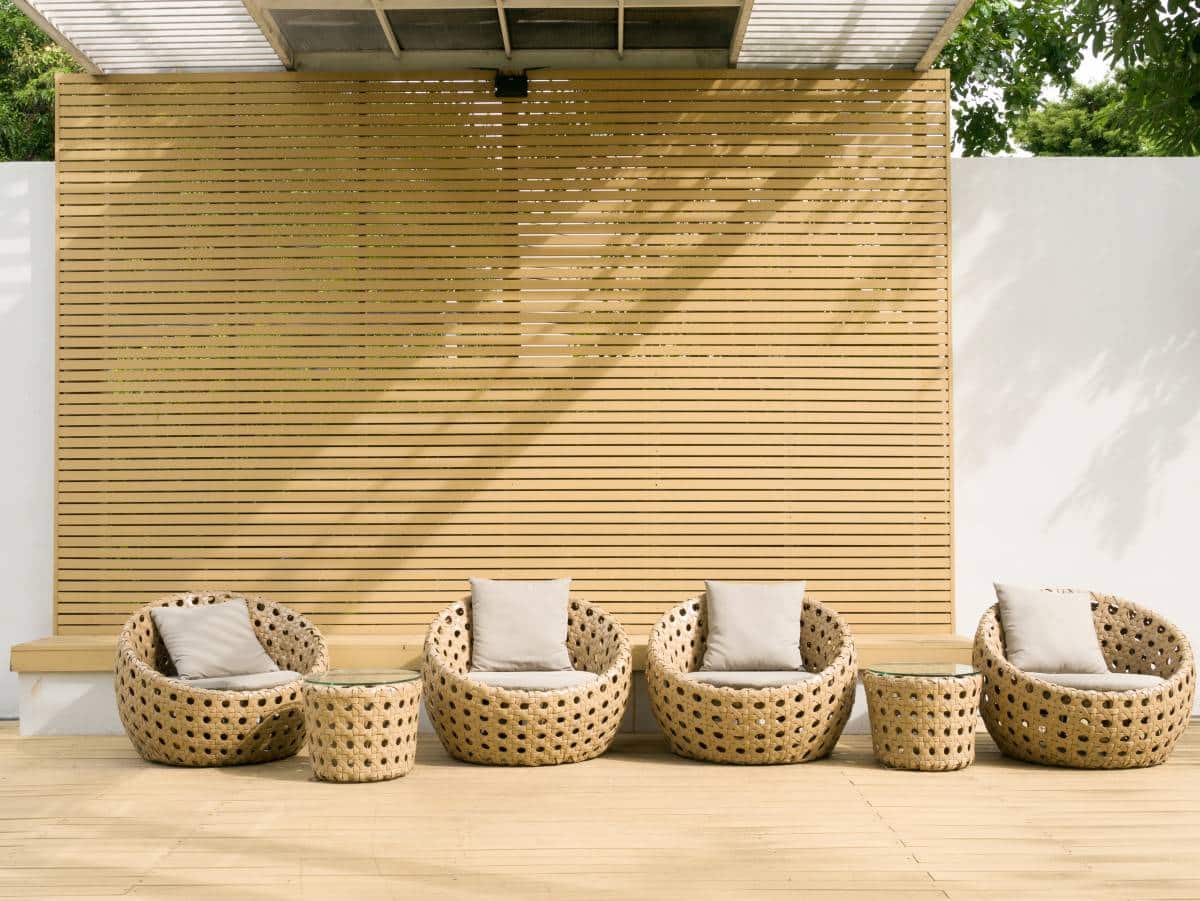 Take an artistic approach by installing horizontal wood slat walls in your backyard. Not only does it add a different texture, but it also lends a relaxing look to the space.
Modern landscapes can look different in every home. It all depends on your style preference and how much effort you're willing to put into caring for the space. If you've found inspiration in these ideas and are ready to kickstart your project, connect with a landscape designer to chat about making it happen.