Musing over grey hallway ideas? Well, you've come to the right place because below, I've gathered 35 examples of gorgeous grey hallways, across all interior decorating styles.  Whether you have an entryway hallway or your hallway is connecting rooms, it can seem like a boring space. It's often a dim, small corridor that's expected to cater for storage needs as well as manage to be an uncluttered thoroughfare. But it's easy to make it a more attractive and functional space to pass through. And one of the best colours to transform a bland hallway is grey.
So let's jump in and take a look at 35 stylish grey hallways – there's sure to be a grey hallway here that appeals to your taste.
1. Go for classic grey and white
That never-fail interior decorating colour combo of grey and white also makes for a classic and chic look in a hallway. The grey here adds dimension and depth to the white and you can see how it helps define the passage as a sleek thoroughfare. Paired with the crisp white and pale timber floorboards, it's a simple but timeless look that's easy to achieve.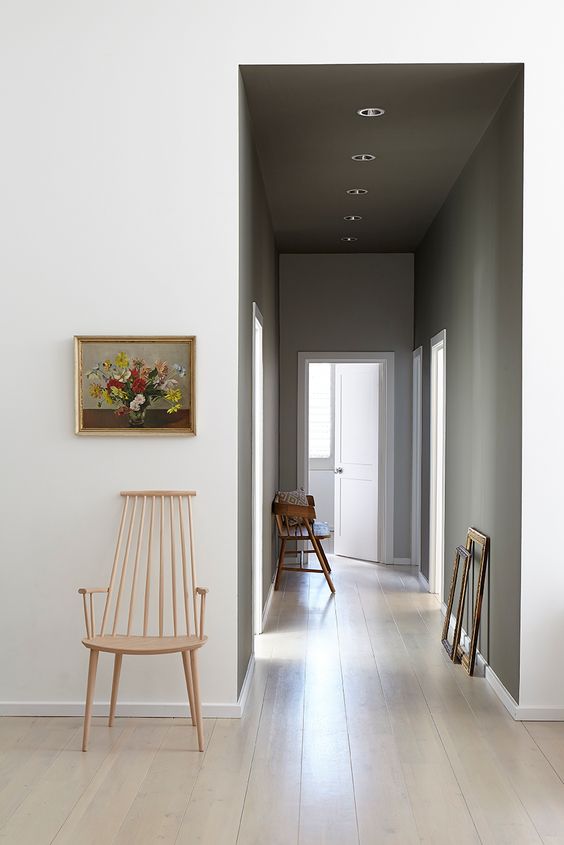 2. Make an impact with dark grey
Love a darker shade of grey but don't want to make things gloomy? Consider painting a half wall in a chalkboard grey, with dark grey on the bottom half juxtaposed with soft white above. This helps keep things spacious and airy while giving you the design boost of a dramatic entry. Accent with dark toned timber—if you don't have a staircase, just bring in some simple wooden hallway furniture.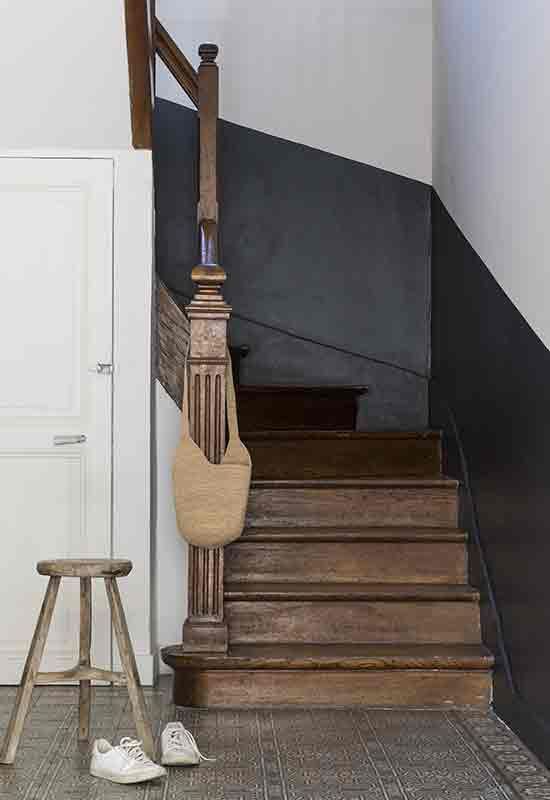 3. Embrace practical grey flooring
As much as entry hallways are the perfect place to showcase your personality and make a statement, they're also often highly functional areas due to their high traffic. Make life easier for yourself with a mid-grey flooring solution that will handle the comings and goings of everyday life. Another functional aspect of hallways is storage – whether it's a row of baskets, wall hooks or a slim console, the need for storage space is usually inevitable.
If you're designing for entryway storage and need more inspo, check out also our mudroom ideas.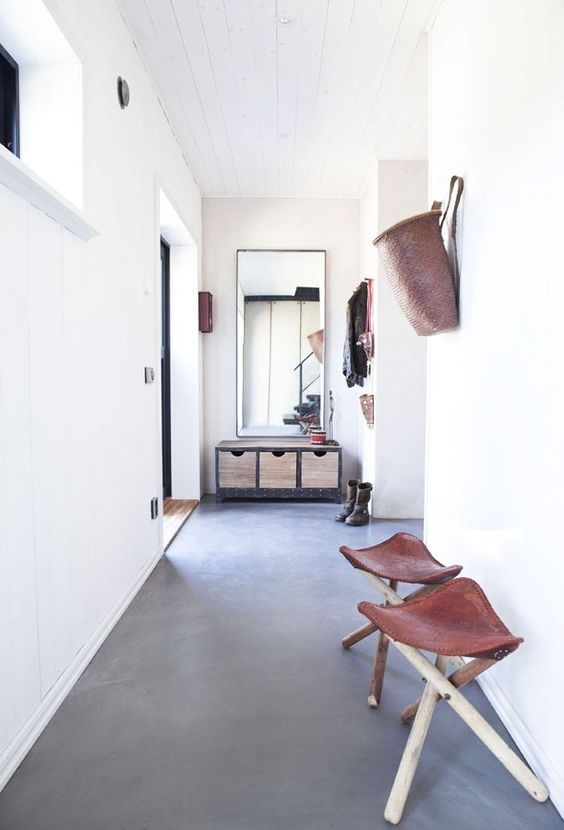 4. Mix textures
Because first impressions matter and entryways can be revealing, keeping your entrance hallway uncluttered is key. Below, storage solutions and a simple all grey colour scheme keep everything streamlined, but there's plenty of visual interest created from all the textures: concrete, timber, wall panelling, terrazzo. Wood in particular marries really well with greys because timber adds so much warmth.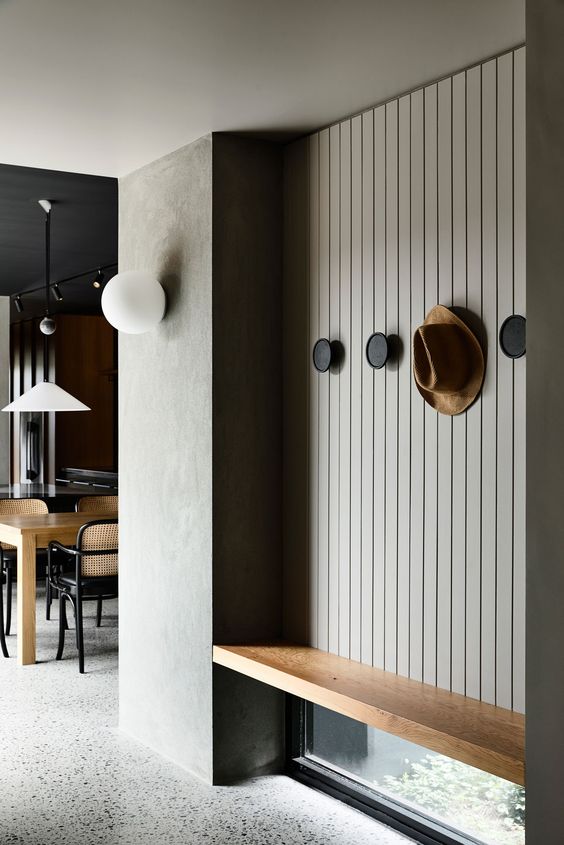 5. Get down with grey
This beautiful hallway features unusual grey paintwork, with the dark grey wall panelling trimmed with white at the base. A grey and white patterned ethnic-style tiled rug then unifies the colour scheme. Adding a tapestry rug or runner to your hallway is always a great idea as it visually lengthens the space.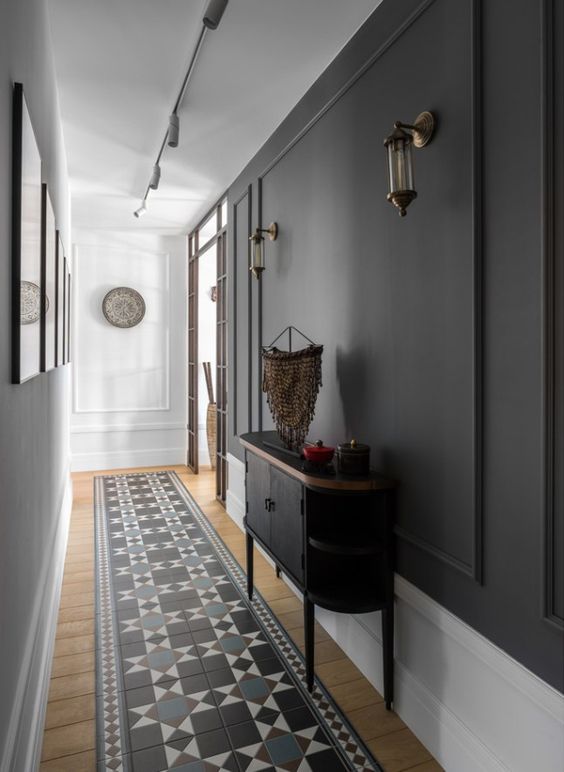 6. Add warmth with wood
Here's another grey and white hallway which demonstrates how much warmth and softness is added by timber. A vintage buffet or console like this adds a lot of charm to a traditional, elegant hallway – just look for delicate, slimline pieces that won't clutter up the hallway. Stunning black and white checkerboard tiles blend perfectly into this soft grey and white colour scheme and add to the nostalgic vibes.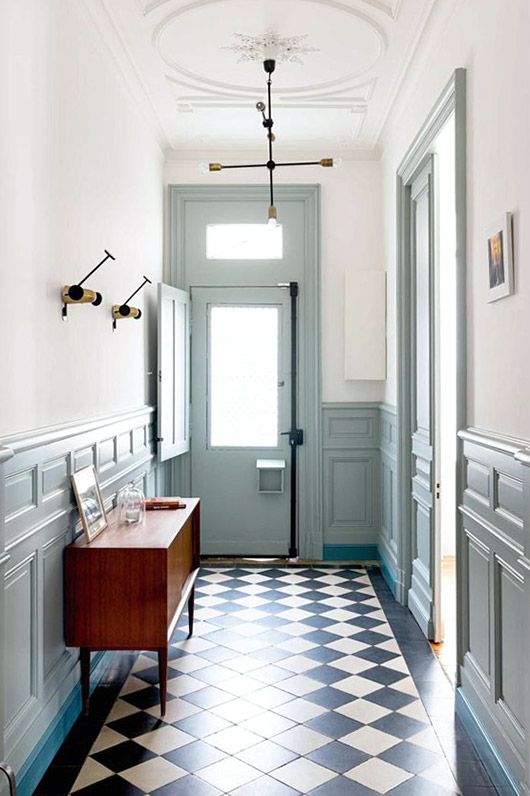 7. Contrast greys with black
Use black accents to create focus in your hallway space, like in the LED-lit entrance hallway of this Parisian apartment. The contrast of black beams and downlights against the pale grey tones and whitewashed floorboards gives the space a contemporary flavour and visually helps define the space.
8. Contrast white with greys
Even though it's usually such a small and narrow area, your hallway can still be a functional as well as aesthetic space. Apart from making smart use of the space with mudroom features like benches and coat hooks, this hallway features grey herringbone slate tiling which creates the optical illusion of the corridor being much wider. Using grey toned flooring also makes a wonderful contrast to all the bright white paint.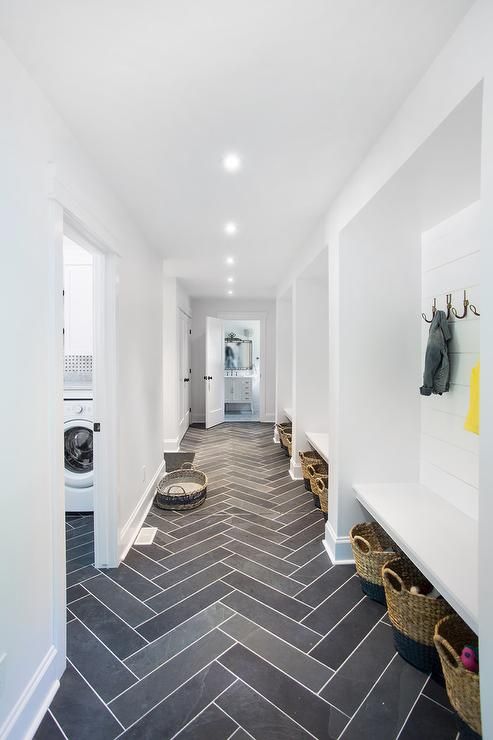 9. Amp up the drama
Interior designers say to think of a hallway as another room. Due to its status as a passageway, though, a hallway can feel like nothing but a means to an end. But your hallway can actually be something dramatic and statement making. A hallway with skylight and decorated with trees-why not? If you plan on bringing in nature like this (whether branches like these or indoor plants), contrast the earthy colours with a blue-toned mid-grey.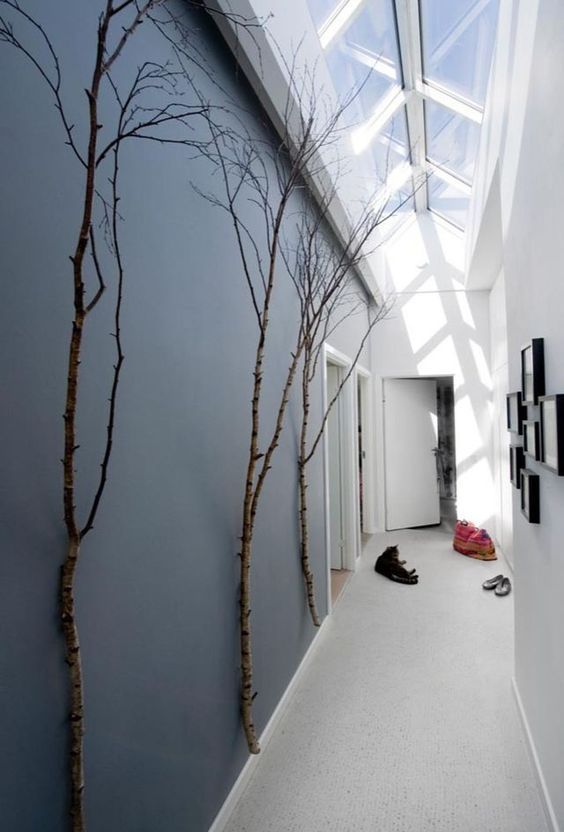 10. Add mirrors to grey
If your hallway is an entry, you'll be thinking about what to add as an anchor point. For example, a hallway console, mirror, statement plant, etc.  Mirrors are a classic hallway anchor piece, providing a practical benefit as well as creating the illusion of more space and increasing available light. Here, a large round mirror reflects light in a soft grey and white hallway.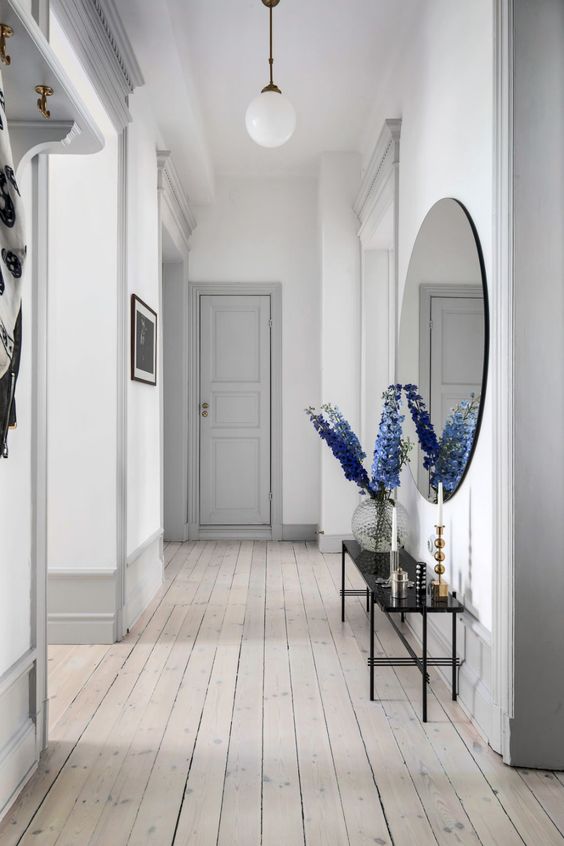 11. Go dark and arty
If you're thinking about going for the moodiness and modernity of a really dark shade of grey, incorporate a few dashes of saturated colour to break up the expanse of grey. One way to do this is with a gallery wall, which helps guide the eye along the space.  Whether you choose photography, graphic art, life drawings or vintage posters, keep it cohesive with all matching picture frames.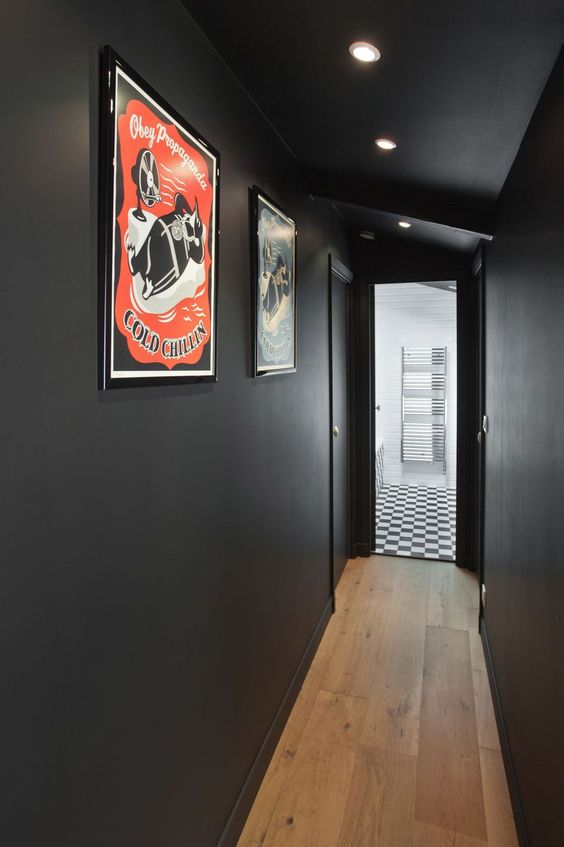 12. Keep it classic
This soothing shade of mid-grey is the perfect accompaniment to a traditional or farmhouse aesthetic. As a grey it's deep enough to contrast wonderfully with the black and white accents, and cool enough to benefit from the warmth of the natural materials. A little chandelier adds romance, too also check out our blog on living room lighting ideas for more lighting inspo.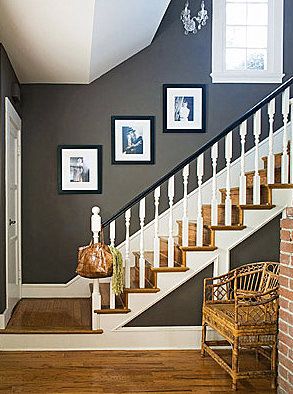 13. Pick an atmospheric pinkish grey
Greys with pink or lilac tones create a soothing, enveloping softness that is much easier on the eye than basic white. Here, I like how the doors have been painted a slightly darker toned grey than the walls which gives the space a lot of dimension. The eye-catching 'feel good' image has complementary pink tones and its black frame matches the doorknobs. Stylish downlights also add a gentle ambience.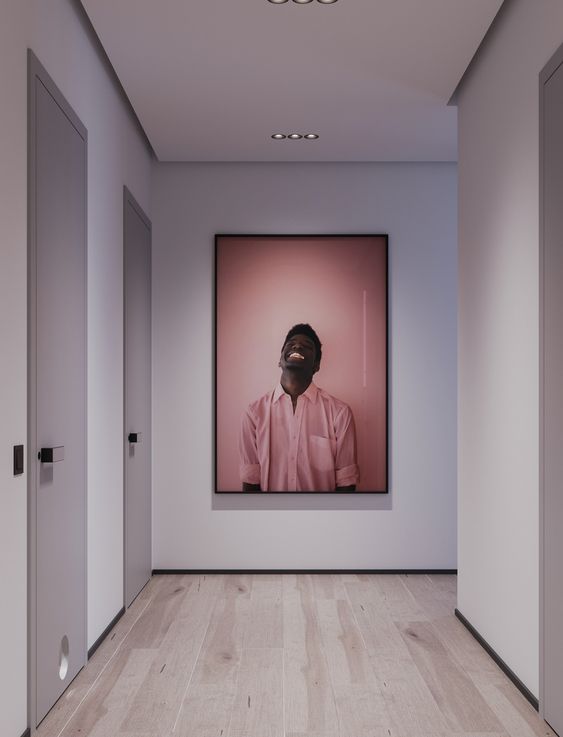 14. Add a pop of colour
If you're working with a grey palette, keep it from looking dull and flat by injecting colour with a simple piece of furniture, like this sunny yellow chair. The beauty of a grey based hallway colour scheme is that you can easily switch up the accent colours when you feel like a change, and there's a limitless choice of colours that compliment grey.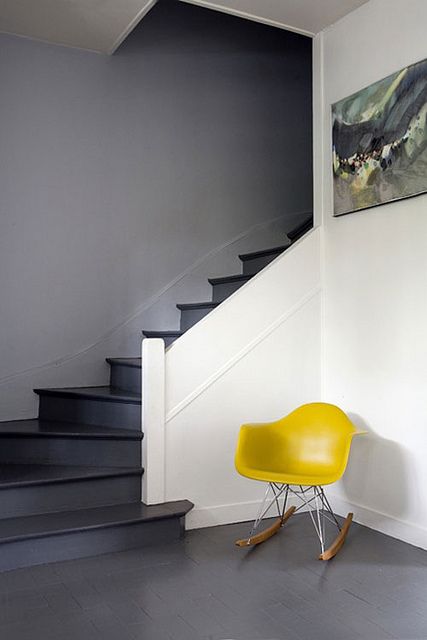 15. Choose a pale minimalist grey
Very light, almost-white grey walls tend to 'stretch space', making hallways appear larger and brighter by reflecting all the daylight. Compared to white though, pale grey is a neutral with much more personality and depth. Below, a bright and airy, pale grey 1920s apartment that looks completely contemporary, thanks to its minimalism and mix of natural materials (timber floorboards, a soft woven rug, the paper lantern).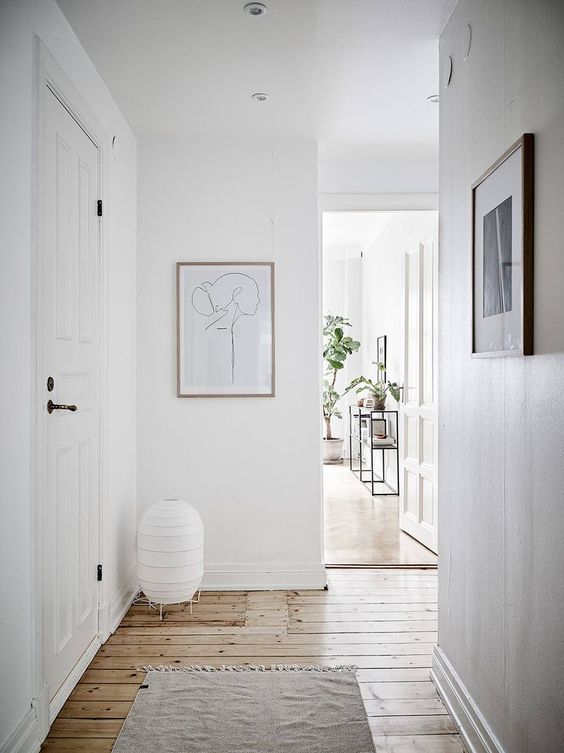 16. Invigorate with colour pops
Going for dramatic dark grey walls? Liven up the space with small pops of a bright colour, like fire engine red used in this Berlin apartment. All you need is a simple wooden stool and a lick of paint. Lighting is of course especially important when you are incorporating darker greys—find more lighting ideas you can adopt for your hallway.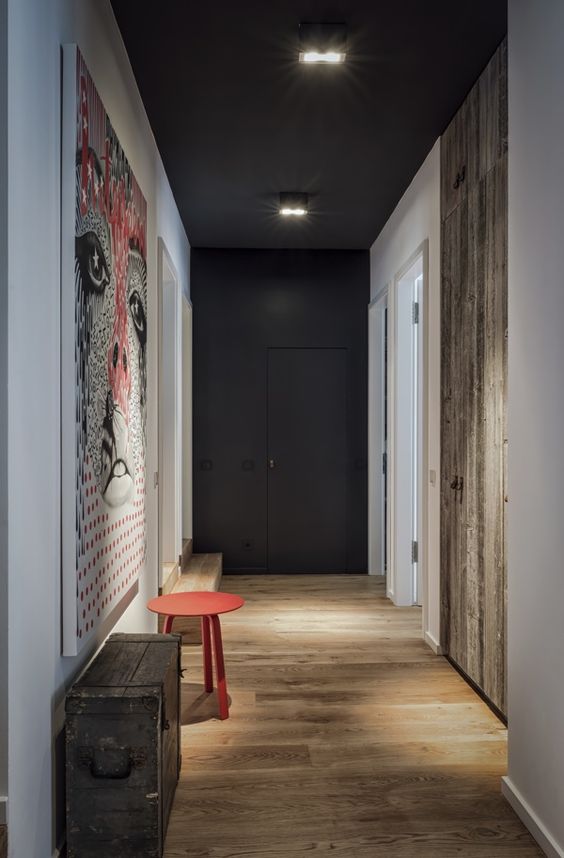 17. Pair it with pattern
As well as being practical at hiding dirt and hardwearing, patterned tile flooring in grey tones adds a lot of interest to the typically small space of a hallway. I love these gorgeous geometric tiles. And the delicate wooden bench with its shaggy throw just invites you to rest your weary bones for a minute at the end of a long day, doesn't it?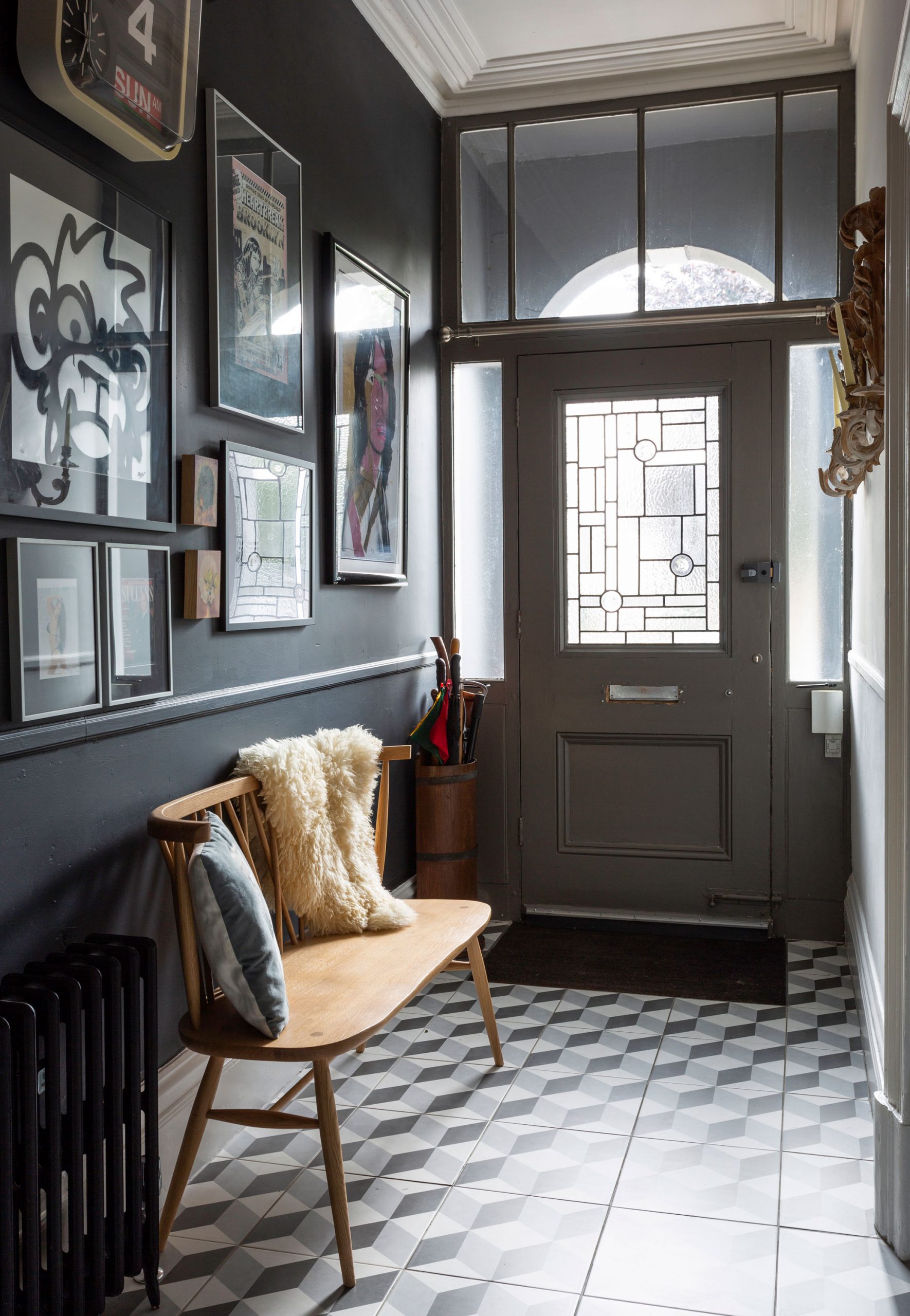 18. Add grey above
Tie together a monochromatic colour scheme with a unifying block of mid-grey paint on the ceiling. The solid colour balances the weight of the black door and the intricate, pattern-heavy tiles below. If you need someone to help tackle painting your ceiling, you can find a local painter. Or, if you want to DIY, make sure you read our guide on how to paint a ceiling.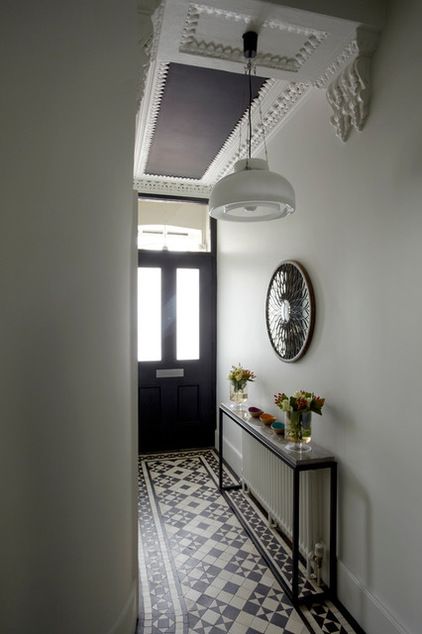 19. Soften white with grey
This tiny hallway has a Scandi inspired colour palette of crisp white, soft pearl and dove grey.  Adding the whisper pale grey tones to the mix ensures the white is not too clinical or glaring. The result is a tailored, contemporary space that is still bright but gently muted.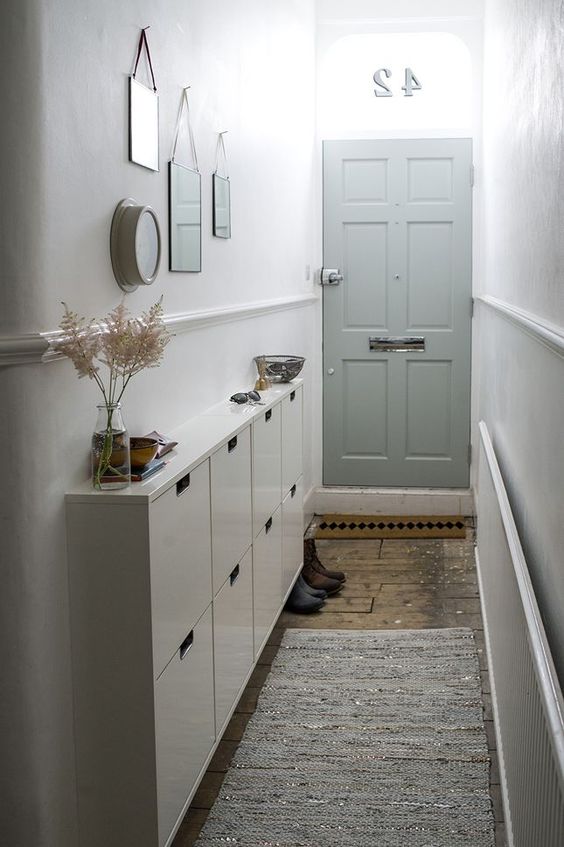 20. Add grey tones with a photo
Hallway walls are the perfect real estate for showing off your artistic taste, whether you hang a gallery wall or just display a single oversized image for impact. The blue-grey paintwork in this entry hallway, combined with the black and white geo tiling, creates a sophisticated and soothing effect.
21. Stay tonal
Stick to a simple monochrome colour scheme but use varying shades of grey for a cohesive and multi-dimensional space. For example, in the grey bedroom below, a very deep grey wall on one side is contrasted with a very pale grey wall on the other. I love the texture of the parquetry flooring against the blocks of colour too.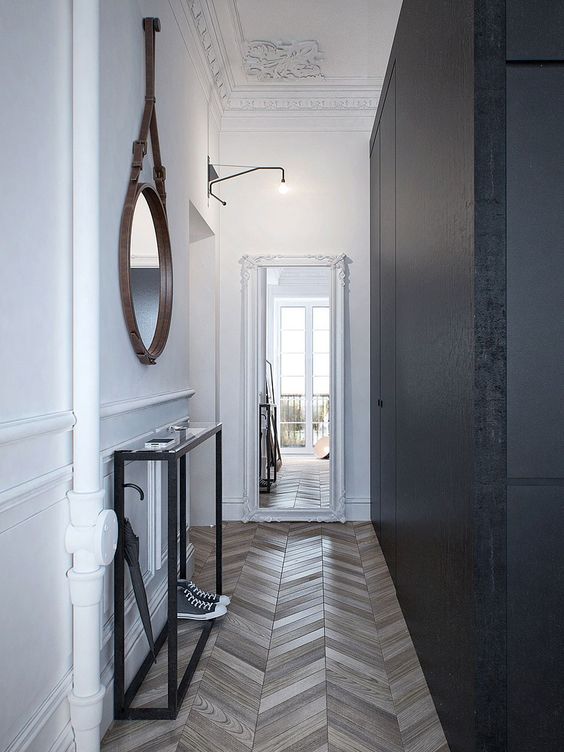 22. Juxtapose pale grey with dark flooring
When you have stunning architectural features like this, you really don't need much more than polished floorboards and a beautiful paint job! And rather than choosing a blinding white, a whisper-pale shade of grey is better at creating the depth and shadows that enhance this hallway ceiling and archway.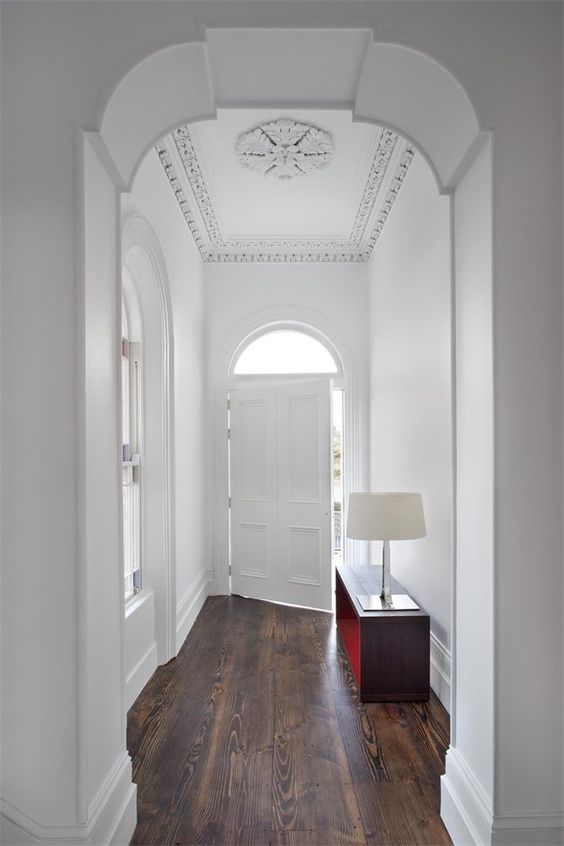 23. Make a grand entrance
This grand looking entrance hallway makes a real statement with its long stretch of grey and white checkerboard tiles. Being a typically small and narrow space (and usually one that's not quite this long!), hallways are perfect for embracing bold flooring choices. And tiles are such a pretty and practical flooring for high traffic hallways.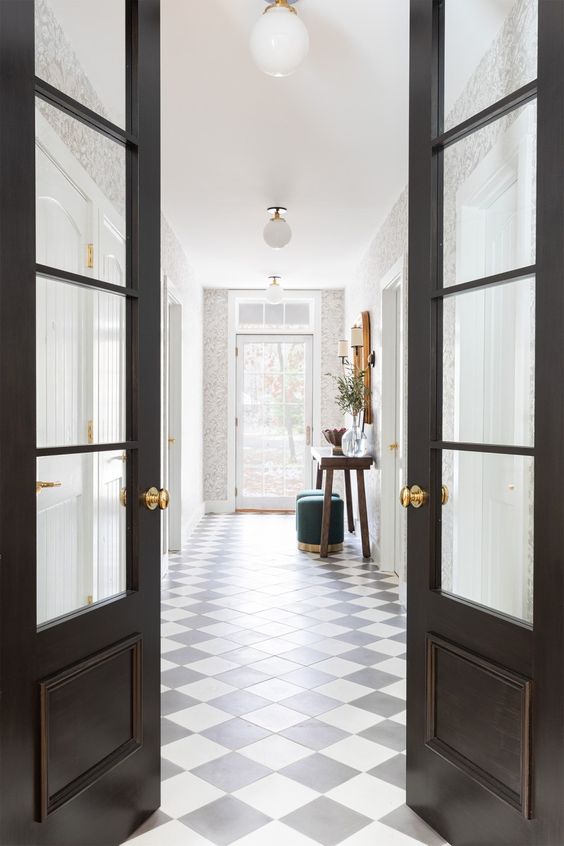 24. Accent it with black
This home's upstairs hallway shows off the classic grey and white hallway colour scheme, pairing a calming mid-grey with a softer cloud grey and an off-white trim. But the real visual excitement comes from the reclaimed timber floorboards and the punch of black on the bannister.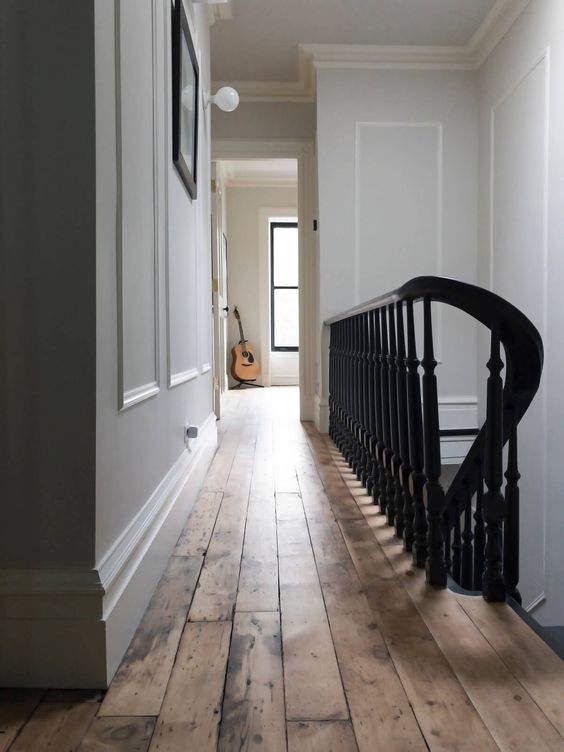 25. Add a bright door to a grey scheme
If you love dark coloured walls, adding dark wainscoting to your hallway is both dramatic as well as being a forgiving choice in terms of maintenance, so it suits a boisterous household, perhaps with pets. Then add zest with a boldly painted door—yellow is always a great choice with dark grey. I love the ghostly chandelier here as well.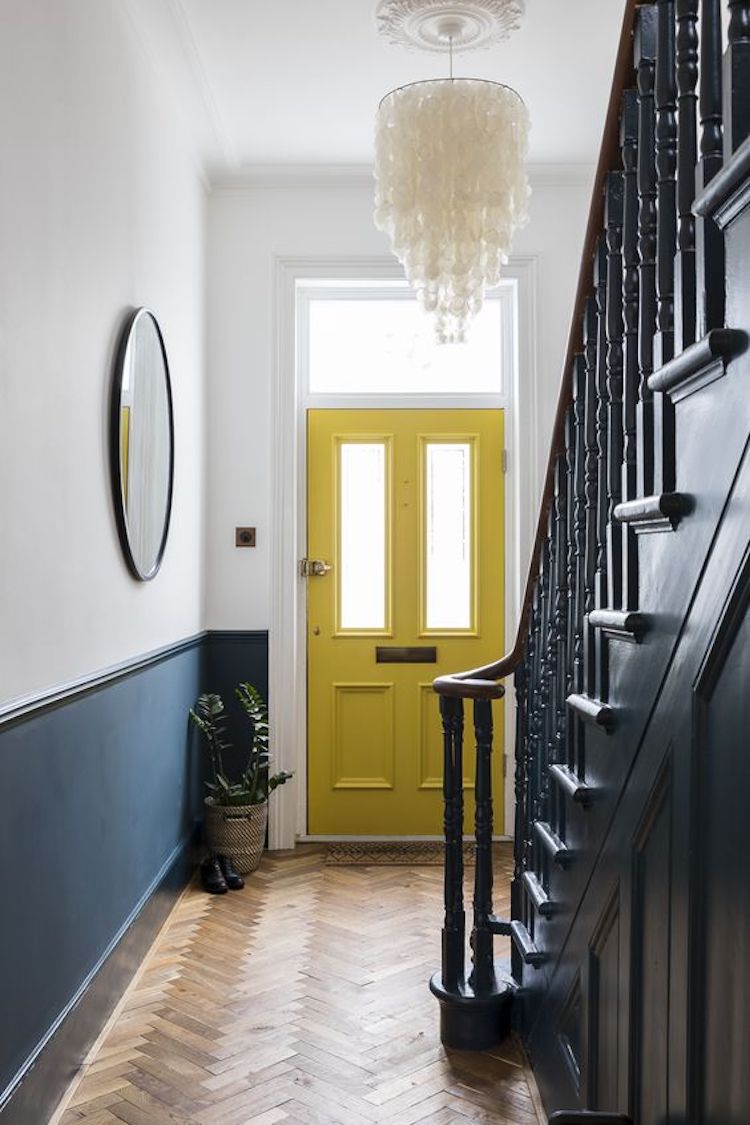 26. Paint the door grey
You can also incorporate grey into your hallway by painting the inside of your front door grey, and if you have a staircase, matching it with the bannisters. It's just enough to add interest to this overwhelmingly white space. I love that pendant lamp—it brings a good dose of warmth to the cool-toned hallway.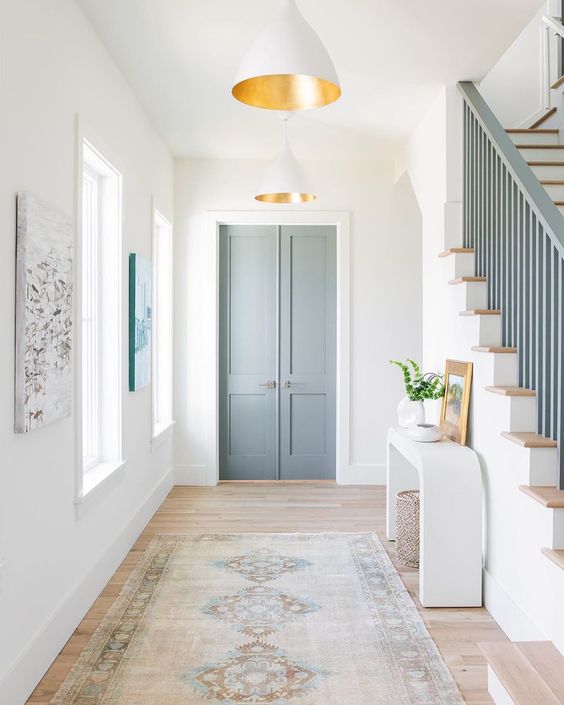 27. Make it modern with grey
A hallway decked out in a range of grey tones creates a distinctively contemporary look, especially when you focus on modern styling in the décor. For example, in this grey-toned apartment, there are contemporary touches in the large, minimalist mirrors, a mix of lighting solutions and the floating console (painted a gorgeous cement grey, also a modern choice).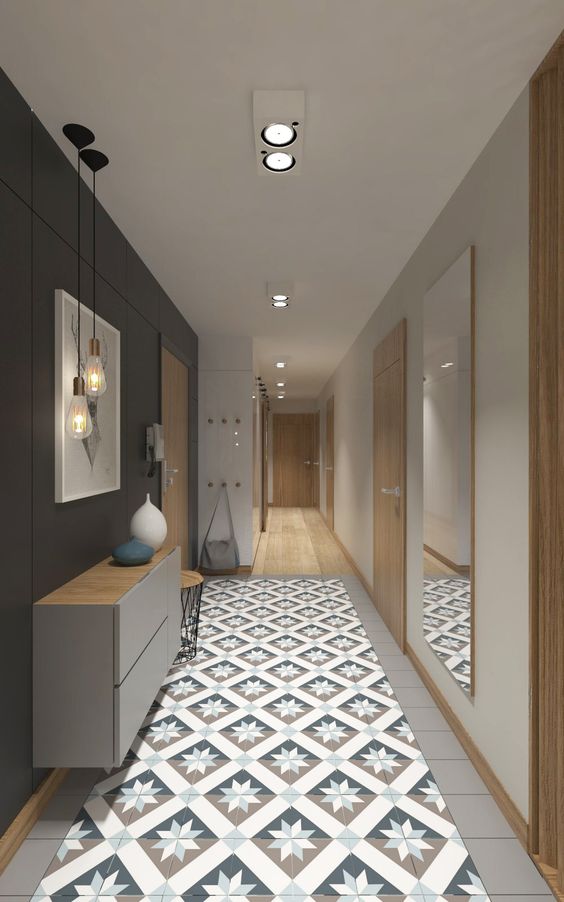 28. Add soft hints of grey
If you love a Boho vibe, transform your hallway into a peaceful and pleasing thoroughfare with the use of plenty of tactile, rough-hewn décor in natural materials and neutral colours, including greys. Soft textiles in wool, cotton, velvet and linen offer comfort and create that casual, pared-back flavour.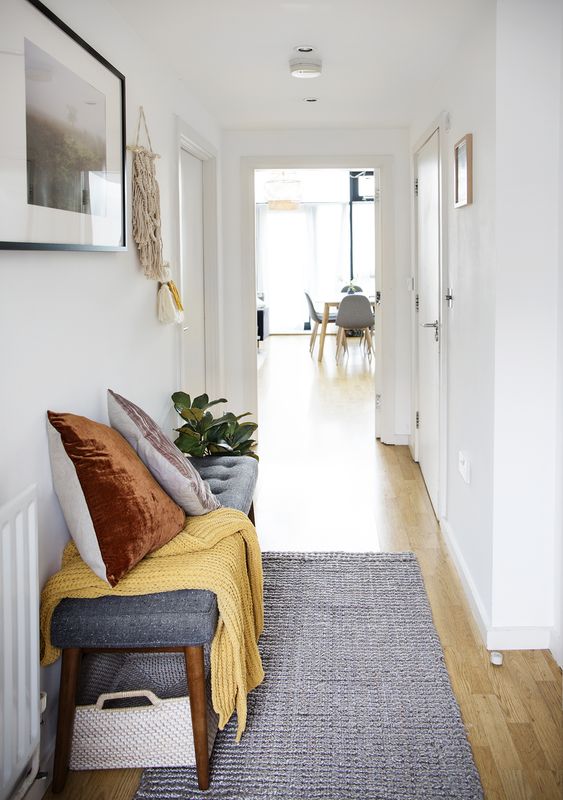 29. Make it industrial
Love a contemporary industrial flavoured look? This hallway features statement poured-concrete flooring and walls, broken up by expanses of soft wall panelling and accents in black. I love the contrast of concrete and timber here and the texture created by the many lines in the space.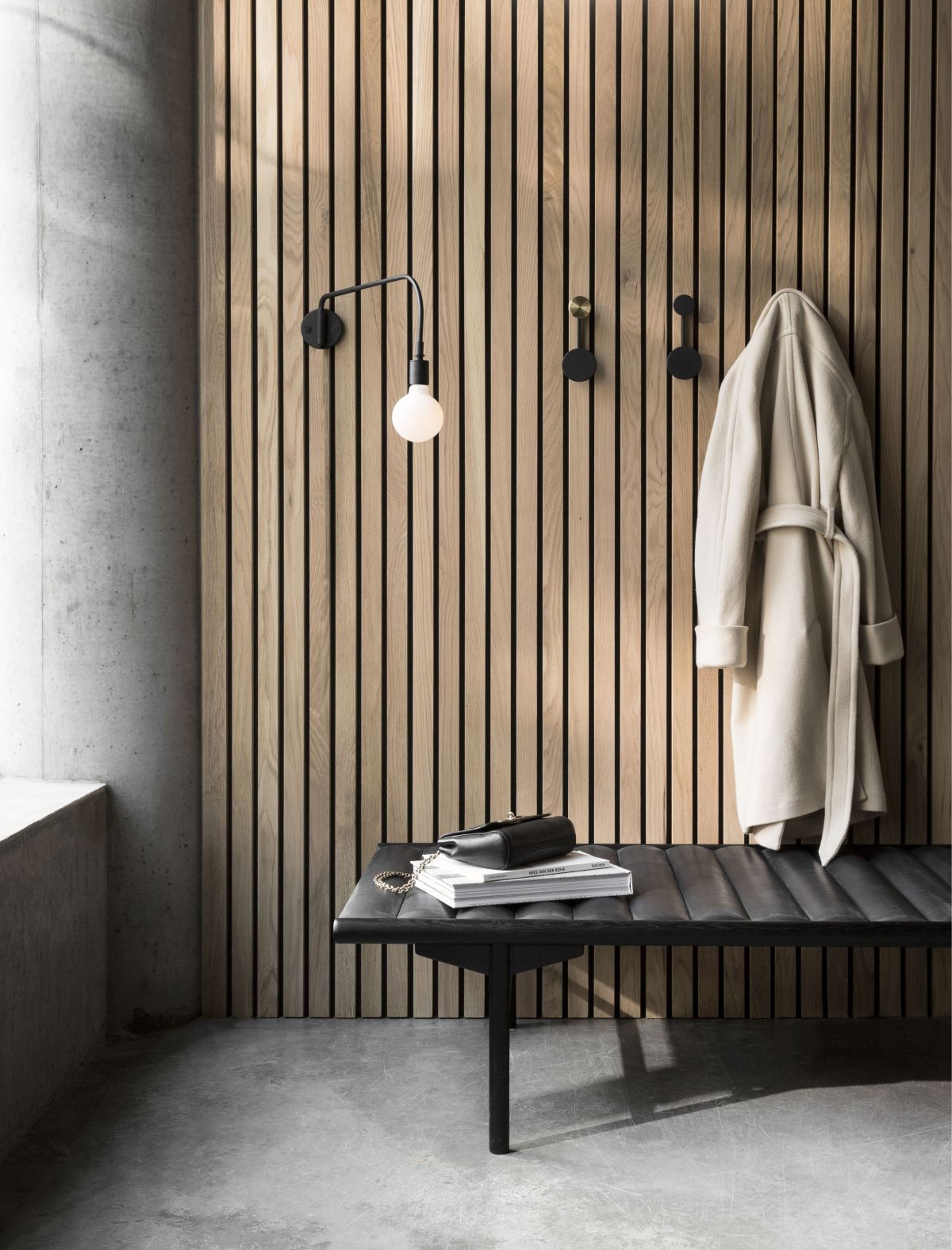 30. Add grey to unify blacks and whites
If your hallway or entranceway features a starkly contrasting black and white colour scheme, break it up a little by introducing greys into the mix, for example in the tiling. The statement tiles in this heritage home are original Minton, which is nice if you can get it! (British company Minton's encaustic floor tiles have been around since the 1800s.) But if starting from scratch, there are plenty of modern tile designs which will do the trick too.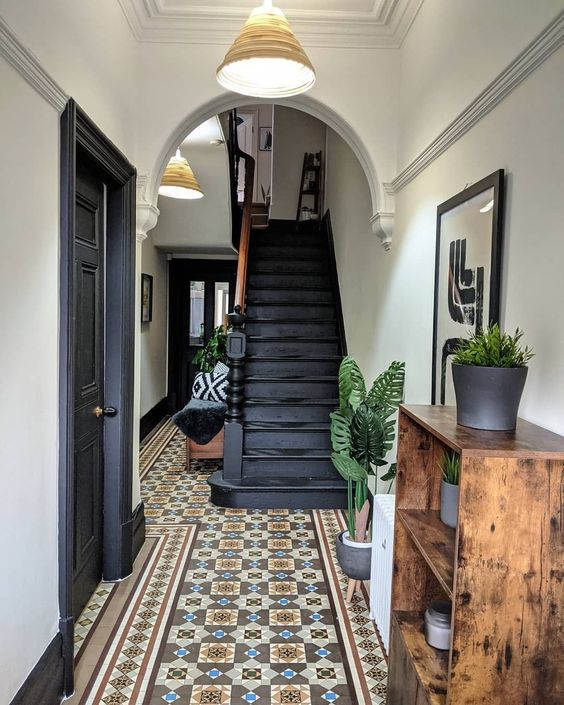 31. Paint opposite walls
To add interest to a long, narrow hallway and make it feel a little less like a tunnel, paint one wall or bank of cabinets white and the other side a rich charcoal grey. This modern hallway also gets points for the abundance of built-in storage and I like how the jute runner gives it a coastal vibe.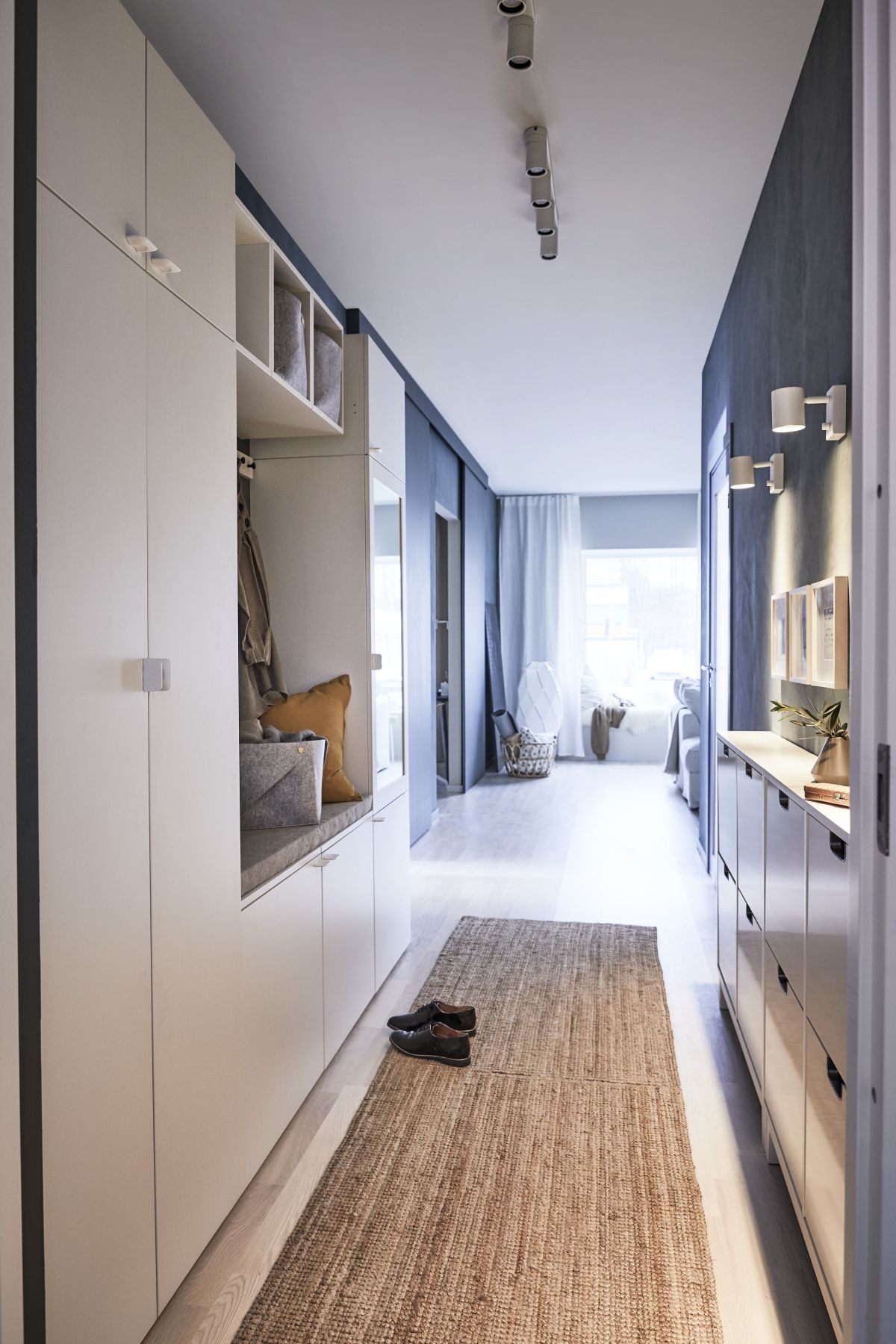 32. Go pale and interesting
An understated, dove grey hallway here that is beautifully light and airy. Plenty of gentle, pared-back elements, from the slim, marble-topped console to the cushion-top bench. Just about all kinds of timber work with pastel greys, but pale timbers have this characteristic Scandi softness. Interested in more shoe storage options beyond the hallway basket?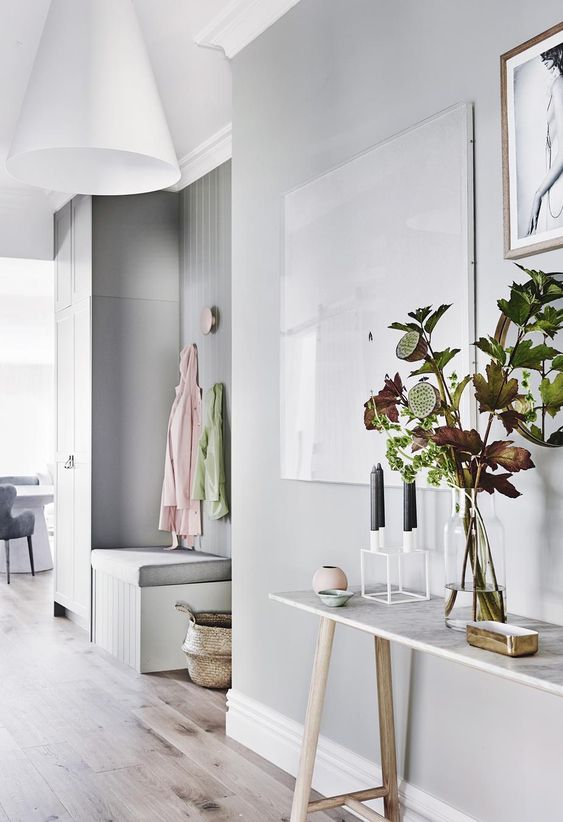 33. Go for family-friendly grey
With entranceways in family homes being bustling spaces, full of comings and goings and accumulated messes, it's important to design a high traffic hallway with function in mind. This dark grey and pale grey colour scheme is both attractive and user-friendly, the darker base helping hide dirt and scuff marks. Wooden benches, calming green plants, a statement pendant and a graphic runner all work to create a cosy but stylish aesthetic.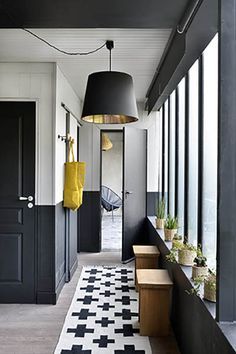 34. Paint a half wall in grey
Half walls are great for adding colour while still retaining the freshness of white in the palette. Below, light grey and white paintwork is a timeless and sophisticated combo, especially when paired with beautiful pale timber. I like the double row of wall hooks offering plenty of space for your things.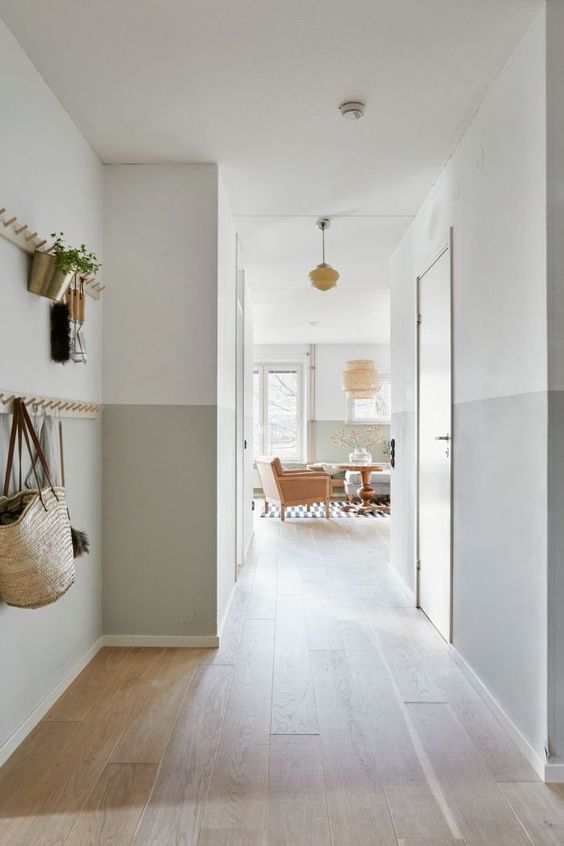 35.  Go for that je ne sais quois
There's something about this simple grey hallway setup that intrigues me—it's as if I constantly want to know what's around the corner. But it's a lovely example of an uncluttered grey hallway that's functional as well as aesthetically pleasing.
Grey timber panelling, concrete flooring and a few wooden coat hooks, and you have a streamlined, modern and functional space. The jaunty three-legged stool with its incongruous fluffy seat brings softness to all the hard materials and adds a little wit and soul.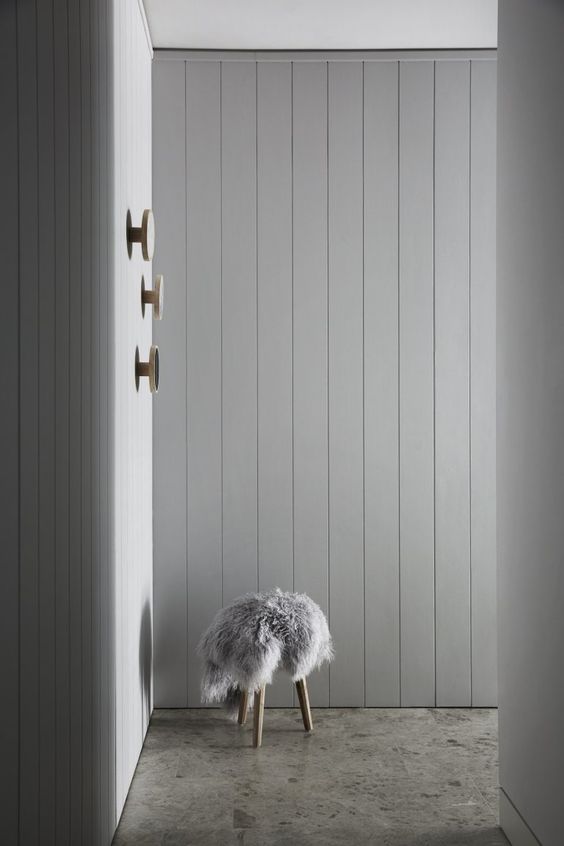 And there you have my pick of 35 stunning grey hallways. Did you spy your ideal grey hallway above? Let me know in the comments! Or, if you think you might like a bit of help planning your grey hallway redesign, you can always find a local interior designer.
Why is grey such a classic hallway decorating colour?
First of all, no matter what the colour scheme of the rest of your home, grey goes with everything. It's one of those versatile neutrals that can be worked into every decorating style, bringing an instant dose of sophistication and chic to a space. It's also very practical, hiding scuff marks and dirt well. It can be warm or cool-toned, but is typically a cloaking, cocooning and comforting colour that generates feelings of cosiness. Even whisper-light greys have this effect, but it's more intense with darker greys. Dark greys also make a wonderful accent colour for highlighting details.
How to choose your grey
Deciding on the right shade of grey will depend a lot on personal taste (or perhaps on the help of an interior decorator) but also on simple factors like the amount of natural light in your space.
Choosing between a warm or cool-toned grey really depends on whether you want to add warmth or create a clean, crisp effect. If you have little natural daylight, light porcelain greys with yellow or lilac tones add warmth, whereas natural light-filled hallways can handle cooler, blue-toned greys. Again depending on your layout and lighting, you might find it more pleasing to mix tones of the same grey on different walls.
How you use your hallway will also impact your choice of grey. If it's an entryway space, it's the first thing people see, so you want to make a statement or set the tone. This may lead you to choose a more dramatic grey than a softer one that might be needed in a hallway between rooms.
So, you already have a gorgeous entryway hallway but want to make sure what's on the other side is equally appealing? Be sure to look at our collection of front porch ideas.