Your dining room is one of the most special places in your home because it's where you eat meals and spend time with the most important people in your life. That's why they should be designed to be welcoming and comfortable for everyone.
If you're wondering what interior design style to go with, modern dining rooms look fantastic and will spruce up your space for years to come. The great news is that modern styling comes in many different forms, so the trend is likely to suit most dining rooms.
So without further ado, here are 25 modern dining room ideas to help get your dining room looking its best!
1. Monochrome and wood
For an effortlessly chic interior, you can't go wrong with monochrome colour schemes and wood. The key to a clean, well-thought-out look is having the same tone of wood for different furniture and fixtures for consistency.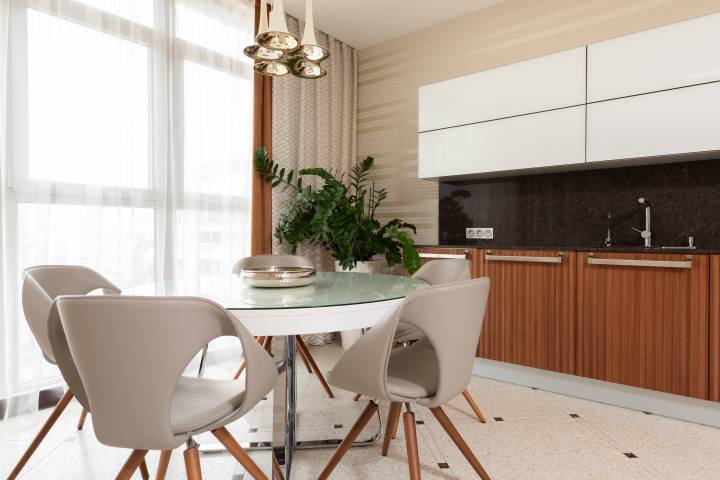 2. Rounded shapes
Round shapes in any design psychologically evoke positivity. Using rounded shapes in your interiors helps create a sense of comfort and calm rather than having lots of sharp and straight edges.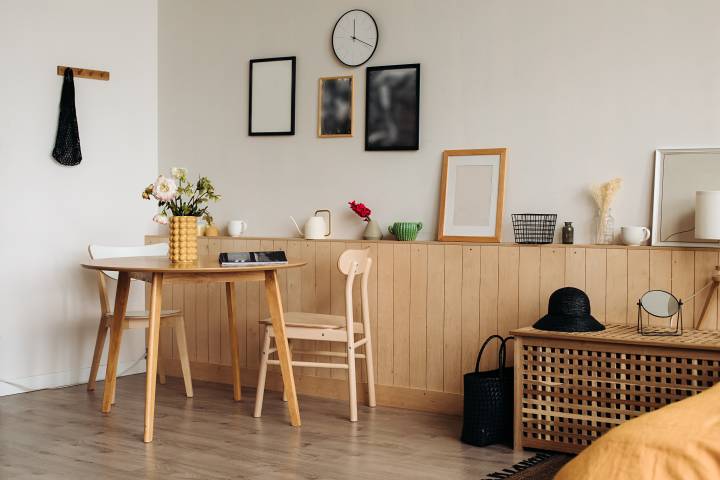 3. Elegant dining
Simple can always be elevated to elegance. For example, minimalist interiors are a great backdrop for bold, detailed decor. Think: chandeliers for high ceilings, unique sculptures for display, or even floral bouquet centrepieces.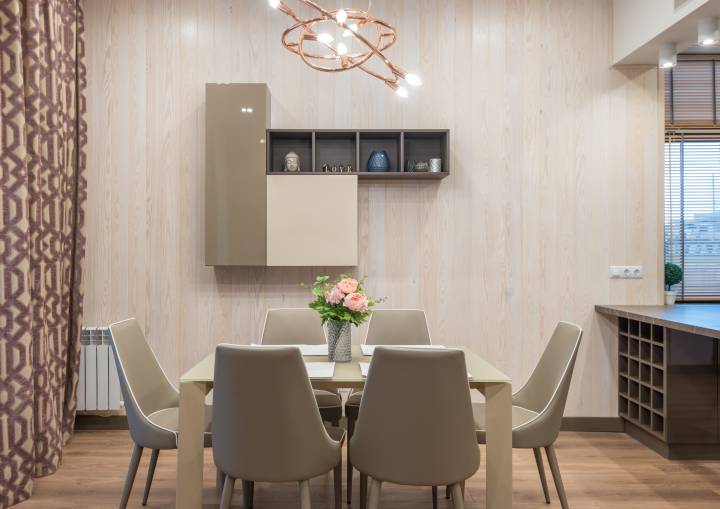 4. Black feature wall
Doing a black feature wall is a great way to add dimension to your space without completely repainting your interiors. Incorporate dark wood and black accent furniture to enhance the luxurious feel of the interiors.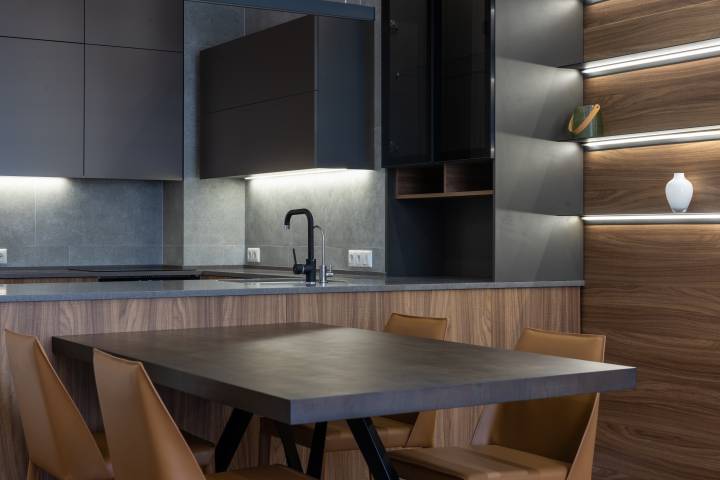 5. Bench seating
Expecting frequent guests? Make room for more with a bench or two. Adding this type of seating to your dining area is a comfortable option that opens up room for more people.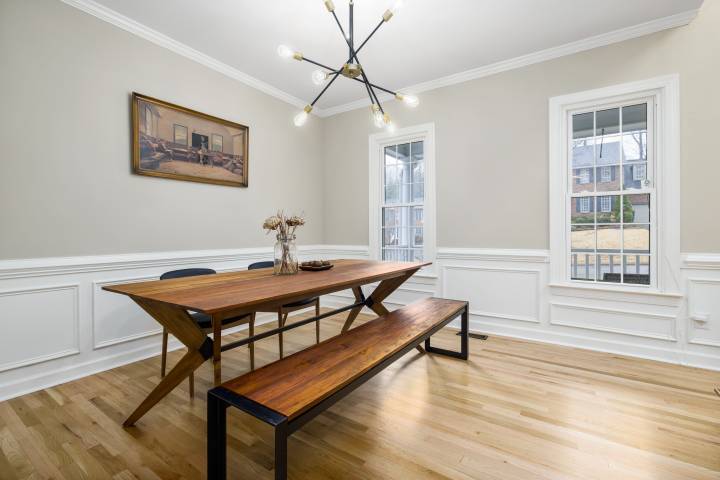 6. Minimalist and modern
Make a statement with minimalist interiors. It serves as an excellent backdrop for statement pieces or art.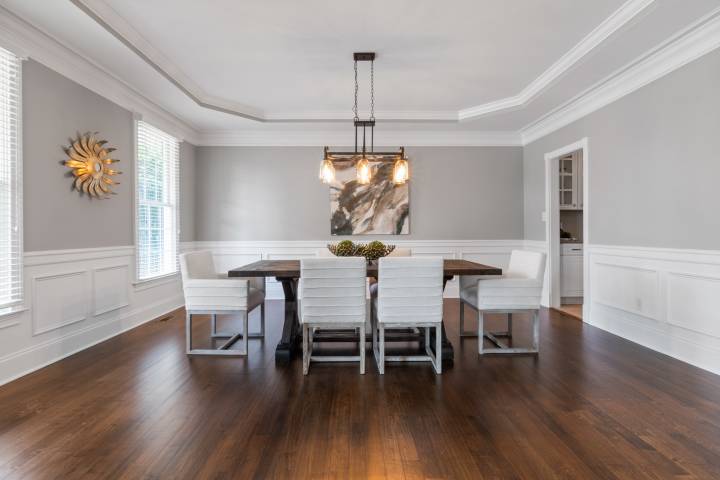 7. Sophisticated gold
Going gold can never go wrong. It brings a sense of sophistication when done right. Select fine gold lighting to go with furniture pieces with gold detailing so as not to overwhelm the interior. Set the whole dining scene over a beautifully detailed rug for extra extravagance.
8. Calm and comfortable
Don't be afraid to use upholstered armchairs for your dining area. Depending on your style, you can play up your space or give it a casual vibe with dark colours and wood furniture.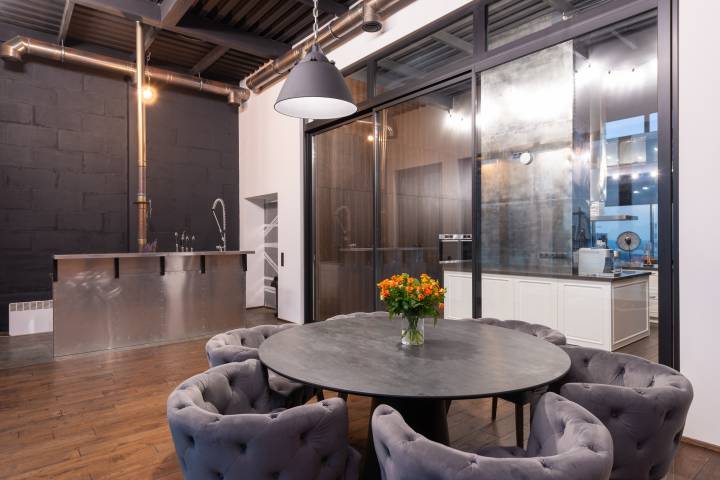 9. Bold and colourful
Don't be afraid to show colour in your dining room. It adds character to your home. Find seats in your favourite colour and match its shade to select pieces to seamlessly incorporate into your home.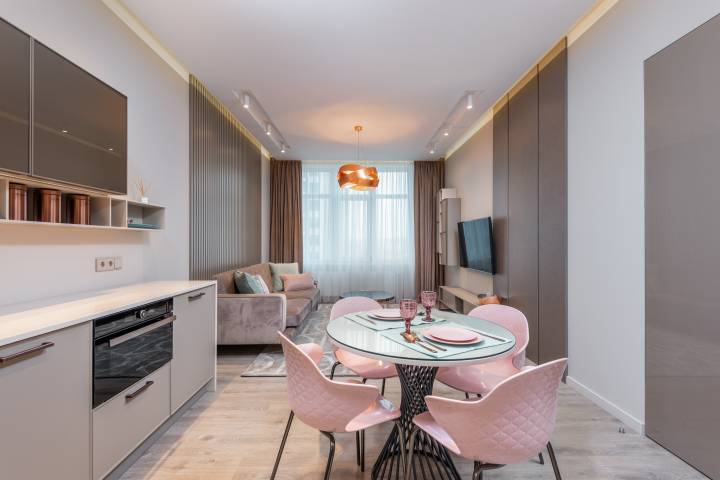 10. Whimsical wallpaper
Wallpaper is another great way to do something with walls that look a little tired. You can go for whimsical or abstract-style wallpaper. Again, the key is pairing your colours with the furniture for a put-together look.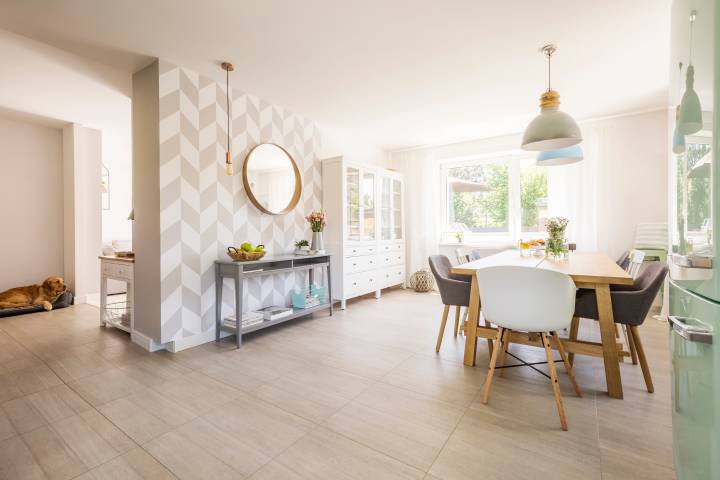 11. Dining bar
Small homes deserve a great dining experience too. Invest in an island that doubles as a kitchen space and a dining area. A sturdy set of fun bar stools can make it even more inviting for guests.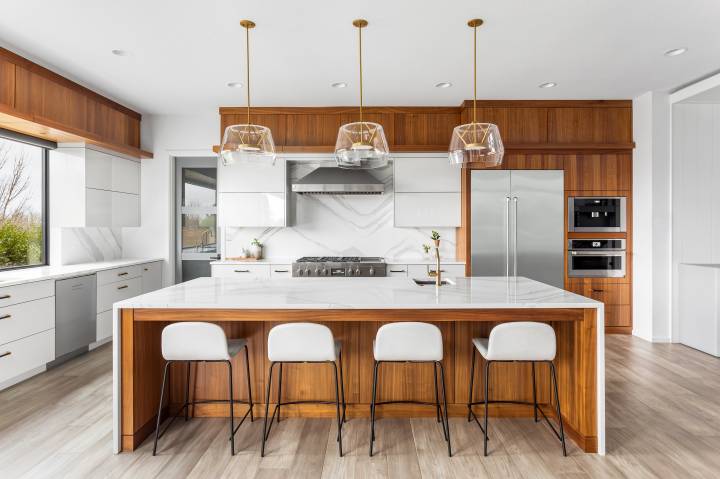 12. Rattan pendant light
Rattan pendant lights are a classy trend that can easily make dining areas modern and inviting. It's the perfect addition to a minimalist interior with house plants.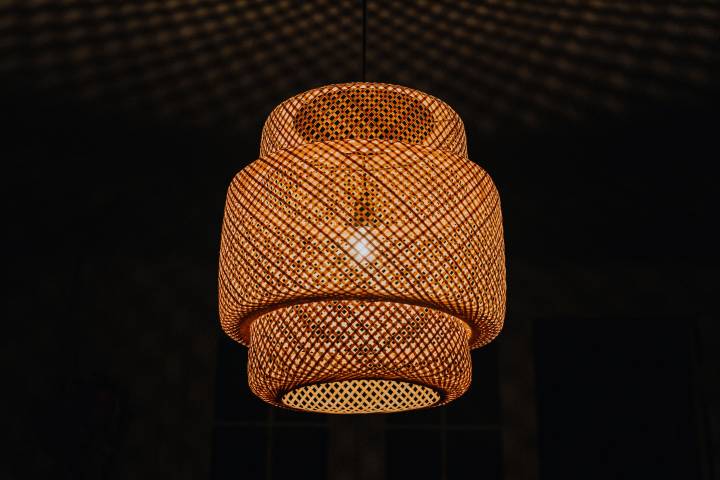 Need help installing light fixtures? Find professionals near you to get it done in no time.
13. Fit for modern royalty
Light fixtures can easily elevate and define a space, especially with an open floor plan. Bring in comfortable plush seating and tableware that matches your interior's colour palette for a clean look.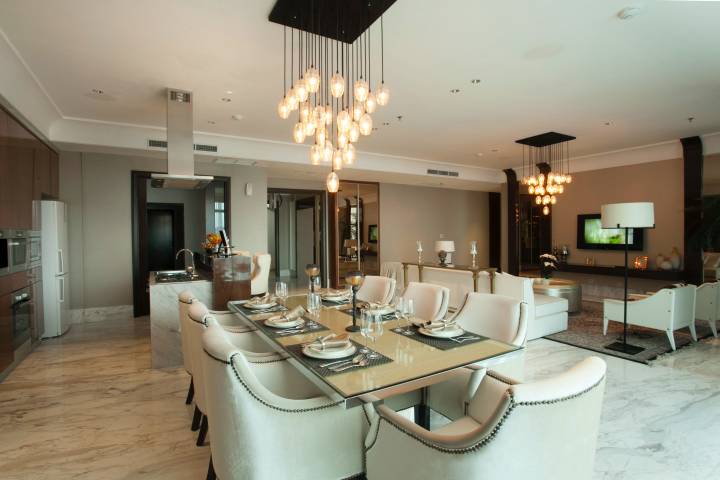 14. Rustic modern
Centrepieces set on neutral interiors are often the focal point of rustic dining rooms. The most common types are dried flowers in artistic clay pots or glass bottles. Dried flowers are also a great eco-friendly alternative to having fresh blooms on display, as they last much longer and require little to no maintenance. Add comfortable seating for an even more laid-back vibe.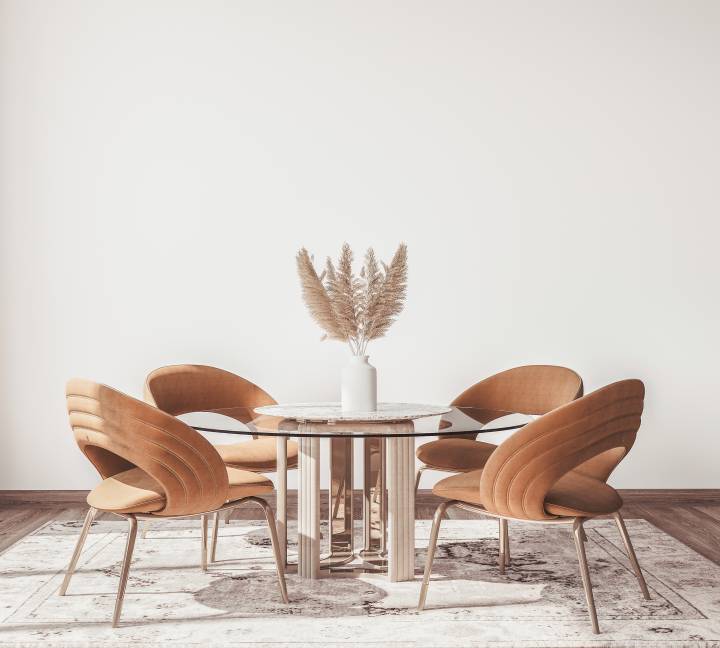 15. Earthy tones
If you love the look of black but want something softer, brown is a fantastic option. Pair brown chairs with wooden tables for a warm and inviting ambience. Adding indoor plants and golden lighting gives a more lived-in feel, too.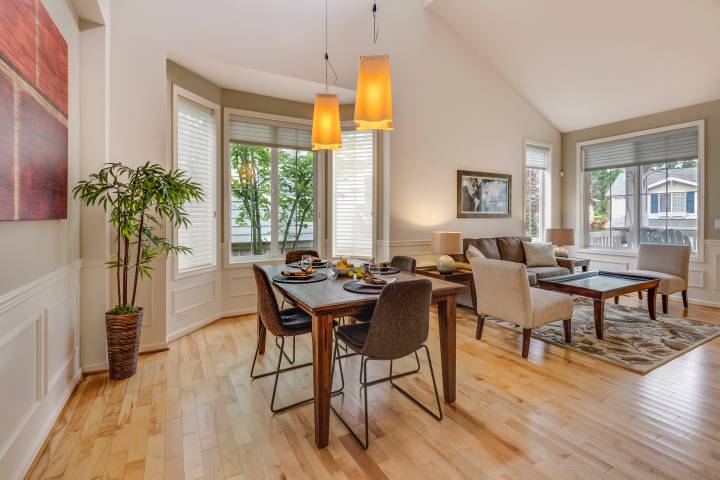 16. Velvet textures
Looking for a more luxurious look? Velvet seating will do just the trick. If you're interested in going for more than just basic black or neutrals, explore calming colours like deep greens, blues, or purple for your chairs.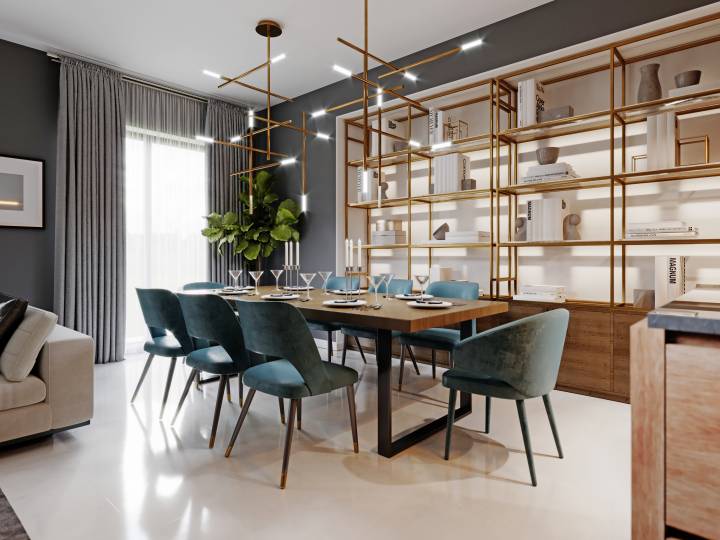 17. Unique pendant lighting
High ceilings are ideal spaces for charming pendant lights. Match its material to your furniture or colour palette to blend seamlessly with your interiors.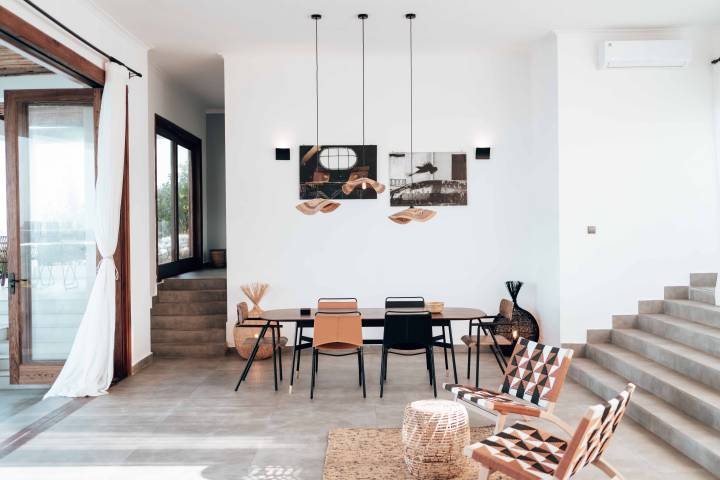 18. Room for all
If you have a big family, a long dining hall with comfortable high-back chairs around a spacious table will make all the difference. Take it a step further with an elegant chandelier above the space to light and evoke a homier feel.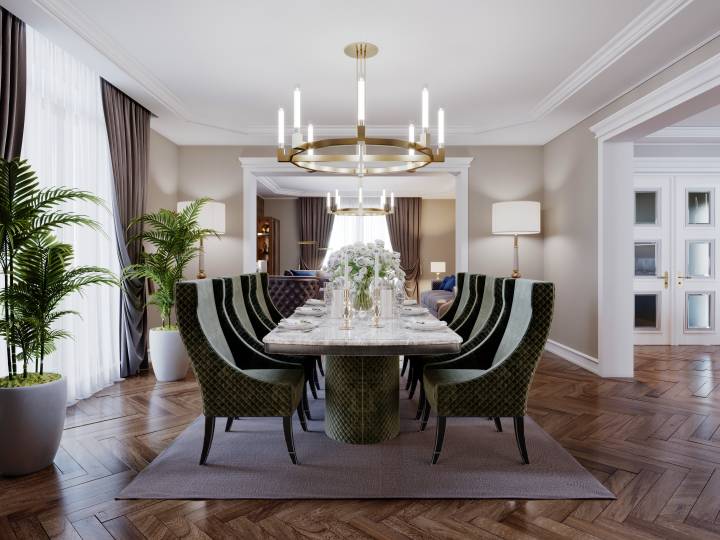 19. Modern monochrome
Modern monochrome prompts pristine cream walls outlined with sleek black details from chairs, tables, art, and even light fixtures. Don't be afraid to bring in splashes of wood or pops of colour to bring in visual interest.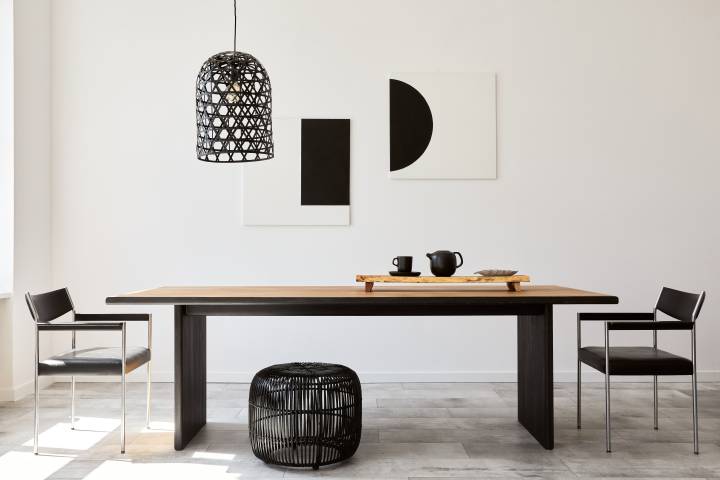 20. Light, bright and simple
You don't need much to call your interiors beautiful. Simple is best, after all. If your dining room is just by the window, diffuse the light with sheer curtains that let the light in. Select a table and chairs with detailing that match your interiors. Add indoor plants for a refreshing pop of colour, too.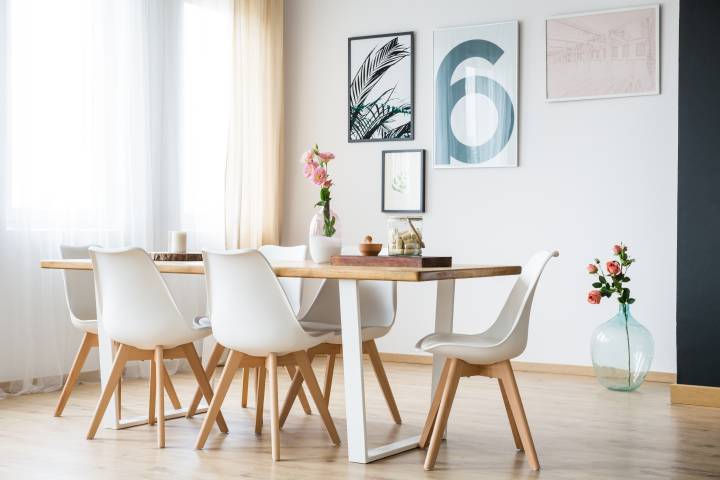 21. Smaller space living
If you have a smaller space to work with and a smaller family to accommodate, then this one's for you. A smaller round table is a great choice as it easily fits most room shapes. Add some comfortable chairs and a modern light pendant to hang over the top, and voila!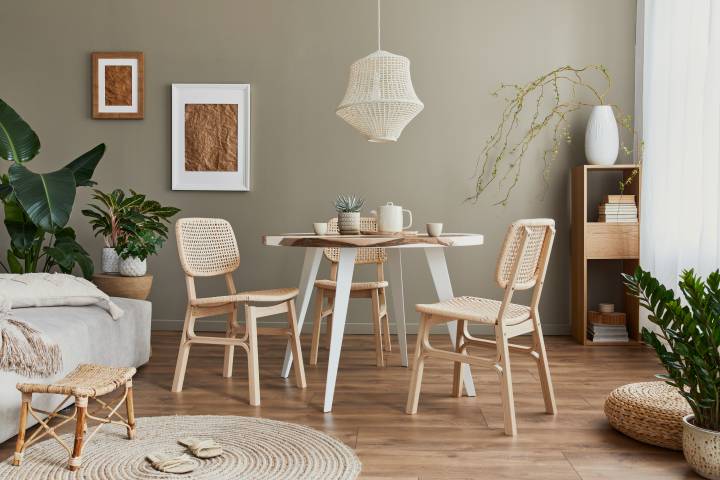 22. Windows all around
A dining room by the windows provides a lot of ventilation and breathing space, especially in hot summers. Keep them open and bare, or add a long, flowy curtain to block out the sun.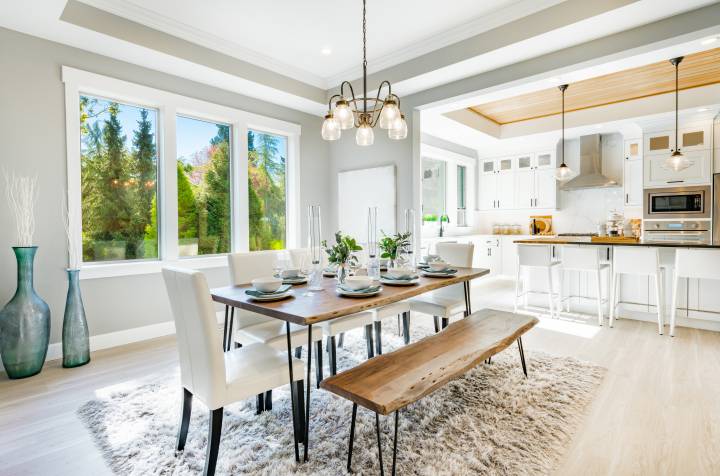 23. Squared area
If you prefer clean lines in your home, this one's for you. Build your space around a simple wooden dining table and pair it with sturdy seating. Install a pendant light or modern chandelier above the area to define where the dining table lives.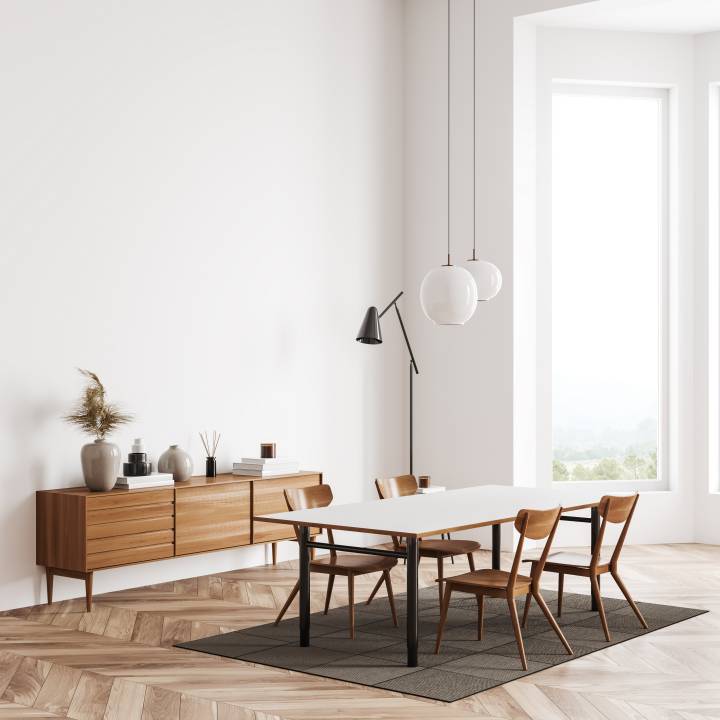 24. Mix and match
Can't decide on one type of chair design? The good news is you can have them all. The secret to mixing and matching furniture is ensuring they all fit the colour scheme.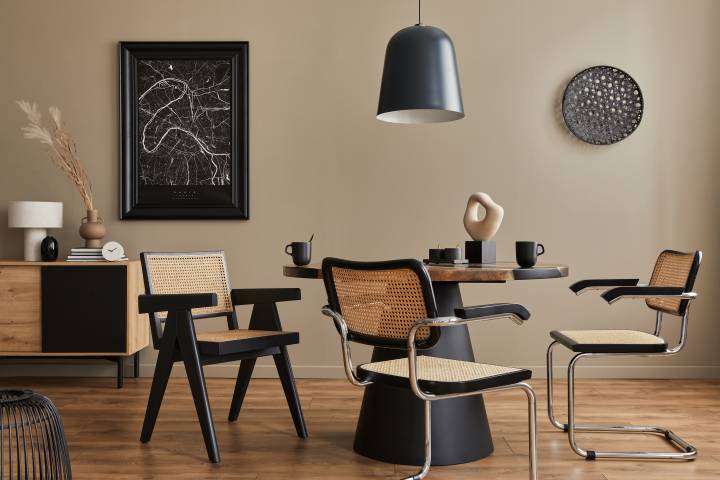 Need help assembling different seating? Connect with local professionals to help assemble your furniture in no time.
25. Industrial living
The secret to industrial design is to ensure you're seeing materials like bare concrete, wood, iron, and brick in your interiors. Balance the rough surfaces with elegant details like soft light fixtures and small centrepieces.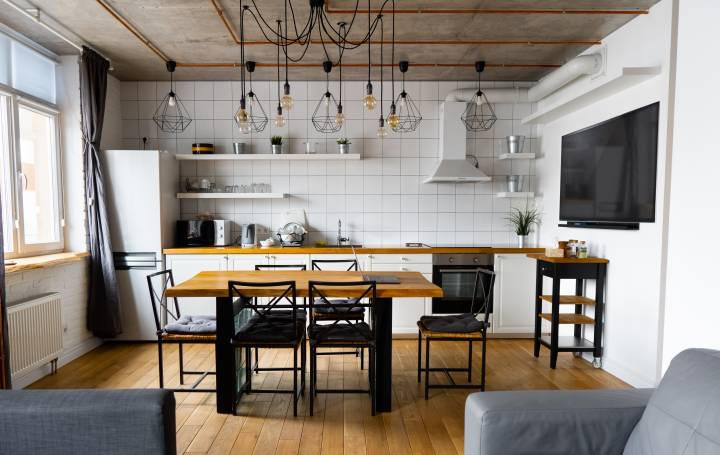 Hopefully, these 25 modern dining room ideas will help you decide how to spruce up your dining rooms. If you're ready to change but don't know where to start, you can always find dining room designers near you to bring your ideas to life.