The common misconception with modern bedrooms is that they are stark and uninviting but that is definitely not the case! Modern interior design can be timeless, given its definition as something present and constantly changing. 
And due to the loose term, there are many variations of what 'modern' can look like anyway! Modern is current and modern can be unassuming or bold if you want it to look that way. 
All in all, modern design is easy to achieve with the right inspiration. So without further ado, here are 51 modern bedroom ideas!
The best way to design a modern bedroom is to utilise clean lines and neutral tones, and then build on this foundation by adding pops of colour and other shapes to soften the look.
Minimalist
1. Clean lines and black decor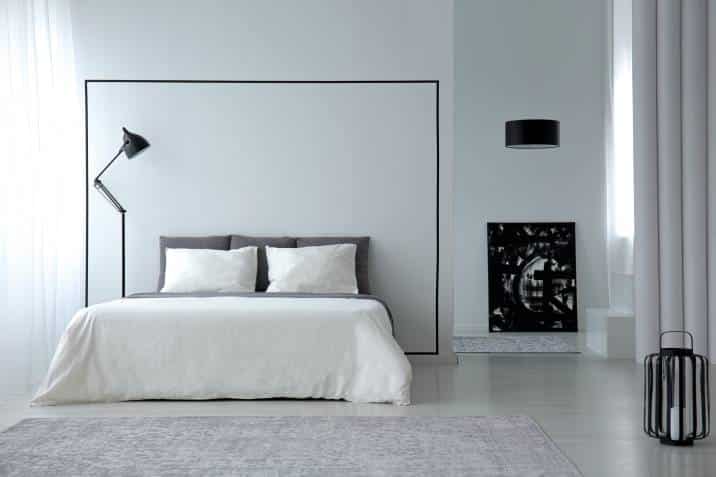 Modern bedrooms are all about clean lines and this bedroom is definitely achieving just that! I love the black clean lines on the wall, as well as the black floor lamp, hanging light, art, and decor. The white and grey bedding is the perfect choice to accompany the other features in the space!
2. Grey simplicity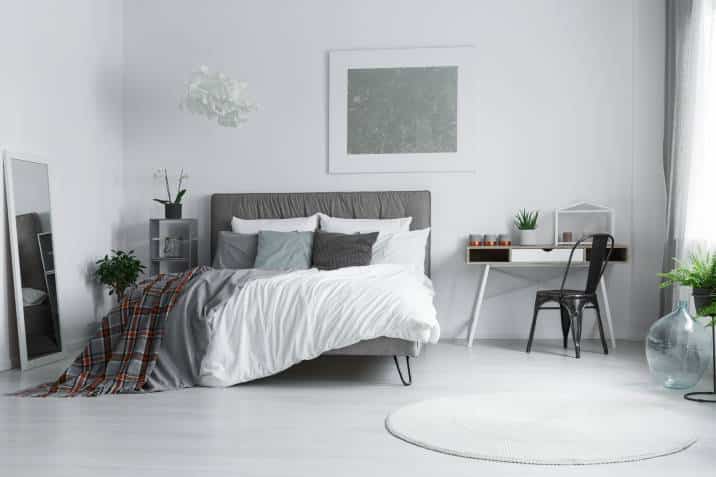 Grey is oh so elegant and chic. And I love this grey bed that works so well against the white wall. The hanging artwork and decor are great additions too. The body mirror by the bed brings more to the room!
3. Simple and chic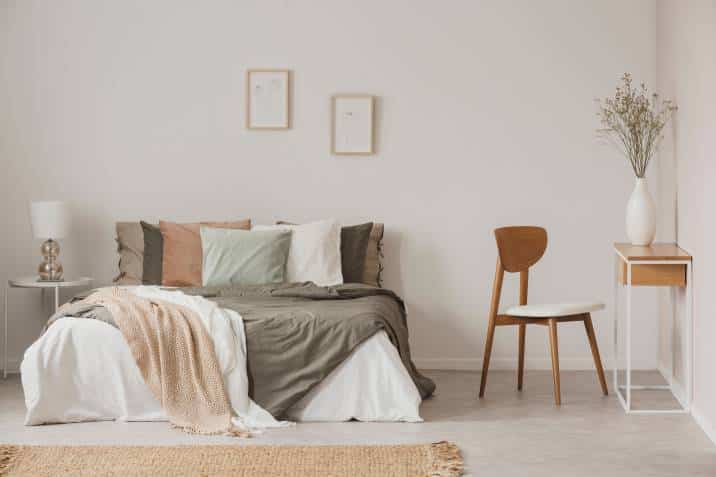 This bedroom proves that you really only need the bare essentials to achieve a modern look. The bedding has a nude colour palette with some grey tones for accent whilst the rug brings pattern and intricacies into the space. And I love the addition of the console table, flower vase, and a simple wooden chair that add layers to this simple bedroom!
4. Black and white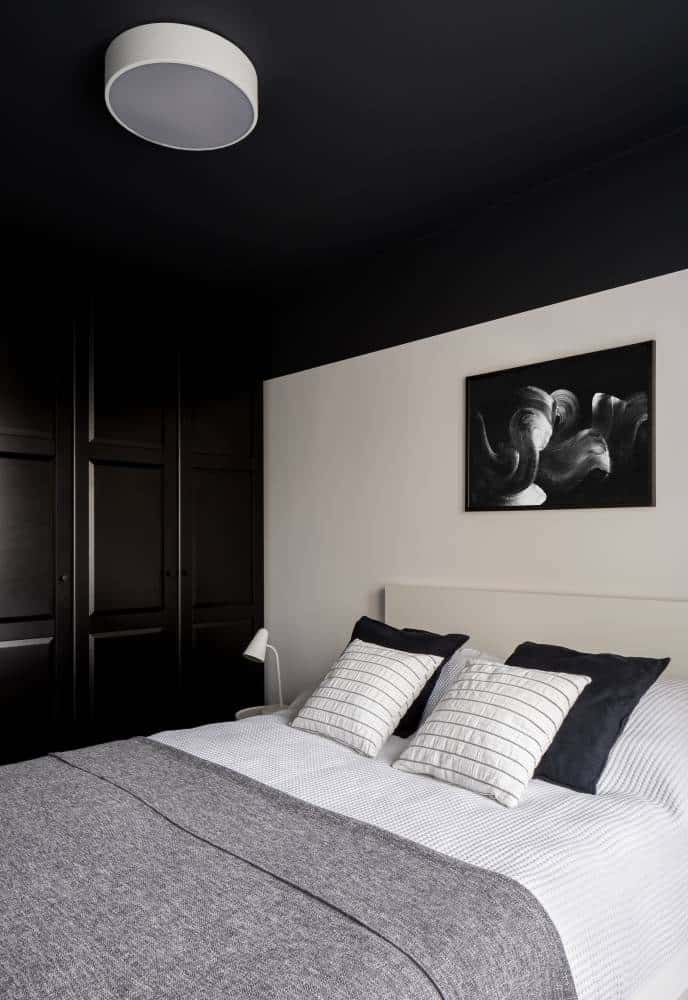 We've seen lots of feature walls, but what about trying a feature ceiling? The black ceiling in this room looks so good together with the black wardrobe cabinet, art, and pillows. And the white bedding and walls help to soften and complete the look.
5. Modern architecture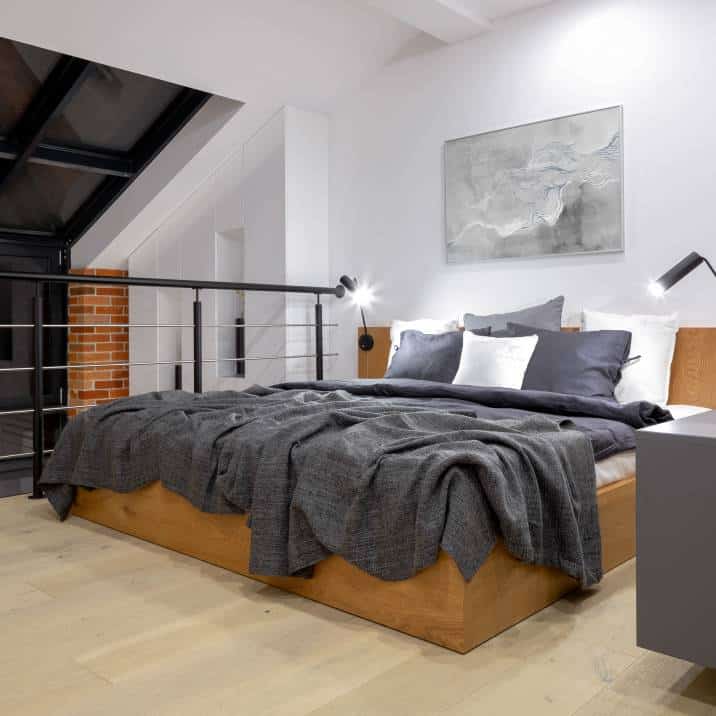 This room is the definition of modern architecture! A spectacular glass window roof such as this definitely calls for a simple and modern bedroom that helps draw your eyes up and around, and this bedroom has definitely achieved that! The modern bed and furnishings are simple, yet effective in their approach.
6. Light feature accent wall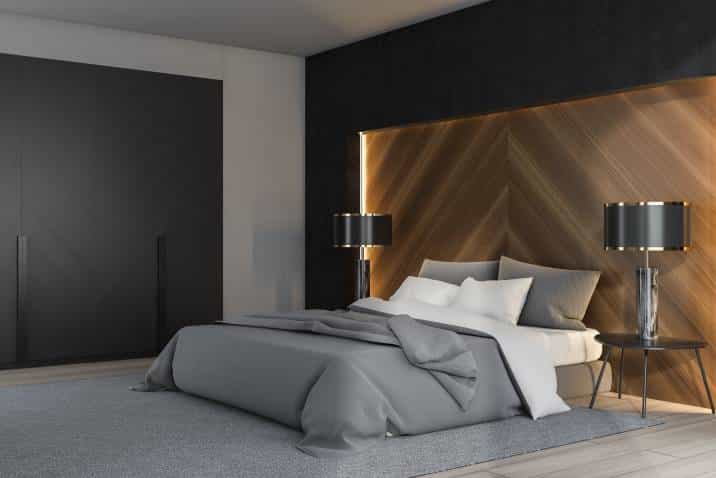 How awesome is this light feature accent wall? The wood-like pattern gives the monochrome colour palette more character. And the grey rug and simple bedding really give an ultra modern vibe!
7. Narrow mirror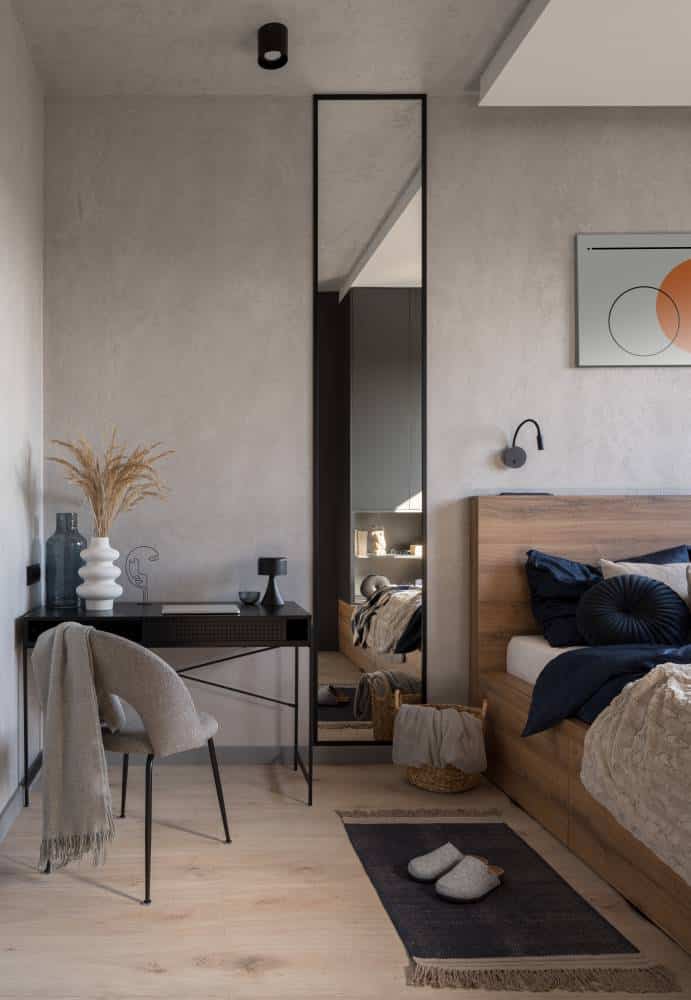 A sleek, floor-to-ceiling mirror is a unique take from traditional round or square mirrors. This slim mirror will open up your space, with more subtlety than wider mirrors and less visual clutter.
Rustic and nature-inspired
8. Stonework wall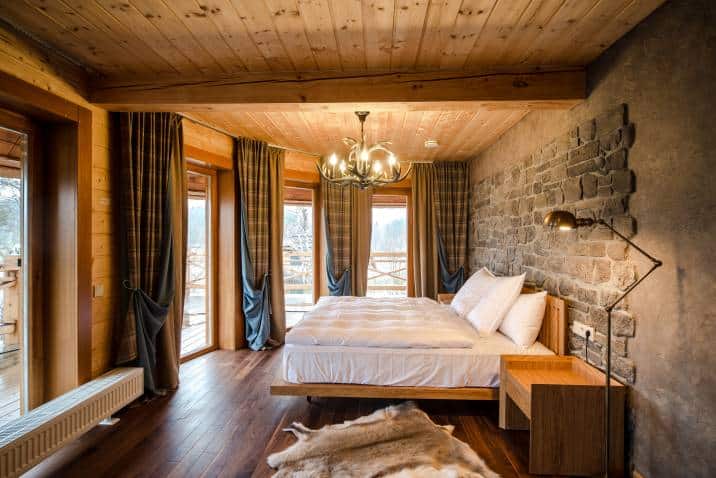 Ah, I love it when natural finishes are brought into a space and this stonework wall is the perfect feature for this bedroom! The stonework almost looks as if it could be a fireplace build, however this stonework leads to the bed which gives me so many warm, fuzzy and cozy feelings of joy.
9. Wooden details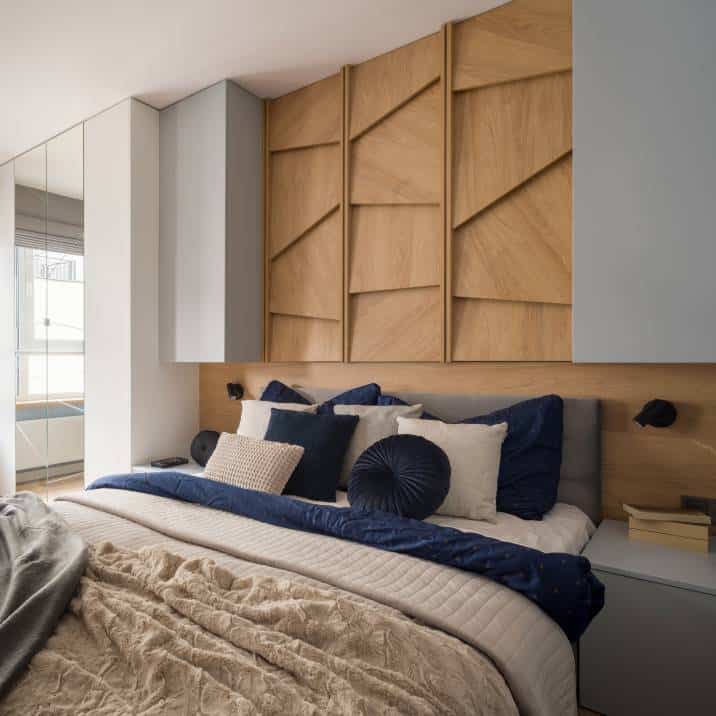 What sets this room apart is the stunning, textured wall above the bed. The decorative wood adds depth and dimension to the space. The midnight blue bedding adds some nice contrast.
10. Wonderful warmth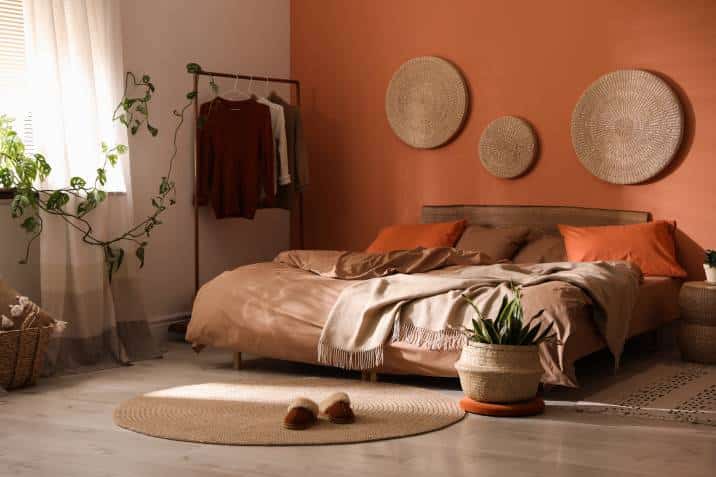 The terracotta, beige and green colour palette is so on trend at the moment, however the way this bedroom has been put together would stay in fashion and look modern forever! The earth-toned pillow cases go so well with the weaved baskets, rug, and wall decor.
11. The scenery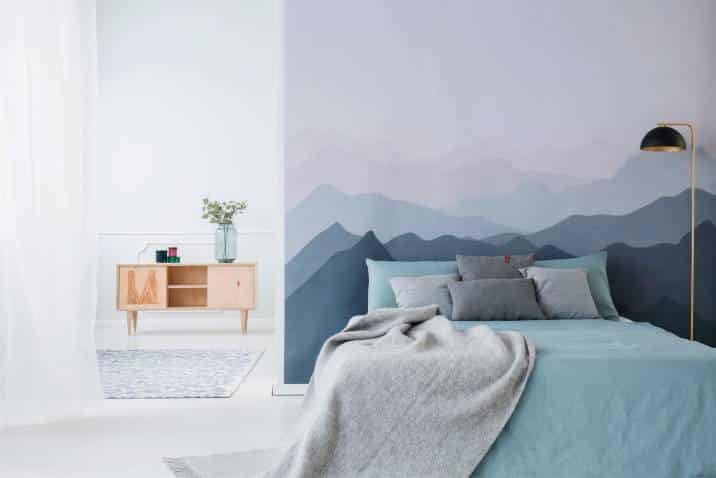 I love the calmness the blue and grey mural radiates! This scenic wall mural brings so much intrigue and pattern to this simple room. The linen pillow cases add texture to the room.
12. Wooden furnishings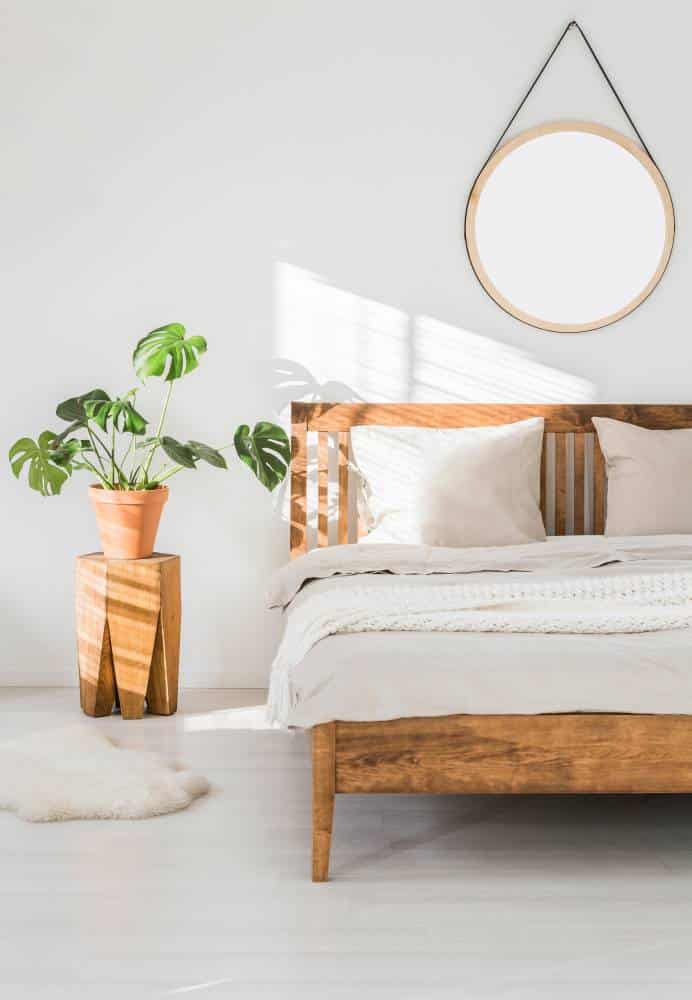 White is a neutral colour so it will always be in fashion and modern! And the same goes for wooden finishes; as they are a natural finish, they will always be on trend and look great in years to come. I love how the bed frame and plant stand have been finished off in the same wood which gives a very cohesive look.
13. Stone and wooden finishes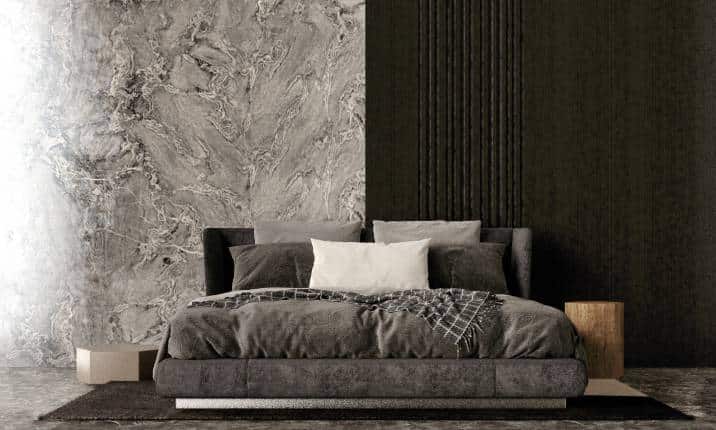 Wow, how modern is this bedroom?! It looks as if the whole room has been based around the marble finish wall! The marble finish of the wall has been carried through to the choices in bedding colour palette. And I love the addition of the super simple wooden bedside table and the textured other side of the wall, totally bringing the whole space together.
14. Natural surroundings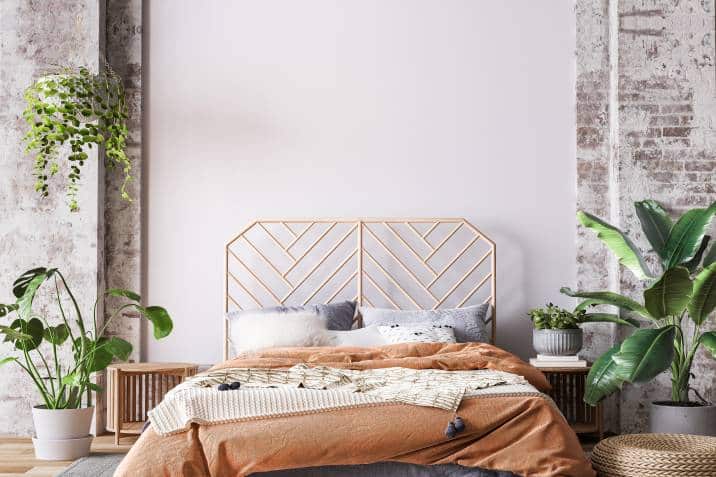 I absolutely love the greenery that goes so well with the wooden and patterned bed frame. The terracotta bedding complements everything perfectly! The plain grey wall with some concrete-finish on the sides against the greenery also adds a beautiful layer.
15. Green and wood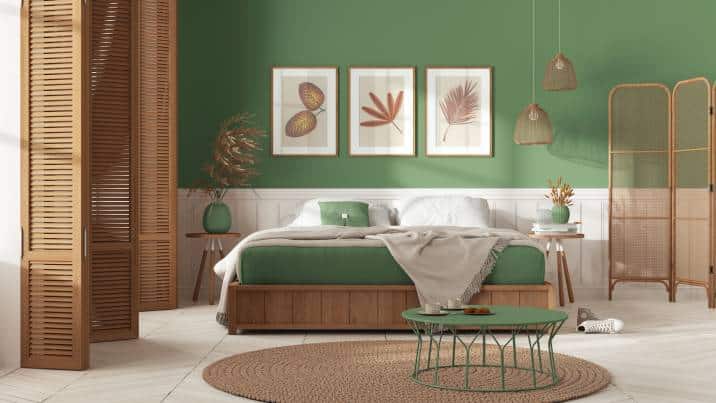 Green is definitely a colour that is often overlooked when it comes to interior. But if you can find the right shade of green, it can look super modern and homey! And the wooden  furnishing touches look so great contrasting against the tones in this green bed and wall.
16. Wooden bench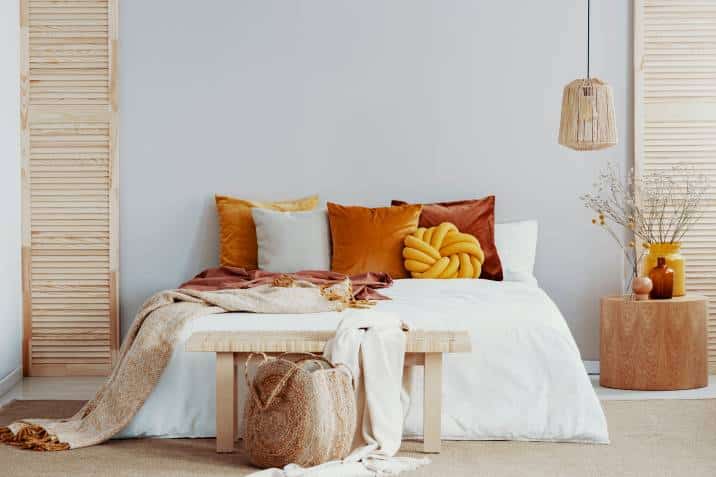 Instead of having an ottoman at the end of your bed, why not opt for a wooden bench? This means you'll have more room to sit down when fixing your outfit for the day, or even display some decor.
17. Wooden pallet headboard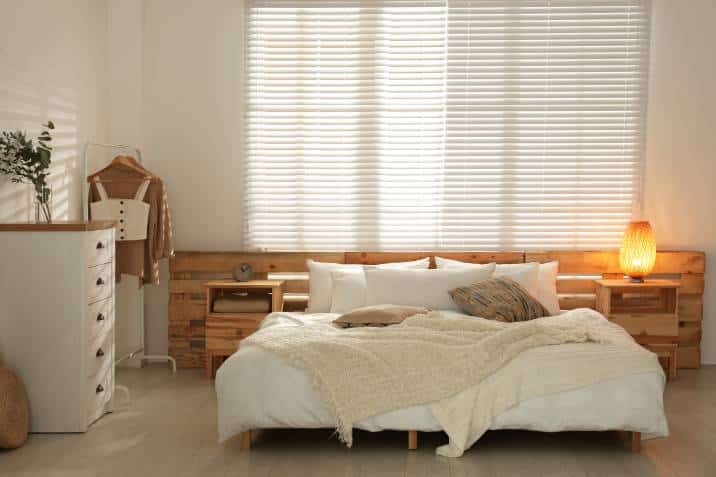 Use wooden pallets as a bed headboard for a unique and eco-friendly modern bedroom. Not only is this a stylish and sustainable option, but it's also easy on your wallet, making it a great choice for those who want to update their bedroom without breaking the bank.
Bohemian
18. A touch of greenery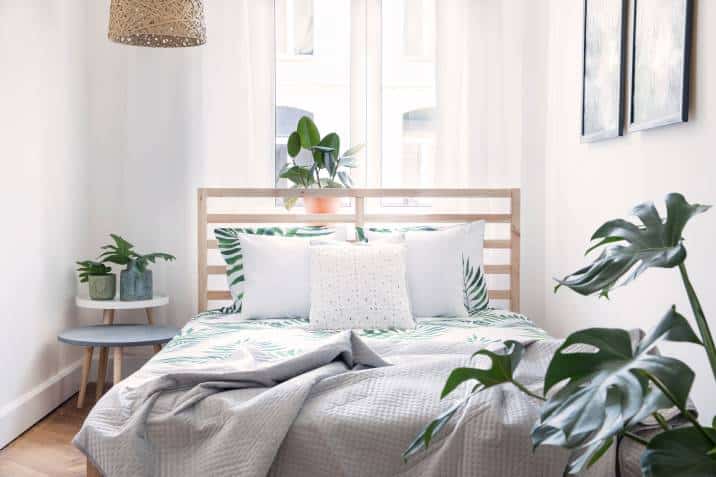 If you've got a room full of glorious neutral tones, it's always a good idea to add some sort of colour to liven up the space, and some greenery will definitely do the trick!
If you're wanting a tropical look, add an indoor palm. If you're wanting a trendy laid back look, add a monstera. The options really are endless when it comes to indoor plants!
19. Modern meets boho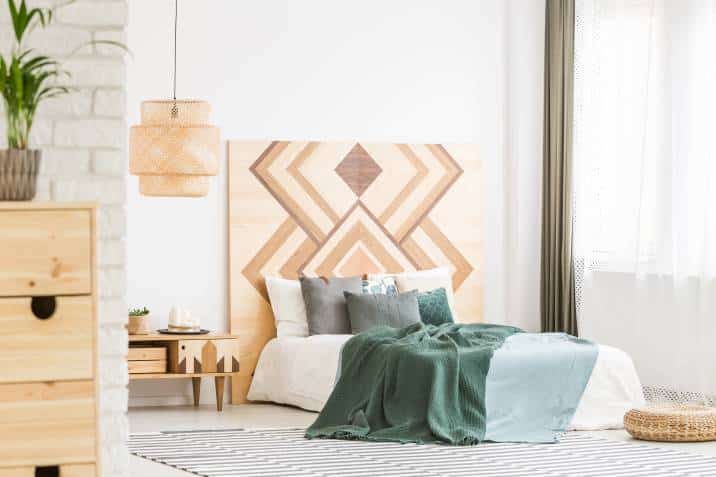 This bedroom has the perfect combination of modern and boho. The wooden finishes in the furnishings, crisp white doona and geometric panelled wall achieve a classic look whilst the wall hangings, boho style lamp and a green throw blanket give a very bohemian and trendy look.
20. Pink retreat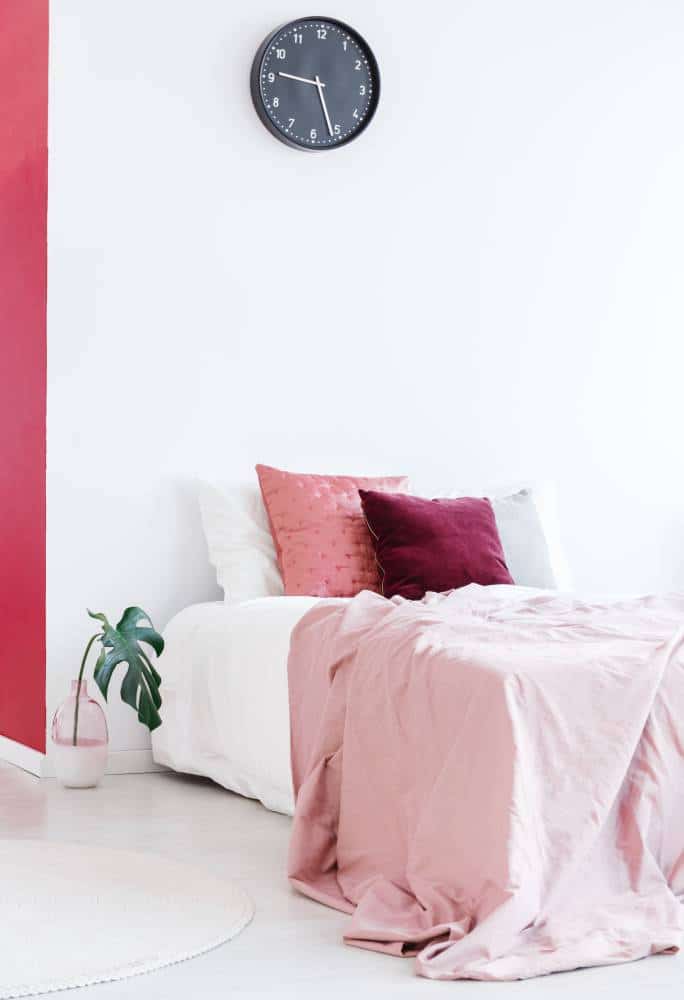 Who says boho has to be all greens, browns, and earthy tones? For a fresh take on bohemian design, add shades of pink to your modern bedroom. The soft blush hues add a playful touch, and the monstera plant makes the perfect finishing touch to your boho bedroom!
21. Floral wallpaper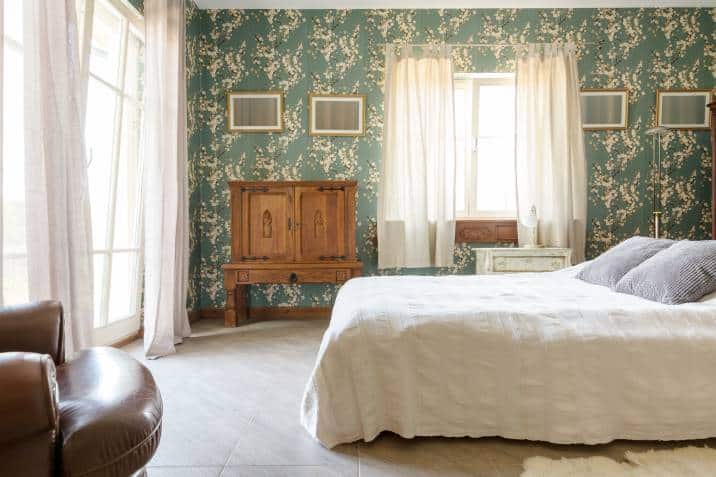 This bedroom gives so much modern appeal with a vintage twist! The simplicity of the bedding as well as the white sheer curtains bring the modern cosy vibe, whereas the floral wallpaper and wooden dresser give the room a vintage vibe.
22. Boho bedroom with olive colour walls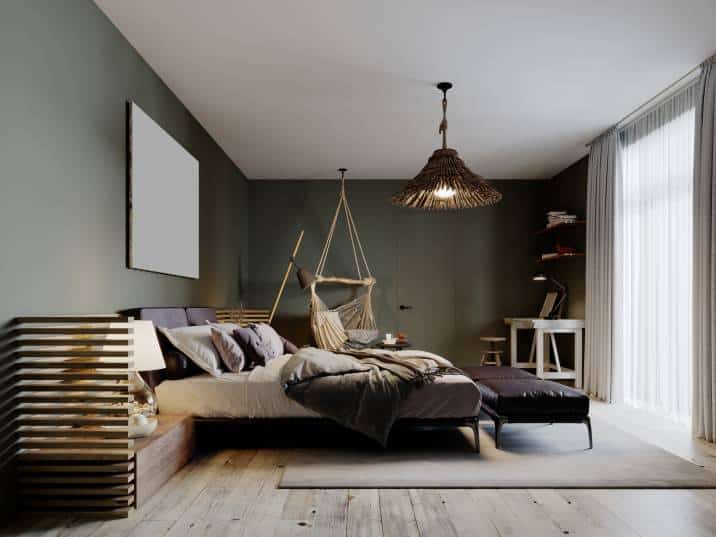 This modern boho bedroom blends bohemian elements with a contemporary twist. The leather ottomans and darker tones add a sense of sophistication to the room. Meanwhile, the swing and wooden ceiling light give a nod to the boho vibe and create a cozy atmosphere.
Luxurious

modern bedroom
23. Gold details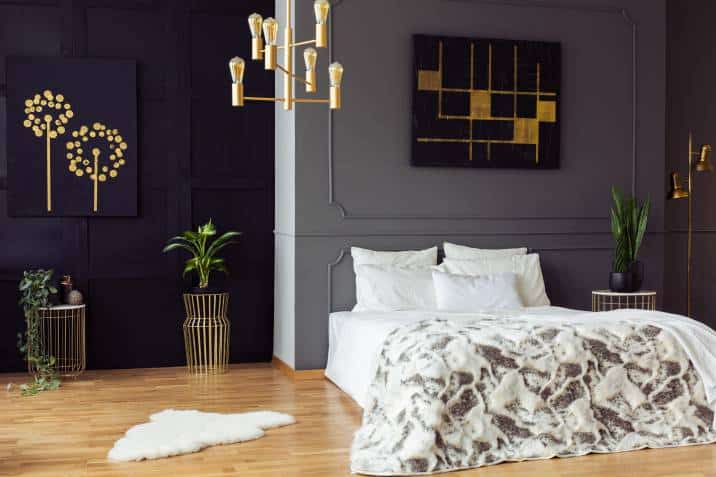 This modern bedroom has perfectly incorporated metals into its space. The gold chandelier complements the wooden floor, such a beautiful feature of the room! And I love how the gold has been brought through to the artworks, plant pot, and tables.
24. Marble tones
Marble is such a modern and timeless finish! And it will look beautiful in all spaces of your home. And if a marble inspired print on your wall is not enough, then you can have one of your walls painted with a marble design! The rest of your decor can have the tones and intricacies like that of marble.
25. Chandelier feature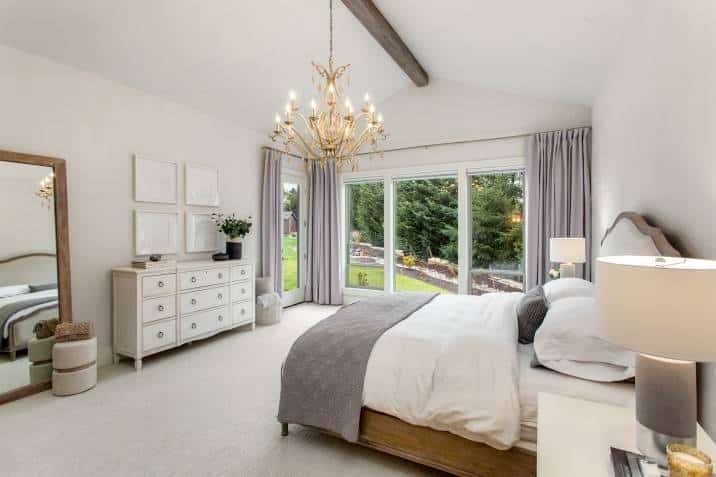 A chandelier is such a beautiful feature which adds another dimension in this modern room. Incorporating classic furnishings such as a dresser and curtains, this room exudes beauty. I love that the bedding and some furniture have been kept very simple and no fuss.
26. Grey and gold
A grey panelled wall could work as the perfect backdrop for other tones of grey through the bedding and furnishings. And golden lights and pillows add a touch of luxury to the area.
27. Glamorous dusty rose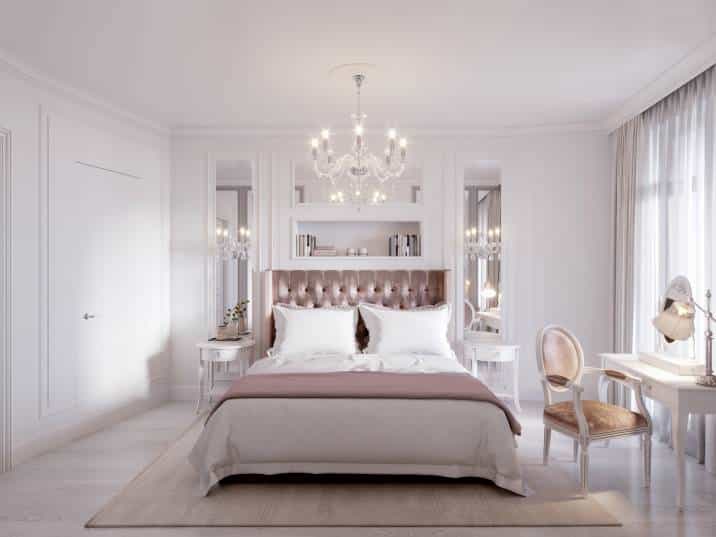 Calling all the glamorous girls! This bedroom is for you! The dusty rose bed looks amazing against the classic pearl white wall.  And the chandelier adds a high level of glamour and elegance. This space is simple and modern with a touch of glamour.
28. Darker shades and luxe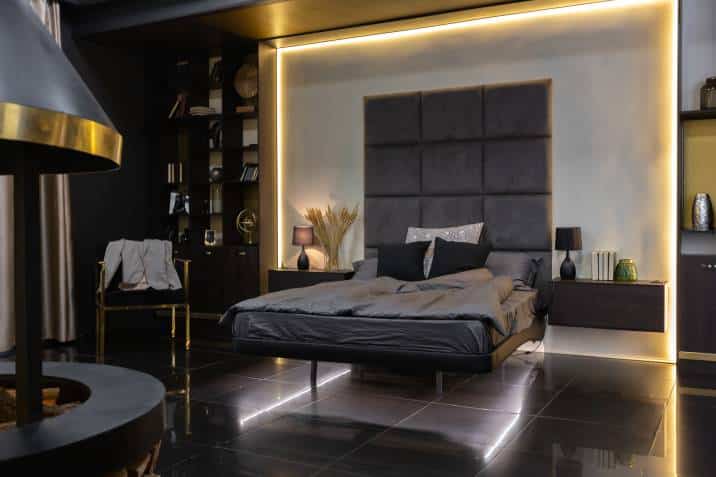 Luxe at its finest. If you are one who likes darker shades for a bedroom with gold and warm lines, then this bedroom is definitely for you! The warm lights around the bed area whilst the inviting bedding feels very luxurious.
29. Dark colour and pink tones
When done right, dark colour tones can really achieve such a classy and cosy look – and this room is no exception. The grey walls contrast with the bedding and curtain's pink shades, highlighting the beauty of each one's colours. Adding to the room's classy look are the gold tones in the modern hanging light, art pieces, and bedside lamp.
30. Emerald green and muted pink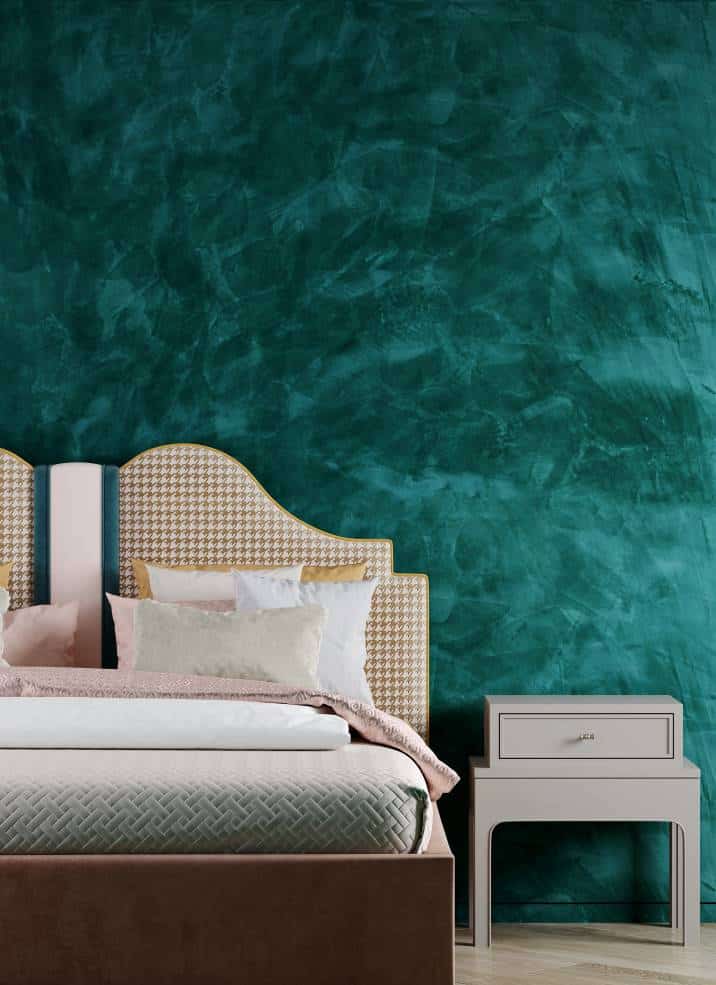 Oh I just absolutely love this colour combination! The muted pink bedding has been perfectly paired with a striking emerald green. And the patterned headboard in yellow is a nice touch to the expressive bedroom!
31. Patterned wall, twin sides
This marble-like patterned design looks so modern and classy! When the natural light hits the furnishings, it gives off many different such great elegance and class. The rest of the bedroom has been kept fairly simple so that the colour palette and choice in furnishings bring it its character!
Cosy bedroom 
32. Chunky knit throw blanket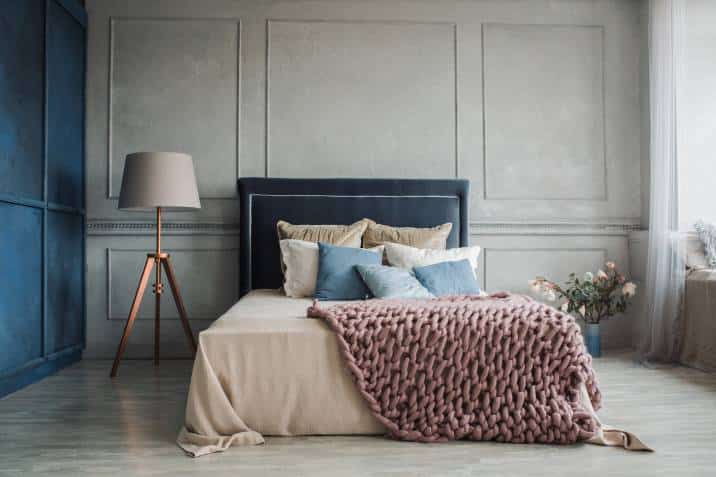 Thanks to the chunky knit throw blanket, this modern bedroom has a cosy vibe! The bedding really softens this room and makes it feel lighter which contrasts well against the ultra-modern boldness of the grey and blue panelled walls and standalone floor lamp.
33. Bedroom with skylight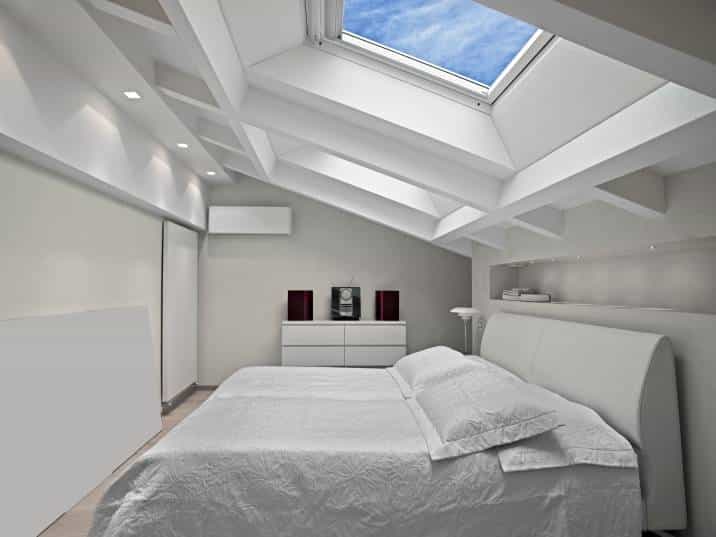 Whether you're reading a book on a lazy Sunday afternoon or stargazing on a clear night, a skylight is the perfect way to bring the beauty of the outdoors inside your cosy bedroom.
The all-white interior further creates a sense of calmness and tranquility. And the understated recessed shelving makes a cosy nook for your books and photos as well.
34. Orange, tan and white
This bedroom looks so relaxing and inviting. It really gives off very calming and zen-like vibes! I love the colour palette of the bedding that has been perfectly paired with the furniture and walls. And the wooden feature wall above the bed looks so great completing everything.
35. Exposed beams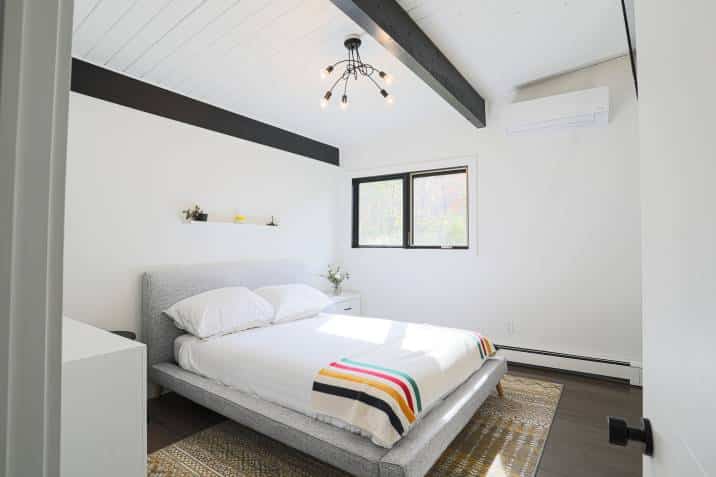 Definitely consider exposed beams if you have the opportunity to open up and heighten your ceilings! The simple black framed windows match perfectly with the exposed beams.
And the rest of the bedroom colour scheme has been kept soft and simple so nothing takes away from the boldness of the beams and windows. Just a few colours and you're good to go!
36. Homey touches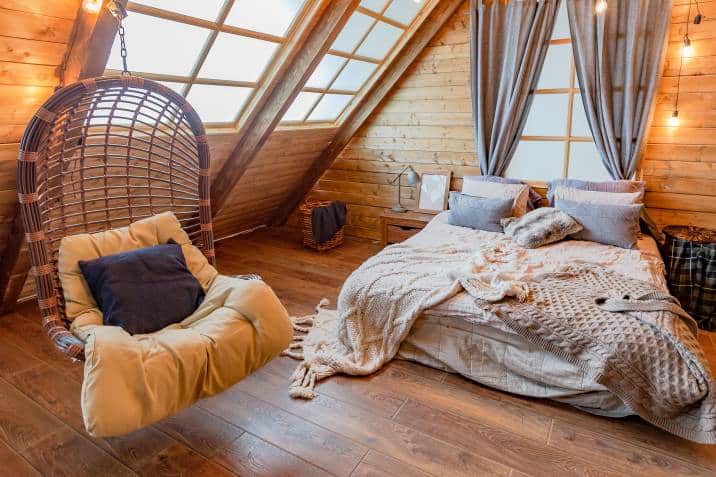 Adding a swing to your bedroom introduces an element of playfulness and relaxation. The soft cushion on the swing can create a cosy space for reading or daydreaming. And the best part is that a swing is an easy and affordable way to elevate your bedroom's decor, without having to invest in expensive furniture pieces or decor items.
37. Cosy and warm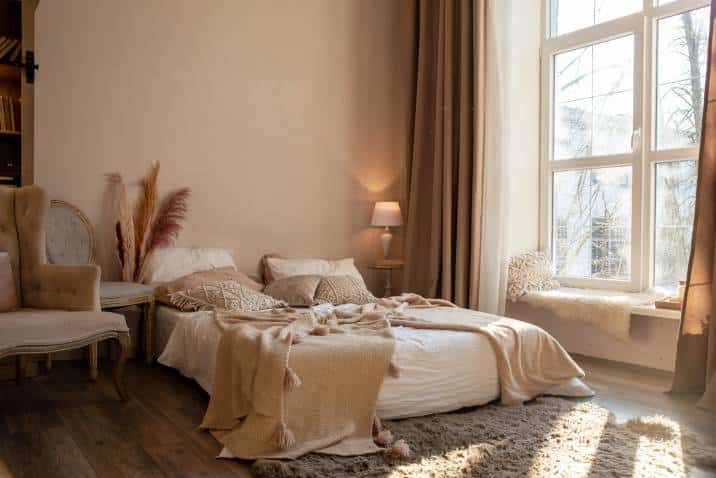 This colour palette is so in fashion right now! But due to the neutral and soft tones, it is one that would definitely stay modern and classic in years to come. The beige bedding is perfectly complemented by the blush pink and nude shades of the decors. And who can go wrong with a beige feature chair in the corner of a room?
Contemporary and industrial
38. Glass grid and concrete-finishing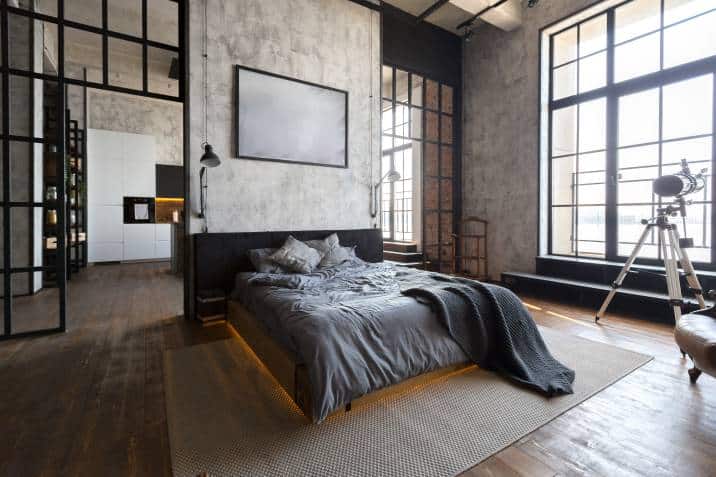 This bedroom almost looks good enough for spectators to stand around and admire the high ceiling and concrete wall finish. Thanks to the large glass window grids, you are provided with natural lighting every day.
If you feel there isn't much personality yet, add a telescope like pictured or something from your hobby!
39. Pendant lights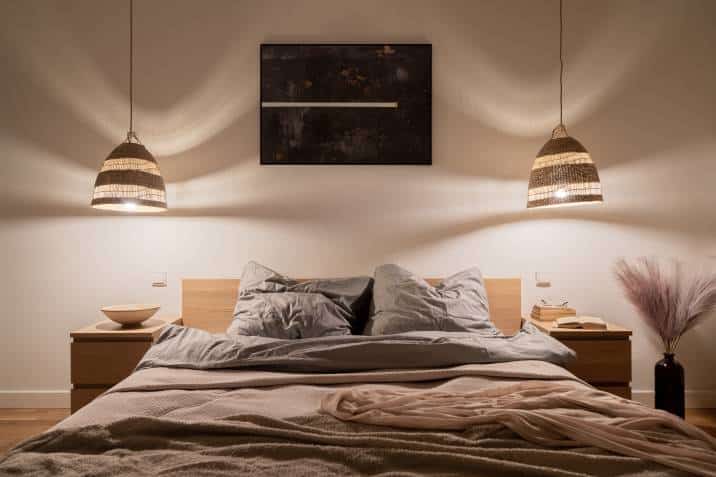 I love these black pendant lights that create a bold and sophisticated look in this soft and trendy bedroom. Whether you are lying in the middle of the bed or working at your desk, you will always have a lamp for some much needed light!
40. Hanging lamp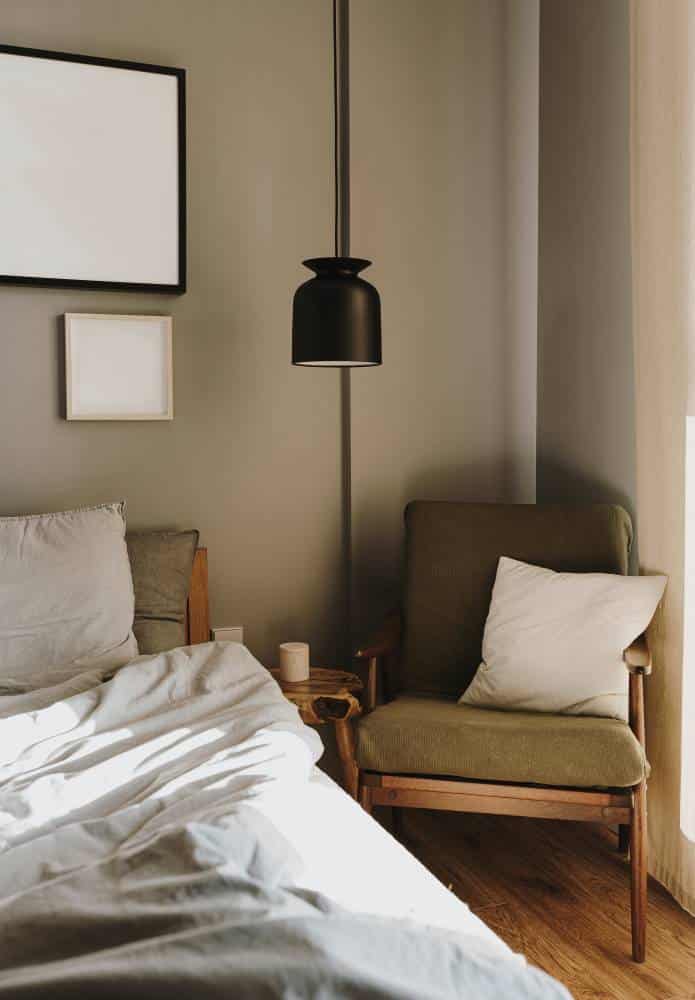 If you're going for a dark theme (or any colour scheme, really), then lighting can really lift your space! I love this hanging lamp which is definitely a feature of the room as your eyes are immediately drawn to it.
41. Wall panels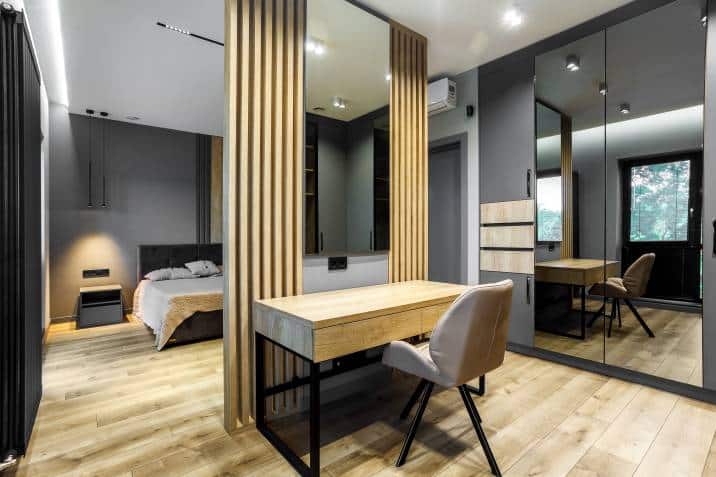 A stylish wall panel can create a visual distinction between different areas of the room, such as a workspace and sleeping area. What's more, wall panels add texture, colour, and visual interest to a room.
42. Black, white and grey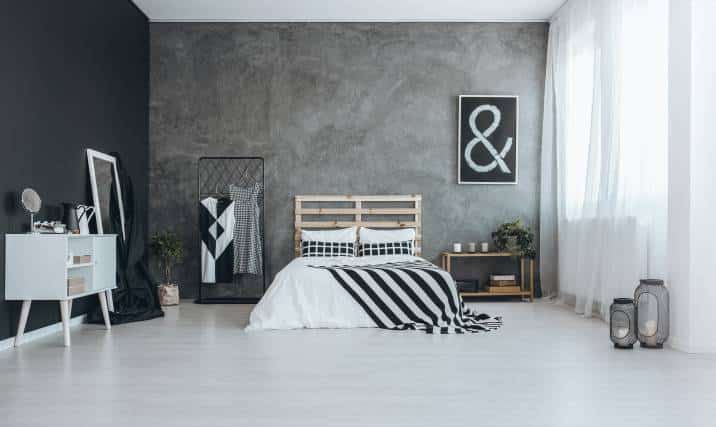 If you're not sure of a colour scheme to go for for your modern bedroom, then black, white and grey will certainly work well together! A black feature wall would make a nice contrast to a bright white bed and concrete finish on the wall.
Artsy and fun 
43. Unique furnishings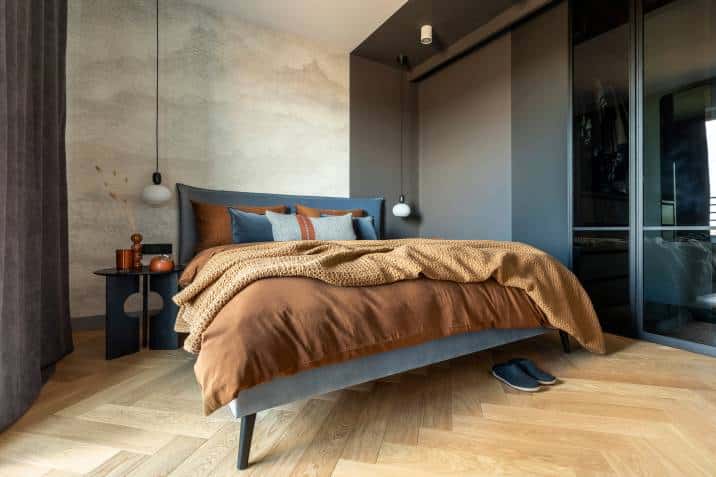 Unique furnishings will give a very modern and futuristic spin to any bedroom. I love the sculptural bedside table and hanging lights that bring so much character to the room.
44. Blackboard wall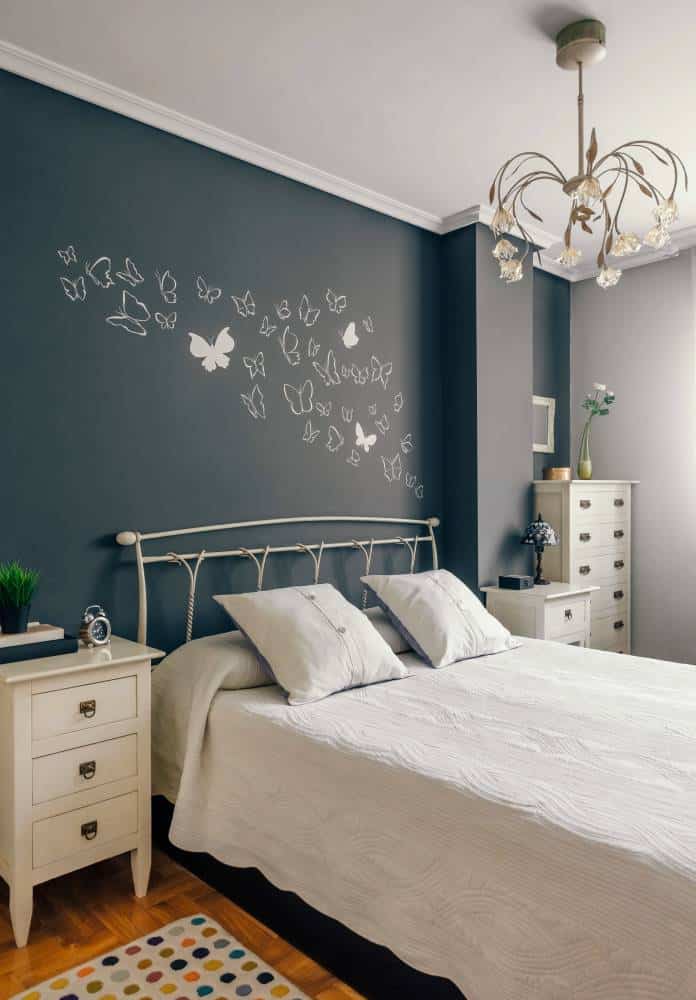 Why not paint one of your bedroom walls with blackboard paint? Whether you want to leave yourself reminders or draw something new every day, the blackboard wall will add a playful touch to your room. It's also a great fun addition to a kid's bedroom, providing a canvas for their imagination to run wild.
45. Blush and grey
Feminine colours like blush will look beautiful paired with modern colours like grey. By keeping your furnishings and larger bedroom elements neutral, it's super easy to switch up your look by just adding some artwork, cushions, and a throw blanket. Easy peasy!
46. Purple neons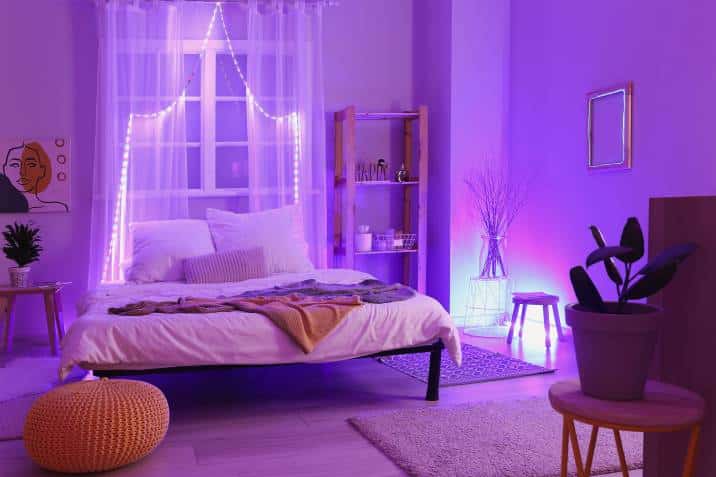 Now here is a playful and modern bedroom. The purple and pink neon lights really make for a fun and quirky look! I love how the lights have been positioned in the curtains above the bed. This one's for you if you want something a little more out of the box than a regular pink room.
47. Sleeping under the moon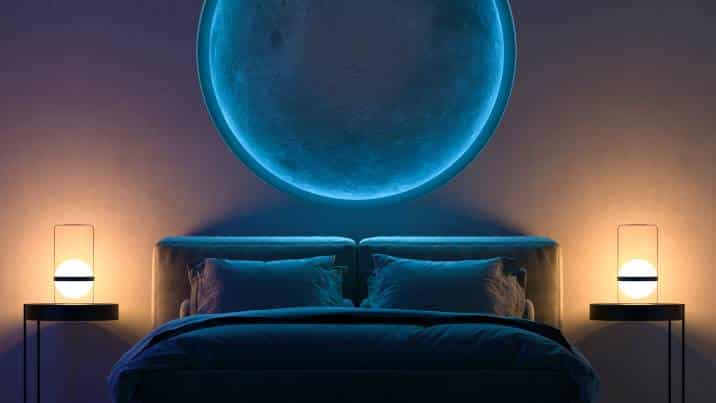 If you love outer space and are intrigued by all the wonder it offers, then perhaps you should consider incorporating it into your modern bedroom design. I absolutely love this blue-lit moon wall decor that looks great against the simple wall and bed.
48. Feature wall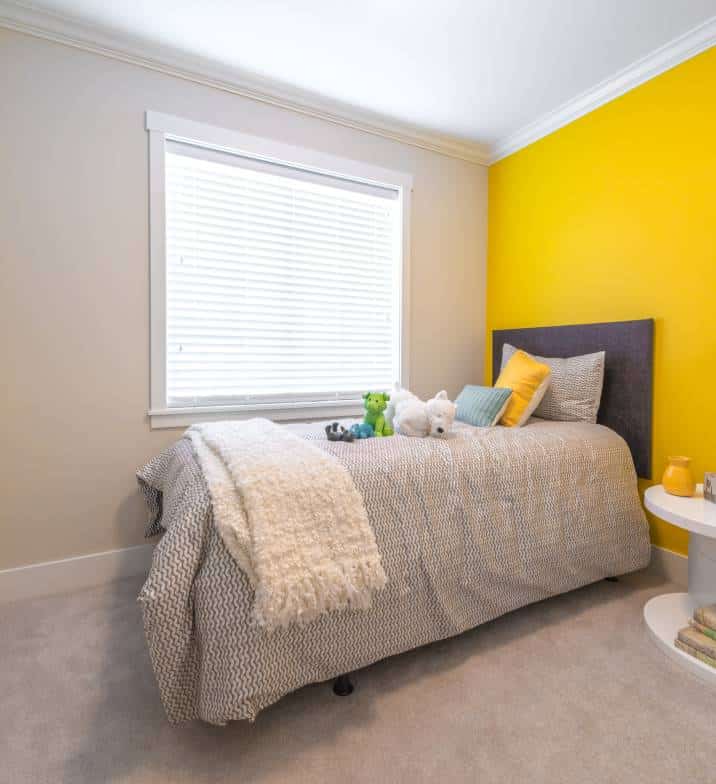 Feature walls are a great way to bring some colour into your bedroom, without committing to too much of a change! Plus if you're not too happy with it, one wall is easier and quicker to paint over than four! I love the colour of this bright yellow wall which is the perfect contrast against the dark grey headboard and light grey bedding.
49. To the moon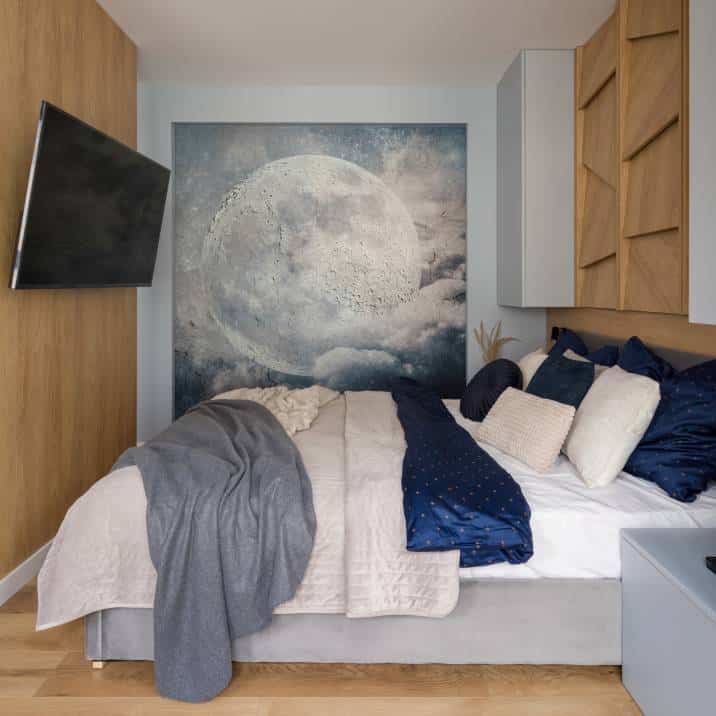 This one's for those who want a modern bedroom with a moon art piece! The wall mural is perfectly executed, along with the white and blue bedding which creates a nice colour palette and vibe for the room.
50. Abstract art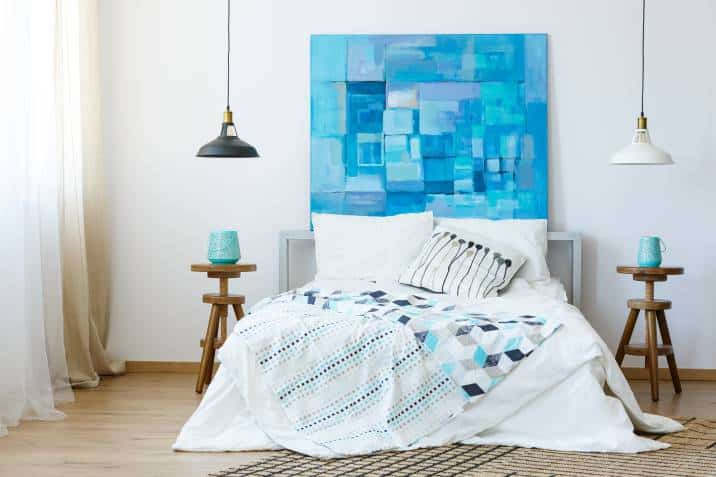 This modern bedroom looks like a work of art with the quirky painting and varying patterns on the bedding. The large abstract artwork behind the bed is the highlight of the entire space!
51. Striking pop of colour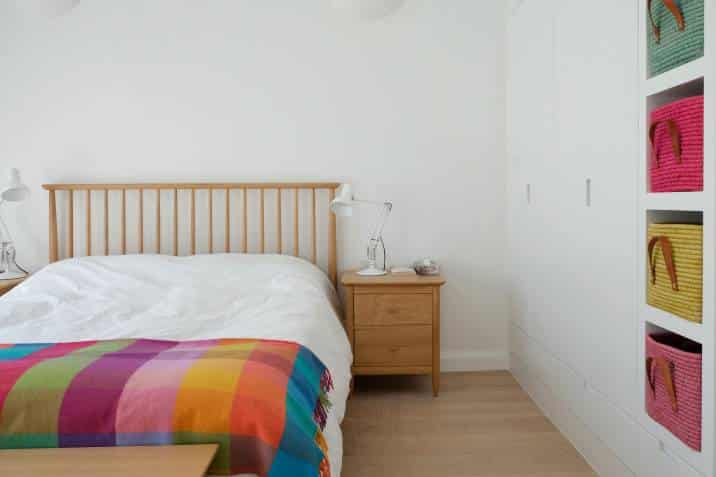 If you've already got quite a simple and modern room but want to spruce it up with something a little more quirky, then putting a colourful grid throw blanket will definitely do the trick! Add baskets of the same palette for even more pops of colour.
---
So there we have it  – 51 modern bedroom ideas for your next bedroom renovation or spruce-up! I absolutely love the bedrooms that bring in natural finishes like wood and marble. And also love the monochromatic bedrooms that are ultra modern with a limited colour palette of whites and blacks.
What are your favourite modern bedroom ideas? Let's get chatting in the comments below!