We've launched a recommendation algorithm to help match Taskers with tasks.
So, why are we launching a task recommendation algorithm?
Airtasker is getting more popular with over 30,000 tasks posted per week. We've also heard increasing feedback from our community that it's getting harder to find tasks that match their skills.
So, the team has created a task recommendation algorithm to help Taskers find the tasks that they want to see.
What changes are you making to the Airtasker experience?
The first step is to change the order of tasks in the browse tasks list from a chronological list to a mix of time and relevance. In the past, each task got a time score and the highest score would go to the most recent posted task. Now we're adding a relevancy score to each task based on the individual Tasker who is looking at the task list.
By combining the two scores it allows the task with the highest time and relevancy score to show at the top of the list.
How does the recommendation engine calculate the relevancy score?
We calculate the relevance score for each Tasker by looking at the data about past tasks they've viewed, search for and also offers previously made. We then use our predictive model to give us a relevancy score for every category* on Airtasker for that Tasker.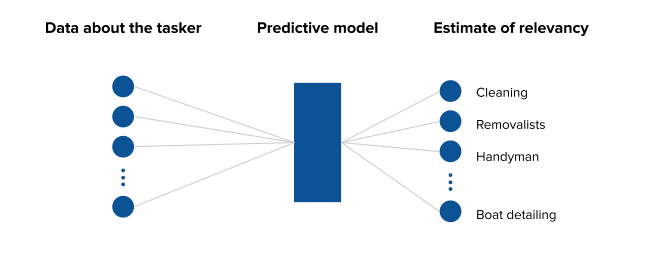 So, what's next for matching tasks with Taskers?
We know this is the first step in the right direction and we'll be looking at the following ideas very soon:
Highlighting general tasks which all Taskers might want to see and getting those to the top of the task list.

Bumping up tasks where a Tasker and Poster have worked together in the past. That way if you want to work together again, it's super easy to do.

Making sure Taskers aren't shown the same task again and again, which may get frustrating.

Got feedback? Let's keep in touch!
We'd love to hear your feedback. So please let us know your thoughts, positive or negative, and we'll be using this feedback when we're working on future updates. You can find a link to the survey here. 
NB: Please keep in mind that the way we make recommendations will be updated with new data sets and insights, so this algorithm will change over time.
*Categories are professions which are divided out into sub professions. We have separated cleaning into several categories including end of lease cleaning window cleaning and so on. We have over 160 categories on Airtasker at the moment.