During lockdown, Aussie pets had a woof-wonderful time with their pawrents. Both you and your fur baby cherished the time you spent together, going on daily walks and getting plenty of cuddles and play.
With work, school, and life slowly going back to normal, you and your pets may be struggling with the change. It's a good thing "Pawfessionals" on Airtasker are ready to meet the increase in demand from pet owners just like you.
Checking off your pet parent checklist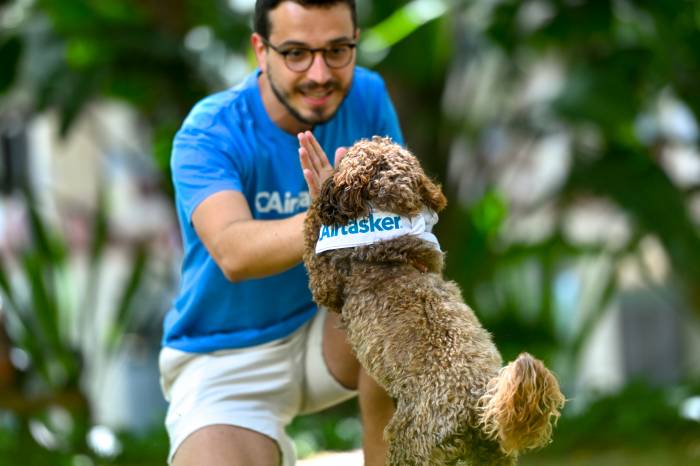 Adjusting back to work can't be easy, but leaving your pets after over a year of cuddles isn't any easier. From toilet training your pup and bathing them to walking your dog around the neighbourhood, Airtasker's Pawfessionals are always ready to lend a helping hand. They can help you tick off the boxes on your pet-parent to-do list.
Airtasker CMO Noelle Kim knows just how important your pets are in your daily life.
"At Airtasker, we are about helping you get more done. We want to take the stress out of pet parenthood by connecting trusted pet experts with caring owners, especially during this transition back to pre-lockdown life. We are lucky enough to be able to bring our pets to work at Airtasker, but for those that can't, there are Taskers to pet-sit, walk, comfort and even counsel your pets."
You might be a little apprehensive about entrusting your dog's care to someone else, but don't let it stop you from getting help! Check out our price guides if you're curious about how much dog sitting costs per hour or wondering if a dog walker's service includes feeding. This will give you a good idea of what to expect in terms of costs and inclusions before posting your task.
Dealing with pet separation anxiety
It's not only humans who go through separation anxiety. Many pets experience it, too! Aussie vets urge pet owners like you to watch out for symptoms of your pet's separation anxiety. Prominent signs include excessive barking, pacing, digging, and howling, especially with the extra alone time they experience with you gone all day.
Many owners of home-alone pets have shown how much they've prioritised their fur baby's health and wellbeing by finding help on Airtasker. In fact, there has been an increase in pet psychologists, trainers, and sitter tasks since July.
"Since lockdown restrictions have eased, I'm definitely seeing signs of separation anxiety in my dog, Cookie", says NSW pet owner Amna.
"Cookie just turned one, so leaving her home alone for a few hours is daunting! I've jumped on Airtasker post-lockdown to search for professional dog sitters for the times I'm at the gym or grabbing groceries and need somebody I can trust. It's such an easy process and so worth it!"
To help ease your pet's anxiety when you're gone, consider getting doggy day care services to keep them company. You can also explore the idea of having a dog trainer teach your pup how to remain calm during your absence.
Trusting a Tasker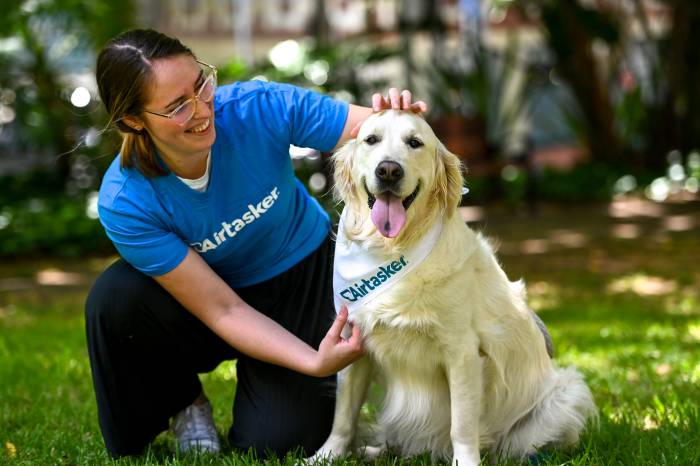 It's not easy to find people you can trust, and it's even harder to find someone you can trust with your pets. Calling in a friend or family member may help sometimes, but you can always turn to experienced Taskers. Louise Marshall, a NSW Tasker, has over 35 years of experience in pet care and sitting. She even makes sure that your pet is safely transported to you!
"Lockdown lifting has caused my profile to go gang-busters, with a huge increase in requests from people wanting their pets looked after or transported to a pet sitter or friend. It's allowed me to build up a bank of entirely new clientele!"
Ready to hire a Tasker to look after your pet? Post a task on Airtasker today and find nearby animal lovers who can help keep your furry friend happy and healthy.