It's likely you've used Airtasker to help build your website or revamp your resumé, but have you ever thought about using it to maintain your property? But it doesn't just make your life easier digitally, it can also improve your physical space as well! Airtasker brings a world of talent right to your doorstep, so here are some ways we can help you keep your house spic and span with only a few taps on the app!
Here are the five ways to use Airtasker to maintain and improve your property
It doesn't get much easier than this! All you have to do is let people know where you are, what you want doing, and how much you're willing to pay. You might not like gardening very much, but for someone else, it might be the thing that they really love doing, so why not let them find their bliss while weeding your backyard? 
We're all guilty of this one. You've got pictures to hang on the wall, a light globe to change, but you'll do it later, right? Come on let's be honest you'd rather be watching the new season of Stranger Things, not working out which nails to use. Why not ask a handyman to come and be handy at your place? You can watch the TV, they can do the job they're best at and you can both leave happy.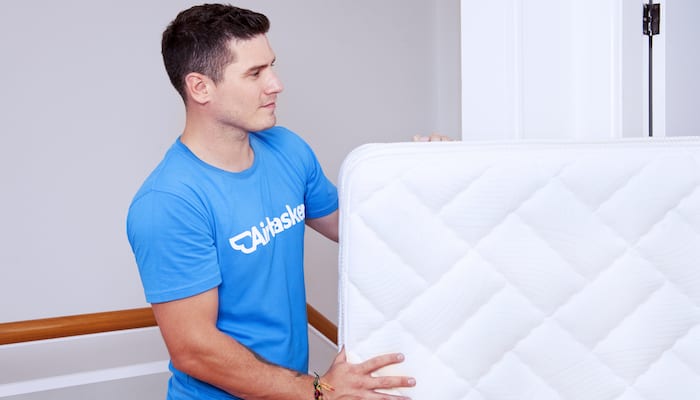 Do you have some furniture you desperately want moving, but can't lift it by yourself? Looking for someone to take some rubbish to the tip but you have no way of getting it there? Airtasker has you covered, all you need to let people know is when and where, and the army of Airtaskers there will be lining up to help you move (or ditch) that clutter around your house. So long as you let them know what they'll be moving, they can make the appropriate arrangements to make sure you're all happy. 
It doesn't matter what you count as cleaning — there is someone on Airtasker who is happy to do it. Dusting? Absolutely. Mopping and vacuuming? Of course! End-of-lease cleans? They have you covered. If you need an invoice for your landlord, make sure you tell the Airtasker and voila! You'll be set — someone will come to your home, clean it for you and leave. You don't need cash, and you don't need to worry about fitting into their schedule because you've already told them when you need it done by and paid for it through Airtasker. It couldn't be easier! 
The joy of a site like Airtasker is that you never know who's looking to pick up some work on the side.  You might have a problem that you think is too out there for someone to fix, but that's just what Airtasker is all out! There are always plenty of out-of-the-box tasks posted such as 'Make a Chewbacca costume', 'Queue for Harry Styles concert tickets' or even 'Build a Tiki bar'. There's always someone who's a perfect fit for the job you have in mind, so why not put it out there into the universe and see what comes back?
If you're worried about letting people into your house? Airtasker has multiple badges available for Airtaskers to verify their identity, licences and whether they're involved with our partner brands. On Airtasker people also get reviews after a task is done and they also have a Completion Rate, which shows how reliable they are when they put their hand up for the task.  Airtasker is all about best offers, not first offers, so don't be afraid to wait for your perfect match. Don't waste the beautiful summer weather doing the things you like the least — hire a professional through Airtasker and let them do the heavy lifting for you!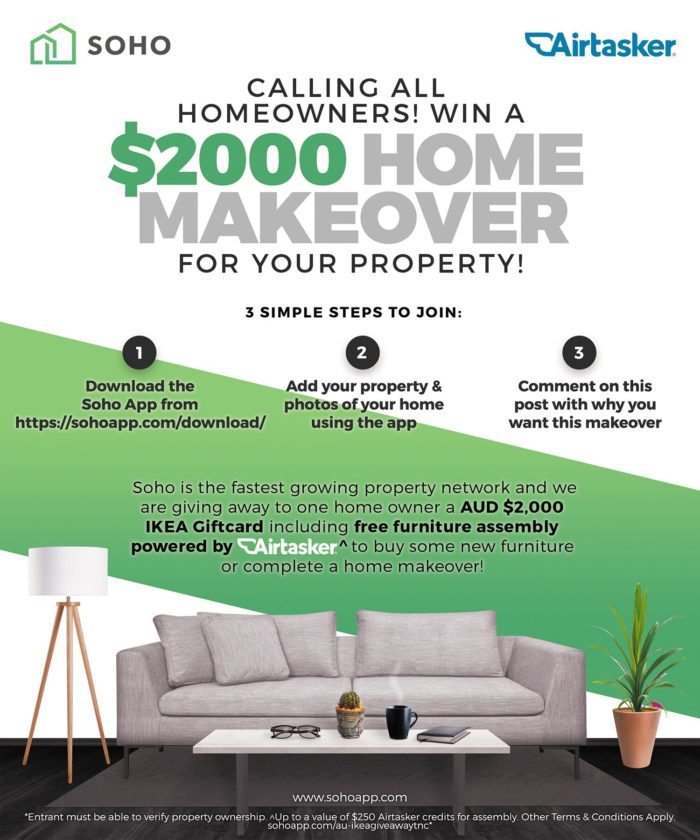 Looking for a makeover to make your home look even better? Airtasker is running a $2,000 Home Makeover giveaway with Soho where you will receive an IKEA gift voucher as well as Airtasker credit to assemble all your furniture. For details on how to enter check out Soho's facebook page https://www.facebook.com/sohoapp/posts/798520553606099:0