There's nothing like seeing your dog happily running around, exploring on its own, and being carefree. A dog fence or dog run will give your pet their much-needed space to move around and play. And you won't have to worry about your dog wandering off or exposing themselves to external dangers.
We've compiled all sorts of dog fence ideas for you – from backyard to indoor dog fence ideas, and whether you're on a tight budget or willing to splurge.
See which ideas catch your eye and get started with your DIY dog fence. Or better yet, you can hire an experienced fencing contractor to help you out!
Do you need a dog walker or sitter for the day? You can also browse our
Pet Care Listings
for other pet services.
Creative dog fence ideas
You'd be surprised to find many clever dog fence ideas – from recycled fences to tall dog fences for high jumpers. We're starting off this list with some of our favourites!
1. Dog fence with a peek-a-boo hole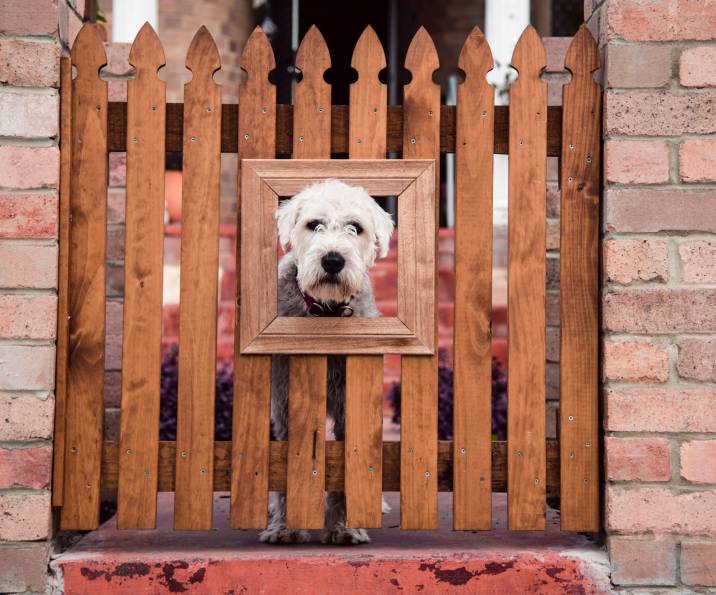 For a less restricting experience, you can opt for a peek-a-boo hole to give your curious pooch a view of the outside. Make sure to consider your dog's size and height in customising the opening, so they can safely and comfortably stick their head out when they want to.
2. Recycled fencing for your dog run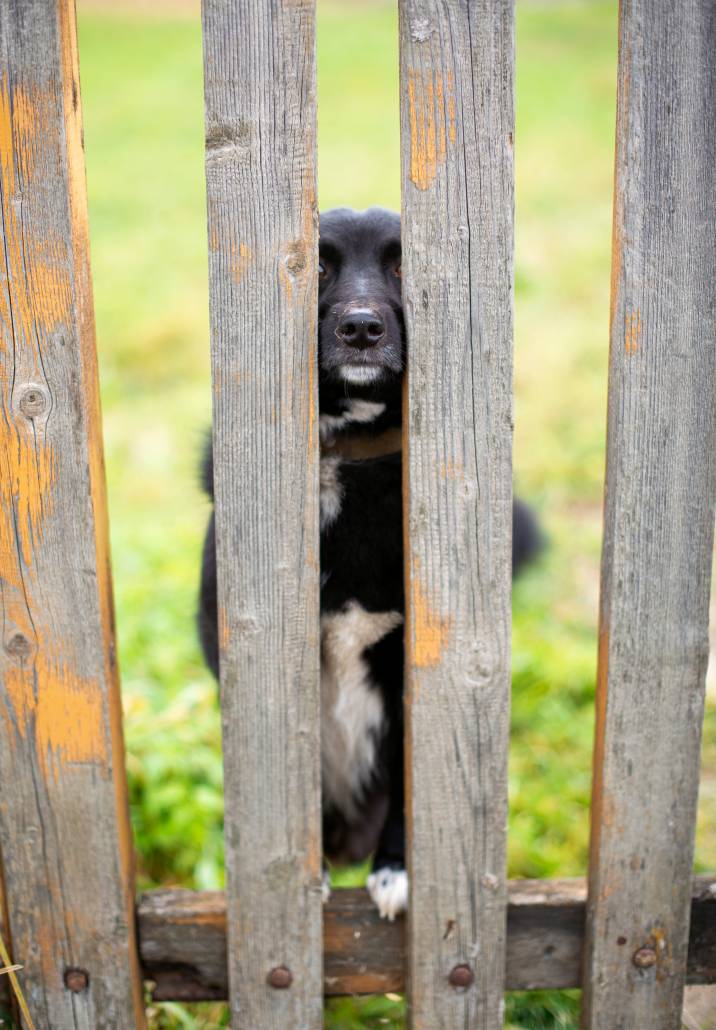 Want a more affordable and eco-friendly dog fence option? You can put up a fence with recycled wood, pallets, or PVC pipes. With some skill and creativity, you can achieve an aesthetically pleasing fence while saving on costs.
3. Dog fence with bubble window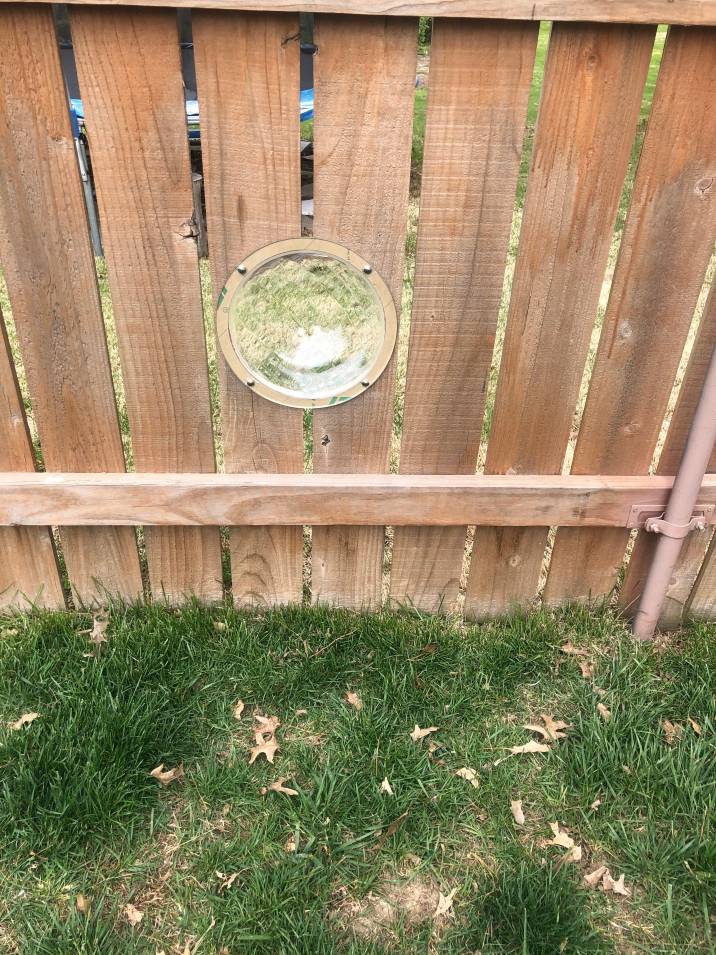 Even if you have a tall privacy fence, you can still share the fluffiness and cuteness of your doggo with the community by placing a custom-made bubble window for your pet.
A bubble window will give your dog a peek into what lies beyond your home without sacrificing your family's privacy.
4. Dog fence for high jumpers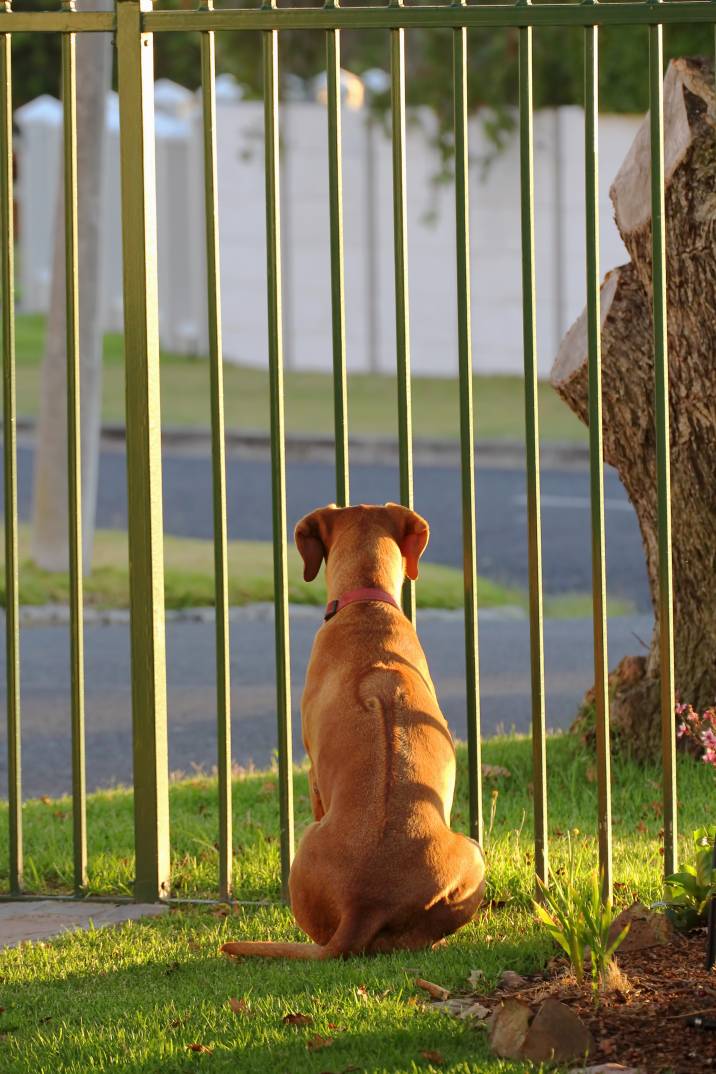 Are you looking for large dog fencing ideas? Tall and jump-proof fences are a great option. Go for a tall barrier made of high-quality materials such as wood, metal, or vinyl. As much as possible, you'd want to avoid chain link fencing because your dog could climb them.
5. Double dog fencing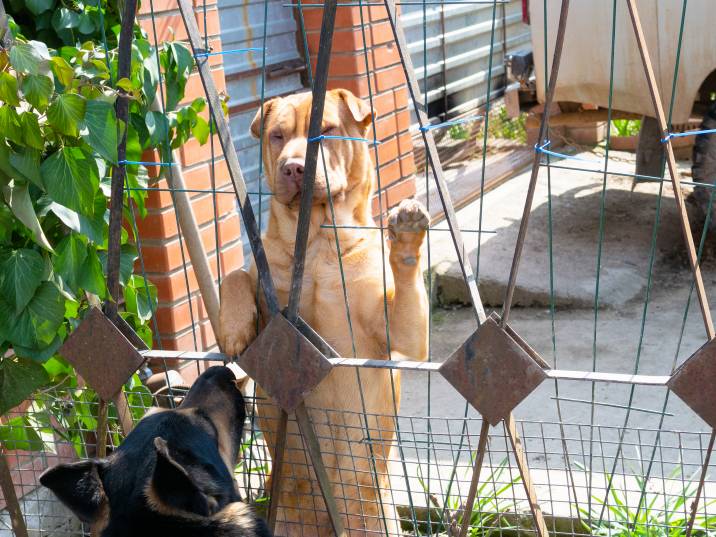 While some dog owners need ideas to keep their pets from jumping over the fence, others worry about their dogs crawling their way through a fence gap. If the latter is your concern, create a dual fence by merging a main fence with a low-wire fence at the bottom to enclose the opening.
6. DIY dog fence with PVC deer block netting
A creatively inexpensive dog fence idea, all you need for this DIY project are PVC deer block netting, metal fence posts, and zip ties. It's just a matter of placing the posts on the ground, spreading the net and securing them together. Not only will your dog thank you for this but your pockets will, too!
| | |
| --- | --- |
| | Are you a first-time puppy parent or seasoned dog owner? This ultimate dog care guide covers tips and techniques to be the best dog owner you can be. |
Indoor dog fence ideas
Wondering how you can give your dog space to move around inside your house while protecting your furniture and restricted areas? An indoor dog fence is the way to go.
7. Foldable indoor dog fence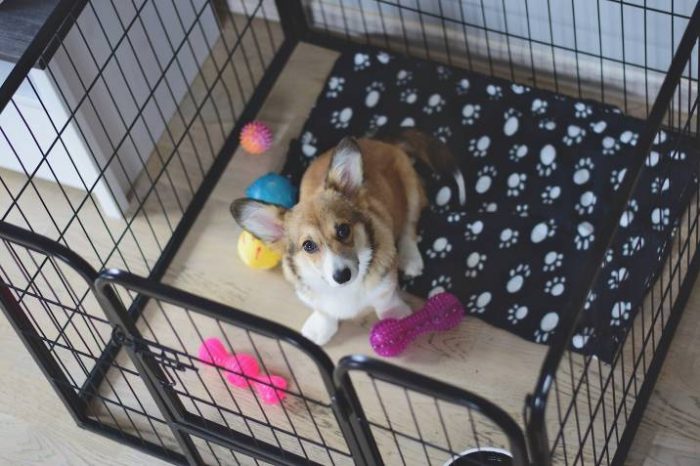 Ideal for small-sized dogs, a foldable dog fence offers convenience to pet owners. There's no need to install this fence or figure out where to put it; Its freestanding design makes it portable that you can place it anywhere at home.
After using it, just fold the panels together to save space — an extremely important feature for families living in apartments and small houses.
8. Indoor metal safety gate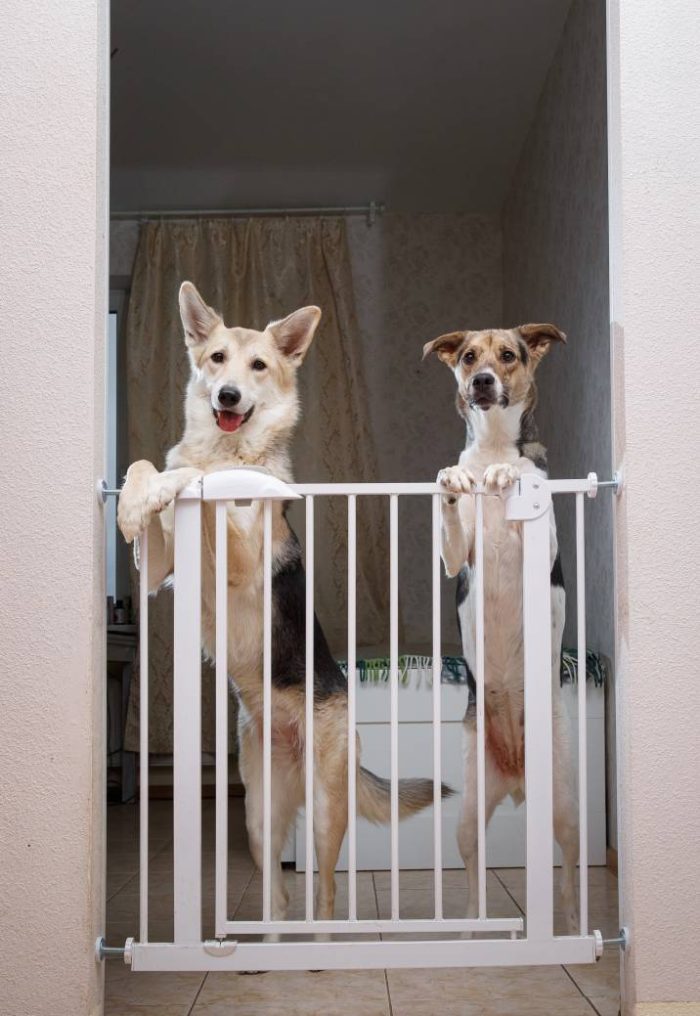 A quick search online will direct you to various safety gate options for all budgets. These metal barriers are known to be durable, stylish, and easy to install. They can block stairs, doorways, and other parts of the house that you wouldn't want your dog – and even your baby – to access. Some models come with a double-lock safety feature to make the gate extra protective.
9. DIY indoor fabric dog fence
Feeling crafty? Want a dog barrier that matches your house's aesthetic? You can build a fabric pet fence with only 3 materials — PVC pipes, PVC corner pieces, and a fabric of your choice. This easy and cheap dog fence works great to keep your doggo from running up and down the stairs.
You can check out this DIY fabric dog gate tutorial by SewManyWays. If you're not quite confident with your sewing skills, you can hire a seamstress to make the fabric cover for you.
10. Simple indoor wooden dog fence
A house with wide spaces will benefit from a DIY wooden dog fence, just like Susan of Homeroad's idea! No doggo will be able to get through a barrier built with solid materials like 2 x 4 planks and metal netting.
11. Indoor playpen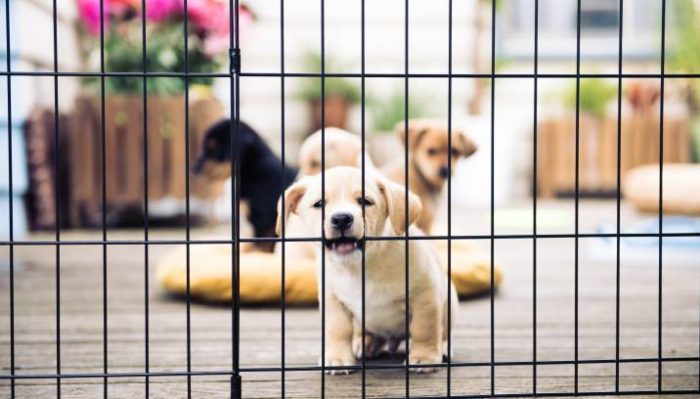 Great for puppies and small dogs, an indoor playpen gives your pet their private space for playtime and naps. There are lots of playpen options to choose from online or from physical shops. Just remember to consider your dog's size and energy level, the area where you're setting it up, and for how long your pet will be needing the fence.
Outdoor fence ideas for dogs
Whether you live in a house with a spacious backyard or you only have a balcony in your apartment, we have tons of fence ideas for your outdoor dog run. Give your furry buddy freedom to explore the outside world when you install any of the following dog fences!
12. Colourful DIY dog fence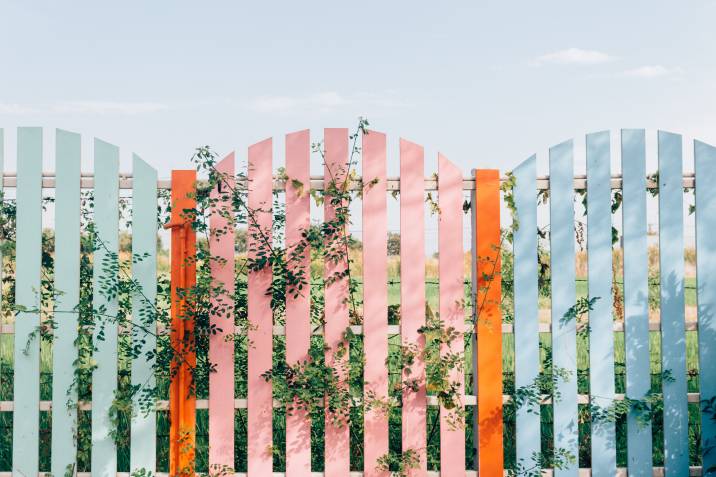 Make it fun with some pastel tones or rainbow colours! A colourful dog fence makes the perfect barrier to match your house's aesthetic. Not to mention, this will be a fun creative project to do with your family.
13. Corrugated steel fence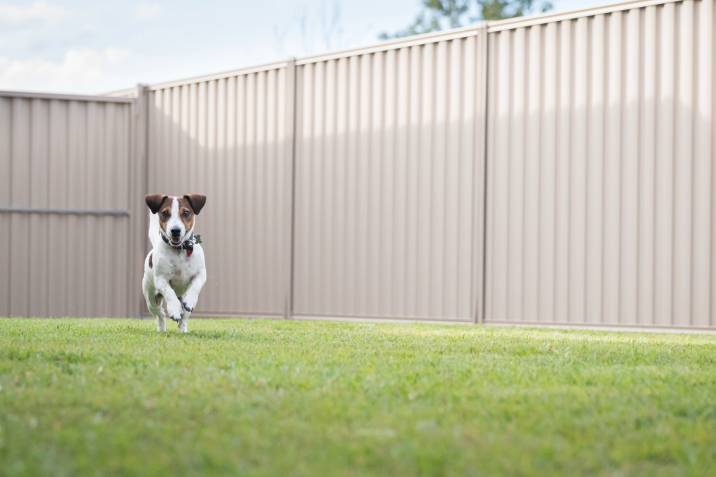 Even big dogs are no match against the strength of a solid steel fence. These corrugated metal sheets are long-lasting, easy to maintain, and can provide your pet and family privacy at all times.
To give the fence a more pleasing look, you can even customise your barrier by painting it with your desired colour or designing it with a rustic theme.
14. Chain link dog fence
One of the most common and cheapest fences out there, the chain link fence is made from sturdy steel wire with a zigzag pattern. This design provides full visibility of the outside. Perfect for dogs that like to look outside and interact with passersby at a safe distance!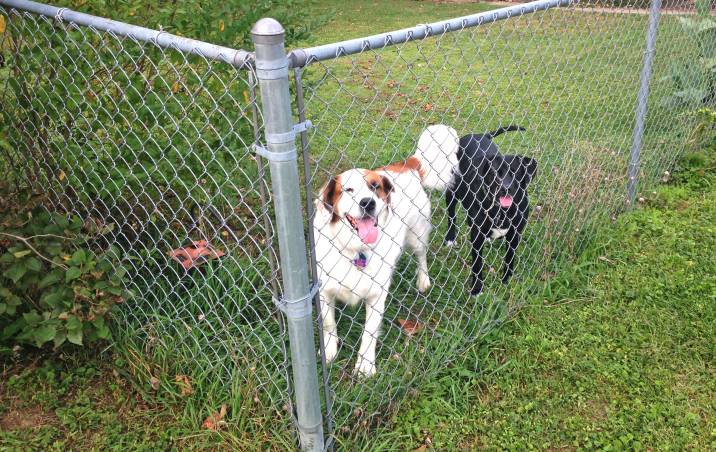 If you think chain link fences are too boring for your taste, you can bring them more life by painting the fence with your favourite colour. A local fence painter can help you out if you don't have the spare time to paint your fence yourself.
15. Pallet dog fence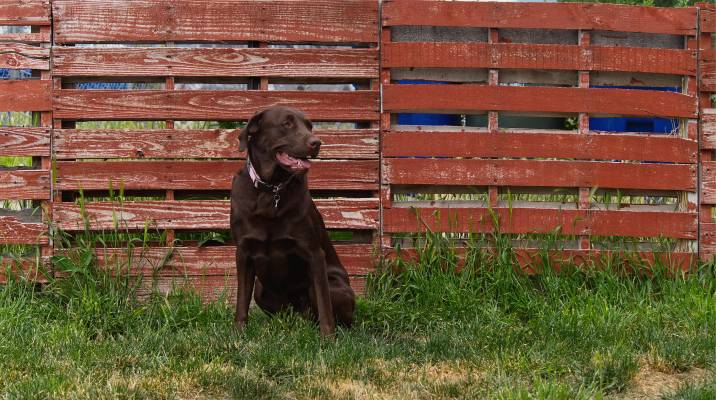 The humble pallet is easy to find, versatile, and make a lovely-looking dog fence. Pallets are amazingly cheap, sturdy, plus they work well no matter the temperature. We won't be surprised if you deck your entire backyard with this material!
16. Vertical dog fence
If we're talking value for money, consider installing vertical dog fences in your backyard. Vertical fences generally last longer than horizontal fencing. Since each wooden pallet overlaps as pictured, this kind of fence provides privacy and protection from harsh winds.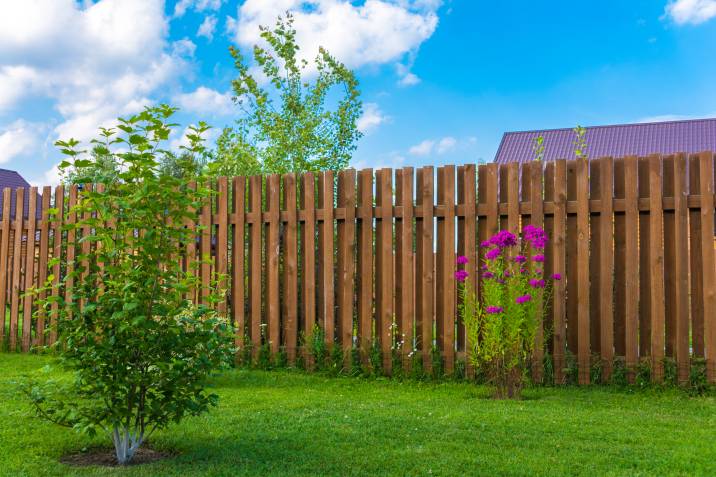 On the downside, vertical fences may not be ideal for hot summer months, as wind may not flow through as freely. Vertical fences may also provide less visibility, and your dog may miss out on random interactions from adoring passersby.
But if you don't mind these tradeoffs, a vertical dog fence is a great option for durable and functional fencing.
17. Picket dog fence
Ah, the classic white picket fence. Chances are you've seen one, ten, or hundreds of houses adorned by picket fences. Still, this list wouldn't be complete without what the Smithsonian Magazine calls a "Symbol of the Suburbs."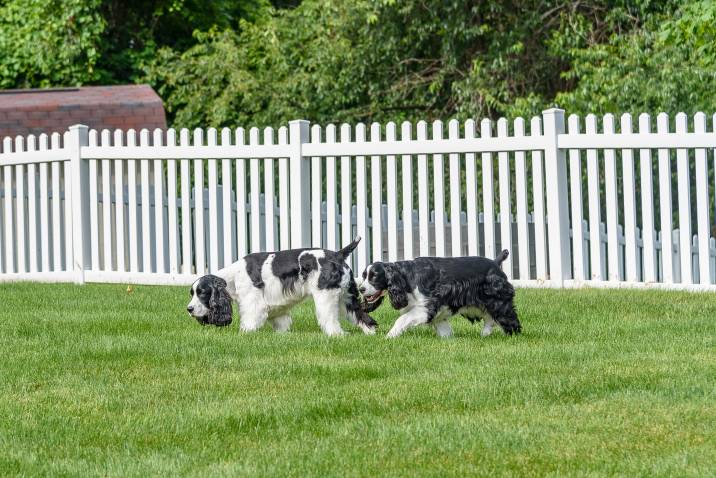 Installing a picket fence with a gate for your dog run gives you much room to be creative while still maintaining functionality. You can customise the way your panels are aligned, paint the wood slats, and finish up the look with cute paw prints!
18. Solid privacy dog fence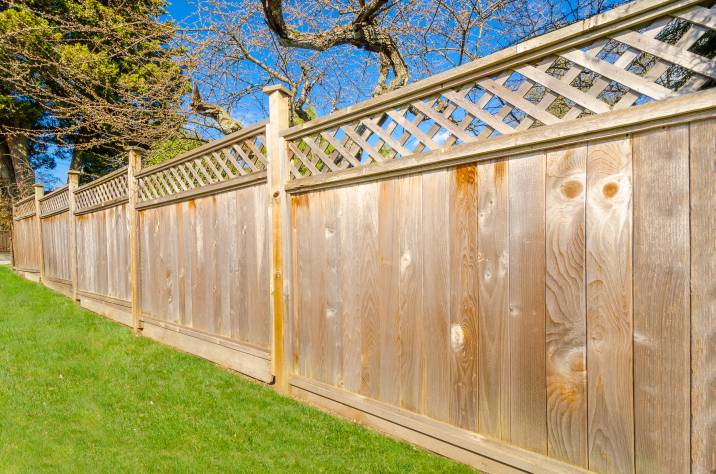 Bigger dogs and nosier neighbours call for taller fences like this one. Solid wall fences can still be made beautiful with lattice trims or horizontal slats. We recommend getting a local fencing expert to do this project since these fences can be trickier to install.
19. Doggo balcony garden with fences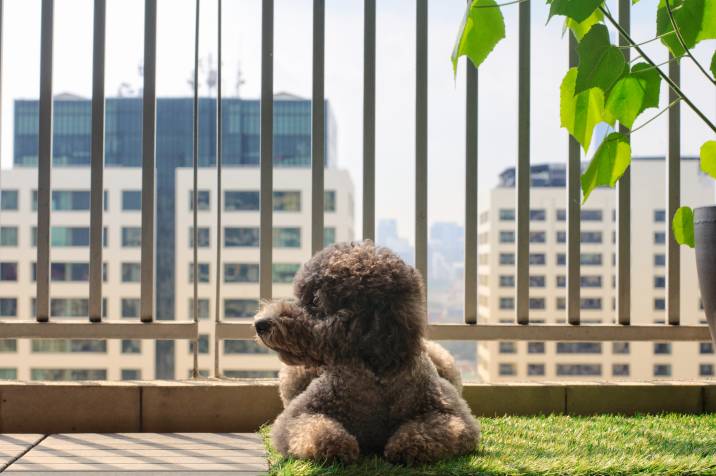 Did you know your apartment balcony can be your dog's private outdoor space, too? Yes, a high-rise dog pen is possible! Select a fence material that works for your space – lumber, small wood slats, or even store-bought metal fences. Deck the area with artificial grass, plants, and toys, and you're good to go!
20. Welded wire for dog fencing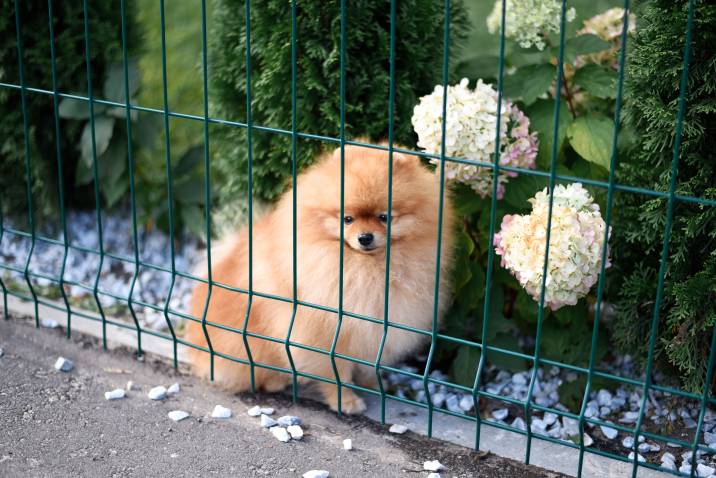 Keep your pooch and your property safe with the toughness of long-lasting welded wire fencing. With the combined strength of steel, aluminium, and other materials, this kind of fence can withstand dogs of all sizes.
21. Lattice fencing for dogs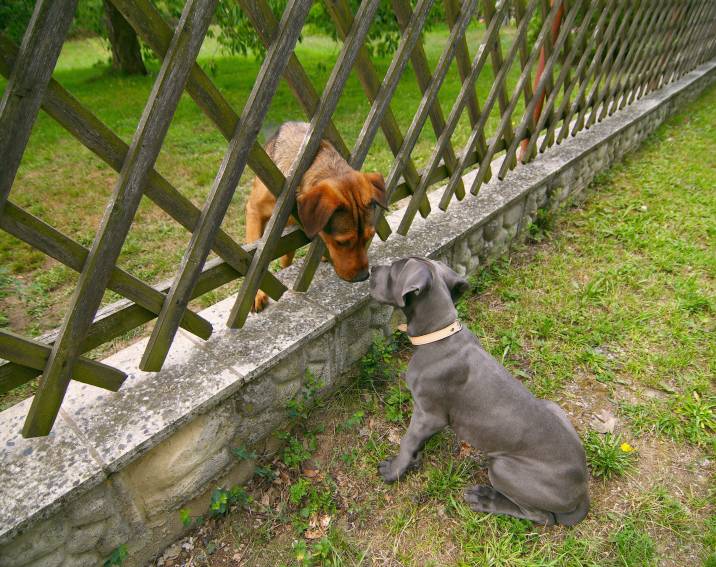 Give your outdoor dog run a timeless look with lattice fences. Its crisscross design lets the air flow freely, ensuring your pet can enjoy the cool breeze while they play outside. The fence holes also make for cute little peep holes for your dog; Just make sure the fence edges are smooth so your dog doesn't get hurt when they stick out their nose!
22. Ornamental fence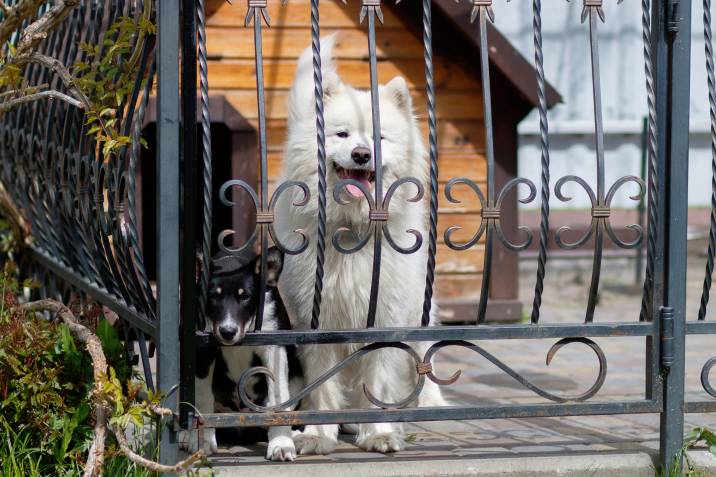 If privacy isn't a huge concern, you may want to consider an ornamental fence for your dog run. These metal fences come in a variety of designs and intricately fabulous looks. What it lacks in providing privacy, it makes up for in its enduring quality and ability to secure your home.
23. Vinyl dog fence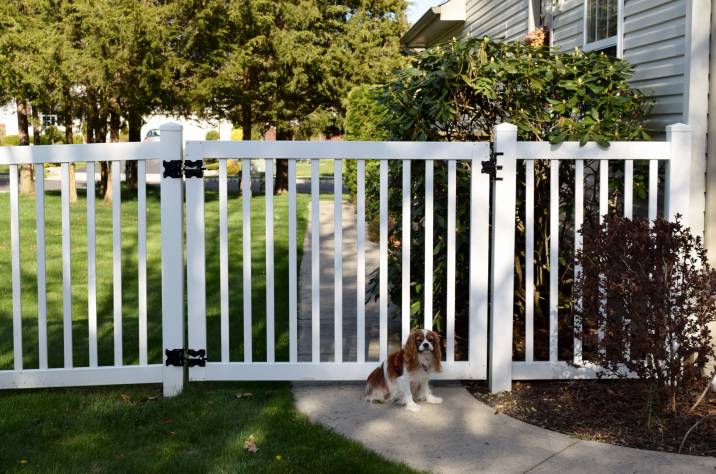 Vinyl gives off a classic vibe while protecting your dog from wandering off. Plus, these fences are easy to clean and accessible for most households.
You can get great deals on vinyl materials with up to a lifetime warranty from home improvement stores. Do make sure to choose quality vinyl material. Some vinyl fences tend to crack or become brittle from long-term sun exposure and cold temperatures.
24. Ranch-style dog fence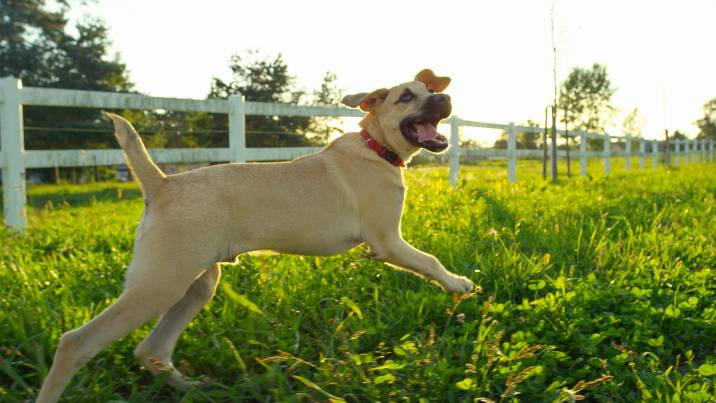 Whether your property is big or small, you can mimic the countryside look with a ranch-inspired dog fence. To make it sturdy enough to hold off your dog, use agriculture panels for the barrier body, then install either wood or vinyl as a frame.
Temporary dog fence idea
Unable to commit to a permanent fence? Or are you bringing your dog along on your adventure? Here's a practical idea for a temporary dog fence.
25. Foldable dog fence for RV living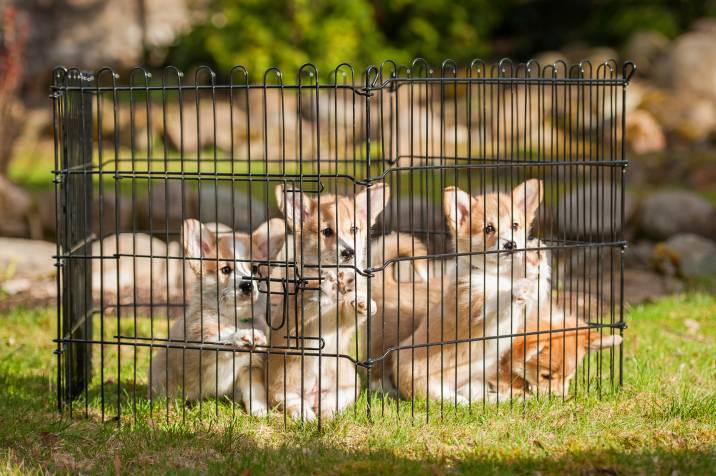 Don't be afraid to chase sunsets with your best bud! If you think your RV is too small for a furry companion, a portable and foldable dog fence can extend your space.
Quality materials can withstand any weather condition, are easy to set up and store, and can fit more than one dog. No matter where you are in the country, give your furbaby (or furbabies!) enough room to play without straying away.
---
We hope you enjoyed looking through this list of dog fence ideas. You can do some of these fences as a weekend project. But when you think the task is too heavy to handle alone, don't hesitate to enlist the help of a skilled fence builder to set up your dog fence for you.
Looking for other pet services? Check out our Pet Care Listings today!