Planning a wedding on a budget? DIY wedding decorations are your answer; DIY is a delightful excuse to get crafty and exercise extreme Pinterest addiction! If you're looking for ideas on fun, creative, affordable, DIY wedding decorations, you'll love what we've rounded up below! Get inspired and imaginative; you could try these DIY ideas for almost every wedding theme possible.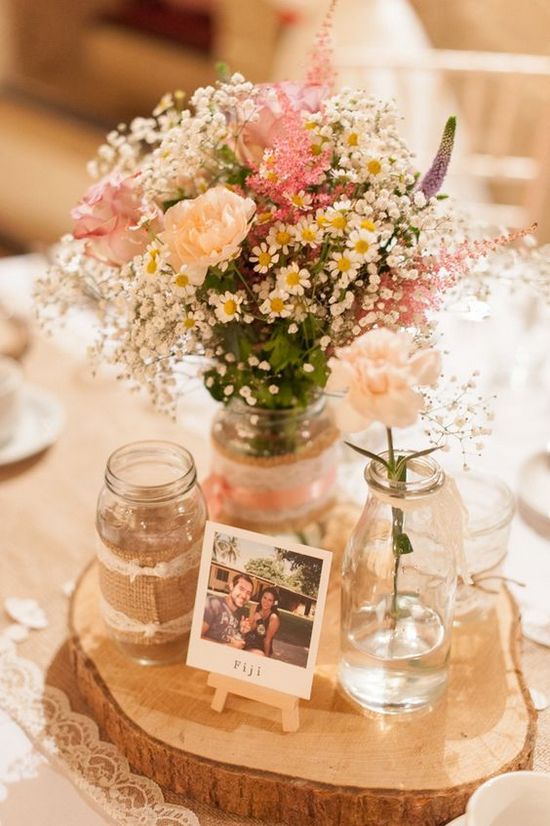 Source: Hi Miss Puff
The outdoor wedding 
Dreaming of an outdoor wedding? What could be nicer than saying "I do" against a backdrop of fresh green grass, beautiful old trees, thriving gardens and a clear blue sky? The concept of the outdoor wedding gives you so much scenery to choose from… If you're a country girl (or boy) at heart, maybe you've imagined yourself committing to your loved one beneath a fig tree, before heading to the farm shed for the reception.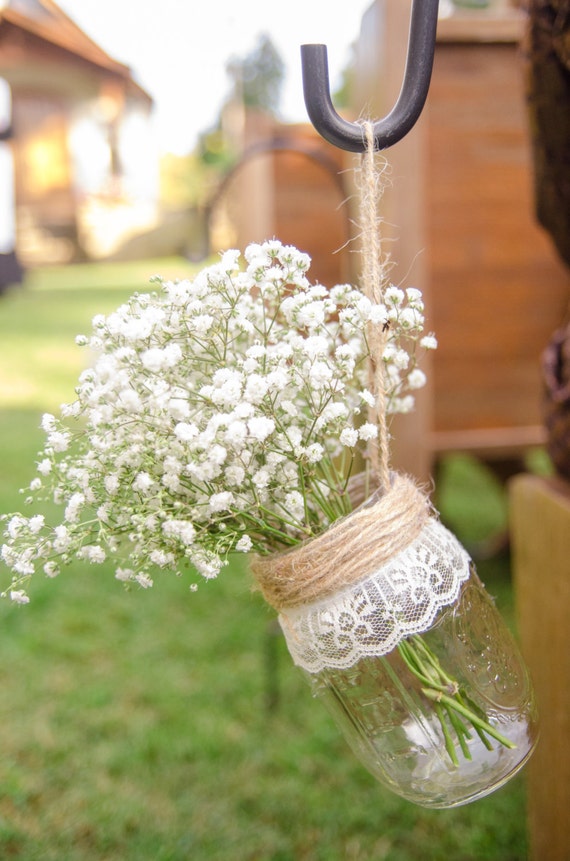 Hang mason jars of flowers and baby's breath on the aisle – all you need are jars, string and flowers.
Source: Etsy

Decorate a wooden frame with vintage lace, leaves and fresh flowers to make your own arch.
Source: For Creative Juice

Make your own romantic lighting for an evening reception using twine and fairy lights. Get the tutorial from Splash of Something.
Source: Splash of Something

Tell your love story through DIY photo garland – photographs pegged to twine and draped above tables.
Source: Pinterest
DIY wedding decorations for the beach
If you and your love share a passion for the sun, sand and salty air, the beach is the perfect place for you to have your special day.  Go for the full sea-side look and adorn your chosen location and venue in sea shells and star fish, or take a more conservative approach to the theme and keep scenery a little separate from style.

Use driftwood as a table centerpiece, or suspend it from the ceiling. Make it feel romantic by adding some florals, tea light candles or fairy lights.
Source: Weddingomania

Suspend lanterns above tables to create tropical mood lighting for an outdoor beach wedding reception.
Source: Woman Getting Married

Purchase a little DIY kit from Soiree Supply or source your own glass, rope and pearls to make votive decorations.
Source: Soiree Supply
Rustic DIY wedding decorations
The rustic look is all about earthy tones, natural features, a romantic palette and vintage décor. You can dress any location in rustic style and it will instantly become a stunning wedding and reception venue. Blush pinks, rose gold, lace, chalkboard, white paint, wood and greenery are essential ingredients for the rustic look.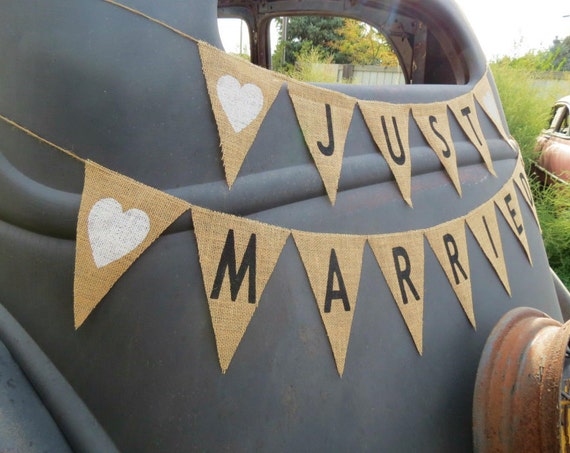 DIY your own, personalised wedding banner using burlap, stencils and spray paint. Hang it behind the bridal table, on the photo booth, or on the back of the getaway car.
Source: Etsy

Use a wooden pallet, some tousling vines and light up letters to elegantly decorate the dessert table.
Source: MODWEDDING

Serve beverages in galvanised tubs.
Source: Pinterest

Use a few planks of wood screwed or glued together, with some white paint to provide instructions to guests.
Source: wedding FORWARD
Glitz and glam
Sequins, sparkle, suits, flashy smiles and champagne – glitz and glam is where the party's at! If you're having a traditional church wedding but want to modernise the classic look, this contemporary style will be a wonderful way to decorate any venue.

A little metallic spray paint and some baby's breath will bring sparkle to your centerpieces.
Source: Pinterest

Glittery tea light candle holders are so easy to make – all you need is glass (save money by buying online), spray glue and glitter!
Source: Weddingstar

Glam up your table runners and chair covers by using sparkly, sequined fabric.
Source: mywedding
If you love these DIY wedding decorations but don't want to spend the weeks leading up to the big day stressed about getting everything done, Airtasker have an exceptional group of events professionals available to help with the handiwork and set up for your big day.