Planning a picnic? There's a tonne of fun to be had, but it won't be much fun if you forget something.  Here's a great checklist of what you need to pack.

Source: Pinterest
Picnic blanket
Unless your park has a spare recreational table and bench chair when you arrive, you might be sitting on the grass with the ants biting your bottom if you forget your picnic blanket. A waterproof one that can be rolled up and strapped to a basket or slung over an arm makes life easy.

Source: World Market
Picnic basket
Having a dedicated picnic basket or backpack is a great grab and go option for picnics (and camping!). The essential items to fill it with should include plates, cups, cutlery, a tea towel, small cutting board, napkins, salt and pepper, and possibly a cheeky wine glass. If you get one big enough to pack a few sandwiches and a chilled beverage into, you're set.

Source: Pinterest
Cushions or chairs
If you'd rather be up off the ground, or just want some extra added comfort, grab some cushions to scatter over your picnic blanket, or bring some trusty camping chairs.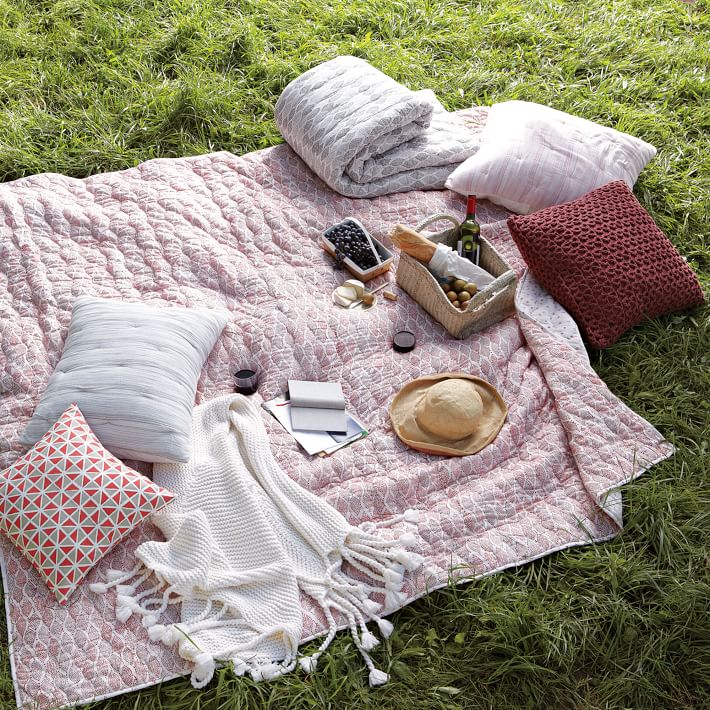 Source: west elm
Something to eat on
If you're hosting a bit of a soiree, perhaps for a birthday party or large family gathering, you may need some extra space to prepare and serve food on. BYO a picnic or camping table if you have one, or get creative and grab a couple of wooden pallets to stack up and make yourself a DIY picnic table. Cover with a cute table cloth and Bob's your uncle.

Source: BLOGLOVIN'
Food
What is a picnic without a glorious selection of sandwiches, cheeses, dips, salads and sweets? Choose a spread you'll enjoy, but take into consideration how you will store it, how long it will keep, how you'll serve it and how much clean-up will be required. Baguettes are a great, easy option.  It goes without saying, but if you want to bring items that you're required to keep cold, like meat for a BBQ, always pack them in an esky with ice.
We've also got some refreshing picnic food ideas for you to try.

Image credit: Sharyn Cairns via gourmet traveller
Drinks
Wash down your lunch with a nice, cool drink. For the warmer weather, why not make your own lemonade from scratch, or homemade iced tea? Pop it into a cool thermos or drink dispenser and pack it in the picnic basket or esky.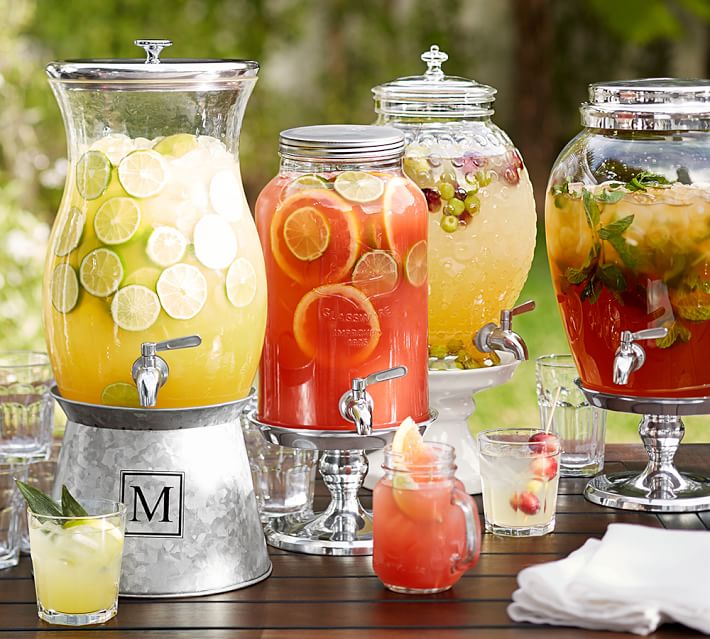 Source: POTTERY BARN
Fun and games
Once you've got the essentials packed, it's time for the fun and games! Grab the footy, pack a Frisbee or bring some board games. Little ones love outdoor activities like kite flying, and bigger kids will enjoy games like giant Jenga. And don't forget music! If you're picnicking with a group of friends, a few cool tunes will turn your picnic into a party. Hit your talented muso friend up to bring his guitar, or go old school with a radio. You can get mini speakers that plug straight into your phone, and some pimped our picnic baskets even have Bluetooth speakers built in!
Anything else you may have forgotten…
Depending on the facilities available at your chosen venue, you may need to bring a few more items to make your day a success (easy to forget if you're too busy food prepping to be thinking ahead):
A portable BBQ and gas bottle
Rubbish bags and a bin
Toilet paper (for *ahem*… bush toilets)
Lanterns for lighting if your picnic will continue into the evening
An umbrella or little beach tent for shade (regardless, you should always be sun smart when outdoors!)
Towels for a swim
Decorations if you are hosting a party, and
Plenty of other things you can find on Pinterest that you probably don't really need, but would make your picnic amazing!
With all of this inspiration, it would not be difficult to get completely carried away with planning the pinnacle of picnics! Let us know if you enjoyed these ideas or have any other essential picnic items to pack.