The sky is blue, the grass is green and the sun is bright and shining; now is the perfect time of year for a picnic in the park. Allow us to help you plan your weekends with these refreshing picnic food ideas.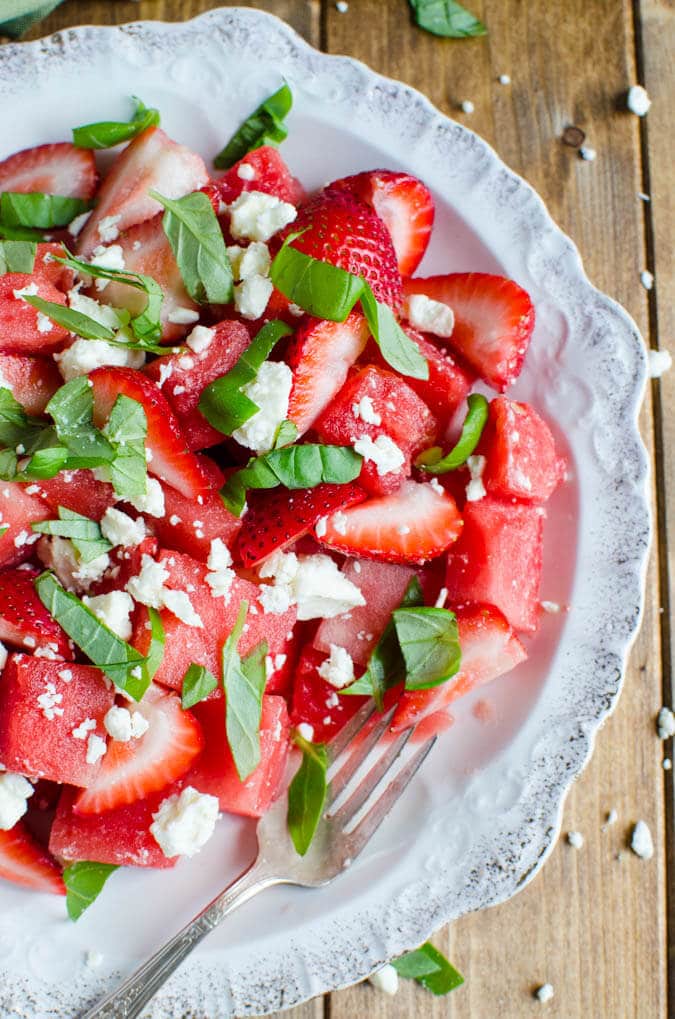 Source: Watch What? U Eat
Picnic food cheese platter ideas
Start your lazy Sunday morning picnic with a cheese platter accompanied by colourful fruits, both fresh and dried. Blue cheese and fresh fig are a match made in heaven. Dried apricots, nuts and fresh grapes go well with cheddars, gouda and brie. There are many combinations you could make; for some great 'cheesepiration' for picnics, check out iowa girls eats.

Source: iowa girl eats
Refreshing dips and salsas
Make the most of seasonal ingredients by featuring them in a fresh dip or zesty salsa combination. Cucumber is a popular ingredient, and makes for great use in Tzatziki. Serve as a dip in the traditional way with vegetable sticks, or pipe it into little hollowed out cucumber discs so your picnic guests can just pick little bite-sized pieces up. If you'd prefer to use it as a side to sprinkle on barbequed meat, we suggest trying this incredible pineapple and cucumber salsa recipe.

Source: Destination Delish
Fresh fruit skewers
Summer fruits are coming in to season and even the kids will love these fresh and fun fruit skewers. Prepare them ahead of time on bamboo skewers, pack them in a long container and keep them cool in the esky until serving. They make the perfect, nutritious snack and add a pop of colour to your picnic!
Tip: Some fruits like apples tend to go a bit brown when cut and exposed to air. There are many claims on how to prevent browning such as lemon juice or citric acid, but if you want them to stay crisp and have the best taste, leave cutting them until last minute.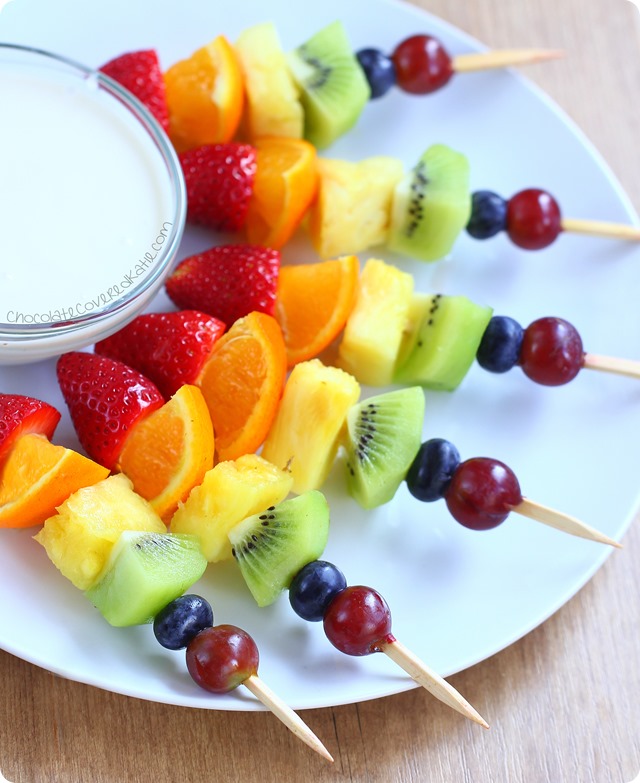 Source: Chocolate Covered Katie
Mason jar salads
You know how mason jars were a thing… well they still are! Packing a refreshing salad into a mason jar trumps a soggy sandwich any day! Perfect for your picnic in the park (or at the beach, or even a festival), they're easy to prepare, portable, keep well in an esky or cooler bag, and you can just pop the lid back on and wash them up when you get home. Why not try a beautiful watermelon and feta salad, or this shrimp (yes, prawn) and feta salad for your next picnic?
Tip: If you don't want to be a 'mason jar hipster' but you love this idea, just use a normal glass or plastic drink cup – we won't judge.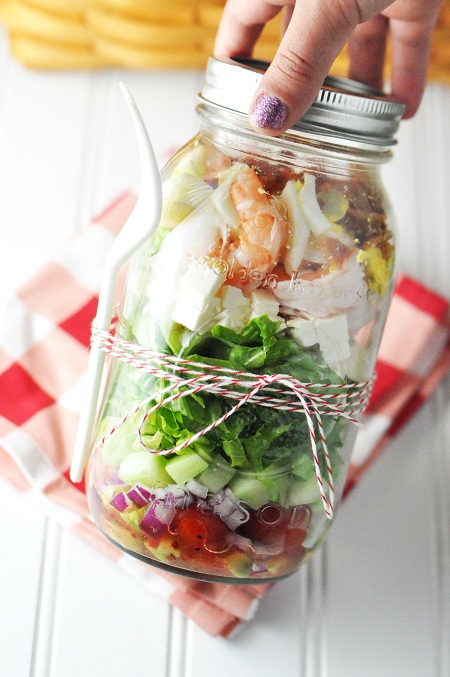 Source: Savouring the Thyme
Rice paper rolls
Spice it up and pack some fresh, tasty rice paper rolls. Poached chicken shredded up with some cucumber, carrot, chilli, coriander, mint and basil will make for a flavoursome and nutritious picnic lunch. Keep them cool in an esky until you're ready to serve with a peanut satay or hoisin sauce. No need for cutlery!

Source:  sally's baking addiction
Sweet rice paper rolls
If you're feeling adventurous, try a sweet version of the rice paper roll for dessert. Instead of using savoury ingredients, use fresh fruit and shaved coconut, and serve them with a sweet yoghurt dipping sauce.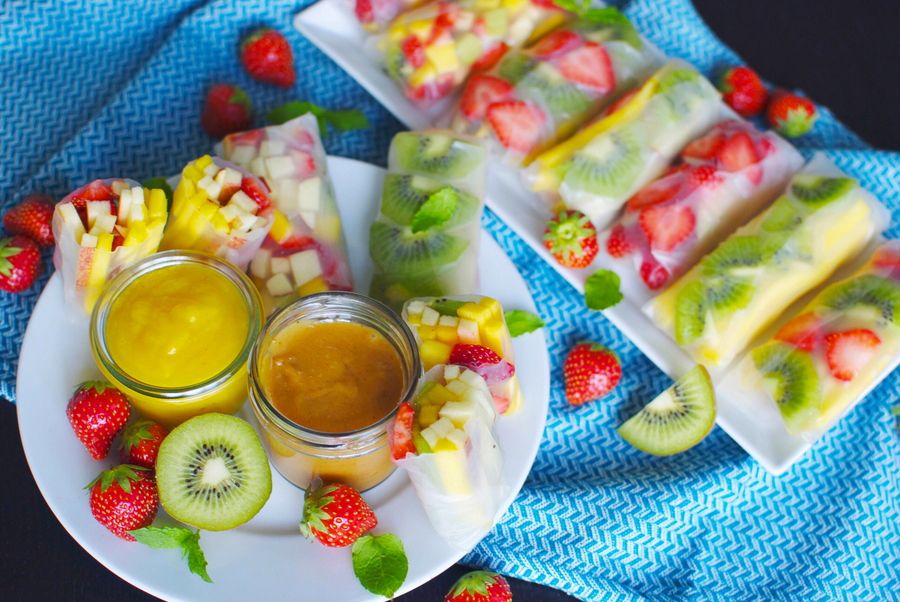 Source: A Million Miles
Mocktail (or cocktail) hour
Bring back summer vibes with a cooler or bottle filled with fresh strawberries, raspberries, blueberries, citrus, mint, juice and soda of your choice (the adult version could do with a splash of Cointreau and Bacardi). Bring a ladle to scoop the fruit, and a small container of ice for serving. As the ice melts, it will water down your 'party punch', so just keep it on the side and let people pop a few cubes in their cup as they go.
Tip: If you're picnicking in a public park or location, it's a good idea to check the rules on alcohol consumption before you go with the adult version.

Source: little miss party
There are so many refreshing, fun picnic food ideas out there to try. Our hottest tip is to make sure you pack picnic food that will keep well in an esky or basket, and is easy to clean up. Let us know what you think of these picnic food ideas!