You've put up the Christmas tree, right? Posted all of your Christmas cards, organised thoughtful gifts for your nearest and dearest and planned the perfect menu for a light Christmas lunch (which will follow festive brunch with the neighbours, before festive dinner at your in-laws)?
Oh, not yet? Don't worry – nor have we, so we've pulled together the best festive hacks and Christmas themed DIY ideas we could find to make silly season celebrations a cinch.
Below are the top 50 best DIY Christmas ideas on the internet
1. Christmas Tree – Scandi Style
Sometimes less is more! This chic Scandi style Christmas tree is perfect for adding the holiday spirit to any small space with minimal effort – all you need is a petite tree, a woven basket and a few fairy lights. Caitlin and Manda from The Merrythought put together this minimal Christmas tree DIY for West Elm, check out the step by step tutorial here.
2. Christmas Tree – Modern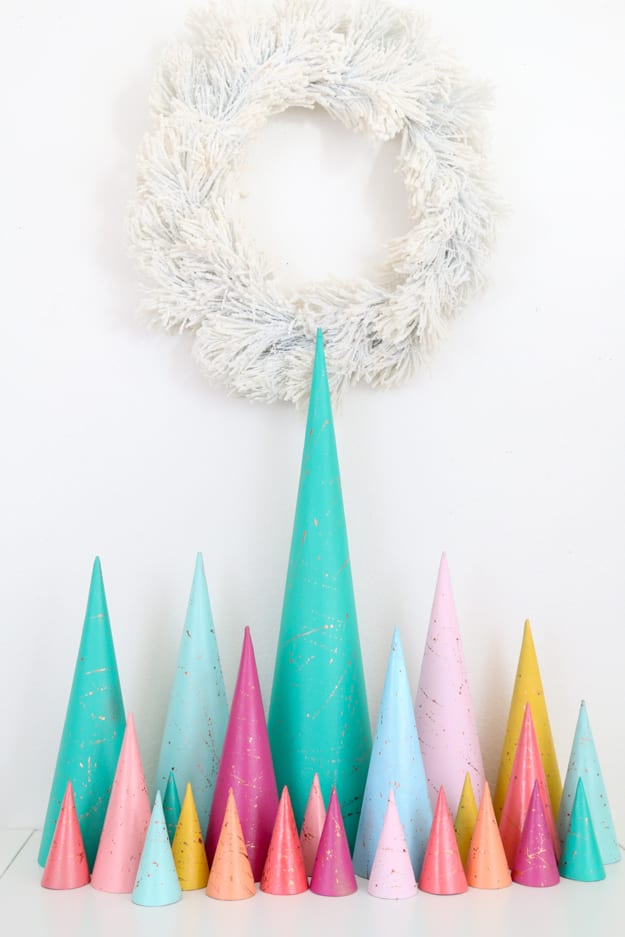 Christmas needn't be a traditional affair. Give your festive decorations a modern twist with a forest of mini Christmas trees in your favourite colours. To create this eye catching DIY project you'll need paper mache cones (you can find these at educational suppliers or craft stores like Spotlight), aerosol paint and metallic pens in copper or gold for painterly splashes to complete the look. Kara explains exactly what's involved on her blog A Kailo Chic Life.
3. Christmas Tree – Fairy Lights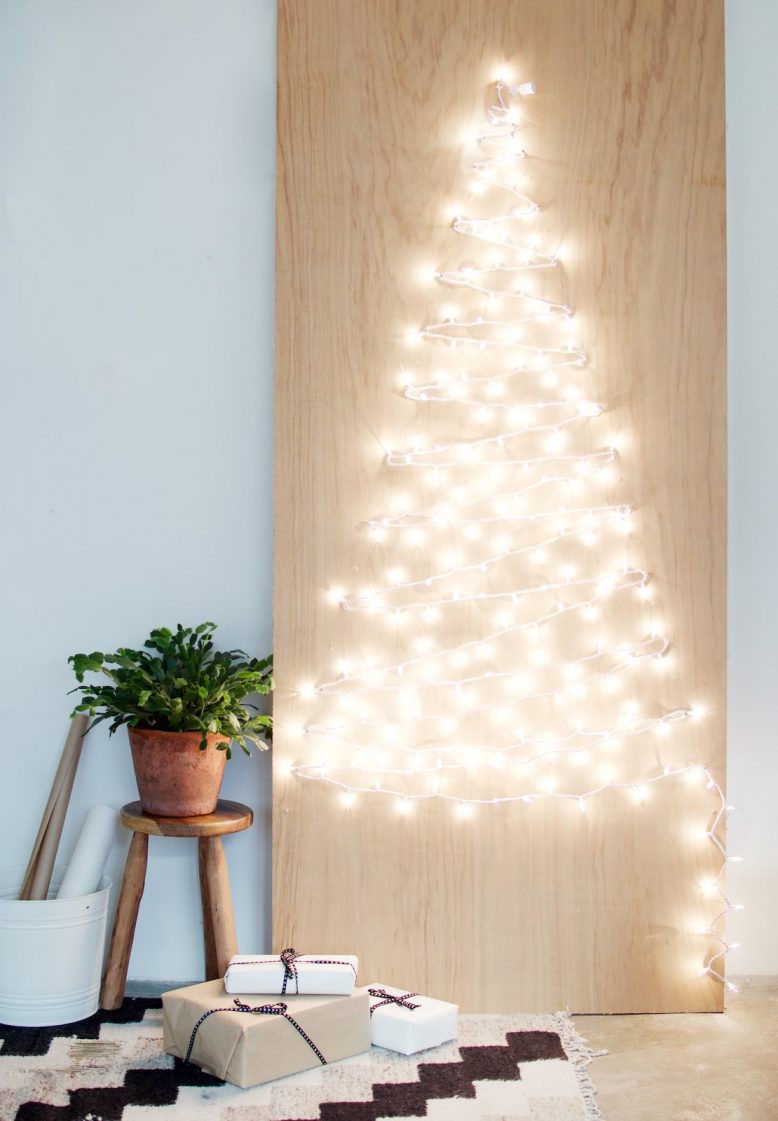 It might be too hot for a fire on Christmas day in the Southern Hemisphere but you can add an inviting glow to your living room with a luminous fairy light tree. Visit A Pair & A Spare where Geneva gives super easy to follow step-by-step instructions on how to assemble a fairy light Christmas tree on pine wood backing. Can't fit 3m of plywood in your house? You could also attach 3M hooks directly to your wall in the shape of a tree then thread through a string of fairy lights for instant ambiance.
4. Christmas Tree – Hanging Herbs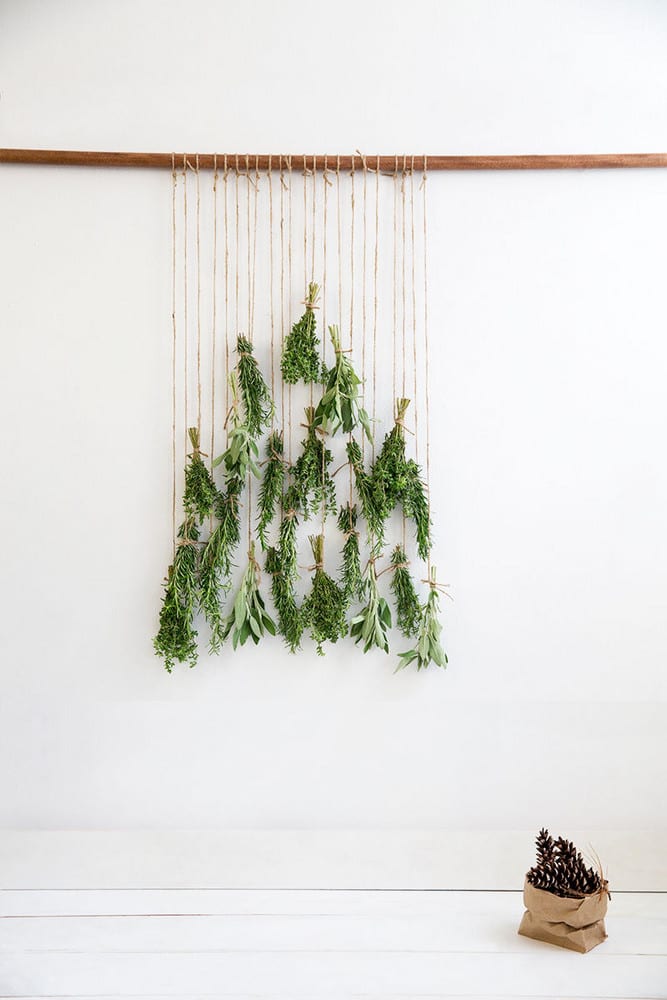 An aromatic and rustic alternative to a traditional Christmas tree, this novel DIY is perfect for foodies. Bundle up your favourite herbs (make sure to pick varieties such as Rosemary or Sage that will dry well – no one wants droopy Parsley), then hang them with twine from a picture rail or wooden dowel. Bonus, this will come in handy if you run out of herbs while preparing Christmas dinner!
5. Christmas Tree – Cactus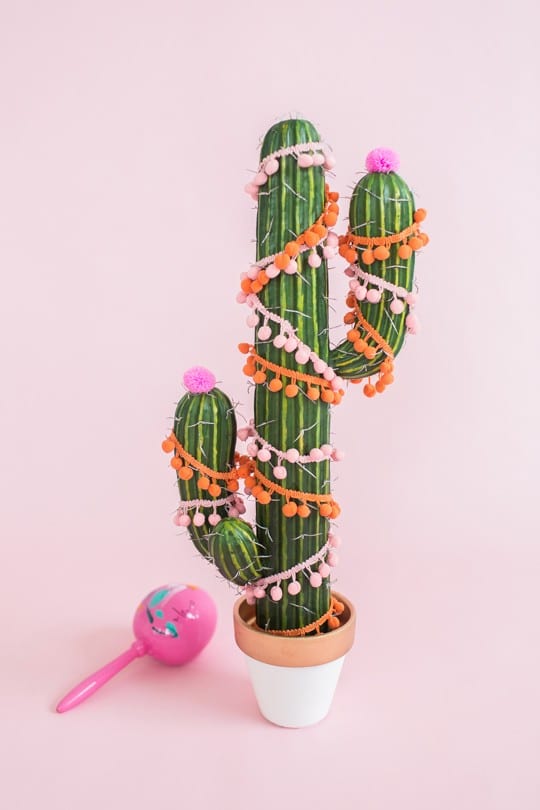 Move aside, pinetree! You can transform any indoor plant into a Christmas tree with the addition of some pom poms, tinsel or other festive accoutrements. Sugar & Cloth prickles our fancy by transforming a humble cactus into a Christmas tree alternative with brightly coloured trim and super cute pom pom trim – check out their easy DIY instructions here!  Can we keep our plants decorated all year?? Get some inspo on which plant to choose with our tips on the best indoor plants for Aussie homes.
6. Christmas Tree – Geometric Balsa Wood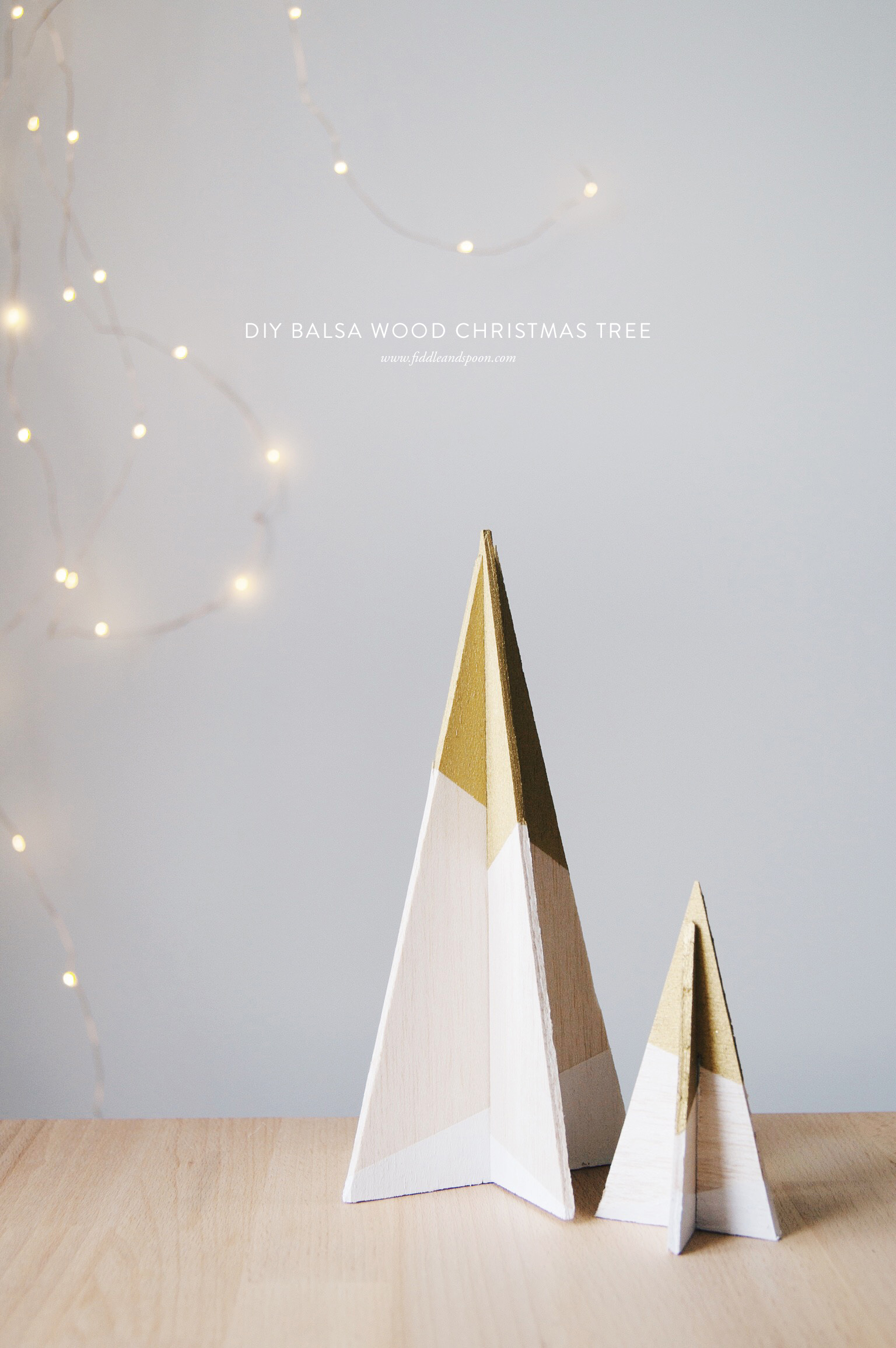 Ensure Christmas is a classy affair with a modern minimalist balsa wood tree via Fiddle and Spoon. Chic and architectural, this DIY project promises a luxurious final product that wouldn't look out of place in a high end boutique. These tree-riffic designs also make great table decorations when created in miniature. Customise the colours to match your decor.
7. Christmas Tree – Party Fringing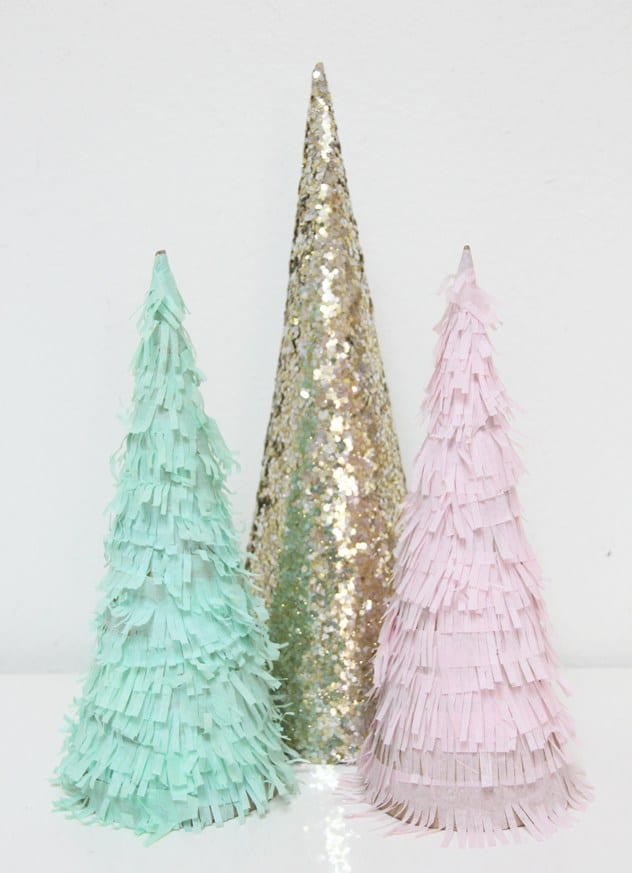 Have a penchant for pastels? Then yule love A Bubbly Life's fringed Christmas trees in mint green and bubblegum pink. Laurel shows us how easy it is to start with cardboard or paper mache cones and cover with fringing created from cut up tissue paper strips. This DIY also works great with metallic tinsel if you're looking for something with more glitz and glam.
8. Christmas Tree – Mini Vignette
Apartment dwellers may not have halls to deck with holly but they needn't miss out on spreading Christmas cheer! Bring the fun of the silly season to a small space with this idea shared by Stone Gable. Check out the tutorial, complete with a list of all of the household items you could use to put this together this fun-sized festive scene, here.
9. Decorations – Bauble Wreath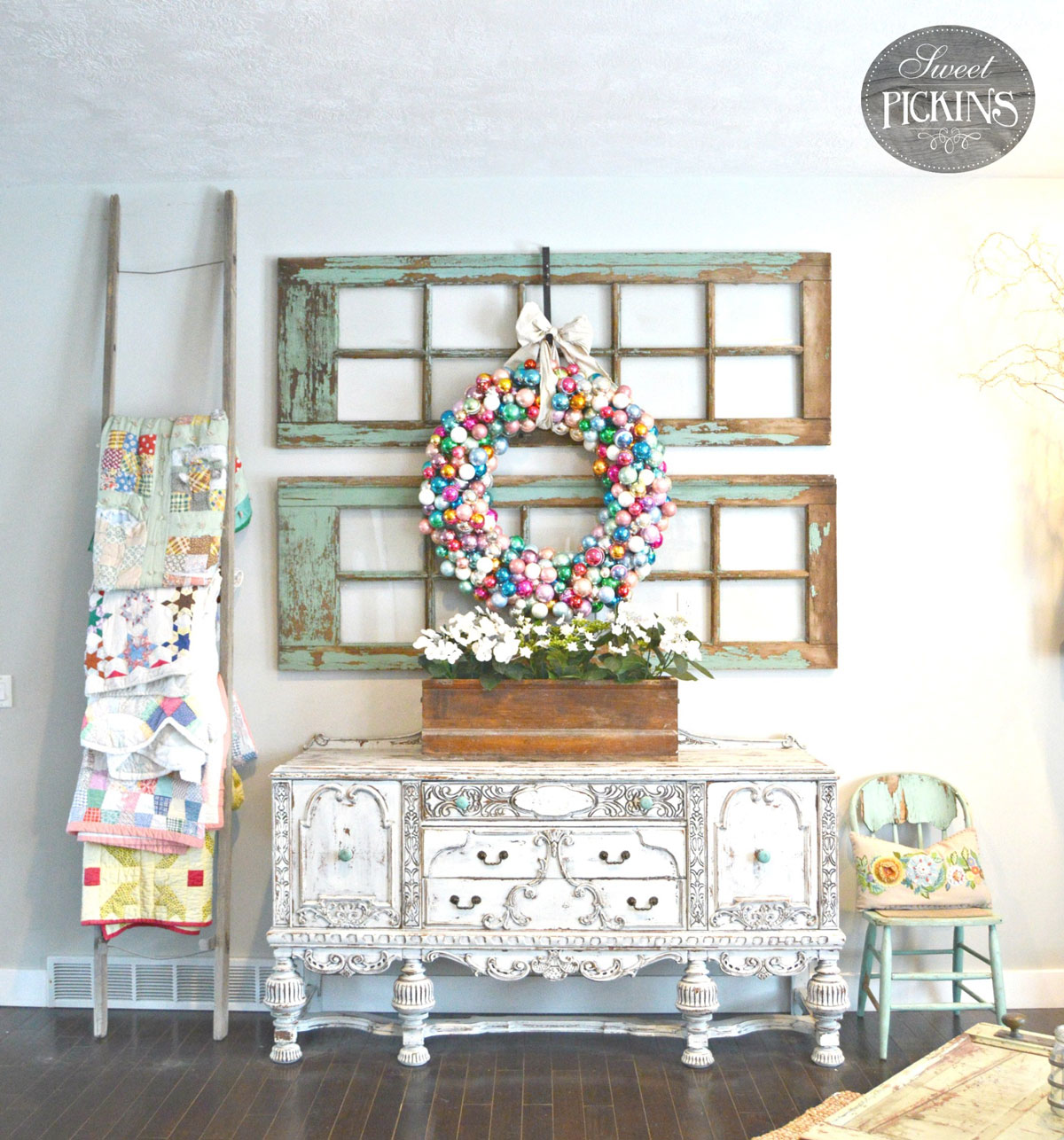 Your front door is sure to become the talk of the neighbourhood if you recreate this fun idea from Sweet Pickins. Steal a few of yours kids' pool noodles, invest in an abundance of baubles (Kmart has a great range), fire up a hot glue gun then get glueing to create this show stopping wonder. We love the rainbow effect Sweet Pickins has created, but this DIY would also look great in one block colour.
10. Decorations – Minimalist Wreath
Between presents, decorations and social occasions, most of us tend to go a bit overboard on Christmas. Cut through the clutter and give your back pocket a break with a chic and minimal wreath that can be assembled in minutes, and with very few materials, thanks to this step by step guide from These Four Walls.
11. Decorations – Horizontal Wreath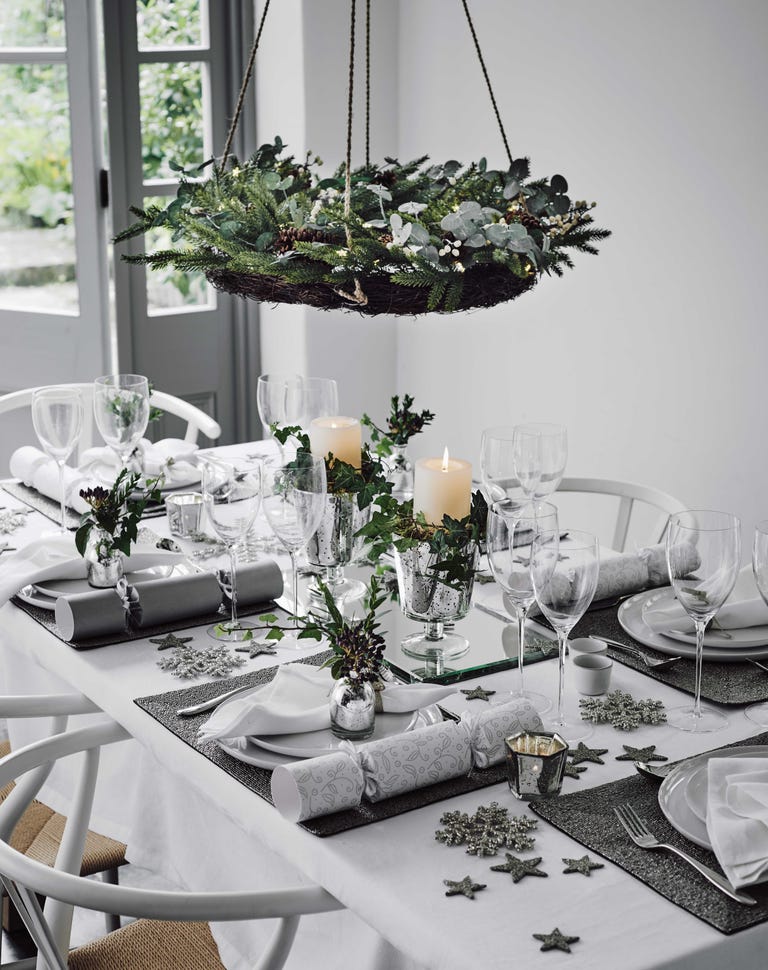 Love a pendant light? How about a pendant wreath? This clever idea by The White Company is a stylish twist on a traditional decoration. For this suspended showstopper you'll need a wreath, some rope and a strong ceiling hook (hire a Handyman if you can't hang one yourself). Check out this post for more inspo. And, bonus, more space on the table for Christmas dinner! No complaints here.
12. Decorations – Advent Calendar Wreath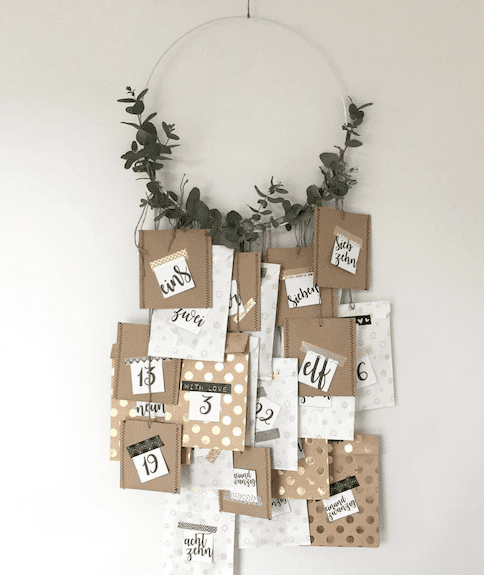 Maria has combined two traditional decorations in this cute and crafty DIY, creating an interactive advent calendar wreath with numbered paper bags that would be perfect hung on the door of a child's room. See more photos on her Instagram post. To keep this in line with the rest of your Christmas theme you could make your own decorative paper bags from the wrapping paper you're using this year. Sew or glue together the envelope pockets, attach a calendar date with washi tape, punch a hole in the top and attach to the wreath with string or ribbon and enjoy a little moment of magic opening the envelopes each day.
13. Decorations -Mason Jar Lid and Bauble Wreath
A fresh wreath will generally last around two-three weeks maximum depending on how well you take care of it, and how much Mother Nature decides to crank up the heat during December. For an option that that lasts forever, and is a fresh take on tradition, this DIY is for you. Check out the full tutorial by Donna at Funky Junk Interiors here.
14. Decorations -Tinsel Wreath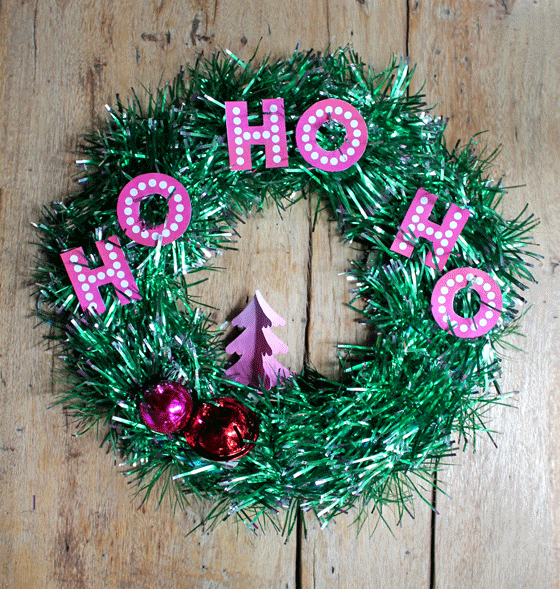 Your days will be extra merry with a tinsel wreath positioned above your mantlepiece! A cheap and cheerful DIY project, a tinsel wreath can be assembled in under ten minutes (which leaves you extra time to shop for all of those last minute gifts!). Visit Happy Thought for the full tutorial, plus ideas on how to customise your creation.
15. Decorations – Marble Baubles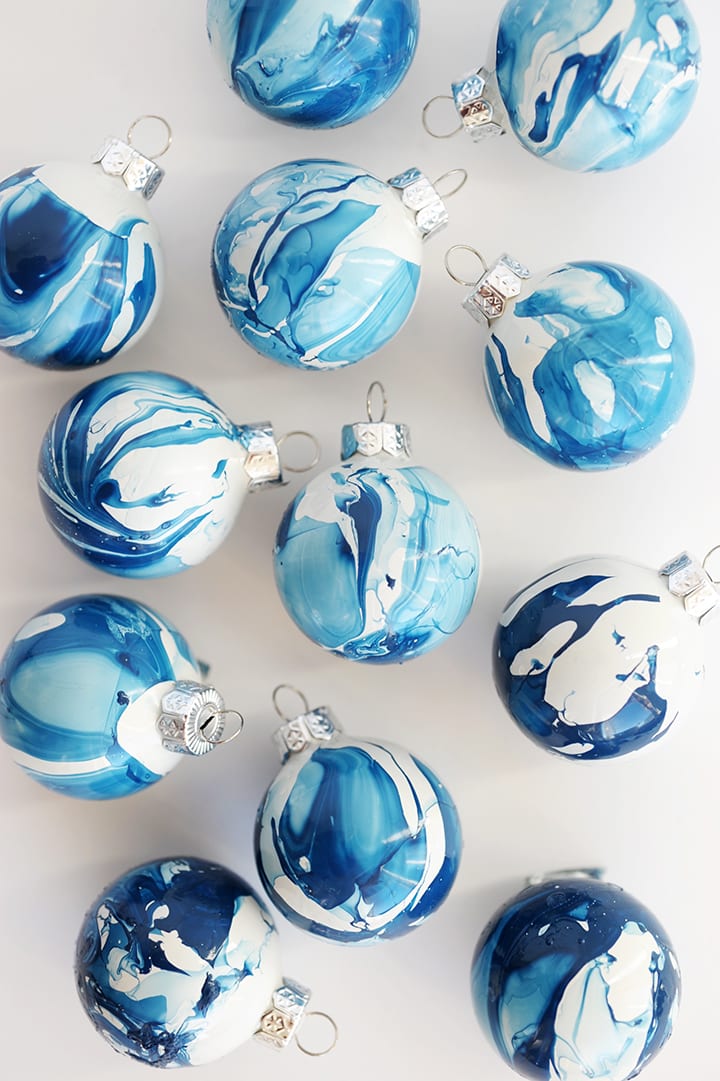 According to DIY enthusiasts Alice and Lois, it only takes five minutes to make these stunning marble baubles! A must-do-DIY for anyone with a penchant for marble, these gorgeous baubles can be done in any colour to suit the your festive decor. Visit Alice and Lois for the full DIY, plus plenty of other crafty Christmas ideas!
16. Decorations – Clothespeg Snowflakes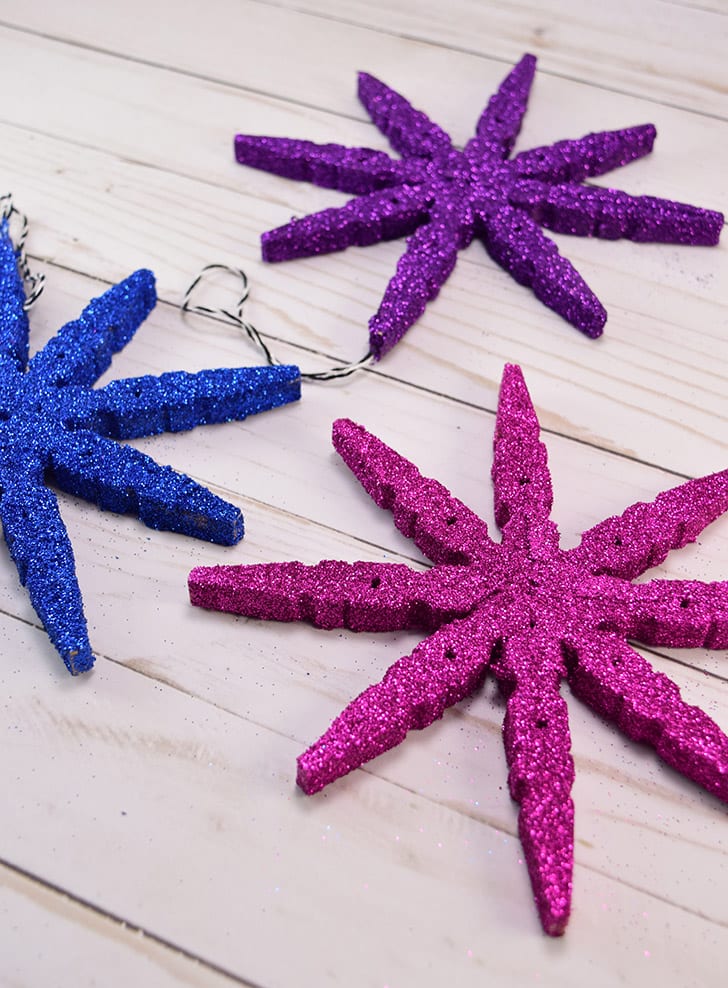 You can make Christmas ornaments from just about anything, as Allison from Dream a Little Bigger shows in this DIY project. Steal a few pegs from the washing line, grab some glitter and glue to transform an everyday household item into a beautiful Christmas tree decoration! These stunning stars would also make great present toppers when attached to a gift with ribbon.
17. Decorations – Painted Pinecones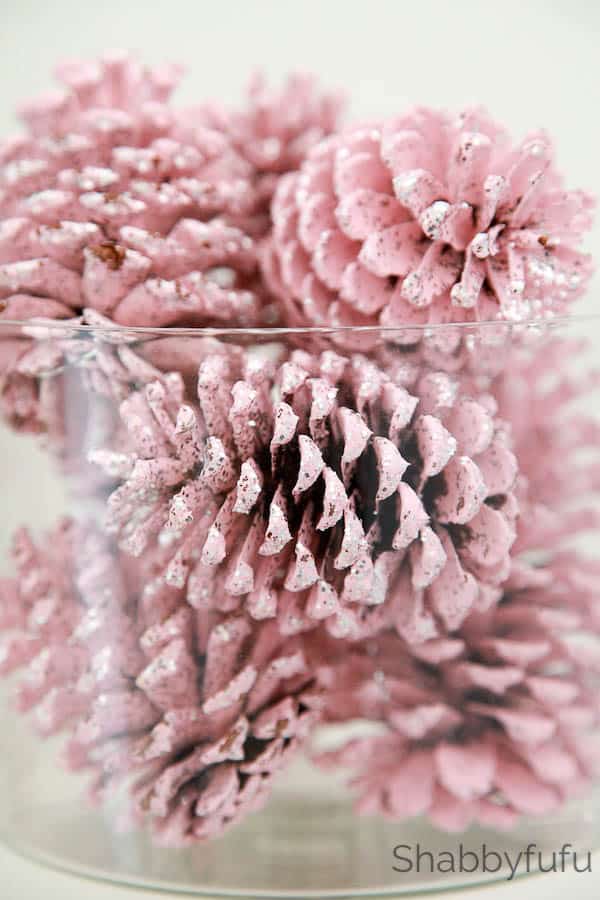 Hunting for the easiest Christmas DIY ever? Call off the search! Just forage for some pinecones (or twigs, or pampas grass, or palm leaves), pop down to Bunnings and grab some metallic spray paint then spray to your heart's content! Instant luxe with natural charm and the possibilities are endless. Add them to a vase, arrange in a bowl or scatter over the table as a festive centerpiece. For tips on how to paint pinecones, visit ShabbyFufu.
18. Decorations – DIY Snowglobe Terrarium Jars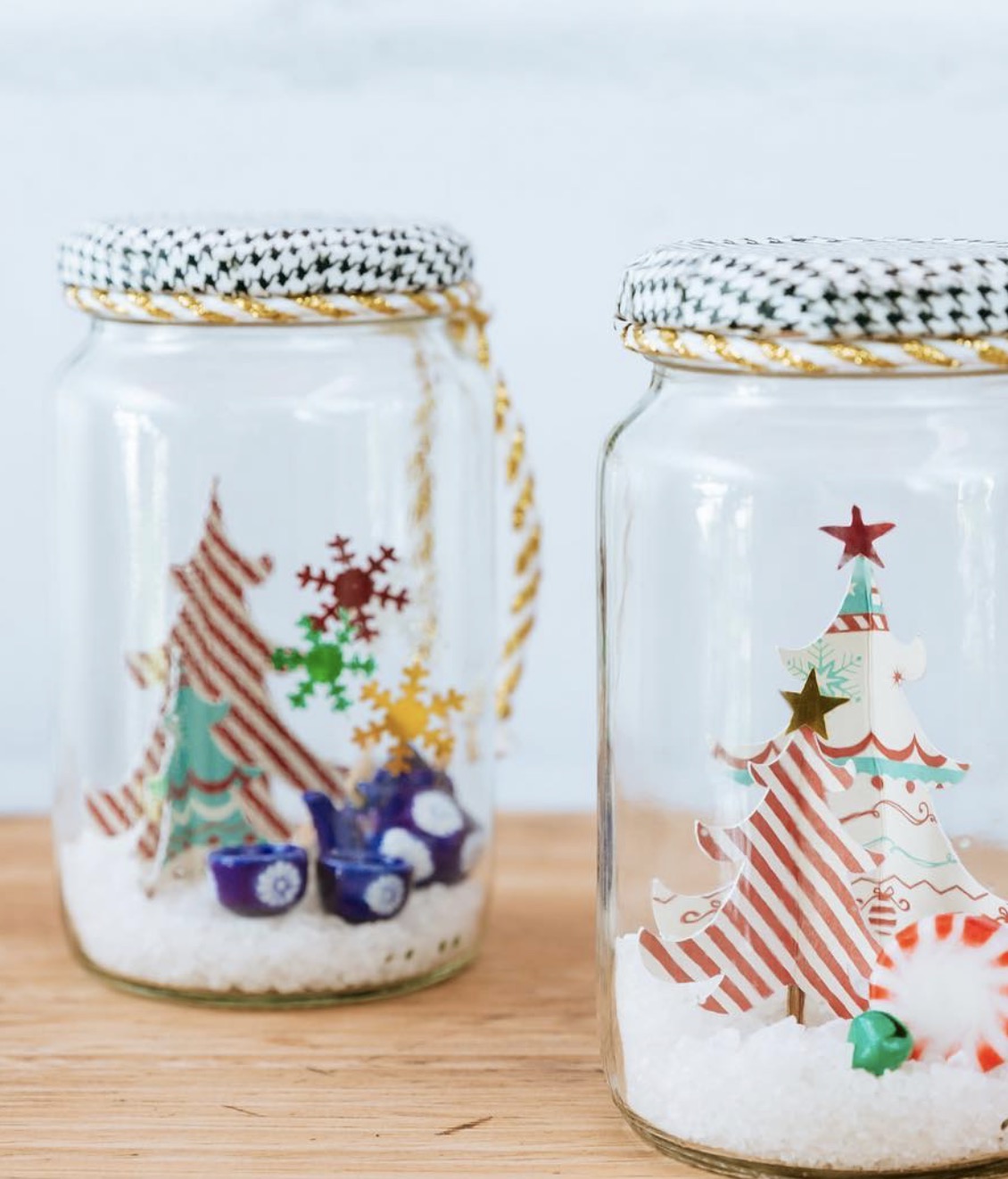 Part snowglobe, part terrarium, this is a great use for all those jars you'll have leftover from feastive-season nibbles. Guia shows the process of her delicate DIY project step-by-step in these pictures on Instagram!
19. Decorations -Luminaire Centrepieces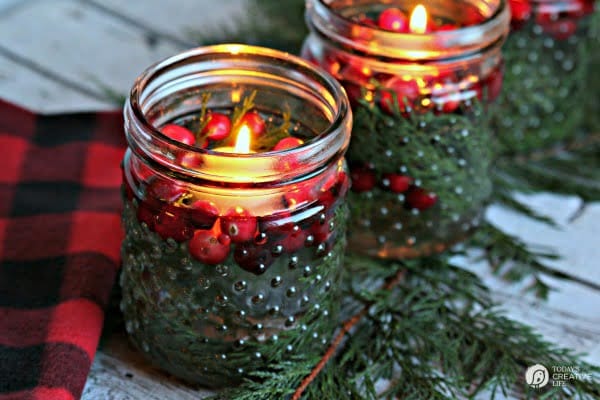 December days are guaranteed to be lit with these simple yet effective centrepieces. Round up some mason jars, tea lights, greenery and cranberries and voila, your table is ready for Christmas lunch! Kim from Today's Creative Life explains how to make these 5-minute DIYs here.
20. Decorations – Ice Light Candle Holders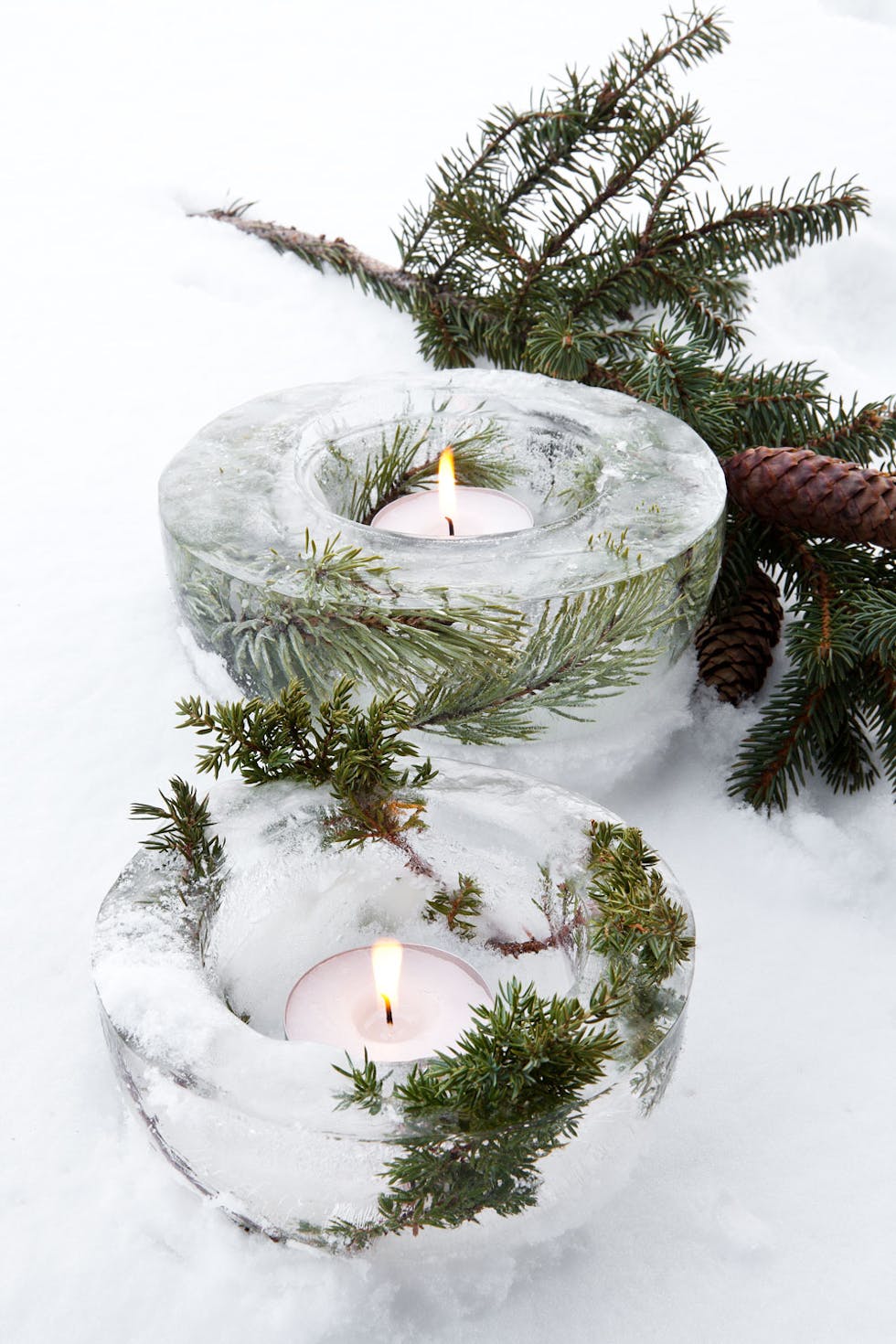 While we're not sure how long these would actually last on a hot Christmas night in Australia, we think these ice lights are super cool! Check out the tutorial from Bo Bedre here (just FYI it's in Norwegian so you'll have to translate!). For a longer lasting version of this fabulously frosty DIY, we recommend making the bases from resin with help from this tutorial.
21. Decorations – Gold Handlettering Ornaments
There is something so elegant about gold lettering. In addition to making your own tree look fab, these glittering ornaments also make a great gift for friends, family and colleagues. Lorita at Ting and Things shows how easy it is to make these stylish DIY ornaments. Find the full list of supplies and instructions here.
22. Decorations – Personalised Baubles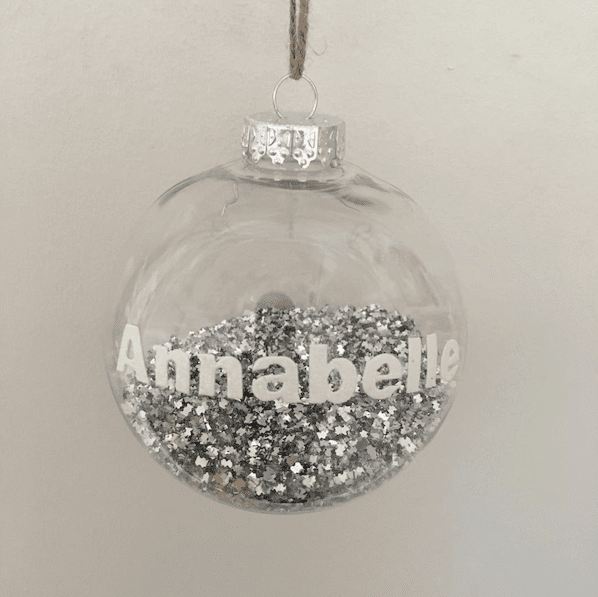 As you may know, we love a good #kmarthack so when we saw this on our Insta feed we were impressed! As Rachel from TheKmartMumma on Instagram demonstrates, creating a personalised bauble is as simple as purchasing a $3 decoration from Kmart and spelling out the name of your loved one with alphabet stickers. Watch the Bauble story on her highlights for step by step instructions.
23. Decorations – Car Ornaments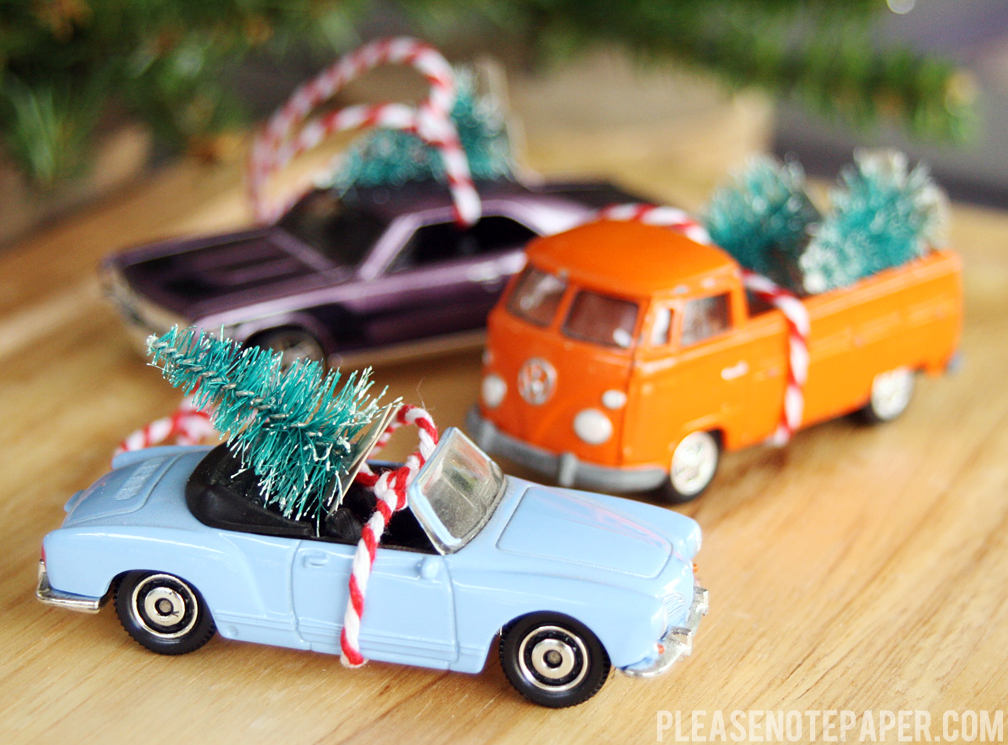 The motoring enthusiast in your household will get revved up over these wheely cool decorations. Rather than raiding your favourite little person's prized Matchbox collection, we suggest purchasing some cheap car toys from your local $2 shop to complete this DIY. Visit Please Note Paper for the full list of materials plus a comprehensive how-to.
24. Decorations – Giant Baubles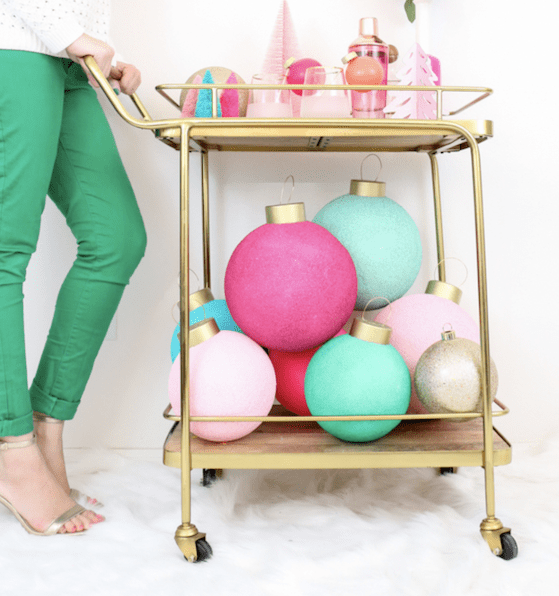 Supersize your Christmas celebrations with XL baubles! Fabulous stacked up in a pile, or perched atop a Christmas tree, these oversized and over-the-top ornaments are easy to construct with foam balls and a few other materials. Love this idea? Kara from A Kailo Chic Life has you covered with her simple step by step guide.
25. DIY Gift – Bath Salts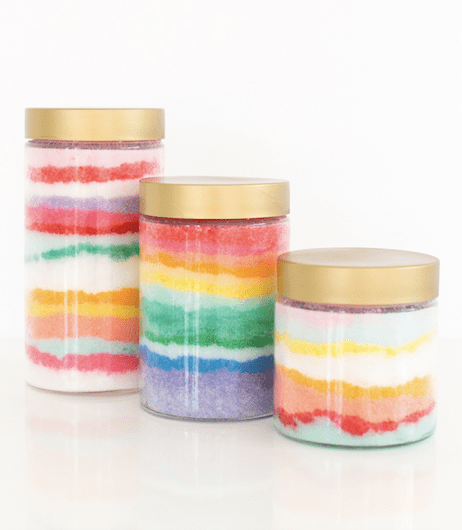 Handmade gifts remind your loved ones that you're thinking about them. This ever-so-creative DIY from Sugar & Cloth combines homemade bath salts with sand art. If you don't have any large jars laying around at home, use mini RAJTAN spice jars from Ikea.
26. DIY Gift – Peppermint Mason Jar Candles
Is it even Christmas if your house doesn't smell like some lollies, spice or fruit? A lovely way to ignite Christmas cheer in your household, this DIY project doubles as a handmade present. Crafty blogger A Pumpkin And A Princess says you'll need soy candle wax, peppermint oil and your creative juices to complete this project.
27. DIY Gift – Embroidered Notebooks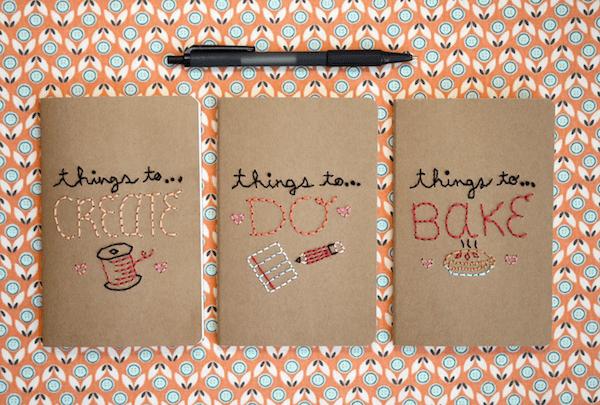 You'll have sew much fun picking out a design then embroidering it onto a note book thanks to Mollie Makes! This DIY project can be labour intensive if you're not an experienced sewer so don't leave it until the night before Christmas.
28. DIY Gift – Marbled Tea Light Cups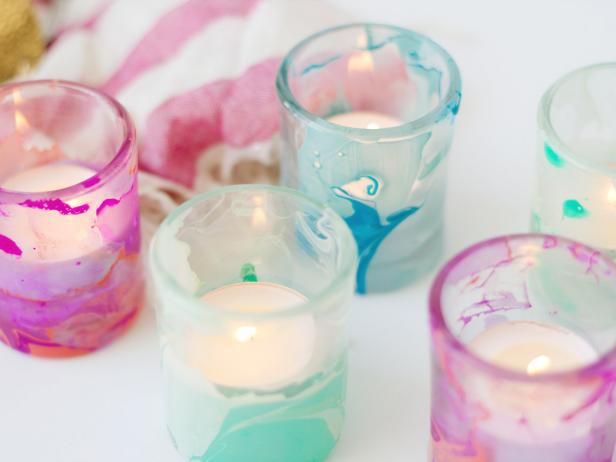 If you're tempted by the marbled baubles above get some other items in on the action! These plain glass tealight holders are easily transformed into unique pieces with just a bit of nail polish. Great for a bulk gifting. Chelsea explains how here.
29. DIY Gift – Gingerbread Lip Scrub
Between kissing grandparents and smiling for family photos your lips need some love at Christmas time! Delicious and a skin care staple, this lip scrub is a fab stocking stuffer that you can make while you're whipping up a gingerbread house. Alyssa shows us how on the Runway Chef.
30. DIY Gift – Cookies In A Jar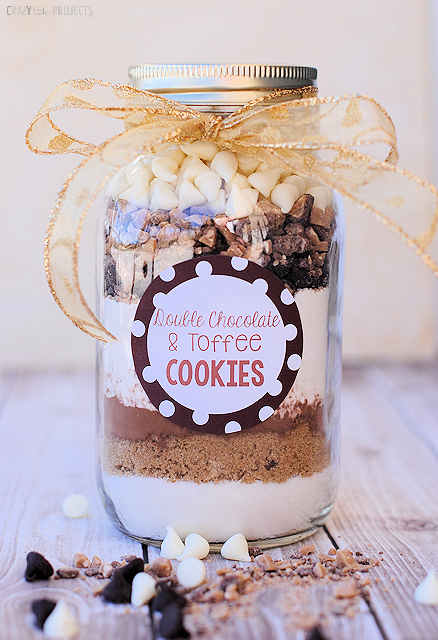 A ready-to-go recipe in a jar is a fabulous gift idea for your favourite time-poor food lover. Simply layer the ingredients and print out instructions so that it's super easy for the giftee to make, bake and devour. Crazy Little Projects has an easy to follow cookie recipe plus printable tags to give your jar a professional touch.
31. DIY Gift – Bath Bombs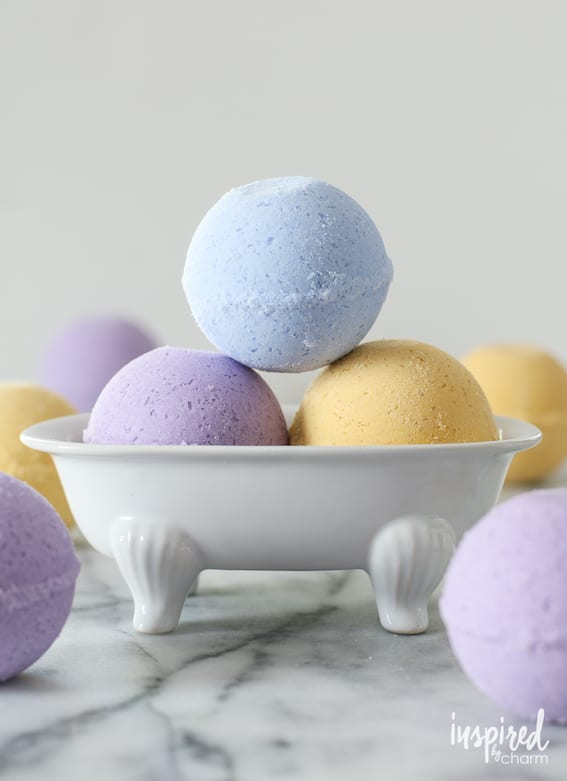 Tis the season to be jolly and to relax in a bubblebath! Give the gift of pampering and relaxation this Christmas with a homemade bath bomb for anyone who appreciates a good soak. Customise the colour and scent with your favourite essential oils. You'll find the full tutorial via Inspired by Charm.
32. DIY Gift – Hot Chocolate Baubles
Even on a hot summer's night there's nothing quite like a cup of cocoa to get into the Christmas spirit. This delicious DIY from Creme de la Crumb is sure to impress; all you need is some hot cocoa powder, mini marshmallows, crushed candy canes and clear ornaments. Just pick off the tree and add milk (and maybe pour the contents into a mug first!).
33. Festive Food – Antipasto Christmas Tree
A feast for your eyes and your stomach, this delicious DIY is quite possibly the best Christmas catering idea ever! Find a step by step tutorial that explains how to recreate this mouth-watering masterpiece at home via the CafeDelites website, here.
34. Festive Food – Rosemary Wreath Platter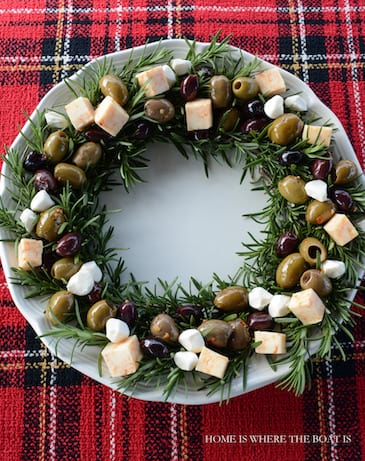 Make the most of that lush rosemary bush in your backyard to create a rosemary wreath as the base for a festive antipasto platter. Trim a generous amount of rosemary, give it a rinse then assemble in a wreath shape on a circular plate. Garnish with olives, cheese, sundried tomatoes and any other finger foods that tickle your fancy. See more photos and HEAPS more festive food ideas at Home is Where the Boat is.
35. Festive Food – Mini Waffle Cone Christmas Trees
An enchanted forest where all the trees are edible? Sign us up! These delicious treats are a fun and delicious kid-friendly DIY. Stock up on your favourite lollies and let your appetite be the guide. The hardest part is not eating all of the ingredients while you work! Nancy from Coupon Clipping Cook shows us how here.
36. Festive Food – Christmas Tree Cupcakes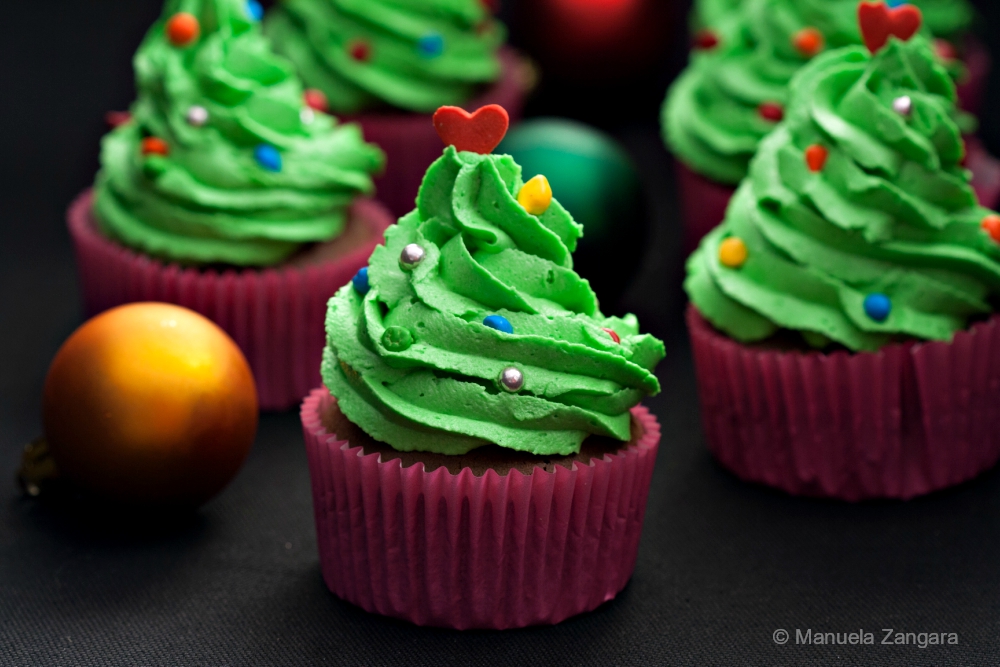 Little bit of cake, little bit of green food colouring, whole lotta icing – these are just so cute! Manu's Menu clearly has their cupcake piping technique down to a fine art, but if your baking skills aren't quite there yet just go heavy with the decorations. It's all about the festive spirit, right?
37. Festive Food – Christmas Tree Meringues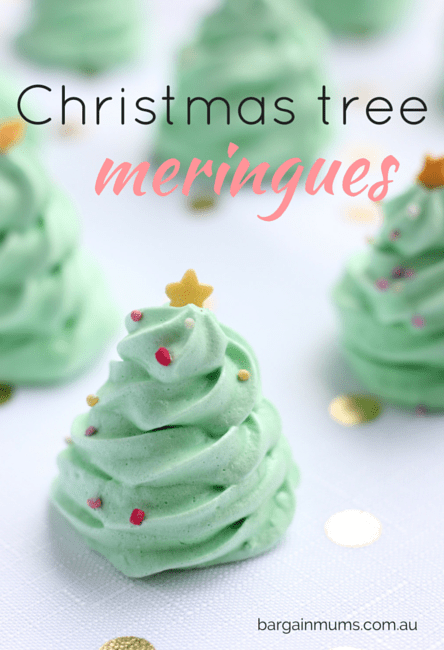 The silly season just got sweeter thanks to these adorable Christmas Tree meringues via Bargain Mums. Serve these cute, bite sized trees as part of dessert, or use them as an edible table decoration or gift!
38. Festive Food – Strawberry Santa Brownie Bites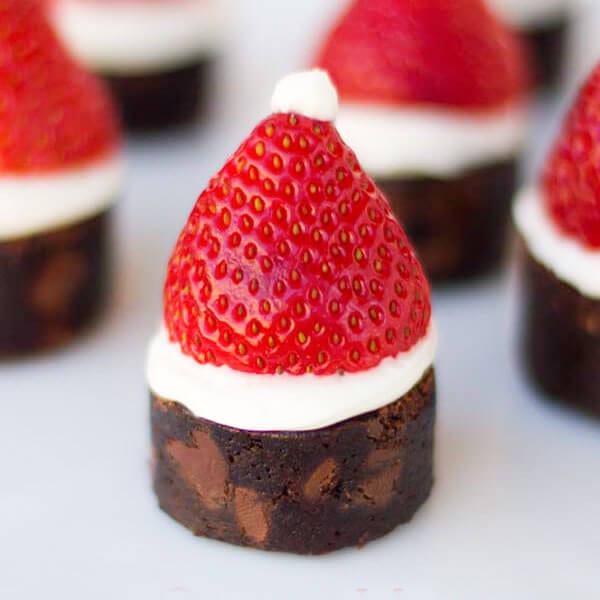 You can give practically any food a Christmas-y makeover with the addition of a strawberry Santa hat, and brownie bites are no exception. Make brownies from scratch, or if you're time-poor opt for a brownie mix from the supermarket, cut them into small rounds then perch a strawberry Santa hat on top and you have the beginnings of a festive feast. Visit I Heart Nap Time for detailed instructions.
39. Gift Wrapping – Eco Friendly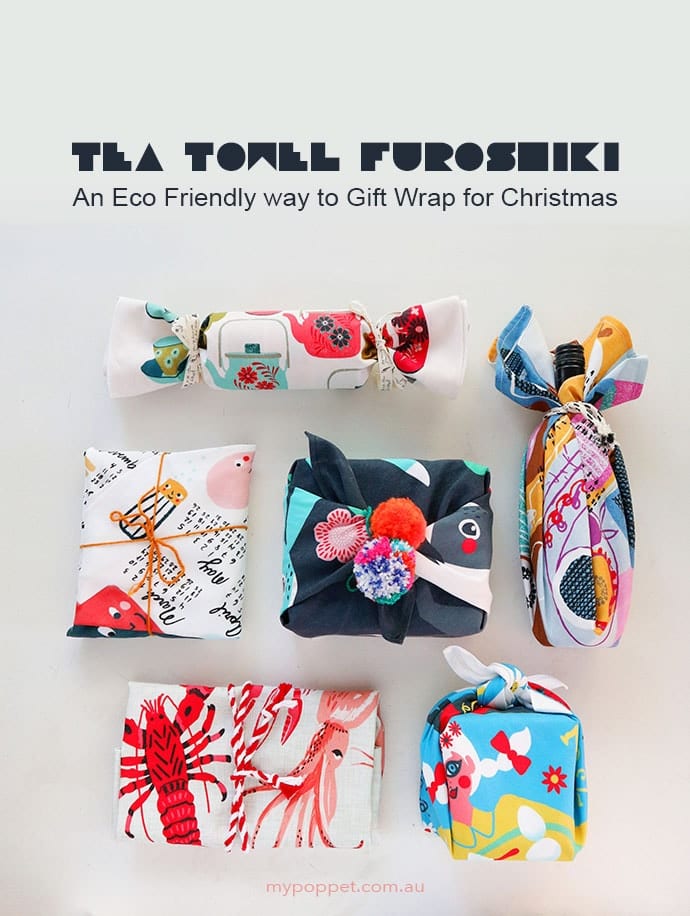 Furoshiki – the Japanese art of fabric wrapping – is a sophisticated change of pace to presents wrapped in paper. Use fabric in a pretty print or block colour, or purchase some cute teatowels, then wrap away! Get inspired about the possibilities of furoshiki in this tutorial by My Poppet Makes.
40. Gift Wrapping – Calligraphy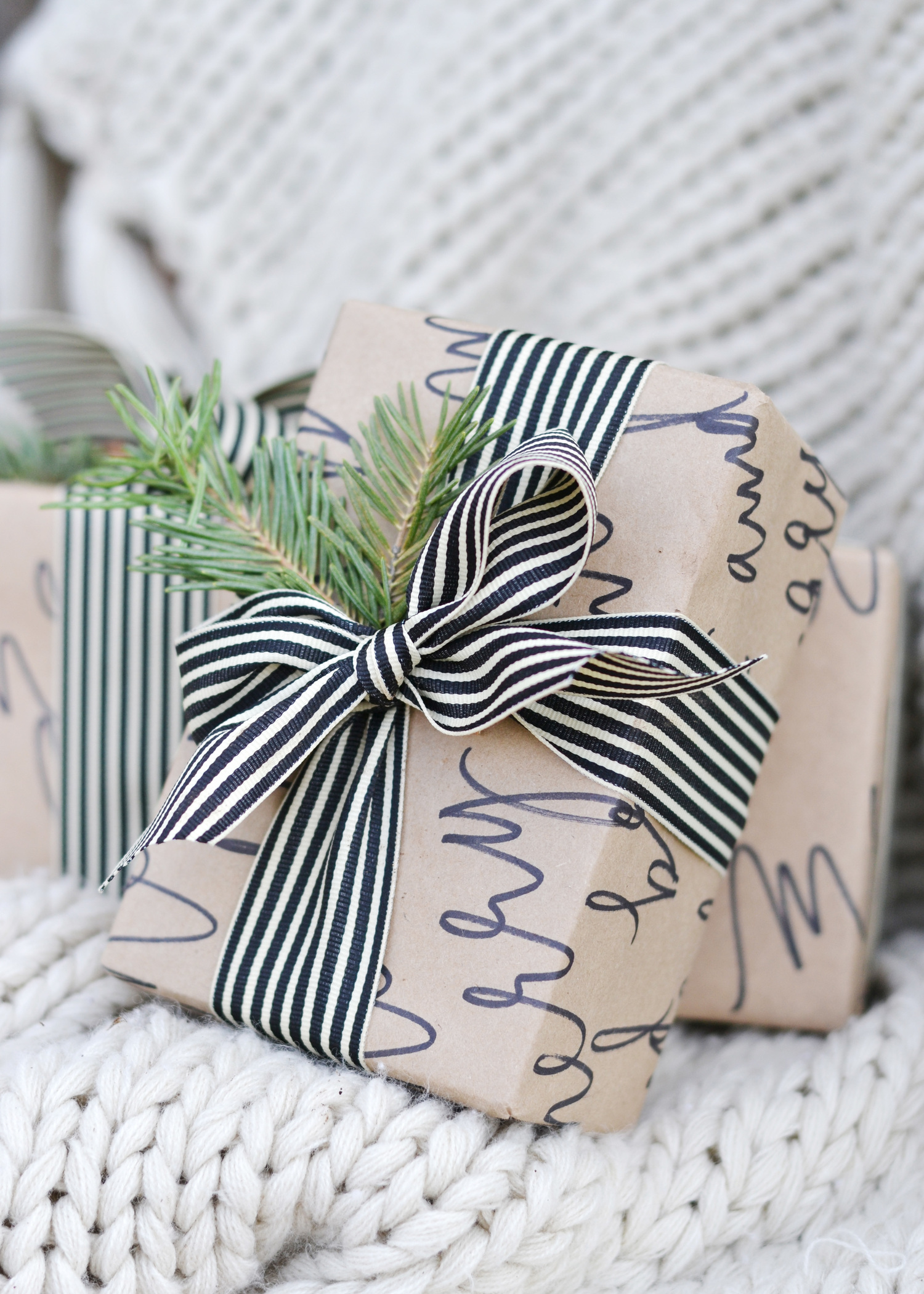 You don't need to be a master calligrapher to create bespoke wrapping paper adorned with your favourite festive phrases (but it would certainly help!). Chloe from Boxwood Avenue says all you need to recreate this chic wrapping DIY is paper, a sharpie and some silly season slogans. Finish with a striped ribbon and a sprig of your favourite herb.
41. Gift Wrapping – Hand Painted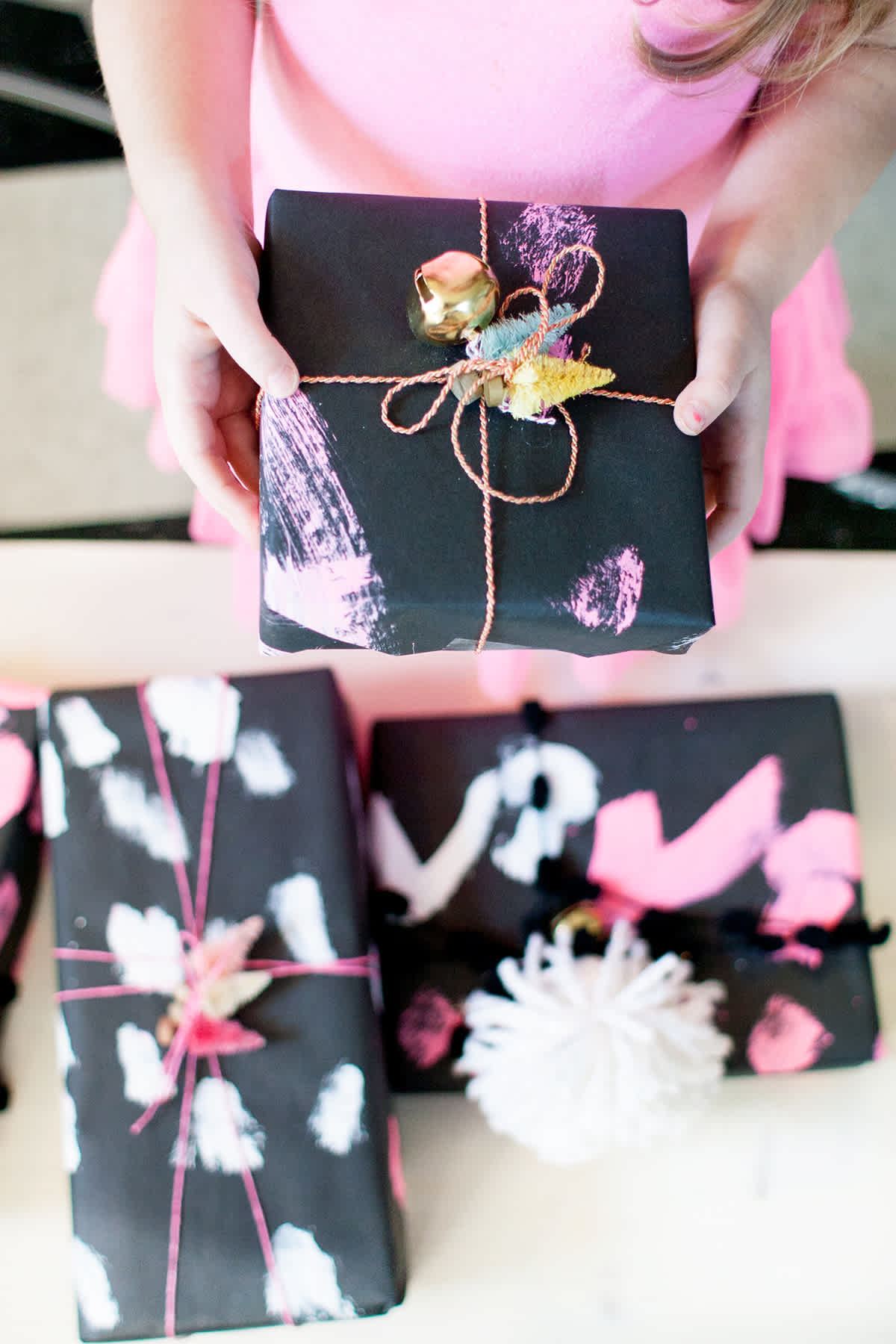 Painterly brush strokes never looked so good! We love this DIY idea by Lay Baby Lay who transforms bland black paper into a work of abstract art with white and pink brushstrokes. She continues the artistic flair with an array of ribbons and fun finishing touches including mini trees and golden bells.
42. Gift Wrapping – Stars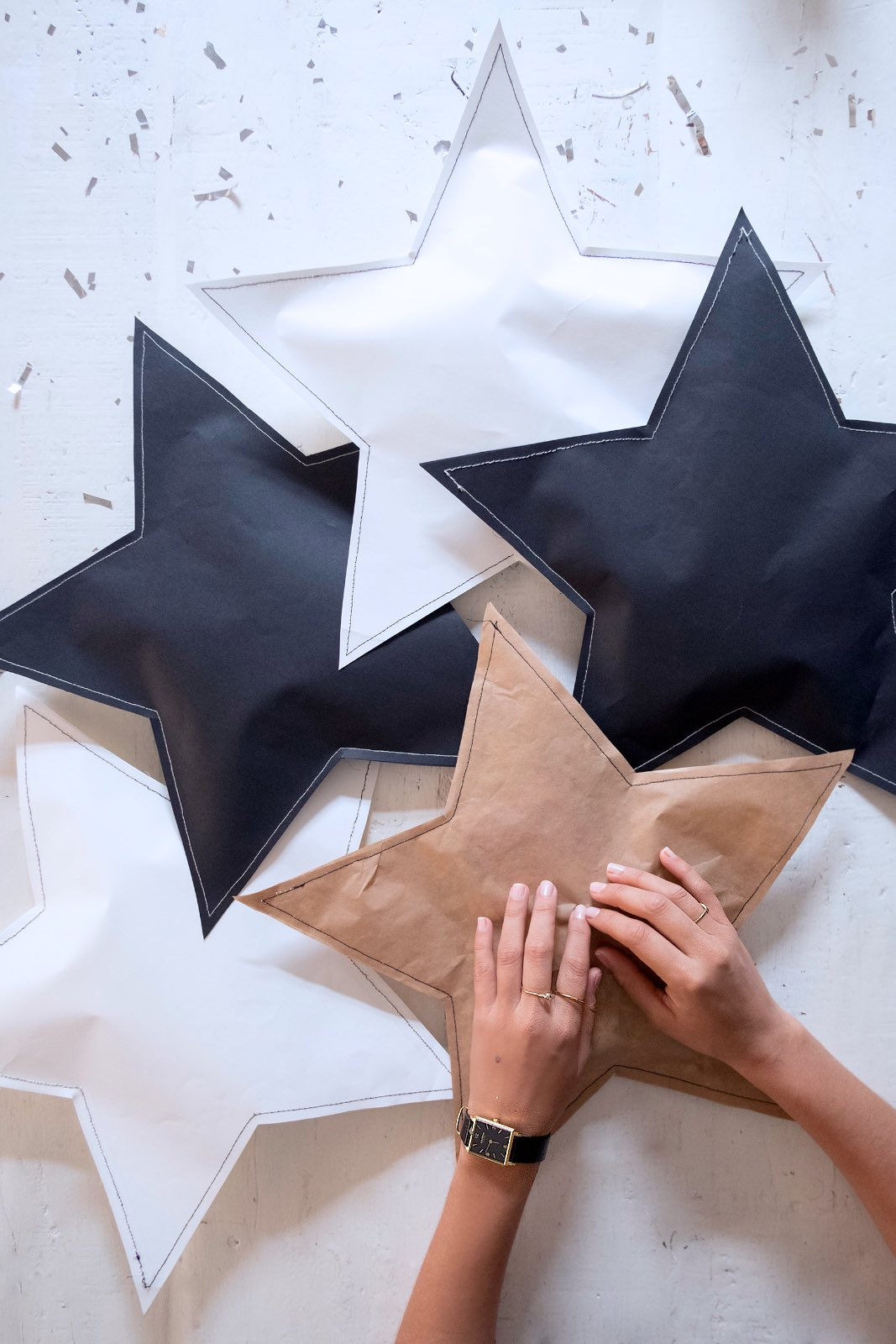 Are you a star on the sewing machine? Then you'll have no problem re-creating this stunning wrapping idea by A Pair and A Spare. Get going with a star template then fire up the Singer to stitch together a star-shaped pouch. Fill with confetti or tinsel pieces for extra wow.
43. Gift Wrapping – Animal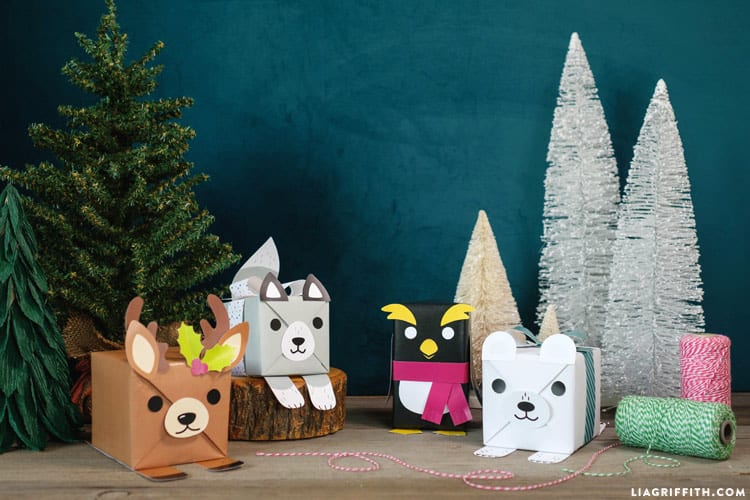 Whether you channel the North Pole with a penguin present, or prefer to keep things closer to home with a gift that resembles your favourite four legged friend, animal gift wrapping is an adorable idea. Handcraft heavyweight Lia Griffith has done the hard work for you and has created animal stencils that you can download from her website and print at home. Thanks Lia!
44. Gift Wrapping – Roller Stamp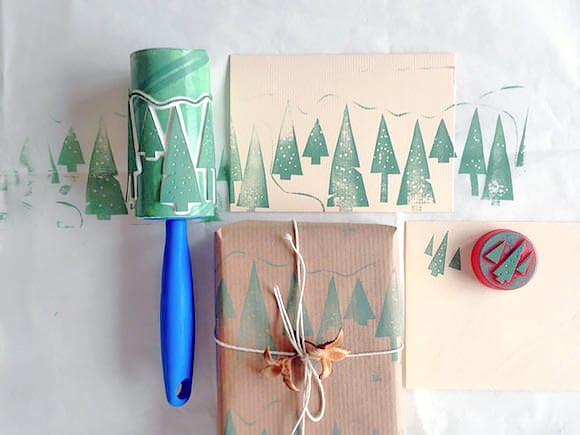 Did somebody say #IkeaHack?! Transform a humble Ikea lint roller into a stamp to decorate wrapping paper with this amazing tutorial by Handmade Charlotte. Once your stamp is assembled, apply paint and get rolling. It's that easy!
45. Gift Wrapping – Reindeer
If Rudolph the Red Nose Reindeer is the most popular Christmas carol in your household, there's simply no going past this wrapping idea from Frog Prince Paperie. It doesn't matter what shape the present, wrap it up in brown paper, add a red nose and some antlers and voila, Rudolph wrapping complete!
46. Gift Wrapping – Simple
Brown paper packages tied up with string… if these are a few of your favourite things you'll love this simple wrapping idea via These Four Walls. Basic yet beautiful, the wrapping of these presents is elegant without detracting from the wow-factor of the gifts inside.
47. Christmas Drinks – Boozy Popsicles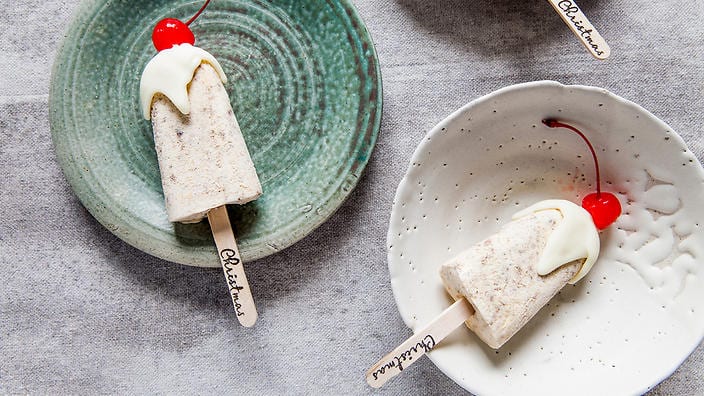 These not-for-kids Christmas pudding and brandy ice pops will go down a treat after dinner! China Squirrel shows us how to make them on SBS Food.
48. Christmas Drinks – Christmas Pudding Vodka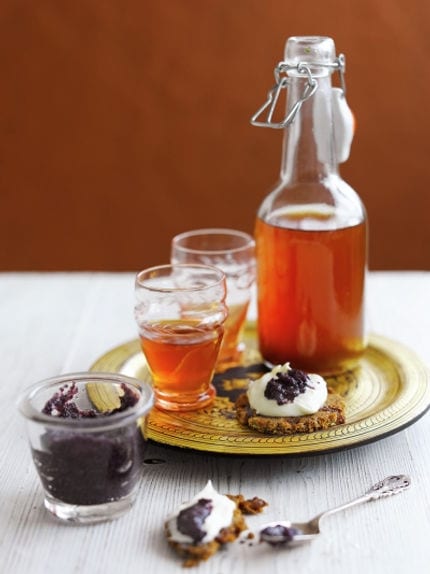 Spice up Christmas drinks without overheating with this infused vodka recipe from Jamie Oliver. Perfect for a hot Aussie day with heaps of ice!
49. Christmas Drinks – Cranberry Mocktail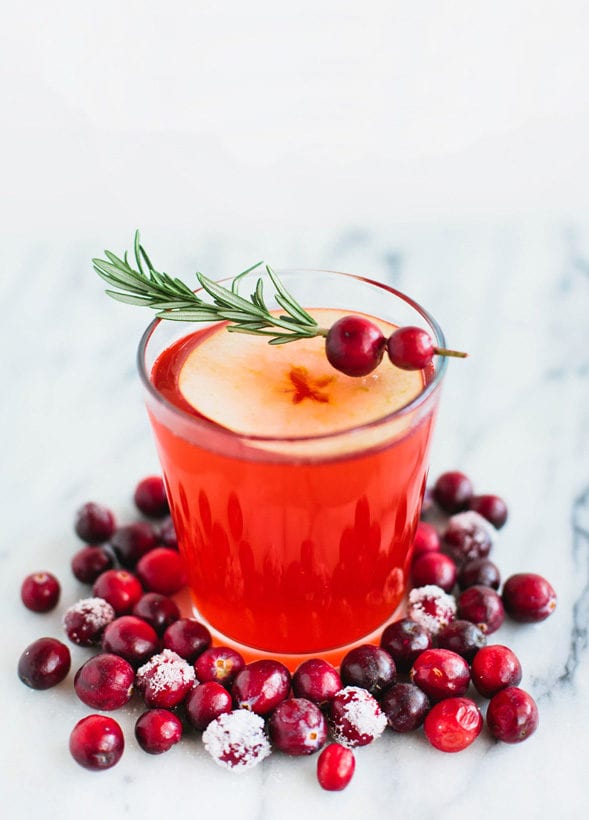 Let's face it – for lots of us Christmas involves lots of driving around, so a good mocktail is appreciated by one and all. Get refreshed with this cranberry concoction by Say Yes.
50. Christmas Drinks – Beer Advent Calendar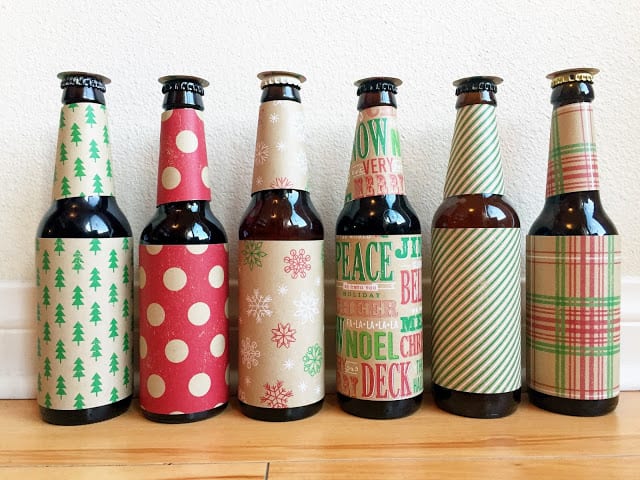 What's better than a surprise present every day? A surprise beer every day! Chasin' Mason brings the Christmas cheer with this beer advent calendar.
But wait—there's myrrh!
When should you take your Christmas decorations down?
Tradition states that your Christmas tree and decorations should be taken down on Twelfth Night to avoid bad luck (apparently tree spirits live in the foliage so, yknow, they're trying to enjoy the holiday season too).
Whether you believe in the superstition or not, don't let your brilliant DIY efforts go to waste and salvage your favourite pieces for next year. Box up your baubles, wreaths and trinkets with clear labels so you can easily retrieve them from storage.
PS. Kmart's Christmas range includes specialised storage solutions for all your decor, wrapping and even your Christmas tree if you love being super organised.
Have your elf a merry little Christmas! 🎅🏼
Header photos by: A Pair and a Spare / Alice & Lois / China Squirrel / The Merrythought
Need a little helper to deck the halls, or untangle all those Christmas lights? Find someone on Airtasker.