It's amazing what you can do with Ikea furniture when you think outside the box, and we've scoured the internet to find the best Ikea hacks for all over the house!
Transform standard Ikea pieces into custom furniture with these hacks using standard styles available all year round, with amazing results.
Here's the 30 best IKEA hacks
1. Boho Kallax Whitewash Revamp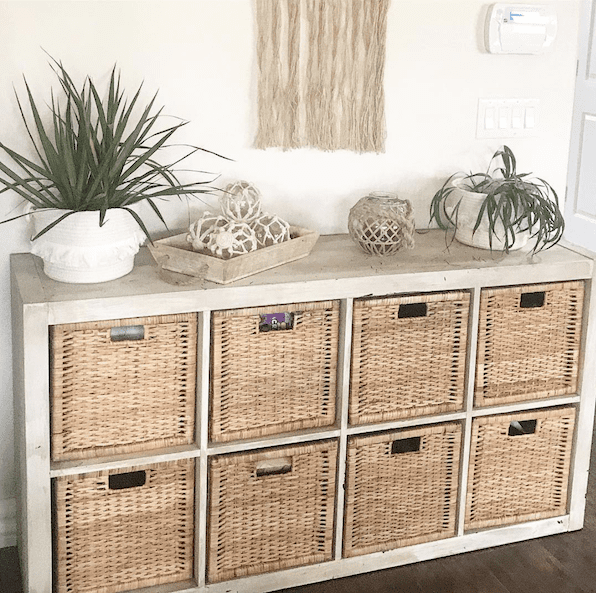 We love a shiny and pristine Kallax bookshelf as much as the next person but this distressed/whitewashed version by The Mommy Wood has so much character we can't help but wonder 'what if we whitewashed every Ikea piece we own?!'.
This ingenious hack adds instant beachy-boho vibes to any room, particularly when paired with the woven Branäs baskets. The key to pulling off this project comes down to how you prepare and paint the Kallax laminate. Ensure a great end result by following this tutorial.
2. Woven Placemat Coastal Cushions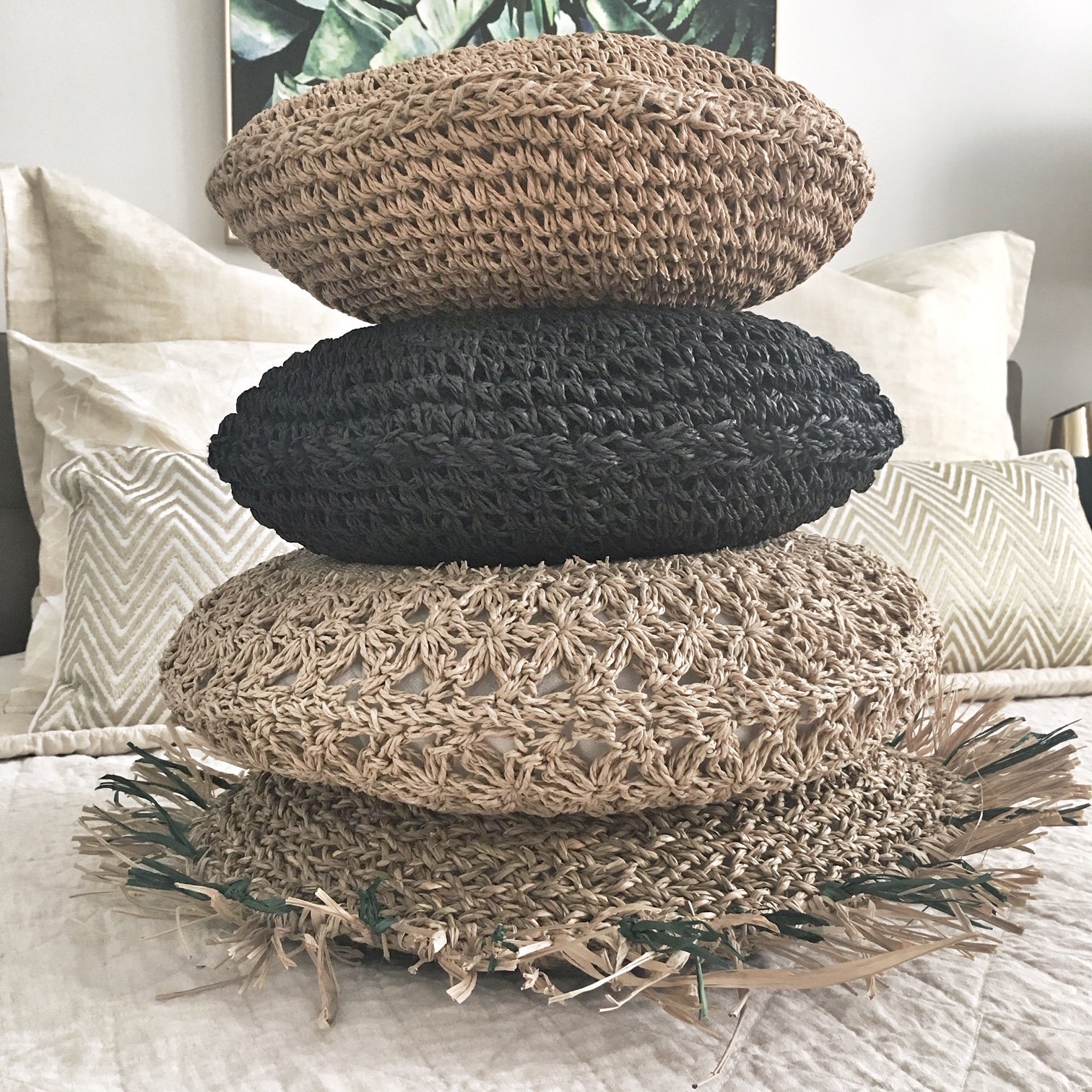 Continue the beachy boho vibes into your sitting area or bedroom with Stylkea's placemat hack. Select from woven placemats including Ihållig, Samtliga and Sluten, then sew two matching placemats together with twine and a yarn needle. Pad with stuffing (available at Spotlight) and voila, you have coastal chic cushions.
3. Bespoke Bestå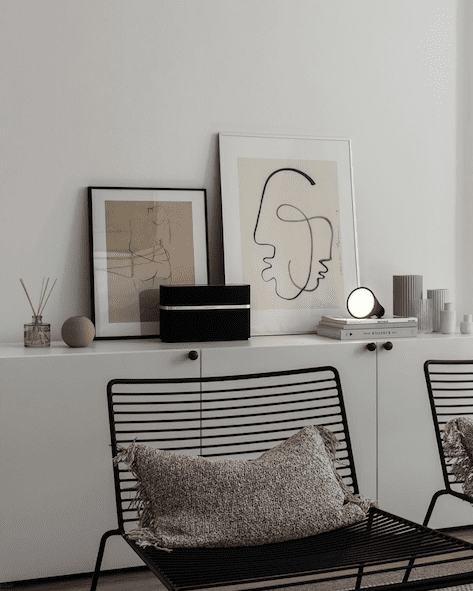 Customisation is key when it comes to transforming a standard Ikea piece into something special. Give your off-the-shelf cabinetry a high end look with bespoke handles or knobs.
Make your Bestå bespoke with some new (or old) doorknobs. Choose from IKEA's range or visit a salvage yard or antique store for knobs that will ensure your Bestå is unlike anyone else's.
4. Malm Decal Makeover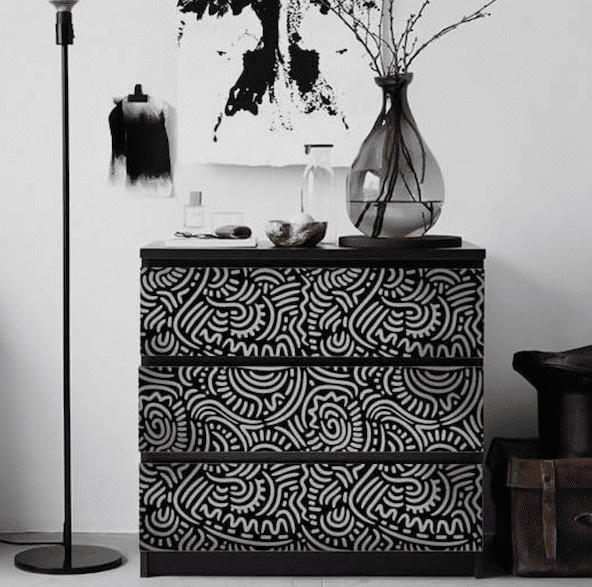 Not all Ikea hacks are created equal. While some are labour intensive, others are a cinch. Like this one, that transforms a standard chest of Malm drawers into a statement piece with just a pack of decals.
Locco Stickers has made the Malm makeover process as easy as pie by selling pre-cut decal kits. Their range features everything from pink peonies to arty abstract patterns like this one.
5. Luxe Gold Stockholm Sideboard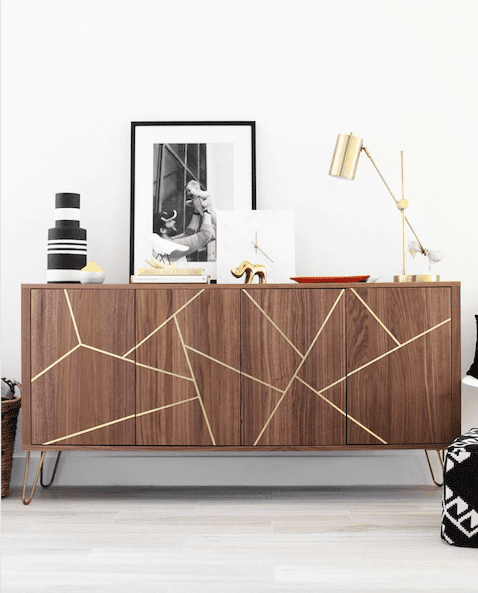 The Stockholm sideboard seems perfectly fine…until you see this luxe hacked version by Kristi Murphy DIY! A generic sideboard becomes downright spectacular with the addition of four hairpin legs and brass strips.
Just the thing to give your living room that modern mid-century look! This one definitely wins Don Draper's tick of approval.
6. Custom Statement Bench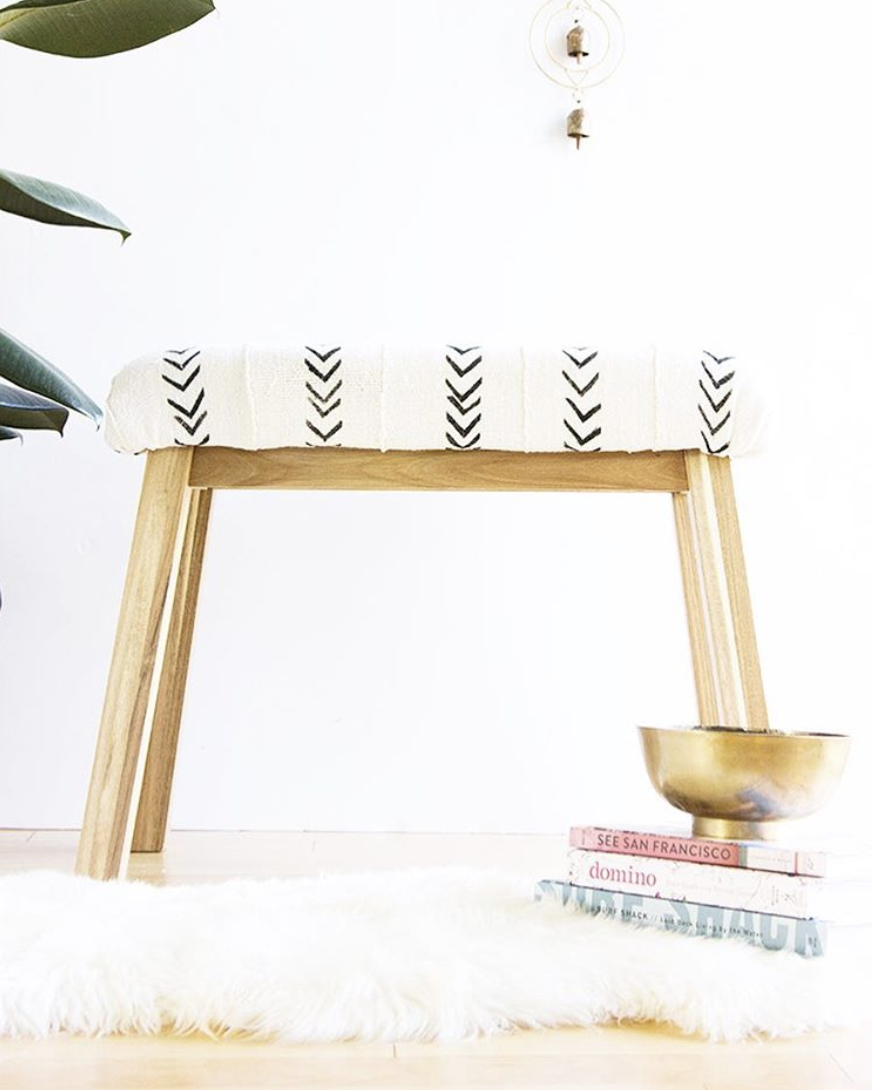 Only having a couple of armchairs in your apartment is fine and dandy until you want to have a bunch of friends over for a Netflix binge. Don't let a lack of seating options get between you and a viewing party with your pals; whip up a bespoke bench to accommodate extra visitors.
DIY queens Alice & Lois give an unassuming wooden bench a completely new look with some foam, a staple gun and a swathe of stylish fabric. While the particular bench they feature in their DIY is not available in Australia, the Norråker design is very similar and is available down under.
7. Raskog Indoor Plant Stand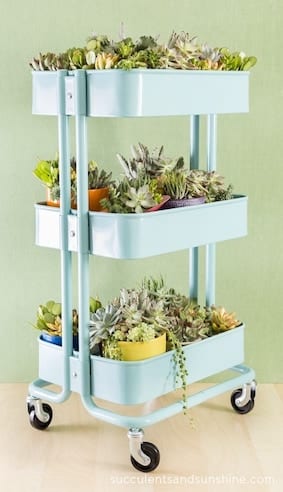 If our blog post on the best indoor plants for Australian homes inspired you to flex your green thumb, this project is for you.
Give your indoor jungle the opportunity to thrive by growing it on a Råskog Trolley that you can move around the house to capitalise on the sunniest spots throughout the day.
Either place your succulent pots loose on the Råskog shelves or follow Succulent and Sunshine's steps to transform each shelf into an individual garden bed overflowing with sensational succulents. If you go for the latter option you'll need window screening material, succulent potting mix (available at Bunnings), Sphagnum Moss and lots and lots of succulents!
8. Kitchen Island Makeover
If bench space is at a premium in your kitchen you're going to love this Kallax hack by Jen Lou Meredith. Bulk up your bench space while also creating additional below-bench storage by converting  Kallax into a floating unit for your kitchen.
Start by attaching caster wheels to the base of your Kallax, then move on to creating the bench top using wooden chopping boards. Cut your chopping boards to size and seal with Skydd wood treatment oil before attaching to the base unit with glue or double sided tape.
Full disclosure: this DIY requires power tools. If you get stuck at any point and need assistance you can always enlist a handyman to help with the hard stuff.
9. Sneaker Shelves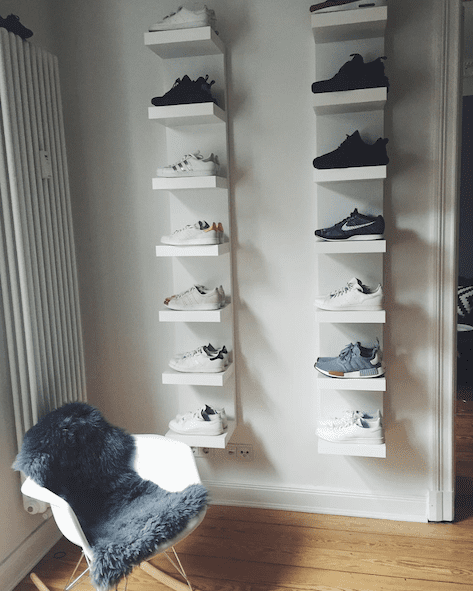 Don't hide your shoes away in boxes or at the bottom of your closet. Take a moment to admire your kicks collection each and every day by displaying your most prized possessions on a Lack wall shelf.
While most Ikea shoppers would only think to store books, DVDs or bric-a-brac on their Lack shelves, this clever sneaker head opted to arrange his favourite sneakers on the shelves (which just so happen to be the perfect size for shoes).
10. Coloured Kura Kids Bed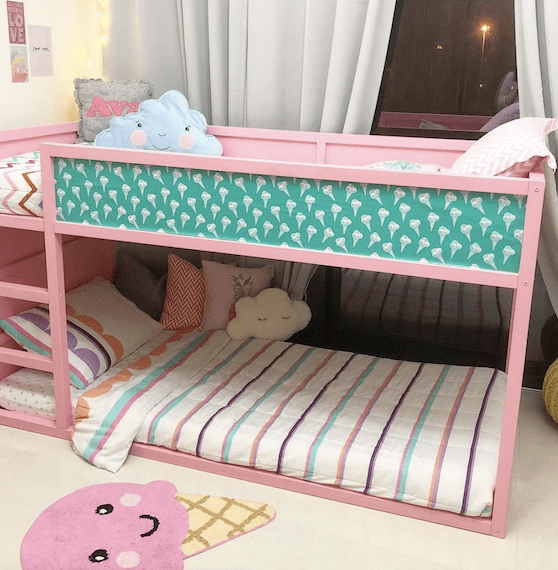 The Kura reversible kids bed in white and pine is Scandi chic but few children appreciate a paired-back Scandinavian approach to design. If your little one prefers pink to pine, KonceptGrey's Kura bed hack is likely to make bed time a lot more fun! Simply add a lick of paint to the pine edging and decorate the plain white panels with wrapping paper applied with spray adhesive.
11. PS Cabinet Makeover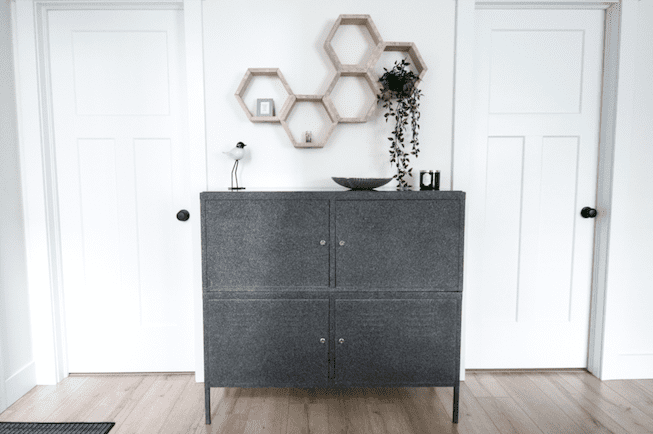 Love the retro PS Cabinet? Make your PS twice as nice by stacking a second unit on top to create a cool sideboard with plenty of storage.
The Little Wild One explains how to remove the legs to combine two units into one but warns against trying to replicate her stippled paint effect as it can be a costly affair. It's nice to know we're not the only ones who have experienced the frustration of a #DIYFail!
12. Kids Play Kitchen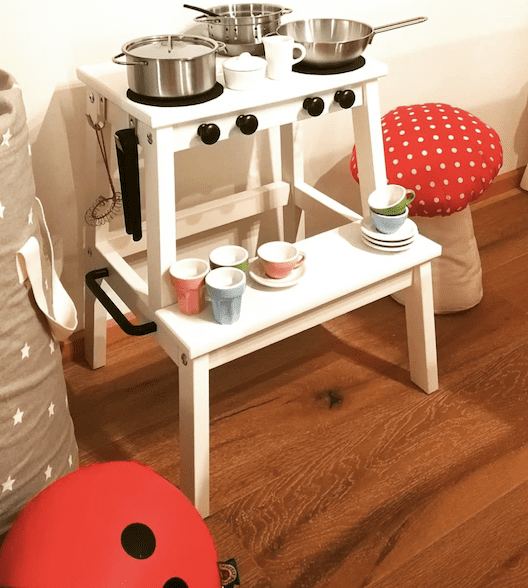 Got a mini-me desperate to copy everything you do? Next time you're whipping up a meal, keep them entertained with a kitchen of their own.  You could splurge on on the Duktig play kitchen, which sells for $129, or save your coins by spending only $18.99 on a Bekväm step stool that can be converted into a mini stove in a few simple steps.
Glue 2-3 place mats or coasters to the top of the stool to act as hobs (or just paint them on), then attach knobs to the front panel for your stove controls and hooks to the side to hang utensils. Bon appetit!
13. Drawers to Desk
The DIY equivalent of a Ladette to Lady style makeover, this transformation of a chest of drawers into a rolling desk is nothing short of incredible. The brainchild of Diane from In My Own Style, who was inspired to replicate a piece of antique furniture owned by her college room mate, this hack is a doozy. Best of all this project is compatible with a number of Ikea drawers including Malm, Kullen and Rast.
14. Wrapping Paper Holder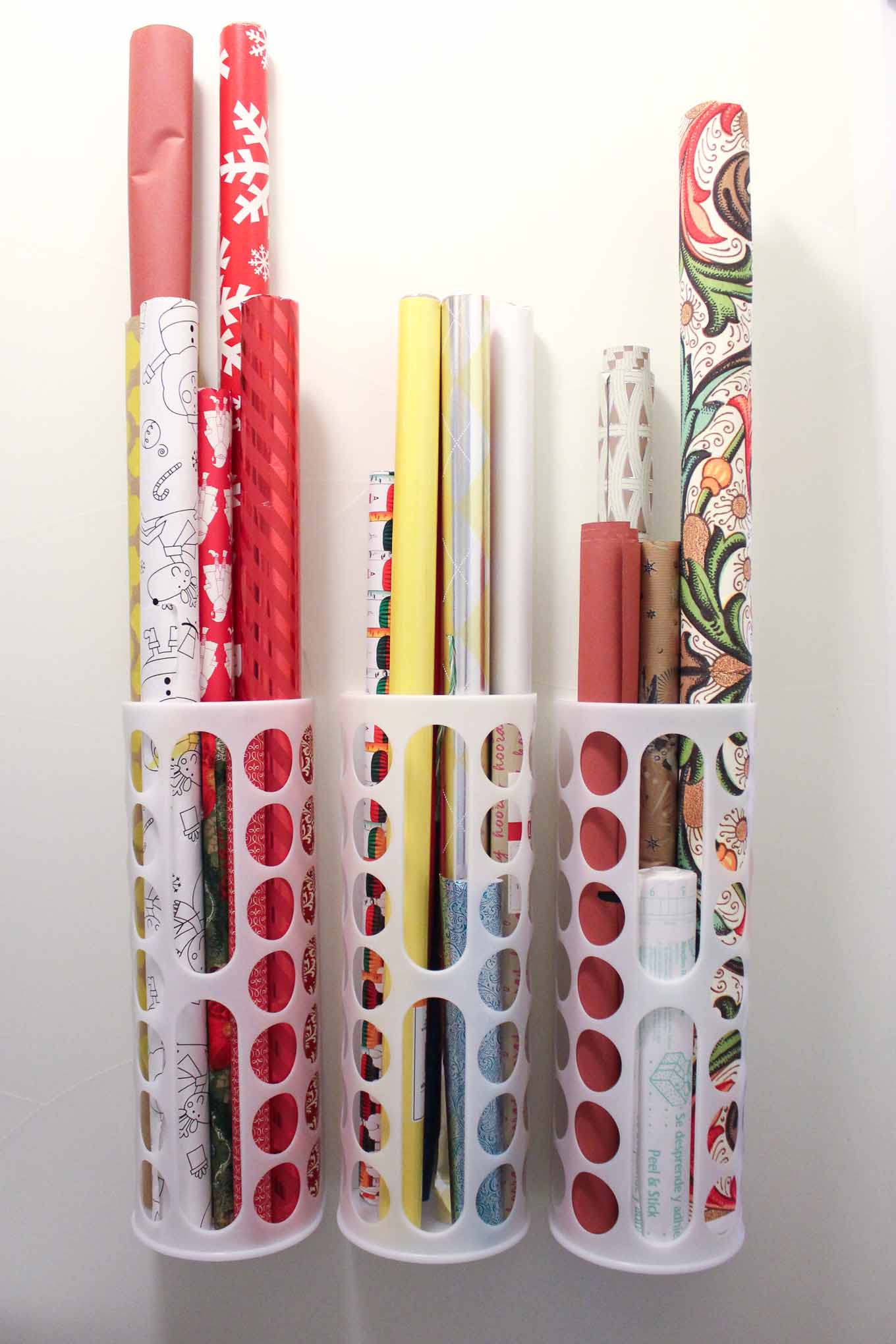 In the months since the plastic bag ban came into effect many Aussies have found themselves stuck with a seemingly useless Variera plastic bag holder. Make & Do Crew has a solution that is perfect for an arts and crafts room! At 45cm high and 13cm deep Variera is the perfect wrapping paper holder. Depending on the size of your paper you can conveniently store around five to six rolls in each container.
15. DIY Donut Wall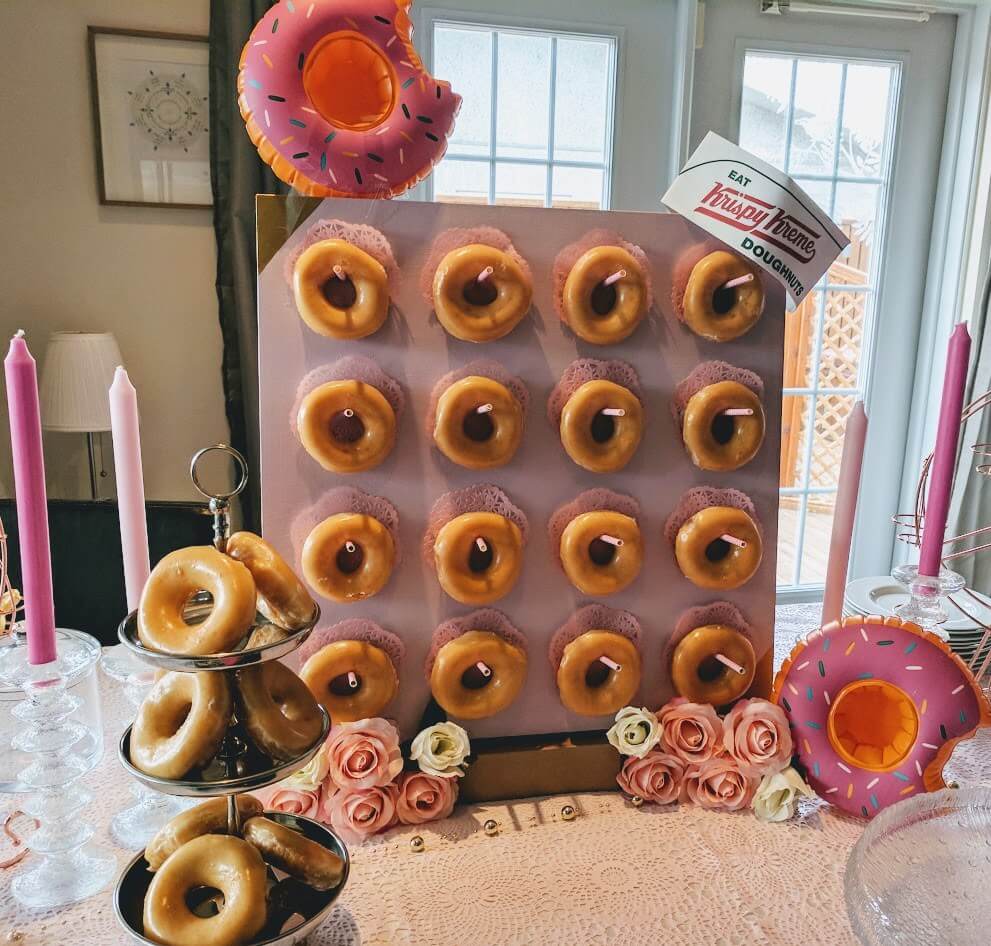 Cement your status as host/hostess with the mostest by treating your friends and family to a donut bar at your next party. Click here to check out Ikea Hackers' guide to transforming a humble Lack coffee table into the donut bar of your dreams with paper straws, doilies and paint. Perfect for baby showers, birthday parties or any other event that would be enriched with a wall of donuts (so….everything).
16. Bedside Table with Bulk Storage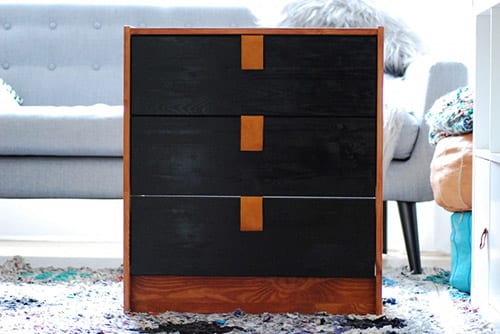 Never lose track of your phone charger, slippers, book or air conditioning remote ever again with a bedside table that's brimming with storage. A cost effective alternative to mid-century night stands that often retail for $500+, this Rast hack by Ferren Gipson, as featured on DesignSponge, is cheap yet chic, with three generous sized drawers for all of your essentials.
You'll need wood filler, leather straps, teak stain, black paint, nails and strong glue to execute this fabulous project.
17. DIY Desk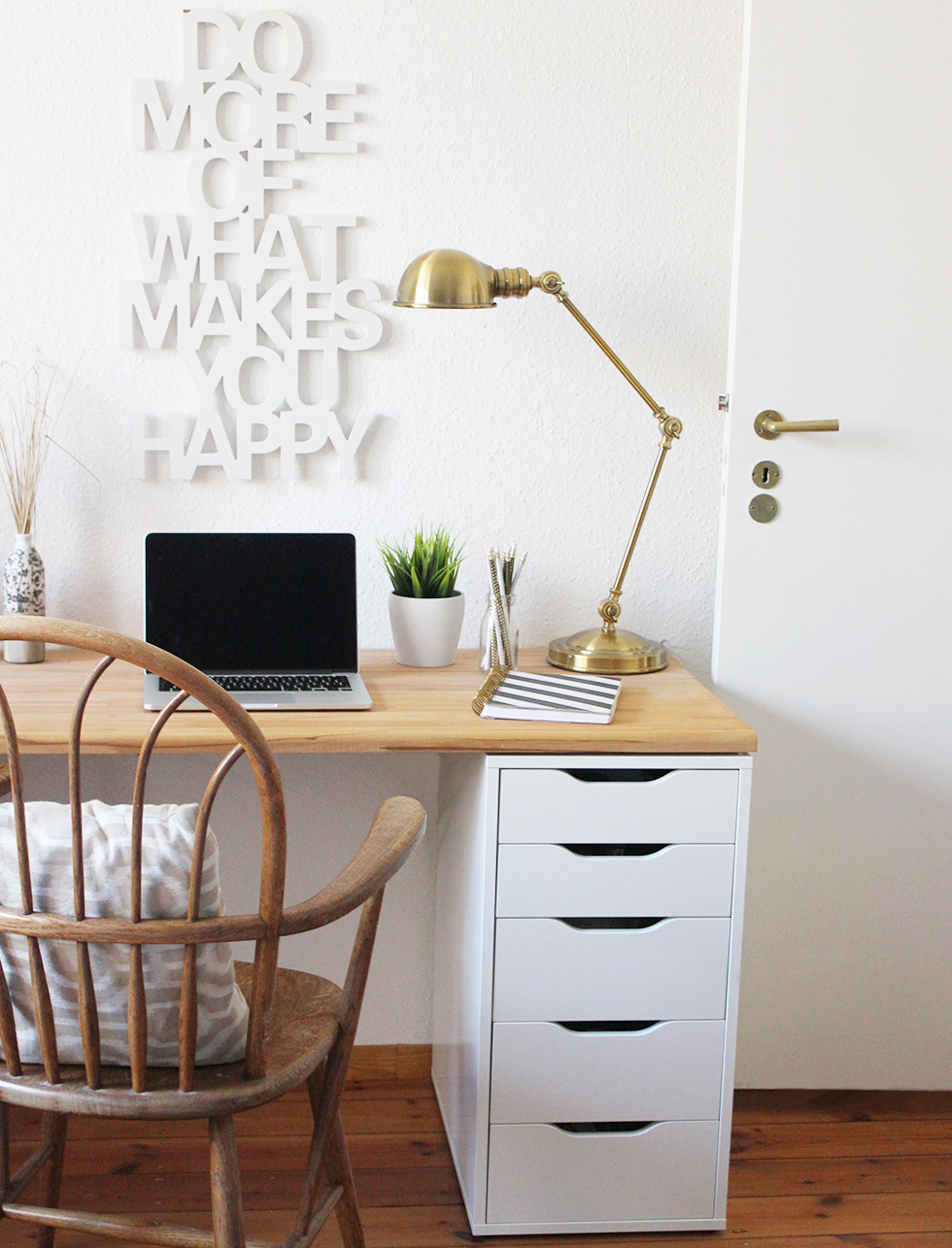 Don't let an uninspiring work station put you off cramming for an exam or completing an important project. Create a productive environment on a budget with a desk made from two sets of Alex drawers with a Karlby worktop positioned on top.
Ideal for students, artists or anyone who spends long hours at their desk and needs plenty of room to spread out, this hack can be modified to fit just about any space – simply add more drawers or a longer worktop to maximise your available area.
Beauty Resort's blog post about this Ikea hack is written in German but the concept is so simple that the language barrier shouldn't be a problem.
18. Trone Storage Transformed
Turns out that even the folks at Ikea love a good Ikea hack! We're feeling so inspired about the limitless possibilities of the Trones shoe cabinets after reading this blog by the Swedish furniture giant.
From tidying up entertainment areas to ensuring Fido's most treasured possessions never get lost, all the way through to keeping champagne chilled during an al fresco affair, it turns out Trones has far more to offer than we first thought!
19. Luxe Mirror Side table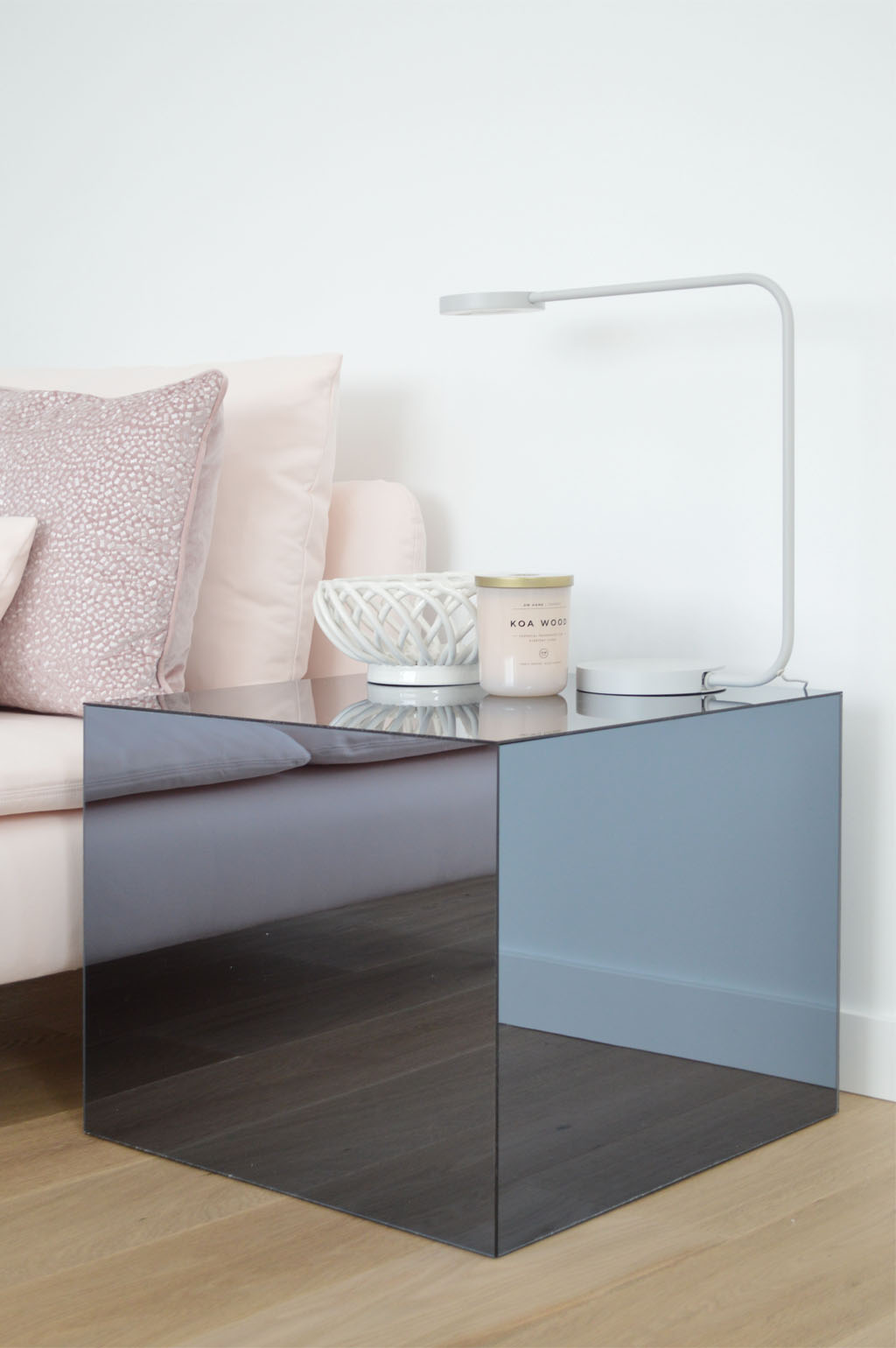 Lack just got luxe thanks to this amazing hack by Ich Designer! Offering a truly stunning end result, this project doesn't even require any special tools – just scissors, double sided tape and acrylic plexiglass that has been cut to size by a professional*.
Use your luxe Lack as a bedside table to give your bedroom a boutique hotel vibe, or place it in the lounge to attract 'ooohs' and 'aaahs' from everyone who stops by for coffee.
*There are a number of acrylic sheet retailers across Australia who supply plexiglass in a variety of colours and will cut pieces to size – try Allstar Plastics or Cut to Size.
20. Handpainted Art Armchair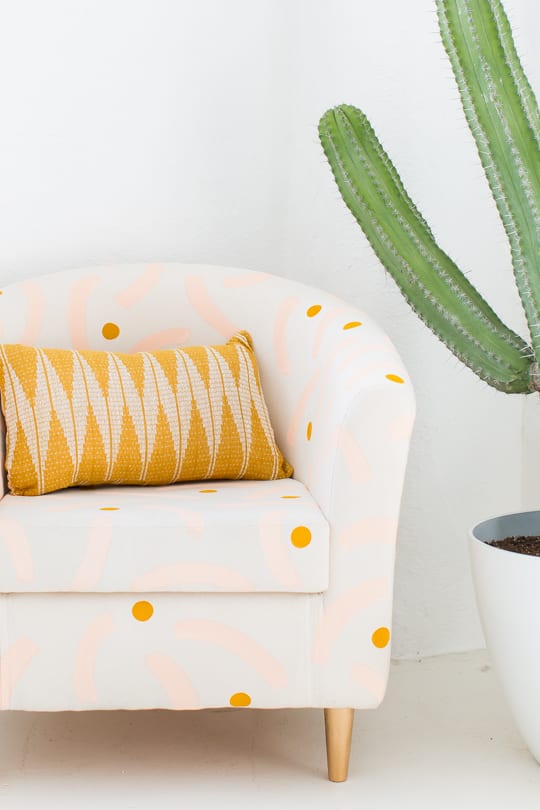 Unleash your inner artist with this super simple armchair hack by Sugar & Cloth. To breathe new life into a plain white armchair, like Tullsta or Grönlid, Sugar & Cloth recommends a couple of paints and plenty of creativity.
Plan your pattern on a large piece of paper beforehand then go to town with a foam brush and foam pouncer (available at art supplies stores). If you're nervous about starting with an armchair sized canvas, work your way up to this project by decorating a plain cushion cover first.
21. DIY Dog Raincoat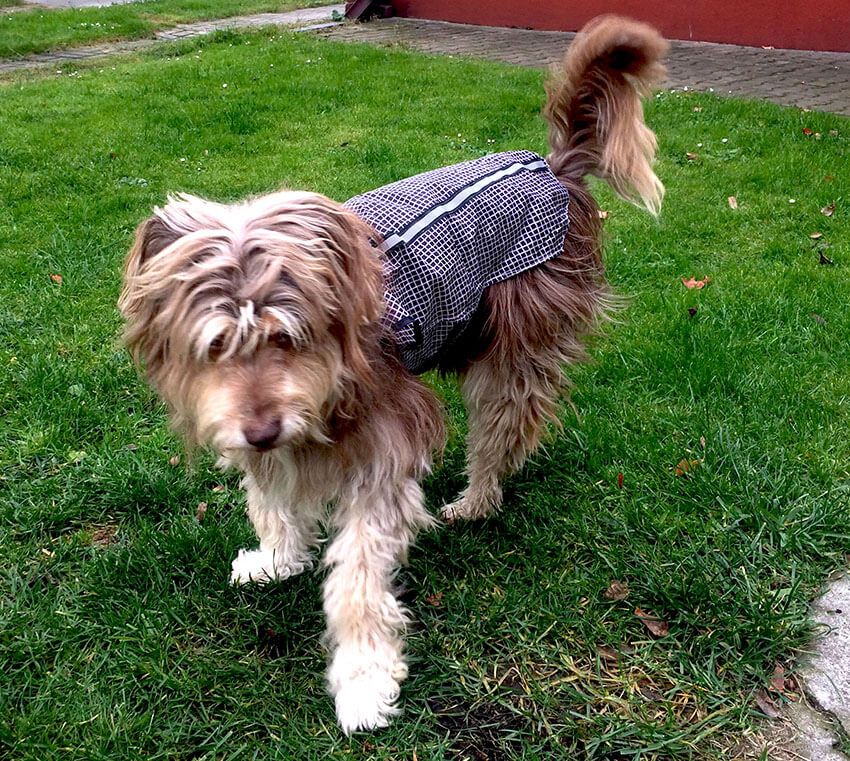 A raincoat is a necessary accessory when it's raining cats and dogs outside and your best friend really needs to answer the call of nature. Keep their coat dry and ensure you never lose track of them (even in low light situations) with this pawfect project by Ikea Hackers. You'll need a Knalla shopping bag, an elastic band, a reflective strip, velcro and a sewing machine to complete this project. No sewing machine? Hire a seamstress to help.
22. Wall Mounted Drawing Station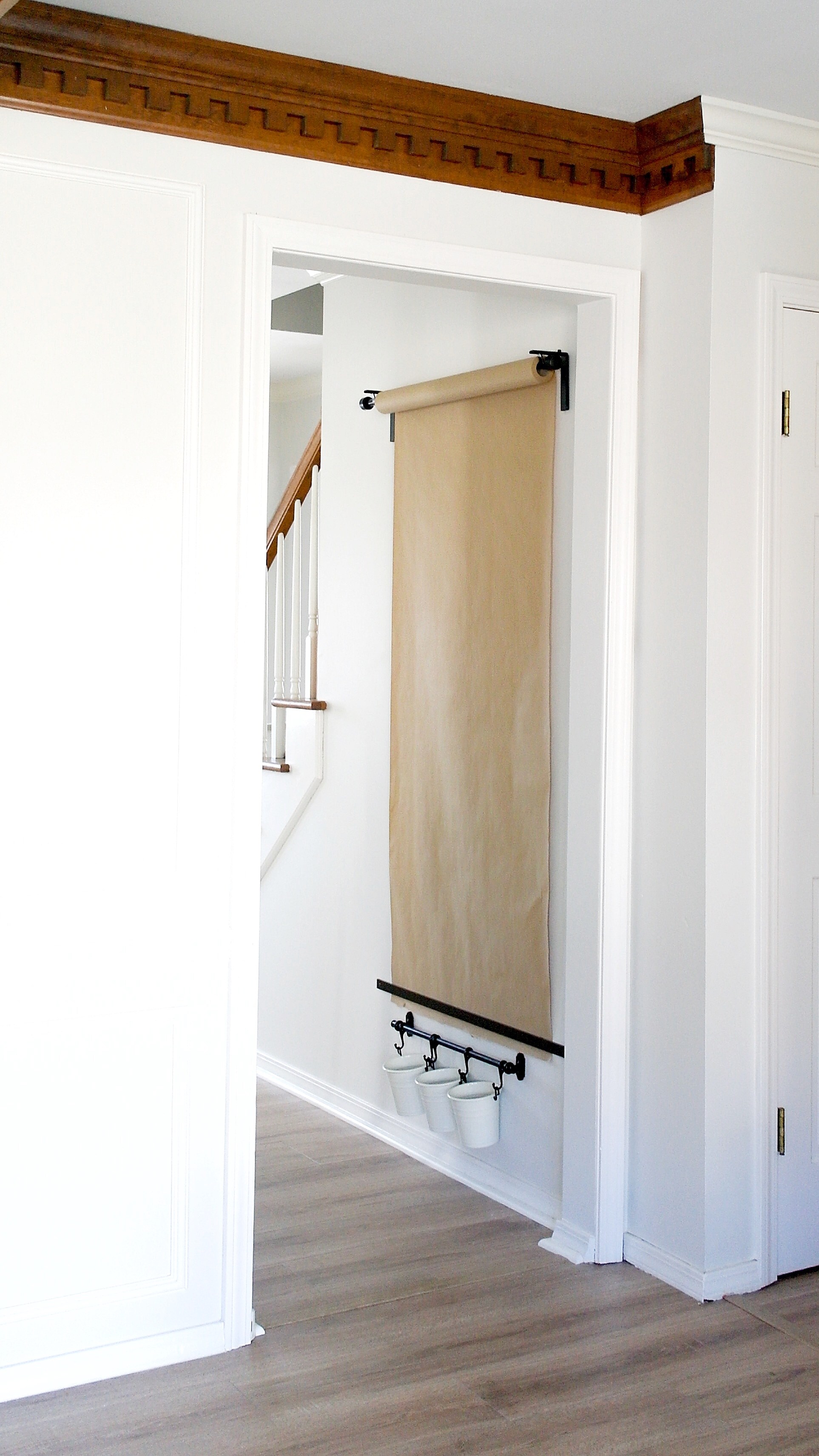 It's a simple fact of life that kids love to draw. And once they run out of paper, they're likely to turn their attention to your lovely clean walls, eeep! Keep them occupied for hours on end with a wall mounted easel that stores more paper than they'll know what to do with!
Create the canvas for your budding Botticelli's next masterpiece with Ikea's Racka curtain rod, Raffig finials and Betydlig curtain rod holders, plus a large roll of craft paper.
23. Salad Bowl Modern Lighting Fixtures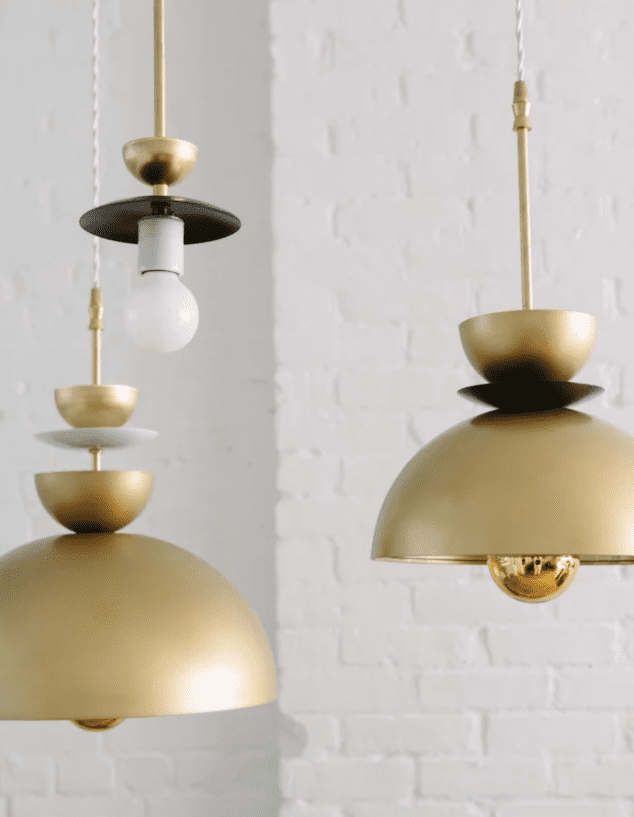 You don't make friends with salad but you can certainly make some pretty amazing lighting fixtures with salad bowls, as this hack by Apartment Therapy proves.
Ranging from $1.99 to $9.99 the Blanda Blank serving bowls are an affordable alternative to expensive designer pendants. Check out the full DIY, covering everything from painting to drilling and wiring, here.
24. Scandi Style Wall Organiser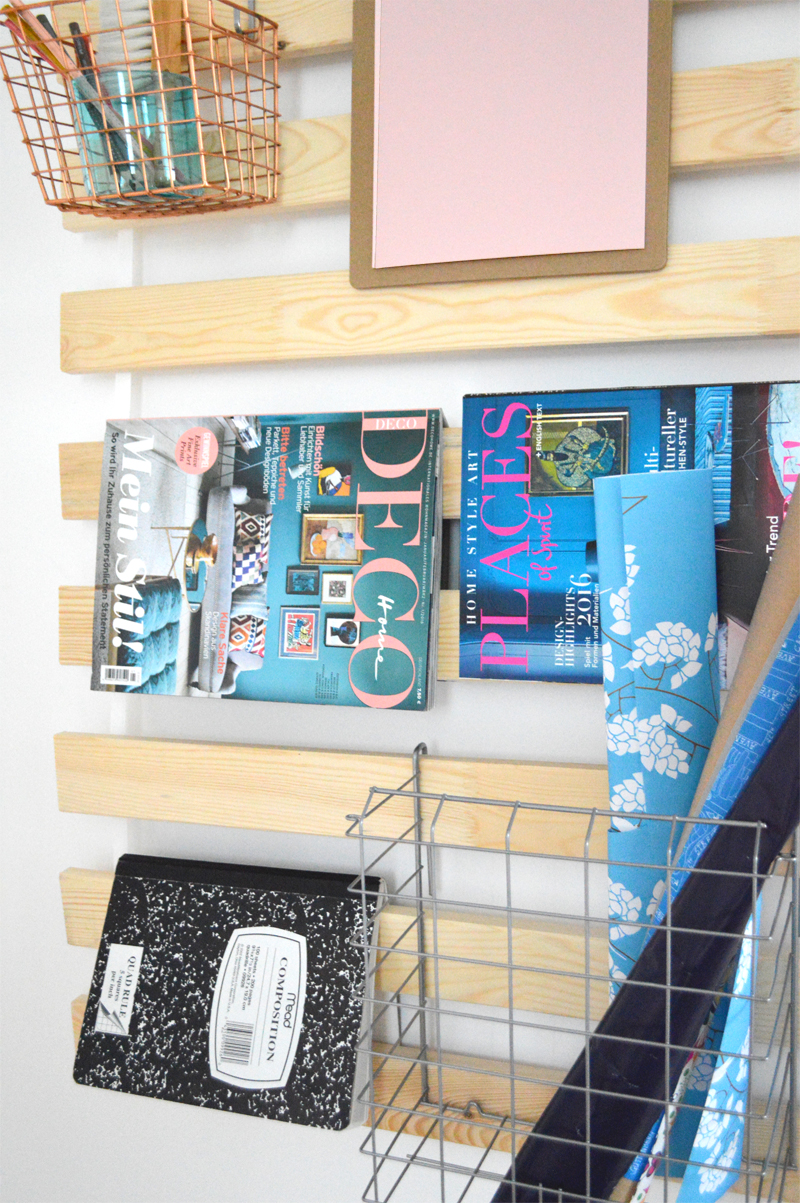 A slatted bed base belongs in the bedroom, right? Not necessarily! Although designed to support your mattress, it turns out the Luröy slatted bed base is also a great tool to help keep your bathroom, laundry, kitchen and study organised.
When hung from a wall with two sturdy hooks Luröy instantly becomes a base plate from which you can hang baskets, bags, magazines, clipboards and even shoes. Check out Ich Designer for bulk Luröy inspo.
25. Colourful Rattan Chair Yarn Bomb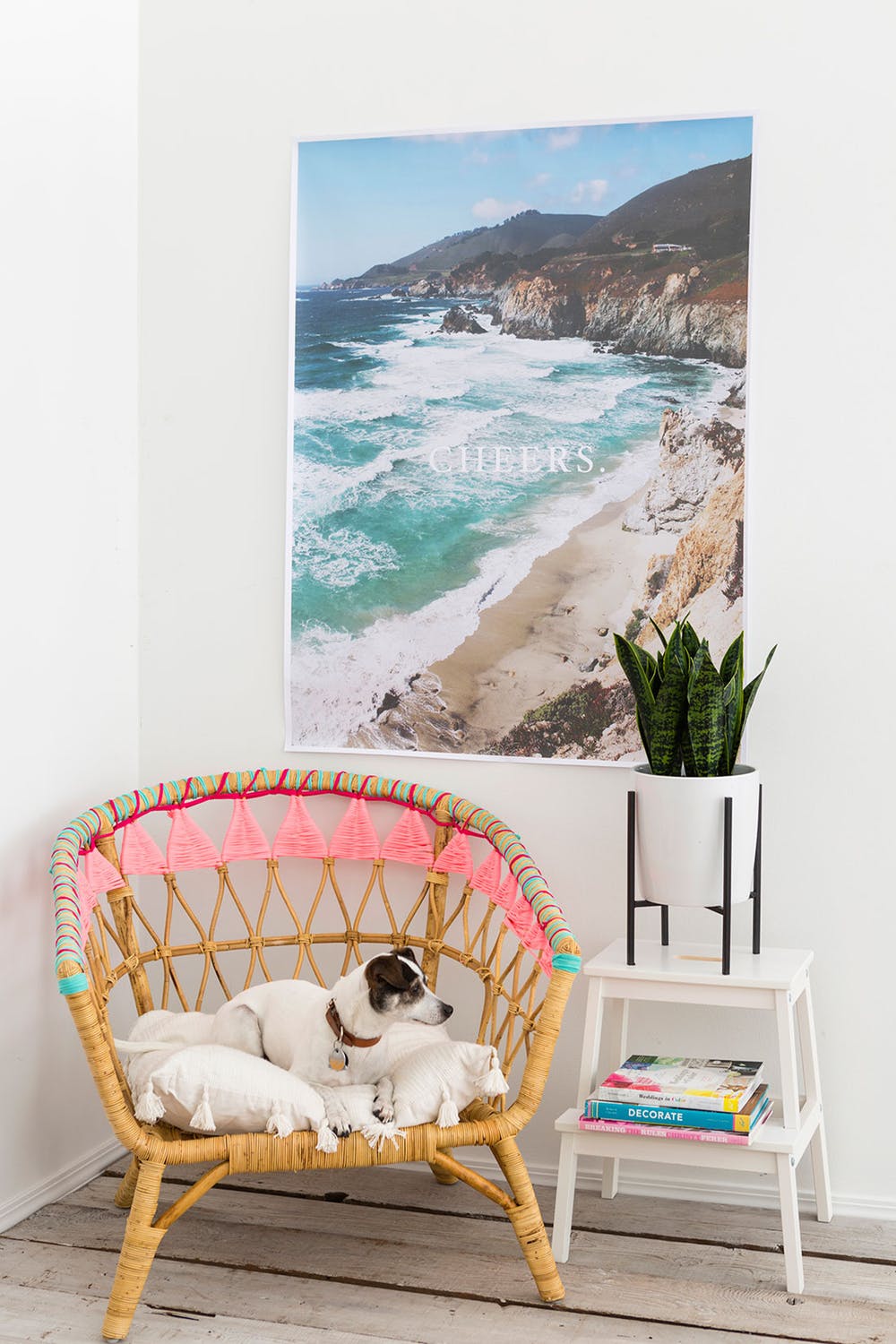 Add a pop of colour and personality to any area with a yarn-bombed rattan Stockholm chair. Yarn bombing, the practice of covering objects with crochet, is easy-to-do, especially with step by step instructions by Brit + Co.
Feeling particularly thrifty and/or eco-friendly? Instead of buying yarn you can also use strips of jersey cut from old clothing.
26. Vittsjö Colour Upgrade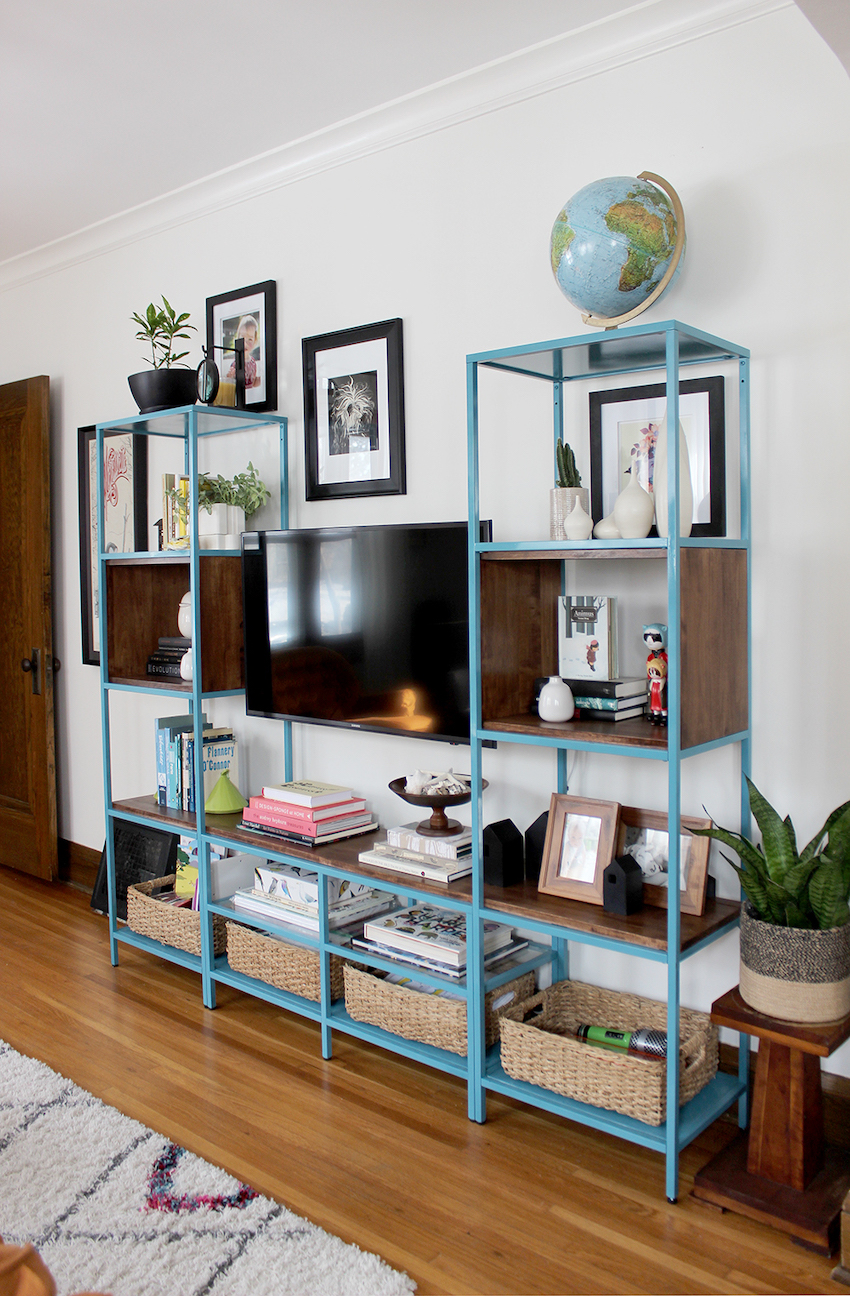 Vittsjö is one of Ikea's most-hacked items and with good reason – it's such a versatile piece!
If the black-brown finish of Vittsjö isn't to your liking, change things up with a couple of cans of spray paint in a colour of your choice. But why stop there when you could also add wooden panels to box in some of the shelves like Happy Go Home did?
27. Faux Fur Stool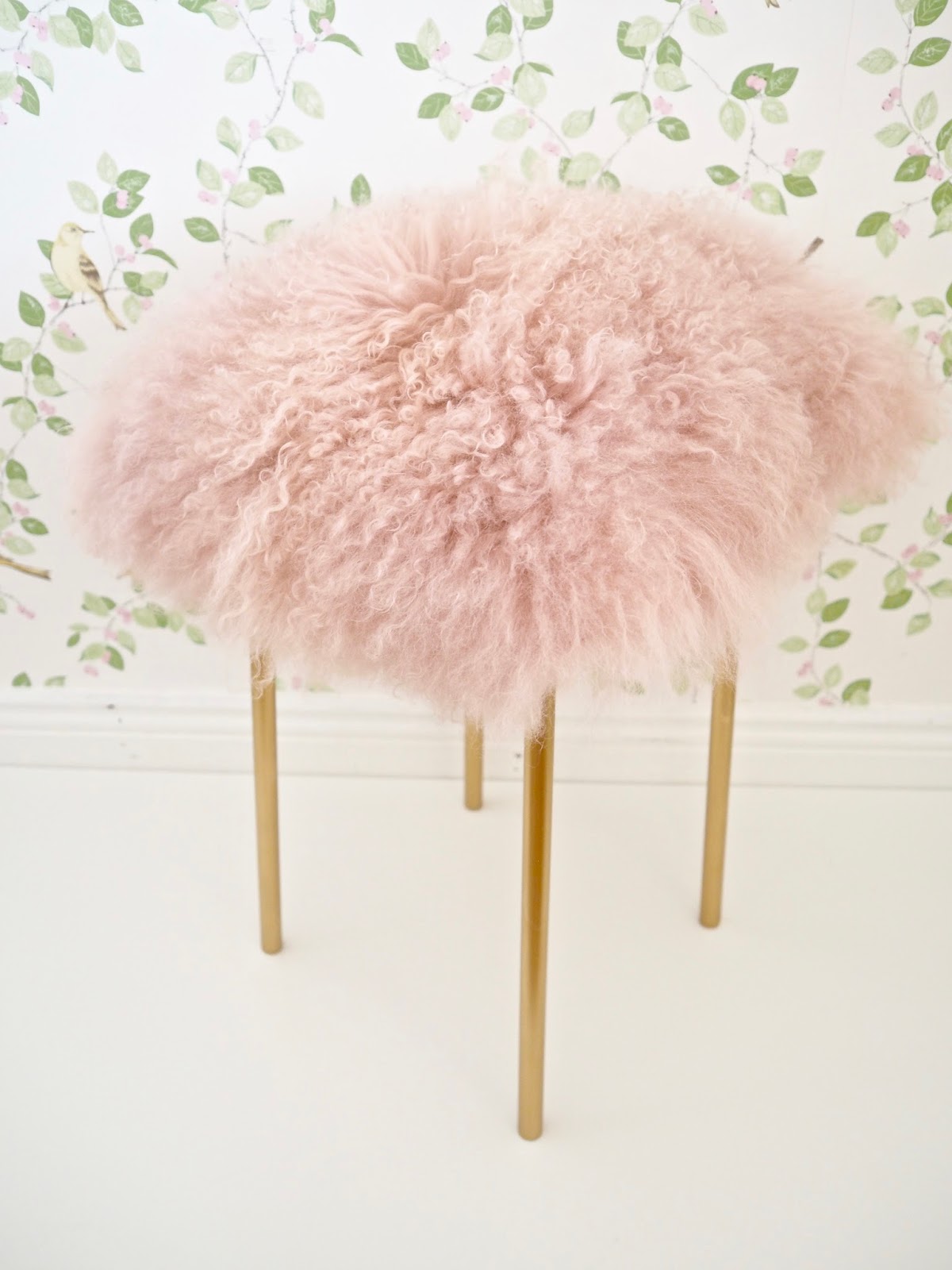 Nineteen years into the 'new' millennium and millennial pink is still proving to be one of the most popular colours on the colour wheel! Add a touch of this on-trend hue to your dressing area with a quick and easy Marius stool hack.
To convert your Marius into an Insta-worthy seat invest in a faux fur cushion (in millennial pink, of course!), sharp scissors and a screwdriver. Click through to the Dainty Dress Diaries for more.
28. DIY Cardboard Toys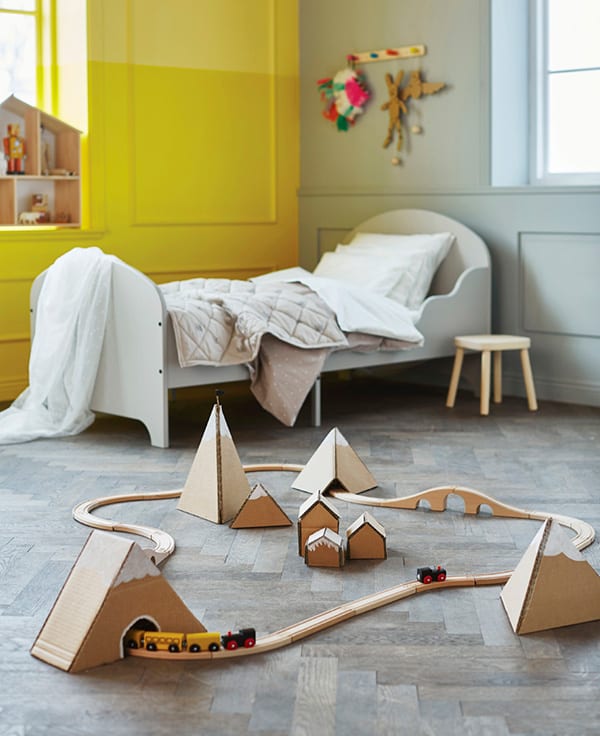 A shopping trip to Ikea is enough to send any child loopy. Reward their patience (and keep them occupied while you tackle the flat pack) by making toys from Ikea furniture boxes. Whether it's a cardboard stage, a jumping jack puppet or mountains to sit alongside a train set, the only limit to the toys you can make with Ikea boxes is your imagination! Get inspired with Petit & Small.
29. Movable Art Display Wall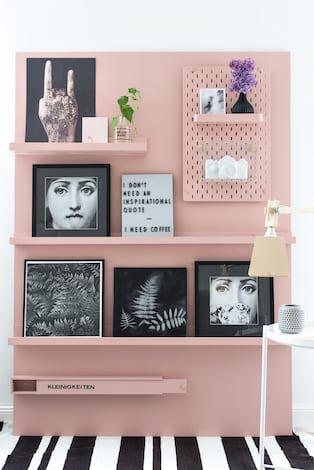 If your landlord has a blanket 'no hooks' policy, chances are your art collection is gathering dust in a corner somewhere. Give your favourite photos and paintings a place to shine, without voiding your bond, with a movable art wall.
Take a leaf out of Sinnen Rausch's book and create a movable art wall so beautiful that it's a work of art in itself with MDF board, a few Mosslanda picture ledges and artworks displayed in Ikea frames of your choosing.
30. Spice Rack Library Storage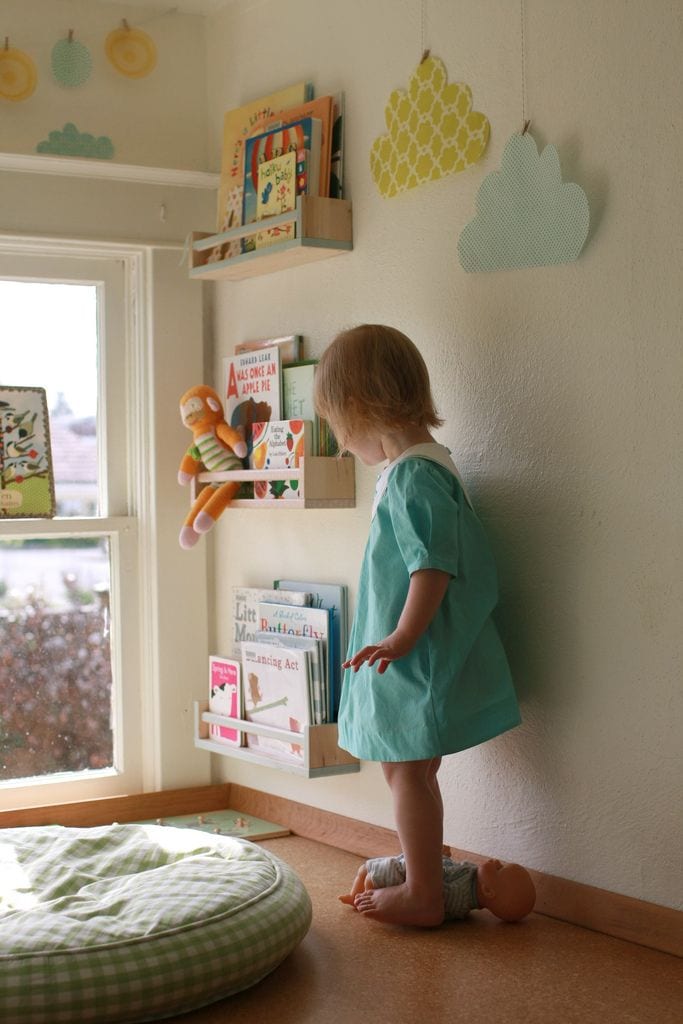 Encourage a love of reading from a young age by ensuring your little ones favourite books are always within reach. A beautiful way to display picture books of all sizes, and avoid piles of books on the floor, this hack by HomeEdit utilises the super affordable Bekväm spice rack.
Simply screw the racks to the wall at the perfect height for your kiddo, throw a couple of cushions on the floor and you've got a reading nook ideal for kids of any age. Depending on the colour scheme of your child's bedroom you can also paint the shelves to match.
That should keep you busy! Let us know in the comments if you know any other fantastic Ikea hacks or furniture transformations.
Inspired to keep transforming your home? Check out these 50 Kmart hacks!
Header image features Brit & Co, Arin Solange, Petit & Small and Kristina Steinmetz.
Need someone to build your IKEA flatpack furniture? Find a helping hand on Airtasker.