Hello, furmoms and furdads! As loving pet owners, we know you want your dogs to be comfortable – whether they're staying indoors or outdoors. After all, taking care of a dog doesn't just mean feeding and bathing them; You should also make sure they have an ideal place to rest and play.
And this brings us to dog house ideas! A quick online search of dog house ideas will show you plenty of variations, and we've gathered them all here for one quick overview. You could show your hired contractor or handyperson a photo of your dream dog house. Or, if you're feeling creative, you could dive into a DIY dog house for a more personal touch.
Here are 38 cool dog houses for inspiration.
Welcoming a new dog to your home? This crate training guide provides tips and tricks in house training your pet and helping them get comfortable in a new environment.
Outdoor dog house ideas
1. Pallet dog house 
Pallets, or panels of wood, are great materials for building dog houses. It's one of the most common materials you'll see on the internet. Aside from wood pallets, you'll need a pallet breaker, wood saw, nails, nail gun, wood glue, and sandpaper to create a pallet dog house.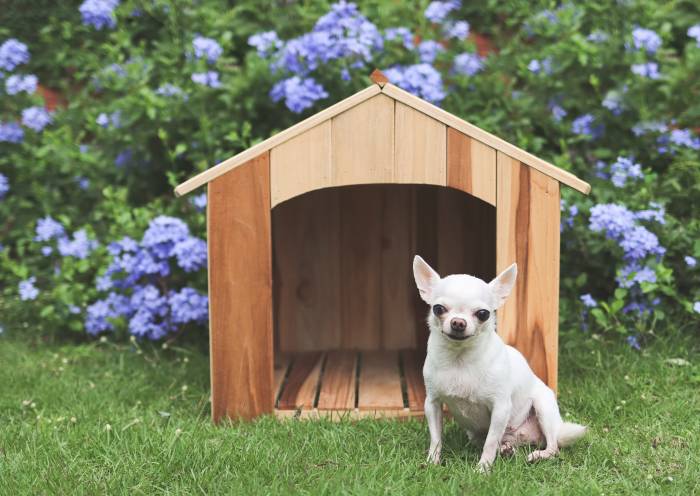 You can also check out many DIY dog furniture ideas to make with pallets.
2. Log cabin dog house 
Do you enjoy spending time with nature while staying in a log cabin? Your furry friend might feel the same way, too!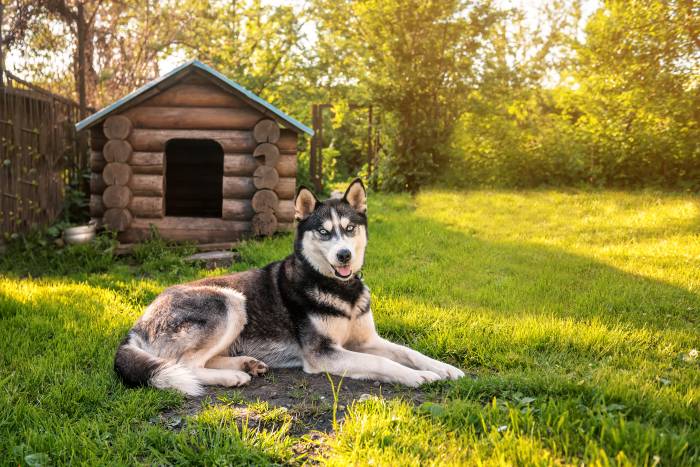 Compared to other dog houses, a log structure can provide more protection. A cabin dog house is also one of the best dog house ideas for winter. It's important to use wood with a non-toxic sealant or stain to ensure your dog house is water-resistant.
3. Dog house from recycled materials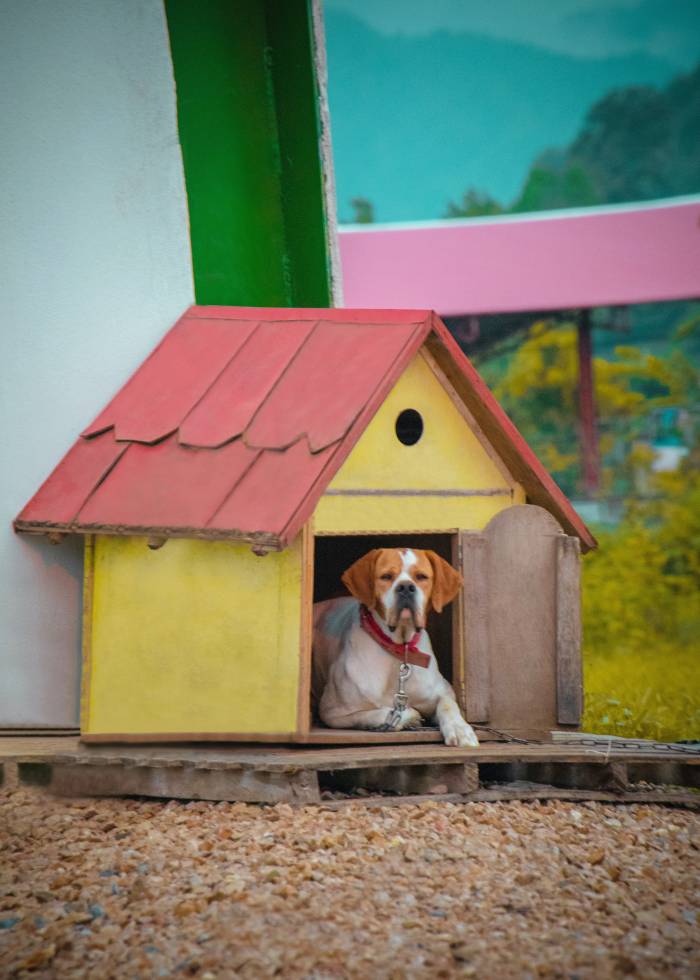 This one is for pet owners looking for eco-friendly alternatives. A dog house made from recycled materials will usually need old wood, non-toxic paint, and eco-friendly roof tiles. Aside from helping the environment, building a dog house from recycled materials can save you money.
4. Dog house with a porch or deck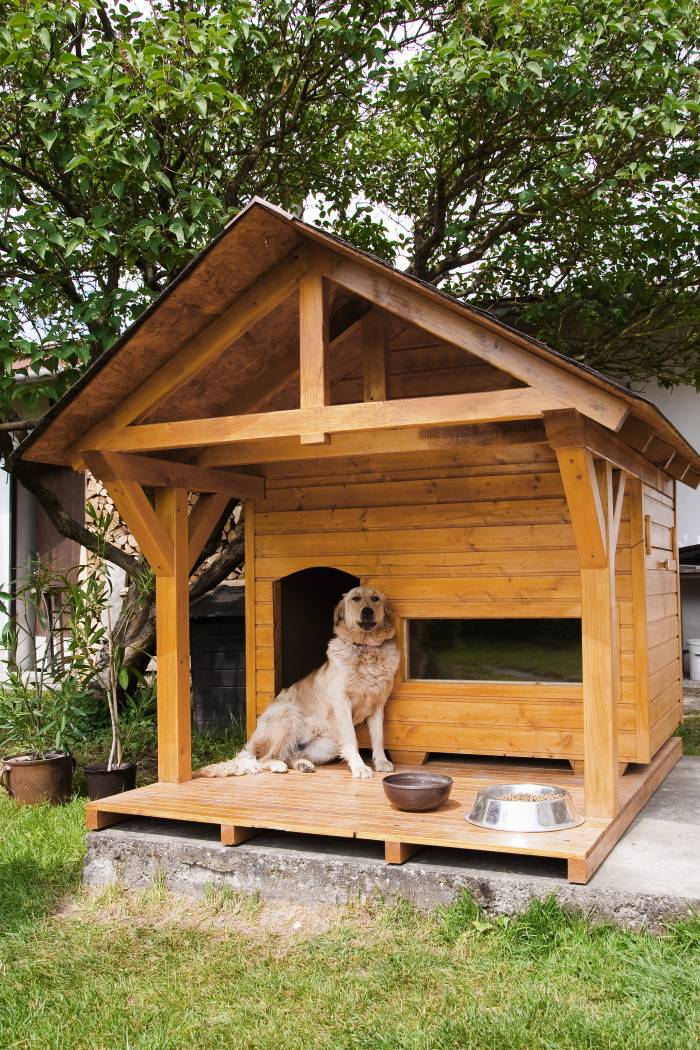 For a fun backyard dog house idea, why not add a porch to your furbaby's home? It's perfect for the summer months when your dog doesn't want to stay inside the house but doesn't want to sit directly under the sun either. Dog houses with built-in porches are mostly made of wood as well.
5. Plastic dog house 

The pros: Plastic houses are water-resistant and are super easy to clean. The cons: Your dog might get cold during winter. But don't worry,  you can address this concern by choosing warm bedding, adding a heating pad, and making sure the dog house itself is located in a warm spot.
6. Elevated dog house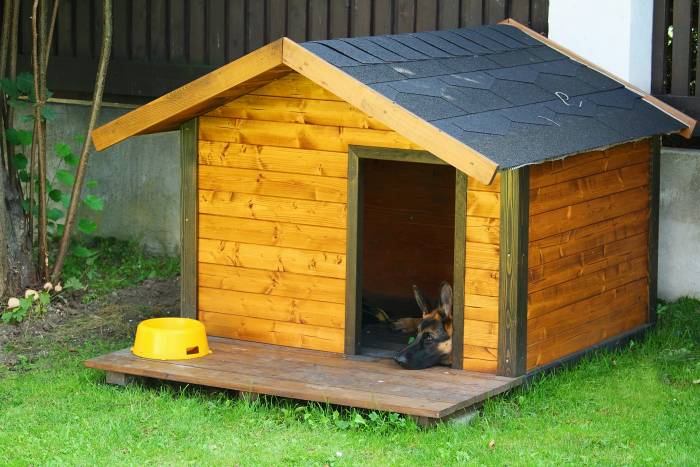 This type of dog house is recommended for colder climates. Keeping your dog's house elevated will prevent rain and snow from coming in and will keep your dog warm during winter. Your dog's house should be several inches off the ground.
7. Outdoor dog tent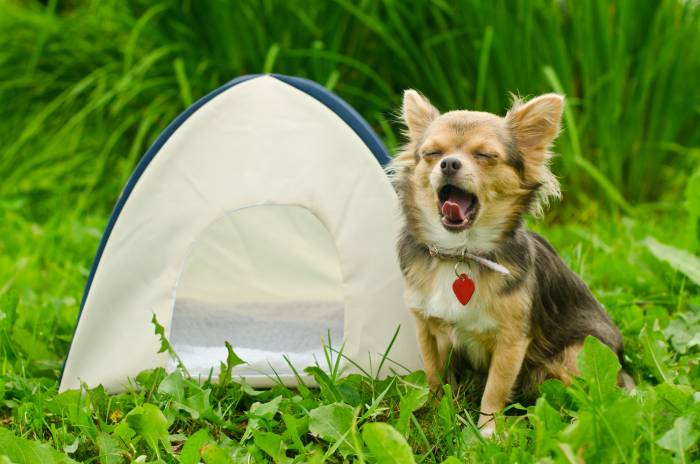 Looking for practical dog house ideas for the summer? You might want to consider an outdoor dog tent. When taking your pets on nature hikes or camping trips, it's important to make sure they're comfortable, too. Dog tents protect them from the sun – or rain – and give your dogs their own cosy space to rest while you're out fishing, cooking, playing sports, or swimming.
| | |
| --- | --- |
| | Are you a first-time puppy parent or seasoned dog owner? This ultimate dog care guide covers tips and techniques to be the best dog owner you can be. |
Indoor dog house ideas 
8. DIY dog teepee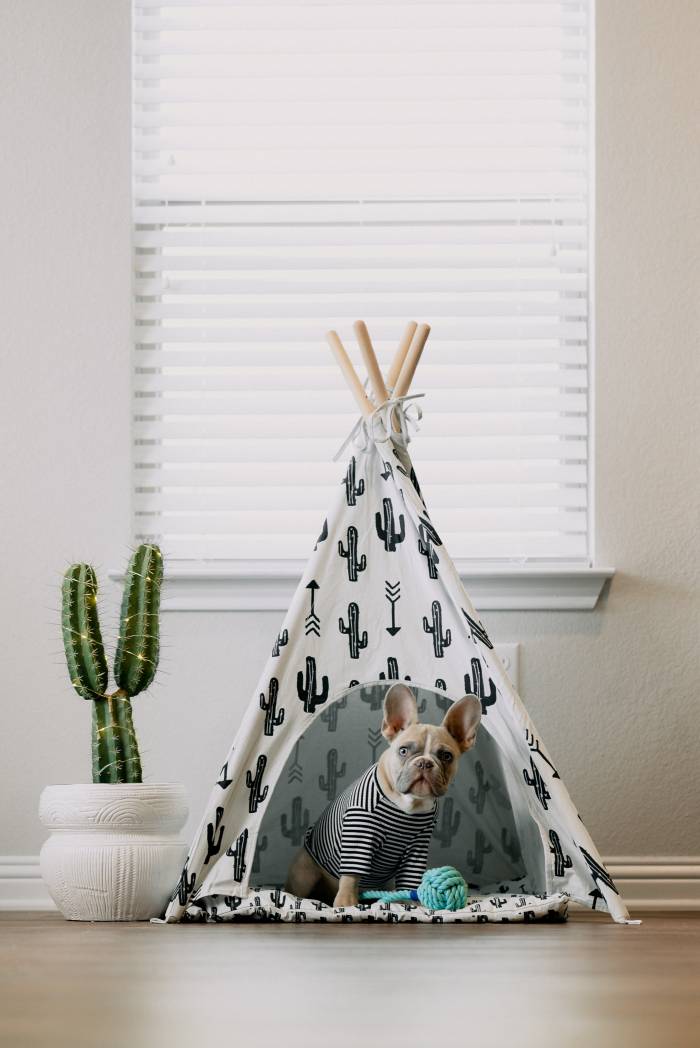 If your furbaby is more of an indoor pet, he probably has his own bed inside the house. However, his very own teepee could be an adorable upgrade! You can achieve this fun DIY indoor dog house idea using wooden dials, a blanket, cushions, and string. Don't worry, there are PLENTY of YouTube tutorials on how to create a dog teepee.
9. Indoor dog tent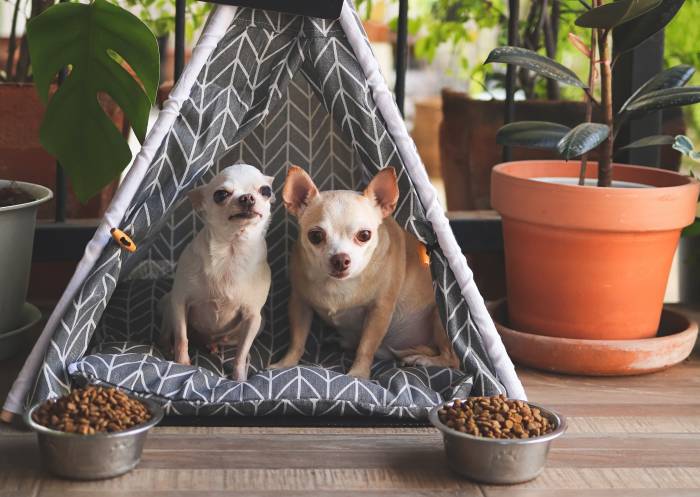 If DIY isn't your style, many ready-made dog tents on the market come in different prints and sizes. Most of these store-bought tents are portable and foldable, which means you could store the tent in a closet while your dog's not using it.
10. Fabric dog house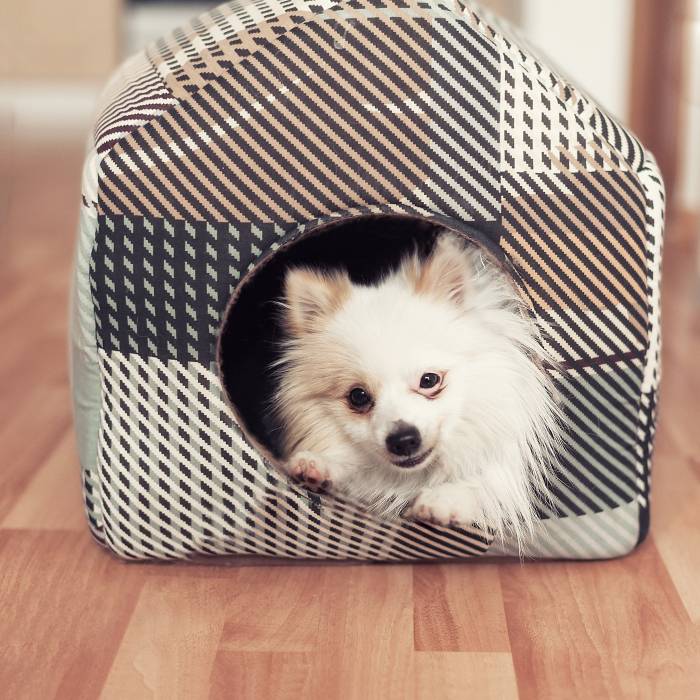 A fabric house provides your dog with even more privacy. It's ideal for when you have multiple dogs in the house that just love to cuddle! A fabric dog house is a furparent's go-to when looking for a variety of designs, since there are many fabric dog house options in pet stores and online shops.
11. Rattan dog house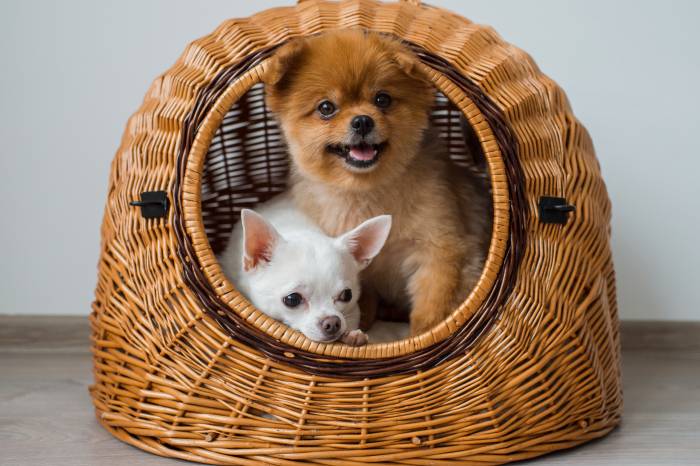 Yup, your dog's going to love this aesthetically-pleasing pet house! Rattan has been used for furniture and handicrafts for years, so it's no surprise it's now being used for pets as well. Make sure to add a cushion in the dog house so your dog can sleep comfortably.
12. Contemporary dog house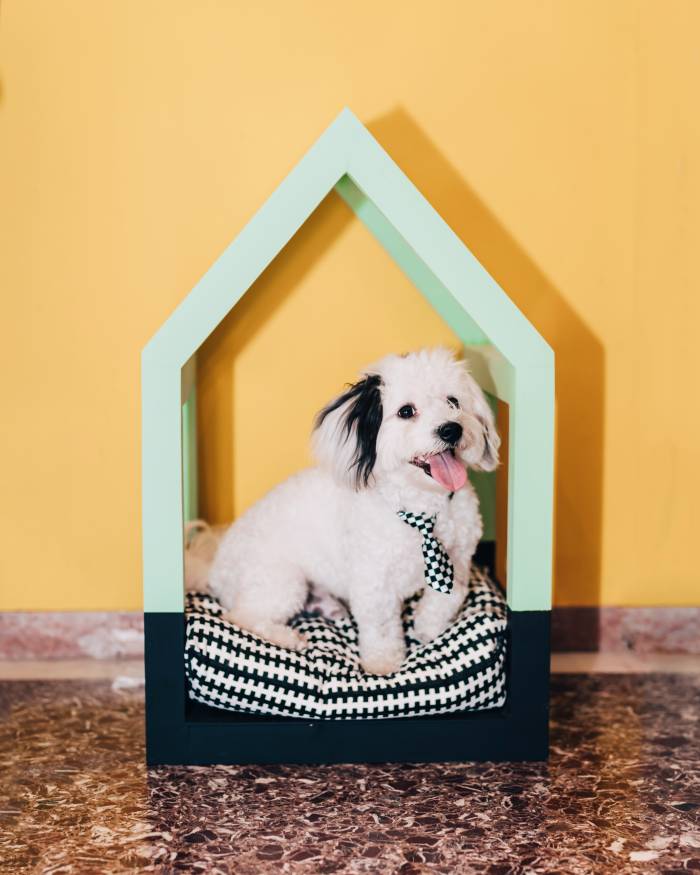 If your dog isn't a fan of enclosed spaces and prefers seeing you every moment of every day, a contemporary dog house could be the way to go. It consists of a bed, but still gives the illusion of a roof over your dog's head.
Paint ideas 
When it comes to dog house paint ideas, the possibilities are endless! However, there are some important things to consider before painting your dog's house.
First, it's essential to use non-toxic paint to protect your dog from harmful chemicals.
Second, the colour of your dog's house shouldn't be just for aesthetic purposes. White and other light colours are preferred for warm climates because they help keep your dog cool by reflecting the sun. For colder climates, dark colours can help keep your dog warm because these colours absorb heat from the sun.
Here are some fun dog house paint and decor ideas for your furbaby's future home.
13. Barn-inspired dog house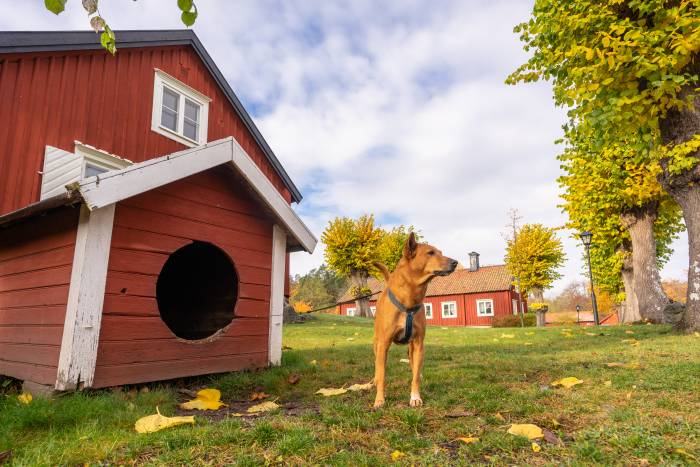 14. Tile print dog house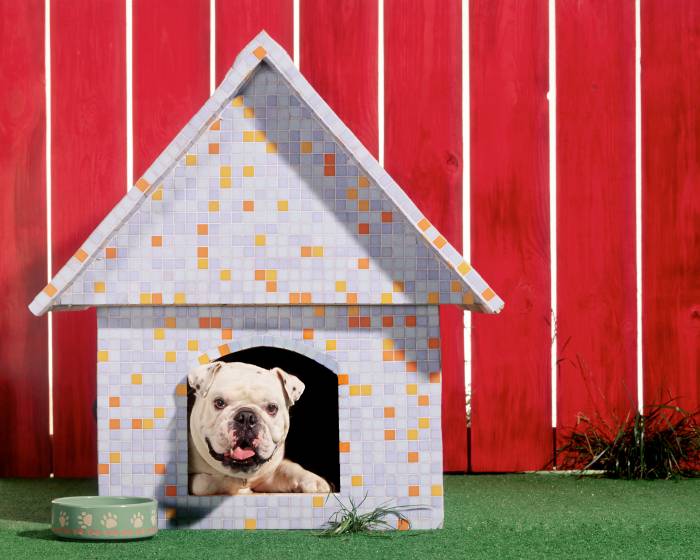 15. Floral dog house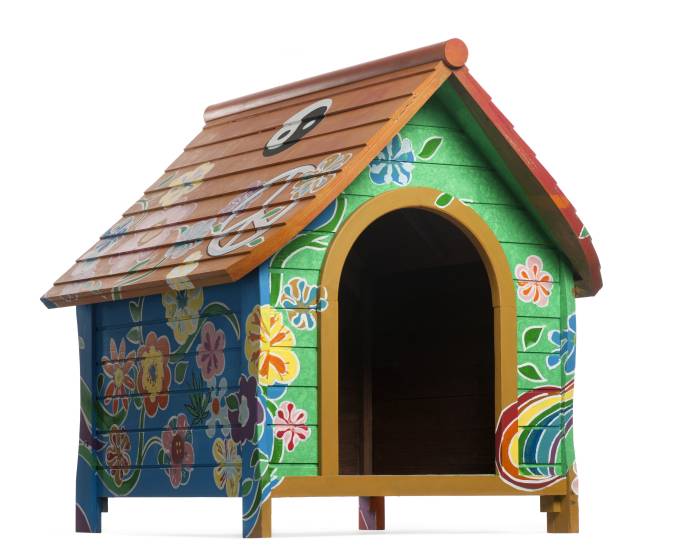 16. Pink dog house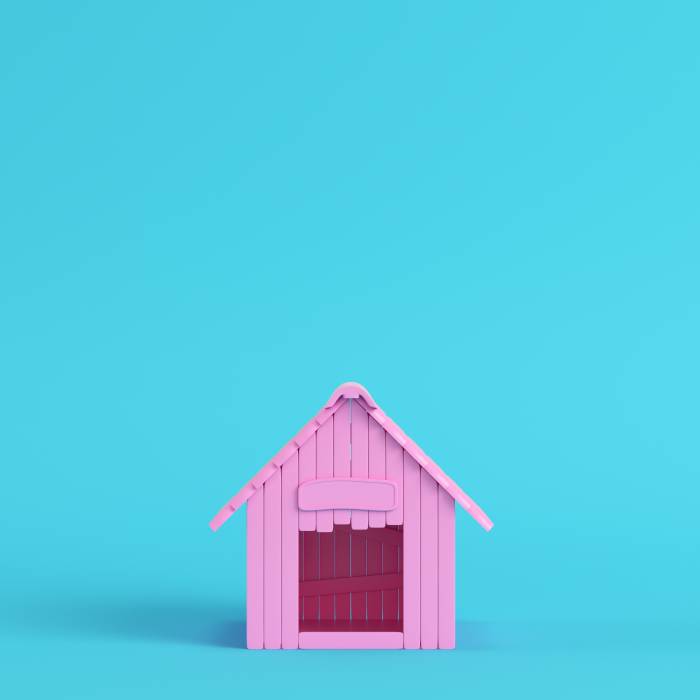 17. Beach house-inspired dog house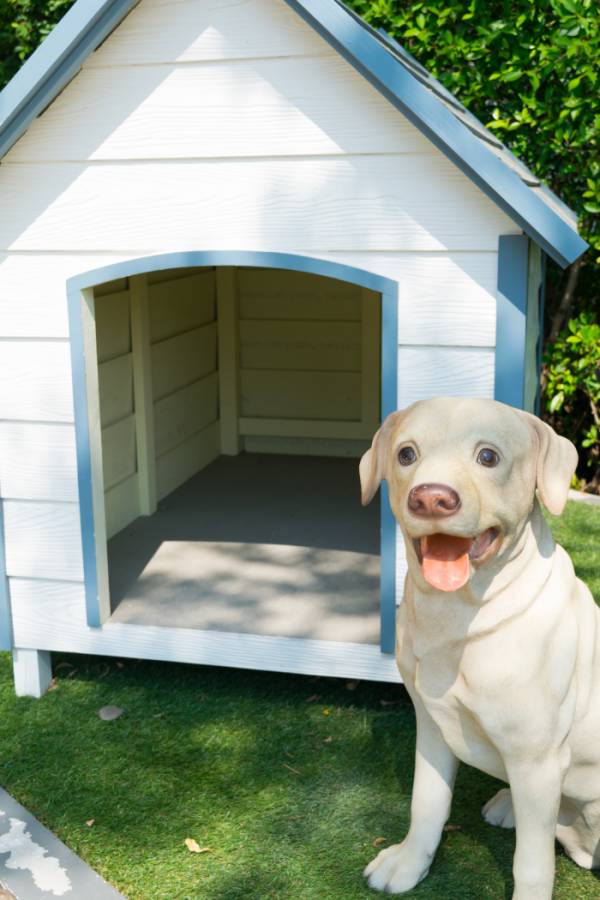 Creative dog house shapes
Who says dog houses need to be traditional? Here are some cool dog house design ideas if you're feeling experimental. (They're pretty Instagram-worthy, too!)
18. Diagonal dog house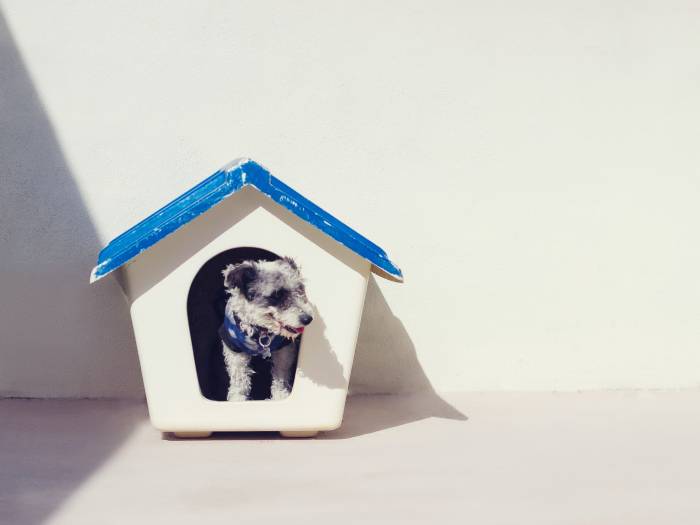 19. Igloo dog house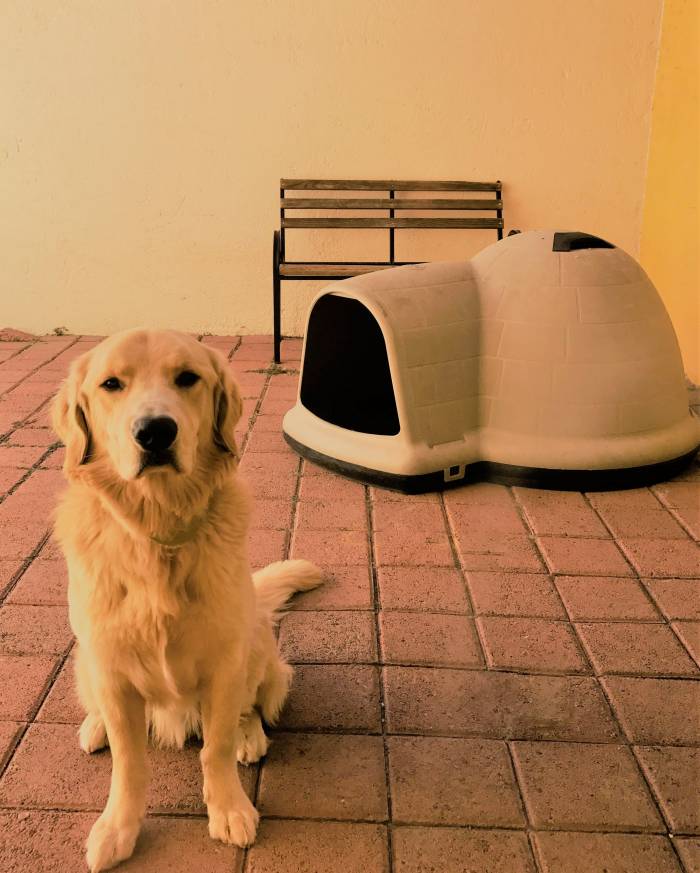 20. Triangular dog house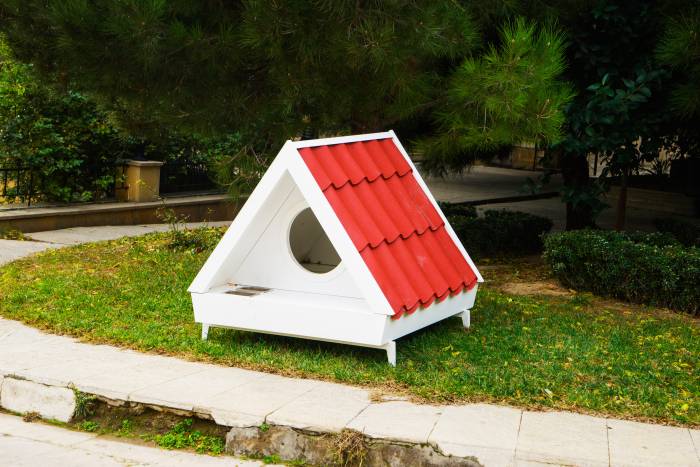 Dog house doors 
21. Dog house flap door 
This type of door consists of rubber or plastic attached to your dog's door. When going in or out of the house, your pet can nudge the flap with his face or body.
22. Dog house curtain door 
For smaller dogs, it might be best to choose lighter materials such as a piece of curtain or cloth for the door. Your dog's house should always be a place where your dog can relax and easily enter or exit.
23. Arched dog house door 
Do you have a big dog? This tall arched door makes for a fancy-looking dog house!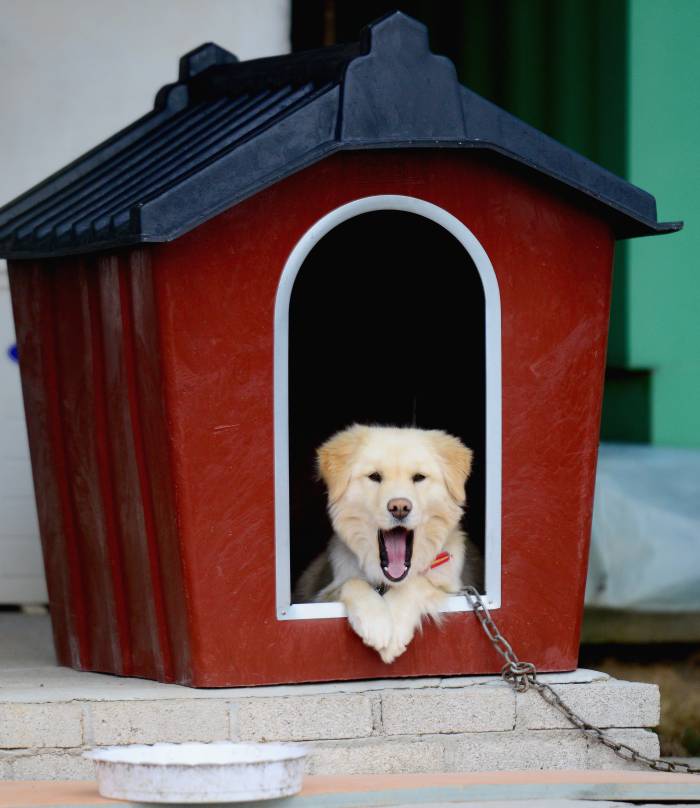 24. Personalised dog door 
Placing a dog door is optional, but if you want to make the house even cuter, you could put your dog's name in the doorway!
25. Crooked dog house entrance 
A dog house door doesn't have to consist of the usual straight lines or arched tops. This asymmetrical dog house door idea is a unique take on dog house design.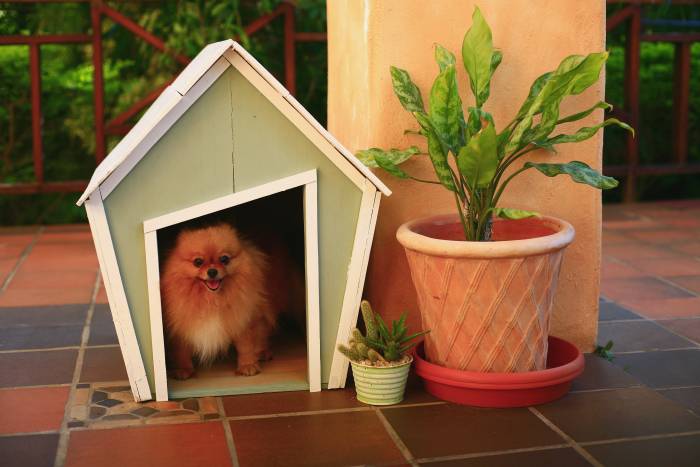 Roof ideas 
26. A-frame dog house roof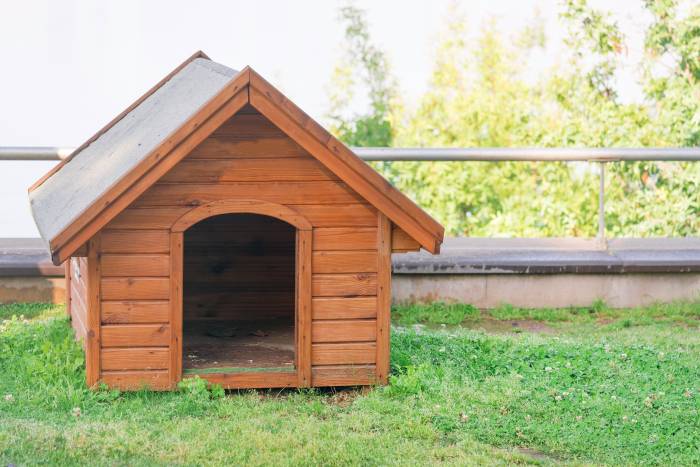 This style typically comes to mind when we think of a dog house – or a human house, for that matter. You can easily create an A-frame roof from a sheet of plywood or metal.
27. Slanted dog house roof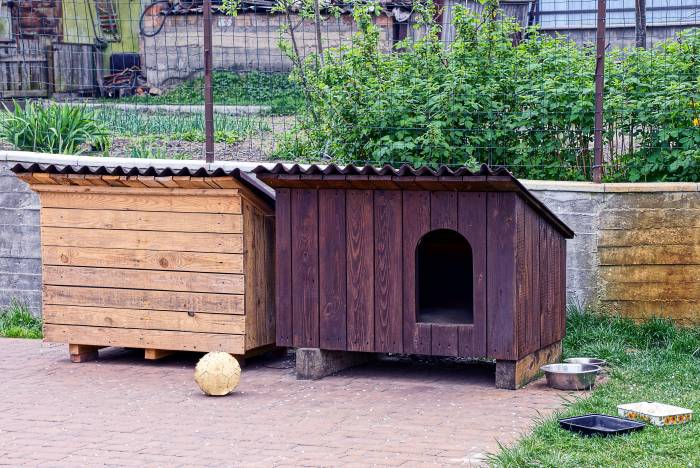 Instead of two pieces of wood or metal, a dog house with a slanted roof consists of only one long piece set at an angle to the ground.
28. Shingled dog house roof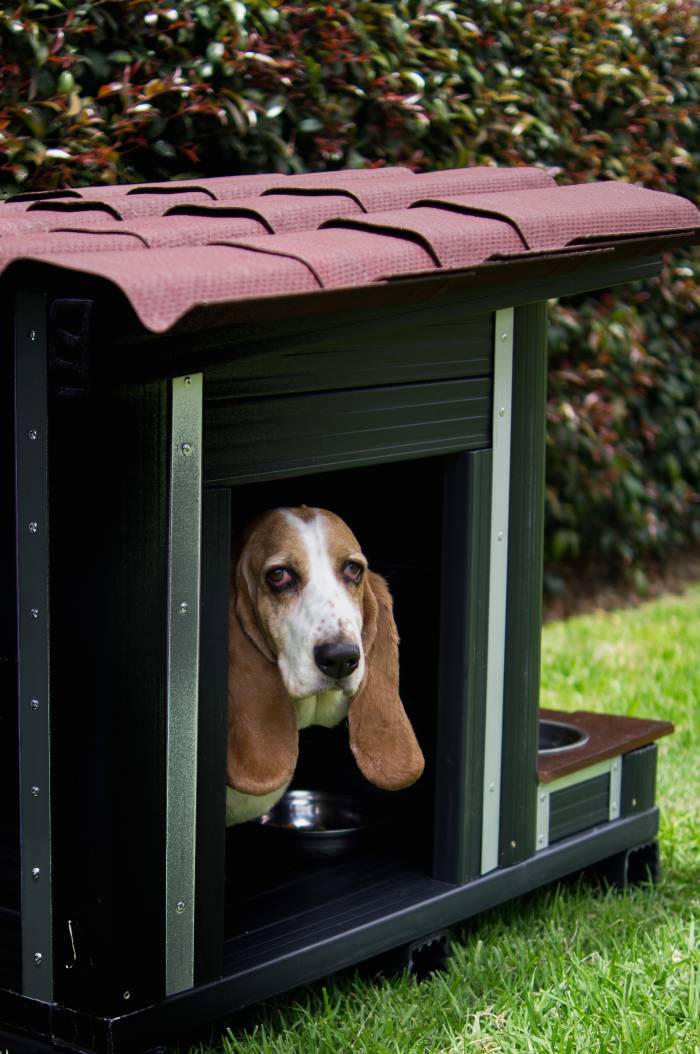 Asphalt shingles are famous for being durable and cost-effective. If you want a simple dog house but still want a splash of colour somewhere, you can get creative with your shingles!
29. Dog house with removable roof 
For easier access, there are plenty of houses with removable roofs in the market. This makes cleaning the dog house, airing it out, feeding your dog, and changing his bed hassle-free.
Big dog houses
We can't stress this enough: A dog house should be all about comfort. Large dogs need more space to sleep and roll around. This means they need a bigger house and you need to have a slightly larger budget. These considerations also apply when you have several dogs, and you're planning to keep them all in one space.
Check out some examples of large dog houses below if you're currently at a loss for ideas.
30. Large wooden dog house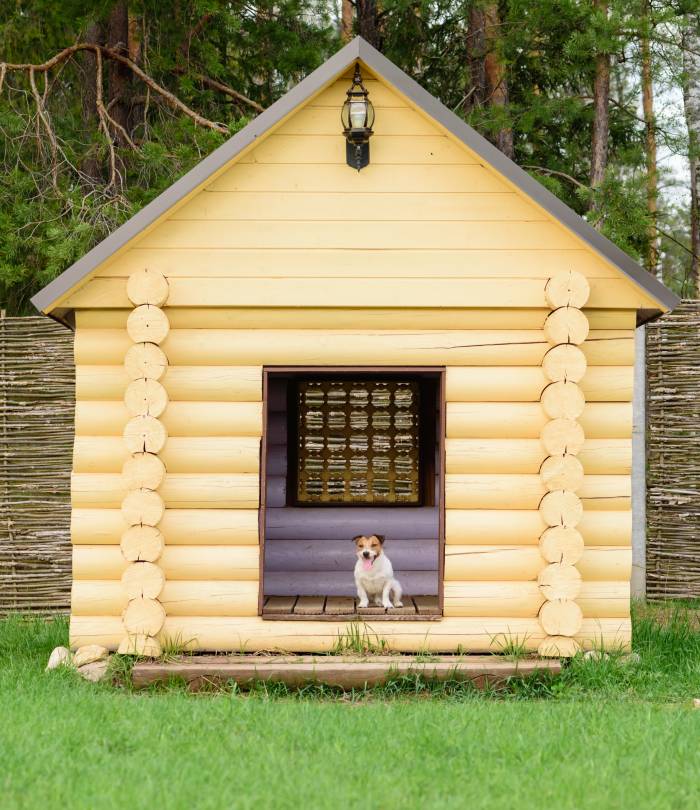 31. Large dog house with grills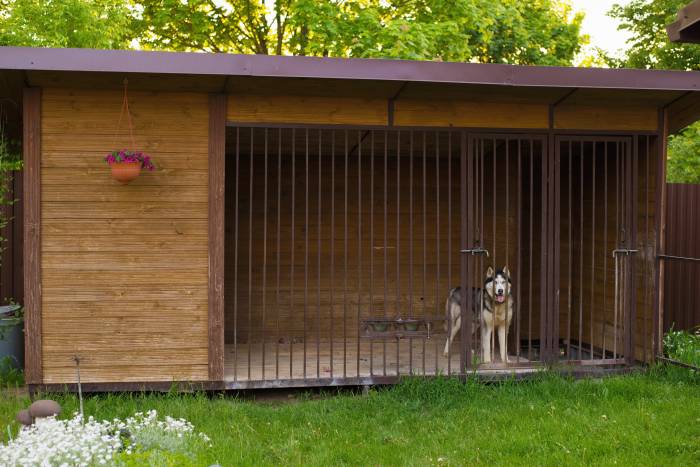 32. Large open-air dog house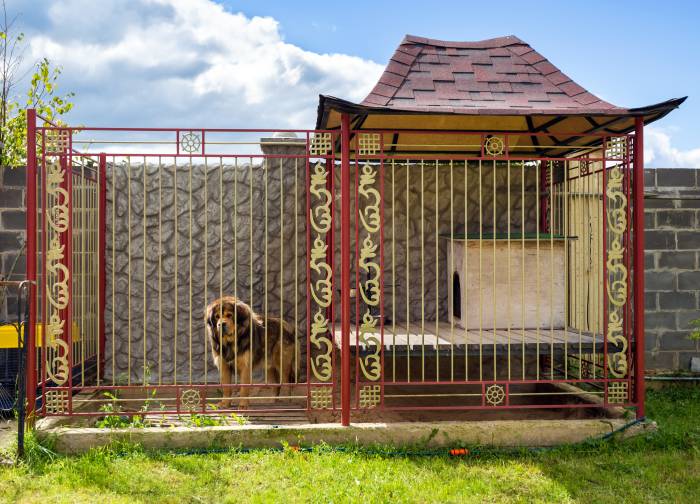 33. Two-door dog house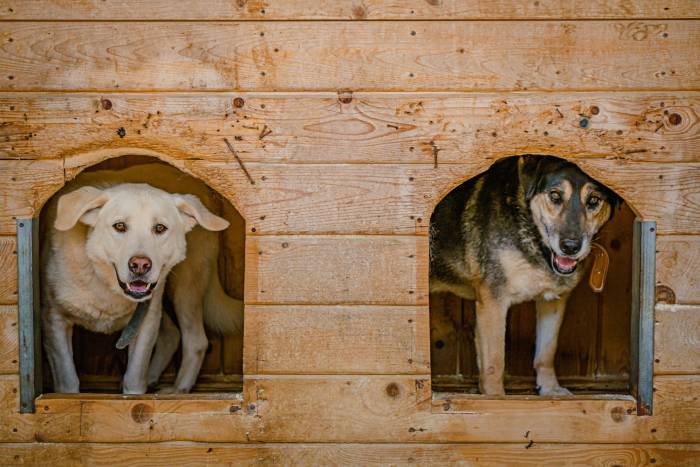 Dog run ideas
We know how much dogs love to play, so installing a dog run on the side of your house could be a good idea. A dog run is a special area where your furbaby can get some exercise, play, nap, and hang out with other dogs.
Some things you can include in a dog run are artificial grass (that could also be used for potty training your dog), mentally stimulating games, and a fence to make sure your dog doesn't wander off.
34. Dog run with wooden fence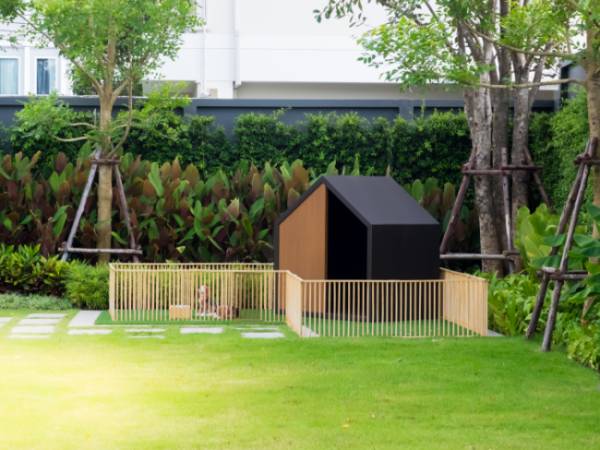 35. Dog run with wood fence panels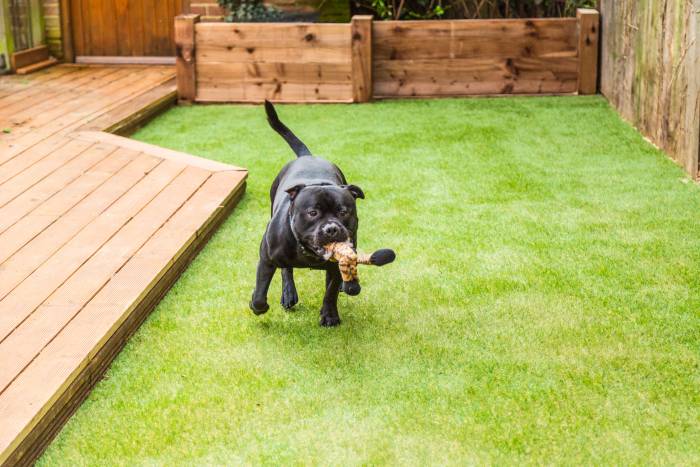 36. Dog run with wire fence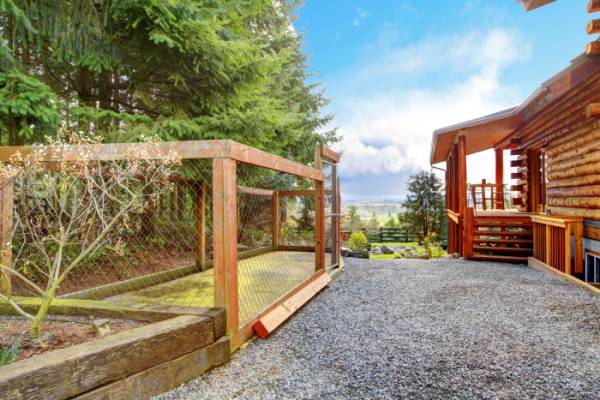 Fancy dog houses 
Lastly, if you want to get even more creative, you can choose a fancy dog house for your pet.
It's totally possible to create a dog house in the shape of a castle, a mansion, or even an iconic landmark. You could have more than one floor, install a private doggie pool perfect for summer, or make a replica of your own house!
The sky's the limit, and you just have to let your imagination run wild.
37. Castle-shaped dog house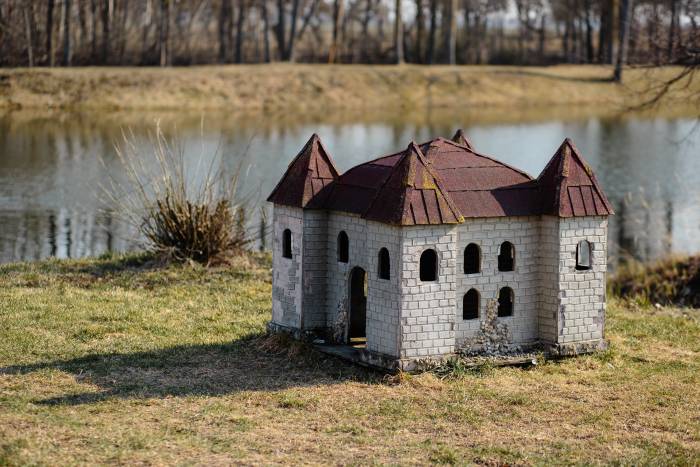 38. Madeira house-inspired dog house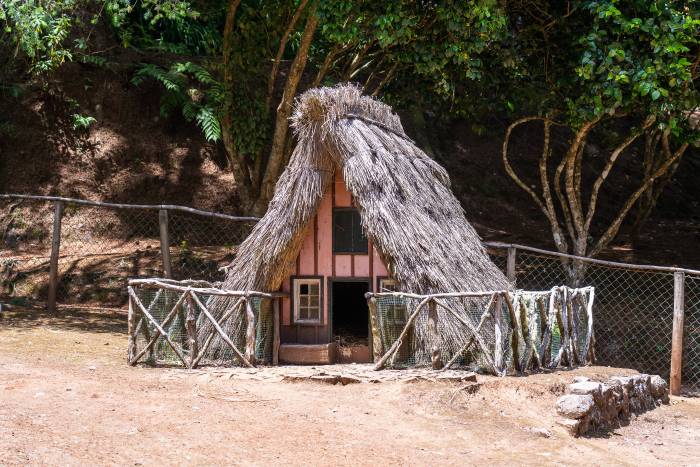 Construction projects like these can be easier with an expert's help. If you want a hassle-free experience, you can hire someone to build your epic dog house for you!