Race. Religion. Disability. Pregnancy. During the hiring process, it's illegal in America and Australia for a company to discriminate against an employee or job applicant based on these and other personal qualities or attributes.
Nevertheless, workplace discrimination is a real and pressing issue, and candidates get their applications sidelined or overlooked due to these factors all the time. And even when they do make it past the hiring filter, employees can also be the victims of prejudice and biased behavior when interacting with their bosses and colleagues.
We wanted to understand what's really going on inside offices across the country regarding discrimination, so we surveyed 204 people with hiring responsibilities and 805 employees about the hiring process, layoffs, co-worker gossip, and workplace discussions to find out.
Hiring reality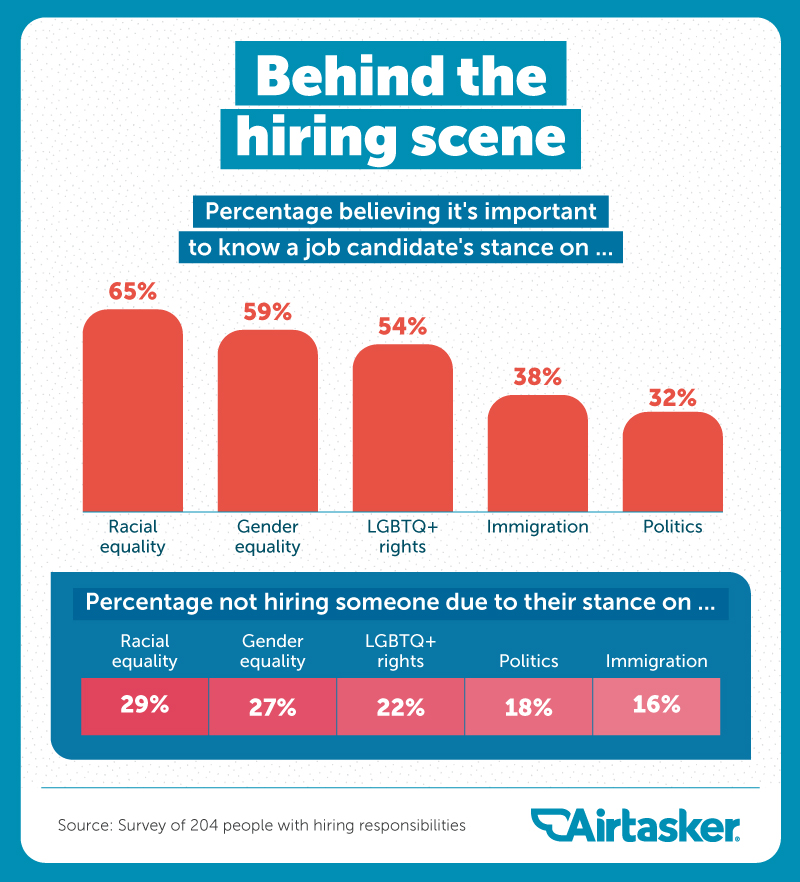 Navigating the relationship between the workplace and your beliefs can be challenging: In order to weed out potential mismatches, for example, job seekers are encouraged to scope out their company's social and political stances to make sure they're a cultural fit.
The majority of hiring managers said it was important to understand a candidate's stance on racial equality (65%), gender equality (59%), and LGBTQ+ rights (54%). Another 38% felt the same about immigration, and 32% would want to know about an applicant's politics.
While not as many hiring managers actually turned away a job seeker based on a strongly held belief, each of these controversial topics led to some level of rejection: For example, 29% of hiring managers vetoed a candidate for his or her stance on racial equality, and 27% did so for gender equality. Even if those people had been hired instead of passed over, it's important to understand that a U.S.-based company can still terminate you for your political opinions.
Social snooping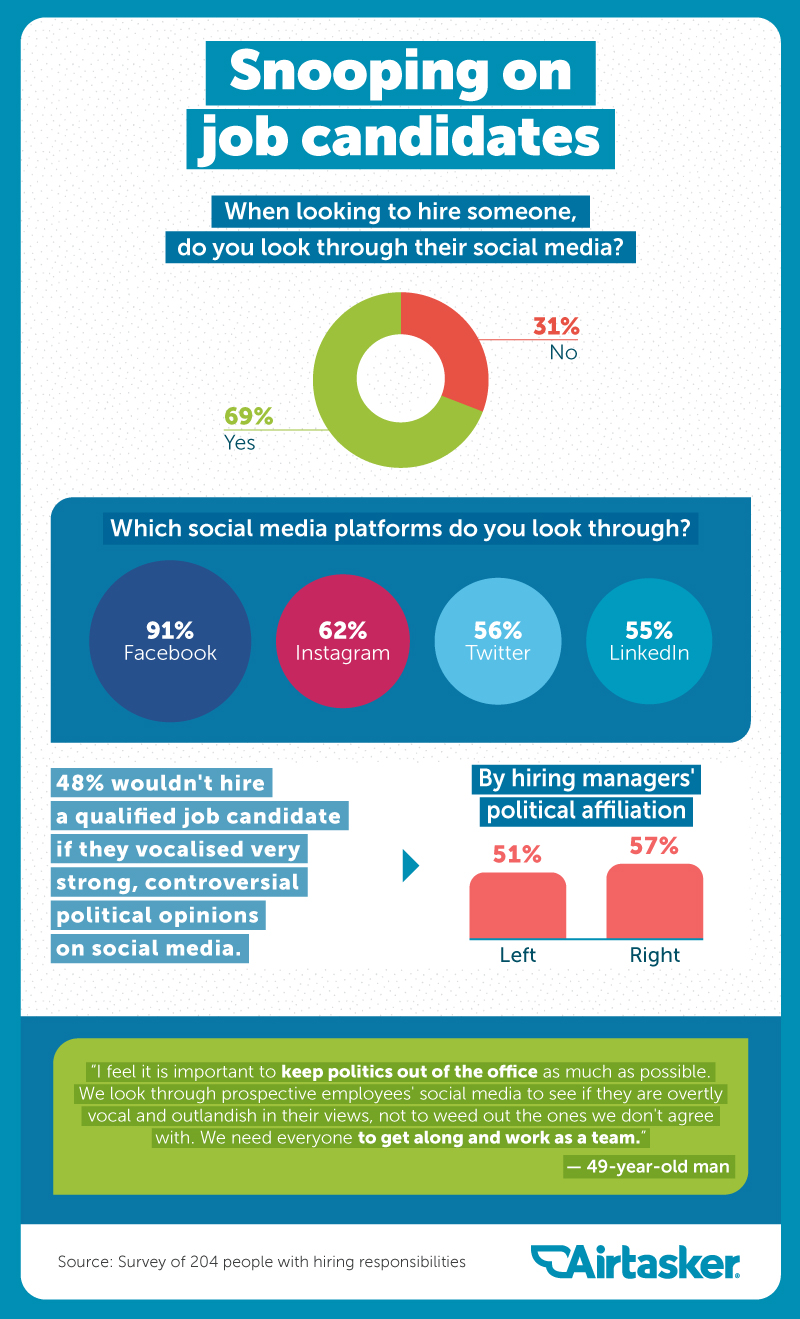 It may be time to do a little social media spring cleaning: More than two-thirds of hiring managers said they combed a potential employee's social media before making a final decision. Facebook was the most frequently consulted site (91%), followed by Instagram (62%) and a near tie between Twitter and LinkedIn (56% and 55%, respectively).
If someone at the company were to find an opinion they didn't agree with on your profile, it could have game-changing ramifications: 51% of hiring managers who leaned left and another 57% who leaned right said they would not hire a qualified candidate if they expressed a strong online opinion about a controversial political issue.
Your political rants on Facebook might also be off-putting to more people than just hiring managers. How-to guides have been written about how to hide or avoid these posts on social media, and you have more than one Google Chrome extension available to help you finish the job.
Truth about layoffs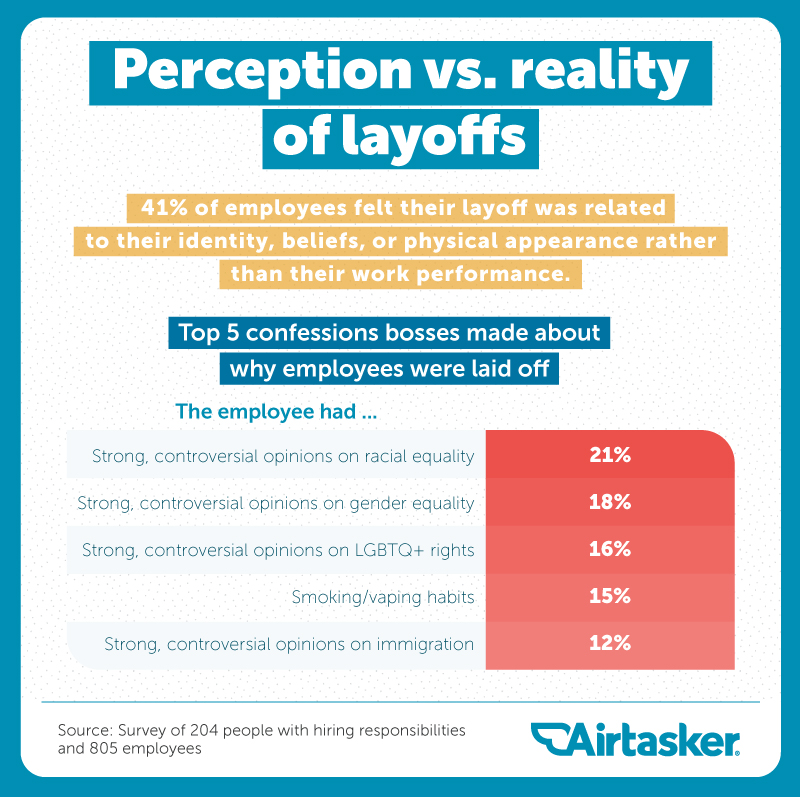 Getting fired from a job can be an earth-shattering experience: One study found that the emotional impact of getting fired could be more detrimental than losing a spouse for some people.
Among our respondents, just over 40% of employees who had been terminated believed it had something to do with their identity, beliefs, or physical appearance. However, managers who let them go had a different story to tell: They did admit to firing someone over their opinions on topics like racial and gender equality but at rates closer to 20%. And another 15% cut the cord due to an employee's smoking or vaping habits.
To stay on the right side of the employment fence, we suggest avoiding other termination-worthy offences, like insubordination, drug or alcohol possession at work, and using company property for personal business.
Politics-free zones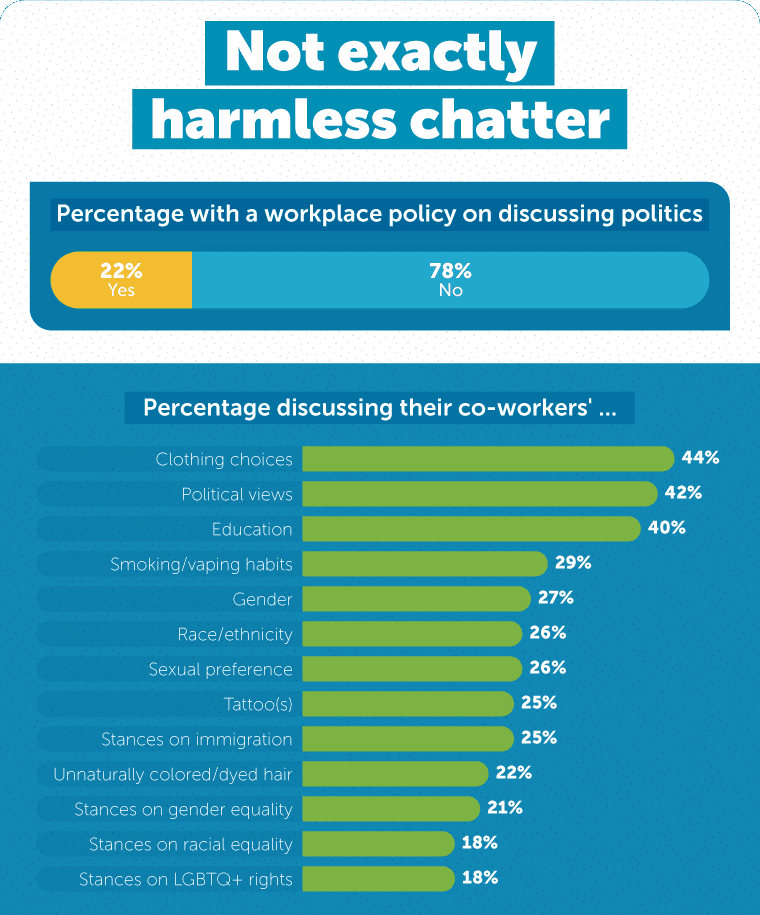 Percentage of employees who feel they're treated negatively at work based on their …
Hover over the blue rows to see further breakdowns of data.
| | |
| --- | --- |
| Political views | 14% |
| Gender | 13% |
| Race/ethnicity | 12% |
| Education level | 10% |
| Clothing choices | 10% |
| Tattoo(s) | 8% |
| Smoking/vaping habits | 8% |
| Sexual preference | 8% |
| Stance on LGBTQ+ rights | 7% |
| Stance on immigration | 7% |
| Stance on gender equality | 6% |
| Unnaturally colored/dyed hair | 5% |
| Stance on racial equality | 5% |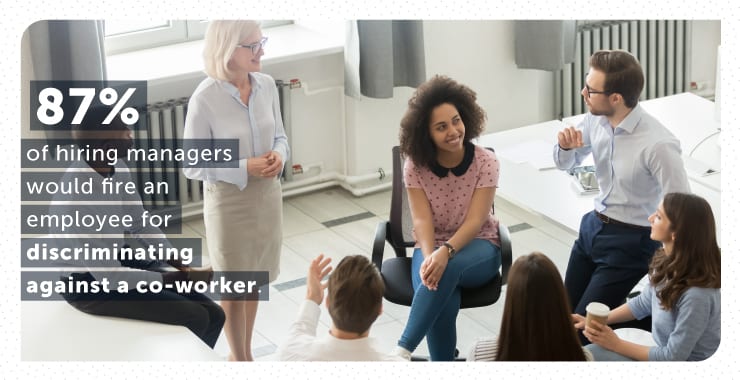 While the general consensus about discussing politics at work is to "avoid," a minority of our respondents had the decision made for them: 22% said their company had a policy in place prohibiting this topic from being discussed, while 78% reported being able to chat about it at will.
Aside from personal politics, 44% of workers chatted about their colleagues' clothing choices, but another 42% bent the rules by discussing other people's political views. Forty percent elected to discuss their co-workers' education, while topics like vaping, gender, and race trailed further behind.
A relatively small minority of respondents said they felt they were treated differently at work due to certain traits, the most prominent of which was their political beliefs (14%). Gender and race followed closely behind at 13% and 12%, respectively.
Let's talk Trump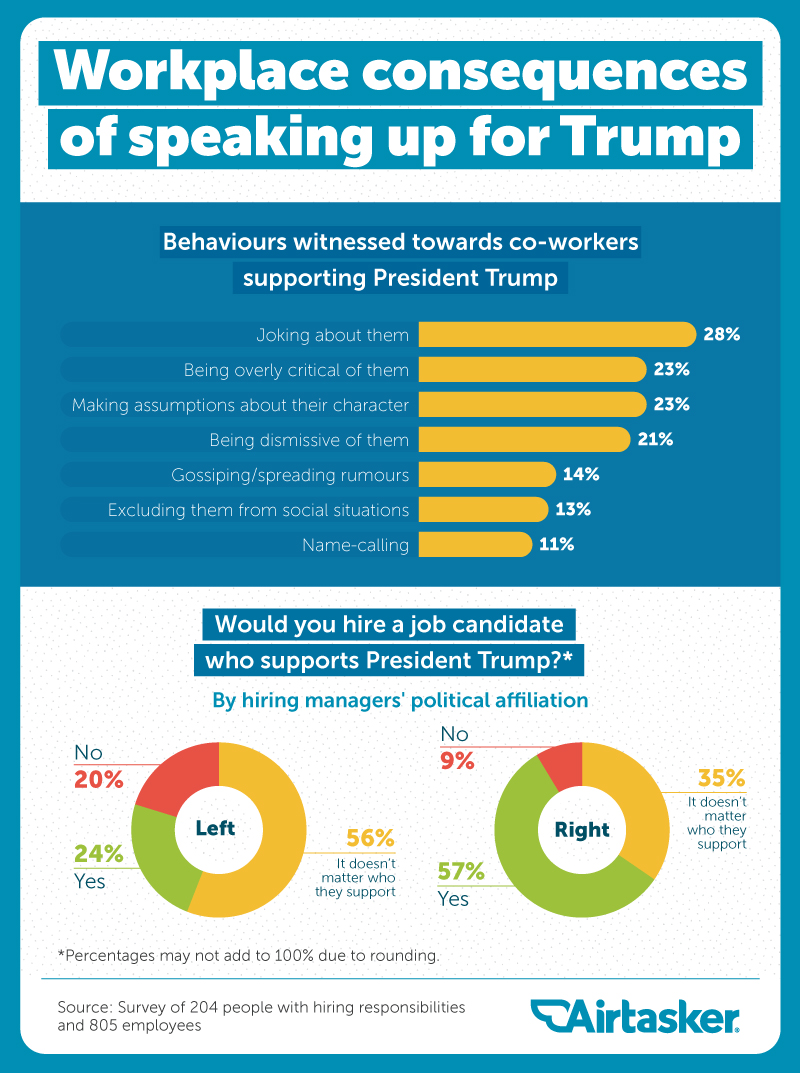 As the political divide continues to expand in the U.S., and at a time when people are growing more and more agitatedwhen they need to face political opinions that differ from their own, vocally supporting a controversial figure can land you in the social doghouse.
Twenty-eight percent of respondents said they watched their colleagues crack jokes about someone who said they backed President Trump, and 23% observed people being both overly critical and making assumptions about that person's character. Politics has a unique way of getting people hot under the collar when they disagree – so if you find yourself struggling to engage in polite and productive debate, check out these discussion tips to facilitate a more well-rounded conversation.
Given that Trump represents the Republican Party, it came as no surprise that many more right-leaning hiring managers said they would hire a candidate who supported him (57%), while just 9% said they would not. And that's not to say that left-leaning respondents felt the opposite: 56% said they didn't care either way, and another 24% said they would hire a Trump supporter. A moderate 20% would refuse, however.
The men of #MeToo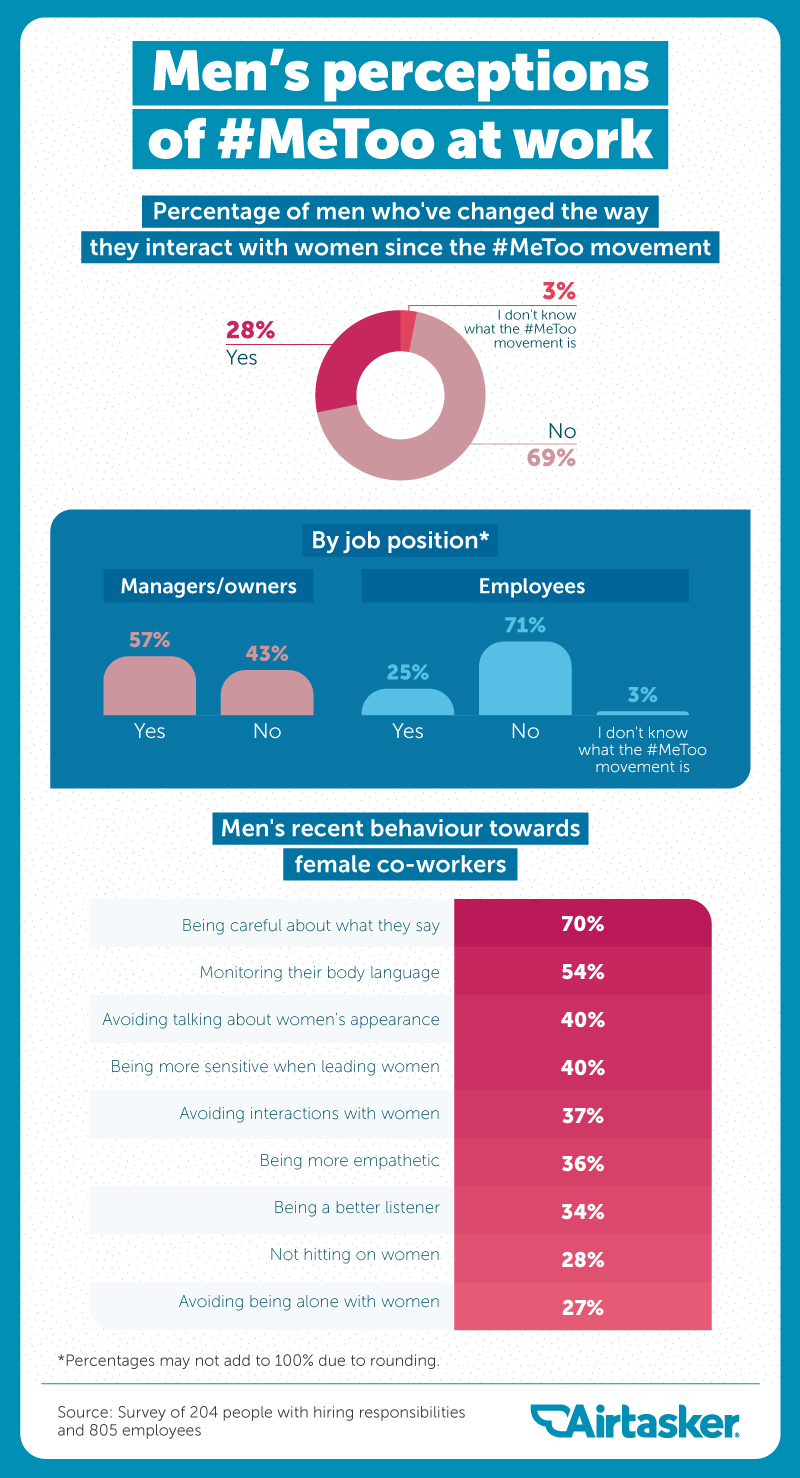 In the fall of 2017, actress Ashley Judd accused film producer Harvey Weinstein of sexual harassment in an articlepublished by The New York Times. This revelation blew the lid off what was to become the #MeToo movement. The driving force behind the movement was – and still is – to expose and eradicate sexual harassment and discrimination against women in the workplace.
Now, 28% of male respondents said they've changed the way they interact with their female colleagues as a result, a troubling development that places a different kind of barrier between women and professional success. On Wall Street, for example, men have started adhering to a set of unwritten rules, such as avoiding dinners and one-on-one meetings with female colleagues, to diminish the perceived risk of being accused of something damning.
Among our respondents, 70% said they were more careful about what they said, and 54% monitored their body language more closely, among other behavioural modifications. Managers were more likely to make these types of changes at 57%, potentially due to their position of authority and the role that power plays in workplace harassment. On the other hand, 71% of employees said they didn't do anything differently in light of #MeToo.
Standing up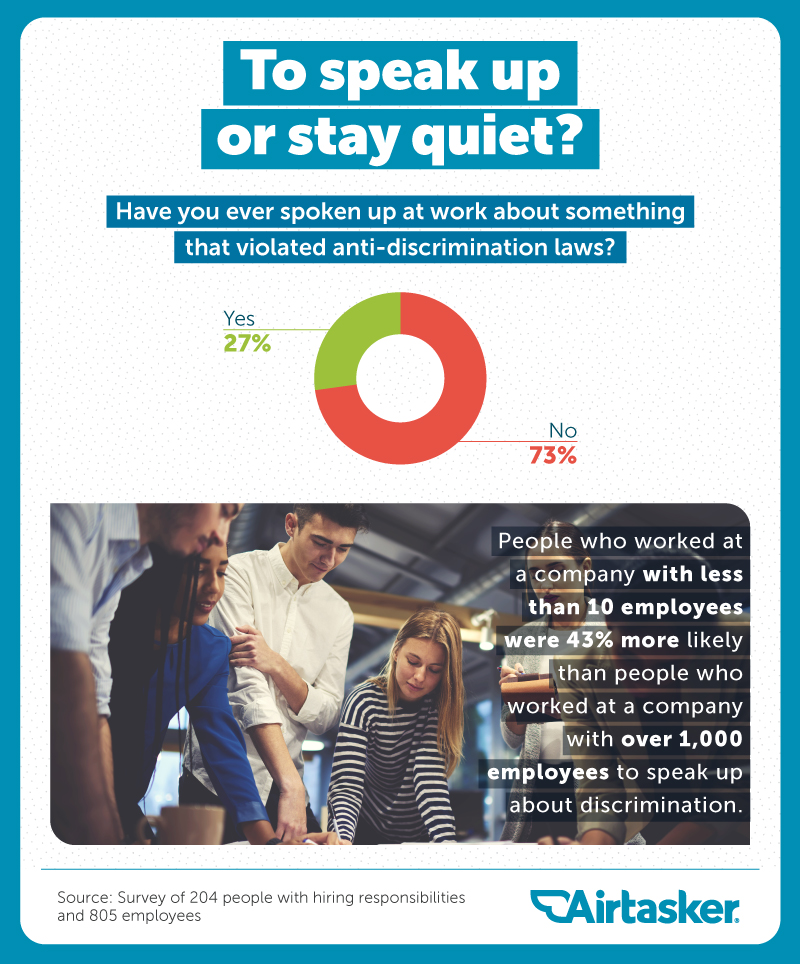 Have you ever heard of the bystander effect? During emergencies, like someone having a health crisis in public, the bystander effect dictates that someone is more likely to intervene if there are fewer people around. In other words, people have a more heightened sense of personal responsibility when others are not around.
Our survey came across the bystander effect in action: Employees who worked in offices of less than 10 people were 43% more likely than those who worked with over 1,000 other people to speak up about discrimination at work. On a larger scale, 73% said they had never reported an incident that violated their company's anti-discrimination laws, while the remaining 27% said they had at some point.
Hiring done right
Fair and equal workplaces hire employees based on talent, enthusiasm, and potential – not sexual orientation, political beliefs, or the colour of their skin. Nevertheless, many hiring managers said they viewed people's opinions on topics like race, gender, and immigration as important during the hiring process. Most had also poked around on candidates' social pages to glean information, and while few respondents had fired someone for a closely held controversial opinion, it did happen some of the time.
The best way to vet job candidates is by using the right online resource. Airtasker connects you with the perfect person for any given task, from delivery and administration to gardening and design. It's outsourcing made easy. Visit Airtasker.com to browse through a wide range of eager taskers for hire and choose your ideal match based on ratings and reviews from real customers just like you.
Methodology and limitations
We used Amazon's Mechanical Turk to survey 204 people with hiring responsibilities and 805 employees. Responses were gathered from two separate surveys for each of these groups. All respondents were from the U.S. Of all respondents, 49% were women; 51% were men; and less than 1% identified with a nonbinary gender. Sixty-three percent of respondents were millennials (born 1981 to 1997); 27% were from Generation X (born 1965 to 1980); 8% were baby boomers (born 1946 to 1964); 1% was from Generation Z (born 1928 to 1943); and 1% were from the silent generation (born 1928 to 1945). The average age of respondents was 36 with a standard deviation of 11 years. The data has a 3% margin of error for employee statistics a 7% margin of error for individuals with hiring responsibilities.
In terms of how respondents identified their races/ethnicities, 75% identified as white, 8% as black or African American, 7% as Hispanic, 7% as Asian, 3% as multiracial/biracial, 1% as American Indian or Alaska Native, and less than 1% as Native Hawaiian or Pacific Islander. As for employment status, 92% were salaried or hourly employees; 7% were managers; and 2% were business owners. As for right and left political views of respondents, 51% identified with slightly left, left, and very left political views; 32% identified with slightly right, right, and very right political views; and 16% identified with neither left nor right political views. To be considered in our data, respondents were required to a) complete all survey questions and b) pass an attention-check question in the middle of the survey. Participants who failed to do either of these were excluded from the study.
Sources
Fair use statement
Feel free to share this article for noncommercial purposes with your colleagues, friends, and family – we don't discriminate! All we ask is that you link back to the original piece so that everyone gets the full story and credit is given where it's due.