Whether you're enthusiastic about hosting, a passionate cook, or looking to give your dining room a makeover, you'll appreciate a well-lit degustation area. Good lighting not only helps showcase your culinary concoctions but also lends a hand in setting the mood for a more inviting space.
Illuminating your dining room plays a bigger part in your interiors than you might think. Choosing the kind of lighting to incorporate can define where furniture goes best — tables, chairs, picture frames, and even wall art. Not too sure where to start? Read on to find dining room lighting ideas for every style.
1. Geometric shapes
Lighting that mirrors the shape and direction of your dining table makes the space look intentional. If you're one of the many with long, rectangular dining tables, it's easy to find geometric-shaped chandeliers to match. Likewise, hexagonal chandeliers work great for round tables to mimic that fuller shape.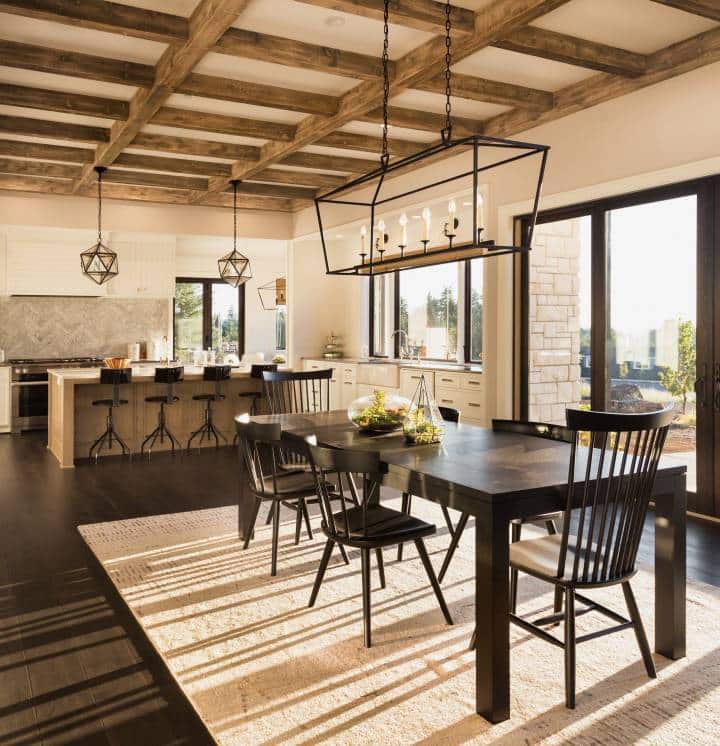 2. Industrial white pendants
Industrial fixtures can look good in white, too. It's a budget-friendly alternative to clean, calm interiors. It goes especially well with neutral colour combinations.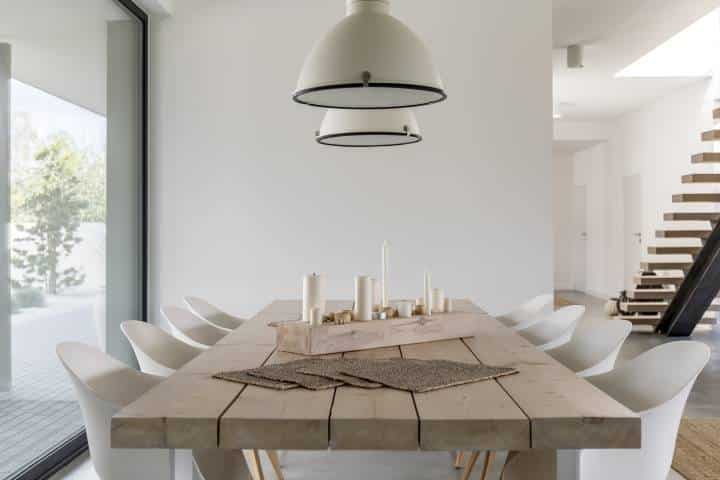 3. Better in threes
Sometimes one uniquely shaped pendant light doesn't seem like it's enough. Fill out headspace with more — go for three. Odd numbers in design create visual interest in the space, encouraging your sight to go around the room.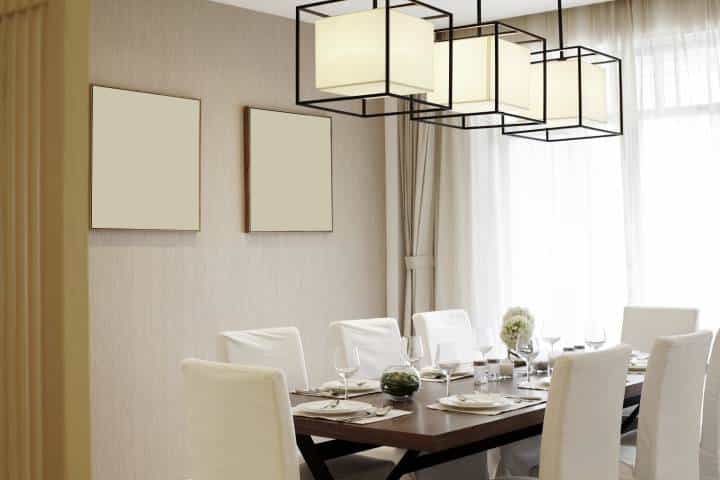 4. Calmness in evens
Perhaps you're more interested in making the dining room feel calmer and more welcoming. Lighting that comes in even numbers like two, four, or six provides that deep satisfying symmetry.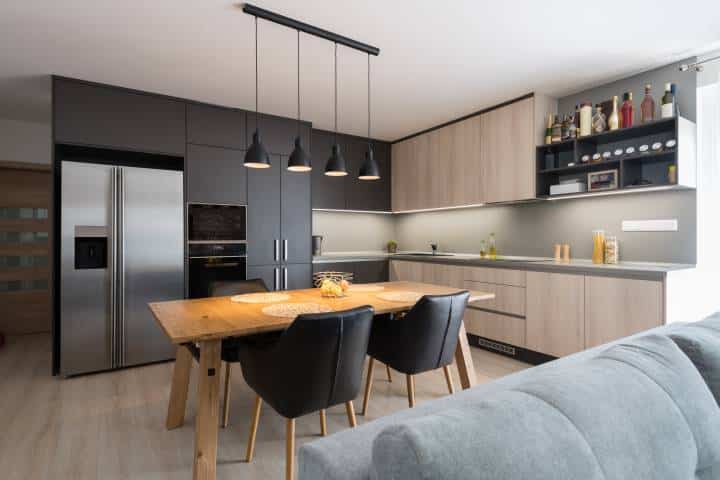 5. Sleek black
Black is bold and easy to blend in any space for contrast against light colours. Take the opportunity to pair it with neutral, white, or wood interiors. It also helps tie the look together if you already have existing furniture with black accents.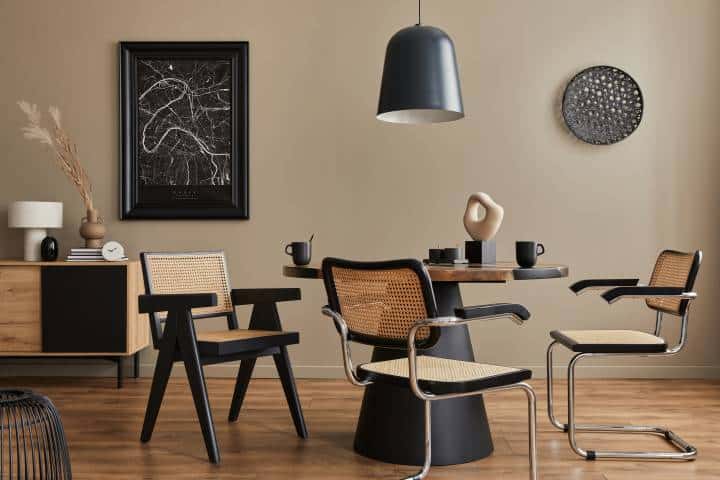 6. Gold pendant lamp
A stylish addition to a modern home is a gold pendant lamp. Use it as the accent piece to your interiors for a unique touch.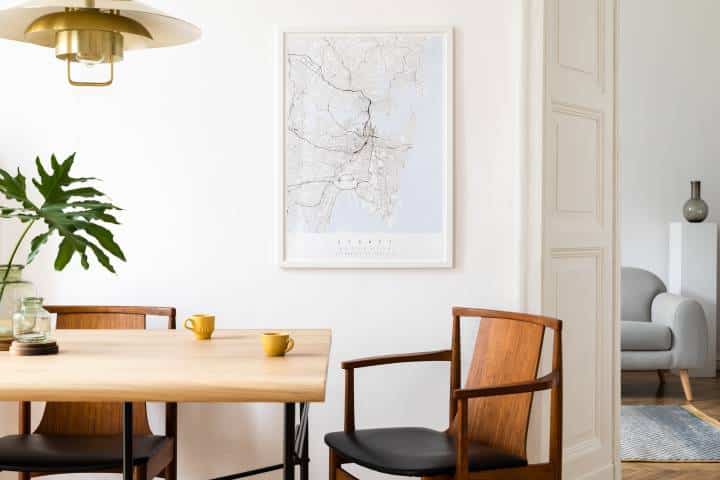 7. Minimalist chandelier
Chandeliers can be simple and still look elegant. It's all about finding one that suits your style and interiors.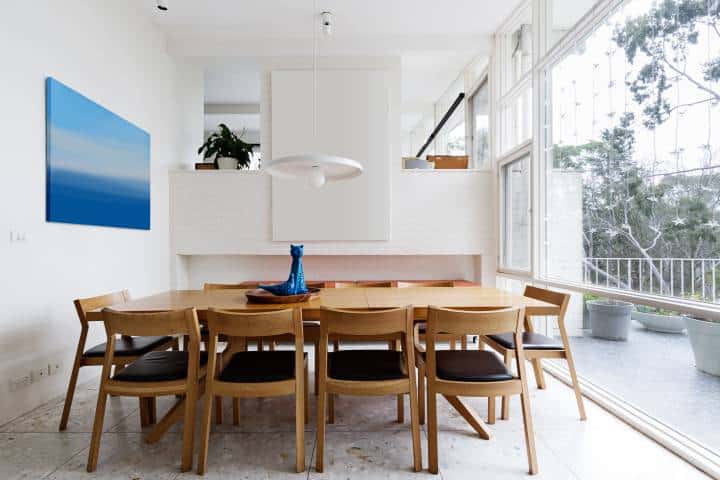 8. Wall-mounted lamp
Take a unique approach to dining room lighting. A wall-mounted lamp is easy to install and comes in many styles to suit your interiors, be it minimalist, boho, maximalist, or even mid-century modern.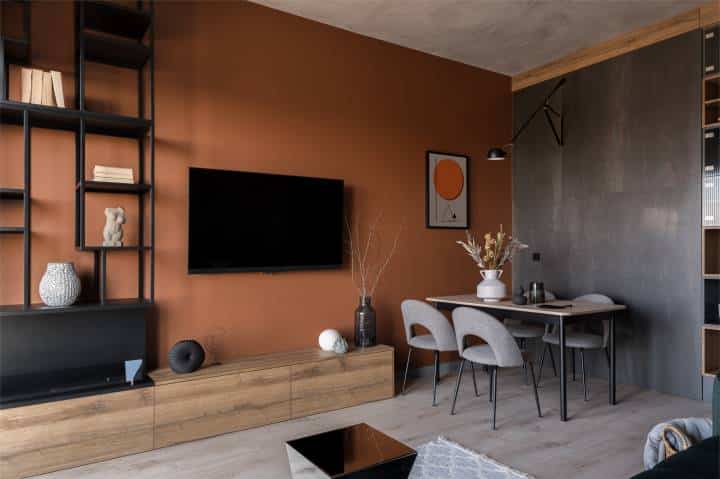 9. Woven pendants
Bring texture into your space with woven pendant lights. They can serve as a showstopping piece to complement wooden and neutral furniture.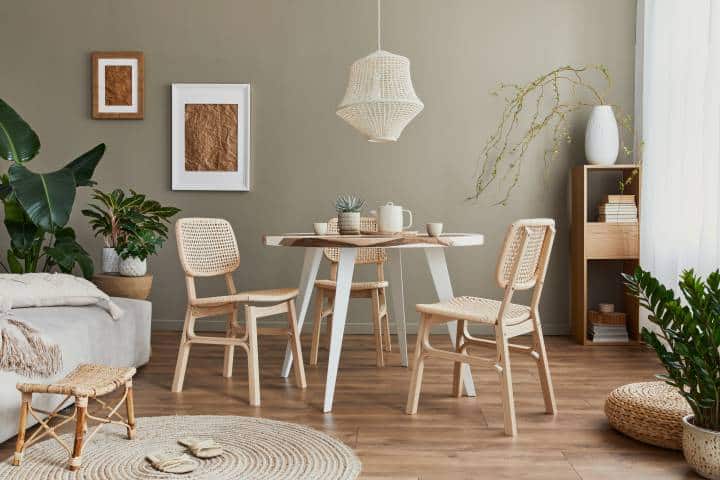 10. Modern chandelier
Chandeliers are the secret to instantly more dramatic interiors. They can dress up a space that has even the most simple furniture.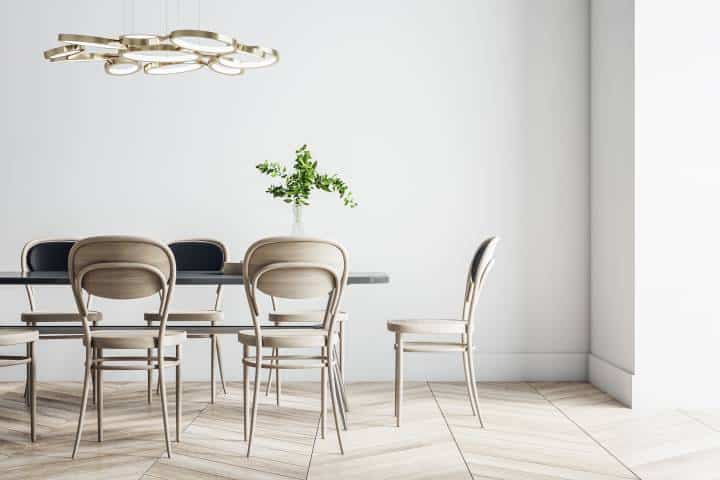 11. Chrome pendant
You can lift the space with chrome fixtures when working with black and white interiors.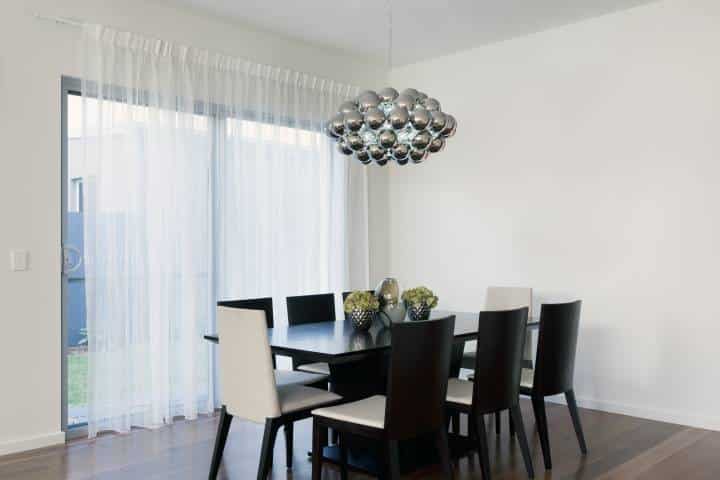 12. Multi-light pendants
Mix it up with multi-light pendants. Often they hang at different heights to add more visual interest and character to your space.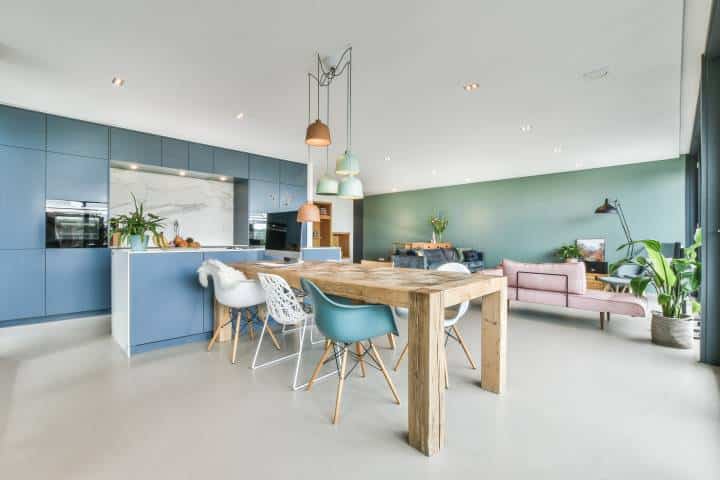 13. Colourful pendants
Colourful pendants give spaces a quirky personality. If you opt for a multi-light pendant, even just one odd colour out of the set could make a difference.
14. Large filament bulbs
Larger filament bulbs have that vintage design, making them a great addition to an eclectic space. They're also a great energy-efficient option for lighting and will most likely last you longer than standard incandescent bulbs.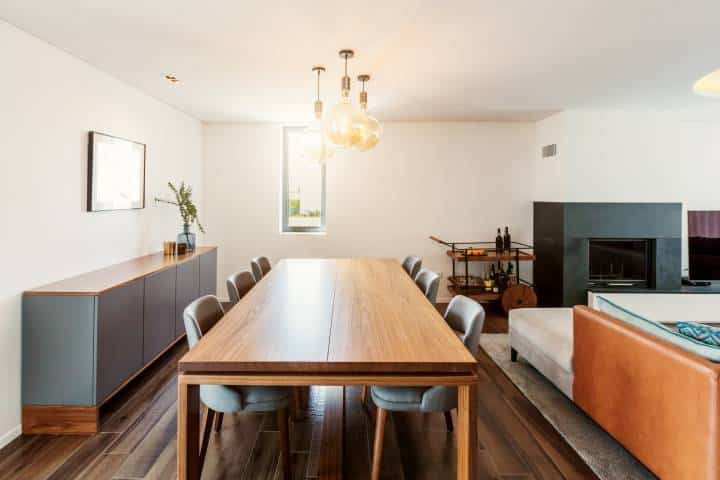 15. Scandinavian minimalism
If you love the Scandinavian minimalist style, you don't have to go too far to incorporate lighting into your dining area. Something as simple as a lamp on a nearby console in your dining area can elevate the ambience.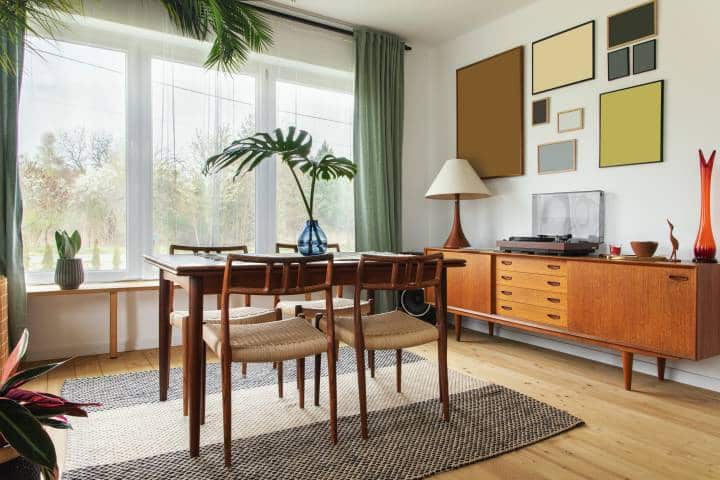 16. Linear suspension
Linear suspension lights are a clean strip of light that makes for a sleek minimalist fixture. It's easy to go unnoticed if you're keen on keeping your dining room looking calm.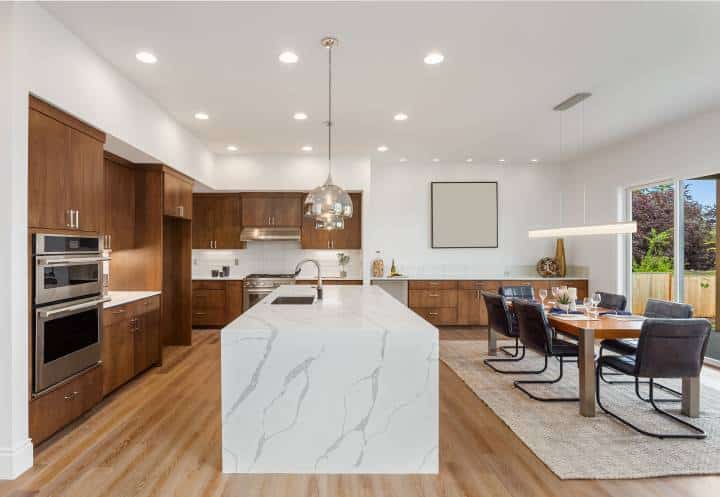 17. Bubble lighting
Contemporary interiors deserve truly unique lighting. Bubble lights do just that by bringing a touch of softness to interiors because of their clean curves.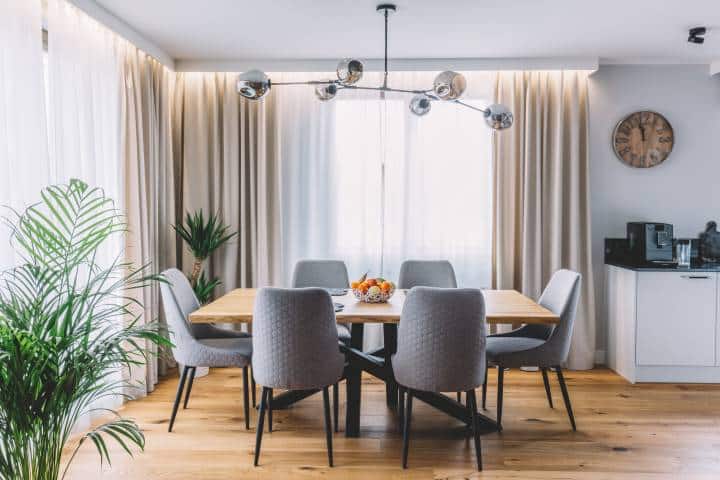 18. Shelving backlight
Go against standard lighting and get creative with your interiors. If you have the space for big shelving, adding a backlight creates an ambient glow that helps set the mood for an intimate get-together.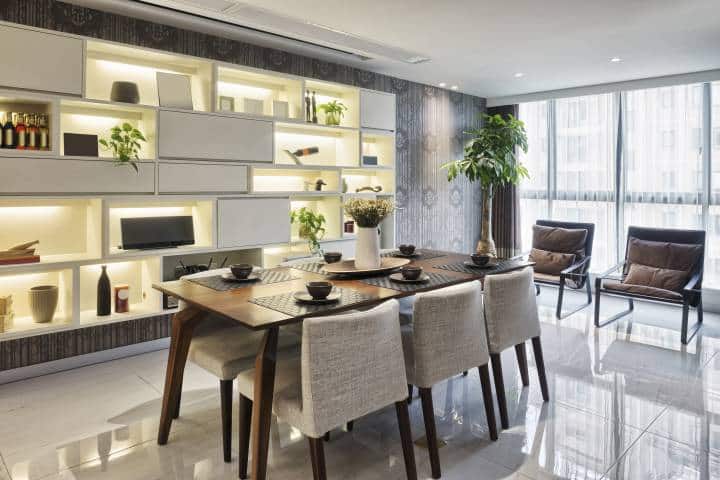 19. Burst chandelier
The variety of designs for modern chandeliers is endless. Burst chandeliers are one of those that stand out with clustered rays of light mimicking the bursting energy of a star. It's a brilliant fixture to add elegance to your dining room.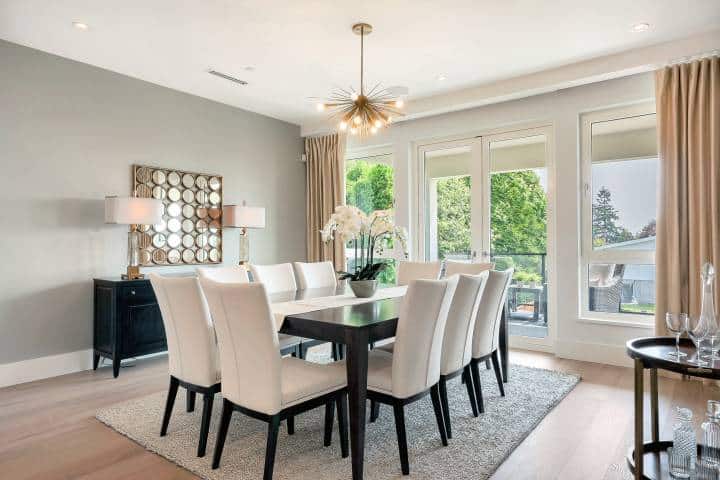 20. Rattan pendant
From boho to rustic interiors, rattan pendants work their magic effortlessly into the space. Its natural woven material brings a warm texture to the space.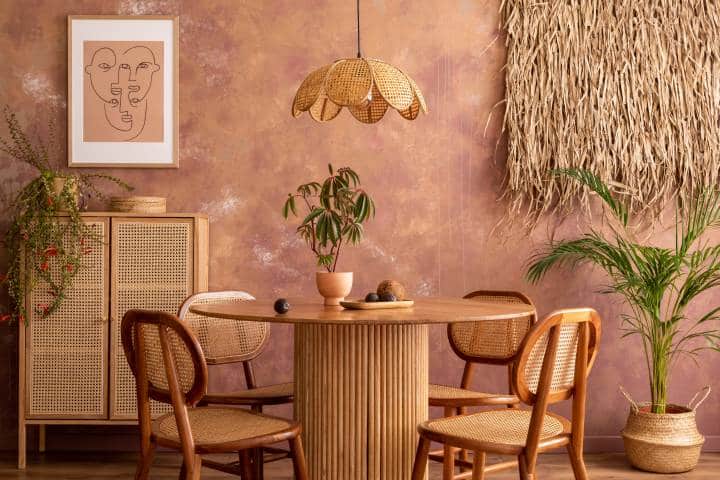 21. Retro floor lamp
Floor lamps help make a space feel more open and intimate with ambient lighting. A retro style brings a playful eclectic factor into the home as well.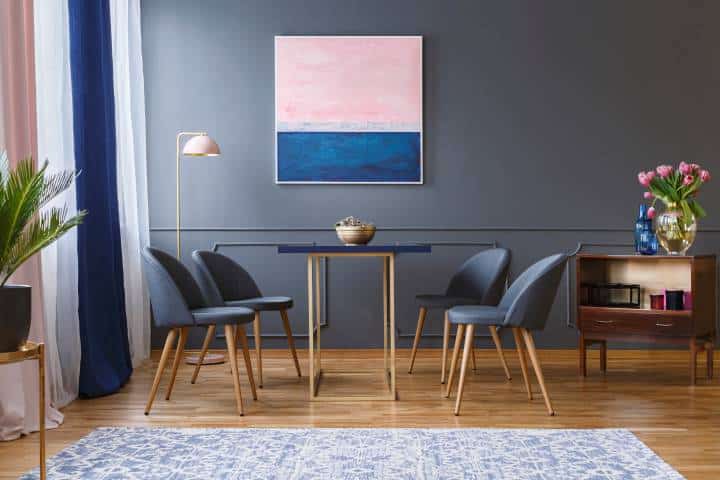 22. Minimalist flush mounts
Flush mounts are always a great alternative to lighting. Go for solid-coloured fixtures to stick with a minimalist style. Take it further by matching the light's colour to small details in your interiors, like seating.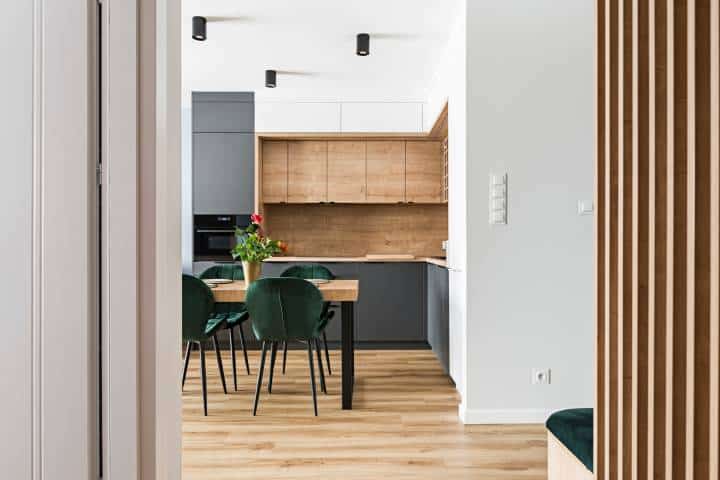 23. Sleek stacked lines
More and more minimalist chandeliers maintain that same elegance in a more compact style. It's a great alternative for simple dining areas to add that extra bit of sparkle.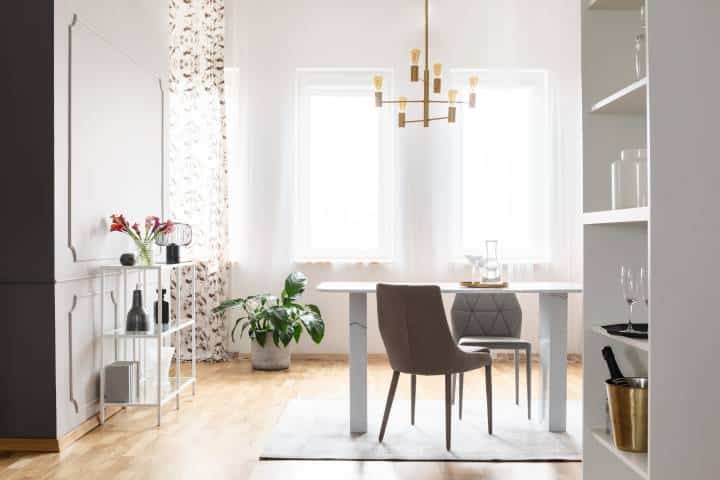 24. Architectural lighting
The beauty of architectural lighting is its capability to marry form and function. Not only does architectural lighting add depth to your space, but it's also energy efficient.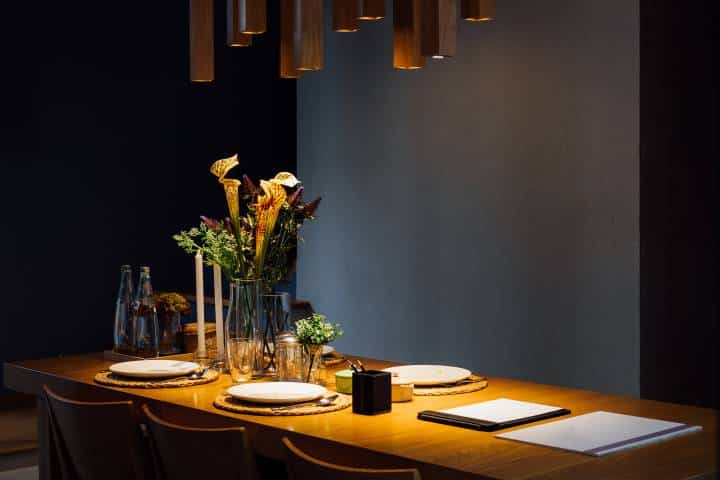 25. Extravagant lighting
Sometimes going for more extravagant lighting fixtures is the key to completing the space. You can let it be your dining area's centrepiece.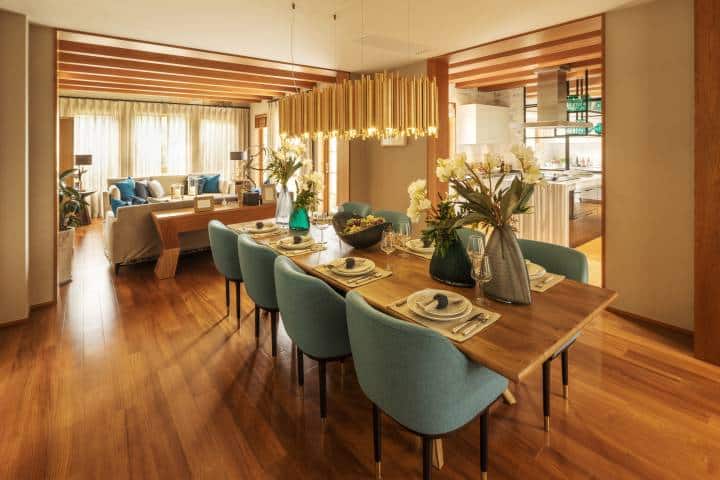 26. Dome pendant
Dome pendant lights can help put the spotlight on the dinner table. It has a simple, straightforward design, and its shape helps diffuse illumination for softer, more ambient light.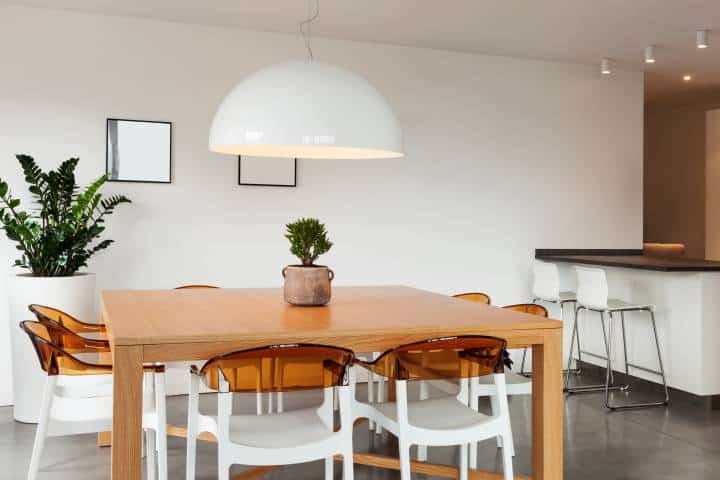 27. Double orbit
Chandeliers and pendant lights with double orbits add interesting detail to your dining area. Their spherical shape has an elegant look that almost resembles the solar system.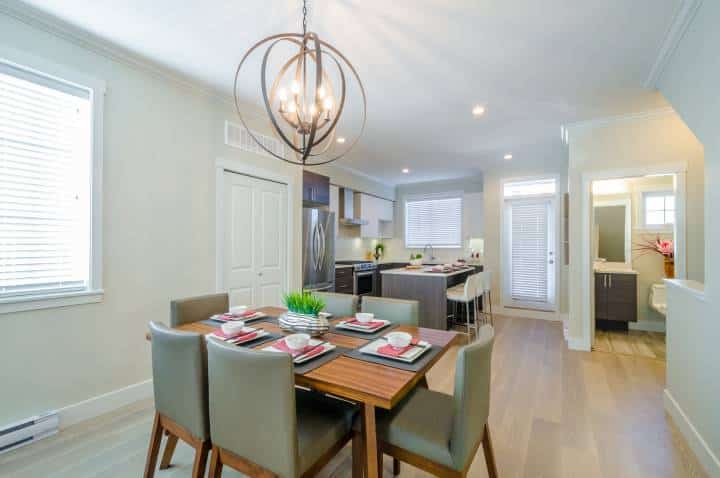 28. Black detail
There's something cosy about black lighting. They're a great contrast to white spaces and effortlessly add drama to the dining room.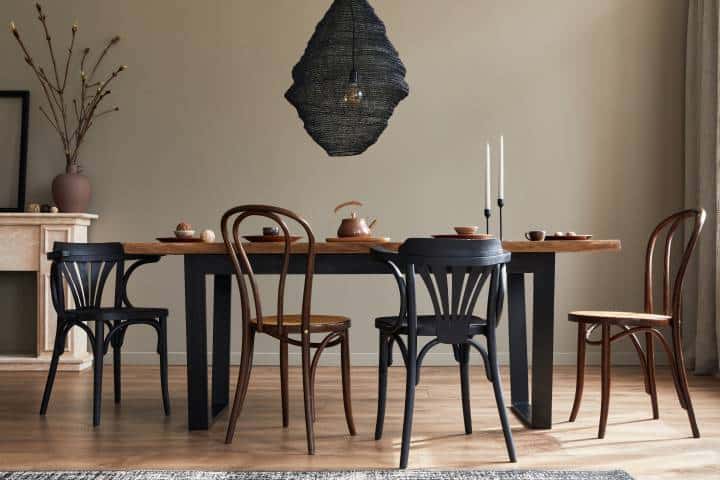 Lighting is an integral part of any interior. Depending on your preferred light type and design, it can define space, dimension, and ambience. If you've found inspiration in these ideas, you can get your space looking its best with the help of professional light installers.