Cottage gardens are having a revival right now as keen landscapers set their sights on the rustic, wild, unstructured look. But don't be deceived by the free-flowing nature of it all. A cottage garden is often meticulously planned and well-manicured. So while they can graduate to become overgrown in nature, they usually start with a formal structure.
When the foundations are designed well, cottage gardens teem with a bright blend of colours, forms and delightful fragrances. Popular flower choices include roses, helenium, hollyhocks, cornflower, silver grass, beardtongues, foxglove, poppies, delphiniums, and sweet pea.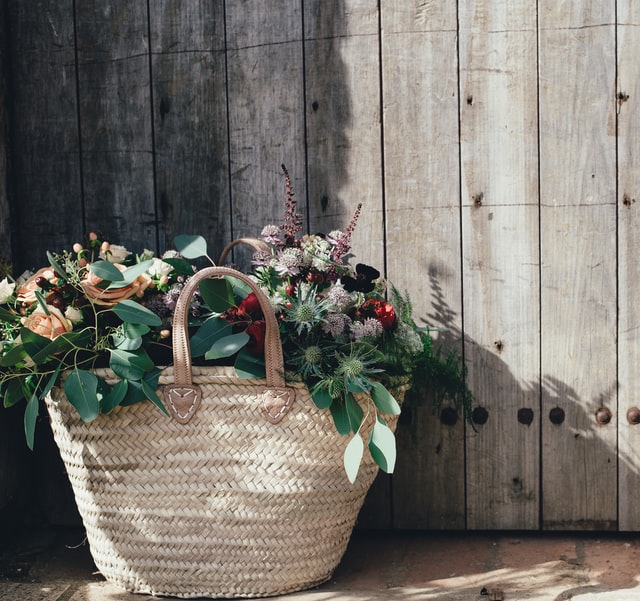 But the best thing about cottage gardens is that they're entirely individualistic, which means that you can design your garden to suit your taste. No two gardens will be the same and no one garden will remain the same in years to come. So don't be bound by what people have done before. Let your imagination run wild and design the cottage garden of your dreams.
And we've done the digging to help you get started. Dive into these 25 cottage garden ideas and be inspired!
1. Purple flowers
When considering what flowers to go with for your cottage garden you simply can't go wrong with anything purple. Purple is a classic cottage garden colour and will add a touch of elegance to your space. My top picks are campanula (known as bellflowers), foxgloves, and delphiniums. Combine plenty of purple with a touch of white to lighten things up.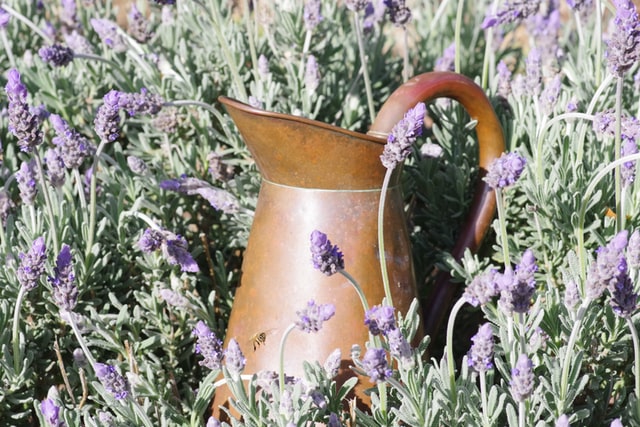 2. Flowery fence
Apart from giving off a beautiful aroma, growing blooms along your fence is very cottagey. Opt for traditional mixes of pinks and purples, or go for gorgeous white flowers like these.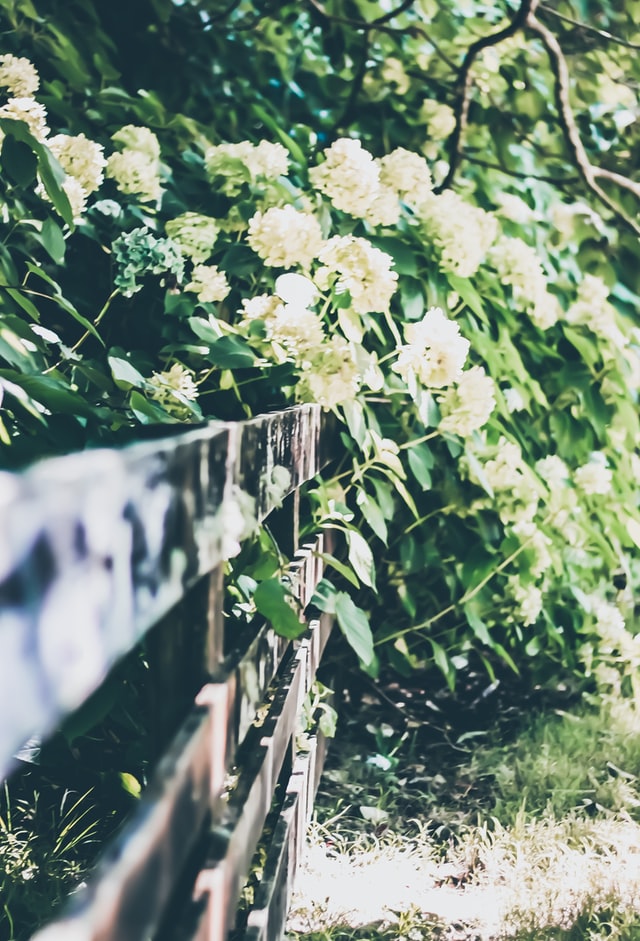 If this has sparked you to update your fence, I have put together these 50 front fence ideas which will help you choose between traditional picket fencing or maybe a more modern rendered wall privacy fence.
3. Pink roses
Ooh, la la! Pink is another classic choice that you just can't go without when it comes to a cottage garden. If you like things feminine and light, go all out with multiple bushes of pink flowers. But if you prefer to mix things up, plant an array of coloured flowers.
4. A place to sit
A cottage garden simply isn't complete without somewhere to sit. Take inspiration from this quaint little space and create your own area. All you need is a table, chair, and a few pots of plants. And don't forget your cuppa and a good read while you're at it.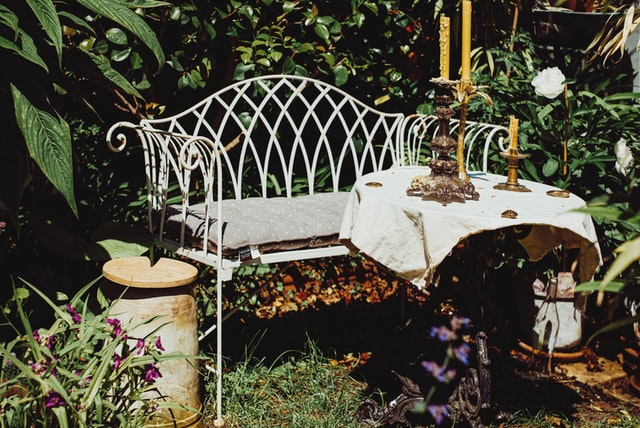 5. Vintage display
Cottage gardens don't have to be large. You can create your own cottage garden by designing a simple old-style vignette like this one. It will convey instant cottage garden vibes.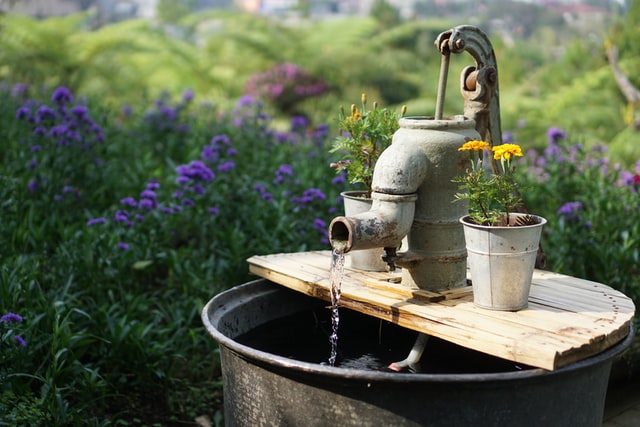 6. David Austin roses
You can't have a cottage garden without English roses. And the most beautiful of them all are David Austin Roses. These elegant flowers come in over 200 varieties. They are versatile flowers that are perfect for mixed borders and will fit into gardens of any style but especially English gardens.
7. Iris flowers
If you're looking for a flower that will add height to your garden, look no further than this beauty. Irises come in lots of different sizes, some as short as 10cm and others up to a metre. And they'll also add colour to your yard with a variety of shades on display – pink, purple, yellow, red and orange… the options are endless.
8. Pave the way
While cottage gardens aren't always known for their structure, you can create some order in your yard by placing down pavers. Stone pavers also often complement house exterior colours. And the unstructured cut is the perfect choice for a natural style garden.
If you're looking at paving like this to lead the way into your garden, here are some experts that can help with your stepping stones installation.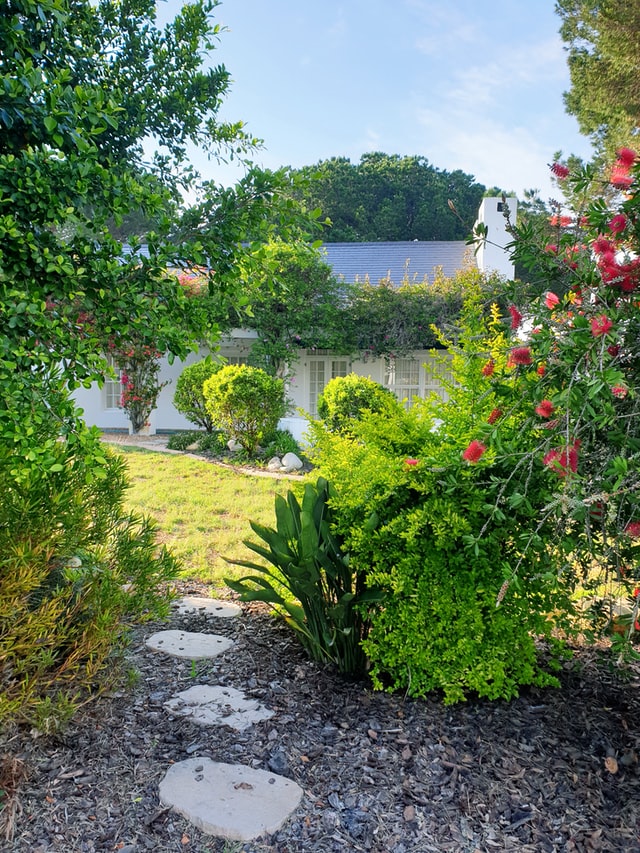 9. Sloping down
If your house is set on a hill, use stone steps to create the perfect grand entrance. The steps will weave their way up to the house and look stunning surrounded by plenty of lush greenery.
10. Somewhere to sit
When designing your cottage garden, make sure you consider one of the most important parts – entertaining! You want to be able to not only have a gorgeous garden but be able to show it off as well. And what better way to do that than by enjoying the outdoors from the comfort of your patio.
11. Curb appeal
One of the most forgotten areas of home design is the front garden. When landscaping, this should really be at the top of your list. Why? Because it's the first thing people will see when they visit your home. So make it beautiful with a clean entrance, and plenty of colourful plants and shrubs. I suggest speaking to a garden designer to see how they can help you, too.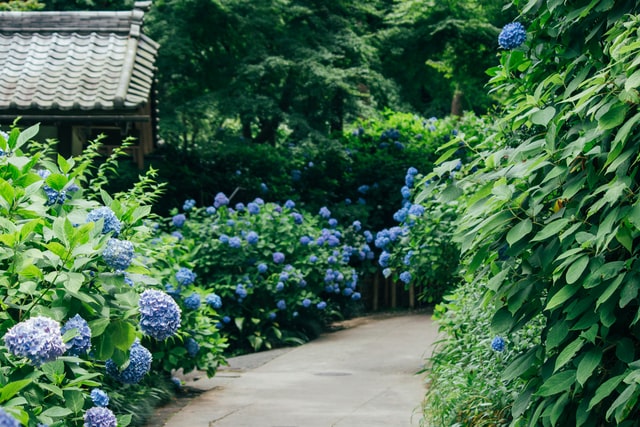 12. Flower wall
I love roses… After all, you really can't go wrong with them. But there's something so right about a blooming rose bush. It's a stunning entrance to any home. And it's the perfect way to fancy up your front garden if you only have a small space. While it may take some time to grow to an impressive height, you've got to start somewhere… and it'll be worth it!
13. Flowers on the table
Something I love about cottage gardens is that they usually have so much attention to detail. When I look at vases filled with flowers, I'm reminded of the garden my grandma had. It was small but filled with the most wonderful flowers in all sorts of colours. And the thing that I remember the most is her attention to detail with flowers and decor on little garden tables. It's the little things that can make a house feel like a home.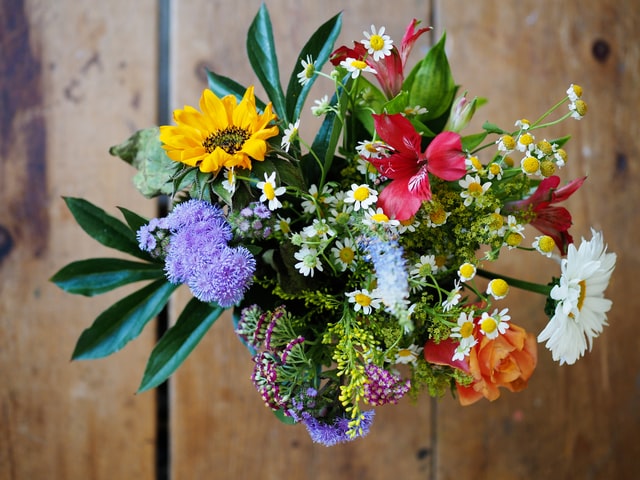 14. Fairy lights
Ooh la la! This is a magical space. And it's made all the more breathtaking with those fairy lights ready to twinkle in the evening light. If you want to spruce up your yard, fairy lights is one way to do it. Simply string them up and turn them on. They'll be sure to impress at your next BBQ.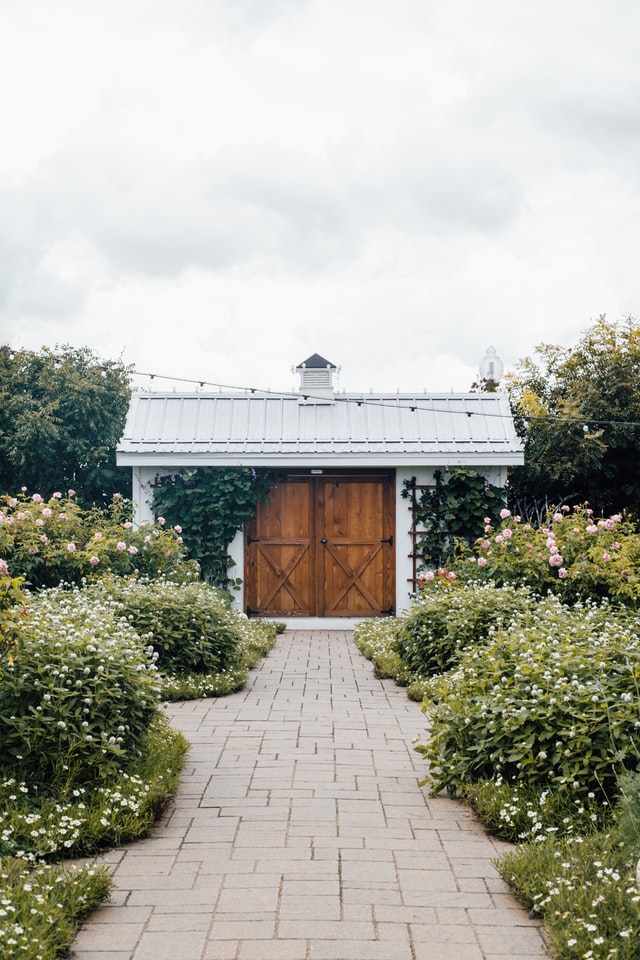 15. Chickens galore
If you've got the backyard for it, why not create your own little chicken hut in your backyard? This is a great way to have your own fresh eggs every day. And it's also fun to have feathery little friends roaming around the place.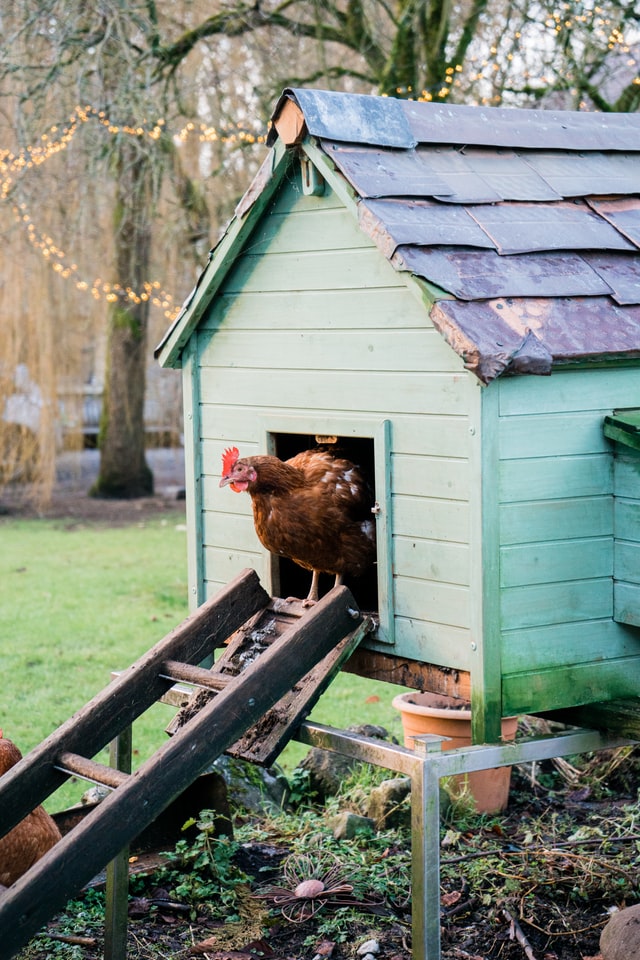 16. Picture perfect
A cottage garden isn't complete without a perfect cottage entryway. Take inspiration from this one – it's filled with gorgeous details. There's the clean fresh white aesthetic, the symmetrical black lanterns and a tiny tablecloth-covered table. And the whitewashed cane chair adds the perfect cottagey touch.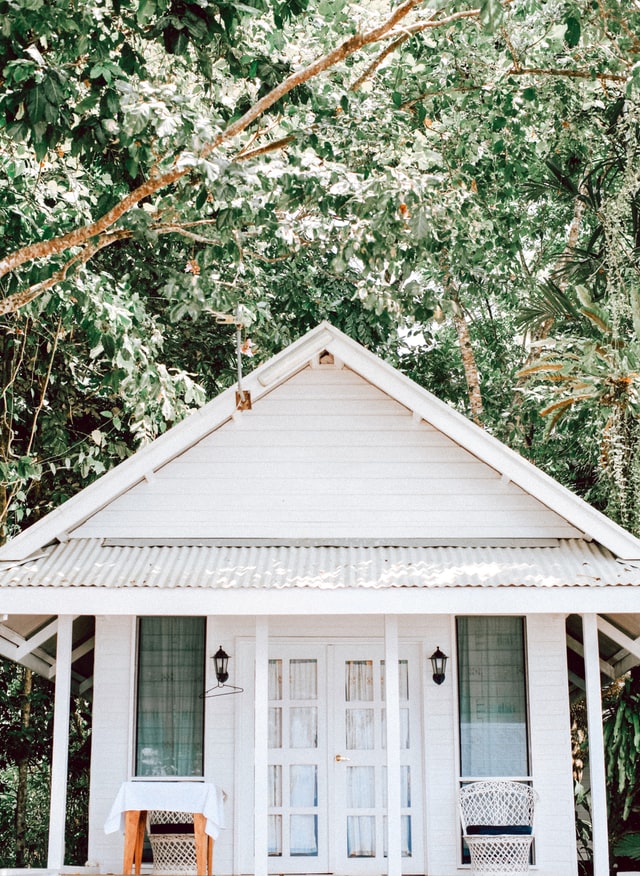 17. Climbing roses
Ooh, another rose-covered cottage! I wish I could create something like this at my house… but I don't think it would work. However, if you have a quaint cottage-style home like this one, go all out! This will not only look great but it'll smell divine too.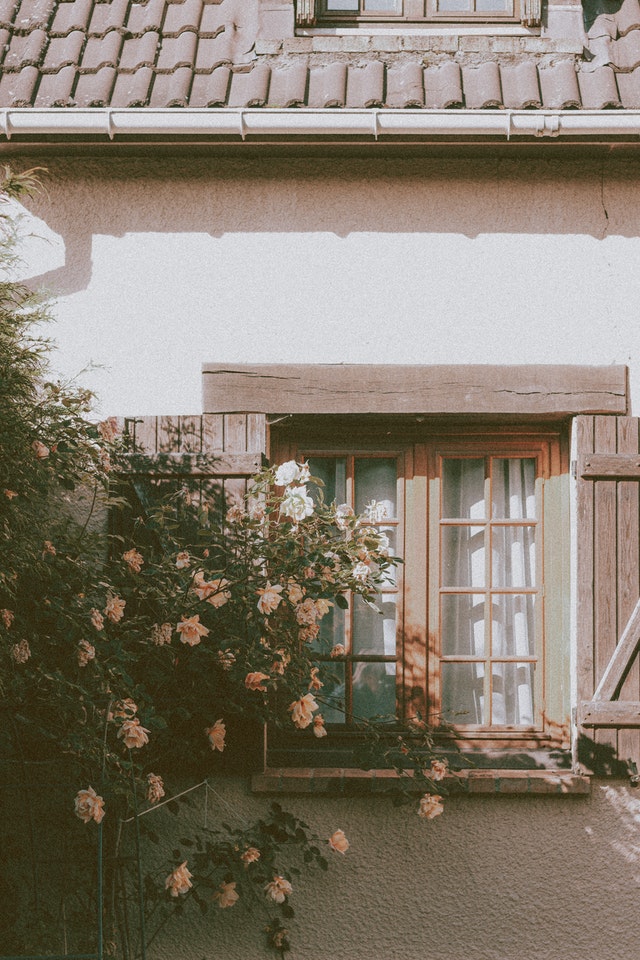 18. Quaint sitting area
You can't have a cottage garden without somewhere lovely to sit. If you have a large yard, you may want to create multiple seating areas. But if you have a small space, a quaint little corner will do. No matter what the size, make sure you have somewhere you can enjoy a cuppa.
19. Through the trees
How lovely is this adorable little cottage in the woods? It would be so nice to wander and explore this place. This is proof that a cottage garden can be unstructured, wild and free. And a vintage wheelbarrow always gives cottage garden flavours.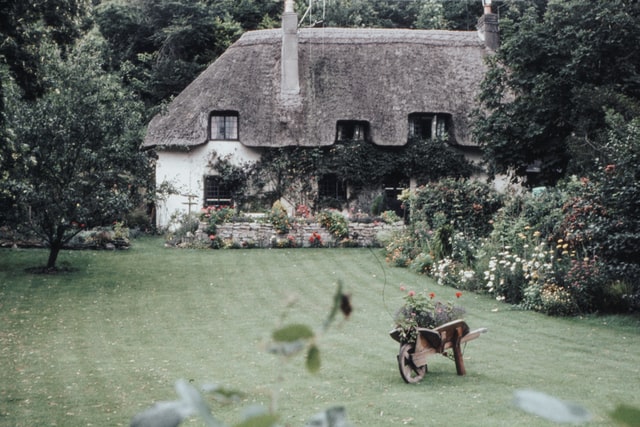 20. Around the pool
If you have a pool area, then spruce it up with cottage garden inspired plants. Create a divine space with white rose bushes, vines and tall growing trees. Well-kept lawn leading all the way to the pool will add a touch of elegance. But there are so many other inspiring pool landscaping ideas that you might also consider.
21. Rustic archway
Nothing says cottage garden more than a gorgeous rustic archway. An archway makes such a cute entryway to your outdoor area. Or, you might prefer a great addition at the front of your house. However you use it, just make sure you go all out and grow green vines over the top – this will look stunning all year round.
22. Cosy greenhouse
If you've got the space for it, why not install a greenhouse? It's perfect for the green thumbs. A greenhouse will keep your plants protected all year round. And it's also a gorgeous place to explore, sit and enjoy nature.
23. Sweet porch
A porch is an extension of your garden, so you need to make sure it looks the part. For that cottage garden look, make sure your front porch is teeming with flowers in pots, popping out of an umbrella, or in the front basket of a bike. It's a great way to add a pop of colour!
24. Line the fence
If you've got a fence outlining the perimeter of your yard, don't let it go bare! Instead, grow a hedge against your fence. A great choice is one that includes pretty blooms or pops of colour.
25. Manicured lawns
Cottage garden front yards and driveways ideally should be manicured to perfection, with gravel covering the ground and around outdoor pots. For help with your lawn needs, why not find a local expert?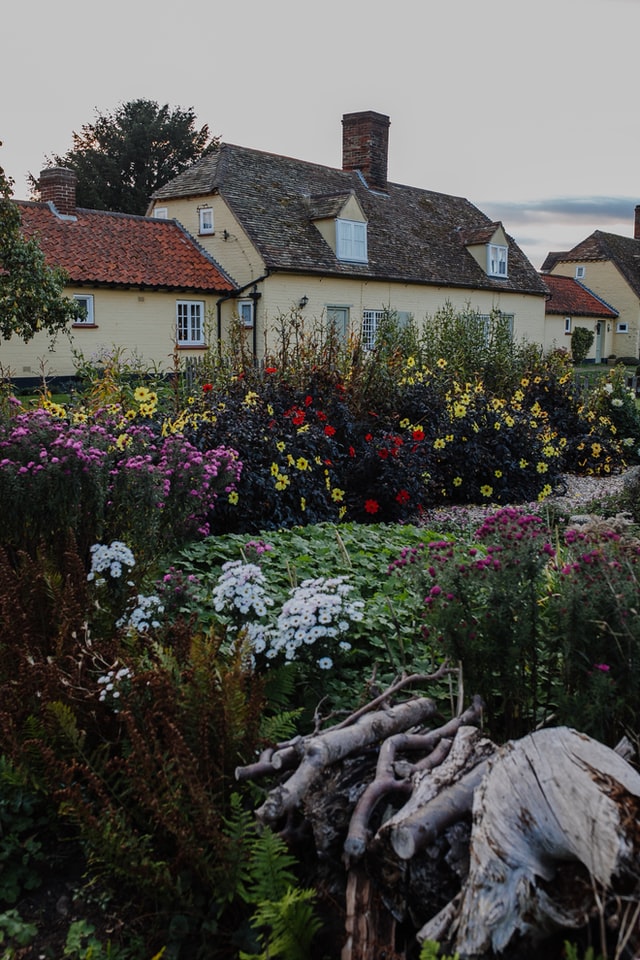 And there you have it, 25 cottage garden ideas. I think you already know which ones were my favourites – the ones with the roses, of course! Now, I want to hear yours. Which cottage garden ideas are you going to use for your home? Comment and tell me. And if you have any ideas that you think I've missed, make sure you share them too.