There's something so magical about a bookshelf. Books can transport you to another world, so your bookshelf should reflect that magic. Whether you are an avid reader or find yourself with books that need a home, you'll already know that a bookshelf is your best option.
Bookshelves don't just have to be a storage solution, they can be something that adds character and style to your space. And there are so many different bookshelves to choose from – from floating shelves mounted to the wall and built-in bookshelves to additional shelving units that become a feature, your bookshelf can tell whatever story you'd like it to.
So put on your reading glasses and thinking cap, and get ready to create your personalised bookshelf with these 25 bookshelf ideas.
1. Antique brown
How gorgeous is this antique brown book display? I love that the books used on this simple built-in bookshelf perfectly reflect the colour scheme of the rest of the room. If you have furnishings in your space that are an old leather look, then antique books with brown spines will help to continue your aesthetics nicely. I'm sure these old books have many exciting stories to tell.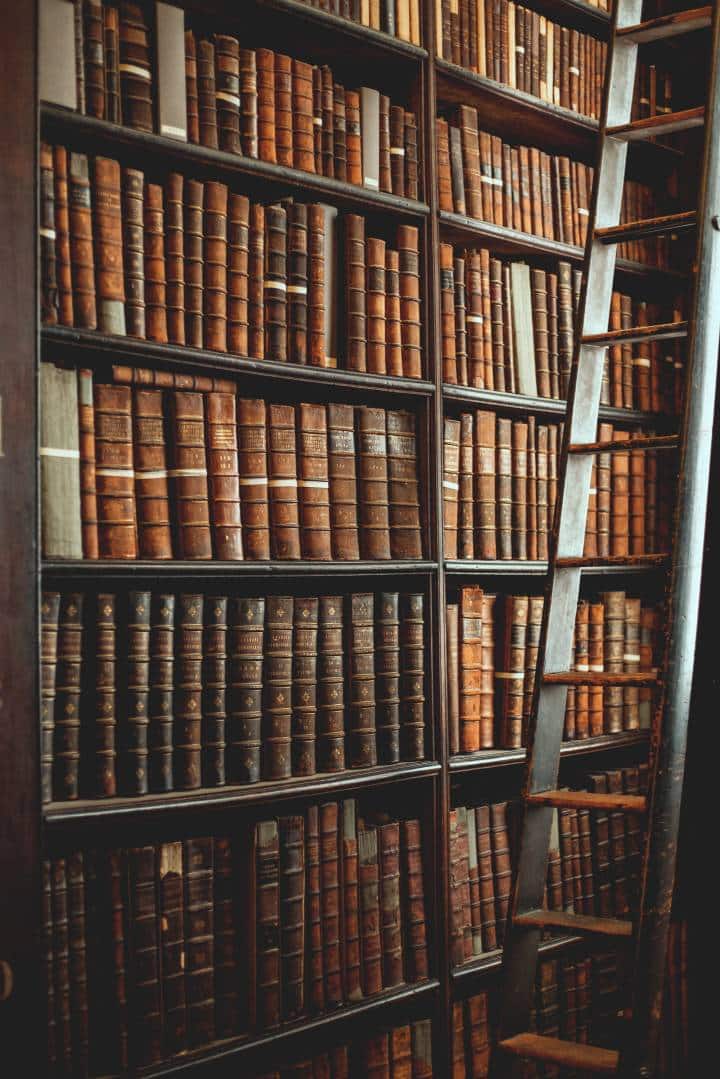 2. Abstract display
Elevate your book display with your favourite sculptural piece! I love how the entire bookshelf looks more expensive and unique next to this piece of art!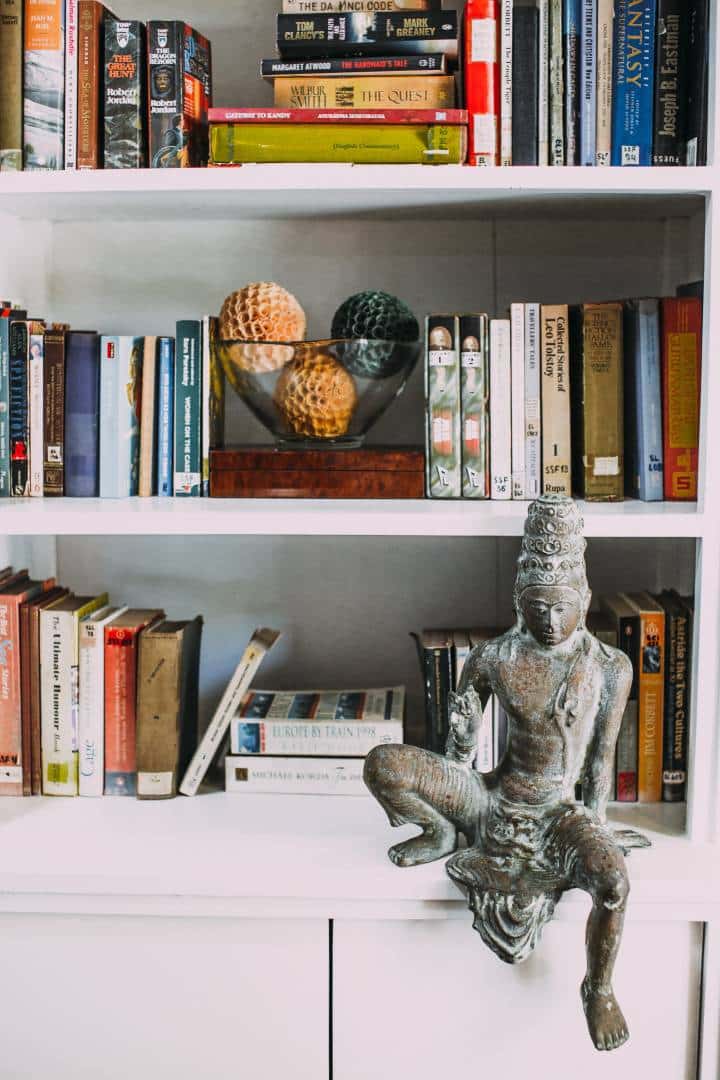 3. Built-in bookshelves
If you are in the process of building your home, then perhaps you should consider built-in bookshelves. What's not to love with a display that looks like a wall art installation? And this display looks even more inviting with a couple of accents or reading chairs in front. What a stunning and visually pleasing display.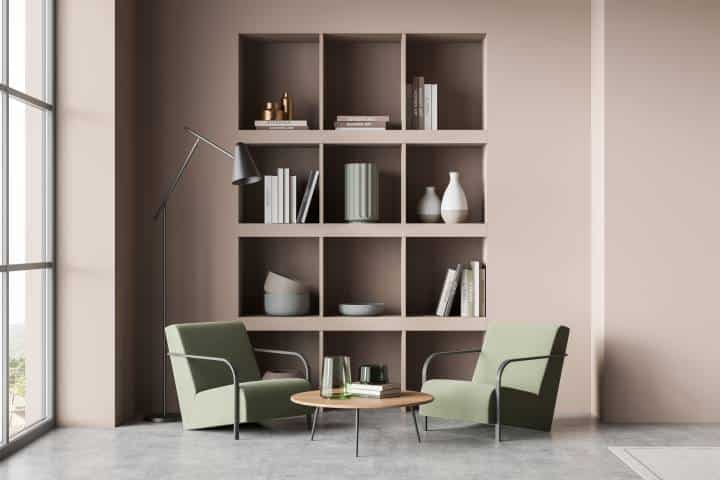 4. Colour coordination
Speaking of colour order, here's another gorgeous bookshelf with some colour coordination! If you have books that don't quite match, they have been turned around so that you can see the pages rather than the spines. This display idea is a great way to add colour to a plain white wall.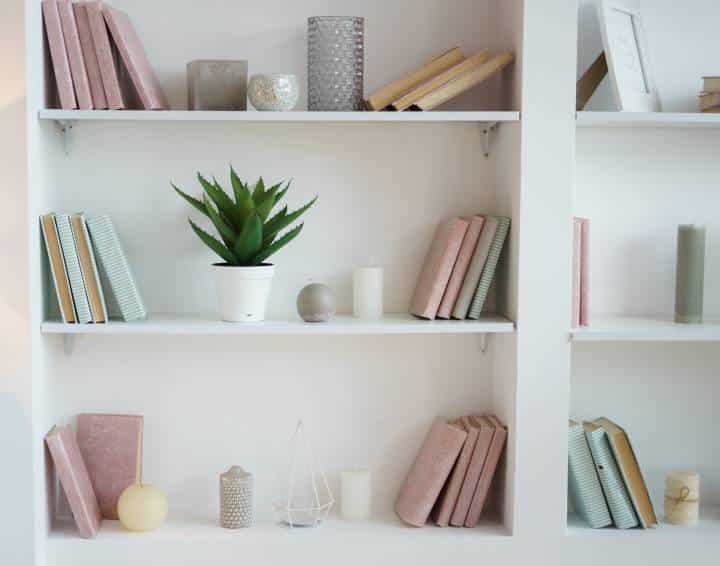 5. By the window 
How spectacular is this bookshelf beside the window?! If I ever get the pleasure of building my own home, this would be something I'll request. I love how natural light shines through the window, which perfectly complements the cute and cozy reading nook.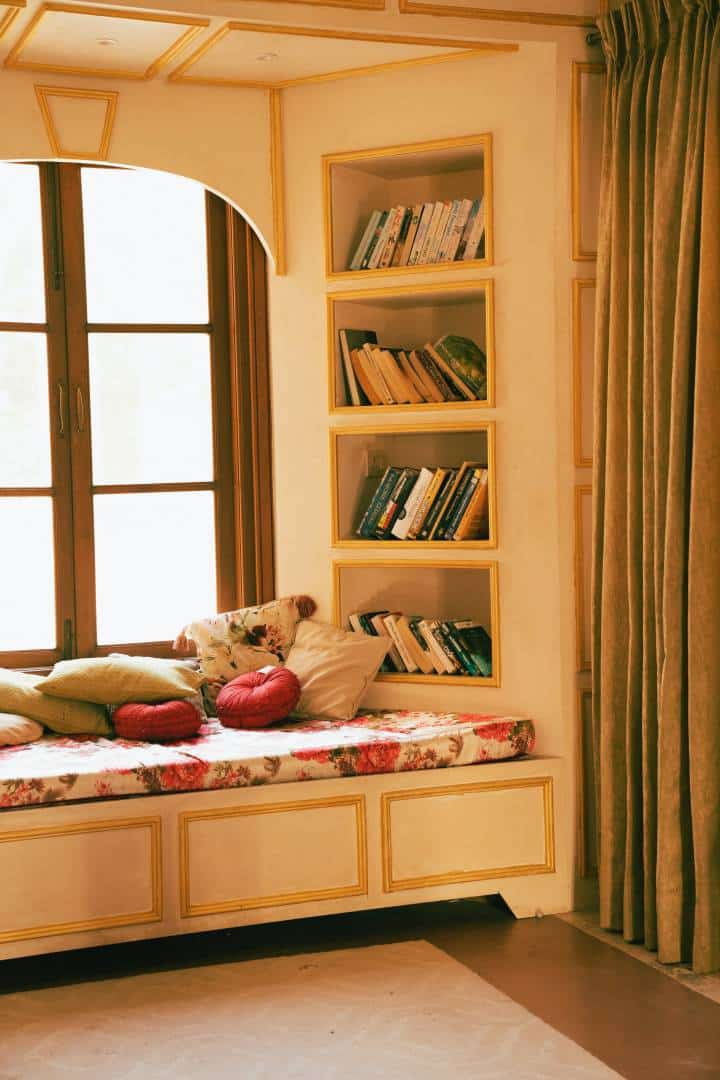 6. Wall divider 
If you need a wall divider, you can use a bookshelf to make that space functional instead! I love how it adds character over a plain divider while smartly using the vertical space it provides.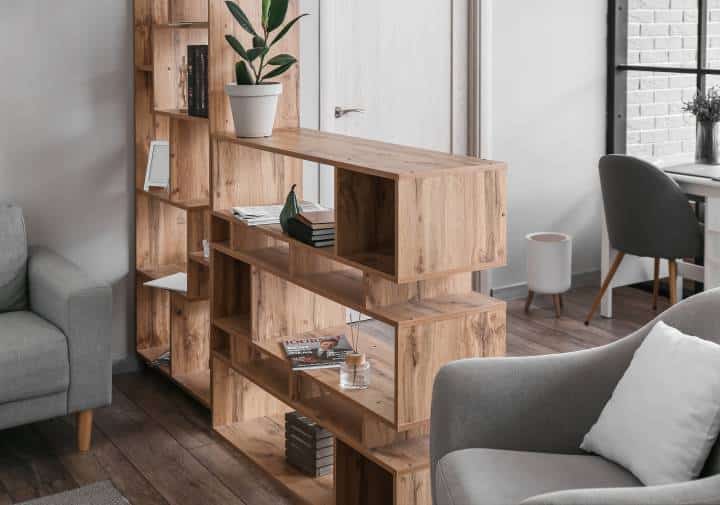 7. Indoor plants
You can never go wrong with indoor plants. They add so much life to any indoor space. Use plants of different sizes or pots of different colours to add character to the bookshelf. Consider adding indoor plants such as pothos, which give a trailing effect!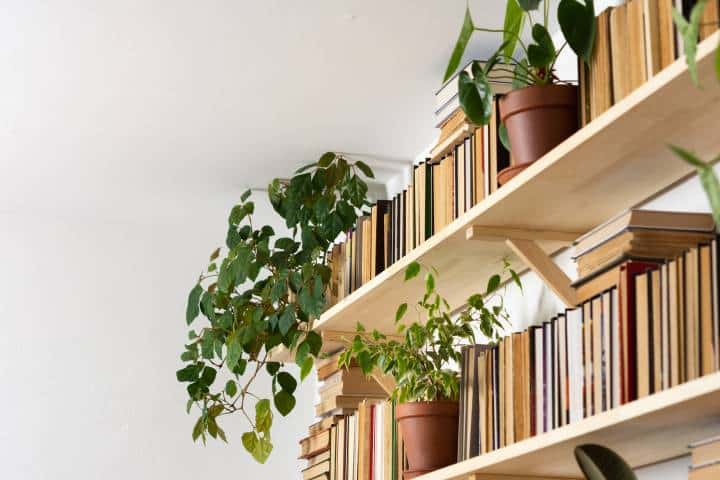 8. Staircase bookshelf 
This is a fantastic space-saver idea! I love this idea for a home that perhaps doesn't have much space. A built-in shelf is seamlessly installed in the space below the staircase. This would work so well in a loft-style home! Absolutely genius.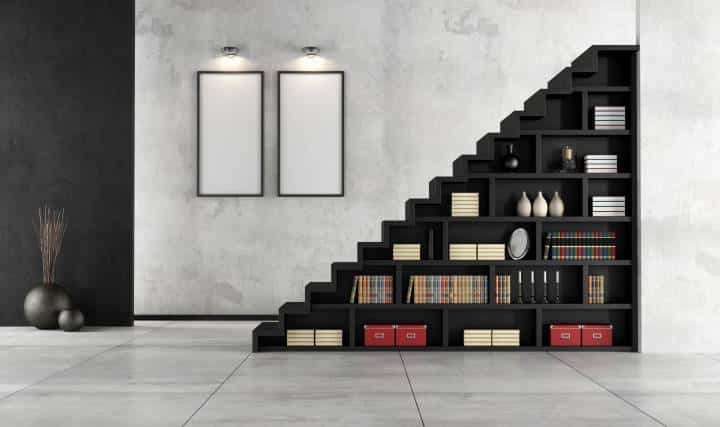 9. Side by side 
If you're renting or don't want to commit to a full built-in style bookshelf, then adding simple shelving to your space can look just as lovely! If you have a lot of books to display, I love buying identical shelving units and lining them up side by side, which helps create a seamless look.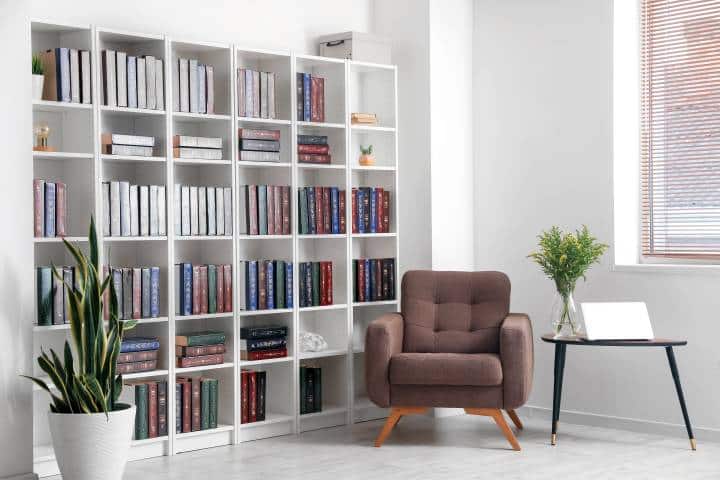 10. Wooden shadow boxes
If you don't have many books but still want to display them organised, then there are plenty of clever storage solutions just like this wooden shadow box display! I love how the wooden shadow boxes look stacked on each other, and the floating effect adds to the modern look.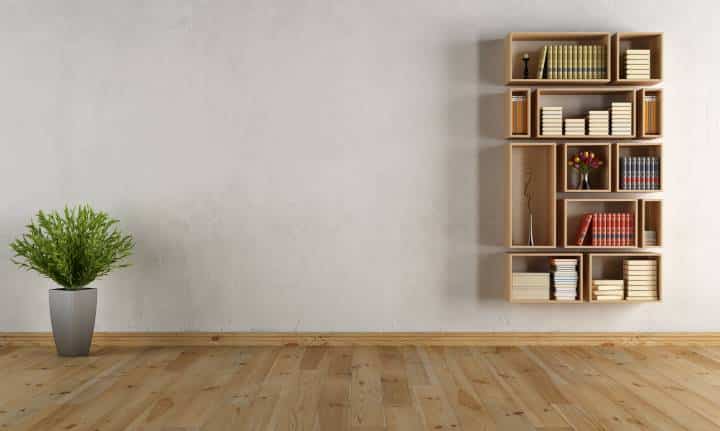 11. Hallway bookshelves
A bookshelf is a great way to spruce up a dull hallway. I love the simple shelving in this hallway that matches beautifully with the white-painted wall on the other side. Add a little lighting to make the bookshelf look more stunning!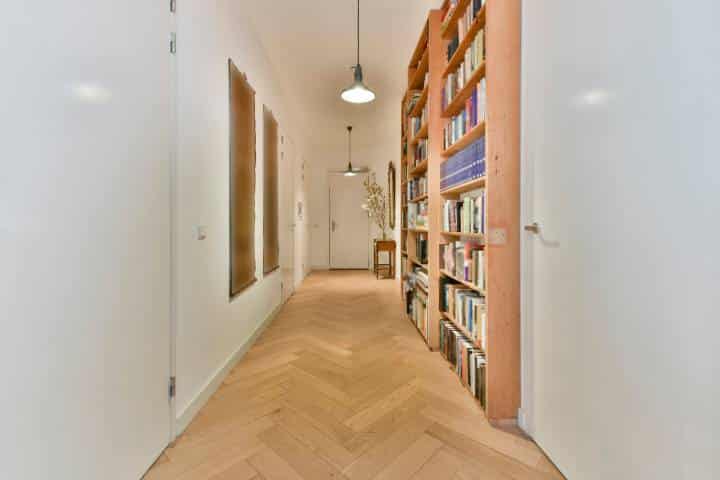 12. Book pages display
If you want to display your books, but the colours of the spines don't really match the colour scheme of your room, then turning them around is an excellent idea so you can only see the white and cream colours of the pages.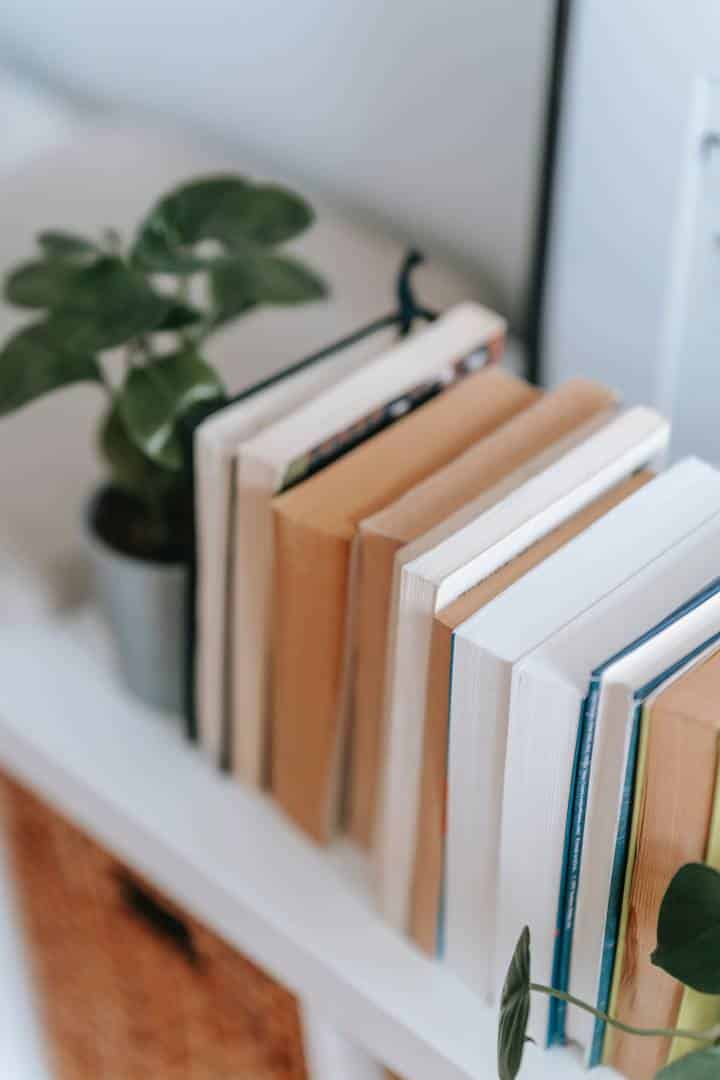 13.
Diagonal shelf box with faux plants
This would work so well in a dining or entertainment room as a wall display! Adding box shelves is a fabulous idea if you have a small selection of books to display. I love how the faux plants on each box also add a pop of green, making the look fresher, regardless of whether your books are new or old, or both!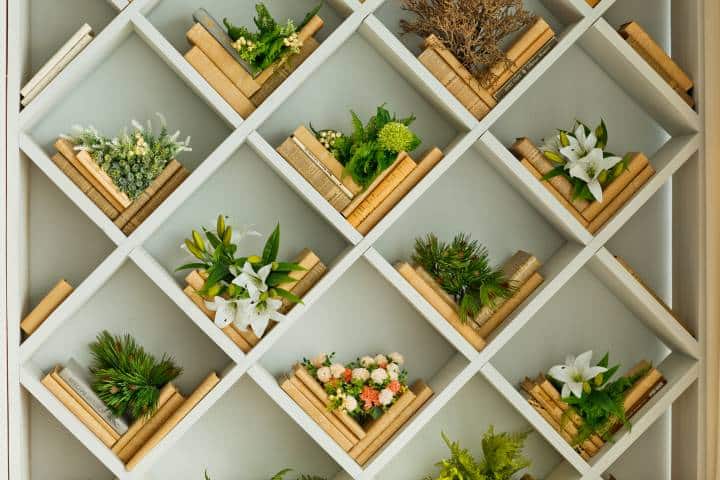 14. Black wall, wooden bookshelf 
If you prefer something a little more dark and moody, this bookshelf is definitely for you! I love how classy this wooden bookshelf looks with the black wall and the warm backlighting. What a stunning display! I can imagine how spectacularly styled the rest of this space is.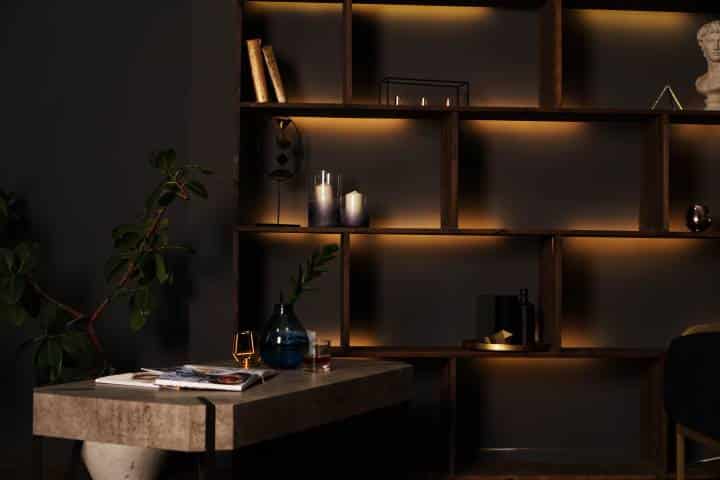 15. Scandi style 
There's nothing quite like the simplicity and sophistication of scandi style. I love these simple shelves mounted to the wall, which is excellent as they keep things off the floor and neatly organised. You can also add small plants and photo frames as decors. The simple colour palette and decor make this bookshelf feel calm and clutter-free.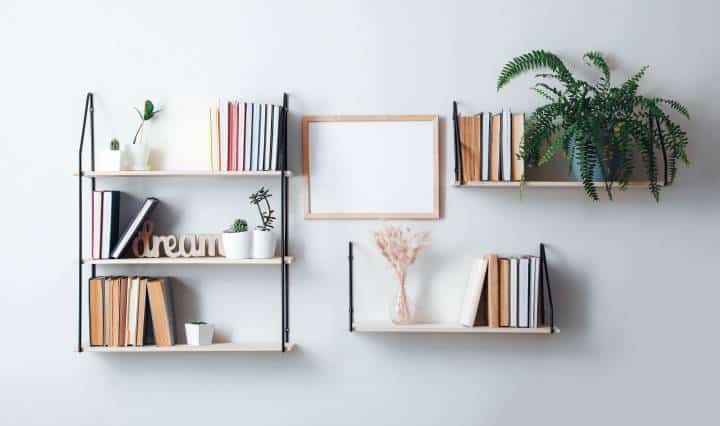 16. Round bookshelf with grid spaces
How modern-looking is this shelf! This one is perfect if you want a minimalist bookshelf that's a bit adventurous and edgy. I love the grid with varying space sizes which adds a unique character to the bookshelf. And the way the spaces are divided means that you can categorise your books and decor items much more quickly. Plus, it looks stunning!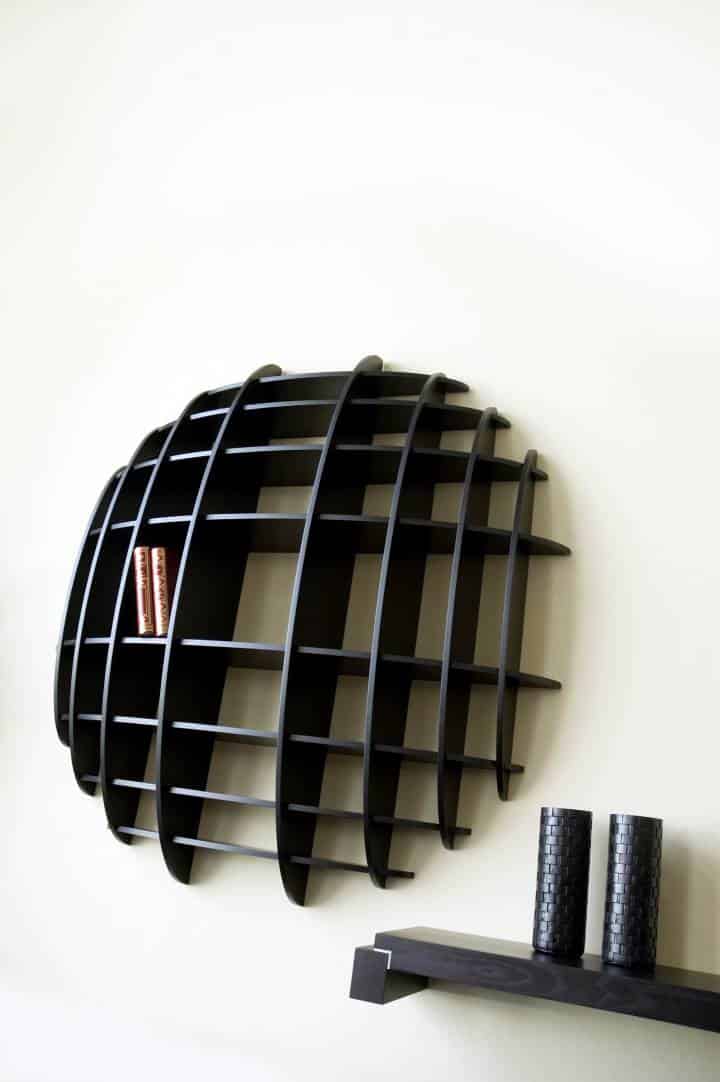 17. By the fireplace
It doesn't get much better than sitting by the fireplace with a book in hand. I love the built-in shelving next to this fireplace that only has a tiny amount of books to go with the decor, but I'm sure this bookshelf would look equally stunning and filled with lots of books! You could even have your books and decor on rotation, so some months you have lots of decorations displayed, and others you could have your library full of books.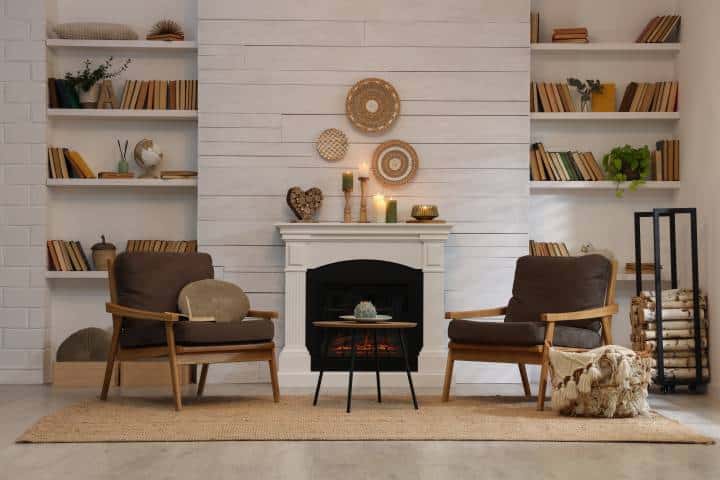 18. Front display
Display your books' beautiful cover art! Especially if you have food and beverage books, art, architecture, and fashion books, then it's time to fill the plain, white wall with covers of different designs, colours, and typography.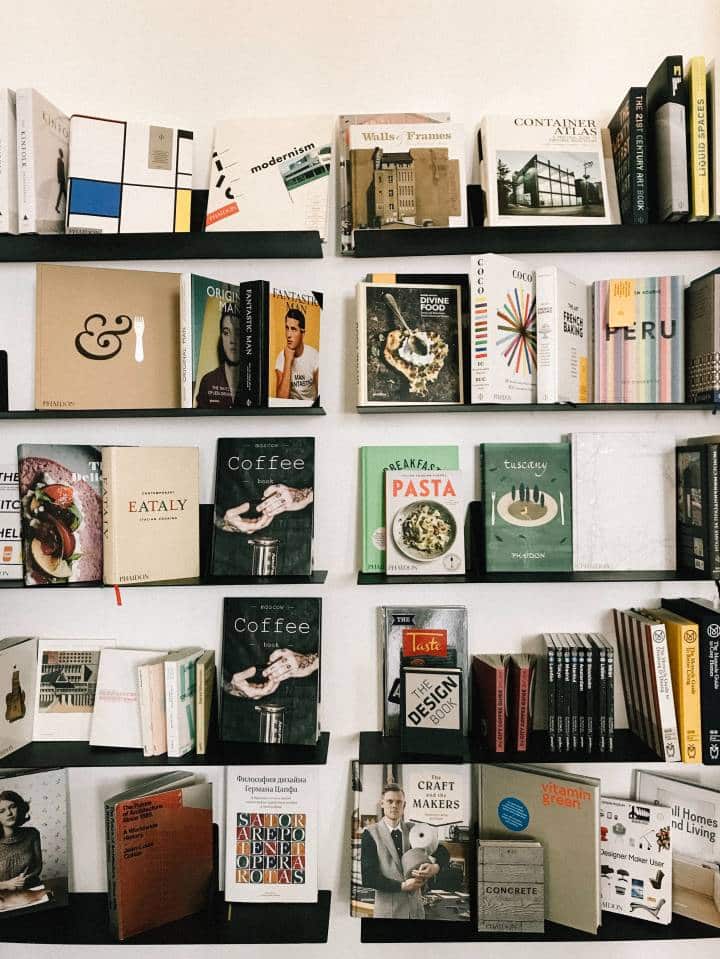 19. Monochrome vertical and horizontal
Using one colour but in two orientations indeed adds variation to your space. If you love a pop of a single colour, you can add variation by choosing a horizontal floating shelf and a vertical standing shelf like this gorgeous yellow space below.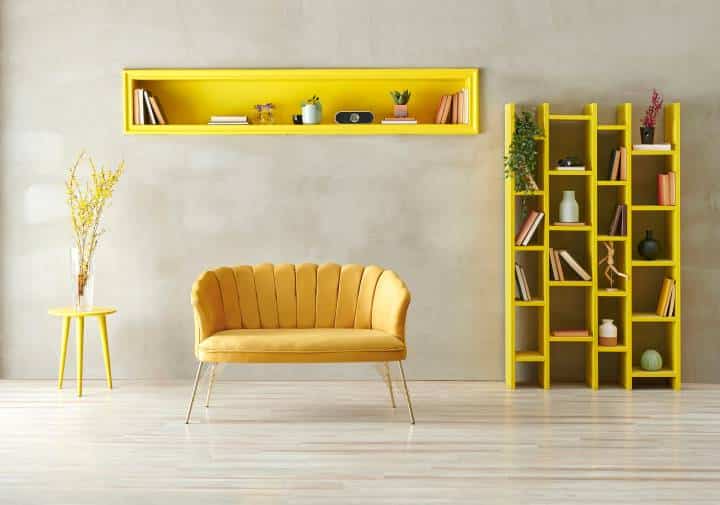 20. Dreamy shelf lights
How gorgeous is the styling of the bookshelf?! This would be the perfect space for anyone that loves reading (and a little twinkle lighting). I love the fairy lights across each shelf layer, which gives the perfect reading atmosphere!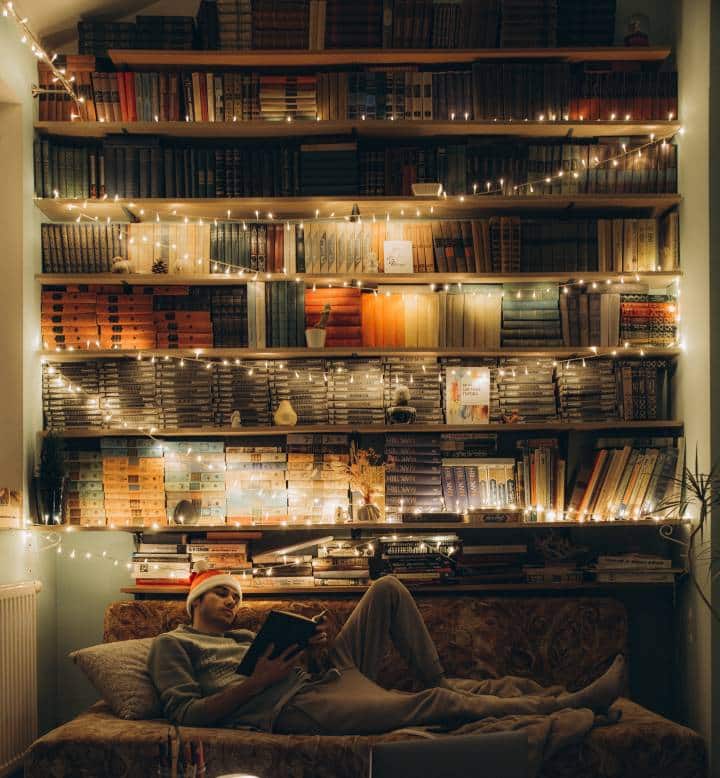 21. Book headboard
Do you like reading before snoozing? Then this is the perfect shelf for you! Ditch your usual headboard and install simple shelving instead. Add decors on top and install a reading lamp on the side for that relaxing slow-down before going to sleep!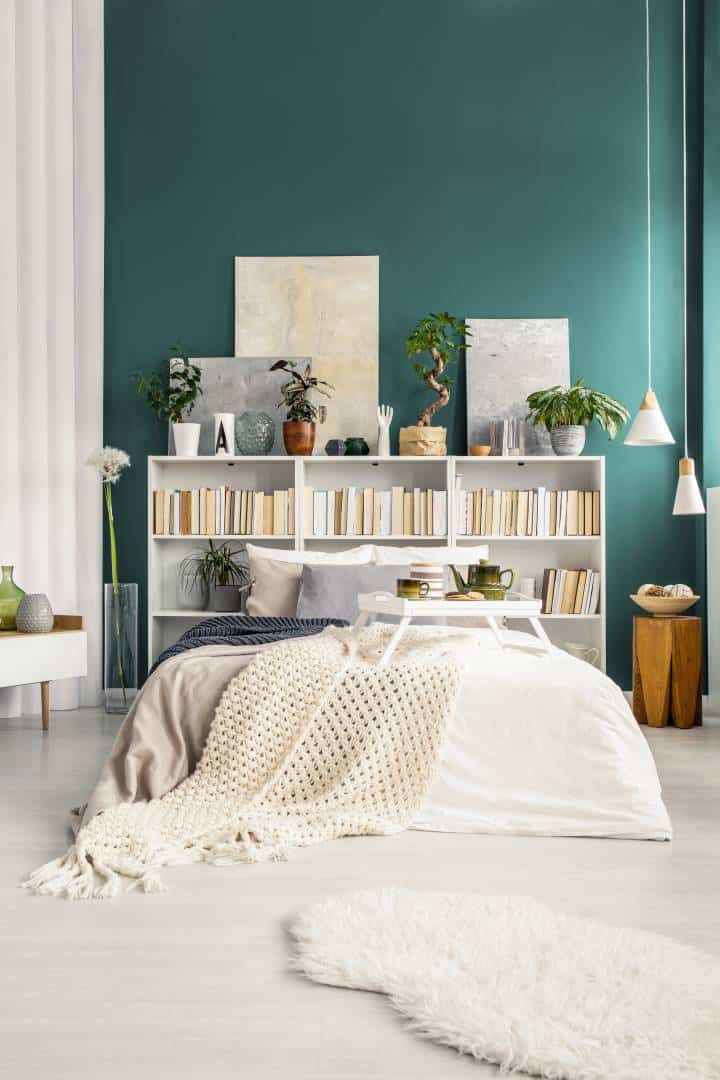 22. Library ladder
There's just something so magical about a library with a ladder. It reminds me of something you would see in a charming rom-com based in London. I love how the placement of books varies – others are shelved with the spine on display, while others show their pretty covers.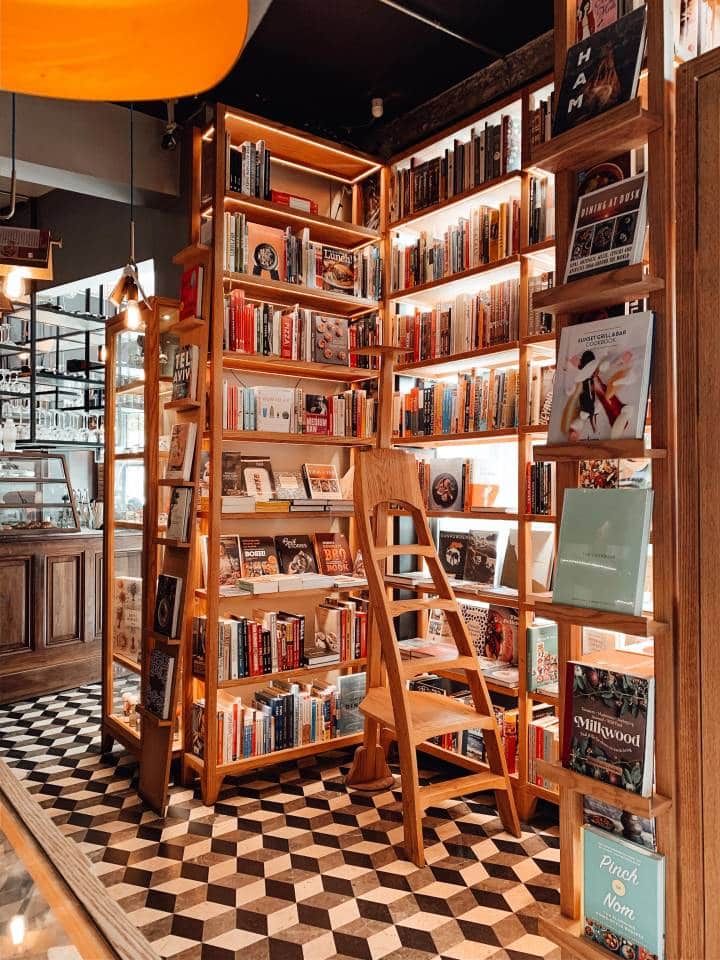 23. Shelves with drawers
This shelf doubles as a bookshelf and storage! I love the idea of having the books and decor on the shelves while the drawers below serve as storage units. This would work great in your home's living room as a multipurpose shelf for the whole family.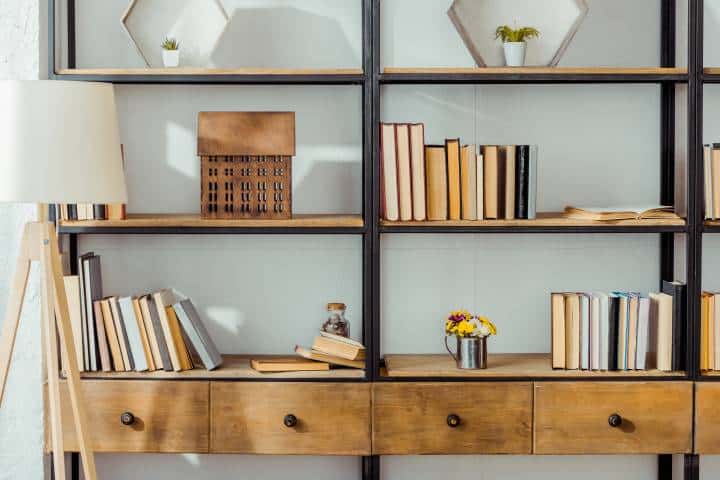 24. Plants and honeycomb shelf
Plants are the way to go if you ever want to freshen up a space! Add a honeycomb-shaped bookshelf for an additional nod to nature. If you want to combine your love of plants and books, this is the way to do it!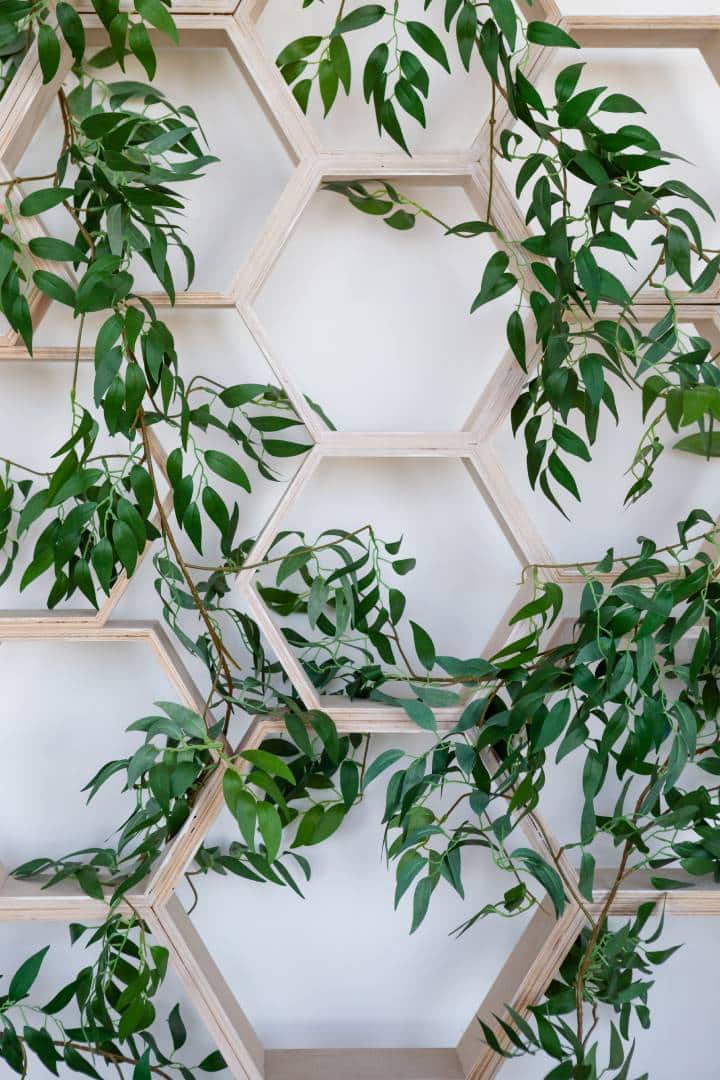 25. Books, luggage, and cameras
Love travelling and photography? Display your photography or travel books with your cameras and vintage luggage! That's one way to keep yourself inspired with adventures and wanderlust!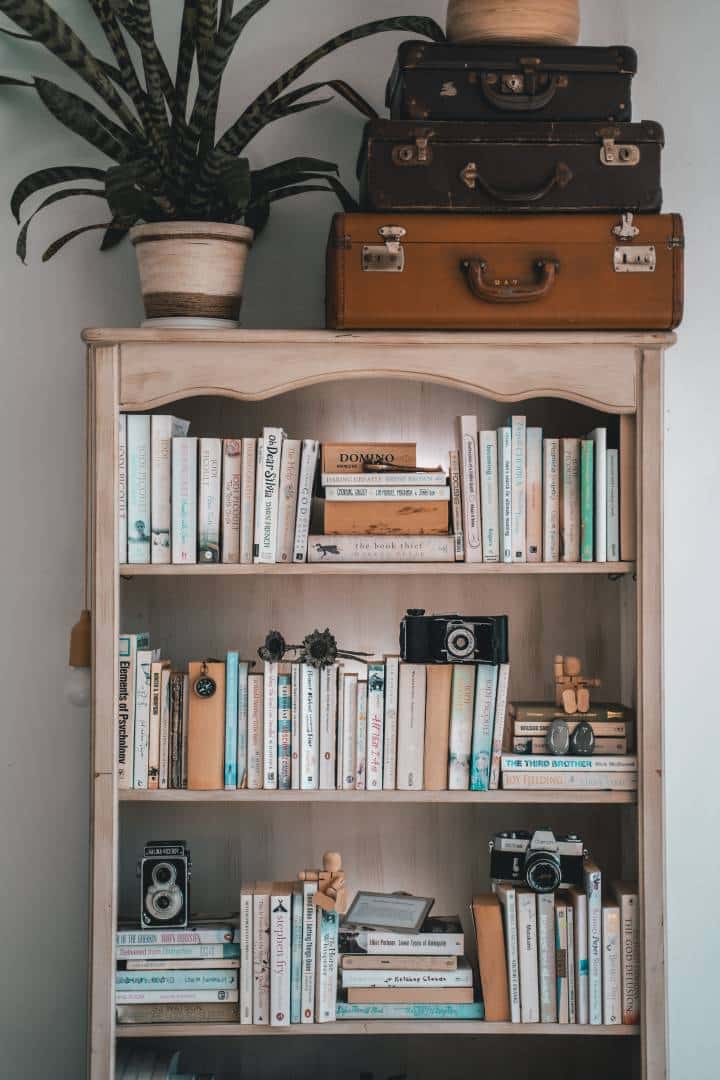 So there, we have 25 bookshelf ideas to inspire you to create a more thoughtful place to store and display your books. I love the bookshelves that have the books turned around so that you can only see the pages, which is genius in making books fit into a colour scheme. What were your favourites?