Lighting choice can make or break your bedroom design. Bedroom lighting is not only functional but can also be a standout feature. For this reason, choosing the right lighting can highlight or brighten important areas in your room, including the ceiling, walls, and cosy reading nooks.
Whether you have a large budget to transform your lighting design or simply want to add a little glow to a dull room, there are endless options.
Ready to light up your bedroom? Check out these 33 bedroom lighting ideas!
1. On the bed frame
Hang twinkling lights on your bed frame to create a cosy and comfy feeling for your bedroom, especially when the main lights are turned off at night. They can be positioned to provide a gentle glow that is easier on the eyes than brighter overhead lighting, making it easier to relax and wind down before sleep.
2. Space-saving lighting
You can also make your lighting fixtures functional by integrating them with your ceiling fan! It keeps the space simple and avoids making your ceiling too crowded. Having the fan and light integrated into one fixture can also be more convenient since you avoid having to deal with separate controls and fixtures.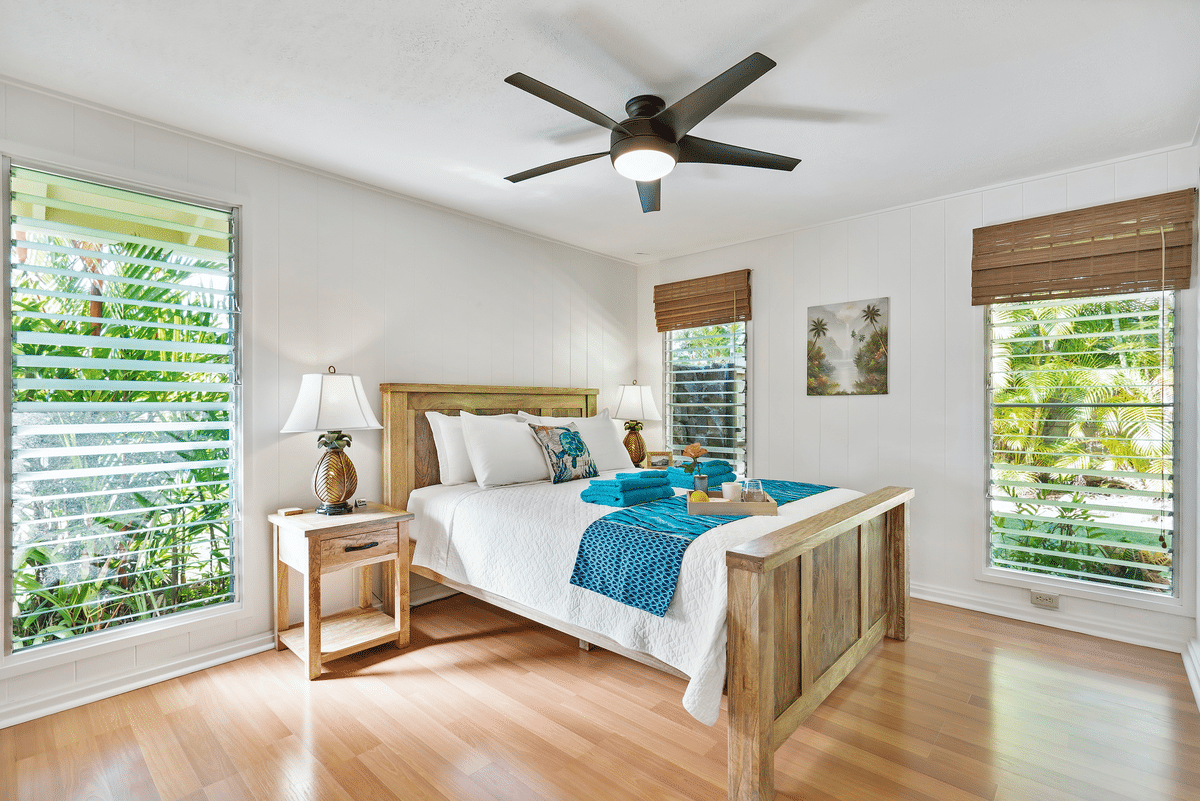 3. One for everyone
If you have a guest room where many people stay, having a light for everyone is the way to go! Not only will it add convenience to your space, but there will be no bickering when someone wants to stay up and read, and the others want to go to sleep!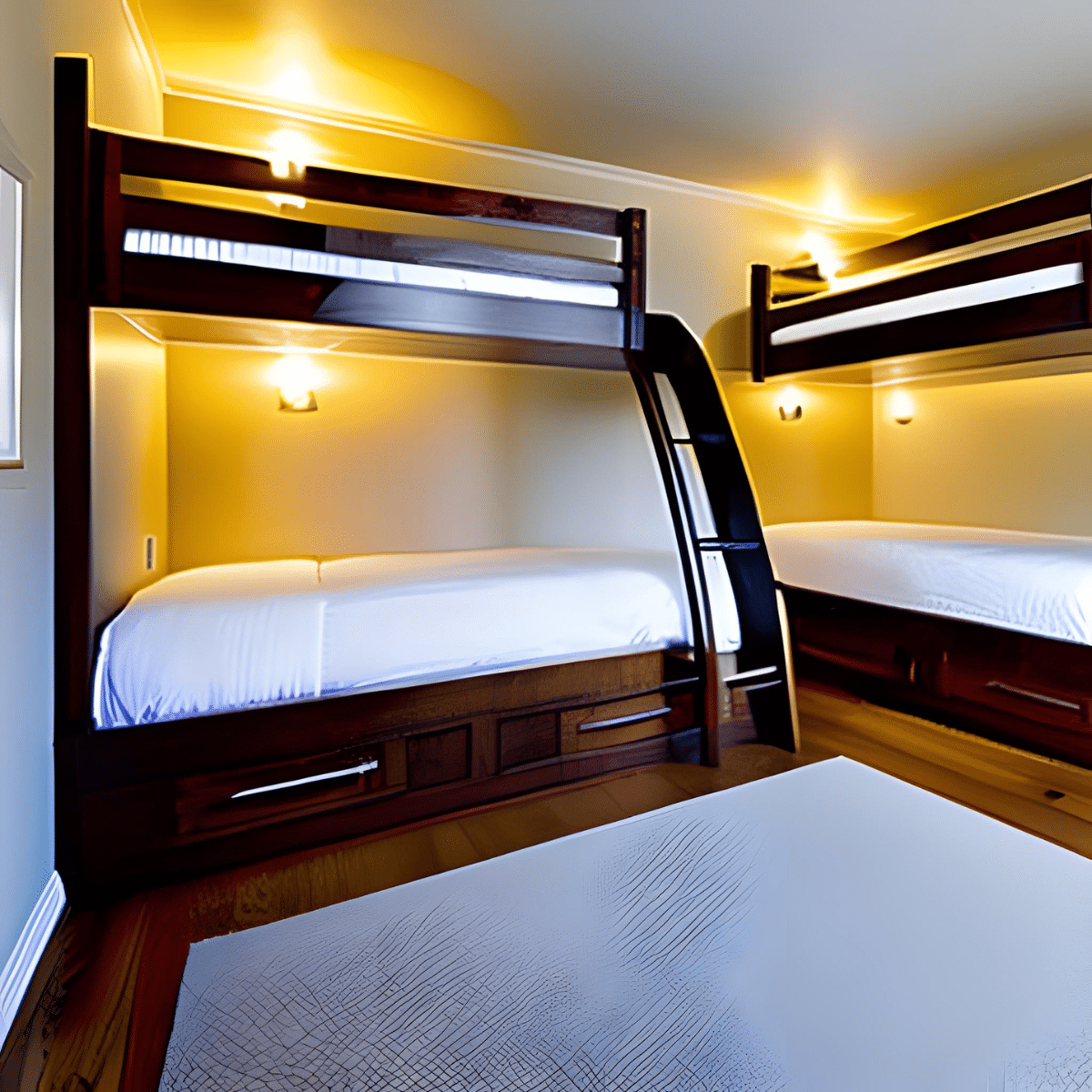 4. Simple ceiling lights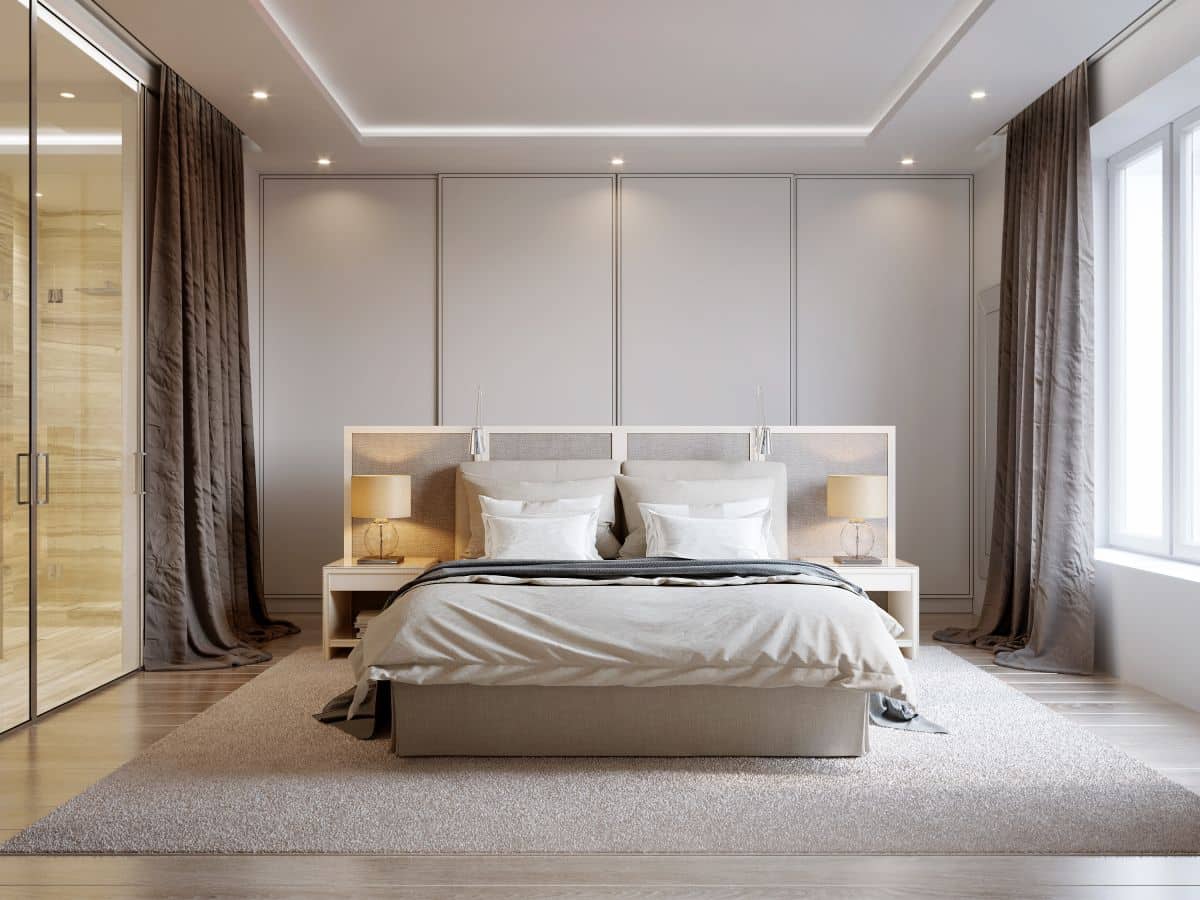 This idea is simple and obvious, but we just had to include it! Dotting simple ceiling lights across your room will ensure your space is always well and evenly lit. Adding simple bedside table lamps will also be perfect for mood and reading lighting at night.
5. Vintage reading lamp
If you enjoy reading before going to bed, opt for a small reading lamp that gives you enough light for late-night reading before some shut-eye. Have it installed right next to your bed, high enough to get you through the pages of your favourite book.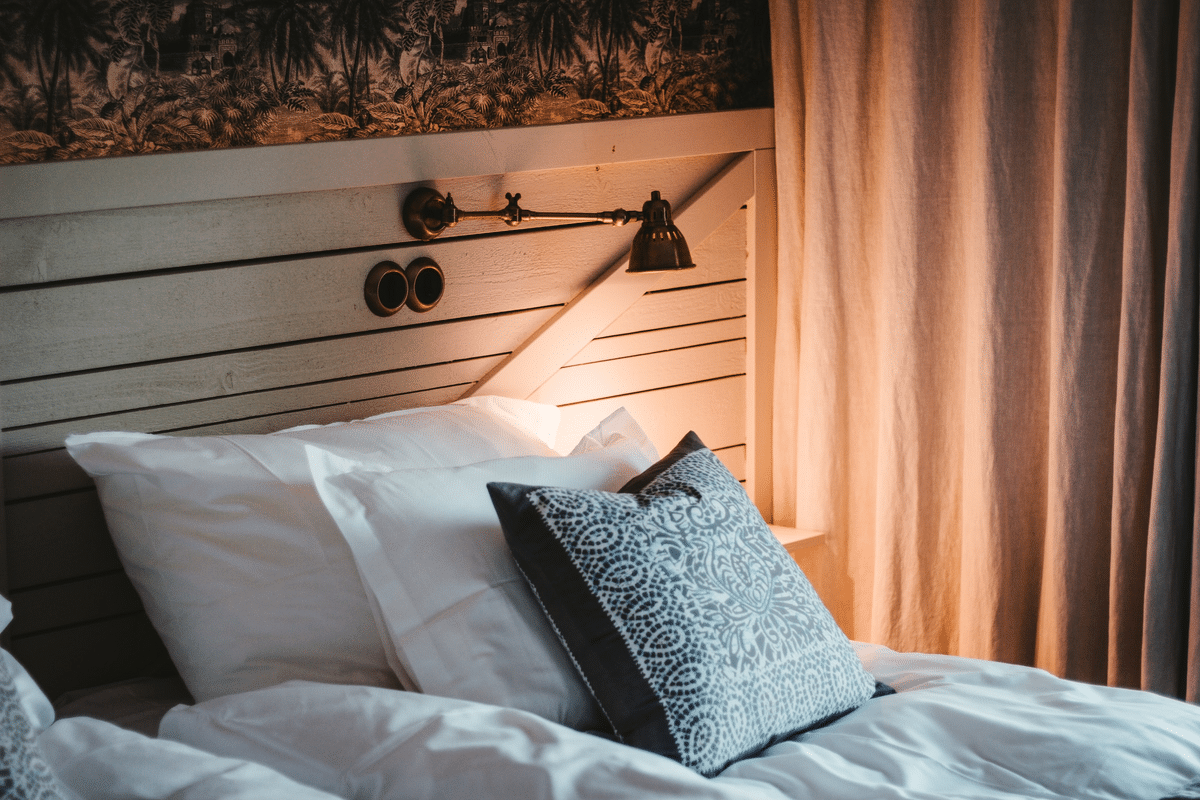 6. Elegant chandelier
Get a bedroom lighting fixture fit for royalty! An elegant chandelier is the quintessential lighting that you would see in a fairytale or a castle. Pick out a chandelier with beautiful dripping crystals so you feel like a king or queen waking up with it over your bed every day.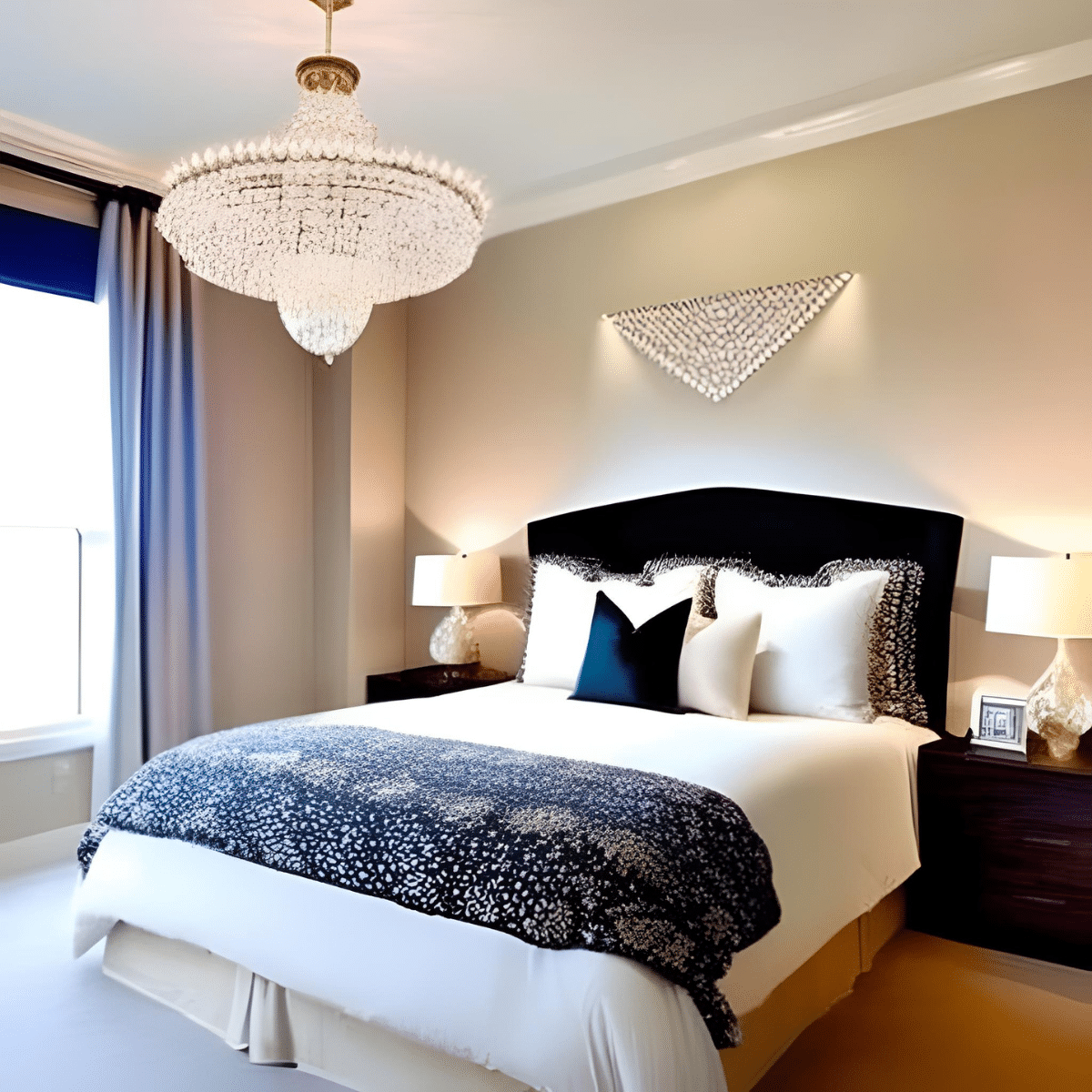 7. Fairy light love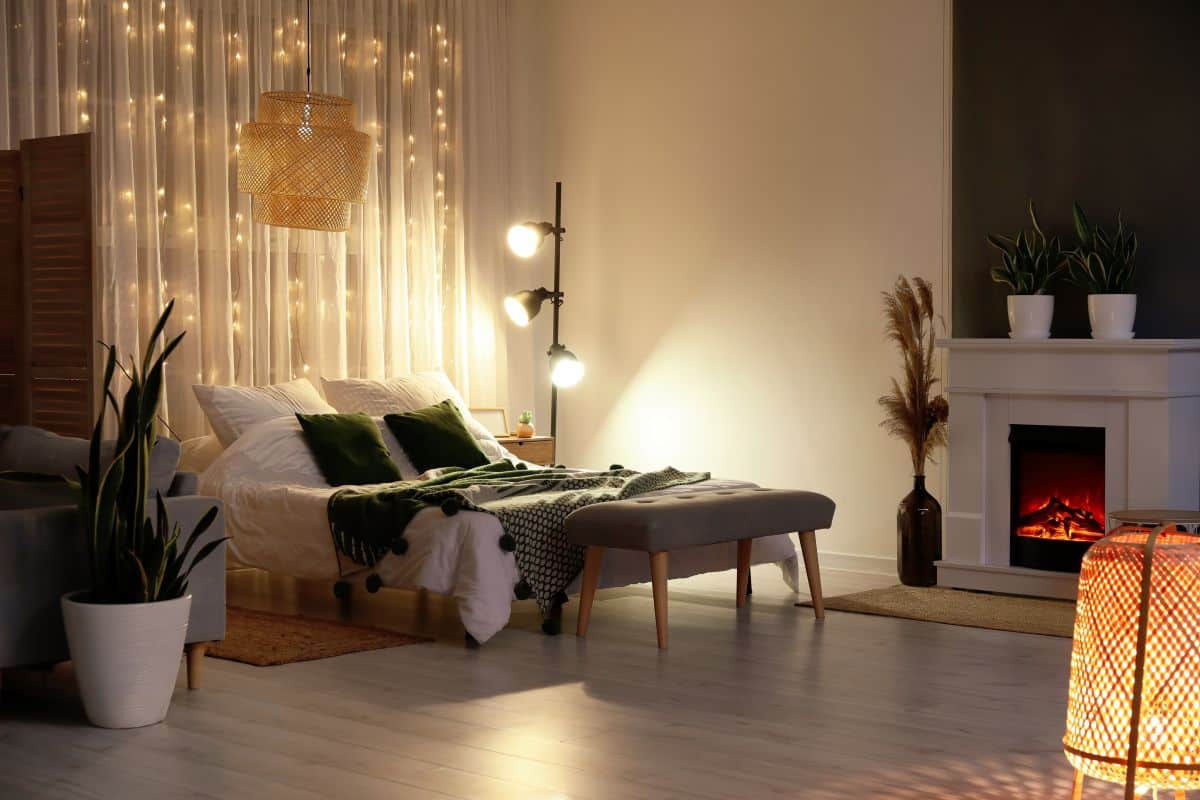 Create some mood lighting and relaxing vibes at night or in low light with fairy lights! Curtain fairy lights look great going down a wall to create a beautiful cosy space. You can even add some sheer curtains to make the most out of the light during the day.
8. Suspended bedside lamp
Instead of occupying your bedside table, a suspended bedside lamp will save you space and provide just enough light to that area in your bedroom.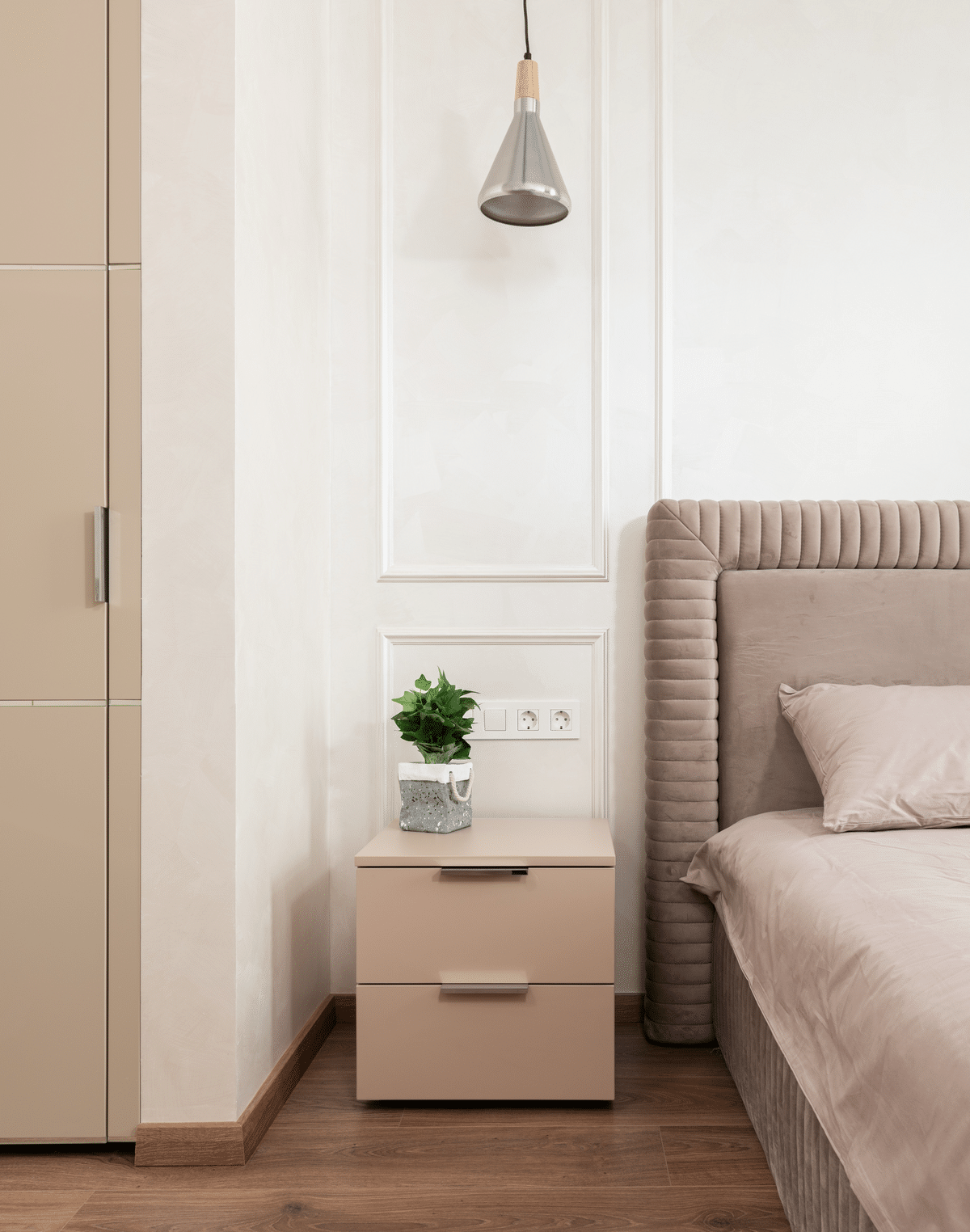 9. Torch lighting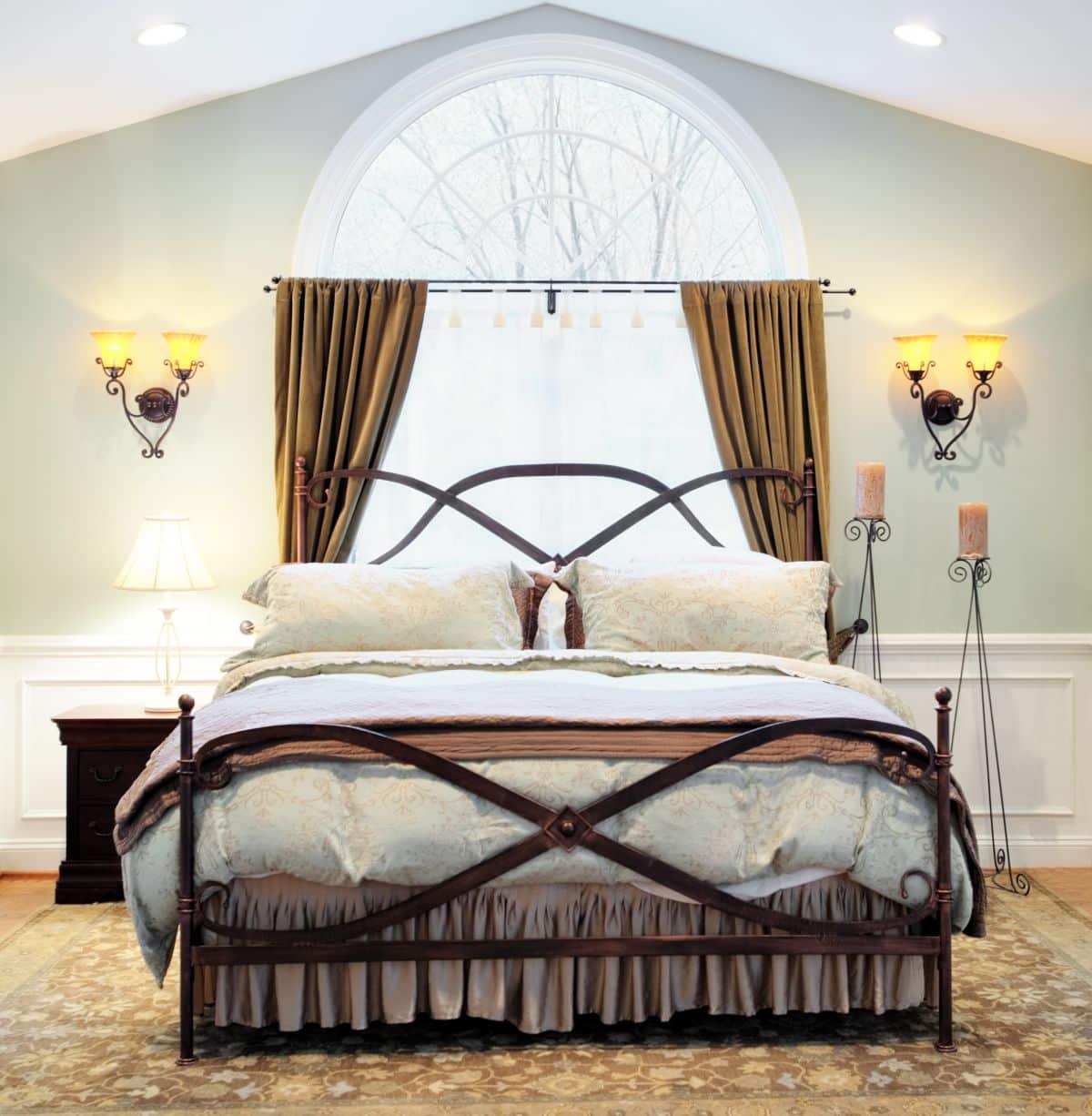 Give a rustic feel to your bedroom with torch lighting! This kind of lighting can create a warm and cosy ambience in a bedroom—the perfect atmosphere for sleeping.
10. Geometric pendants
Geometric pendants can go well in a bedroom! They are so effortless, yet on trend, and make a statement. The interesting shapes can help fill up an empty space by your bedside table or in the corner of your bedroom.
Metal geometric lighting also matches well with a wide range of furniture, fabrics, and other decorative elements so that you can get creative with your decor. Bonus!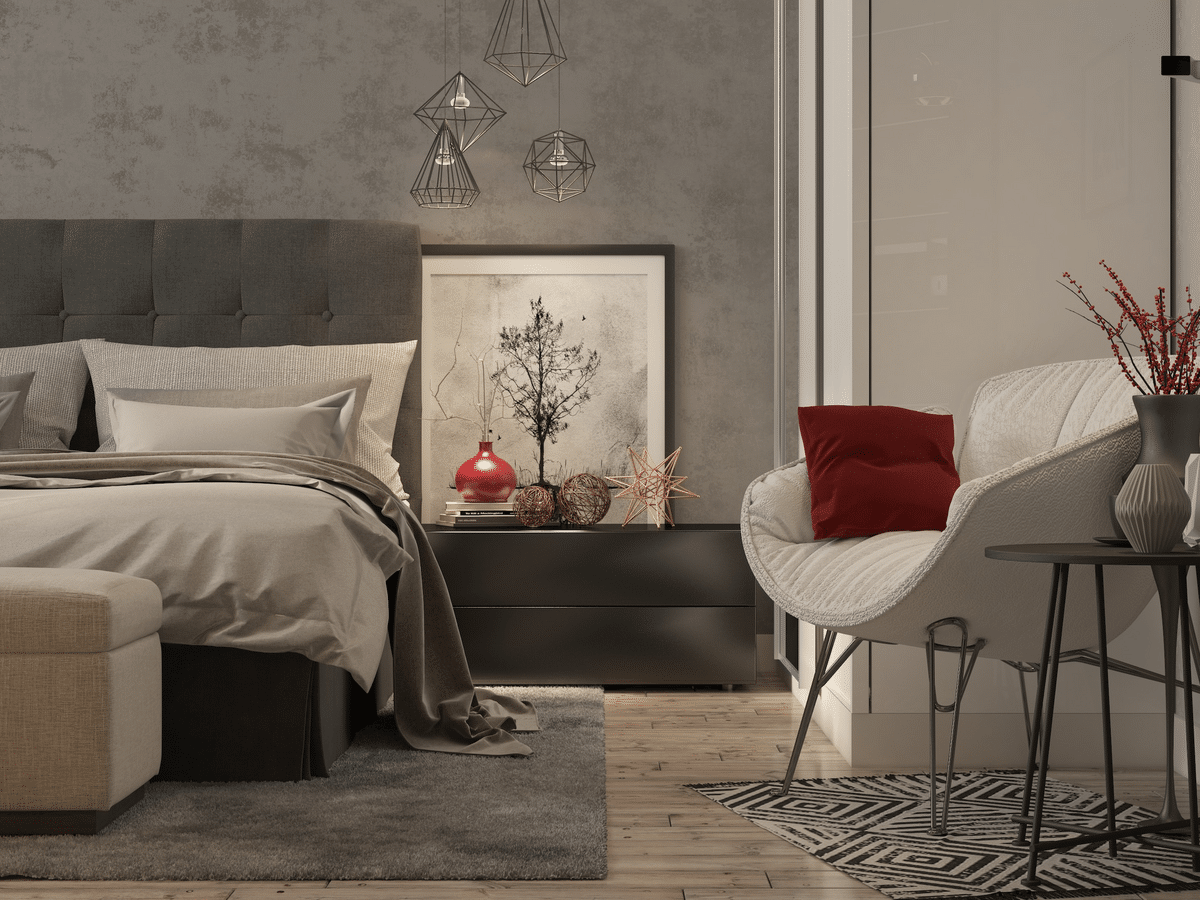 11. Filament bulbs
How cool is it when you can see the filament in lighting bulbs? Filament bulbs give a laidback and relaxed vibe to the room. The cables can be twisted around the bed frame, adding extra detail. You could even put a switch for each lamp on each side of the bed so that you and your partner have full control over your own side of the bed.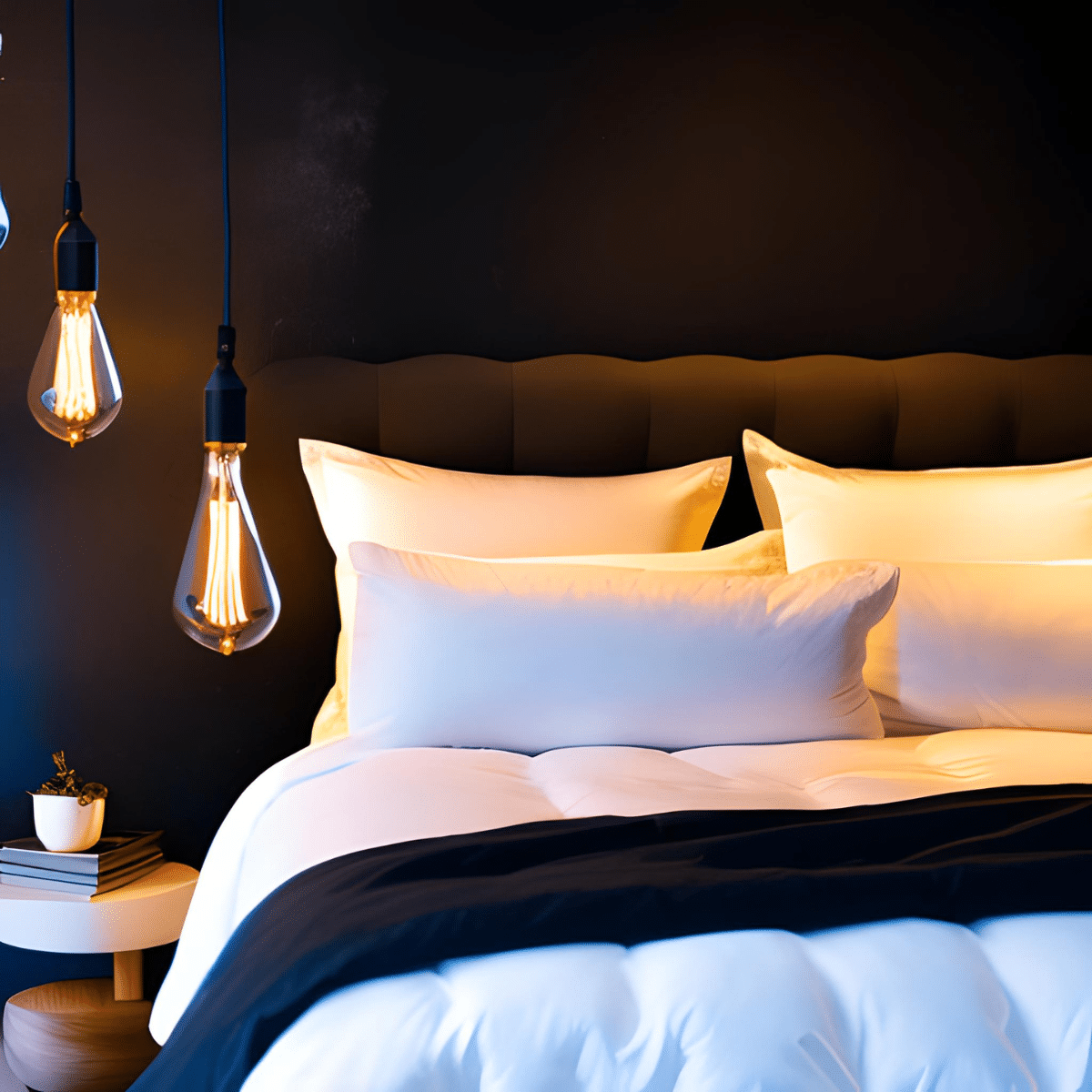 12. White and bright
Who isn't a sucker for all the whites and brights? During the day, all you'll need is a wide window for this kind of bedroom so that you won't require artificial lighting. Meanwhile, at night, a beautiful chandelier above the bed would provide a glow that is so unique.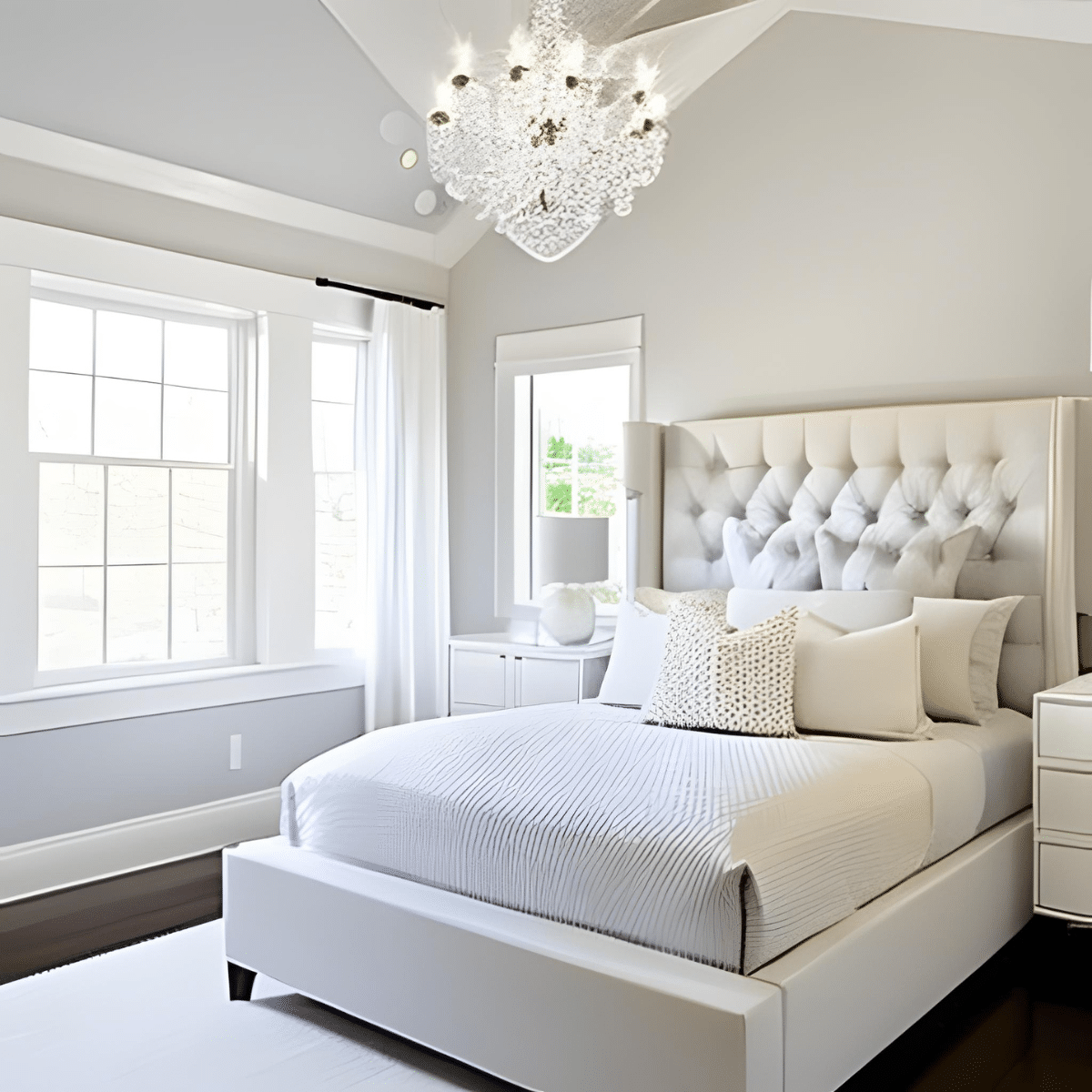 13. Light in the dark
This bedroom is the opposite of the above, but you'll love it just as much! The dark tones in a bedroom can be complemented by a lot of good light to bring some dimensions into the room.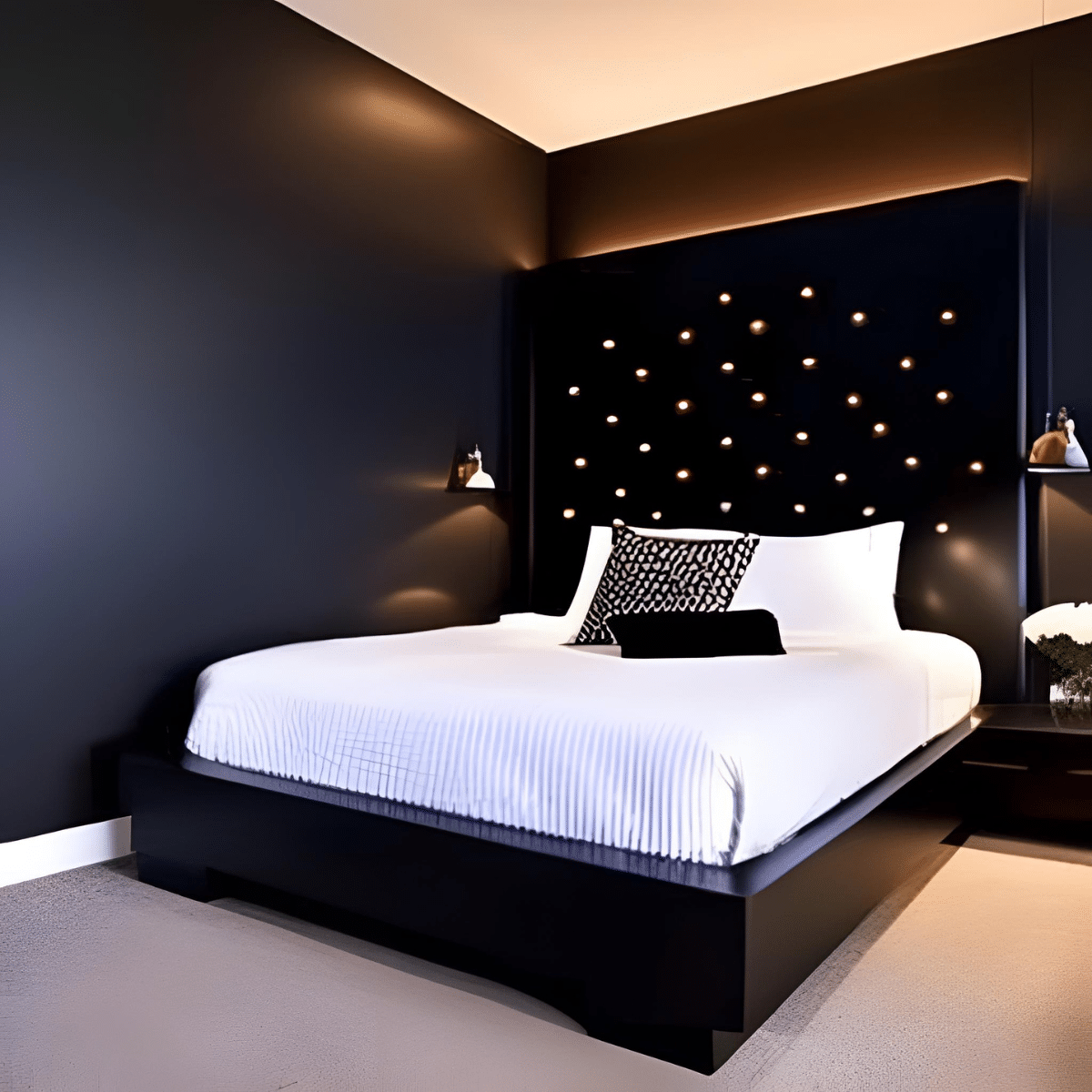 14. Matchy-matchy
If you love having two of everything, this idea is for you. You can put two lights on each side of your bed to make everything look symmetrical. This kind of lighting even perfectly frames your bed.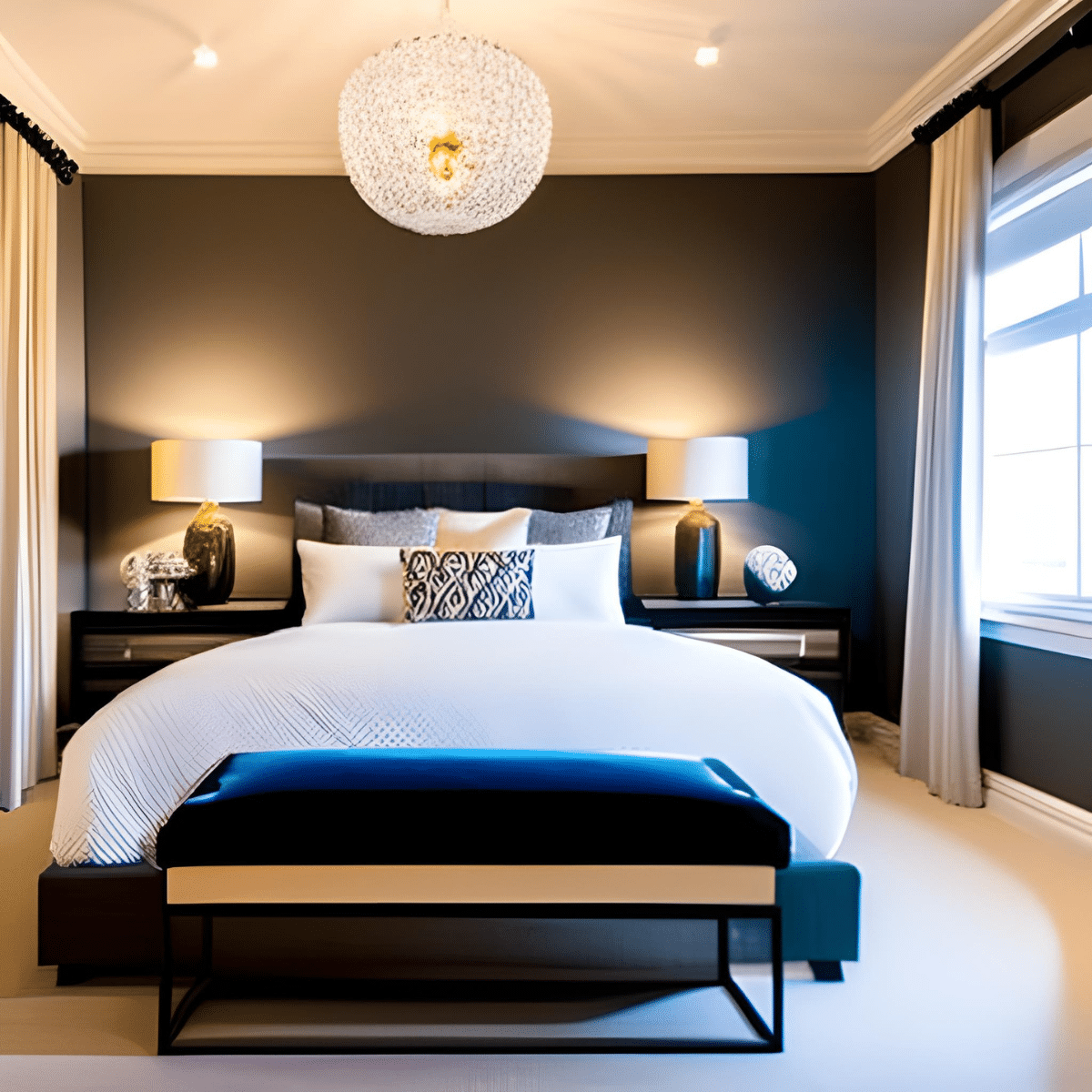 15. In the ceiling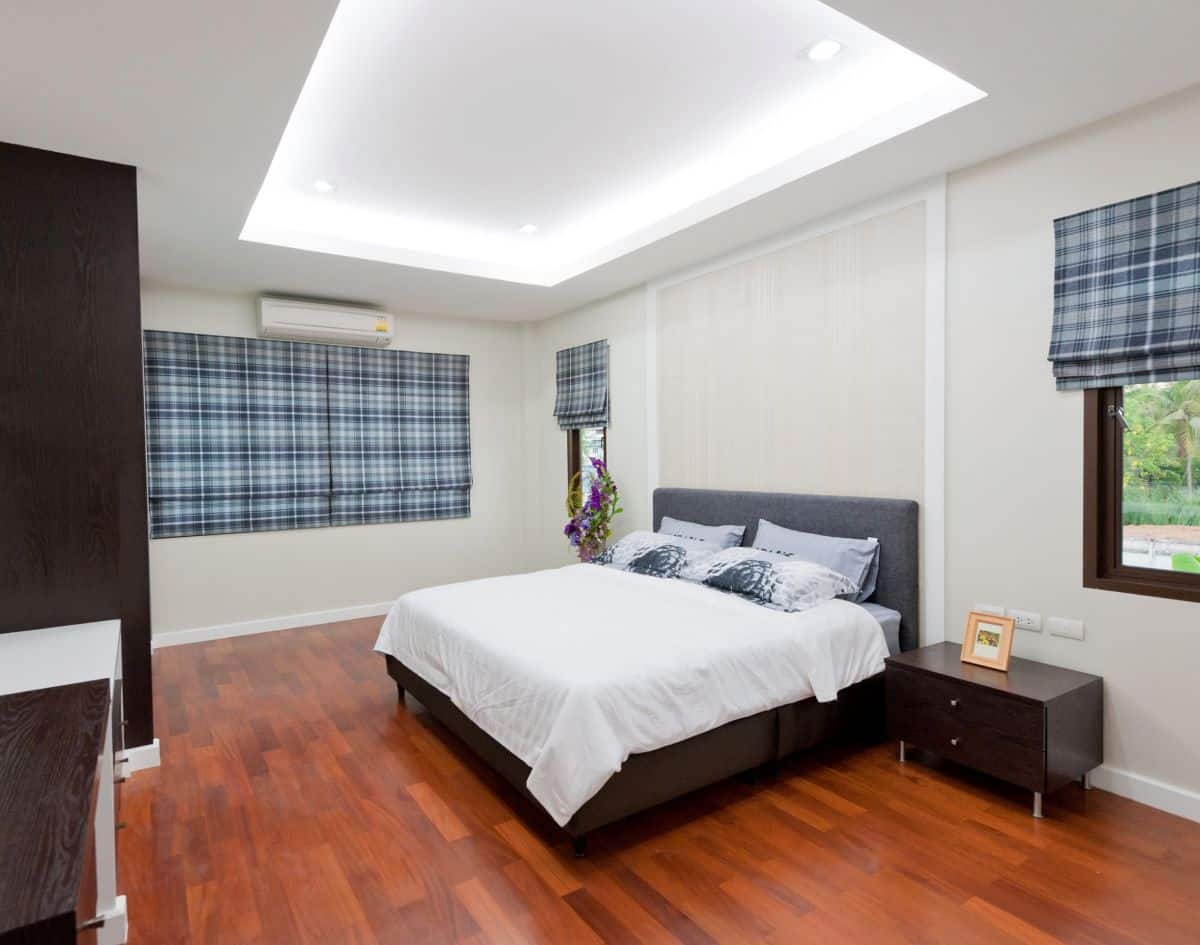 You can ensure everything in your room is illuminated by putting the lights in the ceiling itself! Cove lighting provides ambient light that highlights the architectural features of your room. It also creates a sense of depth and dimension in a room.
16. In the alcoves
For rooms with little to no windows, lighting can make a huge difference in square cuts in walls and built-in shelving. Such spaces can accommodate not only a lighting feature but art pieces as well.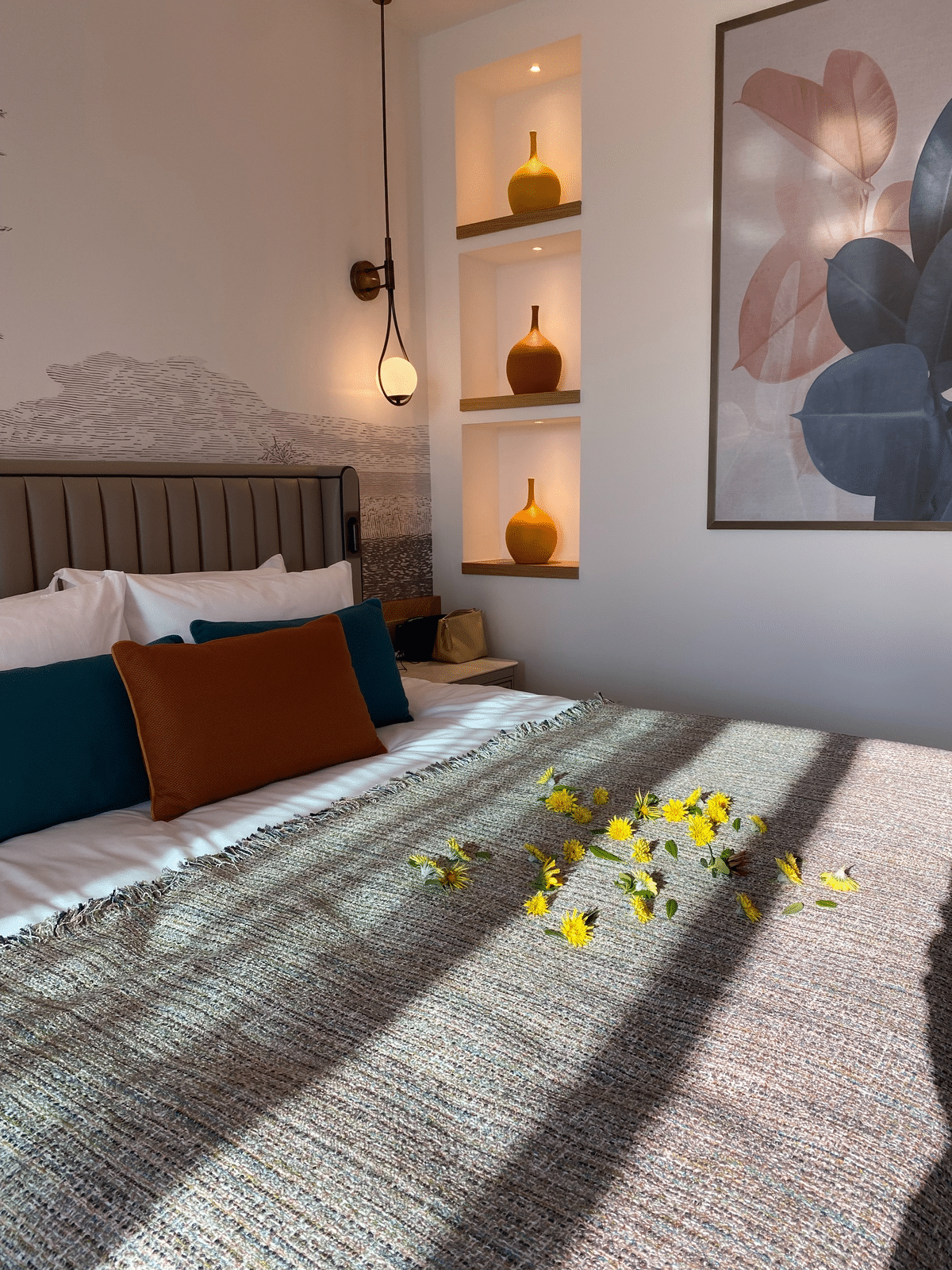 17. Behind the wall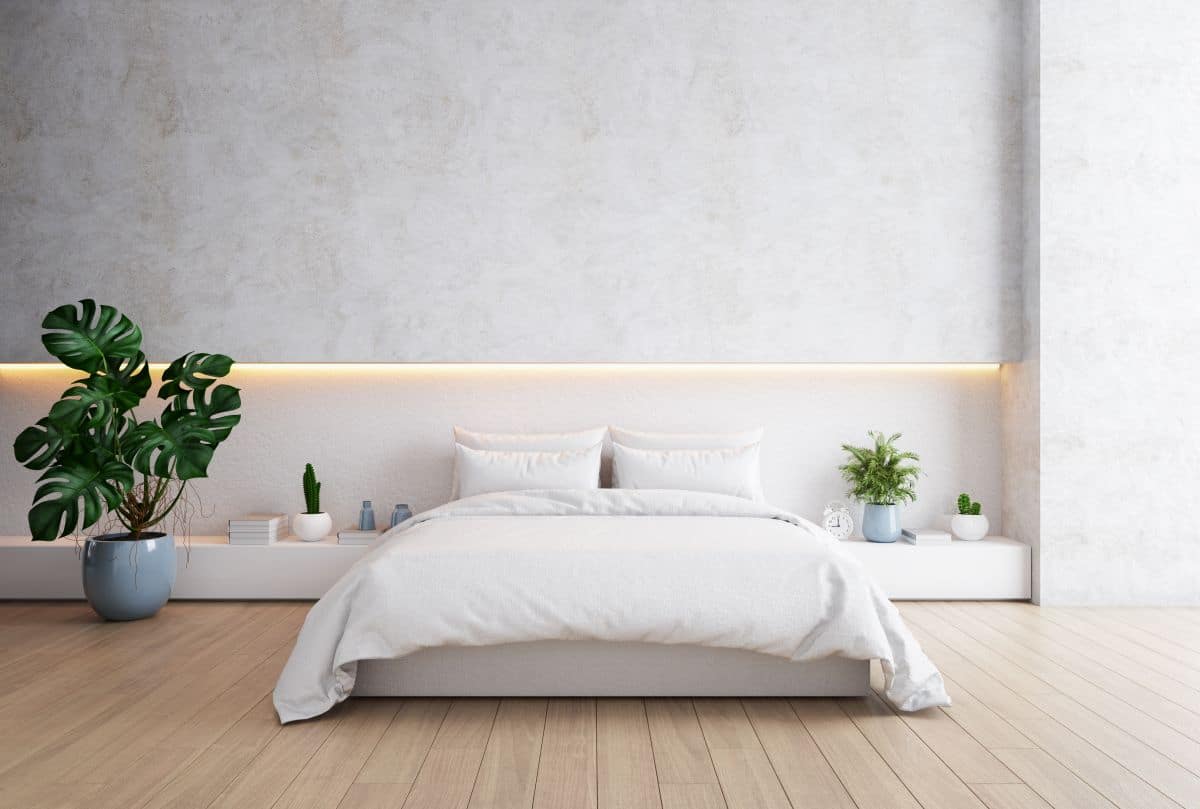 Here's another way to manipulate a wall to accommodate some lighting. The wall behind your bed can double as a headboard, shelf, and light! How convenient. Lighting really adds dimension to any space.
18. Rattan pendants
Rattan is so on trend right now! Turn a simple bedroom from plain to fashionable by just adding some pendant lights! It would be amazing to see the light beaming through the rattan at night, which would leave an intricate and beautiful pattern on the walls and across the bedding.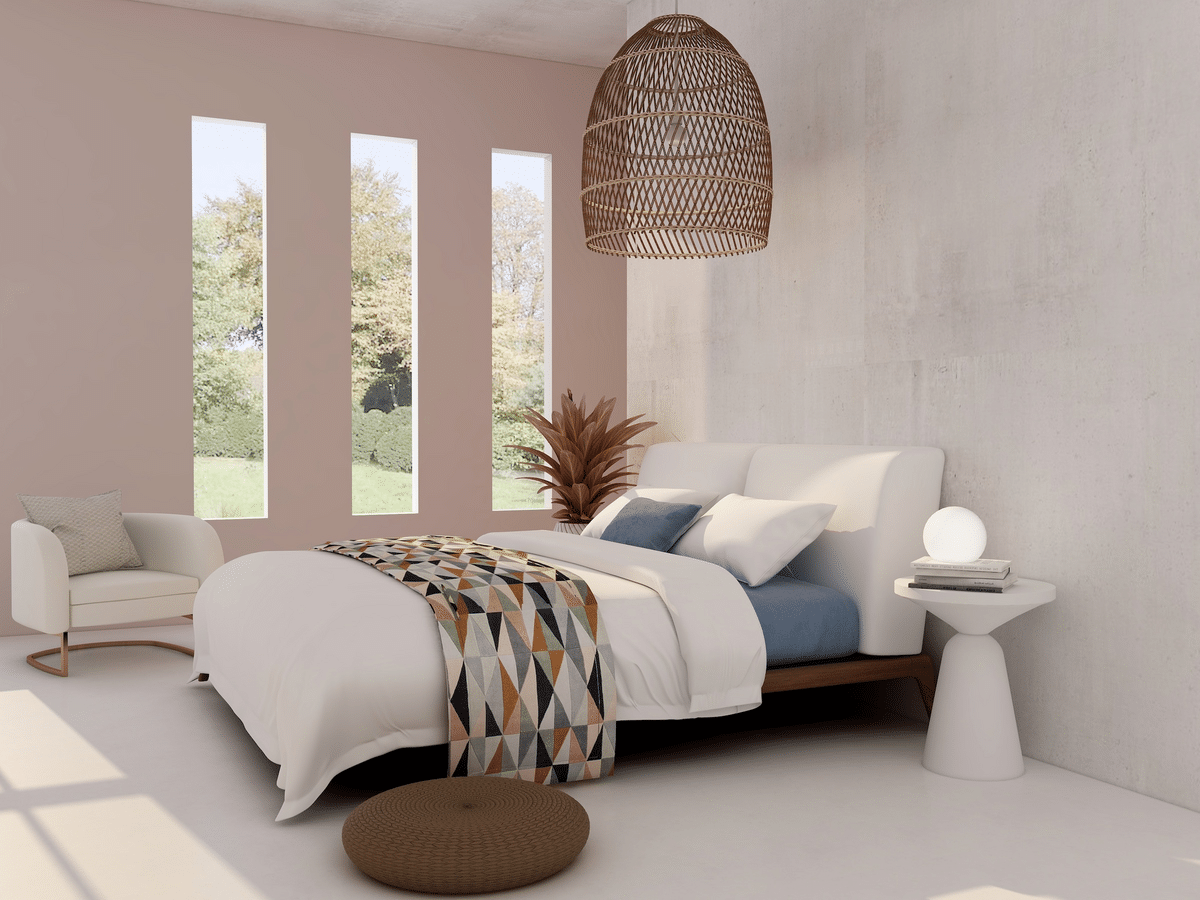 19. String lights with photos
Here's another cool way to use fairy lights in your bedroom—curtain fairy lights with photos! This lighting is a creative take on adding framed pictures to your walls.
Just choose all your favourite Polaroid photos or print out your favourite snapshots. Then, attach some cute little wooden pegs or paper clips to your curtain fairy light wall. Easy, beautiful and effective!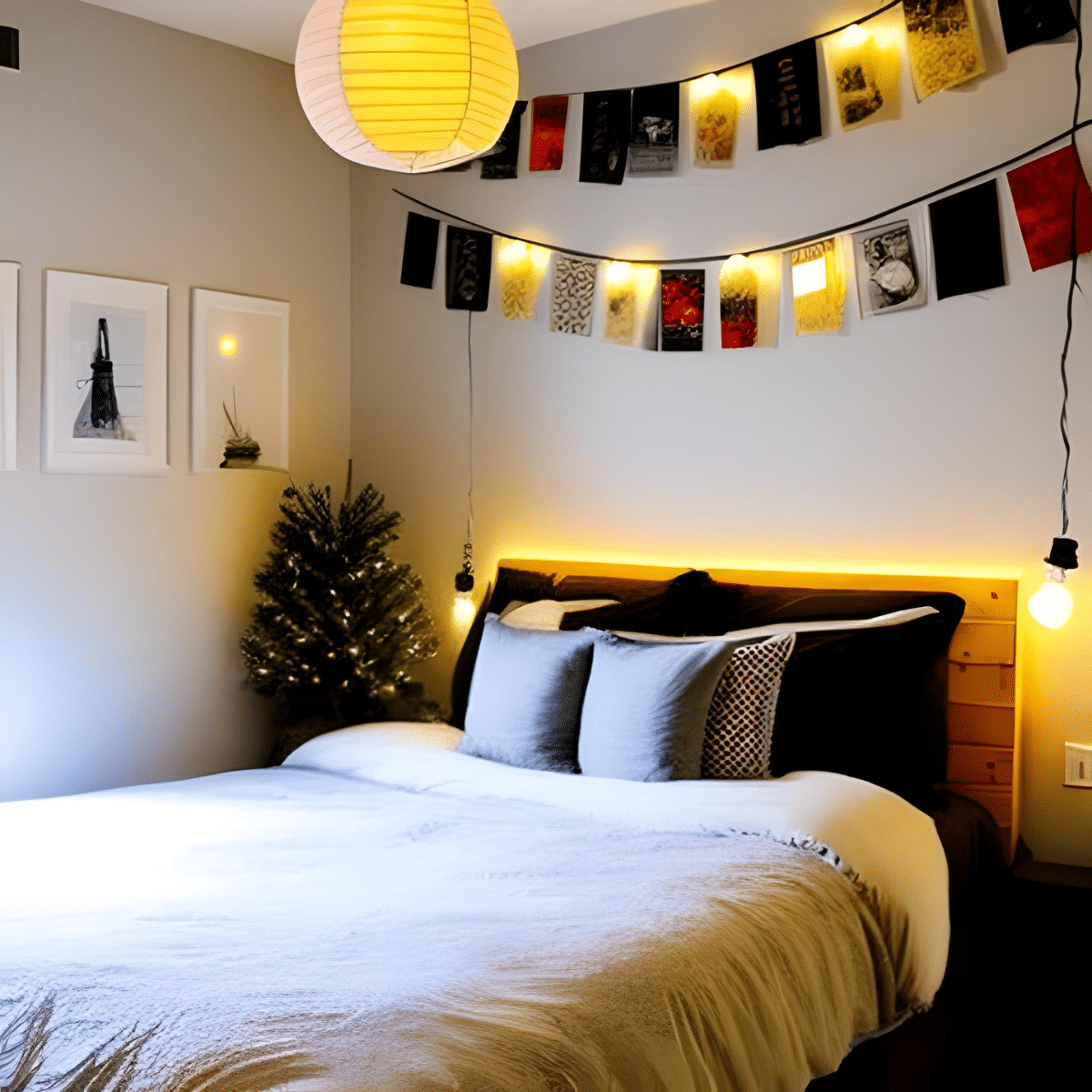 20. Up and down
This is a great example of how lighting can elevate a small bedroom! Wall-mounted lamps on either side of the bed provide lighting for reading, while lights on the floor make sure everything at the foot of the bed is illuminated as well. Create a dramatic effect, making it seem that lighting is going up and down the walls.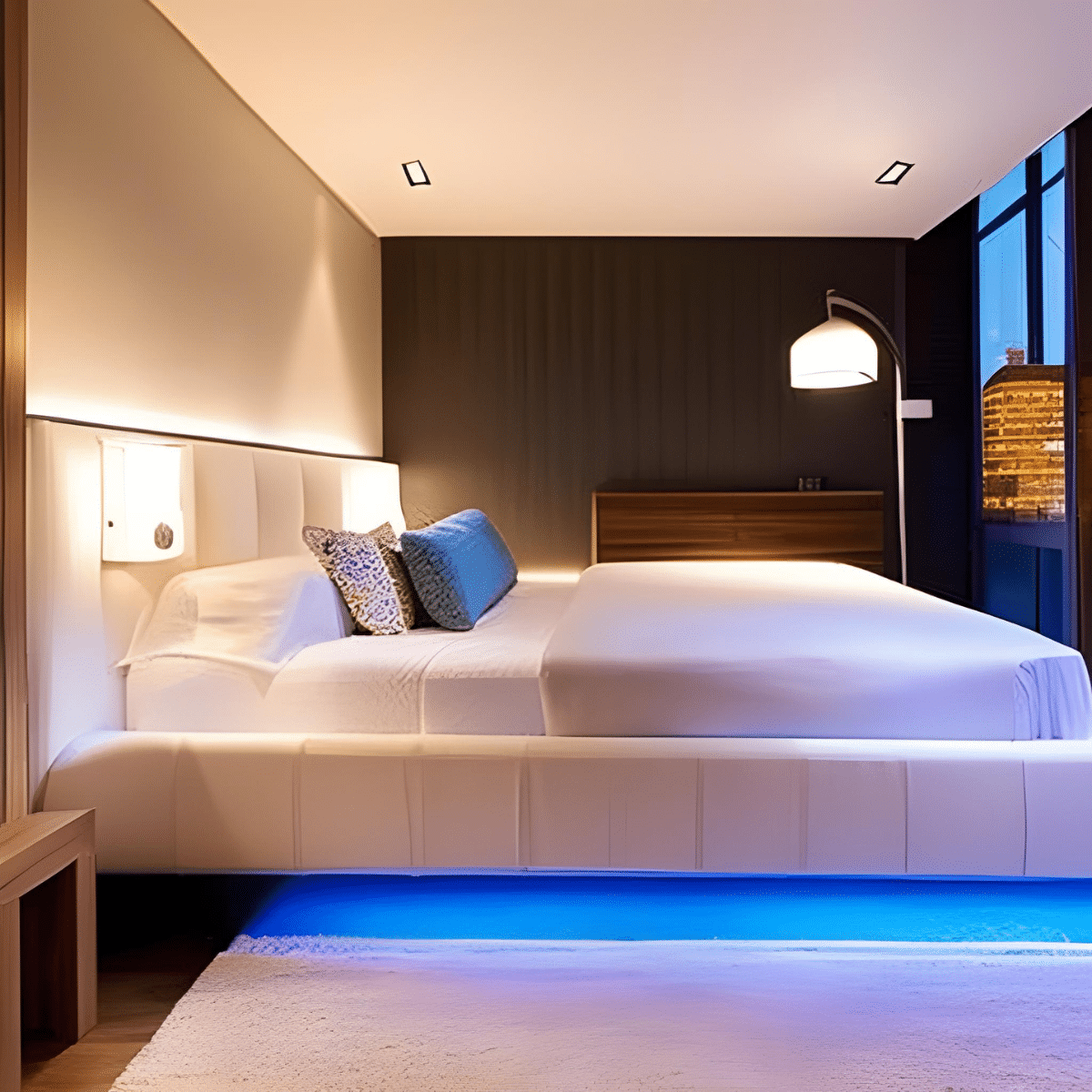 21. Minimalist living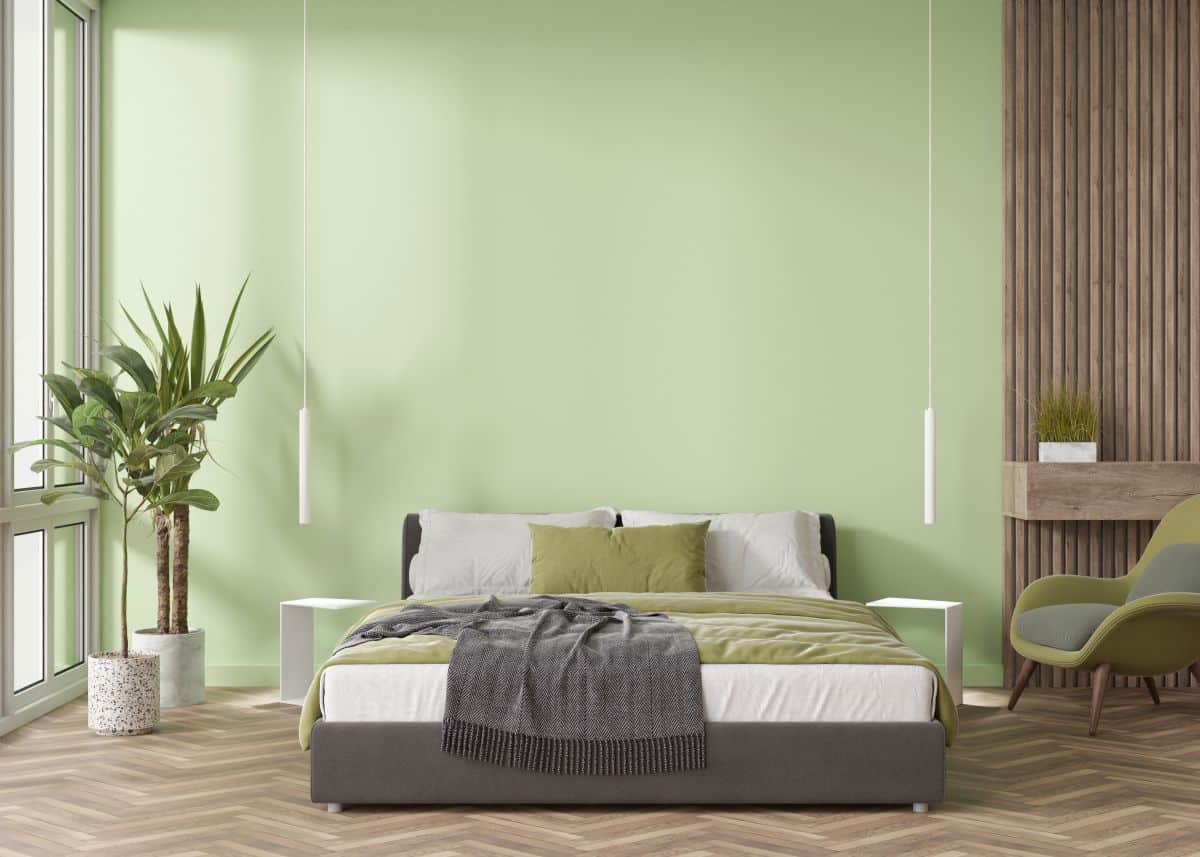 Build up your modern living space with minimalist pendant lights. You can choose long light fittings with a cylinder shape to give 180-degree illumination, so the walls, bed and everywhere else are lit up the same amount.
22. Wall installation
Give your bedroom a modern look by integrating your lights into a wall installation or wall feature. It creates a cool architectural feature for the space with the lights installed within the inlets.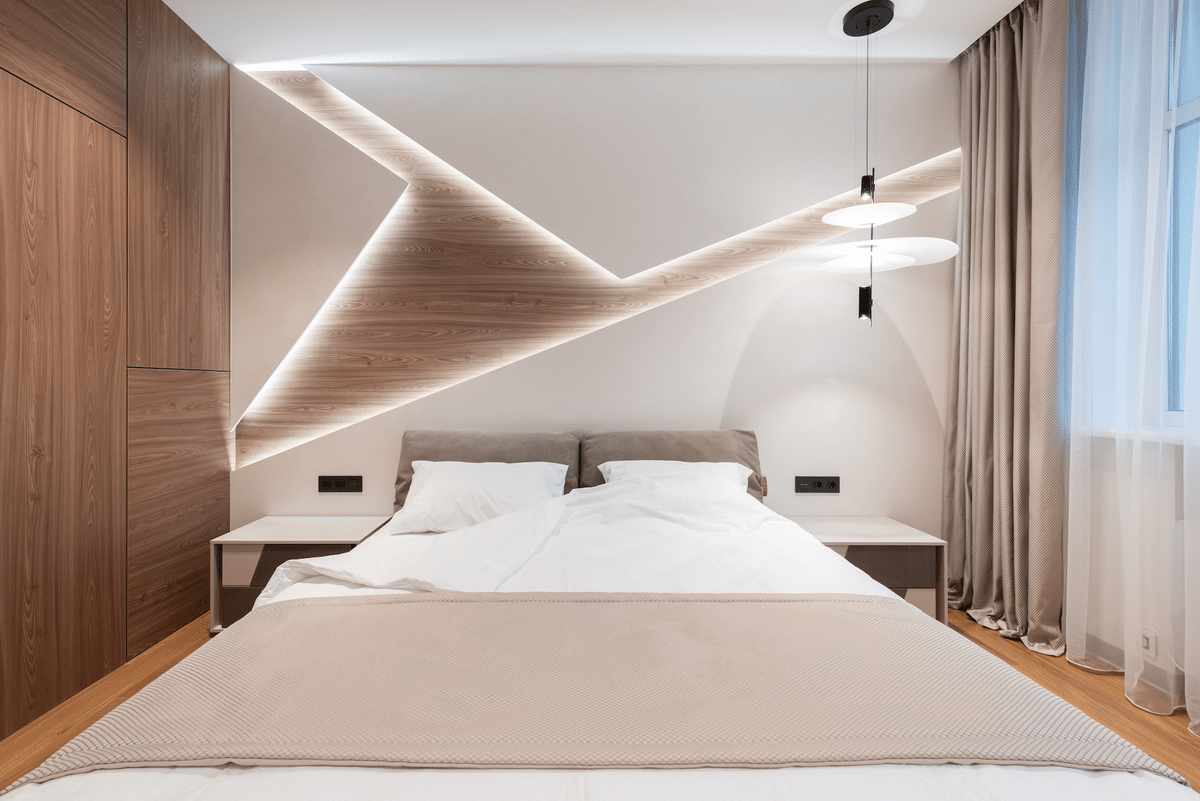 23. Industrial-inspired
Hanging exposed light bulbs are reminiscent of a vintage style, whilst the black pendant designs are industrial and cool. The pendants can match perfectly with a black bed frame and other decor elements, which works so well!
If you're interested in this vintage-meets-industrial bedroom lighting idea, a professional light installer can help you achieve the perfect look.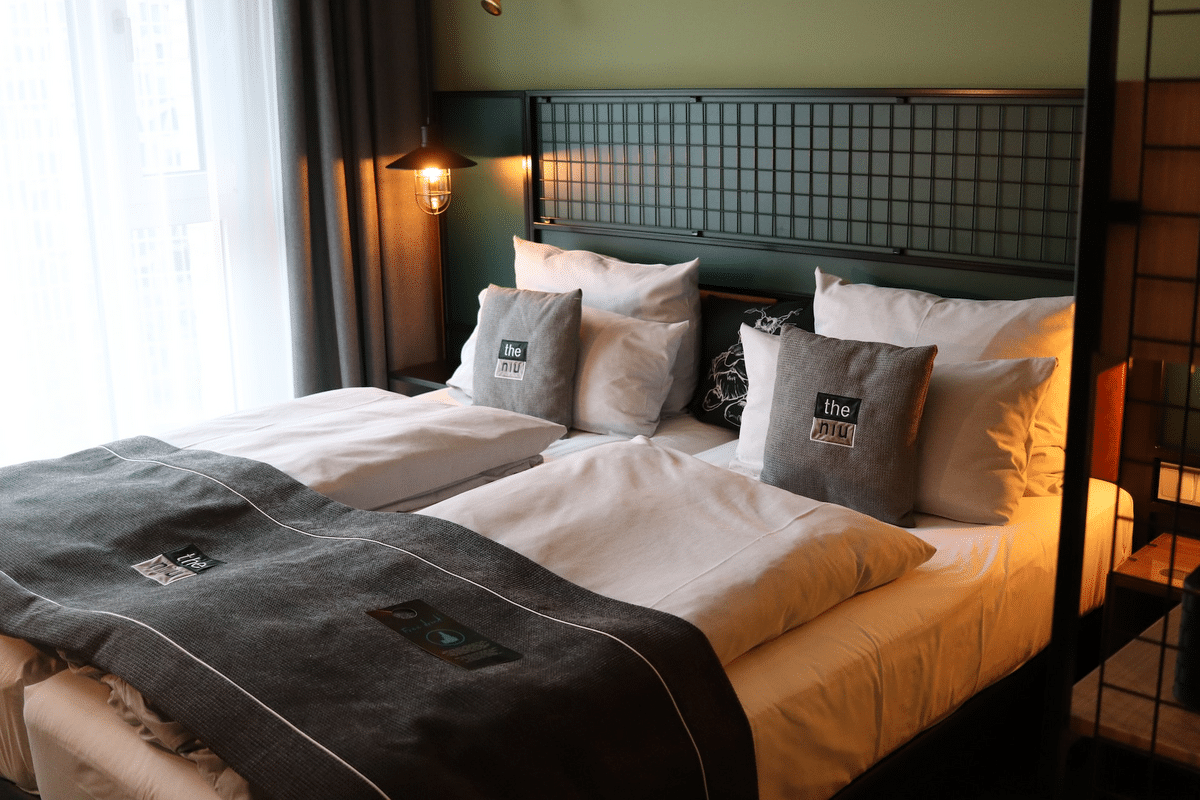 24. Lighting all around
There are many light fixtures available to elevate a whole area. While ceiling lights provide overall illumination, wall lights or lamps can be chosen if you prefer to focus the light on a specific part of a room.
By having access to various light fixtures, you can customise the lighting in your space according to your preferences and needs.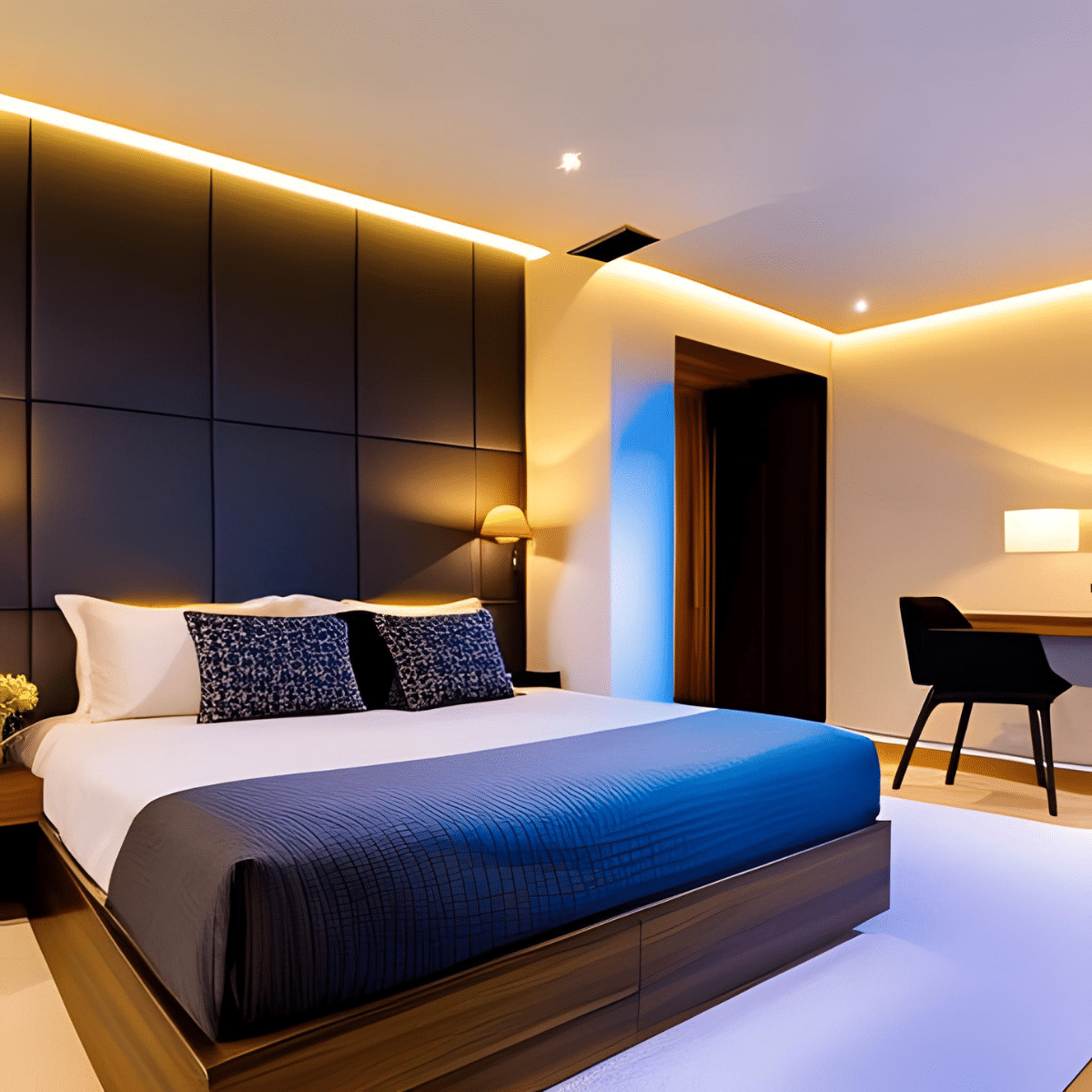 25. Neon sign
Neon lights can bring such a cool vibe, and there are endless possibilities for design and colour.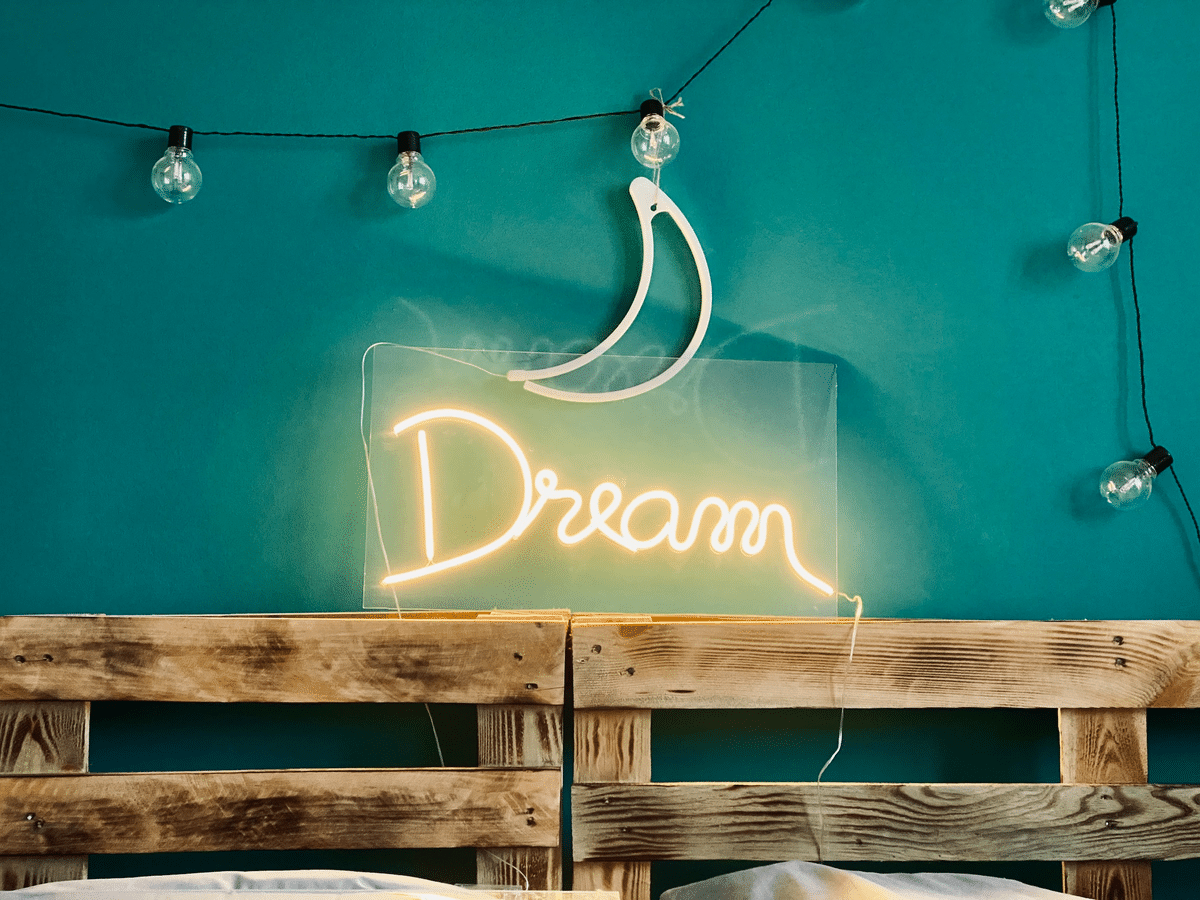 26. Blue feature
Here's another way that neon lighting has been used to elevate a space, and this time it's with blue neon lighting! The blue neon lighting against the stark white furnishings and decor gives a futuristic look to the whole space. You would almost feel like you are living in the year 3000, on a cool spaceship or both!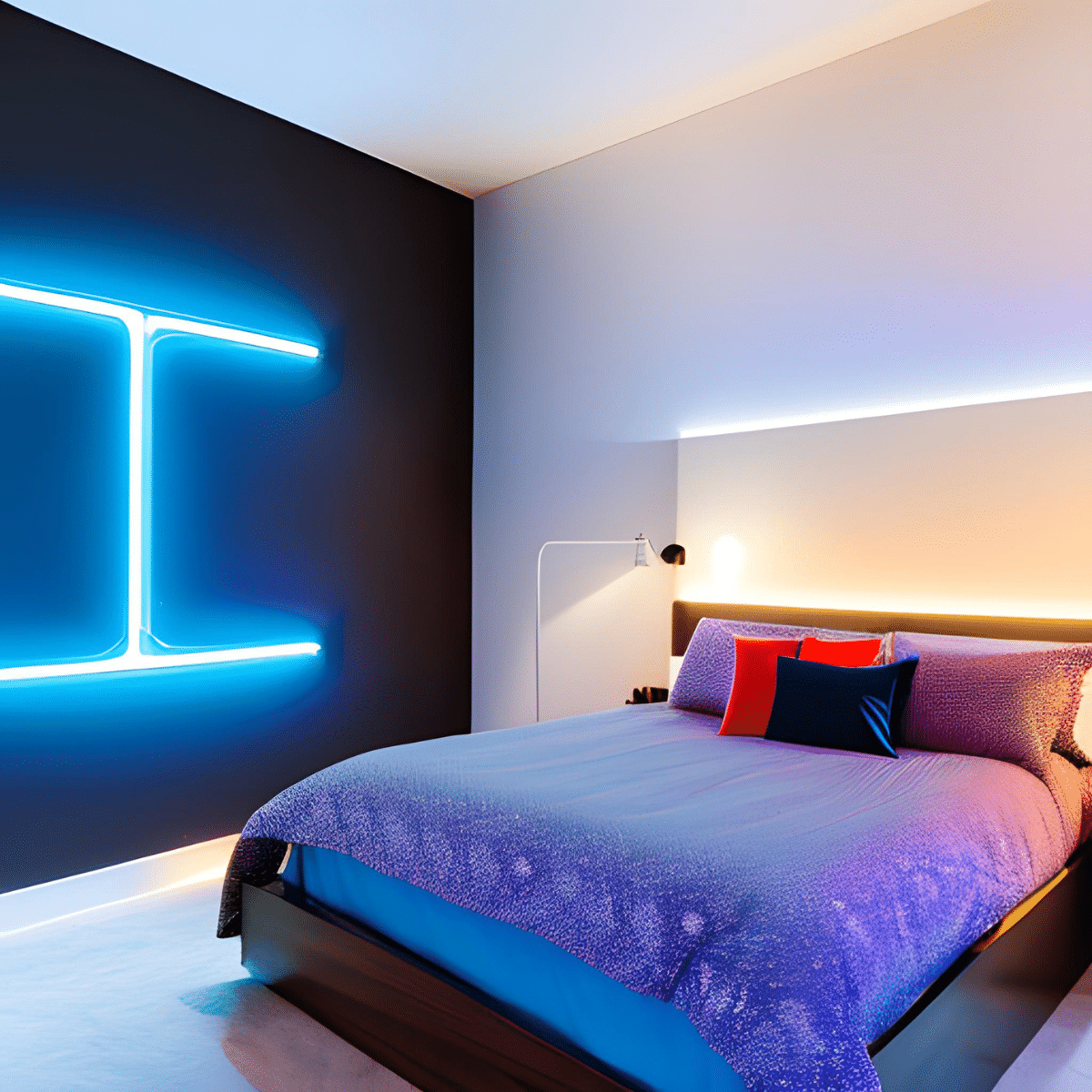 27. Butterfly pendant
Make your lighting fixture appear like it's floating by choosing a butterfly pendant. This type of lighting gives off a delicate and soft feel, which is perfect for relaxing before bed.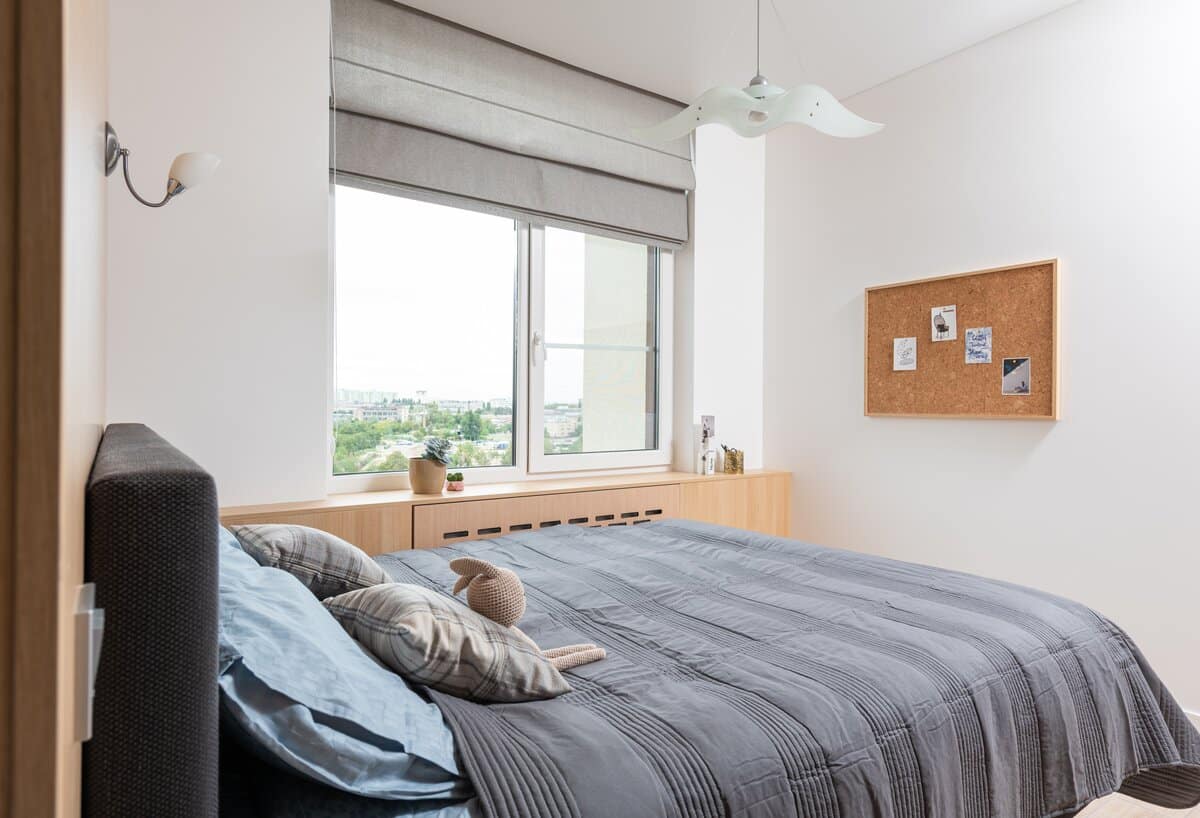 28. Bedroom skylight
Having a skylight in your bedroom is not only good for visual appeal but also gives the feeling of being connected to the outdoors. It allows ample natural light to enter your bedroom so it looks more open and offers views of the sky whether it's day or night. Some skylights can also be opened, allowing fresh air to circulate in the room.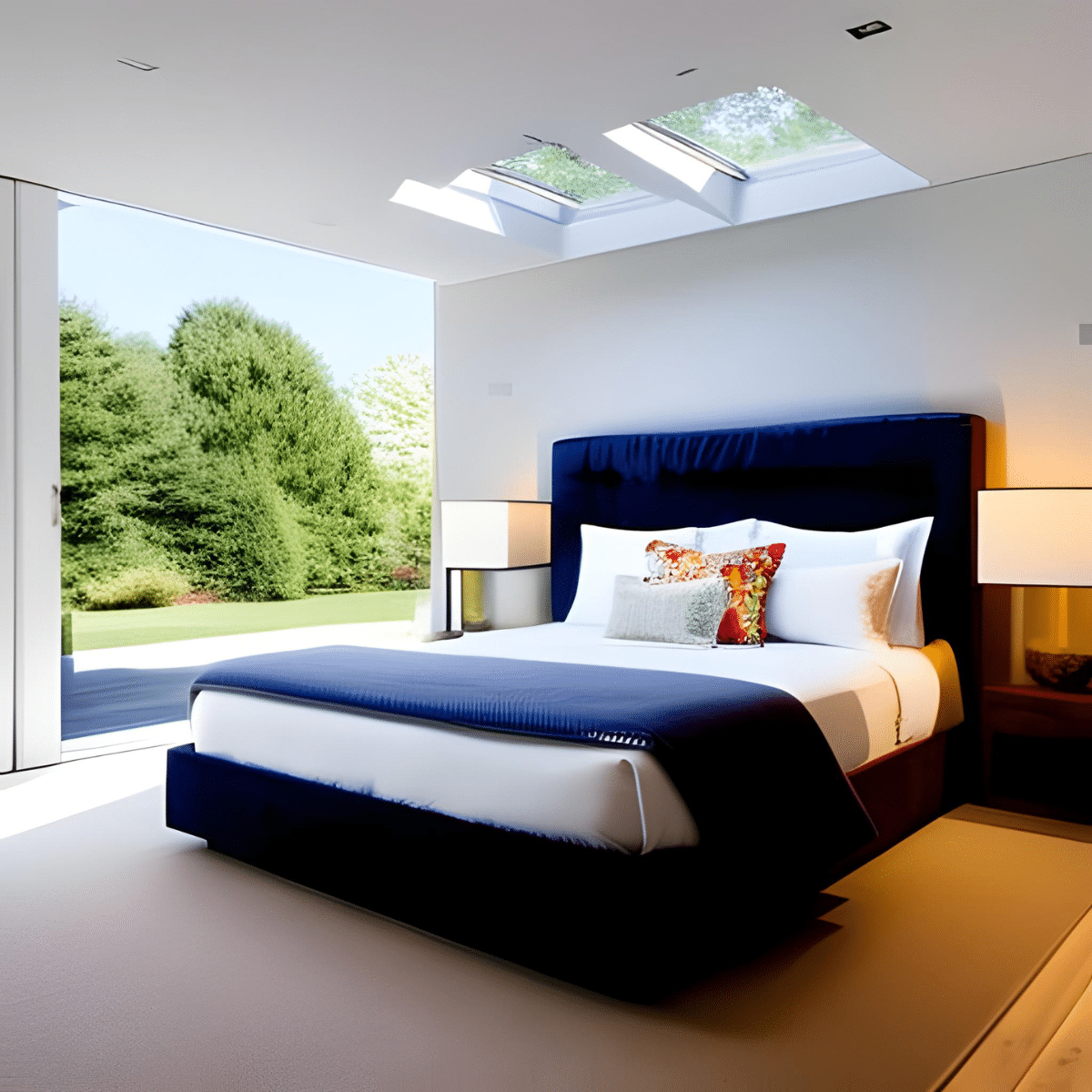 29. Disco ball chandelier
A disco ball chandelier can bring a fun and vibrant ambience to a room, making it a fantastic choice for a bedroom. It gives off a nostalgic vibe while creating a dazzling and shimmering effect. It can even be incorporated into various interior styles, from retro and eclectic to modern and contemporary.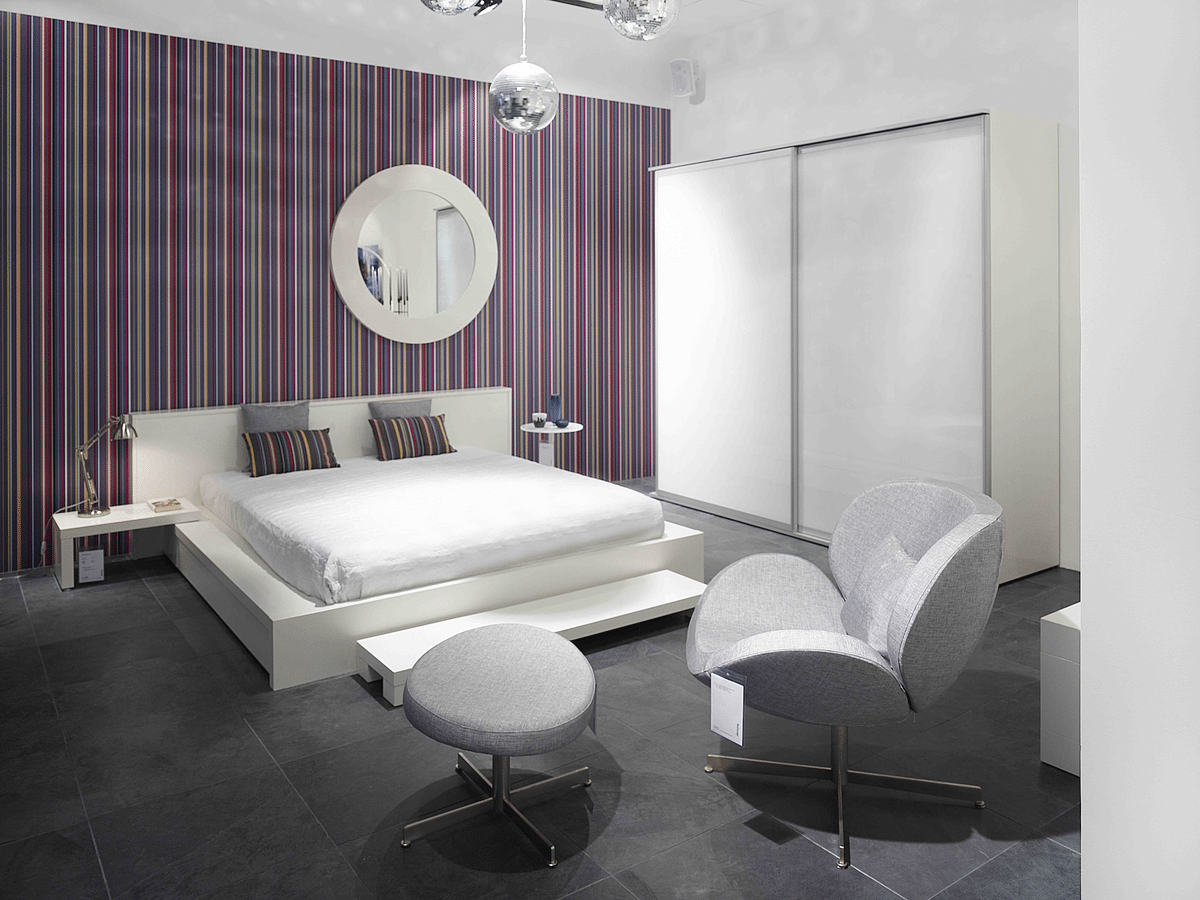 30. Sphere chandeliers
Sphere drop chandeliers are statement pieces perfect for unique and modern design. It is also versatile, as sphere chandeliers often come in various sizes, materials, and finishes, allowing you to find a style that suits your bedroom. Just keep in mind that you have to consider the size of your bedroom and the scale of the chandelier to ensure it fits proportionally in the space.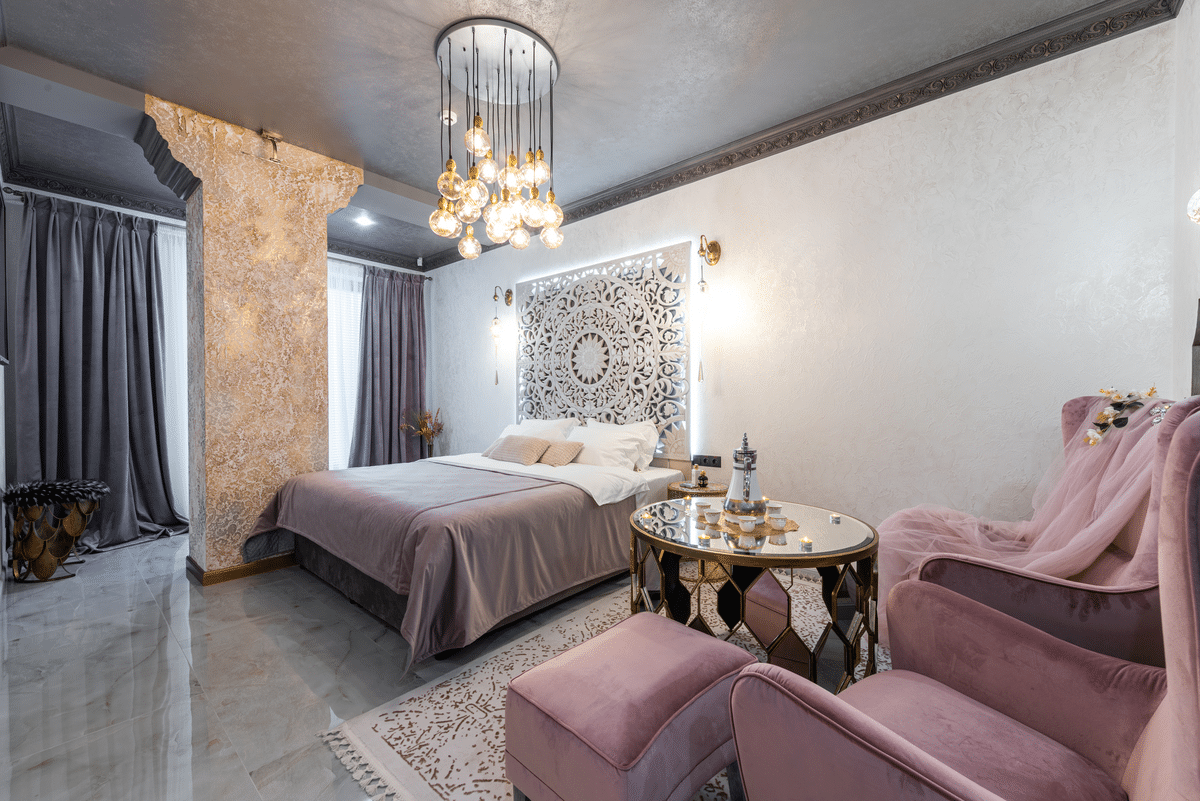 31. Playing with metals
Metal lighting fixtures, such as those made of brass, stainless steel, or iron, can withstand the test of time and retain their appearance and functionality even after years of use. They also come in a wide range of designs, styles, and finishes to suit various bedroom styles and decor themes.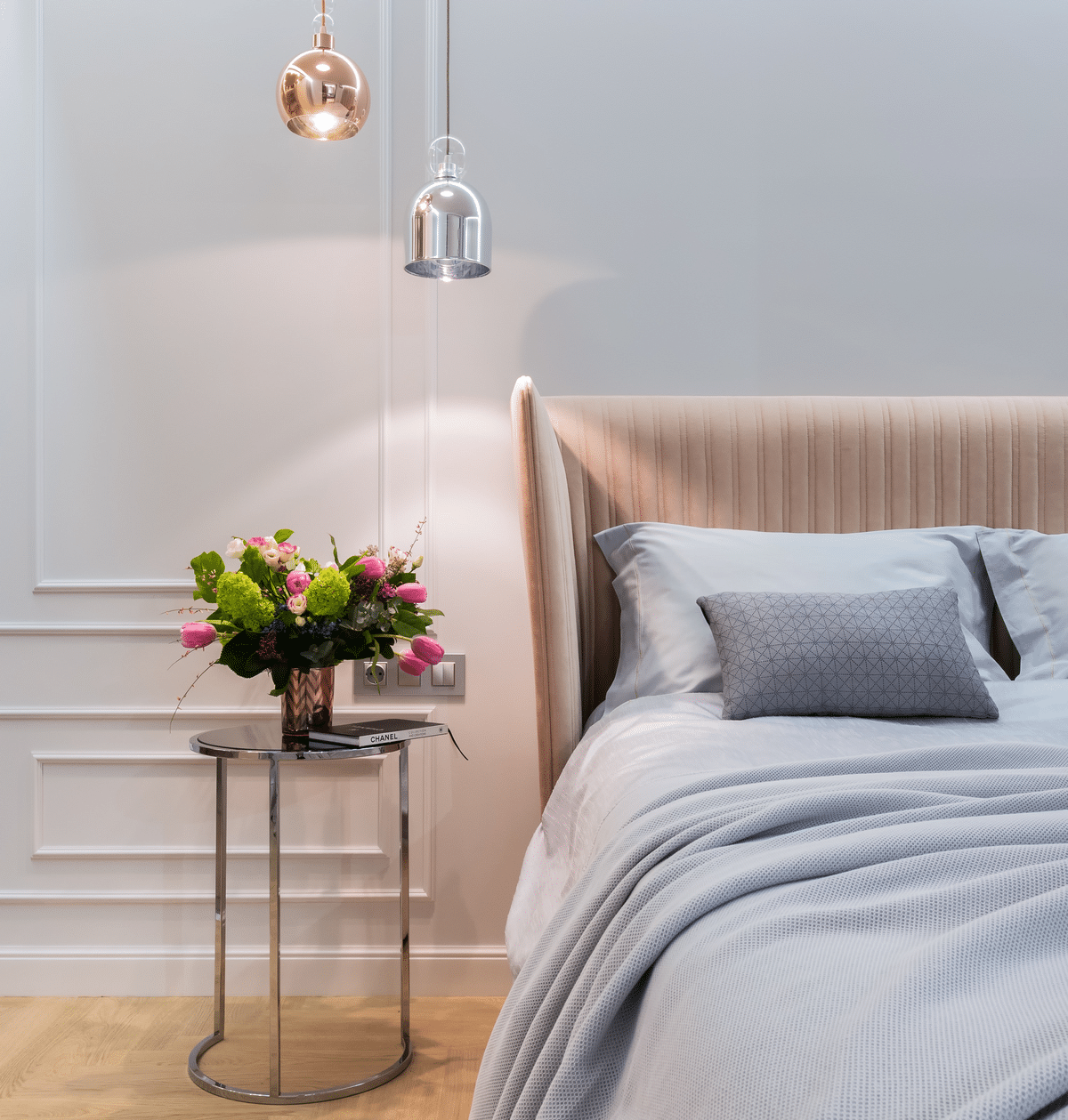 32. One with nature
Imagine having this bedroom to curl up in every night! If you enjoy camping or being out in nature, show your creativity by integrating that love into your room. A little tree-like light fixture in your room can give off the feeling of sleeping in the woods, except this way, you'll be enjoying it in the safety of your own bed.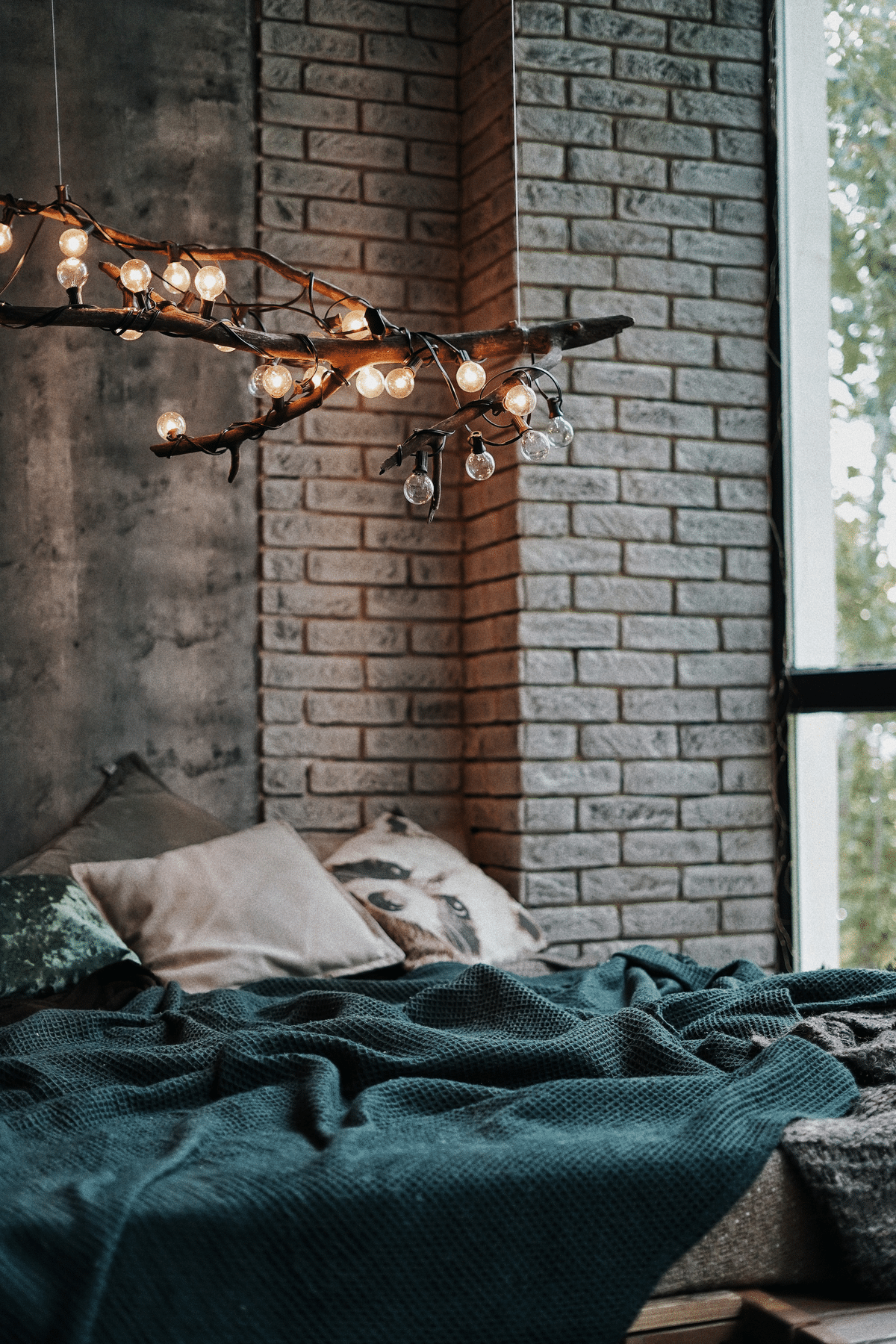 33. Boho style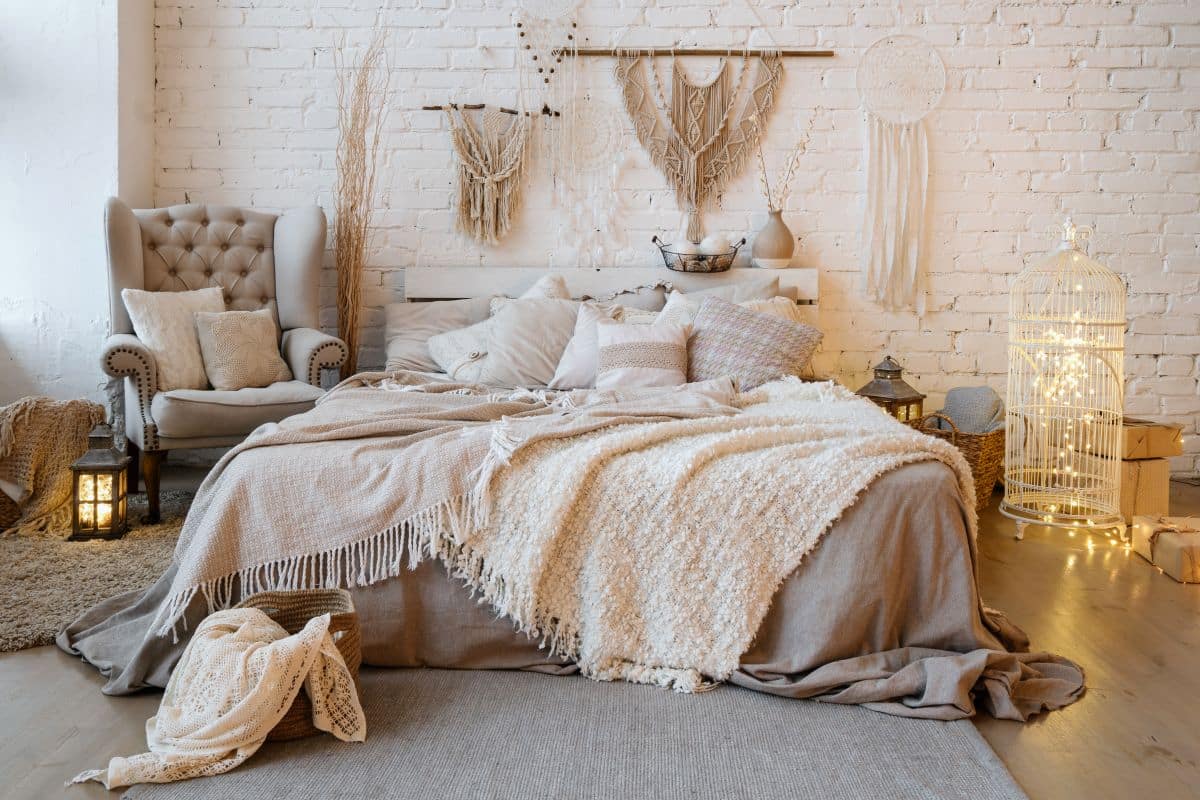 Boho style often embraces a playful and whimsical aesthetic, so incorporating boho-style lighting can add a touch of charm and creativity to your bedroom, making it a fun and vibrant space that reflects your personality. The soft glow from boho-style lamps or string lights can also evoke a sense of relaxation and comfort.
So, there we have 33 bedroom lighting ideas for your next project! What lighting would you like to incorporate in your bedroom? Let us know below!