The bedroom is the one place in the home where you can let your personality shine through. What better way to do that than with a colour scheme that captures you?
If you're unsure where or how to start creating a colour scheme that works for you, this is the perfect place. Read on to discover bedroom colour scheme ideas that can transform your space.
1. Rich and warm
Looking for warmth? Fiery colours like red, orange, and yellow in a shade or two deeper will make it feel even cosier. Think maroon, burnt orange, or mustard paired with dark browns or greys for a rich, luxurious feel. Incorporate your main colour in a few big pieces like bedding, comfortable seating, or even the wall.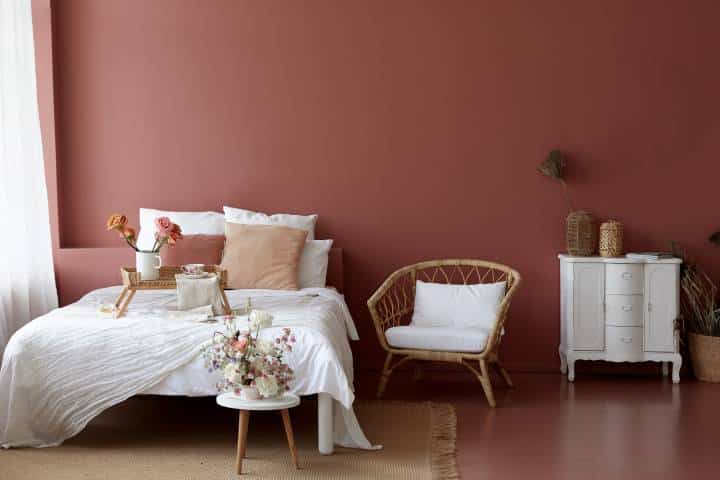 2. Grey and soft pink
This colour scheme is for you if you're after something a little more peaceful and subtly feminine. Grey is a calming colour to evoke a more relaxing environment when you're unwinding after a long day. Opt for light or pastel pinks for pops of colour.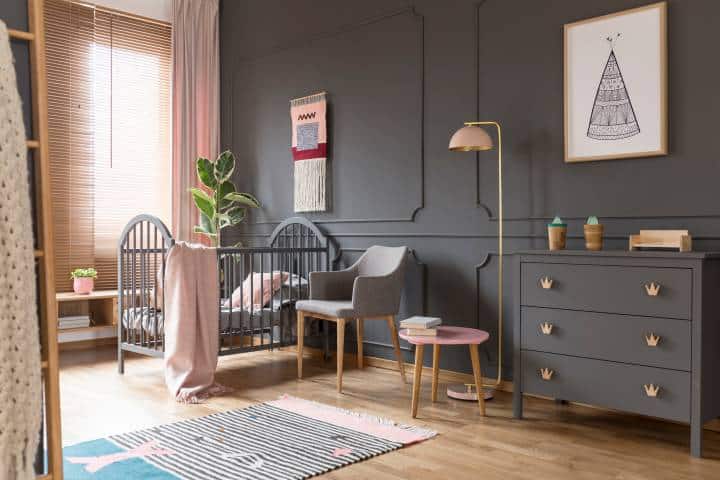 3. Teal and cream
Teal's mix of green and blue is another excellent option as a calming accent or main colour for the bedroom. Compliment the colour with creams and hints of soft pastel to allow it to shine.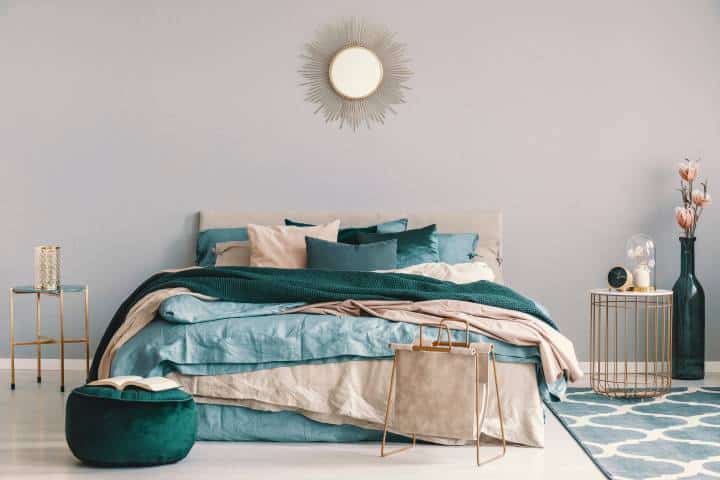 4. Cream and gold
Sometimes a luxurious interior is just about keeping it clean with whites, creams, and delicate hints of gold. Select durable gold pieces to incorporate into your bedroom. You don't have to spend too much to achieve the look either, you can get creative and add gold-coloured leaves, book spines, or picture frames.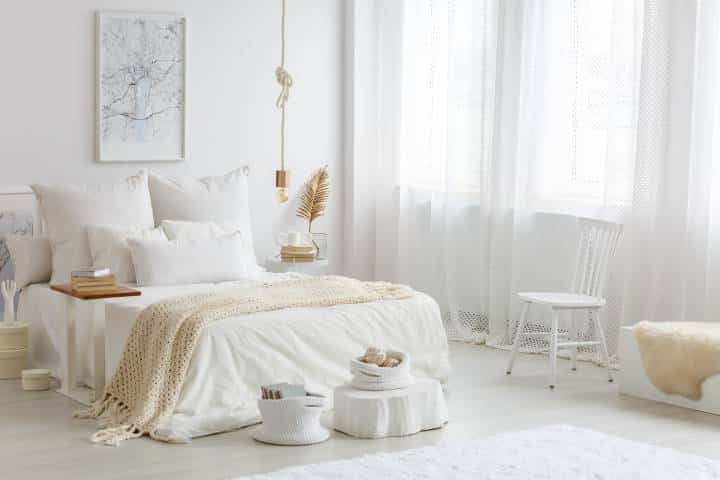 5. Nurturing nature
Create the ultimate oasis in your home by bringing nature's colours to the bedroom. Mix your green sheets or walls with colours and materials found in nature. Wooden furniture, woven baskets, and upcycled materials are great additions to your bedroom. Indoor plants are optional but always a fantastic addition.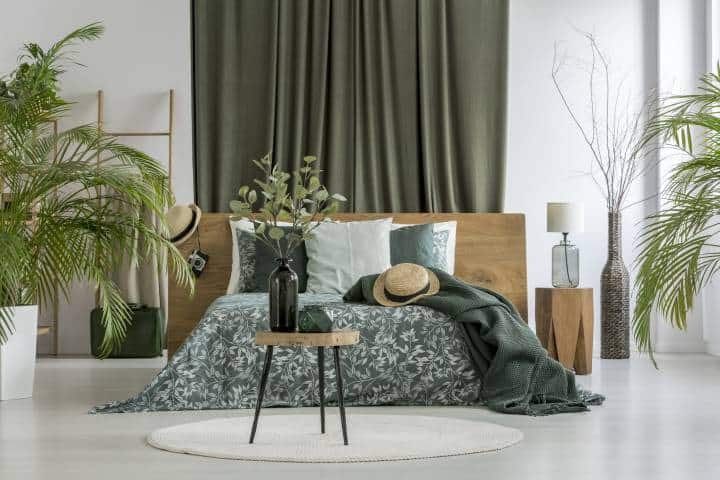 6. Stylish seafoam
Love the beach? Take it home by styling your home with seafoam green sheets against predominantly white and light brown colours throughout the room.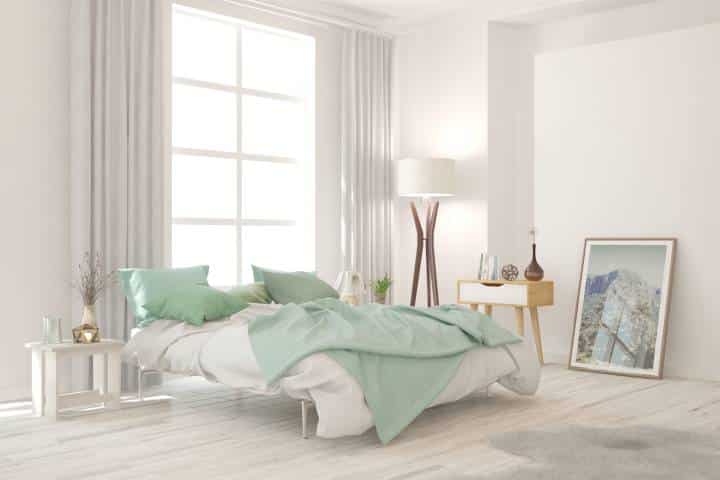 7. Pretty in purple
If you're mad about purple, this colour scheme is for you. White, beige, and grey are easy to partner with purple. You can also experiment with similar or analogous colours throughout the room, like blue and indigo accents.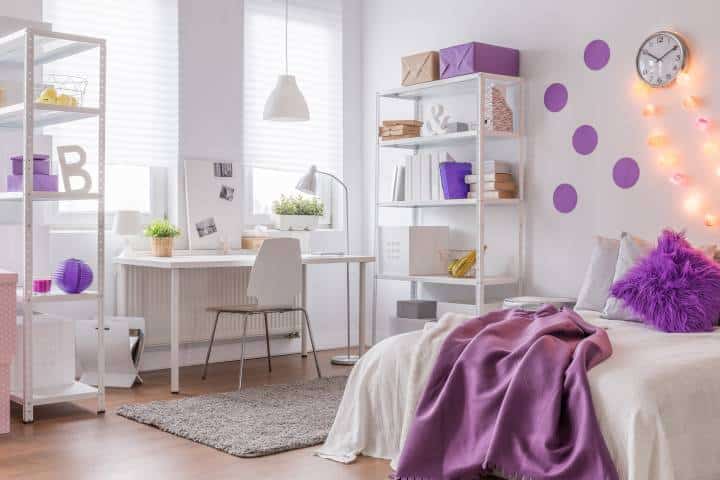 8. Tropical paradise
Want to bring bright tropical energy into your bedroom? Green prints and pastel pink make for a wonderful combination. A strong colour like black can also help bring in a little more structure for select furniture in your room.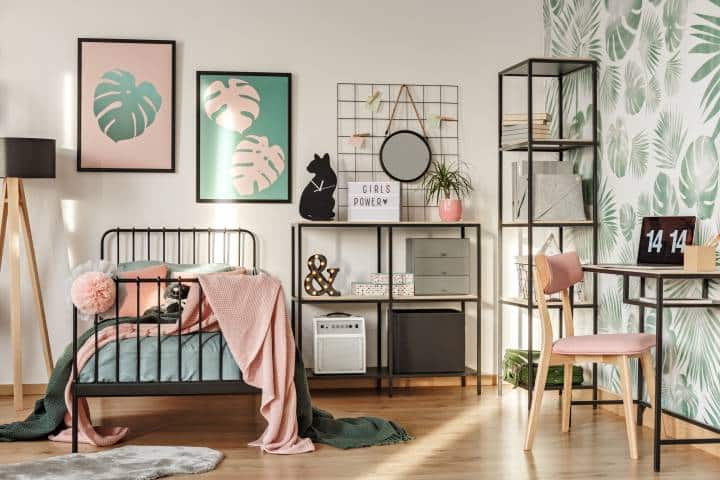 9. A splash of lemonade
All about bright, bold colours? Look to nature for inspiration. You can use colours from fruits like lemonade — yellows and greens are an excellent and playful combination.
10. Gold and blues
An alternative to neutral colours for a laidback look is going with shades of blue. Combine it with strong gold tones you can see in furniture, frames, or even clocks.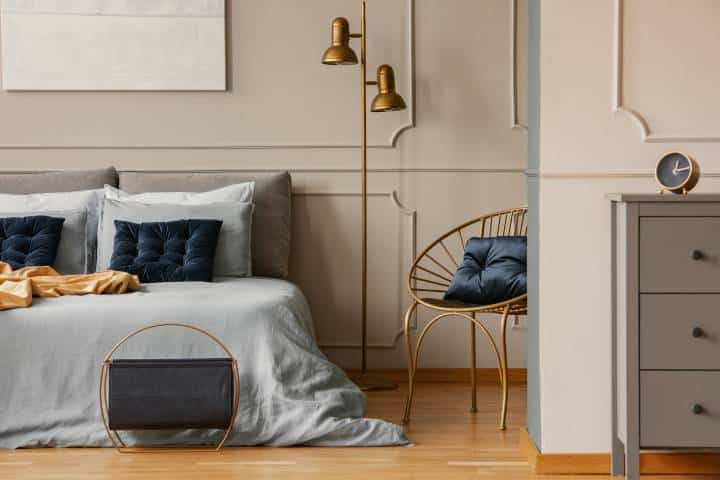 11. Deep blue hues
Blue is another calming colour option. Play with different shades and patterns of blue. White, cream and light wood will let the colours shine bright.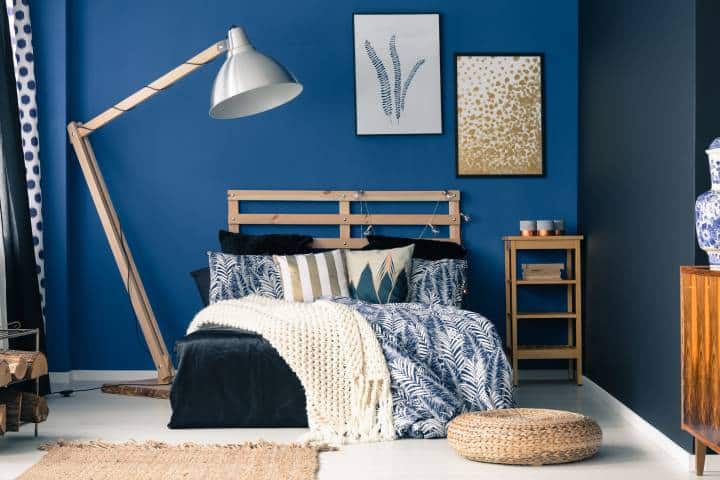 12. Rustic rose
Subdued rose for your primary colour will work well with rustic tones like creams and browns. You can add furniture made of natural material and some plants to keep that rustic vibe alive.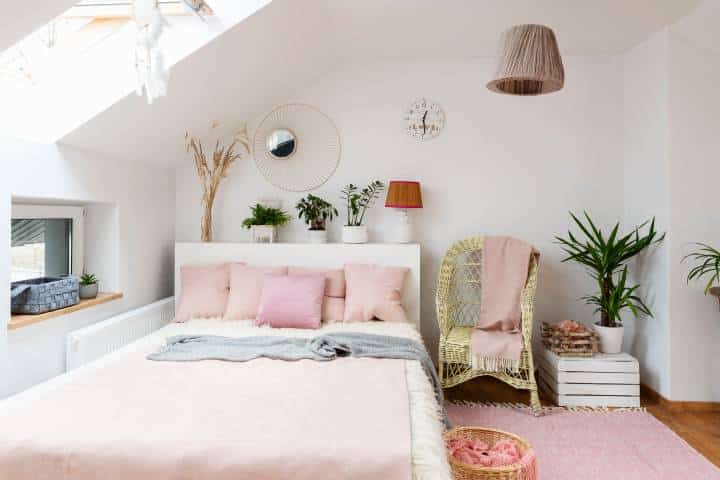 13. Sophisticated pastel
Using soft pastel tones can create a relaxing and comfortable vibe. Don't be afraid to mix different pastels with dark greys and browns. Try to limit the pastels to four colours so you can avoid your room looking too chaotic.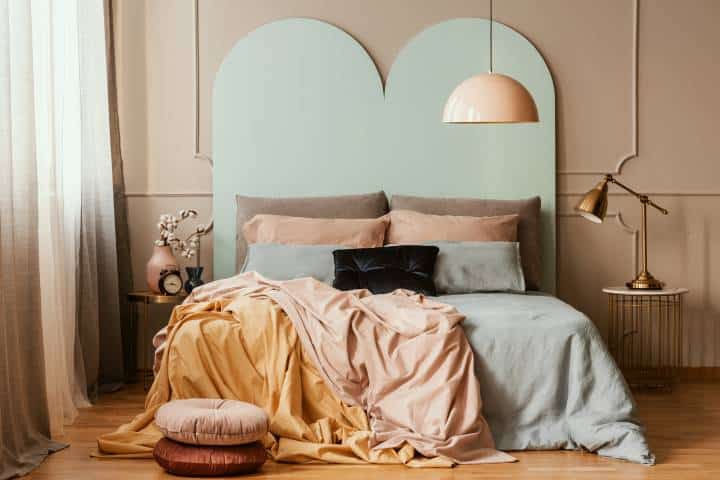 14. Cotton candy colours
Turn your room into a cotton candy dream. Pastel blue is one of the most versatile colours, making it easy to start. Pair it with one to two other pastels for a playful room.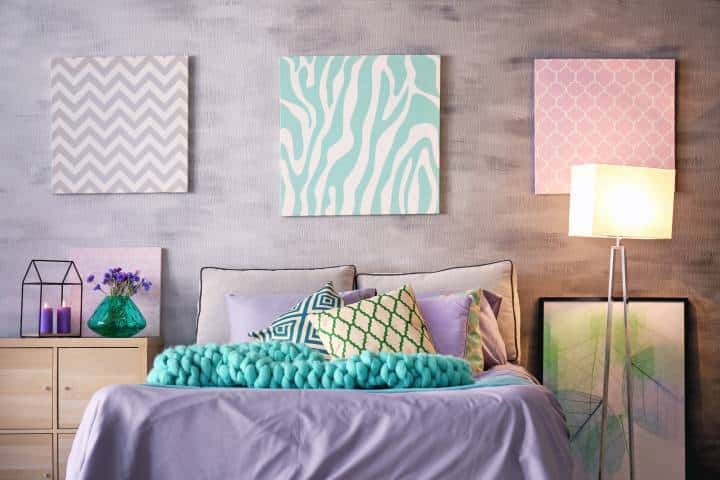 15. Living in lush
Want to add greenery to your room seamlessly? Choose earthy colours to put down, like browns and creams. Textured materials also help to create that roughness or smoothness that mimics soil, leaves, and stones.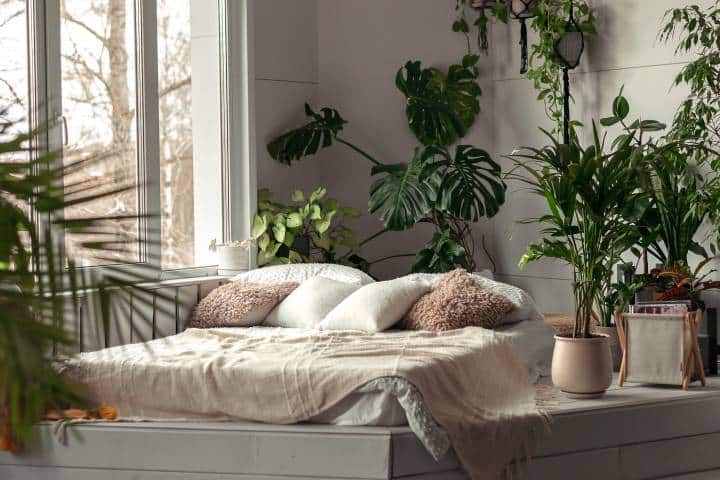 16. Marvelous mustard
Mustard makes for a warm and energetic ambience. Make it brighter by adding brown and cream. If you're keen on experimenting, add splashes of green with plants.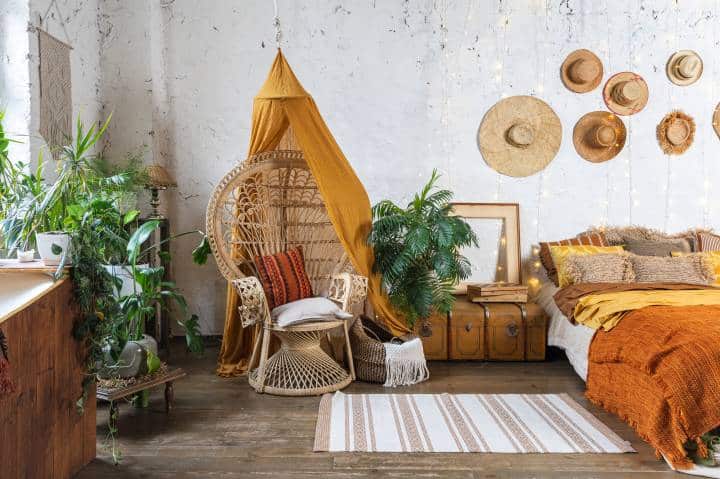 17. Bright and airy
The key to keeping your room bright and airy is to select light colours that lift the mood of your space. One rich dark colour like brown from wood will easily play well within the scheme. If you'd like, you can take airy a step further by adding indoor plants to improve your air circulation.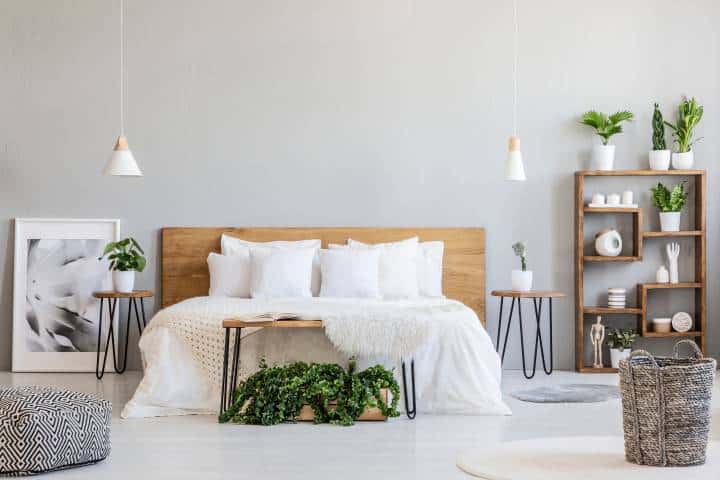 18. Sunny indoors
Love bright and playful energy? Incorporate it into your bedroom by pairing sky blue with yellow. Depending on the kind of style you're going for, you can choose one or the other as your main colour.
19. Shades of grey
Grey is sophisticated, simple, and minimalistic. Experiment with the different shades of grey and mix them with clean whites and warm wood for contrast. Darker colours like black or navy are good alternatives, too.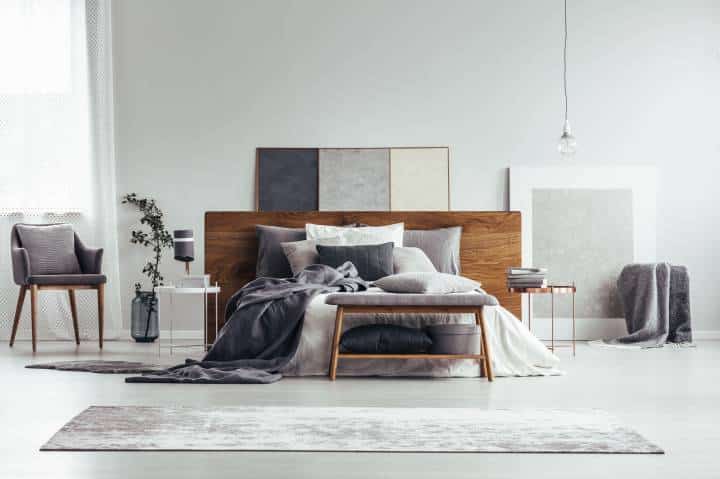 20. White on white
Opting for a pristine white bedroom is always great. The colour scheme is timeless and easy to find pieces for.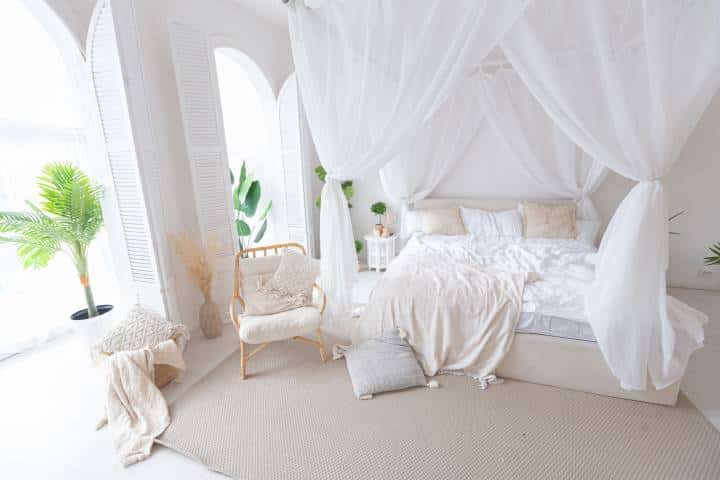 21. Toybox palette
Whether you're creating the bedroom for your kids or yourself, going for colours found in toys is always a great option. Look at your favourite toys or characters' colour palettes to incorporate them into your space.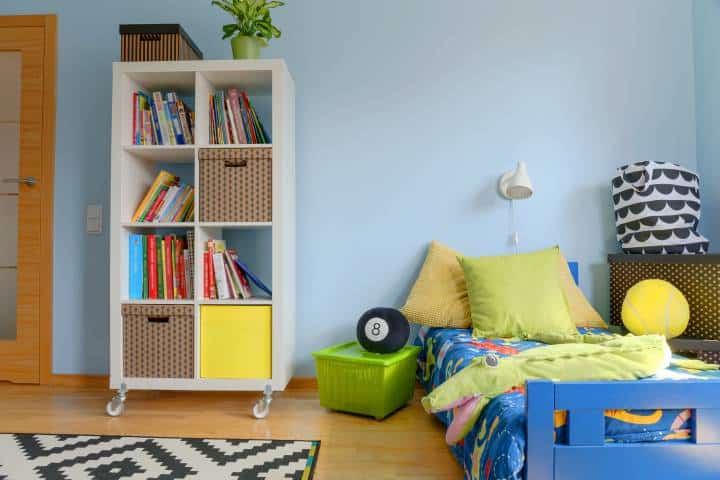 22. Maroon and emerald
If you love the colour green but don't want to risk it looking like Christmas in your room on the off seasons, go a touch darker with maroon and emerald. It evokes a sense of playful sophistication and character in the space.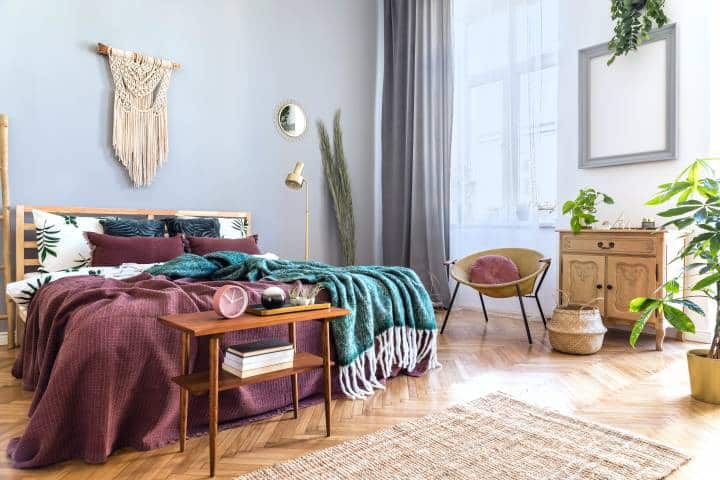 23. Warm browns
Brown tones bring natural warmth to any space. They work great with wooden furniture. Add white linen to break up the shades of brown.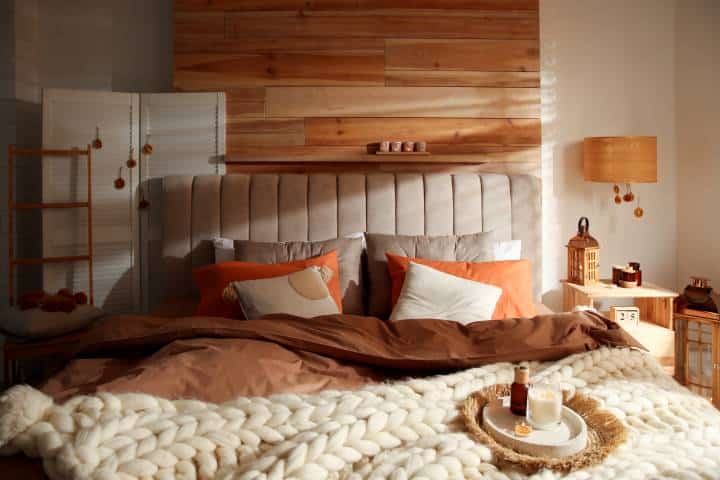 24. Subtle reds
Red can be harsh on the eyes. Try darker or softer shades of the colour and incorporate them into things like bedding or pillowcases. It also pairs well with grey and navy.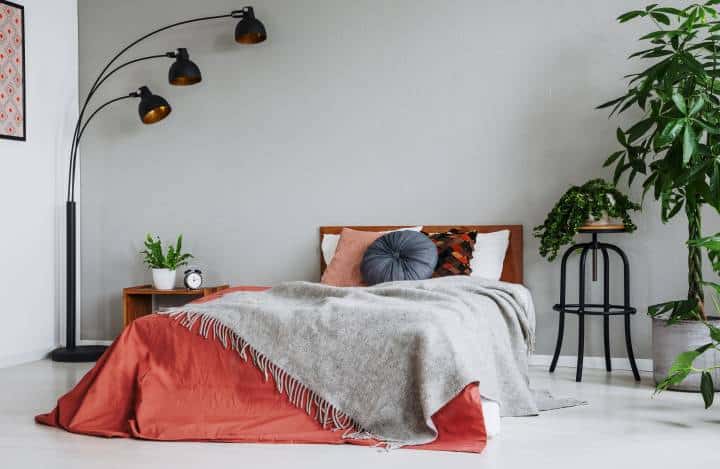 25. Orange mocha
When your favourite colour is orange, it can be a little difficult to work with, depending on the look you're going for. You can let select bright orange pieces by incorporating warm shades of brown to help soften the look.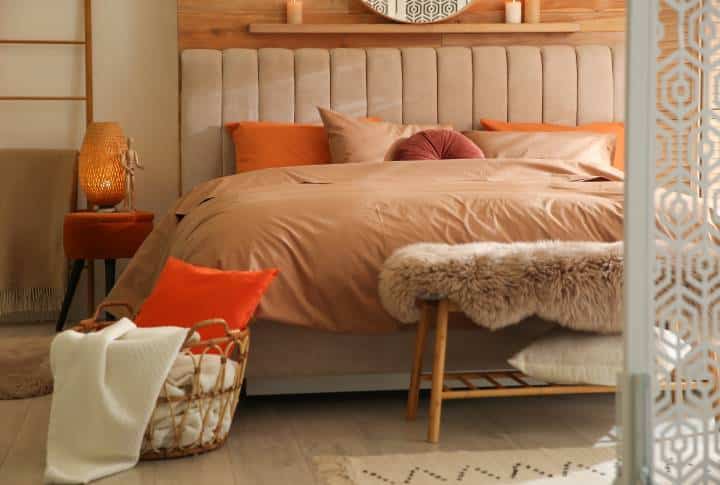 26. Earthy retro
Take inspiration from retro fashion by going with an orange, blush, and gold combo. Select vintage patterned fabrics for your sheets or some vintage furniture to fit your room.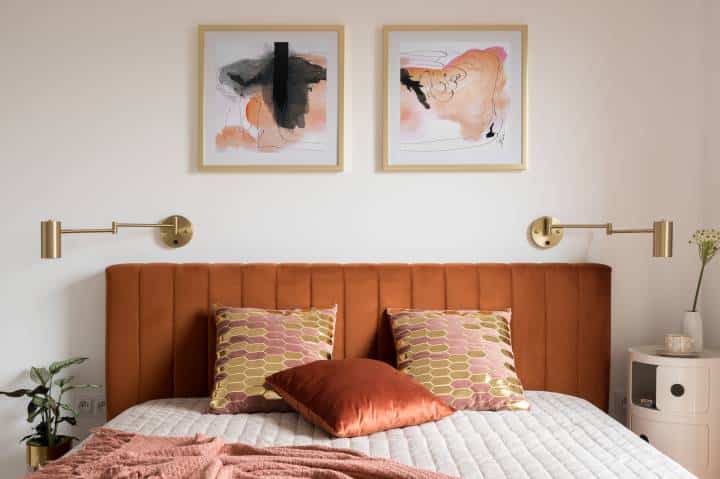 27. Terracotta dream
Love terracotta tones? Combine the colour with other earthy tones and materials to fully capture that rich warmth you get with terracotta.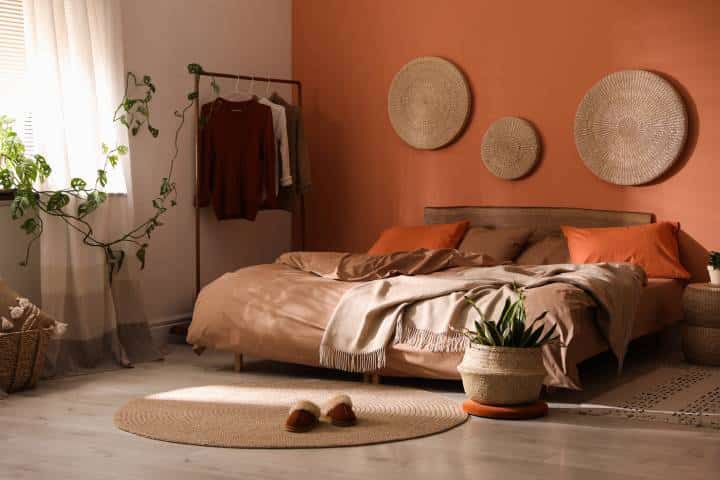 28. Coffee colours
You'll love mixing warm brown furniture with lighter browns and creams if you're a coffee connoisseur. You can even make use of dried flowers for a natural touch.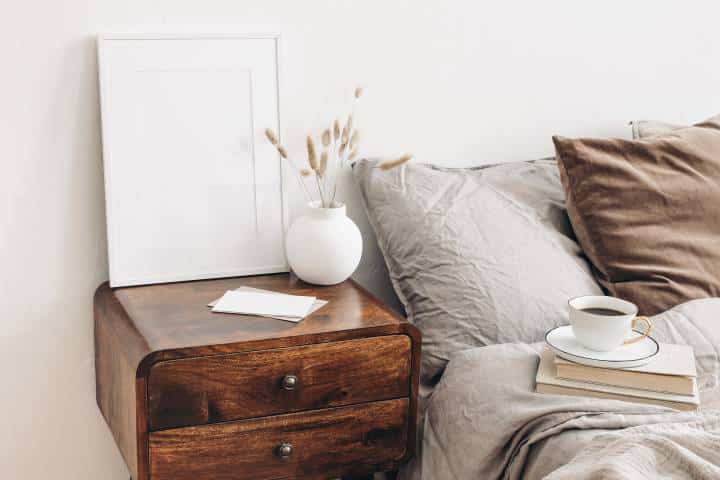 29. Mellow yellow
Yellow doesn't always have to be bright and 'too much;' it can also bring a sense of calmness into a space. Mellow yellow, if you will, is pleasant to pair with your standard whites and warm wood.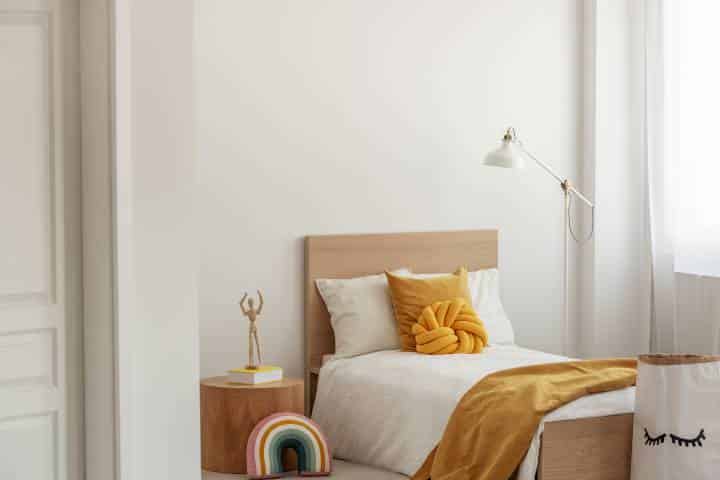 30. Red, gold, and green
Feel like going for a more unusual colour scheme? Take inspiration from the karma chameleon with red, gold, and greens.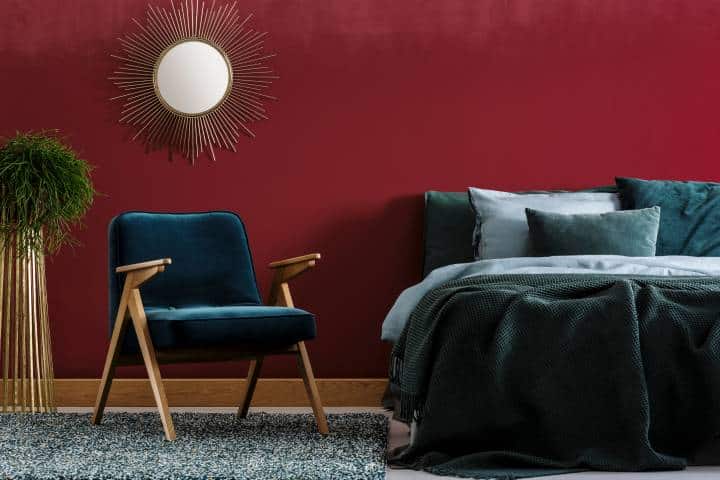 31. The berry palette
If you love berries, you'll enjoy working with this colour palette. Violet, pink, and blue create a lovely combination. You can also add white as an accent colour to highlight details like lighting and headboards.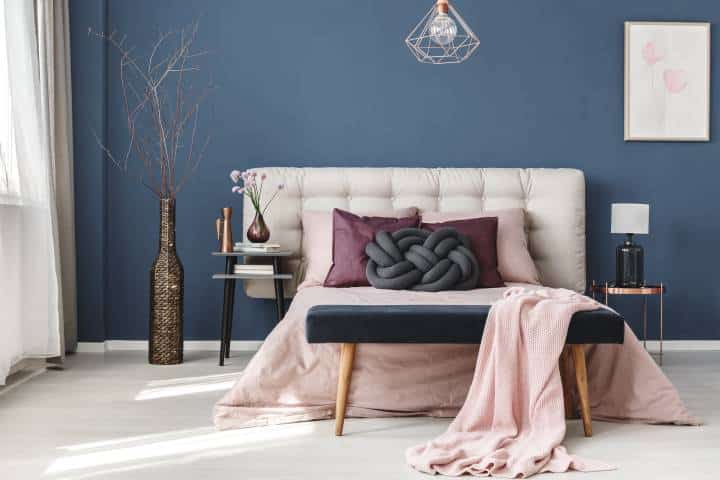 32. Analogous colours
The key to curating your colour palette is to keep it limited to three vibrant colours. In the example photo, with contrasting and analogous colours in mind, magenta's primary colour of red is analogous with orange and contrasting with green. That makes these three colours a good combination.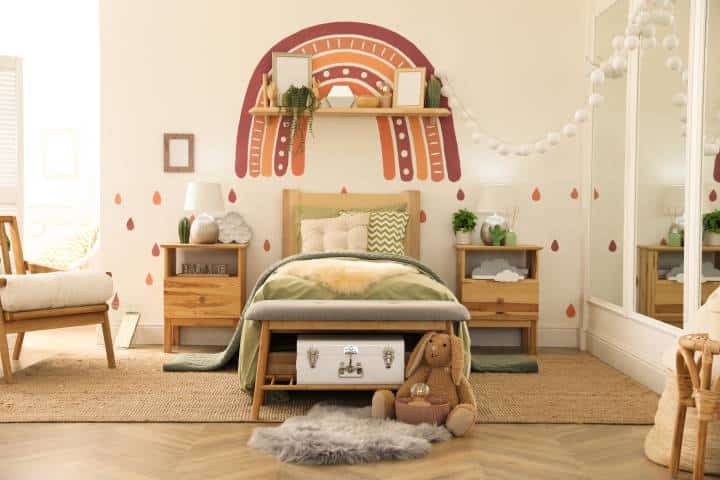 33. Blue, grey, and green
An unusual colour combination that works well is blue, grey, and green. They bring calming energy to the room. Add another accent colour like orange or yellow for an interesting element.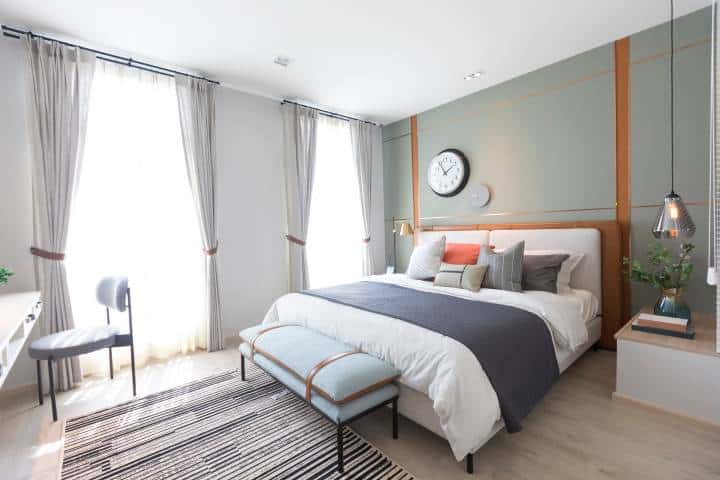 34. Peach paradise
Turn your bedroom into a peach paradise with the colour over the sheets, throws, and even rugs. Choose light wood with a warm varnish to match the main colour.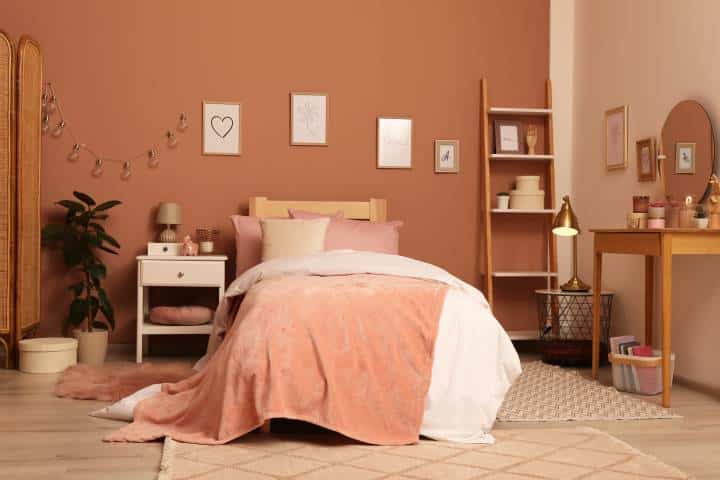 35. Monochromatic mood
Who's in the mood for some monochrome? This classy colour scheme is simple and elegant and will stay in fashion for years. Perfect for a guest bedroom or even for your master.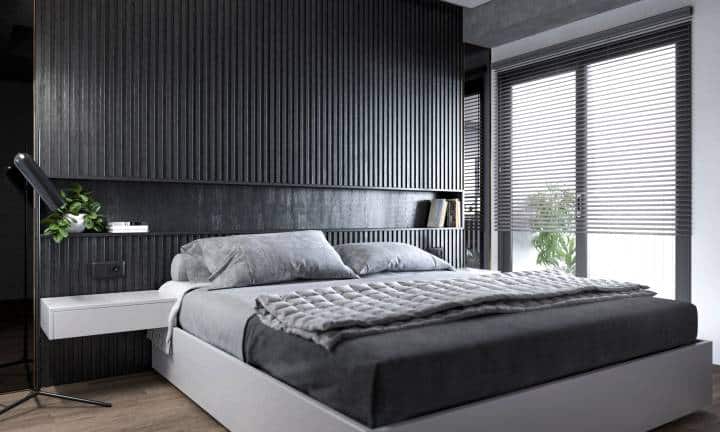 36. Neutral palette
Nothing says neutral quite like your creams, greys, and whites. A sparse contrasting piece can also make all the difference in pulling the space together.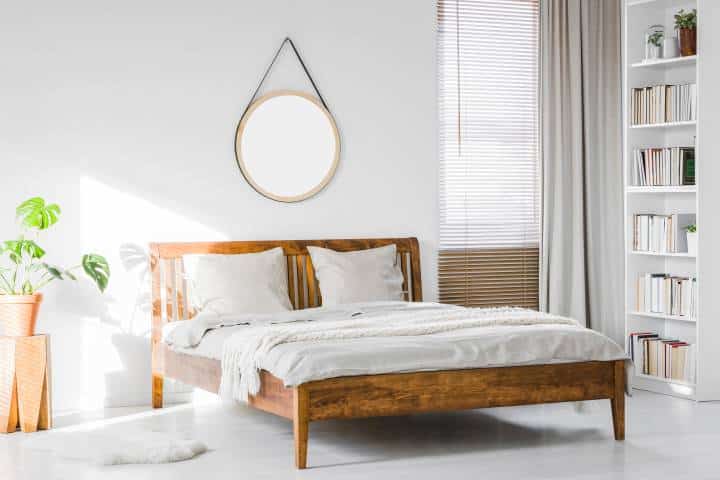 Creating your colour palette can be tricky, but hopefully, with these ideas, you can play around with the possibilities or experiment with making your own.