Thousands of Australians are joining Airtasker each day to reap the benefits of the sharing economy.
Busy working Australians are buying back their lives one task at a time, while workers are enjoying the flexibility of being their own boss.
There are roughly 320,000 members on Airtasker, triple the amount on the website in March 2014.
In the last six months Australians have made millions doing everything from house cleaning and gardening to removals and furniture assembly.
"Time-poor working Australians are buying themselves time," said Airtasker CEO Tim Fung.
Meanwhile, people are turning to Airtasker to choose their own work and capitalise on the increased flexibility that comes with working in the sharing economy.
In Australian-first Airtasker is tracking the growth of the sharing economy, releasing its first bi-annual Sharing Economy Monitor, based on research Pureprofile. And it's growing fast.
About 16 percent of Australians have used the sharing economy to get a job done, while 6.7 per cent of the population have used it to earn extra income.
"The figures are incredibly important given the ongoing, national debate around the sharing economy movement in Australia," Airtasker CEO Tim Fung said.
"We have found that more and more everyday Australians are turning to our platform to get more done as attitudes towards getting tasks completed by local workers evolve."
The sharing economy trend is less than a decade old but it's growing rapidly worldwide.
The monitor revealed almost half of the population (44.8 per cent) are aware of the companies driving the movement, including AirBnB, Uber and Airtasker.
The local research harnessed the same methodology as earlier US research from global consultancy firm PricewaterhouseCoopers.
PwC's research found that roughly 44 per cent of US consumers are aware of the sharing economy and 19 per cent have used it to get a job done.
Uber was founded in San Francisco in 2009. AirBnB was founded in San Fransisco in 2009. Both companies officially launched in Australia in 2012.
Airtasker triples users since March 2014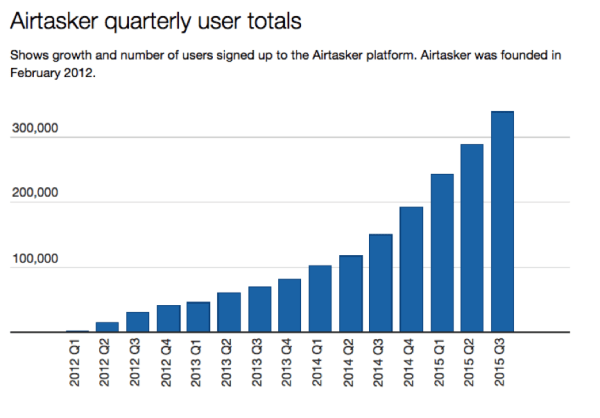 In addition to releasing its first Sharing Economy Monitor, Airtasker revealed internal user growth figures to demonstrate the speed of this trend.
The website is on track to pass a third of a million members this year.
Recent media reports say there are 15,000 drivers on Uber, while AirBnB offers 40,000 rooms on its service across Australia.
"Businesses and policy makers need to recognise the growth, potential and the opportunity brought on by this trend," Mr Fung said.
"Our own internal data reveals that the sharing economy is gaining momentum. For example, over 100,000 Australians have joined the Airtasker community over the past six months."
Method:
Airtasker's Sharing Economy Monitor was conducted by local research firm Pureprofile.
It was measured via an online survey of a representative sample of 1000 Australians.