Whether it's cooking up a storm for dinner, putting away the laundry, or reviewing your super account, many of us struggle to stay on top of our life admin. Between work, parenting and spending time with family and friends, life admin often seems like a never-ending to-do list. But don't worry, you're not alone.
New research commissioned by Airtasker in its State of Life Admin Report reveals nearly half (49%) of consumers feel overwhelmed by the volume of tasks on our personal to-do lists. In fact, 41% of us admit we'd be willing to pay nearly $98 a week (over $5k a year) to get help tackling our life admin*.
From cleaning the house, making appointments and running errands, it's no wonder Aussies need help with the average person spending over eight hours a week (or over two weeks a year) ticking off their personal to-do list.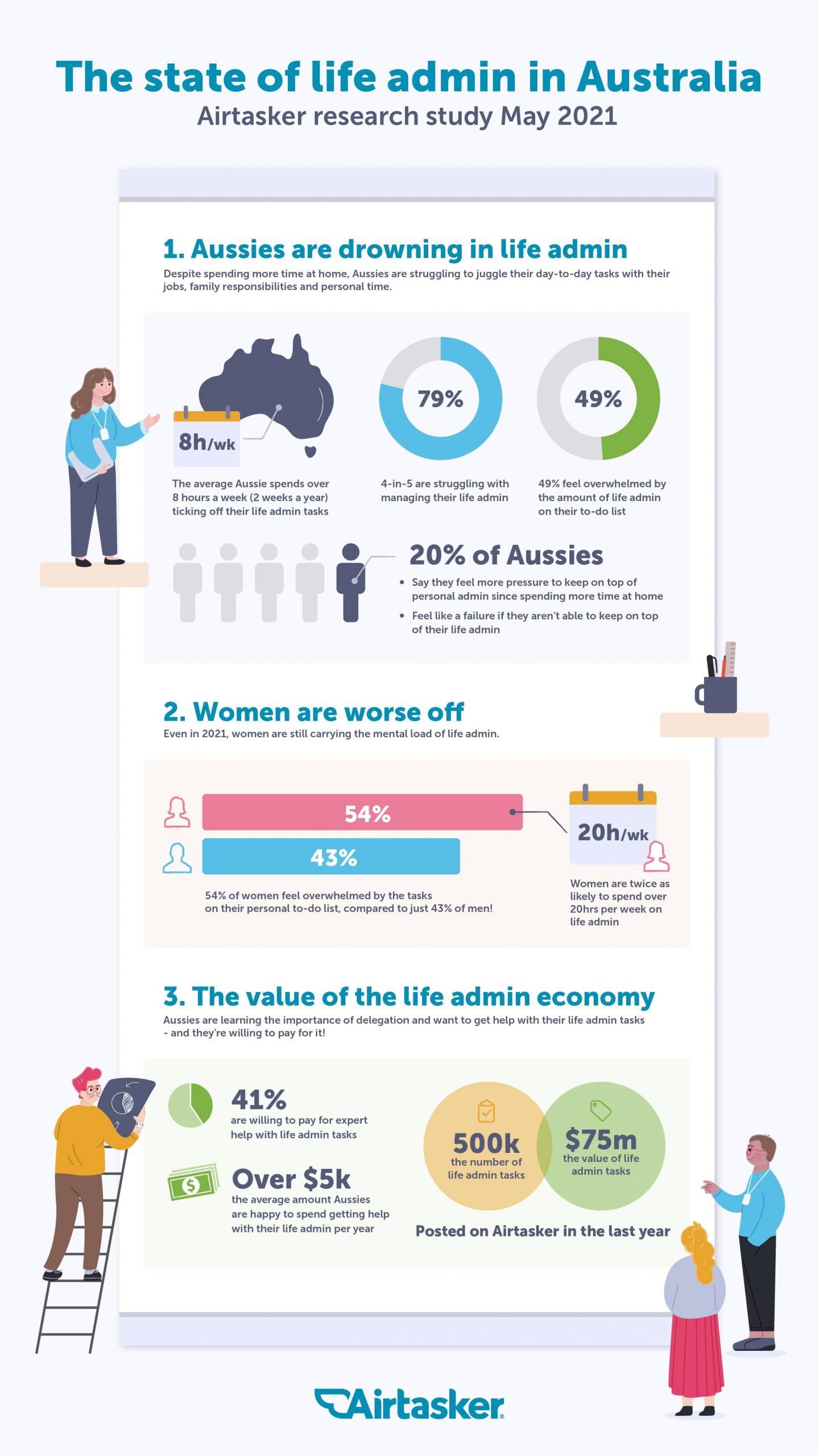 These life admin pressures have been further exacerbated by the pandemic. While Aussies may be spending more time at home, one in five (20%) say they feel more pressure to keep on top of personal admin. The research findings show that 79% of consumers struggle to manage their life admin, with just under half citing a lack of motivation (46%), being too busy or not having enough time (42%).
Women are most affected with managing life admin with women twice as likely to spend over 20 hours a week completing life admin tasks; no wonder 54% feel overwhelmed by their personal to-do list compared to just 43% of men!
The good news is that expert help is available! In fact, over 500k life admin tasks have been posted on Airtasker in the past 12 months, with a total value of over $75 million, as Aussies look for expert help with everything from reviewing their super, preparing their family's weekly meals, and even collecting a friend's gift.
With the increased demand for life admin help, Airtasker CEO Tim Fung said open marketplaces like Airtasker can help you get more done or provide an earning opportunity for those with the right skills:
"Between work, looking after our families, catching up with friends and looking after our mental health, it's not surprising that we're feeling anxious about the number of extra tasks we're expected to complete.

"We're really proud that Airtasker connects Aussies with people in their local community who can share their expert insights, skills and advice to help us tackle what can feel like a never-ending to-do list. If you're one of the minority of Aussies who feels on top of their life admin, why not put those organisational skills to good use, and make some money while you're at it?"
Speaking on the research, Productivity & Time Management Expert Barbara Clifford (The Time Tamer) explains:
• Changes in the last year (home offices, insurance policies and rescheduled holidays) bring extra work
• Being forced to juggle so many things at home takes a lot of physical and mental energy
• It's important to try to fight the pressure of doing it all – sometimes the most powerful method of time management is to delegate to others
This sentiment is supported by 56% of Aussies who agree their life admin has caused them difficulty or stress. In addition, a quarter of consumers feel this anxiety holds them back from getting things done yet 20% feel like a failure if they aren't productive.
One Tasker, David, who offers home-organising skills on Airtasker, is helping Aussies get on top of their life admin. Over 1,000 home organisation and decluttering tasks have been posted on Airtasker in the past 12 months (worth over $326k) and David has noticed an increase in people feeling overwhelmed by personal admin:
"When my wife and I returned to Australia after working abroad in 2019, we noticed people seemed more stressed than ever, often drowning in "stuff", commitments and responsibilities. Many of these people were posting ads on Airtasker and I realised I could help.

"I've always been a minimalist and the kind of organised and hyper-productive person who my wife says can get things done long after other people might have given up, so it felt like I could use these skills to help ease the load for people who are feeling overwhelmed. I love seeing the relief on my clients faces."
So why not turn to Airtasker to see what life admin tasks you could get help with?
It's Taskers like David can help you regain control of your life admin so you can get on with the things that matter most to you.
Definition of terms:
Life admin – also known as the "office work of life", includes tasks such as personal banking, making appointments, paying your bills, responding to personal emails, as well as running errands and completing household chores.