Local services marketplace Airtasker has released its annual consumer trends report, analysing data from millions of tasks, unveiling how times of continued change have impacted Australia's to-do list.
2021 saw an unprecedented uplift in demand for tattoos artists (265%+), requests for tuition in some of the Olympics newest sports (20%+) and preparations for the return of overseas travel as demand for language tuition grew 20% in the first half of the year. As our lives changed yet again, Aussies continued to turn to skilled experts on Airtasker to complete the important tasks on their to-do list, in just a few clicks.
So far this year, Taskers have been leaning into the Flex economy more than ever, earning more than $75M nationally across the marketplace, with home maintenance categories being the most in-demand as Australia's obsession to repair, re-do and re-design their homes shows no signs of slowing.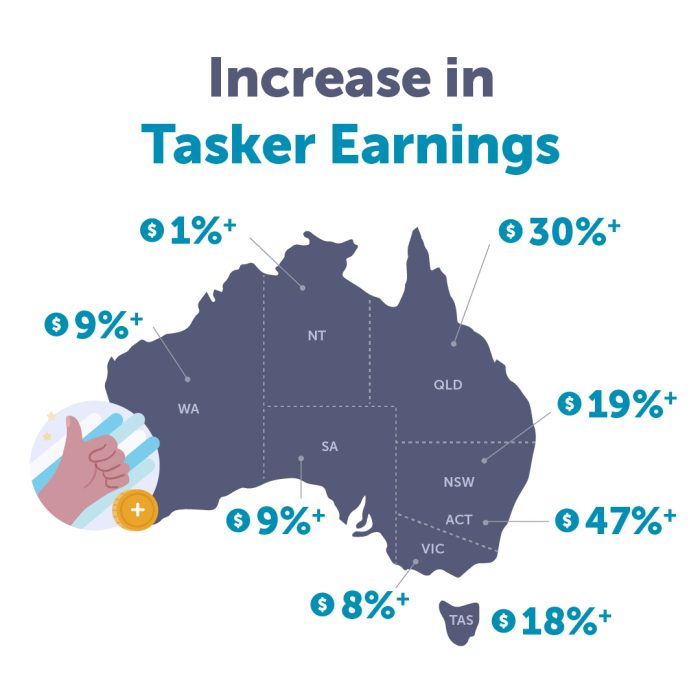 Airtasker's highest-earning in-demand categories in 2021
Landscape gardeners: $774 average task price
Carpenters: $675 average task price
Painters: $603 average task price
Full house removals: $362 average task price
Handyman: $286 average task price

Airtasker's top 5 trending Task categories in 2021
1. A (tentative) return to travel
What turned out to be wishful thinking after the year that was 2020, Airtasker data in January showed Australia's appetite to travel internationally with requests for language tuition spiking 32% and house-sitting up 15%.
Although the majority of 2021 still saw travel plans on hold, the small window of opportunity enjoyed by most of the country from March-June 2021 proved Aussies were raring and ready to go once borders opened.
By March, as interstate travel restrictions relaxed, Airtasker saw a 22% rise in demand for domestic holiday accommodation. Once demand started, it grew fast, increasing another 30% in April!
The opening of the New Zealand travel bubble was also good news for house-sitters, with tasks in this category rising a whopping 76% in May.
Now, as travel restrictions lift further, requests are already pouring in for help with travel planning, giving us a taste of what's to come in 2022.
2. The great inking: tattoo requests rise 265%
When restrictions lifted in New South Wales and Victoria in Spring 2021, the much-anticipated return to hairdressers and beauty treatments rang true. Aussies were also looking for something a bit more permanent than a fresh haircut or set of nails, with requests for expert tattoo artists rising a whopping 265% in October 2021 compared to the previous month.
Not only that but tattoo design and artist requests rose 36% in 2021 when compared to 2020. After the events of the last two years showed us the importance of embracing all that gives us joy, this was the year Aussie's turned creativity into their own bodies! Whether taking the plunge with their first piece of body art or adding to their collection to celebrate their children's individuality, more Aussies than ever were looking to get inked in 2021.
3. Our home is our castle
While some of 2020's trends are a distant memory (banana bread anyone?), there's one trend here to stay, and that's an investment in our homes. As Australia's housing boom shows no sign of slowing, Airtasker's top five most in-demand tasks in 2021 saw removalists come out on top, with almost 300,000 tasks posted to date.
Also playing a starring role in Airtasker's top 10 task categories this year were cleaners (with 172k tasks posted), Handymen (124k), Gardeners (120k) and furniture installers (59k)! From full home renos to setting up at-home cinemas, or even designing an ultimate family home from scratch, Aussies' property dreams reached new heights this year!
4. The Olympic impact: Aussies embrace adventure sports
As Australia watched our athletes take to the world stage, fitness-related requests rose significantly, with contact sport requests up 133%.
Not only were Aussies looking to get back into football, soccer and tennis, during the Olympic games requests for adventure sport instruction, such as kayaking or surfing lessons, rose 20% over the same period.
As in 2020, Australians continued to prioritise their fitness, with fitness trainers up 12% in July 2021, compared to the previous month.
5. Productivity overload
Back in May, Airtasker research revealed that 49% of Aussies were feeling overwhelmed by the sheer volume of tasks on their to-do list, and it's clear the demand for help hasn't slowed.
As restrictions eased in NSW and VIC, and social lives were back on the agenda, home help tasks sky rocketed by 46% in October compared to September.
As some of us returned to the office and public life, washing and ironing tasks shot up 12% and sewing tasks up 28% in October, compared to the month prior.
Airtasker saw a 64% increase in requests for queue line ups in October, coinciding with those 11pm Kmart queues on NSW's reopening day!
Speaking to the report, Airtasker Co-founder and CEO Tim Fung commented:
"Throughout the year it's been rewarding to see our community lean on one another to get things done, and create some great earning opportunities in the process. Whether it was helping families create their dream home, teaching adventure sports or planning a holiday, Airtasker continued connecting Customers with Taskers in their local community to tick things off their to-do lists all year around.
As we look forward to 2022, we're excited to see Customers and Taskers rely on Airtasker as a practical solution in getting things done and/or making money doing things they enjoy. After all, you never know what job you might need to get done next!"
To monetise your skills on Airtasker or find trusted experts to help with your next project, Aussies can sign up at Airtasker.com.