Takeaways
Over 70% of Gen Z are shunning traditional career paths to embrace the "flexible economy", where workers set their hours, scope and fee
Flexibility (52%) and a drive to turn passion into profit by monetising skills or hobbies (33%) is influencing Gen Zs career choices
Some of the most popular skills being monetised by Gen Z include graphic design, social media support and app development, with the highest earners topping $14K a month!
Research we conducted with YouGov reveals that Gen Z are leading the charge when it comes to embracing the "flexible economy" in Australia. In fact, the study found over two-thirds of Zoomers (70%) have either made money via platforms like Airtasker (42%), or are planning to in the future (28%) as younger generations look beyond a linear career path to create new streams of income.
Citing the ability to bring in additional money on top of other jobs (41%) and the chance to make money doing something they enjoy (26%), Gen Z are making it mainstream to monetise skills outside of traditional employment.
On average, Zoomers say they are earning an extra $429 a month through the flexible economy – not bad for a side hustle – whilst data from Airtasker has revealed that some are making as much as $14k a month!
One of the most lucrative skills being monetised by Gen Z is app development, which has an average task price of $255 whilst complex work can go up to $5,000. Other popular skills being monetised include graphic design ($160 average task price) and social media support ($122).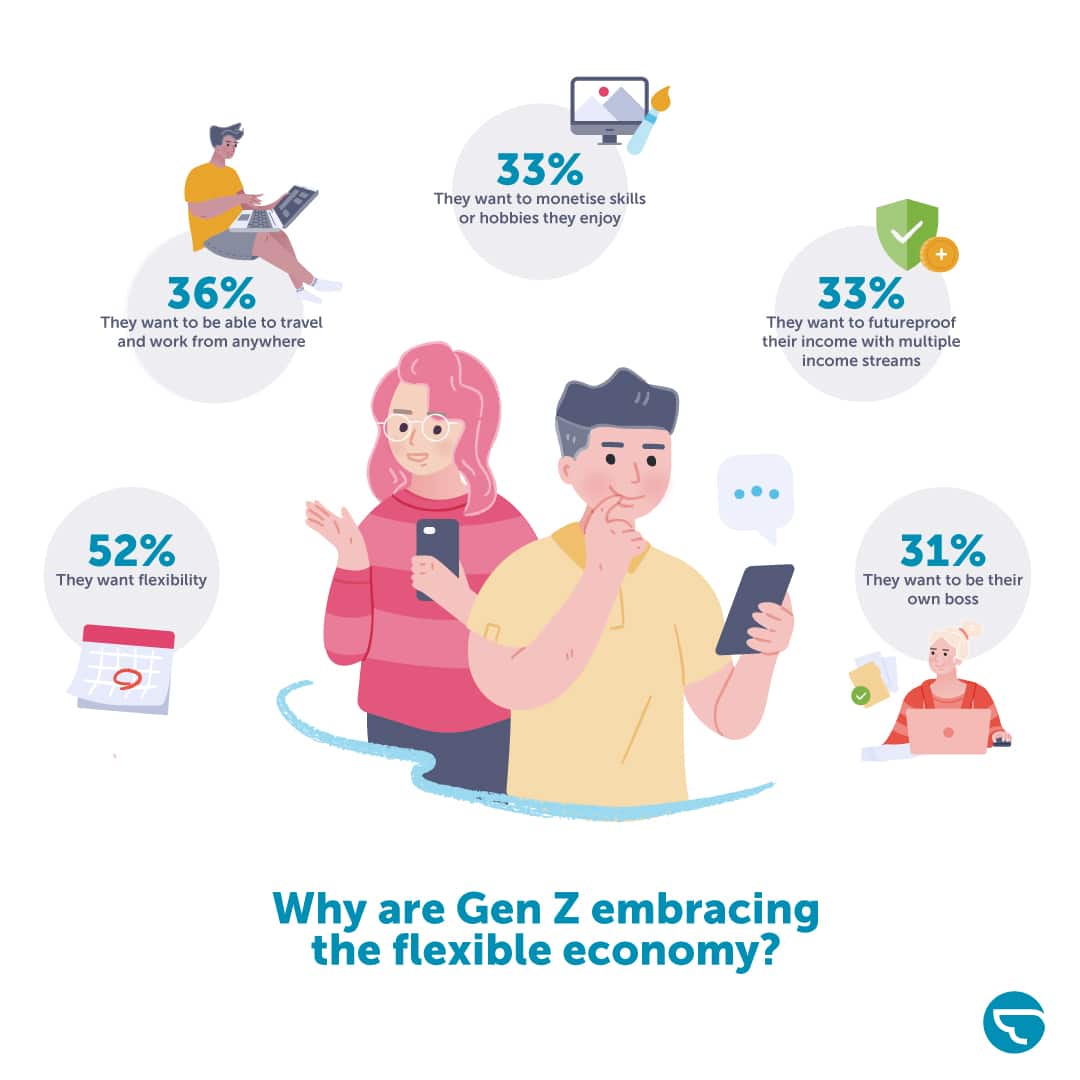 What is the flexible economy?
Whilst many Aussies have seen the benefits of flexible work schedules this year, the "flexible economy" is much more than choosing the hours and location of your work. Platforms like Airtasker empower Aussies to choose the work they do, when they do it and importantly, how much they get paid.
For Gen Z, who prioritise flexibility and passion for their work it is the perfect way to monetise their skills; not to mention the opportunity it presents to access multiple income streams at once. In fact, when asked to describe their ideal work situation, Gen Z are almost twice as likely to say they would prefer to have multiple income streams (36%) than one source of income with fixed hours (21%). A third (35%) also say it's important for them to diversify their income.
Youth employment coach and start-up mentor Zoe Piper explains why this is the case: Gen Z are really the first generation who grew up seeing flexible work situations as the norm; they came of age just as "flexible economy" marketplaces like Airtasker started to cement themselves, and this means that they're able to craft multiple income streams much earlier than older generations could. As a result, the idea of making money outside of traditional employment, or through more than one channel, is already more mainstream than even 15 years ago.
"Put that in the COVID-context, where Gen Z were amongst the hardest hit during lockdowns, there is also a desire to take control of their finances and monetise their skills in other ways. The passion project holy grail is not a distant reality, saved for retirement, but a genuine employment preference."
The flexible economy also enables Aussies to make money remotely, which has been a key driver for Taskers like teacher and part-time book editor Veronica, and graphic designer Ahmed.
Ahmed explains:
"Amidst the uncertainty of the pandemic, I needed to find a sense of security and Airtasker provided a reliable way to find job opportunities from the comfort of my home. I make offers when I want, for the prices I want, so a comfortable secondary income has never been more convenient!"
It's not just money and flexibility that motivates him, but the variety and chance to help others: "With so many people with start-up ideas looking to get some extra help, it's incredibly rewarding. I've been blessed to have worked with mental wellness groups, disability services, personal trainers and so many more individuals looking to really make a difference!"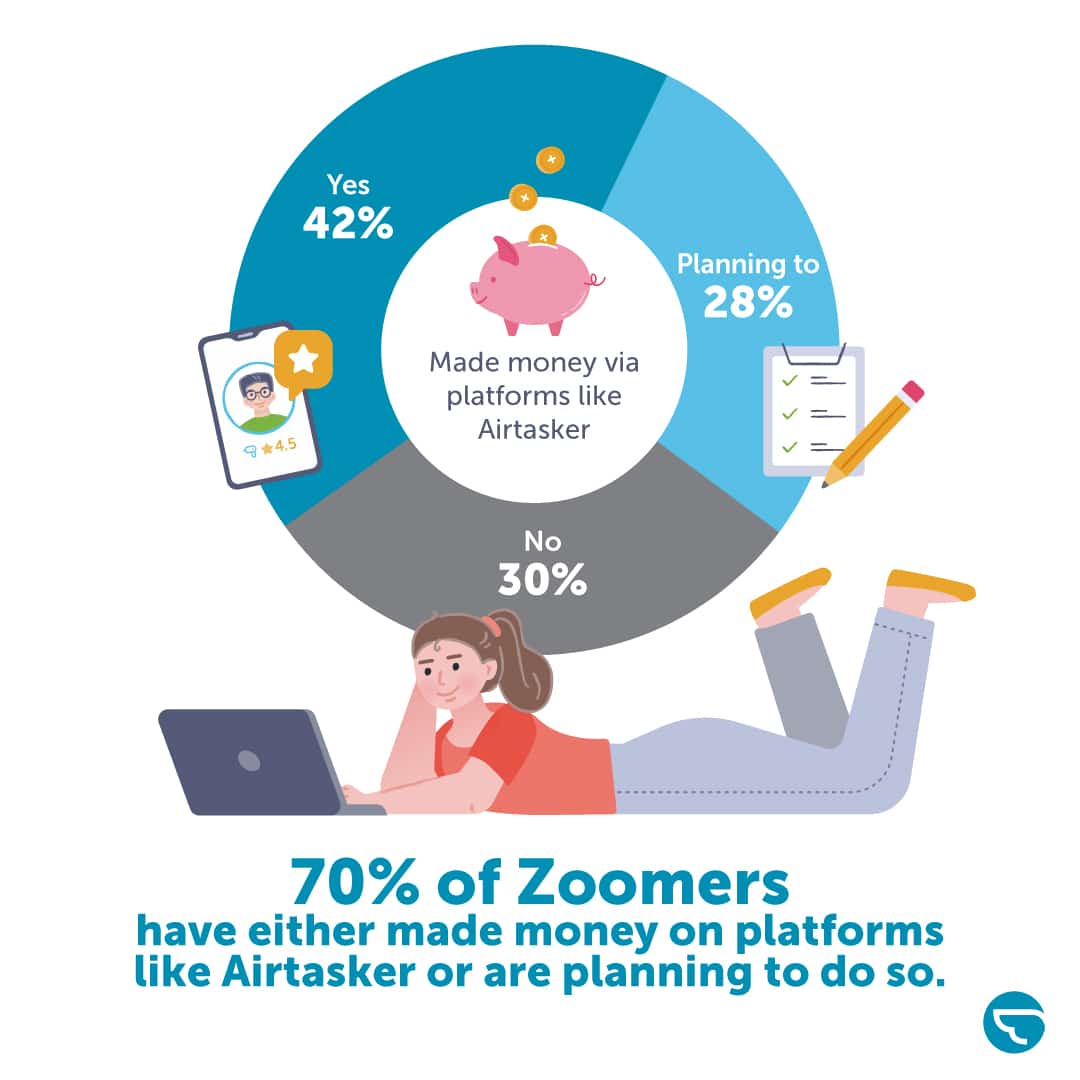 What this means for the future of work
The benefits of the flexible economy are also spilling over into Gen Zs' expectations in the traditional workplace. Unsurprisingly, flexibility in work hours and location continues to be a key consideration for over half (52%) of Zoomers, no matter what their employment type.
And whilst 49% say competitive pay is still high on the agenda, over a third (33%) also said that a job that lets them monetise skills or hobbies is more important than one that pays well. Whether in a role that plays to their passions and strengths, or one that offers the flexibility to run a side hustle outside of work, it's clear that the idea of turning passion into profit is, for many, not only desirable but now expected.
Speaking on the evolving employment priorities, and earning opportunities for Gen Z, Airtasker CEO Tim Fung says:
"As work life balance becomes more of a priority, and Gen Z have had the opportunity to experience flexible working, it's not surprising that we're seeing this shift in the way they view work.

We're really proud that Airtasker is able to connect Gen Z with meaningful work opportunities to monetise their skills and to help build career momentum."
Definition of terms
Generation Z is comprised of those born between 1997 and 2015.
Taskers: service providers on Airtasker
About the research
This study was commissioned by Airtasker and conducted online by YouGov between 3rd – 15th August 2021. The sample was comprised of 1,048 Australians aged 18-24 years. Following the completion of interviewing, the data was weighted by age, gender and region to reflect the latest ABS population estimates.
---
Learn more about Airtasker and start monetising your skills!
---