It's all well and good that you have some awesome skills, completed tasks and even gotten some really great reviews but how can you get more people to find you?
Google My Business is a free tool that lets you appear on Google searches and maps. You can link your Airtasker profile so that anyone who searches for the service you provide in your area can easily find you. This way, people can see all the tasks you've previously performed, your outstanding reviews, photos of your work, and everything else you want people to know about you. This is another reason why it's so important that your Airtasker profile is not only informative but also highly engaging.
Aside from just being visible on Google, here are more 5 reasons why you'll benefit from setting up a Google My Business account!
1. Visibility on Google Search
The best thing about having a Google My Business listing is the increased chance of of being found when anyone does a search for your services on Google. There's little doubt that this is how most people search for things in the world today. With a few simple steps of setting up a Google My Business listing, you can easily boost your chances of being discovered for all the awesome skills you have.
2. Higher chance of showing up on Local 3-Pack
Google's Local 3-pack listing gives you the opportunity to reach the top of Google's search results. The great thing is that by simply creating a Google My Business listing, your chances of appearing on the local 3-pack increases significantly.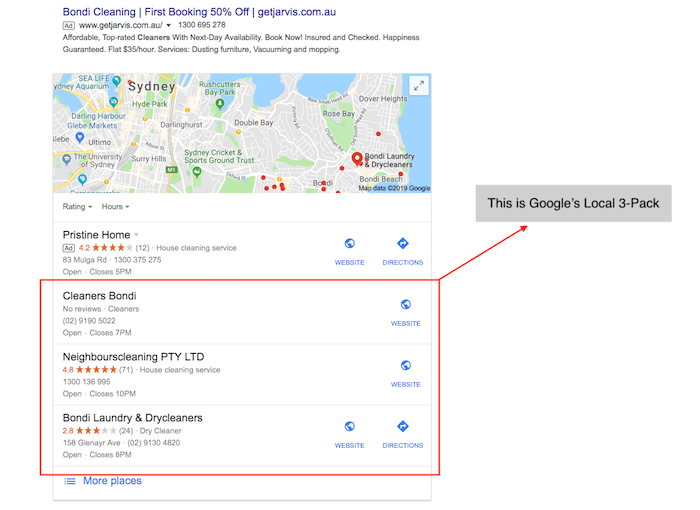 3. Earning trust
As a Tasker, one of your greatest obstacles may be obtaining trust from a Poster before you've completed a task for them. You may not always be able to communicate the quality of your work or why you're the best person for a task. Studies have shown that it is far more likely for a brand to be considered reputable when it is visible on Google. With this being considered, having a Google My Business listing will help create a sense of trust around your services so that you're more likely to be picked for your next task.
4. Improve first impressions
One of the biggest advantages of having a Google My Business account is that it provides an avenue for you to sell yourself and your services as well as showcasing a photo gallery of your best work. This is a great way for you to show off your services without having to pay for a storefront or your own website.
5. It's free!
Considering the simple set-up process and the fact that it's completely free, it's definitely worth your time to get a Google My Business listing set up. It has the potential to help you reach new people, build your reputation and consequently, earn more on Airtasker!