Ah, Christmas. The bright lights, ice skating and Pret Christmas sandwiches are jolly, and the weather is officially fun until Dec 31st. Travel restrictions are being eased so that everyone can visit their families. Surprisingly, 60% of Brits don't mind spending the holidays in lockdown. With the coronavirus lurking around, people are discouraged from drinking at a pub, then visiting their grandparents on the same day. That being said, it's better to host an intimate dinner indoors with limited family members.
While people in the UK have more time to do all the holiday-related errands at home, it's still not something everyone is looking forward to doing. Brits don't have to fight through busy crowds to do the shopping, but there are still so many things to organize for a quiet family dinner. This includes planning a menu for the in-laws and wrapping all those presents (not to mention the pile of dishes towering from the sink).
We did some research and found out what Brits hate doing at Christmas, along with recommendations to make the holidays less of a chore:
These are the top 5 things we'd rather leave off the list: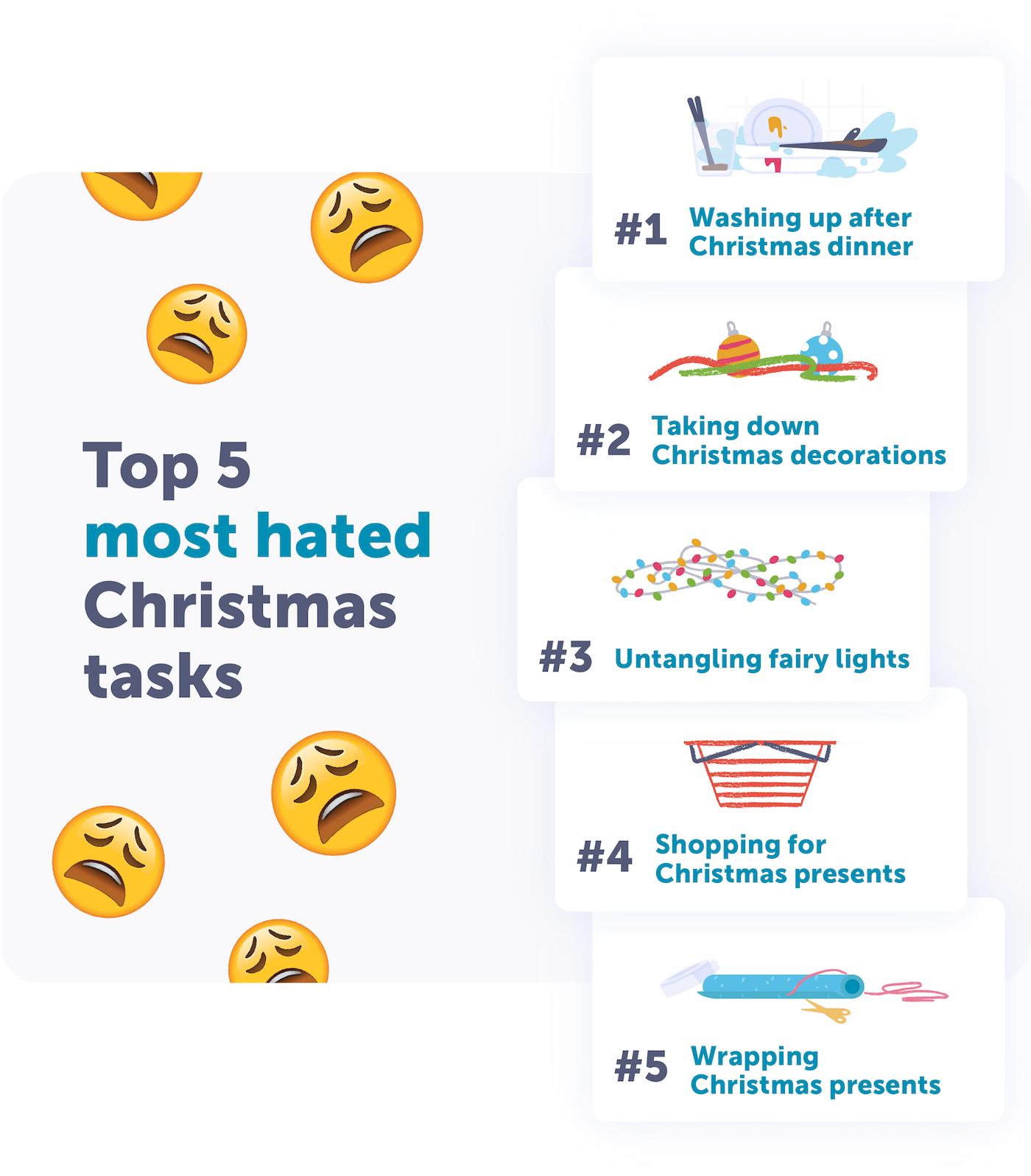 42% of us would happily pay for someone to do the dishes after the Christmas feast! And it's not just the clean up that takes time.
If you're already knee-deep in Christmas related tasks you're not alone. Our study revealed that the average Brit spends 36 hours, or the equivalent of a full-time working week, getting ready for Christmas.
Over half of us (53%) spend over 3 hours just doing the food shopping, and that doesn't include the cooking!
Nearly 1 in 10 people expect to spend over half of Christmas Day in the kitchen.
These 5 Christmas tasks are the most time consuming: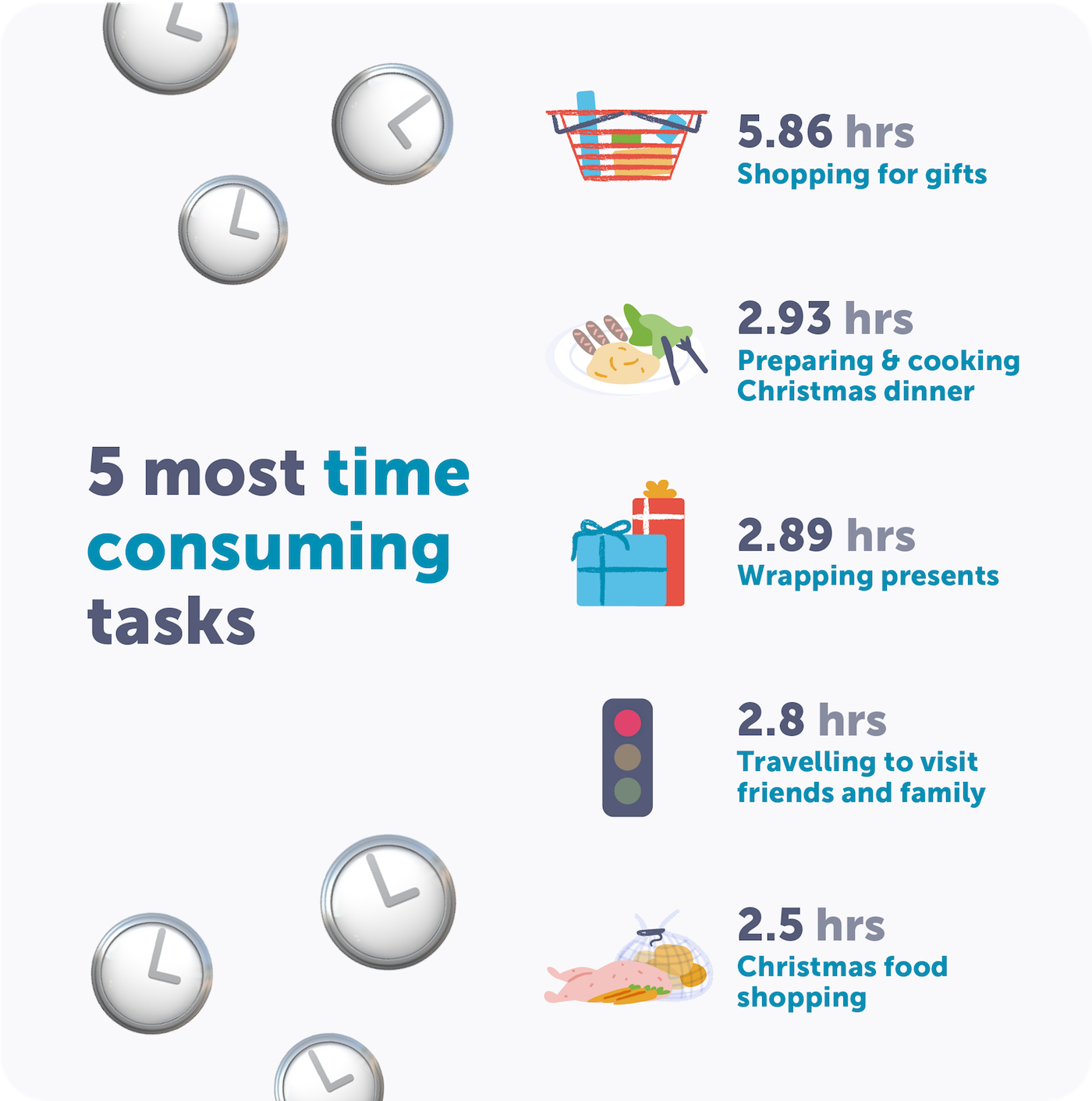 And we all know the chores don't stop once the festivities are over. 37% of Brits would rather pay someone to take down the decorations!
Turns out where we live impacts how much time we spend on Christmas too.
People in these cities will be spending the most time getting ready for Christmas: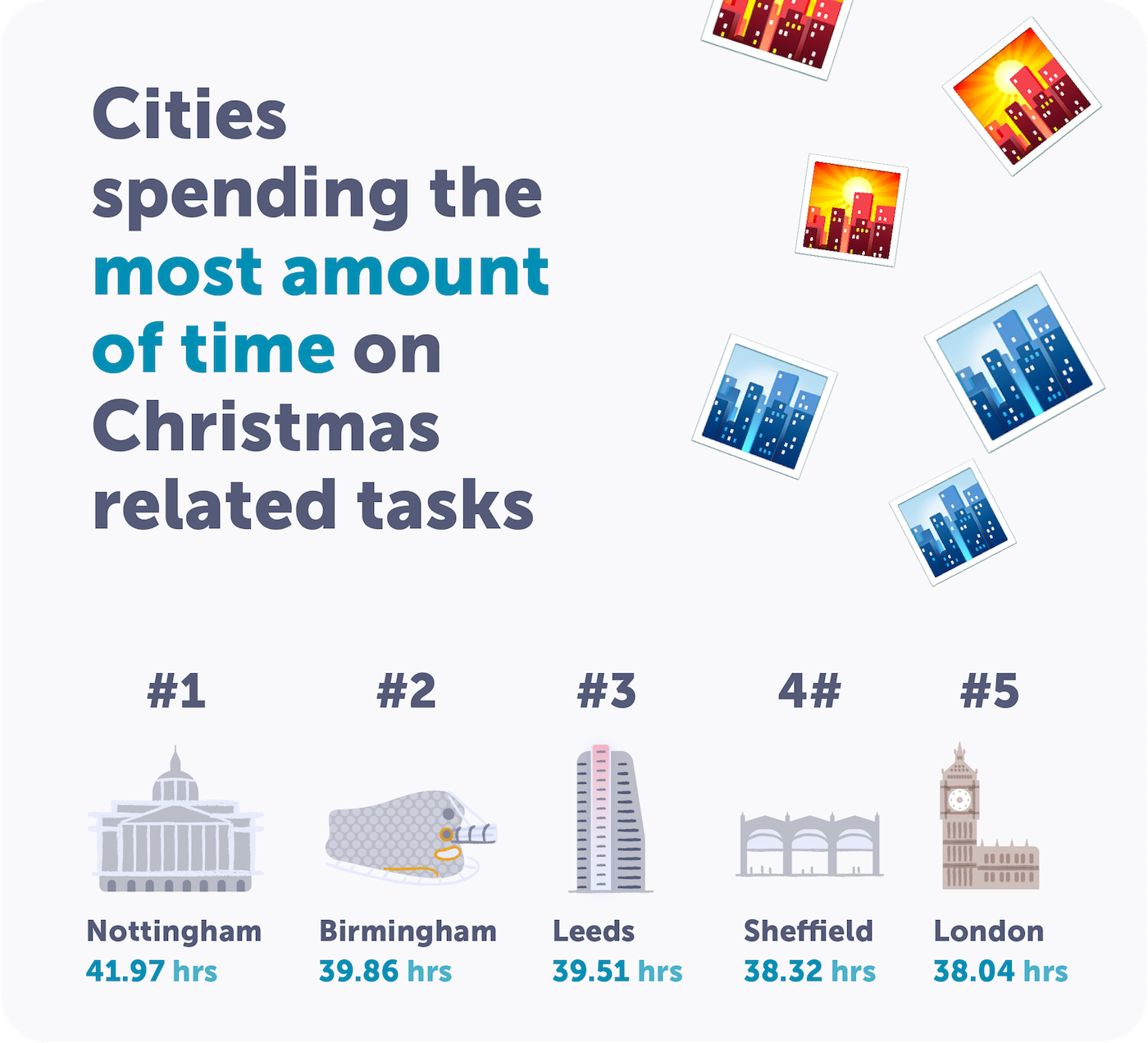 People in Nottingham are spending more than any other city on festive chores, with well over a full working week invested in the big day (42 hours).
Nottingham residents admit they spend over 3 and a half hours travelling to see family and friends, over three hours on the Christmas food shop and nearly seven hours shopping for presents.
Homes in Newcastle are expected to spend the least amount of time on Christmas related tasks with just over 27 hours accumulated on the preparation and chores involved.
And although Geordies are known for being particularly warm and friendly, cutting time on tasks such as writing greeting cards and visiting friends and family means they're set to save nearly two working days worth of chores compared to those in Nottingham.
Londoners are either the more efficient, or more Grinch-y, spending on average 38 hours getting ready for Christmas.
Want to cut down your Christmas to-do list? Enter a team of Airtasker elves ready to help out this festive season!
These Taskers all have specialised skills and are ready to help you get your Christmas preparation all wrapped up.
Nicole, the real-life Mrs Claus
Christmas super-skill: Picture-perfect gift wrapping
Nicole discovered her love for wrapping presents at a young age when she'd neatly unwrap all of her presents from Santa, in order to re-wrap them all herself.  With over 15 years of experience perfecting her paper skills on thousands of gifts, Nicole prides herself in being able to wrap any shape and size to the highest standard. She has a great eye for colour combinations and a master of the ribbon curl. Request a quote from wrapping and gift delivery experts.
Jack aka Gordon Hamsey
Christmas super-skill: Christmas dinner personal chef
Jack has over 12 years experience working as a chef in some of London's busiest restaurants. His love of the Christmas dinner has resulted in it being his signature dish. Testing a variety of festive menus over the years, Jack now boasts a winning formula for the fluffiest roast potatoes, juiciest turkey and a secret stuffing recipe that has been a decade in the making. Request a quote from home chefs like Jack!
Oliver, the Christmas tree connoisseur
Christmas super-skill: Christmas tree selection and installation
Whilst at university, Oliver worked at a popular department store Santa's grotto on London's Oxford street. With one of his main responsibilities being to decorate the full grotto with beautifully dressed trees, Oliver has experience handling a variety of real trees! These include the spikey Norway Spruce and the bushier Douglas Fir – as well as various artificial brands and sizes. Request a quote from handymen like Oliver!
Ale, deck the halls, the house, the street – whatever you need!
Christmas super-skill: Decoration installation
As an ex-visual merchandiser, Ale has worked all over the country producing creative window displays – specialising in festive fronts for a variety of high profile brands.  Most recently, he has turned his Brixton home into a winter wonderland. He has neighbours visiting from all over the district to witness his outdoor nativity and over ten thousand Christmas lights. Request a quote from expert decorators including Ale!
Much like a spindly Christmas tree overloaded with decorations, adding one thing too many can make it all fall down. If you're ready for a break after a busy year let these Taskers use their magic touch to make your Christmas stress free!
Data Source
A survey of 1,200 respondents who celebrate Christmas was conducted between the dates of 09.11.2018-12.11.2018 by Censuswide on behalf of Airtasker
Get help with anything from finding the perfect gift to cleaning the Christmas-dinner dishes on Airtasker.