Traditional pastel-coloured baby nurseries are a thing of the past.
In the days of Pinterest and Instagram, there are a plethora of more quirky nursery design options to choose from. And you don't have to break the bank as a lot of these are DIY. Just hire painters and decorators in London for when you need a helping hand.
Here's a list of ideas to kick off your baby's room design, perfect for all the design-conscious parents:
1. Hoop art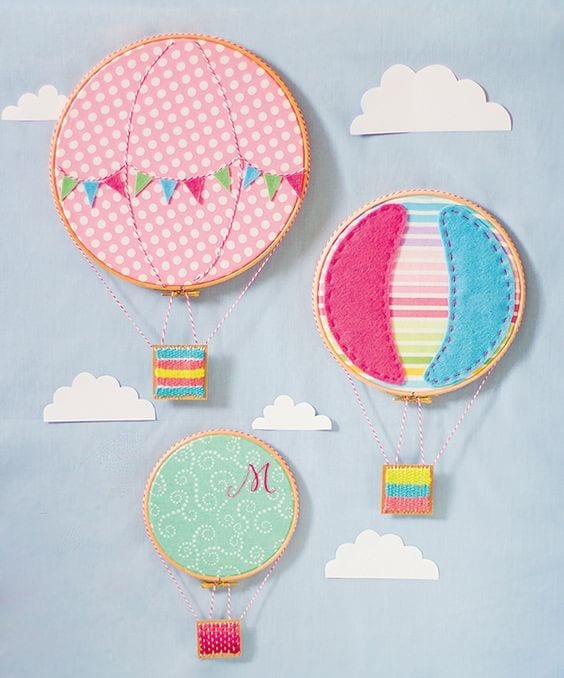 Source: Pinterest – molliemakes.com
Let's start with a DIY one.
Embroidery hoop art is a project that can easily bring pretty patterns and personality to your baby's nursery wall.
All you need is:
Wooden embroidery hoops (easily available online or at a craft store)
Scraps of fabric
Scissors
Paint for the hoops (optional)
Start by painting the hoops if you don't want to leave them plain wood. Once dry, loosen outer hoop and place your fabric on top of inner hoop. Stretch and tighten, and trim any excess fabric from the back. Hang in an arrangement or solo.
2. Wall mural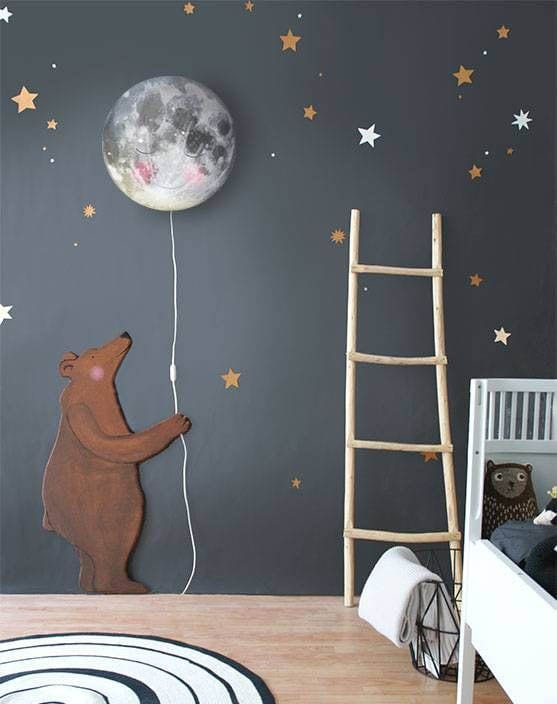 Source: Pinterest – apartmentapothecary.com
If you're ready to get truly creative for the sake of making your baby's room unique – consider a nursery wall mural.
Nursery murals are a relatively affordable way to create a whimsical vibe and backdrop for the rest of the decor in your room. They usually make such a statement that not much else is needed.
If you're not sure of your mural-making skills, there are plenty of creative painter and decorators in London who can help.
3. Tropical vibes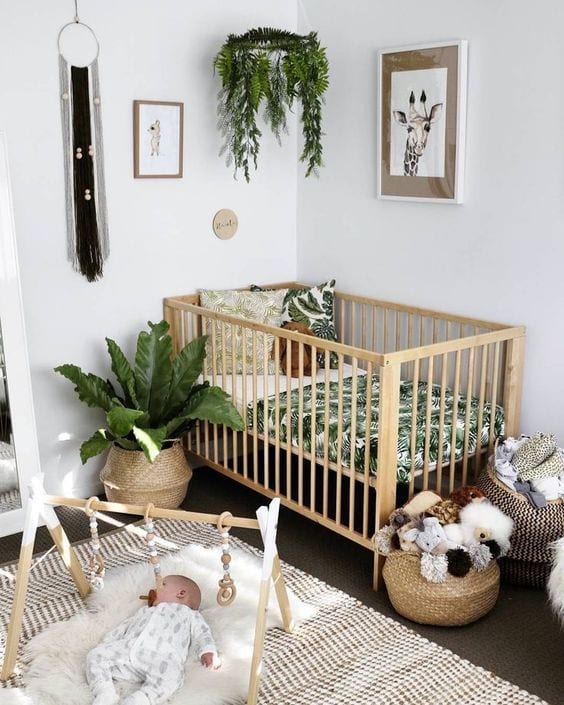 Source: Pinterest – ovobloom.com
With tropical print being one of the top home decor trends in 2018, why should your nursery miss out on the leafy vibes?
A tropical nursery is a great gender neutral baby's room design choice. It doesn't have to be bold and full of green – opt for light neutral colours contrasted with deeper shades of wood and occasional splashes of colour. Perfect for an on-trend chilled vibe.
Add some indoor plants so your baby can breathe in cleaner air as they slumber.
4. DIY mobiles
Source: Pinterest – molliemakes.com
It's the last thing your baby will see before they snooze at night, and the first thing they catch sight of when they wake. So why bore them with a generic plastic store-bought version? A homemade mobile is fairly easy to make and adds that personal touch to your baby's nursery.
Pinterest has loads of great examples – ranging from the easy and breezy to more challenging for those with DIY skills.
The pom-pom mobile is a good place to start.
5. Hot air balloons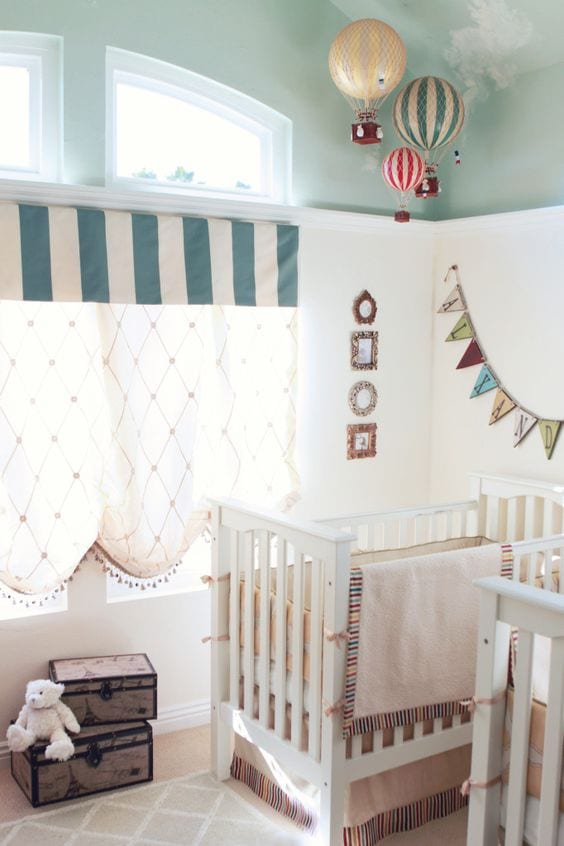 Source: Pinterest – nurseryproject.com
A hot air balloon theme is a cool and quirky decor idea that can help spark your child's sense of adventure from a young age.
Etsy is full of lots of adorable nursery items that fall under this theme, including hot air balloon mobiles, wallpaper, and light shades.
If you don't want to go all out with a full on themed nursery, add a touch of it with DIY hot air balloon paper lanterns. Here's how:
What you need:
Paper lanterns of any size or colour
Paint + brush
Small basket
Scissors, string, glue gun
Toothpicks
Start by painting the lanterns with colours of your choosing. Once dry, glue four pieces of sting inside (along the paint line). Cut any basket handles and place a thin line of glue on the inside.
Press the other end of the string pieces into the glue on the basket and press it down using a toothpick (glue gun can be hot!)
And voila, a beautifully hand-painted hot air balloon. Create a cluster for a lovely decor centrepiece for your baby's nursery.
Bring your idea to life – find trusted and local painter decorators with Airtasker.