Container gardening has a ton of advantages over traditional 'from the ground' gardening.
If you want to practice eco-friendly gardening, you'll be happy to learn that using containers saves water and fertilisers. It's also easier to prevent pests, and you can move your containers around to a new location whenever you feel like it.
Sold?
There's more.
Using a quirkier container can really liven things up in your garden. And you can really get creative with your choices, as you'll find that you can use pretty much anything as a planter.
Read on for some container gardening inspiration:
1. Cupcake cases
How cute can plant containers really get? Cupcake cute, that's what. See below.
This idea would work well with mini succulents.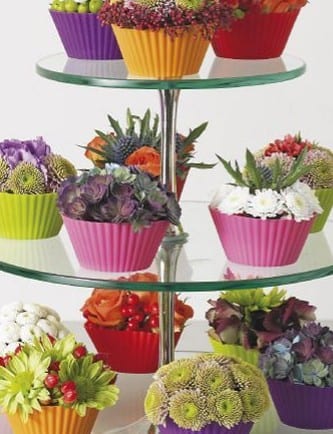 Source: Pinterest – flowerona.com
2. Teacups
Make use of your favourite old cuppa by planting little gardens in them. Cute little cacti could work well in teacups too – all you need is some cactus soil and small pebbles.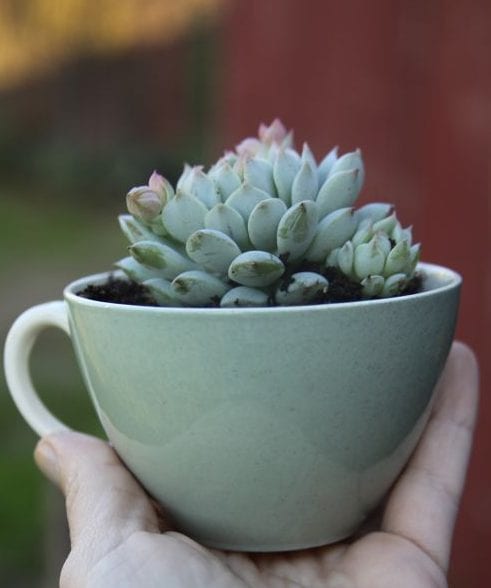 Source: Pinterest – theheartysoul.com
Want to grow herbs in your teacups? Just drill a hole at the bottom of the cup first.
3. Boots
Dust off those wellies. Whether they're a basic black or a pretty pattern, they can make a perfect home for your next plant.
Poke some holes at the bottom for extra drainage.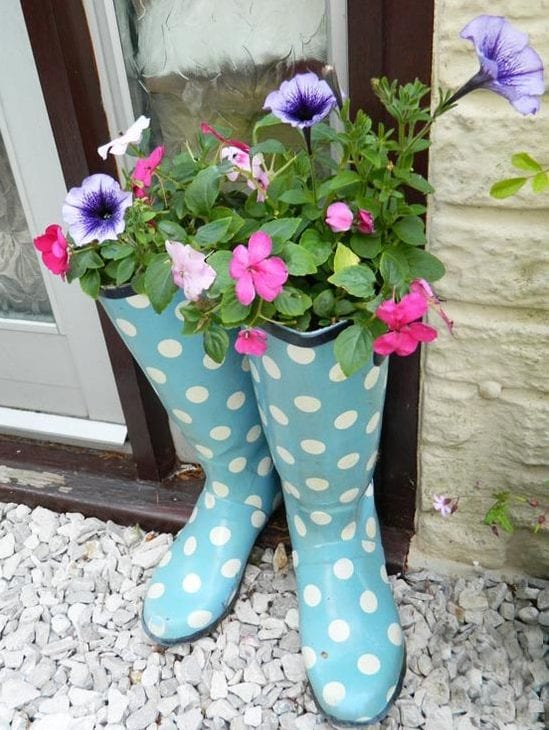 Source: Pinterest – enthusedmonkey.blogspot.com
4. Muffin tins (for herbs)
Want to grow your own herbs? A muffin tin is the ideal spot to do so, with the perfectly compartmentalised sections making it super easy to work with.
Just up-cycle the rusty old tin you have lying at the back of your kitchen cupboard (we all have one).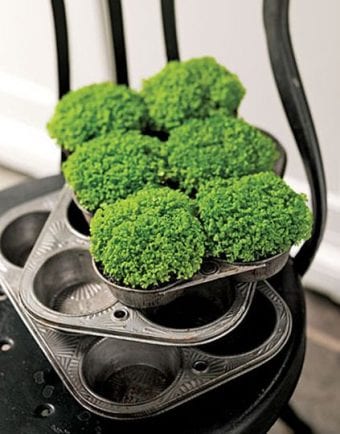 Source: Pinterest – apartmenttherapy.com
5. Vibrant tins
For a splash of colour in your garden (or for indoor plants), turn to your kitchen cupboard again.
Tins and cans are perfectly designed to be planters, and especially easy to plant in if you're a beginner to this whole gardening thing.
Wash out thoroughly after devouring the food it came with.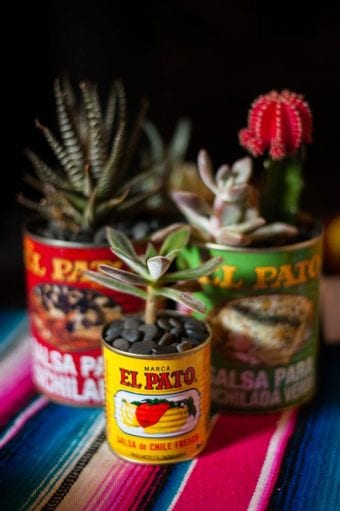 Source: Pinterest – rocknrollbride.com
6. Bags
Yep, even an IKEA bag will do the trick.
Tote bags are particularly great for growing any fruit and veg, thanks to their sturdy nature.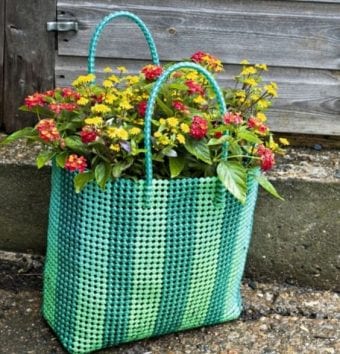 Source: Pinterest – dailymail.co.uk
7. Buckets
This is a budget-friendly plant container option that can actually look surprisingly pretty (well, depending on the bucket you choose, obv).
You can decorate and paint your planter buckets as you please. Just don't forget to add that hole at the bottom for drainage.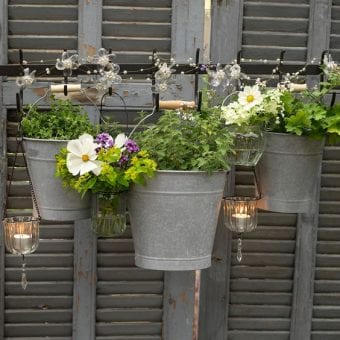 Source: Pinterest – idealhome.co.uk
8. Garden chairs
Got a couple of old chairs lying about? Before chucking away, consider using them as planters.
It's simple. Just make hole in the seat of the chair and fit a basic container in it.
It looks a lot prettier than it sounds.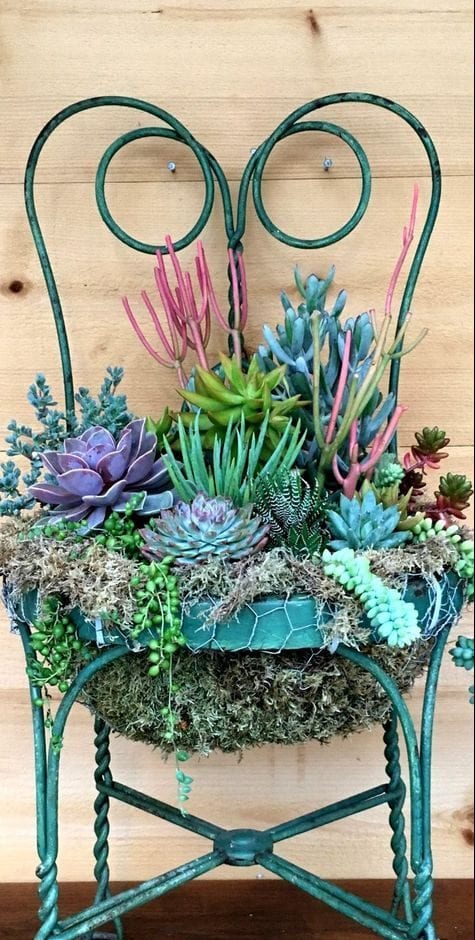 Source: Pinterest – gardentherapy.ca
9. Glass containers (for terrariums)
Terrariums, our old favourite. The great thing about these little cuties is they can be planted in pretty much any glass container.
Pick something quirky and unexpected. Case in point below.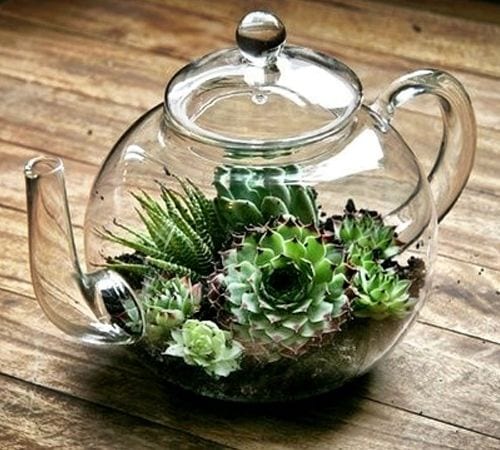 Source: Pinterest – google.com.au
10. Birdcages
Birdcages make beautiful vessels for plants and flowers. Get an ornate or vintage one to add a touch of whimsy to your garden.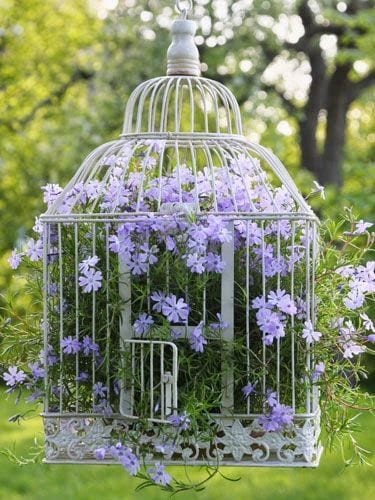 Source: Pinterest – diyandmag.com
Want to make your garden dreams a reality? Find trusted and local gardeners with Airtasker.