You may not think of your pantry door as anything special, but that's because you haven't seen the wonderful pantry door ideas that we have below for you – and they will blow your socks off!
I've done the research to find the best of the best, and of course, I've made sure that these pantry door ideas are very functional as well. From hidden walk-in pantry doors to the eye-catching show stopper doors, I'm so excited to show you all of the wonderful pantry door ideas I've found.
1. Antique pantry door
Inject instant character into your kitchen area with an antique door. The chances are that this one wasn't made from scratch. I imagine it was probably found at a junkyard or even off an old part of a home pre-renovation. But just because it's old, doesn't mean it should be thrown out.
In fact, the most lovely home designs combine the perfect balance of old with the new to create a lived-in look that's natural and cosy. All you need is a bit of help sanding, paint stripping and staining or painting – and it's as good as new.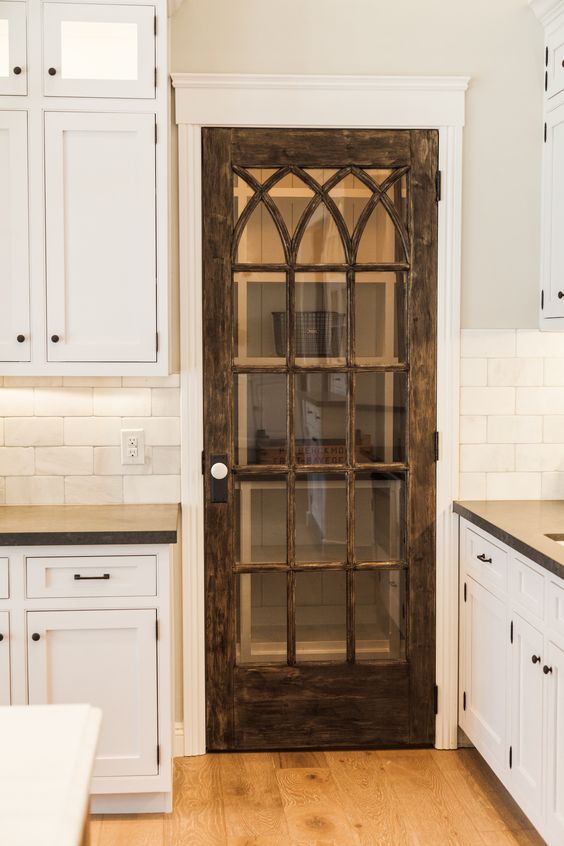 2. Grey and gold
On the more modern side of the fence, there's this grey-and-gold pantry door. It also has a large rectangular piece of glass that acts like a window in to the secret room behind. I like that this door isn't just plain, but that it incorporates moulding and brass touches to add character to the space. It pairs perfectly with a grey kitchen or even a Hampton's style kitchen.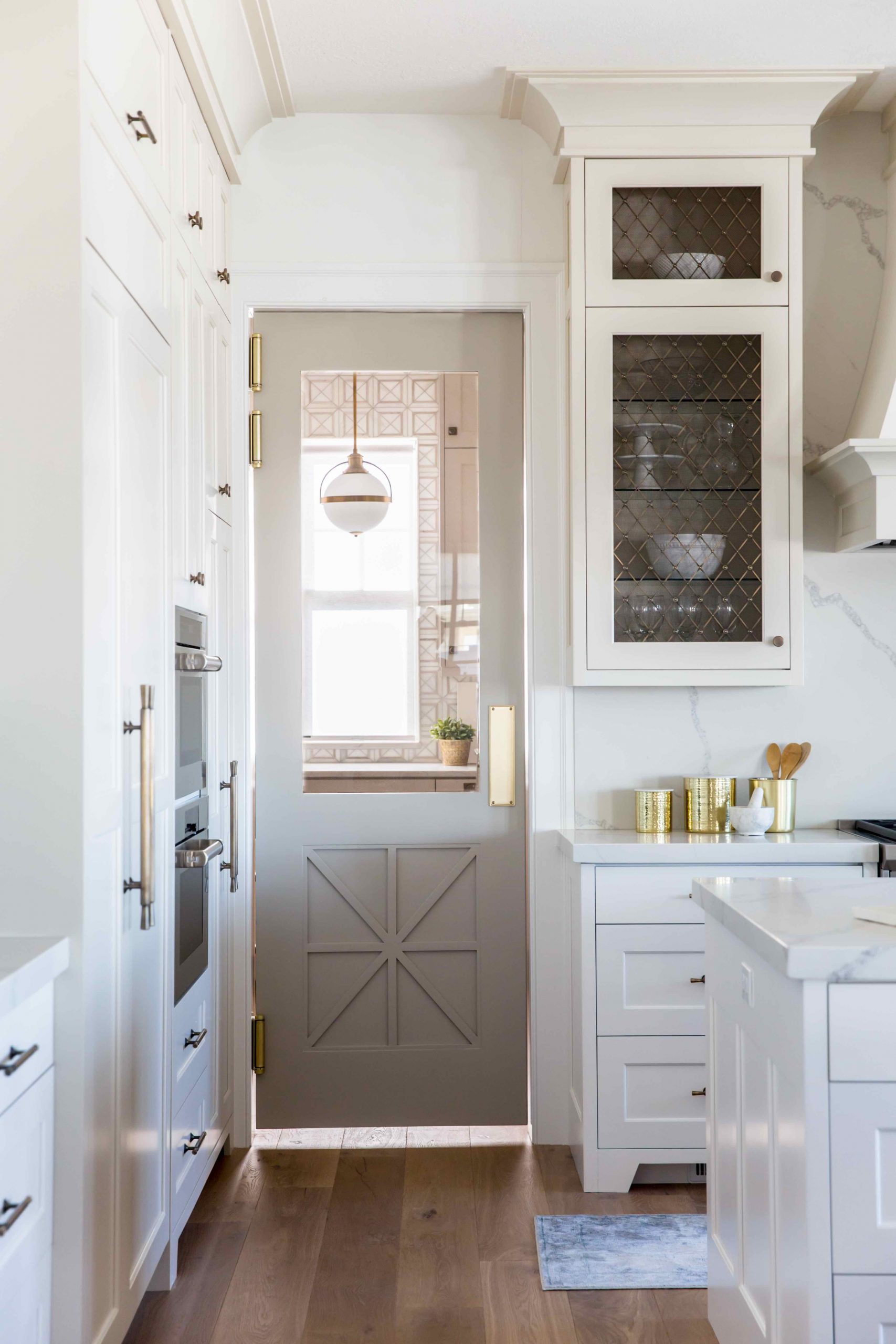 3. Country style
Do you remember your grandma's pantry? I sure do. And this one reminds me a little bit of hers – although I'm sure hers was a little more worn than this one from decades of use. But the key here is to create a pantry that feels like home. And this one does that job with the letters PANTRY sealed on top of the glass and the sweet little sign hanging above the door.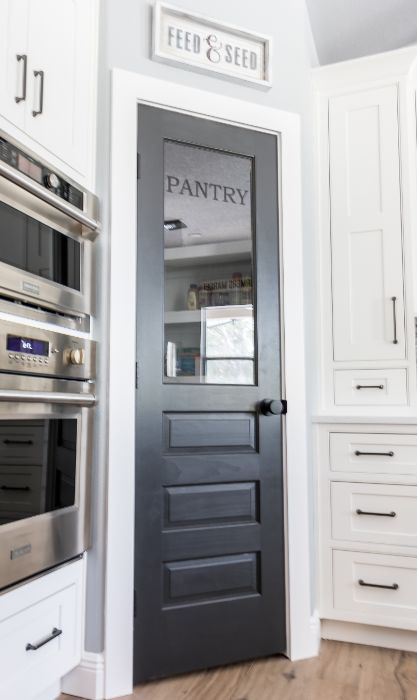 4. Hidden pantry
Sometimes out of sight is out of mind, and that's certainly the case when it comes to this hidden pantry. In fact, if we couldn't see the open doors in this image, we wouldn't even know that it's there.
If you like to prepare the food behind the scenes while keeping the front of the kitchen spic and span, this may be the choice for you! Find a kitchen cabinet maker who will be able to create the exact style you like for your own kitchen.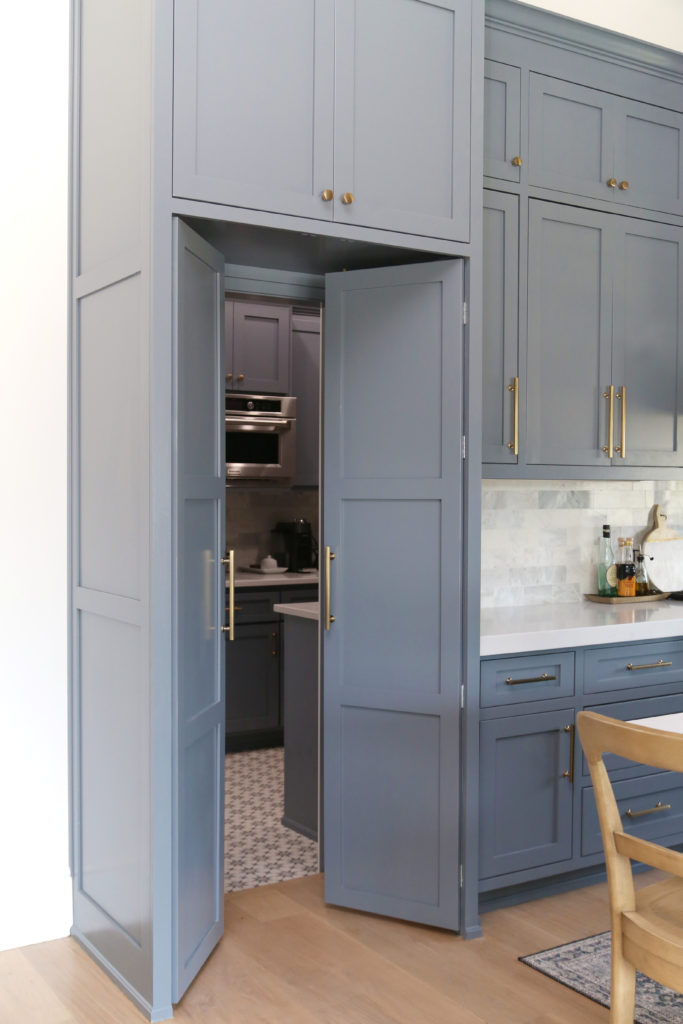 5. Under the stairs
Here's a space-saving hack if ever I've seen one. Short on space? Make the most of the area under your stairs. I love how the pantry doors open out to reveal a nice, large pantry that you can even stand in! Perfect for storing all kinds of goodies and staples.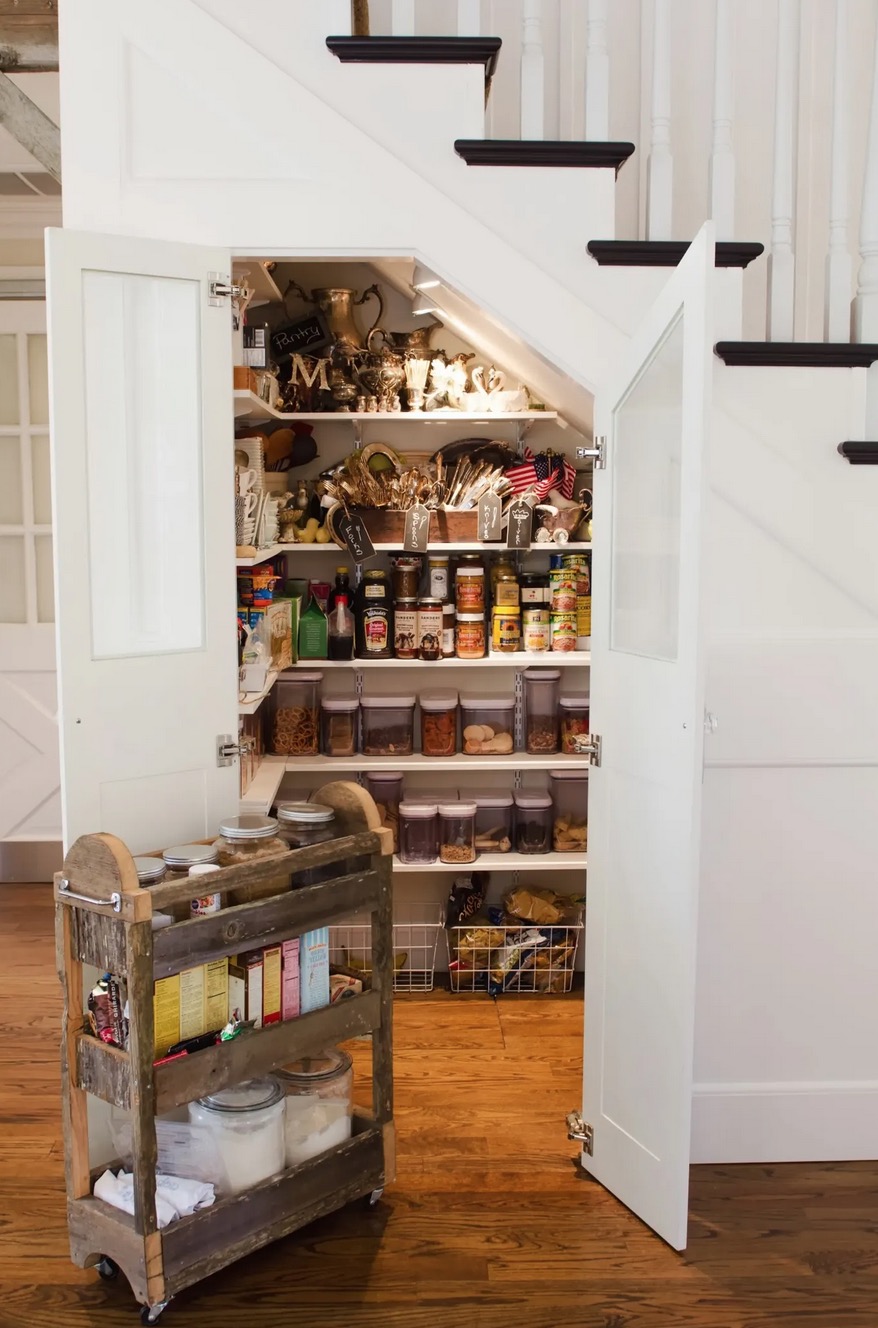 6. Label it
If you're anything like me, you probably forget what's what the moment you pour something into a jar and pop it on the pantry shelf. To avoid this headache, and to simply keep things much more simple when reaching for your herbs and spices, pull out a labeller and give every jar a name.
And if your pantry is quite the opposite of this currently (just like mine, haha) then get a professional organiser who will make sure everything is in date and tidied away.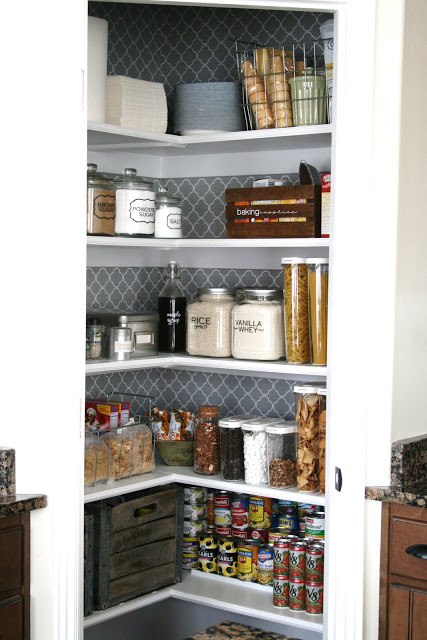 7. Antique style
Here's another old door – proof that you don't have to go with what's new to create a nice entryway to your pantry. This rustic wooden door looks so cool with the modern white shelves and cupboards behind it. It's this kind of combination that creates character and cosiness in a home.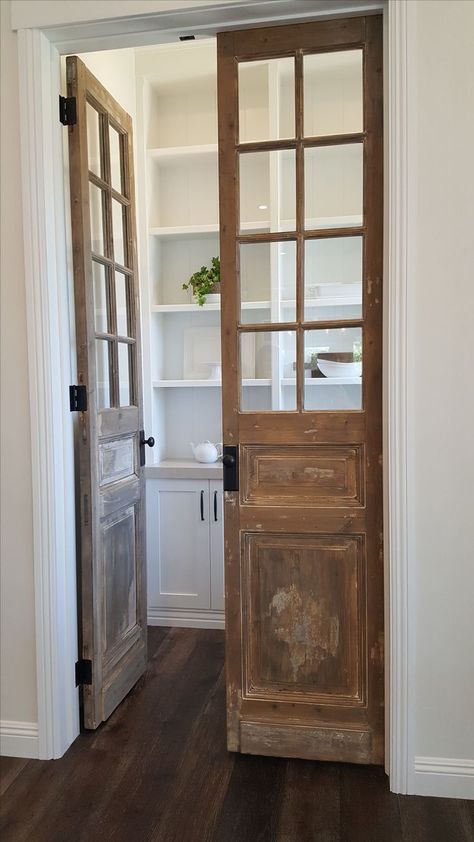 8. Say it how it is
You couldn't mistake the space behind that door for anything else – the door says it's a pantry and so it is one! If this is your style, get creative by finding large block letters on Etsy – just make sure you carefully stick them on the door so they sit on top of each other in a line.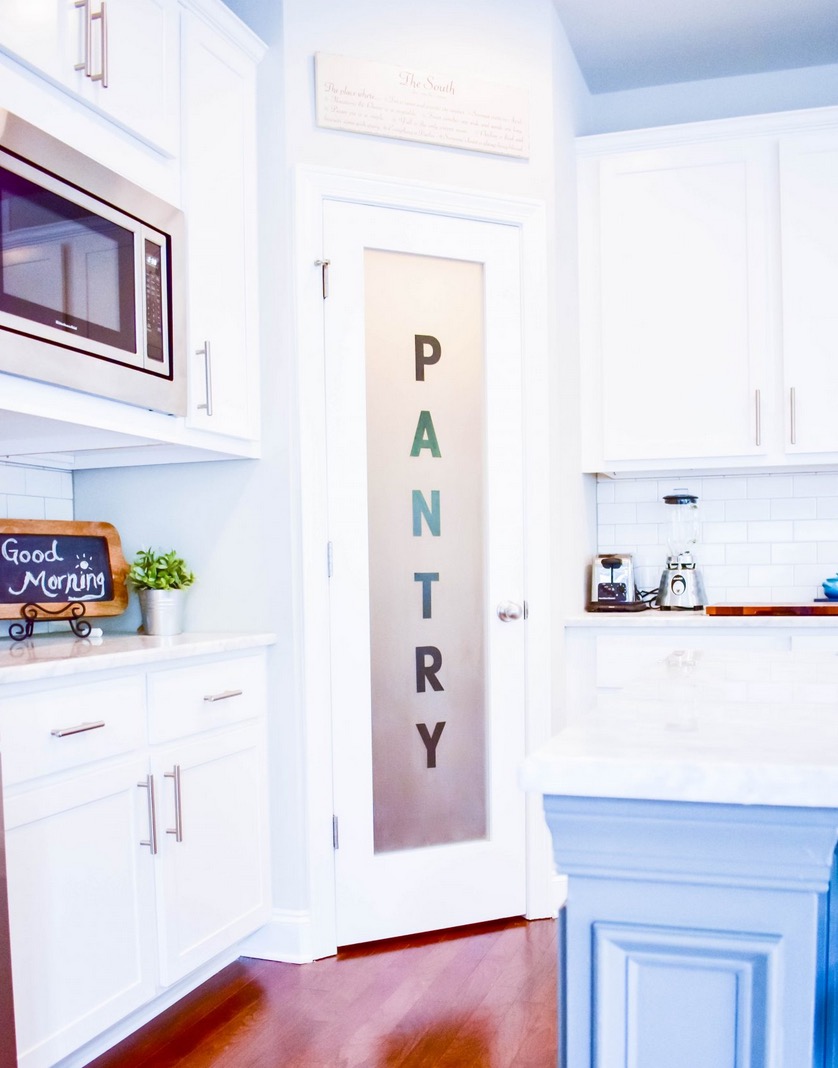 9. A timber touch
Mmm, there's just something so classic about timber. And this door is no exception. It's solid, smooth, and interesting! I like how the glass is textured to create a different vibe. And the colour of the timber really stands out against the creamy-beige tone of the surrounding cabinets.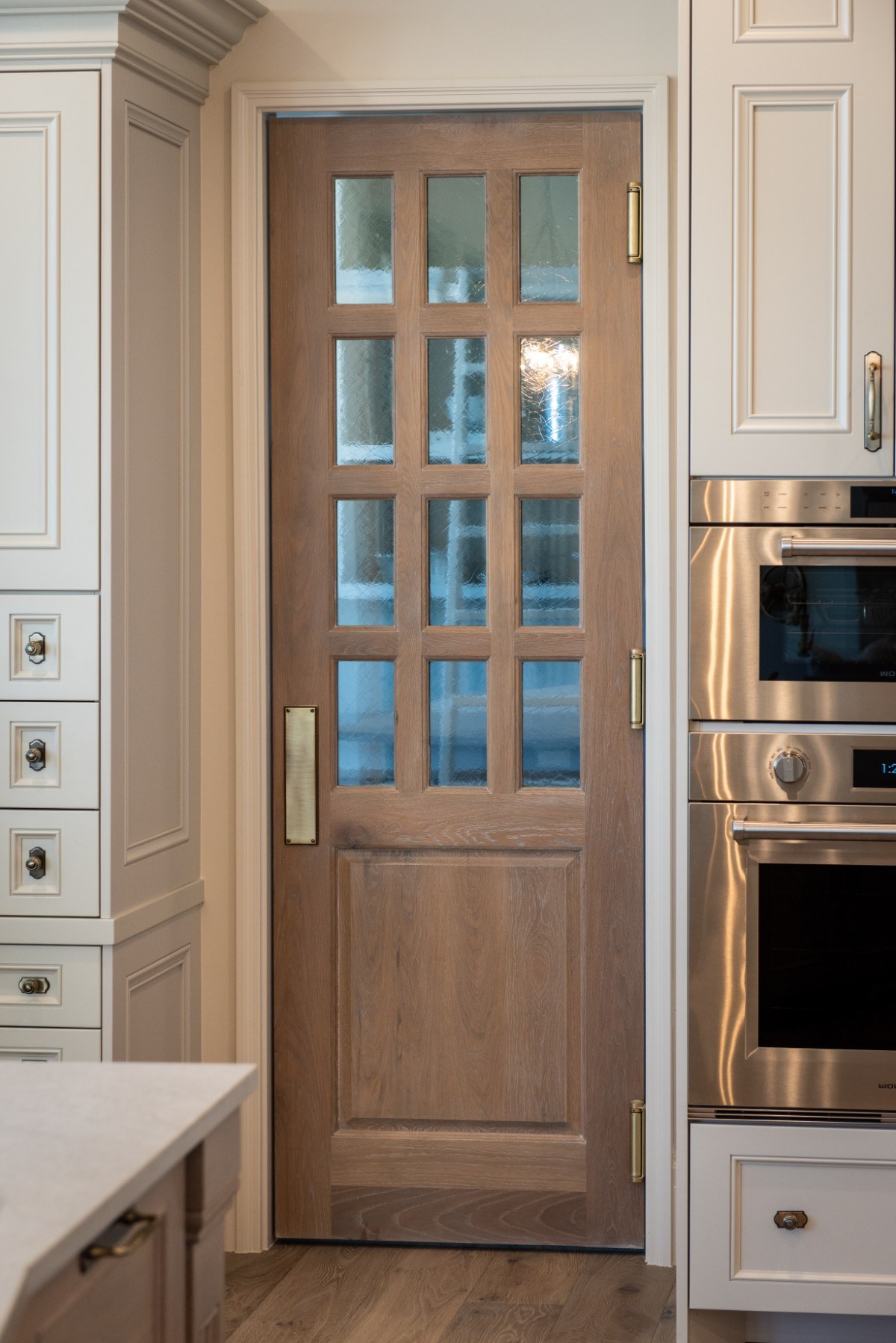 10. Slide-out drawer
Here's another fabulous space-saving hack that's also oh-so practical – the slide-out drawer. If you only have a small pantry, you might just need another space to keep things hidden. A drawer like this is the perfect place to store herbs and spices and anything else you need in arm's reach.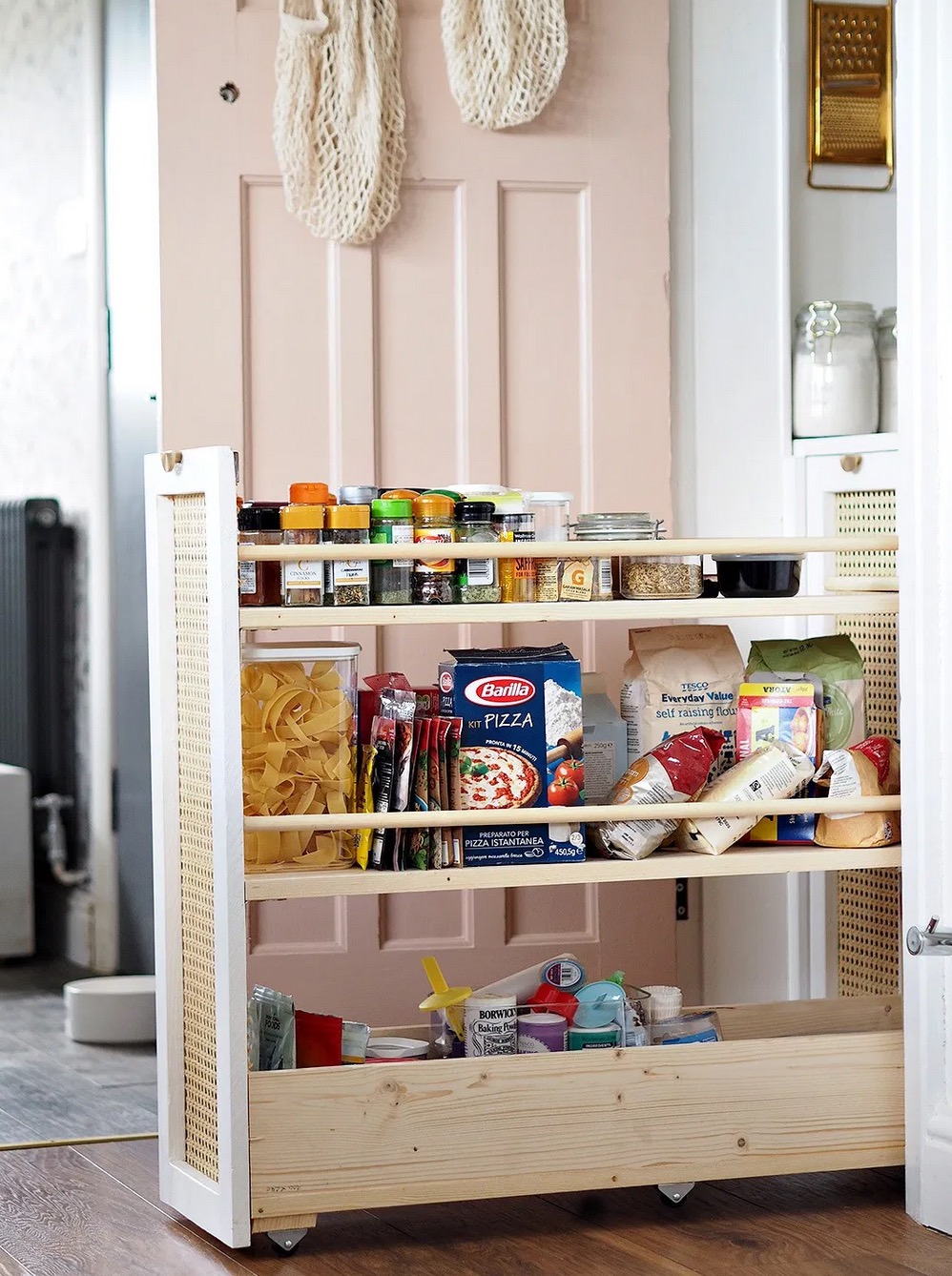 11. Butler's pantry
Marble and white timber are right up my alley! This butler's pantry is the perfect pairing of classic-meets-modern, and it's oh-so-chic. If you want to make your butler's pantry a little more country kitchen style, hang some sweet paintings or pictures on the wall, like in this space. It adds a vintage effect that's nice and sentimental.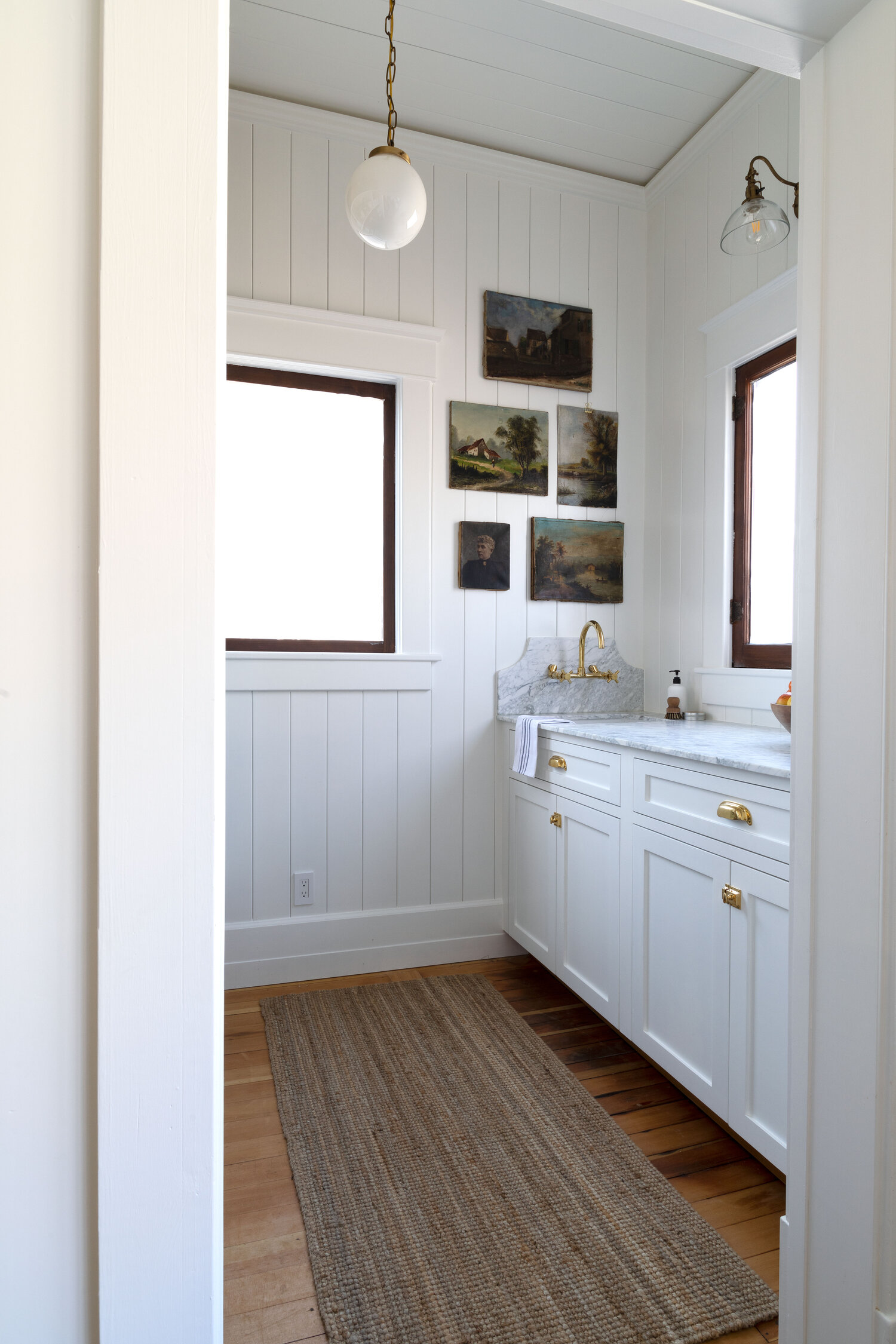 12. Pretty in pink
You know I'm a sucker for all things pink, so when I saw this pink pantry I absolutely had to include it. Apart from the colour, what I like about this pantry is that it's organised to perfection – there isn't a tub out of line!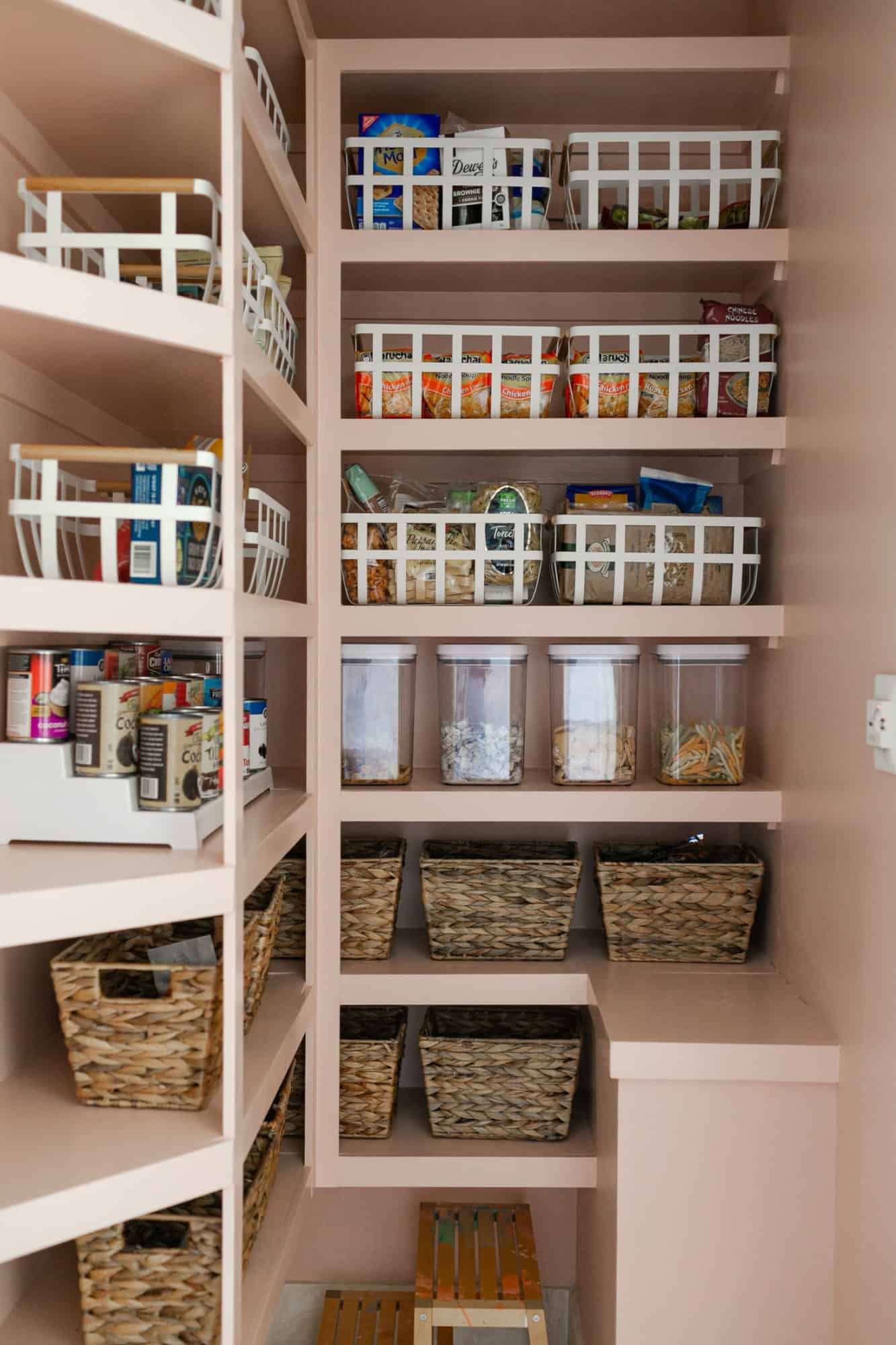 13. White and sweet
Sometimes keeping things light and bright is better, especially when it comes to seeing everything clearly on display. While for some of you the all-white look might bring a sigh of "borrrrrring", it is a very classic choice that you can be sure won't date anytime soon. If you love a white kitchen – this is the one for you.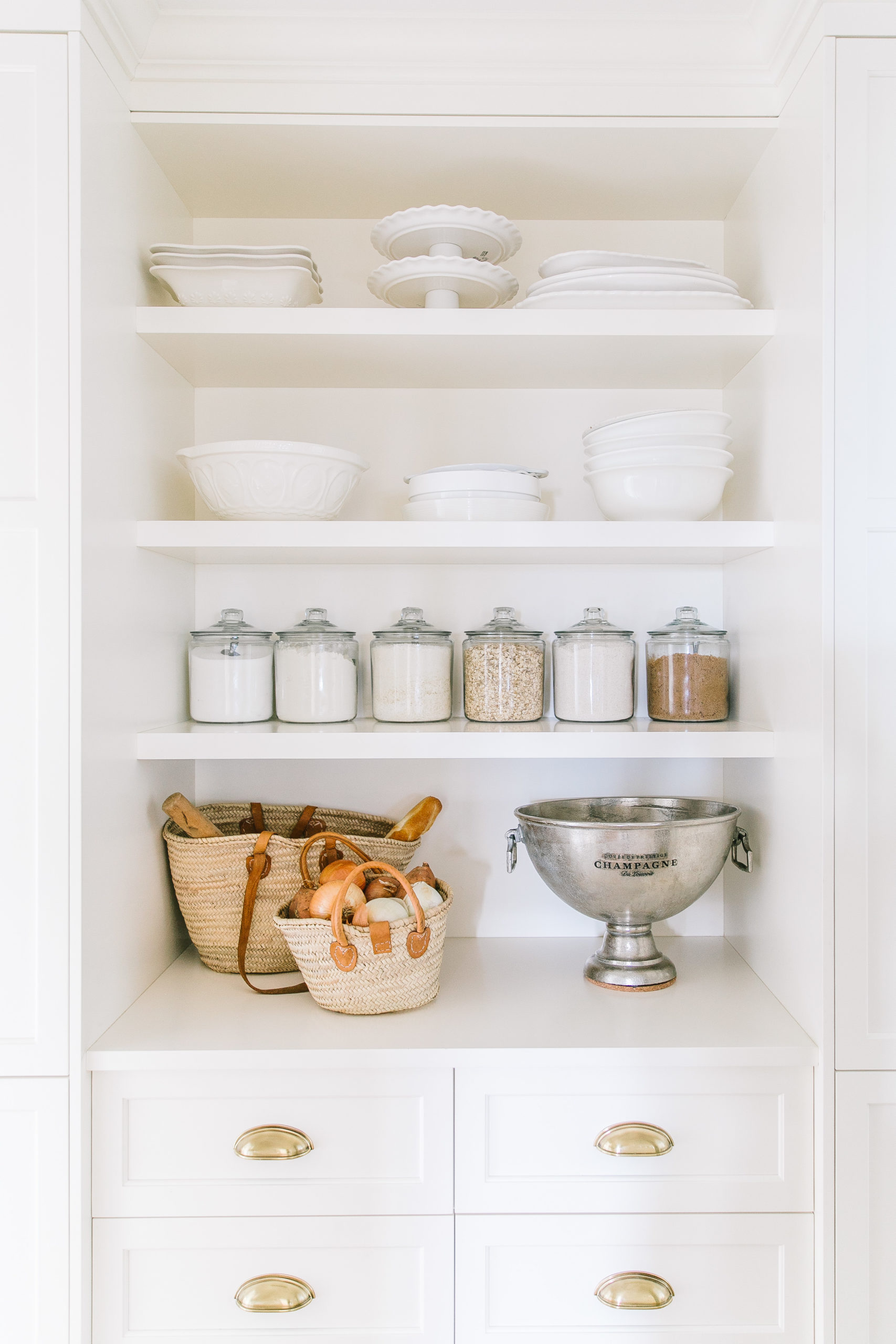 14. Light blue
Here's something different – a light-blue door. If you're a fan of an all-white kitchen, this may just be the way to break up the colour palette a bit. Plus, peep the flooring inside the butler's pantry!
I love how the blue patterned tile is different from the classic timber flooring in the front kitchen. This just proves that you don't have to stick to one style throughout your entire kitchen. If you've got a butler's pantry, you can definitely shake things up a bit.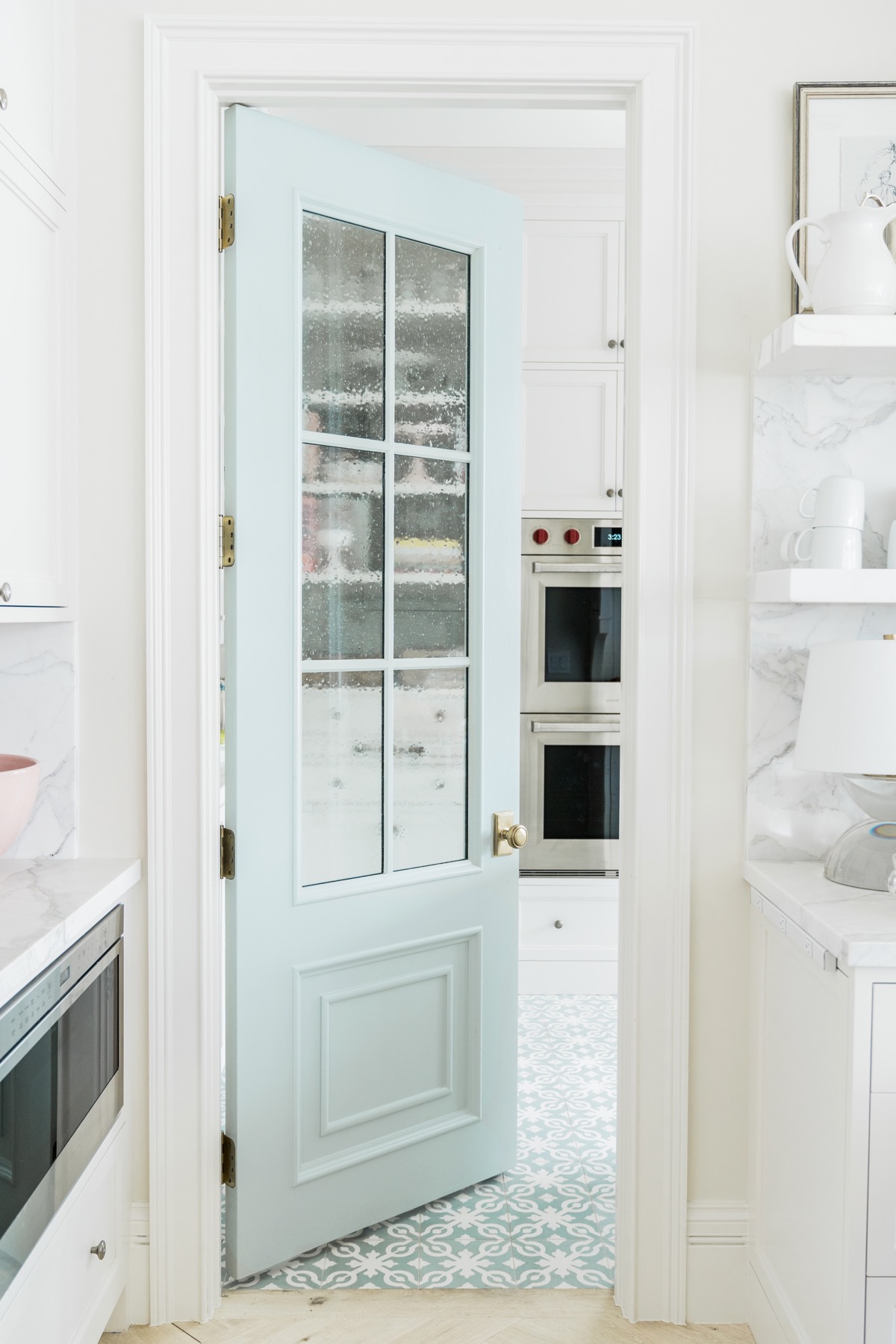 15. Farm style
Here's another farm-style pantry door that is quaint and cute. The frosted glass takes the style back a few decades, but it can be the perfect addition to your modern farmhouse kitchen to create a country vibe. The question is, would you choose this design?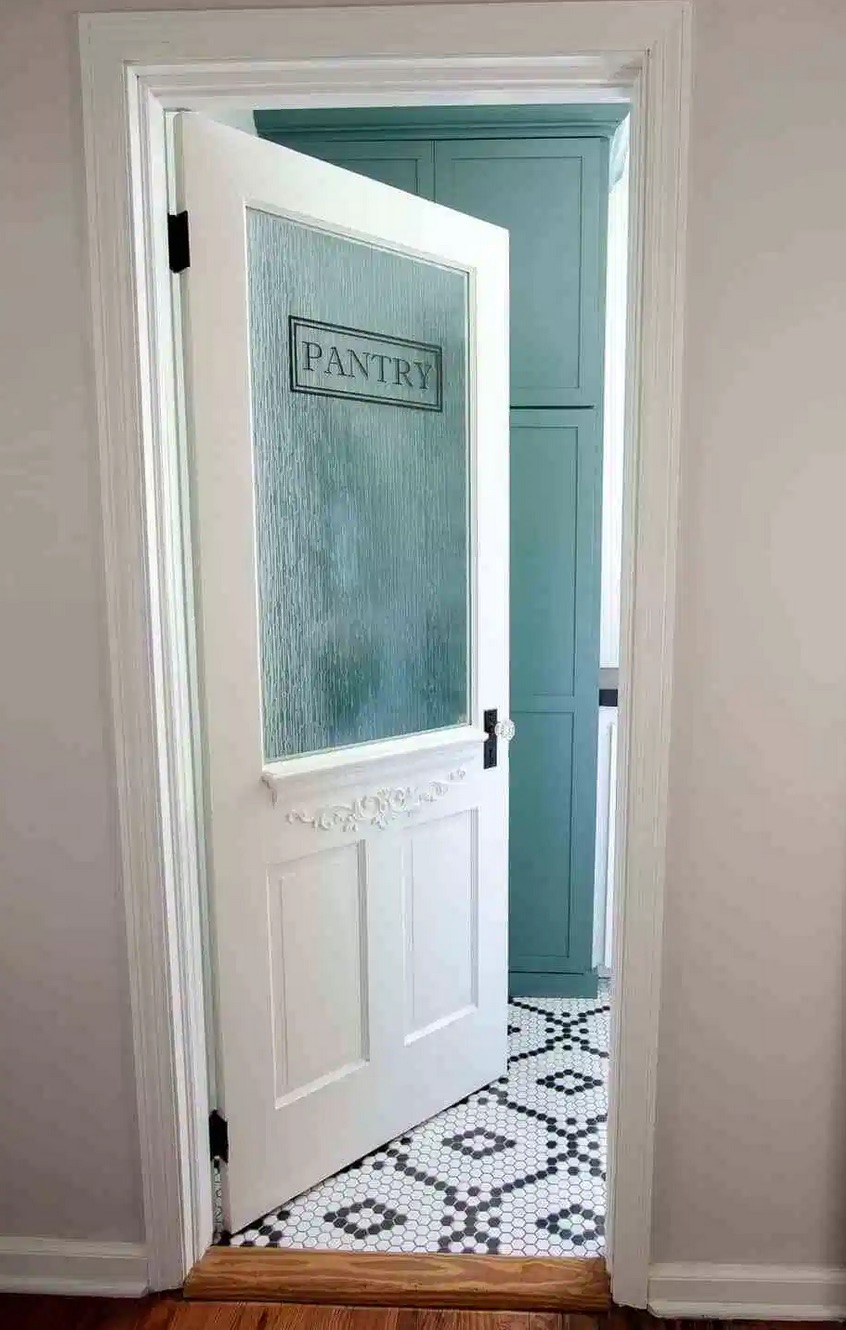 16. Slim and simple
If you don't have a large space to install a walk-in pantry or you're creating a little kitchen nook for a granny flat, a cupboard will do! This simple, slim one looks so lovely with a lick of green-blue paint. The tricky with small pantries is to make sure you keep things organised to perfection. So get your labeller out and assign every type of food a shelf.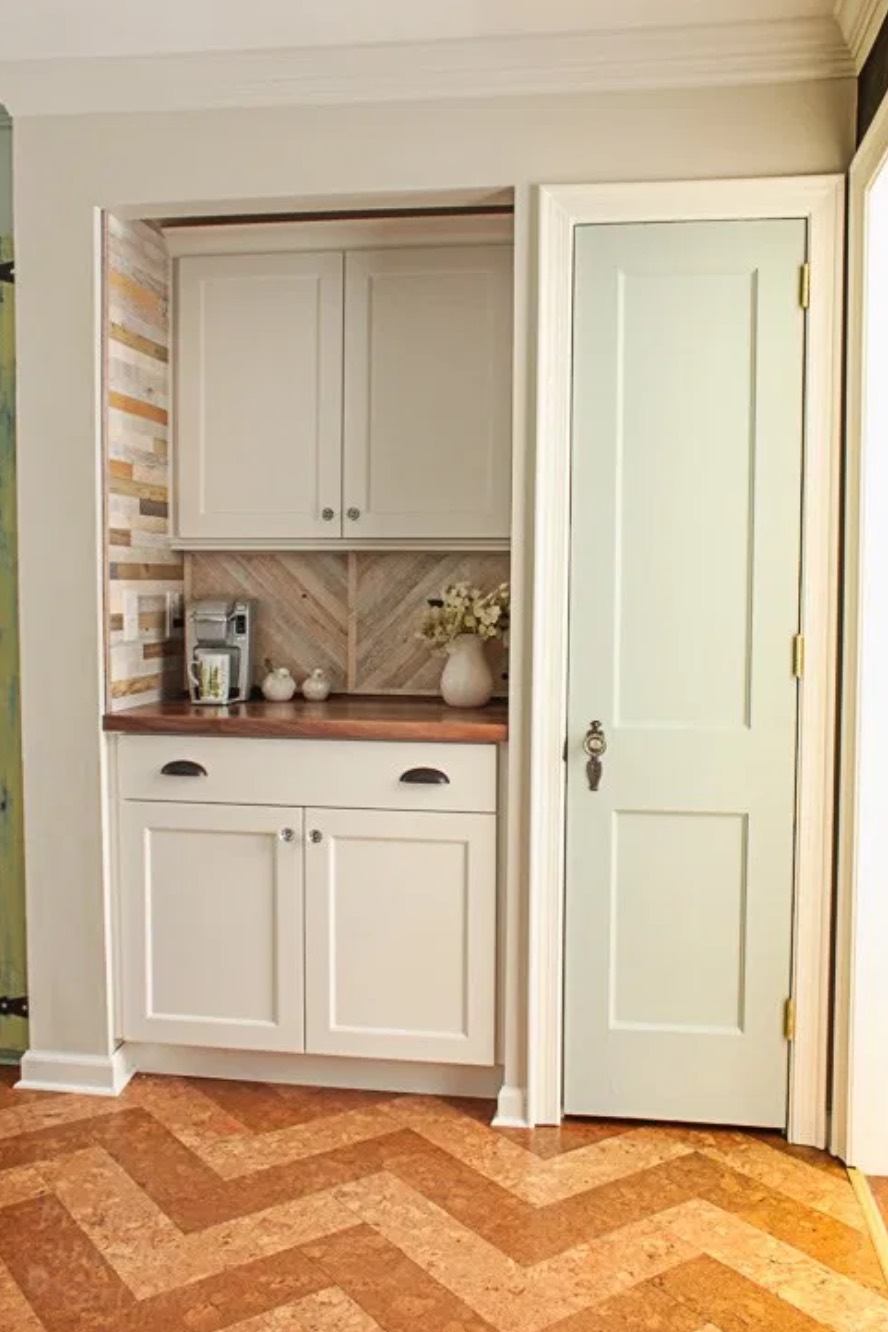 17. Slide the door back
Pull back the timber door and take a look at that lovely butler's pantry. I am all for those glossy subway tiles, and they're all the rage right now. You can use them to decorate a small slither of space, or you can go all out and cover the entire wall (like in this example!). Whatever you choose, a statement tile like this will be sure to elevate your pantry.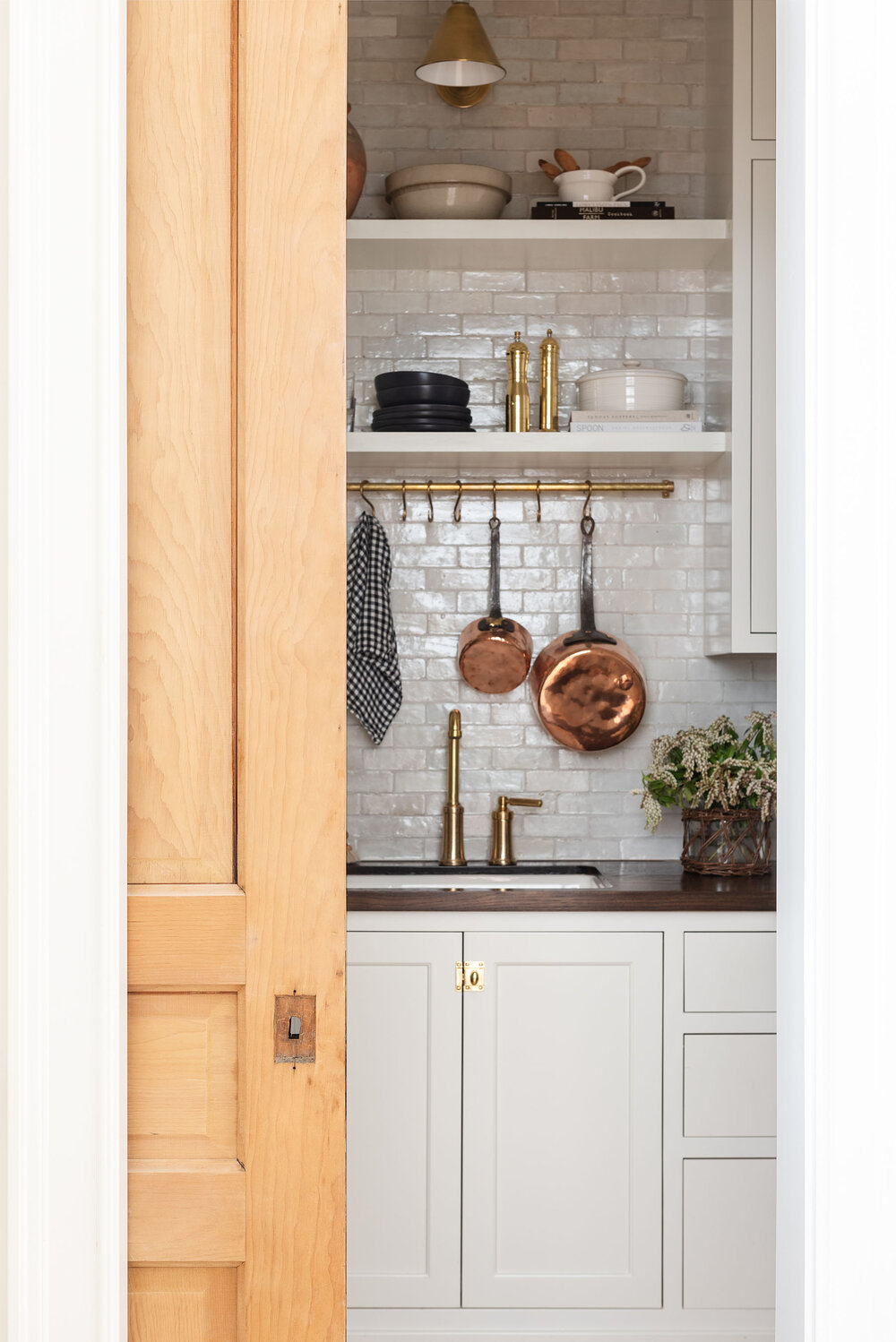 18. Double sliding doors
Two doors are better than one! That's certainly the case with the entry to this butler's pantry. And my oh my, they open up to such a lovely scene. The pantry is beautifully styled with a Moroccan-inspired tile, and the glossy grey cupboards and drawers are so chic.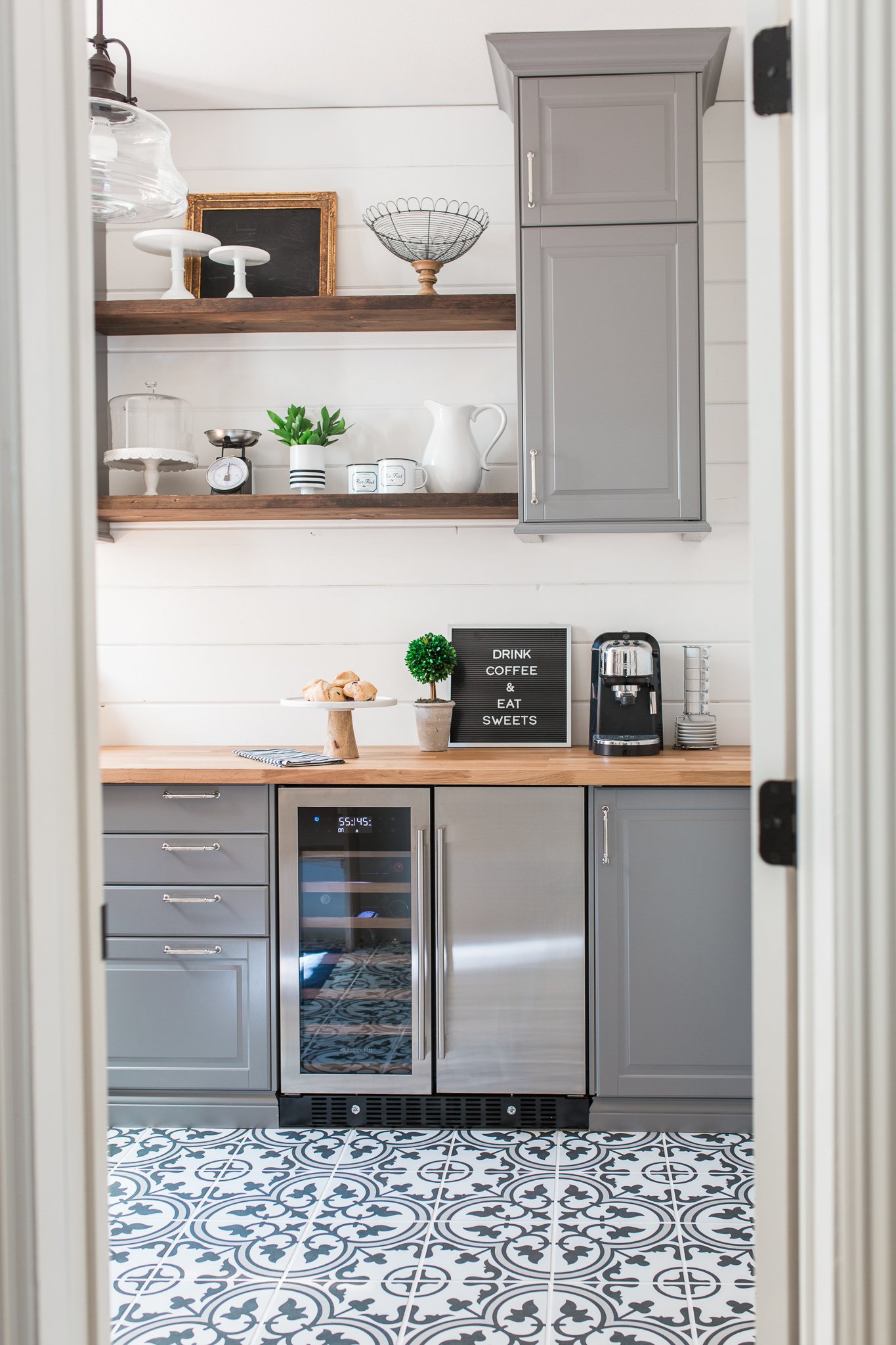 19. Practical and plain
Sometimes keeping kitchen design simple is better. That's the case with this kitchen that makes the most of an all-white design style. Plus, open that pantry door to reveal shelves stocked full of food. If that's not inspiration to make sure your pantry is filled with all of the basics, I don't know what is.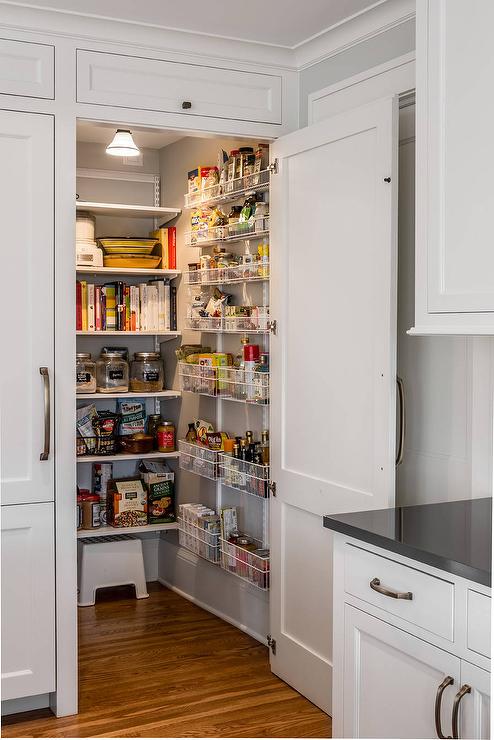 20. Traditional white
Here's another white pantry solution, but this one is filled with baskets galore. This just proves that you can get creative when it comes to your storage solutions. Woven baskets of any kind are handy for holding the larger, more bulky items that you still want to keep out of sight.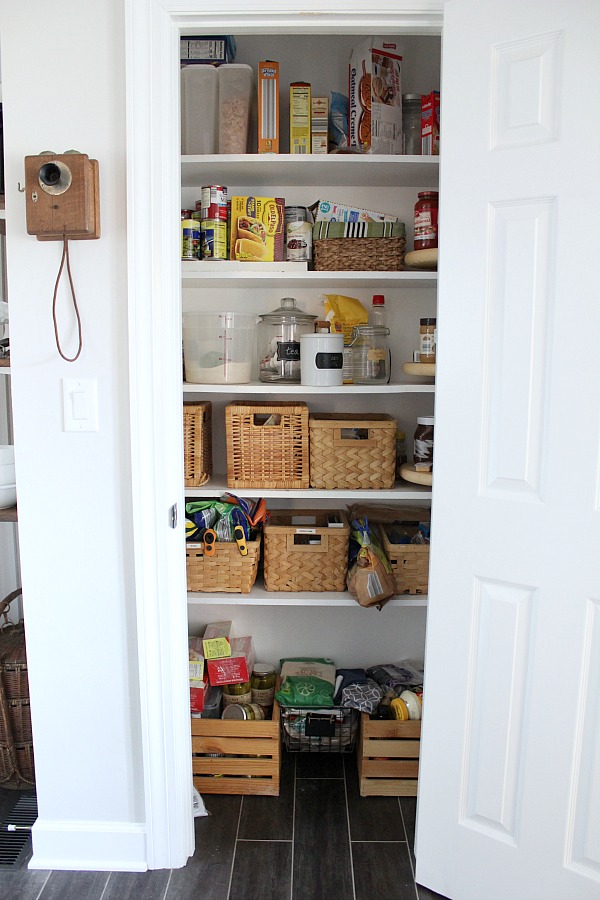 21. Black steel frame
How elegant is this pantry door? I think it's up there with my favourites! I love the modern sleek finish of a black steel frame. And the rectangular framing means this one looks in at a butler's pantry filled with luxe glassware. But be warned, with a choice like this you may feel like you need to keep your butler's pantry tidy at all times because all eyes are certainly on it.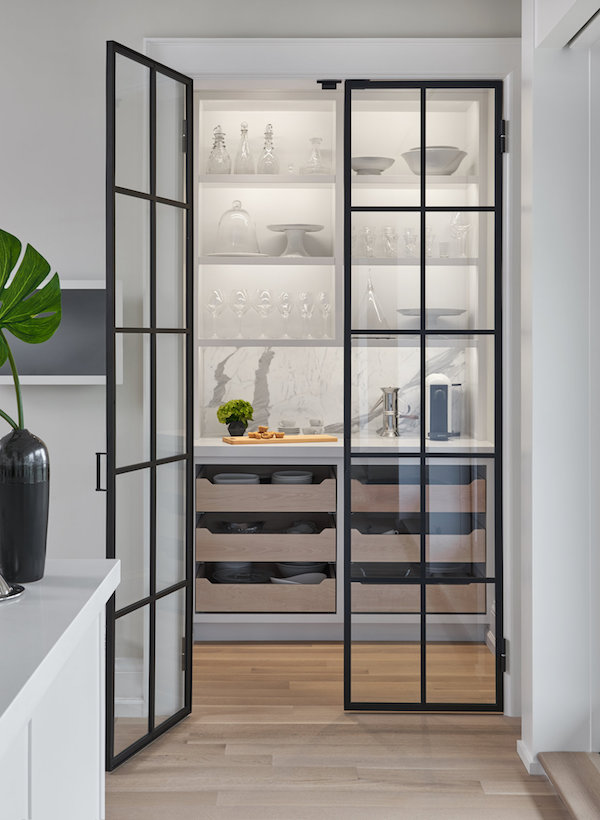 22. Shabby chic style
Here's another one for the country/farmhouse-style kitchen ideas! A shabby chic pantry might just be the perfect addition to your cosy home. The key to creating this look is to either use an already worn-in door or to paint a door white and then sand down the edges to create that rustic shabby-chic look you see in this image.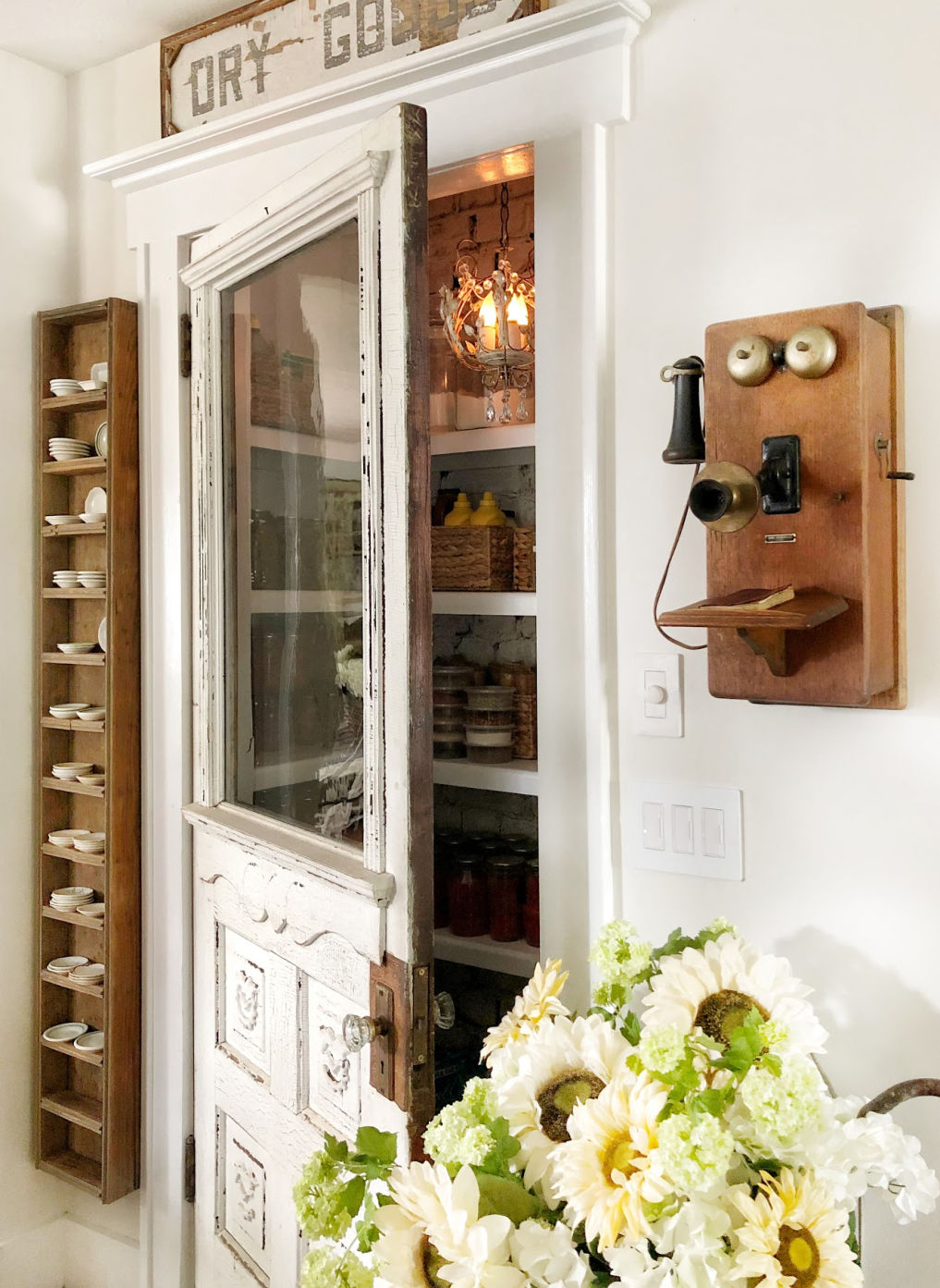 23. Old meets new
Ah, another old pantry door! This one's a colour combination of blue and a rusty red. If you want to go this route and add a touch of the past to your modern home, then you've certainly seen a lot of different options that'll help you make the right decision for your kitchen.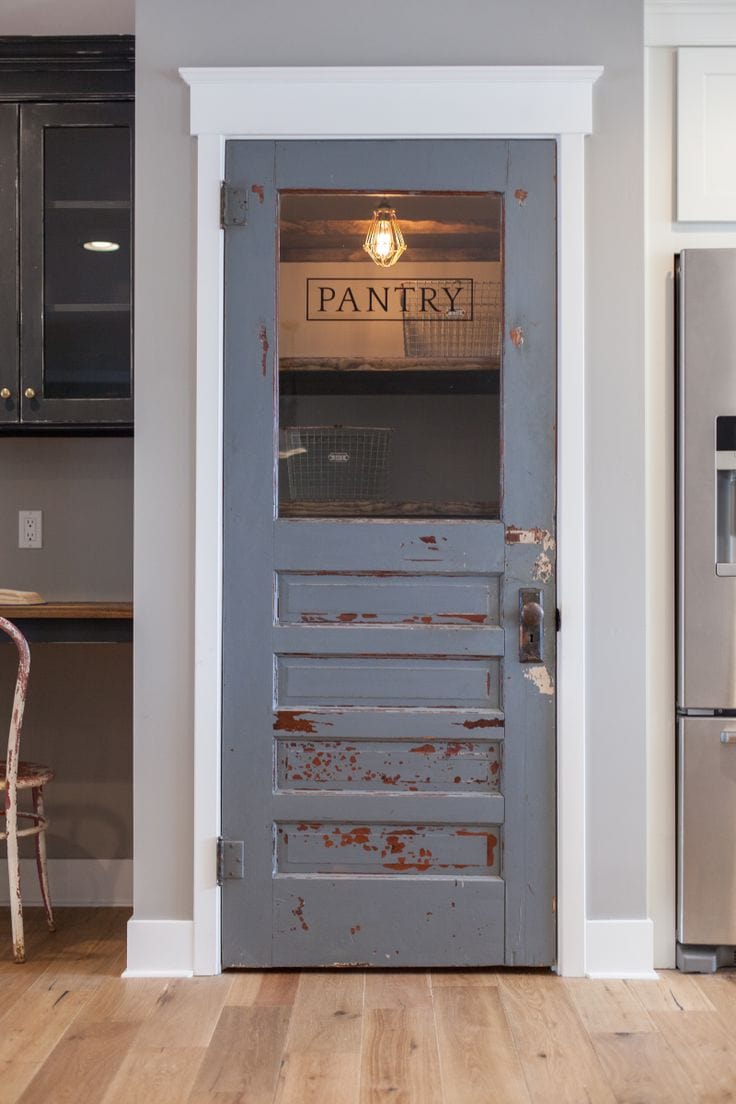 24. Perfectly hidden
I like how this barn door gives you the option of pulling it right back to reveal the floating shelves or to keep things hidden and tucked away. If you're going to leave it open, take some styling inspiration from the decor in this image… Everything is placed in the perfect spots.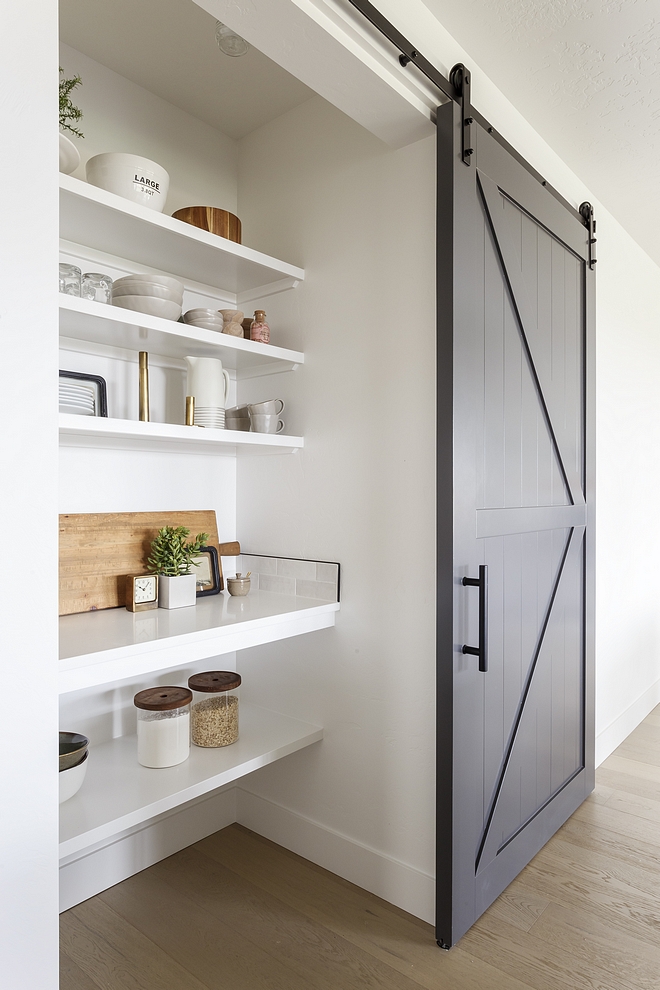 25. All white
Here's another all-white kitchen option. But this time there's a simple, sweet green wreath hanging on the pantry door. Of course, this is a lovely way to add a festive touch at Christmas time. But you don't have to wait until Christmas to decorate. Add a wreath to your door today to inject a bit of life into your space.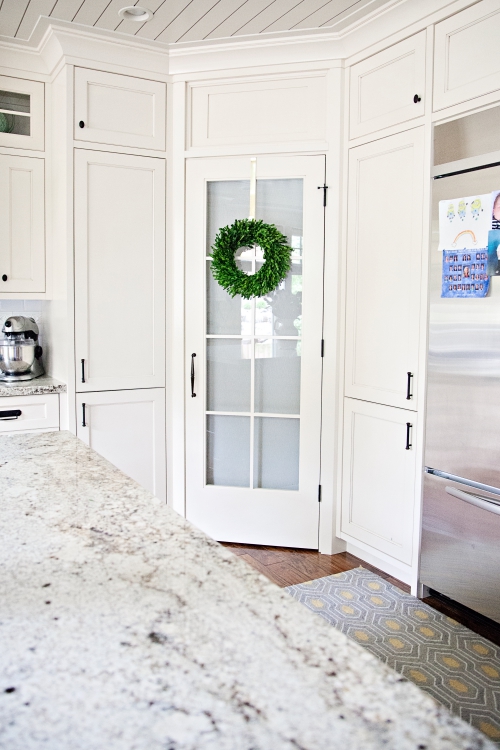 26. Decorate it
While we're talking about wreaths, look at this one. It's a bit different to the one above but just as lovely for this space. While you could go all out and add colour to it, I actually think the simple green leaves are a nice touch – they keep things natural and organic.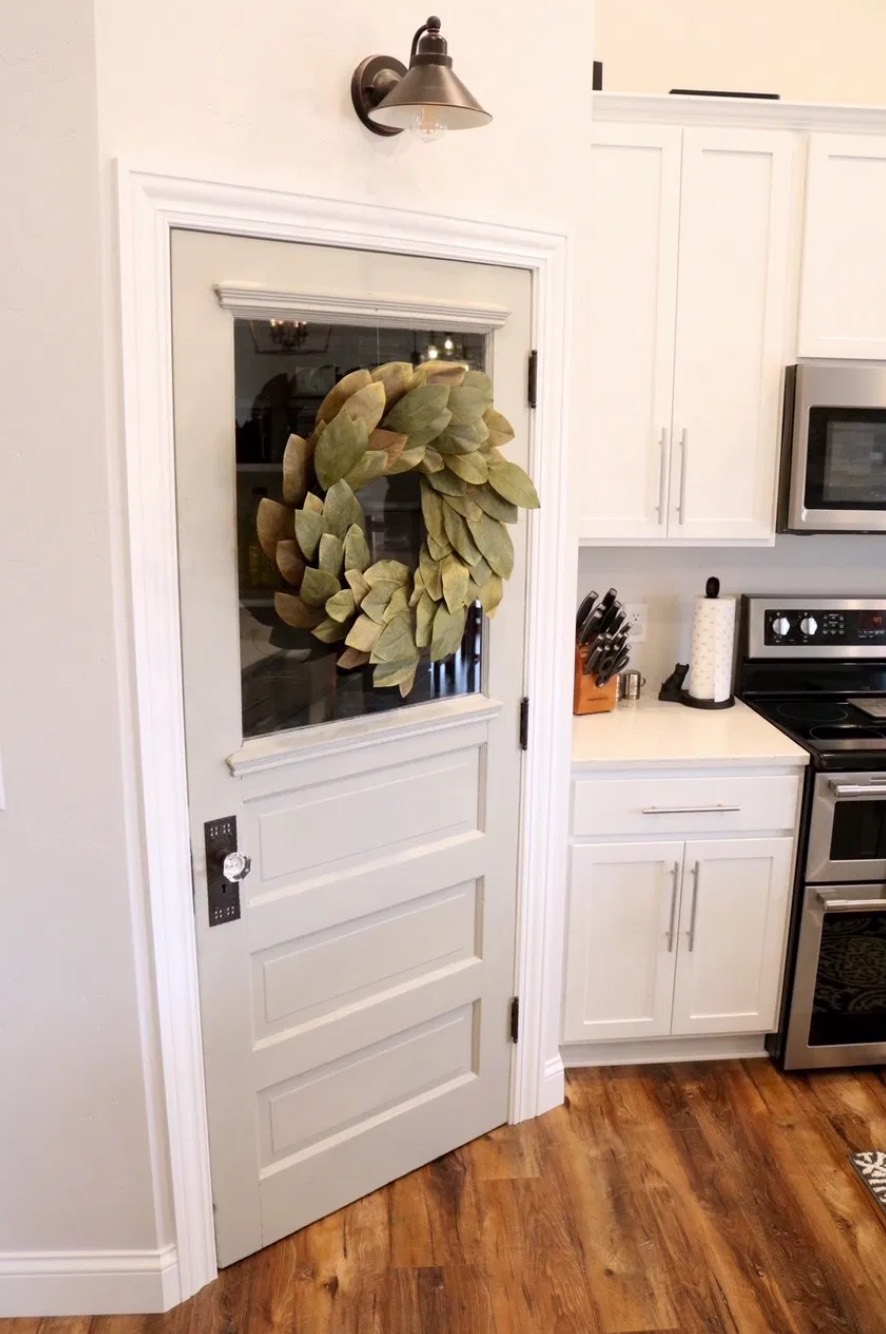 27. Double wooden doors
Ooh, la la, now isn't this a beautiful pantry entrance? These rich timber doors are a warm welcome to the butler's pantry hiding behind it. Plus, I like how the timber provides a nice contrast to the slick black of the cupboard doors in the rest of the kitchen.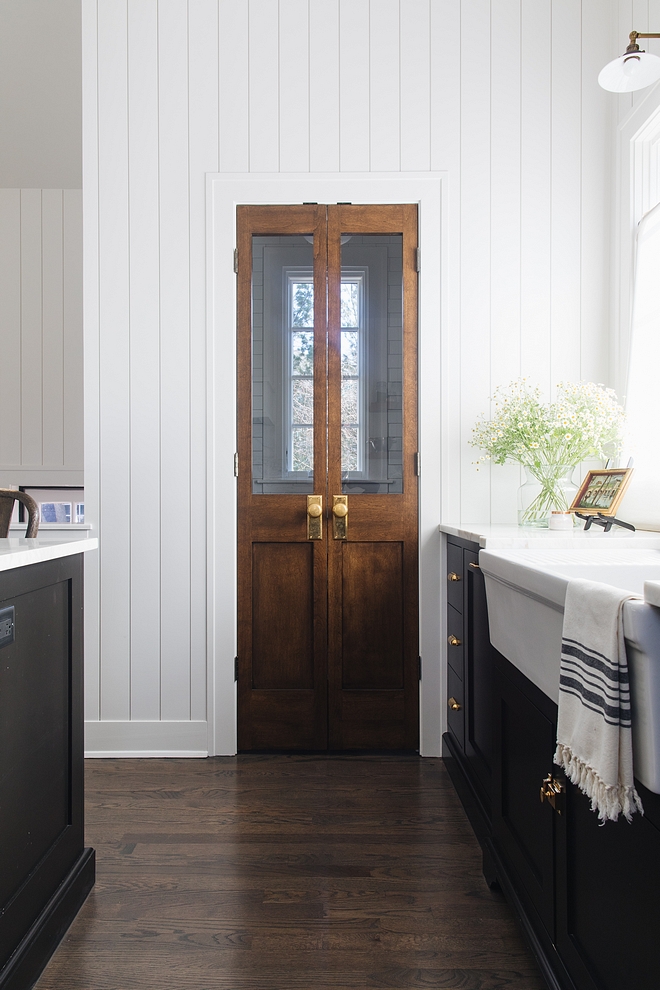 28. Double barn doors
If you want to fancy up your kitchen without doing an entire overhaul, your doors are a simple place to start. And with grand, double barn doors like these, you'll definitely make a statement. I like how the creamy colour of the doors is combined with matte black hardware for a chic finish.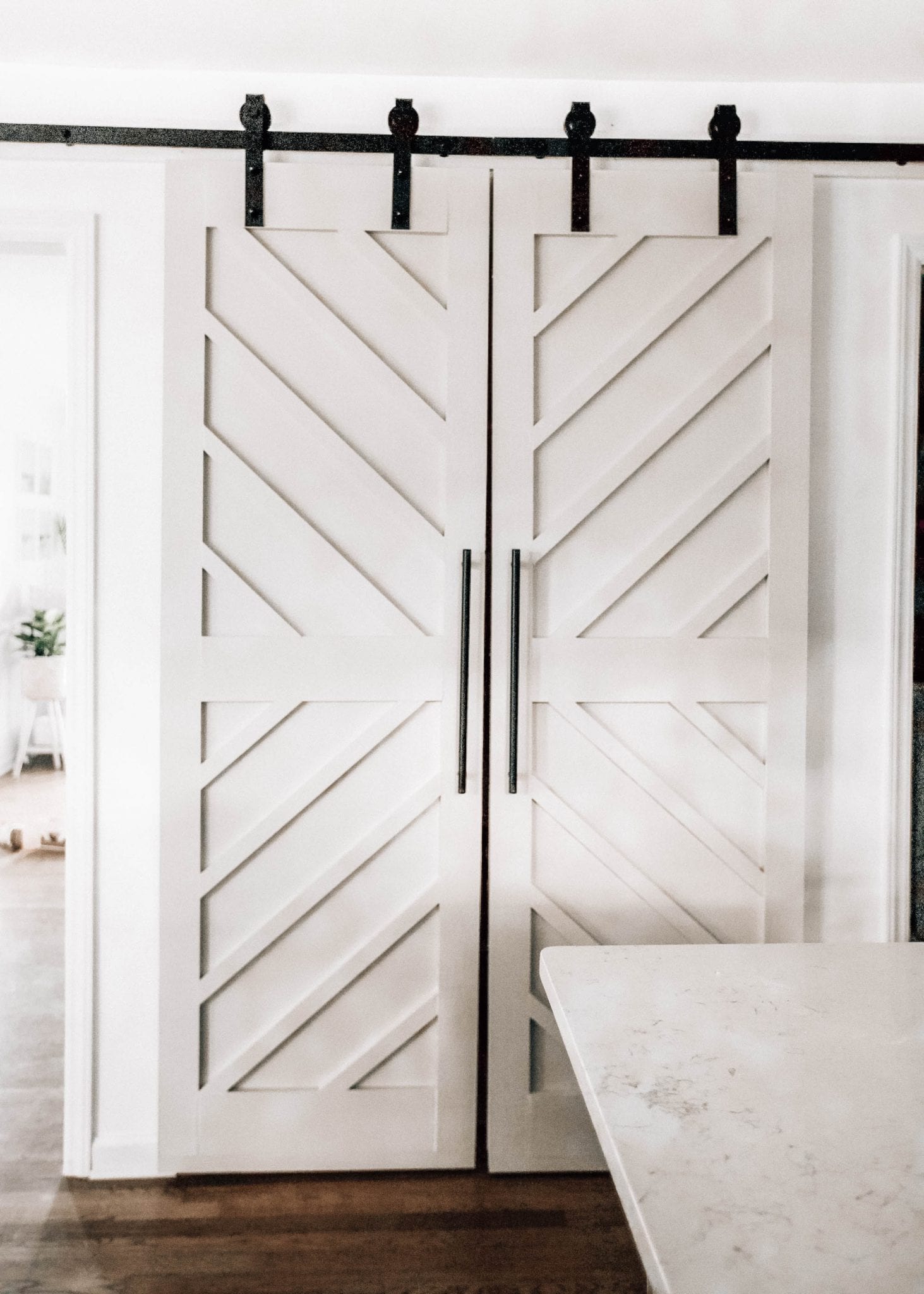 29. Geometric patterns
I'm a big fan of this barn-style door. It's not usual to see one coated in black paint and etched with geometric lines, so this door certainly stands out. It's a nice choice if you want to bring a modern edge to your traditional farmhouse home. It'll certainly spruce things up a little.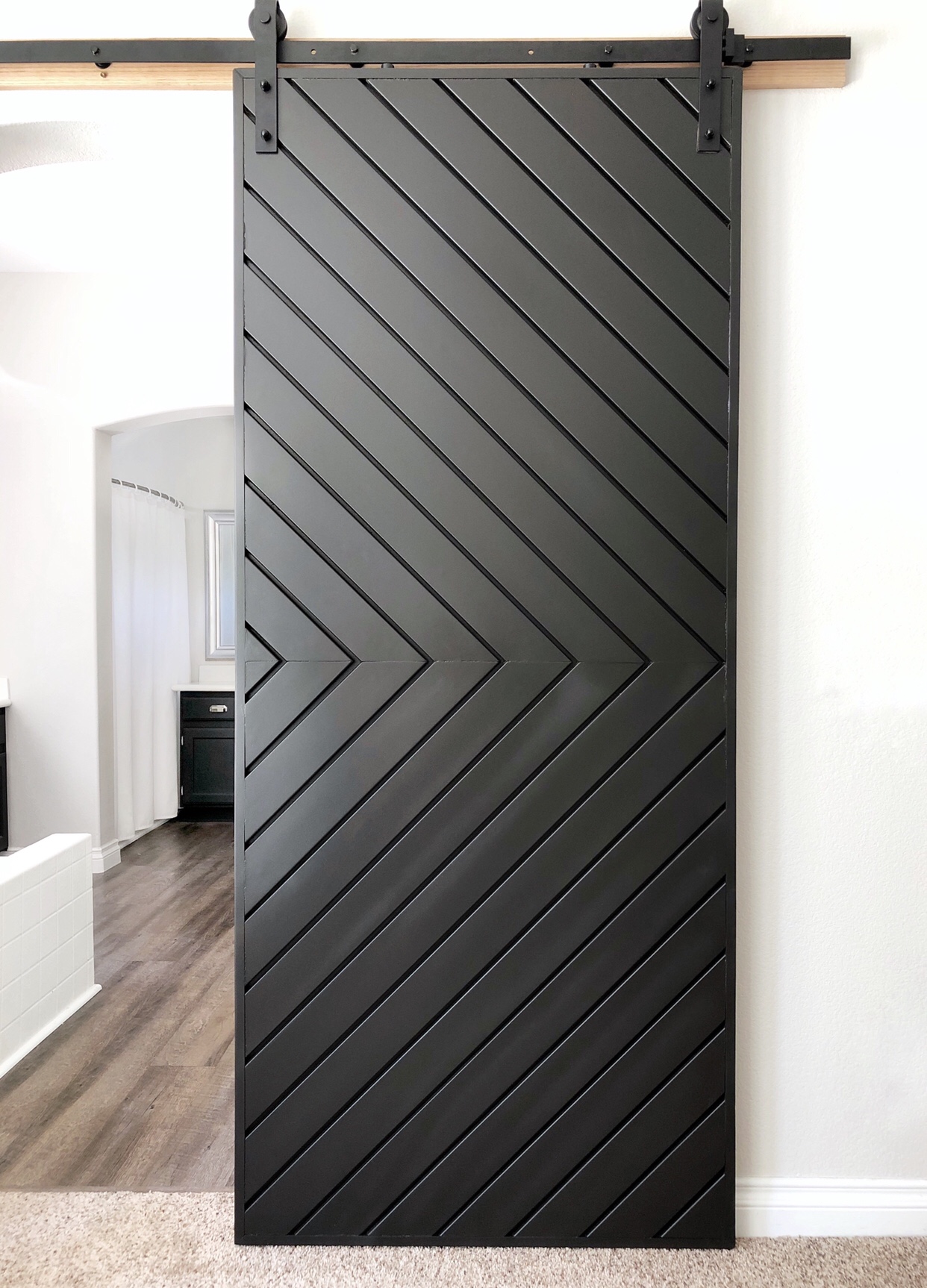 30. Pocket door
If you need a space-saving solution, then a pocket door might be the best choice for your pantry door. Unlike traditional hinged doors, sliding pocket doors allow you to regain the space usually taken up by the radius of the door swinging. And they help create a wider and more welcoming environment, which is a great option for anyone who's tight on space.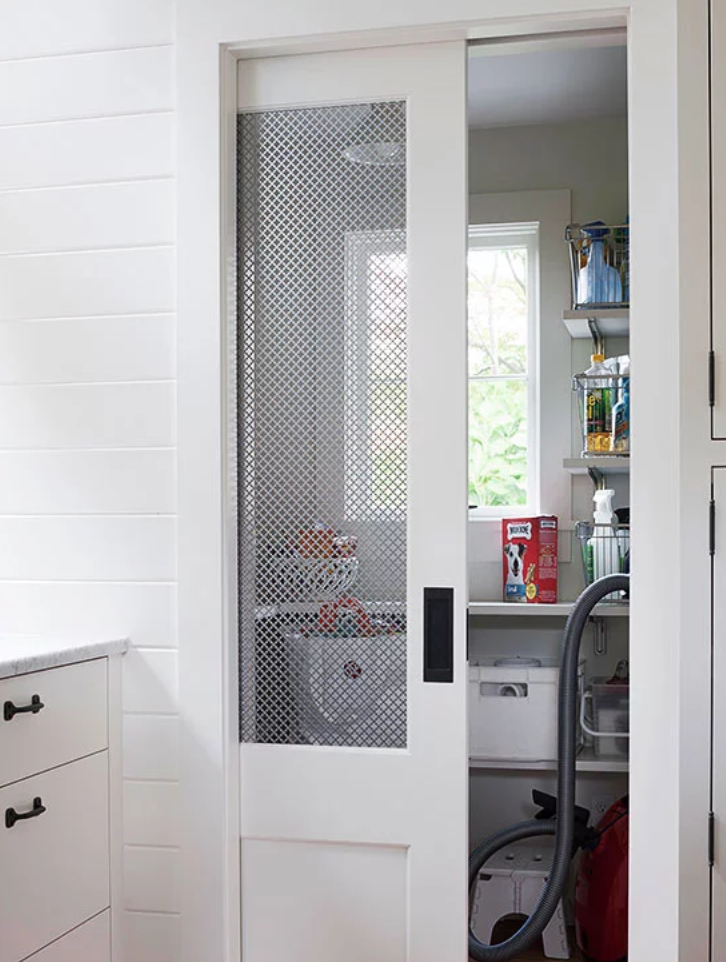 31. Modern pantry
How cool are these pop-out drawers? They're very modern and sleek, making for a nice, streamlined place for hiding all of your goodies. I don't think it's the main pantry in this home… but it does show that if you want to store a specific category of perishables in one place, an additional pantry will do the trick.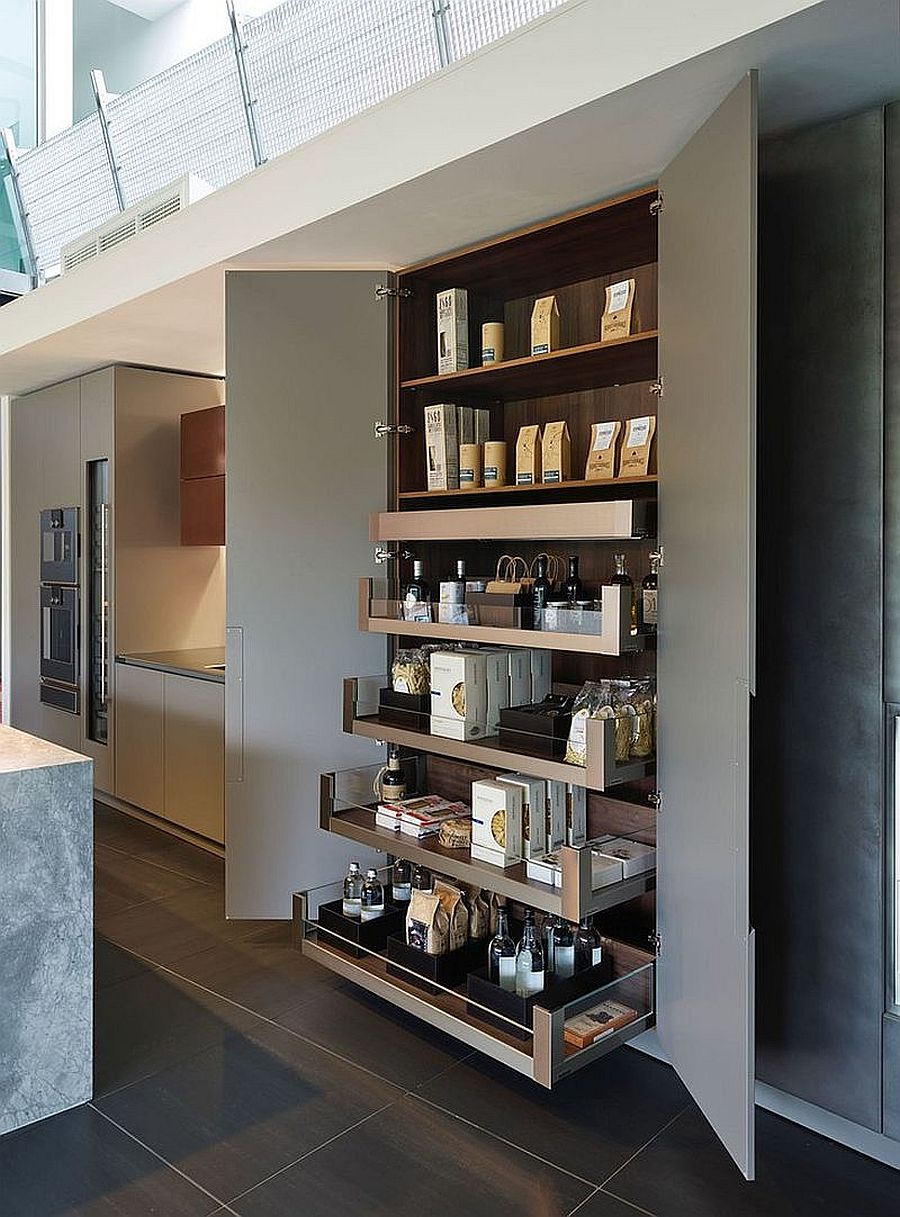 32. Chic furnishings
This butler's pantry is fresh, feminine, and fairly grand. I would call this a mix of Scandi-Hamptons style. To recreate this look, you'll want to use a white base for your doors, cupboards and drawers, and then layer a timber bench on top with matching floating shelves.
33. Statement doors
Ah, another luxe pantry door! This one is a beauty. Unlike the black-framed door we looked at earlier, this one has frosted glass which makes it a great option for when you want to keep the mess in the butler's pantry hidden away. Plus, I love those statement gold door handles – aren't they just so striking?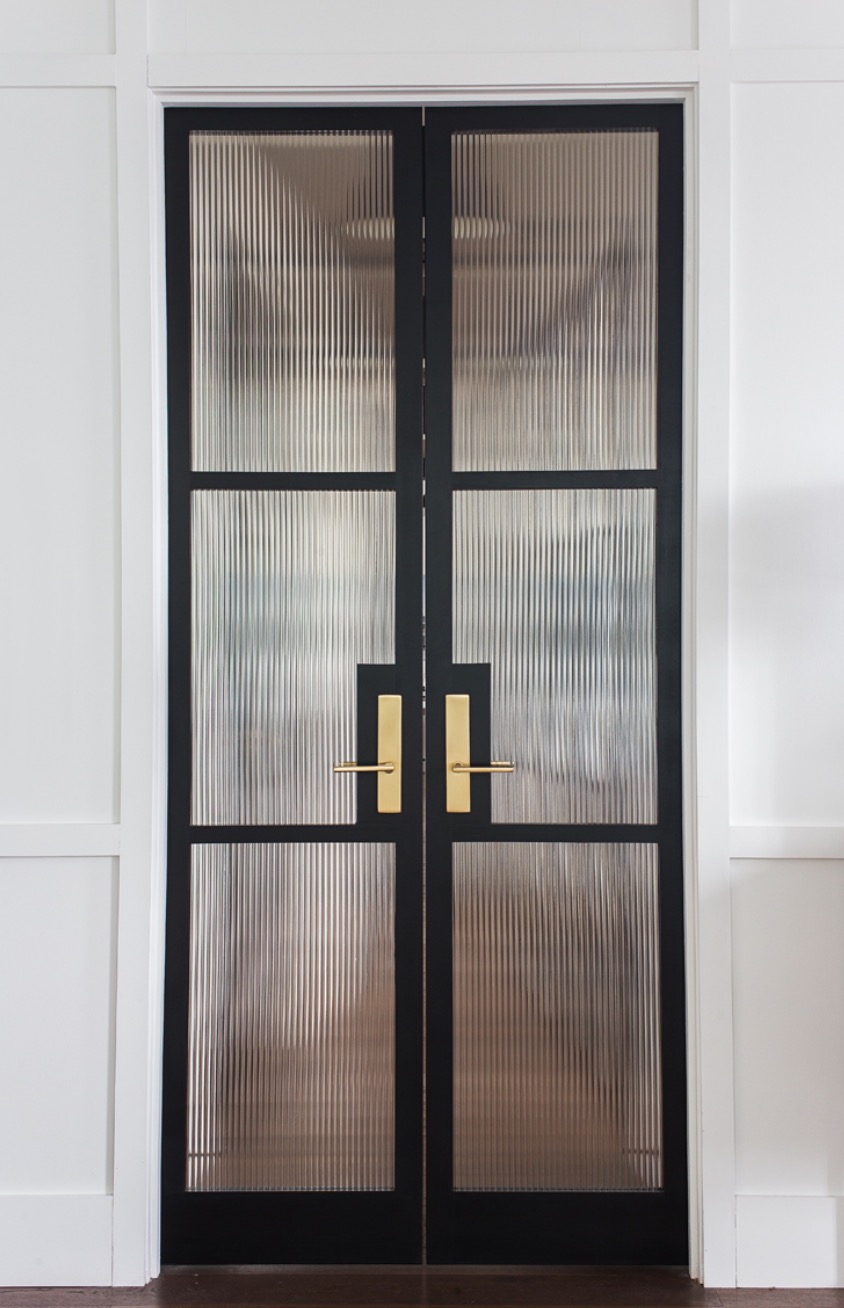 34. Rattan
Rattan is oh-so on-trend right now, and there's a good reason why. It adds a natural, homely element to any space. I personally like it when paired with modern white for balance. So if this style is sparking your interest, why not try it out for your pantry install?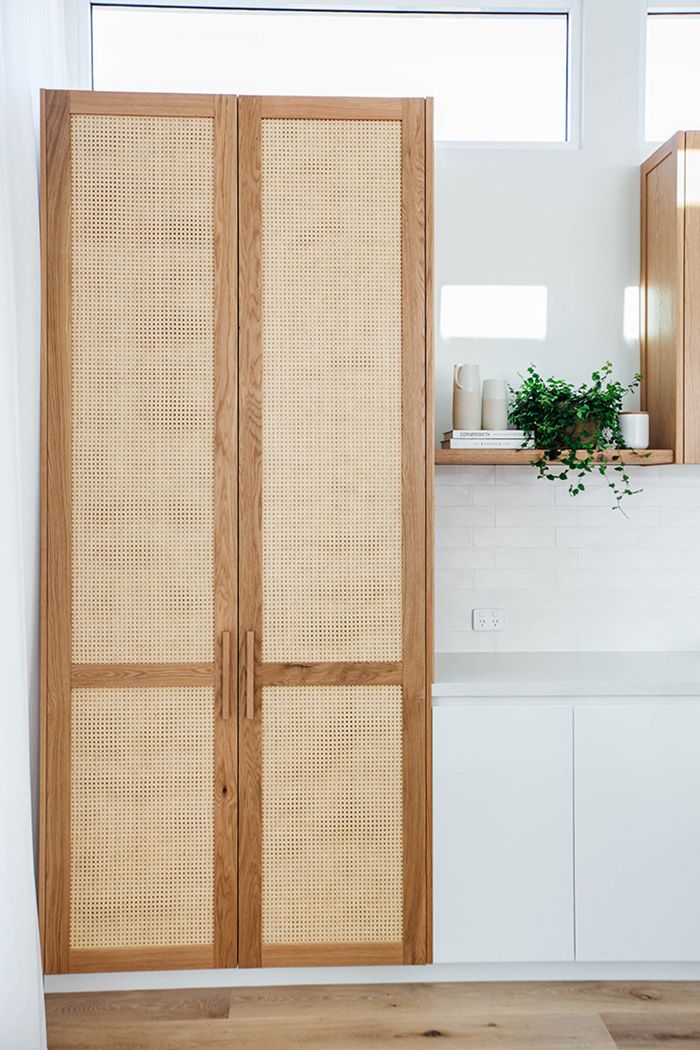 35. Smart storage
If there's anything that's handy in a kitchen it's storage. It just seems that you can never get enough of it. And unless you completely declutter your kitchen so that you use minimal utensils and pots and pans (which is unlikely), you're going to need more space.
And this is the perfect example of a space-filled kitchen. There are endless cupboards, drawers, shelves, and nooks to hide away all that stuff. With a kitchen like this, you won't have to spend all your time hunting for that missing utensil. Instead, you'll be free to enjoy the cooking.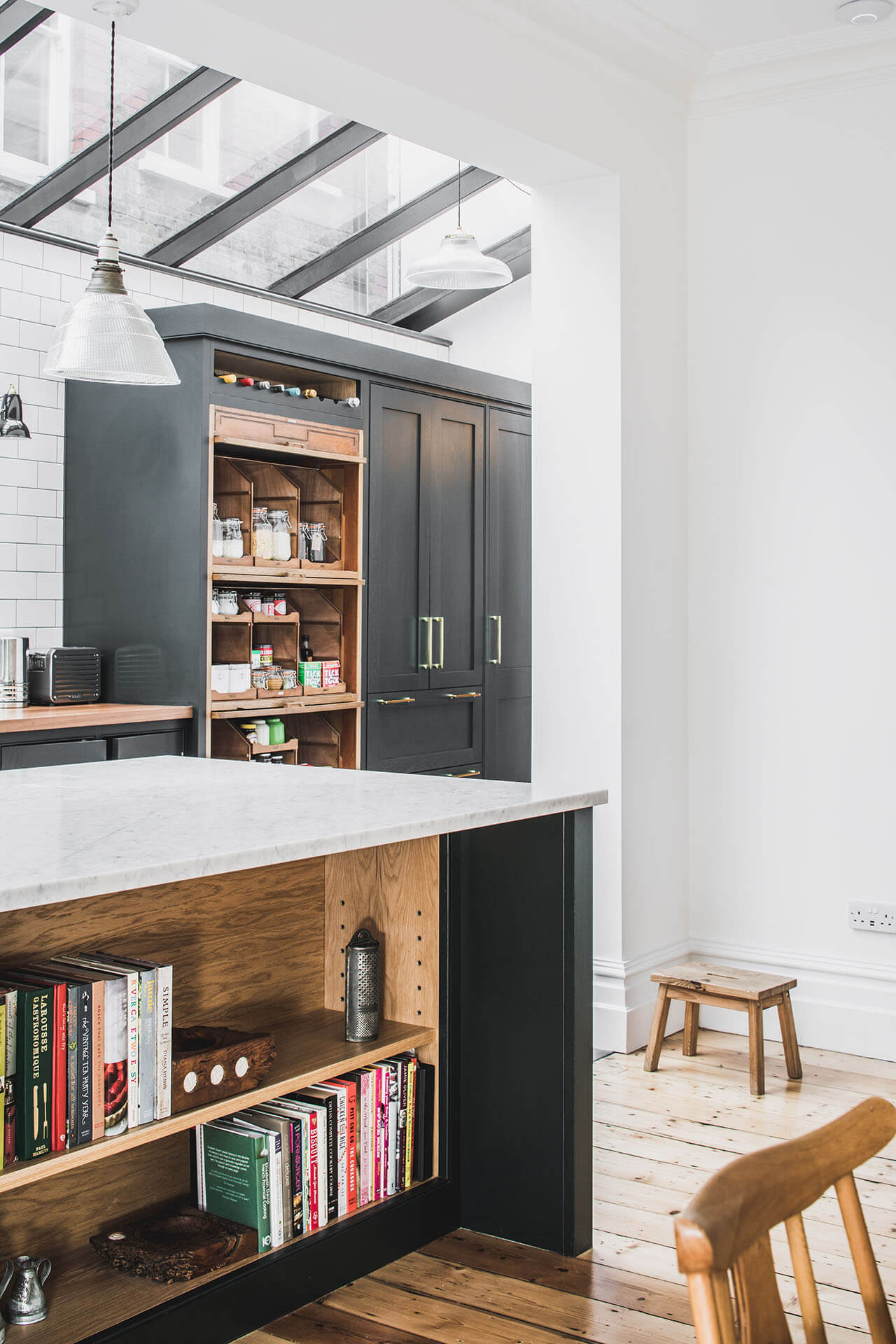 There you have it, 35+ pantry door ideas. The best thing is there are so many styles to choose from… now it's just time to make a choice. I personally like the modern black-framed door – it's so chic. Comment and tell me which pantry door idea is your favourite.