Makeup regimes are highly individual from one person to the next. Some people can rock a Kardashian bronze while others are more suited to pastels like Kylie.
Colour aside, to set up a perfect canvas you need to get your staples right.
Primer
An important part of any beauty service makeup regime, primer creates the base for cosmetic works of art. Makeup artists know it – take the time to apply your primer before putting anything else on top. The little cream of goodness encourages the rest of your makeup to drop anchor and stay put!
Some primers also have added benefits like anti-aging or pore erasing properties which help to further prepare your canvas.
Base makeup
A base goes with makeup application like strawberries go with cream. You can do without it but the result is so much better if you use a base.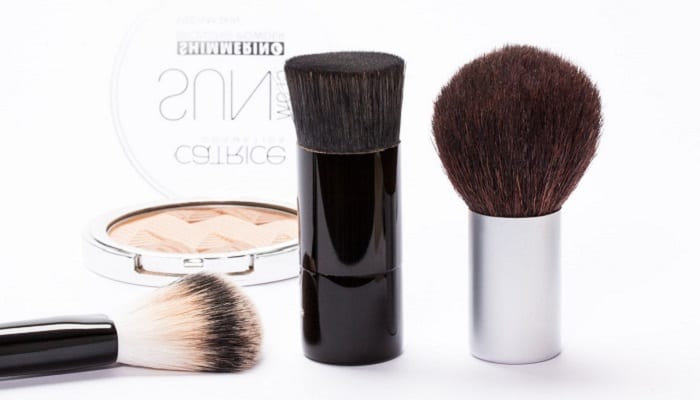 There are various types of base makeup to select from:
Liquid foundation
Foundation in liquid form offers coverage ranging from medium to full, depending on the amount applied. Liquid foundation varies from oil-free, oil-based, waterproof, and to 24-hour protection.
Cream foundation
Foundation in cream form is generally a bit heavier and is formulated for normal to dry skin.
Powdered foundation
Foundation also comes in powder (compact) and mineral powder form. Compact is best for people with oily, non-mature skin. Mineral powder is more suited for those with sensitive or mature skin.
Stick foundation
Stick foundations offer full coverage and hide away blemishes and dark spots. Easily transportable they are great for makeup kits on the go. Stick foundations are best suited as a top-up option for youthful, normal to oily skin (not recommended for mature skin).
Under the eye concealer
The essential concealer should be made from a luminous pigment that brightens the skin. For more bang for your buck pick a concealer that can double as a highlighter on your cheeks.
Spot concealer
To hide away any unwanted spots use a concealer pen that has a matte finish. The ideal blemish concealer should be shine-free and offer a full coverage.
Lip balm
In Australia's climate it is almost criminal not to have a good lip balm in your makeup kit. To add a little colour just go for a tinted version. Select a lip balm that also contains natural moisturiser.
Double-ended eye pencil
Create the dramatic look of bigger eyes using the dark side of a double-ended eye pencil.  Use the lighter (white) shade for nestling into your tear ducts for a wide awake, crisp look.
Mascara
No makeup kit is complete without mascara. From black to blue and everything in between, stick with what already works best for you.
If you need more oomph for your lashes, grab a mascara that offers thickening properties.
Cream blusher
Dewy and fresh-looking, cream blush offers more of a natural appeal compared to the powdered form. The cream is easily applied with your fingertips and blended down your cheeks.
Face powder
To refresh your face and keep oil at bay just do a quick sweep over with some translucent powder.
Bronzing powder
Bronzing powder works wonders on any skin type and can be used specifically for contouring cheeks.
Add bronzing powder to the sides of your face in the shape of a number 3. This will pick up your hairline, cheek hollows, and jawline for a natural look.
Makeup remover pads
When it is all done and dusted and you need to give your face the feeling of fresh air again, use some makeover remover pads. Remover pads are much quicker and more convenient than creams and lotions as you can take these beauties anywhere.
Moisturiser
A facial moisturiser with natural ingredients and sunscreen is a makeup artists' best friend. Choose a quality moisturiser to keep your skin youthful and protected from the harmful rays.
You can build on your makeup kit as much as you need once you have these essentials sorted.
Seeking some quality beauty services? Airtasker is packed with beauty experts ready to hire now.