Are you running out of storage space and just not sure how to utilise the space you have? Well, you've certainly come to the right place! Sorting out your laundry cupboard might be the last thing on your list, but having your laundry organised will not only make you feel amazing. It will also make laundry time much more enjoyable.
It's easy to let clothes pile up in the laundry room, let all your products take up lots of space, or just shove your towels in the cupboard without much rhyme or reason. But when there are systems in place, you can turn your clutter and chaos into calm and convenience. And who doesn't want that?
If you're eager to see how you can transform your laundry, check out these 25 laundry storage ideas!
1. Basket shelves
First up, we have this small but mighty laundry storage option! Using custom shelves that are the perfect size for your baskets makes your laundry more organised and clean. Basket shelves work well in adding some style to a laundry room while keeping dirty clothes hidden.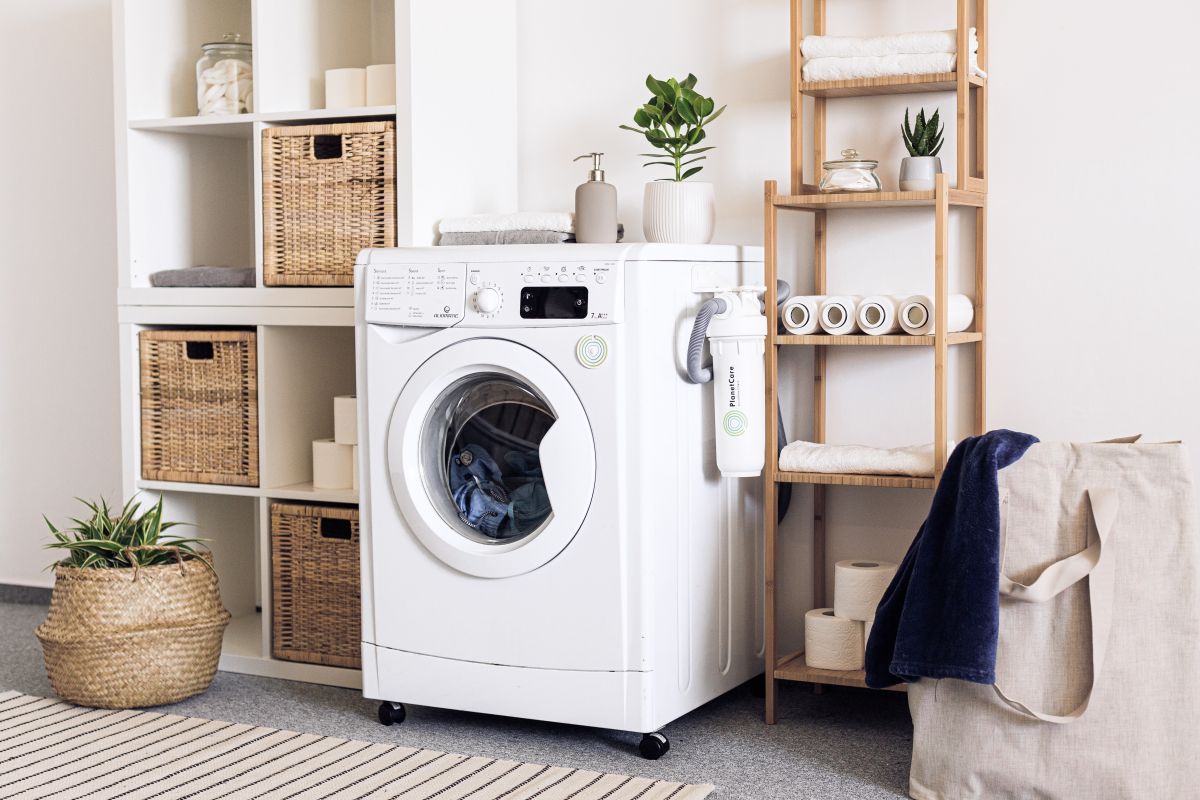 2. Laundry in a cupboard
What better way to utilise storage in your laundry than literally having your laundry in storage, in a cupboard? Your laundry can be easily closed off and hidden when not in use, but it is effortless to access when needed. Adding a few little nooks can also serve as storage for laundry products and baskets.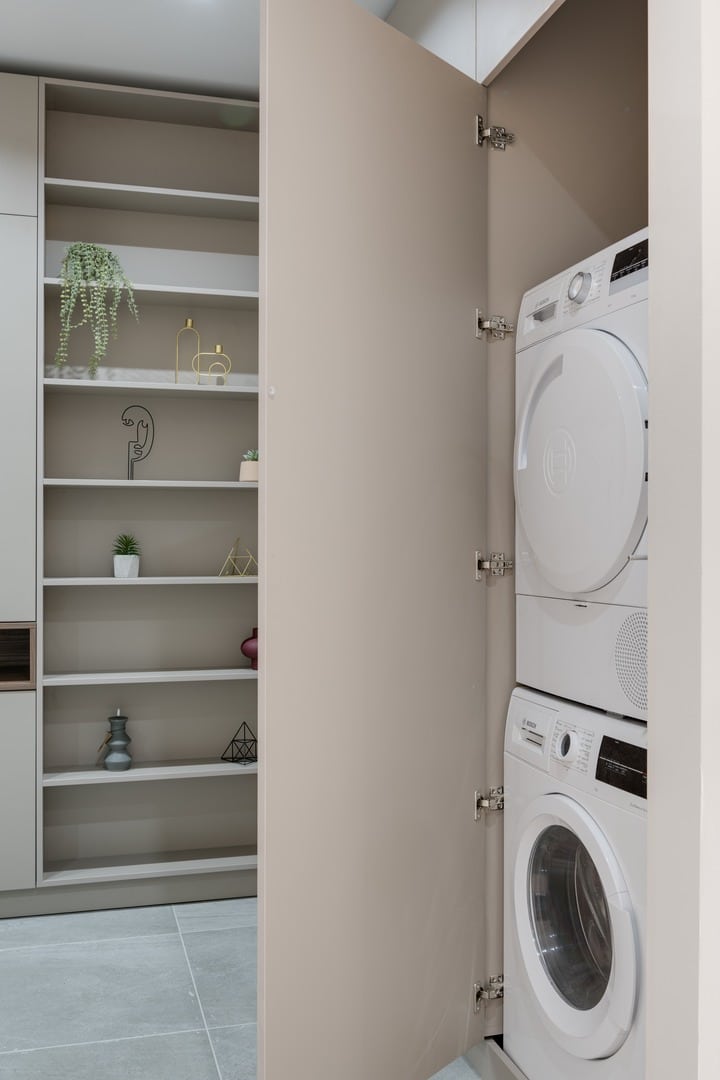 3. Woven baskets
Adding woven baskets around the place is a good idea if you've already used up all your cupboard space in your laundry and need more storage. You could use them to store additional towels, products, or anything else you want to be hidden away.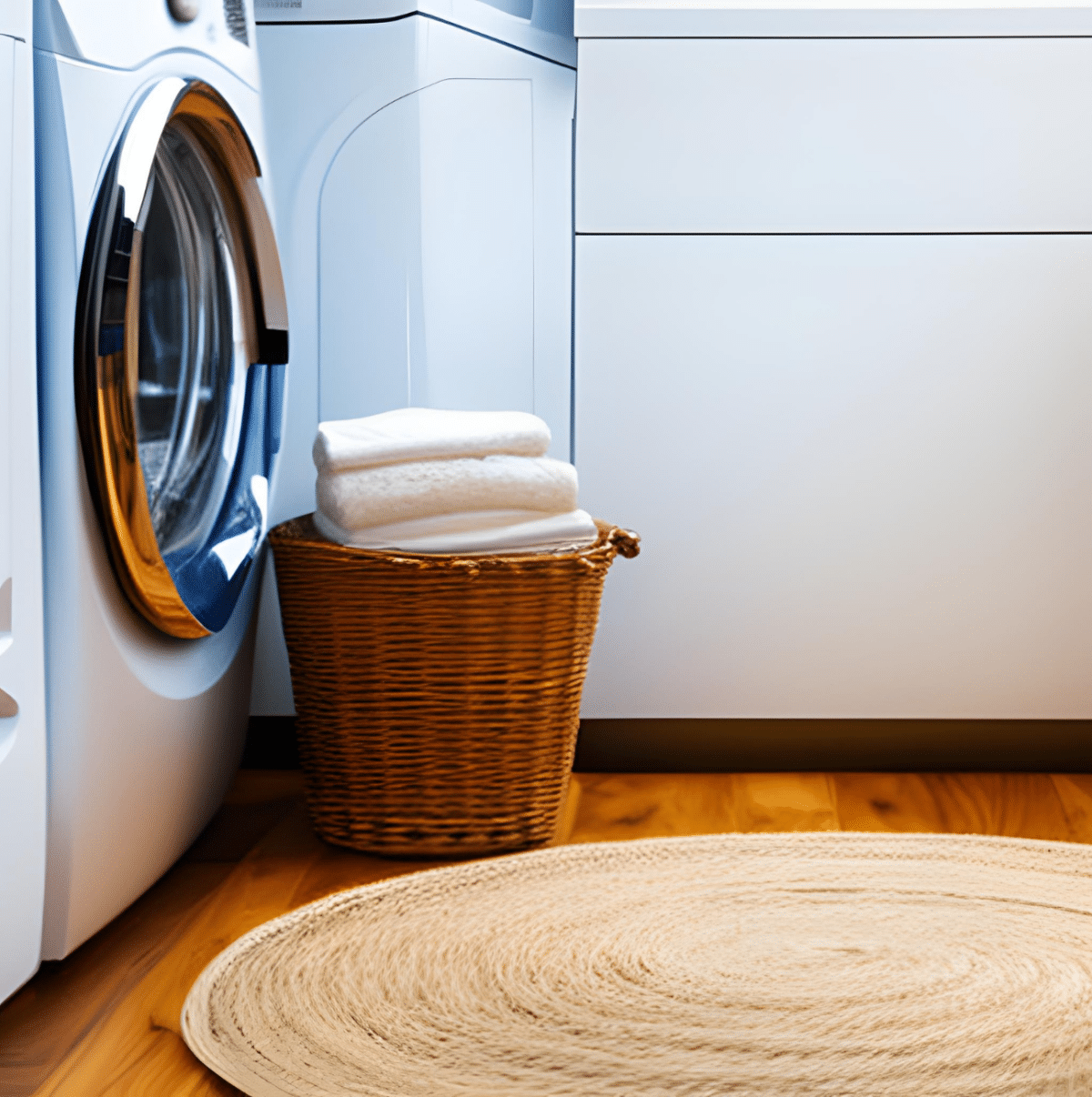 4. Plastic and fabric drawers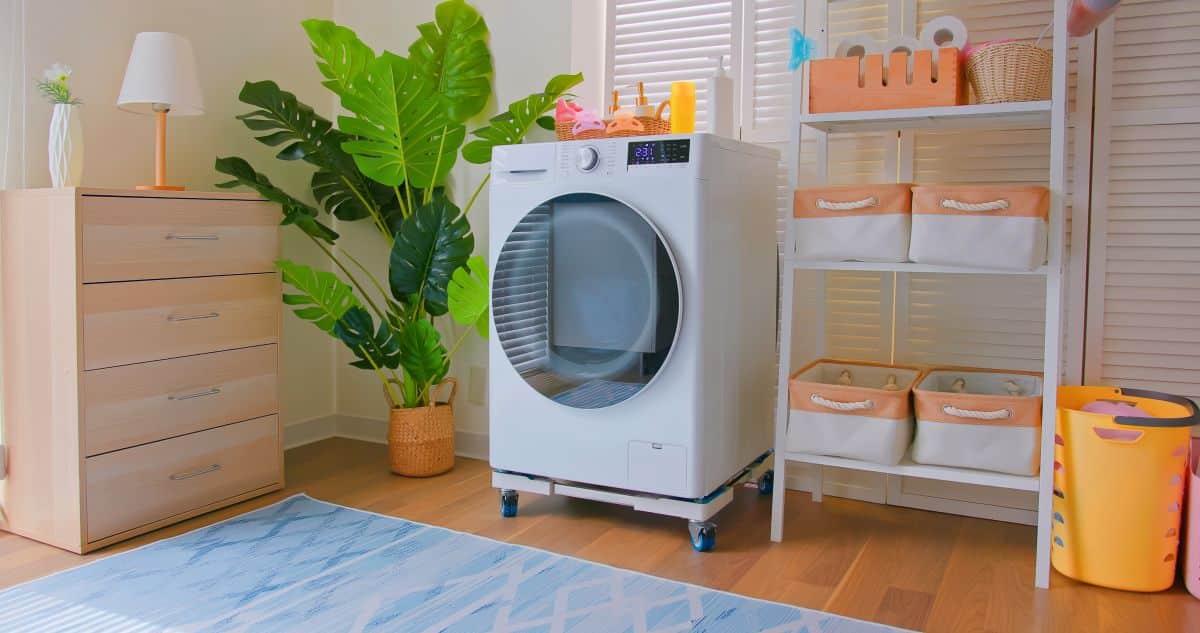 Adding plastic and fabric drawers will work well if you would rather skip open shelving. Fabric drawers that can easily be pulled out through a string handle or a hole also make storing items very convenient.
5. Laundry carts
If you have a little space to fill between your dryer and washing machine or under your cupboards, then a little cart will work. Using a cart makes good use of space that would otherwise be wasted. The good news is that the options for what can be stored in these are endless–from cleaning products to towels and anything in between.
6. Storage all around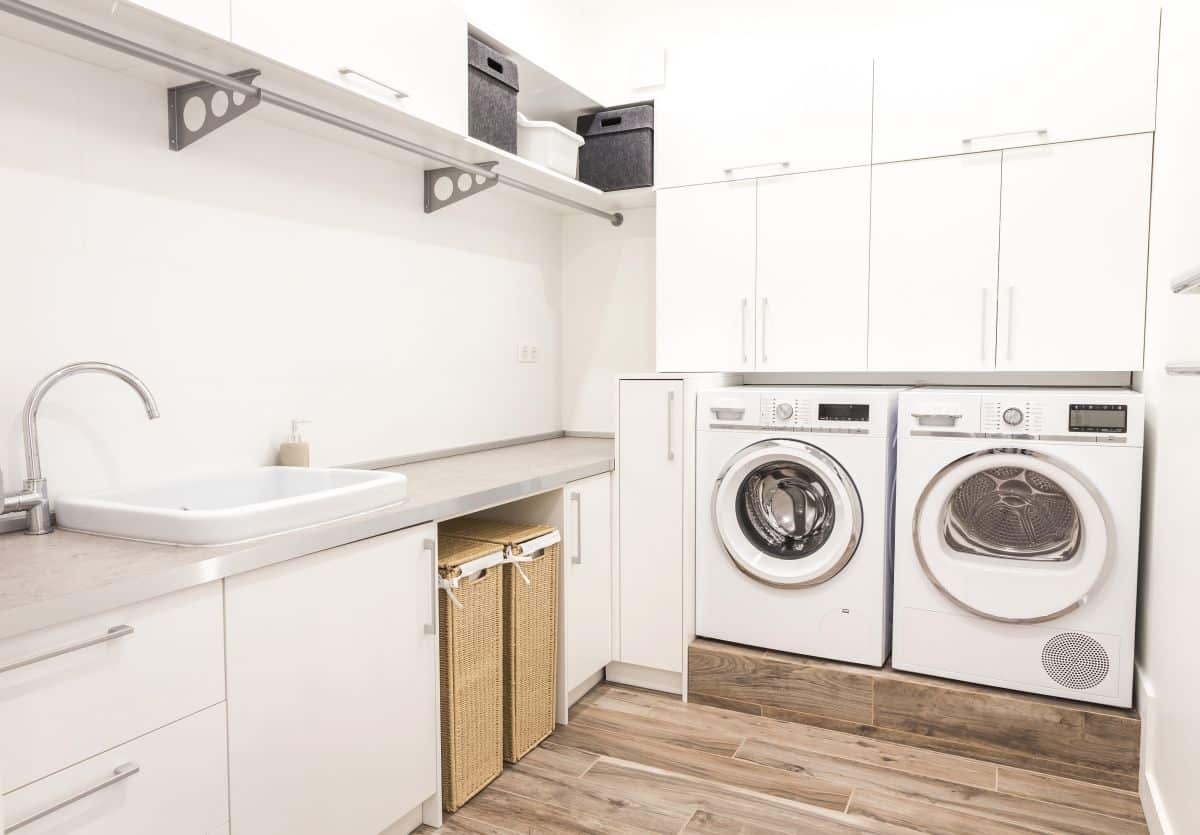 If you have the space and budget, installing built-in storage all around with effective cabinetry will come in handy. Built-ins offer plenty of opportunities to store extra cleaning supplies, linens, and other laundry needs. Putting a few cubbies near machines also keeps your laundry essentials within reach.
7. White and sleek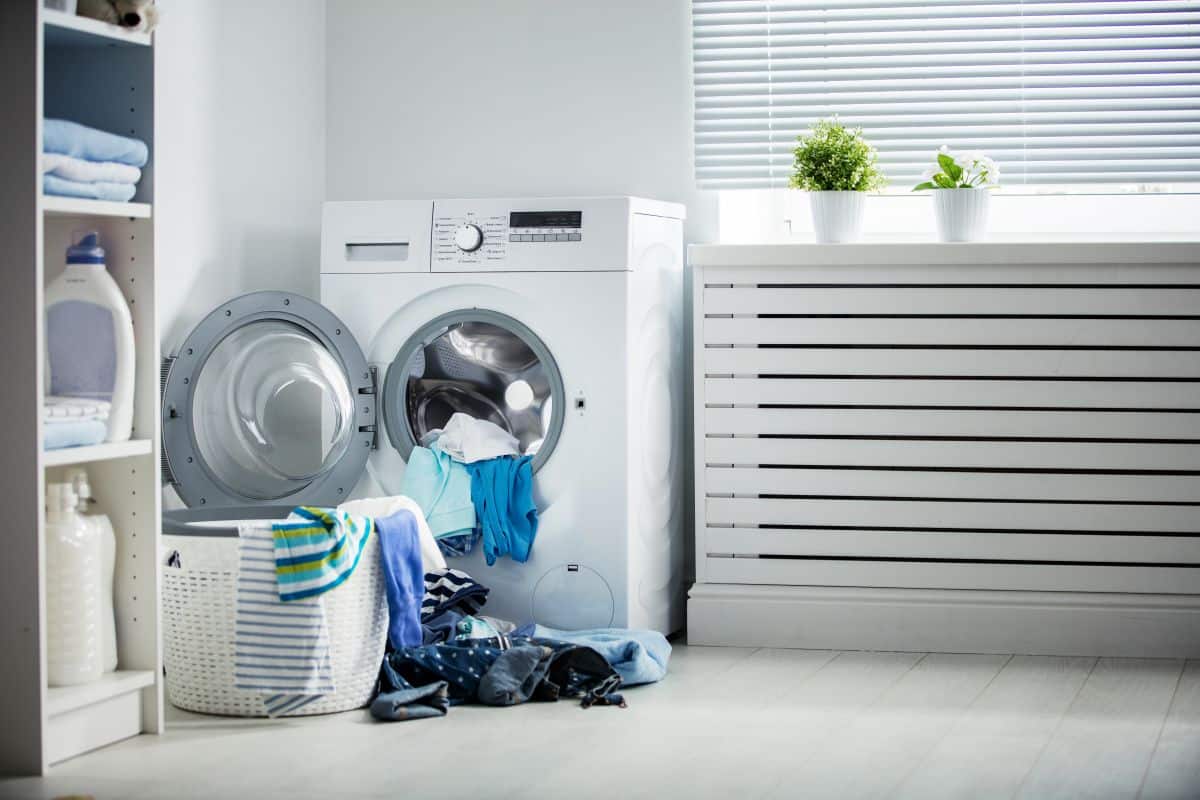 You can never go wrong with an all-white laundry room! With white floors and walls to white shelving and accent pieces, the space looks so sleek. You can even toss in a cute graphic mat or pattern rug to add a few pops of colour, but the clean look can easily stand on its own.
8. Hanging space
A hanging rack creates a great storage solution for things that you need to be hung. Perhaps it's raining one day, and you need a place to hang things inside, or maybe you're just a little too lazy to put your washing away. Either way, a built-in rack for hanging space in a laundry will definitely come in handy!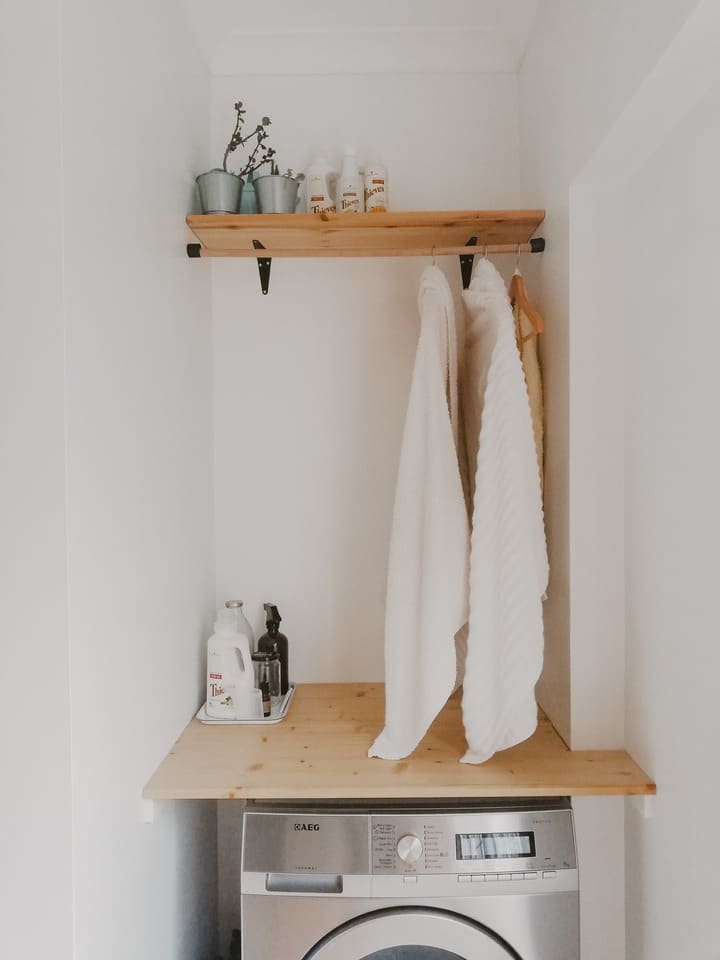 9. Wall hooks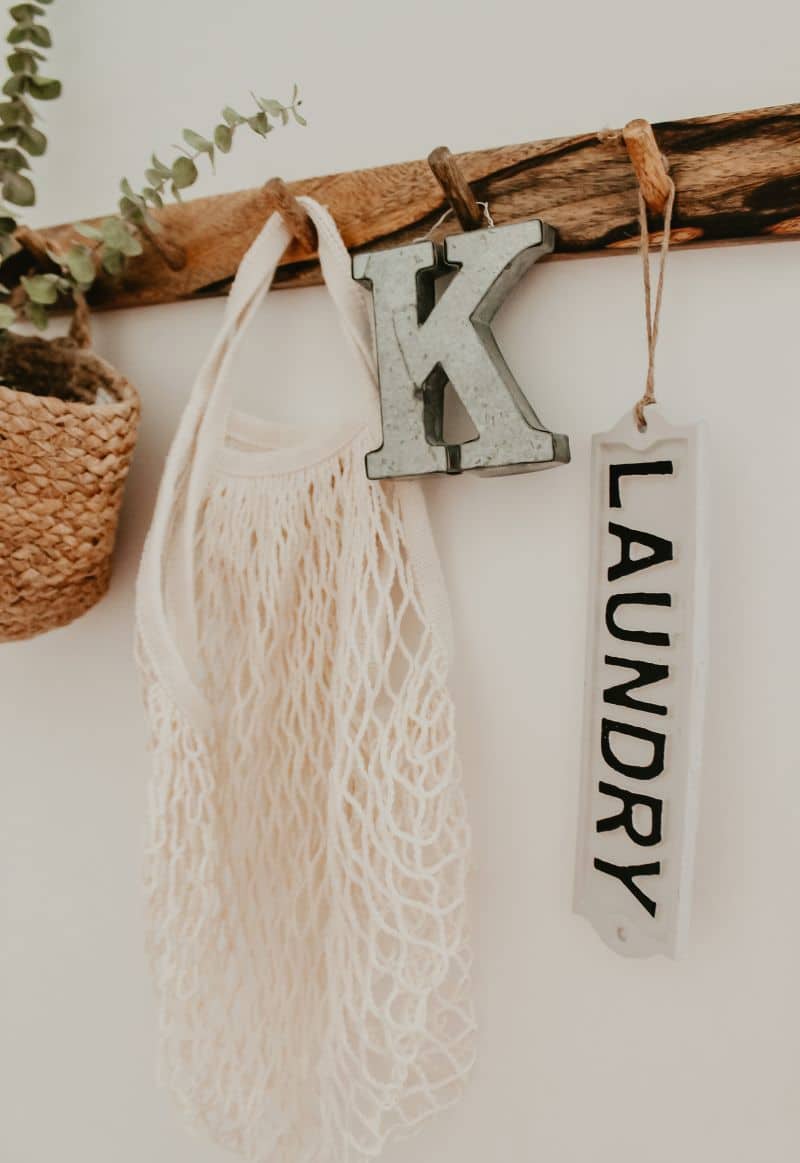 Here's another great way to hang things: wall hooks! Wall hooks are so useful in the laundry as you can use them to hang so many different things like clothes, hats, scarves and even additional storage baskets.
10. Wood, marble and white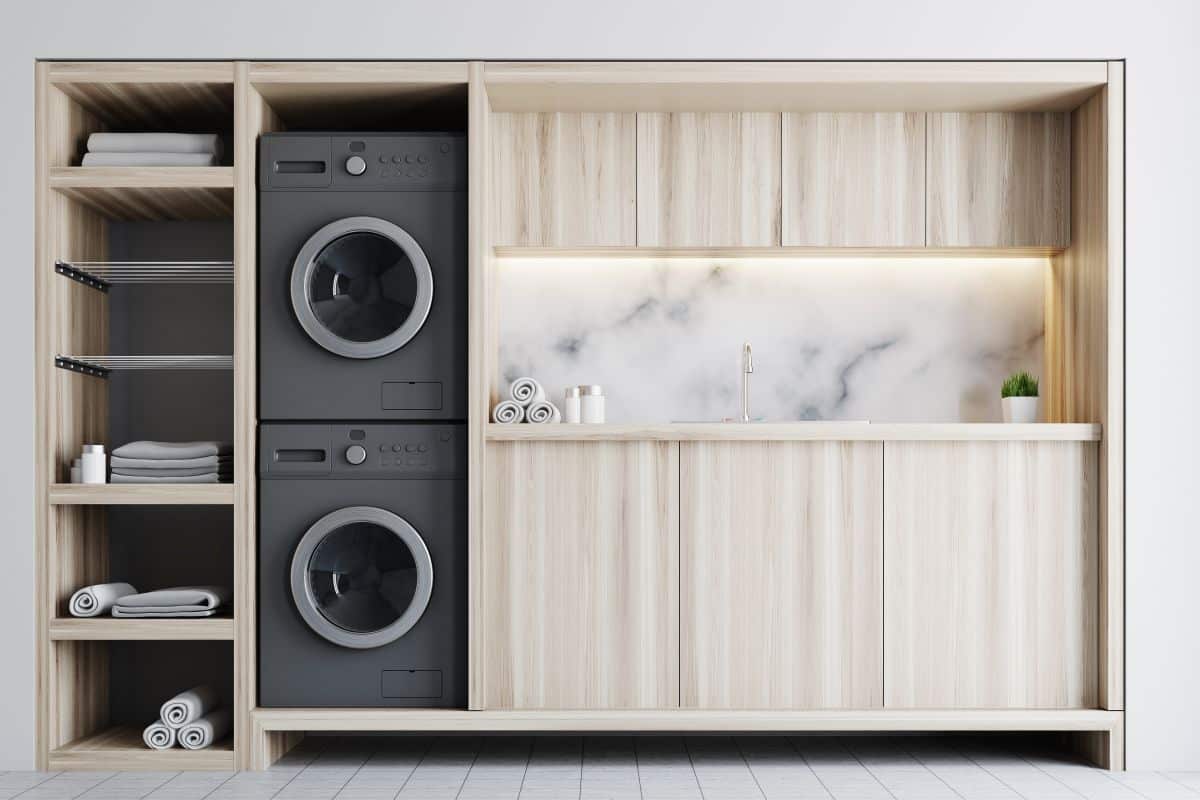 Working with three very different finishes like wood, marble, and plain white can make a space work well aesthetically. The wood and marble textures bring life to the laundry area, while white makes the space feel more spacious and clean.
11. Renters storage
If you're renting and can't install additional storage yourself but desperately need more storage space, try putting up plastic containers above the permanent cabinetry. This way, you can enjoy more storage without having to worry about how it can be removed.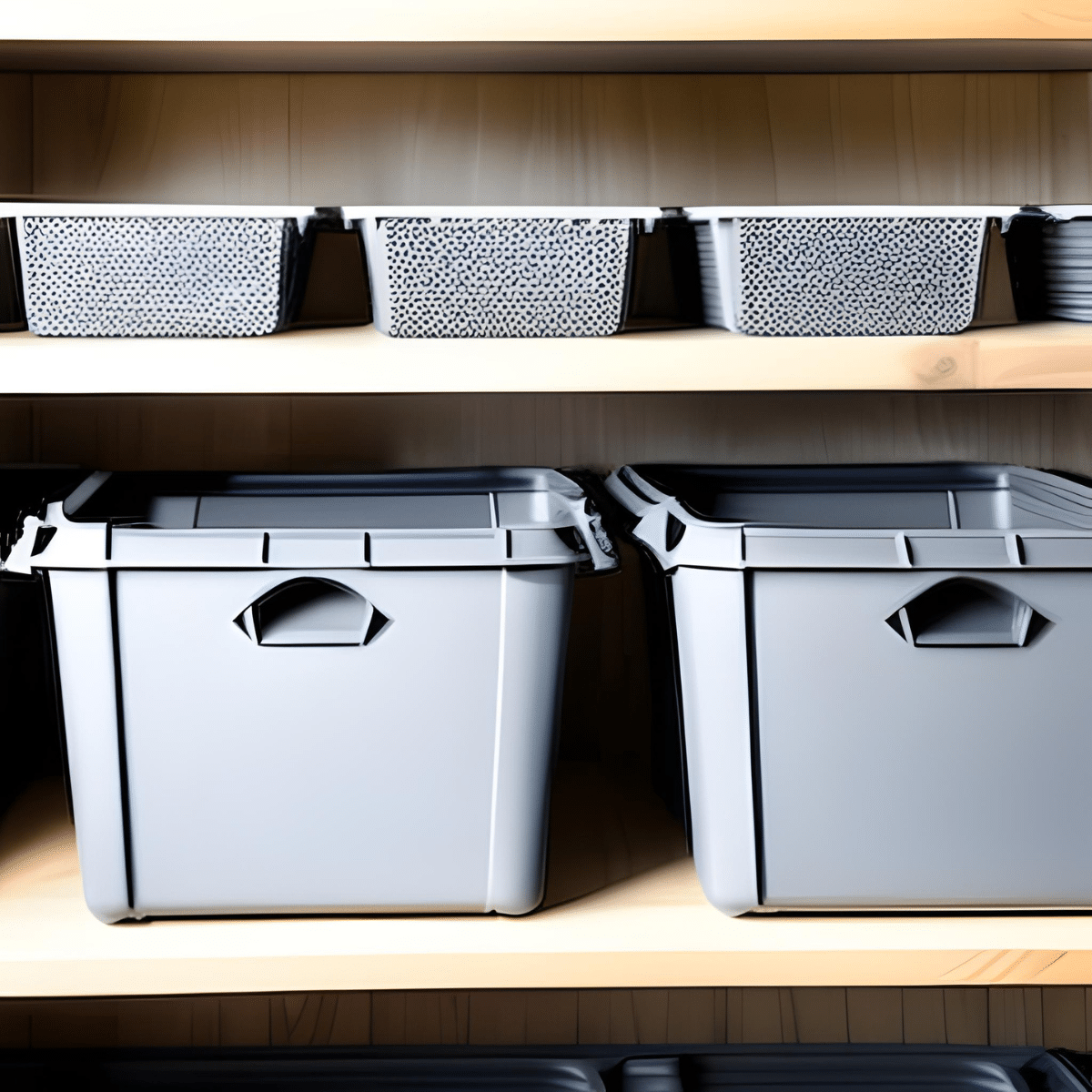 12. Wicker hamper
Keep your dirty clothes off the floor with wicker hampers that can be placed easily in room corners or near your bed. Not only is it going to keep your place tidy, but it also hides away your dirty clothes well if it comes with a lid. Out of sight, out of mind! Now you won't have all those dirty clothes to look at every time you walk past your laundry.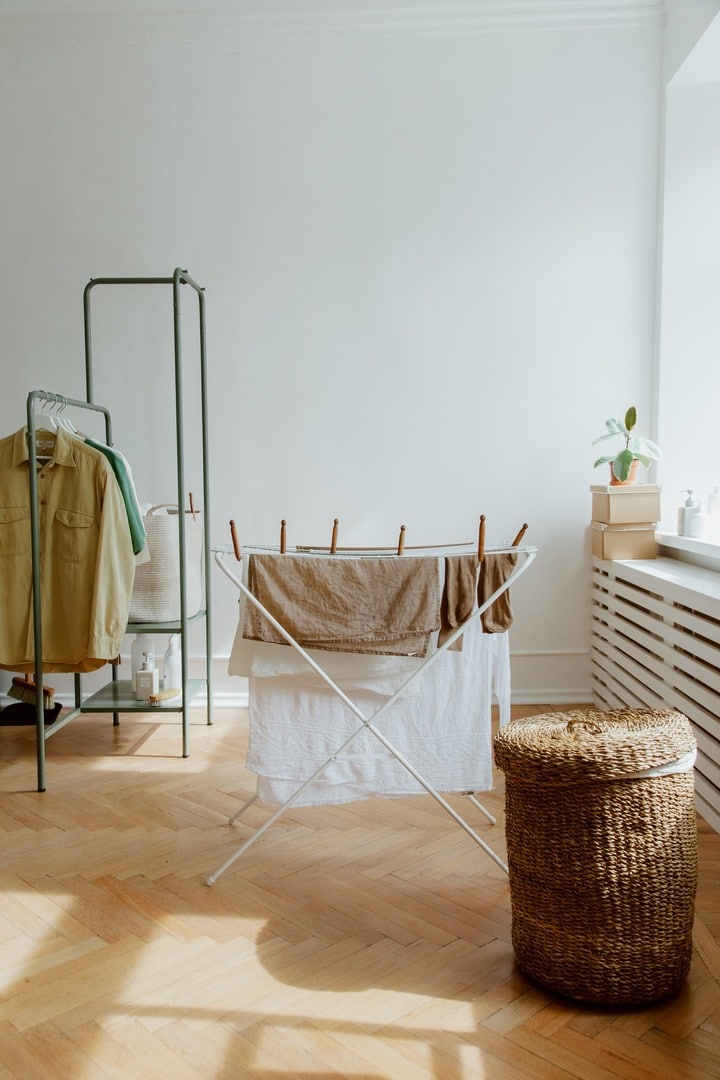 13. Wall-mounted cabinets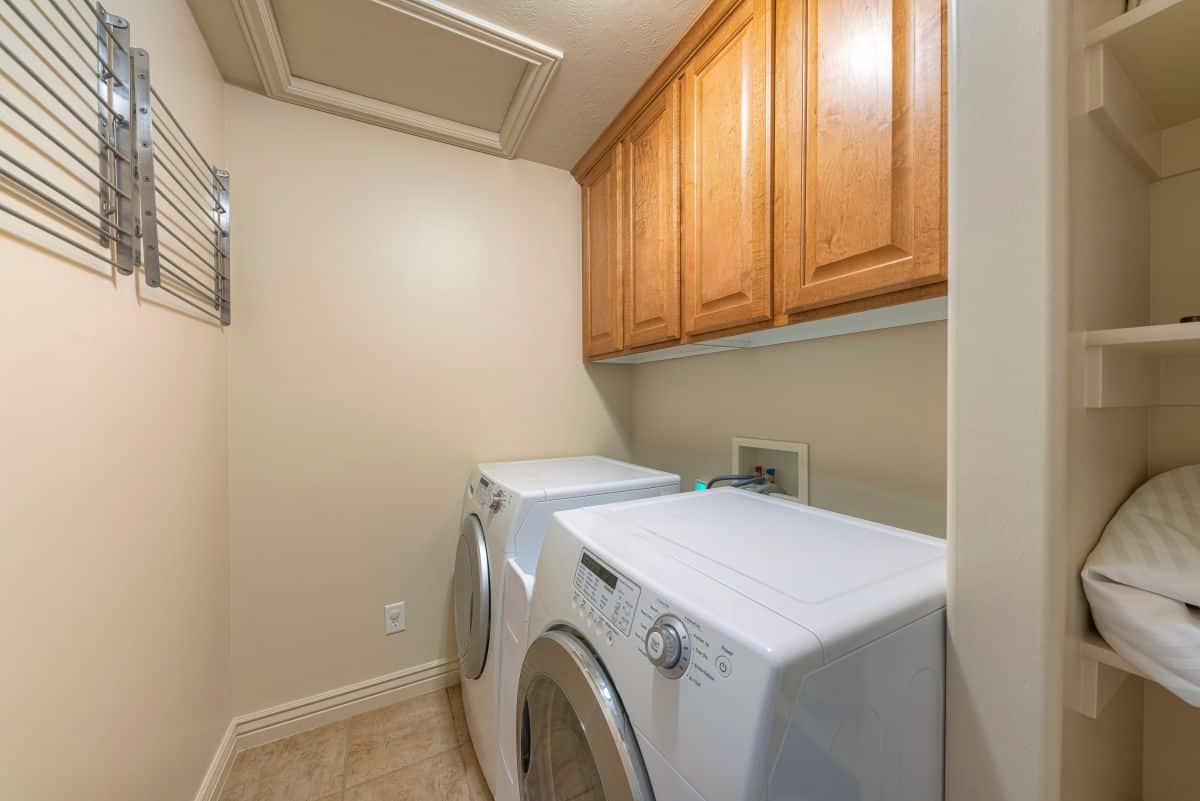 If you've got lots of walls but not a lot of floor space, then a smart idea would be to add storage on your walls! Wall-mounted cabinets allow you to easily move around as you do your laundry while utilising as much space as possible.
14. Lighting for counters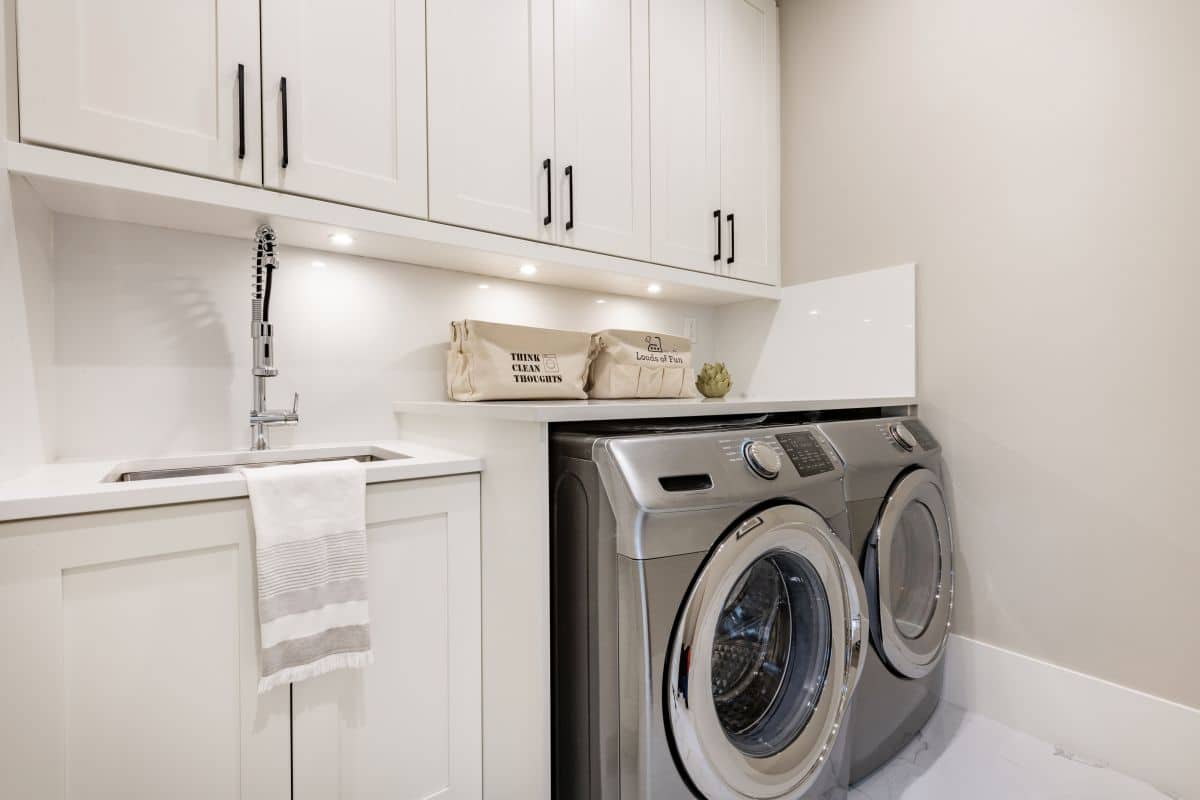 Speaking of wall-mounted cabinets, you can never go wrong with putting lights under them, especially when there are counters or a sink underneath. Using lights for these areas allows you to see stains on clothes properly, fold them easily, or see whatever task is before you in the laundry room. It also serves as great mood lighting.
15. Wardrobe storage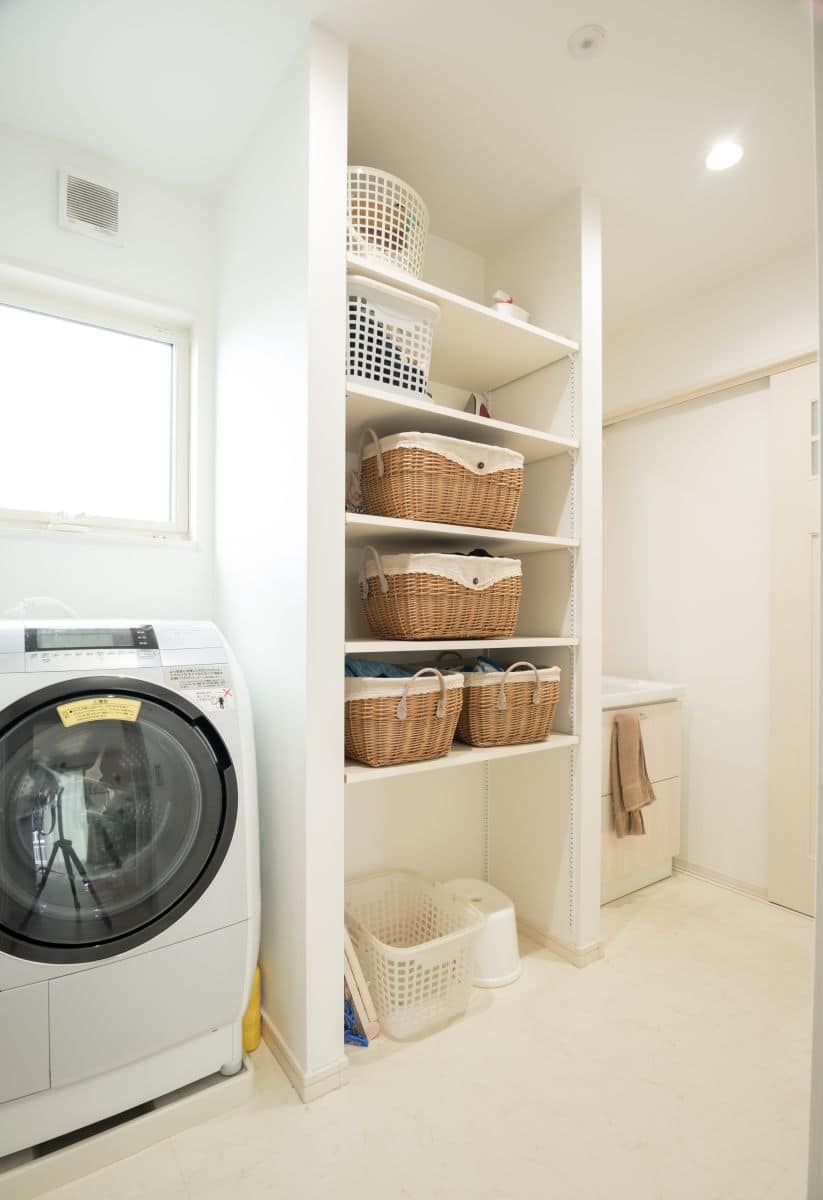 If you have a wardrobe cupboard in your laundry that's not being fully utilised, opening it up could be the storage solution you need.
16. Colour coordinated laundry storage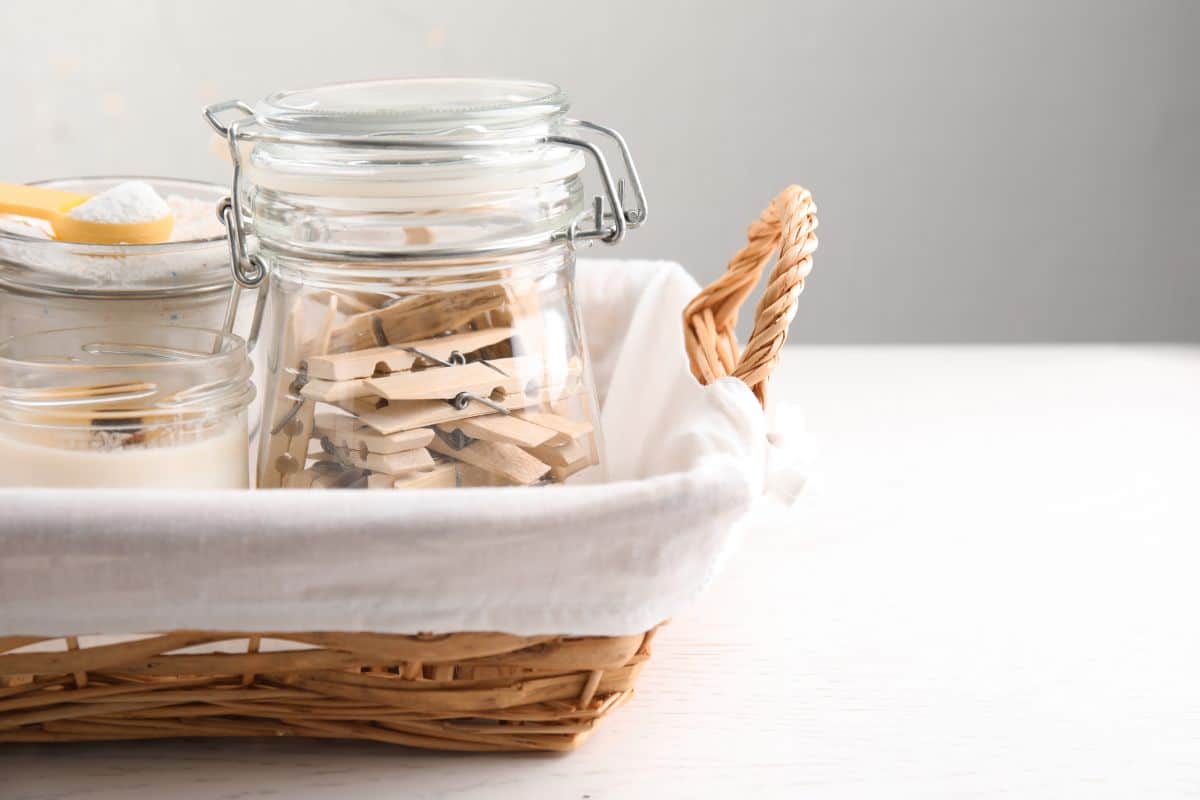 Pick matching clear containers to store your laundry products and perfectly colour-coordinate any wood tones to tie the whole room together. You can use these containers for various laundry products, such as laundry powder, stain remover, and softener.
17. Reserved spot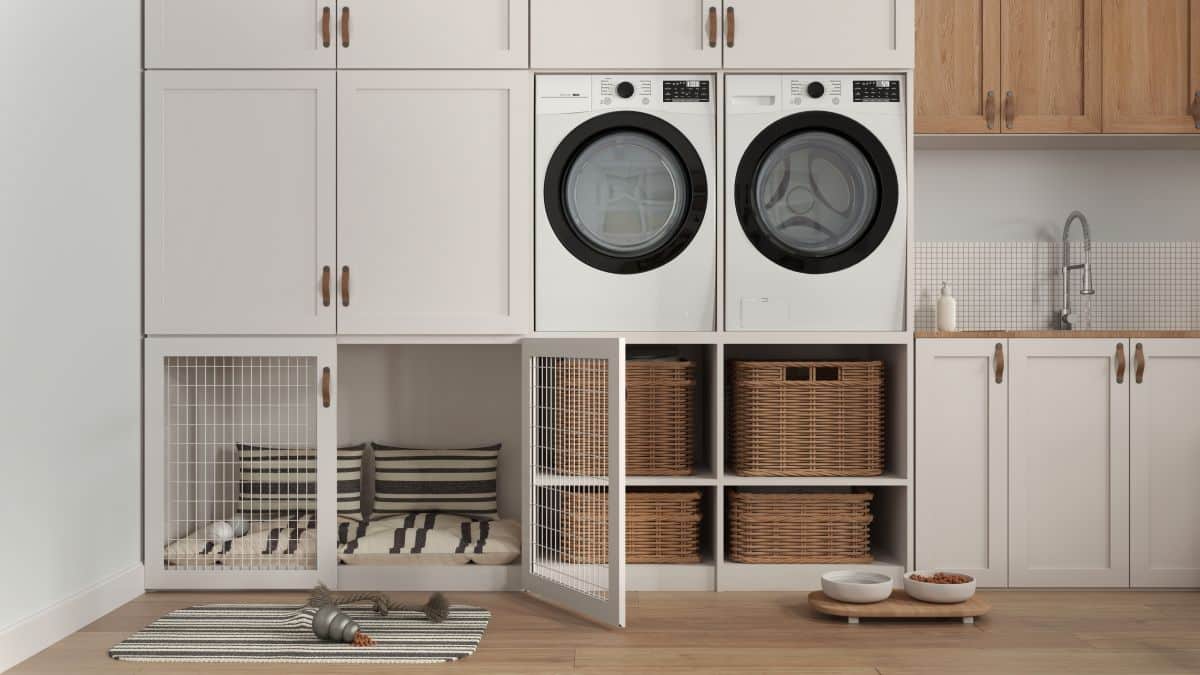 If you've ever spoken to a cabinet maker, you'll know there really are endless options when it comes to cabinetry. They can pretty much create anything to fit your preferences and lifestyle.
You can ask for a laundry space that makes great use of wall and floor space by putting storage up top, a spot for your washer and dryer, and even a small nook for your pet. A special place reserved for a very loved family member!
18. Lots of storage space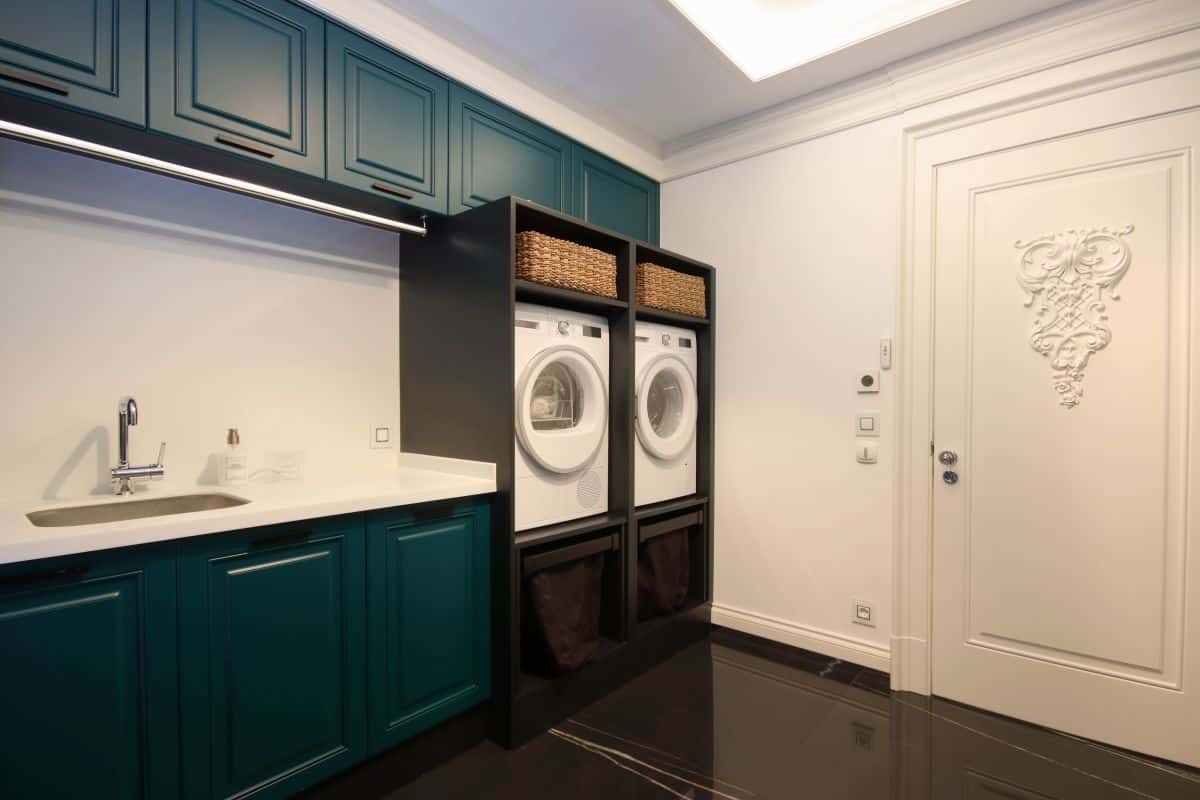 Speaking of cabinets, you can choose to have a variety of storage options in your laundry room! Every item needs to be stored a certain way–whether it's clothes to be hung, small clothing to be placed in baskets, or products to be kept away in cupboards. Feel free to put a little bit of everything in one room to make the most out of your space.
19. Floating shelves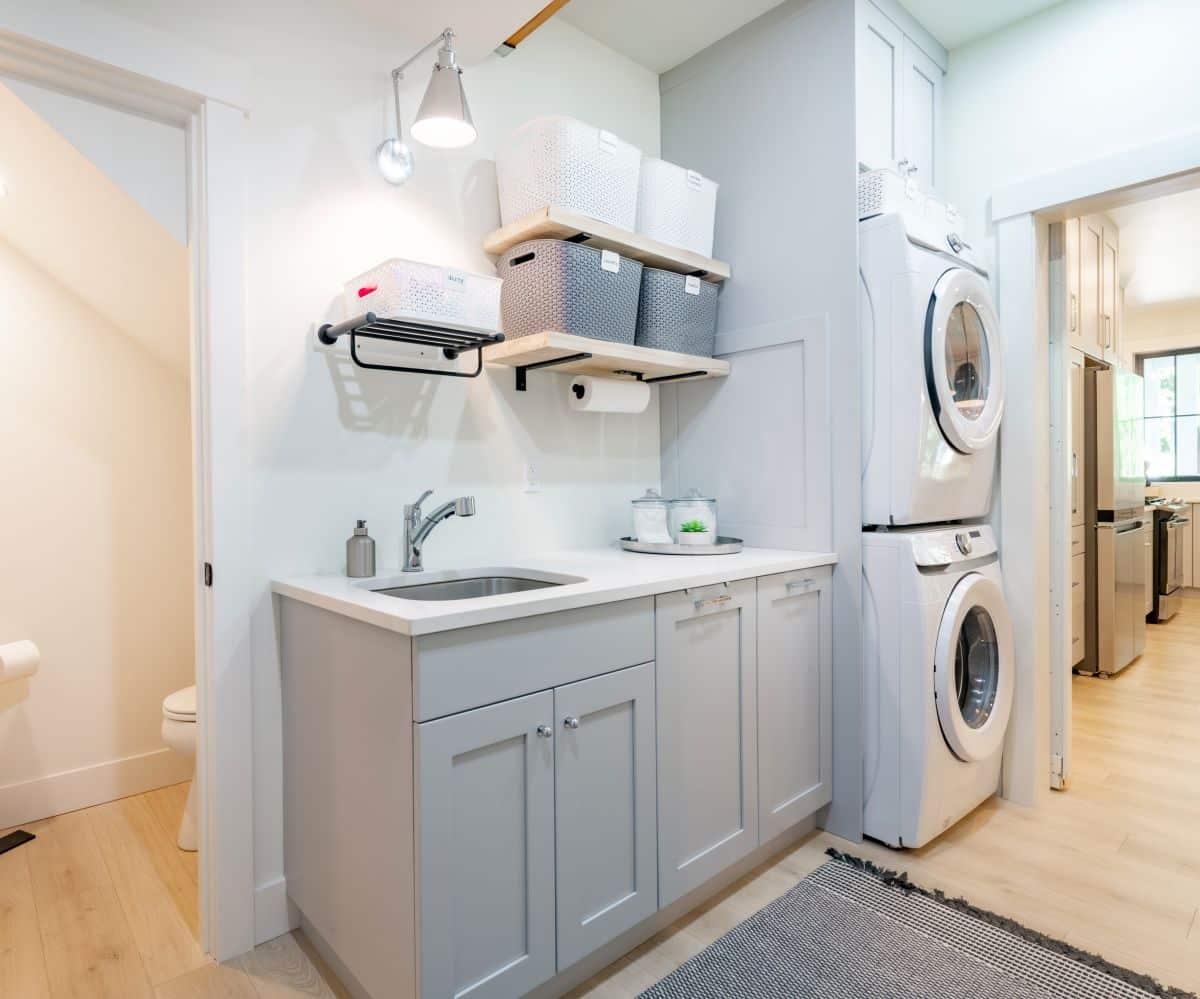 Floating shelves are always a great idea in any room, especially if you don't have too much floor space to work with. You could use the shelves to display decor to make your laundry feel a little more decorated, or use the shelves to store your most used items for easy access.
20. Hide and seek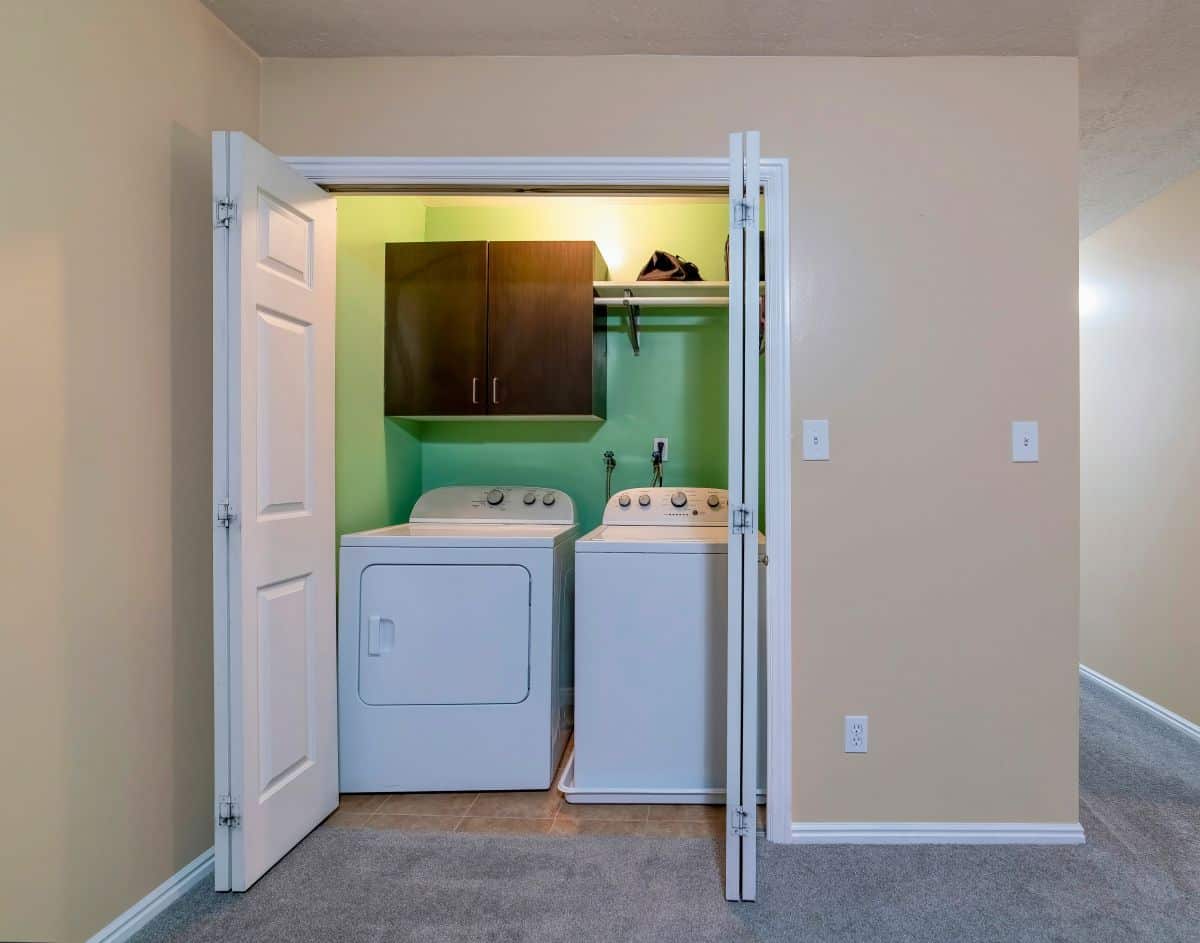 What better way to hide away your laundry items than to hide your entire laundry space? Let's face it; it's difficult to make a washer and dryer look nice, so it is natural to want to keep them out of sight. Consider a hideaway laundry room to cover them up as stylishly as you can.
21. Modern and minimal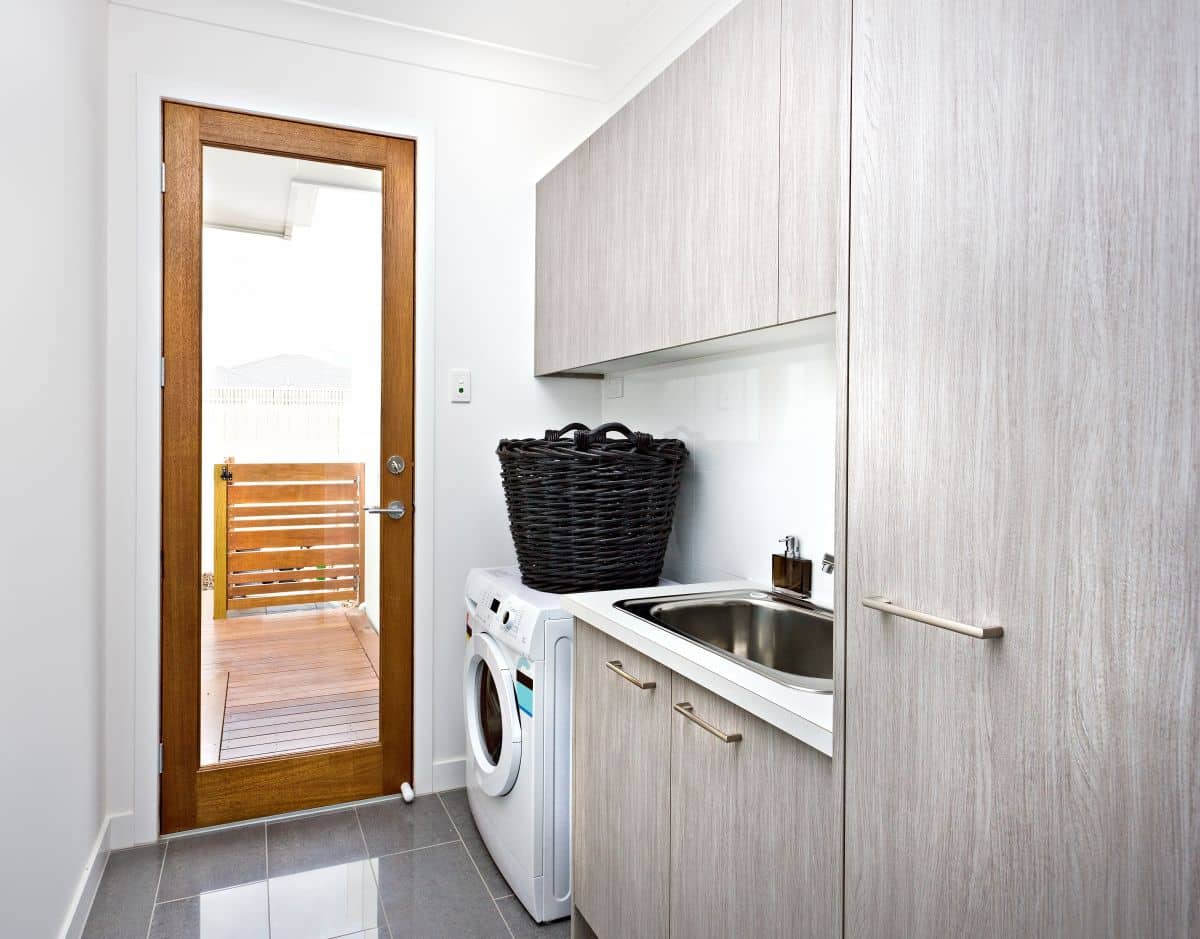 Putting so many items out in the open can be an eyesore for some. The solution? Create a laundry room that has very minimal to no open storage spaces and features a minimalist design that stores only the essential products and items.
22. Cloth laundry baskets
This one is for you if you are looking for an alternative to plastic or woven laundry baskets. Cloth laundry baskets may better fit your style and decor, plus they can be easily washed as well.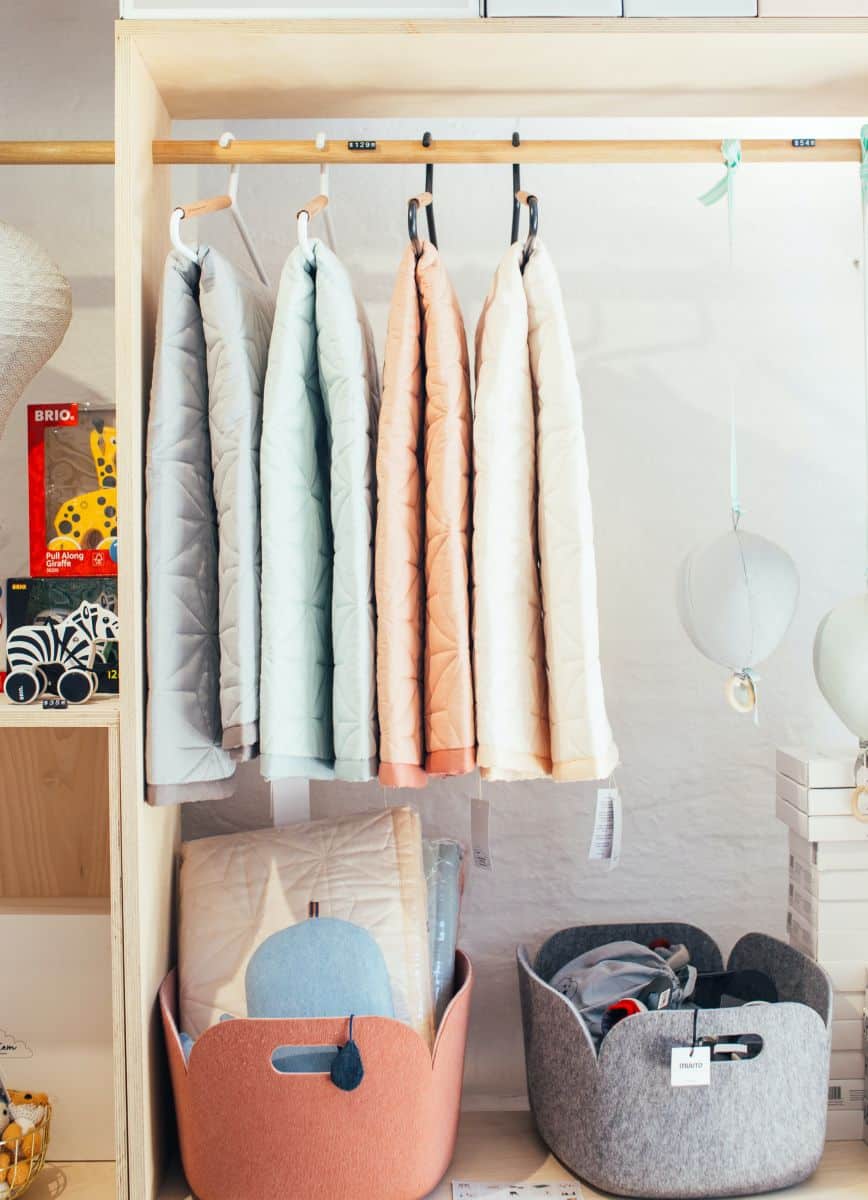 23. Curtain cover-up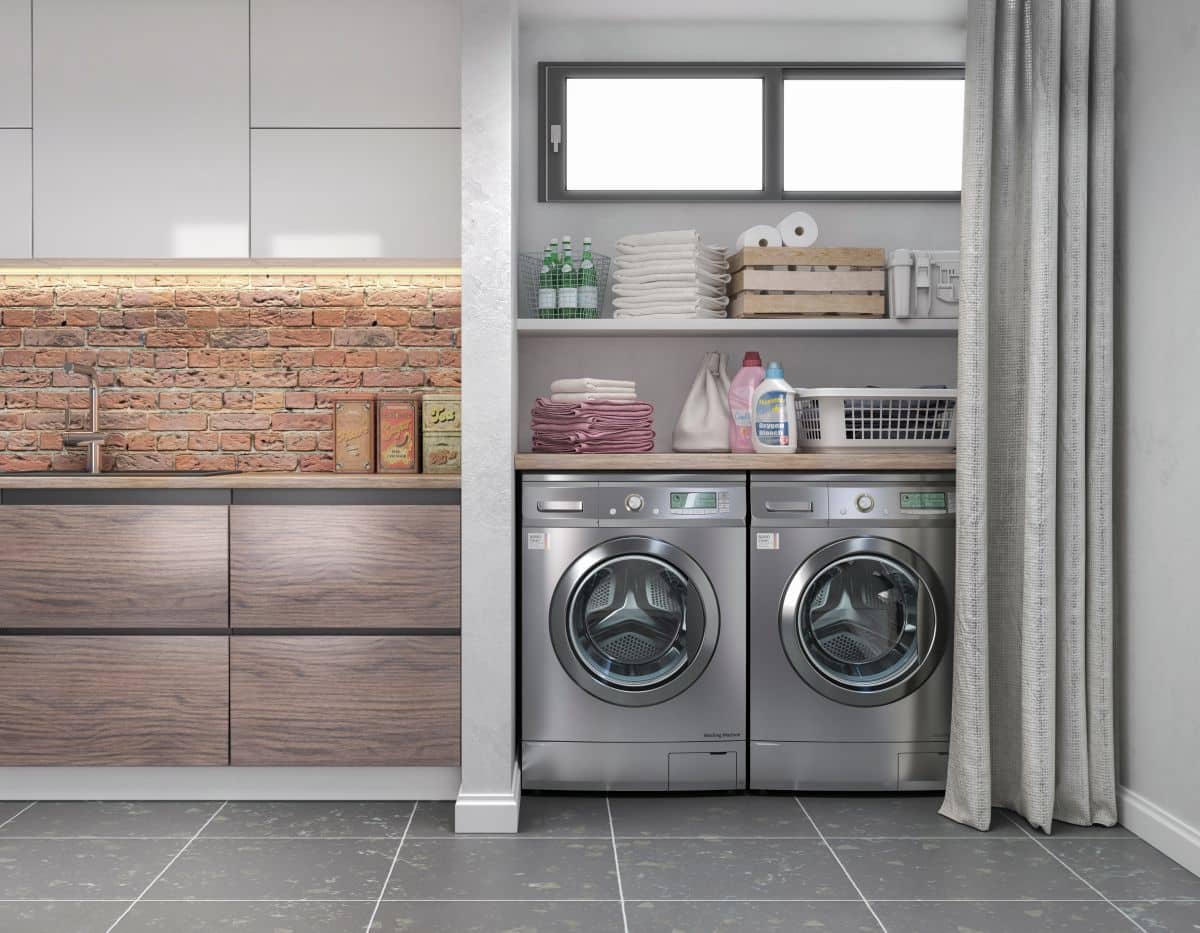 If you do not have lots of space in your home to have a designated separate laundry room, you can easily hide away all your laundry items behind a curtain. Just put your washer and dryer next to each other while your products live on shelves above the appliances.
24. Ladder shelves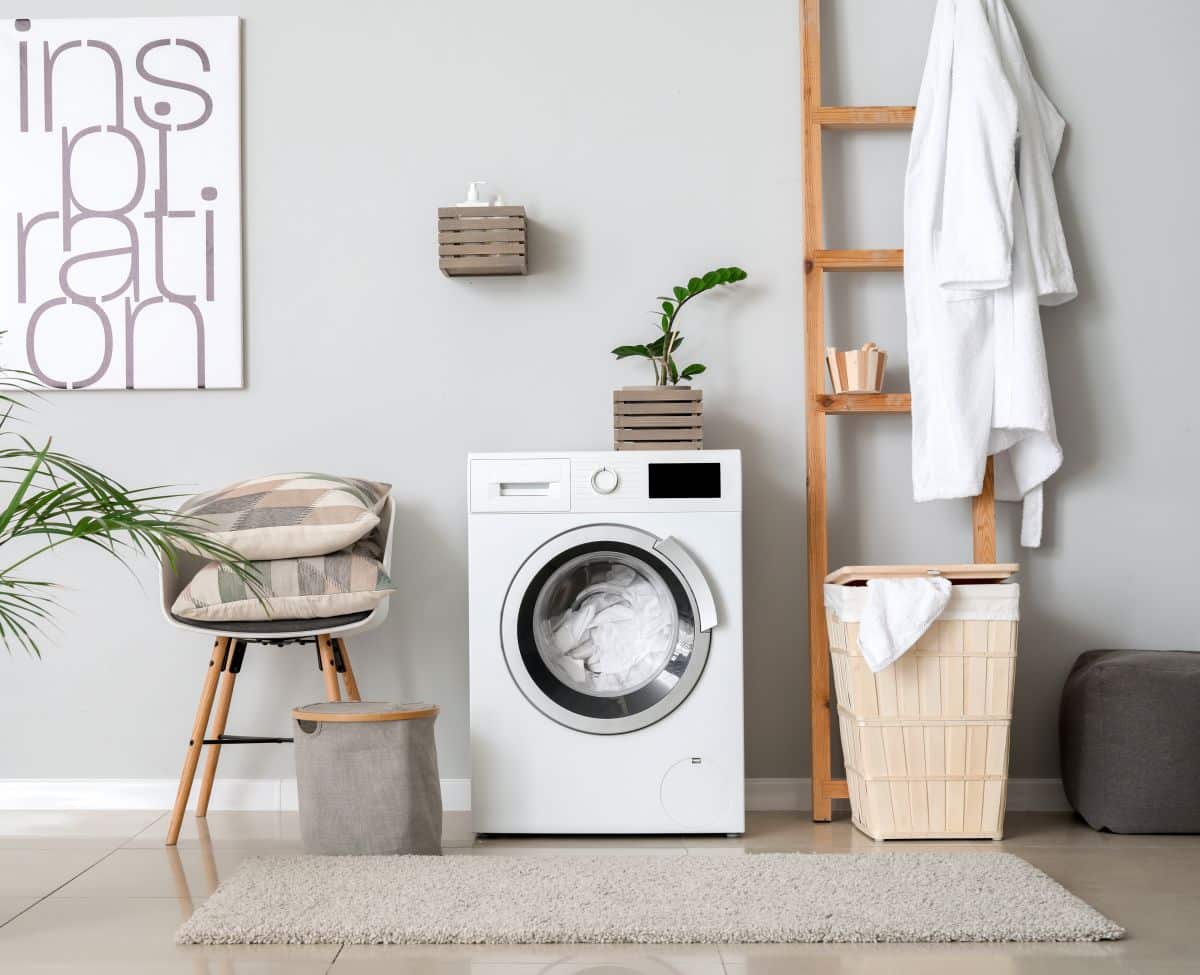 The beauty of ladder shelves is they can be both functional and decorative. You can use it to store your products, as well as a vessel for your plants and other decorative pieces. In some cases, you can even use it as a coat stand!
25. Farmhouse style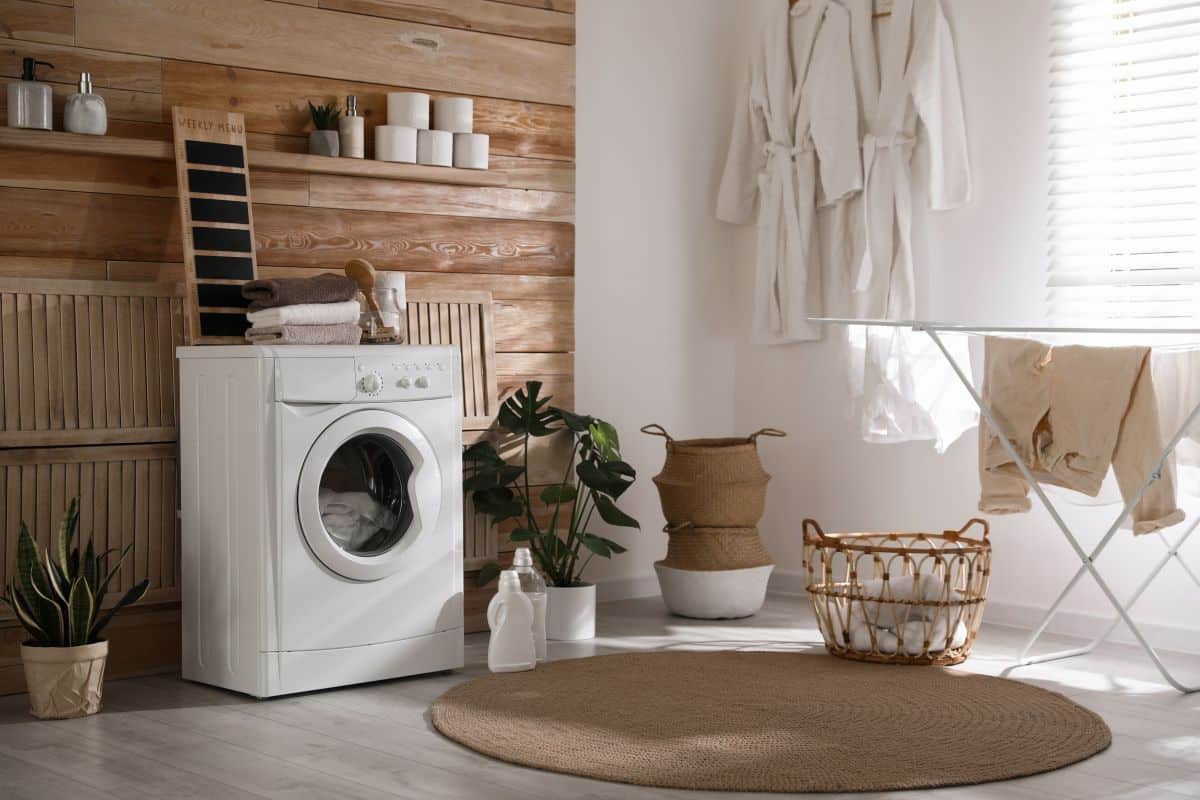 Going for a gorgeous farmhouse-style laundry can make the space look welcoming and homely. It feels lived in, yet it still looks organised and neat. And you can never go wrong with adding storage baskets to your space, especially if they are woven.
So there we have 25 laundry storage ideas to turn your mess and clutter into something that is organised and neat! If you're planning on renovating your laundry room, it's important to work with a skilled professional who can help you achieve your desired results.
What storage solutions will you be adding to your laundry? Let us know below!