When it comes to interior design and architecture, there are so many styles and it's often hard to distinguish between them as there are definitely blurry lines and overlap. This can make it tricky and intimidating to try and explain what style you like to a designer or builder. But don't worry, we've got you!
With my experience as an Interior Designer, I've summarised a few of the key styles you're likely to come across when designing your home. The interior design styles I've covered are:
Modern interior design
Postmodernist interior design
Minimalist interior design
Contemporary interior design
Contemporary modern interior design
Contemporary classic interior design
Art deco interior design
Rustic interior design
Palm Beach regency  interior design
Island chic interior design
Hamptons interior design
Transitional interior design
Scandinavian interior design
Bohemian interior design
French interior design
Traditional interior design
English country/farmhouse interior design
Modern interior design
Modern design is probably the design style that confuses most people, technically speaking a modern interior isn't actually something that is new. Rather it refers to a distinct time period of the early to mid 20th Century where designers rejected the ornamental decorations, heavy textures and dark dramatic decor and preferred clean, straight lines and simple uncluttered spaces.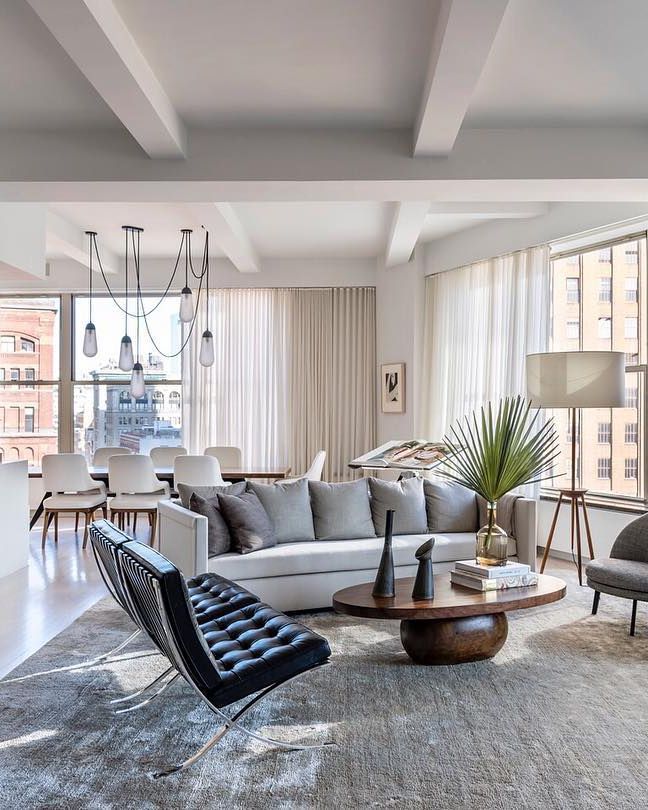 Using natural palettes and focussing on form and function, Architects like Le Corbusier used what was at the time, cutting edge building techniques and materials to create sharp lines, glasshouses and expansive open spaces.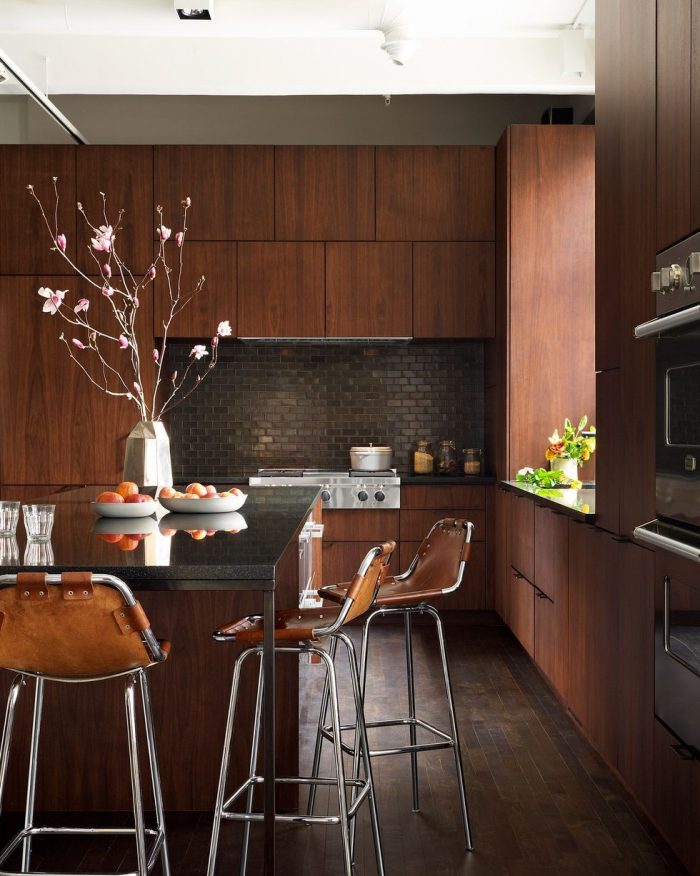 To recreate modern design in your home look to incorporate a monochromatic or natural colour palette using natural materials and textures to create interest limiting pops of colour and pattern. Avoid mixing metals and choose chrome or stainless steel where possible.
Also, keep your rooms fresh and your window dressings light, by choosing a recessed track rather than a curtain rod or roller blinds instead of roman blinds.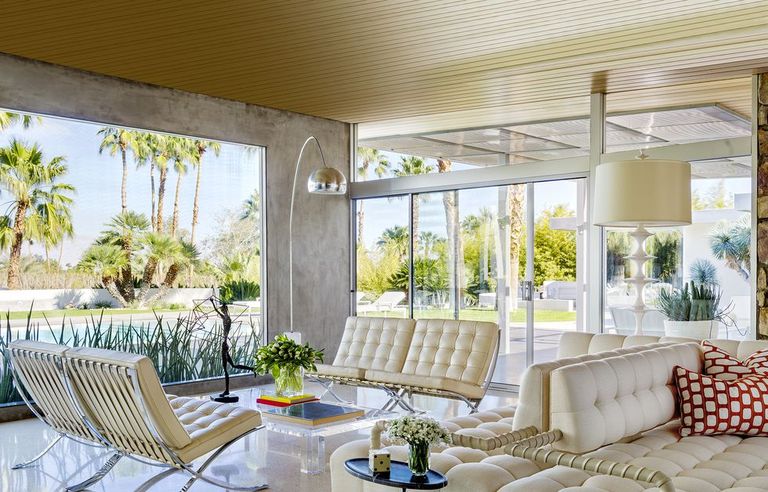 Modern design was about creating a flow between indoor and outdoor, so large windows are a must. And when using flowers to decorate, keep indoor floral arrangements loose and natural.
Quick modern interior design tips
Use a monochrome or neutral colour palette
Introduce limited colour via textures
Metals used should be chrome or stainless steel
Large floor to ceiling windows
Recessed or roller blinds
Relaxed floral decoration
Mid-century modern interior design
Mid-century modern has had a huge comeback in recent years and the resurgence in popularity is no doubt because of the sculptural lines of furniture from that era (the mid-'30s to mid-'60s), which fit so elegantly into the streamlined spaces of modern design and high rise apartments.
If you can afford it there's really no substitute for an original piece (look at it as an investment) but if that's not on the cards there are many options for replicas and pieces inspired by mid-century design.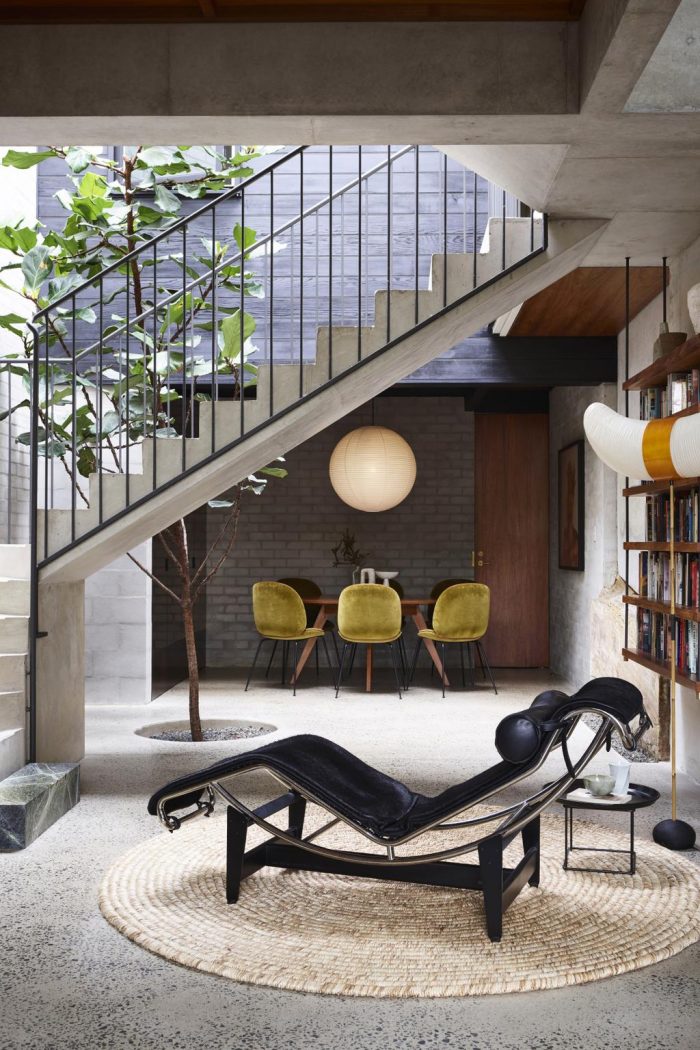 Drawing inspiration from Charles Eames, Mies Van der Rohe & Carlo Scarpa mid-century modern spaces can soften the clean-lined modern design and inject a bit of retro personality into a home or commercial space. It's a great option if you want a gender-neutral feel.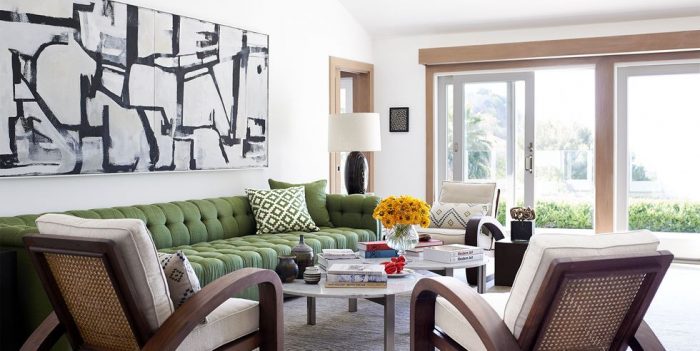 You can bring mid-century modern into most homes regardless of the architectural style although it's definitely most effective in a modern or contemporary modern space.
Keep the base clean and neutral and use furniture to layer leather, velvet and metals but try to stick to muted colours found in nature. Make sure you find a few statement light fixtures and lamps to tie the whole look together.
Quick mid-century interior design tips
Neutral base
Use a combination of textured materials such as leather, velvet and metal
Statement lights are a must along with lamps
Try to get original mid-century furniture or a great replica!
Postmodernist interior design
Postmodernism was born in the 1960s as a reaction against what was beginning to be perceived as the cold, hard and austere 'modernist' movement. Intentionally provoking, postmodernist designers attempted to create spaces that sparked conversation and debate but had an underlying humour, liveliness and warmth to them.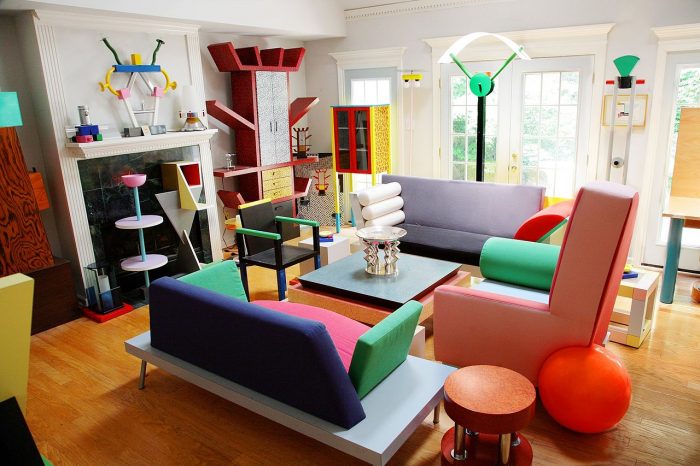 Still unsure how to identify a postmodernist piece of furniture or design? Look out for bright colours, construction from simplistic shapes (often compared to a child's building blocks) and an over the top design which doesn't contribute to its function!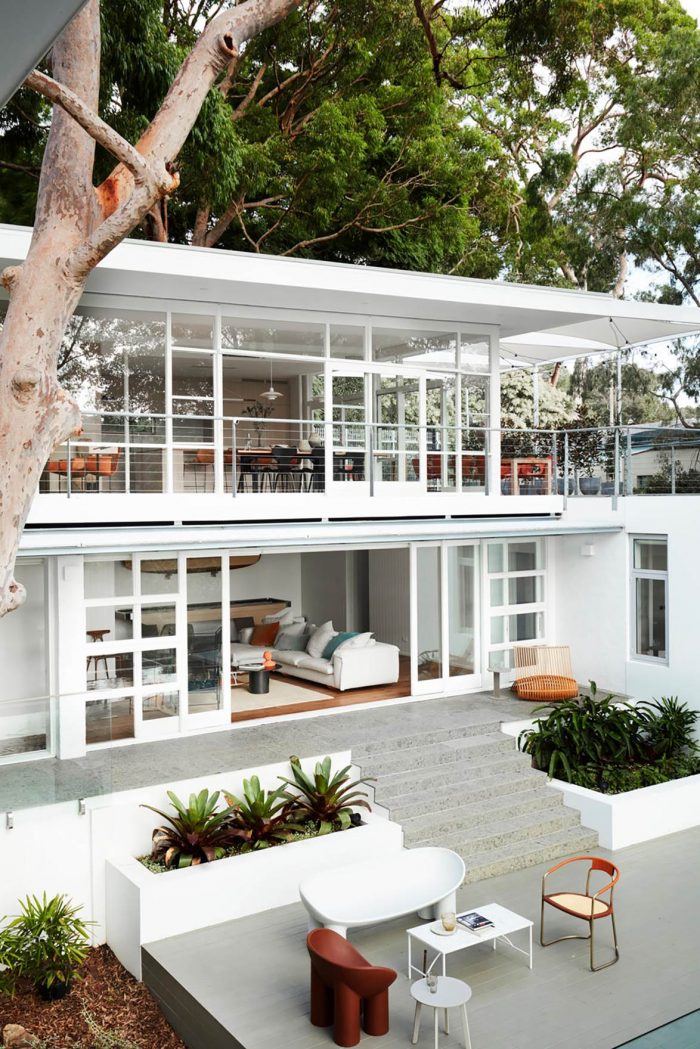 Whilst it is highly unlikely that anyone today will immerse their home in postmodernist design the occasional piece of furniture in a playful, bright colour can definitely add interest to a space.  And besides, you never know when something will be on trend again!
Quick postmodernist interior design tips
Loud, bright and colourful
Be playful and find the humour in decoration
Minimalist interior design
Minimalist interior design doesn't have to be a hard cold space with glossy marble and lots of hard edges. It simply means that you have a restrained palette, clean lines and lots of natural light. After all, some of the most successful minimalist designs use natural materials and textures to soften and warm the design.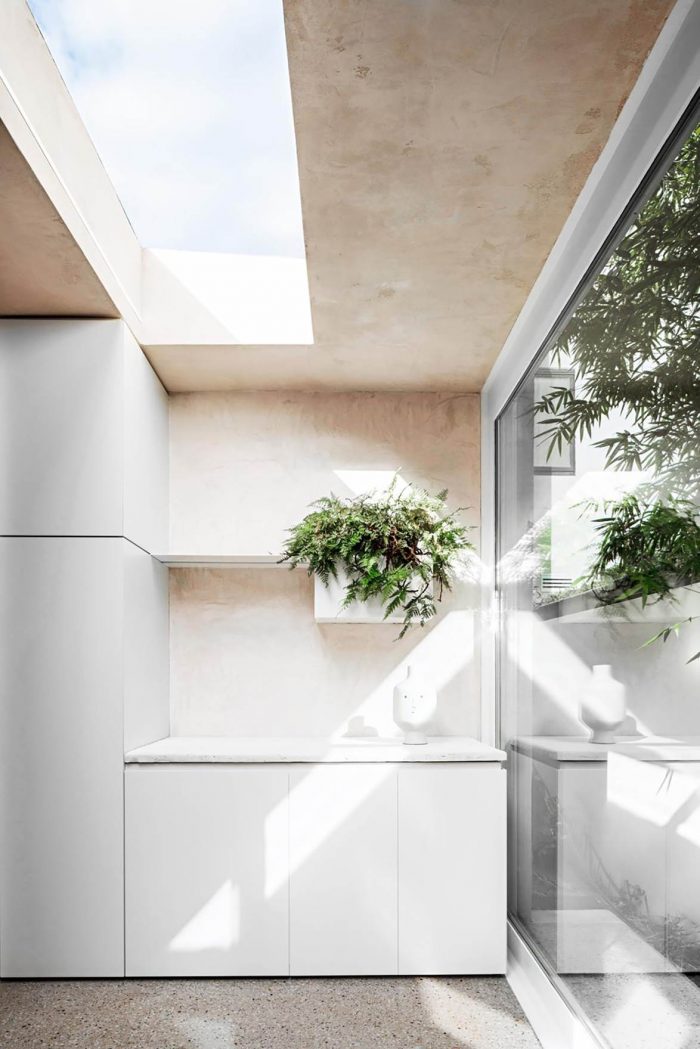 Refinement is the key difference between using natural materials and ending up with a minimalist design rather than a rustic design. For instance, rustic designs tend to keep the materials raw, whereas, if you would like a sleeker more minimalist outcome, think polished or honed stones and concretes, sanded and oiled woods and non-tarnishing metals.
Most importantly, when designing a minimalist space, do not overlook your lighting design. As your space will be sleek and sparse you'll need your lighting to elevate the space and not draw attention.
If you're building, hide cables and wires wherever possible. So if your pendant has a wire keep it taut, or opt for frameless downlights and hidden led lighting in joinery. Finally, everything should be on a dimmer so that there's not too much harsh lighting.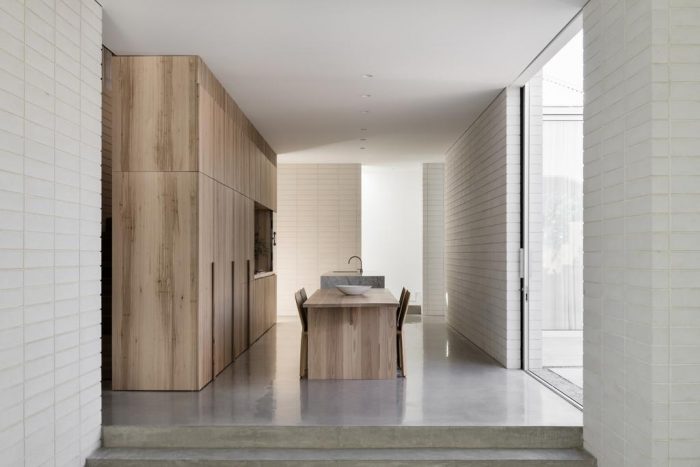 Quick minimalist interior design tips
Add as much natural light as you can
Use polished or honed materials to add warmth and texture
Hide items in smart storage solutions or hide cabling behind walls
Contemporary interior design
Contemporary interior design is hard to pin down because when it comes to furniture and soft furnishings (and even interior architecture), different cultures have different opinions on what is considered to be contemporary design. To add more to the confusion, contemporary interior design can be split off into many subgroups such as 'Contemporary Classic' or 'Contemporary Modern'. This is ambiguity is because technically contemporary interior design is anything that is currently in style or being designed and is therefore constantly evolving.
There are a few distinguishing characteristics of contemporary design that you can look out for though such as; a neutral palette, clean lines within the architecture, organic and softer silhouettes in the furniture and the use of both metals and natural fibres such as sisal or jute rugs.
Contemporary modern interior design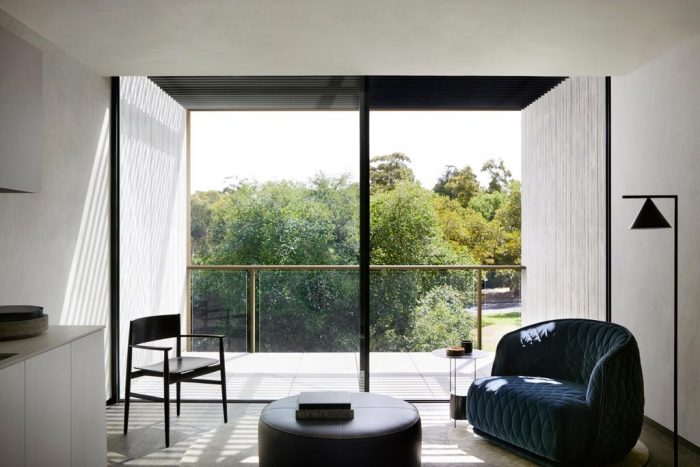 Here we have a paired back approach focusing on crisp lines, materiality and detailing. It's different to minimalist design because it does not necessarily mean a restrained palette of natural materials and textures throughout, rather contemporary modern design welcomes the use of dark or jewel tones, feature metals, bold artwork and sumptuous fabrics like velvet or leather BUT always in moderation!
When trying to introduce these elements consider the moment you are trying to create, each room should have a couple of vignettes (a small arrangement of objects) to create interest but be balanced by enough empty space for your eye to rest. Too many objects and you will no longer have a contemporary modern interior.
Quick contemporary modern interior design tips
Paired back and crisp lines
Use dark or jewel-coloured furniture and bold artwork
Decorate with a minimal amount of objects
Contemporary classic interior design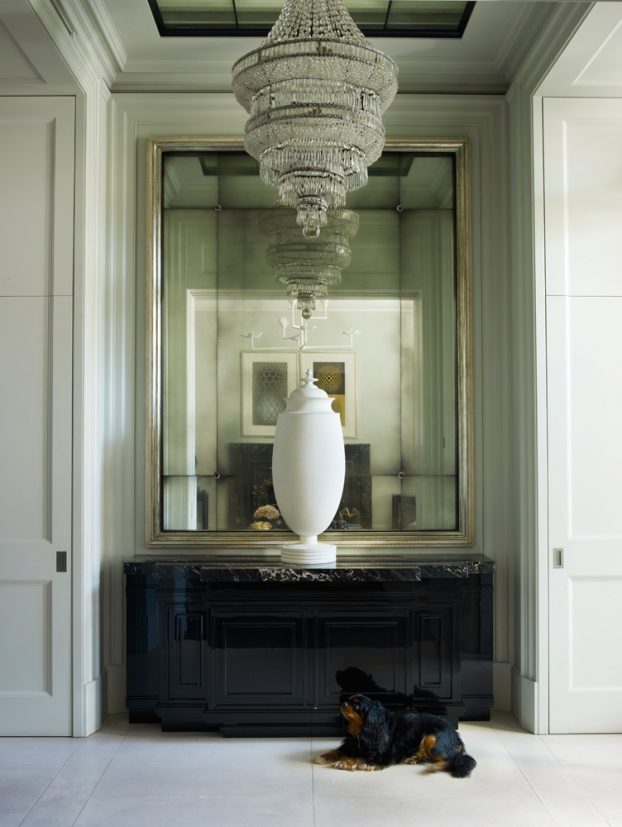 Contemporary classic follows the same logic as contemporary modern, it is today's take on classic interior design and architecture. Drawing on classical proportions, symmetry and architectural detailing (the skirting, cornices and architraves around doors and windows) but pairing it back to a slightly more clean-lined version. Again keeping the palette fairly neutral and using organic shapes and natural materials wherever possible.
The contemporary classic design is particularly well suited to period and heritage homes and tends to be a little softer and more feminine than contemporary modern, as it often has a more layered approach with fuller window dressings, more accessories and a more textured palette.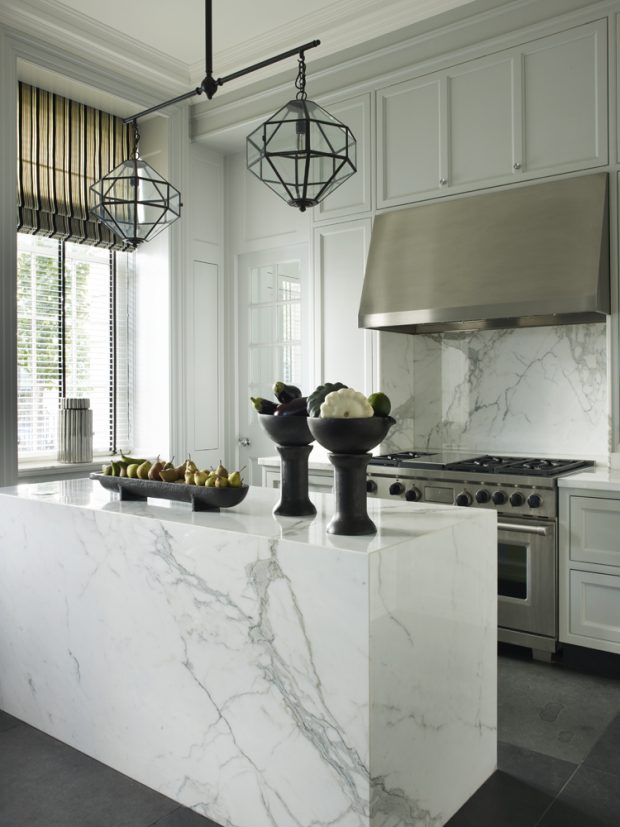 Contemporary classic kitchens look great with a feature marble and panelled cabinets but keep the detailing cleaner and less ornate than in a classic interior style. And use a statement light fixture in metals, glass or plaster to finish the space.
Window dressings should be fuller than in the contemporary modern design and look great in a pattern but avoid botanicals or toile de jouy opting for geometrics, stripes or abstract prints.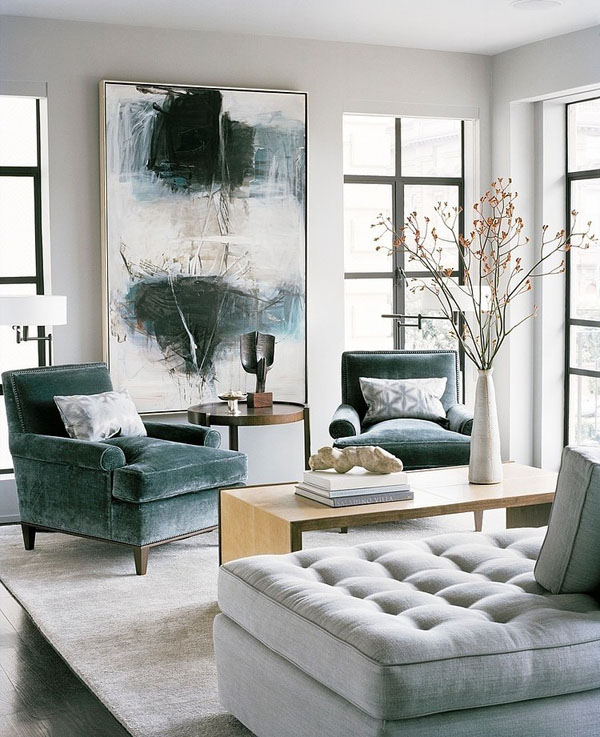 When selecting furniture consider the legs, make sure you have a balance of open legs and skirts or platforms in each room. This will create a lighter, fresher feeling and prevent everything from feeling too matchy-matchy.
Quick contemporary classic interior design tips
Think about a modern twist on the classic skirting, cornices and architraves around doors and windows
It has more layers and dressings than contemporary modern styling
Stay away from florals in furnishings
Use marble in kitchens as well as metal or glass pendant lights
Legs should be present on furniture to add air to a space
Art deco interior design
Art deco is an incredibly distinctive design, short for Arts Decoratifs it's characterised by rich colours, streamlined curves, stylised ornaments, bold geometry and detailed metalwork. It was the reigning style during the modern revolution and it was this opulence that designers were revolting against. The original spaces were often over the top and outlandishly decadent.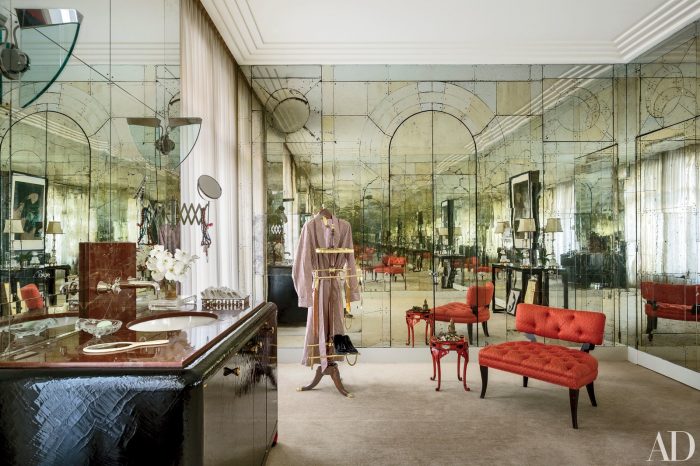 But it is possible to add a little art deco glamour to your home without turning into the set of Great Gatsby. Select a few of the art deco elements such as antiqued mirror, animal print, curved furniture, plush velvets or curved furniture and try not to go for anything too on the nose!
Quick art deco interior design tips
Bold geometry and rich colours
Detailed metalwork
Antiqued mirrors teamed with velvet furniture
Rustic interior design
Rustic design is characterised by its use of raw materials, not, as is often believed by its location in a rural setting. Although this is often where it can be found as design within a city or metropolitan area tends to favour a more polished finish.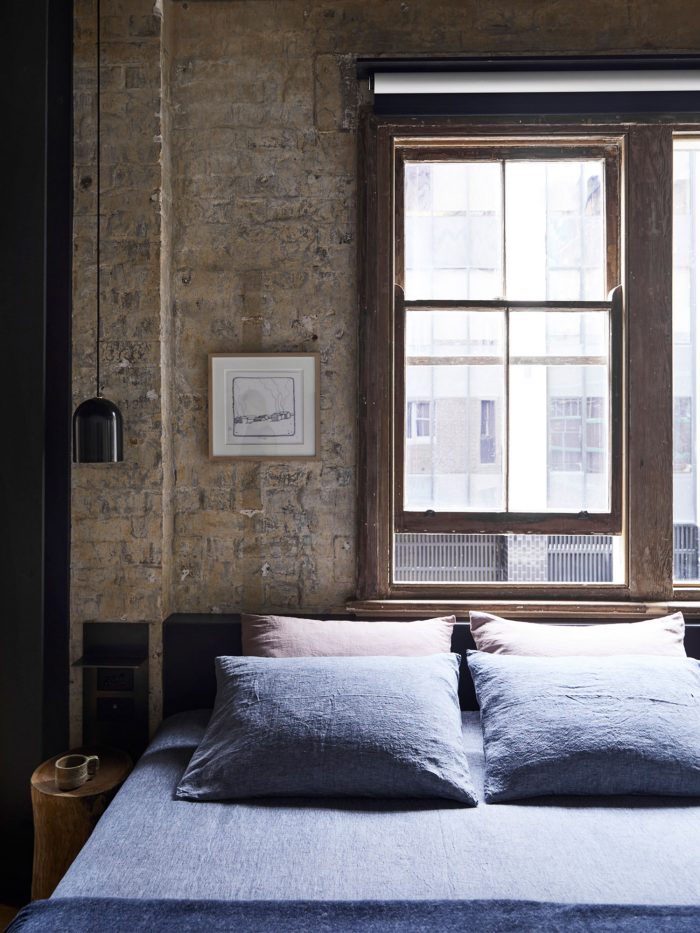 Think slubby linens, a lot of raw or oiled wood, exposed brick and colours found in the surrounding nature. A well-executed rustic design is not lacking in comfort nor is it full of taxidermy, it brings nature indoors and celebrates organic materials.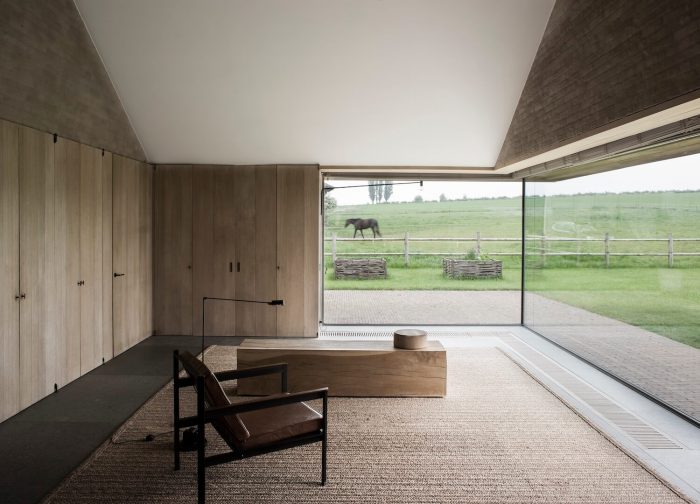 A rustic interior can veer both towards the modern and the classic depending on what you would prefer. If you are after a more modern rustic style simply apply the key points of distinction from modern or contemporary modern design: a restricted palette, neutral/monochromatic colour schemes, clean lines (apply this to your fixtures and furniture). For a classic or contemporary classic approach layer fabrics in wools, linens, leathers and cashmeres in solids, tartans and soft stripes.
Quick art deco interior design tips
Exposed brick with raw materials e.g. timbers and concrete
Natural colour schemes
Celebrate organic fabrics e.g. wool, leather and linen
The rustic style looks great as either untouched rawness or grand designs modern. But let's look at some more rustic living room ideas to see what else can be done.
Palm Beach regency interior design
Palm Beach regency became popular in the '50s & the '60s in, you guessed it, Palm Beach (USA). Think soaring ceilings, original plasterwork & architectural details heavily layered with colourful accents, furniture and art.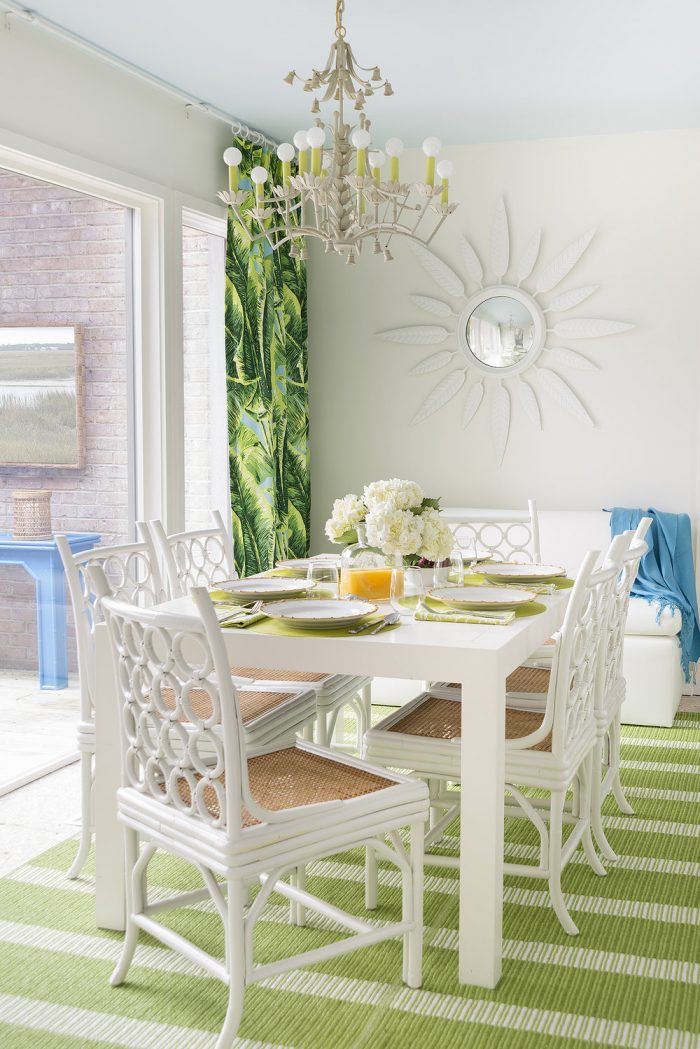 With a penchant for bamboo, rattan, lacquered paint & chinoiserie (a Western decorative style characterised by the use of Chinese motifs and techniques) especially a pagoda or two! Palm Beach regency is a very playful design style and could quite fairly be described as an acquired taste.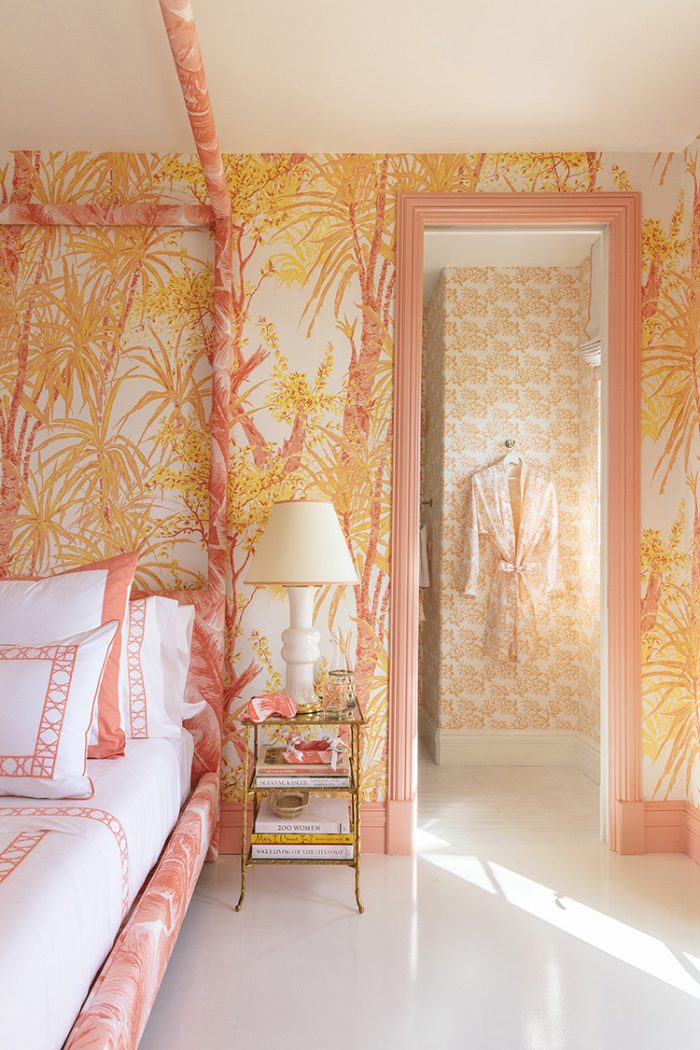 Palm Beach regency is a great style for anyone who likes wallpaper, layering pattern on pattern and is after a fun, vibrant space with a lot of wow factor.
Quick Palm Beach regency interior design tips
Go colourful with your patterned wallpaper and paint
Bamboo and rattan should be used as furniture materials
Island chic interior design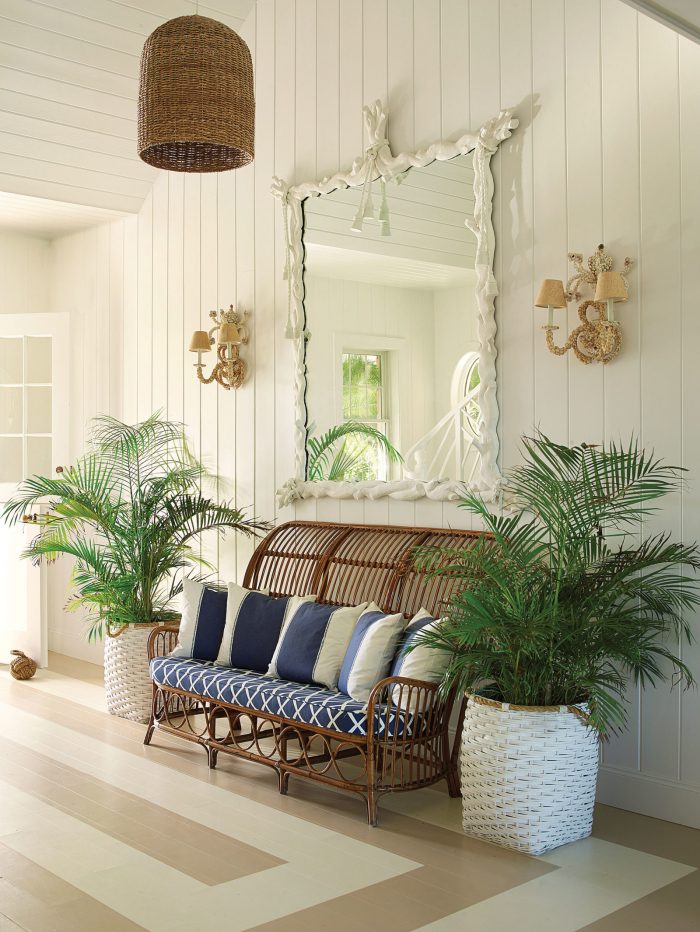 When island-chic is done correctly it is both the epitome of luxury and the least pretentious space you've ever been in. The interiors have canopied beds, straw matting, antique furniture and boldly coloured fabrics, particularly stripes, always on a white background (whilst natural backgrounds are beautiful, in many designs they can appear dirty when viewed in strong sunlight).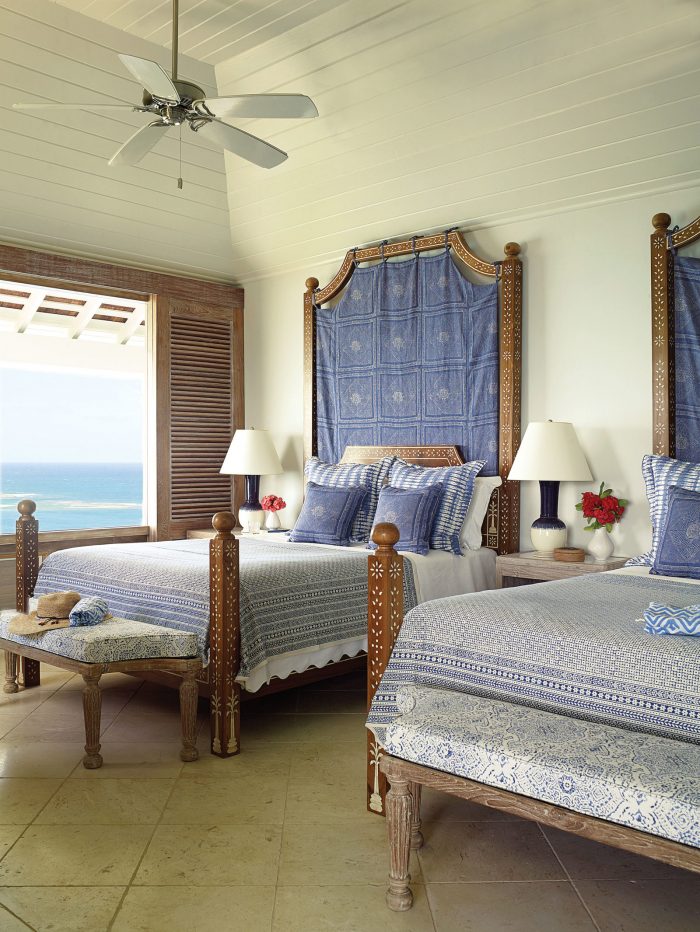 However as this style is often found in holiday destinations, the design needs to go deeper than aesthetic and be luxurious in the lifestyle it allows for.
Carefully considered details such as; a table or surface should always be within arm's length from every seat to place your glass, overhead lighting should be kept to a minimum to allow for ambience and flattering light, and a carafe of water on the nightstand are the finishing touches that make these spaces successful.
Quick island-chic interior design tips
Canopied beds scream luxury
Use stripes on a white background
Antiqued furniture
Hamptons interior design
The Hamptons interior design style, based on the homes of Hamptons in Long Island (USA) is essentially tasteful coastal casual. Timber panelling, hardwood floors, crisp linens and fresh colours should be the starting point for anyone hoping to achieve this look.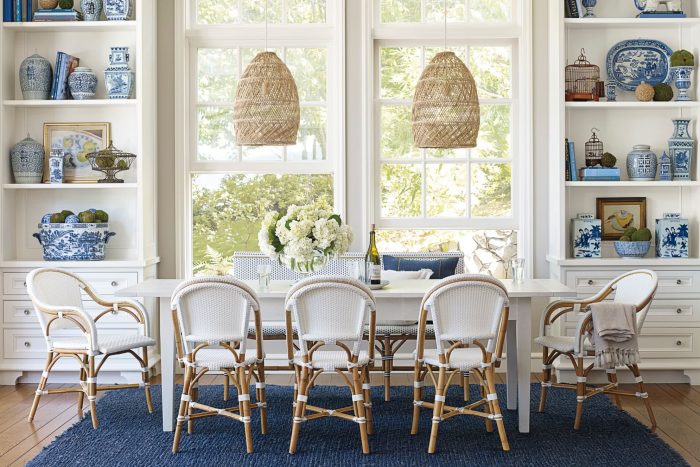 Whilst it definitely creates fresh and welcoming space the Hamptons is not modern or minimalist, it's a lived-in relaxed approach that uses classical detailing and a touch of shabby to create timeless homes. Striped fabrics sit on white slipcovered sofas, glass cloche lamps and lanterns hang from the ceiling and there's almost definitely a wicker chair or casket in every room.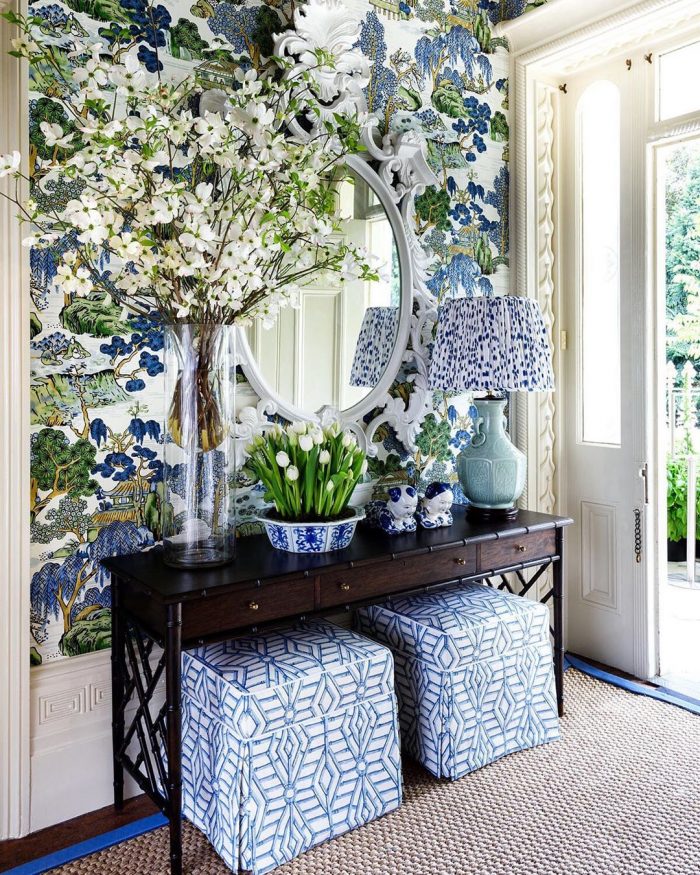 Hamptons interiors apply what is known as 'the third colour' to the majority of their designs. This means that you start with a monochromatic colour scheme for example blue, from this you will have a mixture of blues and whites in various shades. You then select your 'third colour' for example green and subtly work this into the design, not as a pop of colour but as a constant thread running throughout. Adding this third colour adds depth to a design and creates more visually interesting interiors.
Quick Hamptons interior design tips
 Timber panelling, hardwood floors, crisp linens
Wicker chairs and glass lanterns
Add a third colour E.g. Blue + White + Green
Want more Hamptons inspiration? Here are all of our favourite Hamptons style kitchen ideas.
Transitional interior design
Transitional interior design is exactly what it says on the tin, an aesthetic that allows you the freedom to mix both modern and traditional through architecture, furniture, fabrics and styling. There are no set rules and no way to do it incorrectly which inevitably means it's incredibly difficult to do, the 'I just threw this on' (and it took 3 hours to tuck my t-shirt just so) of interiors.
Luckily there are a few 'guidelines' that you can follow with pretty much any interior style and if you apply them to transitional design you are likely to come out with a beautifully balanced interior.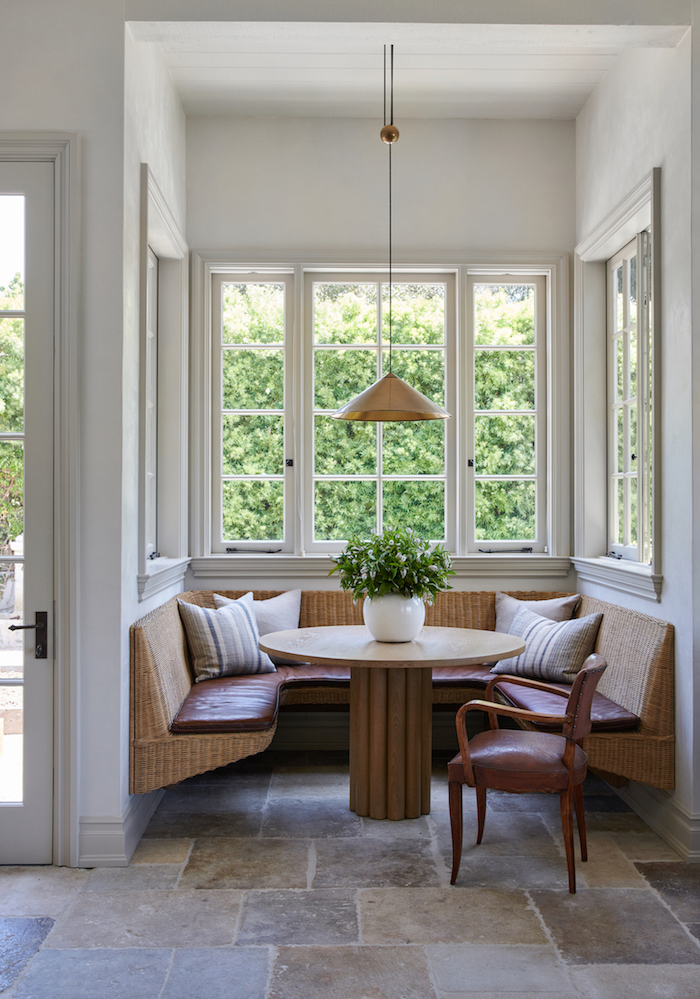 Create a colour palette – it doesn't have to be neutral but it does need to be carefully considered. Although, truthfully a muted palette of earthy tones or tone range of the same colour will normally work better as it will create a cohesive backdrop for everything to sit within.
Use texture and subtle variations of a pattern (within the same tonal range) to create interest and layering.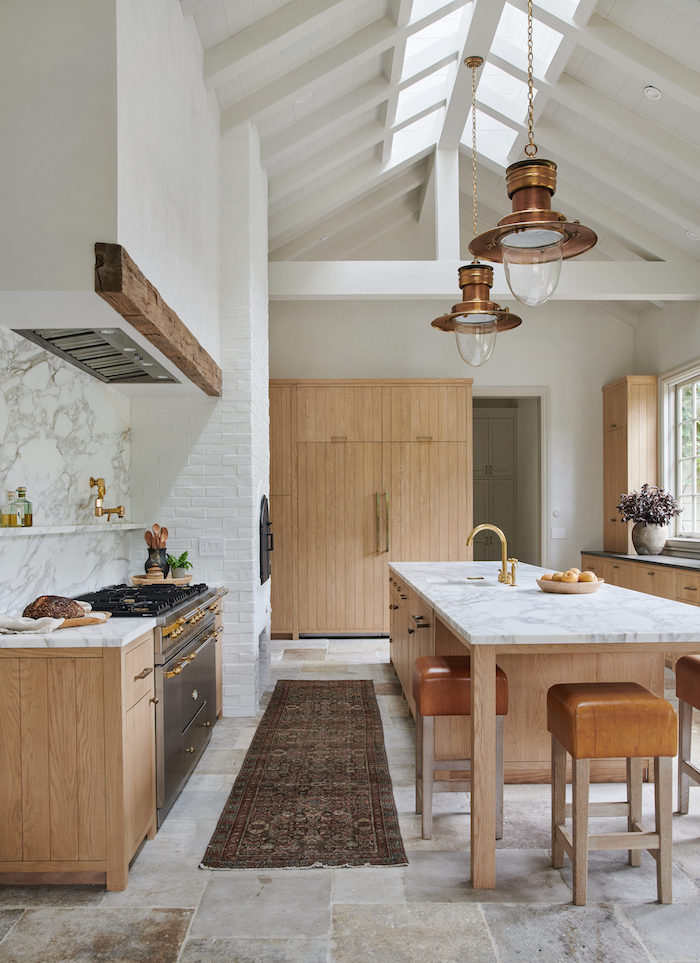 Make sure there is enough 'blank space' for your eye to rest, transitional rooms tend to be busier so make sure you balance this with enough empty space to avoid it just looking cluttered.
Finally, pair back your window treatments to a solid (or subtle pattern) fabric with a simple pinch pleat and rod.
Quick transitional interior design tips
Have a colour palette e.g earthy tones
Keep it balanced by having some blank space
Layer with similar patterns or textures
Scandinavian interior design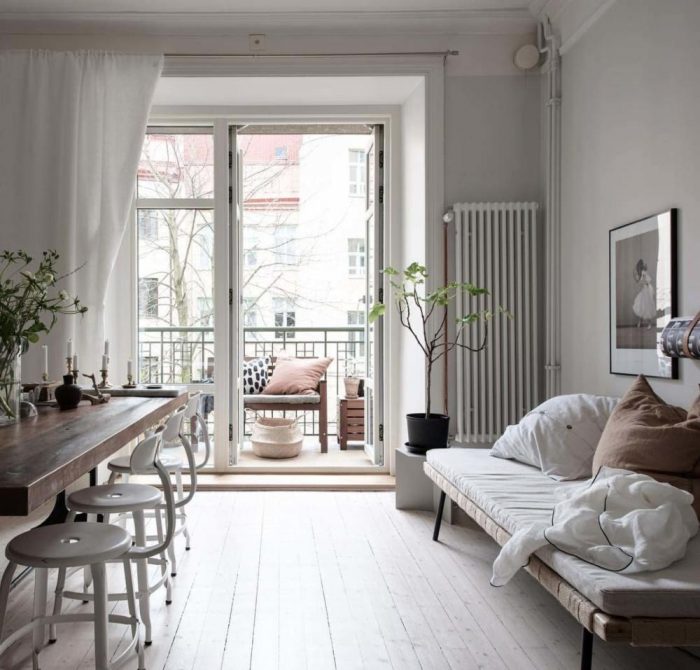 Simplicity and minimalism are the cornerstones of Scandinavian design, using clever storage solutions to keep spaces functional and uncluttered and often a very white palette for a clean and fresh aesthetic. Many designs will have a sparse furnishings and focus on quality over quantity, opting for a single Hans Wegner settee on a hide rug.
To achieve a Scandinavian design ensure your space is filled with as much natural light as possible by using simple window dressings and a light colour palette of whites, greys, ash woods and washed out colours.
Quick Scandinavian interior design tips
Simplicity and minimalism at its best
A white palette with ash wood for warmth
Allow for lots of natural light
Bohemian interior design
A vibrant jumble of pattern, multi-cultural pieces and rich colours, Bohemian interior design is very personal and often organically occurs as one collects items throughout their life. Whether you have a lifetime of pieces picked up on your travels or are starting from scratch this is another case of needing to curate your items to look effortless.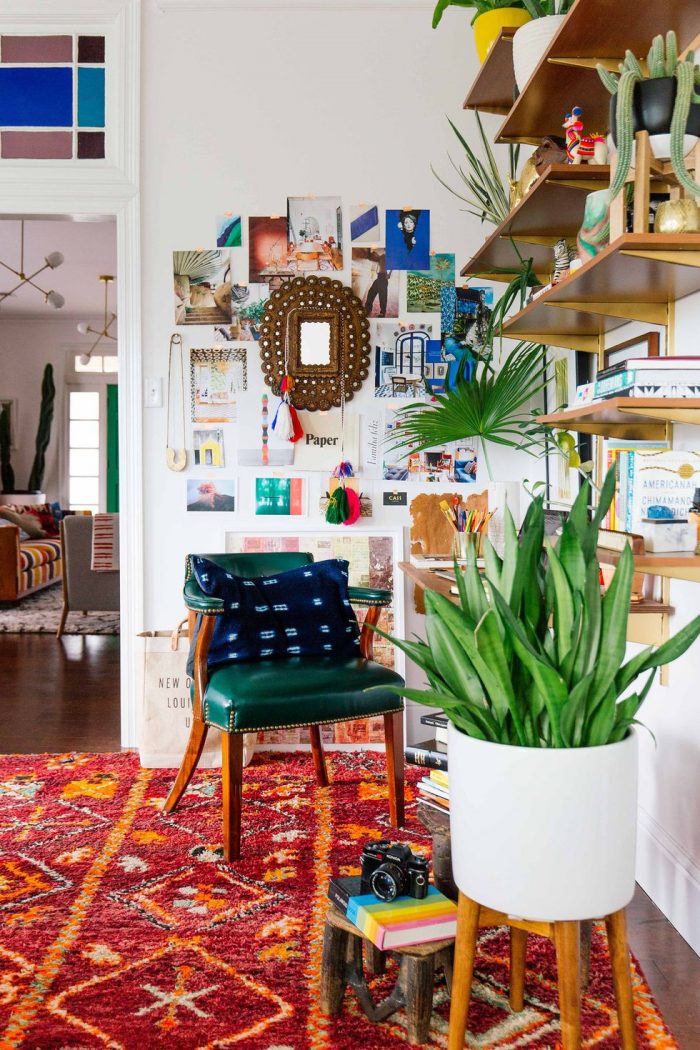 Start with a simple base of warm earthy tones, add as many plants as you can get your hands on then start layering your patterns. Try to keep a common thread throughout all colourful pieces to prevent the room from becoming disjointed and keep furniture low with floor cushions and ottomans scattered throughout.
Quick Bohemian interior design tips
Put your lifetime collectables on display
Use warm earthy tones and add as many plants as you can
Low furniture e.g. ottomans and floor furniture
If you love a splash of colour and the warmth from textures, then you'll love these 45 Bohemian living room ideas.
French interior design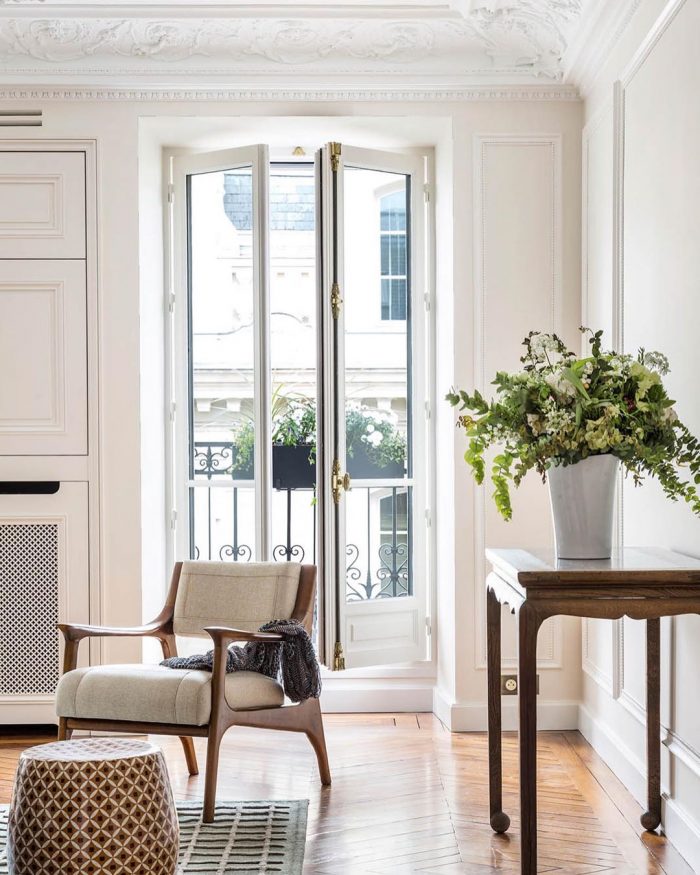 Every article you read about how to decorate a 'French' or 'Parisian' style will start with how important it is to respect the history of a building, this is of course because the majority of buildings in Paris are a lot older than elsewhere.
They come with ornate detailing, sash windows and parquetry flooring, so if you are lucky to find yourself in a space like that then you too should respect the history and decorate in a way that sits gently side by side with the architecture. More than likely though you do not have 14-foot ceilings and 24 karat gilding on your plasterwork, in which case here are a few other ways you can steal some of that effortlessly chic Parisian style.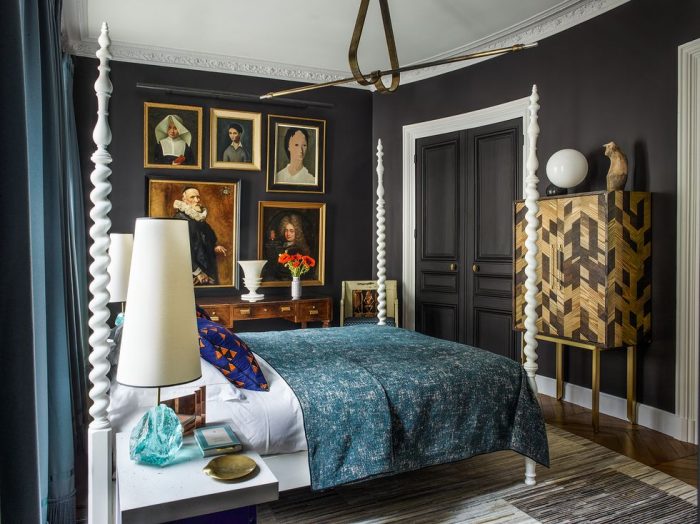 Be playful in your selections particularly when it comes to art and objets de curiosite, don't overthink it. If you like it then it will work. Shop for antiques wherever possible and don't be too precious with the things you have, everything in a true Parisian apartment will have a patina and story behind it. And lastly, add a touch of glamour to your home with a small amount of gold or crystal on a select few key pieces.
Quick French interior design tips
Always respect the historical architecture
Buy antiques and everything should have a story
Add some gold highlights
Traditional interior design
Traditional interior design dates back to the 18th and 19th Century and whilst much of the details are not suited to modern living and contemporary homes, there are elements that should be admired and lessons to be learnt from traditional design.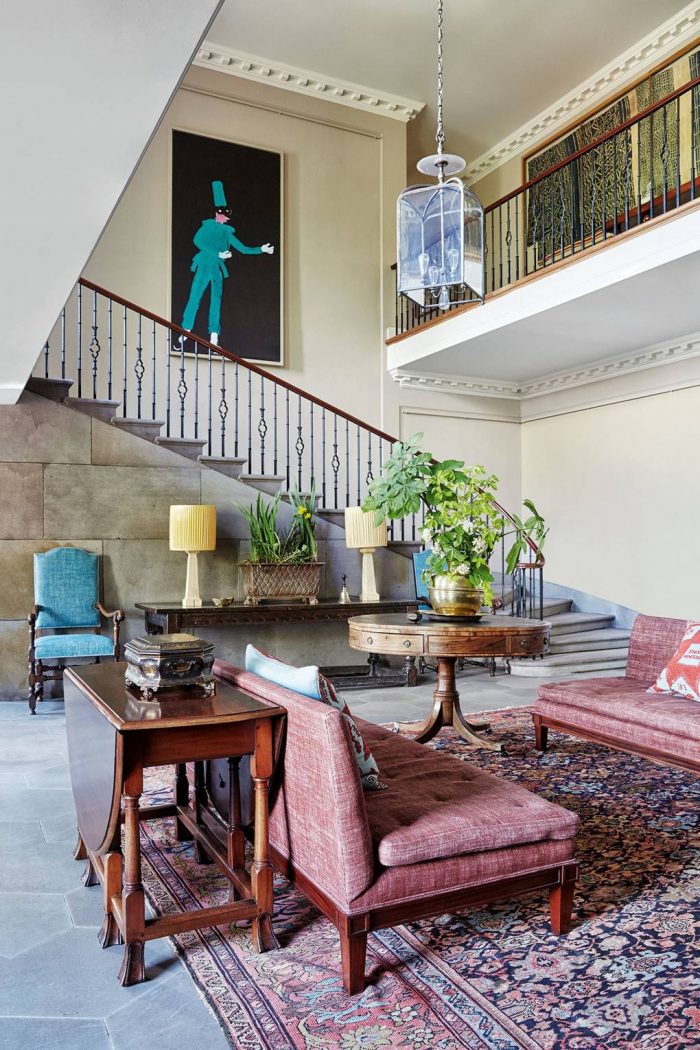 Traditional design uses symmetry, matching furnishings and fabrics to create a calm consistency throughout. A neutral wall is a backdrop for rich colours, ornate brocades and tapestries, heavy canopies and dark wood furniture.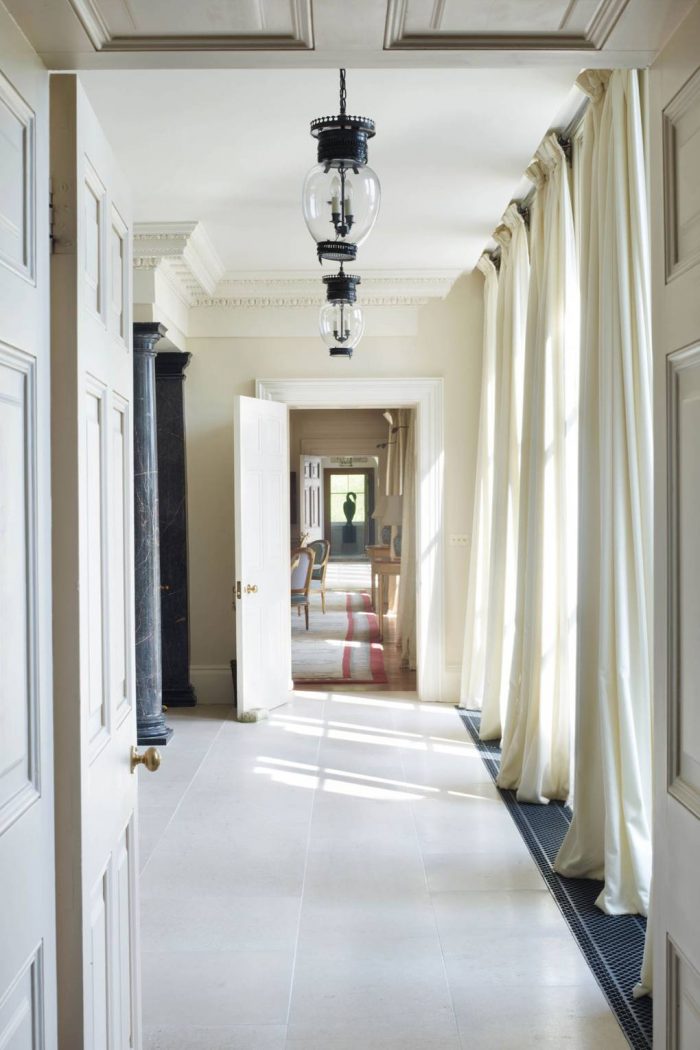 Window dressings are adorned with swags, tails, tassels and brush fringe. Upholstered furniture and cushions are often in velvets, leather or silks and embellished with passementerie and patterns.
Quick Traditional interior design tips
Symmetry and matching furnishings throughout
Window dressings with tassels and other decoration
Upholstered furniture with or without patterns
English country/farmhouse interior design
A proper English country house or farmhouse will always have scratchy wool blankets, quilted coverlets on every bed, a stair that creaks and rickety floorboards throughout, in other words, charm. Significantly less refined than the traditional stately homes a farmhouse is intended to be cosy, inviting and lived in.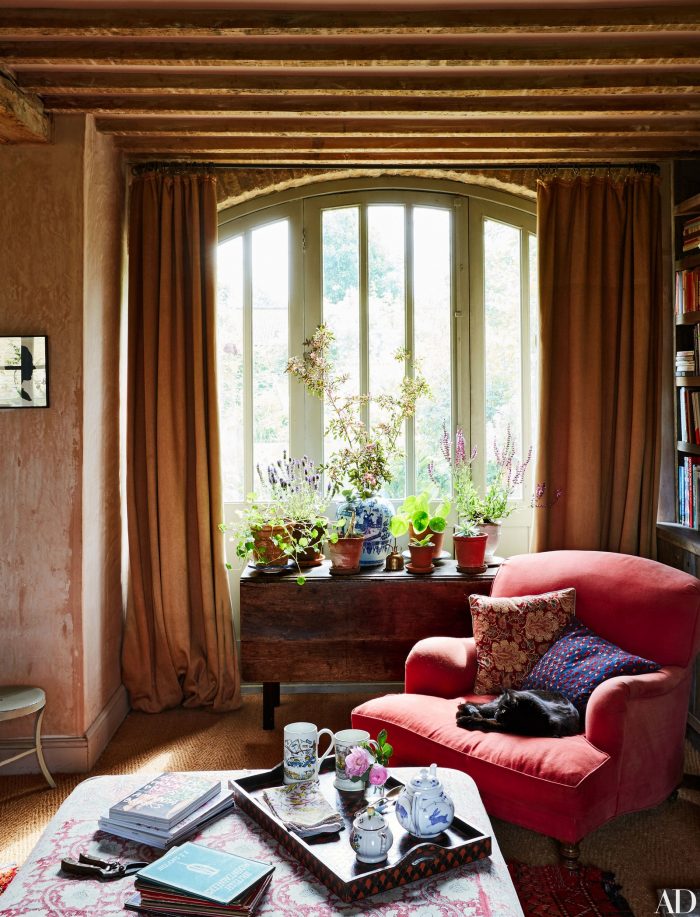 You will still find rooms heavy with pattern and colour but here it will be plaid, tartan and chintz. There will still be heavy dark wooden antiques, but these ones will have scuffed surfaces, missing handles and a leg every so slightly chewed by the dog.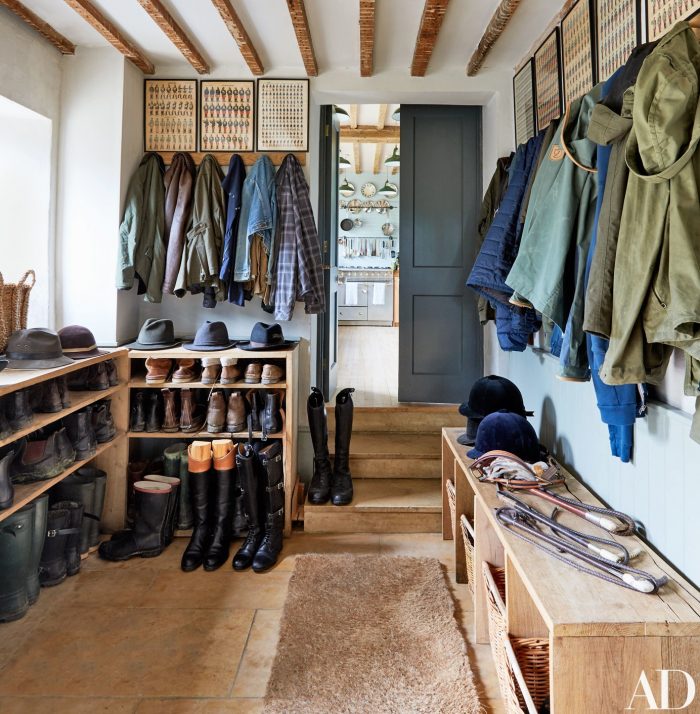 Kitchens are warmed by the Aga and often painted warm earthy tones, sofas and chairs have deep buttoning and a gentle sag from years of use. The mudroom, teaming with wellies, should always have a bench to perch on where you wrestle off your boots before heading up to the clawfoot tub in a drafty bathroom.
If you're looking for more mudroom inspiration, here are another 32 mudroom ideas.
Quick English/farmhouse interior design tips
Slightly less refined with old materials
Dark wood furniture
Patterns throughout the home e.g. tartan or plaid
And that's it all these amazing interior design styles in the one spot. So tell me, what's your favourite? Is it the clean-lined modern designs or perhaps the magical French or English style?
If you're looking for some more help with your next home renovation, why not find an interior designer near you to point you in the right direction.