Light, bright, white hallways may be all the rage right now. But if you want to go for something different, why not take your hallway to the dark side with deep shades of black, grey, green and navy? Colours like these will instantly add depth and character to your home, especially paired with eclectic patterns. Ready to give it a try? Here are a few ways you can add a touch of dark to your hallway.
Decor Pieces
Dark decor pieces are a great way to add some dark elements without it costing a fortune. You can add dark coloured photo frames, a candle or two and even a dark vase.
Furniture
Dark furnishings like console tables or bench seats work so well in a hallway space.
Paint
If you really want to go all out, paint your walls dark! A feature wall or a half and half wall looks awesome when done with dark paint!
Still not convinced? Check out these 35+ dark hallway ideas to take you to the dark side!
1. Dark navy hallway
How gorgeous is this dark navy hallway entrance! I absolutely love that the colours and finishes on the outside of the door have not only been carried through to the door but also to the lounge room on the other side. Greenery through the indoor plants helps to bring life and brightness to the dark space.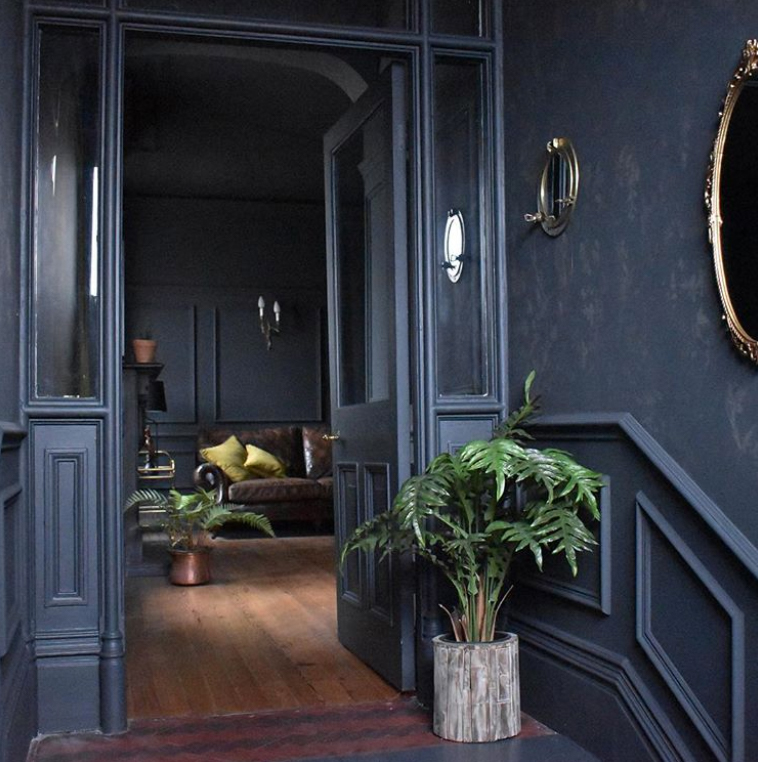 2. Black feature wall
If you don't want to commit to a full dark hallway space, then why not just add a feature wall?! I love the matte black that has been chosen for this space which has also been carried through to the door. Plus the addition of the black doormat and light pendant really help to make the space feel cohesive and thought out.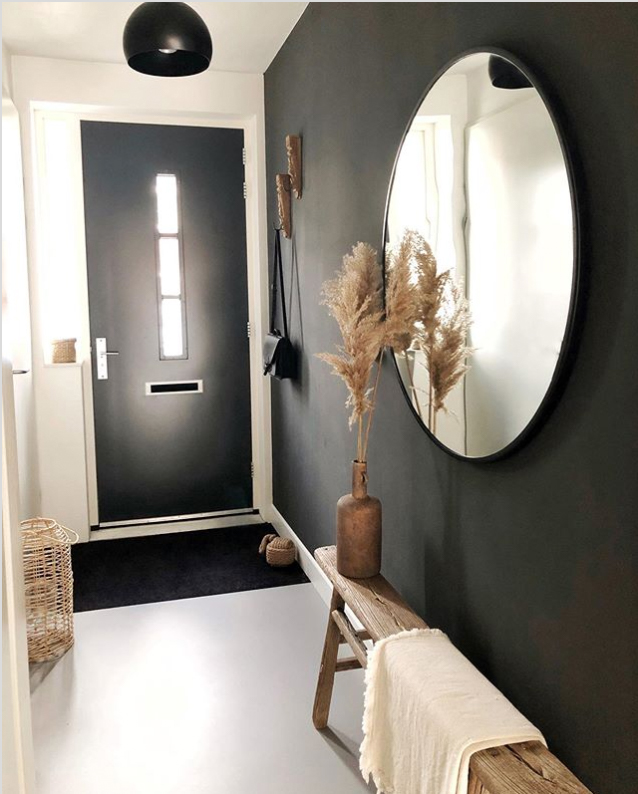 3. Deep green
Deep green is such a stunning colour that possesses so much class and opulence. I love the green in this space which goes beautifully with the white. Also how great do the framed prints look on the wall with their white frames and the striking dark green as a backdrop behind?!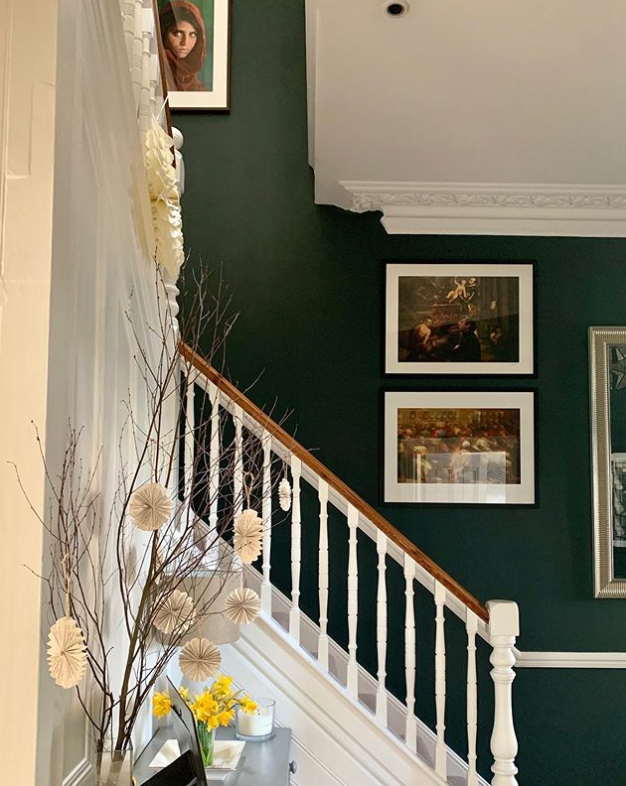 4. Abstract art
This is for you if you want to make the most of the dark hallway trend, yet still love a pop of colour. Adding an abstract art piece that has lots of colour will definitely do the trick! If you're crafty, then you could totally buy a big canvas, get your favourite colours out and paint away.
Every time you walk past your masterpiece you will feel so proud of yourself and I'm sure all your family and friends will be lining up the block to get you to create something for their hallway spaces too!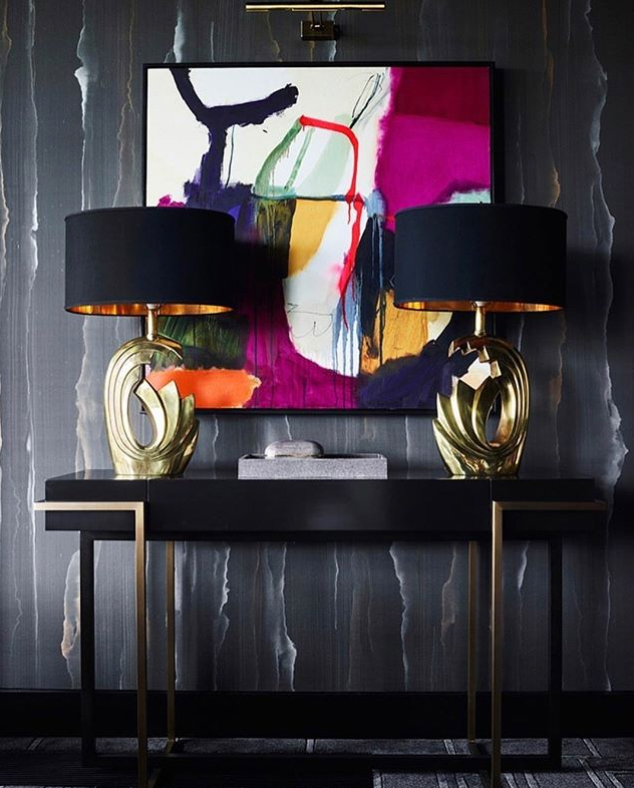 5. Quirky gallery wall
How cool and quirky is this space! I love the quirky gallery wall that features lots of cool graphic prints and quotes. Even though all the prints are quirky and different, the colours and styles still work so well together! And I absolutely love the dark blue colour of the paint which goes so well with the white staircase rails and grey carpet.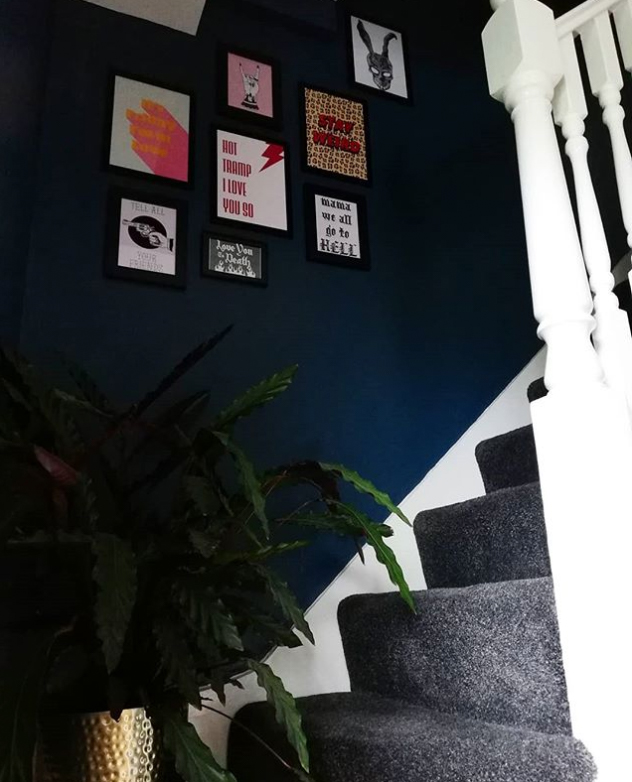 6. Luxe lighting
This dark hallway has been lit up with gorgeous luxurious hallway lighting. The light pendants really make a statement with the awesome pattern they are illuminating onto the ceiling and onto the walls which have a texture to them.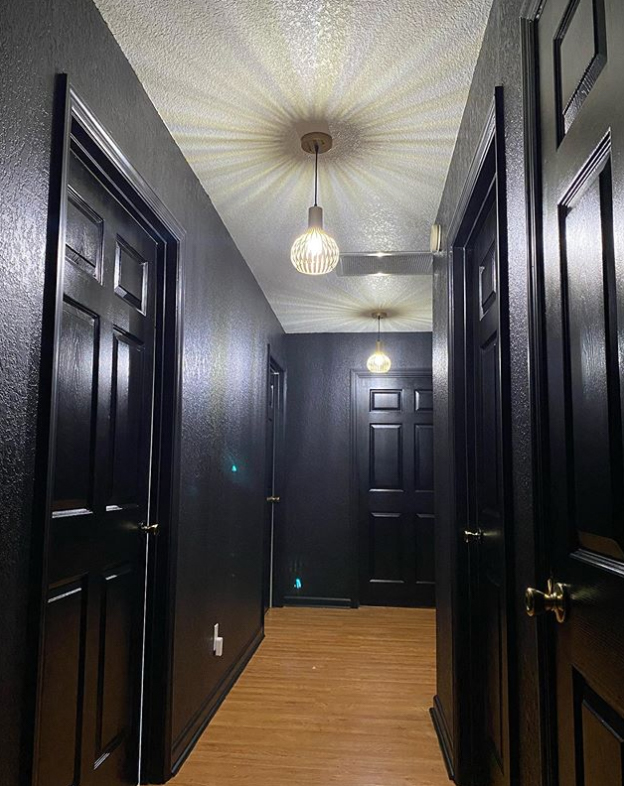 7. Hanging space
How good is the hanging space in this dark hallway! The owners of this hallway have really utilised the space by adding as many hooks as they see fit. I love the traditional style coat hooks near the door that work so well for coats and bags. And the round contemporary hooks towards the back of the hallway work so well to hang plants.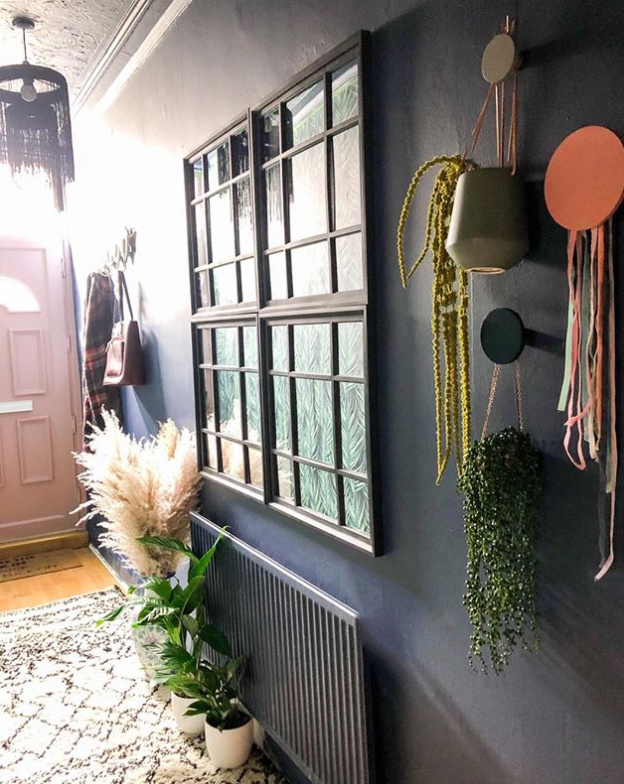 8. Book shelf
If you're looking for a place to put your bookshelf, then a hallway is a great place! It really is so convenient to have all your books together in one place, and seeing as a hallway is a place you walk through often, then why not put them in there. Plus how cool do all the colourful covers look against the dark walls of this hallway!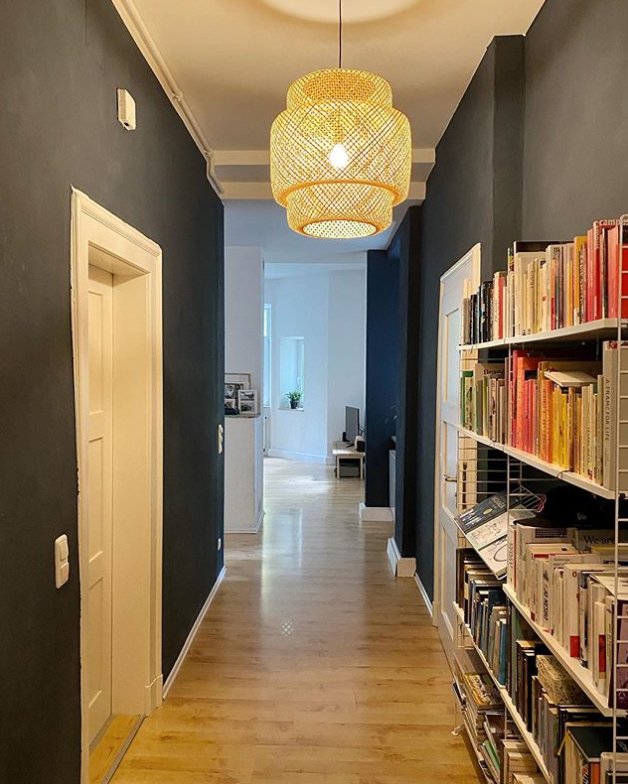 9. Autumnal Cosiness
This hallway area is really giving me lots of autumnal and cosy vibes! The tiling in this space is so quirky and retro and goes so well with the dark navy walls. Plus how cool is this angle into the kitchen with that awesome orange Smeg fridge – What a statement!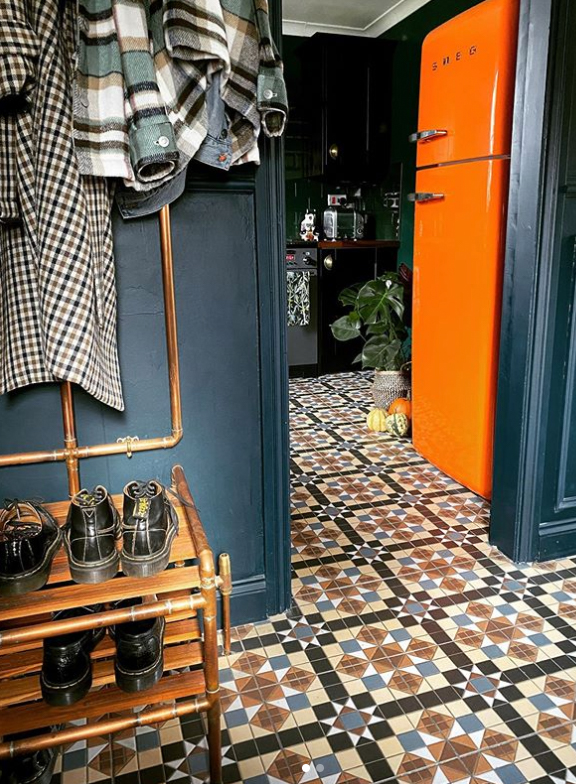 See more mudroom ideas that will look amazing in your home.
10. Stained glass windows
Ah I love how modern this home is however it has still kept the original stained glass windows. The dark green and black paint used on the walls in the hallway really give this dark hallway a lot of depth whilst the stained glass window helps to bring in some brightness and colour into the space.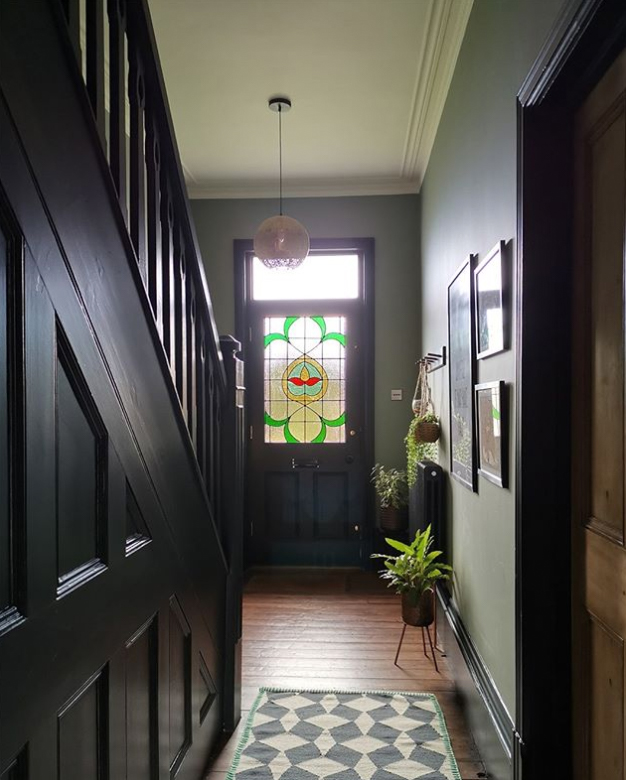 11. Botanicals and Rattan
There are two main things that are really making a statement in the wonderful world of interior design and styling at the moment, and that's botanicals and rattan. And this dark hallway has both! I love the rattan chair that is perfectly paired with the rattan planter as well as the cactus and fiddle leaf fig plant that brings so much life into this dark space.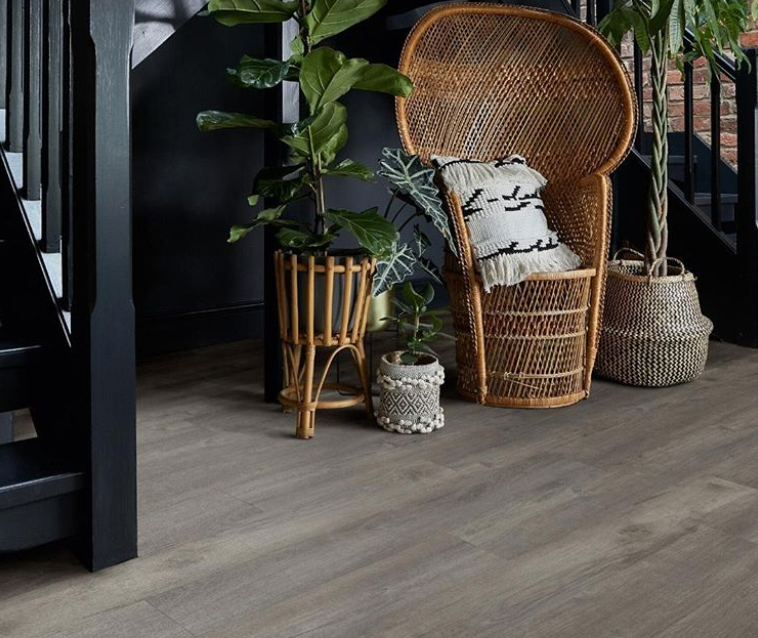 12. Dark staircase
This retro space is so quirky and cool! I absolutely love the mixture of femininity and masculinity as well as heritage. The flooring and stained class windows are very retro and heritage. And the pink wall and piano with dried flowers on top really create a very feminine look whereas the dark staircase really gives a very masculine look – what a cool combination.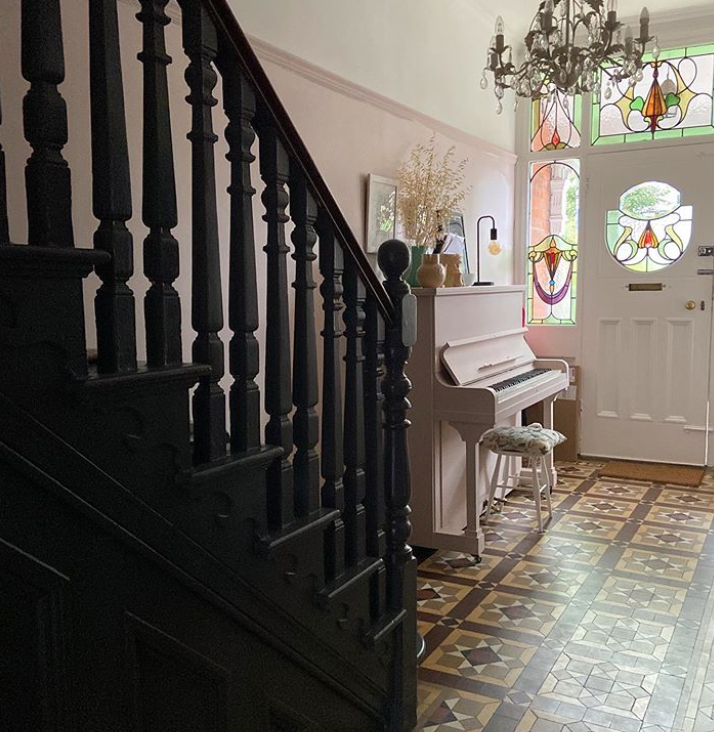 13. Mirror wall
Similar to number 5, here is another gallery wall, but this time vintage mirrors have been use. I love the idea of thrifting different vintage mirrors to create a cool gallery wall! And the trendy light pendant and rug really help to make this space look modern, despite the vintage touches.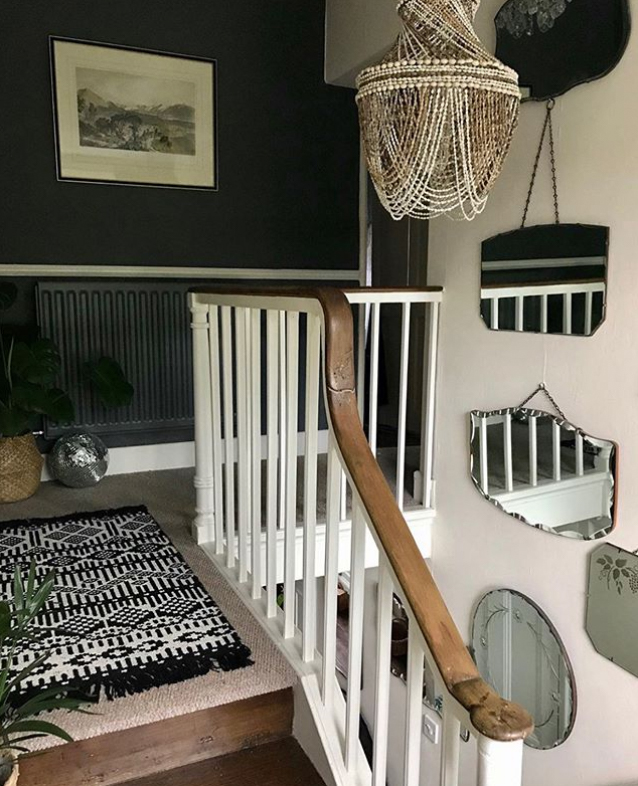 14. Feature paint
This is for you if you want to keep a predominantly white wall but still want to add some depth. Who would've thought that just painting half the wall could look this good? I love how the floating shelf with the coat hooks is also in black so that colour scheme has been purposefully continued from one section to the next. How genius and oh so chic!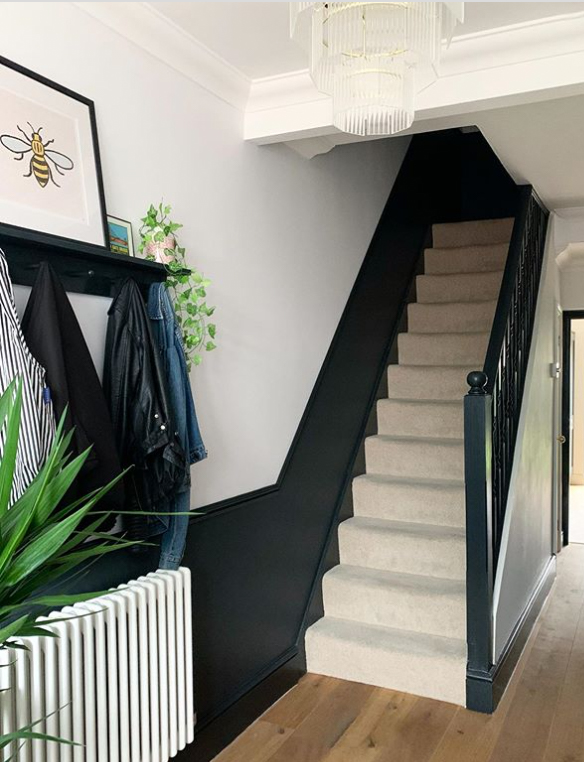 15. Retro tiling
If you're moving into a place that still has its original retro tiling, then you should totally take a second to think before you pull them all up because they can look really awesome if styled correctly. I love the modern bench seat in this space that has a black and white pillow and throw on top. What a stunning space.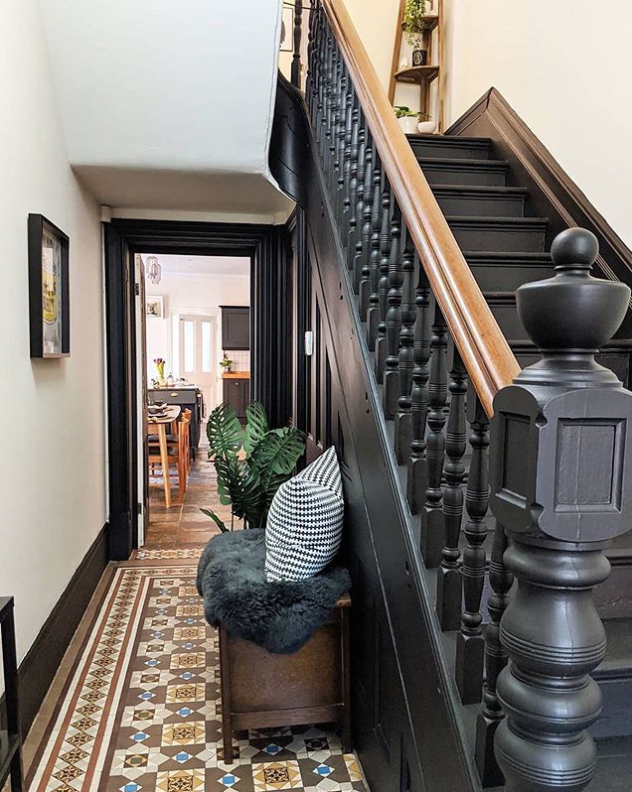 16. Navy and white
Navy and white really is such a nautical and beautiful combination. If you love black and white but want your space to look a little softer, then using a dark navy instead of black will definitely soften the space! And I absolutely love the addition of the print pink flowers into this space that bring so much colour and femininity.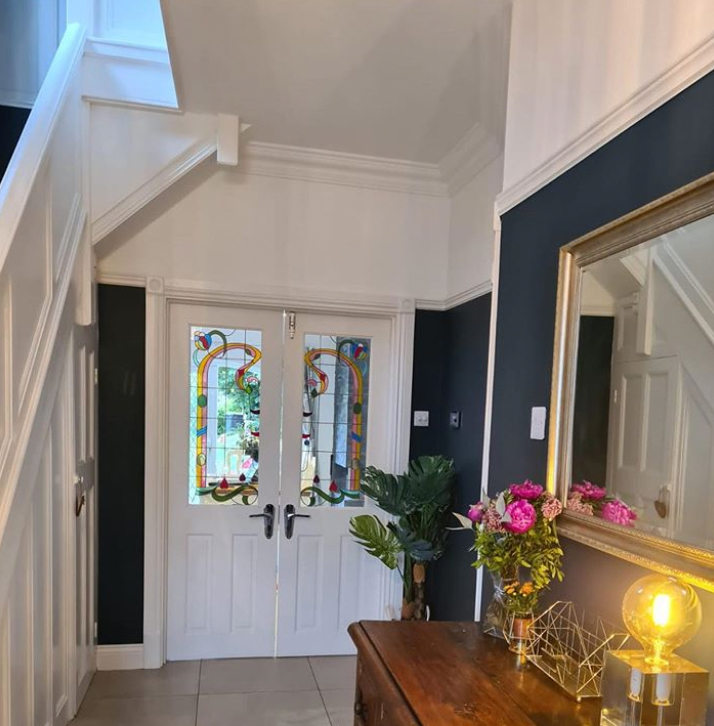 17. Feature doors
This ones for you if you still want your hallway to be bright but also want to go to the dark side. Painting feature doors really look great and I love that the staircase in this space has been finished off with the same paint. Plus how awesome is that retro tiling that gives so much character to the space.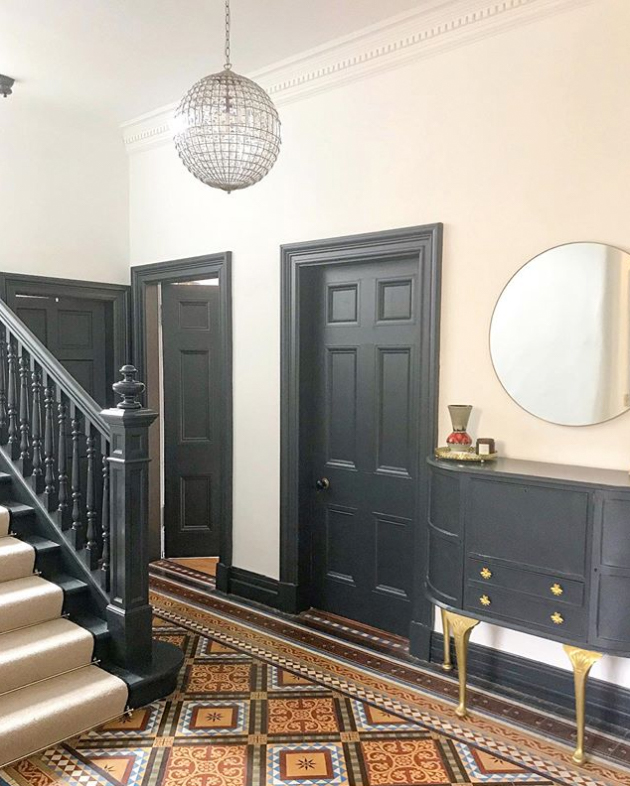 18. Narrow hallway
If you have a narrow hallway to work with, don't be afraid of using some dark colours in your space to create some depth I love the dark portion of these walls that have been painted on the bottom third of the walls and the colour has also been carried through to the door.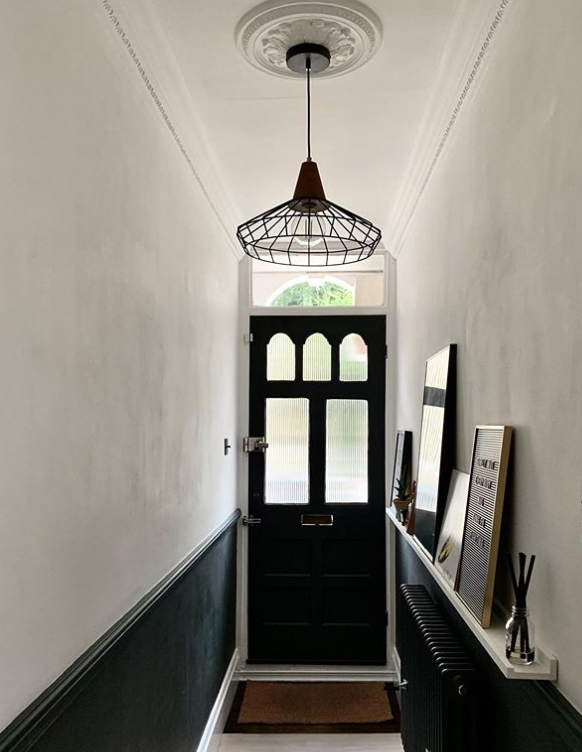 19. Eclectic mismatch
How cool is the eclectic mismatch happening in this hallway space. I love the half black and half white walls that match well with the black and white tiling. And the gallery wall with all of the bright and bold colours matches so well with the orange pop of colour from the wall of the next room. What a cool space!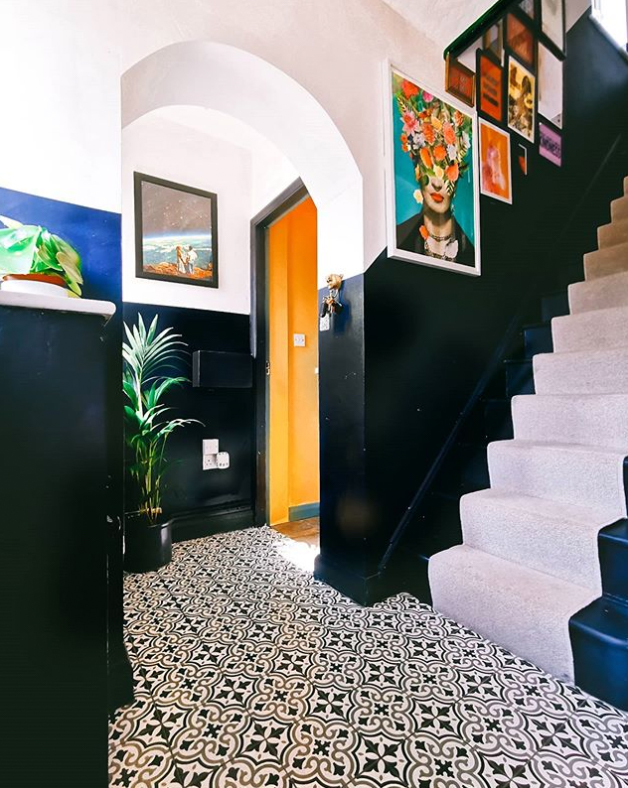 20. Timber, navy and grey
This colour combination of timber, navy and grey is so chic and sophisticated! The navy feature wall and stairway looks great against the timber finishes. And the grey carpet, as well as the grey wall in the sink area, works so well in this space!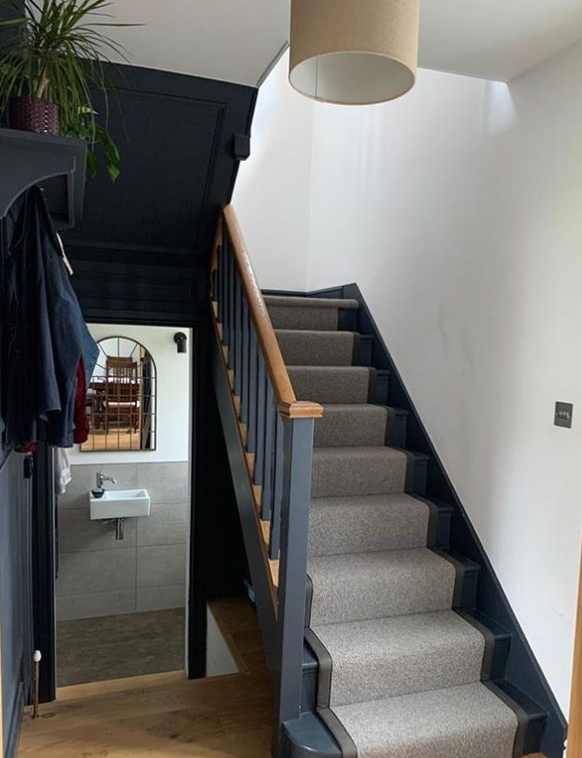 21. Retro flair
This hallway has so much retro flair! What an awesome entranceway. I love the navy half wall as well as the navy door with the red-stained glass features. Plus the gallery wall with all the retro prints looks awesome and really complements the other retro features of this hallway!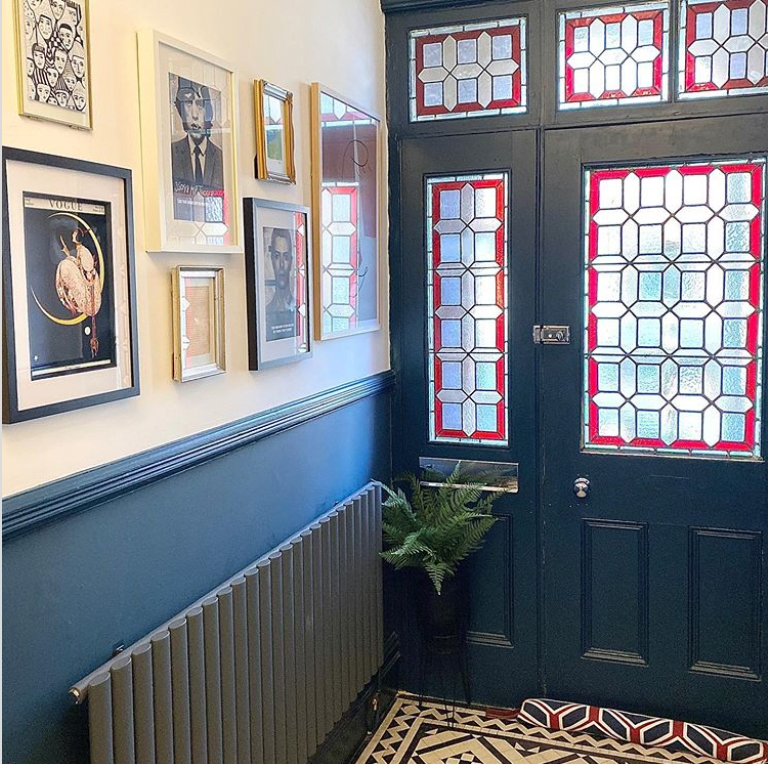 22. Floral dark hallway
Now this hallway is dark in the best ways and oh so dreamy. I love the use of the wallpaper that has a beautiful vine-like pattern with lots of stunning white flowers dotted all over the wall. Plus how grand and beautiful is that black staircase with the long wrap around steps!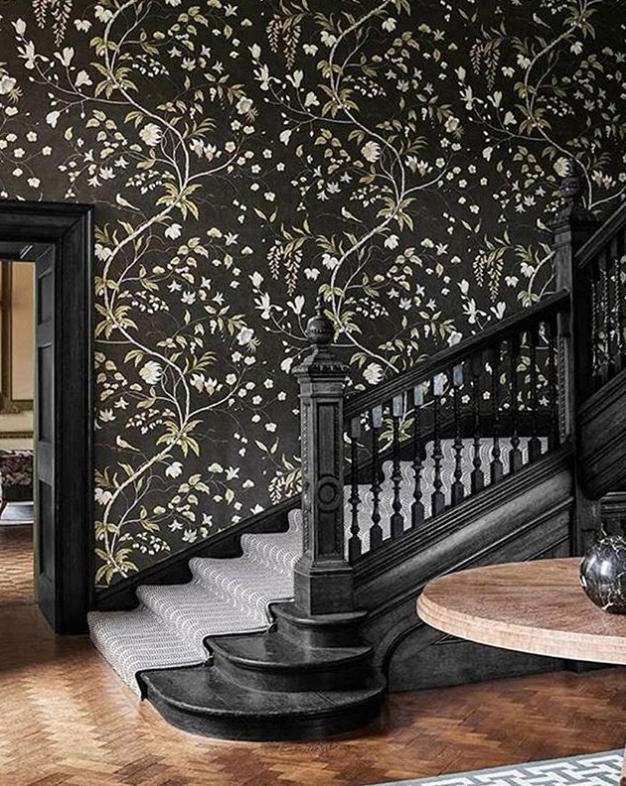 23. Monochromatic detailing
If you've ever considered monochrome as a colour palette for your hallway, here is your sign to just do it! I love how the black paint has been used in this space on the staircase and to frame the doors which also works perfectly with the frames used on the print on the wall. Plus you can never go wrong with an indoor plant to add that pop of colour!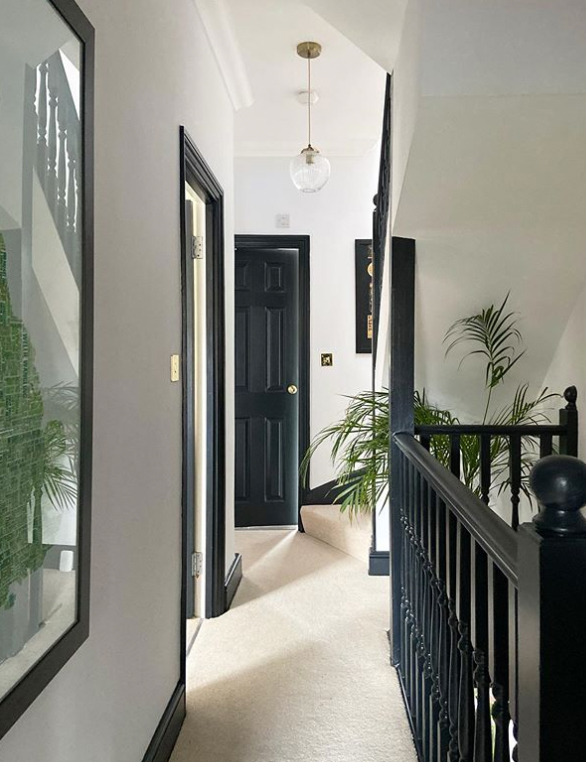 24. Cosy Christmas vibes
This hallway space is giving me so many cosy Christmas vibes! I love the dark walls and fireplace which looks so classy. Plus the prints of the deer above the fireplace look stunning along with all the other decor. Just add some stockings above your fireplace and a Christmas tree in the corner!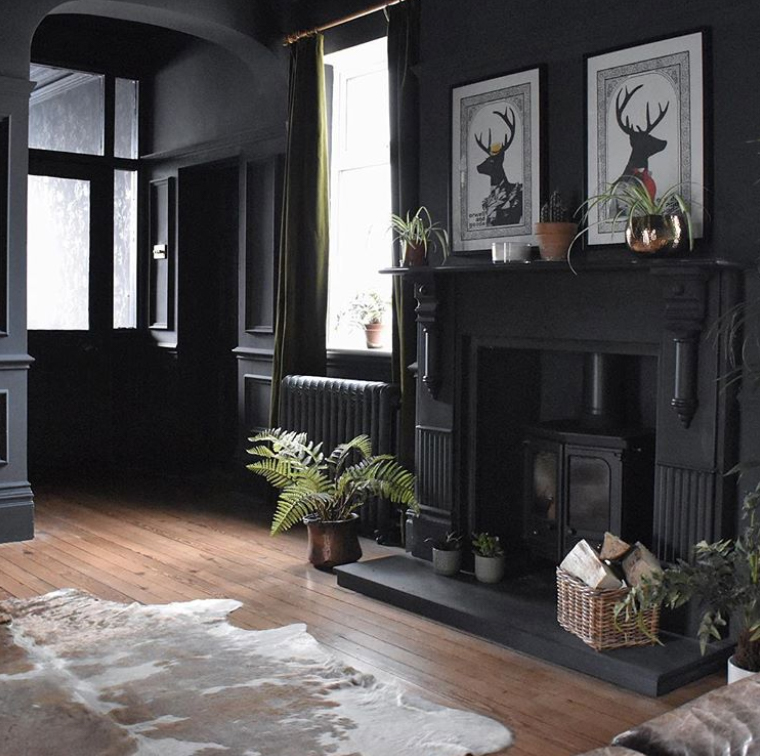 25. Black and white
Similar to number 23, here is another black and white hallway space that works so well. I love the half wall design that has been carried through to the entirety of the space. Plus how cool is that gallery wall with all the quirky graphic prints (especially that 'You are my lobster' image)!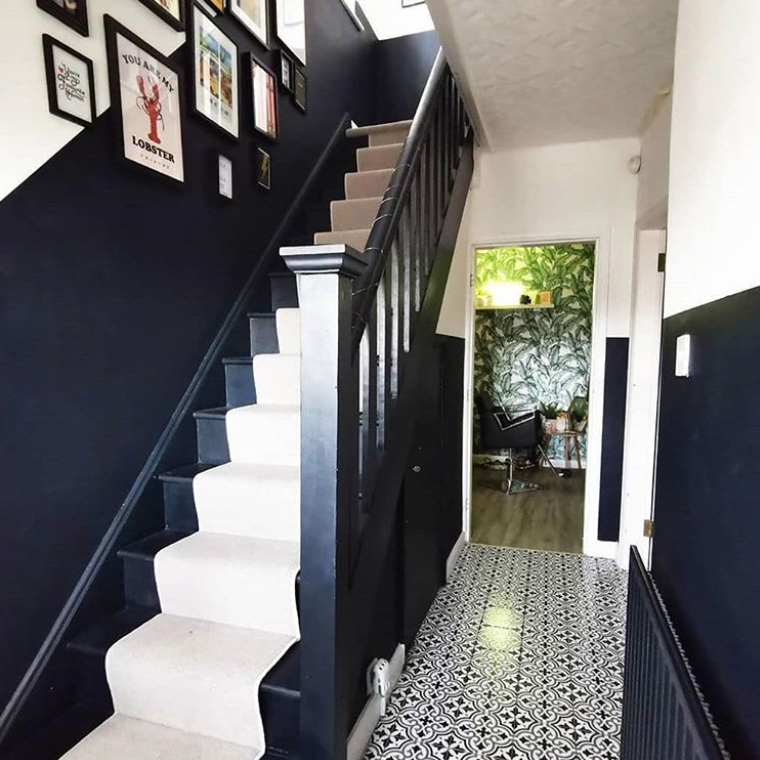 26. Narrow furnishings
If you're working with a narrow space but still want some sort of furnishings included in the space, then the good news is that narrow furnishings exist! I love this narrow set of drawers which would be great to store all your random bits and pieces that you need on a daily basis. Just grab and go!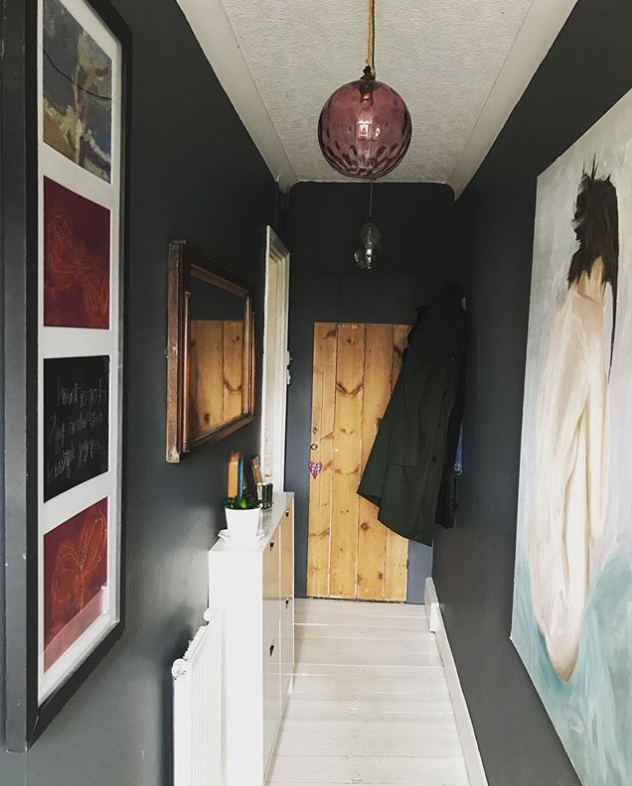 27. Vintage mirrors
Here's another like number 13! I absolutely love the gallery wall trend and it's especially cool when vintage mirrors are used. I love the gold and black colour palette used in the vintage mirror collection which works well with the colours in the retro flooring as well as the wall colours.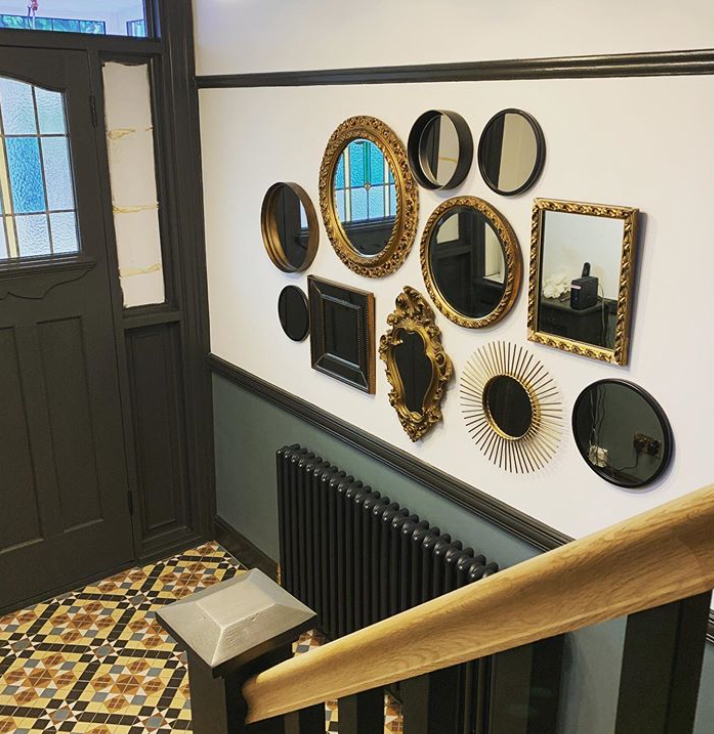 28. Reception area
If your home is sometimes used as an Airbnb or you just want to create a reception area for your guests, then check out this awesome console styling in the hallway entrance! I love the old vintage phone and the guest book that really make this space seem like the perfect welcome to a gorgeous home!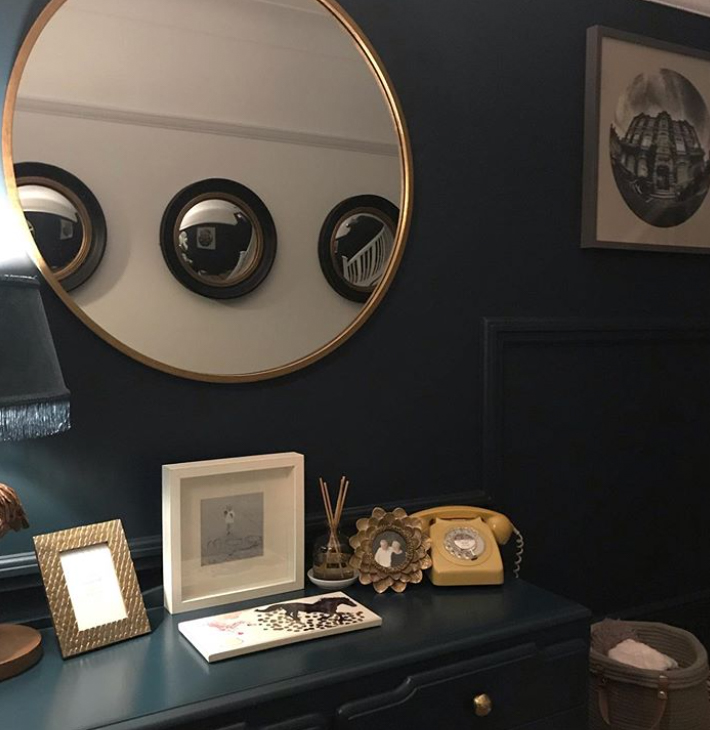 29. Arched mirror
Arches are so on-trend right now! And if you're not quite ready to commit to changing the architecture in your home to arches, then incorporating something a little less permanent like a mirror is a great way to go. I love the arched mirror in this entrance hallway that works so well with the furnishings and decor!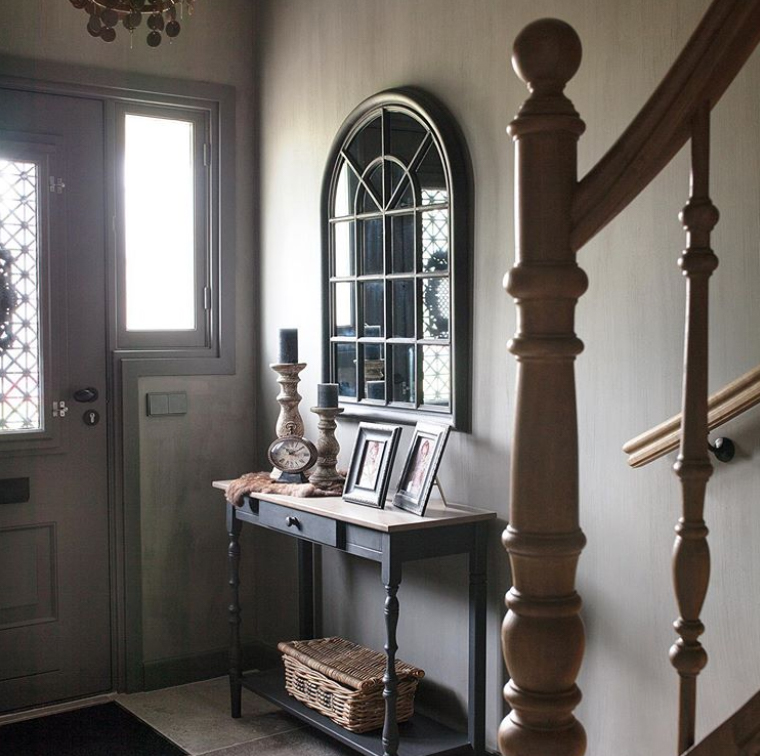 30. Console table styling
Here's another awesomely styled console! I love the dark wood of the cabinetry against the dark wall as well as the chest that doubles as decor and storage. Plus the other decor items dotted around like a filament light, the rustic star and indoor plants work so well in this space!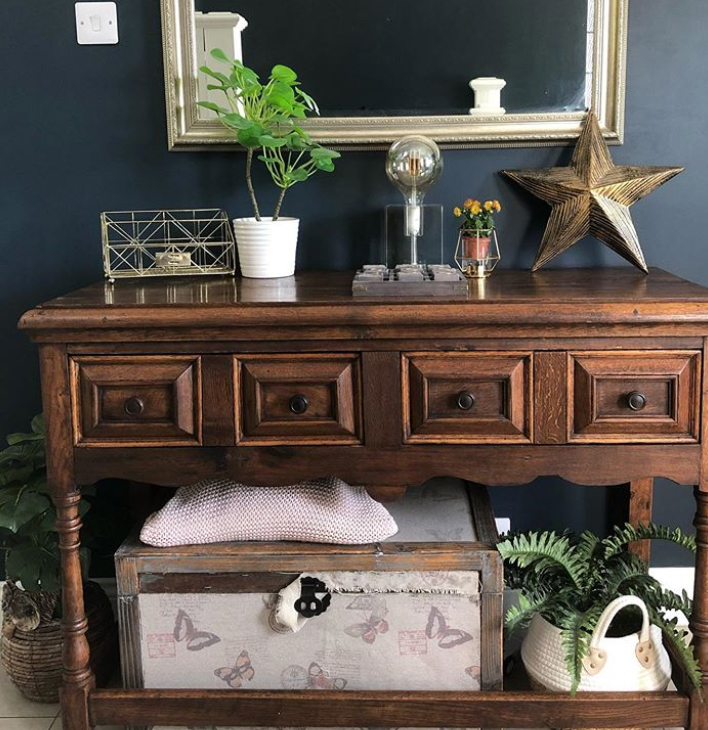 31. Green with envy
I'm green with envy for this heritage hallway! I love how this space is so neutral however it has that awesome pop of green where the stained glass window is! The white, black and beige colour scheme with the pop of green is just so striking. This hallway really does have so much character!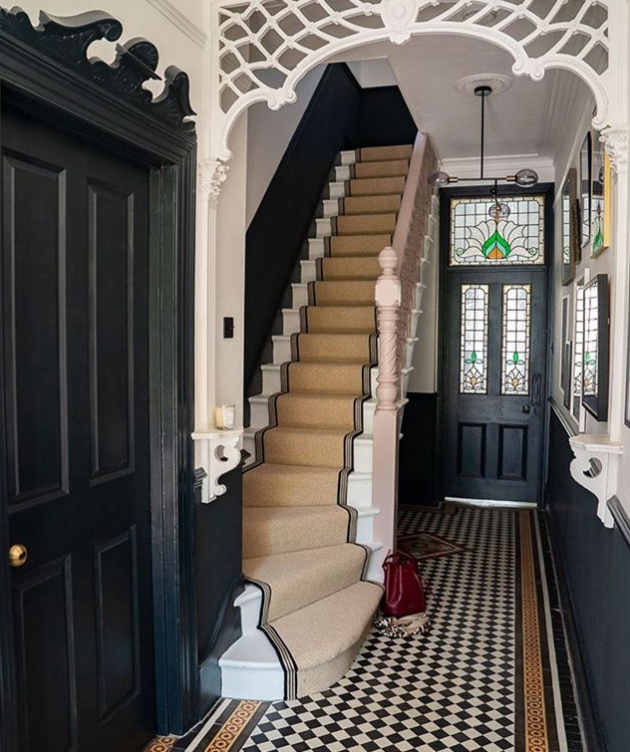 32. Tropical bungalow
Check out this tropical bungalow! This space proves that even if you have a small area to work with, you can still add plants that will thrive and brighten up the space. Even this dark entrance hallway has been elevated with the addition of indoor plants!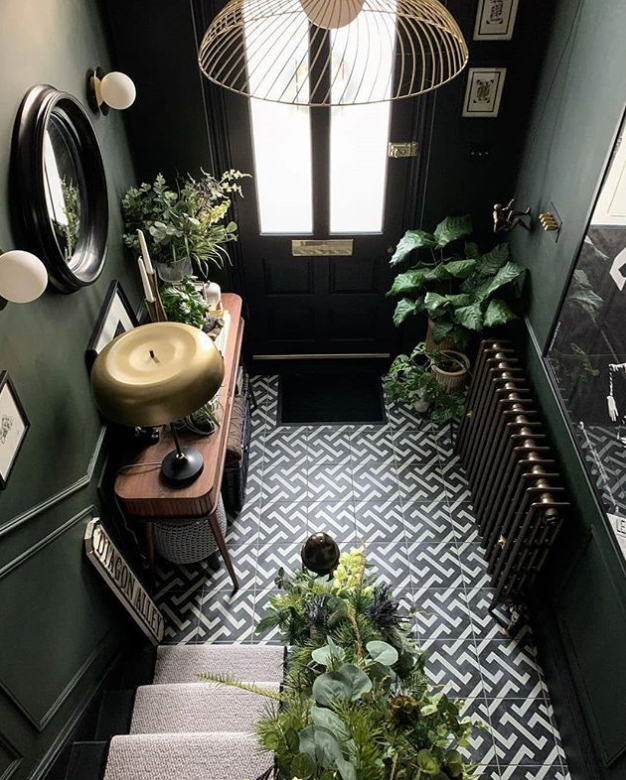 33. Welcoming entrance
How welcoming is this lovely entrance! I love the black and white tiled flooring which is modern and quirky all in one. And the black planter is the perfect place to put your plants. Plus how gorgeous is the extra-large planter hanging in the entranceway!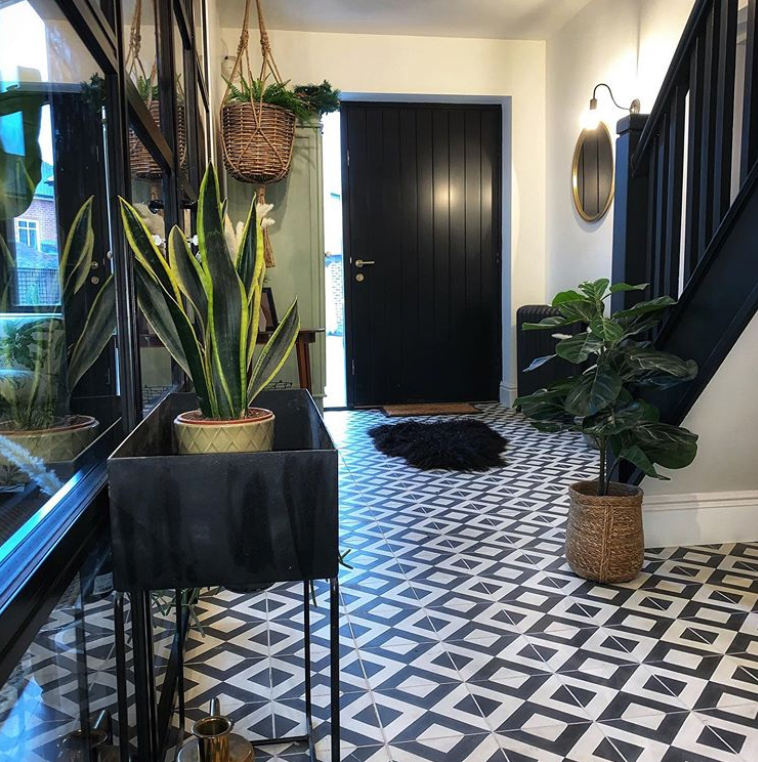 34. Architectural archway
What an absolutely stunning architectural archway! I can just imagine the magnificent home that this incredible architecture is in. I love the arched high ceiling that has brass beams across it that make a geometric pattern. Plus the dark furniture really helps to give that vintage and eccentric look.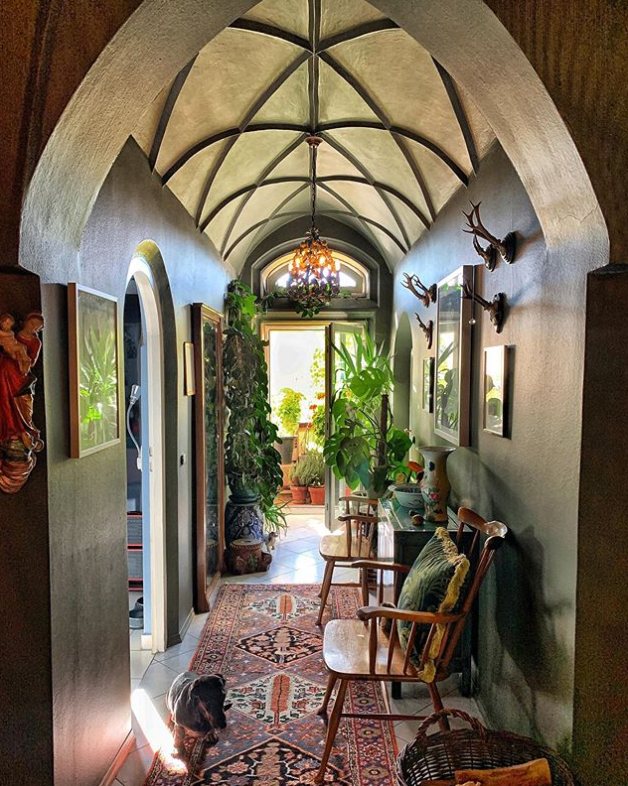 35. Bright and bold
Even though this hallway has dark walls, it is still so bright and bold with the gorgeous colours throughout it! I love the red frame in this hallway that works so well with all the decor pieces. And what a great idea to have built-in shadow boxes to use as a bookshelf! What an awesome and innovative space.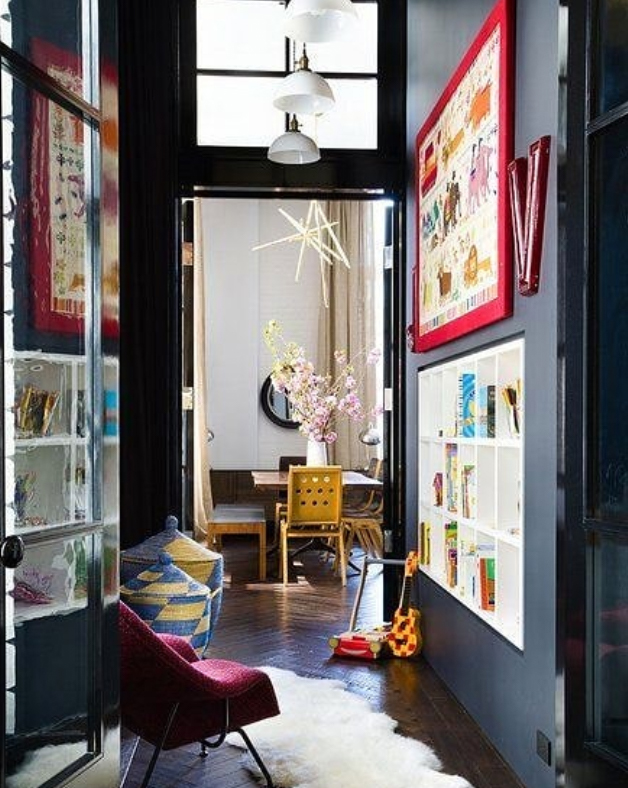 So there we have it! 35+ dark hallway ideas to inspire you to turn your light spaces into something that has a little depth and darkness. I absolutely love the hallways that incorporate colour through frames and greenery through indoor plants which really elevate the dark spaces. What dark hallway ideas will you be trying? Let's chat in the comments below!