When it comes time to purchase a new washing machine, you usually need one because you're moving or perhaps your old one has broken down past repair. So what's the best washing machine on the market this year?
There are plenty of options homeowners from top-of-the-line features to more budget-friendly models. Careful consideration is necessary when choosing your new washer. You want something that is not only user friendly but also does an exceptional job at cleaning your clothes.
To help, we've compiled some of the best washing machine options available right now for all budgets, load sizes, and laundry spaces. Read on to find the right one for you!
How to choose the best washing machine for you
When it comes time to decide which is the right washing machine model for you, the first step is deciding between a front-loading or top-loading washing machine. Your laundry space may make this decision for you, but it's good to understand the pros and cons of both.
Front-loading washing machine
These machines generally cost more as they perform better and require less water and energy. They are quite gentle on clothes and better at handling unbalanced loads. The wash cycle often takes a little longer, but many models do offer "fast-wash" cycles.
It can also be hard to find front loaders with a dual hot and cold water connection.
Pros
Gentler on clothes

Use less water

More energy efficient 

Uses less detergent

Higher temperature options

Cheaper to run

Higher spin speeds for faster drying 

The best choice for small spaces 

More programmable
Cons
Longer wash cycles 

No retrieving of keys or other items mid-cycle

More expensive to purchase

Brackets required if placing on a wooden floor

Louder spin cycles

Low water usage can lead to a lower quality rinse

No adding to the wash load after the cycle begins

Heavy 
Top-loading washing machine
Top-loading washing machines are cheaper, weigh less and wash a lot faster but use more water, and can be harsher on your clothes. Arguably, they do not wash your clothes quite as well due to the fact that they float your clothes and move them about and clean them.
While they do tend to be more reliable than front loaders and offer shorter wash cycle times, they do use a bit more water and energy, so cost more to run.
Pros
Often more reliable than front loaders

Shorter wash cycles

Can retrieve items from pockets mid-cycle

A better rinse performance

Cheaper to buy

Lighter and easier to move

Can add clothes once a cycle has started
Cons
Harsher on clothes

Uses more washing detergent

Cost more to run

Requires more water

Uses more energy 
Washer-dryer combos
There is a third option, the washer-dryer combo which combines both a front-loader and clothes dryer one appliance. While this sounds very convenient, they can be expensive and are known to break down frequently.
They do take a long time to dry and use a lot more water so they will not hold up against stand-alone appliances. For these reasons, the drying function in combo units should be thought of as a way to assist the drying process, rather than completing it as a standalone unit will.
Navigating hot and cold water connections
It is important to note that some machines will require both hot and cold water to operate. A special connector or sealing cap may be required for the hot water inlet. Some front-loaders can be connected to cold water only, as they contain a heater which still gives you the option of a warm wash.
If you do opt for a dual-connection model, they will often require a lower maximum temperature than that produced by most hot water systems. This will require a tempering valve which reduces the temperature. If you choose a model that does not have a hot water inlet, you will likely have a greater range of temperature options, somewhat negating that of your household hot water system.
When washing, keep in mind that stains are often set by hot water, which is why a cold-water filled wash that then has a slow heat up is the most efficient form of stain-removal. Most front loaders actually only use small volumes of hot water in the main wash. This means that units with a dual connection only require around 7–10L of hot water in a warm wash.
What are the best washing machine brands?
With plenty of options on the market, you can narrow down your search initially by understanding which washing machine brands are leading the market. The following are the top four and have models which will be featured in this article.
Electrolux
Electrolux washing machines come with a range of smart, innovative and sustainable features that offers features like the With 18-Minute Fast Wash and Perfect Steam which will help remove tough stains, keeping your clothes fresh and clean.
Samsung

Samsung's wide range of washing machines and dryers feature a variety of innovative technology including 'QuickDrive' which will wash your loads in up to half the time. They also offer 'AddWash' so you can add items with ease during the wash.
Kenmore

Kenmore offers some of the best front loader washing machine options with smart features for top-tier performance. Their washers are particularly known for their low water usage.
LG

LG offers a range of quiet, reliable and efficient washing machines that allow you to tackle more laundry with fewer loads, making them a very sustainably-focussed option.
The best washing machine options in 2020
Front-loading washing machine
Electrolux EFLS527UIW Front-Load Washer with LuxCare Wash System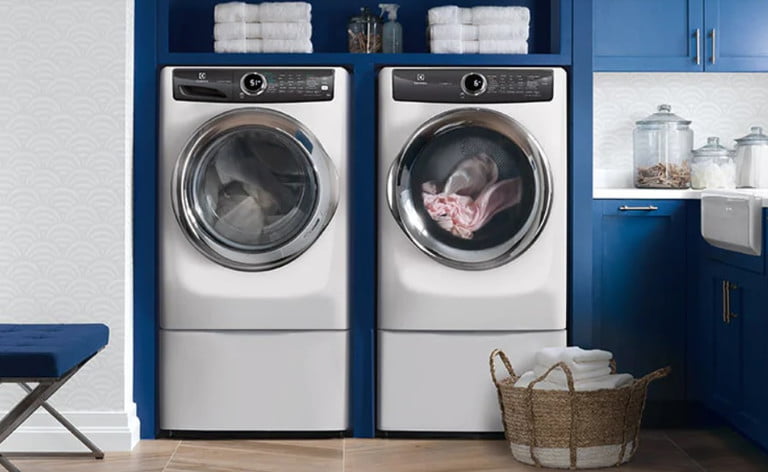 The Electrolux Perfect Steam front-load washer has a bit of a different look due to its large dial and detergent dispenser, so it may divide opinions straight away. That aside, what's inside the machine is something quite unique, and may make it the contender for the best washing machine of 2020. Specifically designed to accept detergent pods, this machine has nine cycles in its 4.3-cubic-foot size.
It provides steam clean and sanitizes settings, with a StainTreat feature that really targets those tough stains, and you can even target specific stain types in the settings. Finally, the LuxCare Wash System has smart load sensing, automatic water level adjustment, and temperature control with a fast wash setting that only takes 18 minutes to complete. It's also important to note that all Electrolux machines have a reversible washer door and very quiet operation levels.
Kenmore Elite 41072 Front-Load Washer
The Kenmore Elite 41072 lets you do significant amounts of laundry, fast. It features an oversized 5.2-cubic-foot capacity can handle just over 7 kgs of laundry with a clean done in 15 minutes via the 'Express Wash' setting. This machine will save you a trip to the laundromat for large blankets and has a SteamTreat and a Sanitise setting that will handle any tricky stains and bacteria.
The design of the dial is sleek, and the 14 different wash settings are easy to understand and program. The classifications of the settings also make it fairly simple to use with names like "workout wear," and "whitest whites." The settings have been carefully designed to suit certain clothing types and save you time. For example, "kids wear" is set to target set-in stains with an extra rinse to ensure there is no detergent on sensitive skin.
If you are looking for a larger-size washing machine for families, the features and performance of this Kenmore unit are hard to go past.
Samsung FlexWash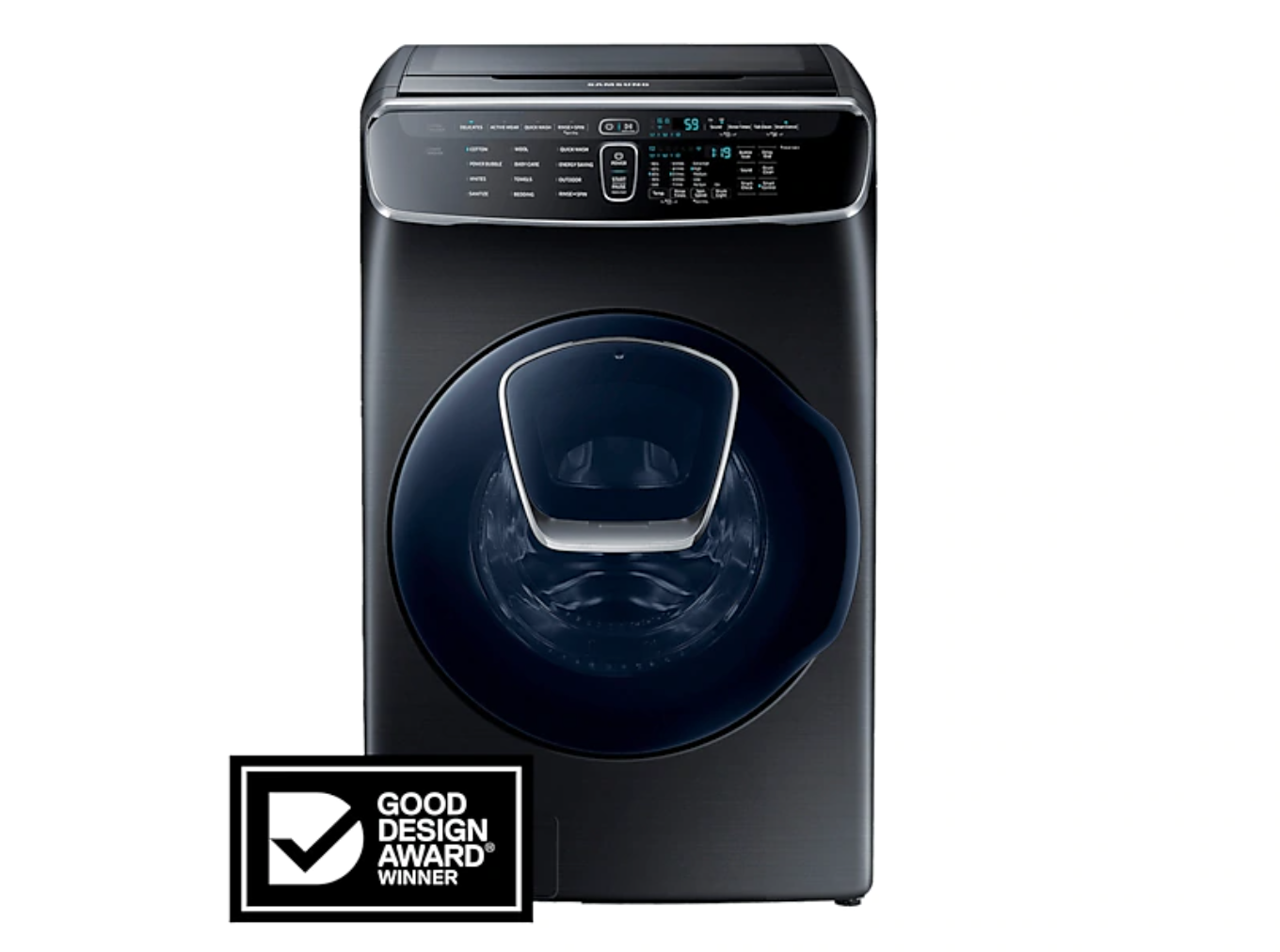 If you are looking for something a little bit more stylish, the Samsung FlexWash looks great and is excellent value for money. The FlexWash front-load compartment has a capacity of 4.5 cubic feet, with a smaller top compartment that can handle one cubic foot. It is also possible to wash two separate loads at the same time thanks to this dual design making it easy to separate colours and whites without having to waste time.
The small top washer allows you to clean small daily loads, and you can connect to the Samsung app to monitor your cycles, how much time they have remaining and various other data. The washer features Wi-Fi connectivity, SmartThings compatibility, and vibration reduction technology which helps to reduce noise, along with a variety of settings. This is a great example of smart-washer technology at an accessible price. The only downside for some is the overall size of the unit due to its base height of 120 cms, which makes it quite tall. If you have the space for it, this is an excellent choice.
LG WM9000HVA High-Efficiency Smart Front Load Washer with TurboWash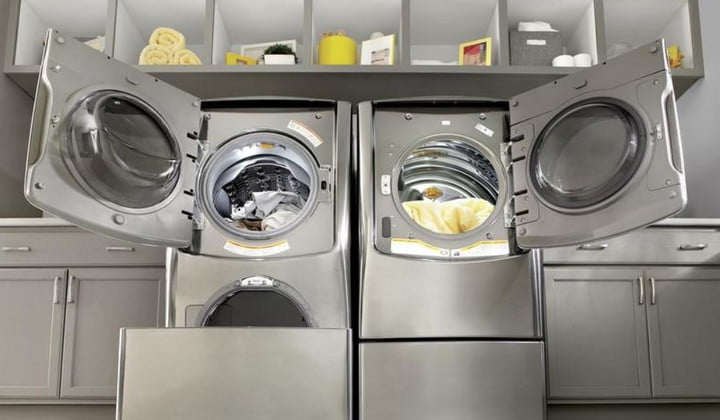 Another washer option with a significant capacity is this LG that offers 5.2-cubic-feet of space, making it easy for larger items like blankets. It features 14 different programs that include a speed wash, sanitise, and tub clean setting.
The TurboWash is excellent for getting out those annoying stains, and the allergen cycles target those unseen bacteria that you really don't want in your clothing. Another stand-out feature of this unit is the LG SmartThinQ app which will help you diagnose and fix any problems that may occur with the washer so you can avoid having to call and pay someone else for the repairs. The app also lets you select, start and stop your cycle and also provides notifications when your laundry is done. The app is also compatible with Alexa and Google Assistant.
There is also a compatible add-on for the LG SideKick Pedestal Washer, meaning you can do two loads at once!
LG WM3900HWA 4.5-Cubic-Foot Front-Load Washing Machine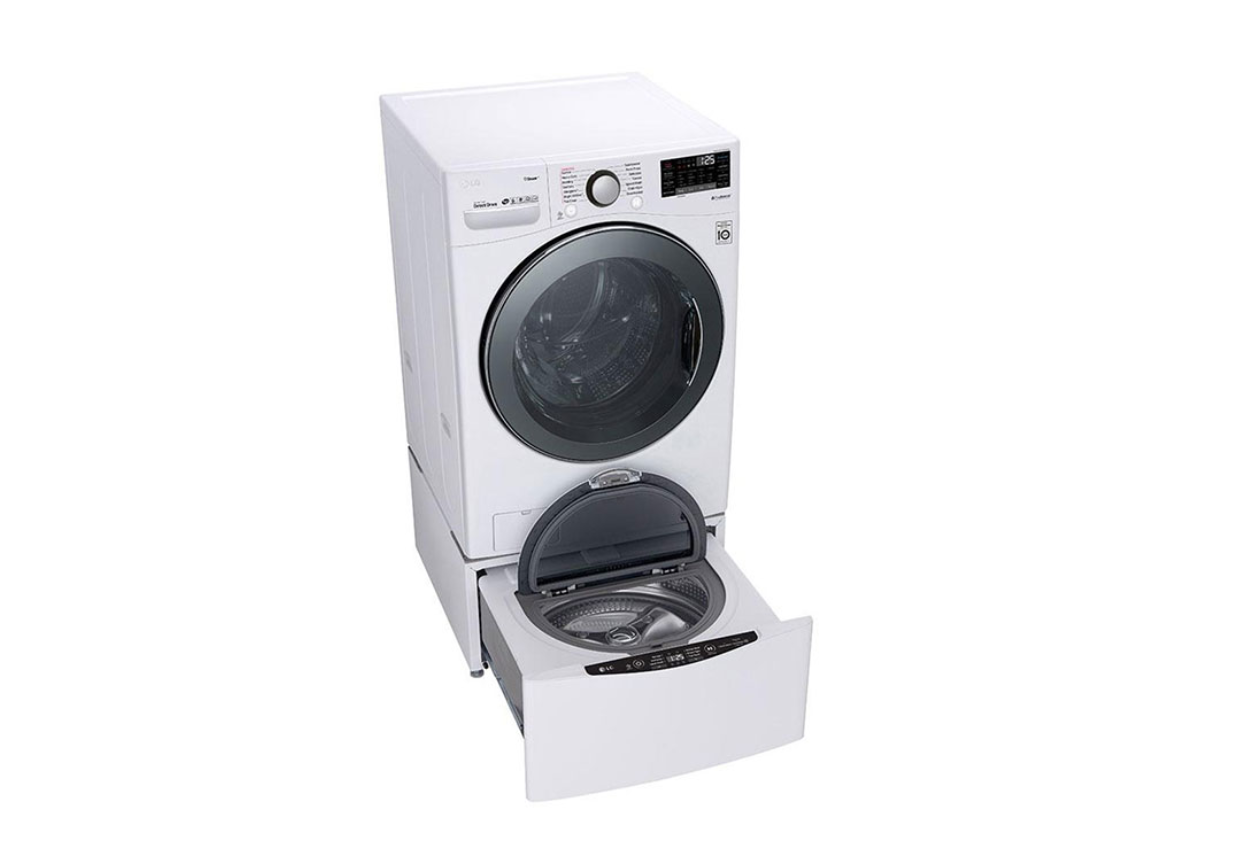 Another excellent budget option is this model from LG. The WM3900HWA has a large 4.5-cubic-foot capacity with the option to add a second washer if that isn't enough. It is an easy-to-use machine with the ability to adjust water temperature, spin speed, and soil-level settings, as well as extra options for rinse, steam function, and LG's exclusive TurboWash setting.
TurboWash, as mentioned above, combines the rinse and spin cycles while spraying detergent directly onto your clothes while cutting washing times in half. To give you some idea of its cycle times, a regular-sized load can be completed in just a half-hour to excellent results. This combined with the fact that LG models are very energy-efficient means you have one sustainably-focussed unit right here.
This model also includes a steam setting to reduce household allergens producing certified asthma and allergy-friendly cleans. Above all, you can control the washing machine from your smartphone, Google Home, or Amazon Alexa meaning you can start the laundry while you're out and about. You'll even get a notification via your device when your clothes are done.
Electrolux EFLS627UIW 4.4-Cubic-Foot Front-Load Washing Machine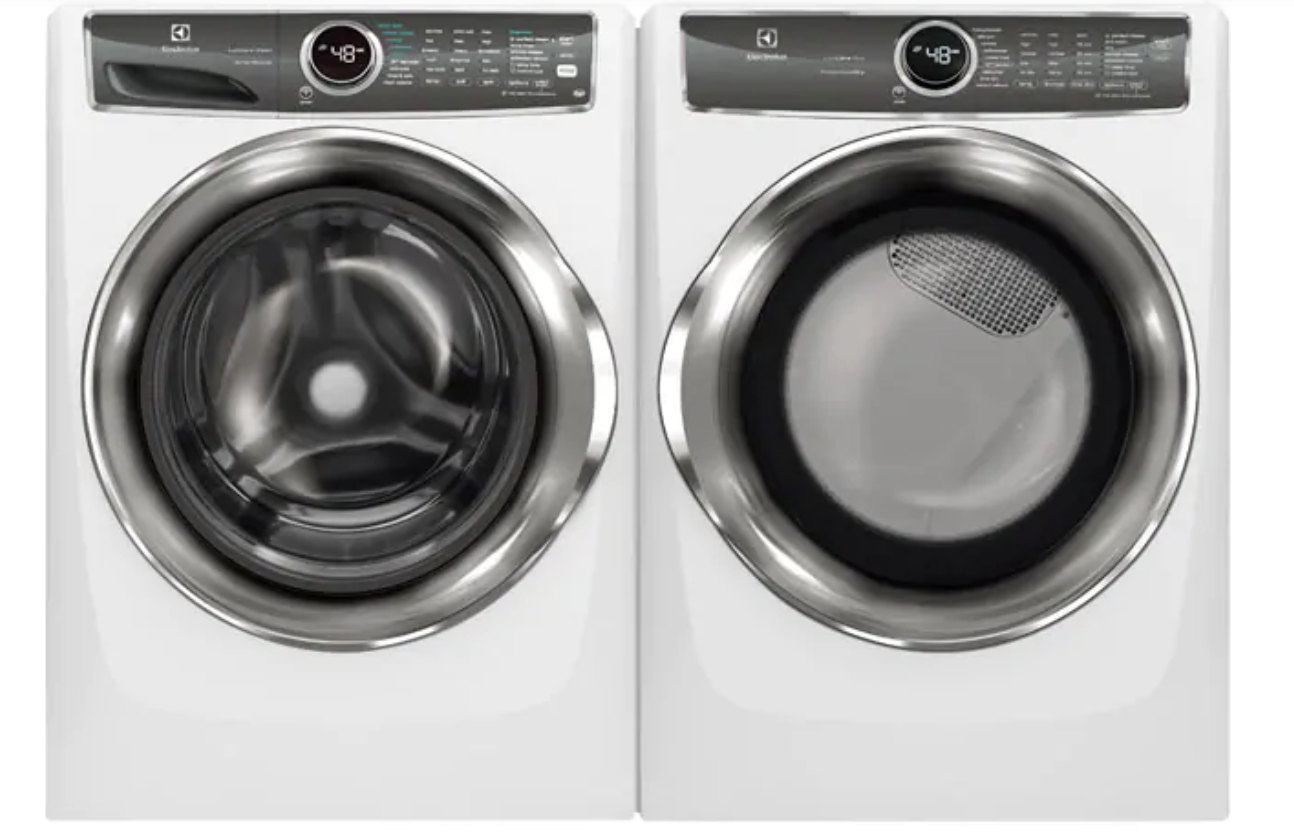 Slightly different (and cheaper) when compared with the similar Electrolux washing machine model we mentioned at the very beginning of the article, this model has nine cycles and a convenient dispenser drawer. Perfect for people who use single-dose detergent packs, this model still includes the SmartBoost feature. This means there is an extra water pump that pre-mixes detergent for even distribution onto your clothes.
The result is a high-quality clean with an extra steam inclusion to help lift dirt out of your clothing. For those who need clean clothes quickly, there is a 15-minute fast-wash cycle, and the exclusive "StainSoak" feature that selects combines a tumble, detergent mix, and temperature for removing various types of stains.
The unit has a 4.4-cubic-foot, front-load with a standard wash cycle time of 47 minutes. The heavy-duty cycle can take more than two hours which is pretty lengthy, but when you see the price tag, you'll find that this unit is a very attractive choice.
Top-loading washing machine
Samsung WA50M7450AW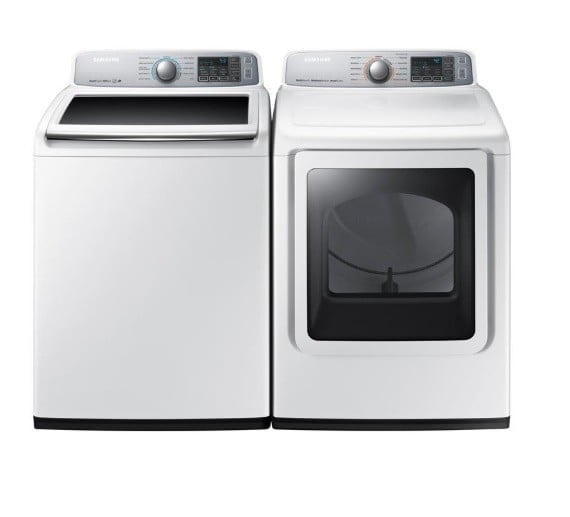 When it comes to finding the best top loader washing machine, the HE machine by Samsung is excellent value. It has a size of 5.0-cubic-feet, making it easily large enough for a family or the ability to do laundry less often for couples and singles.
This machine offers VRT Plus technology similar to the FlexWash so it will run quietly. It features 11 preset wash cycles with seven customisation options giving you control over functions such as temperature and speed, and it can handle a wash-style for any type of clothing.
This is one of the more affordable top-loader options, especially for Samsung, as it doesn't connect to Wi-Fi, but it does feature a self-clean option which will keep the stainless steel drum clean, and extend the life of this machine so you'll have it providing quality washes for many years to come.
Kenmore 25132 Top-Load Washer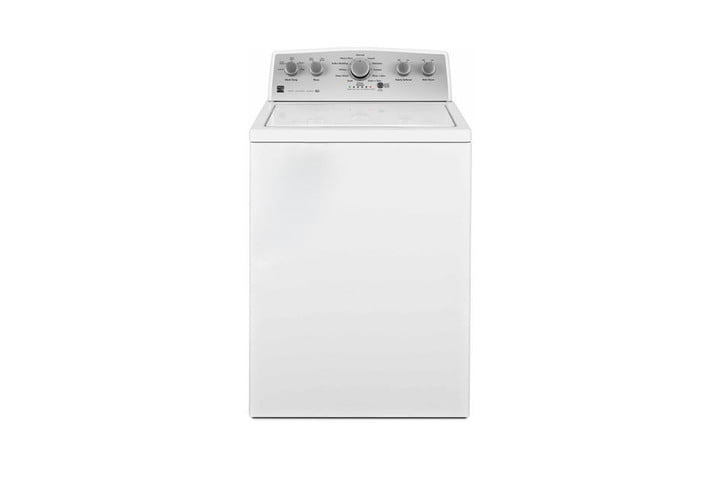 For the most cost-efficient washing machine in our list, the Kenmore 25132 top-loader is your best option. While the added features are pretty basic, it does offer a wide variety of cycles and temperatures via its spacious 4.3 cubic feet capacity. This unit provides a bulk bedding cycle to match its space that is great for large loads.
The drop in price means no deep-clean steam option, but it does offer a stain boost that soaks clothes for a little longer, so you don't have to pretreat the stains. If you need a smaller load done in a hurry, you can use the express cycle setting that will take around 45 minutes.
The control panel has a range of knobs that will turn the stain boost on or off, include fabric softener, set temperatures, add an extra rinse, and control the cycles. These are all easily identifiable, which means setting this machine is a breeze. Just note, being a top-loader it will use more water than a front-loader. In summation, if you are trying to stick to a low-budget, the features on this unit make it the best value for money you'll find.
How do you choose which unit is right for you?
There are some great washing machine options listed above, one for basically every lifestyle situation and requirement. So how do you choose the best one for you? There are a variety of factors to consider that come into play along with your preferences, budget, and most importantly, the size of your laundry room.
One element many people often forget to consider when picking a washing machine is the actual clothes they need to wash! Are you fashion-savvy with a lot of expensive clothing that requires careful care during the wash? Do you have professional attire that requires regular cleaning? The care of your clothing should also be taken into account when selecting which features of a unit will suit.
If you have a large household, a higher-end washer may be best as they will offer a range of different care options and cycles as well as a size that can accommodate the size of your loads. If you have kids, consider a machine that's best for fighting stains. Alternatively, if your household is only adults who wear easy-to-wash fabrics, a more basic and inexpensive washing machine will likely do the trick!
Frequently asked questions
How long should a washing machine last?
There are a few factors that will determine the lifespan of your washing machine. This can include how much you use it, how well you take care of it and clean it, and the type of model it is. On average, your washing machine should last you at least 8 to 12 years if maintained properly.
If your washing machine is starting to have issues and not entirely performing the way you want, it may need some repairs. If it is leaking or if using too much energy or water, you may need to replace your unit.
How much water does a washing machine use?
This will vary significantly based on the type of model you use and whether or not it is top or front loading. It will also depend on the cycle style you opt for as many washers have an eco-setting that will require less water.
High-efficiency front or top-loading washers that use less water and energy are also proven to be more effective when it comes to cleaning, but also have a higher price tag. You also see benefits from these washers with less laundry detergent, and less energy spent heating the water. A high-efficiency appliance will use around 56.8 to 113.6 L of water to wash the same amount of clothes as an older, less efficient washer that will require 109.7 to 170 L. An efficient machine on average will use less than 18.9 L)per cubic foot of capacity.
How much does a washing machine weigh?
A typical mid-sized, top-loading washer will weigh about 68 kgs, while a mid-sized front-loader can be closer to 90 kgs; however, the weight varies based on machine size, capacity and type. Regardless of size or weight, If you are moving a machine, it is always recommended you have someone help you.
Have you found the model that is right for you?
Hopefully, this article has saved you some research time by trimming down the search list. Everything included here shows you some of the best washing machines available on the market right now. Choose which one best suits your budgets and needs, look after it, and you'll have a reliable washing machine for many years to come.
If you did happen to find a new machine and there are plenty of people who can help with washing machine removal! If you are not quite ready to let go of your beloved machine just yet, you'll also find someone to help with washing machine repairs and washing machine levelling.
Once you have your new washing machine installed, check out our article on laundry ideas to match the look of your wet area to that of your new machine. We also have some tips on the best dishwashers available right now so you can make sure all of the cleaning implements in your home are doing the best job possible!