If your bedroom is overwhelmed with clutter, it might be time to do some Spring cleaning and sort out your storage. The good news is that there are so many smart storage hacks that can really elevate your bedroom. Whether you have a smaller space to work with or something a little larger, there's bound to be something for you with these bedroom storage ideas.
Baskets
Baskets not only serve as a cool decor piece to add to your space, but they also work great for storing things in! They really are such a cost-effective and quick way of putting away many different items.
Built-in cabinetry
This one is for you if you're building a home or have the space for it. Built-in cabinetry is the perfect permanent solution for all your storage needs, and if you already have a carpenter on hand for other work, it's a no brainer to get them to take care of wardrobes and other storage as well. It will make for amazing continuity throughout your home.
Freestanding drawers and cupboards
If you're not quite ready to commit to something permanent (or maybe you're just renting), adding freestanding drawers and cupboards to your bedroom is the easiest way to store any items.
Ready to say goodbye to clutter and hello to a nice, neat and organised abode? Read on for 35 bedroom storage ideas!
1. Wardrobe Space
A great way to add some additional storage is adding in a built-in wardrobe and I just love the muted blue-grey colour of this cabinetry! A colour such as this would match so well with almost any other decor it is paired with. There are many options for storing your different items such as long dresses in the longer cupboards, shirts in the medium cupboards and pants in the drawers.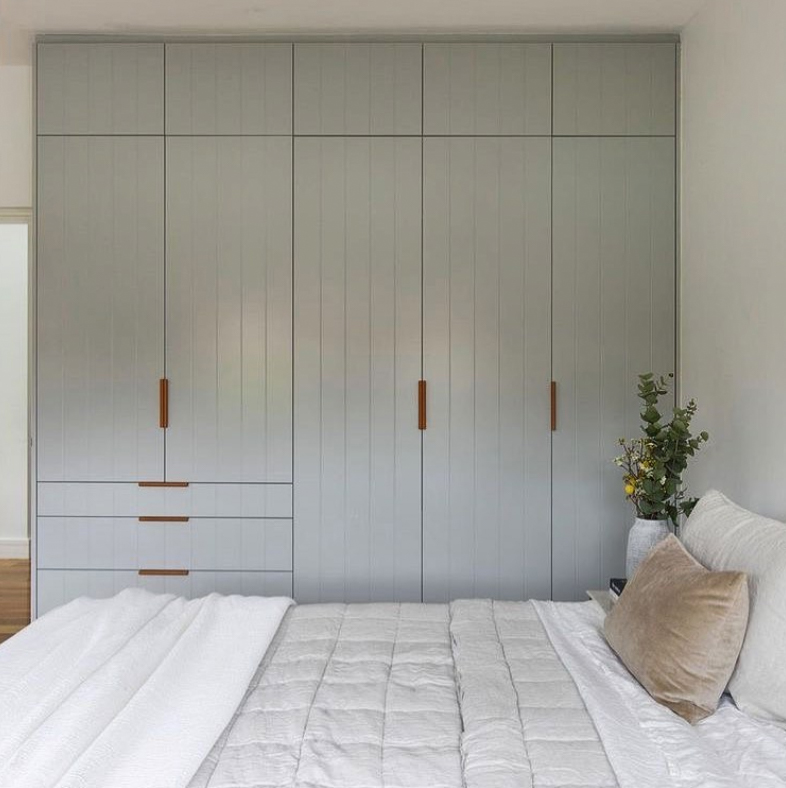 2. Teen Room
If you're wanting to display all your treasures, then using shelves as storage is a great way to do just that. Floating shelves are a great idea as they don't take up any floor space. Check out this teens room displaying all his prized possessions. The shelf itself is in an urban and trendy style with the wooden finish and aluminium bars. It's perfect for a boys bedroom.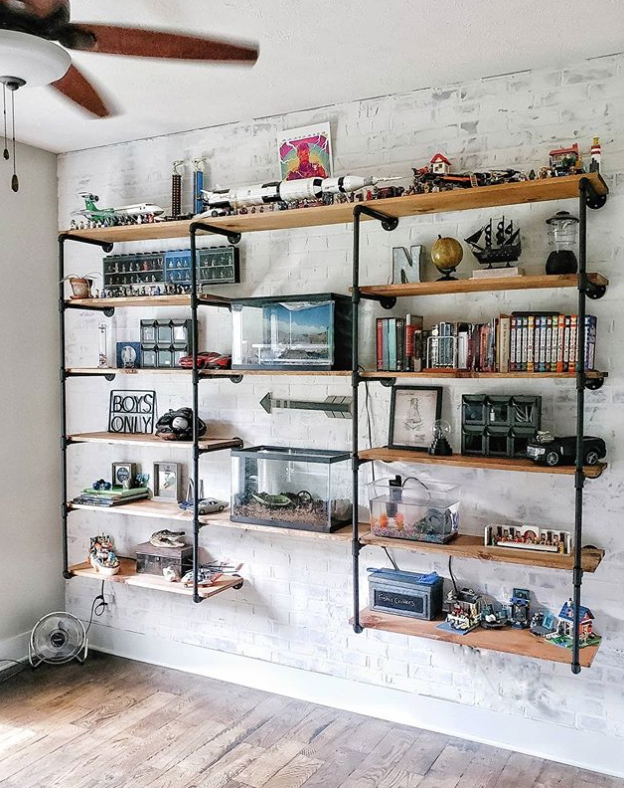 3. Bedside Drawers
I know, I know, this option is a little obvious, but bedside drawers are something that can be overlooked. Not only do they make your bed area look well put together, but they double as handy bedroom storage. Bedside drawers are great at hiding all your bedside table necessities by putting them away but the beauty is that your things will always be in reach!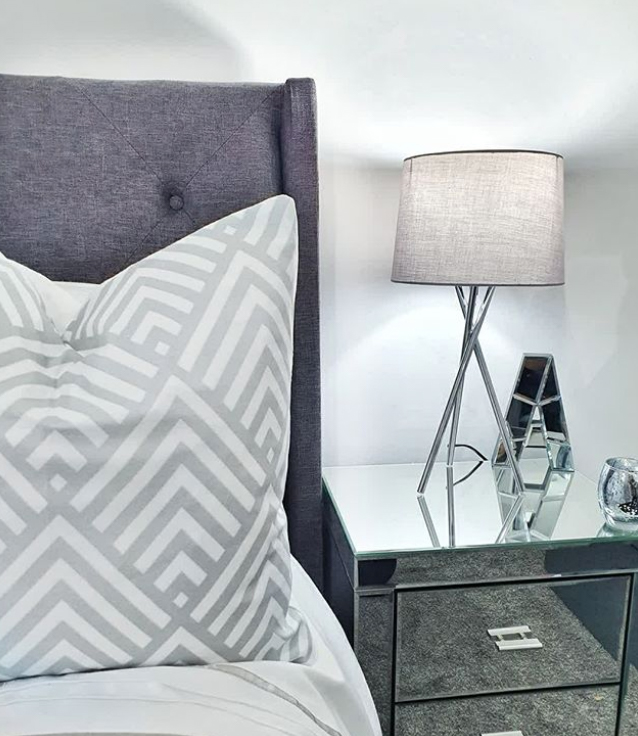 4. Custom Cabinetry
Here's another great bedroom storage idea when you've got a difficult space to work with. And this type of wardrobe will need the help of professionals who make custom cabinetry. As you can see, there is a built-in wardrobe and full-sized drawers, but in the area where the roof is angled, floating shelves have been added. To get this look, all you'll need to do here is cut floating shelves to fit in your space accordingly. Voila!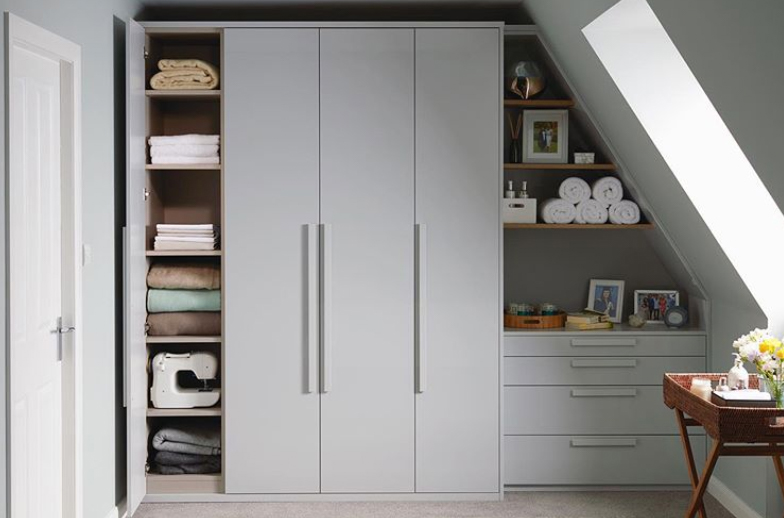 5. Built-in Shelving
Oh, I just absolutely love this Mediterranean style built-in shelving! The arched alcoves are in fashion at the moment and remind me of European archways or even little alcoves in a cave. Floating shelves have been added for a storage solution as well as displaying beautiful decor pieces.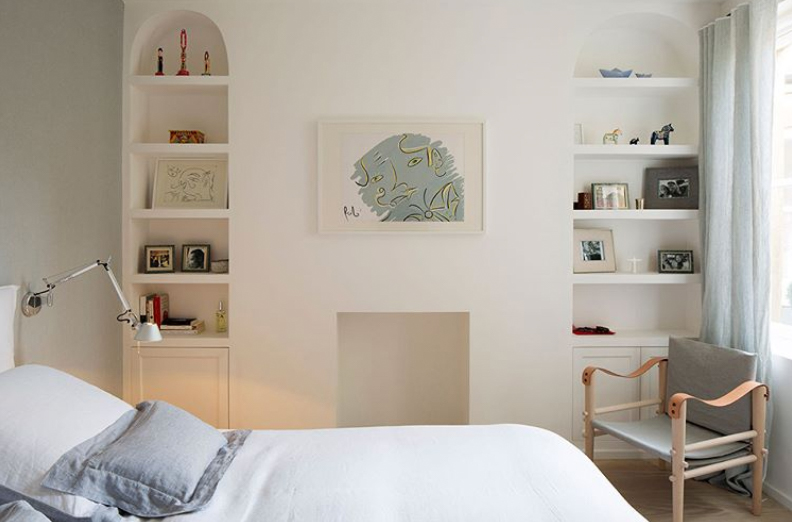 This is such a unique design and if you want to be inspired by more, look at these bedroom ideas to find something for your home.
6. Mirrored Storage
This is a storage solution I actually have in my home, and I absolutely love it. Having a slide across mirror with built-in storage works so well. It doubles as a full-length mirror to check out all your outfits in as well as a large wardrobe space to store your outfits and other items.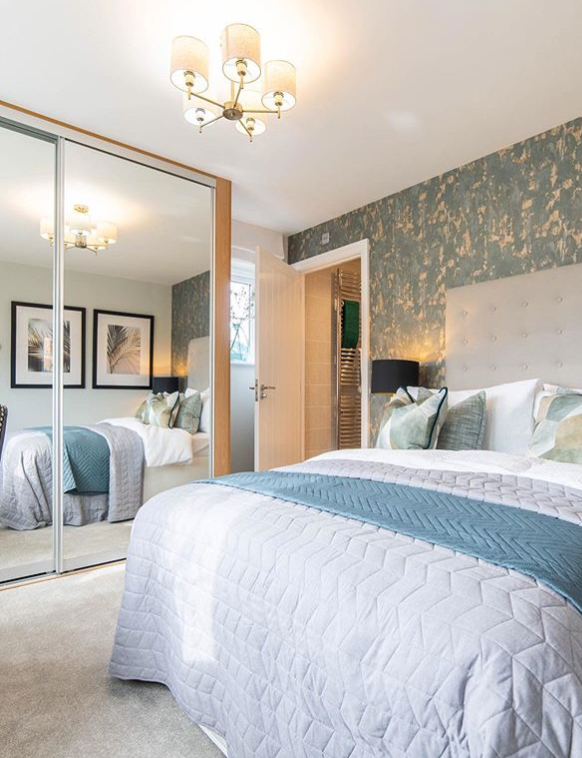 7. Floating Shelves
Here is another fantastic example of how built-in custom shelving can work. The built-in shelves to the right look so chic with the various decor items displayed and they also work so well as a bookshelf for your little ones favourite bedtime stories to go. There is a closed storage section at the bottom of the shelves which works really well for all those items that you want to be hidden away.
I also love the little floating shelf alcoves that have been placed above the kid's beds so that they can store all their favourite things with easy access to them!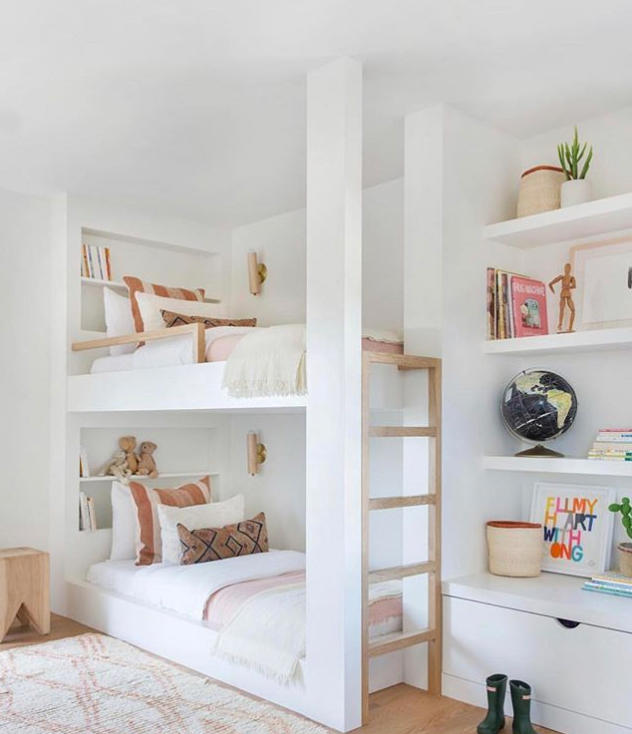 8. Pom Pom Basket
If you're not wanting to commit to something permanent just yet, then this could be the solution. There are so many different options for large baskets and this pink pom pom basket definitely doesn't disappoint. Toys, extra pillows, a throw blanket and many more items can be easily put away and out of sight.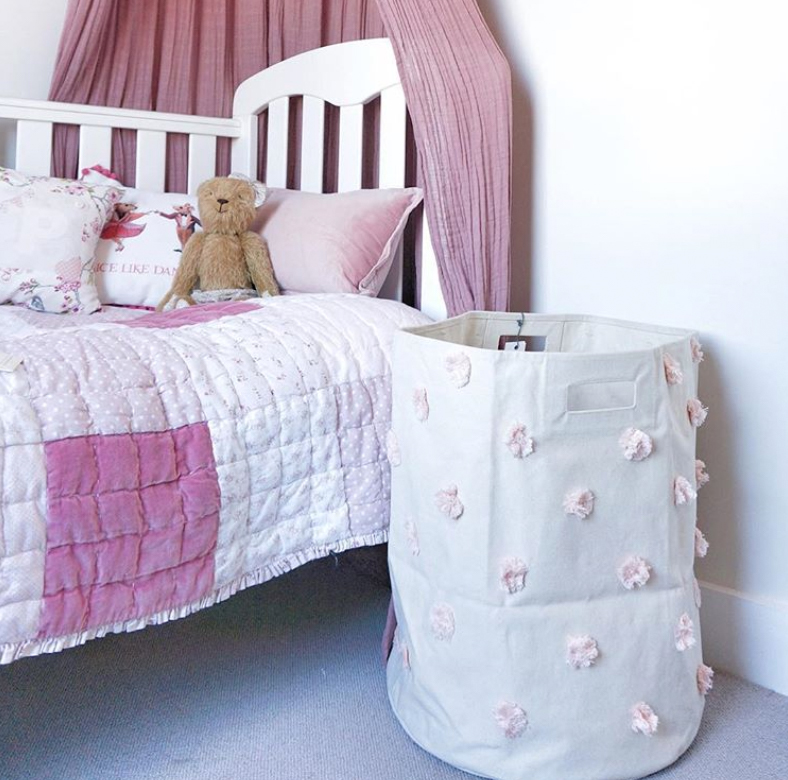 9. Two Rooms in One
This clear room divider makes it seem like there are two rooms in one with the bed on one side and the built-in wardrobe on the other. The cabinetry has been made to match with the walls by painting everything the same colour which gives a very seamless effect.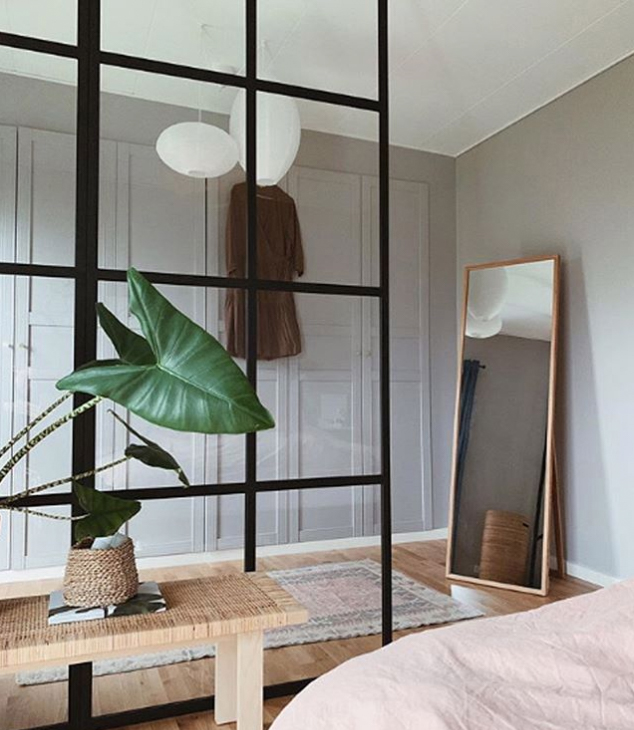 10. Under Bed Storage
Are you limited for space and need more storage but just not sure how? Then this storage solution is for you! Bring your bed off the ground, match the cabinetry to your floorboards and you will have your very own loft-style bed in your room. The under bed storage works so well and doesn't take up any additional space. Just make sure there are steps or a ladder to get up to your bed!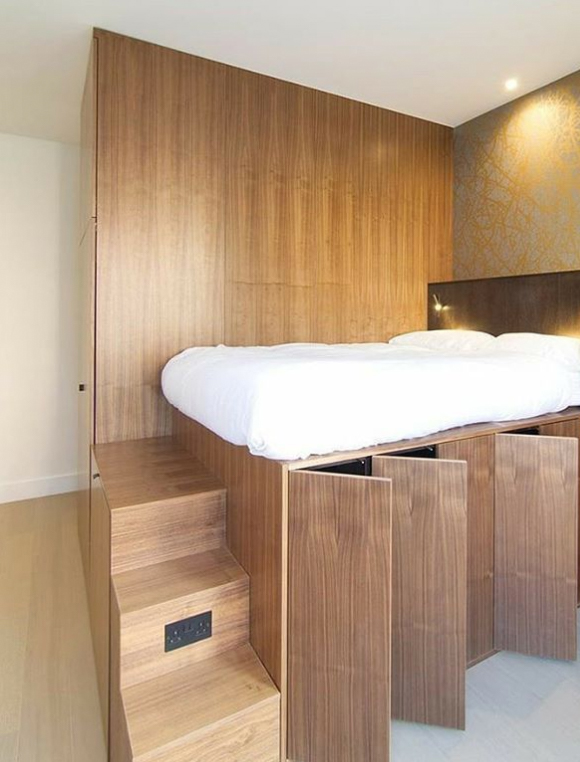 11. Freestanding Closet
If you're renting or are not in the market for permanent fixtures at the moment, then adding an external closet is just what you need. You really can't go wrong with a neutral coloured closet such as white that will match all your other furniture pieces.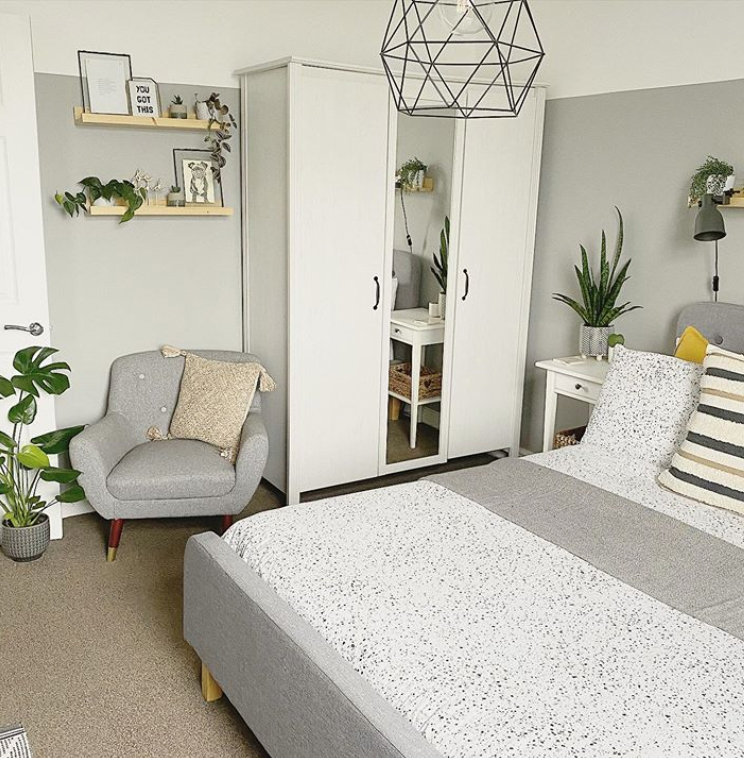 12. Bed Head Storage
Here is another storage solution that doesn't take up too much additional floor space, but really promises ample storage space. The wrap-around cabinetry is not only framing the bed and allowing for storage all the way around, but it has bedside table sides a small shelf above the bed head which leaves room for displaying decor pieces.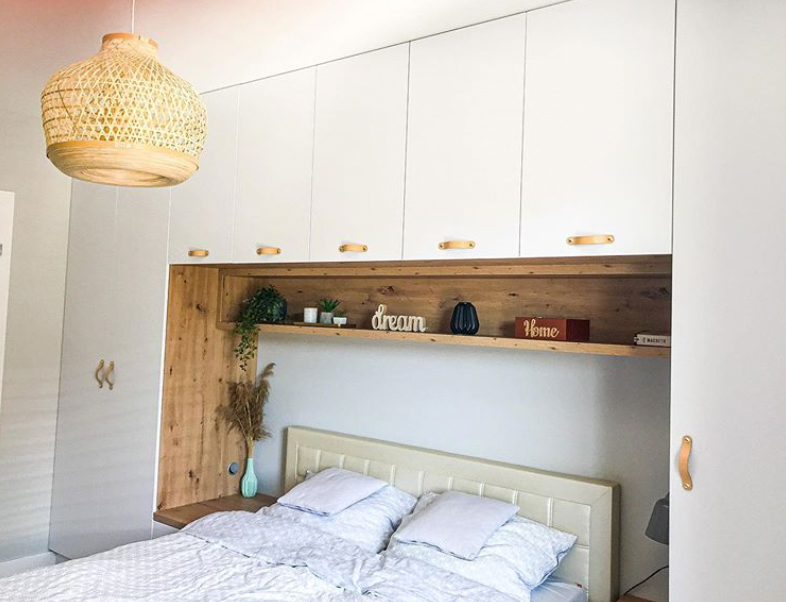 13. Crochet Baskets
Looking for storage solutions on a smaller scale? Baskets are always a great idea! I love these crochet style baskets that are truly decor pieces in themselves. You could have them out on display, nestled on a shelf or even put away. And if they're not in use at any time, they can be easily folded away and stored for another time.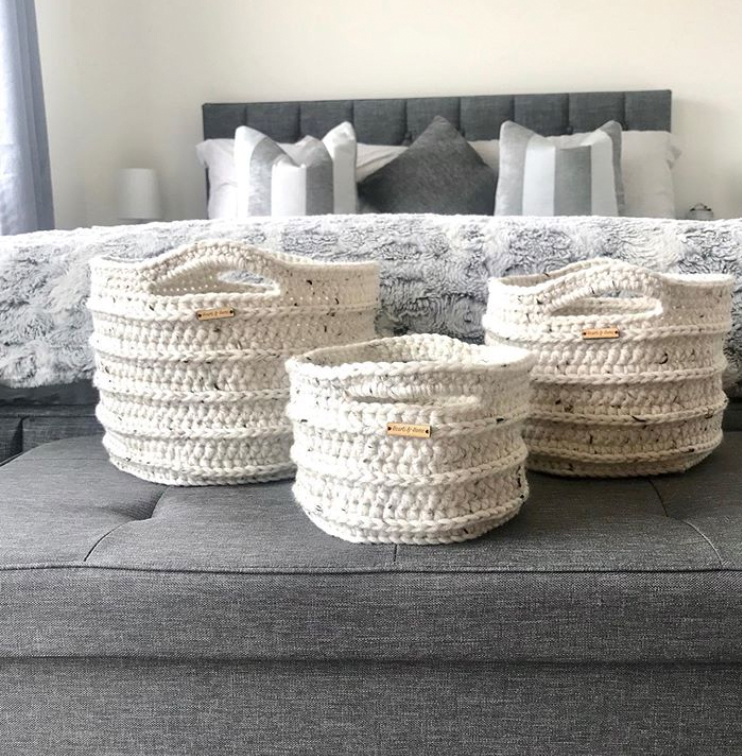 14. Monochromatic Details
This bedroom design maximises the monochrome trend in the best way possible. The bedroom is tidy and minimal, with only the necessary things out on display due to the large chest of drawers. As there are lots of different drawers, there are many options to put different items inside and organise them accordingly.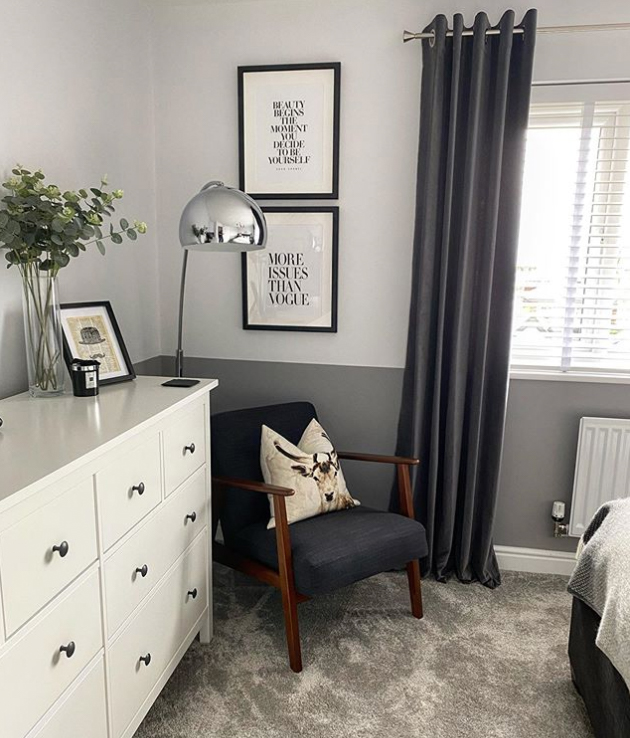 15. Alcove Wardrobes
This wardrobe has been built into the alcove of the room and it looks oh so snug! Choosing a paint colour that is ever so slightly different from your walls will ensure there is segregation between the two different areas.
I also love how the black features from the mirror frame, candlestick and fireplace have been carried through to the knobs on the doors of the cabinetry which provides continuity within the space.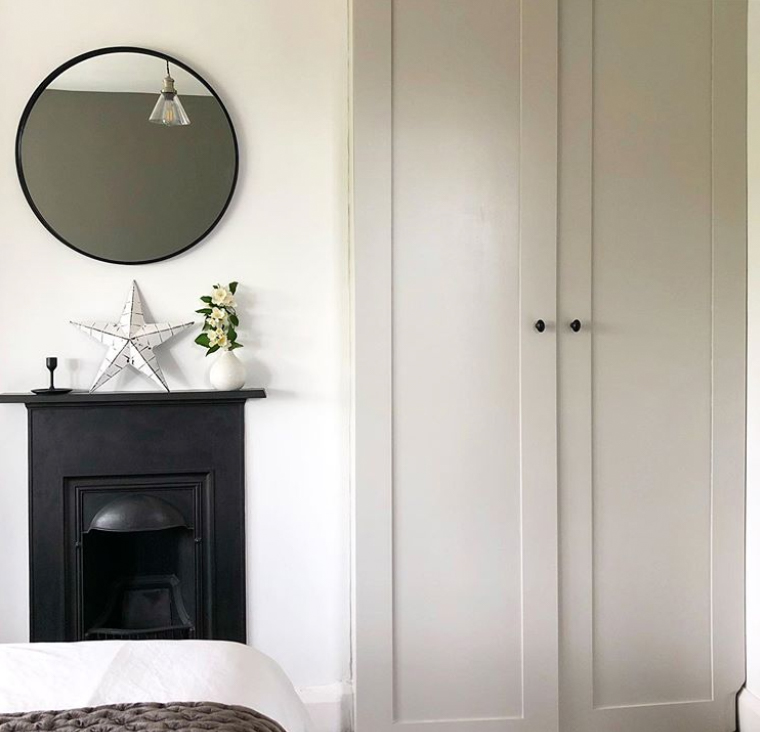 We're almost halfway and the best is yet to come, so keep scrolling for more beautiful bedroom storage ideas!
16. Under the Windows
If you have windows that stop halfway down the wall, then installing a storage solution underneath them is a great idea! These long drawers span across the room which ensures that there is plenty of storage to be able to put away all your unwanted clutter.
Plus when you are grabbing something from the drawers or putting something away, you can also take the time to peer outside!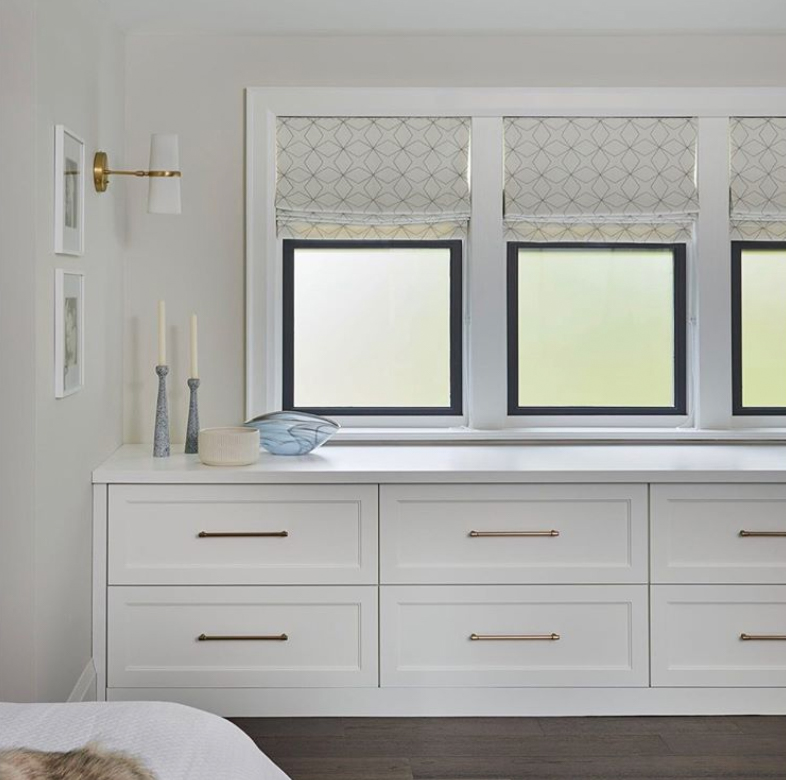 17. Tucked Away
This cabinetry is perfectly tucked away yet also in prime position for easy access at the same time! Cabinetry such as this may have to be imagined when you're in the early stages of building your home or if you think there is space for it in your existing home, chatting to a builder will confirm whether you are able to add something such as this.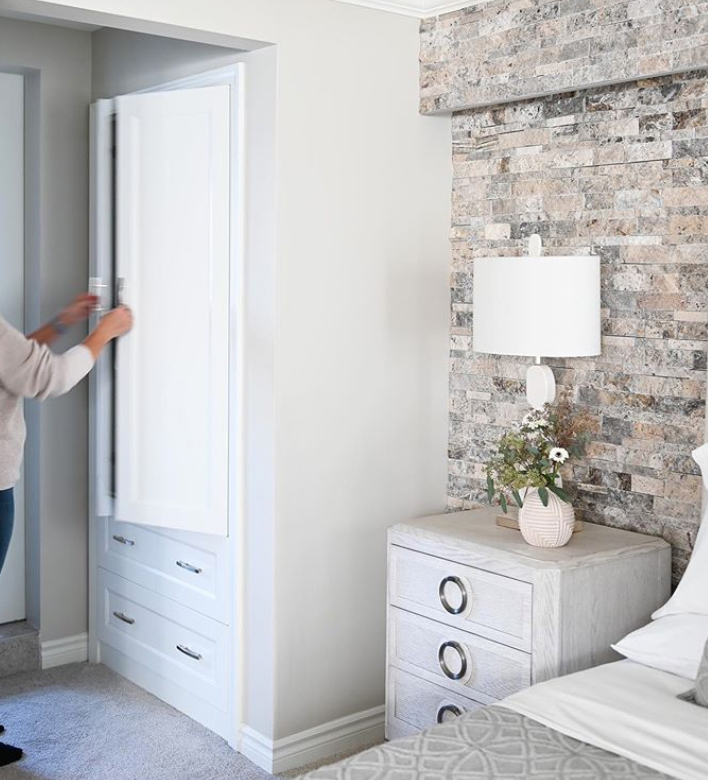 18. One Each
If you're needing a little bit more storage than what bedside drawers can provide, what about having bedside cupboards? There's one for you and one for your partner so there will be no discrepancies when it comes to who's drawer or who's shelf is who's. And I also love that tropical feature wall that perfectly compliments the green tones of the cupboards.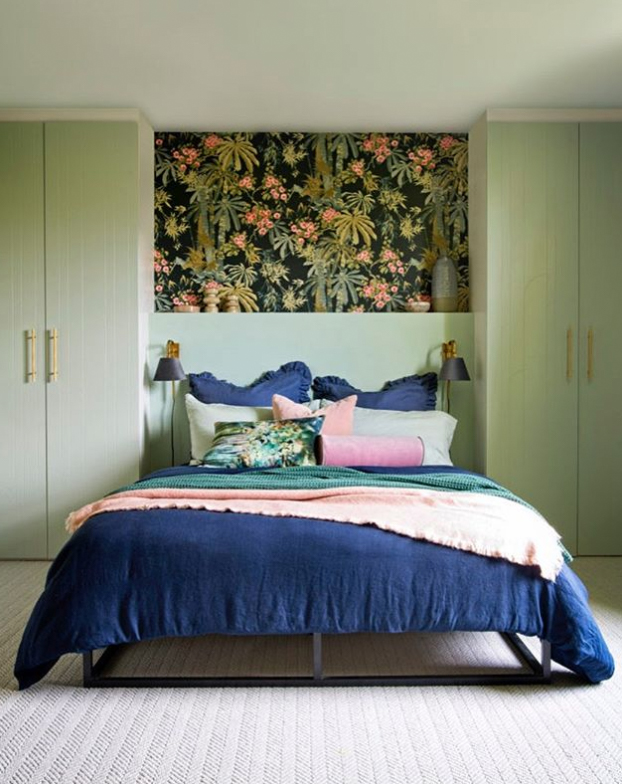 19. Lift Up Bed Frame
Here is a great idea if you're limited for space  – a lift up bed frame! Lift up bed frames are a great space saver especially as you already have room for a bed! You could store extra pillows, linen or even seasonal clothing items underneath. Easy peasy!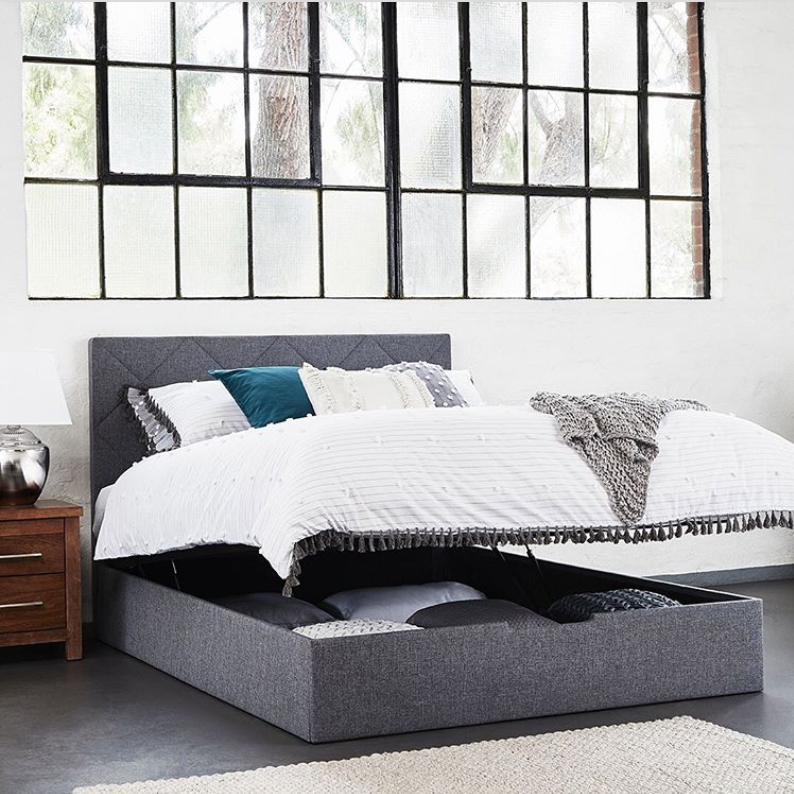 20. Shoe Envy
Wow! Check out this awesome shoe storage idea! As shoes are all shapes and sizes, they are usually so hard to store but this converted bookcase not only stores them but makes them shine on display. It's a place where you can put your precious favourites, that you can swoon over.
You can easily get the same look with some painting on the walls, getting a basic bookcase delivered from IKEA and then why not get someone to take care of the assembly. Then you're just left to do the fun part… Shoe styling!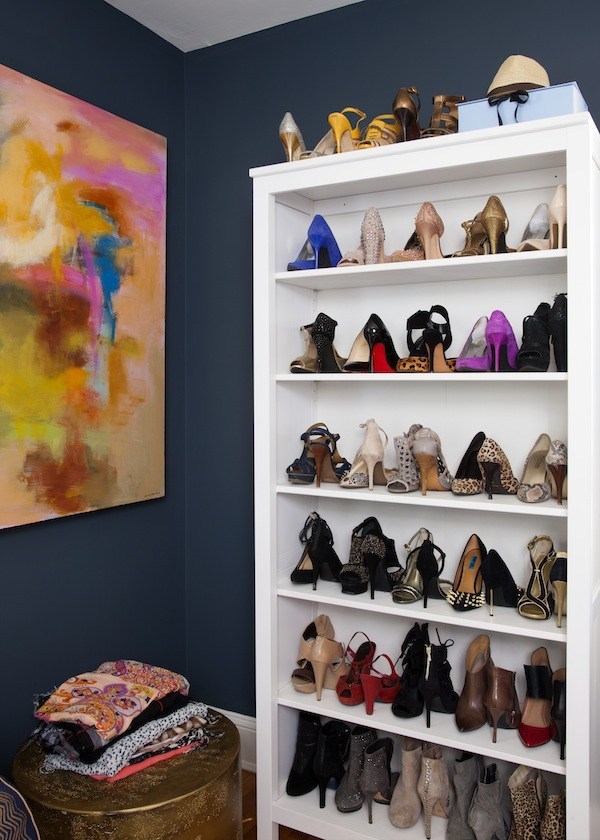 21. Symmetrical Wardrobes
Symmetry really does create so much balance within a room. And these symmetrical wardrobes are doing just that. There is a very subtle difference in the paint that has been chosen for the cupboards versus the walls, which really works so well. And I especially love the little sitting nook by the window that also has it's very own drawer storage underneath.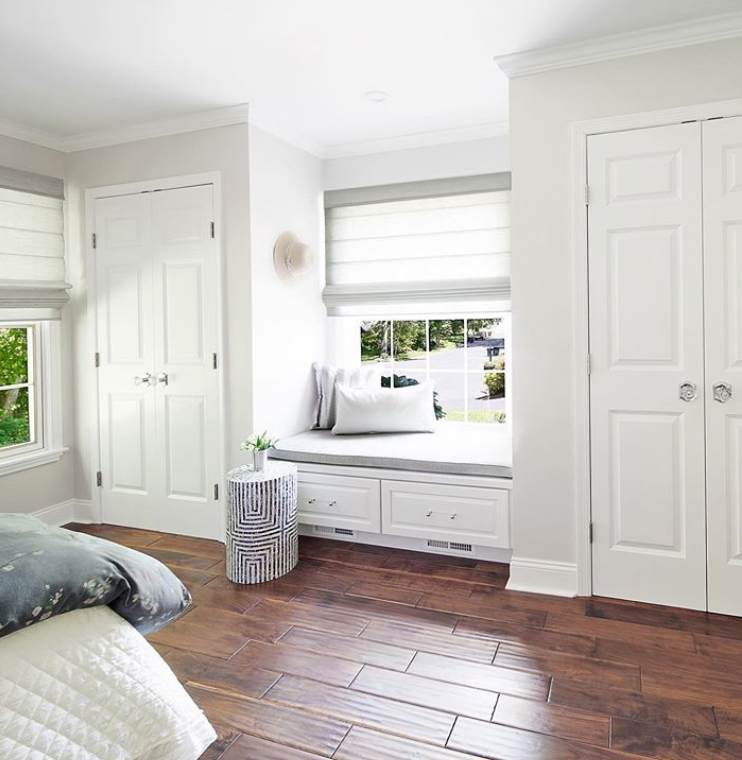 22. Bunk Bed Storage
This would be great for a kids room or if you own an Airbnb and would like to add more beds in as little space as possible. This bunk bed solution not only successfully adds two beds into a small space, but it also allows for so much built-in storage that would be perfect for long term or even short term guests!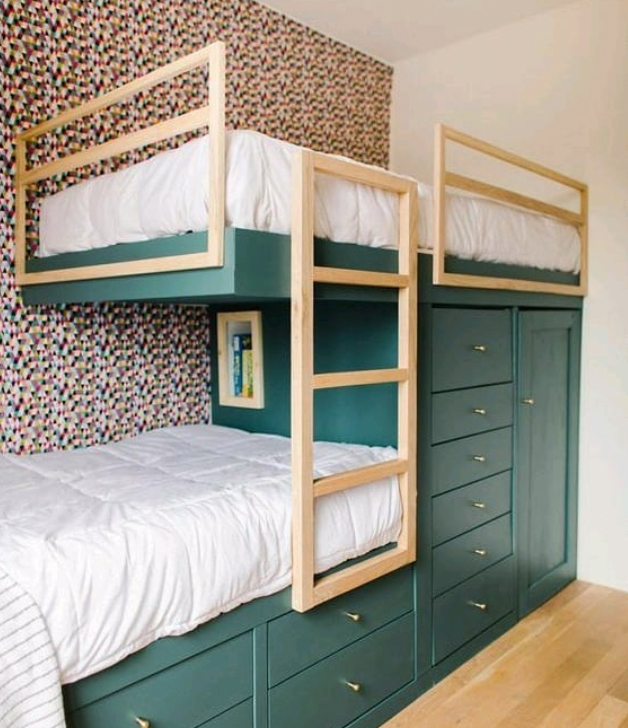 23. Boho desk
If you're wanting to add a desk area into your bedroom but don't have too much space for a big bulky desk, then building it into your cabinetry is a great idea. In this bedroom, there are cupboards either side for clothing storage and in the middle, there is a built-in desk – perfect for the households where more than one person works from home.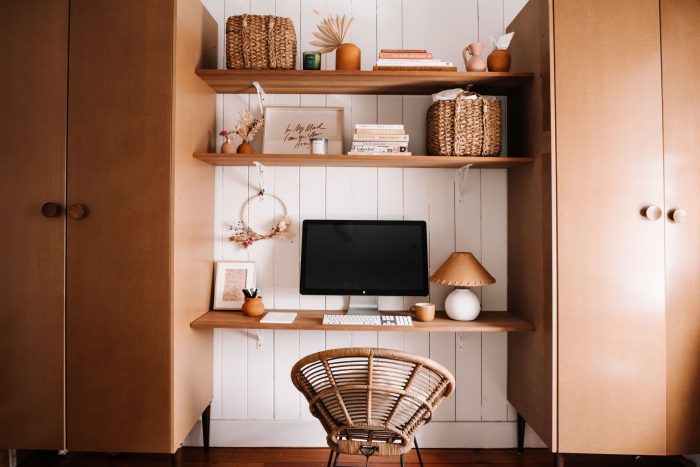 24. Ottoman Stylish Storage
On first glance, it doesn't look as if there is much storage in this bedroom but it has actually been very cleverly done. An ottoman at the end of your bed will not only provide a place to sit when you're putting on shoes, but it will also double up as storage. Bedside tables have also been used in this narrow bedroom to ensure more storage.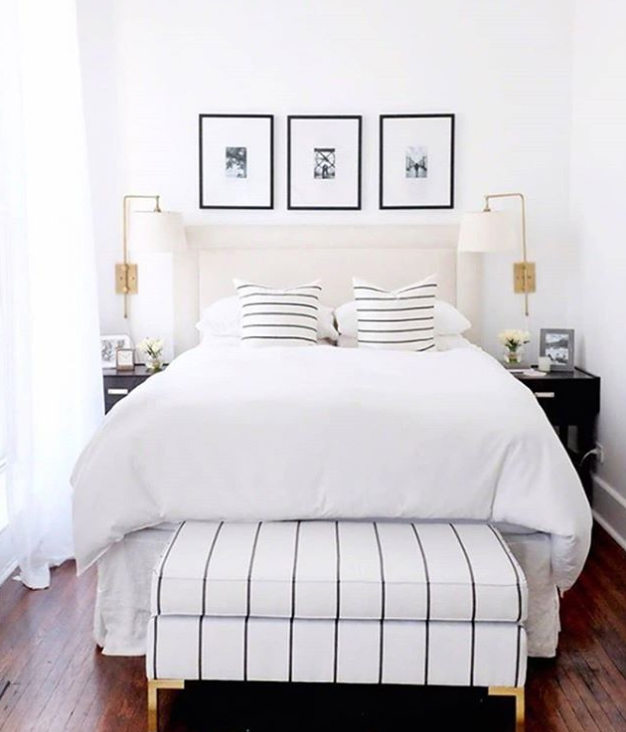 25. Box it in
For those inner-city living people who don't have much space but want to make a dramatic impact, whilst also valuing the perks of the cubed bedroom storage.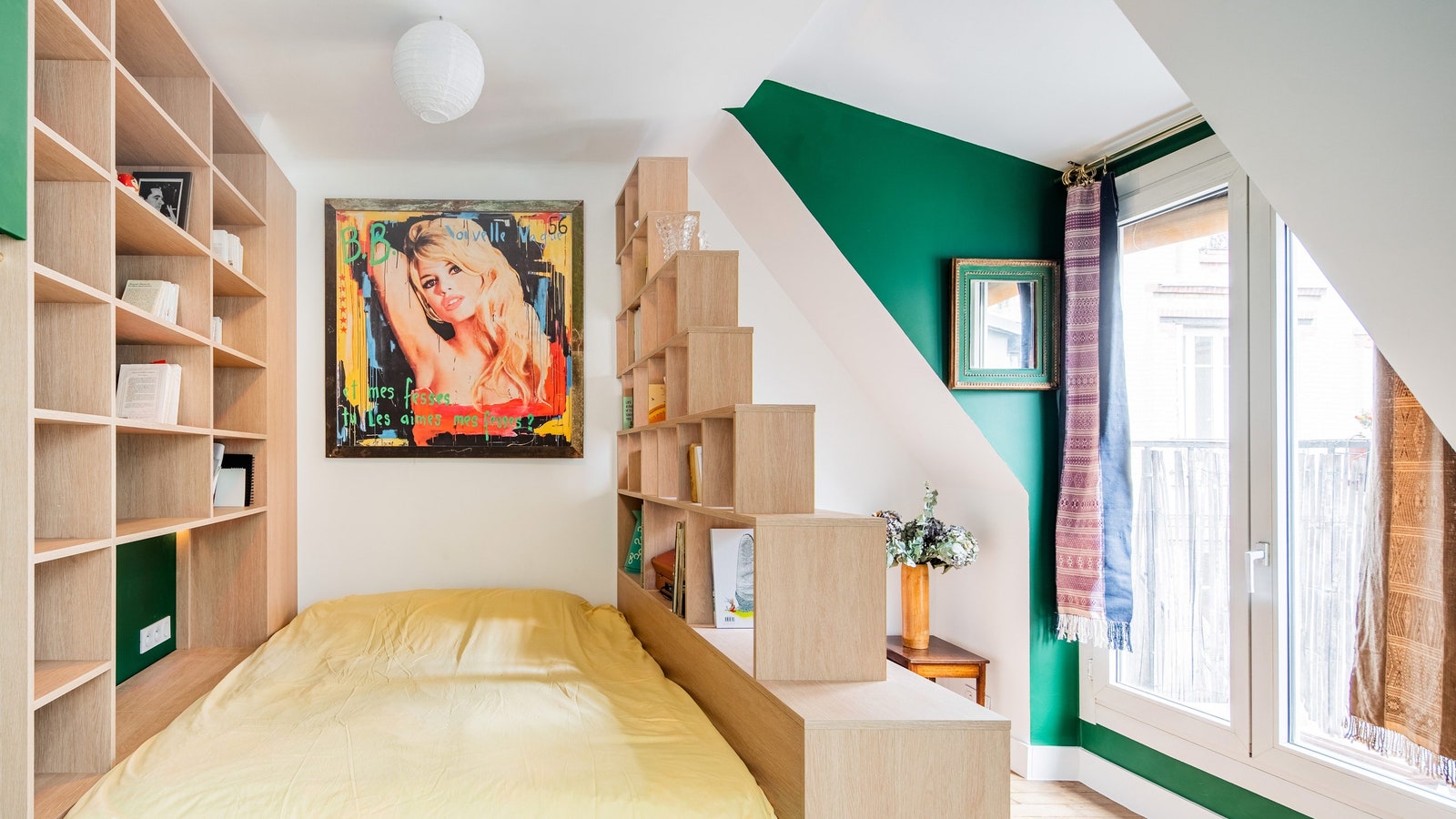 26. Filed Away
Let's face it, files can unfortunately not look very appealing on their best days and filing cabinets aren't the most attractive either but I absolutely love this storage solution. This is definitely a filing storage solution I can get behind. The drawers are chic, trendy and match perfectly with the rest of the room. Win-win!
27. Part Bed, Part Storage
How great is this bedroom storage solution?! This bed frame really has so many nooks and crannies to be able to store all your favourite things. There is a storage draw under the bed, bedside drawers, storage shelves and even a little trap door where chords and clutter can be pushed behind.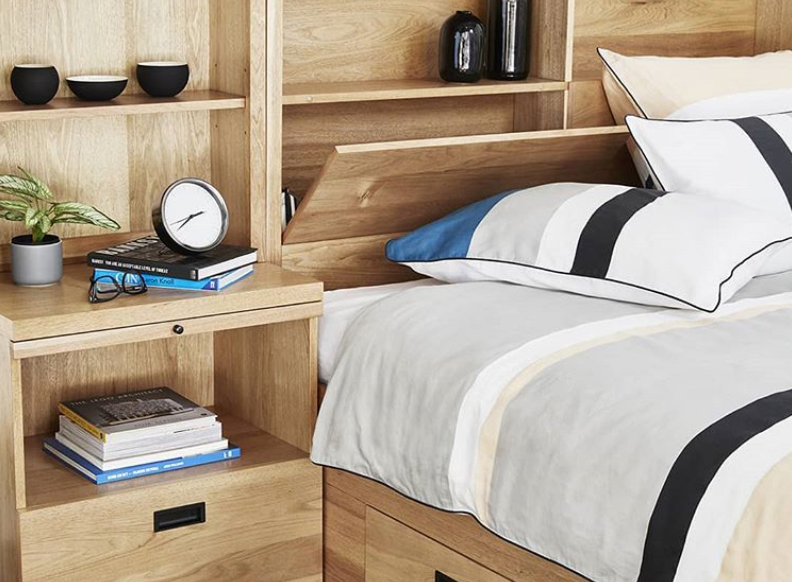 28. Matchy Matchy
This is for you if you like everything to be matching. Matching all your furniture including your bed, bedside drawers, cabinetry and chest of drawers will make everything look very uniform and organised. And I especially love all the silver details on the furniture in the matchy-matchy bedroom.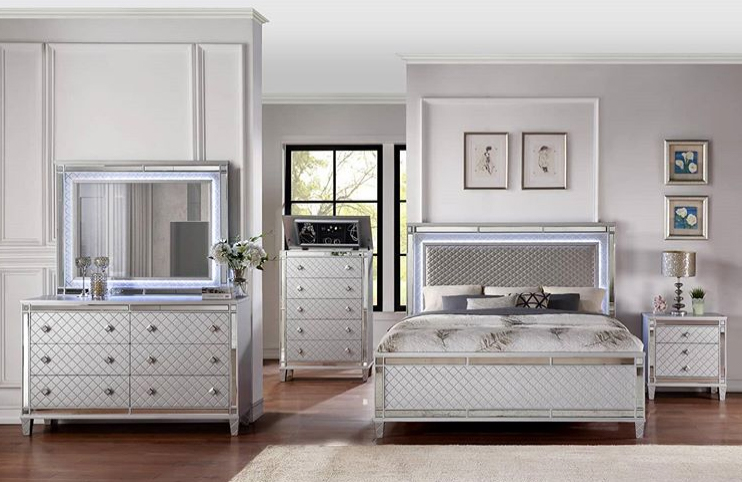 29. Stacked Rattan
How sweet is this ultra-feminine bedroom! I am absolutely loving rattan at the moment and these stacked rattan boxes look so lovely as a bedside drawer alternative. I love how the varying sizes have been used to ensure they look stacked and organic. How beautiful!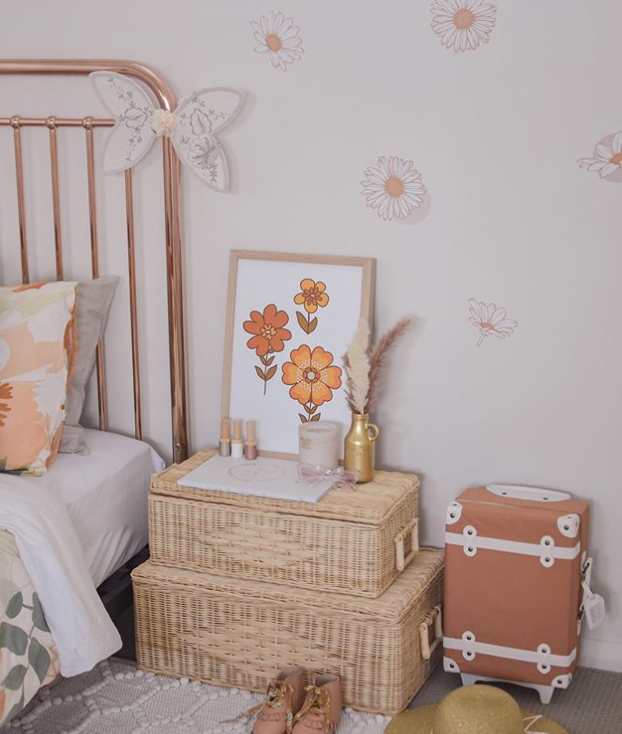 30. Storage Wall
So often the walls around beds are left bare, which don't get me wrong, they still look great with a simple frame or something similar on the wall but adding a storage wall around your bed really works so well! A storage wall around your bed will mean that you won't have to have too much furniture storage cluttering up the rest of the room.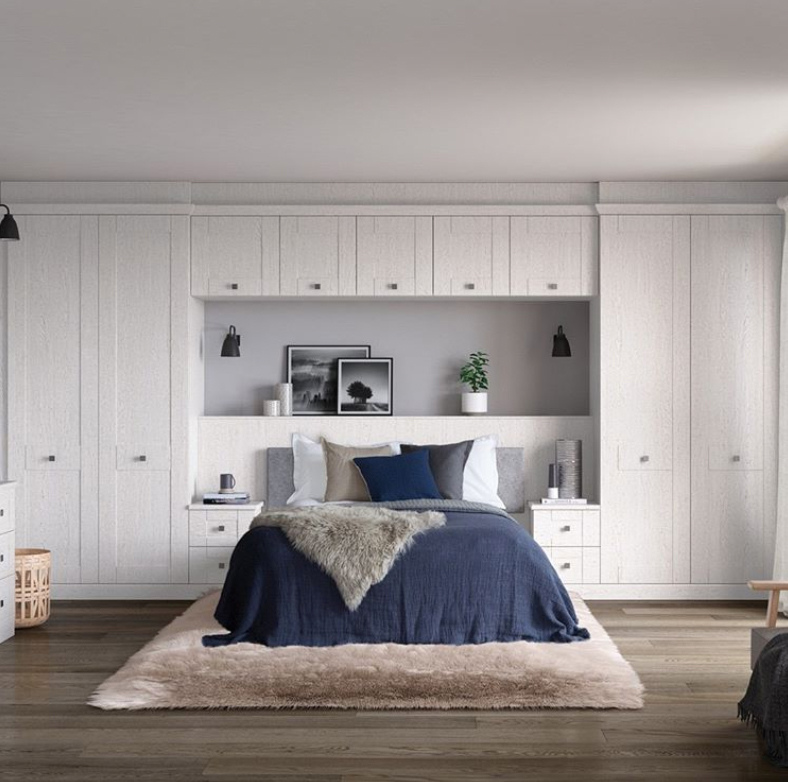 31. Television Nook
If you have a TV in your bedroom, then adding storage in the area is a great idea! You could hide all your chords and devices behind the doors as well as any other cluttered items that distract from your decor.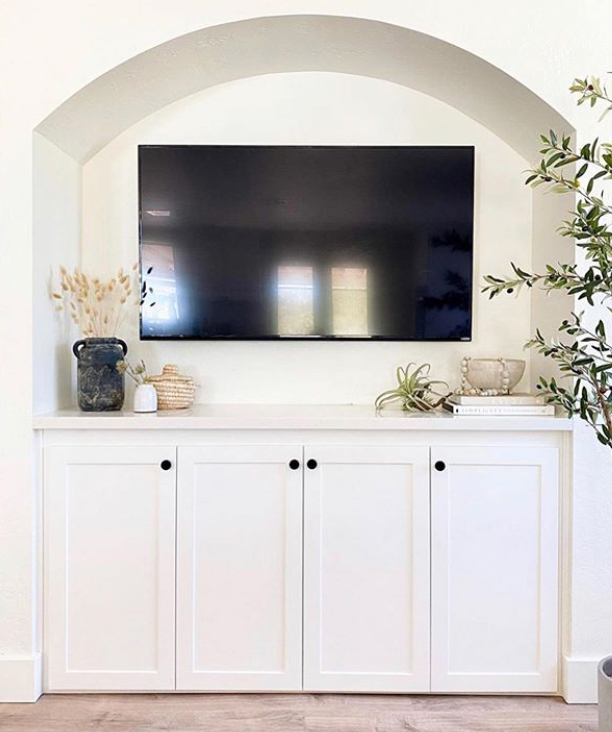 32. Hidden Away
Simple storage units like this are super easy to find (try IKEA!) and look so great. You could put things on display or you could even hide all your clutter and pack it away in storage baskets and drawers so that all your treasures are organised and in one place.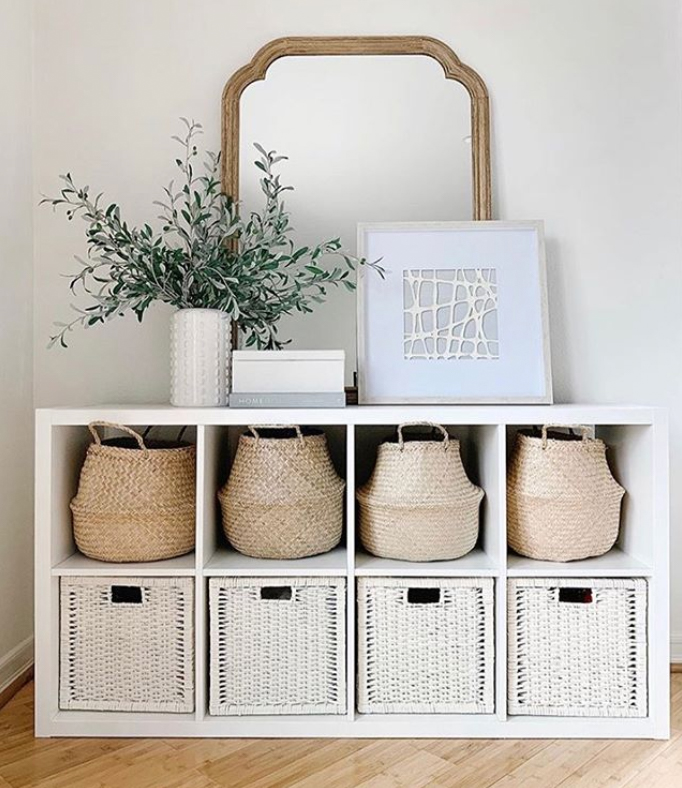 33. Silver Detail
Much like number 6, here is another great mirrored wardrobe! The silver finish of the mirror has been brought through to the tones in the carpet, bed linen and wallpaper as well as the artwork on the wall.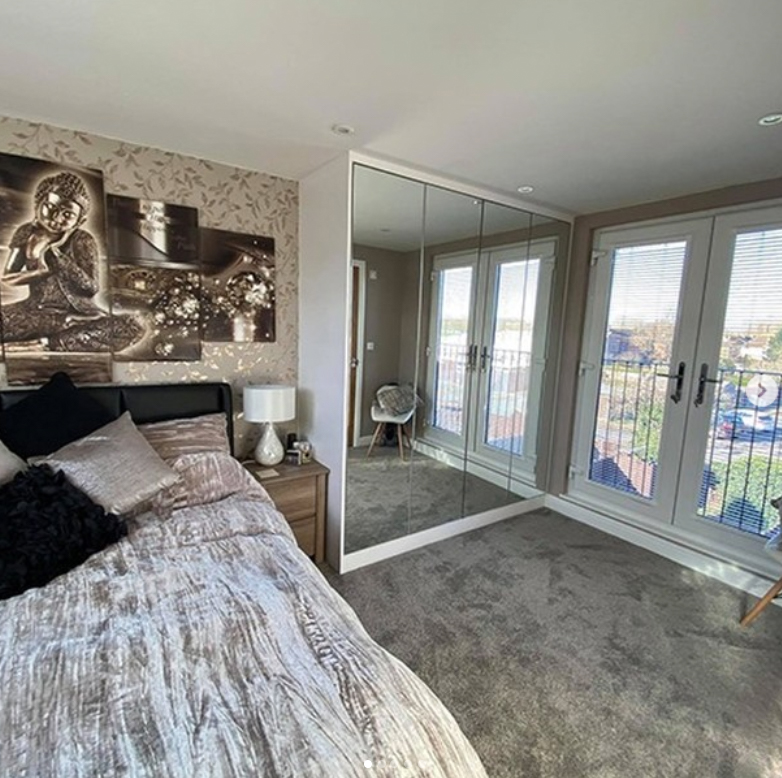 34. Retro bedroom storage
It's modern, yet retro and I love it! From the wall sconces to the pop-out illusion of the bed head which has storage inbuilt for your books and other things. Out of all of the bedroom storage ideas above, this could be my favourite.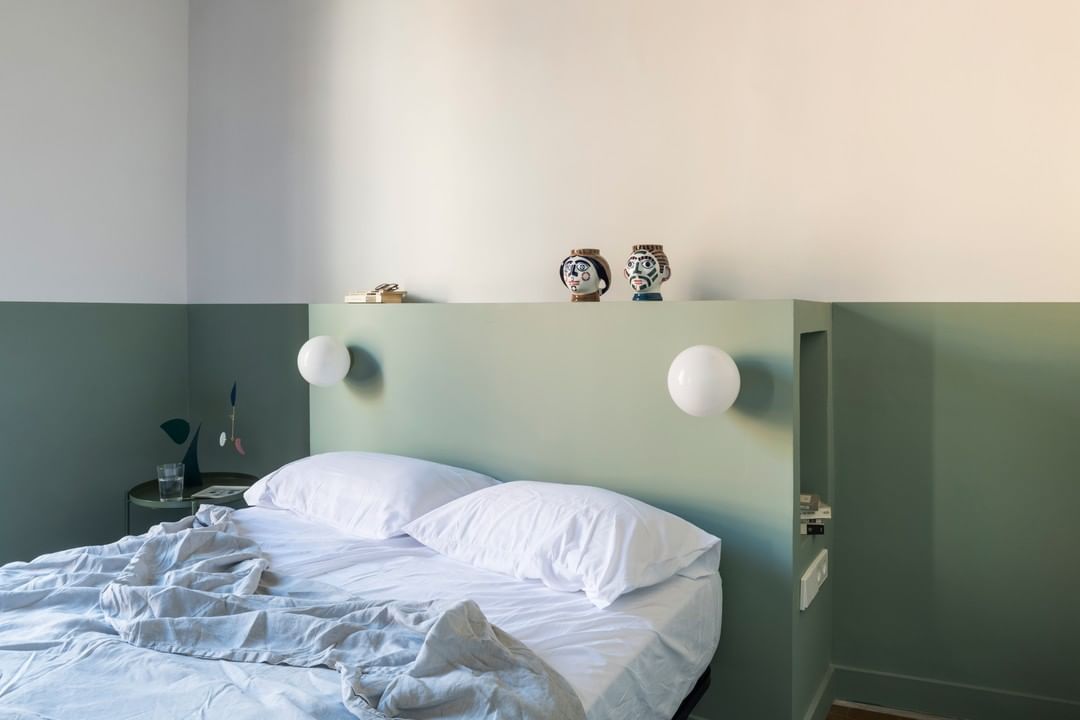 35. Storage All-Around
And for our final bedroom storage idea, we have another amazing bedroom that has storage all around the bed. I love how some parts of the storage unit have been kept open so that decor pieces can be displayed in them. You could purposely make these little nooks look pretty with matching decor pieces or you could even just use them for all your bedside necessities – it's really up to you!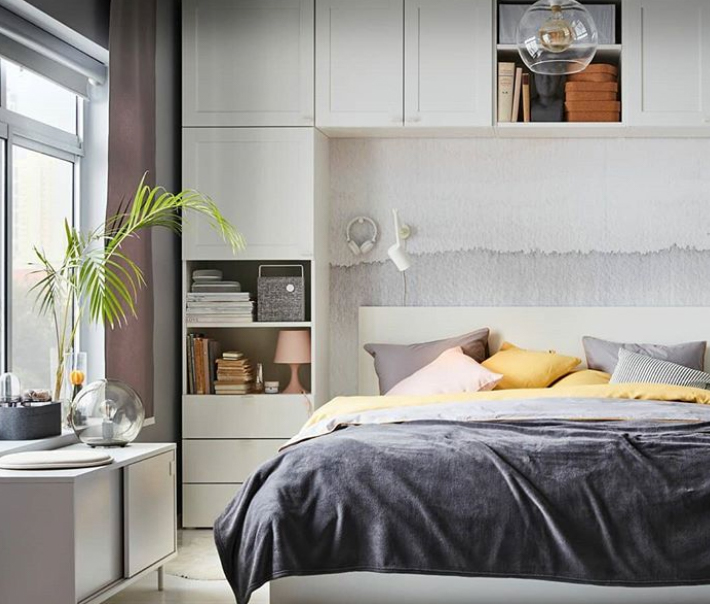 So that concludes 35 bedroom storage ideas to help you stay organised and put all that clutter away for good! I absolutely loved the matching external furniture items as well as the built-in wardrobes that fit so seamlessly with the rest of the room. What were your favourites? Which storage solutions will you be using in your bedroom? Let's chat in the comments below!