Window boxes are a type of container gardening that offer the potential to really enhance your curb appeal and add value to your home by signalling that this is a very well-cared for home with wonderful attention to detail. That's because, by their nature, window boxes need to be well maintained—nobody is going to want to show off a haggard, straggly bunch of weeds on their home's façade!
The basics of window box gardening are fairly simple. You need a strong planter box that's firmly attached to your window with wall brackets. It should have drainage holes, be lined and the base filled with rocks or stones to further help with drainage. Add high quality fast-draining potting mix, and fill with plants suited to the amount of light the space receives. Regularly water and fertilise, and prune occasionally as this helps plants living in a restricted space.
The best window box ideas give your home exterior a touch of class and beauty, add texture to flat surfaces, and create little eye-catching pieces of drama. Below, I've hunted down 35 window box ideas that would look amazing in a contemporary home, including coastal luxe or Hamptons homes.
1. Modern window box
This one's a great example of a contemporary window box that adds zesty freshness and texture to your window without overpowering colour. These two boxes are completely symmetrical too, with a pleasing repetition of elements. Fitted onto the sill and perfectly into the window frames, these particular boxes are visible from the outside but spill into the interior.
2. Farmhouse window box
If you love neutrals and understated chic, a window box with subtle colours interspersed with the greenery is ideal. Here, this whitewashed farmhouse-style home with rustic touches like the old wooden bench, where a bustling window box is full of a lush and wild-looking planting including lavender for soft colour. Lavender loves the full sun so is ideal for an exposed window.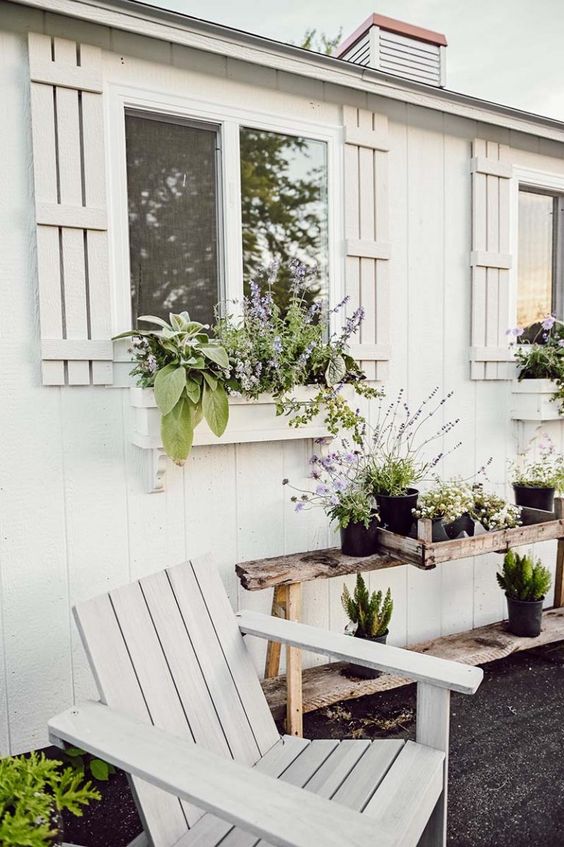 3. The layered look
Most window boxes aim for a variety of plants of different heights, widths and forms to create a beautifully layered, bouquet effect. Ensuring you add evergreens into the mix means you'll be able to enjoy colour and vibrancy through the seasons when other plants are dormant.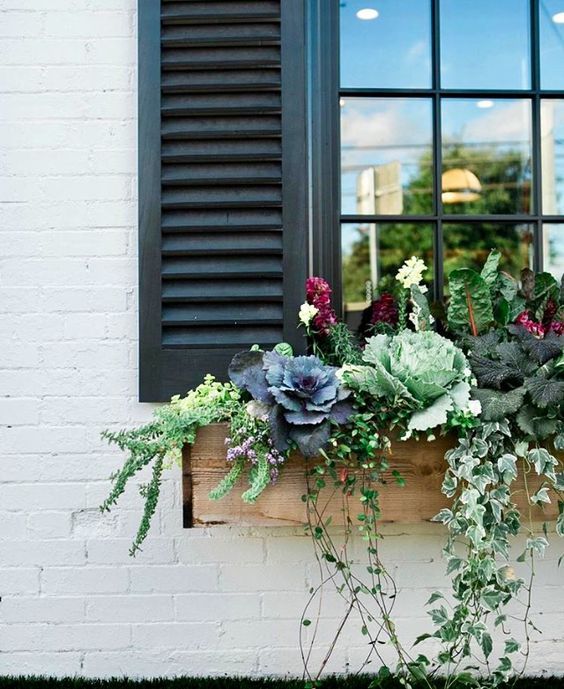 4. Exuberant colour
If you love bright flowers, a traditional boldly coloured window box may be more up your alley (or rather, façade). This gorgeous white flower box contains a mix of fuchsia impatiens, a shade lover, and dichondra, glorious trailing foliage.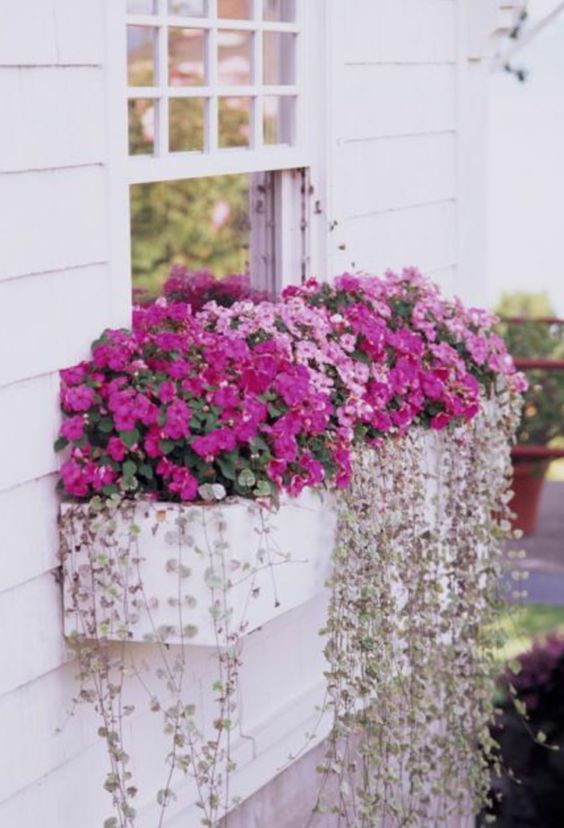 5. Always beautiful natural wood
There's an endless choice of plant colours, textures and sizes, but you can narrow it down to a combination of plants that need the same amount of light and water. Here's an example of a typical window box 'recipe' with a focal plant at the centre and the spaces on either side filled up with so-called 'spillers' or cascading plants.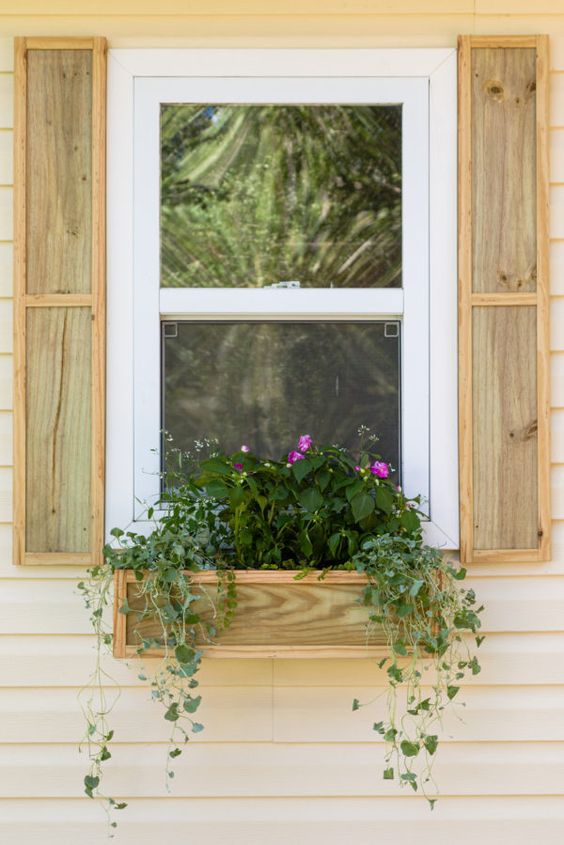 6. Texture
One reason people love window boxes is that they add visual interest and texture to an otherwise plain house façade. A classic look is to pair your window boxes with shutters, like this. Here, the traditional look is modernised with Corten steel boxes which have a lovely weathered patina.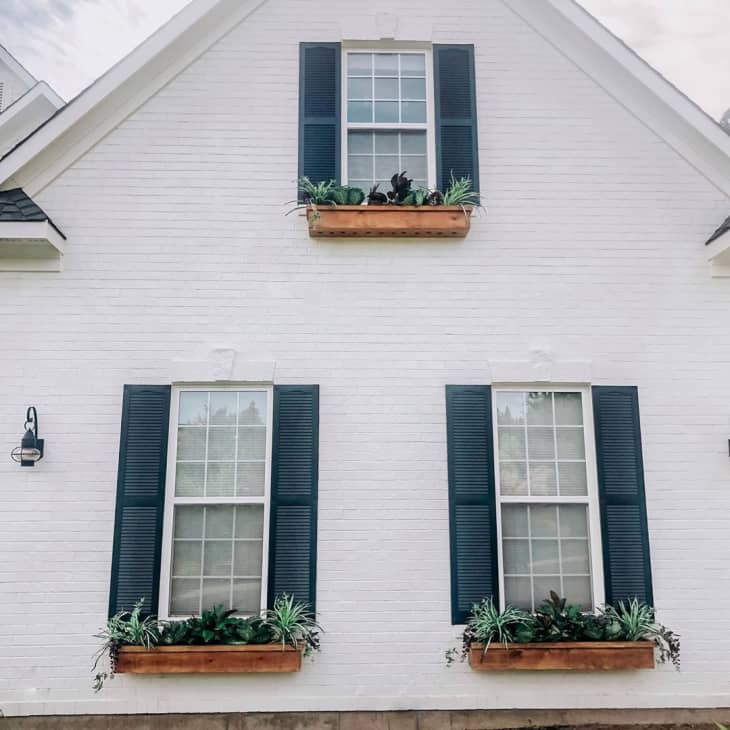 7. Soft colours
Perhaps you would love a window box but don't necessarily want something too bold?  A gentle mix of interesting textures and soft colours may be the way to go. I love this simple white wooden box against the white weatherboard exterior and the array of pretty blooms and trailing plants.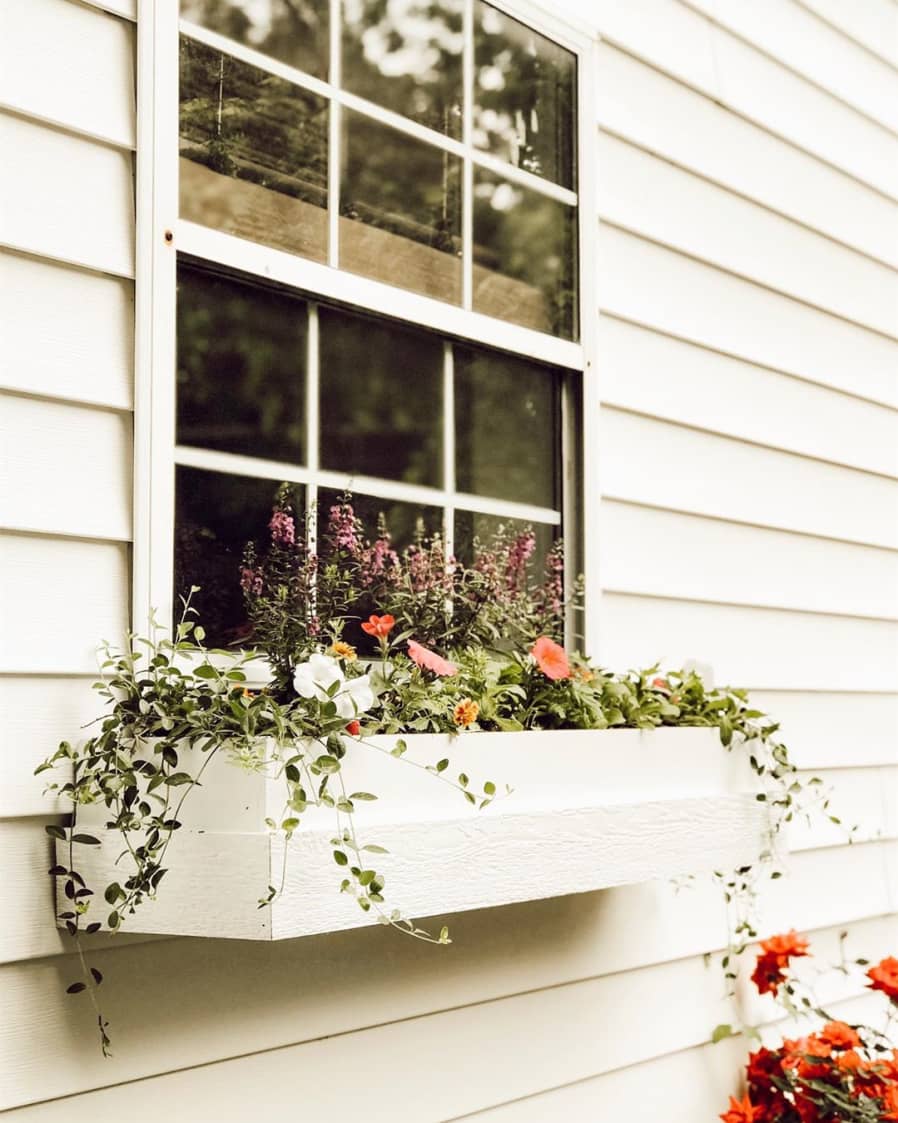 8. Black and white
A black window box against a white window frame like this has a striking high contrast effect. The simple, single flower arrangement in the box is equally stark and unfussy. This one would suit those who prefer a minimal, Scandi style look.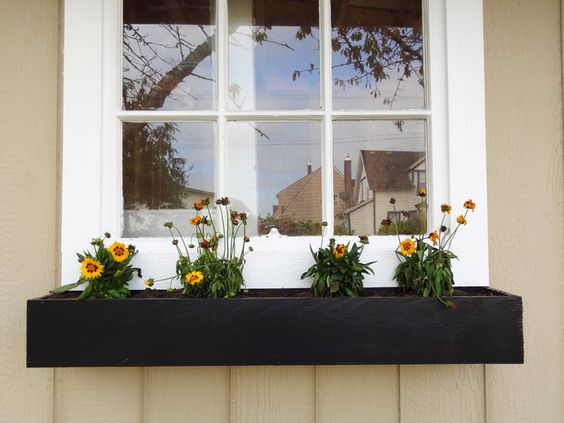 9. Overflowing
Compared to the window box above, here we have a window box design that showcases an intentionally overgrown look. Vibrant blue blooms cascade down the wall and really pop against the pale-coloured wall and soft sage green shutters.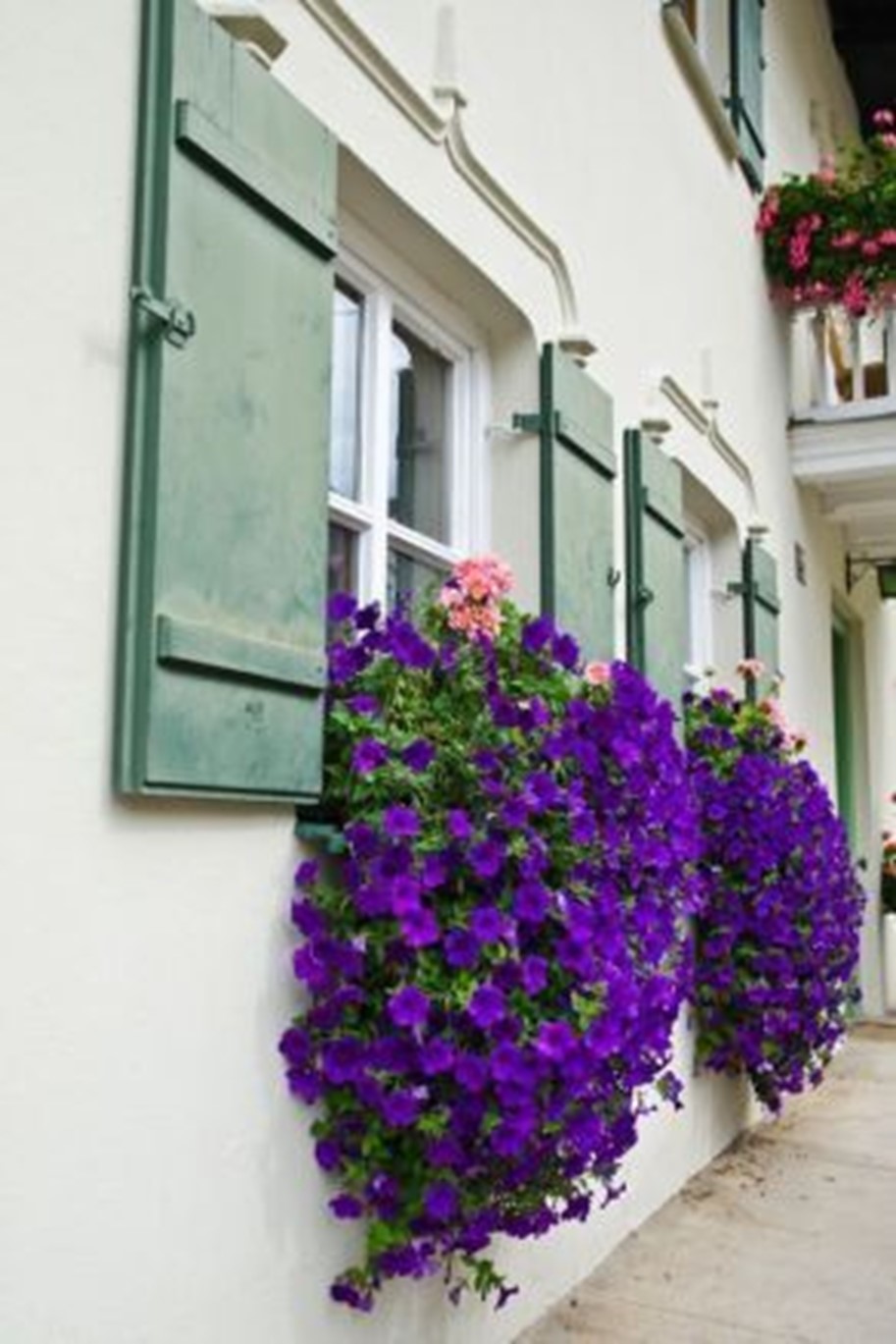 10. Tiny and neat
If you prefer a more restrained look, consider just a tiny little window box with delicate flowers like this. This battered metal box appears to be simply placed on the window ledge, rather than permanently affixed, meaning it would be portable and easily switched out.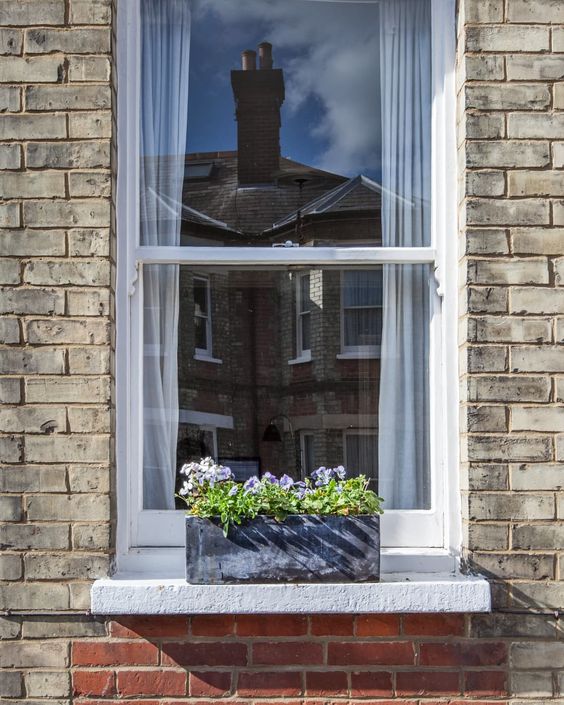 11. Cedar window box
This natural cedar window box is another minimal design with clean lines and featuring a simple planting. It's an easy-to-build DIY or you could find someone to knock it together cheaply for you. Timber flower boxes always look lovely, especially in a modern farmhouse setting such as this, where it contrasts with the whitewashed brick (which is actually faux brick tile on cement slab!).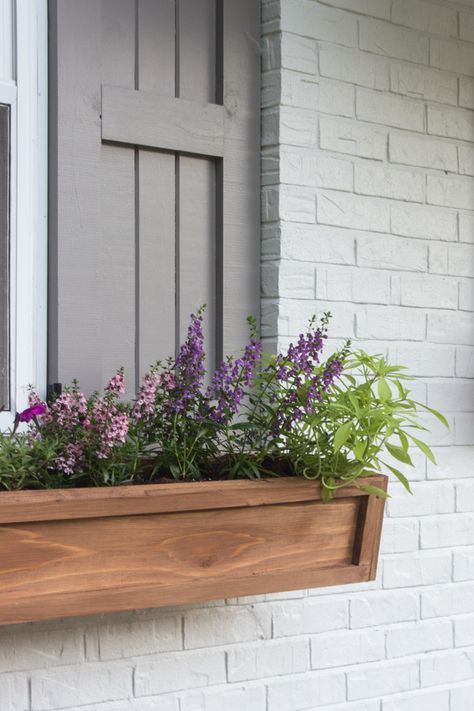 12. Stand out
Monochrome window boxes can look amazing, especially when paired with a statement container like this metallic one. If you decide to go with a single colour planting, a mix of plants of the same colour will create more texture and a lovely layered effect.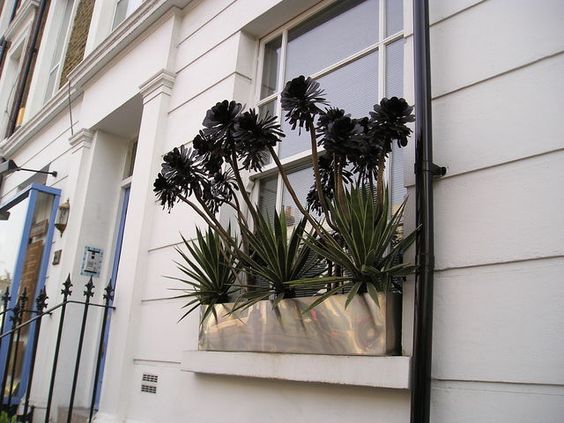 13. Simple hydrangeas
Another sleek and striking black window box here, and again it features a minimal single flower planting, this time white and blush hydrangeas. The soft roundness of the blooms contrasts nicely with the heavy black expanse of the box. This kind of design is a great way to soften up the façade without overwhelming colour.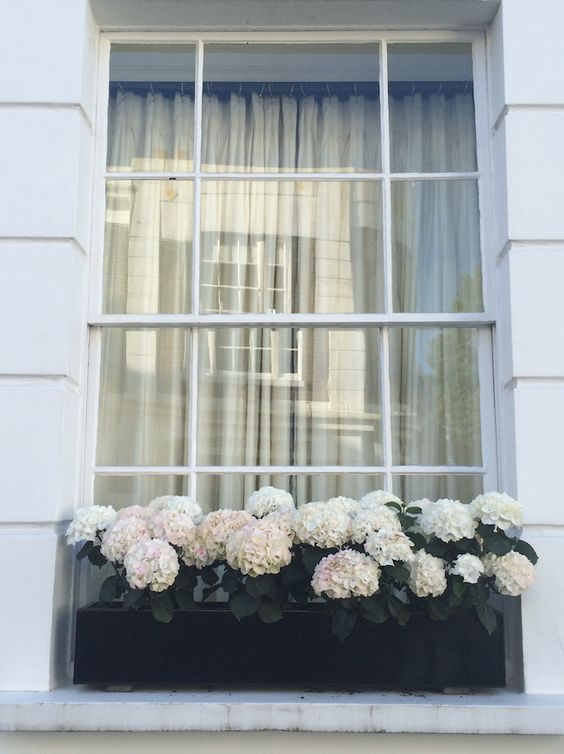 14. Unexpected flowers
This pretty planting in a simple pallet window box is charming thanks to the soft colour scheme and the artful mix of 'thriller, filler and spiller'. The dramatic 'thrillers' here are the pale pink tulips, a more unexpected, taller flower for a window box. The 'filler' or base here is the fluffy, muted green foliage while the 'spillers' are the depth-giving trailing plants.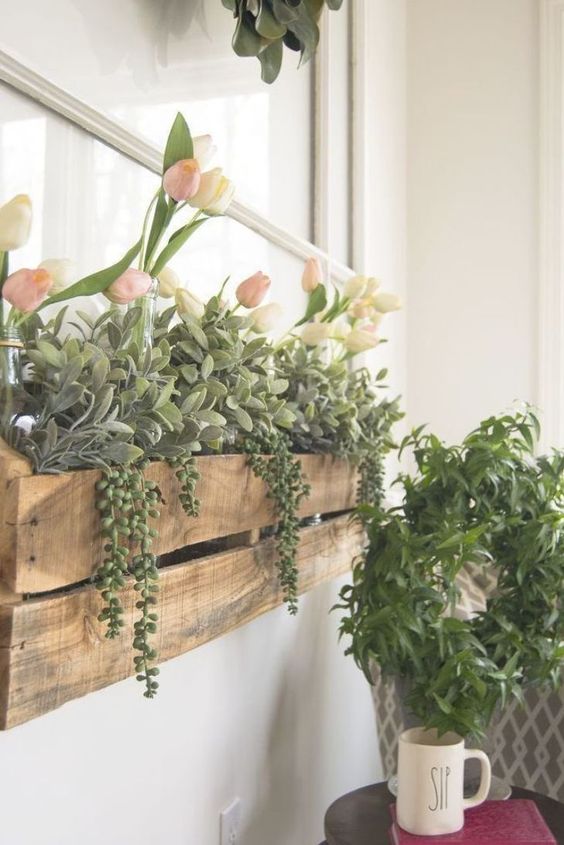 15. Inside window box ideas
While flowers are the most common feature of a window box, thanks to their hefty dose of colour, a simple foliage planting still provides a dose of lively green and plenty of texture. Here, baby boxwoods were placed into kitchen loaf pans and then combined in a narrow whitewashed timber box. A little moss over the soil gives it a neat look.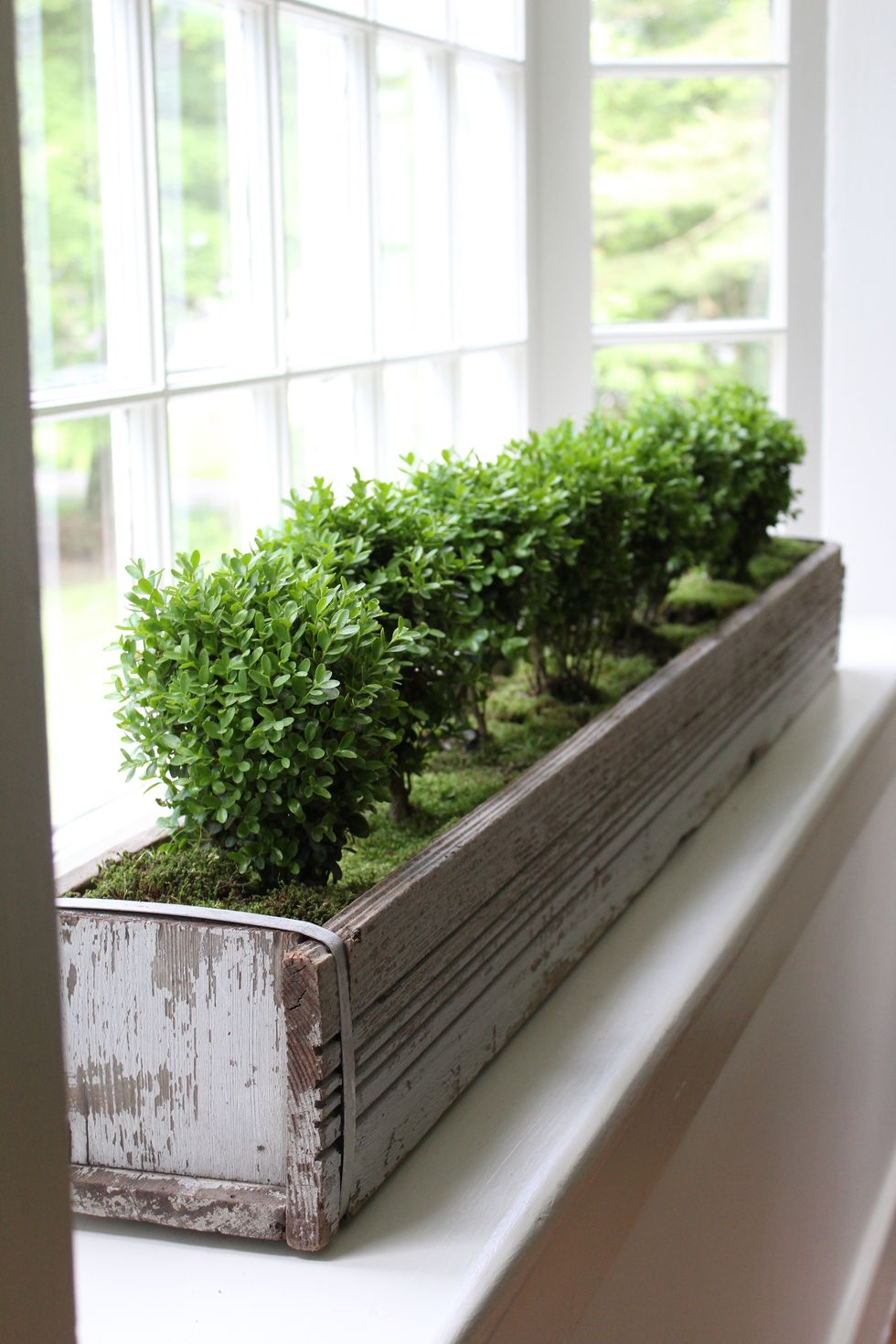 16. Magnolia window box
This window box is attached to a building restored and converted to a restaurant by American modern farmhouse pioneers Chip and Joanna Gaines. When it comes to modern exterior window trim ideas, black trim is strongly contemporary and here, the matching sleek black window box provides a fabulous contrast to planting in hues of chartreuse, mid-green, white and lavender.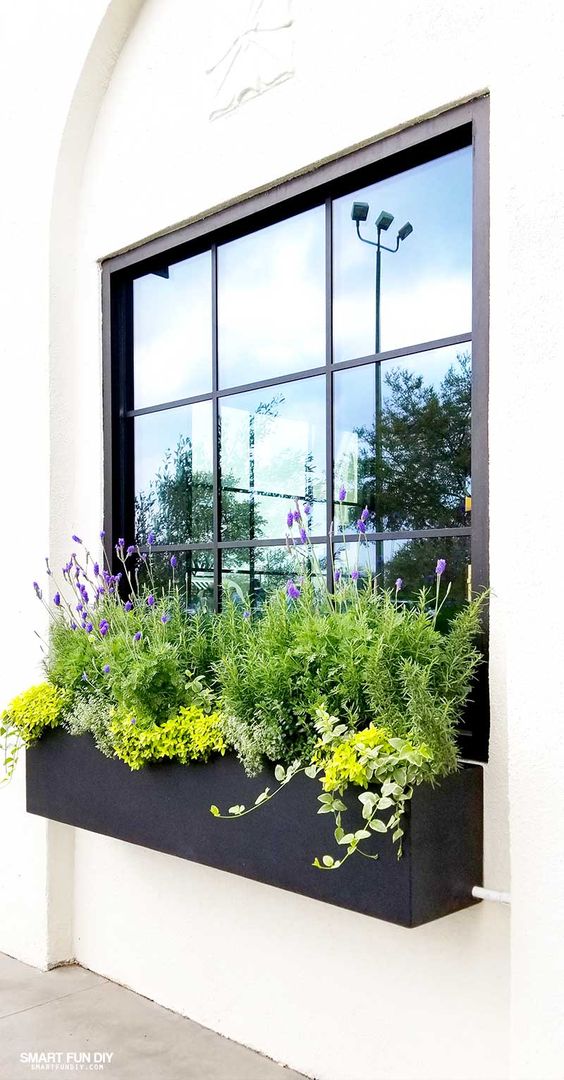 17. Succulent raised planter
While not strictly a window box, a raised planter is an option if you don't want to attach a container to your window itself. This one is another Joanna Gaines design and I think it's quite striking with its mix of spiky succulents and interesting foliages. Succulents are a great low maintenance choice for a window box but they do need sun. Alternatively, if you have low light, you could plant something like sansevieria, philodendron, pothos or ZZ plants.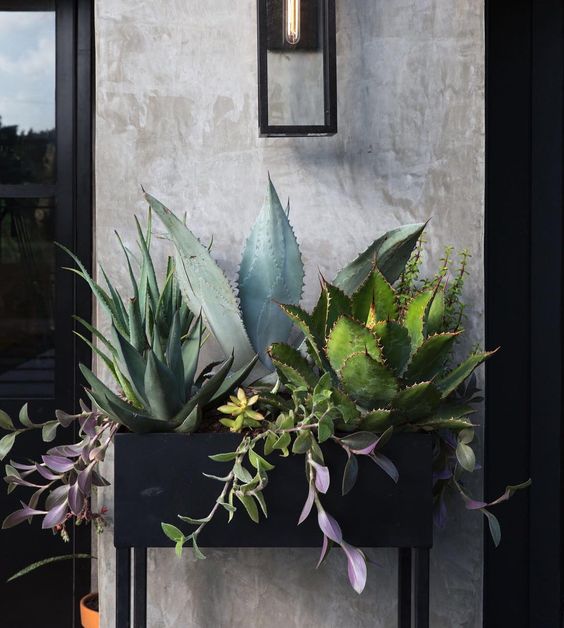 18. Classic colourful blooms
If you love the showy, overflowing cascade of colour of a traditional window box, opt for classic window box flowers like petunias, begonias or geraniums for a bright colour pop. These look lovely against darker window frames and walls, especially if you harmonise the flower colours with your wall tones. Here, sea green walls look gorgeous paired with red geraniums and dark brown shutters.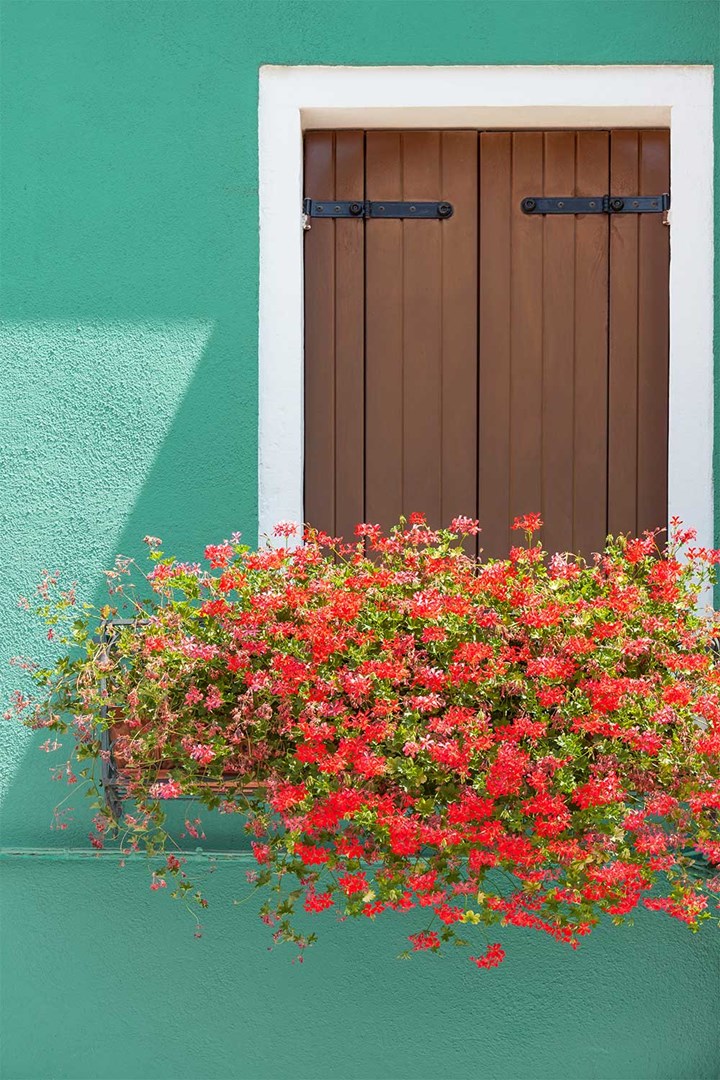 19. Abundant ferns
Does a window box absolutely have to feature flowers? Not at all! There are so many beautiful types of foliage you can use to create a stunning window box display. For example, here it's a mix of bushy ferns which completely hide their boxes and appear to just be growing naturally out of the wall.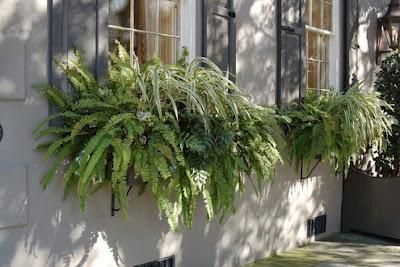 20. Black window trim
When it comes to modern exterior window trim ideas, black is very popular. Black also provides a wonderful contrast to plants, as you can see with the gorgeous window box on this townhouse façade. This one fulfils the traditional 'recipe' for window boxes, being 'thriller, filler and spiller': your central, focal plant being the thriller, the filler being the plants that fill in the blank spaces, and the spiller being your choice of cascading plant.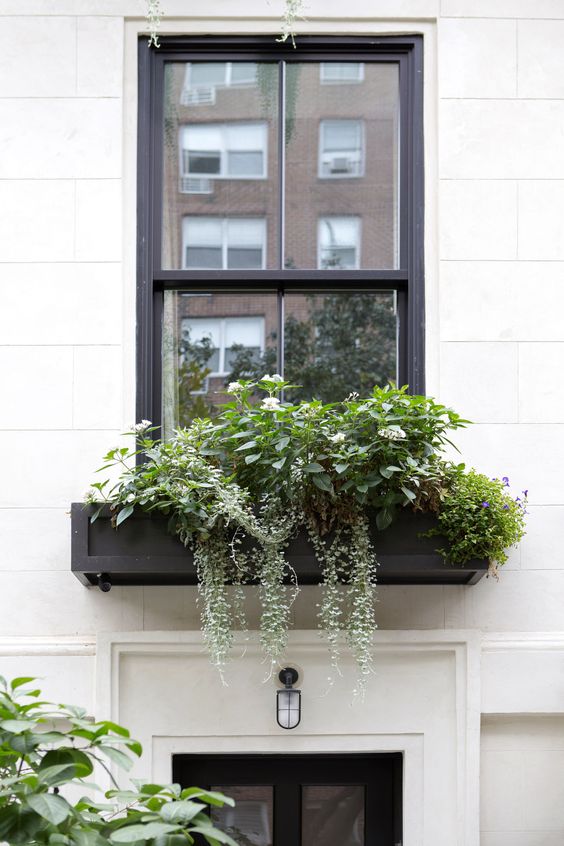 21. Lattice box with potplants
An alternative to planting directly into a window box is to simply pop potplants into a frame of some kind—here it's a zinc galvanised steel window box with handwoven diamond latticework. Creating a window box in this way means you can easily switch out the plants when you want a change.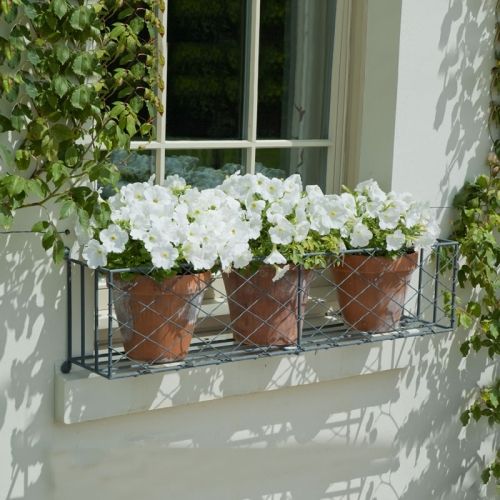 22. Burst of pink
For a dazzling, colourful display against a white house exterior, go for darker plants which will really pop.  I love this mix of purple and pink tones, with upright growers combined with gently cascading blooms. The black timber box itself provides a nice base for the intensely coloured flowers.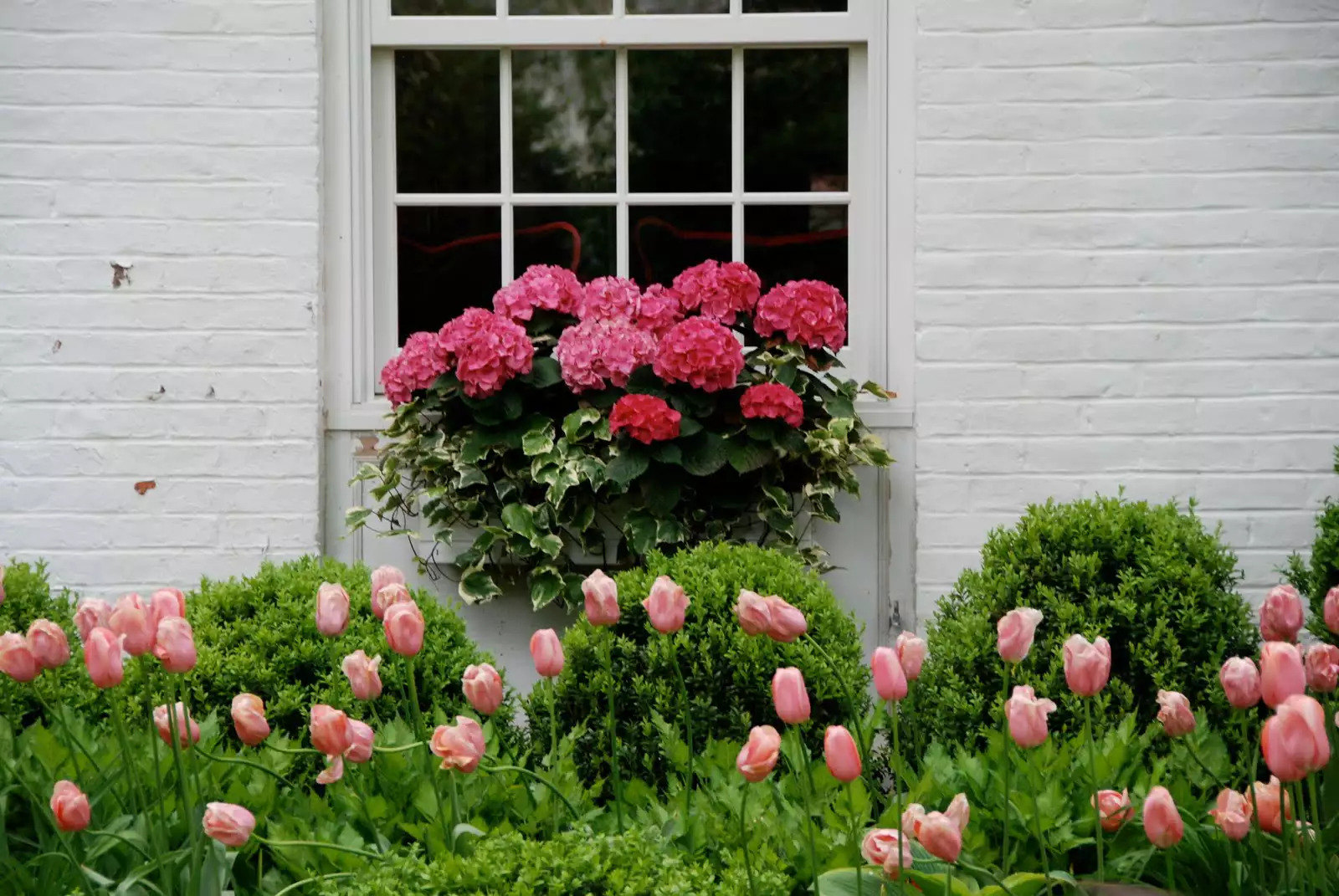 23. Single flower arrangement
A striking look is to have a single flower arrangement, like these purple "Blue Moon" tulips prettying up this modern farmhouse exterior. White timber boxes look fresh and clean and set off the dark foliage and deeply hued blooms perfectly.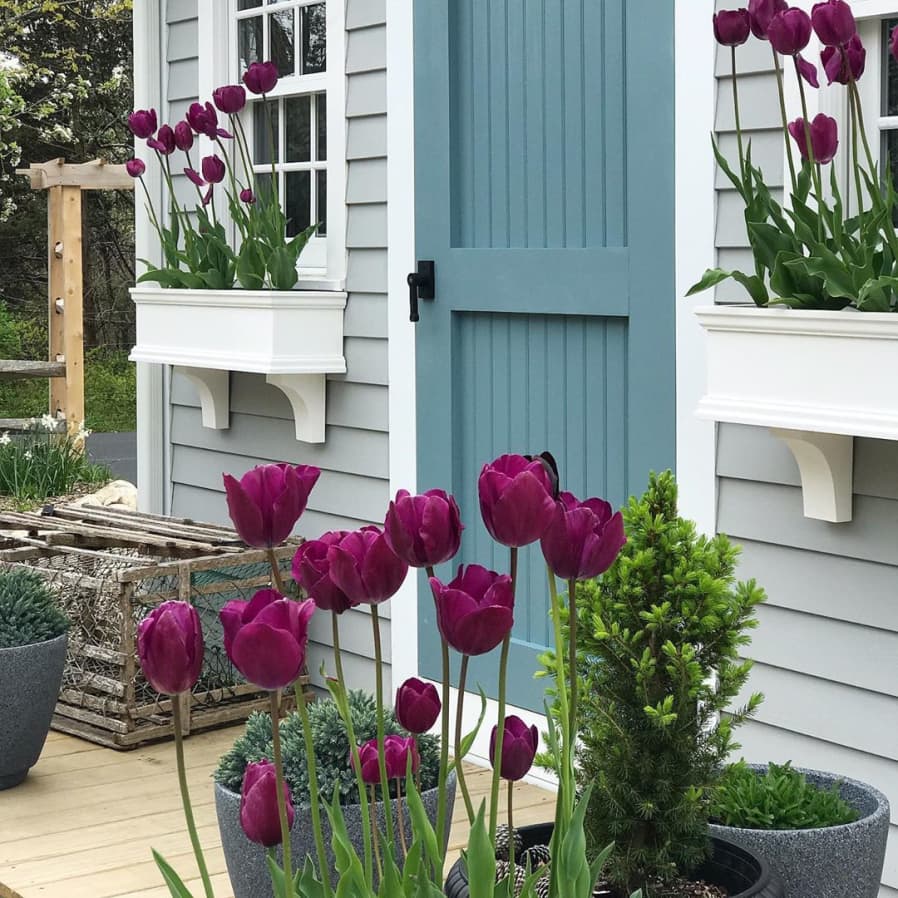 24. Faux foliage
Probably the best thing about faux flower window boxes like this one is the no-maintenance factor. And hey, if your window boxes are high up enough, no one will be close enough to see they aren't real. Here, a stark black timber box is full of artificial foliage in a complementary dark greenish-black.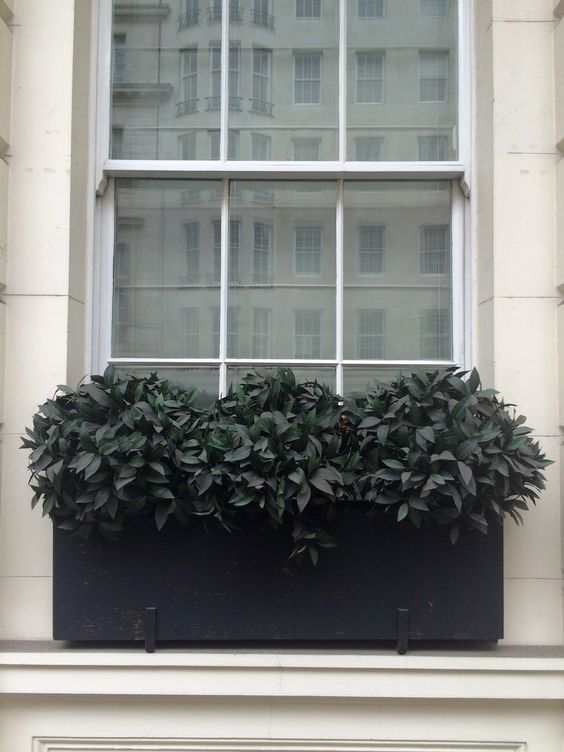 25. Pretty farmhouse window box ideas
There are so many beautiful flowers that you can combine to create a vibrant floral mix. Flowers like petunias and pansies, daffodils and azaleas are classic window box flowers, but you can really go with any of your favourite blooms. How romantic does this window box look next to the vintage bench and jug?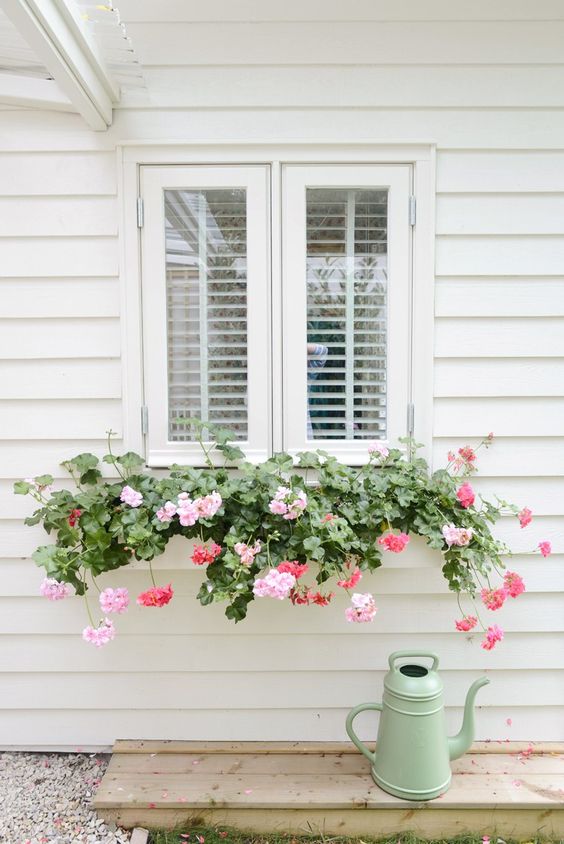 26. Window box with shutters
The city of Charleston in America is renowned for its lovely window boxes dating back centuries. English-style homes were very popular at the time, and the concept of window boxes was likewise imported. Here you see the window boxes affixed to the black and white façade of an 18th century colonel's home, with a matching monochromatic planting. Interestingly, modern farmhouse decor has now claimed this style of window box plus shutters as its own.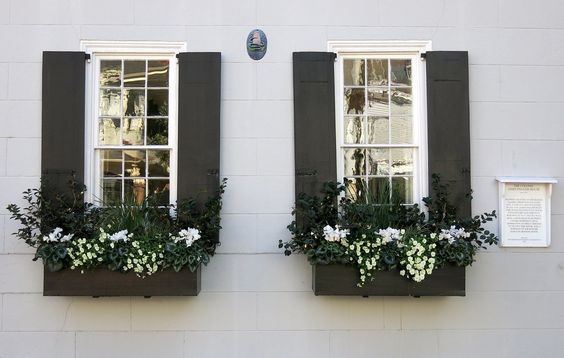 27. Farmhouse timber
As mentioned, shutters + window boxes strongly bring the modern farmhouse vibes, especially board and batten ones like this. Utility wood poplar is used to give that practical, rustic flavour to both the shutters and the matching window box here. A very simple planting adds just a little burst of greenery to the look.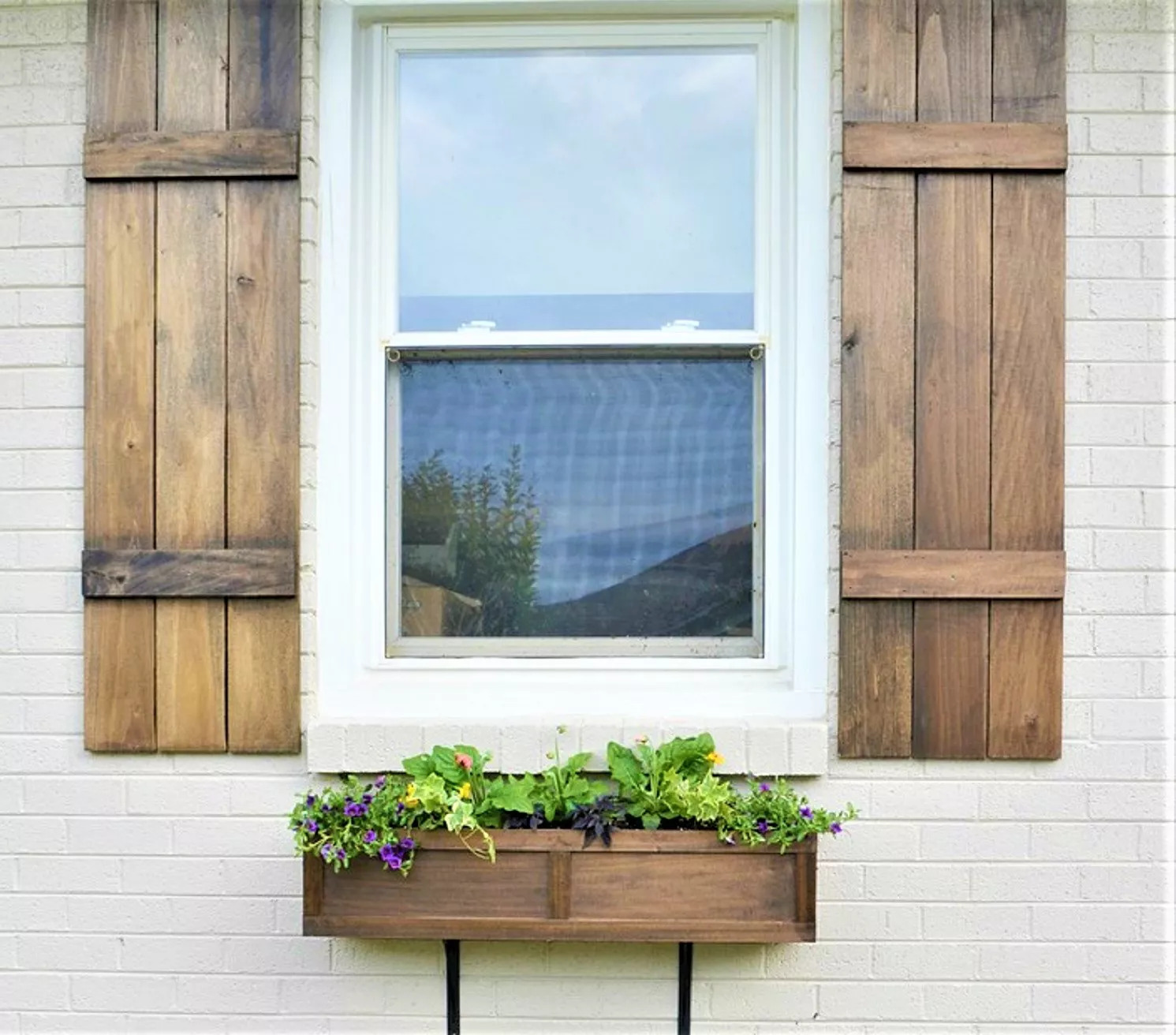 28. Oversized window box ideas
This lovely well-established window box features both trailing and climbing plants, which results in the entire wall becoming covered with blooms and foliage! A lavish display like this will likely take a little maintenance, particularly pruning in front of the window. If you have a very big window, you might consider having a custom-sized window box built to fit your space.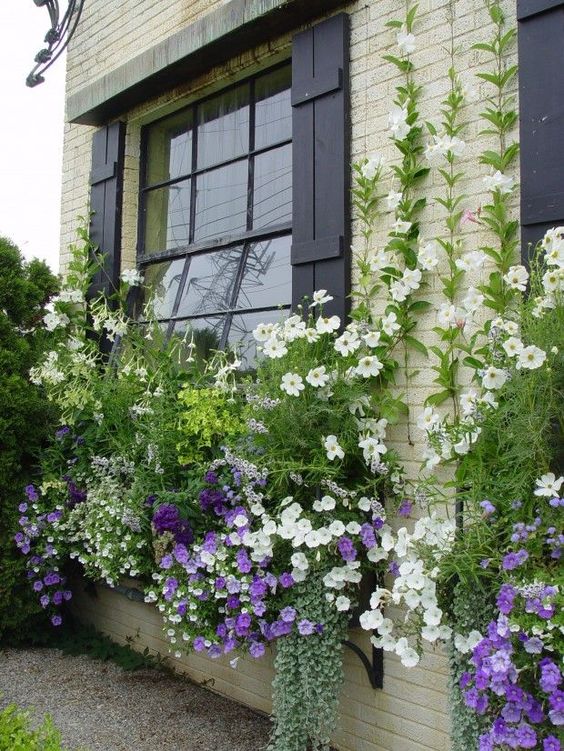 29. Lush window box
Overplanting is a good thing when it comes to window boxes as this creates the full and lush effect that is often desired. But having said that, it's best to allow at least a little room for growth and so that plants can breathe. I love this bridal bouquet look, with a nice mix of structured and trimmed plants and trailing vines below. Pale blue shutters further beautify the space and give the window definition.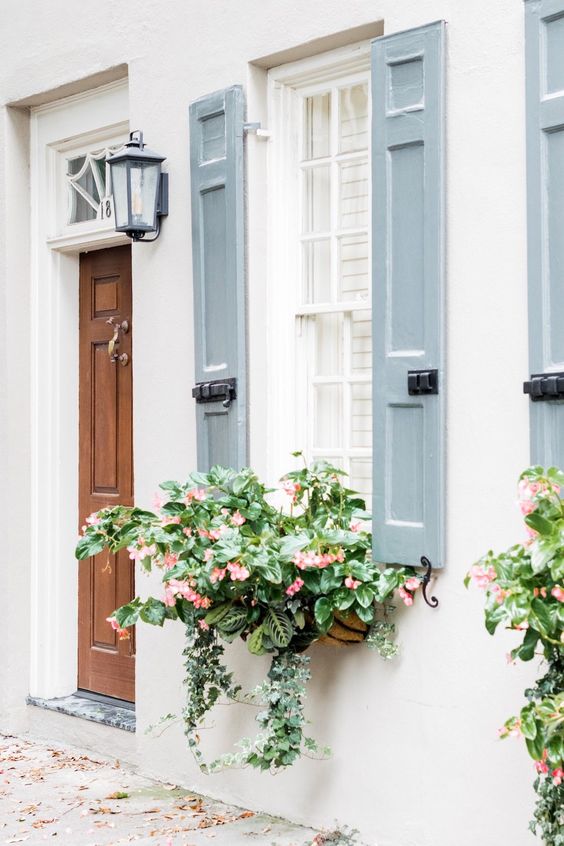 30. Thriller, filler, spiller
Here's another example of a classic 'thriller, filler, spiller' window box display, with a dramatic focal fern with spiky-looking foliage, a base of soft round yellow and white flowers and the cascading, tiny bloomed 'spiller'. The result is a visually pleasing mix of texture and colour that appears random but has been carefully thought out.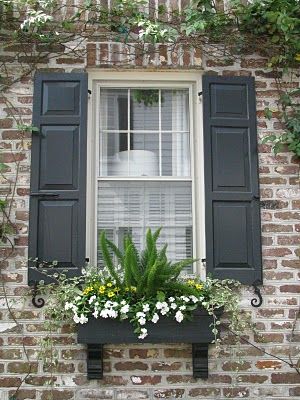 31. Gently trailing
Window boxes are a way you can enjoy gardening on a small scale, requiring less effort and still creating a beautiful organic display. A mix of textures, colours and shapes ensures a dynamic result—here's another traditional window box with the classic 'thriller, filler and spiller' combination.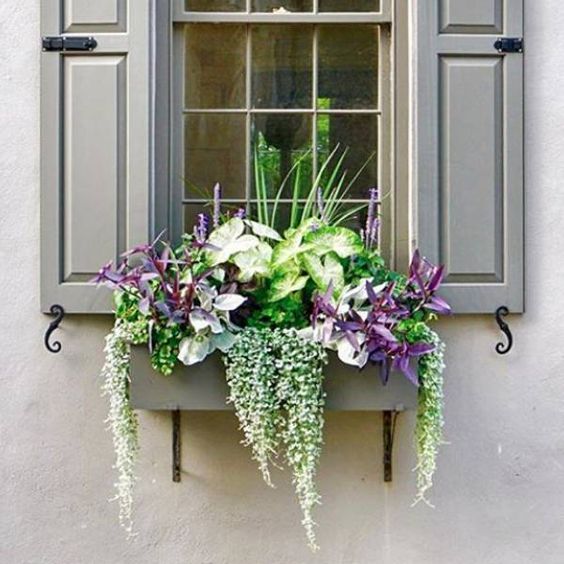 32. Sun-loving plants
It's important to choose your plants according to the amount of sun your boxes will get. If you have a sunny window, choose sun-loving plants, for example, this arrangement includes plants like Senecio, verbena and sweet potato vine, all plants that love lots of direct light.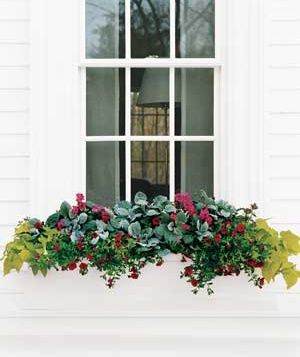 33. The bouquet look
Isn't this a gorgeous window box arrangement? It has the 'bridal bouquet' effect, especially against the white façade, and features a pretty array of tiny and mid-sized blooms in white and lavender, set against velvety green foliage. It's a good idea to seek out blooms that are fragrant, too, so you can enjoy the scent of perfume through your window!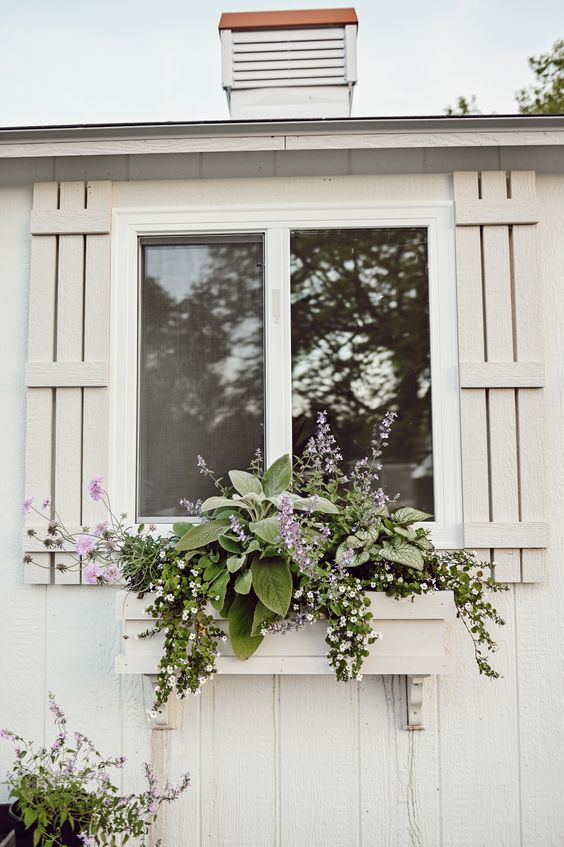 34. Inside window box ideas
Not all windows are able to incorporate a window box, for example here the homeowner has egress windows with handles that would get in the way of a window box. But thinking laterally, she constructed timber boxes, hung them from sisal rope and filled them with cascading vines to create unique indoor window boxes with a striking effect.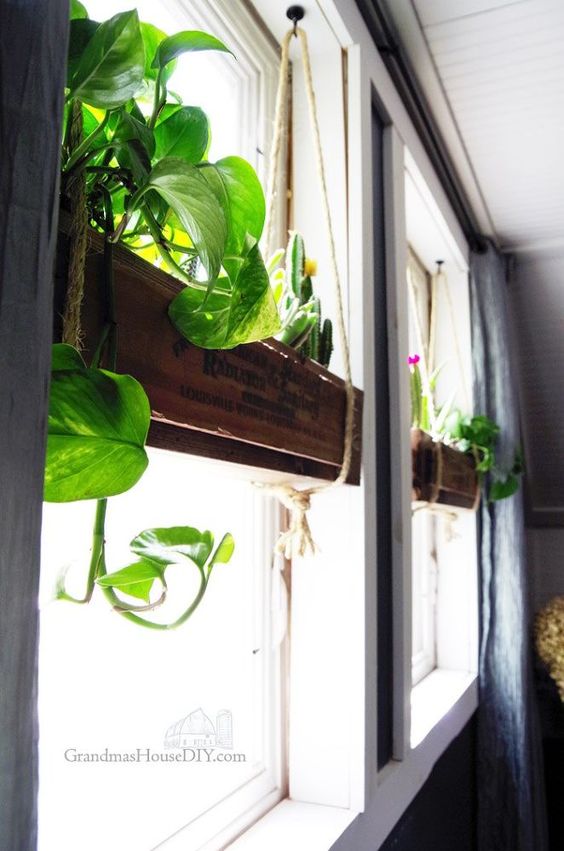 35. Edible window box ideas
Finally, window boxes aren't just for flowers—you can of course also grow edibles. Herbs are perfect for growing outside a kitchen window, and compact veggies (like cherry tomatoes) are also ideal. For even more colour, try purple and red edibles like purple sage, purple kale and red sorrel. When planning an edible window box, do keep in mind most herbs and veggies like full sun (ie at least six hours a day).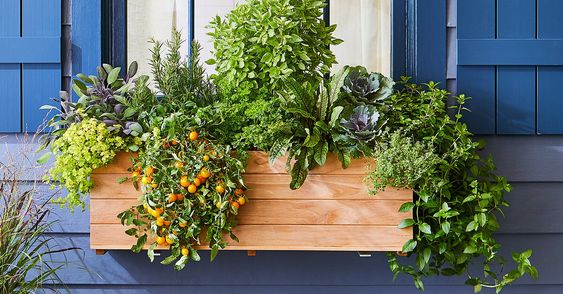 And there you have 35 window box ideas that are guaranteed to enhance the aesthetic value of your home and provide the perfect finishing touch to your home exterior. Do you prefer a rainbow assortment of blooms or are you more in favour of a simple monochromatic planting? Let me know in the comments! And if you're thinking of adding a window box but aren't that fond of DIY, you can always find an expert local carpenter who can build you a custom window box to fit your design and space.