A well designed wardrobe saves time, space and ironing (yasss) so if you find yourself squashing special occasion dresses next to snow gear and piling shoe boxes on every flat surface it's time to customise your clothing storage.
Here's how to decide what you need for a custom wardrobe design that suits your needs:
1. Open clothing rail or closed wardrobe?
Does clutter make you shudder? Does mess induce stress? Does the sight of an unbuttoned shirt make your heart flutter, in the get-me-a-medic way? If you answered yes to any these questions you're going to want a covered wardrobe, rather than an open air design where everything is on show.
There's a lot to be said for being able to hide your clothes, shoes and accessories away behind closed doors, especially on days when you try on practically everything you own and end up with more of a floor-drobe.
Fashion blogger Michelle Rimmer of States of Style has an enviable collection of clothes, and says having a wardrobe that can be closed is non-negotiable. A built in wardrobe with doors streamlines the room and prolongs the lifespan of clothing by keeping it out of direct lighting, not to mention out of reach of curious kiddos!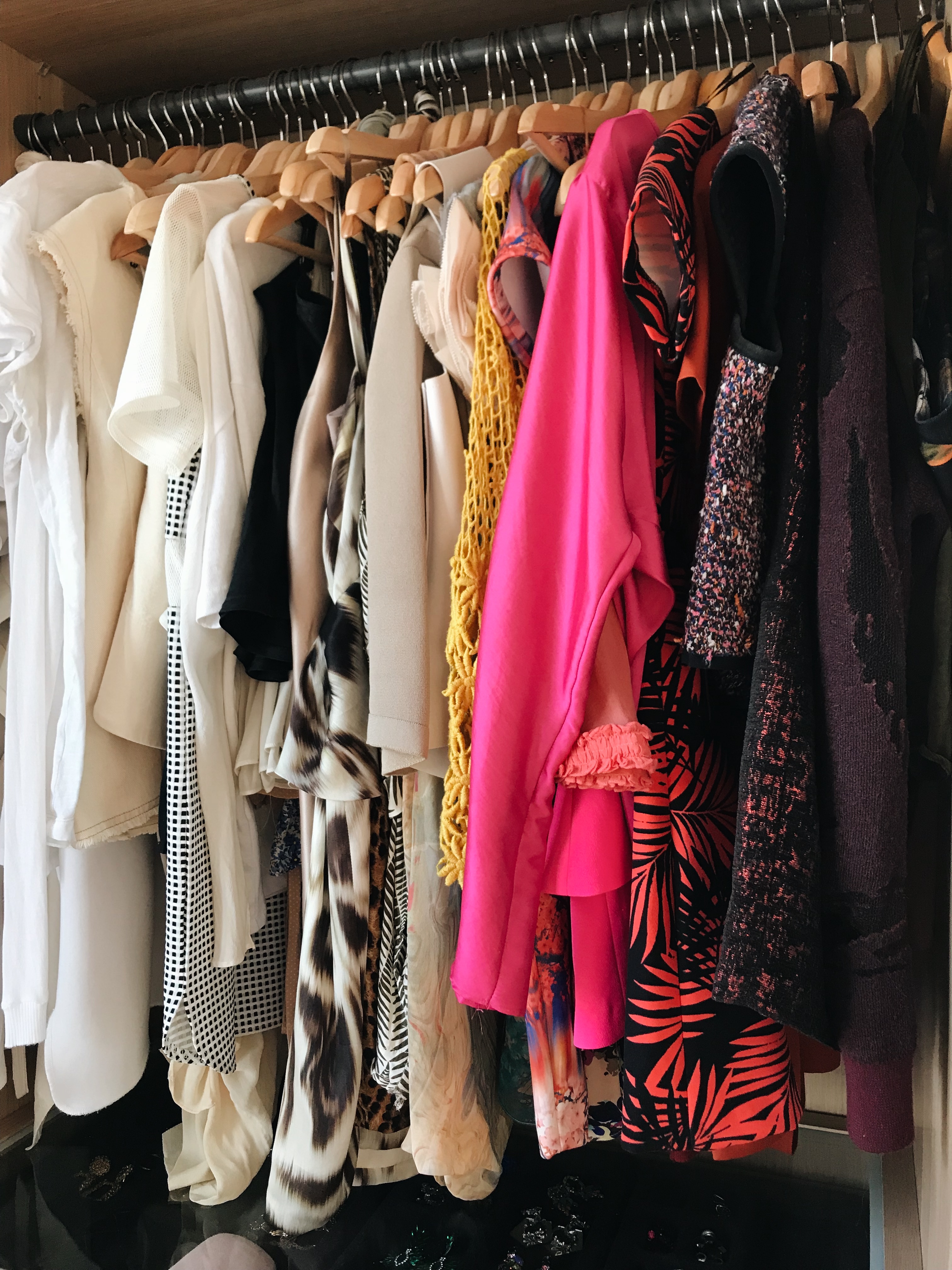 "I couldn't live without wardrobe doors," the mother-of-two admitted. "My wardrobe is colour coordinated and kept ridiculously neat but I still need to be able to close the doors to protect the contents from direct sunlight and little toddler hands."
Michelle may not be a fan of open plan wardrobe design but fashion blogger and shoe collector Ashleigh D'Mello couldn't imagine storing her most-loved possessions out of sight.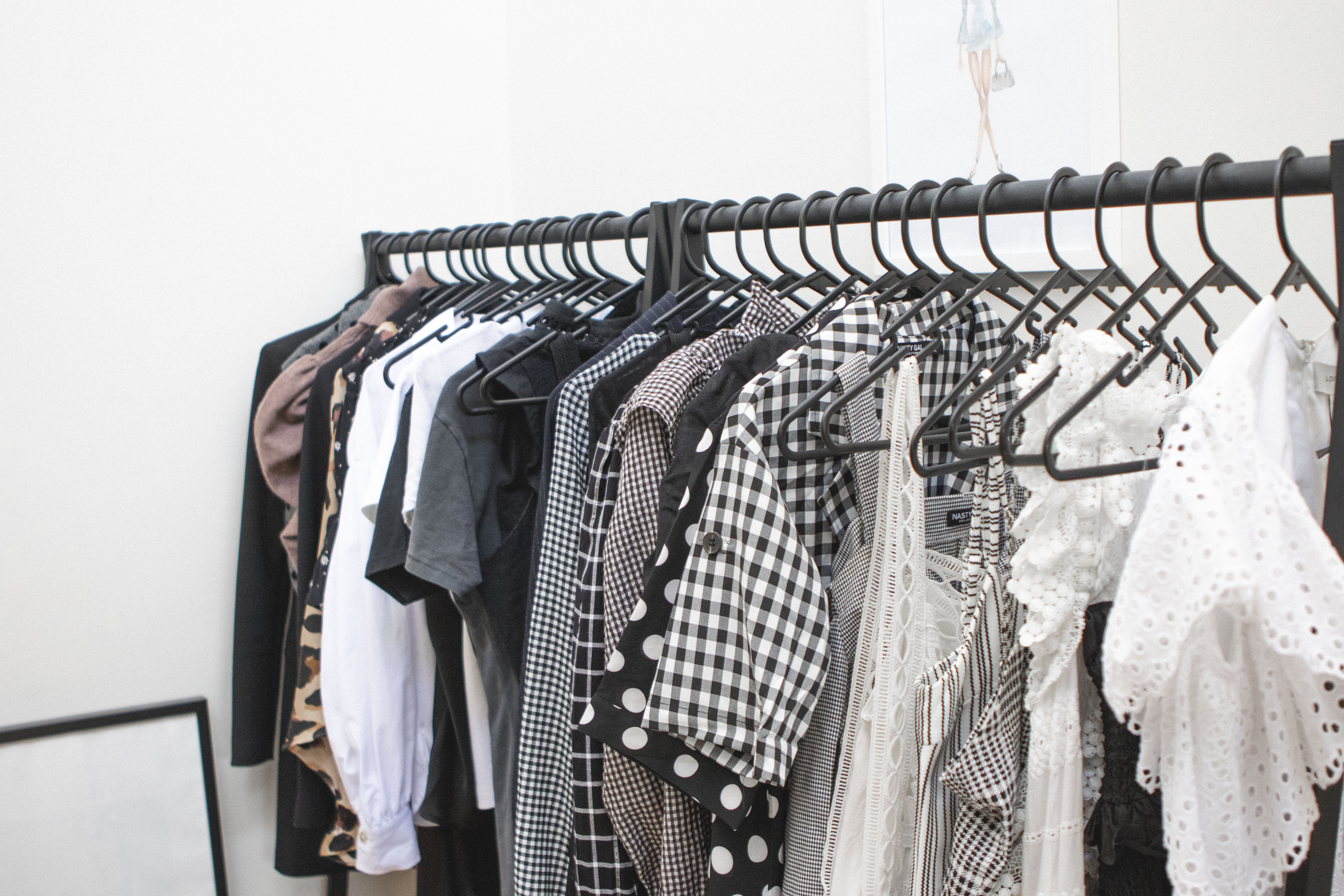 "It's so nice to visually see the elements of outfits (and options!) all in one place, instead of stuffing things inside a small wardrobe where it's hard to find different pieces and you forget half the things in there anyway," she said of her chic walk-in-robe/dressing room, which features matte black clothing racks.
"An open closet also doubles as a feature space in your house and it becomes a beautiful zone to get ready and put outfits together. Plus, it forces you to keep your closet organised and tidy!"
Tip: Good wardrobe design utilises every cm available, including above head height. A great spot to store luggage, or to keep boxes filled with winter clothes in summer and vice versa, a shelf for additional storage above your everyday hanging area is a wise addition.
2. Hanging space V drawer space
Different clothes should be stored differently, so how your dress will define how much hanging and folding space you need.
Take a look at your existing wardrobe and assess what your go-to clothes are. Are you a corporate lawyer with a collection of tailored suits and crisp shirts? You'll be needing more hanging space than a yoga teacher who has a wardrobe full of activewear.
| | |
| --- | --- |
| Hang these: | Fold these: |
| Dresses | Jumpers |
| Jackets and coats | Tshirts |
| Shirts | Shorts |
| Tailored skirts and trousers | Swimwear |
Think about the smaller items too – underwear, socks, shoes and accessories need to go somewhere.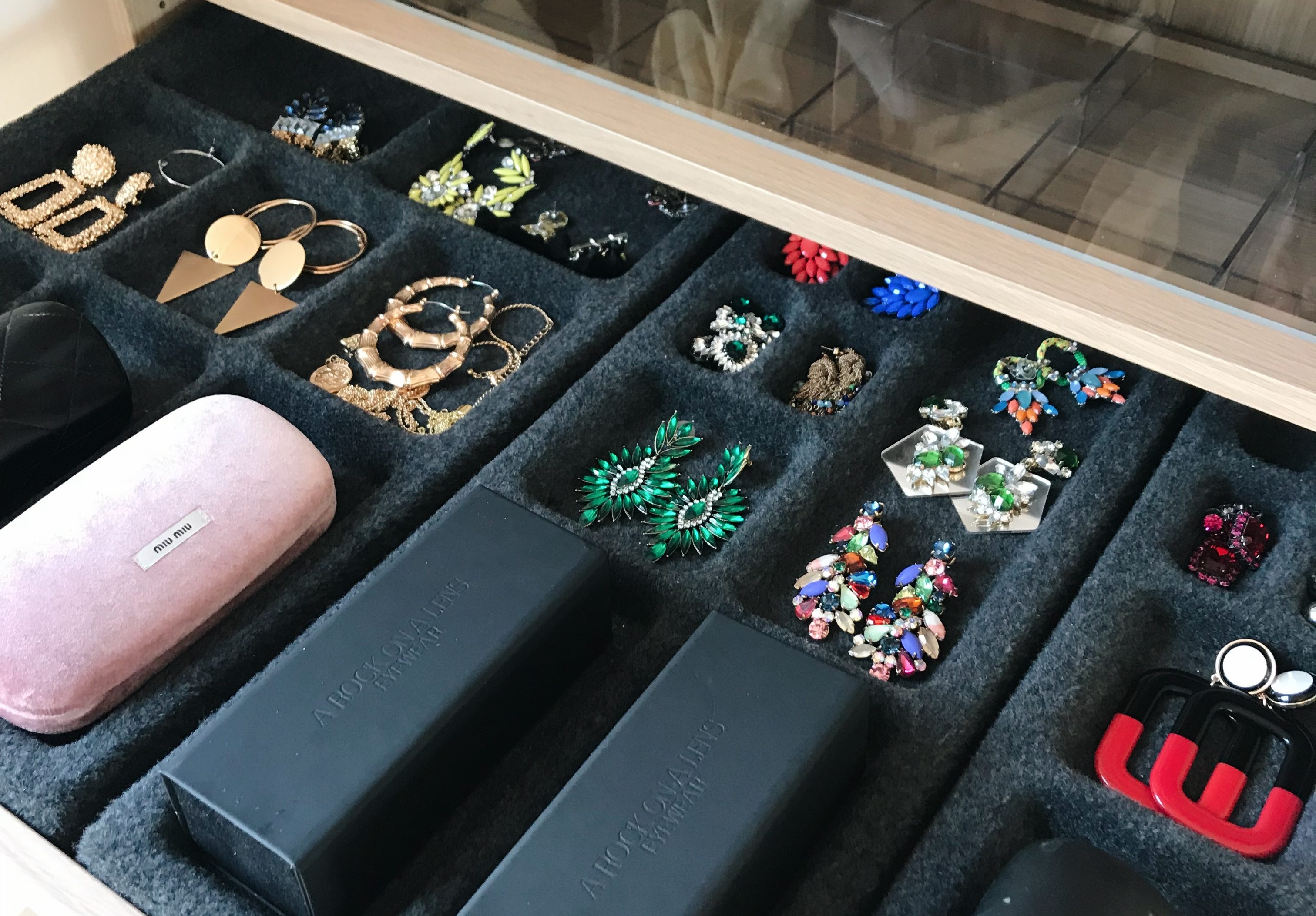 "Have a decent look at what items you actually prioritise and purchase plenty of and plan the space around your personalised needs," Michelle recommends when deciding how to allocate hanging space V drawers/shelves. "Mine is based on a decent shoe collection and is heavy on accessory storage solutions.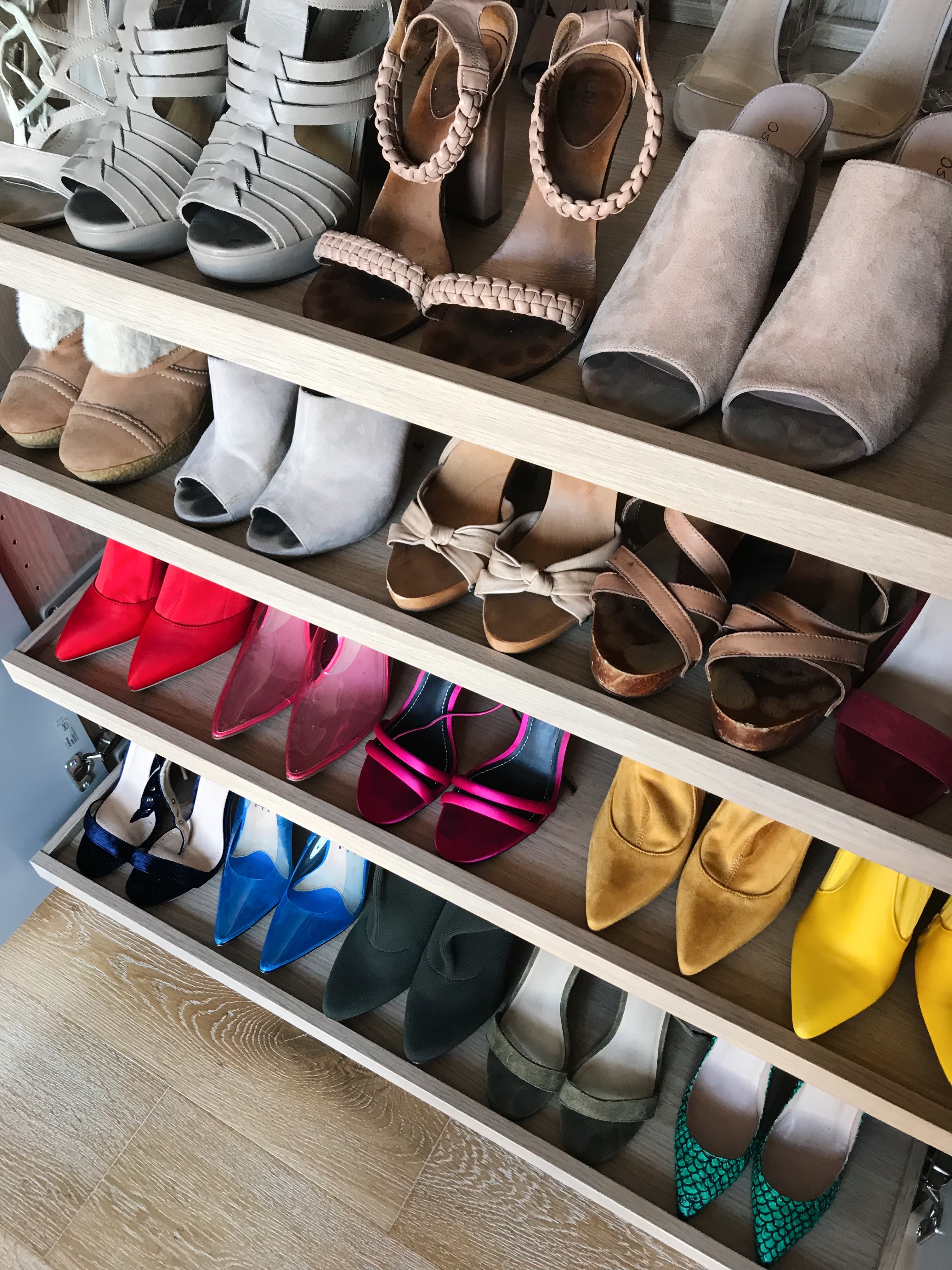 "Customised drawers are an essential aspect of my wardrobe – all items are grouped and separated based on what the drawers are intended for: belts, necklaces, earrings etc."
Tip: Include drawers of different heights to store items ranging from accessories to clothing. Jewellery, watches and sunglasses are best stored in shallow drawers where they're easy to see, whereas handbags, hats and bulky items of clothing demand more room.
Prefer to keep your accessories out on show? Take a leaf out of Ashleigh's book and arrange your most prized shoes and handbags on shelves where they can be admired.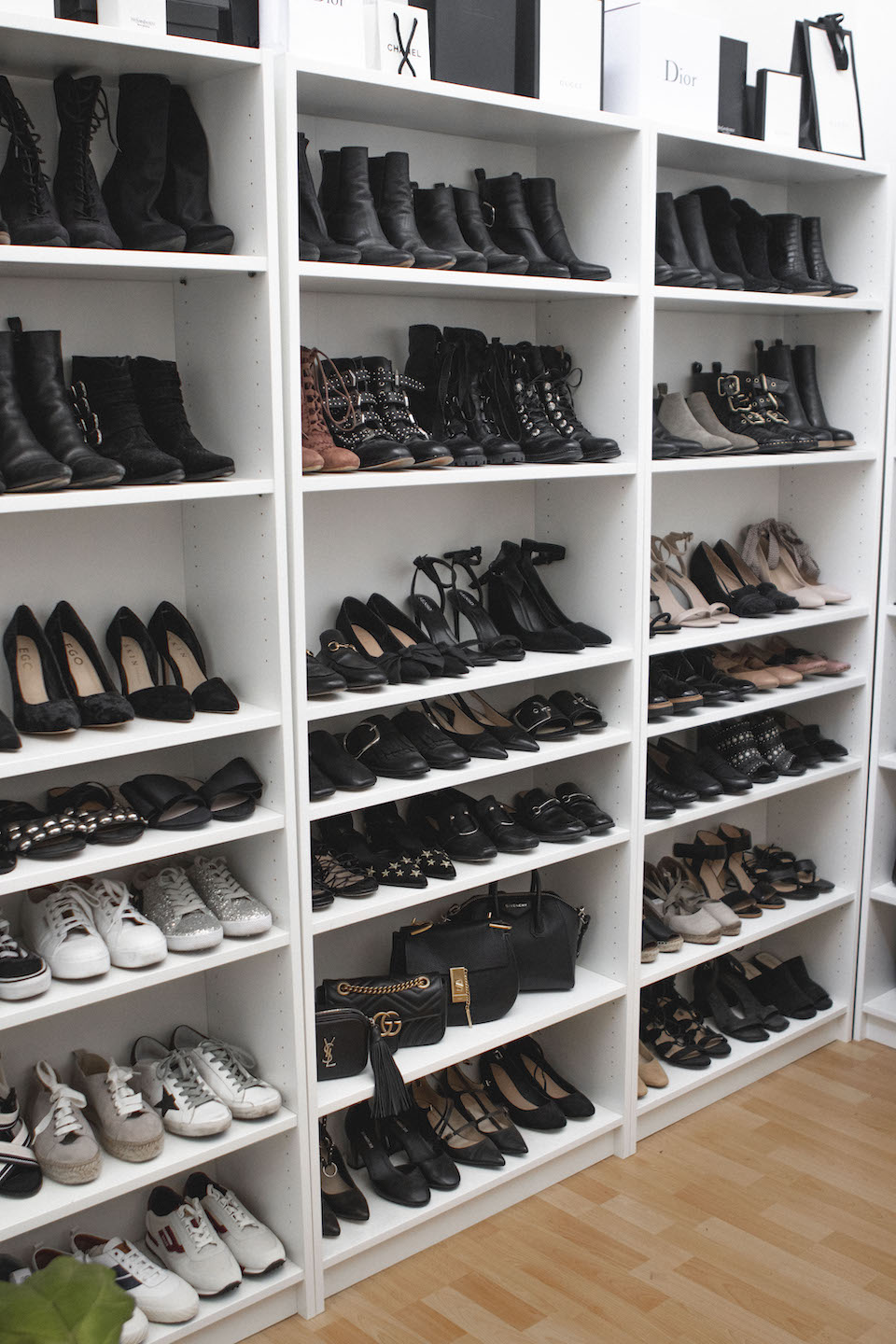 "I store all my shoes in floor to ceiling shelves and try to keep them as organised as possible in terms of shoe type (part sense, part OCD!)," she said.
"Being able to visually see all my shoes in this way definitely makes it easier to choose shoes when it comes to putting outfits together, and I think it's such a great use of space compared to storing them on the floor which can get messy really quickly!"
3. A boutique style clothing rack
Can't commit to a fully open wardrobe, but love the idea of an easy-access selection of your favourite clothes? Get a freestanding clothes rack!
Standalone clothing rails are very on trend and offer both aesthetically appealing and practical solutions. Style with a few colour coordinated garments, keep a collection of jackets handy so you can pick the perfect piece for the weather in a flash or use like an old-school valet chair to get your outfit of the day ready. Just add a designer handbag casually draped from a hanger for instant blogger style.
We love these:
No matter what your vision is avoid expectation vs reality disappointments by measuring the space you have available before you start pinning dream wardrobe inspiration.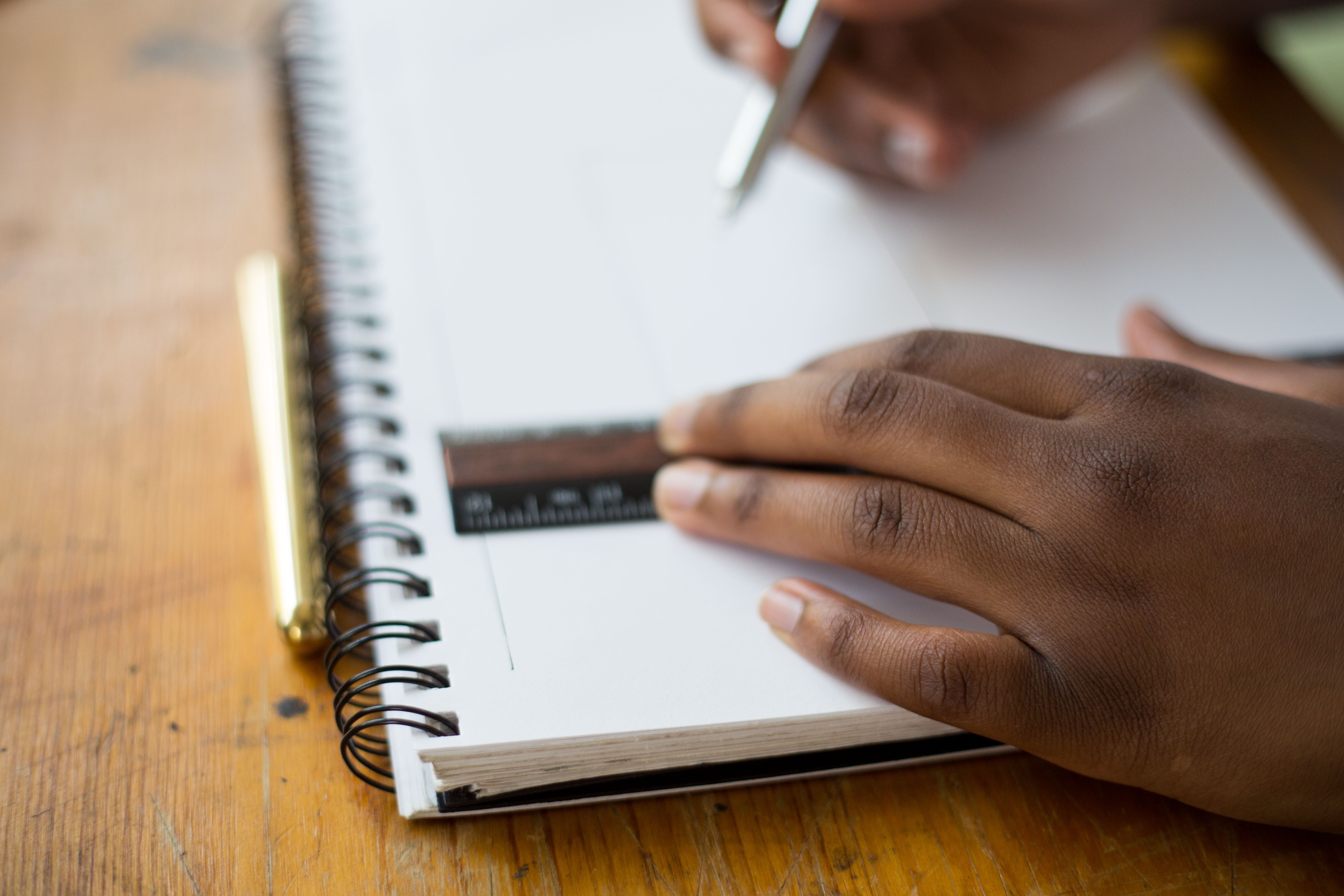 Whether you have the luxury of a whole dressing room to play with, or are trying to condense your #closetgoals into a cramped cosy corner, understanding exactly how much volume you have to play with is crucial. Enlist a handyman or get a friend to help measure the height, width and depth of the space, keeping in mind architectural features and amenities such as windows, air conditioning vents, power points and gas outlets.
Use your measurements to mockup a bird's eye view of your room with pen and paper or jump onto the IKEA website to utilise their online planning tools. If you're not sure which wardrobe configuration is going to offer the best storage solutions for your space, the IKEA wardrobe planner is a great resource to explore what is and isn't possible.
Watch out though – some IKEA wardrobe designs start at just 40cm deep, which seems fine on paper, but standard coat hangers are 40-45cm wide on average. Unless you want to be stuck purchasing specialised coat hangers for the foreseeable future this space saving option simply isn't functional for most people!
To accommodate standard coat hangers, plus a bit of wriggle room, we recommend a wardrobe depth of at least 50cm. And if space isn't at a premium? Go large to maximise hanging space and shelf/drawer depth.
Tip: Wooden hangers are Scandi-chic but take up a big chunk of room when positioned side by side. Plastic and metal hangers take up far less space so you can fit a lot more in.
Settled on a design and now need help building your dream 'drobe? Find a handyman to assemble flat pack furniture or a carpenter to install custom cabinetry on Airtasker.