There's no better feeling than collapsing onto your sofa after a mammoth cleaning session. It's getting to that exact point that's a chore. You may be lucky enough to have a professional cleaner in London or a household where everyone pitches in. Either way, it's always handy to have a few cleaning tricks up your sleeve. Not only will these home cleaning tips save time, they will also help make the cleaning process a lot less painful.
Tip 1: Organisation
Preparation is the key to tidying your house quickly. Have a clear plan of attack to avoid distractions and get the task done more efficiently. You should:
– Plan (try to approach the cleaning room by room)
– Multi-task
– Set a time-limit so you have a clear deadline to work to
– Have all your cleaning products at hand
– Clear up any clutter beforehand so you can get to the surfaces you need to clean
Tip 2: Mopping
Mopping comes with its own challenges, so keep the below tips in mind.
Before you fill the bucket with water, make sure you sweep/ vacuum the floors to clear them of debris. Not only is it pointless to mop a floor with debris on it, it can also damage your floors. You should also check that you've got the right mop head for your floor. Here's a little guide to help: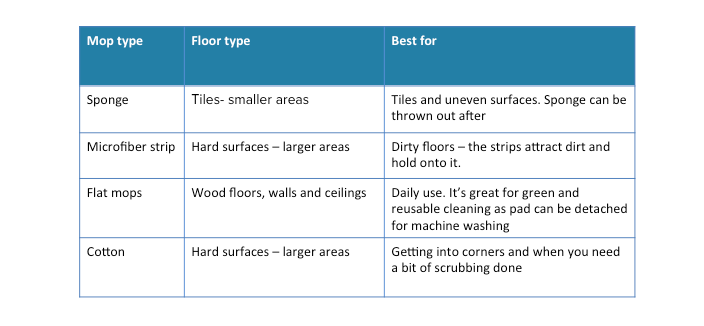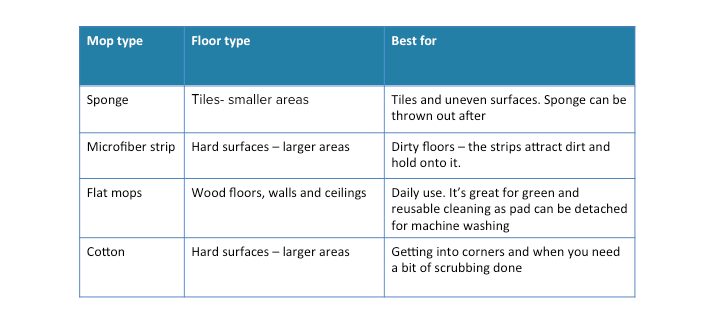 Remember, don't use too much detergent when mopping to avoid an overly slippery floor. A few drops are more than enough.  Make sure you change the water frequently to keep it clean. And don't forget, mops aren't just for floors. You can use mops for cleaning walls and ceilings as well e.g. bathroom tiles.
Want to free up some time? Use Airtasker to find a cleaner in London.
Tip 3: Dusting
Dusting is often overlooked, and even if you do get around to dusting, there may be nooks and crannies you miss. Create a check-list to ensure everything is covered. Don't forget to dust the following:
– Radiators and light fixtures
– Corners and door frames
– Walls (using a flat head mop)
– Vents
– Picture frames and delicate items (dust with care and use a smaller duster)
Dust before vacuuming to catch any dust particles that are brushed onto the floor.

Tip 4: Kitchen
The kitchen is often the heart of the home. It's not just the room where you cook up your favourite foods, it's also a room to socialise and relax in.
To keep your kitchen looking fresh, use brown vinegar to clean oven glass. Apply brown vinegar directly to tough stains and wipe away after an hour. Get rid of any dishwasher odour by placing a cup of white vinegar in an empty dishwasher and running a wash. To clean chopping boards, slice a lemon in half and rub it onto the surface.
Tip 5: Tools for the job
Making sure you have the right cleaning products is vital to getting your cleaning done quicker and with better results. Don't forget to check supply levels before you start so you don't have to run out to get supplies mid-clean.
If you're using a professional cleaning service, make sure you confirm who is supplying the products. Here's a quick essential check list you can use:
– All-purpose surface cleaning spray
– Glass, shower and floor cleaners
– Duster, vacuum, dustpans, mop, bucket, sponges, toilet brush, scrubbing brush
– Gloves
If you'd like to know how much does a cleaner cost, check out our updated cleaner price guide.
Got a cleaning tip to share? Leave it in the comment section below!