While the gig economy has helped many people enjoy a second job, short-term work or side hustles over the years, small business is still a booming industry in the UK. According to a recent Airtasker survey, 6.5% of respondents run their own business, 17% have owned a business before, 6% are self-employed, and 9% have been self-employed before.
It's a Challenge
According to small business owners in the UK, 36% say that finding suitably skilled workers is the greatest challenge to running a business, while 66% in Northern Ireland say they struggle to find suitable staff. When it comes to other challenges, Londoners are significantly more concerned about Brexit than the rest of the UK at 29% compared to just 7% in Yorkshire.
Other challenges include:
Finding and paying for suitable premises – 32%
Sorting out insurance/healthcare – 26%
Finding suitably skilled and motivated staff; retaining staff – 36%
Brexit – 18%
Staying motivated – 28%
Company admin and law – 31%
Marketing – 23%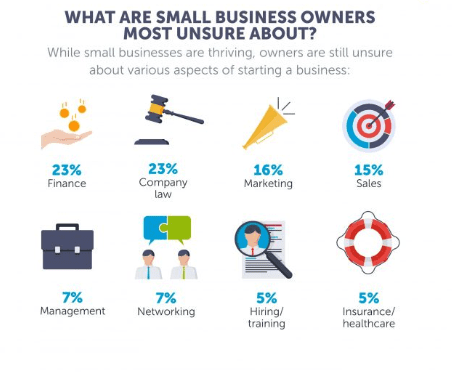 When it comes to what area respondents were most unsure about when starting a business, 16% said marketing, 15% said sales, 23% said finance, 7% said management, 23% said company law, 5% said insurance/healthcare, 5% said hiring/training and 7% said networking.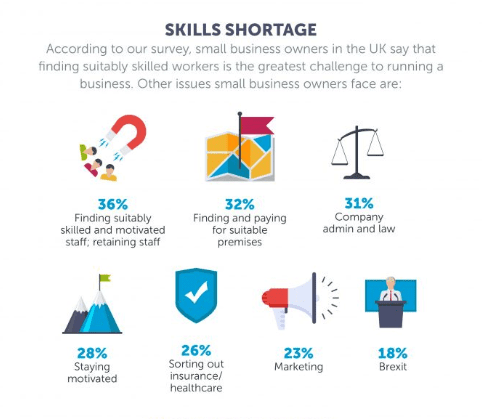 All About Personality
If finding quality talent is hard among small business owners, what exactly are they looking for when hiring? It seems personality trumps skills and experience for small business owners looking to hire in the UK.
Business owners value the following in potential candidates:
Personality – 30%
Skills – 29%
Experience – 20%
Punctuality – 7%
Higher education – 5%
Great references – 4%
How well presented they are – 3%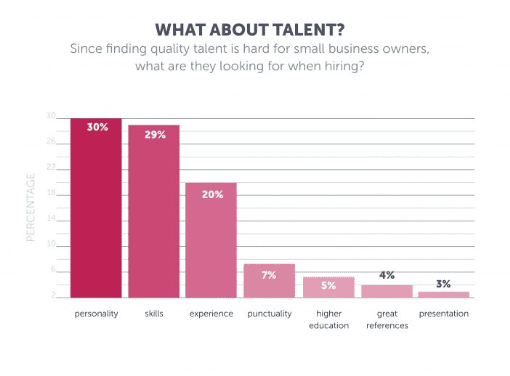 All Work, No Play?
Another challenge for business owners is a work-life balance, as 16% of business owners admit to never taking annual leave, with 19% of female business owners saying no to leave compared to 15% of men. Regionally, it seems business owners in the East Midlands and East of England take the least leave with 29% taking none, while 5% of Londoners take no annual leave, the lowest of all regions. This can be compared to employees who enjoy at least 28 paid leave days a year, which equates to 5.6 weeks. So, as a business owner, maintaining a healthy balance could prove challenging.
While time is surely a valuable commodity, business owners seem to have it rough with 35% working more than 50 hours a week while 23% working less than 30 hours a week. Business owners in Scotland and the North West seem to pull the longest hours on average with 49 hours a week.
Taking It Personally
Finally, when asked how their work life affected their personal relationships, 22% said it affects their personal life every day, including weekends. What's really interesting? Work is more likely to interfere with personal life for women, with 24% affected every day compared to 21% for men.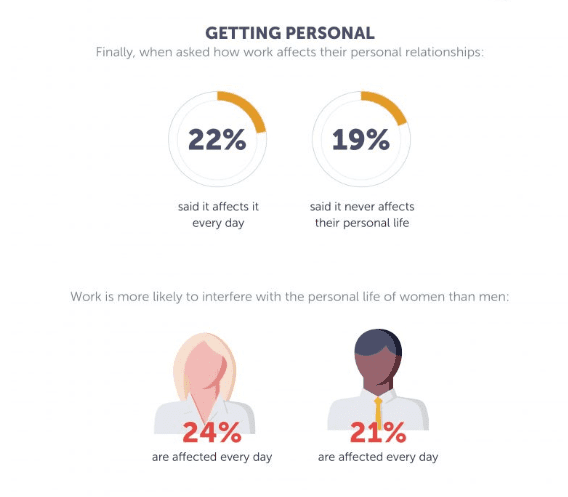 Small Business vs Large Corporation
According to our recent survey, 73% of people would prefer to do business with a small business rather than a large corporation, with 36% of people willing to spend more on the products or services of local small businesses. Around 14% of younger age groups (25-34) are willing to spend more with a small business and care more in general about supporting small businesses compared to just 6% of 45-54-year-olds.
Trust is Earned
Our results have shown that only 14% of people would completely trust an independent business worker, with London being the most trusting at 19% compared to 9% of people living in the East of England.
As expected, there are benefits and drawbacks to running your own small business. With Airtasker, you can start small, offering your services on a part-time basis and a smaller scale before starting your own business full-time.