Help me find some of the best pasta in London
Ever since I was a really young child, there has been this one dish that I have always been pretty passionate about: Penne Quattro Formaggi. It's become a very important dish to me as it's connected to the only memories I have left of my family being united, back when my parents were still together. I was fortunate enough to live in a small Belgian town where the only two Italian restaurants were able to make that dish extremely well. Over the years, I have travelled near and far and have tested many a restaurant where they would serve the dish. To my disappointment, there has not been too many places able to replicate the standards I was used to in my childhood and teenage years.
Having recently moved to London and not being familiar with the Italian restaurant scene, I would love to find someone with the same passion for pasta and cheese as I have. This person who could go around town for me to test out some of the best Italian restaurants there are, whether they're well-known or not. I really want the ability to go down memory lane, eating the perfect mix of penne and cheese one can find in London.
List of restaurants to test out:
– Matarello
– Locanda Locatelli
– Artusi
– Emilia's Crafted Pasta
– Bonus: surprise me
In addition to testing the different places, I would like you to take a very nice photo at each location. It can be the food, it can be a selfie or else—get creative! Whether or not you go down the selfie route, you'd agree for me to use the content on social media to show your accomplishments!
*offer includes the tasting of the pasta.
**I will, of course, be trying the winning place
Price: $250
Newly arrived in London, Damien was missing the food of his childhood and wanted to find the perfect dish to remind him of home, but didn't have time to do the legwork. He posted a task for someone to research and test five of London's best Italian restaurants and Tasker Katrina really delivered.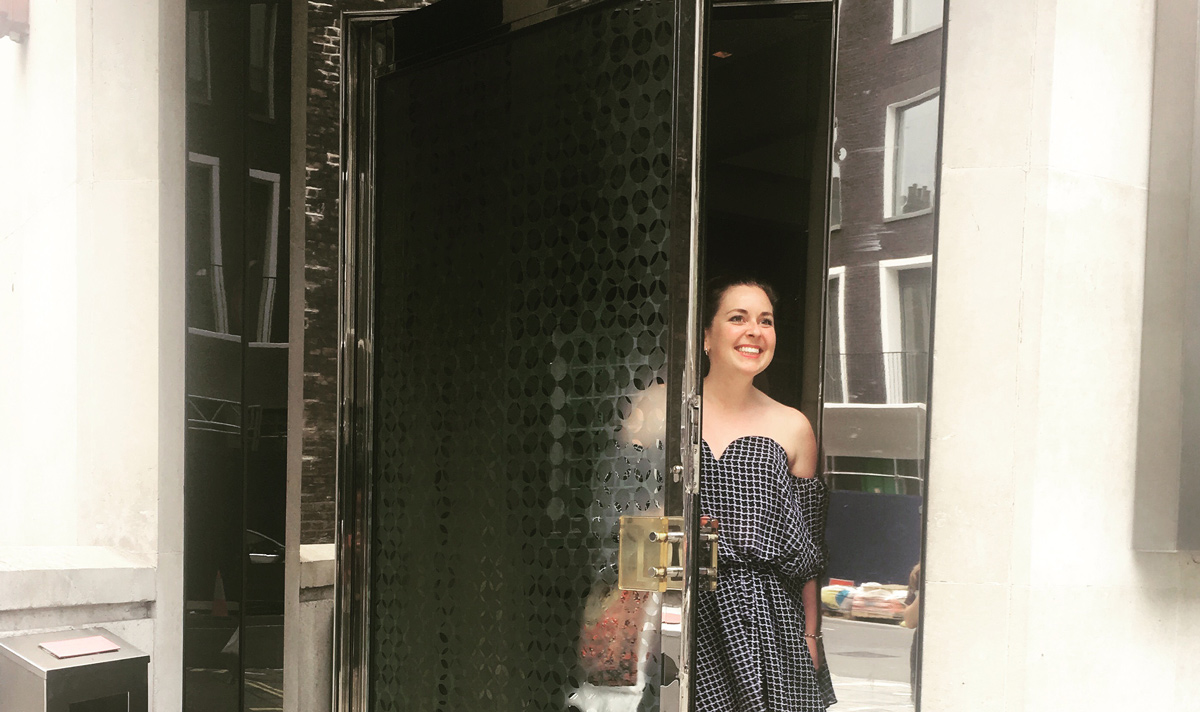 Want to know the outcome? Read the reviews from her task to find London's best pasta (and prepare to get hungry)!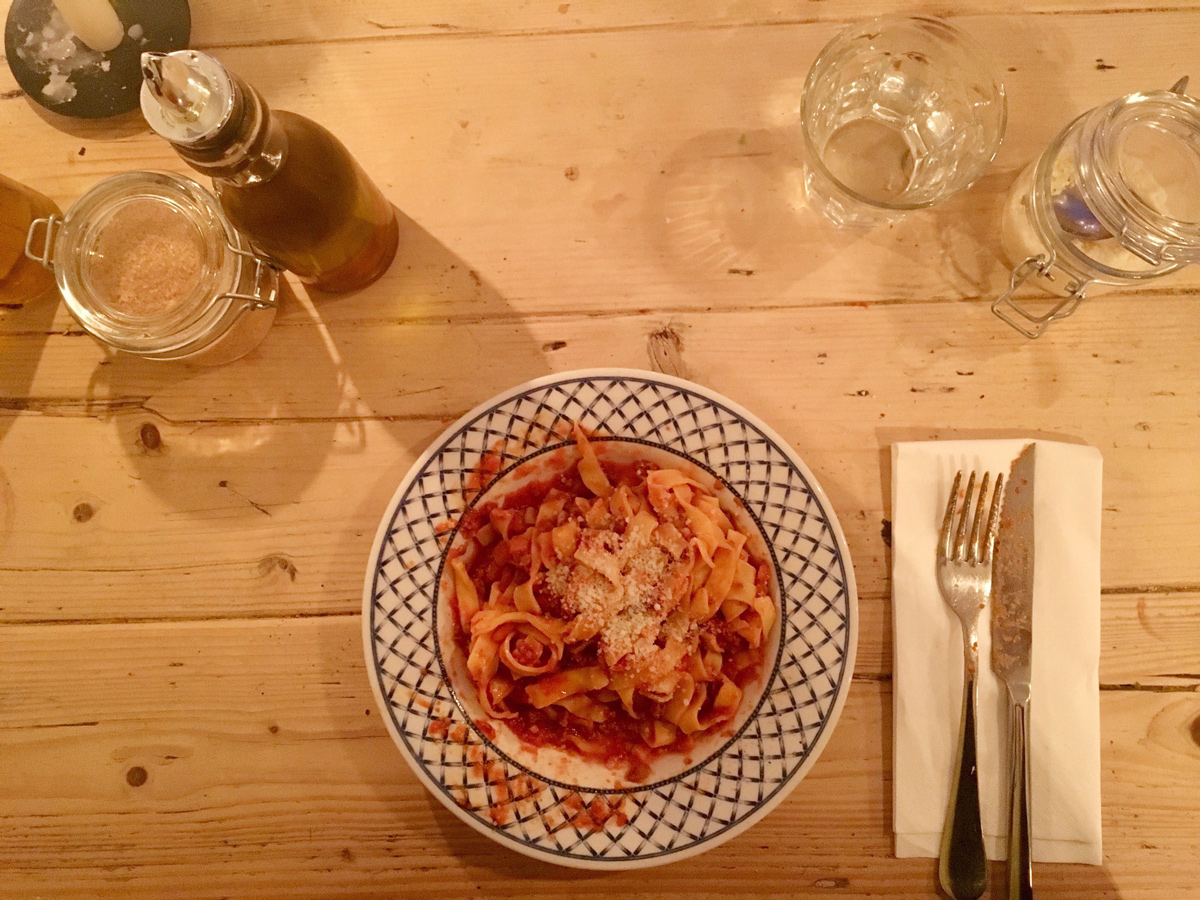 Date of Dining: Thursday 5th April
Location: Newington Green
Tucked away in Newington Green, Trattoria tends to be bustling on a Thurs – Saturday evening, otherwise it's rather quiet and only tends to attract the locals from Highbury or Stoke Newington. As a local, I believe it's underrated in London which is why I selected Trattoria as not only my first pasta taste test, but my bonus restaurant recommendation for you. It's worth the trek from the city, that much I can attest.
Since it is my local, I was quite happy popping in by myself and upon the welcome greeting I requesed the 'quatro formaggio'. It came out within 10minutes, however – to my dismay it was a (deliciously smelling) pizza! I apologised and said that I must try the penne pasta instead and they happily retrieved the freshly cooked pizza (despite my longing to try that also) to trade in for what was their nearest quatro formaggio match… Alas, there was none so I selected a classic spag bol. It was hot, the tomatoes were juicy, the meat was tasty. I cannot fault it.
The pasta arrived not much later and was delicious, however I must say that Trattoria is renowned for their authentic pizzas. It's fair to say that Trattoria makes an Italian pizza that takes you to a place in Positano where you're soaking up the sun and enjoying the views, or even in Rome where you can sit peacefully at a table with friends whilst listening to the hustle and bustle of tourists around you.
Their pizzas are hot, fresh out of the wood fire oven and super cheesy – it melts in your mouth.
The pasta was tasty and traditional although too al dente (is that possible?) for my liking. I was extra hungry so cracked into eating the pasta upon its arrival, hence why my photo ain't so cracking hot of it! (You'll notice that my cutlery is already dirty since the sensational smell of the full bowl took over and I indulged in it before being able to get the perfect picture).
Service: 9/10
Parmesan sprinklings, offers of water, retrieving the pizza and switching for a pasta request (despite it being my fault for not clarifying) … the staff were all friendly and since I've been there before I can attest that they're generally lovely people.
Recommendation: I recommend going to the Natural Wine Bar prior to your dinner date. It is located directly opposite Trattoria (and the inside scoop on the place is that they are both owned by the same owner). The wines are all organic and you may order an antipasto platter prior to having a delicious hot pizza.
Or if you would like to arrange a novelty night, then you must attend one of Trattoria's Movie nights. £10 for a pizza, an alcoholic beverage and the delight in watching a classic movie whilst dining at a table in the back of the restaurant. Only on Wednesday nights, but I highly recommend it for a laugh and a fun evening.
Food: 6/10
Presentation was amazing, taste was slightly more bland and the texture of the pasta was slightly too hard, so overall a 6/10. (But after previous Trattoria pizza meals – I would rate the pizza 10/10 as they are always hot, fresh, light and full of one flavour – the true Italian way).
Their specialty is clearly in pizzas so let's keep it that way.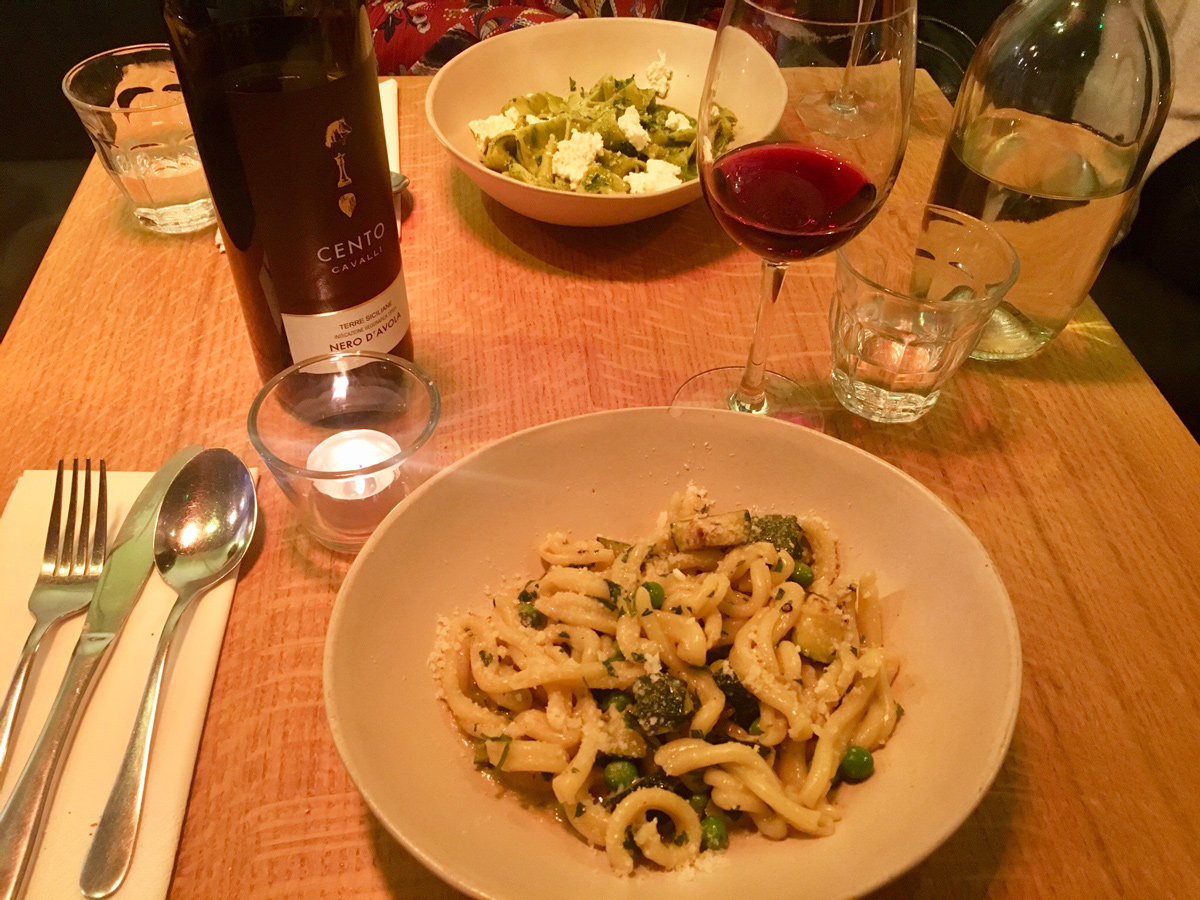 Date of Dining: Monday 9th April
Location: Peckham
Surprisingly busy for a Monday evening, Artusi was completely booked out so we were lucky to nab a table in the centre of the hustle and bustle. It felt fancy for the location comparatively to the surrounding pub's and offies… However, it was soon clear to see why it was so busy – Artusi has style and class combined as one.
They do not have a printed-out menu, the chef's only cook what they feel is in season and update the menu constantly. This I think, is a dead giveaway to having a passion for what is being prepared.
Laughing away with a gal pal of mine, we made a quick decision on a bottle of red but were truly struggling to decide on what to order for our main courses, so we did whatever a young lady would do – ask the waiter for advice.
He wasn't much more decisive than us so we ended up deciding on two pastas and one main of duck to share. All dishes were delicious!
The food absolutely melted in my mouth. We ordered with the intention of sharing both bowls of pasta but it was so tough to stop halfway and switch over.
I'd love to go back on a date – the ambience was casual cool. Speaking of which, it was a hot date spot, being surrounded by couples.
I've checked what my friend thought about Artusi in hindsight and her response was the following: "Amazing, I'll definitely be going back, the staff were amazing, the food was so so good, the presentation and the taste – it was all delicious, the place had a cool vibe…Yeah I can't fault it" and I would have to agree – it was a 10star rating in my mind!
We ordered:
Tagliatelle, nettle, ricotta, gremolata
Casarecce, courgette, ham, butter
Pork collar cooked in milk, lemon potatoes, spinach, mustard
All of which were delectable.
"It's so bad for you that it's good" is my catch phrase for Artusi!
Service: 9/10
Friendly and good looking, full of advice and great banter.
Food: 10/10
Presentation and taste and texture – the chef's need to be recognised, it was all delicious.
Although in terms of you wanting to get a taste of home, perhaps Artusi is not the spot for you. It was very much a fusion of Italian and modern cooking which I rate highly, although it wasn't your traditionally loved and recognisable home cooking.
Side note: upon writing this review, my work colleagues were asking me 'so who won the best spot in your mind' and without thinking I said "Artusi"! My friend was positively beaming, she said "I didn't want to tell you before you went, but I was rooting for them because my friend owns the place!" So, I have promised to return with her and I strongly urge that you do also.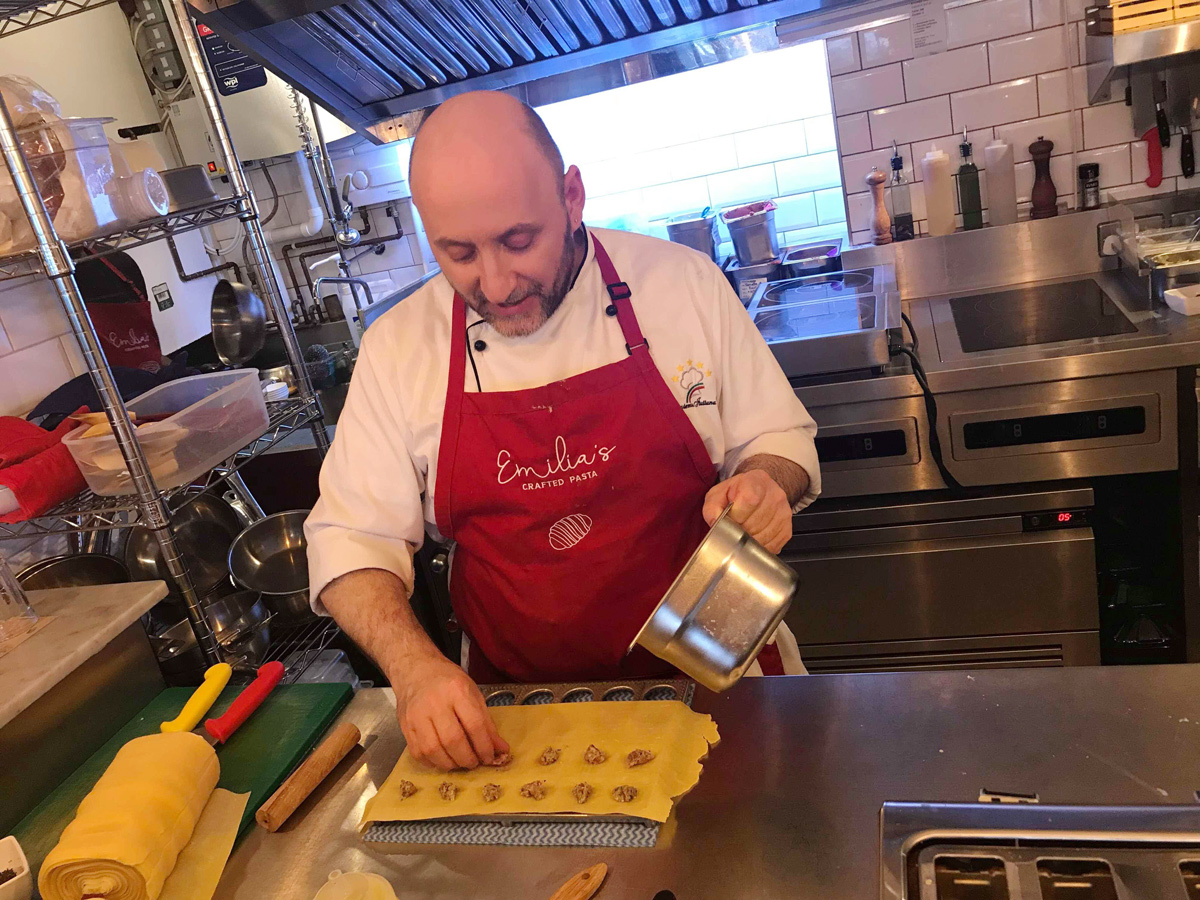 Date of Dining: Friday 13th April
Location: St Katherines Docks
The setting helps to truly set the scene for a relaxed night of dining with family or friends, tucked away in the heart of the city by the docks. Merely a stone's throw away from The Tower of London.
Luckily for my friend and I, we were perched up on high stools based at the kitchen island, which meant that we could discuss the history of the chef's expertise. The friendly fellow grew up in Italy where he first started cooking, then he moved to Sweden and has been cooking Italian food there for the past 20years. It shows. His passion for Italian food rings true, it was obvious as he was creating the perfectly edible sized ravioli pockets and stuffing them with herb encrusted beef mince.
He grabbed a rolling pin and rolled with his heart's content all while checking the Bolognese was the perfect consistency for the spaghetti that was boiling away on the gas hobs behind him.
My friend Ella and I were gossiping away as the small restaurant filled up and had a warm atmosphere to it. We had a rich fruity blended red wine, which sat well with each dish that we ordered. A quality Friday night, after a hard-earned week – it felt like we had deserved it.
I ordered the homemade ravioli with organic lamb, parsley and parmesan in a light butter and sage sauce. It tasted perfectly Italian. The dish was all encompassing, it was light, buttery and fresh feeling. The organic lamb was wrapped up within bite size pieces of ravioli was simply divine.
My friend Ella ordered the homemade parmesan, pecorino and basil pesto. To be honest, at first, I judged her for selecting such a boring dish "basil pesto pasta – you can make that at home" I exclaimed. But oh, how I was wrong, just so wrong. I was pleasantly surprised and must admit that I could not possibly make the pasta the way that Emilia's did. Albeit a classic staple Italian dish, it was absolutely bursting with a strong flavour of pesto and parmesan.
My Italian chef friend asked for my opinion on the pasta after our plates were cleared. He said; "I didn't want to interrupt because you girls were talking so much, but since you were asking about the pasta I would like to ask you what you thought about it?"
I had to provide my honest feedback and that was that for the second time that week the pasta was too hard for my liking. My friend agreed but also suggested that perhaps that is the true Italian way to have it 'al dente' however the chef was appreciative for our honesty and said "no no, I thought it might be" so he adjusted the cooking facilities and took the heat down a notch, he wanted to cook the pasta for longer to ensure it is softer. He loves cooking and surrounded himself with a team who take it so seriously, all the while enjoying it (if that is contradictory then you just need to go there to understand what I'm saying).
I must confess that the dessert menu was tempting, however we just so satisfied with our main courses that we didn't go one further and in hindsight, I'm glad we left it at that.
Service: 6/10
For such a small venue, the service was surprisingly slightly slow.
Food: 8/10
As above, slightly too hard, but phenomenal in terms of bursting with flavor, which has made this one difficult to judge.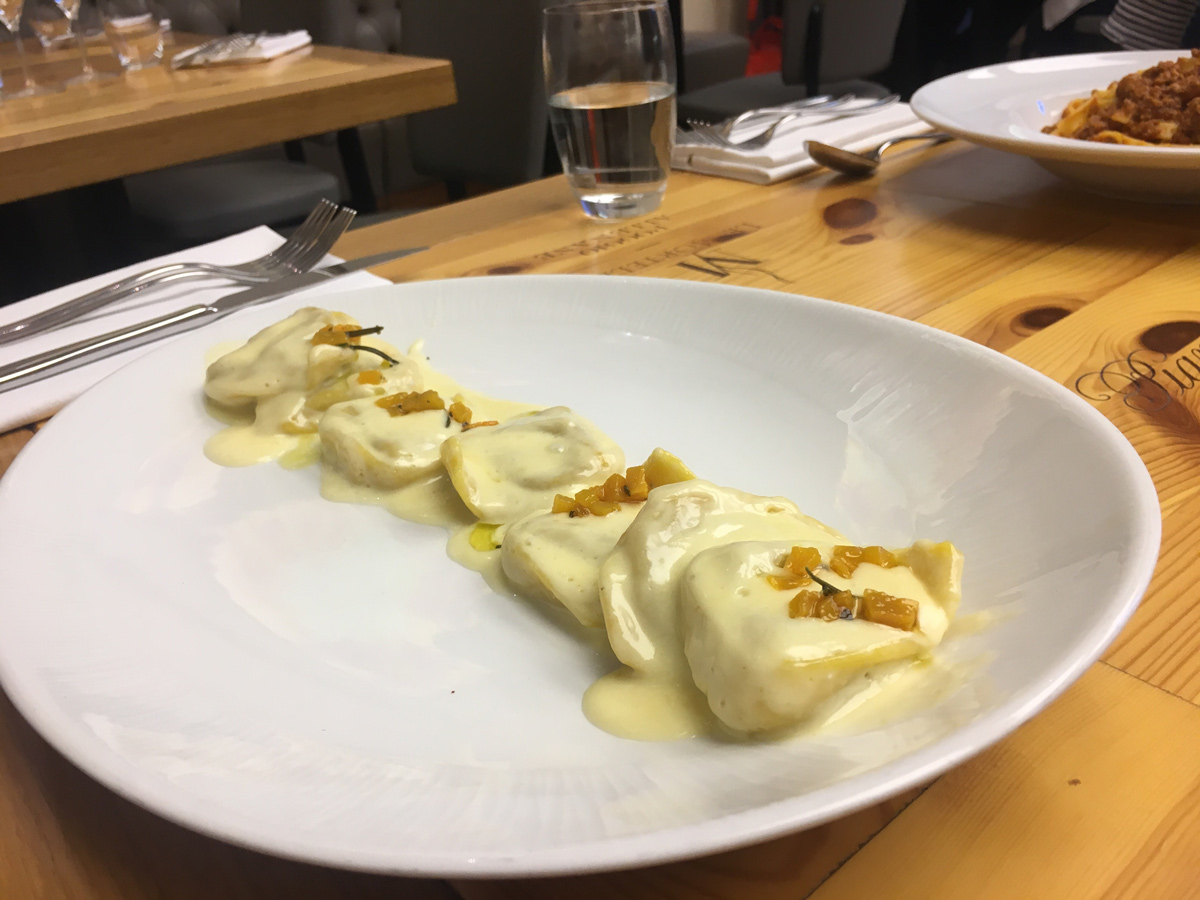 Date of Dining: Monday 16th April
Location: Aldgate
We made the journey straight from work on a Monday night so when we arrived we were the first diners to arrive on a Monday night (it was 6.30pm). The other diners were on a corporate business trip and were dining in true Italian style, starting with the vinos and making their way slowly through to pesca/carne. However, my dear friend Louisa and I were on a mission. We wined and dined and we laughed the night away.
To the left as you walk into the restaurant, an Italian is hand rolling and creating the pasta. He is based in the front store window which is enticing to see. Although I must admit that the location in Aldgate felt rather strange, not quite so glamorous.
The staff working there were all Italian and incredibly friendly. On this particular evening my friend was more indecisive than ever, but she does eat carbonara every day for lunch so it was a dilemma. She knew Marterello would make quite possibly the best carbonara she had ever tasted (obviously with the freshly crafted pasta) but that would put her at risky of not enjoying her daily lunch decision. So she selected the obvious alternative – tagliatelle. Not that Louisa has a child's palette, but she wasn't feeling adventurous. It was tender and juicy.
I on the other hand, was feeling very adventurous so took the waiters recommendation and ordered the Tortelli di Zucca con Crema di Parmigiano e Mascarpone. Not something I would go for, in fact I was deliberating between that and a classic lasagne (because you just can't beat a true Italian one). But it was sweet and cheesy and all encompassing. There were 5 parcels full of tortelli filled with butternut squash, generously drizzled with parmesan and mascarpone sauce. Presentation just didn't do it justice either. I did not want it to end. Unfortunately for me, it was a typical fine dining meal and there wasn't quite enough of it, just enough to excite the appetite.
We couldn't resist ordering a tiramisu and to be honest, if I must tell you to try anything Italian – it must be the tiramisu. As soon as the spoon touches your lips, the smooth mousse glides feels like gold to the touch. Then as you dig your spoon deeper into the glass, you see and smell the coffee exploding. The espresso mixes into the rest of the Italian decadence and provides the strongest hit that you'll be hoping you have nothing planned for the rest of the evening.
"It's a whole lotta love in your tum" is what I'd tell anyone hesitating if they should complete the Matarello mission.
Service: 8/10
Super attentive and happy to be patient and help us decide.
Food: 10/10
Not bad for a Monday night….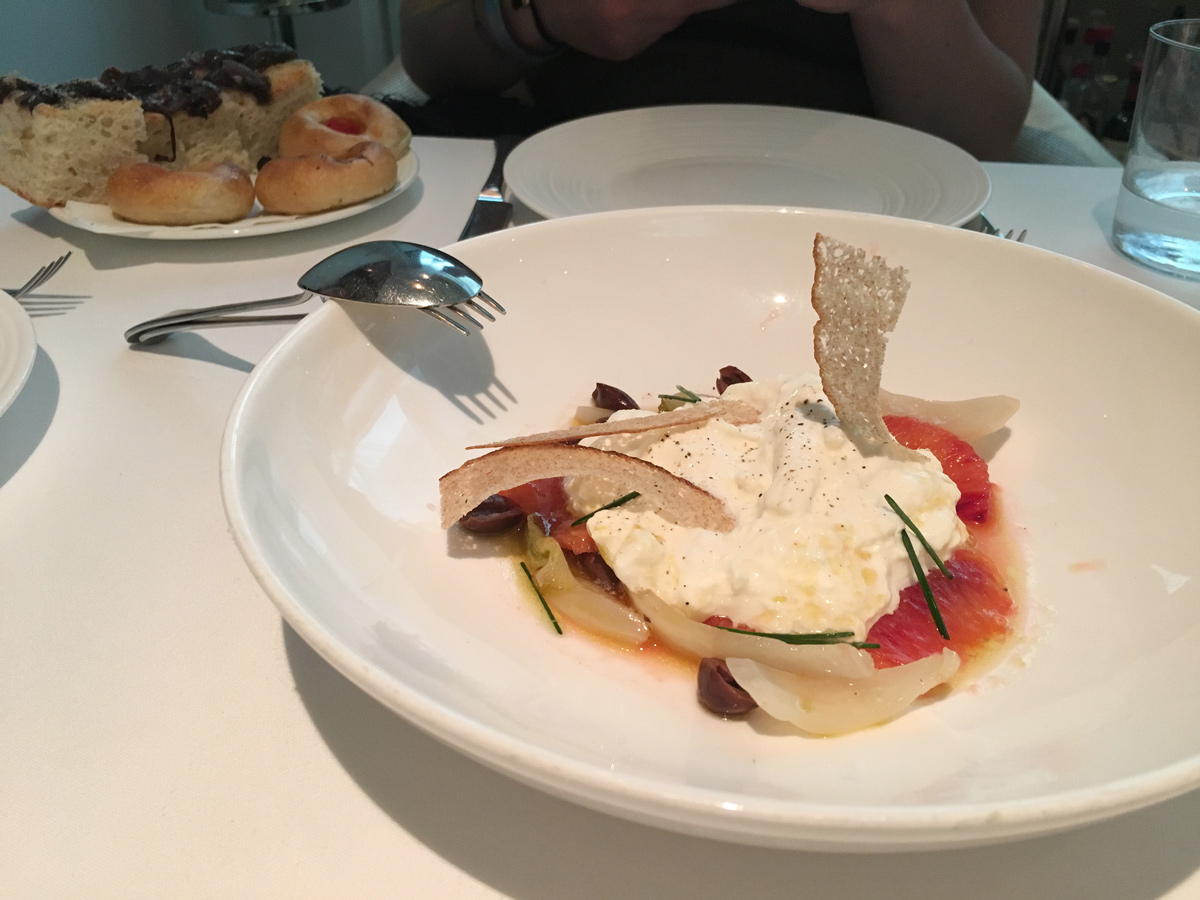 Date of Dining: Saturday 21st April
Location: Central
"Locanda Locatelli is the London restaurant of Italian chef Giorgio Locatelli and his wife, Plaxy. Located in the Churchill Hotel on Seymour Street in the West End of London, the restaurant specialises in Italian cuisine. As of 2008, the restaurant holds one star in the Michelin Guide."
The final location of the task did not let me down, it was almost as if I planned to save the best till last. I dined at Locanda Locatelli for a late lunch with two friends.
We were greeted and seated in the corner of the room surrounded by stunning artwork. There was no music playing, but a quiet patter of chitter chatter from nearby families. There was an Italian man dining solo and taking slow methodical mouthfuls whilst eating.
The specials of the day took me by surprise and I decided to order the garlic and mushroom parpardelle. The way the waiter name listed all the accompanying herbs and spices made it sound as appealing as it tasted, so it was an easy decision for me.
The fresh ciabatta rolls covered in Kalamata olives were brought out to start with, together with bread sticks and olive oil (talk about pre carbo loading for a race or the main course)…
Jess ordered the linguine which was a wise choice for the hottest day in London in 2018 since it momentarily took us all to the seaside. Linguine with Cornish lobster, tomato, garlic and sweet chilli had a bite to it, but finished with a sweet after taste. It got a kick out of us!
My other friend Amante ordered her personal favourite tortellini in brood. Amante is a fine diner but one of those people who will stick to what they know and she said that she ate her fair share of tortellini throughout her travels in Rome. But Locanda Locatelli did not disappoint, the clear broth was full of flavour and ensured that the meat parcels in pasta were succulent to taste.
My parpardelle was not too creamy – which I always hesitate on. Sometimes when one orders a mushroom pasta with a creamy base, it can become overpowering and turn sickening. But not in this case, it was truly scrumptious and I can only hope that they keep that special on the menu for as long as the mushrooms are in season.
The long lunch affair concluded with homemade chocolates, marshmallows and Italian treats. Not biscotti, not amaretti, but please help me out with what these treats are called so that I can specifically request them when I am in Rome next. They were encrusted with a sugar, and the chocolates were powdered with cocoa, they were all light to touch and so decadent. The true definition of a sweet treat.
Service: 10/10
Food: 10/10
So in conclusion, I would strongly urge you to dine out in true style at each restaurant that I have had the pleasure of attending. It has been a tough decision to make, but I must say that Locandi Locatelli can not be faulted and would be my number one choice for the best pasta in London. The range and variety that they serve, the way they do it, the setting, the staff – it is all about perfection. It doesn't feel like you're in Italy since you can't hear Martha yelling down the street whilst thomping out her carpet, but you can indeed close your eyes and take a trip down memory lane through your taste buds. It was sensational. So I wish you the best of luck and must end with: 'pasta la vista baby'….
So there you have it – no matter what you need done, you'll find someone to help on Airtasker!