Want to spruce up your bathroom with a stylish statement piece?
Sure, you can invest in some interesting tiles and a cool shower curtain (if there is such a thing). But if you want an Instagram-worthy bathroom, a truly unique bathroom sink will do it.
A quirky bathroom sink not only makes a statement and transforms your bathroom with one change, it can also make a great conversation piece.
And let's face it, gaining that extra motivation to keep it fresh and clean doesn't hurt.
All that aside, installing a cool new washbasin isn't a simple DIY task. Turn to professional plumbing services that can help bring your creative bathroom design ideas to life.
Check out 5 quirky statement sink ideas below:
1. Vintage bike stand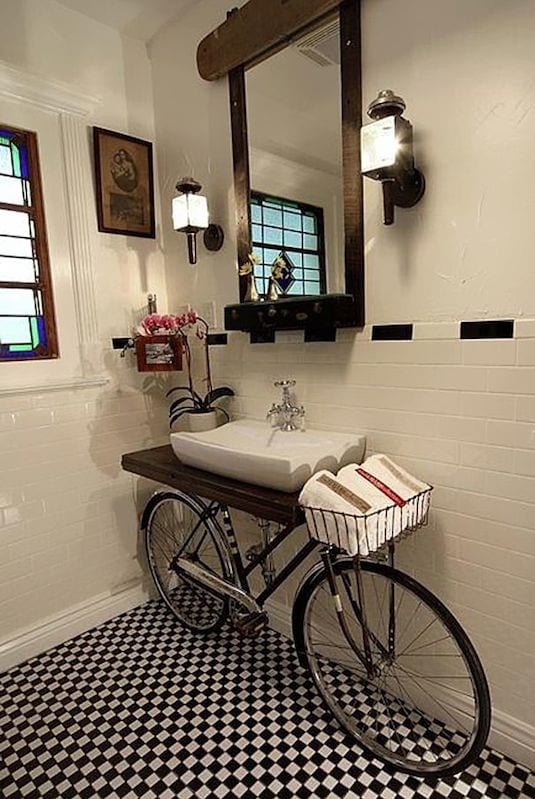 Source: Pinterest – cdn.homesthetics.net
Whether you're a cycling fan or not, this is an idea that can bring the cool factor to your loo at a super low cost if you have an old bike lying around.
The bike is used as a stand, so you don't need to worry too much about the sink itself. A regular white washbasin with a wooden counter top would work well.
Use an old bicycle for a vintage look. And hey, it's functional too. The bike's basket can be used to store all your bathroom essentials, and the countertop gives you more space for storage.
2. Aquarium
Source: Pinterest – thechive.com
This is a statement sink that can bring a stylishly serene vibe to any bathroom. And if you have kids in the house, there's probably no better way to motivate them to brush their teeth.
Aquarium sinks come with openings so you can feed your fish without having to lift the entire glass top off, a water pump, and oxygenation. All you need is the actual fish and sand you want in there, and of course, some skilled plumbing services to pull the whole thing together.
3. Moroccan Bowl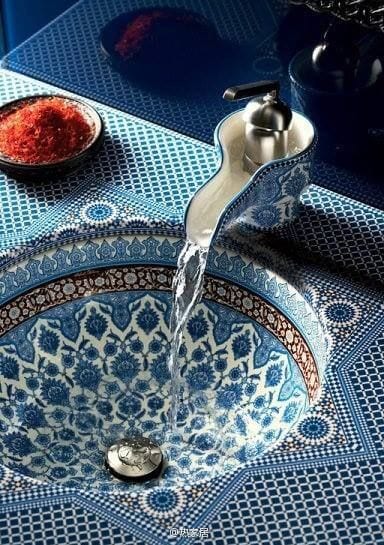 Source: Pinterest – bloglovin.com
Add a splash of colour and culture to your bathroom with a pretty Moroccan ceramic washbasin. You don't have to fly to the Grand Bazaar to get yourself one of these. They're widely available online, on sites like Etsy.
You can get these installed either as an over-top or drop in sink. And don't be afraid that their hand-painted loveliness will get tarnished by regular usage – they're pretty durable too.
4. Maze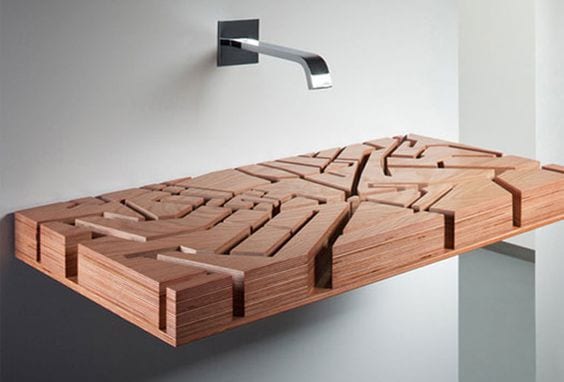 Source: Pinterest – ippinka.com
Taking the flat sink concept to another level, this style of maze sink will keep you (and any guest) entertained as you wash your hands and watch the water flow through the laminated wood.
It's not a widely available concept so get one specially designed by a skilled handyman and installed by professional plumbing help in London.
5. Whiskey barrel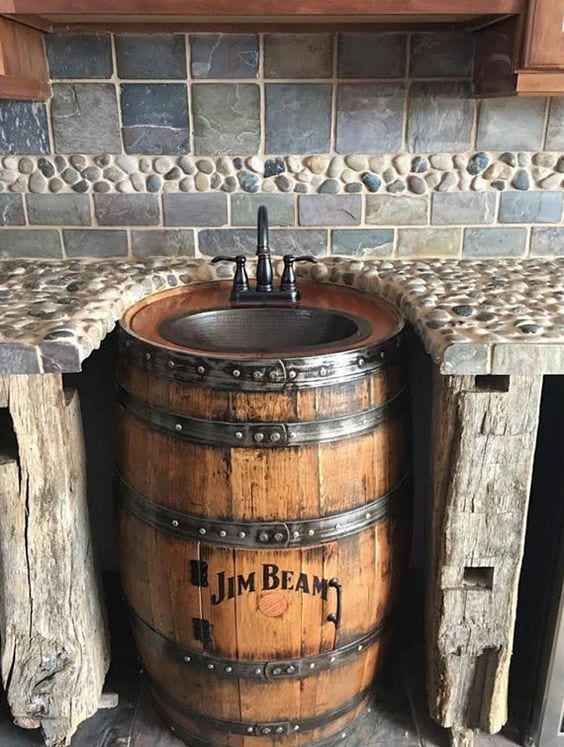 Source: Pinterest – etsy.com
If you're going for a rustic bathroom look, consider up-cycling an old whiskey barrel.
This can either be used as a sink stand or designed with a copper sink inbuilt.
Either way, you're sure to get a ton of comments on this one.
Need a helping hand with installing your sink? Find rated and trusted plumbers on Airtasker.