According to new stats from relationship site eHarmony.com.au, a messy or tackily decorated home is a deal breaker for many singles.
"If you invite a love interest into your outdated and dirty home, they will undoubtedly question your taste and hygiene – or more specifically, lack thereof," explains homewares retailer TheHome.com.au's interior stylist Emma Blomfield.
"Your home says a lot about you, so you should make sure it's sending your love interest all the right messages," she adds.
Next time you invite a date over, make sure you're not committing any of these decorating sins!
Dirty habits
A dirty home will make your question your hygiene and your lack of effort, so do the right thing and clean if you're expecting guests. Pay extra attention to the kitchen and bathroom – that means empty loo rolls go in the bin.
Too lazy? Get an affordable home cleaning service from Airtasker and get the dirty work done for you!
Empty booze bottles
There's nothing attractive about empty booze bottles scattered around the home, and it might even make your love interest question if you've got a drinking problem. If you insist on displaying your booze collection, a cabinet dedicated to this is perfect, or place a tray under a small grouping of the bottles.
Old photos
Photos of exes are the quickest way to kill the vibe in the bedroom. Get rid of them, there's no point hanging onto these photos because as long as they will be present in your everyday life, you will struggle to move on. If you're still pining over your ex, pop the photos in a drawer well away!
Bedlam bed
An unmade bed with dirty sheets is uninviting and a no-no if you're hoping to take your relationship to the next level. Freshly washed sheets with all pillows and sheets accounted for are much more inviting.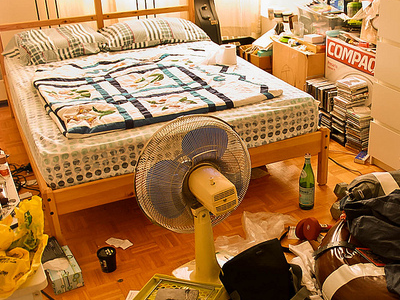 Makeshift furniture
If you are using a makeshift table in place of purchasing real furniture, it's time to go shopping. Splashing out on a new dining table doesn't need to cost the earth but propping up shipping crates to create a dining effect is frowned upon by romantic interests.
Extreme hobbies
It's fine to have your hobbies, just make sure you don't go overboard displaying your trophies, fishing gear and framed jerseys on every surface of your home – you're no longer a proud ten-year-old soccer player, so hinting at your hobbies with tasteful elements is much more sophisticated.
Stuffed toys or dolls
It's time to grow up and accept that no one finds adults displaying their love of soft toys endearing.
Overflowing dirty laundry
There's no need to air your dirty laundry on a date – both figuratively and literally speaking. Ain't nobody got time for dirty slobs. You know where the laundry is, get cleaning!