Your living room layout says a lot about the feeling you want to create with your space. A living room centred around a fireplace might signal cosy winter nights with your family. A light-filled and breezy living room that opens out on to your back deck might mean long, summer nights entertaining. A cosy two-person couch and a small pod of coffee tables might make the perfect choice for a couple. And a long L-shaped couch could be the right choice for a big family.
Once you've figured out your ideal layout, then you'll need to get creative and choose patterns and colours that suit your personal tastes. And there are so many options to choose from – there's brass touches, clean white lounges, black detailing, pops of pink, curved timber, and so much more.
To help you figure out the perfect layout – and the right style to go along with it – I've prepared 40 living room layout ideas for small spaces, fireplaces and TVs.
1. Contrasting materials
This living room has so much life to it! As a whole, it looks very visually appealing but when you look a little closer, you'll see that it incorporates multiple design styles and colours.
First, there's the timber, which truly ties the room together. The timber is incorporated in the coffee table, the single chair on the left, the edging on the fireplace, and the cabinet on the back left wall. Speaking of the fireplace, it also has monochromatic tiling to create added detail – and it looks beautiful against the timber.
Then there's the brass, which has been used in the ceiling light and for the legs of the coffee table. And finally, there are the pops of blue in the cushions on the couch and the rug on the floor. This just proves that a few different colours and style mixed together can give a seamless finish.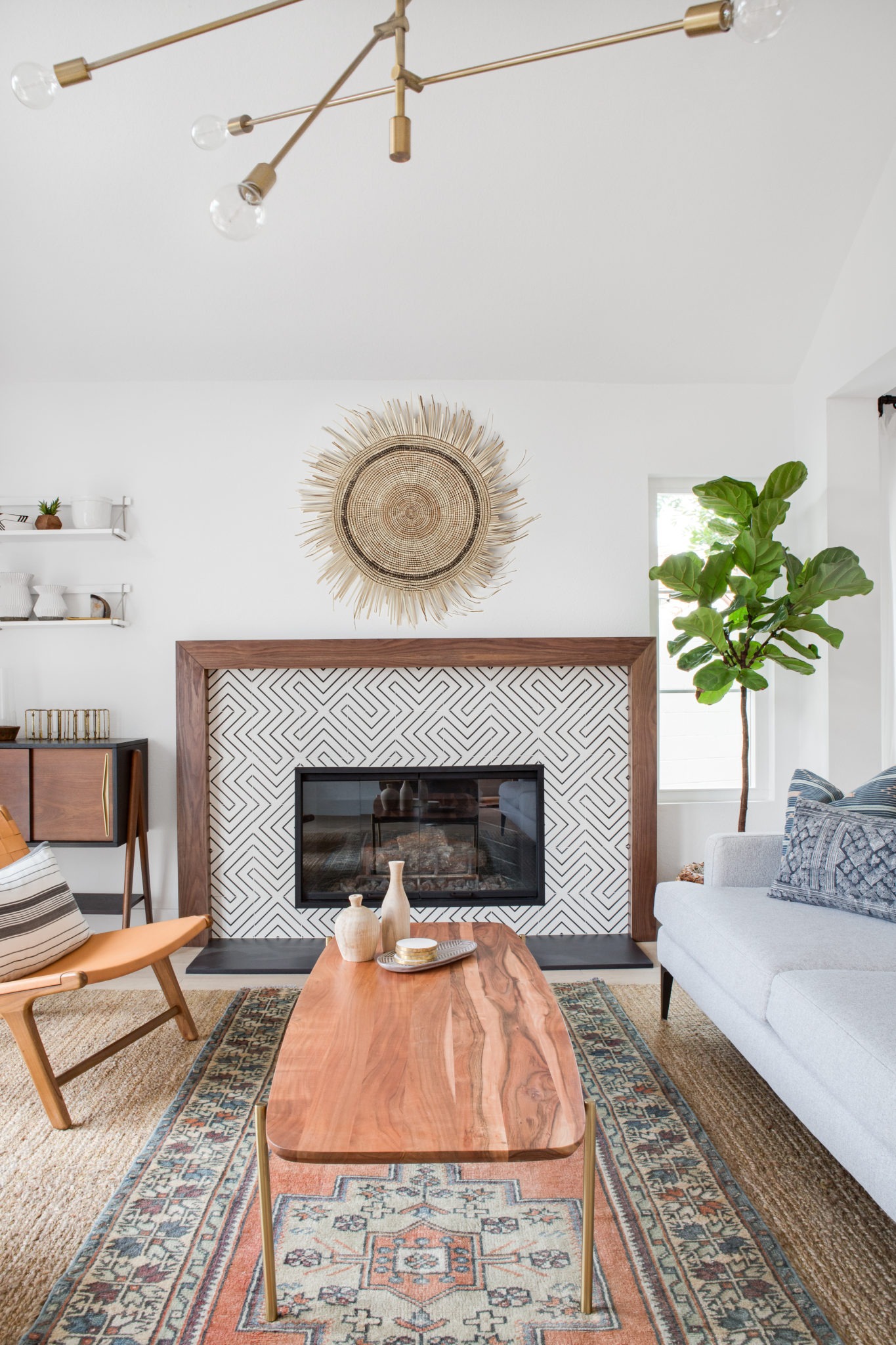 2. Around the fireplace
The fireplace is the true hero of this living room. If you want to bring attention to a focal point, like this, add decor around it. In this case, there's a timber box filled with throw cushions and a plant, and there are beautiful large prints sitting on top of the mantle. Adding extra touches, like these, helps to draw the eyes to the fireplace, so it gets the attention it deserves!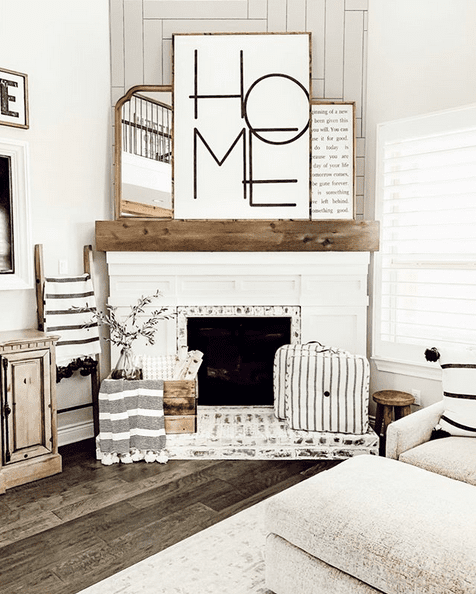 3. Floor to ceiling fireplace
If you're wanting to create a dramatic effect, then you can't go past a floor to ceiling fireplace. You can create this look by either painting or tiling the wall around the fireplace a contrasting colour to the paint in the rest of the room.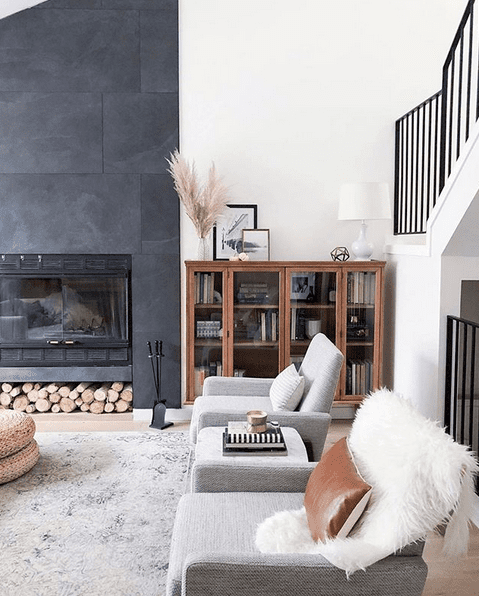 Having something like this as a focal point will always make people go – wow! And there are plenty of other types of feature wall ideas that you could use in your home.
4. Extra seats
When it comes to designing your living room layout, it's important to consider how many people you want to be able to seat. If you have a large family or frequently have guests over, then it's worth investing in multiple sitting options from the get-go.
This living room has a combination of styles in similar shades – there's the two-seater white couch, the two single leather seats on the right, and the two small stool-like seats on the left.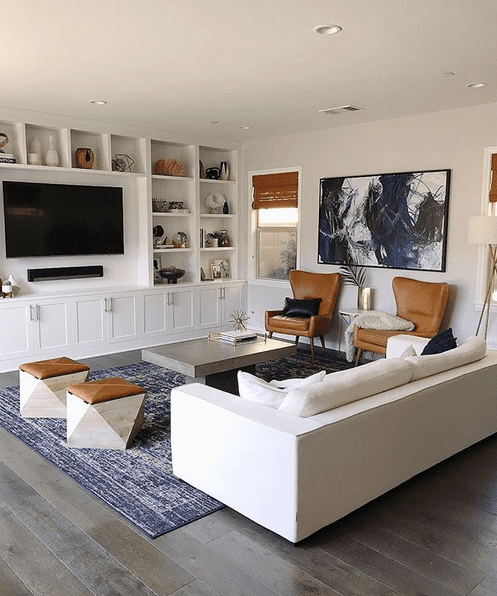 5. Cosy vibes
What feeling do you want your family and your guests to have when they sit in your living room? What feeling do you want to have? These are important questions to ask when considering the living room layout. This farmhouse-style space looks very inviting. The cabinet design on the left of the couch adds to the overall feel, making the home look lived in and cosy.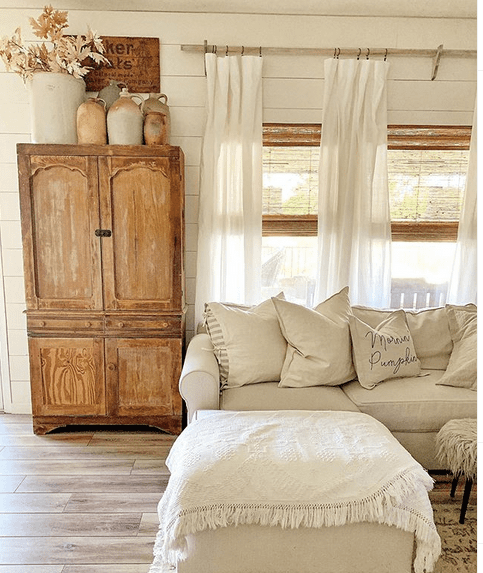 If you're loving this, you'll also love these rustic living room ideas which include farmhouse and other modern adaptions of the raw untouched styling.
6. A statement lounge
If you'd rather just stick with one key piece of furniture, then you can't go past a large L-shaped statement lounge. Right now, the trend is to place the couch in the middle of the living room. This allows for light to bounce off the walls and around your space without being blocked by any furniture. I love how this room is fairly minimal but has elegant touches in the rattan coffee table and tall indoor tree.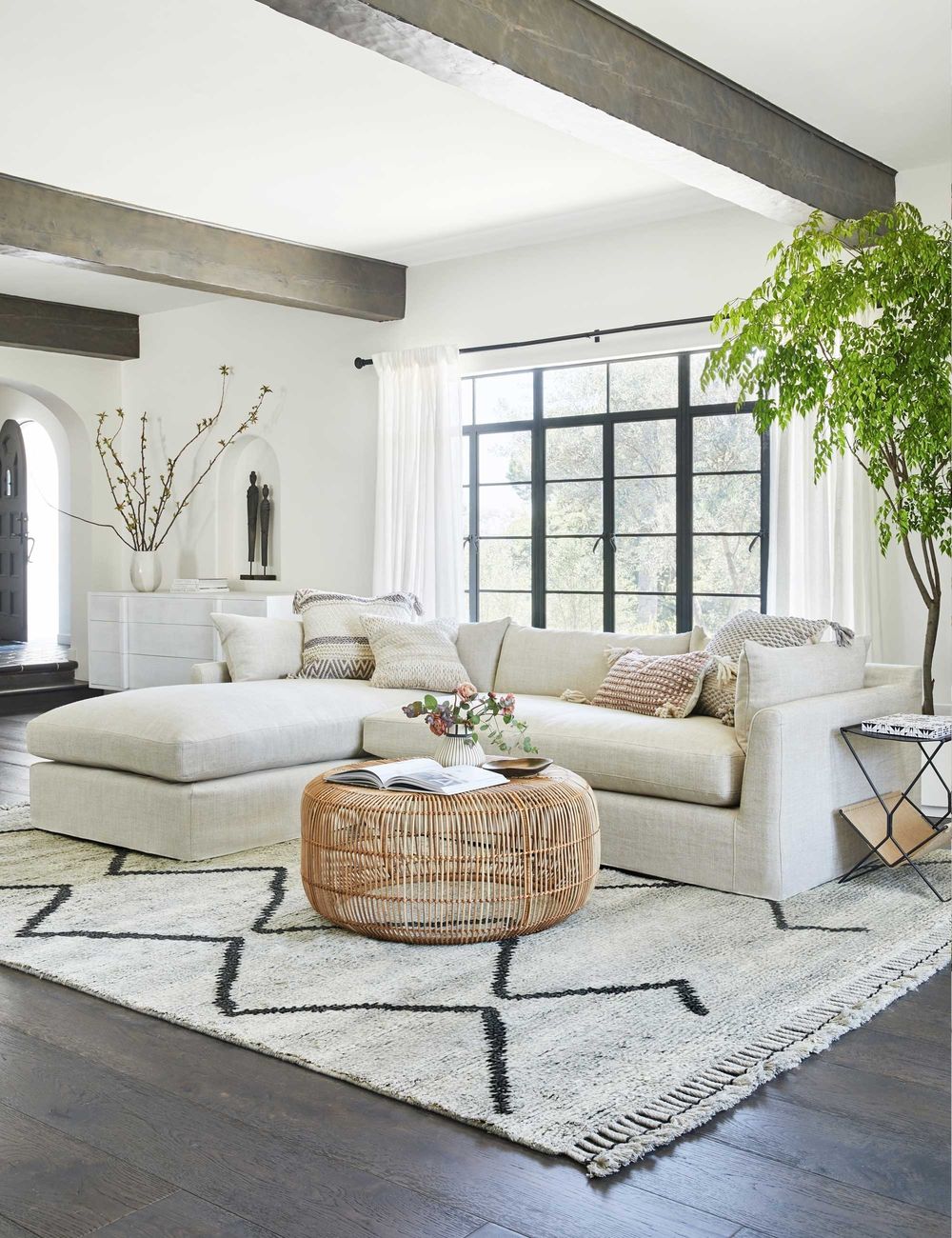 7. Frame it up
If you have a key architectural element to your living room, draw attention to it! The placement of the couch in front of the curved window allows the window to be the real hero in this room. And the wide-open frame allows for plenty of light to filter through into this space.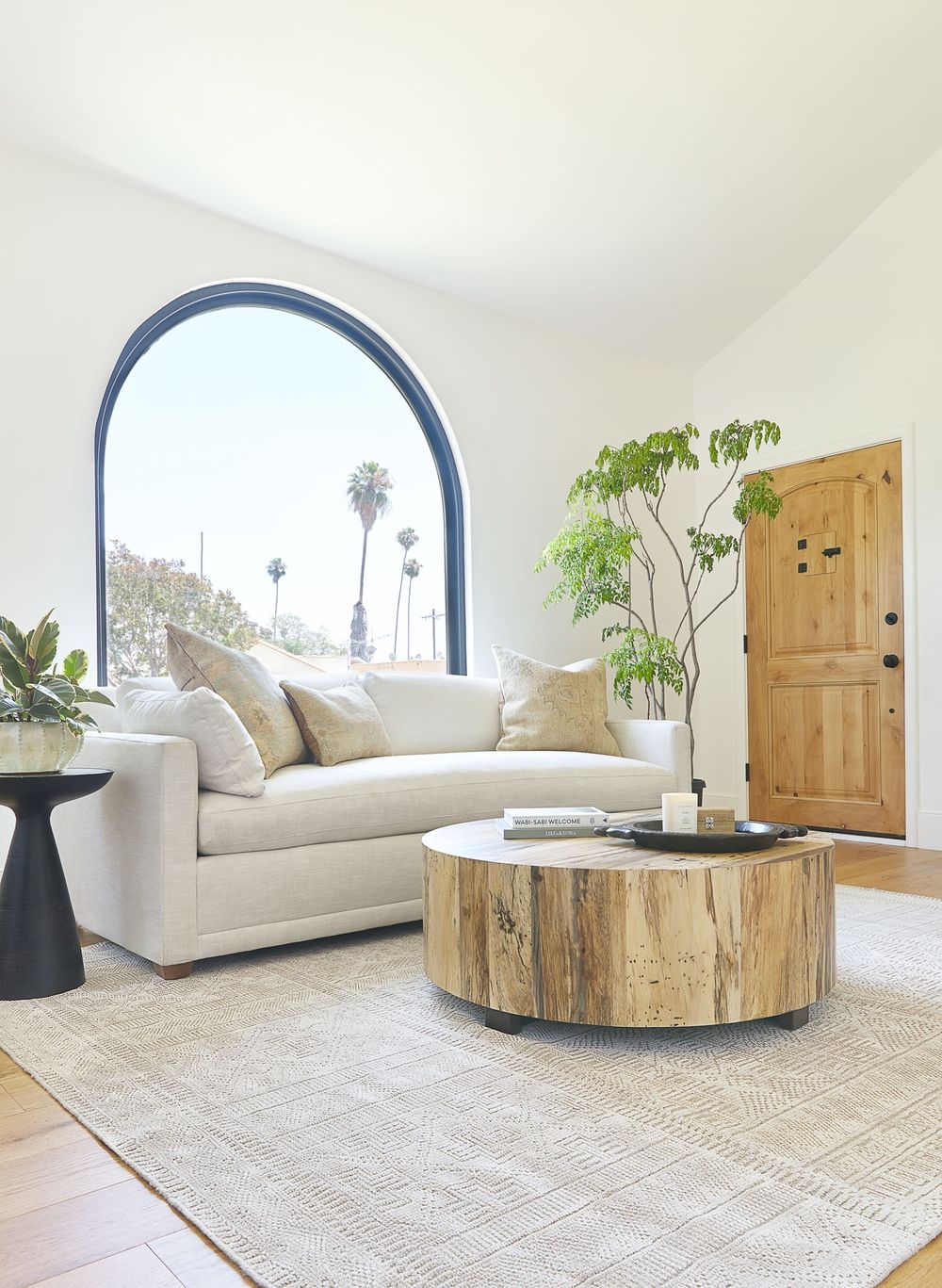 8. Fill your tiny space with art
Just because you're looking at a small living room layout doesn't mean you need to sacrifice on colour and design elements. This living room is proof that you can have it all! The key is to keep a consistent colour theme throughout the room. In this case, there's plenty of pink with touches of green and blue. This makes for a gorgeous finished space.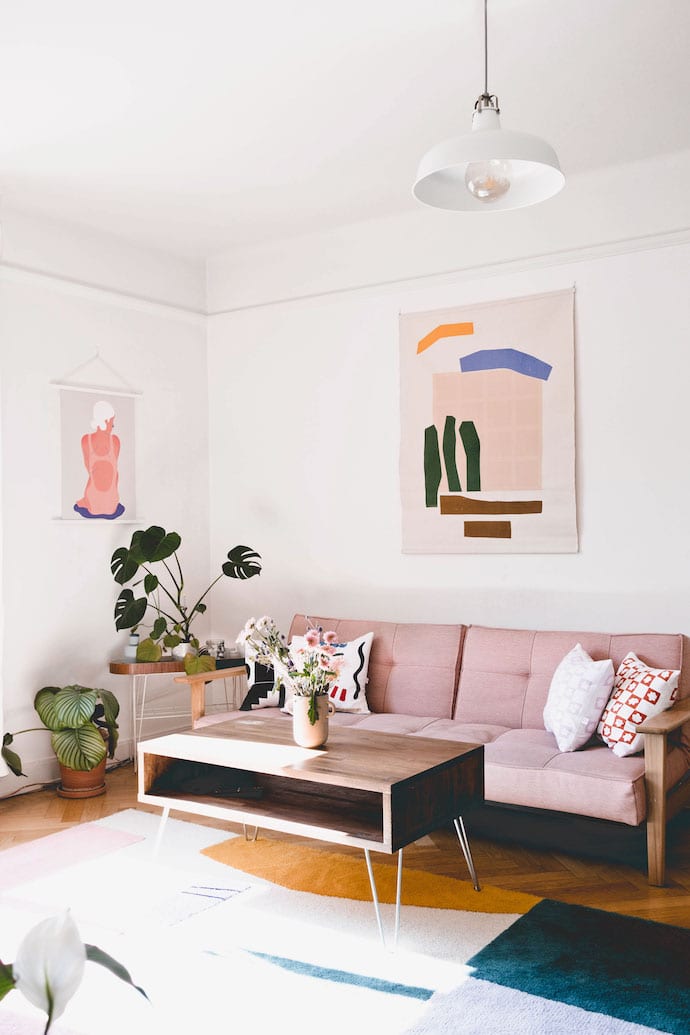 Don't forget to get someone to help with your art hanging so that you can make sure it's put up using the right support.
9. Surround your TV with shelving
This is a clever way to optimise space and add decorations to your living room. You can create a shelf on one side of the TV or on both sides for symmetry. Take inspiration from this design, and use floating timber custom shelving to contrast against the white concrete exterior. The timber also ties in nicely with the timber TV cabinet.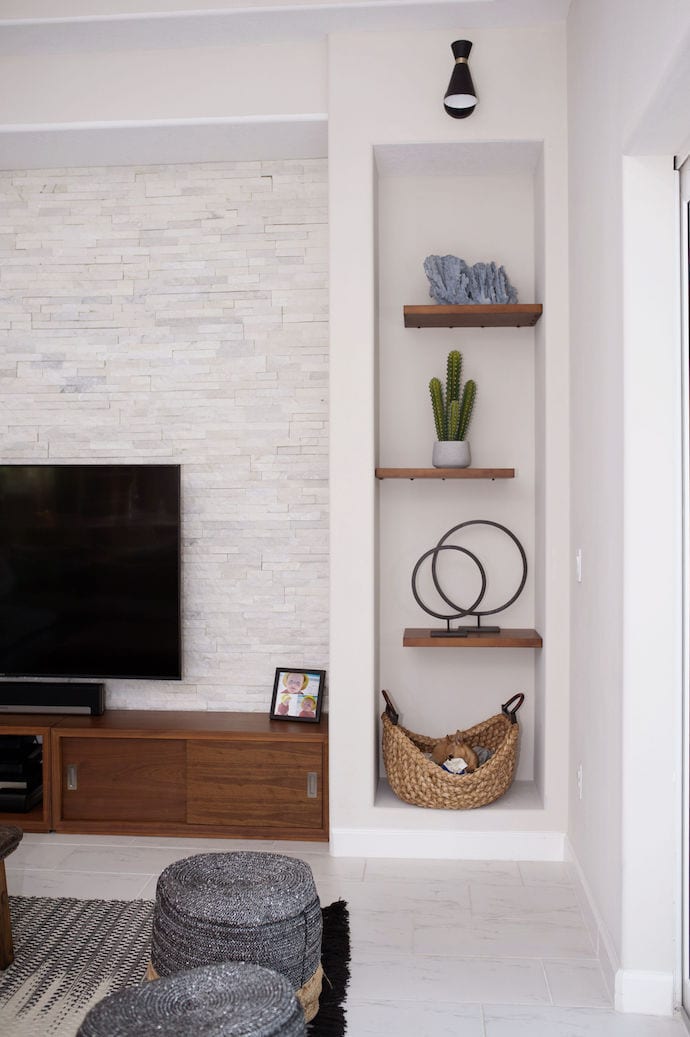 10. Add yellow tones to your fireplace
Fireplaces are often dark, black and moody. But this fireplace is different! The yellow-timber shelf and brass framing bring life and colour to this fireplace. And the addition of colour in the art pieces makes this space really pop!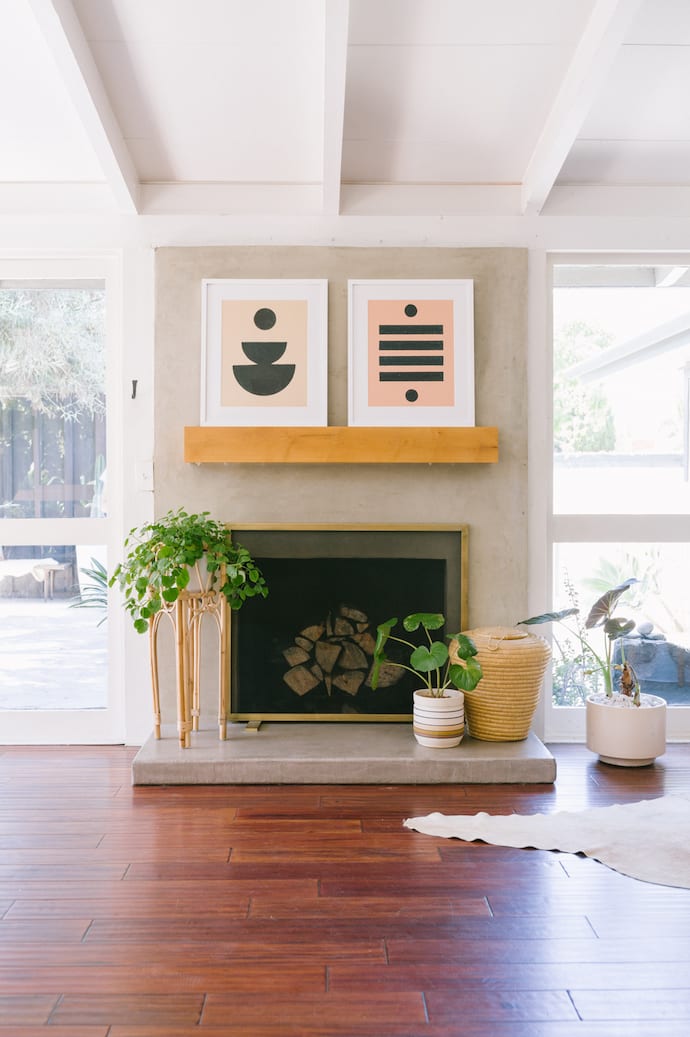 11. Timber and white TV unit
Timber and white are a match made in colour heaven. They provide the perfect base for any living room and can work well with so many colours. Instead of being placed directly on top of the TV unit, this TV hangs neatly on the wall. Technically, the TV doesn't need the cabinet, but the unit adds interest and functionality to the room.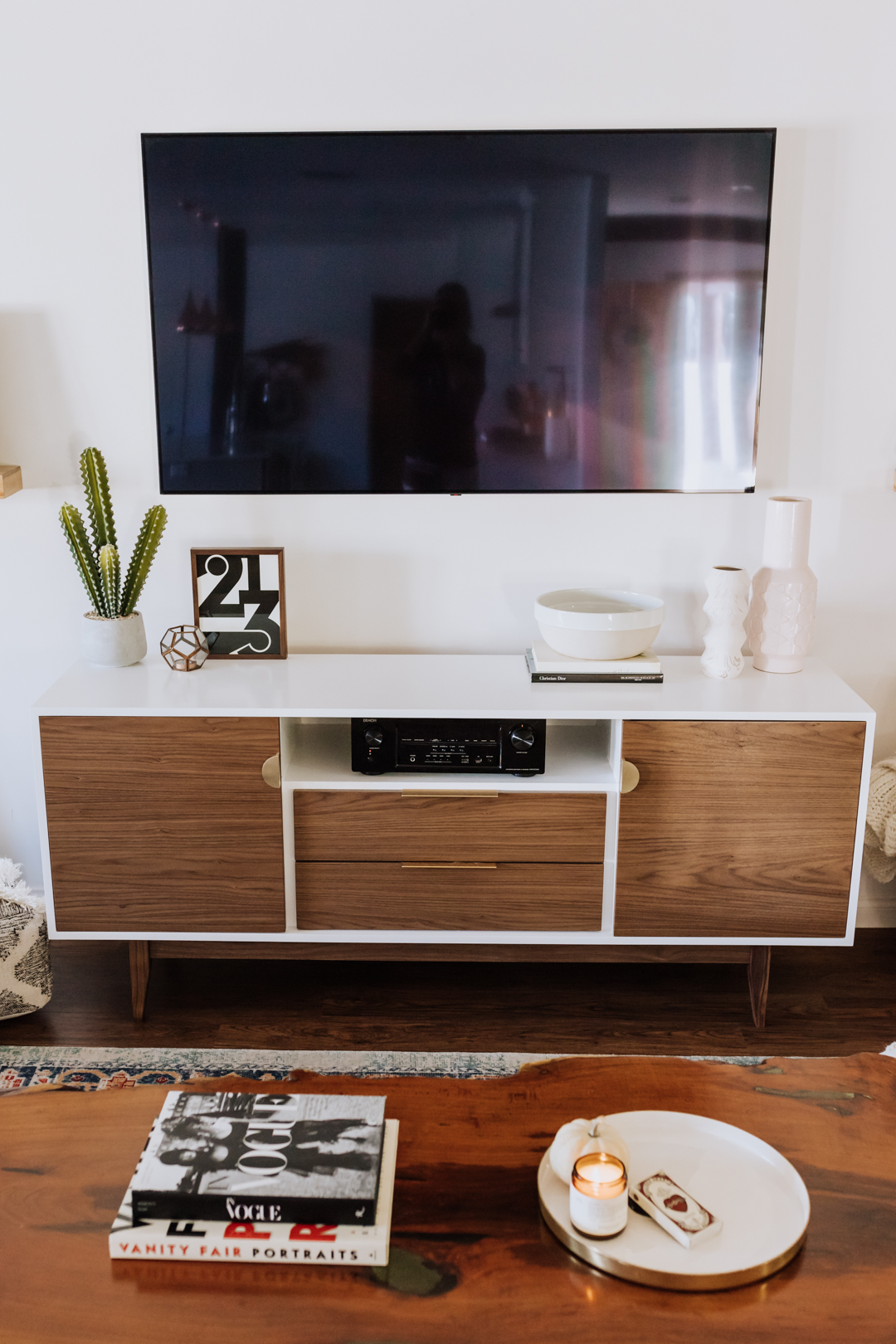 12. Frame around a statement light
If simple lighting is not your style, choose something that's large and bold and frame your entire living room around it. This multiple-bulb light piece really is the focal point of this room, and it sets the tone for the rest of the furniture. The gold and white has been integrated throughout the room with touches of pink and green finishing it off.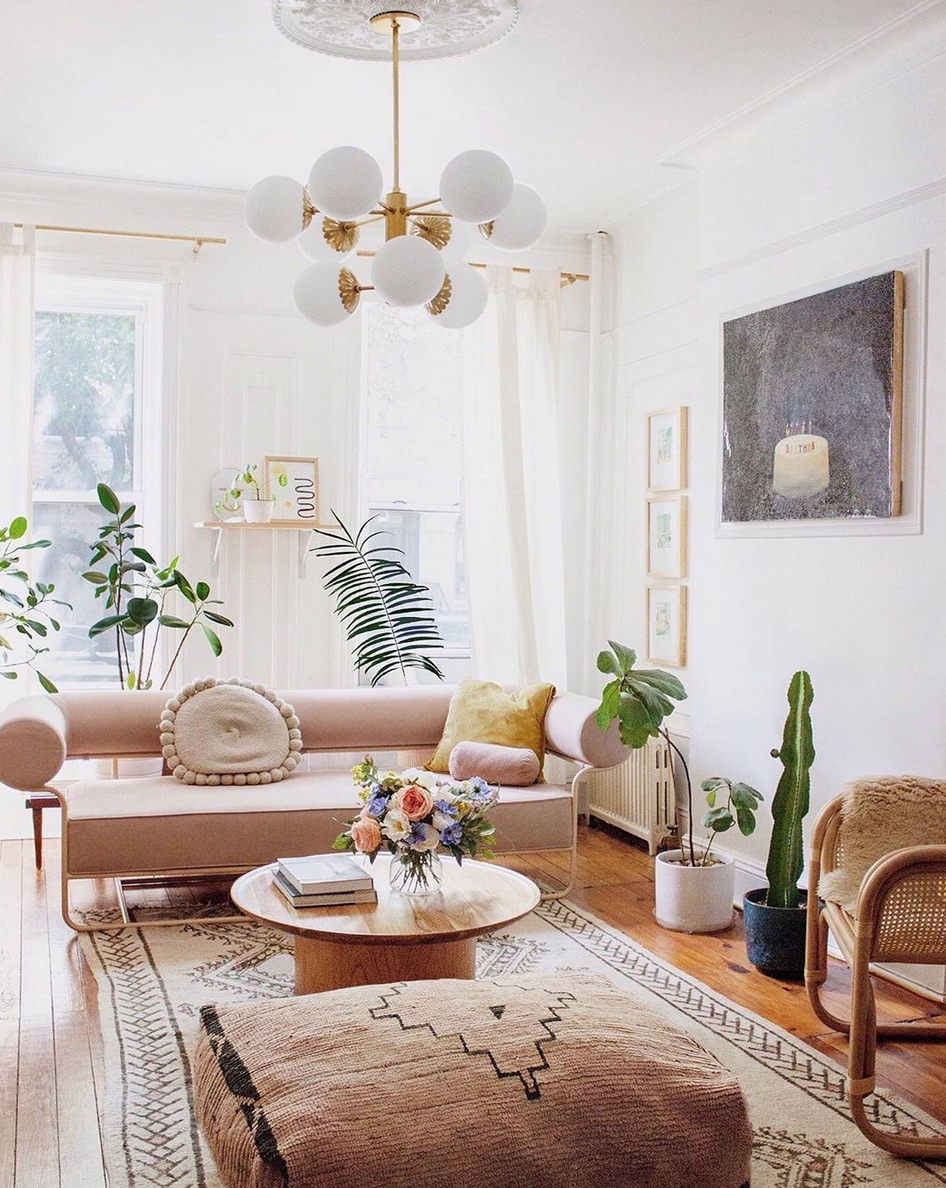 You could also look at wall sconces for showcasing art or downlights to add more functional light. But if you're still not sure what kind of light fitting you need, here are my favourite living room lighting ideas.
13. Bring the outdoors in
If you have a beautiful view or even just plenty of greenery outside, make the most of it by adding french doors on the side of your living room. This will let plenty of light in and help take your space from warm summer afternoons on the deck to cool evenings on the couch.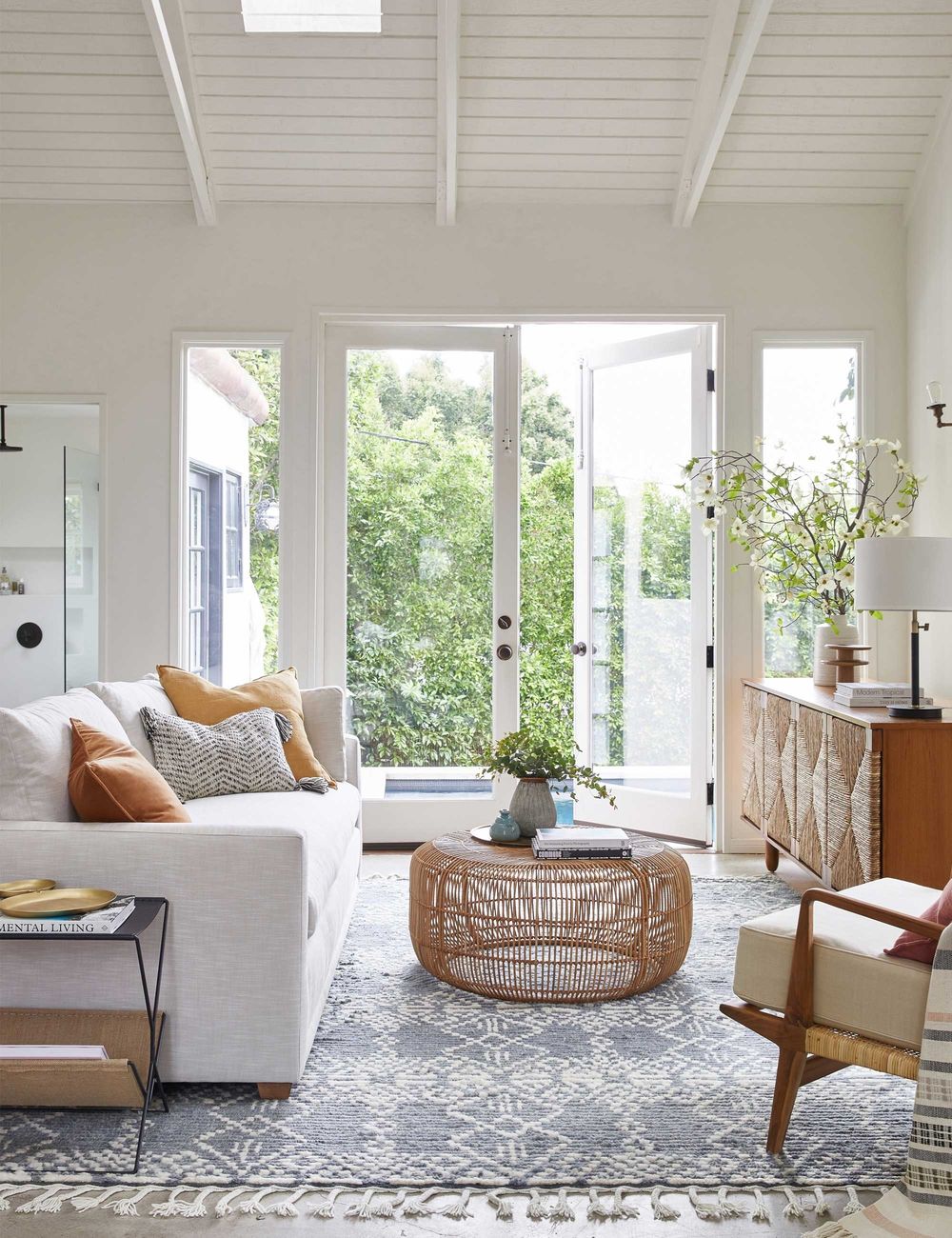 14. Embrace high ceilings
If you live in a home that has a high ceiling, make the most of it. Maximise the dramatic effect by choosing furniture pieces that complement your room. When it comes to the fireplace, paint the area around it a different shade to the rest of your walls. I love the grey concrete in this design – it has a raw, natural feel to it. And it's perfect for this woodland home!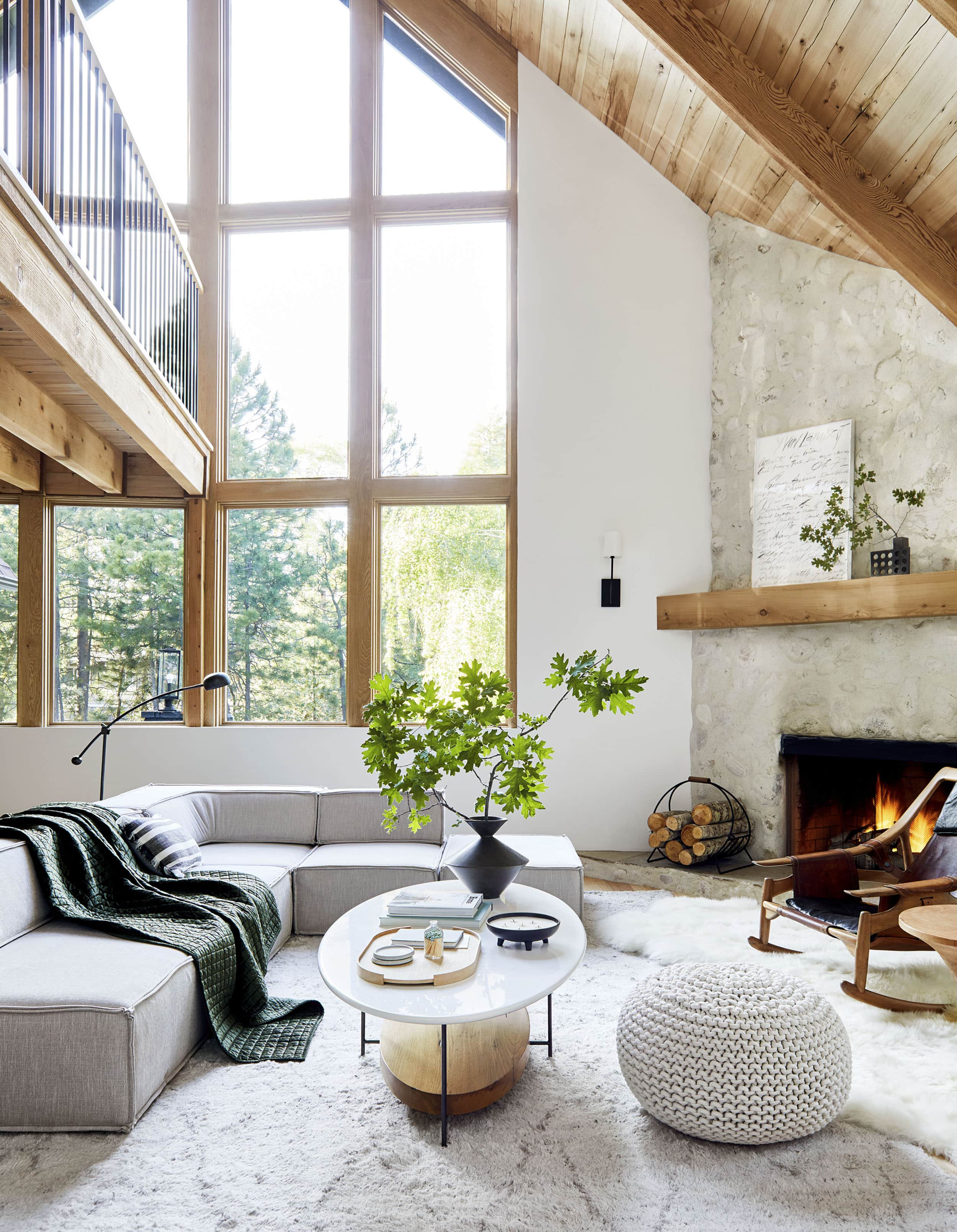 15. Use symmetry
This living room has used symmetry to its advantage. While the chairs may not be the same, they directly face each other, creating a central focus on the rectangular wooden coffee table.
Everything from the shelving, on either side of the fireplace, to the rug with its rectangular white columns on the floor has been placed in such a way to create a perfect balance in this room. But it doesn't go overboard – decor has been strategically placed (see the vase on the fireplace, broom on the right, a mix of items in the shelving, and fiddle leaf fig on the left) to add a natural touch to the room.
16. Incorporate multiple surfaces
When thinking about the layout for your living room, it's important to consider your surfaces. As you can see in this stunning mid-century living room, there are plenty of places to pop a cup of coffee or piece of decor. There's the oval-shaped coffee table in the centre of the room, the cabinet at the back of the room, the dark-brown box in between the two sitting chairs, a small wooden holder for magazines on the right, and a little natural wood side table on the left.
All of these pieces have been thoughtfully placed so they can be reached from any of the chairs in the room.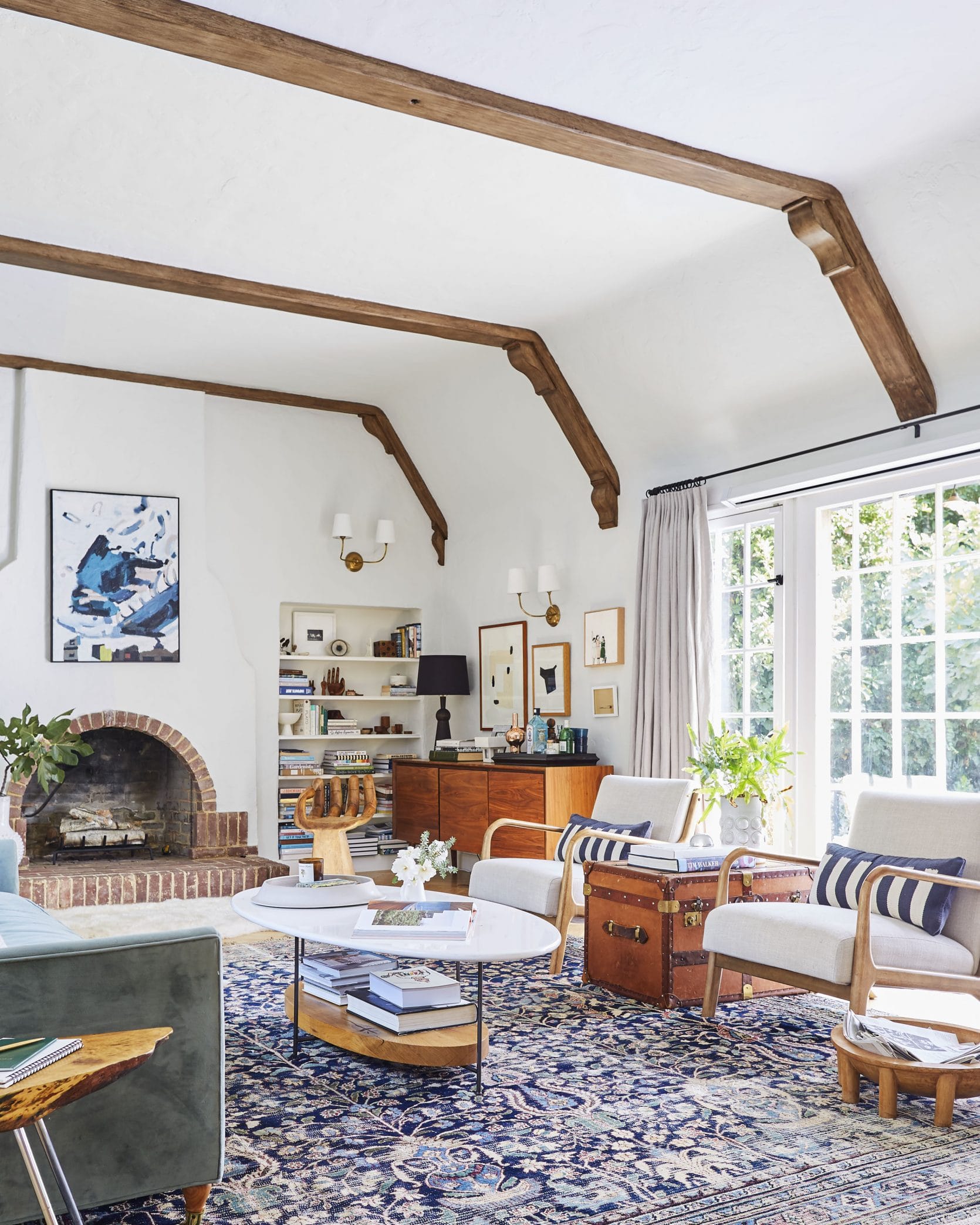 17. Small but smart
Just because you have to design a small living room layout doesn't mean you have to ditch decor altogether. It just means you have to be more thoughtful. Take this space, for example. It includes a grey two-seater couch with a colourful throw, three light bulbs on the wall that highlight the six pieces of art hanging, and then a small pot of colourful flowers to tie it all together.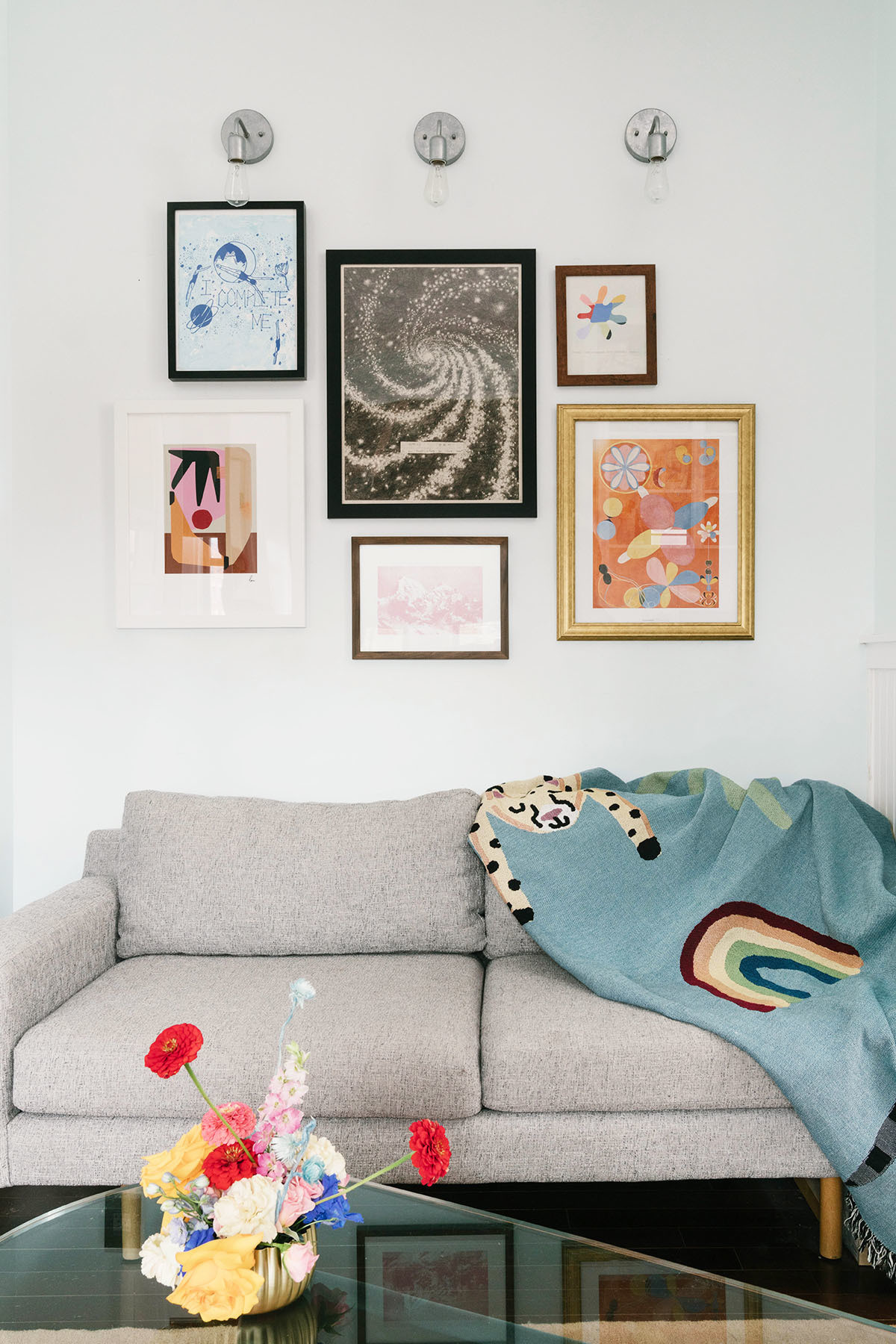 18. Clean lines
If you want to create a sophisticated living space, then take inspiration from this room. It makes the most of clean lines and geometric patterns to give an adults-only feel. To achieve this look for yourself, start with a large black-and-white rug in a pattern of your choice. From there, add a sharp, rectangular coffee table that has a bit of black in it, choose a velvet couch in a colour of your choice (velvet is so elegant), add a one-seater leather chair, and finish the room with a tall marble-and-gold side table.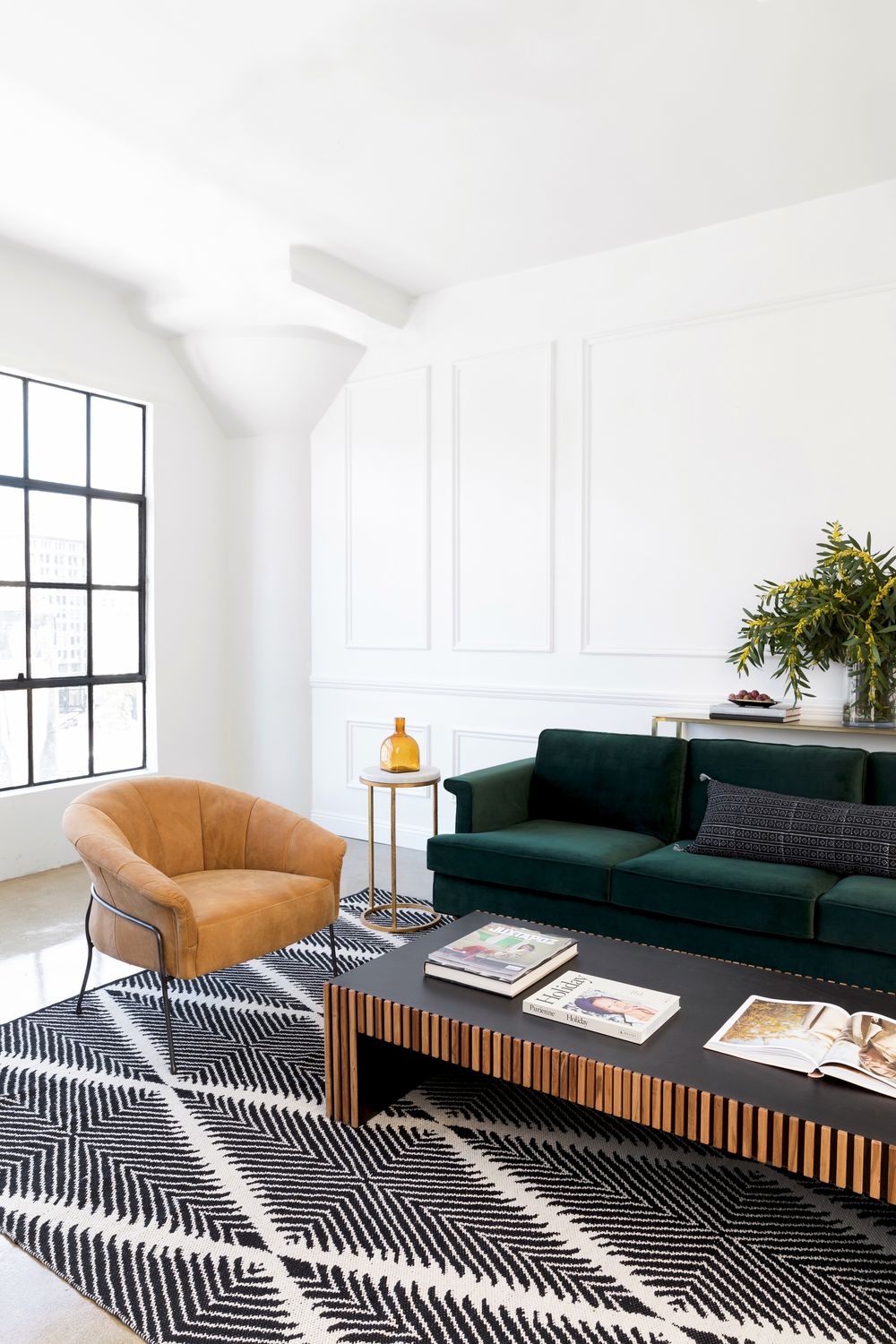 I think that this is stunning. Actually, if you're looking for just more contemporary styling, here are over 50 modern living room ideas.
19. Millennial pink
This is another small living room layout that requires a bit of strategy, as it leads on to a set of stairs on the left and a hallway on the right. If you have an awkward space like this, don't fret! This just means you'll have to get creative.
The one piece that really ties this living room together is the large floral art print above the fireplace. This creates a focal point for the room that would otherwise look a bit confused. And it works because the pink ties into the rest of the theme – pink everything!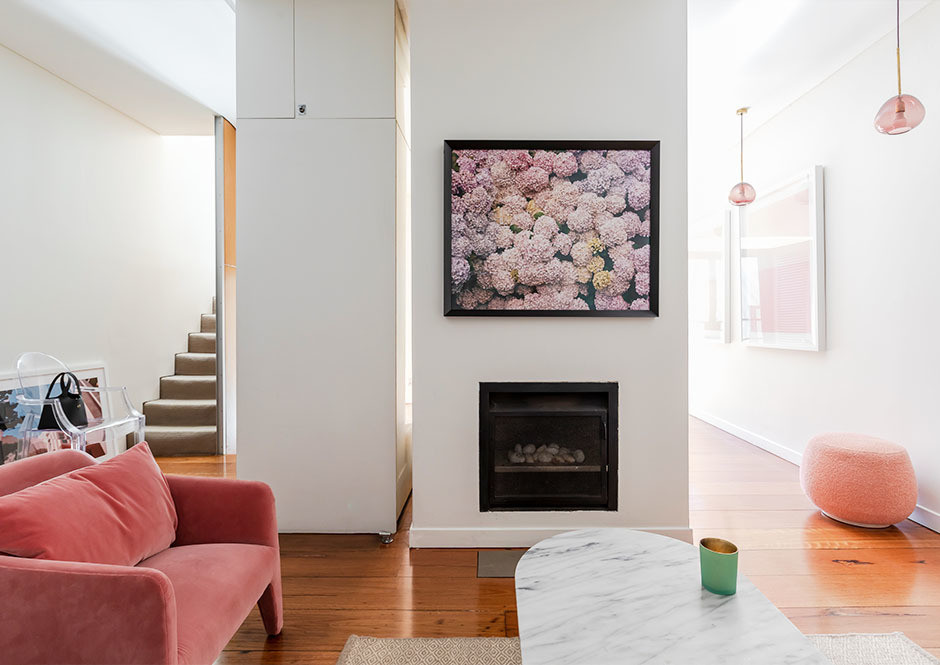 20. Create a feature wall with art
If your living room layout is looking a little dull, consider sprucing up one of your walls. In this case, the left wall has been transformed into a sea of art prints that bring colour and life to the room. This really works in this space, because the prints are mostly in natural colours – beige, black and grey with touches of blue – and they match in with the furniture which is in the same colours.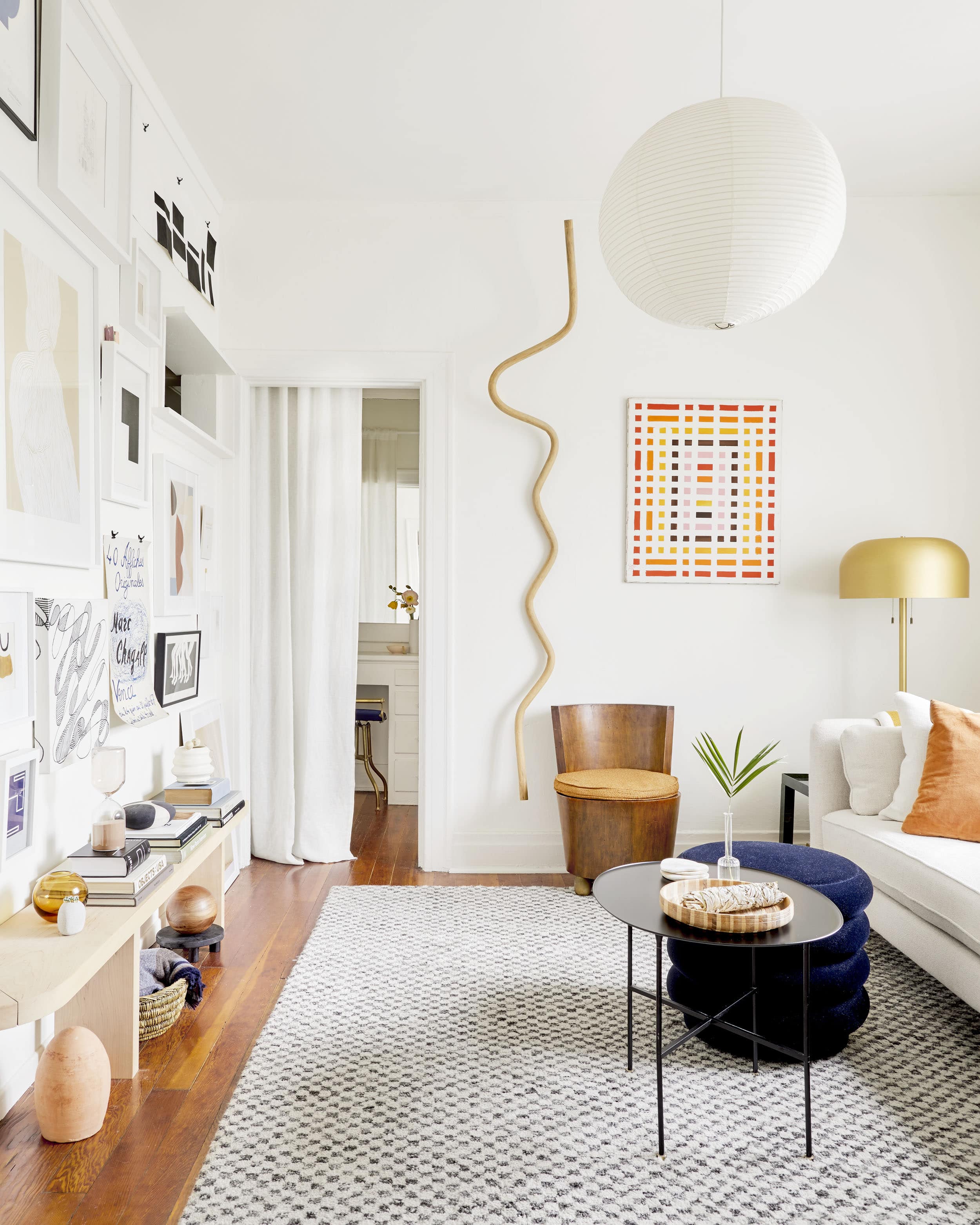 21. Sleek and minimalist
If you prefer the 'less is more' approach, then you'll probably want to go the minimalist route when it comes to your living room layout. The minimalist living room in this picture does just this with its sleek furnishings and grey and natural colour scheme. And the pair of stools nestled next to the fireplace provides extra seating without cluttering the room.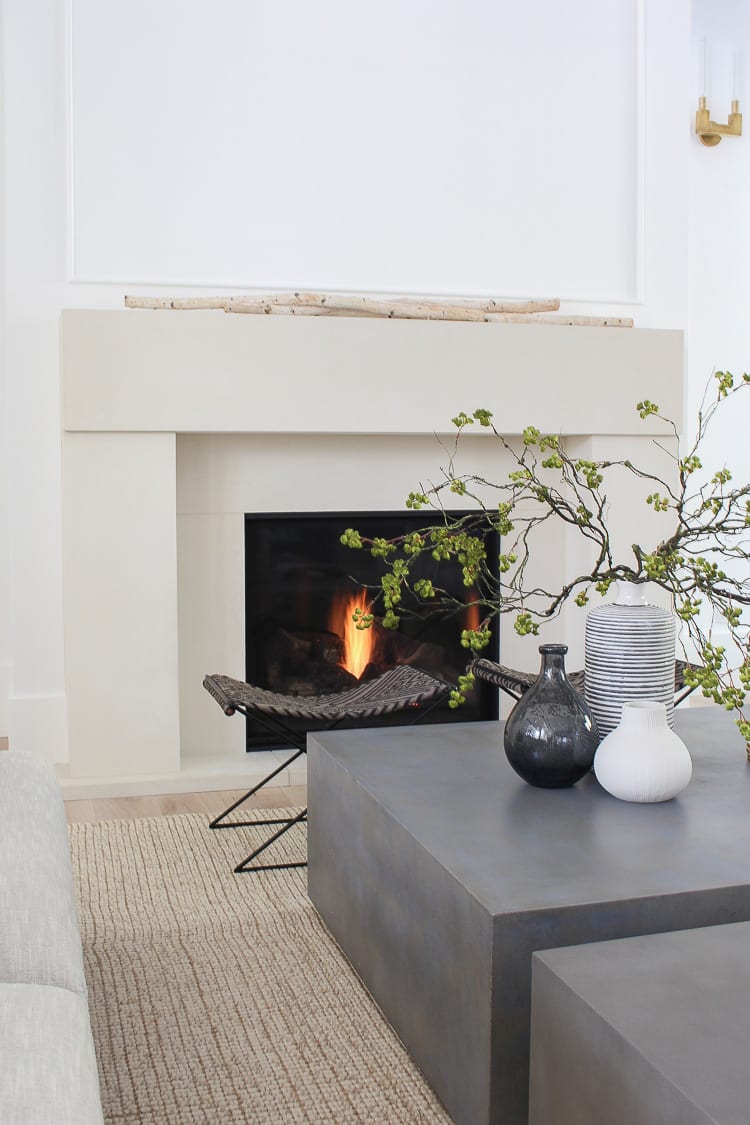 22. Black and white
For a classic look with a modern twist, add a touch of black and white to your living room. As you can see in this living room layout idea, there's only a little bit of black and white, in the ceiling light shade and pillows on the white couch, yet it makes a huge difference. Consider how you can make small adjustments to your living room to create a whole new look like this.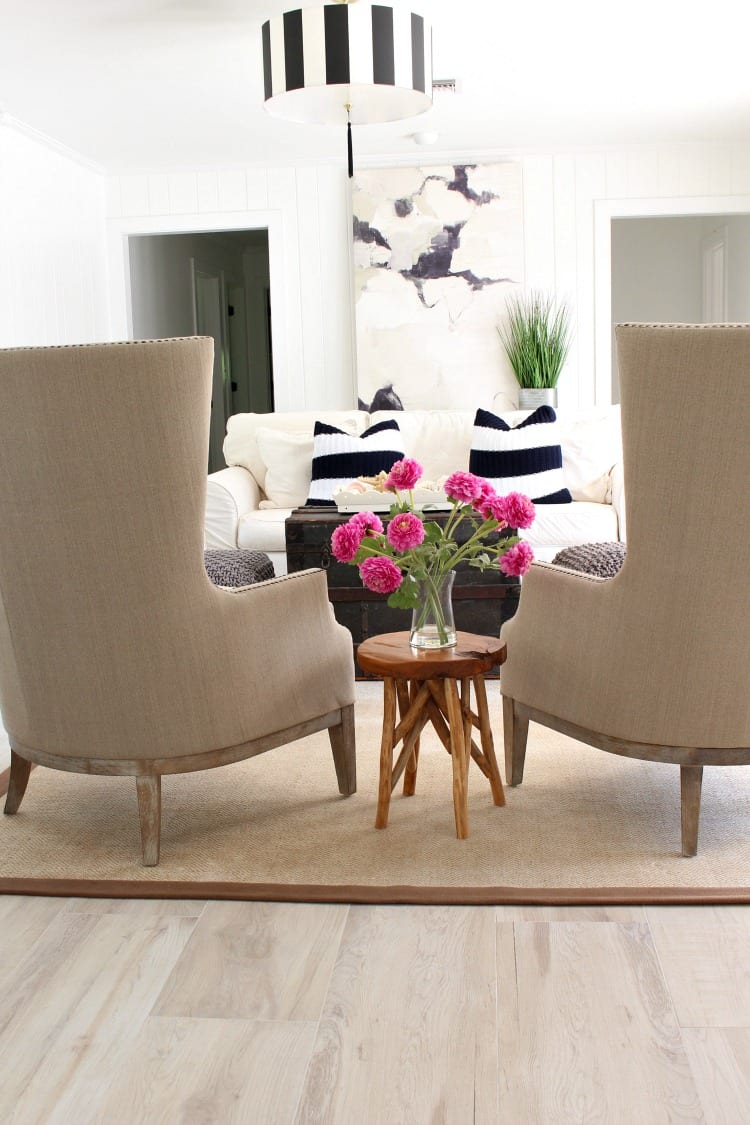 23. L-shaped living room layout
If you've got a big family or just like a lot of space to lounge around, then you'll probably want to consider an L-shaped couch. When purchasing a sofa like this, it's important to choose one that will work in well with your space. In this picture, you can see that the white fabric couch fits snug in the corner of this room.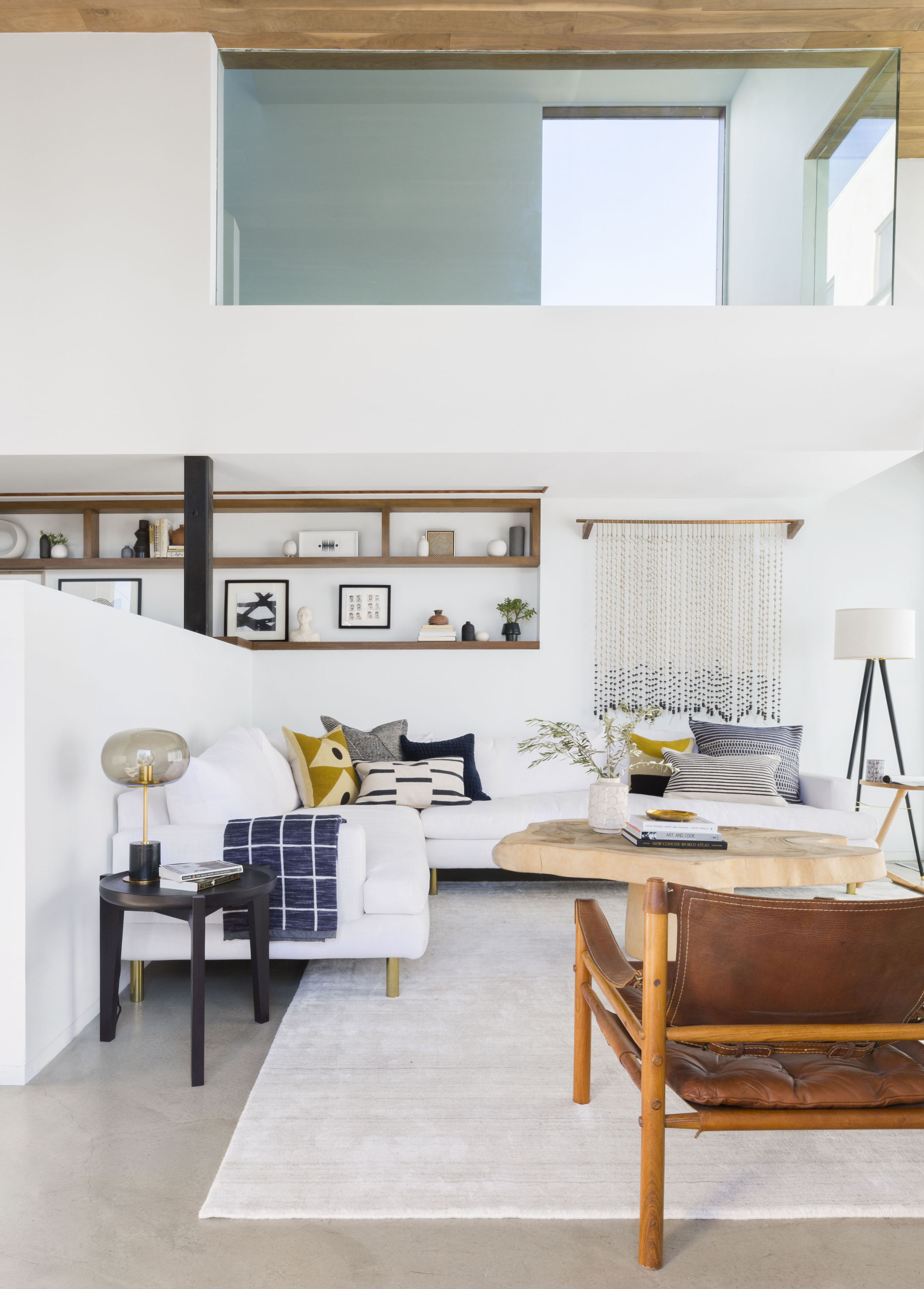 24. A statement coffee table
Speaking of L-shaped couches, they look best wrapped around a coffee table. Now, it's important that you choose a coffee table that fits the size of your L-shaped couch. You don't want one that's too big or way too small that there's not enough room for everyone's cup of coffee. This round bamboo-and-glass table is just the right size for this space, and it looks gorgeous!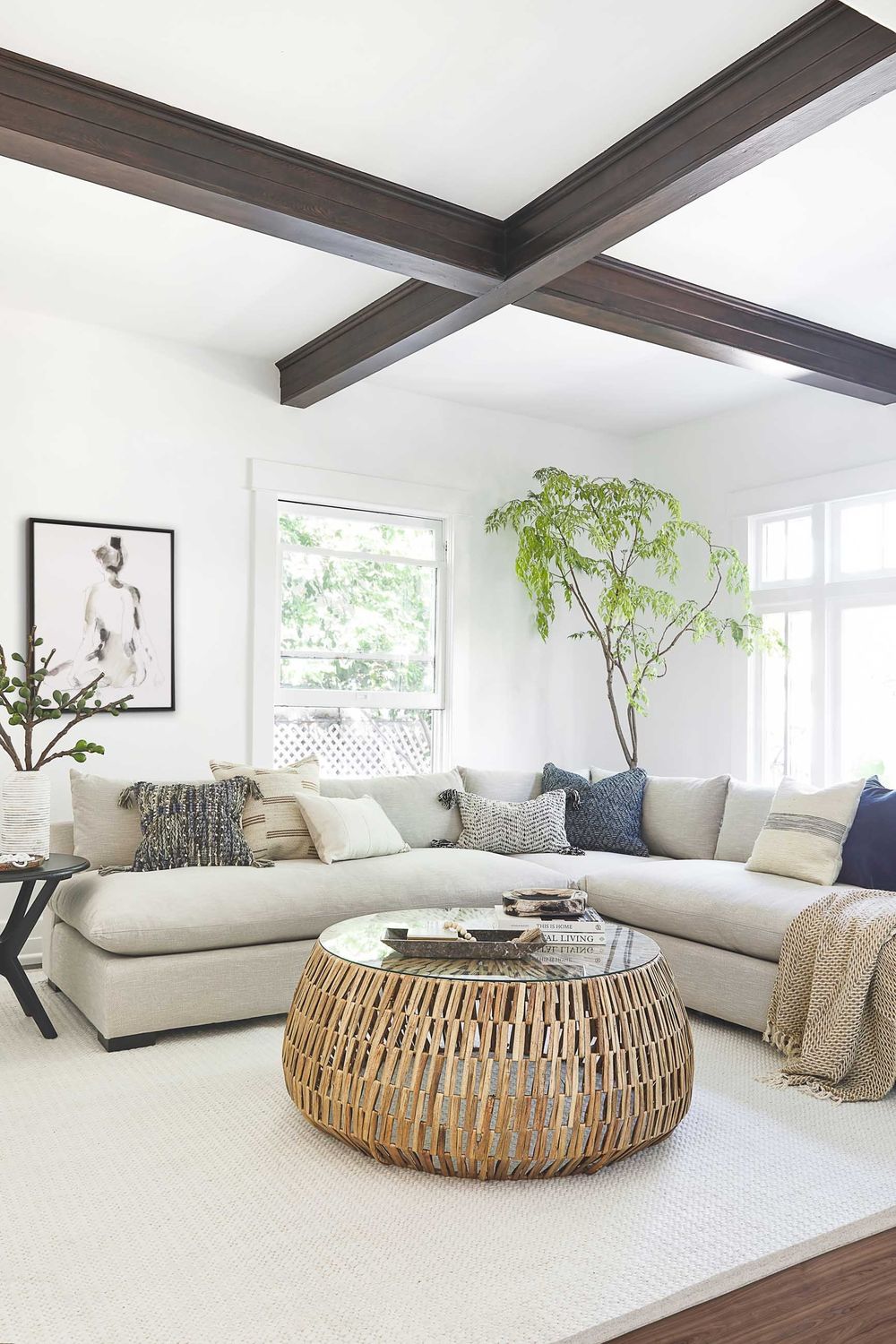 25. Layer your coffee tables
If one coffee table isn't enough, why not add two? As you'll see in this picture, the design includes an oval-shaped marble-and-gold coffee table with a petite circular table in the same style rising just above it. This creates levels in your living room, which adds a whole lot of interest!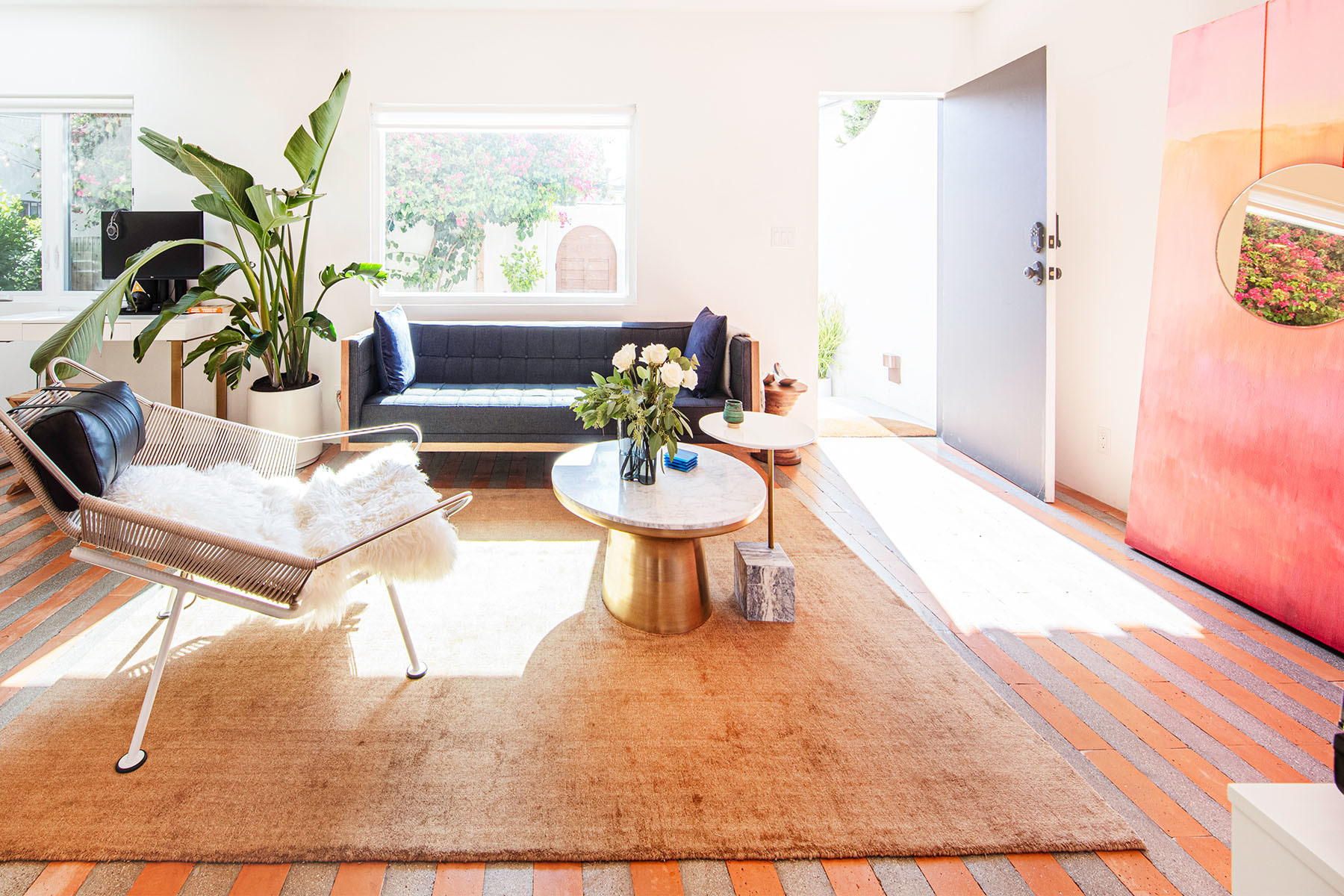 26. Add tiling to your fireplace
If you're after a living room layout idea with a fireplace, then look no further than this gorgeous design. Instead of sticking to the white surrounding the fireplace, black chevron tiles have been added to frame the opening. This creates a dramatic and striking effect, making the fireplace the focal point of the room.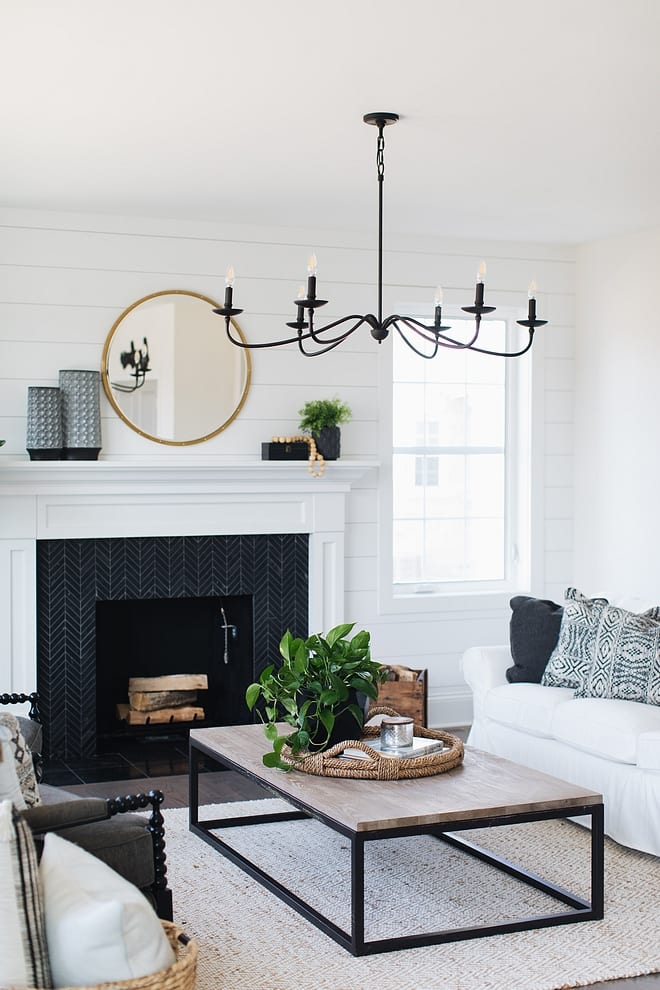 27. Rustic wood and white bricks
Here's another fireplace option, and this time it's a little more natural. Painting your bricks white is one easy way to spruce up your space. And if you want to break up the white, add a rustic timber beam on the wall.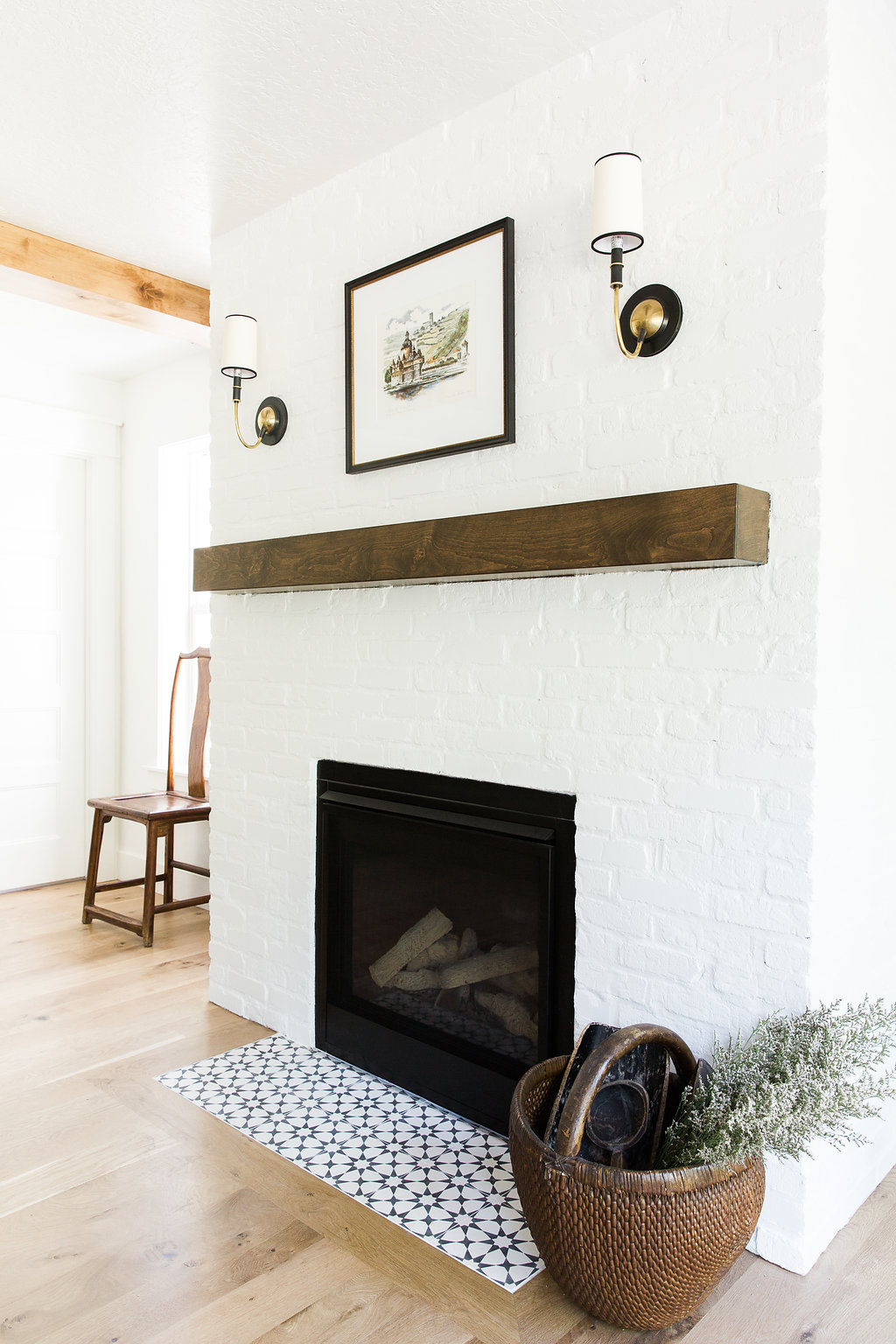 28. Go with stone
If cool and traditional is more your style, create a grand fireplace with grey stone bricks. This colour looks especially good with touches of black. You can incorporate black with a mirror above the mantle and the screen in front of the fireplace.
29. Grey, burgundy and animal print
Create an elegant living room by incorporating these three colours. To lighten the space and create a base, choose a white rug to go on the ground. From there, you can build up the room with a mix of grey and timber furniture, and touches of burgundy and animal print to finish.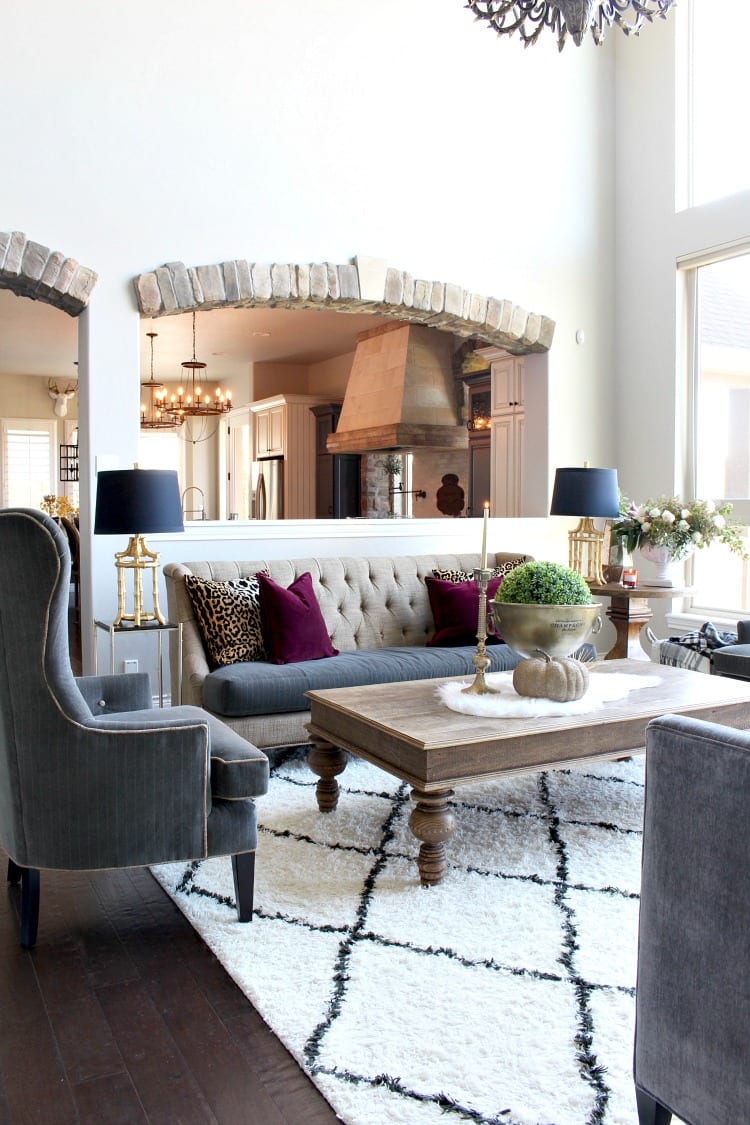 30. Dress it up to the max
If going for a white rug just isn't your style, then turn to the other end of the spectrum and go all out with a patterned piece. This ornate living room sure does pack a punch but it works because the clean white walls and light timber flooring keep it grounded. As for the layout, it keeps things simple with a three-seater velvet sofa, two sitting chairs on the other side, and an oval coffee table in the middle.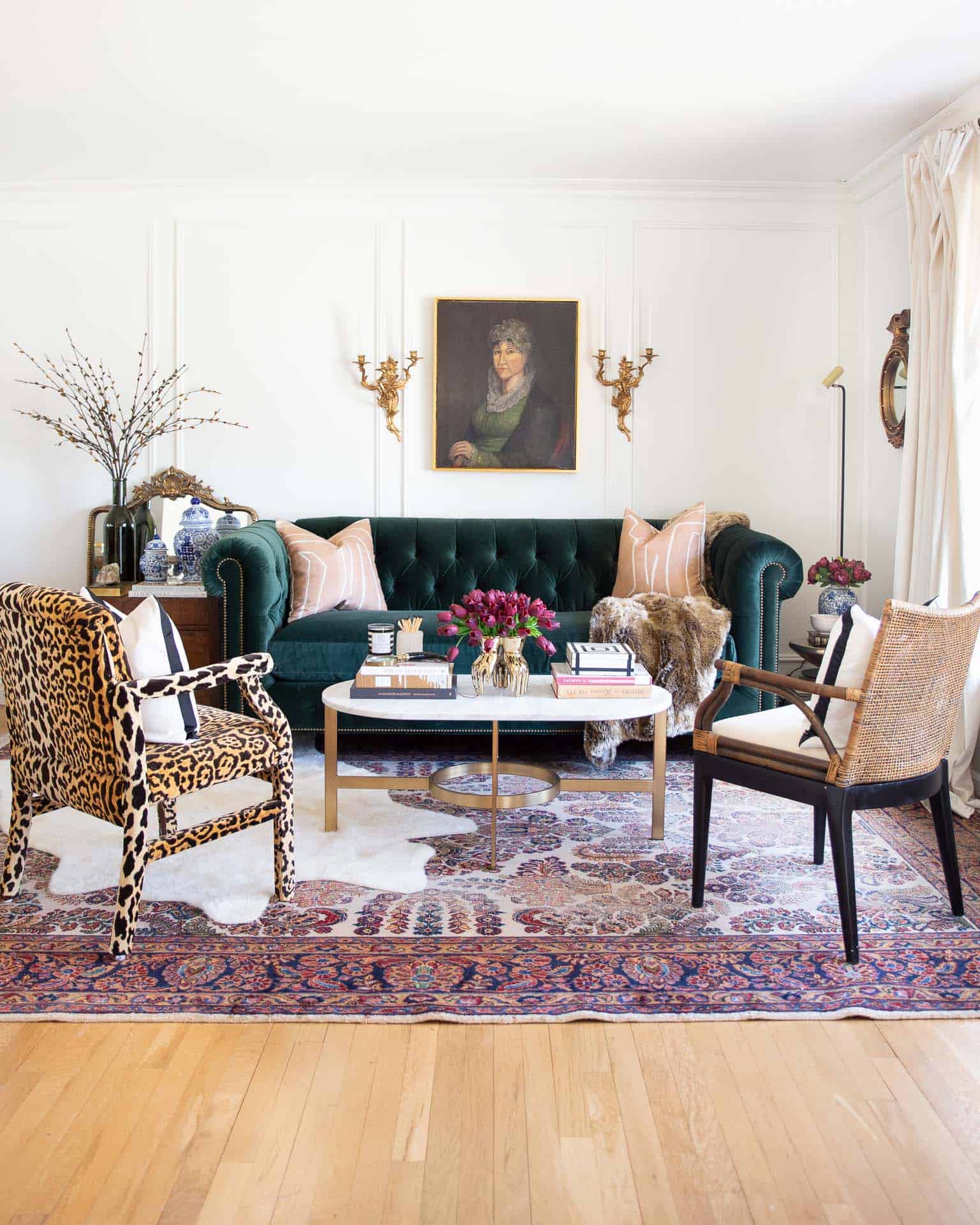 31. Comfy and cosy
When dreaming of your living room layout ideas, think about the feeling that you want to have when you're in it. Do you want to feel relaxed? Inspired? Or maybe you want to feel refreshed and rejuvenated? Well, a soft white fabric L-shaped sofa like this one will certainly inspire a snooze! It's cosy and has just the right amount of cushions to add colour and extra comfort.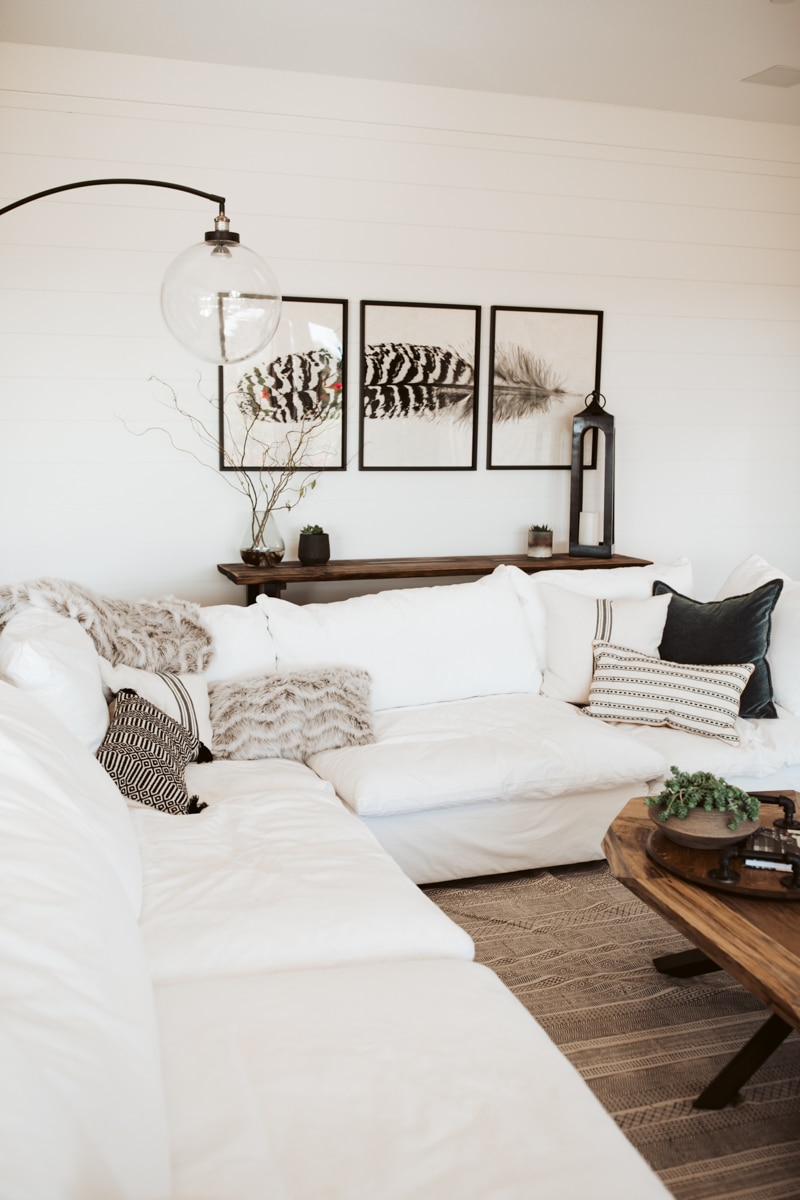 32. A distinct sitting space
While this living room looks comfy and relaxing, it also keeps things in order. The rectangular shape means everything has a place – from the couch to the chairs to the black-and-white poufs, to the round coffee table in the middle, and the TV on the right.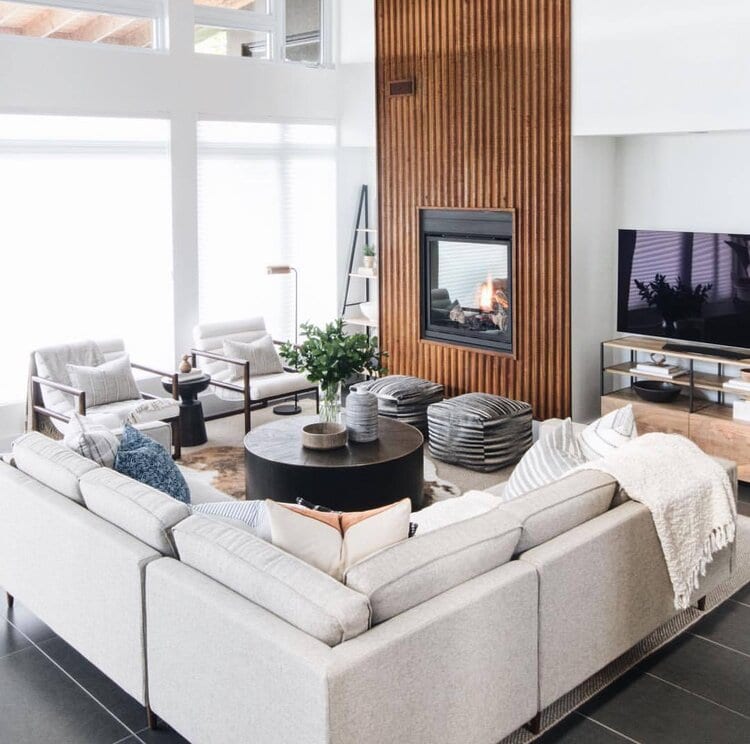 33. Focus on the light
Create a focal point in your living room layout with a statement hanging light. This piece is dramatic, modern and adds so much interest to the space. And the black-and-gold colours make it easy to match with other pieces of furniture.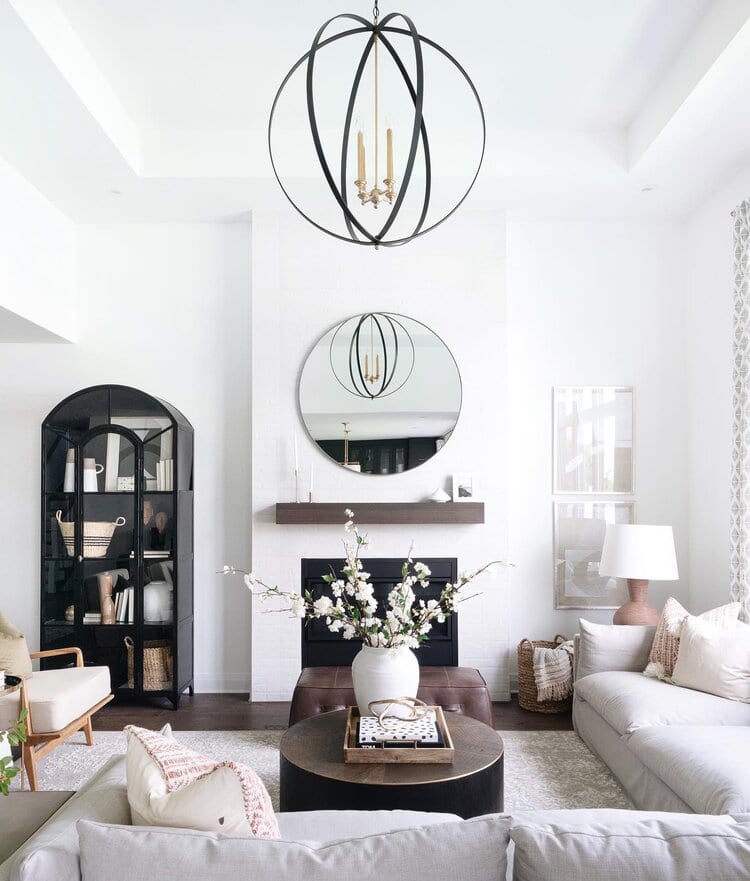 34. Increase the functionality
These days, most people are moving away from having two separate living rooms – one more formal, and the other a casual family room – and instead choosing one large space that serves both purposes. The key to doing this well lies in incorporating as much seating as possible that has formal elements but is cosy enough for every-day use. In this space, the larger pieces of furniture are the 'comfort' pieces, and the metal, artwork and lighting add a touch of formality.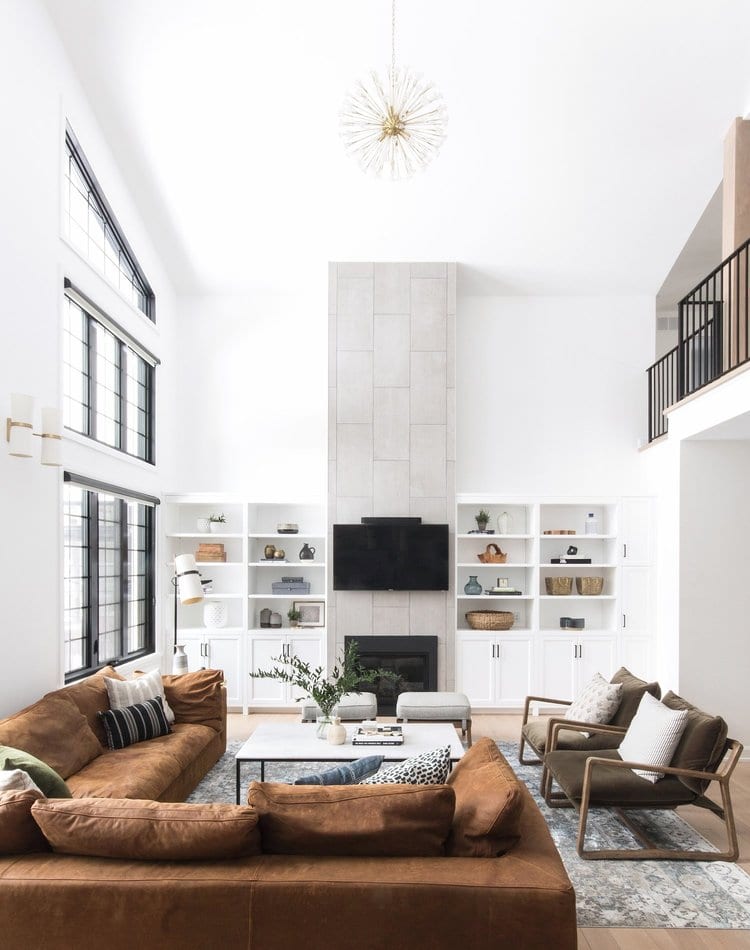 35. Create a space to lounge around in
This small living room is the perfect place to rest and relax after a long day at work. And it's also a gorgeous light-filled space to enjoy a cup of coffee on a Saturday morning. When it comes to your living room furniture layout, think about ways to arrange your pieces so they create the feeling you want to experience when you're in the room.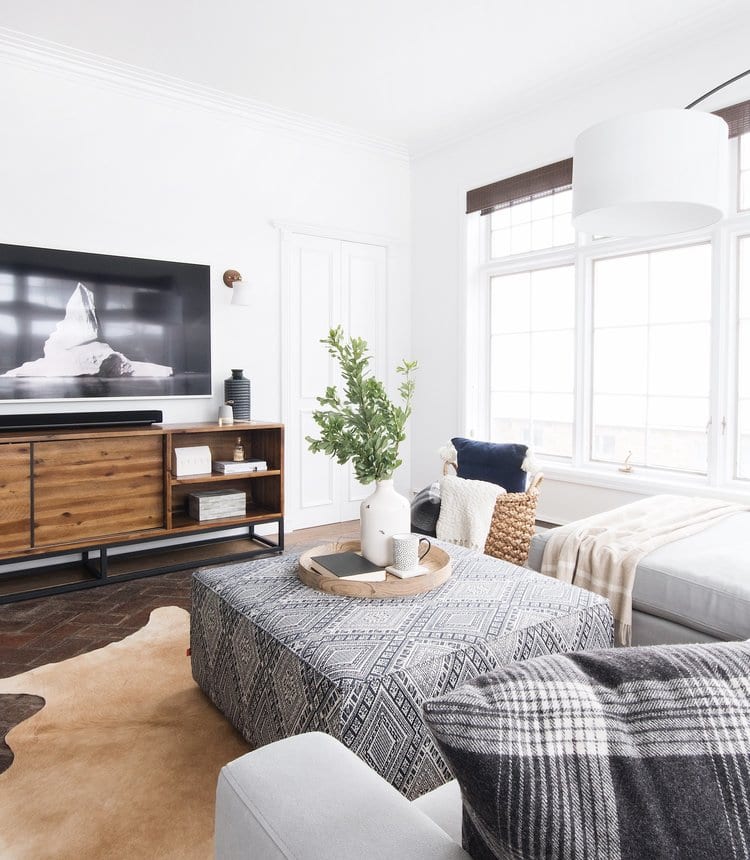 36. Take inspiration from the Parisians
This is a simple small living room layout but it has a whole lot of detail and interest. One reason this space is so full of life is that the fireplace adds character to the room. And it serves as a great base for decorating. The mantle can be used to hold beautiful books, pieces of art, and vases full of flowers.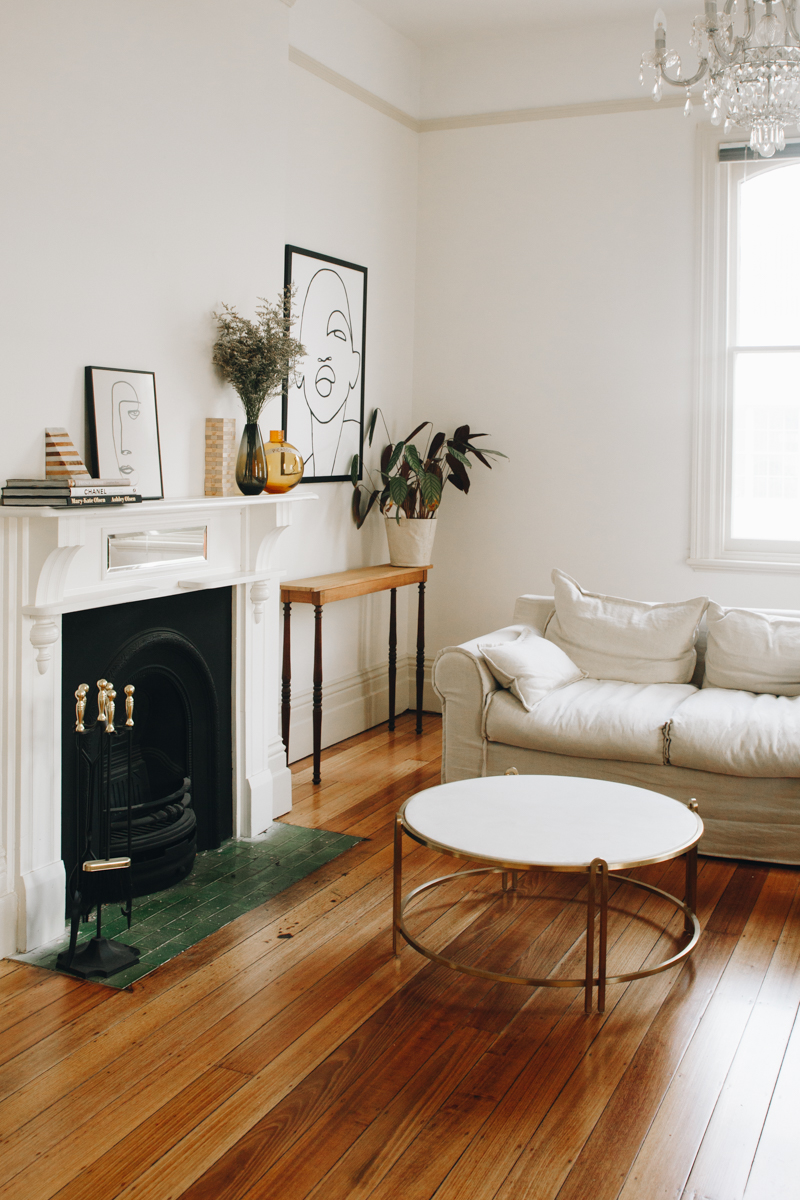 37. Timber and light tiles
If you're designing a living room layout with a fireplace, then you've got to consider this style combination. The timber on top of the light mosaic tiles really helps to finish off this room, and it adds a great focal point!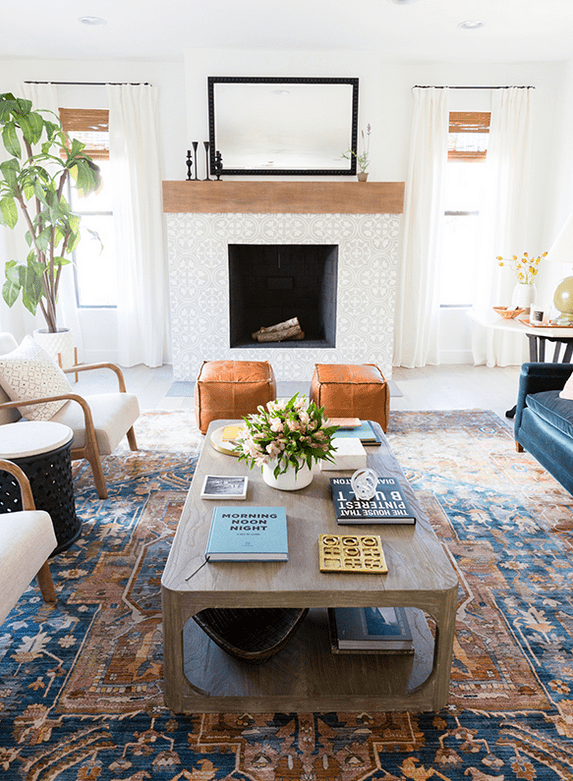 38. Modern industrial
Exposed bricks are always a good idea! So if you have them, let them shine. This living room layout makes the most of the red bricks on the right-hand side, while the white paint on the other walls adds contrast.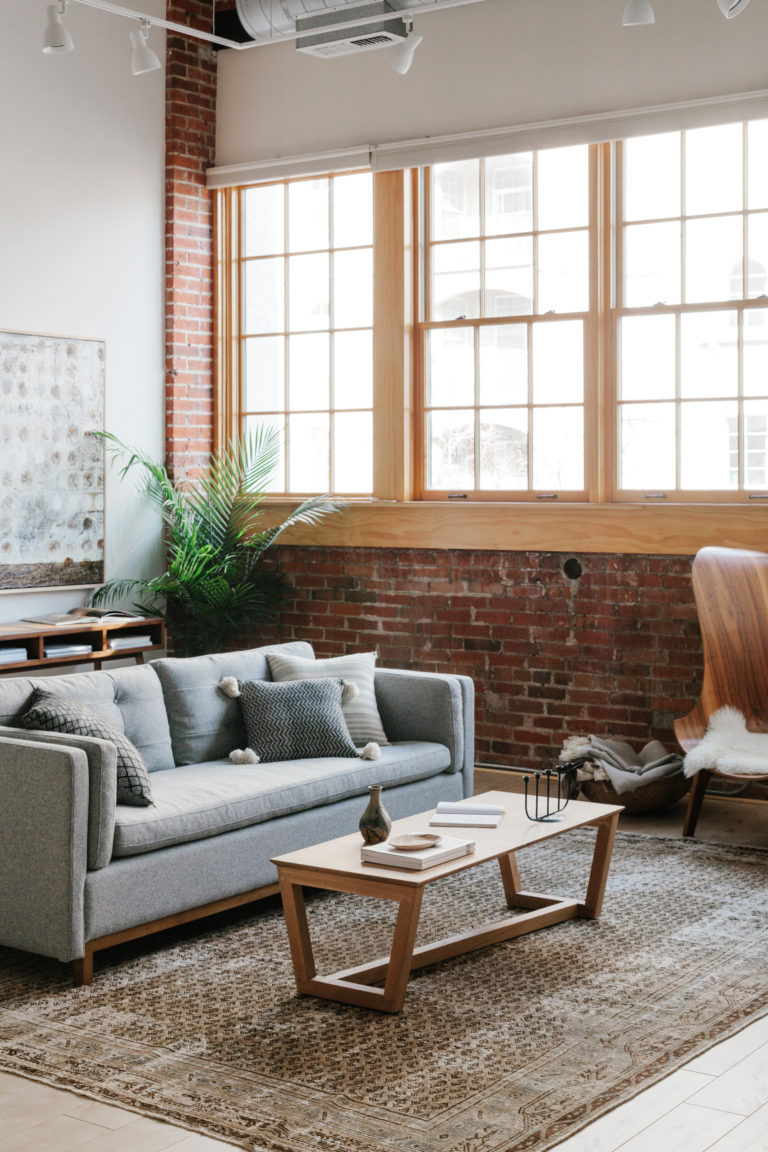 39. Clever shelving
Shelving around your TV unit can be decorative and functional. So whether it's a pop of colour from your favourite vase, a family portrait from a trip, or a unique sculptural find, strategically place pieces that inspire you!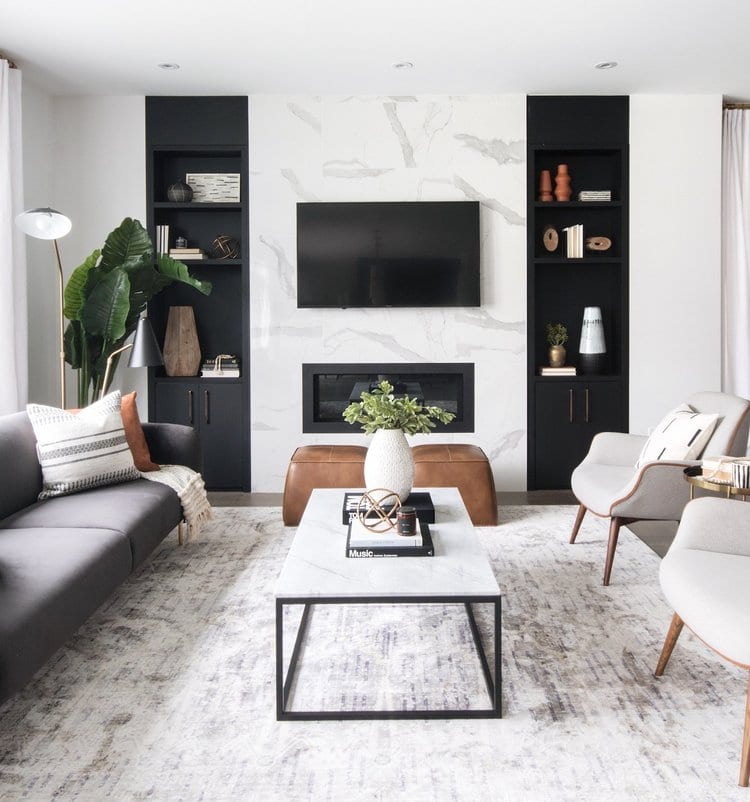 40. Maximise storage space
If you have a small living room or a space that's combined with your dining room, then you'll need to get clever with storage. The dark-grey leather table is the perfect choice for this room, as it has space underneath for storing baskets full of magazines, toys, or extra pieces of decor!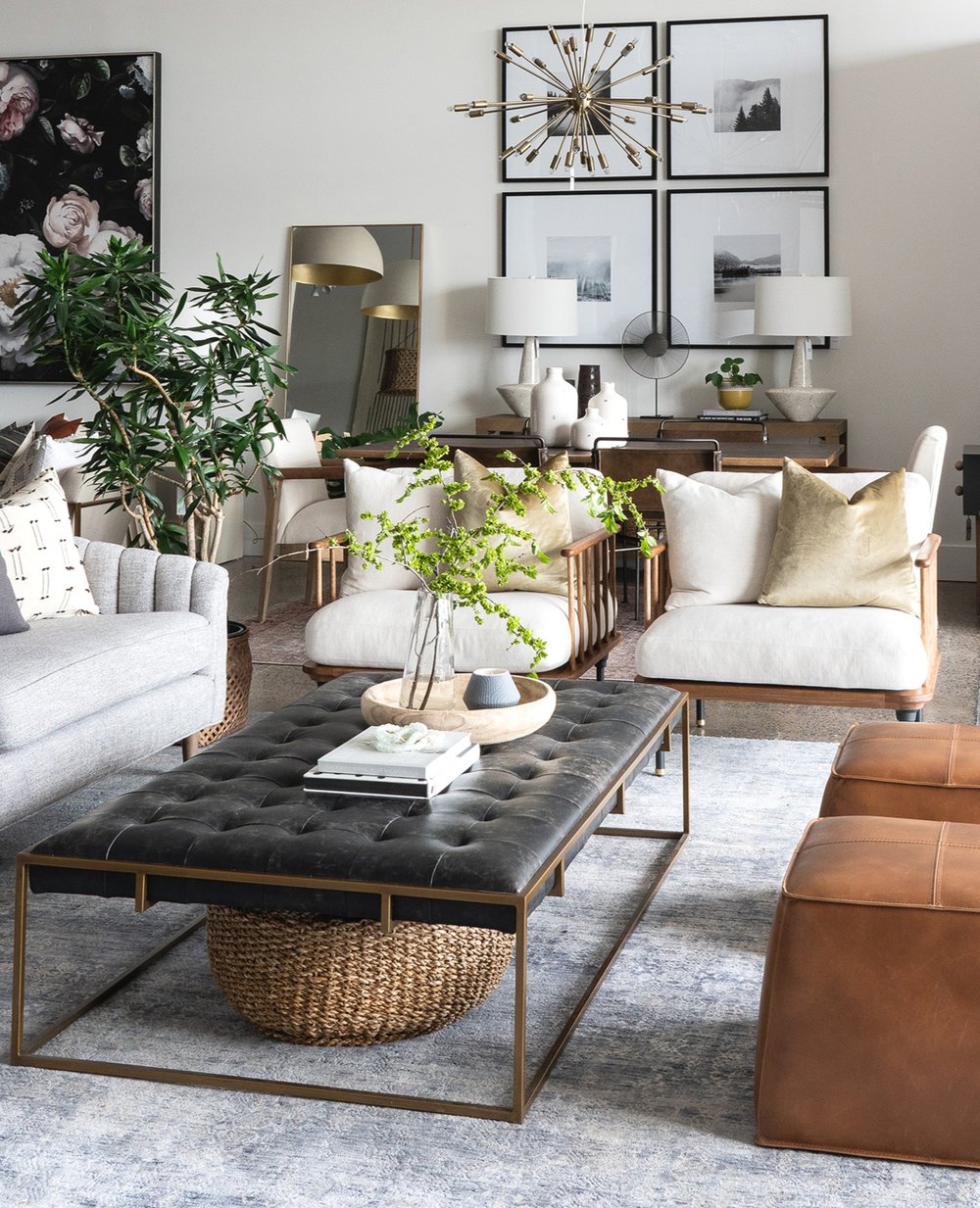 There we have it – 40 living room ideas for small spaces, fireplaces and TV layouts. I hope you're feeling inspired.
Before you go, comment and tell me which idea is your favourite. I'd love to hear from you!