Most of us have some form of book collection in our homes, even if it's simply an inspirational array of cookbooks or piles of well-loved paperbacks. Some people might qualify as true bibliophiles and possess enough books to fill a whole room. But most of us don't have the luxury of a dedicated room for a library. That's why I've gathered up a bunch of ideas for places to store your collection of treasured tomes. No matter whether you have a big or small home library, you'll find the ideal nooks and crannies to house your collection in the 40+ home library ideas below!
.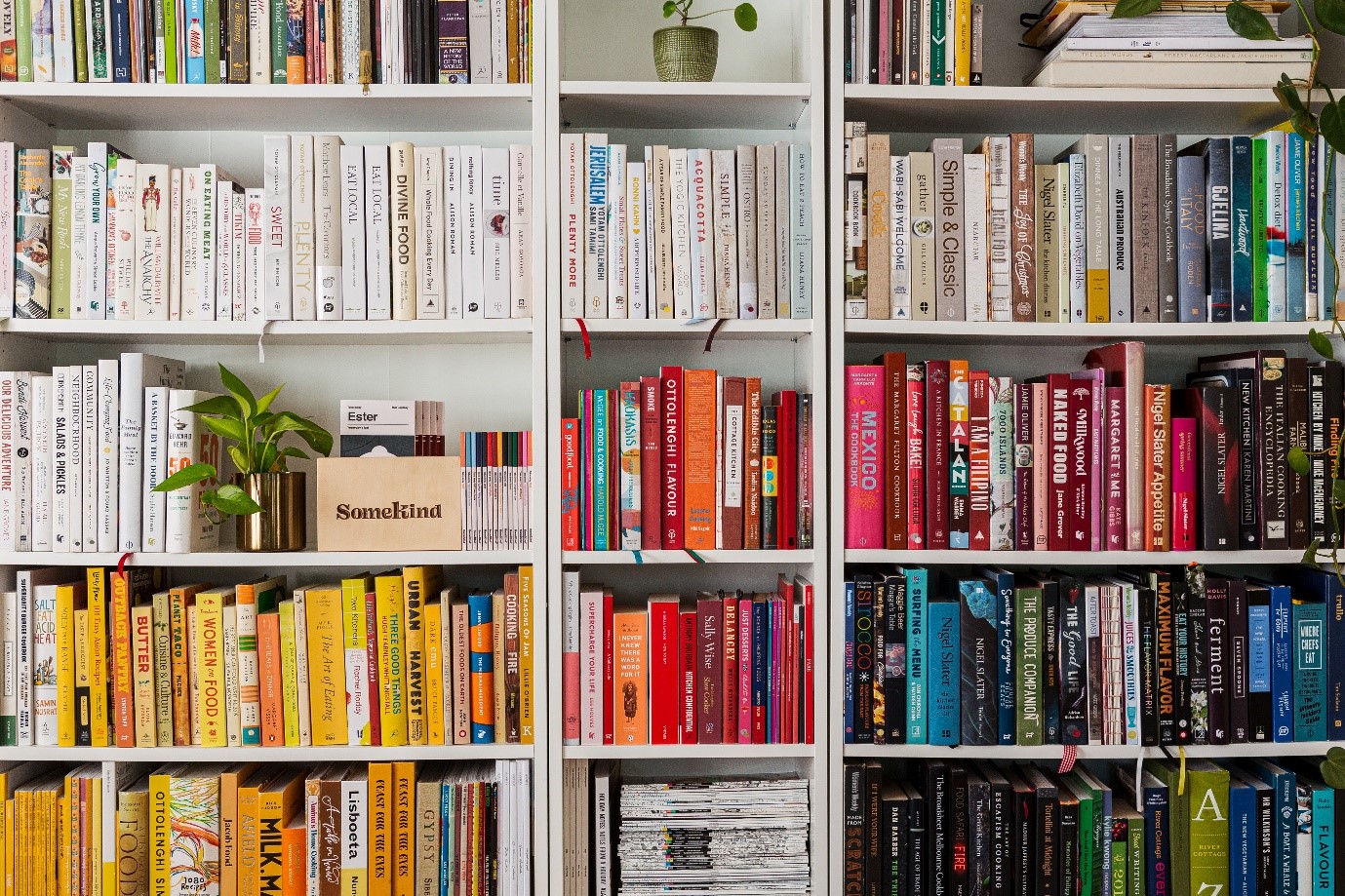 1. Choose cube shelving
The simplest solution when it comes to home library design is to run bookshelves along the entire length of a wall and up to the ceiling. Any kind of bookcases or shelving will obviously work where you have unused wallspace. But simple cube shelving is good because you can create a neat and symmetrical display of books as well as other objects and trinkets. Whatever kind of shelving you choose, make life easier and find someone to handle the bookcase assembly for you.
2. Make it minimalist
Fixed, built-in bookshelves are another option for a home library and are a great way to utilise an unused corner wall space. A small home library beside a window can form a chic little home office. Luxe it up with a marble-topped desk countertop, mid-century wishbone chair and vintage rug.
Need more home office ideas? You could also consult with an expert office decorator.
3. Line a hallway
Make your hallway more functional than simply acting as a corridor, by lining one (or both) walls with books. Go for wall-to-wall, floor-to-ceiling shelving. Or perhaps just add a few floating shelves, you'll maximise your space while creating a much more interesting passageway. And if you have a wide hallway, consider adding a bench or other home library furniture to create even more functionality and ambience.
4. Go for Scandi style
A bright white space comes to life with the pops of colour and contrast that books provide. If you have a monochromatic or achromatic living space, add shelving containing a rainbow of books. It's an easy and, if necessary, temporary way to introduce colour.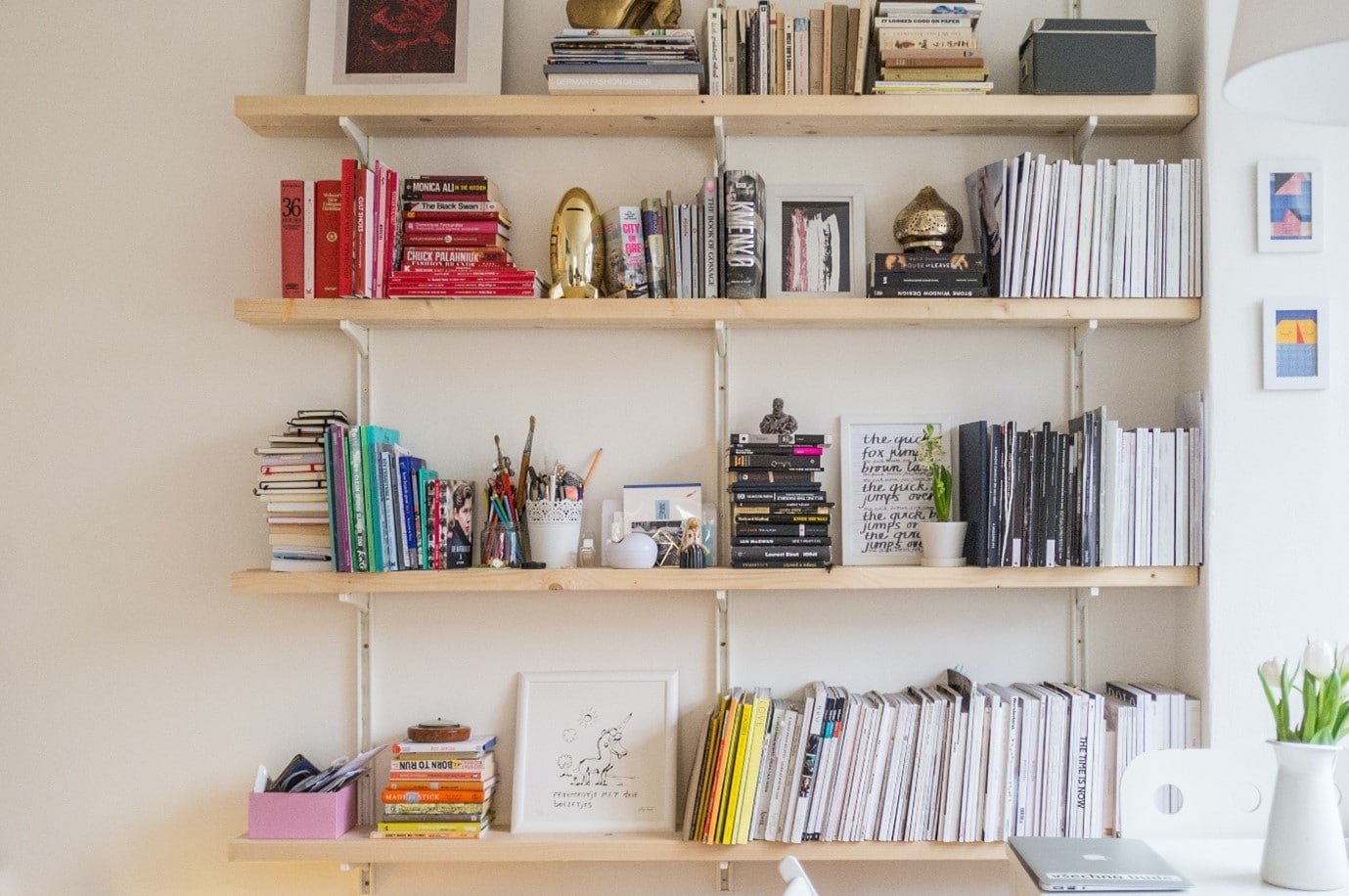 5. Make use of ceilings
Love a clean, modern, minimalist home? Then reduce visual clutter by storing your books in high perimeter shelving. For example, above a doorway and all around the ceiling edges, where the storage will take up no floor space at all. Simple wooden perimeter shelving like this is a fairly easy DIY or you can find someone to handle it for you.
6. Set up sculptural displays
You actually can judge a book by its cover, because a stunning book cover is often just as much admired as the book's content. Culled your book collection back to only your absolute favourite, coffee-table style publications? Consider displaying them in a way that really shows them off as treasured design objects. 3D display shelving is both practical and visually appealing but is only suited to a smaller book collection.
7. Create a room divider
Bookshelves that are perpendicular to a wall are a clever way to separate a multi-purpose area by acting as a partition. They appear as much more of a solid wall than a screen or other type of partition does. And of course, they are far more functional as well as offering up more versatile styling options.
8. Display shelving
You can't beat gorgeous timber display shelving surrounded by windows, if you have a view. I love how you can use books as décor in display shelving. You can endlessly change up how it looks on a whim– so much easier than switching out prints or artworks.
…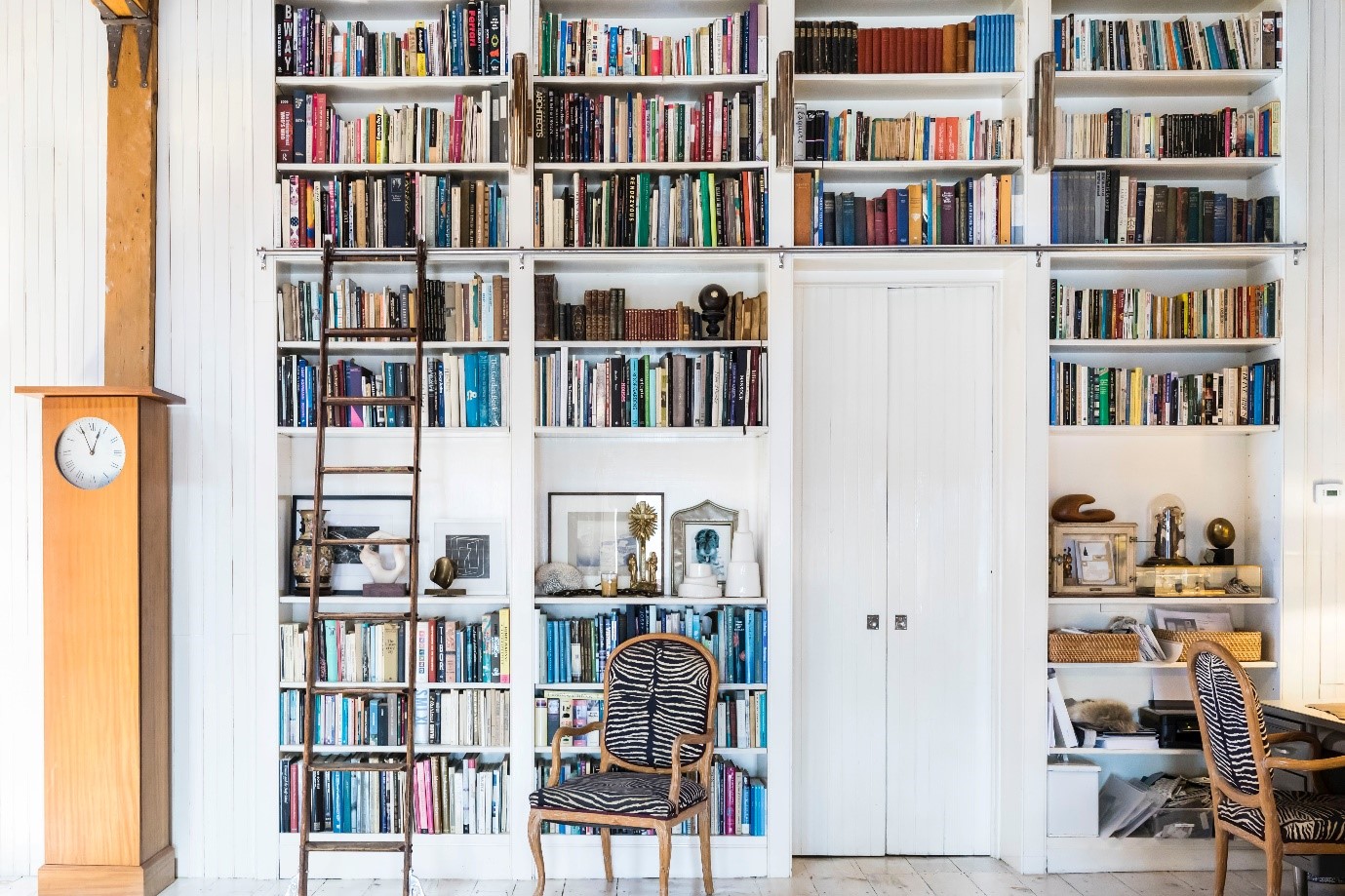 9. Make bookends
If you're setting up a home office, you're very likely going to need plenty of space for books. Installing twin bookcases to bookend both sides of a window looks pleasantly symmetrical. And it allows you to focus your gaze on the view outside. You can get someone to help you assemble your office furniture, including your desk or chair. (And there's even people who specialise in office chair repairs).
10. Display favourites
As we all know, sometimes less really is more. The perfect example: a set of spice-rack style floating shelves to store your most beautiful books. You can find modular systems on the market which offer really versatile book organisation options. These days they can include anything from magnetic wall panels to other forms of internal suspended shelving. Or, you could enlist a carpenter to build you something bespoke.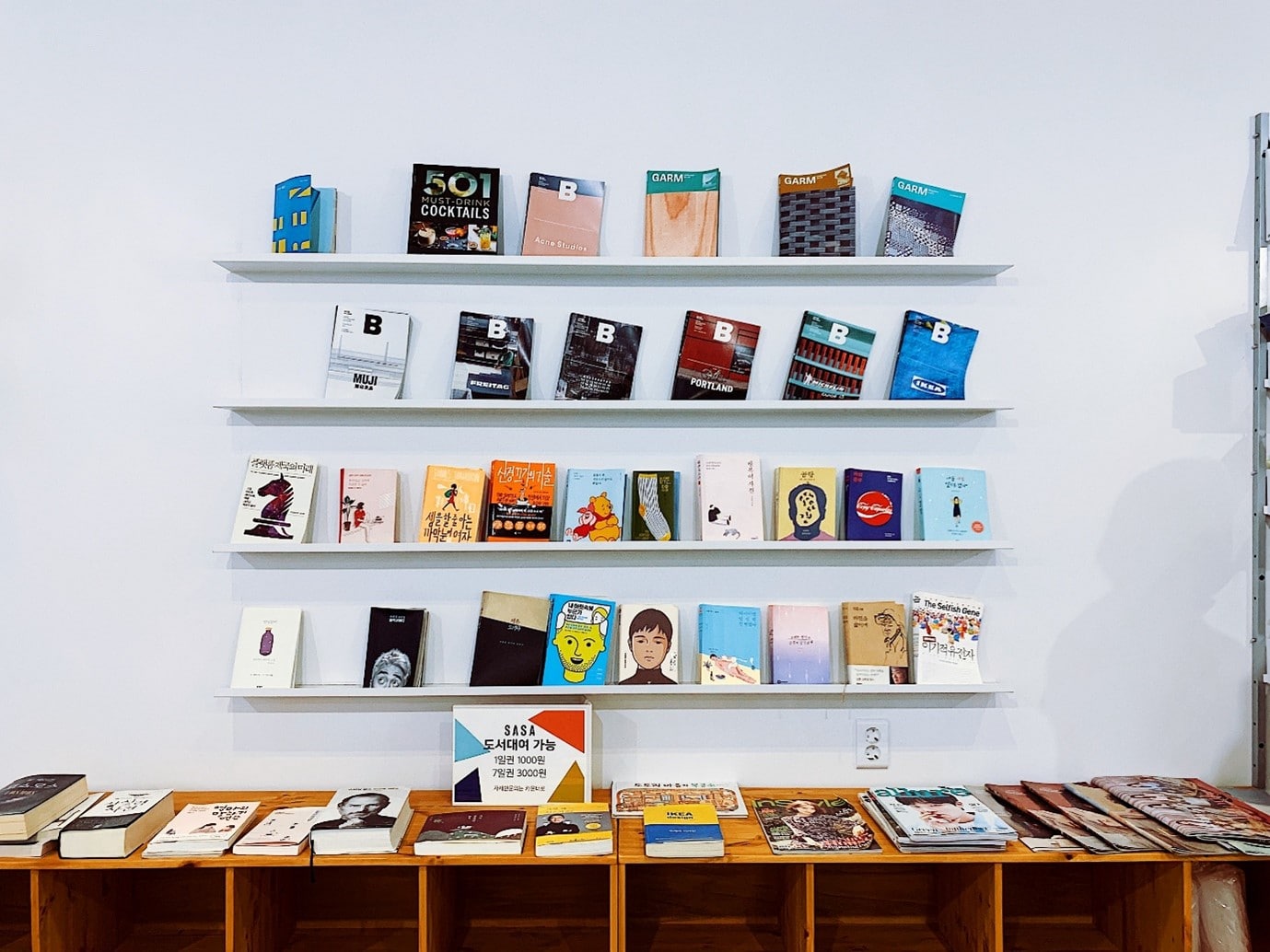 11. Frame a view
Shelving that frames a window rather allows for plenty of natural light. A design where you can actually sit in the window sill to read is practical too.
12. Float your books
Floating shelves are a good way to incorporate books into a small section of wall. It looks streamlined and airy thanks to the open-ended nature of the shelving. Perfect for a modern home library aesthetic, it's a lovely minimalist look, especially if painted the same colour as your walls.
13. Sit comfortably
Make the most of a beautiful aspect with cushioned banquette seating. It can even conceal storage.
14. Use books to style
One way to experiment with home library ideas is to use the books themselves as a styling tool. A method that some find aesthetically pleasing is to turn all the books around so that the spines face the wall. This makes the books all have the same neutral, white or beige tone.
It definitely gives a striking and cohesive appearance. But book purists are often outraged at the idea. The emphasis is taken away from the individuality and the purpose of books (how, they ask, do you find a specific book? Or is it lucky dip?)
15. Keep it simple
A simple wall-mounted rail system will ensure that your shelves can handle the weight of books. You can place such a system on any wall in your home for a practical storage solution. Basic pine track shelving can hold an assortment of volumes and decorative items. And the metallic elements of track shelving are a way to complement other metals in the space.
16. Pair with a statement armchair and lights
Have simple, plain, basic looking shelves? Add sophistication by placing a striking accent chair nearby. A retro chair and statement light fixtures are another way to jazz up a relatively plain home library space.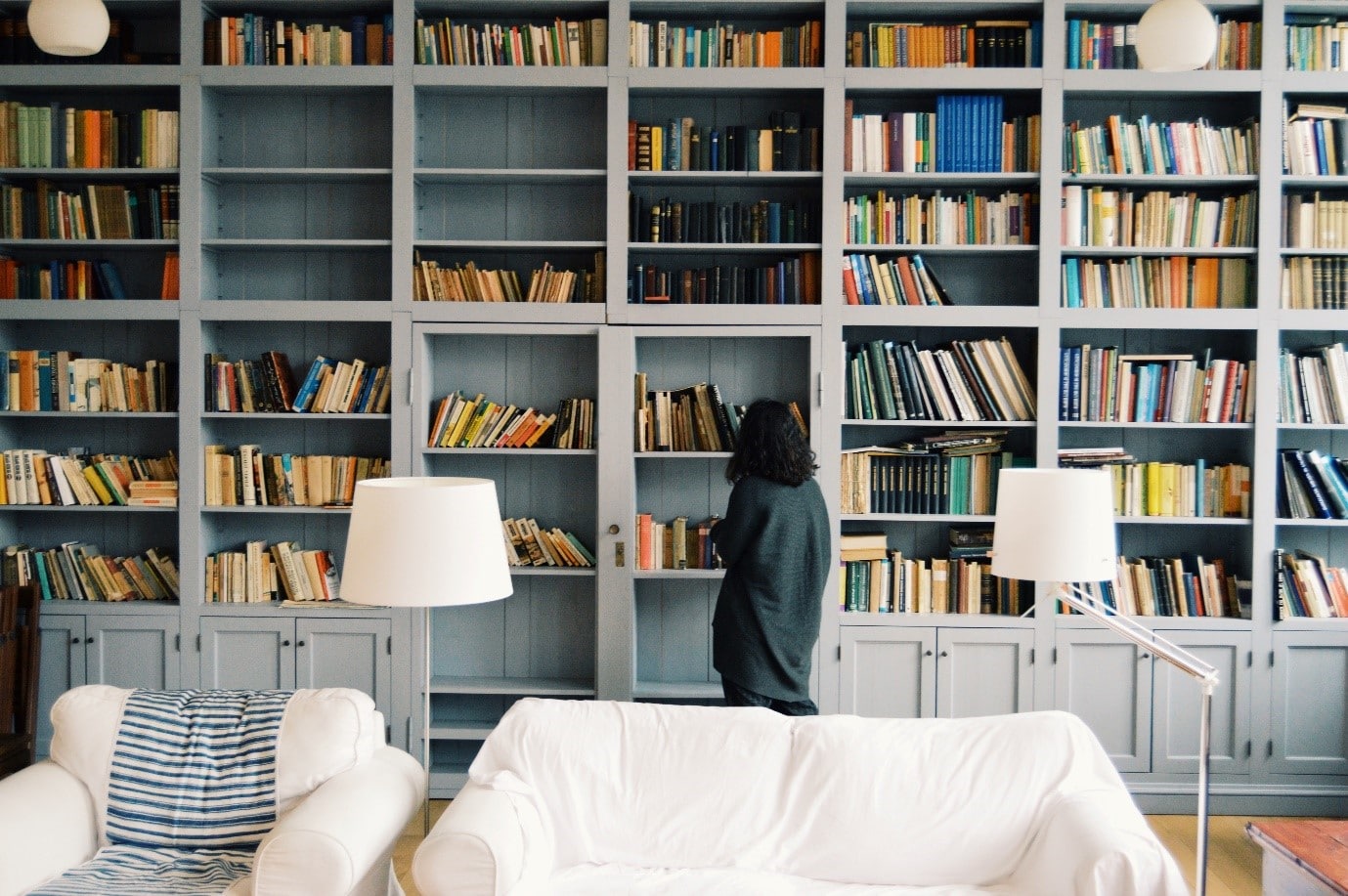 17. Add plants
Lush greenery adds life and charm to any space, including your home library area. Choose a standing statement plant or have some trailing vines climbing down your bookshelves—or better still have both! Here, Minimalist shelving looks amazing laden with cascading plants. Just make sure any wall–mounted system to ensure the wall can bear the heavy load of books.
18. Make a window seat
Have an odd-shaped, recessed corner in your a home? Turn it into a serene little reading nook with a narrow bookshelf and a plushly upholstered window seat. If you have a beautiful and peaceful view, take advantage of it and set up a relaxing spot to sit and read.
19. Reach the ceiling
Running bookcases from the floor to the ceiling is a classic look that takes advantage of all the available wall space, even above the doorway.
20. Use under window space
Is your room is beautifully flooded with light thanks to large windows and bright white paintwork? You won't necessarily want to cover all the walls with bookshelves. But you can always line the space underneath the windows with cabinets full of books..
21. Surround a bed
A book-loving teen would love a cosy bedroom with a bed surrounded by books. And you can add so much storage at the same time. Lighting is extra important for an enclosed bed space so it doesn't become dark and gloomy in there. But no need to use a torch under the doona—have an expert electrician put in suitable lighting.
22. Have a book island
For warehouse-style loft look, keep walls free and instead house a book collection in a standalone island in the living space. Low shelving units keep an area feeling really spacious and light. And they provide an extra surface area which is always useful and increases your styling options.
23. Edge a room
Shelving can also outline the perimeters of the room, with one unit acting as a bit of a partition between living spaces. As mentioned, low shelving units are great for increasing surface area. You can utilise the space to hold a series of framed artworks and photos.
24. Add art and lights
Bookshelves styled to perfection often include both books and curated decorative elements. Shelves can be like gallery walls, adding ceramic figurines and framed photos and artworks into the mix. Downlights play an important role with a larger units, to illuminate all sections adequately.
…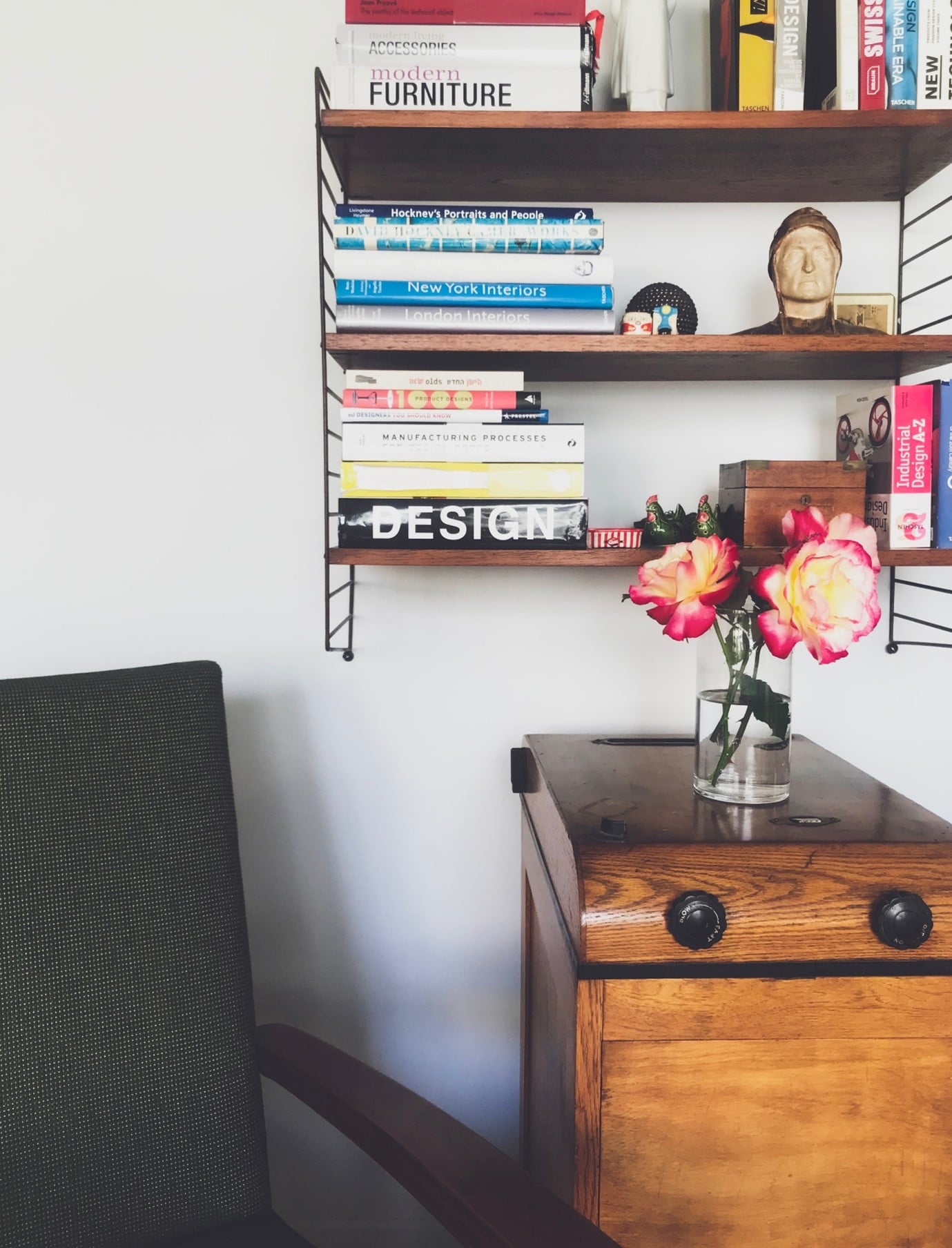 25. Make a book nook
Book nooks are a cute way to add comfy seating to your living space and allow people to grab a book and nestle in. But if you're building a reading nook, the shelving will obviously need to be deep enough for someone to fit. Being able to spread out your books means you avoid any feeling of mess and clutter.
26. Go low
A low bookshelf not only helps a room feel spacious by keeping most of the wall uncluttered. But it also provides an additional handy surface area on top.
27. Go for bold colours
There's no reason you can't splash out with bright colours for your home library. Keep a crisp white ceiling so things stay light and prevent the space feeling small. You can get some help with your home office paint job, especially those fiddly shelf interiors.
28. Have a dining room library
For avid booklovers, a dining room home library is a popular choice so you can be surrounded by your beloved books whenever you sit to eat. Also, dining rooms often don't have a lot of furniture other than a dining table and chairs and perhaps a buffet or sideboard. So adding bookcases to walls doesn't feel like it adds too much to the space.
29. Have a staircase library
Underneath staircases make ideal spots for book collections. The steps enable you to reach the highest shelving with ease, no ladder needed. It's also a great way to make use of wasted space. You can create shelving all the way up the stairs and also in the hollow space underneath the stairs.
30. Make it moody and modern
Painting your library space in a soft charcoal black gives an edgy contemporary look. Add slimline display racks and a minimal selection of books displayed here, which keeps the space feeling uncluttered. Black home library furniture complements the colour scheme. Then add a natural timber chair and table for a nice contrasting accent.
31. Go for a classic look
Natural timber + books always work beautifully–perhaps it's because wood and paper are related materials? In any case, displaying books in a polished wooden bookcase is a timeless combination that creates a traditional, classic look.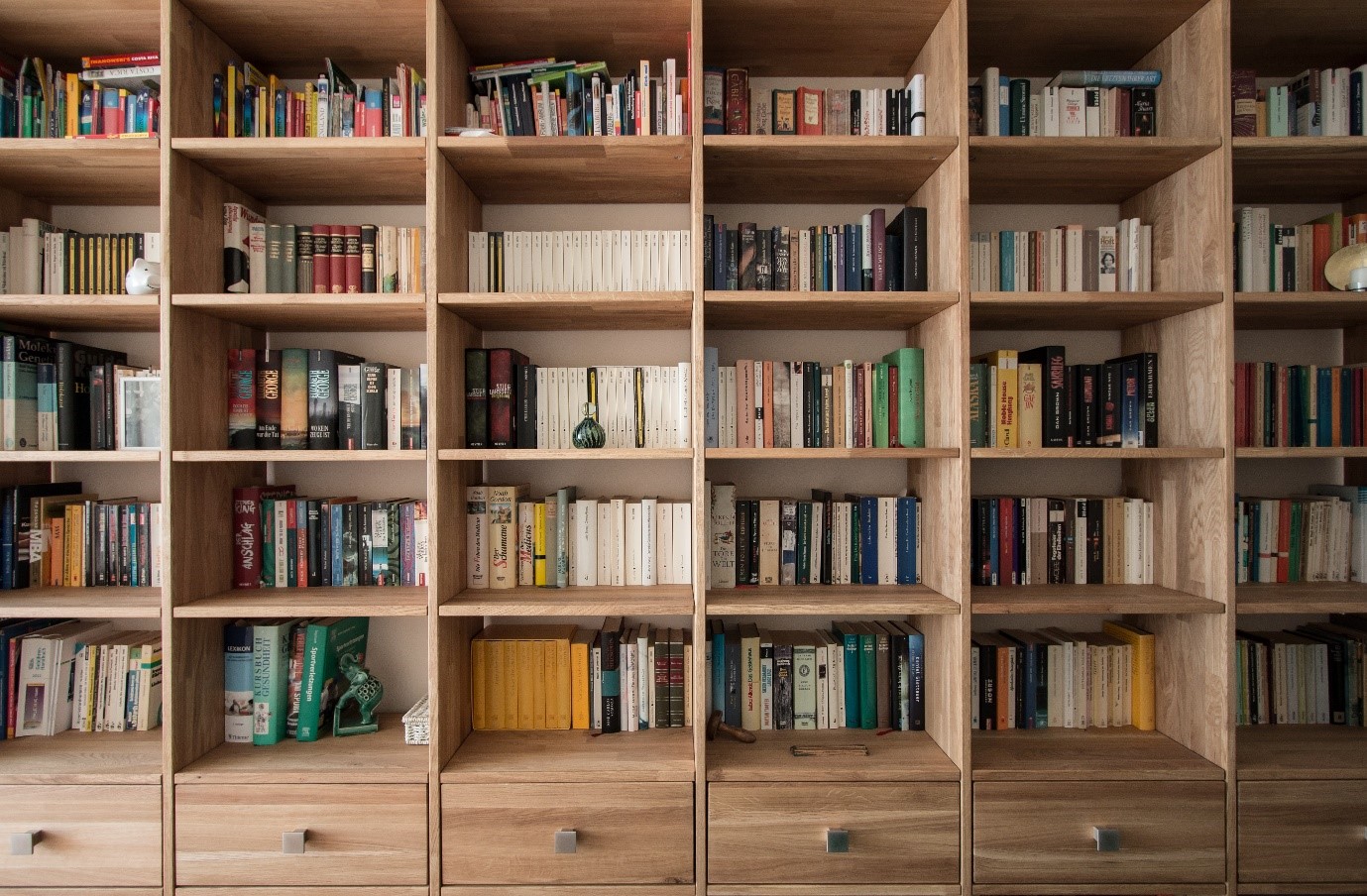 32. Colour coordinate your books
Arranging your books into a colour coordinated rainbow is a very popular way to display your collection. It's cheerful, happy and harmonious—and makes it easy to find the right spot to replace a book! I like the black downlights here, adding a touch of sophistication.
33. Play with a painted interior
If you love colour, another option is to paint the interior of your shelving in your favourite hues. The beauty of this is that as you remove books or rearrange the display, you'll always get a slightly different rainbow effect. Also, the varying colours of the book spines will create even more of a kaleidoscope of colour. It doesn't have to be bright—try soft neutrals.
34. Try something original
What about an unusual curved bookcase design? The organic, flowing lines can add a lot of visual interest to a basic living room area. Or go for a quirky choice of paint colour. If you like the idea of something original, find an expert builder who can help you bring it to life.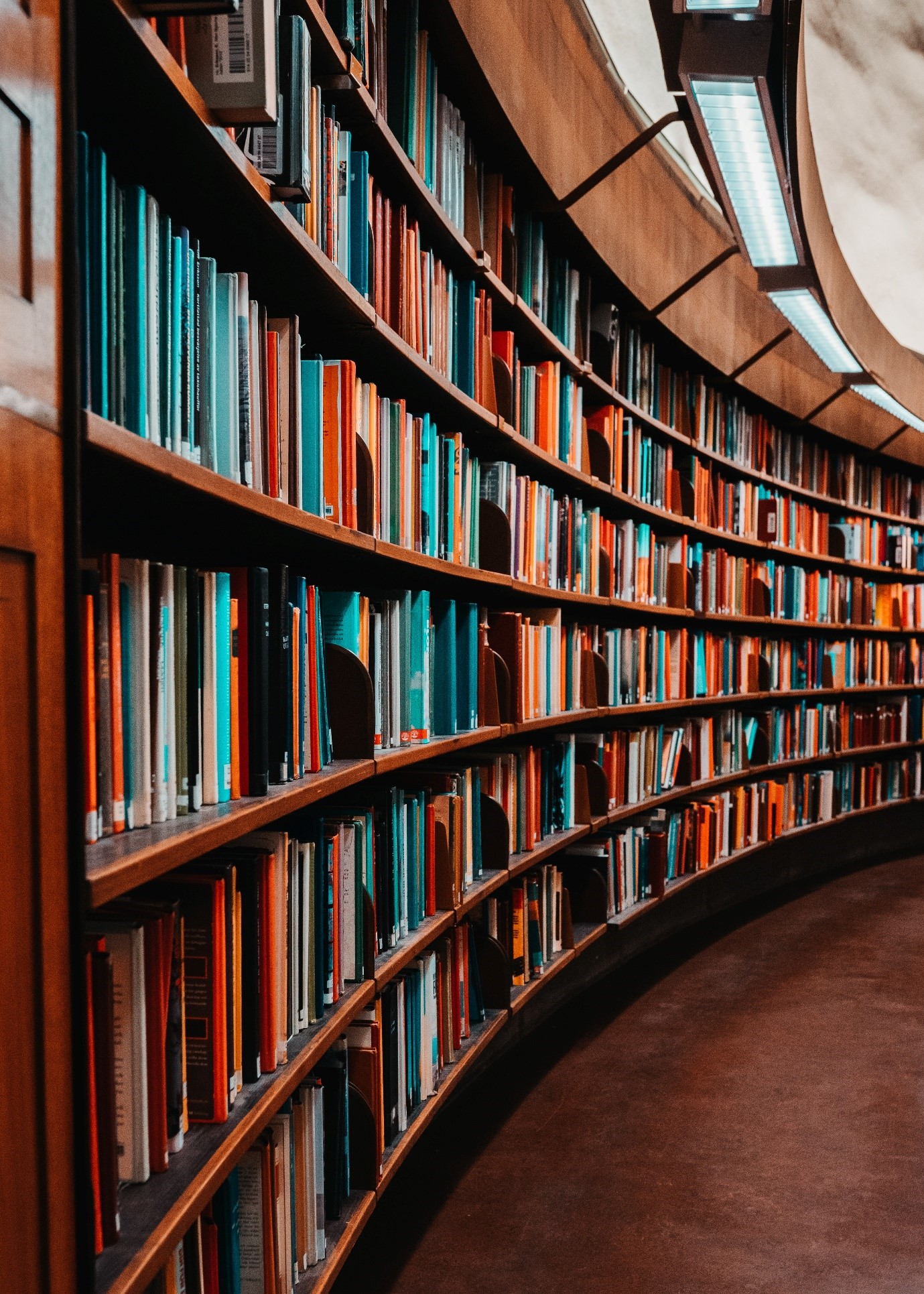 35. Build arches
There's something infinitely aesthetically pleasing about arches and they'll always be a simple way to add style to your home. Consider adding arched facades to bookshelves. The solid lower cabinets contrast nicely with the busy-ness of the shelves above, full of books and personalised bric-a-brac.
36. Make it cosy
If you're lucky enough to have the space to allocate a whole room to your home library, you're likely going to cover all the wall spaces with bookshelves. Choosing a dark paint colour will increase the sense of cosiness, then you can just add a supremely comfy armchair with a footstool. But don't forget to have great lighting. You may also want to add a table as a study space if you have the room, and a step-ladder is always useful to reach the highest shelves.
37. Tuck it away
Only have a small home library? Choose clever cabinetry in the living room with loads of storage and incorporate a section for displaying your books. The myriad colours of your book spines always look gorgeous in a whitewashed aesthetic.
And that's a wrap on 37 ideas for modern home library design, whether you have a small home library or are the proud owner of a massive collection of books.
Found the perfect spot to house your books and I've overlooked it? Share it with me in the comments!
….
…
….