Do you have an empty fireplace that you've filled in or that doesn't get used? Well, look no further because I've got the perfect empty fireplace ideas!
Whether you're wanting something that is decorative and matches the decor of your home or something a little more functional, there are so many things you can do. And while you're at it, you could even spruce up your fireplace with a fresh lick of paint and new tiling.
Empty fireplaces can be filled with your favourite decor pieces, books, candles, woodblocks and more. So I'm here to show you that there are certainly endless possibilities when it comes to decorating your empty fireplace. I'm sure there are some ideas in here that you haven't even considered before. So let's dive into these inspirational empty fireplace ideas below.
1. Woodblocks in an empty fireplace
First up we have one of my favourite ways to fill an empty fireplace, woodblocks! Adding blocks of wood to your empty fireplace will give an awesome fireplace look without having to worry about a live fire. An empty fireplace is also a great place to store firewood if you have an active fireplace in another area of your home. Genius!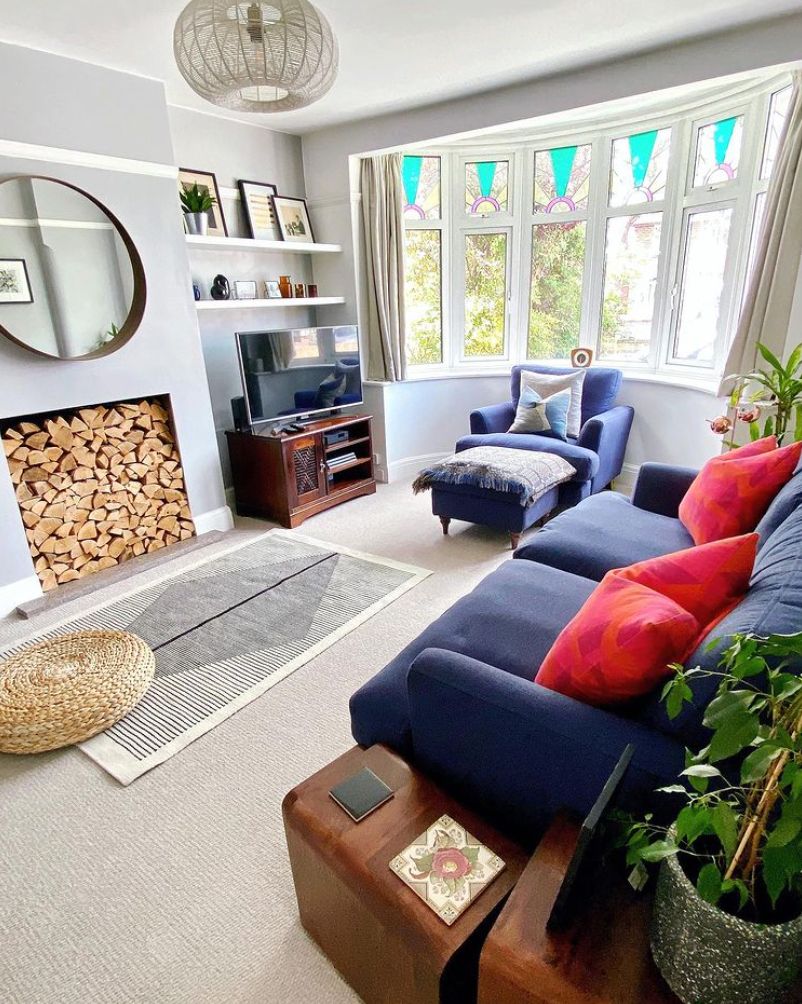 2. Fabulous foliage
How fabulous does the foliage in this empty fireplace look? I love the large vase in the hollow of the wall with the beautiful foliage displayed inside. Also, the foliage along the wooden mantle helps to bring everything together nicely. What a great use for an empty fireplace!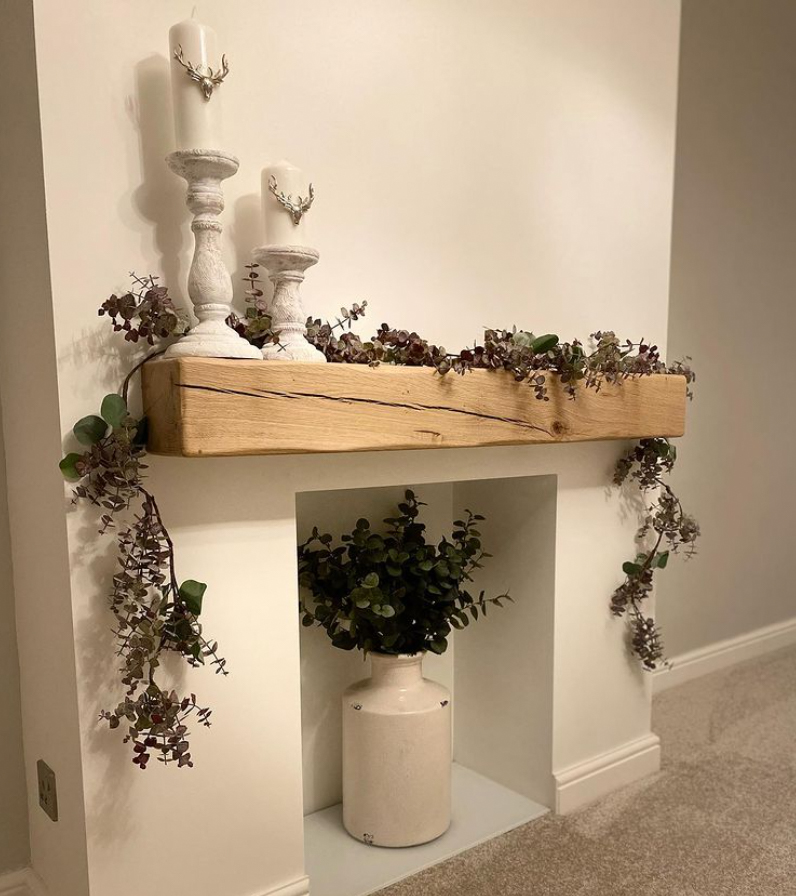 If you want a mantle like this hung up (which looks seriously heavy, I might add) you will want a carpenter to install it correctly.
3. Bedroom empty fireplace
How's this for a bedroom shelfie! If your fireplace used to be a feature of the bedroom, then it's important to still make the space look equally as special when it's filled in. The little wood holder is a great way to store blocks of wood. And I love how a shelf has been used to display family photos and indoor plants below the television.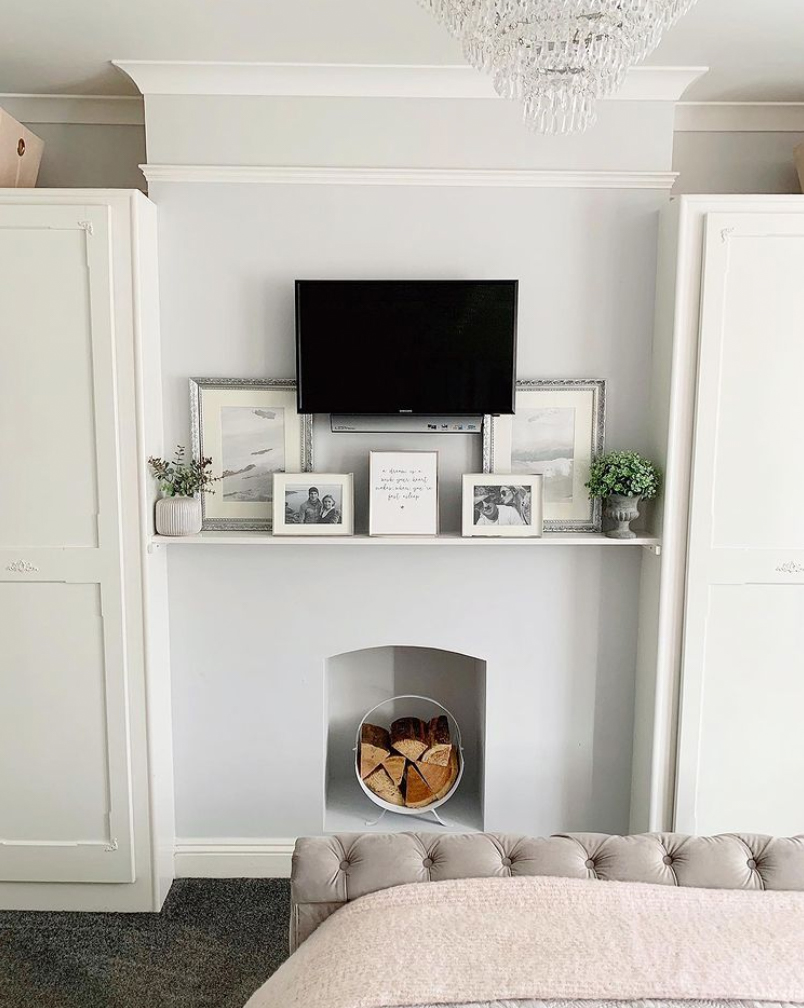 4. Bits and bobs
An empty fireplace is a great place to display all your bits and bobs and I love all the different quirky decor pieces displayed in this fireplace. I love the frame and the indoor plant as well as the cute framed quote and the little mushroom sculpture. How sweet!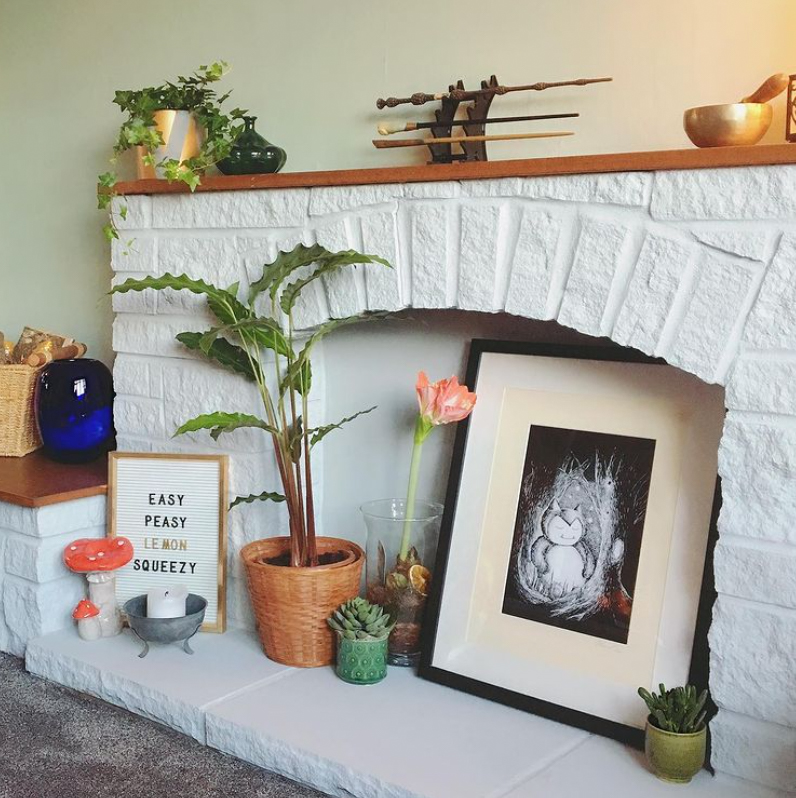 5. Pillar candles
How sweet are the pillar candles that have been perfectly placed inside this empty fireplace? I love how it has been kept super simple and minimal! And what a great idea to put a brick wallpaper inside the fireplace to create a rustic living room look.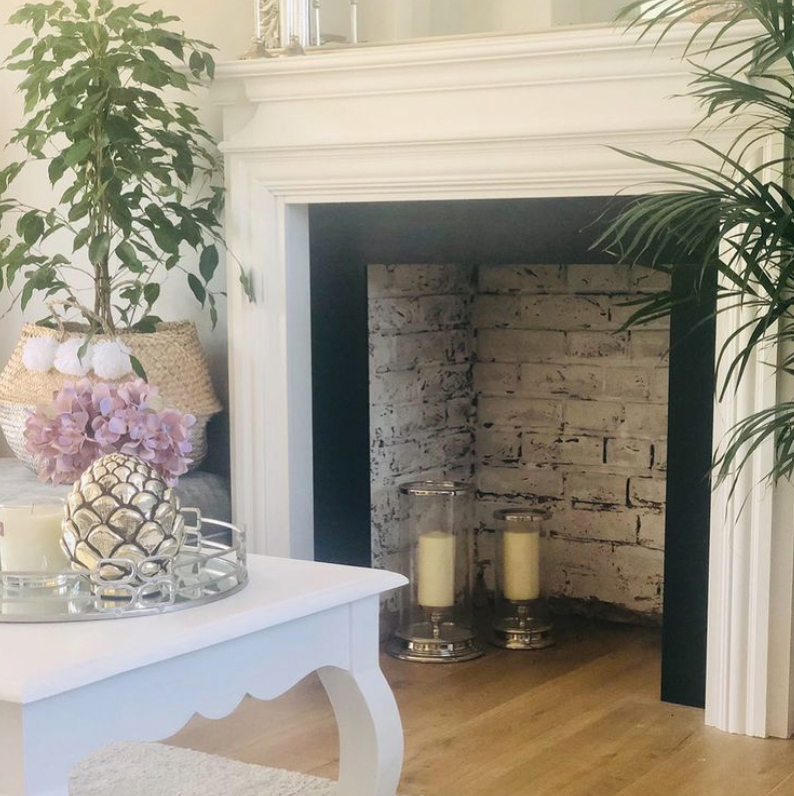 6. Detailed fireplace tiles
Detailed tiles are a great way of bringing some pattern and character into your space. I love the starry tiles in this empty fireplace which look extra magical at night, especially lit up by the glow of flickering candles! Just add some foliage in a vase and voila!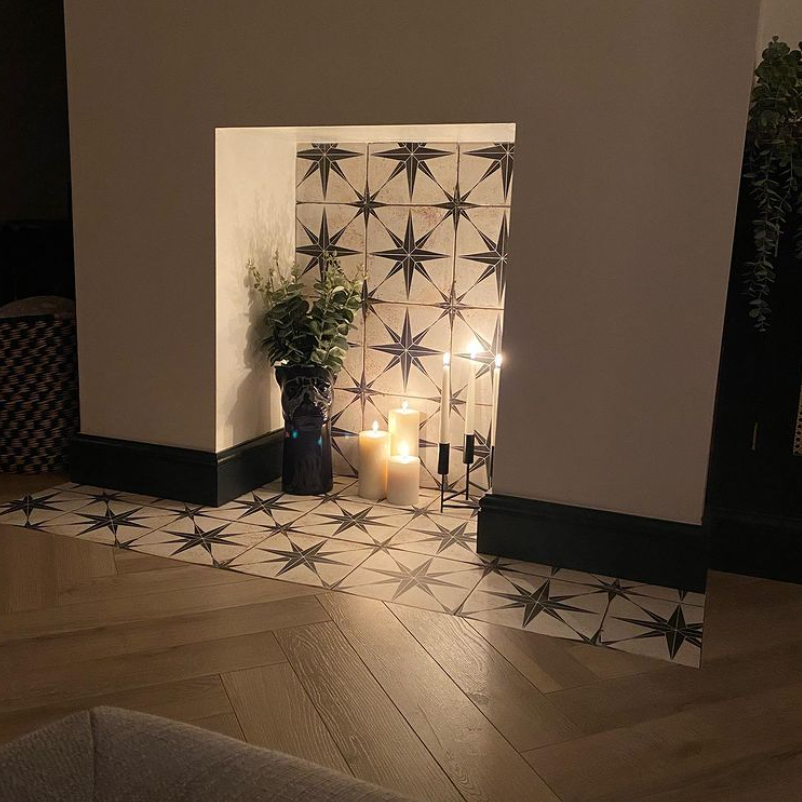 7. Navy fireplace
Either this fireplace has been completely filled in and the mantle has been kept or the mantle has been added to create a fireplace look. Either way, this navy fireplace looks stunning against the cream wall. And I love the little decor pieces dotted along the mantle as well as the clock mounted on the wall.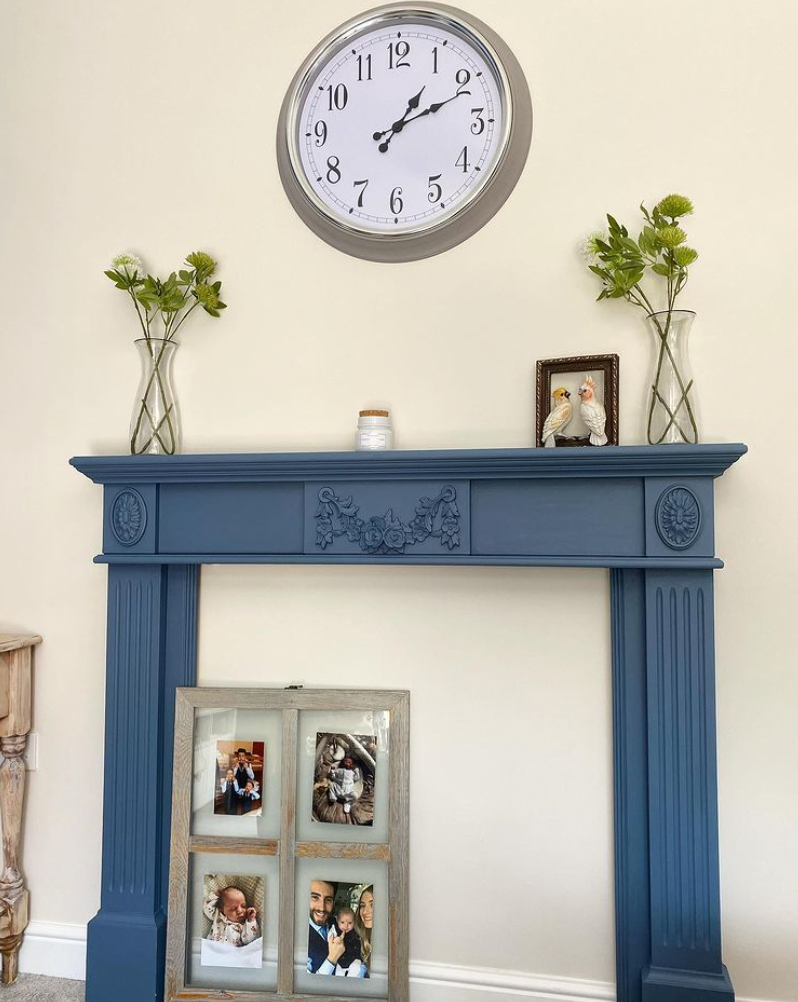 8. Indoor plant
How sweet is this empty fireplace set up? I love the indoor plant placed in the basket which looks like it's seriously thriving in this space. Plus how gorgeous is the black and white tiling which adds an awesome pattern!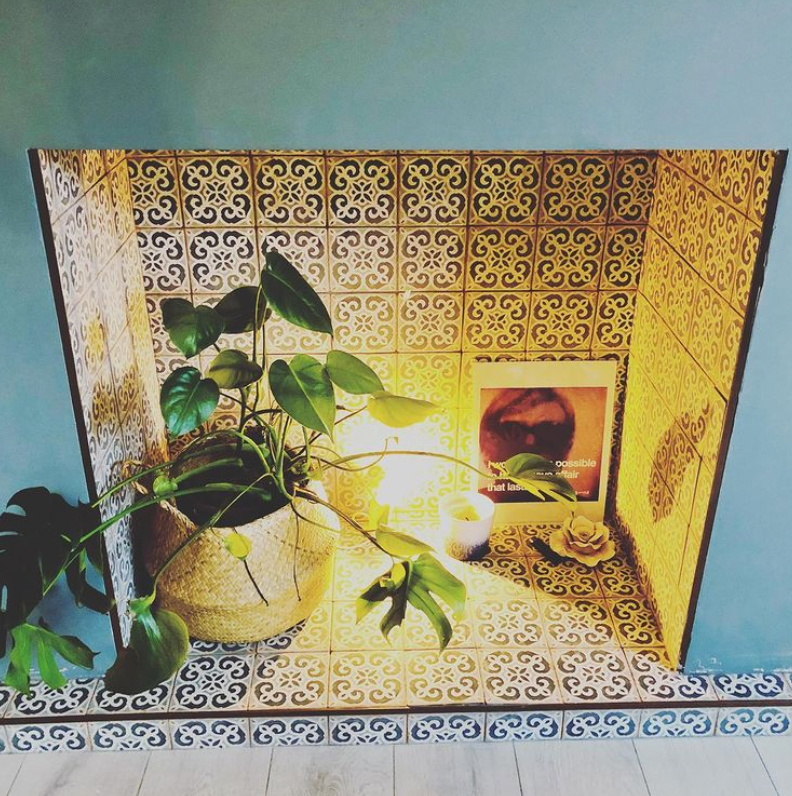 9. White and light beige
If you love a white on white style, then consider trying something a little different like white and light beige. You still get a similar effect to all white, however the light beige and the white is such a lovely and less common combination.
The light beige brickwork looks lovely around the fireplace, the white mantle is the perfect border and the light beige wall ties everything together. Plus how gorgeous is the basket of foliage inside the fireplace!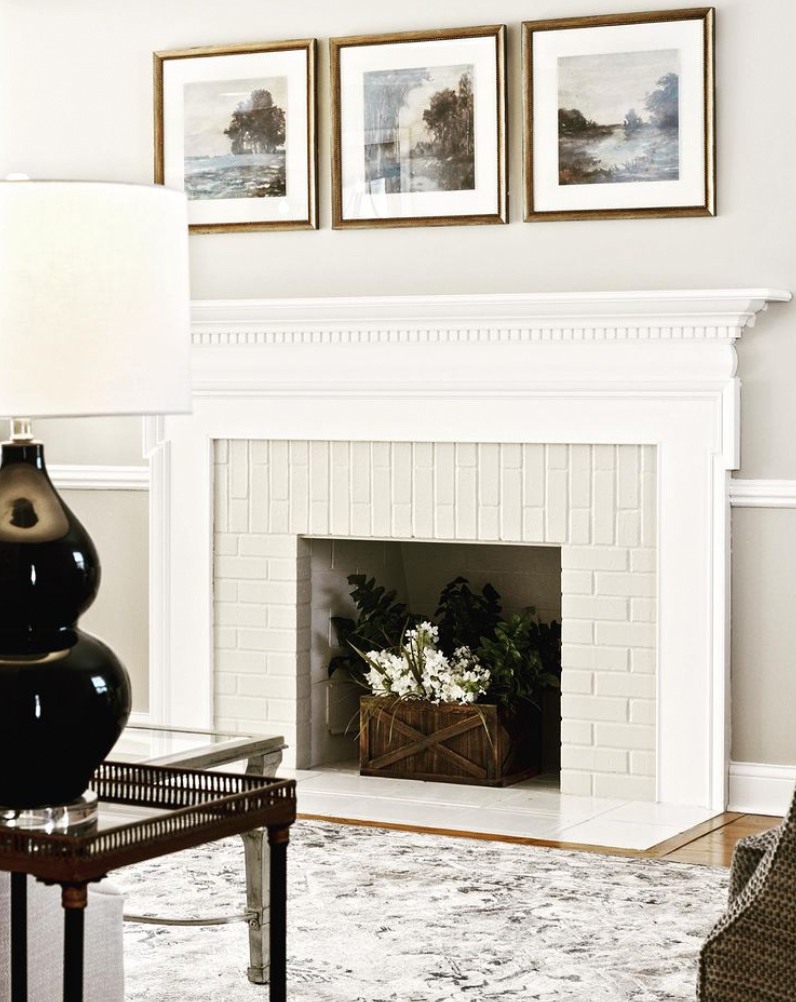 10. Driftwood candelabra
Wow, how stunning is this candelabra made of driftwood! It almost looks like it has washed up from the shore, however with a handmade touch. I love how the white pillar candles are perfectly placed across the driftwood. This is one of the best ideas I've seen for an empty fireplace!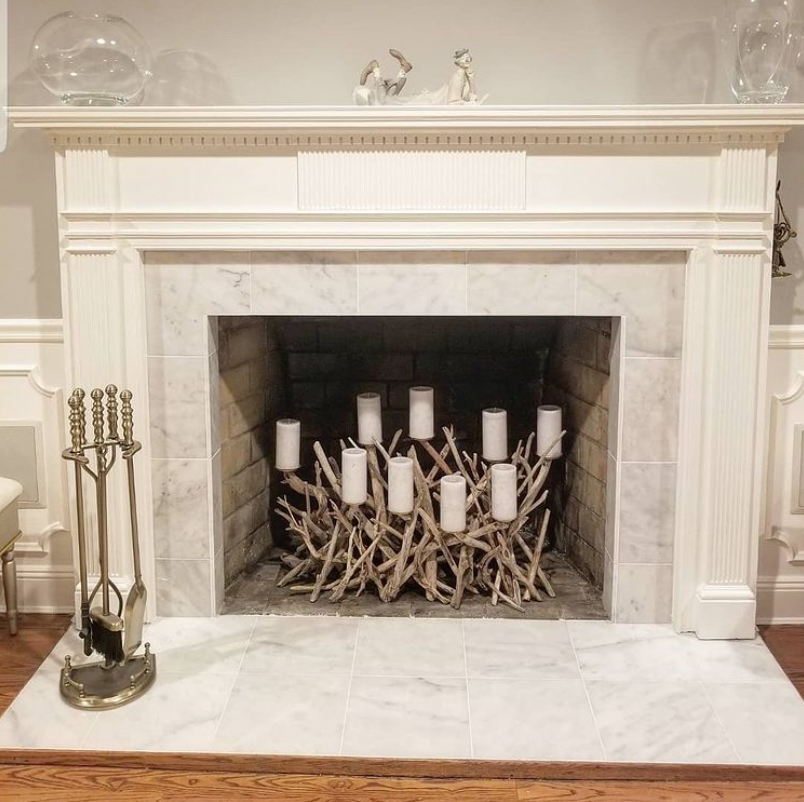 11. Book nook
Another great empty fireplace idea is making it into your very own mini library. A creative book nook, I like to call it. I love all the colourful books all stacked up. Plus the peacock feather print behind the books helps to fill the rest of the space where books aren't yet placed. If you love reading and have an overflow of books, then this idea is definitely for you!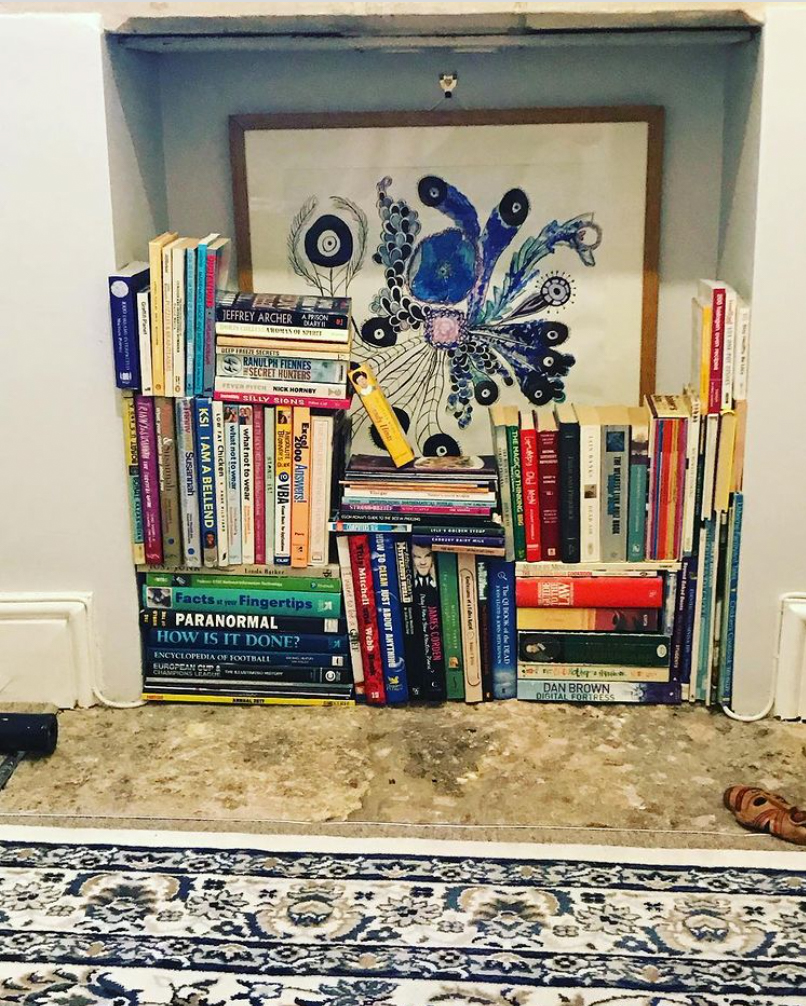 12. Sweet decor pieces
How sweet are all the little decor pieces in this empty fireplace? I love how the inside of the fireplace is painted a slightly darker colour to the wall which gives a trendy look. Plus the little lantern and love heart pieces look great mounted to the walls. And you can never go wrong with an indoor plant to add some greenery.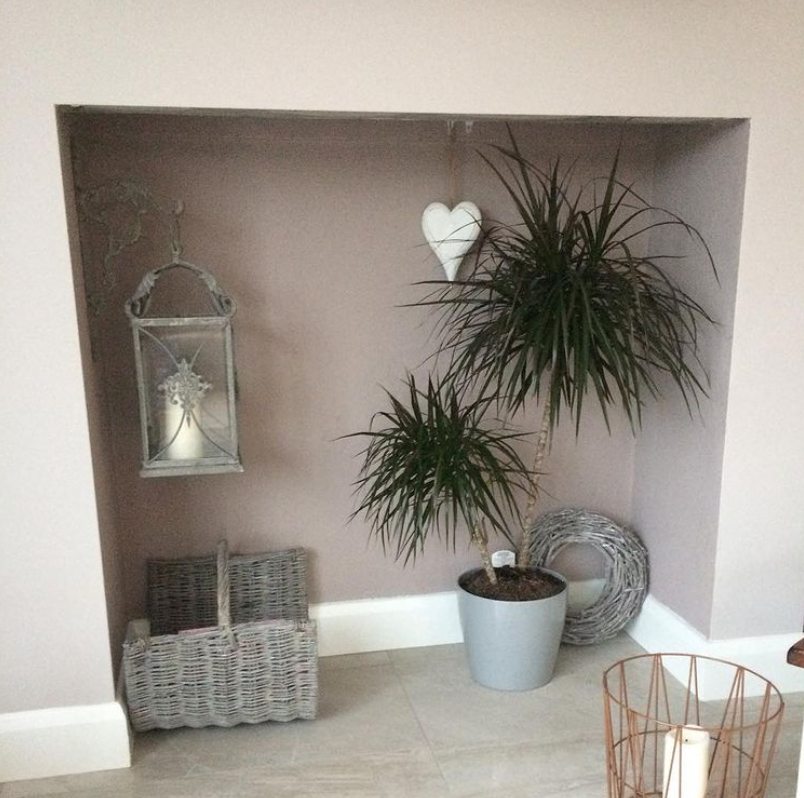 13. Navy and white
Navy and white really is such a beautiful combination in this dark living room. I love how the main portion of the wall has been painted in navy and the top strip of the wall and inside the fireplace are white. Just add a beautiful large round mirror above the fireplace and some prints leaning up against the wall for a trendy look.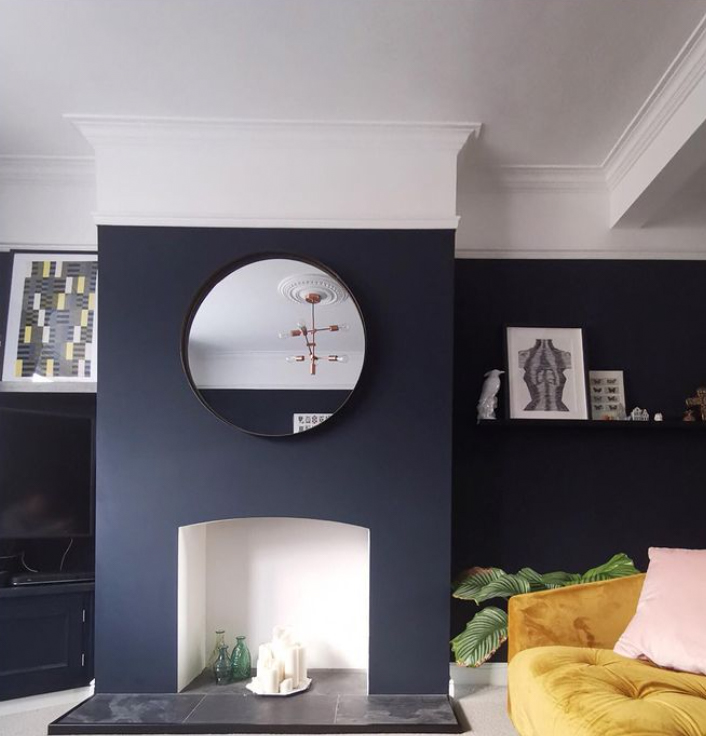 14. Green walls and decor
Here's another awesome living room colour – Green! The green used in this room is very soothing and is a great compromise colour for when you're after something neutral but also enjoy using colour in your home. And I love how greenery in a little pot has been added in the empty fireplace which makes this room feel very cohesive and thought out.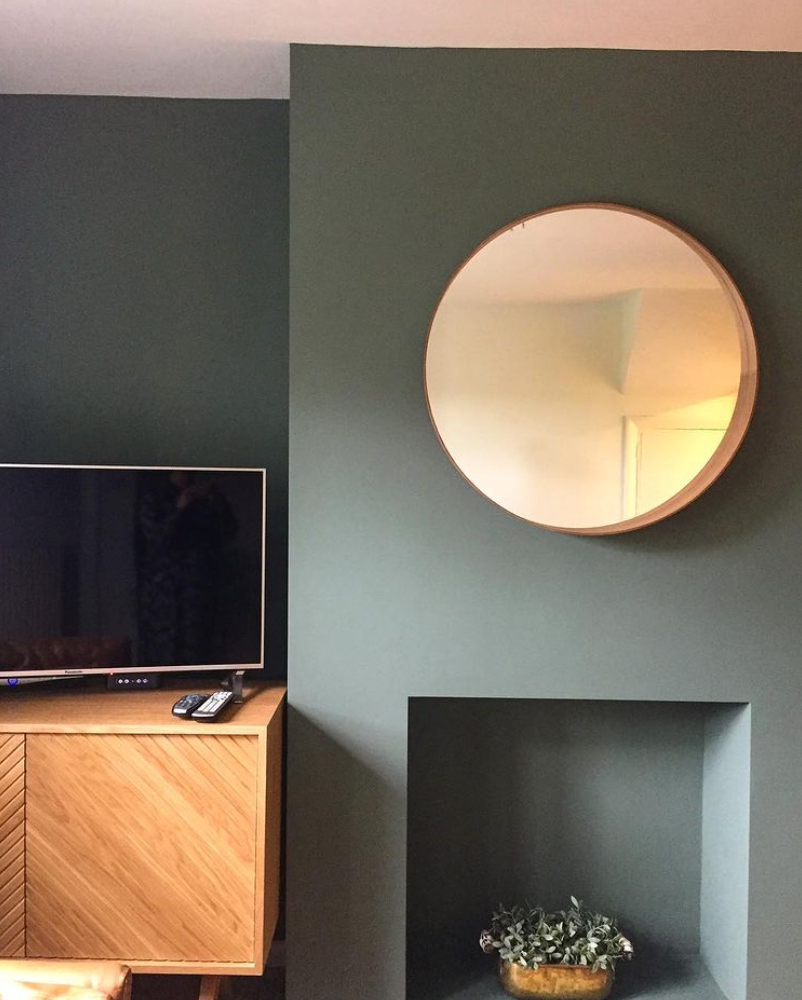 15. Various pieces
How lovely is this fireplace with all the stonework that gives so much character with all the different shapes, sizes and colour of stone? I love the vase with the long willow branches, the candlestick, the indoor plant in the pot and the little throw blanket in the basket. When in doubt, just put all your favourite decor pieces together!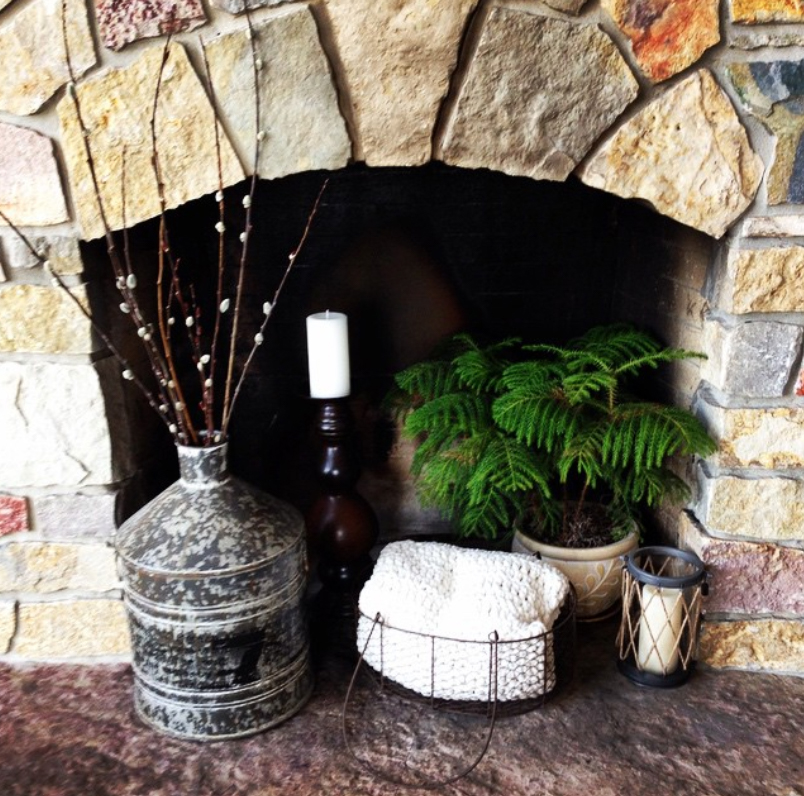 16. Cosy little corner
Oh I just absolutely love the decor in this space! How cosy is this little corner! Similar to number 7, here is another empty fireplace that looks like it was either completely filled in, or the mantle has been placed there so it gives a 'fireplace' look.
I love the assortment of white pillar candles placed inside the fireplace area as well as the foliage, fairy lights and beautiful gold feature mirror on the mantle. Plus how gorgeous is the large palm in the corner of the room!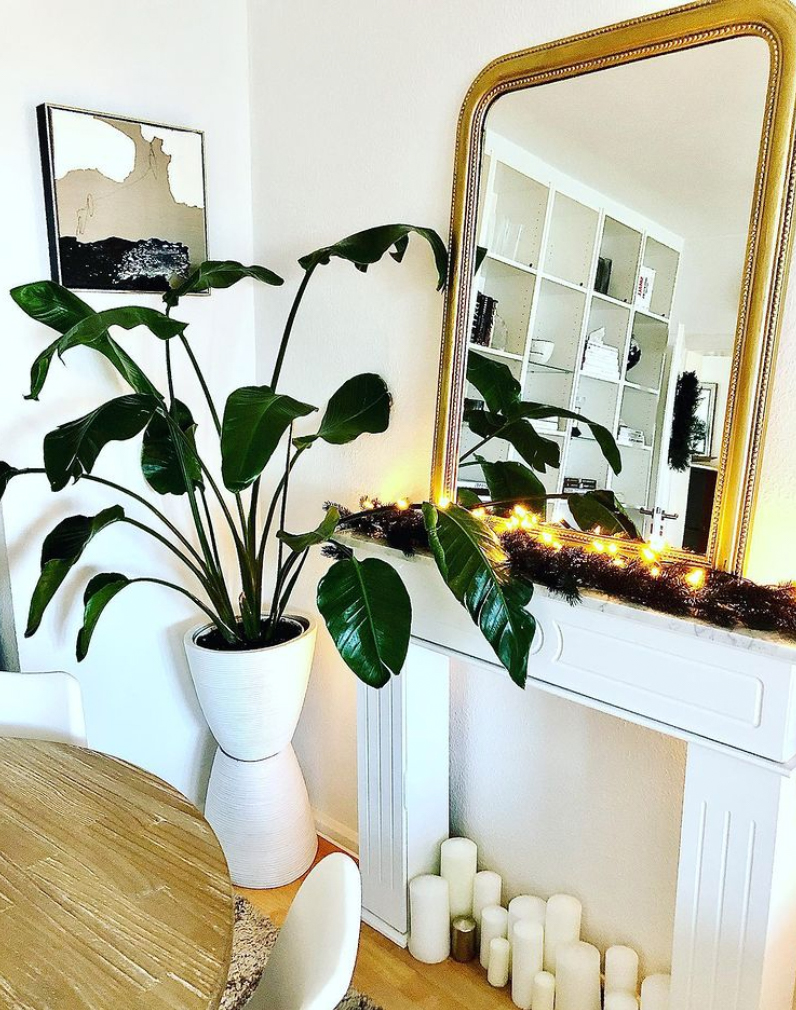 17. Matte black
How chic and classy is this empty fireplace! I absolutely love the matte black finish which really complements the trailing ceiling to floor foliage as well as the moss green couches. What an awesome mid century modern space with so much character and charm.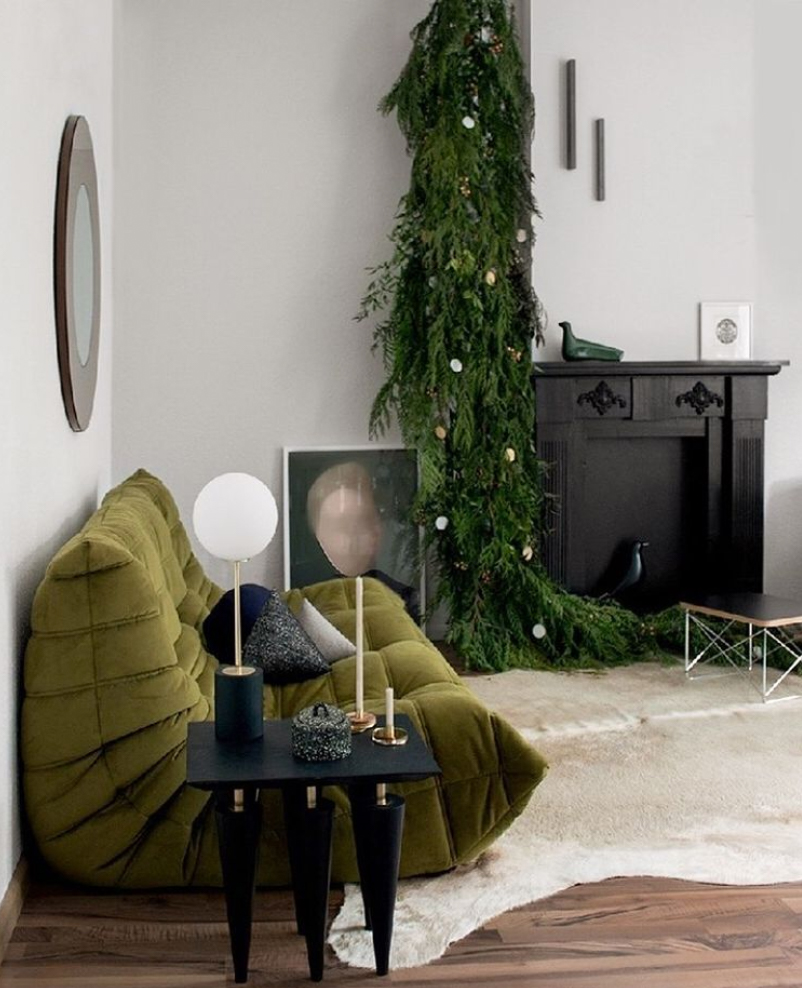 18. Festive scene
Ho, ho, ho… Merry Christmas! This festive scene is giving me all the Christmassy vibes! If you live in the Northern Hemisphere, then sitting around the fireplace would usually be a necessity for you for Christmas, but if you are in the Southern Hemisphere and typically have a warm Christmas, then fireplaces are more of a novelty. I love how this empty fireplace has been decorated for the season.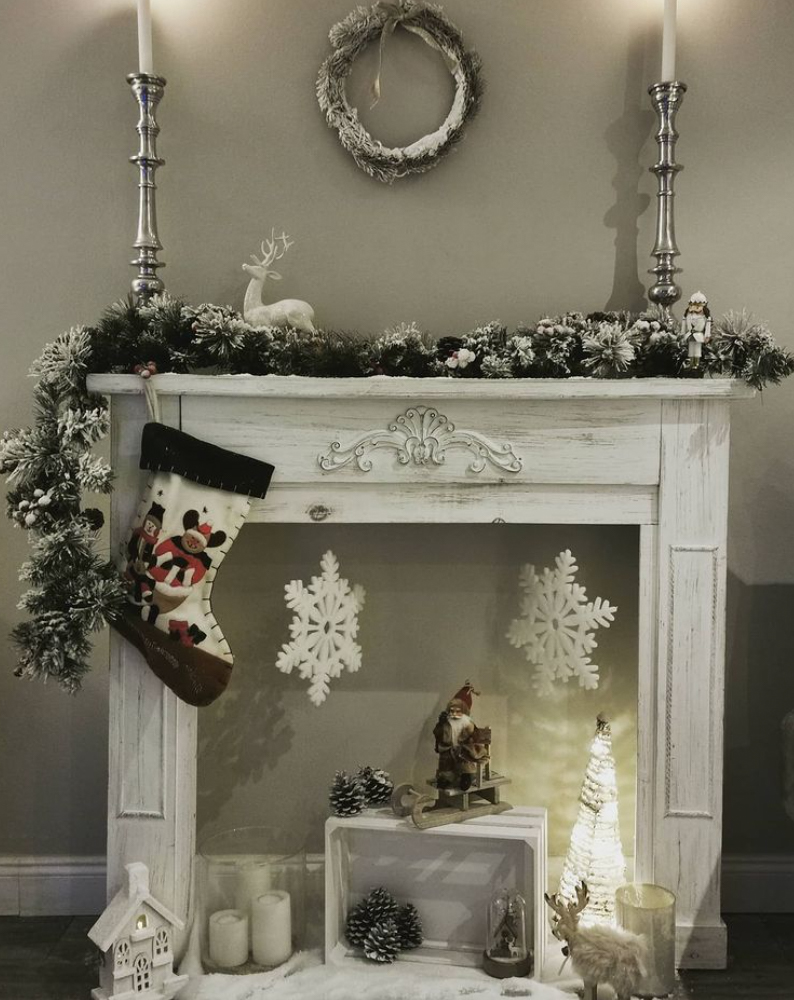 19. For the book lovers
This empty fireplace has been transformed into a mini-library. However, I love that the books have been turned around so that the colourful covers don't compromise the colour scheme. Plus how gorgeous is the textured finish of the white brick!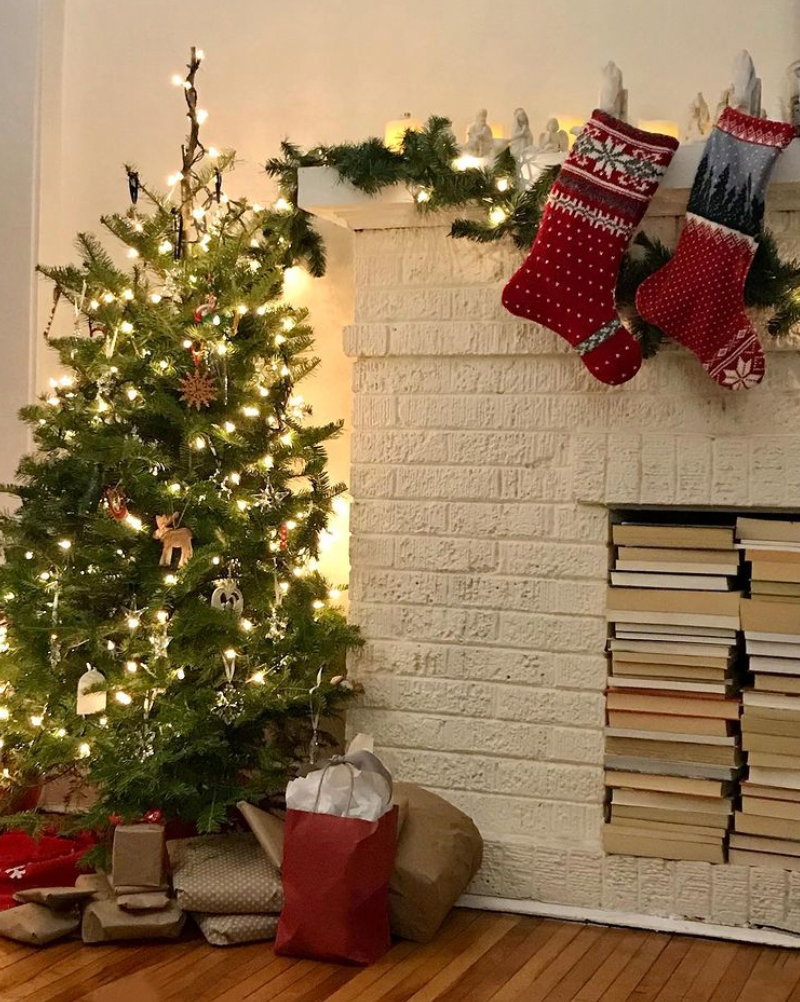 20. Dried foliage
I love how simple and elegant the styling in this space is, yet it still has so much character! The vase of dried foliage inside the fireplace looks so lovely and simple. And I love the two vases to the left of the fireplace as well as the disco balls to the right which are a quirky and creative touch.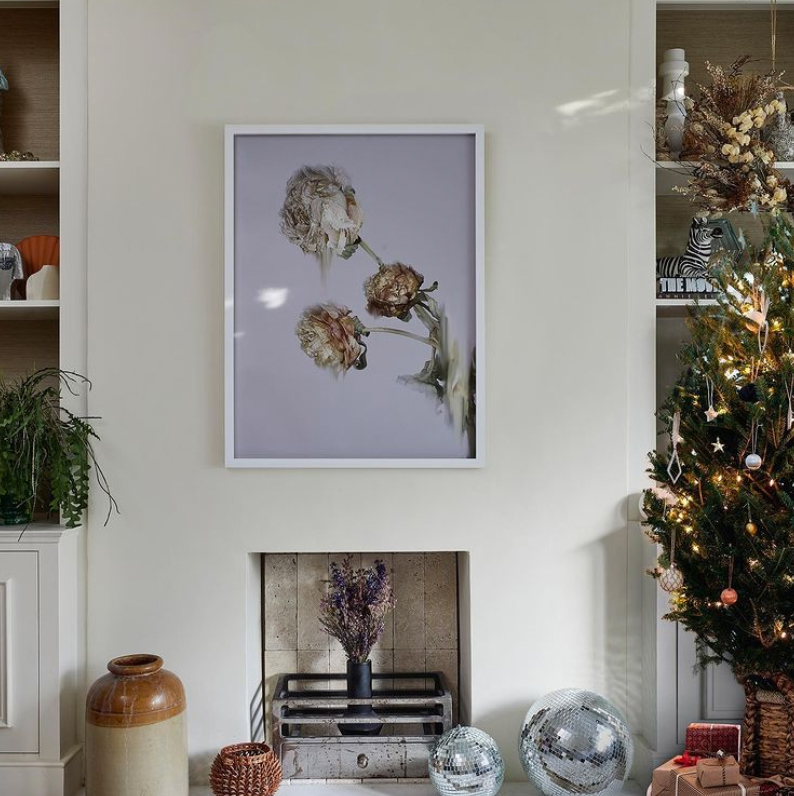 21. Herringbone tiles
If your fireplace is filled in, you still want it to be presentable, so installing some additional tiling is a great way to finish off your space. And I love the brown herringbone fireplace tiles installed in this space which is the perfect addition to match the teal coloured walls and cream decor items.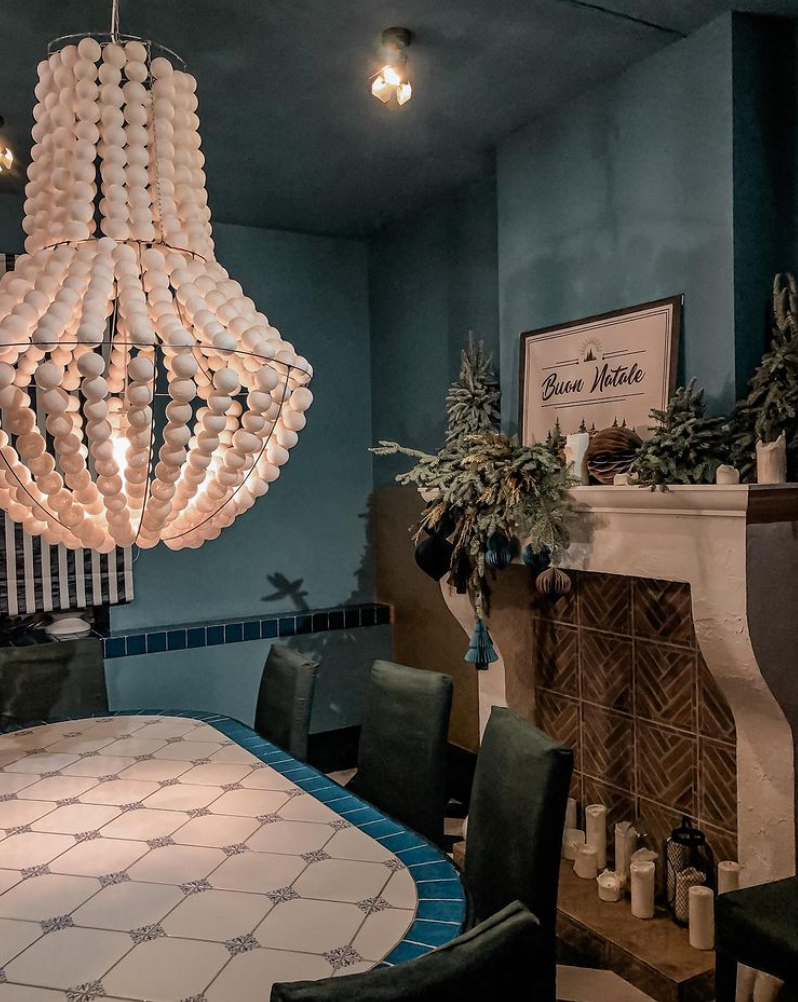 22. Small and tall
Candles are another one of my favourite ways to decorate an empty fireplace. I love how different candle pillar sizes have been placed inside this fireplace as well as the magnificent glow they provide to the dark space. What a magical set-up indeed!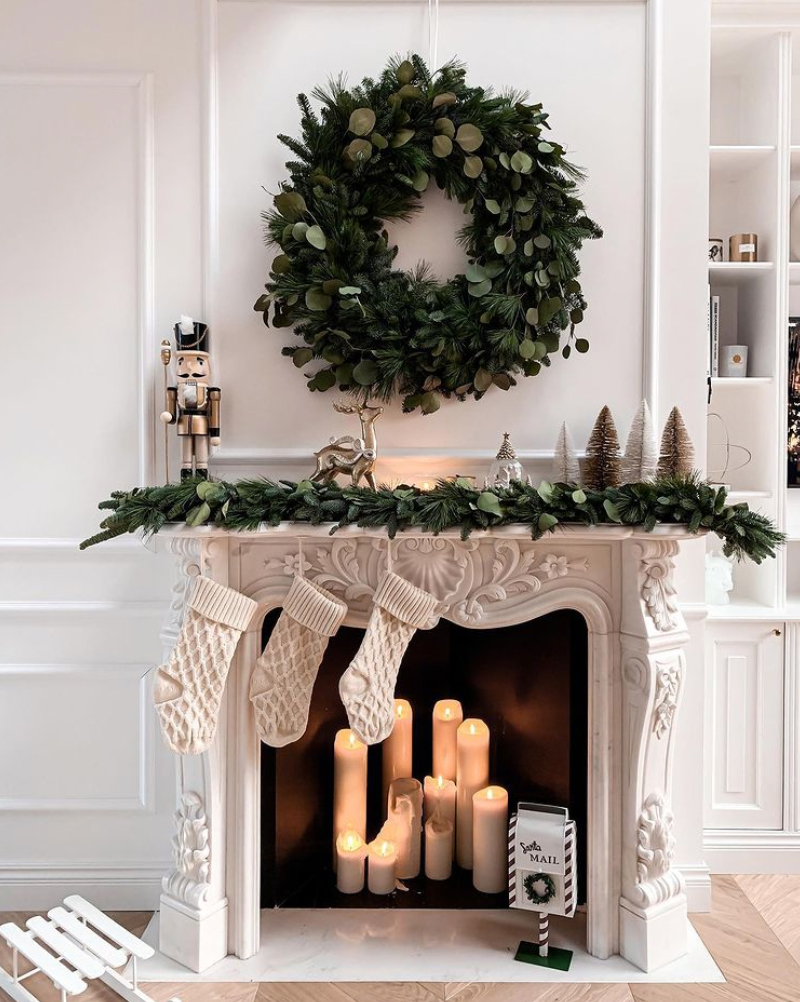 23. Stars and doilies
If you want to create a festive scene around your empty fireplace, then this stars and doilies display will do the trick. You could even get the kids to help with this project. Doilies are such a fun and easy craft to do in the school holidays. And there are endless shapes and designs you can create with only paper and scissors!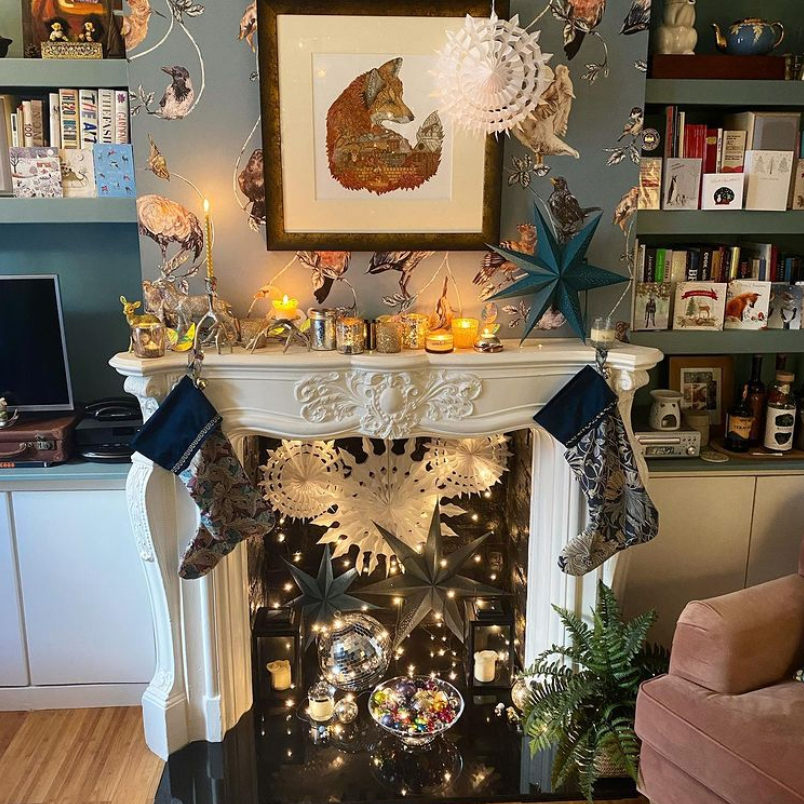 24. Cocktail, anyone?
Who wants a cocktail? Me, please! How great is this idea for an empty fireplace? I love the two different levels so that the contents can be displayed clearly and in an organised way. Plus the little table next to the fireplace works so well for an area to create your masterpieces!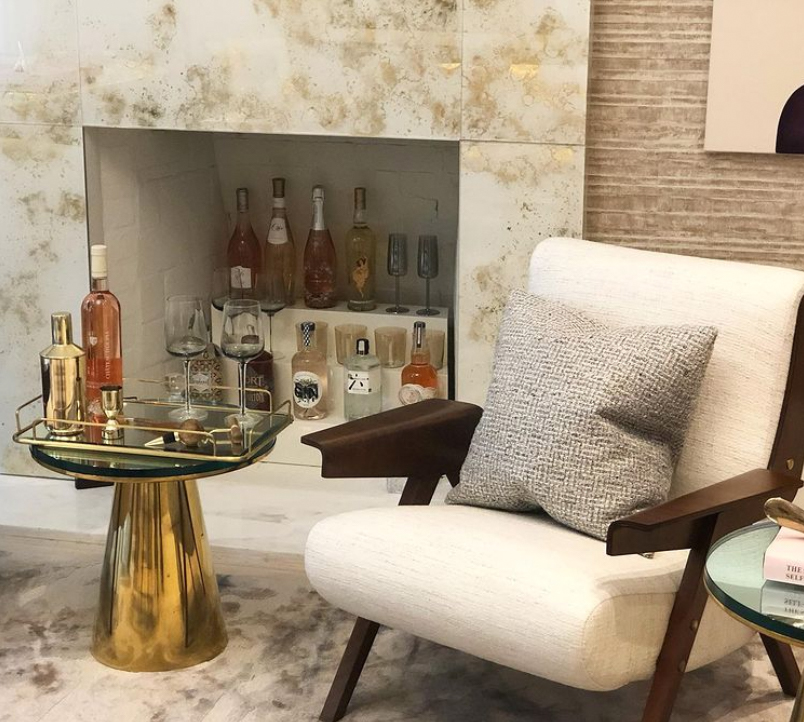 25. Thrifted finds
How awesome does this collection of thrifted finds look?! I love all the different designs of the candlesticks from white simple sticks to vintage brass! And the variations of the thicker orange candles and the long taper candles create such a cool look. Just add a lovely vintage print behind the candles to complete the look!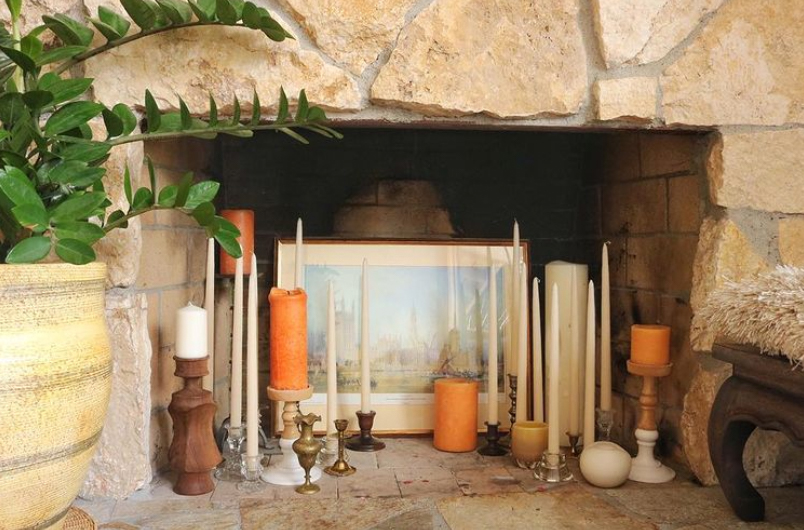 26. Log basket
Similar to number 3, here's another awesome log basket! I love the round shape of the basket which perfectly fits the roundness of the log slices. And how gorgeous are all the different tones in the wood ranging from a typical wood colour to the lighter birch wood slices. What a stunning feature!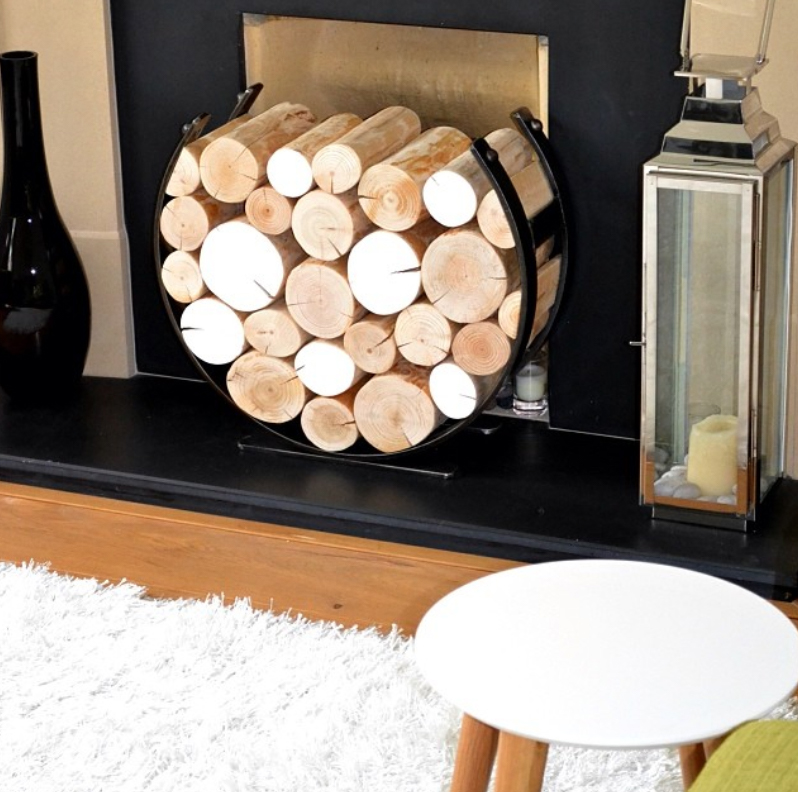 27. Coral feature
Oh I'm such a sucker for a coastal home and this place is certainly no exception. Large, oversized shells are all the rage at the moment and I absolutely love the idea of displaying one filled with beautiful coral pieces in an empty fireplace. This is the perfect example of matching the decor pieces in your empty fireplace to the rest of the decor in your home.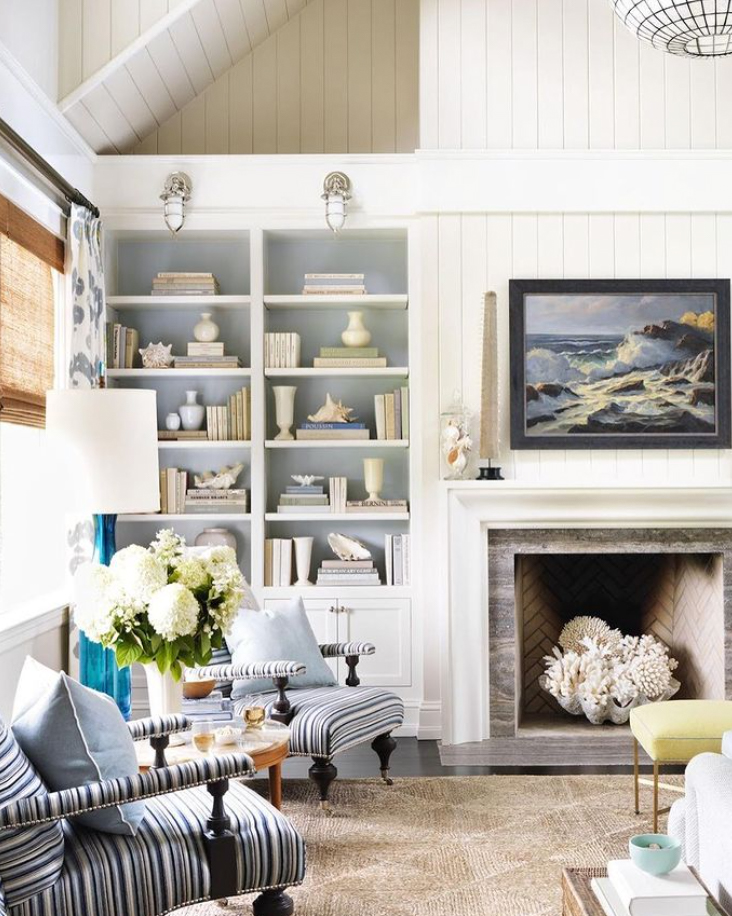 28. Brick wallpaper
Just like number 5, this empty fireplace has a gorgeous brick wallpaper that gives a beautiful traditional fireplace look. I absolutely love the effect that this gives. Plus how lovely are the pillar candles in the fireplace as well as in the lantern on the floor and on top of the mantle.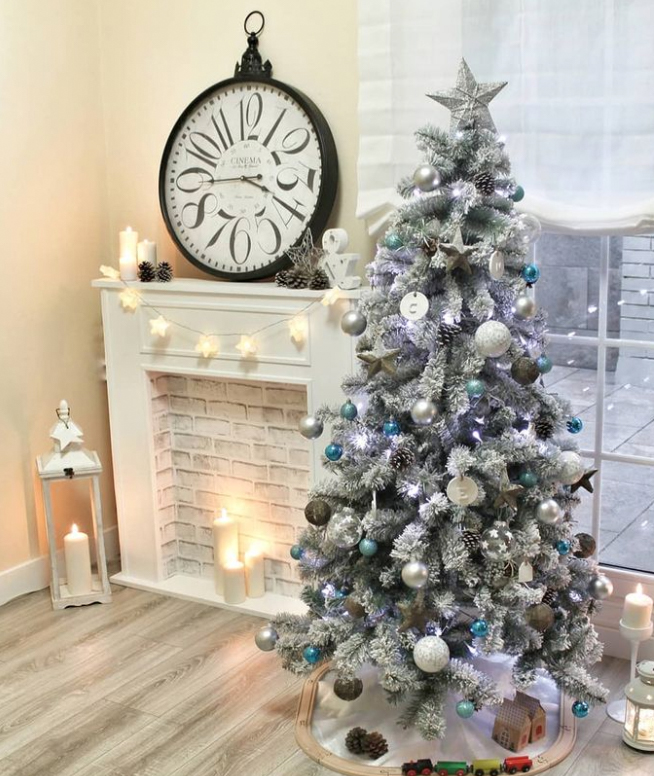 29. Yellow and pastel pink
How quirky and feminine is this sweet space! I love the yellow fireplace with the pastel pink panelled wall as well as the stunning wallpaper with the yellow and light pink tones in it. Just add some candles and other decor touches around to complete the look.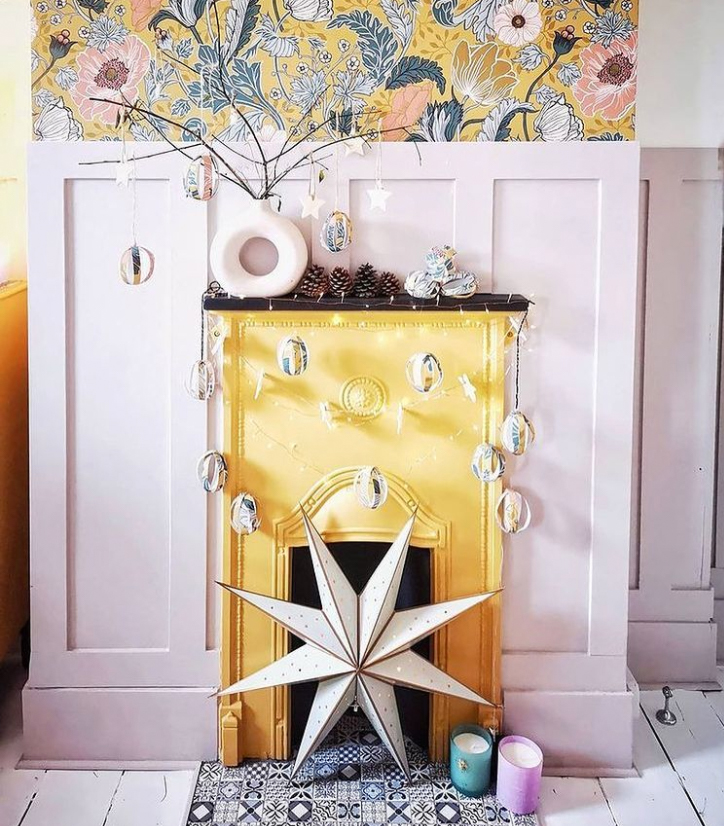 30. Faux fireplace
If you don't have a fireplace to work with but want to create one, these black pillars give the fireplace look without having to worry about committing to a major installation! And there's some more stunning pillar candles perfectly aligned underneath the faux fireplace. I think this is one of my favourite empty fireplace ideas so far.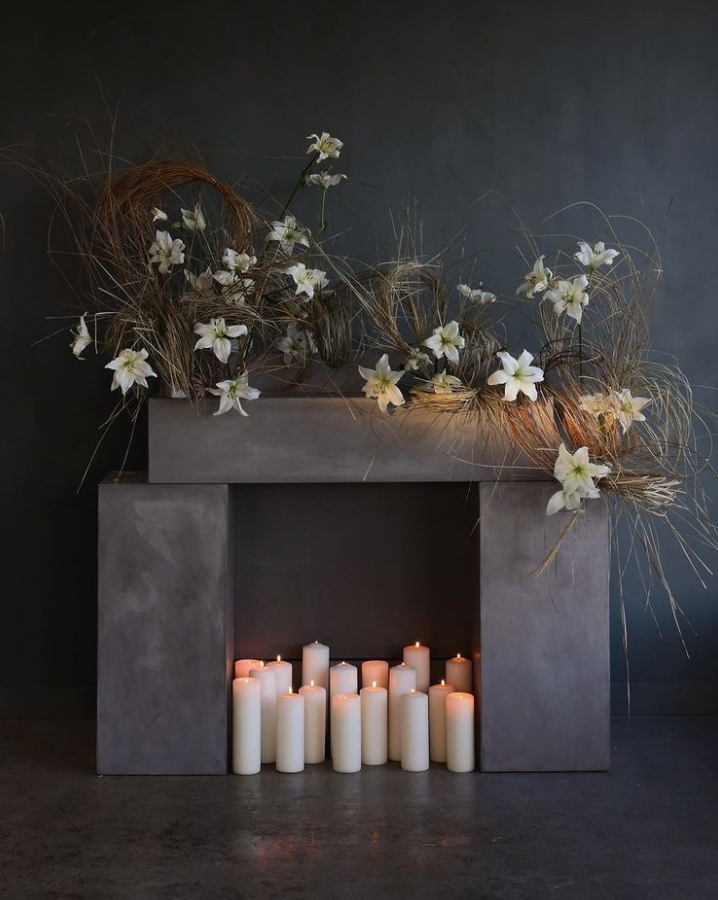 31. White on pink
Speaking of faux fireplaces, here's another! I love the light pink wall that really makes the white faux mantle pop! Just add some firewood in an iron basket display as well as some extravagant foliage and you have yourself the most beautiful faux fireplace with all the trimmings!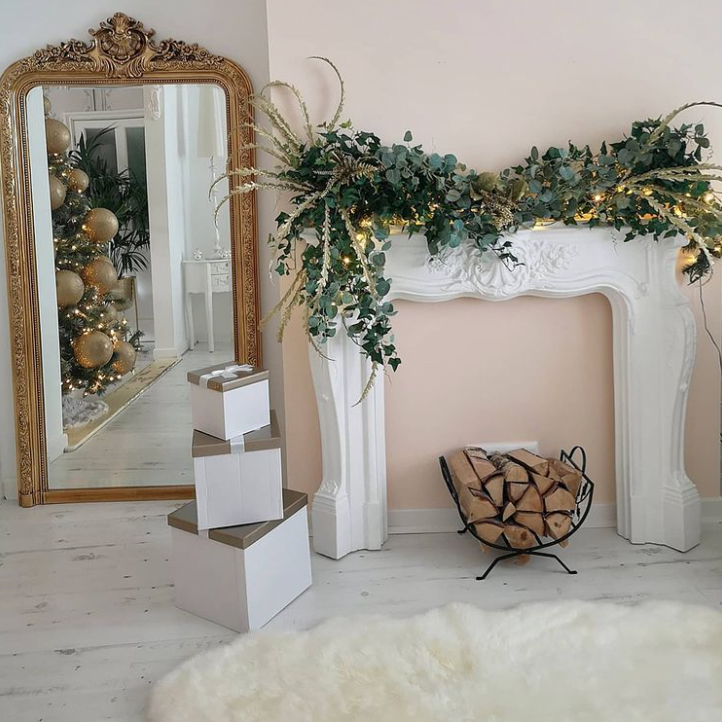 32. Painted wood
We've seen plenty of beautiful ways to display wooden slices in empty fireplaces, but what about painting the wood in your fireplace?! If you have a certain colour scheme in your home, then getting creative and painting your wood is such a great idea! I love the blue and cream tones in this display!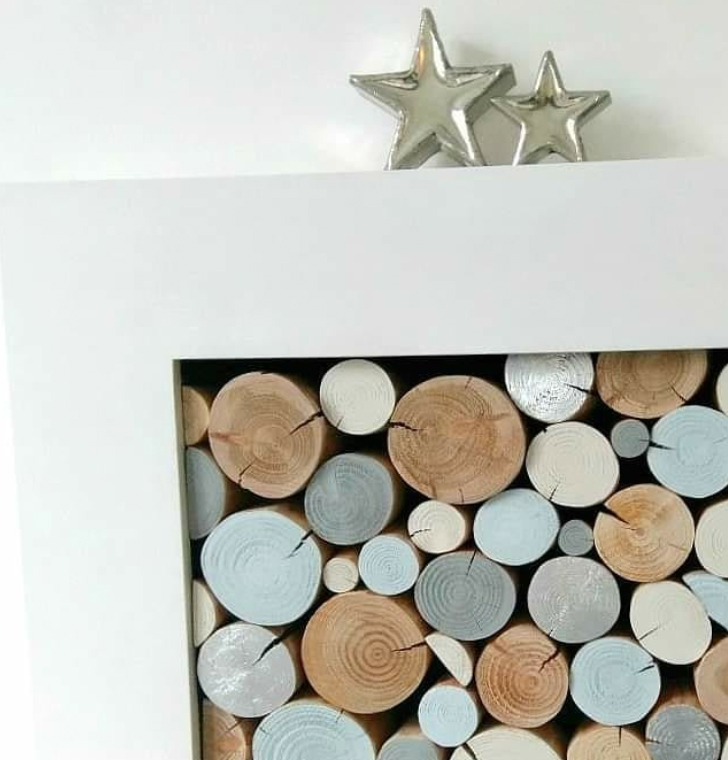 33. Fairy lights
Fairy lights are one of my favourite ways of creating warmth and a cosy feeling in a home. And I love the effect that fairy lights give this empty fireplace. A similar glow to a real fire, without the upkeep – Win-win! I would love to put my feet up and relax in this space!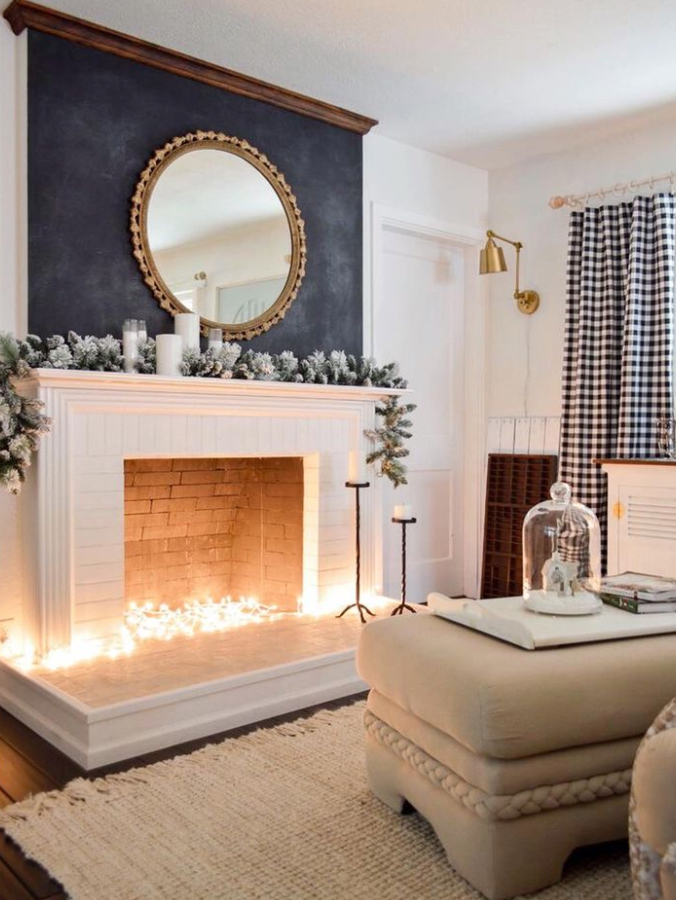 34. Shabby chic
How gorgeous is this shabby chic empty fireplace! I love the distressed finish of the white wood and the way it has been chipped off to look aged. Plus the bricks look stunning with a slick of white paint on them. And you can never go wrong with arranging a display of pillar candles in your empty fireplace!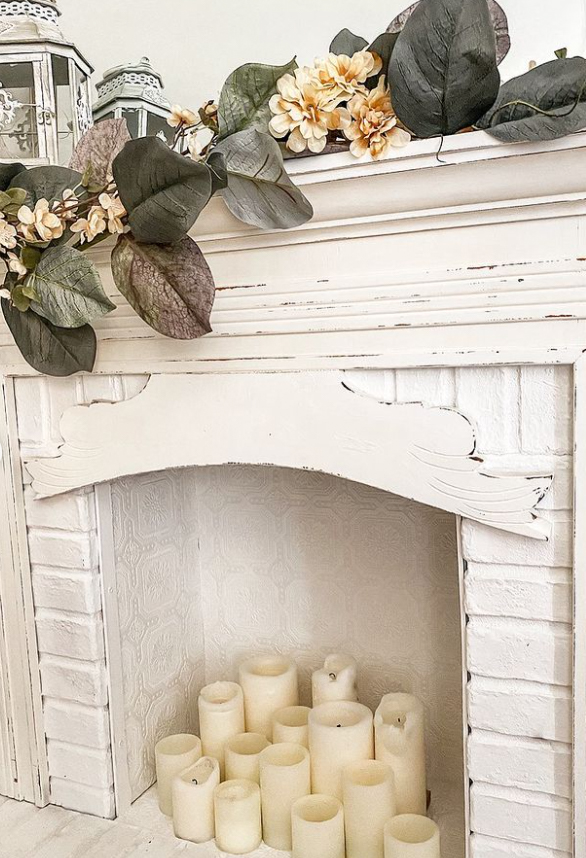 35. Ornate details
And last but not least is this awesome empty fireplace with awesome ornate details! This fireplace looks like it could be very old and heritage, yet it has been made to have a very mid century modern look with the pairing of the velvet green chairs and modern styling.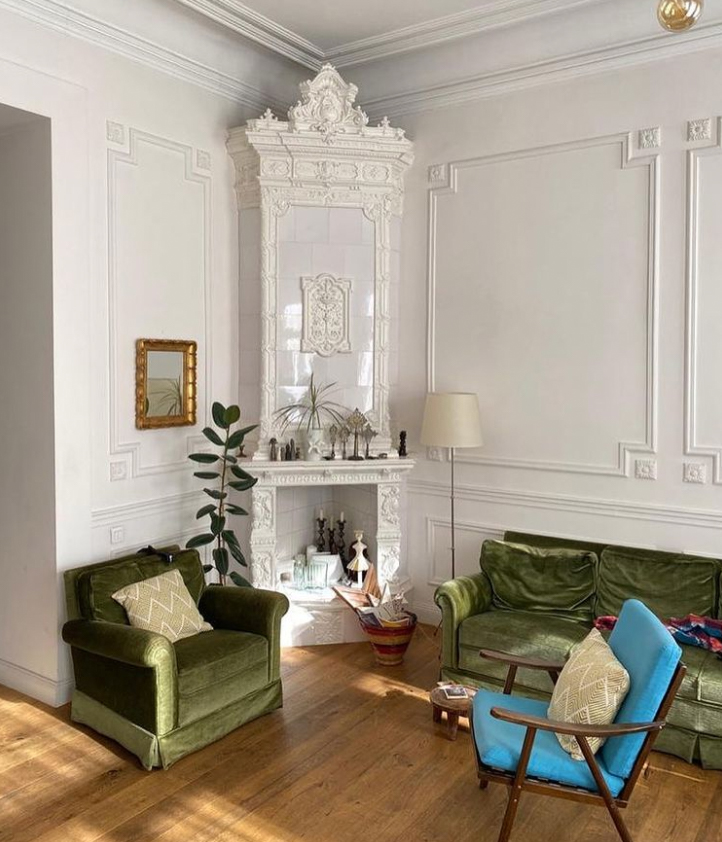 So that concludes 35+ empty fireplace ideas! I love the fireplaces with the indoor plants as well as the assortment of different sized pillar candles and the awesome fireplaces with the firewood stacked and displayed. What empty fireplace decor ideas will you be trying? Let me know in the comments below!